Pages 65-77
A History of the County of Stafford: Volume 7, Leek and the Moorlands. Originally published by Victoria County History, London, 1996.
This free content was digitised by double rekeying. All rights reserved.
HORTON
Horton, 4 miles north-west of Leek, was formerly a chapelry of Leek but a separate parish probably by the 16th century. (fn. 1) The area is rural and in the north-west part includes Horton Hay, formerly a tract of woodland pasture. There is a small village around the church on the east side of the parish, with larger settlements dating mainly from the 19th century on the western boundary at Biddulph Moor and on the eastern boundary at Rudyard. The ancient parish was 4,975 a. (2,013 ha.) in area (fn. 2) and was compact and regular in shape, stretching 3 miles east-west and 3½ miles north-south. The western boundary followed the river Trent, which rises in Horton, and the northern and eastern boundaries followed Dingle brook, dammed in 1799 to create Rudyard Lake. (fn. 3) Streams also marked much of the south-eastern and southern boundaries. In 1934 975 a. in the west of the parish were transferred to Biddulph urban district and 86 a. in the south-west to Endon and Stanley civil parish. What remained of Horton was amalgamated with Rudyard civil parish, formerly a township in Leek parish, to form a civil parish of 5,349 a. (2,165 ha.). (fn. 4) The new civil parish was at first called Rudyard, presumably because Rudyard village was the main centre of population, but it was renamed Horton later the same year. (fn. 5) The civil parish was in Leek rural district until 1974, when it became part of Staffordshire Moorlands district. This article deals with the area which formed Horton ancient parish.
Sandstone of the Millstone Grit series forms two ridges, Lask Edge and Grindlestone Edge, divided by Horton brook which flows south-east across the parish. The land falls from 1,100 ft. (365 m.) on Lask Edge in the north-west part of the parish into the valley of Horton brook. Horton village stands east of the brook at 650 ft. (198 m.) on a spur of Grindlestone Edge, whose east side is an escarpment called Whorrocks Bank. Rudyard village stands at 553 ft. (169 m.). In the south part of the parish the hamlet of Gratton stands at 626 ft. (191 m.) on the west side of Horton brook. The land lies at 527 ft. (160 m.) where the brook leaves the parish near the former Endon mill. Boulder Clay covers much of the parish, and there is alluvium along Horton brook. The soil is mostly fine loam, with clay over peat on the high ground and coarse loam along the side of Rudyard Lake. (fn. 6)
Seventy-seven people were assessed for hearth tax in the parish in 1666, including 6 people at Gratton. (fn. 7) In 1801 the population was 752, rising to 970 by 1831 and then falling to 942 by 1841. There followed a steady growth during the rest of the 19th century, and by 1901 the population was 1,295. The increase was most pronounced at Biddulph Moor. (fn. 8) The population was 1,323 in 1911, 1,504 in 1921, and 1,421 in 1931. After the 1934 boundary change it was 813 in 1951, 855 in 1961, 754 in 1971, 789 in 1981, and 713 in 1991. (fn. 9)
The oldest settlements in the parish are presumably Horton village and Gratton: both place-names incorporate the Old English word tun, meaning a settlement. Horton village stands on a restricted site around the medieval church, the land falling steeply on the west and east sides but less so on the south. Horton Hall, north-west of the church, is of the 17th century but replaced a house in existence by the earlier 14th century. (fn. 10) Boot Hall, north of Horton Hall, is also of the 17th century and presumably takes its name from a family called Boot, which lived in the parish in the early 18th century. (fn. 11) New House Farm and Horton Head Farm south of the church are both of the 18th century. The inn run by John Horsley of Horton in 1677 may have stood south of the church, where the present Crown inn was so called in 1834. It was known in 1818 as the Court House, presumably because the manor courts were held there. (fn. 12) Heath House and Stone House, on top of Grindlestone Edge north of the village, existed respectively by 1446 (fn. 13) and probably 1599. (fn. 14) Steel House Farm south-east of Horton village on the Longsdon road was so called in 1561, but its site was probably occupied by the late 13th century, when the toponym Style was used by a tenant of Horton manor. (fn. 15)
There was a hamlet at Gratton by the earlier 12th century, and the site of Gratton Hall Farm was probably occupied by the late 12th century. (fn. 16) Hall Gate Farm to the north is of the 17th century with a matching bay added in 1991. (fn. 17) Dams Lane House, north-west of Gratton hamlet, is also of the 17th century, and there was a house at the Ashes on the rising ground further west by 1658. (fn. 18) Brook House and Bond House beside a tributary of Horton brook north of Gratton were so called by the later 16th century (fn. 19) and stand in an area known as Lee in the earlier 19th century and as Lea Lathton in 1841. (fn. 20) The modern name is Lea Laughton.
The hamlet of Blackwood Hill, south-west of Gratton, existed by the late 13th century. (fn. 21) A house there owned in the later 15th century by the Wedgwood family, later of Harracles in Longsdon, was incorporated in Blackwood Hall, built of brick with stone dressings in 1885 for John Challenor, probably the son of John Challenor (d. 1833) of Overton, in Biddulph. (fn. 22) The nearby Grange Farm was probably also built by Challenor, whose initials are on a barn there dated 1834. The hamlet also includes Blackwood Old Hall, which retains a date stone of 1670 from an earlier house, and Blackwood Hill Farm (formerly Old Hall Farm), which is dated 1698 but retains timber-framing possibly of the 16th century. Both houses were formerly occupied by the Reade family, which moved to Fields Farm on the Endon road south of Gratton in the early 18th century. (fn. 23) Called the Fields in 1588, Fields Farm was rebuilt in the early 18th century and a north wing of brick with stone dressings was added later in the century. (fn. 24)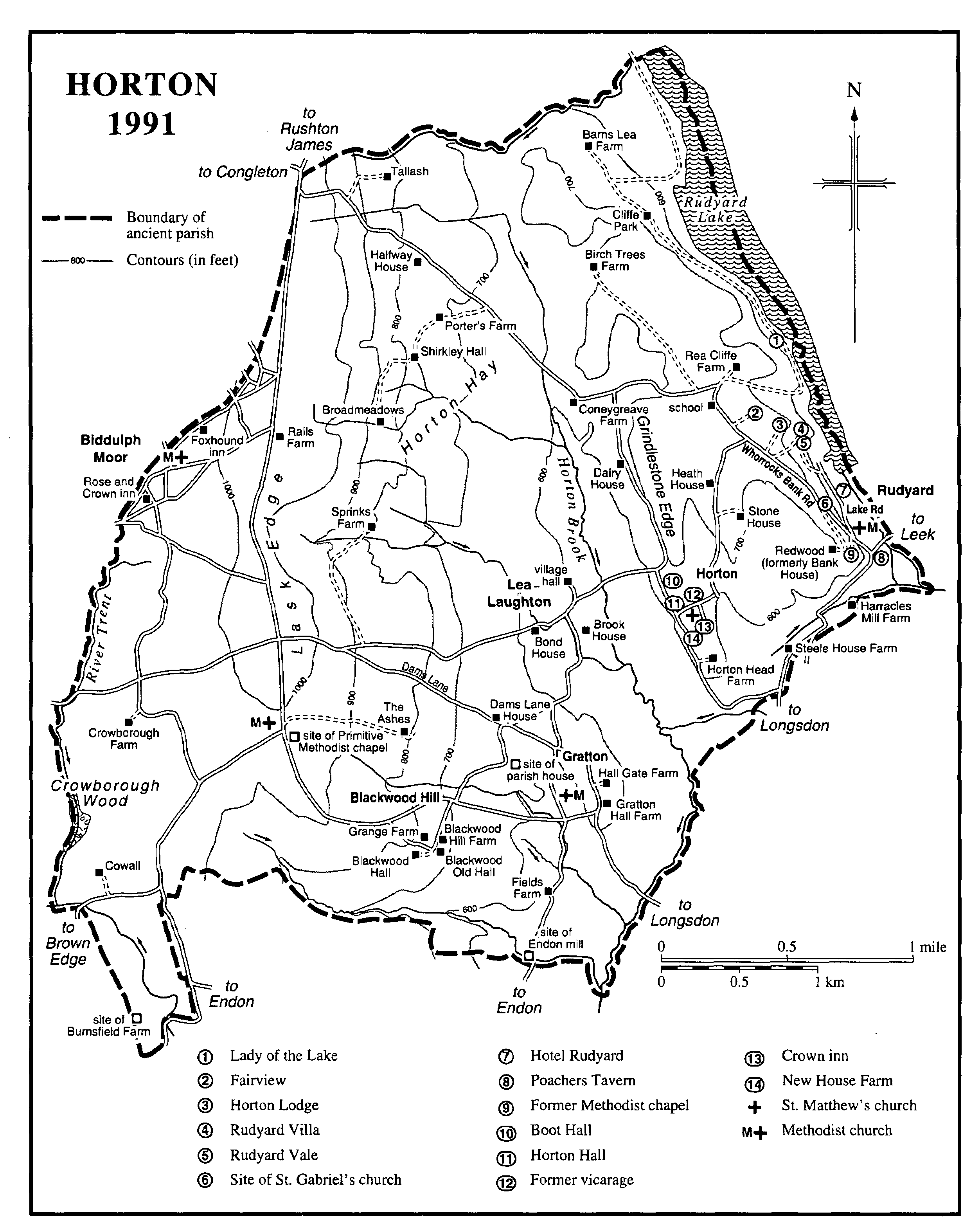 Another area settled by the 13th century was Crowborough, beside the river Trent in the south-west part of the parish. The second part of the name is derived from an Old English word bearu, meaning a wood or grove, (fn. 25) and there may have been an early clearing in woodland. Crowborough Farm probably stands on the site of a house held in 1299 by John of Crowborough, (fn. 26) and there were houses to the south at Cowall by 1308 and at Burnsfield by 1474. (fn. 27)
The northern part of the parish is crossed by a road between Leek and Congleton (Ches.), which climbs steeply up Whorrocks Bank. The bank derives the first part of its name from a word meaning hoar (or grey) oak trees, used as a toponym in the later 13th century. (fn. 28) A house described in 1607 as at Whorrocks and then occupied by Thomas Knight (fn. 29) probably stood on the site of the later Poachers Tavern at the foot of Whorrocks Bank Road: the inn incorporates on its west side a stone with the initials TK and IK and the date 1610. By the later 18th century a hamlet there was known as Harpers Gate. (fn. 30) Bank House, on top of the southern end of Whorrocks Bank, was so called in 1613. Rebuilt in Gothick style, probably for James Challinor, who lived there in 1851, the house was renamed Redwood in the 1920s. (fn. 31) Rea Cliffe Farm at the north end of Whorrocks Bank Road existed by 1675. (fn. 32) To the west a road to Rushton James ran past Birch Trees Farm, which is probably of the later 18th century, and Barns Lee Farm, which is partly of the 17th century. The road was stopped up after the Cliffe Park estate was created in the early 19th century. (fn. 33)
Horton Hay, covering the north-west quarter of the parish, was formerly an area of woodland pasture. (fn. 34) The chief house, Dairy House on the hay's east side, was built in the earlier 17th century. (fn. 35) Coneygreave Farm to the north-west is dated 1897 but replaced a house in existence by the later 18th century. (fn. 36) On the hay's west side a house called the Rails, from the fence that enclosed the hay in the early 15th century, (fn. 37) may have been occupied by Thomas Challinor (d. 1577). It is the most likely site for the house of his son William, who lived at Horton Hay, and was certainly the home of William's grandson William Challinor (d. 1721). (fn. 38) Other farmhouses were first occupied when the rest of the hay was converted into farmland in the later 17th century. (fn. 39)
Biddulph Moor, a settlement on Horton's western boundary in existence by the late 17th century, was populated largely by coalminers in the 19th century. (fn. 40) There are two inns, the Foxhound, known in 1840 as the King William New inn, and the Rose and Crown, so called by 1868. (fn. 41) Most of Biddulph Moor, including the Anglican church, lies on the Biddulph side of the boundary.
Following the exploitation of Rudyard Lake as a tourist resort from the mid 19th century, the hamlet at Harpers Gate expanded and was renamed Rudyard. Hotel Rudyard at the southern end of the lake was opened as an inn in 1851, and from the 1880s houses were built to the south in Lake Road. (fn. 42) By 1854 Knight's house at Harpers Gate (the present Poachers Tavern) had been converted into the Railway inn, named after the Leek-Macclesfield railway line of 1849 which ran along the east side of Rudyard Lake. By 1888 it was called the Railway hotel and by 1900 the Station hotel. (fn. 43) There was a village post office by 1898, and a police station was opened in the mid 1950s but was later closed. (fn. 44) There are council houses of the 1950s at the north end of Lake Road, and to the south near Hotel Rudyard there are privately built houses of the 1970s and 1980s.
In the later 19th century detached houses were built on the east side of Whorrocks Bank Road overlooking Rudyard Lake. The earliest is Rudyard Vale (later Rudyard Villa), designed in 1859 by the Leek architect William Sugden for Matthew Gaunt, brother of Josiah Gaunt of Horton Hall. (fn. 45) The name had been changed from Vale to Villa by 1871, presumably to distinguish the house from another Rudyard Vale, built in the mid 1860s to the south. (fn. 46) Since the 1930s the grounds of Rudyard Vale have been used as a caravan park. (fn. 47) Horton Lodge to the north-west was built in 1890 for a Manchester businessman, Stephen Chesters-Thompson. He sold the house to William Tellwright (d. 1894), the owner of a colliery at Sneyd in Burslem, who extended it and laid out gardens. (fn. 48) In 1924 the house was bought by the North Staffordshire Miners' Welfare Association, which converted it into a convalescent home in 1925. In 1948 it was let to the Workers Educational Association, which used it for week-end residential courses until 1950. The house then became a school for children with special needs. (fn. 49) Fairview, north of Horton Lodge, was built in the early 1880s for John Munro, a Hanley wine merchant. It became a home for the mentally ill in 1988 and was enlarged in 1991. (fn. 50)
A mains electricity supply was available in the parish by 1940, and a mains water supply from c. 1960. (fn. 51)
After the change of calendar in 1752 the parish wake took place on the Sunday nearest Old Michaelmas Day. It was still held in the early 20th century. (fn. 52) A stone pillar set up at the junction of Lake Road and Whorrocks Bank Road to commemorate Queen Victoria's Diamond Jubilee of 1897 also serves as a memorial to parishioners killed in the Boer War and the two world wars. Rudyard Memorial Institute in Lake Road was built in 1922 and enlarged in 1934; a porch was added in 1939 to commemorate the coronation of 1937, and the building was further enlarged in 1947. (fn. 53) The former parish school at Lea Laughton became a village hall in 1962 and was extended in 1990. (fn. 54) Rudyard Women's Institute was formed in 1932. (fn. 55)
James Heath (1757-1834), historical engraver from 1794 to George III and his successors, was born in the parish. (fn. 56) Hall Gate Farm at Gratton was the birthplace of George Heath (1844-69), the Moorland Poet. (fn. 57) There is a memorial to him in Horton churchyard. The philosopher Thomas Ernest Hulme (1883-1917) was born at Gratton Hall Farm. There is a memorial window to him in Endon church, and a bronze bust sculpted by his friend Jacob Epstein in 1916 is in private hands. (fn. 58)
Rudyard Lake.
Rudyard Lake, two miles long and covering 163 a., was created in 1799 as a reservoir for the Caldon canal, the water reaching the canal by a feeder which enters a branch canal in Longsdon. The reservoir was fed by Dingle brook and Rad brook, the latter formerly flowing north to the river Dane but diverted south at Ryecroft Gate in Rushton James. (fn. 59) A more substantial supply was provided by a feeder constructed c. 1811 from the Dane in Heaton. (fn. 60)
The reservoir was described in 1813 as 'little inferior to some of the Cumberland lakes'. (fn. 61) Its potential as a tourist attraction was exploited by the North Staffordshire Railway Co., the owner from 1847, (fn. 62) after the Leek-Macclesfield railway line was opened in 1849. The wooded ground on the west side of the reservoir was landscaped with walks and seats by William Nunns, a Leek gardener, and on Easter Monday 1851 the company organized a fête and regatta at what was by then called Rudyard Lake. Special trains brought between 7,000 and 8,000 tourists from Manchester, Stockport, and Macclesfield as well as the Potteries and other Staffordshire towns. The festivities included boat races and trips on a steamer, and the occasion was described as 'a very pleasant combination of the cheap excursion, the village fair, and the modern fête'. (fn. 63) Another regatta was held on Whit Monday, but a third, planned for later in the summer, was stopped by an injunction secured by Fanny Bostock of Cliffe Park, who was alarmed by the number of tourists and their behaviour. Despite a judgement by the Lord Chief Justice in 1852 that a railway company could not legally organize such an event, the company again advertised a fête for Whit Monday that year. It appears not to have been held, Miss Bostock having applied for another injunction. Her argument that the company was not entitled to use the reservoir for any other purpose than its original one of supplying water to the canal was supported by Queen's Bench in 1855. (fn. 64) The lakeside, however, remained popular with visitors, who in 1863 included the future parents of the writer Rudyard Kipling, named after the lake. (fn. 65)
Hotel Rudyard, which incorporates a house originally built for the reservoir keeper, was opened in time for the Easter Monday fête in 1851 by a Congleton innkeeper, Peter Ullivero. It was first known as Rudyard Lake Hotel; its present name was adopted c. 1886. (fn. 66) About 1870 the hotel was taken over by Henry Platt, who enlarged it, notably with a ballroom in 1873. The grounds were improved with areas for archery and croquet, and a roller-skating rink was opened in 1876. (fn. 67) To attract more visitors Platt started a well-dressing festival in May 1871, the railway company laying on special trains from the Potteries and Macclesfield. The festival was still held in 1873. (fn. 68) In 1896 a later hotelier promoted the area as 'the Switzerland of England'. (fn. 69)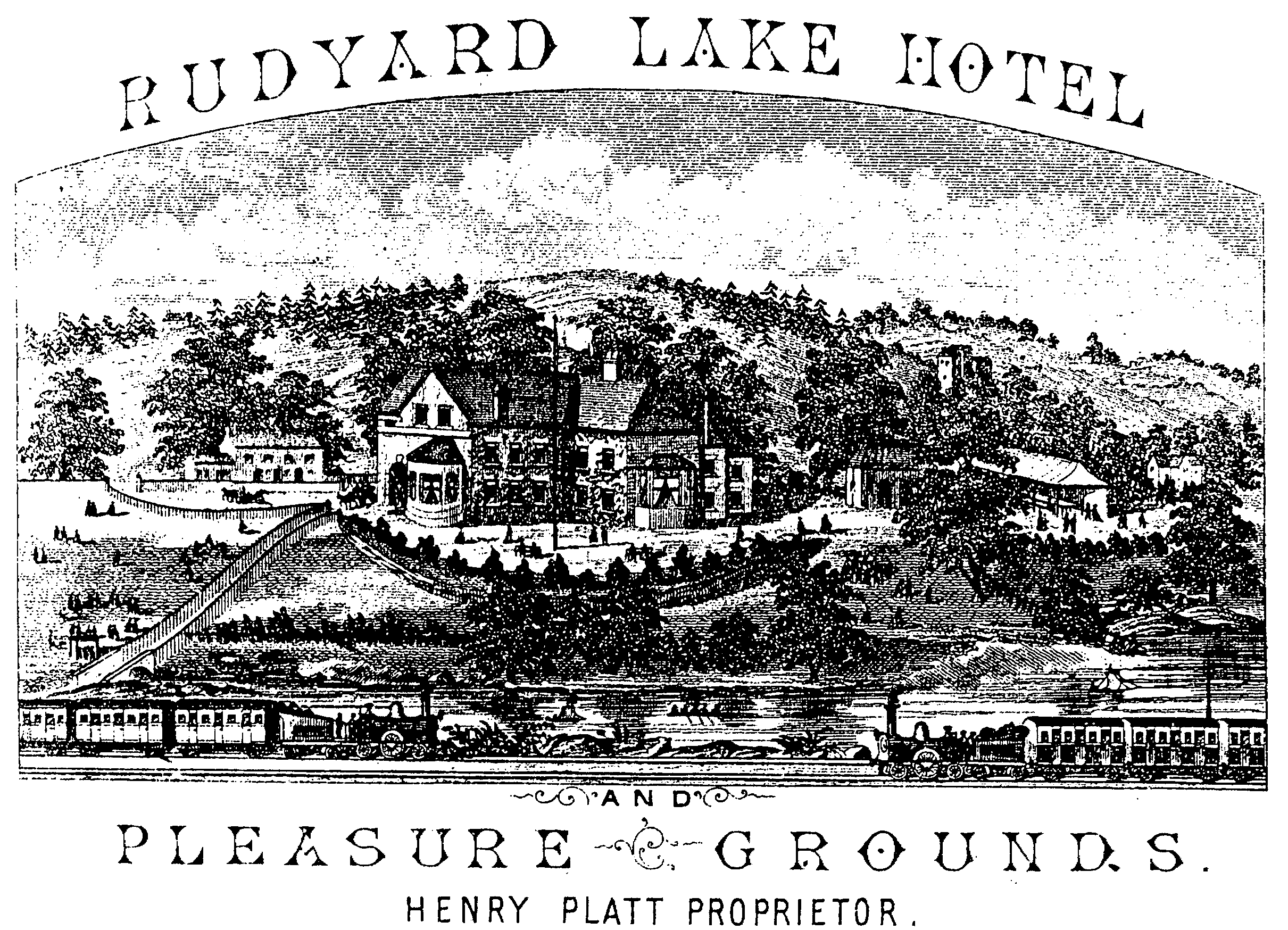 The railway company acquired the Cliffe Park estate in 1903 and was empowered in 1904 to hire out motor launches and rowing boats on the lake. (fn. 70) By 1905 a golf course had been laid out, and a golf club was formed in 1906, using Cliffe Park as a clubhouse. The club was closed in 1926. (fn. 71)
From the late 19th century boathouses were built along the west side of the lake, some later converted into dwellings. Among the earliest is that built in 1891 for Horton Lodge and occupied from 1970 as a house called Lower Horton Lodge. (fn. 72) To the north a boathouse built in 1893 to a design by the Leek architect Larner Sugden has a facade incorporating a ship's figurehead. (fn. 73) It too was a house in 1991, called the Lady of the Lake.
The lake remained popular in the 1990s for sailing, rowing, and fishing. Rudyard Lake sailing club was formed in 1956. It first used a lakeside bungalow as a clubhouse and from 1958 to 1963 the former lodge to Cliffe Park. A new clubhouse was built in 1963 and enlarged in 1978. (fn. 74) The North Staffordshire rowing club, established at Trentham in 1970, moved to Rudyard in 1989 and has a boathouse at the south end of the lake. The lake's owners, British Waterways, appointed a ranger in 1988, and an information centre was opened at the south end of the lake in 1989. (fn. 75)
MANORS AND OTHER ESTATES.
About 1140 Robert de Stafford gave HORTON with Gratton to Stone priory, of which he was patron. (fn. 76) His grant was ultimately ineffective. The Staffords remained overlords, and in 1276 the Audleys held Horton of them in socage, paying a rent of 10s. (fn. 77) The overlordship descended in the Stafford family at least until 1408, when it was held by the earl of Stafford. (fn. 78)
Ralph son of Orm was the tenant in the later 12th century. He was succeeded by his daughter Emma, the wife of Adam de Audley. Their son Adam (d. by 1211) was succeeded by his brother Henry de Audley. (fn. 79) In 1227 Henry successfully held the manor against Hervey de Stafford. After a judicial duel Hervey acknowledged Henry's right to Horton in return for a payment of 50 marks and land in Norton-in-the-Moors. (fn. 80) Henry, sheriff of Staffordshire and Shropshire 1227-32, was succeeded in 1246 by his son James (d. 1272). Four of James's sons succeeded in turn, three of them dying childless: James (d. 1273), Henry (d. 1276), William (d. 1282), and Nicholas (d. 1299). Nicholas's son and heir Thomas was succeeded in 1307 by his brother Nicholas, from 1313 Baron Audley. Horton then descended with the barony until the death of Nicholas, Lord Audley, without issue in 1391, when the manor was divided into three parts. One share passed to his sister Margaret and her husband Sir Roger Hillary; another to John Tuchet, later Lord Audley, grandson of Nicholas's sister Joan; and the third to Fulk FitzWarin, grandson of Nicholas's half-sister, also called Margaret. (fn. 81) On Margaret Hillary's death in 1411 her share passed to James, Lord Audley, the son of John Tuchet. (fn. 82) That two-thirds share descended with the Audley barony until 1535, when John, Lord Audley, gave it with other estates to the Crown to pay off his debts. (fn. 83) The FitzWarin share remained with Fulk's descendants, earls of Bath from 1536. (fn. 84)
In 1554 the Crown's two-thirds share of Horton was sold to Thomas Egerton, later of Wall Grange, in Longsdon, and his son-in-law John Wedgwood, later of Harracles, also in Longsdon. (fn. 85) Wedgwood's share descended with Harracles. (fn. 86) In 1571 Egerton settled his share on his son Timothy (d. between 1578 and 1584), along with Wall Grange. (fn. 87) The share may at first have descended with Wall Grange, but in 1595 it was held by Timothy's cousin Thomas Egerton, a London mercer. That year he settled it on his three sons, one of whom, also Thomas, was the sole owner by 1609 when he settled it on his son Timothy. (fn. 88) In 1625 Timothy sold it to John Bellot of Great Moreton, in Astbury (Ches.), (fn. 89) who had acquired the earl of Bath's one-third share of the manor between 1619 and 1625. (fn. 90) The manor was reunited in 1711 when John Bellot's great-grandson, Sir John Bellot, Bt., sold his interest to John Wedgwood of Harracles. (fn. 91)
The reunited manor descended with Harracles until 1791, when Harracles was sold. The vendor, Sir Brooke Boothby, Bt., retained Horton until 1796 when he sold it to Thomas Harding. In 1799 Harding sold a half share to Thomas Fletcher, and in 1804 their sons, Samuel Harding and William Fletcher, sold both parts of the manor to Edmund Antrobus, a London banker. (fn. 92) Antrobus, created a baronet in 1815, died unmarried in 1826, and Horton passed to his nephew Gibbs Crawfurd Antrobus of Eaton Hall, in Astbury (Ches.). He was succeeded in 1861 by his son John (d. 1916). John's son Crawfurd sold all his freehold land in the parish in 1920 and 1921 but retained the lordship of the manor. He was succeeded in 1940 by his brother Lt.-Col. Ronald Henry Antrobus (d. 1980). In 1994 the lordship was bought from the Antrobus estate by Mr. and Mrs. E. J. D. Warrillow, two of the owners of Horton Hall. (fn. 93) The medieval manor house, whose site is unknown, was probably occupied in 1308 by a tenant named Adam de la Halle. (fn. 94)
In the early 19th century John Haworth owned 782 a. in the north-east corner of the parish, within which he created CLIFFE PARK, an estate of 135 a. overlooking Rudyard Lake. (fn. 95) By 1818 he had built a house, (fn. 96) around which he laid out gardens and plantations. Haworth was succeeded in 1831 by his cousin, Fanny Bostock, who died unmarried in 1875. (fn. 97) In 1885 the Revd. Edward Duncan Boothman, husband of Fanny Bostock's niece Georgina, bought the estate. (fn. 98) He sold it in 1903 to the North Staffordshire Railway Co., which had a golf course there until 1926. (fn. 99) Advertised for sale with 38 a. in 1928, the house was bought in 1933 by the Youth Hostels Association. It remained a hostel until 1969, when it was bought by Mr. Brian Dalley, the owner in 1991. (fn. 100) The house, which is of coursed stone, has a symmetrical main front with a central bow and is decorated with battlements and other Gothic ornaments. (fn. 101)
In 1199 Adam son of Ranulph (or Ralph) held a carucate at GRATTON. (fn. 102) In 1281 the estate was held by Adam's son Ralph, (fn. 103) and in 1308 by Hugh de Audley, youngest son of James de Audley (d. 1272). Hugh, later Baron Audley, died in 1325 or 1326, and Gratton passed to his youngest son, also Hugh, who was created earl of Gloucester in 1337. Earl Hugh was succeeded in 1347 by his daughter Margaret, wife of Ralph, earl of Stafford. Ralph held Gratton at his death in 1372. (fn. 104) What was styled the manor or hamlet of Gratton in 1387 descended in the Stafford family until 1572, when Edward, Baron Stafford, sold it to Richard Hussey of Albright Hussey (Salop.). (fn. 105) Richard was succeeded in 1574 by his son Edward, still alive in 1601. (fn. 106) In 1614 Edward's son, Sir Richard Hussey, sold the manor to William Bowyer of Knypersley, in Biddulph. (fn. 107) In 1700 it was owned by the lord of Horton manor, Sir Thomas Bellot, Bt. (d. 1709). (fn. 108) The later descent is unknown. The estate was probably centred on Gratton Hall Farm, a brick house of the mid 18th century with stone dressings, enlarged in the late 19th century.
An estate centring on what came to be called HORTON HALL originated in the later 1330s, when a house in Horton was acquired by Adam de Egge of Horton. (fn. 109) It remained in the Egge (later Edge) family, passing in the early 17th century to Richard Edge. Richard was succeeded in 1647 by his younger son Timothy, a parliamentarian, in preference to his elder son John, a royalist. Of Presbyterian sympathies, (fn. 110) Timothy, who was appointed a justice of the peace in 1653, died unmarried in 1683 and was succeeded by his cousin Ralph Edge (d. 1684). Ralph's heir was a distant relative, Nicholas Edge, who retained possession despite allegations that he had forged a deed of settlement. In 1720 his son Timothy sold the estate to John Alsop. John's heir was his wife's niece Elizabeth, wife of Henry Fowler, whose son John owned 458 a. in Horton c. 1820. The house was then called Horton Hall. (fn. 111)
John Fowler was succeeded in 1827 by his daughter Phoebe (d. 1854), who married FitzJames Watt in 1836. (fn. 112) In 1850 the house was occupied by Phoebe's half-brother Josiah Gaunt and after Josiah's death in 1868 by his son Frederick (d. 1875). (fn. 113) In 1881 Phoebe's son Arthur was living at the house while on leave from India, where he was a civil judge at Poona; he died in 1885. (fn. 114) Ownership of the house and 472 a. in Horton was shared by Arthur's seven children, of whom two survivors sold the estate in 1917 to Charles Cowlishaw. He broke it up, selling the house in 1918 to Robert Hall (d. 1926). In 1948 Hall's widow Margaret sold the house to Maj. George Greaves, from whom it was bought in 1951 by John Moxon (d. 1987). Until 1991 Moxon's widow Doreen lived at the house, which in 1992 was sold jointly to Philip Cooklin, his wife Christine, and Mrs. Cooklin's parents Mr. and Mrs. E. J. D. Warrillow. (fn. 115)
The 17th-century house, which is of coursed ashlar, consists of a central range with cross wings. (fn. 116) An outbuilding retains a reset doorhead possibly from the north-east side of the house and dated apparently 1640 with the initials of Richard Edge. The principal and secondary staircases survive, but the main rooms were remodelled in the mid 18th century. At that date the south front was given sash windows on the ground and first floors and the doorway was moved to the centre to create a near symmetrical elevation. The short service wing on the northeast corner was probably built at that time. Early in the 19th century canted bay windows were added to the west front. A coach house with stables was built north of the house in the later 19th century. The walled garden on the west has an entrance with a doorhead dated 1668 and the initials of Timothy Edge.
Ownership of HORTON HAY descended with the manor until the execution of James, Lord Audley, in 1497, when his two-thirds share of the hay passed, presumably by royal grant, to his younger son Thomas. Thomas was succeeded in 1507 by his daughter Anne, wife of George Twynyho. (fn. 117) In 1546 Anne and her second husband, Richard Inkpen, sold their interest in the hay to Richard Biddulph of Biddulph. (fn. 118) From 1538 Biddulph had been the lessee of the earl of Bath's one-third share of the hay, and his family acquired the freehold of that estate in 1617. (fn. 119) In 1673 the Biddulphs sold the hay to Thomas Kynnersley, whose great-grandson Clement Kynnersley sold it in 1791 to Edmund Antrobus, later lord of Horton manor. (fn. 120)
Dairy House, the principal house on the hay, was so named by 1645. A large house mainly of the 17th century with two cross wings, it has a date stone of 1635 on the service wing with initials which evidently stand for John, son of Francis Biddulph (d. 1636), and John's wife Mary. The Biddulphs were Roman Catholics, and a sculptured stone with initials for Jesus and the Virgin Mary survives on the front of the house. John Biddulph was among the royalists killed at the battle of Hopton Heath in 1643; his estate was sequestrated and in 1645 Dairy House was assigned to a parliamentarian, Maj. Edward Downes. (fn. 121) In 1673 the house was owned by Thomas Endon of Leek. (fn. 122) The later descent is unknown until 1909 when Richard Turnock left Dairy House farm to his brother William, (fn. 123) whose family still lived at the house in 1991.
The TITHES of Horton belonged in the Middle Ages to Dieulacres abbey as rector of Leek, and by 1470 the abbey had two tithe barns in the parish. (fn. 124) The rectory was acquired in 1560 by Sir Ralph Bagnall, who in 1565 sold the great tithes of Horton (except those of Horton Hay) to John Wedgwood, the joint lord of the manor, and in 1566 those of Horton Hay to Francis Biddulph, the lessee of the hay. (fn. 125)
ECONOMIC HISTORY.
Agriculture.
In 1273 the income from the herbage and pannage of Horton Hay was nearly a third of the value of Horton manor. (fn. 126) The payment of cowscot, which the lord of Horton received from neighbouring manors, was probably a charge for pasturing cattle on the hay. The payment, variously called scout, scuth, stuth, and stuff, was recorded in 1278, when Endon and Longsdon each paid 20s. every third year and Endon additionally 2s. 6d. every second year. No payment was made by Longsdon in 1308, but the lord of Rushton James then paid a scot of 10s. every third year. (fn. 127) Scot from Endon and Rushton James was still demanded in 1607, when that from Rushton James was said to be paid by the free tenants. (fn. 128) In the early and mid 18th century Rushton James apparently paid its scot annually. (fn. 129)
Officials called caronatores, responsible either for inspecting carcasses or for separating old animals from a herd, were recorded in the manor in 1387, and their duties were probably associated with Horton Hay. (fn. 130) Although sheep were kept on the hay in the earlier 16th century, (fn. 131) its main use was probably as pasture for dairy cattle: the principal house was called Dairy House by 1645. (fn. 132) In the later 17th century the hay was divided into farms, on which dairying may have continued to predominate. (fn. 133) In 1805 there were eight farms, besides Dairy House: Shirkley Hall (198 a.), Broadmeadows (180 a.), Rails (164 a.), Tallash (127 a.), Porter's (110 a.), Halfway House (94 a.), Sprinks (53 a.), and a farm later incorporated into Halfway House farm (49 a.). Together those farms had cowhouses for 156 cows. (fn. 134) Some cropping took place. In 1665 the tenant at Sprinks farm, besides a rent of £10 for his 21-year lease, had to pay 40s. a year during the last four years of the lease for each acre which he ploughed over 13 a. In 1805 the tenant at the same farm ploughed his land once every eight to ten years and sowed oats. (fn. 135)
In the early 14th century arable land elsewhere in the parish was worked in small tenements. (fn. 136) Of the 495 a. of recorded farmland held by customary tenants in 1607 half was in 10 holdings of between 24 a. and 36 a. and half in some 20 smaller ones. (fn. 137) The main area of common waste lay south-west of Horton Hay on Lask Edge, so called by 1239. (fn. 138) It covered 143 a. in 1805 and was inclosed in 1815 under an Act of 1808 along with 110 a. of waste elsewhere in the parish, notably in the area of Whorrocks Bank. (fn. 139) Some 4,000 a. of farmland was recorded in the parish in 1851, of which 6 farms on Horton Hay had 877 a.; 8 other farms of 80 a. or over and 7 smallholdings shared 884 a. in the north part of the parish. Smallholdings were characteristic in the south part of the parish, where only two of the 56 farmers recorded in 1851 had over 100 a. (farms of 110 a. at Gratton Hall and 158 a. at Bond House); 18 farmers had between 100 a. and 50 a., 7 between 50 a. and 25 a., and 29 less than 25 a. (fn. 140)
Of the 2,037.9 ha. of farmland returned for the civil parish in 1988, grassland covered 1,890.2 ha. and there were 97.7 ha. of rough grazing. Dairy farming predominated, and there were 3,803 head of cattle. Sheep and lambs numbered 2,157, and there were 1,144 pigs and 1,967 hens. Of the 71 farms returned, 59 were less than 50 ha. in size and 12 were between 50 and 99 ha. (fn. 141)
Woodland.
The lord of the manor felled a wood of 300 a. on Horton Hay in the 1230s to provide fuel for iron forges. (fn. 142) In the earlier 15th century oak and ash on the hay were felled illegally, (fn. 143) and in 1538 it was alleged that 300 trees there had been felled without licence and 200 loads of underwood carted away. (fn. 144) When timber on Horton Hay was valued in 1820, there were only 744 trees, mostly alder and sycamore with some oak. (fn. 145) A woodward recorded in Horton manor in 1387 was probably responsible for the sale that year of timber from 'Horewode', possibly in the Whorrocks Bank area on the east side of the parish. (fn. 146) A wood at Rea Cliffe was mentioned in the late 1530s. (fn. 147) In 1988 woodland covered 32.6 ha. (fn. 148) It lay chiefly along the edge of Rudyard Lake and included specimen trees planted on the Cliffe Park estate.
Warren and hunting.
In 1252 James de Audley was granted free warren at Horton and Gratton. (fn. 149) Coneygreave Farm, on the north-east side of Horton Hay, may stand on the site of a rabbit warren. When Francis Biddulph let Sprinks farm on Horton Hay in 1665, he reserved the right to hawk, hunt, and course, and the tenant as part of his rent had to provide a hound, greyhound, or spaniel. (fn. 150)
The keeping of deer in the parish is suggested by land called Damsgate, mentioned in 1445 and presumably lying in the Dams Lane area north-west of Gratton, and by land in Crowborough called Buckstall in 1476. (fn. 151) The places may have been associated with the park in Endon owned by the lords of Horton. (fn. 152)
Mills.
Gratton mill was recorded in the early 1290s and presumably stood on Horton brook east of Gratton hamlet. (fn. 153) It ceased working probably in the late 16th century when part of its water supply, a tributary of Horton brook which rose in Longsdon, was diverted to feed a new mill called Harracles mill erected on the east side of the parish by John Wedgwood of Harracles Hall in Longsdon. (fn. 154) Rebuilt in the 19th century and later powered by steam turbines, Harracles mill ceased working probably in the 1930s (fn. 155) but the mill building and machinery survived in 1991.
Endon mill on the Horton side of the parish boundary south of Gratton was built in 1805 by John Lees of Stanley. It ceased working in 1910 and was demolished in 1936. (fn. 156)
Trade and industry.
Having successfully upheld his claim to Horton manor in 1227, Henry de Audley began to exploit reserves of iron ore, evidently on Horton Hay, and by 1239 he had set up forges. (fn. 157) Iron was presumably still being worked in 1308, when Adam the smith (ferror) was a tenant of the manor. (fn. 158) The tenants of a water-driven forge built on the hay in 1438 had the right to cut down wood there for a term of eight years. (fn. 159) A forge on the hay was held by Hulton abbey in 1528, when it was destroyed by local men. (fn. 160) Rebuilt by 1532, it was again pulled down in 1537. (fn. 161)
Coal was dug at Horton in 1317 and 1386, probably near the boundary with Biddulph. (fn. 162) Stone was dug in different parts of the parish in the earlier 17th century. Thomas Brindley and William Jolliffe, both of Leek, were presented at the manor court for taking away stone from land in the area of Whorrocks Bank in 1638, and William Brount of Leek was presented for taking away 32 cartloads of stone from the same area in 1694. (fn. 163) A man from Biddulph was presented in 1658 for digging stone, probably on Horton Hay. (fn. 164) In 1815 there was a quarry on the west side of Whorrocks Bank Road and another south of Stone House. Quarries on the east side of Whorrocks Bank Road by 1856 were still worked in 1884 but had been closed by the late 1890s. (fn. 165) There was also a quarry at Biddulph Moor on the western boundary in 1815. (fn. 166) Stone was still dug in that area in the later 1870s, five stone masons recorded in the parish in 1881 all living at Biddulph Moor. (fn. 167)
Although Horton's 19th-century workers were chiefly involved in agriculture, several probably combined seasonal farm work with other trades. There was a nailer's shop at Whorrocks Bank c. 1807, and a nailmaker lived at Gratton in 1841. (fn. 168) Colliers and coalminers lived at Biddulph Moor, close to mines in Biddulph parish: 4 were recorded in 1841, 10 in 1851, over 40 in 1871, and over 30 in 1881. Other workers living there included pot sellers (17 in 1841 and 5 in 1861) and silkworkers and button makers (26 in 1851, but only 2 in 1881). (fn. 169)
LOCAL GOVERNMENT
In 1293 Nicholas de Audley claimed view of frankpledge, assize of bread and of ale, waif, and infangthief in Horton manor, and a jury stated that the same rights had been held by Hervey de Stafford before 1227. (fn. 170) By 1308 the Audleys used the court at Horton to administer adjacent manors, (fn. 171) and by 1351 the twice-yearly view was attended by a frankpledge for each of the tithings of Horton, Gratton, Rushton James, Endon, Longsdon, Stanley, and Bagnall. There was then a single panel of jurors, but by 1381 there were two, one called the great (later the king's) jury or inquisition and the other the office (later the customary or the lord's) jury. The former made presentments relating to public offences and the latter presentments relating to breaches of manorial customs. After the division of Horton manor in 1392 a single court was still held jointly by the lords, although the profits were divided and reeves were appointed for each share of the manor. By 1513, however, Lord Audley held a court for his two-thirds share of the manor, and in 1536 the earl of Bath held a court for his third share. The earl's court was last recorded in 1619, and by 1625 the lords again held a joint court. Presentments ceased to be made according to tithing from the beginning of the 18th century, although frankpledges (by then styled headboroughs) were still appointed at the end of the century. The view of frankpledge was last recorded in 1796 and the court baron in 1821. (fn. 172) A court leet, however, was still held in 1908, on the Thursday before the parish wake in September. (fn. 173) The court presumably met at the Crown inn in Horton village in the early 19th century, when the inn was known as the Court House. (fn. 174)
It appears that small courts were held at one time for Gratton: a rental was drawn up at a small court held there in 1605. (fn. 175)
By 1539 a constable for Horton was chosen at the autumn view of frankpledge. In the later 17th century the constablewick covered Horton itself and the manor's other tithings. A constable was still appointed in the late 1790s. (fn. 176)
A payment to the lord of Horton called tallage in 1404 and 'yilte' in 1485 may have been a form of geld payable at some earlier date to the king and charged by the lord on his tenants. (fn. 177) The amount paid in 1470 was 38s. 5½d., the same as in 1532. (fn. 178) In 1607 it was charged on most customary tenements in Horton, Endon, and Longsdon in amounts varying from 3d. to 22½d. (fn. 179)
In 1490 the lord received a Whitsuntide payment of 2s. 9d. from the frankpledges. The payment, a form of chevage or general charge on the tithings, was called chief silver in 1532 and head or headborough silver by the later 16th century. It was still demanded in 1607. (fn. 180)
By the early 15th century the lord took a 2s. charge called farefee, apparently when a tenant surrendered his entire holding in the manor. It possibly derived from a payment taken from a neif when he wished to leave the manor. (fn. 181) Farefee was still recorded in 1616. (fn. 182)
Orders to repair the stocks in Horton were made in 1654 and 1747. (fn. 183) There was a pinfold near the forge on Horton Hay in 1534 and one, possibly elsewhere in the parish, in 1626. A pinfold was mentioned as out of repair in 1706. (fn. 184) A stone enclosure which stood east of Horton church in 1991 was probably once used as a pinfold.
A surveyor of highways was recorded for Gratton in 1699, one for Horton in 1701, and one for Crowborough in 1751. They were responsible to Horton manor court. (fn. 185)
There were two churchwardens in 1553. (fn. 186) The parish clerk was salaried by 1714, receiving £1 a year. (fn. 187)
Horton had at least two overseers of the poor in 1667. (fn. 188) By 1803 the parish was divided for purposes of poor relief into two townships, each presumably with its own overseer: one township comprised Horton village and Horton Hay and the other Blackwood Hill (presumably including Gratton) and Crowborough. (fn. 189) A parish house recorded c. 1807 (fn. 190) probably stood on the road between Dams Lane and Blackwood Hill, where the overseers had a cottage in 1816. (fn. 191) There were two poorhouses, possibly one for each township, when Horton became part of Leek poor-law union in 1837. (fn. 192)
CHURCH.
A chapel at Horton was probably one of the dependent chapels granted with Leek church to Dieulacres abbey in the early 1220s. It was mentioned by name in Bishop Stavensby's confirmation of the grant between 1224 and 1228. (fn. 193) Horton was described as a parish in the earlier 1530s, (fn. 194) although in 1535 the church was recorded with others as a chapel of Leek and the grant of Leek rectory to Sir Ralph Bagnall in 1560 included what was described as Horton chapel. (fn. 195) In 1563 Horton was described as a church with cure but without institution, and in 1604 as a church annexed to Leek. (fn. 196) In 1612 the lay rector of Leek, Thomas Rudyard, conveyed Horton church and churchyard to Richard Edge of Horton Hall and William Hulme, and in 1721 Timothy Edge conveyed the church to John Alsop, his successor at Horton Hall. (fn. 197) Part of the west side of the parish was transferred to the new parish of Christ Church, Biddulph, in 1864. (fn. 198) The benefice was a perpetual curacy until 1868, when it was styled a vicarage. (fn. 199) The church was served by its own vicar until 1984 and thereafter by a priest-in-charge. (fn. 200)
By 1450 the vicar of Leek was responsible for providing a chaplain at Horton. The responsibility was transferred to Dieulacres abbey as rector, probably in 1450, and by the Dissolution the lessees of Horton tithes were responsible. (fn. 201) The patronage presumably passed with the church and churchyard to Richard Edge and William Hulme in 1612, and it was held by Edge's son Timothy in 1677. (fn. 202) By 1725, however, the patronage belonged to the lord of Horton manor, John Wedgwood, and it descended with the manor until 1791 when it was sold to Thomas Sutton of Leek. It was reunited with the lordship in 1807 when Sutton sold it to Edmund Antrobus. (fn. 203) In 1926 Crawfurd Antrobus transferred the patronage to the bishop of Lichfield. (fn. 204)
The curate received a stipend of 7 marks (£4 13s. 4d.) from the vicar of Leek in 1450. (fn. 205) The sale of Leek rectory to Thomas Rudyard in 1597 was subject to the payment of £5 6s. 8d. a year to the minister of Horton, and that sum was fixed as a rent charge on the Horton Hall estate by Richard Edge, probably in 1612. A further charge of £14 13s. 4d. on the Horton Hall estate was bequeathed to the minister by Timothy Edge (d. 1683). (fn. 206) Both rents were still paid in full in 1830, but only £18 4s. was paid in 1841. (fn. 207)
By 1726 the curate also received a rent of £5 from 15 a. inclosed from the waste at Biddulph Moor. (fn. 208) In the late 1720s or early 1730s the 35-a. Denford farm, in Cheddleton, was bought for £300. The money came from a grant of £200 made in 1725 by Queen Anne's Bounty to meet benefactions of £100 raised by subscription and £100 apparently given by Charles Wedgwood, son of John Wedgwood of Harracles, in Longsdon. The land produced a rent of £20 in 1732. (fn. 209) When land on Wetley moor, in Cheddleton, was inclosed in the late 1730s, 9 a. was assigned to the curate of Horton as the owner of the Denford estate. (fn. 210) The living was worth £105 a year c. 1830. (fn. 211) In 1841 the Biddulph Moor land was let for £15 13s. 1d., the Denford estate for £44, and the Wetley moor land (10½ a.) for £10 18s. (fn. 212) A parliamentary grant of £76 6s. 9d. was made by 1849. (fn. 213) In 1862 the Ecclesiastical Commissioners gave £900 to meet benefactions of £400 given by the patron, J. C. Antrobus, £200 raised by subscription, £200 from the Poor Benefice Fund, and £100 from the Lichfield Diocesan Church Extension Society. (fn. 214) By 1869 the Commissioners also held for the curate's benefit £1,183 8s. 7d. from the sale of the Biddulph Moor land. (fn. 215) There was 50 a. of glebe in 1887, with an estimated rental of £69. (fn. 216)
A house for the perpetual curate was built north of the church by the patron, John Wedgwood, in 1753. It was held by trustees until 1935, when it was conveyed to the Ecclesiastical Commissioners. (fn. 217) It was sold in 1985. (fn. 218)
The curate Richard Mitchell (d. 1622) was described in 1593 as 'a country scholar and well trained in the scriptures'. In 1602, however, he was recorded as having no degree and in 1604 as being no preacher and of loose life. (fn. 219) A later minister, Robert Wood, was a signatory to the Presbyterian Testimony of 1648. (fn. 220) There were several endowed sermons: one on Good Friday founded by Elizabeth St. Andrew (d. 1644), daughter of John Wedgwood of Harracles; (fn. 221) one on 5 November founded by Timothy Edge (d. 1683); (fn. 222) one on 29 May founded by William Dudley (d. 1718); (fn. 223) and one at Candlemas founded by William Bostock (d. 1725), a Leek lawyer. (fn. 224) In 1830 there were Sunday prayers with a sermon in the morning and afternoon, and Communion was celebrated four times a year. (fn. 225) The attendance on Census Sunday 1851 was 50 in the morning and 90 in the evening. (fn. 226) When a new organ was acquired in 1883, a surpliced choir and altar candles were introduced. There was by then a Communion service every Sunday. (fn. 227)
St. Gabriel's mission church was opened in Whorrocks Bank Road in 1905. The site was left by Hugh Sleigh of Leek (d. 1901), who also gave £500 towards the cost of building the church. Designed in an Italianate style by J. T. Brealey, it consisted of a nave, with a tower on the east side, and an apse. (fn. 228) Because of the threat of subsidence the church was demolished in 1934. (fn. 229)
The church of ST. MICHAEL, so called by 1480, (fn. 230) is built of sandstone and consists of a chancel, an aisled nave of three bays, a southwest porch, and a west tower. (fn. 231) The tower and the north aisle date from the 15th century, having been added to an earlier nave, none of whose fabric survives. The chancel was rebuilt in the 16th century and retains evidence of a rood loft. A wooden screen dated 1618 separates the tower from the nave. The south aisle and porch were added when the church was restored by the Leek architect William Sugden in 1864. (fn. 232) The chancel was restored in 1878 at the expense of John Robinson of Westwood Hall, in Leek and Lowe. (fn. 233)
By 1484 seats in the church were assigned to particular houses in the parish. By 1740 there was a gallery at the west end, built to accommodate people living in the Horton Hay area. (fn. 234) A north gallery had been added by 1830. (fn. 235) It was removed in 1849, when the box pews were re-arranged to provide seating in the chancel for the minister and his family; at the same date additional seating was provided for the poor under the west gallery. Also in 1849 the wooden pulpit and reading desk were moved to the south side of the chancel arch. (fn. 236)
The restoration of 1864 included the removal of the west gallery and the replacement of the box pews in the chancel with open benches. New glass given in memory of Thomas Crompton of Dunwood House in Longsdon and his wife was inserted in windows in the chancel and north aisle. At the same date the organ was moved to the east end of the new south aisle; it was replaced by the present organ in the same position in 1883. (fn. 237) When the chancel was restored in 1878, the pulpit and reading desk were replaced by a stone pulpit, given by J. C. Antrobus, and a wooden prayer desk, given by Eliza Crompton of Dunwood House. (fn. 238) A chancel screen, carved by Bennett Blakeway, vicar of Horton 1879- 1919, was erected in 1900 as a memorial to William Tellwright of Horton Lodge, also commemorated by the east window in the north aisle. (fn. 239) A 17th-century oak communion table, now in the north aisle, was replaced as the high altar in 1931 by a medieval stone altar discovered in the church. (fn. 240) The font dates from the 15th century. (fn. 241)
The plate in 1553 included a silver chalice and paten and a brass cross, pyx, and censer. (fn. 242) The present silver chalice is dated 1640 and the silver paten 1754. The latter was probably given by the patron, John Wedgwood, also the donor of a flagon, now lost. (fn. 243) There is a wooden poor box dated 1714 at the south-west corner of the nave, and in the south aisle there are royal arms of 1790.
In 1537 John Pyot of Leek left money for the purchase of bells for Horton. (fn. 244) The three bells mentioned in 1553, for which a debt of 20 marks was still owed, were described as bought from the king, possibly an indication that they had come from Dieulacres abbey. (fn. 245) They were recast in 1753 as a peal of six. (fn. 246)
The registers date from 1653 but those from 1684 to 1725 are missing. (fn. 247)
The churchyard was extended in 1864 and 1898. (fn. 248) A lychgate was erected in 1902 as a memorial to John Munro of Fairview (d. 1900). (fn. 249)
NONCONFORMITY.
Thirteen Roman Catholics were recorded in Horton in 1635, including John Biddulph of Dairy House and his wife Mary. (fn. 250) Nine recusants named in a return of 1641 included Richard Baddeley, his wife Margaret, and their two sons, all of whom were again returned in 1657. The sons only with their wives were returned in 1678, along with six other papists. Only two papists were listed in 1706. (fn. 251)
William Yardley, the tenant at Dairy House, became a Quaker in 1654, and in 1655 he was imprisoned for speaking out in Leek parish church. His house was used as meeting place for Quakers in 1669. In 1675 he was fined for preaching at a meeting in Leek. (fn. 252) John Whittakers of Gratton was a Quaker by 1675, and the Staffordshire Friends met at his house in 1685. (fn. 253) Thomas Hammersley of Gratton attended the Leek meeting in the mid 18th century, (fn. 254) and in 1770 John Fowler of Horton Hall was a trustee of the meeting house in Leek. (fn. 255)
By 1784 a Methodist society of eight members met at Steel House Farm. The society had apparently lapsed by 1802, when no Methodist services were held at Horton. By 1829, however, there was a Wesleyan Methodist service every Sunday, one week at Horton, presumably in or near the village, and the next at Bank House at the southern end of Whorrocks Bank. (fn. 256) Bank House was the home of William Armett (d. 1842), a Methodist preacher who was encouraged by George Harvey, perpetual curate of Horton 1831-6. (fn. 257) There may have been a chapel by 1841 when there is mention of Chapel House, the home of Armett's son Charles in 1851. (fn. 258) In 1862 a Wesleyan Methodist chapel was opened east of Bank House. (fn. 259) It was replaced in 1912 by a chapel in Lake Road, known as Rudyard Methodist church in 1991. (fn. 260) The former building has been turned into a house.
A Wesleyan Methodist chapel was opened at Gratton in 1822, and in 1829 there was a service every Sunday. On Census Sunday 1851 the attendance was 20 in the afternoon, besides Sunday school children, and 45 in the evening. The chapel, which was refronted in brick in the late 19th century, was still in use in 1991. (fn. 261)
A Methodist congregation existed at Biddulph Moor by 1803. A Wesleyan Methodist chapel built in New Road on the Horton side of the boundary by 1851 was replaced in 1887 by a chapel on the same site, still open in 1991. (fn. 262)
Hugh Bourne, a pioneer of Primitive Methodism, registered a house at Lask Edge for worship in 1807, when still a Wesleyan. In 1808 he preached at Gratton, where in 1809 he registered a place of worship, the first opened after his ejection from the Wesleyan connexion. In 1810 he led a camp meeting at Blackwood Hill. (fn. 263) A Primitive Methodist chapel built at Lask Edge by 1856 was replaced in 1875 by another on a site to the north-west, still open in 1991. (fn. 264)
EDUCATION.
In 1700 a schoolmaster living in Horton was licensed to teach grammar. Another was licensed in 1714. (fn. 265) It is not certain that they taught in the parish, and there was no schoolmaster in 1732. (fn. 266) A schoolmaster, Thomas Shufflebotham, died at Horton in 1774, two years after the death of Sarah Shufflebotham, who was described as a schooldame. (fn. 267) The death of another schoolmaster was recorded in 1811. (fn. 268) A school was established in 1815, probably at Lea Laughton where the master, William Heath, was living by 1817. Heath had 30 pupils in 1818, when it was stated that there was inadequate provision for the poor. (fn. 269) In the earlier 1830s he had 83 pupils. (fn. 270) A new schoolroom was built in the later 1840s, and by then the school was affiliated to the National Society. (fn. 271) The building was enlarged in 1872 and again in 1894. (fn. 272)
The decision in 1930 that what was then called Horton Church of England school, an all-age school with 83 children on its books, should become a junior school probably took effect in the earlier 1940s, the senior children being transferred to schools in Leek. (fn. 273) Horton school took controlled status in 1954 as St. Michael's Church of England (Controlled) primary school. (fn. 274) In 1962 it was rebuilt on its present site at the north end of Whorrocks Bank Road, and the former school building was converted into the village hall. (fn. 275)
In 1830 there was a Church of England Sunday school with 30 children. There was also a nonconformist Sunday school in 1830. It was probably for Wesleyan Methodists, who in the earlier 1830s had a Sunday school with 80 children, apparently at their chapel at Gratton. (fn. 276) A Sunday school at Gratton chapel had 27 children on Census Sunday 1851; no Sunday school was recorded at the parish church that day. (fn. 277)
Hannah Plummer ran a private boarding school in the parish in 1888. It was in Rudyard village in 1892 and 1896. (fn. 278)
In 1950 a school for children with special needs was opened in Horton Lodge by Stoke-on-Trent education authority. Restricted from 1969 to physically handicapped children, the school was run by Staffordshire county council in 1991. (fn. 279)
CHARITIES FOR THE POOR.
Elizabeth St. Andrew (d. 1644) left a rent charge of 6s. 8d. for distribution to the poor of Horton parish on Good Friday. (fn. 280) Timothy Edge (d. 1683) of Horton Hall left a rent charge of £10 10s., £5 to be spent on apprenticing or as a dole and £5 10s. on the distribution of bread to the poor of Horton every Sunday. In the earlier 1820s the churchwardens and overseers bought 12 loaves with £5 4s. and retained 6s. for administration. Thomas Jodrell (d. 1728) of Endon (fn. 281) left a third of the interest on £200 for the poor of Horton. The income in the later 1780s was £2 10s. By will of 1732 John Stonier of Crowborough left half the interest on £70 for distribution to the poor of Horton at Candlemas. The income in the later 1780s was £1 8s. John Wedgwood (d. 1757) of Harracles, in Longsdon, left half the interest on £120 for distribution to the poor of Horton at Candlemas. Horton's share was £3 in the later 1780s. From 1862 Fanny Bostock (d. 1875) of Cliffe Park gave £3 a year for the purchase of flannel to be given to poor women in Horton at the time of the parish wake. She bequeathed money to continue the distribution. (fn. 282) All the charities were united by a Scheme of 1936, and in 1993 £28 was distributed among seven elderly people. (fn. 283)