Pages 8-27
A History of the County of Stafford: Volume 7, Leek and the Moorlands. Originally published by Victoria County History, London, 1996.
This free content was digitised by double rekeying. All rights reserved.
ALSTONEFIELD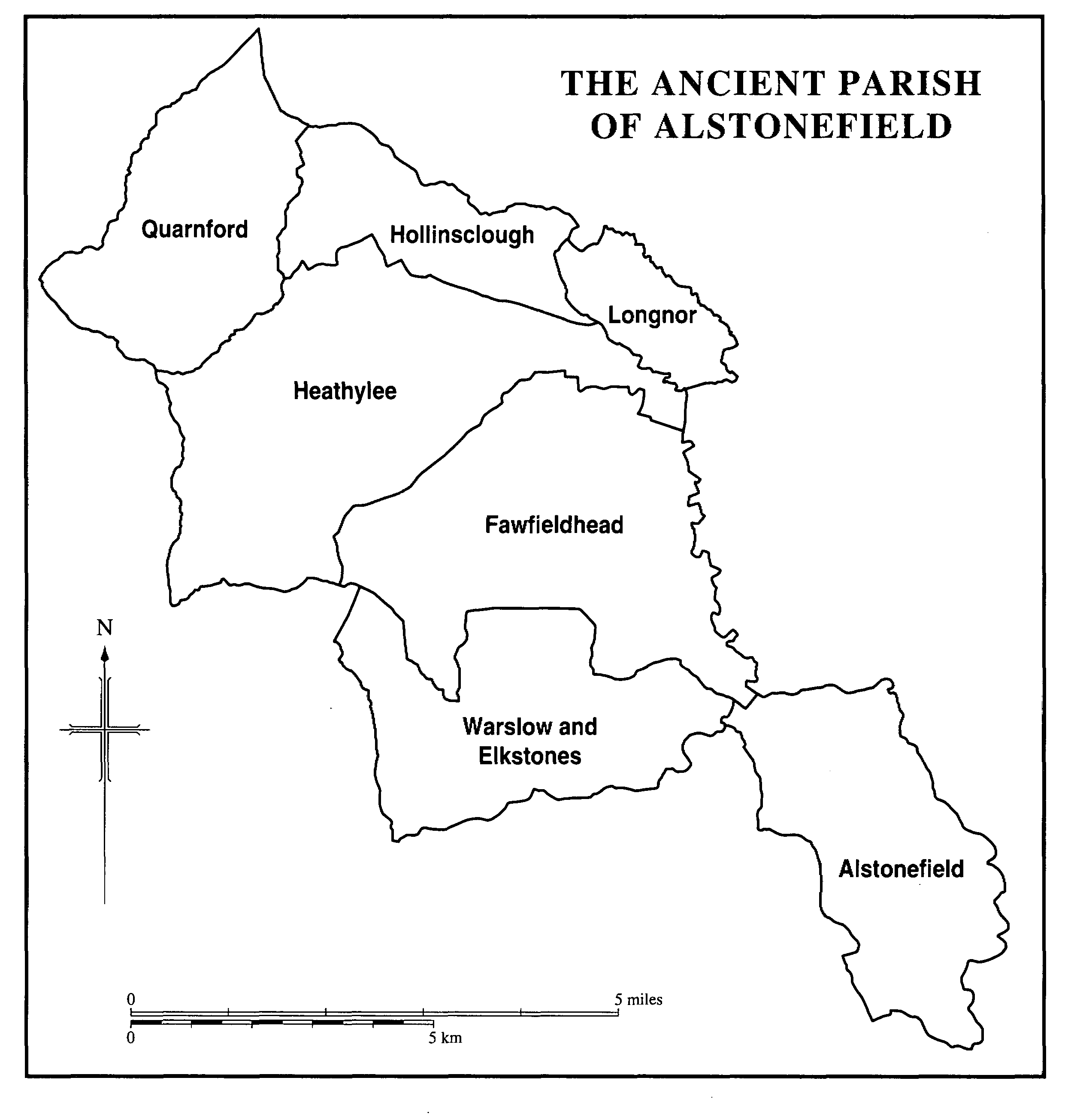 The civil parish of Alstonefield is an upland rural area 3,530 a. (1,429 ha.) in extent. It was created in 1934 from the existing civil parish and former township of Alstonefield (2,938 a.) and the adjoining detached portion (592 a.) of Fawfieldhead civil parish. (fn. 1) The river Dove forms the eastern boundary, which is also the county boundary with Derbyshire. Much of the northern boundary with Sheen is formed by a tributary of the Dove, and the southern boundary with Ilam follows another tributary running through Hall Dale (formerly Stanshope Dale). (fn. 2) The river Manifold forms the north-western boundary with Fawfieldhead and Wetton.
The centre of Alstonefield village stands at 914 ft. (279 m.). The land rises to the north, with Gratton Hill reaching 1,194 ft. (364 m.) and Narrowdale Hill 1,204 ft. (367 m.). On the east the land slopes steeply to the river Dove, which runs through the gorges of Beresford Dale, Wolfscote Dale, and Mill Dale. The north side of Hall Dale rises to 1,027 ft. (313 m.). The underlying rock is mostly Carboniferous Limestone, but in the northern part of the parish it is sandstone of the Millstone Grit series, with hard sandstone on Archford moor and a softer mudstone in the area east of it. Boulder Clay overlies the rock north-east of the village and also around Gateham Grange and on Archford moor. The soil over the limestone is silty, and over the Millstone Grit it is loam and clay. (fn. 3)
Nine people in Alstonefield township were assessed for tax in 1327 and 10 in 1333. (fn. 4) In 1767 the township had 96 men and women owing suit at the manor court; there were 62 in Alstonefield village and Milldale, 8 in Hope, 10 in Stanshope, and 16 in Narrowdale, Gateham, and Westside. (fn. 5) The population of the township was 573 in 1801 and 652 in 1821. After slight fluctuation it reached 681 in 1851 but fell steadily to 471 in 1881. Having risen to 476 in 1891, it was 438 in 1901, 457 in 1911, 402 in 1921, and 367 in 1931. (fn. 6) The detached portion of Fawfieldhead had a population of 85 in 1841, which had dropped to 72 by 1851, 64 by 1861, 46 by 1871, and 43 by 1881 and had risen to 46 again by 1891. (fn. 7) The new civil parish had a population of 373 in 1951, 333 in 1961, 293 in 1971 and 1981, and 274 in 1991. (fn. 8)
The parish contains a large number of Bronze Age barrows, several at the highest points. One at Steep Low north-west of Alstonefield village contained, besides Bronze Age remains, an Anglian burial and Roman coins. Another at Stanshope contained Samian ware. (fn. 9)
The name Alstonefield is Old English, meaning Alfstan's feld or open ground and perhaps reflecting the situation of the village on a limestone plateau. (fn. 10) The street pattern in the centre of the village is irregular, with several small greens but no single focus. The church, a preConquest foundation, stands some distance south-east of the built-up area on the road to Milldale. The road formerly ran south of the church, but in the 1830s it was realigned to pass north of it. (fn. 11) The former manor house, now called Hall Farm, stands north of the church on the edge of the village. The Rakes on the north side of the village was an inhabited area by the later 17th century. (fn. 12) Two of the houses in the village are of the 17th century, but most appear have been built between the late 18th and the late 19th century. In 1992 six three-bedroomed houses were completed by the Peak District housing association on land on the south-west side of the village given by Henry Harpur-Crewe (d. 1991). (fn. 13)
There was an inn called the Black Lion in the village in 1815, and it may have been the building which had been taken over as a workhouse by 1817. (fn. 14) There were three inns in 1818, the Red Lion, the George, and the Harpur's Arms. (fn. 15) The Red Lion, rebuilt c. 1840, became a temperance hotel c. 1895 and was evidently closed soon after 1912. The building survived in 1994 as Fynderne House, a private residence. (fn. 16) The George was probably the 'good inn for the accommodation of tourists' mentioned in 1834. (fn. 17) It was used for the Easter vestry meeting in 1828 and for the collection of the manorial rents in the 1830s. (fn. 18) By 1896 it was advertised as 'splendidly situated' with good accommodation for travellers and tourists, stabling, and traps for hire. (fn. 19) It was the only inn in the village in 1994. The Crewe and Harpur Arms, in existence by 1850, was converted from two cottages apparently in 1848. Closed in 1957, the building survived in 1994 as a private house. (fn. 20)
There was scattered settlement outside the village by the 13th century. Stanshope in the southern part of the township was a pre-Conquest estate, (fn. 21) and it was a hamlet with its own fields by the beginning of the 13th century. (fn. 22) Hope, south-west of Alstonefield village, was an inhabited place by the 1320s. (fn. 23) Hopedale further south-west was apparently an occupied site by 1657 when there was a house of that name. (fn. 24) The New inn there existed by 1850, and from the earlier 1880s it was known as the Watts Russell's Arms (later the Watts Russell Arms). (fn. 25) The name Hope derives from the Old English hop meaning a valley, (fn. 26) probably the steep-sided dale which runs from Hopedale east to the hamlet of Milldale. A road between Alstonefield and Stanshope formerly ran north-south across the dale. (fn. 27) The mill from which Milldale took its name existed probably by 1282. (fn. 28) The former road between Ashbourne (Derb.) and Alstonefield crossed the Dove there by Viator's bridge, a two-arched stone structure probably of the early 16th century and probably on the site of the Alstonefield bridge mentioned in the late 1420s. (fn. 29) It is named from one of the characters in the section of Izaak Walton's The Compleat Angler contributed by his friend Charles Cotton of Beresford Hall further upstream. The road continued to Alstonefield up Millway Lane. The route is described in The Compleat Angler (fn. 30) and was probably that taken by John Byng, later Viscount Torrington, in 1789 when he travelled from Ashbourne via Alstonefield village to visit the copper mines at Ecton, in Wetton. (fn. 31) It was the route followed by Henry (later Sir Henry) Ellis of the British Museum when he went from Ashbourne to Beresford Hall in 1815, (fn. 32) but on a visit the previous year Ellis evidently crossed the river further upstream at Lode mill and presumably continued to Alstonefield up Lode Lane. (fn. 33) That crossing was still a ford in 1658 when a woman was drowned there; (fn. 34) the present stone bridge is a 19th-century structure of one arch. It was the only road crossing in the later 19th century when the road on the Derbyshire side of Viator's bridge had gone out of use and the bridge was a footbridge. (fn. 35) The ford was described as at the Lode End in 1658, and Lode was a settlement by the 1670s. (fn. 36) The name derives from the Old English lad, meaning a watercourse or a crossing of a watercourse. (fn. 37) Gipsy Lane branching north-east from Lode Lane was formerly a road which crossed the Dove by Coldeaton bridge. (fn. 38)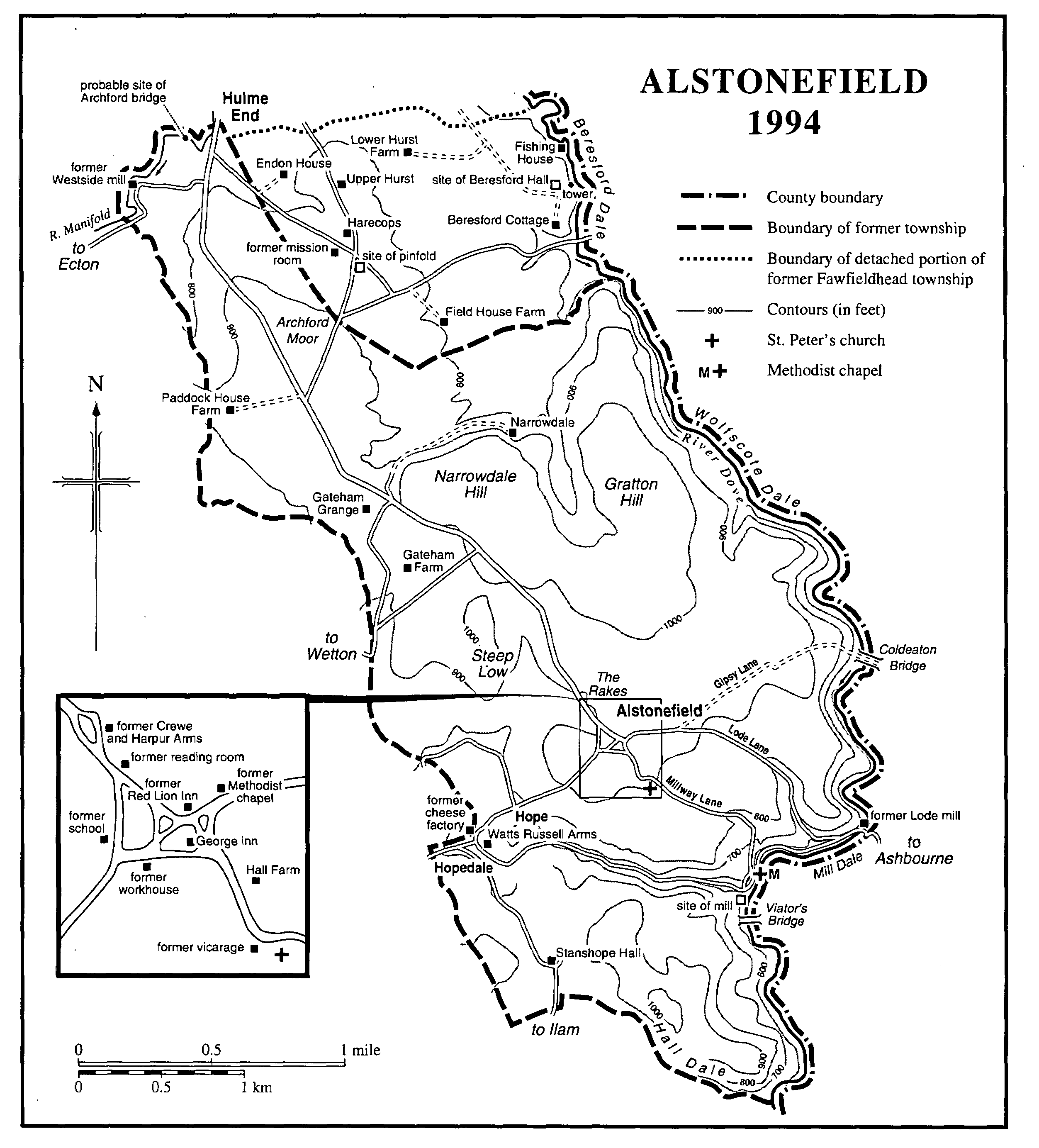 Beresford, a crossing of the Dove in the northeast part of the detached portion of Fawfieldhead, gave its name to the Beresford family, who lived there by the 13th century. (fn. 39) The early spelling of the name was normally Beveresford or a variant. (fn. 40) It has been suggested that the name derives from a ford associated with beavers, but the later spelling led the family to adopt arms showing bears. (fn. 41) The stretch of the Dove through Beresford Dale was made famous for its trout and grayling by The Compleat Angler. (fn. 42) A lane ran south from Beresford Hall to Narrowdale, which was a settlement by the later 13th century. (fn. 43) It lies between Narrowdale Hill and Gratton Hill, and Robert Plot noted that for a quarter of the year the inhabitants never saw the sun; at other times they did not see it before c. 1 p.m., a time known locally as the Narrowdale noon. (fn. 44) In 1994 the settlement consisted of two 19th-century farmhouses. Gateham to the south-west was owned in the 13th century by Combermere abbey (Ches.), which established a grange there. (fn. 45) There was a house on the site of Gateham Farm south of Gateham Grange by 1775, (fn. 46) but the present house is of the 19th century.
At Westside in the north-west corner of the township there was encroachment on Archford moor by 1507, John Beresford having built a house at Westside Head. (fn. 47) There was a mill on the Manifold there by 1584. (fn. 48) There was evidently further encroachment on the moor by the late 1760s. (fn. 49) By 1775 there may have been a house on the west side of the moor on the site of Paddock House Farm, which is dated 1828. There was settlement by 1775 along Beresford Lane on the east side of the moor, and Field House Farm south of the lane existed by then. (fn. 50) New Hurst, mentioned in 1779, (fn. 51) was probably the present Lower Hurst Farm north of Beresford Lane. It consists of a stone house to which an addition was made probably in the late 18th century with further additions in the 19th century. Upper Hurst, Harecops, and Endon House in the same area existed by 1839 and probably by 1820, (fn. 52) although Upper Hurst has been rebuilt.
The road running north from Alstonefield village across Archford moor formerly forked south of the Sheen boundary. One branch continued north to Hulme End, in Sheen, and the other ran north-west to Longnor, crossing the Manifold into Fawfieldhead at Archford bridge. The bridge was in existence by 1403. (fn. 53) In 1553 bequests of 3s. 4d. and of a sheep were made for its maintenance. (fn. 54) Both branches of the Alstonefield road formed part of the road from Warslow to Hartington (Derb.) until it was turnpiked in 1770 and realigned to cross the river c. 300 yd. upstream at Hulme End. (fn. 55) Archford bridge was still used as an address in 1796, but the road over it had evidently ceased to be used by 1820. (fn. 56)
Mention was made of the new well in Alstonefield village in 1596 when the manor court ordered that water was not to be taken from it for washing clothes. An order was also made for the repair of the wash pool, with another order in 1617 for its annual cleaning. (fn. 57) There was a well on the south side of the village in 1715. (fn. 58) A parish pump in Alstonefield was mentioned in 1866. A pump was erected on the north side of the village in 1896 and replaced in 1928 by another on the same site, still standing in 1994. A piped water supply became available in 1955, though not to every house. (fn. 59) A ban was placed on washing clothes and watering cattle in the wells in Hope in 1606 and in the town well in Stanshope in 1607. (fn. 60) In the late 1870s there were seven wells around Hope and a well in Stanshope. (fn. 61) A well in the garden of the former cheese factory at Hopedale served the hamlet until the coming of a mains water supply. (fn. 62) Electricity became available in Alstonefield village in 1939. (fn. 63)
There was an Alstonefield dispensary in the mid 1830s supported by annual subscription. (fn. 64) By 1912 the Alstonefield and Wetton nursing association was providing a nurse for home visits; subscriptions ranged from 2s. 6d. a year for widows and single people to £1 for the 'upper classes'. It still existed in 1925 when a public meeting decided to wind it up because of inadequate financial support; it was saved that year by help from the county nursing association. (fn. 65) Harvest festival collections in the mid 1920s enabled Alstonefield ecclesiastical parish to subscribe 7 guineas to the Derby Infirmary, entitling it to recommend 3 in-patients or 14 out-patients. (fn. 66)
There was a post office in the village by 1850. It was run by James Hambleton, who combined it with a grocery and drapery business. (fn. 67)
By the 1830s a wake was held on the Sunday after 29 June, the feast of St. Peter and St. Paul, the church being dedicated to St. Peter. (fn. 68) The Tuesday following the Sunday was also a festival by 1901. (fn. 69) In the earlier 1990s Wakes Sunday was marked by a procession through the village to the church, where a service was held, normally in the open air. (fn. 70) Henry Ellis, visiting Alstonefield and Ilam on 14 September 1815, noted the paper garlands hanging in the churches 'in memory of young females', although he was told that the custom was dying out. (fn. 71)
There were three friendly societies in the village in 1876, founded respectively in 1794, 1803, and 1811. The last had 115 members in 1876 and, like that of 1794, met at the George. (fn. 72) A Women's Institute was formed in 1920 as part of the Staffordshire Federation of Women's Institutes. It was closed in 1935 and in 1953 it was re-established as part of the Derbyshire Federation. (fn. 73)
Cottage House on the north side of the village was converted into a reading room, evidently in 1865. (fn. 74) In the late 1920s it became a social centre with activities including billiard matches. (fn. 75) The building was used as an A.R.P. post during the Second World War and later by the scouts and other organizations, and in 1953 it was converted into a kitchen and dining room for the school. (fn. 76) In 1994 it was a private house called the Old Reading Room. At the beginning of the 20th century there was a free lending library at the school for adults as well as children; it was open on Mondays after afternoon school. (fn. 77) A village institute was opened in 1921. (fn. 78) It was replaced in the earlier 1980s when the school, closed in 1982, was bought by the village from the Harpur-Crewe trustees and converted into Alstonefield Memorial Hall and Community Centre. (fn. 79) Alstonefield Local History Society grew out of courses on the history of the village organized by the Workers Educational Association from 1975 to 1978, and the society was still active in 1994. (fn. 80)
There was an Alstonefield band by 1867, presumably the brass band whose revival was attempted in 1901. (fn. 81) A village band was formed in 1914, its instruments paid for by public subscription, and it still existed in 1920. (fn. 82) There was an Alstonefield choral society in 1919. (fn. 83)
The village had a cricket club and a football club by 1905. (fn. 84) Both had lapsed by 1919 when two new clubs were started. (fn. 85) A tennis club appears to have been formed in 1926. (fn. 86)
An annual flower show held in August or September was started in 1894. By 1904 it was a horticultural and poultry show and by 1912 an agricultural and horticultural show. Exhibits in 1913 included flowers, butter, sheep, and cattle. It was still held in 1923. (fn. 87)
In 1789 John Byng described Alstonefield village as set 'amidst mountains of height and beauty'. (fn. 88) William Alexander, who accompanied Henry Ellis on his visit to Beresford Hall in 1815, found the spot highly interesting both for its romantic scenery reminiscent of the paintings of Salvator Rosa and for its associations with Charles Cotton. (fn. 89) By 1834 tourists were coming to Alstonefield 'to view the wild and romantic scenery of the neighbourhood'. (fn. 90) The George inn made provision for them by the 1890s and probably by the 1830s, and the temperance hotel in the village by the mid 1890s presumably catered for tourists. (fn. 91) A refreshment room had been opened at Milldale by 1908 and another in the village by 1928. (fn. 92) The Leek & Manifold Valley light railway, opened from Waterhouses to the Fawfieldhead part of Hulme End in 1904 and closed in 1934, brought visitors to Beresford Dale. (fn. 93) In 1933 and 1936 the National Trust acquired land on both sides of the Dove below the southern end of Wolfscote Dale. (fn. 94) The area continues to attract walkers, and there are several holiday cottages and second homes in Alstonefield and Milldale, some of them converted barns. (fn. 95)
MANORS AND OTHER ESTATES.
Before the Conquest ALSTONEFIELD was held by Godwin. (fn. 96) It has been suggested that William I gave it to his half-sister's son Hugh d'Avranches, who was created earl of Chester in 1071. (fn. 97) By 1086, however, Roger, earl of Shrewsbury, held the manor, then assessed at 3 virgates. (fn. 98) In 1102 his son and successor Robert de Bellême forfeited his possessions. (fn. 99) Alstonefield seems then to have remained with the Crown until 1215 when John granted the overlordship of 1 knight's fee there to Ranulph, earl of Chester. (fn. 100) In 1283 the king held the overlordship as part of the honor of Chester, (fn. 101) but Edmund, earl of Lancaster, was overlord at his death in 1296. (fn. 102) The overlordship continued with the earldom, later the duchy, of Lancaster, which still held it in 1577 and apparently in 1596. (fn. 103)
In 1086 Alstonefield was held of the earl of Shrewsbury by William Malbank, who may have been enfeoffed by the earl of Chester. (fn. 104) He was one of that earl's principal tenants in Cheshire in 1086 and held the barony of Wich Malbank (later Nantwich). He was still living in 1093, but by 1119 he had been succeeded by his son Hugh. (fn. 105) When Hugh founded Combermere abbey (Ches.) in 1133, he included half the vill of Alstonefield among its endowments, perhaps the estate which became Gateham grange. (fn. 106) He died in 1135 and was succeeded by his son William, on whose death in 1176 Alstonefield passed into the king's hands for three years. (fn. 107) William left three daughters and coheirs, Philippa, Aenora, and Alda. The three shares of the manor, one of them subdivided into six parts, were reunited in the 16th and 17th centuries.
Philippa Malbank's share.
Philippa married Thomas Basset of Headington (Oxon.), who was also granted Aenora's share in 1204, evidently retaining it until c. 1218. He was dead by 1220 with three daughters as his heirs, but Philippa still held a third share of the manor in 1227. (fn. 108) The share was probably held by Sir Hugh le Despenser (d. 1265) and possibly by his father Sir Hugh (d. 1238); the younger Sir Hugh's son Hugh held it in 1274-5. (fn. 109) Created earl of Winchester in 1322, he was executed in 1326, and in 1327 the king granted his share of Alstonefield to Sir Roger Swynnerton. (fn. 110) In 1338 Sir Roger was succeeded by his son Robert, rector of Barrow (Ches.), who died in 1349 or 1350 with his brother Sir Thomas as his heir. (fn. 111) Sir Thomas was succeeded in 1361 by his son Robert, who died probably in 1385 or 1386, leaving the manor to his daughter Maud. (fn. 112) Her first husband, Humphrey Peshall, was dead by 1388, and her second, Sir William Ipstones, died in 1399. (fn. 113) By 1401 she had married Sir John Savage. (fn. 114) In 1424 her son Richard Peshall successfully sued Sir John for his mother's share of Alstonefield, (fn. 115) and between 1454 and 1458 he was succeeded by his son Humphrey. (fn. 116)
Humphrey Peshall died in 1498, having devised his third share to his posthumous son Richard. (fn. 117) Humphrey's name was still used in a surrender made in the manor court in 1506, (fn. 118) but possibly by that year and certainly by 1530 the share had passed to Catherine, daughter of Humphrey's eldest son Hugh (d. 1490) and wife of Sir John Blount of Kinlet (Salop.). (fn. 119) John died in 1531, and their son George came of age in 1534. (fn. 120) In 1542 George sold his third share of Alstonefield to Vincent Mundy, who already held Aenora Malbank's share. (fn. 121) In 1564 Vincent granted his two-thirds share of the manor for 12 years to his son Edward, (fn. 122) with whom he conveyed it in 1569 to Richard Harpur, of Swarkestone (Derb.), justice of Common Pleas. Richard was succeeded in 1577 by his son John. (fn. 123)
Aenora Malbank's share.
Aenora married Robert Bardolf, who transferred his allegiance to the king of France in 1204 but sent his wife to England. (fn. 124) King John thereupon granted Aenora's share of Alstonefield to Thomas Basset, the husband of her sister Philippa. (fn. 125) Aenora, a widow by 1210, (fn. 126) seems to have secured its return c. 1218 and to have granted it to Henry de Audley; the grant, however, was described as made by Ranulph, earl of Chester, in a royal confirmation to Audley in 1227. (fn. 127) That third of the manor then descended in the Audley family. (fn. 128) By 1391 Nicholas, Lord Audley, had granted it for life to Sir Nicholas Stafford (d. 1394), of Throwley, in Ilam, at a rent of £12 a year. (fn. 129) On the death of Lord Audley in 1391 the third part was divided between two of his heirs, John Tuchet and Margaret Hillary. (fn. 130) It descended with their successors until 1516 when John, Lord Audley, sold what were called the manors of Alstonefield and Warslow to John Mundy, a London goldsmith. John, who was knighted in 1523, died in 1537, having settled his share of Alstonefield on his younger son Vincent, (fn. 131) who in 1542 acquired Philippa Malbank's share also. (fn. 132)
Alda Malbank's share.
Alda married Warin de Vernon, and their grandson, another Warin de Vernon, held a third of Alstonefield in 1274-5. (fn. 133) In 1293 six coparceners held that share. (fn. 134) Three of them had inherited their purparties from the sisters of the younger Warin, Maud (or Margery), Rose, and Alda: (fn. 135) Richard of Winnington, a minor, was Maud's grandson, (fn. 136) Roger of Littlebury was Rose's heir, (fn. 137) and Sir William de Stafford was Alda's son. (fn. 138) The other three were Robert Grosvenor, whose wife Margery was evidently the younger Warin's aunt, (fn. 139) David of Heswall, husband of Eustachia de Vernon, evidently Warin's cousin, (fn. 140) and Margaret of Hogelegh. Ralph de Vernon, Warin's uncle, claimed all or part of the third share but was assigned instead the family's manor of Shipbrook, in Davenham (Ches.). (fn. 141)
Richard of Winnington's share passed with his share of the manor of Leftwich, in Davenham (Ches.), to his son Richard of Leftwich. (fn. 142) Richard seems to have conveyed his share of Alstonefield in the early 1340s to the Vernons, who held part of the manor in 1427. The Vernon share was held in 1444 by John Cotton of Hamstall Ridware. (fn. 143) It passed to his son Richard and to Richard's son Richard, who was killed at the battle of St. Albans in 1461, leaving an infant son Richard as his heir. It was held by the heir's uncle, John Cotton, in 1467 and 1476. (fn. 144) Richard held it at his death in 1502, when his son Thomas succeeded. (fn. 145) Thomas died in 1506 with an infant daughter Elizabeth as his heir. (fn. 146) She died soon afterwards, and her share of Alstonefield passed to Isabella, Thomas's youngest sister, who married as her first husband John Bradbourne (d. 1523) of Bradbourne (Derb.). Their son Humphrey, a minor in 1523, held the share of Alstonefield by 1543; he was knighted in 1544 and died in 1581. (fn. 147) His eldest son William evidently sold the share to Humphrey Ferrers, husband of William's sister Anne, and in 1585 Humphrey and Anne made a settlement of part of Alstonefield manor. (fn. 148) It evidently passed to John Harpur, to whom William Bradbourne renounced all claim in 1596. (fn. 149)
Roger of Littlebury granted his share to William Wyther, whose son Sir Thomas Wyther granted it to Adam of Narrowdale in 1324. (fn. 150) Adam, perhaps alive in 1348, had been succeeded by his son John by 1354. (fn. 151) John was dead by 1369, and his heir was his daughter Agnes, wife of Richard Walker by 1382. (fn. 152) William Walker held the share in 1405-6 and Humphrey Walker by the mid 1420s. He or another Humphrey held it in 1457. (fn. 153) A Humphrey Walker held it in 1515 and 1532 (fn. 154) and a George Walker in 1538. (fn. 155) In 1565 Henry Walker conveyed it to John Draycott of Paynsley, in Draycott-in-the-Moors, who in 1574 conveyed it to Richard Harpur. (fn. 156)
Sir William de Stafford's share descended with his manor of Amblecote until 1485, when it passed to Sir Robert Willoughby, by 1491 Lord Willoughby de Broke. (fn. 157) It descended with the barony until 1575, when Sir Fulke Greville, Lord Willoughby de Broke, conveyed it to Nicholas Longford of Longford (Derb.). In 1577 Longford conveyed it to Sampson Beresford and his son Edward. (fn. 158) It later passed to the Harpur family. (fn. 159)
Robert Grosvenor's share passed to his son Robert, who held it in 1343 and 1344. (fn. 160) It descended in the Grosvenor family of Hulme in Allostock, in Great Budworth parish (Ches.), until the death of Robert Grosvenor in 1465 and the division of his estates among his four daughters. The share of Alstonefield passed to the youngest, Margaret, wife of Thomas Leycester of Nether Tabley, also in Great Budworth. (fn. 161) Thomas was succeeded in 1526-7 by their son John, who was followed in 1545 by his son Peter. In 1577 Peter was succeeded by his son, also Peter, who conveyed the share of Alstonefield to John Harpur in 1580. (fn. 162)
One of the remaining shares was evidently held by the Bedull family by the later 15th century. In 1523 it was conveyed by William Basset of Blore to Sir Anthony Fitzherbert of Norbury (Derb.), justice of Common Pleas. (fn. 163) He was succeeded in 1538 by his son Thomas (Sir Thomas from 1547), who conveyed the share to John Harpur in 1582. (fn. 164)
The other remaining share had passed to Henry, son of Richard de la Pole, by 1334, when he granted it to Richard de la Pole of Hartington (Derb.) with remainder to Richard's son John. (fn. 165) Richard was still alive in 1342. (fn. 166) By 1357 the share was evidently held by John's son John, who was dead by 1397. His heir was his son John, a minor, who was of age by 1406. (fn. 167) The share had passed to the Sacheverell family by 1516 and was held c. 1557 by Humphrey Sacheverell. (fn. 168) In 1566 Henry Sacheverell granted it to William Jackson. (fn. 169) It descended with the Jacksons' Stanshope estate until 1670 when Philip Jackson sold most of the share to Sir John Harpur. (fn. 170) By 1769 the residue had passed to two separate owners, whose rights were thought to be limited to the commons and wastes. (fn. 171)
John Harpur (Sir John from 1603) was succeeded in 1622 by his son John, a minor. Knighted in 1630, the younger John was succeeded in 1679 by his cousin, Sir Henry Harpur, Bt., of Calke (Derb.). Alstonefield then descended with the baronetcy. Sir Henry Harpur, the 7th baronet, changed the family name to Crewe in 1808 in the hope of securing the revival of the barony of Crew. His son George, who succeeded in 1819, used the name Crewe, and his son John, who succeeded in 1844, adopted the form Harpur Crewe. The baronetcy became extinct on the death of Sir Vauncey Harpur Crewe in 1924, and his estates passed to his daughter Hilda, wife of Col. Godfrey Mosley. She was succeeded in 1949 by her nephew Charles Jenney, who in accordance with her will changed his name to HarpurCrewe in 1961. He was succeeded by his brother Henry Harpur-Crewe in 1981 and Henry by his sister Airmyne Harpur-Crewe in 1991; both had changed their name from Jenney to Harpur-Crewe in 1981. (fn. 172) Meanwhile the family sold most of the farmland on its Alstonefield estate in 1951 to pay death duties, and in 1986 the moorland passed to the Peak Park joint planning board in lieu of capital transfer tax. (fn. 173)
In the later 13th century the Audleys' share of the manor included a manor house, but it was no longer standing in 1325. (fn. 174) In 1329 a house formed part of the demesne of the share formerly held by the Despensers, but there was no house there in 1338. (fn. 175) A house called the Hall Place was repaired by Lord Audley in 1435-6, evidently after the death of the tenant and before a new lease was granted. (fn. 176) A house 'called the Hall House or house of the demesnes', formerly part of Lord Audley's share, was leased in 1530, c. 1548, and 1557. (fn. 177) In 1600 the manor court ordered that six tenants nominated by the bailiff should each bring a load of peat annually to John Harpur's manor house at Alstonefield for fuel. (fn. 178) The house is a stone building north of the church, now called Hall Farm. The south-facing main range was built by John Harpur in 1587, and there is a rear wing at the east end. (fn. 179) Four rooms collapsed in 1711 and were promptly rebuilt. (fn. 180) The house and the farm belonging to it, having been put up for sale in 1951, were bought by Mrs. M. G. Davidson, whose son, Mr. J. S. Davidson, owned them in 1994. (fn. 181)
BERESFORD was the home of the Beresford family by the 13th century. John of Beresford held an estate there in 1232, paying 8s. a year for it to John Fitzherbert who that year granted the rent to William Fitzherbert. (fn. 182) Hugh of Beresford witnessed charters in the mid 13th century and probably earlier, and he was still alive in 1274. (fn. 183) John of Beresford was active in 1277, (fn. 184) and William of Beresford, alive in 1293, was described as lord of Beresford. (fn. 185) Adam of Beresford, active by 1292, was probably the Adam of Beresford who in 1308 held what was described as the hamlet of Beresford of the Audley family as lords of Aenora Malbank's share of Alstonefield manor by the rent of a quiver of 12 feathered and 2 bolted arrows worth 8½d. (fn. 186) He was still alive in 1336. (fn. 187) His son John had succeeded by 1342, and probably by 1338, and was still living in 1346. (fn. 188) John's son Adam had evidently succeeded by 1350 and was described as lord of Beresford in 1354. (fn. 189) He was dead by 1360 with his son and heir John still a minor. John's wardship was claimed by Sir Thomas Swynnerton, lord of Philippa Malbank's third of Alstonefield manor, who sued Adam's widow Agnes and others for abducting John from Beresford. (fn. 190) In 1412 John conveyed the Beresford estate to his son Adam. (fn. 191) Adam's heir was his son John, who evidently had a son and grandson each named John. (fn. 192) The last John died in 1523, and what was then called the manor of Beresford, held of John Mundy as lord of Aenora Malbank's share of Alstonefield manor, passed to his son Robert. (fn. 193) Robert was followed in 1542 by his son Sampson, (fn. 194) who was succeeded in 1593 by his son Edward. (fn. 195)
Edward Beresford was succeeded in 1623 by his granddaughter Olive Stanhope, later the wife of Charles Cotton. (fn. 196) She predeceased her husband, who died in 1658, and the heir was their son Charles, poet and author of the second part of the 1676 edition of Izaak Walton's The Compleat Angler. (fn. 197) In 1680 he sold the manor or reputed manor of Beresford to Joseph Woodhouse of Wolfscote, in Hartington (Derb.), who sold it in 1681 to John Beresford of Newton Grange, in Ashbourne (Derb.). (fn. 198) In 1723 John Beresford sold the manor to George Osborne, who was living there by 1739. (fn. 199) Osborne and his son Marcellus sold it in 1746 to Walter, Lord Aston, on condition that Lord Aston would lease part of it to them for 99 years. Disputes arose, continuing after the death of Lord Aston in 1748 and that of his son and heir James in 1751. An agreement was made in 1761 between the Osbornes and the guardian of James's daughters and coheirs Mary and Barbara. The estate was divided, Beresford Hall and the manorial rights being assigned to the Osbornes. (fn. 200) Marcellus had succeeded his father by 1766 and was then living at Beresford. (fn. 201) The house and some 80 a. were later bought by a Mr. Jebb, apparently of Chesterfield (Derb.), whose son owned the property in 1815. (fn. 202)
The manor and nearly 90 a. were bought in 1825 by William, Viscount Beresford, who had been buying portions of the estate since 1823. (fn. 203) The estate extended into Sheen parish, where Viscount Beresford owned 94 a. in 1845. (fn. 204) In 1832 he married his cousin Louisa, widow of Thomas Hope, and on his death in 1854 the Beresford estate passed to Louisa's youngest son, Alexander James Beresford Hope, who then changed his surname to Beresford-Hope. (fn. 205) In 1887 he was succeeded by his son Philip, who sold the 500-a. estate in 1901 to F. W. Green of York. (fn. 206) At first Green periodically lived at Bank Top House (later Beresford Manor) in Sheen, but having enlarged Beresford Cottage south of the site of Beresford Hall, he moved there. (fn. 207) In 1924 he sold the estate to F. S. Brice, a Leicester hosiery manufacturer, who used it as a country home and fishing ground and whose executors put it up for sale in 1932. (fn. 208) The Beresford Cottage estate was bought from the Robinson family c. 1960 by Rodney Felton, who sold the house to John Downes in the late 1980s. (fn. 209)
Beresford Hall as it survived in the 19th century was a stone building which consisted of a south entrance front of perhaps the mid 17th century at a right angle to a wing on its west end of perhaps the later 16th century. (fn. 210) In 1666 the hall was assessed for tax on nine hearths. (fn. 211) It was occupied as a farmhouse by 1815 and was in a dilapidated state. (fn. 212) In 1836 it was noted that some of the roofs had fallen in, but it was stated in 1838 that the south front was 'in tolerable order'. In the earlier 1840s the part not used as a farmhouse was roofless so that 'the wind whistles through its deserted halls, the windows being without casements'. (fn. 213) Even before succeeding to the estate A. J. B. Hope had plans for rebuilding the hall with William Butterfield as architect, and in 1858 much of it was pulled down. (fn. 214) A carriage road to the site was made from the Hartington road in Sheen in 1859 and planted with trees. (fn. 215) The plans for rebuilding were abandoned, but ruins remained on the site of the hall into the 20th century; most of the trees forming the avenue were cut down early in the century. (fn. 216) In 1905 F. W. Green rebuilt a tower on the hilltop east of the site of the hall, retaining the existing basement and probably using stone from the remains of the hall. (fn. 217) He also laid out a yew walk with statuary along the slope west of the tower and made a terrace garden overlooking the Dove; (fn. 218) though overgrown, both survived in 1994.
In 1674 Charles Cotton built what he described as 'my poor fishing house, my seat's best grace', in a bend of the Dove north of the hall. It is a square stone building with a pyramidal roof surmounted by a sundial and ball. The keystone over the door bears the intertwined initials of Walton and Cotton, and above it is the inscription 'Piscatoribus Sacrum' with the date. The interior consists of a single room, described in The Compleat Angler as 'finely wainscoted, and all exceeding neat, with a marble table and all in the middle'. A description of 1784 stated that it was paved with black and white marble and that on the larger panels of the wainscoting there were paintings of nearby scenery with people fishing and on the smaller panels paintings of fishing tackle. There was also a buffet with portraits on its folding doors of Cotton with a boy servant and of Walton; on the door of the cupboard underneath were pictures of a trout and a grayling, the fish which formed the subject of Cotton's contribution to The Compleat Angler. By 1784 the building was decaying, inside and out, and by 1811 the floor and wainscoting had been removed and the table was in pieces. (fn. 219) The structure is now in good repair. There is a 17th-century stone bench standing to the south.
The estate known as GATEHAM GRANGE may have originated in the half of Alstonefield given to Combermere abbey by Hugh Malbank in 1133 as part of its endowment. (fn. 220) When the king confirmed the abbey's estates in 1253 its only property in Alstonefield apart from the church was land called Gateham which William the priest had formerly held, 1 bovate of land, common pasture, and pasture in the forest for the abbey's mares. (fn. 221) The abbey held 1 carucate at Gateham in 1291. (fn. 222) In 1532 it leased a grange at Gateham and tithes in the neighbourhood to Ralph Beresford for 80 years. At the dissolution of the abbey in 1538 the grange passed to the Crown, which in 1587 granted a 50-year lease of the grange and tithes to Sir Robert Constable, to take effect on the expiry of the earlier lease. (fn. 223) Matthew Beresford, tenant by 1594, was still the tenant at his death in 1616, (fn. 224) and Widow Beresford was in occupation in the earlier 1630s. (fn. 225) Meanwhile in 1599 the Crown sold the grange and its tithes to John Harpur. (fn. 226) Gateham Grange then descended with Alstonefield manor and was sold as part of the Harpur Crewe estate in 1951 to P. I. Robinson. In 1952 he sold it to the tenant, Ralph Adams, who sold it in 1984 to Robert Flower. (fn. 227) The present house is of the 19th century, but the western gable and part of the back wall are of the 17th century.
Thomas of Parwich held a manor of NARROWDALE in 1292 or 1293 by grant of John of Narrowdale and his wife Sabina. (fn. 228) Thomas was living at Narrowdale in 1292 (fn. 229) and was still alive in 1299. (fn. 230) No further mention of the manor is known, and it may have been absorbed into Beresford. (fn. 231)
Before the Conquest STANSHOPE was held by Wudia, but by 1086 it had passed to the king. (fn. 232) In 1227 the king granted to Henry de Audley land there which had belonged to the Stanshope family, and land in Stanshope was part of Thomas de Audley's share of Alstonefield manor at his death in 1307. (fn. 233) In the later 1550s the village of Stanshope was described as within Alstonefield lordship. (fn. 234)
A house in Stanshope held in 1515 or 1516 by William Jackson (fn. 235) may have been the house which formed part of the estate in Stanshope held by Robert Jackson at his death in 1556. He left the estate to his wife Alice and his son William jointly, with reversion of the whole to William. (fn. 236) William, who secured Henry Sacheverell's share of Alstonefield manor in 1566 and lived at Stanshope, died in 1613. (fn. 237) He was succeeded by his son Henry, whose son and heir Philip was associated with him in conveyances of property elsewhere in Alstonefield in 1616. (fn. 238) Philip compounded in 1631 for failure to receive knighthood at Charles I's coronation in 1626. (fn. 239) He was an active parliamentarian during the Civil War. Appointed captain of foot in 1642, he rose to the rank of colonel. He appears to have played a prominent part in the Moorlanders' attack on the royalist garrison at Stafford in 1643, and later the same year he was nominated to the parliamentary committee at Stafford. (fn. 240) In 1664 he was disclaimed at a heraldic visitation. (fn. 241) He was succeeded in 1675 by his son William, who died in 1679. (fn. 242) William's heir was his brother Henry, a parliamentarian captain in the Civil War and considered by Charles Cotton 'an admirable fly angler'. (fn. 243) He sold the Stanshope estate to John Jackson, a London merchant, in 1699 but continued to live there until his death in 1702. (fn. 244)
By 1704 John Jackson had been succeeded by his niece Mary, wife of Sir Raphe Assheton. By her will of 1720 Dame Mary, then a widow, left the estate to Strelley Pegge, great-grandson of Philip Jackson's sister Ann. Strelley secured possession in 1724 and was living at Stanshope in 1735, although by 1758 he was living at Beauchief (Derb.). In 1767 he conveyed the Stanshope estate to William Manley. (fn. 245) By the 1790s Manley was trying to sell it. He was declared bankrupt in 1799, and in 1800 the estate, consisting of two farmhouses and c. 300 a., was bought by a Mr. Harrop. (fn. 246) In 1825 the owner was John Harrop, a Lancashire cotton manufacturer. (fn. 247) George Beardmore was farming at Stanshope in 1834, and by 1851 the estate was owned by Ralph Beardmore. (fn. 248) He died in 1880, and his son Ralph continued at Stanshope until his death in 1910, leaving a son Ralph as his heir. (fn. 249) In 1912 the hall and 60 a. were offered for sale. (fn. 250) By 1918 the hall and 53 a. were let separately from the rest of the 129-a. estate, the whole of which was bought that year by J. B. Smith. He was still farming there in 1940. (fn. 251) He later sold the house to Ian Hall. In 1972 it was bought by Andrew Brownsfoot, who sold it in 1986 to Naomi Chambers and Nicholas Lourie, the owners in 1994. (fn. 252)
Stanshope Hall forms an H-plan. The west wing seems originally to have been a tworoomed house of c. 1600 with a gable chimney. The central range was added early in the 17th century and the east wing late in the same century. In 1666 the house was assessed for tax on nine hearths. (fn. 253) The south front was remodelled in the late 18th century, when the west gable was rebuilt with windows in place of the original stack. The east front was refaced probably at the same time; it is in red brick with a rusticated door surround and quoins. In the 19th century a bay window was added to the south front and service additions were made at the rear. (fn. 254)
The RECTORY of Alstonefield was held by Combermere abbey as part of its endowment by Hugh Malbank in 1133. (fn. 255) On the dissolution of the abbey in 1538 it passed to the Crown, which sold it in 1599 to John Harpur. From 1505, however, it was held by members of the Beresford family under a series of leases, the last of which was due to expire in 1637. (fn. 256) The rectory, which in 1604 was said to be worth £200, (fn. 257) then descended with Alstonefield manor. By the late 16th century it had long been customary for the freeholders of Malbon Frith to pay cash in lieu of rectorial tithes. (fn. 258) By then too the owners or occupiers of a farm at Hardings Booth, in Heathylee, paid 2s. 7d. in lieu of rectorial tithes, but in the late 1630s Sir John Harpur tried to secure payment in kind. (fn. 259) Under the inclosure award of 1839 covering much of the parish, Sir George Crewe as impropriator was allotted lands worth £400 in lieu of great tithes. (fn. 260) In 1848 his son Sir John was granted a rent charge of £40 in lieu of great tithes in Longnor and in 1850 a rent charge of £15 10s. 6d. in lieu of great tithes in Upper Elkstone. (fn. 261)
In 1535 the subtenant of part of the tithes held a tithe barn. (fn. 262) Sir John Harpur's tithe barn at Alstonefield was repaired three times between 1702 and 1713. (fn. 263) There was a tithe barn at Warslow in the mid 17th century and probably in the later 1670s. (fn. 264)
Tutbury priory had land at Westside in the earlier 1420s. (fn. 265)
ECONOMIC HISTORY.
Agriculture.
In 1086 Alstonefield had land for 3 ploughteams. There was 1 team in demesne, and a villanus had another. There were 8 a. of meadow, and woodland was 1 league in length and ½ league in breadth. The manor, including Warslow, was worth 40s. (fn. 266) Stanshope had land for 1 or 2 ploughteams. (fn. 267)
In the earlier 1630s Sir John Harpur's tenants held 1,347 a. in Alstonefield township, consisting of 475 a. of arable, 855 a. of pasture, and 17 a. of meadow. Freeholders held a further 1,398 a. There were then at least 11 open fields. (fn. 268) They included Crosslake field south of Alstonefield village, still an open field in 1709, (fn. 269) and Hall field west of the village. The hayward appointed for the township in 1728 was described as serving for Hall field and the common pastures, and Hall field was mentioned as a common field in 1730. (fn. 270) Another of the fields of the earlier 1630s, Warrilow field north-west of Stanshope, evidently belonged to that hamlet only, and it seems to have remained partially uninclosed in the late 18th century. (fn. 271) By the mid 16th century an open field known variously as Stanshope field and Ilam field had been created out of part of Ilam moor, and although in Ilam parish, it was treated as part of Alstonefield manor. In winter, however, the inhabitants of Ilam were allowed to pasture their beasts there along with those of Stanshope. (fn. 272)
The main areas of common pasture in the earlier 1630s were Gratton hill, with stints varying between ¼ and 2¾ gates, Hope heath (40 a.), Hope dale (100 a.), Hope marsh (146 a.), Narrowdale and Gateham Grange hills (106 a.), and Westside moor (302 a.). (fn. 273) Two of the three farms in Stanshope held by Sir John Harpur's tenants had pasture of respectively 12¾ gates and 8½ gates, evidently in the Stanshope area. (fn. 274) In 1818 a group of 32 inhabitants of Alstonefield township appointed five of their number as a committee empowered to take proceedings against outsiders who were trespassing on the commons with their livestock and inhabitants who were exceeding their pasture rights. (fn. 275) In 1839, under an Act of 1834 amended in 1836, an extensive area of common pasture was inclosed, consisting of Stanshope pasture (152 a.), Hope and Hopedale commons (14 a.), Alstonefield common and Upper marsh north of the village (73 a.), Narrowdale hill (91 a.), and Archford moor (168 a.). (fn. 276)
Sheep were evidently being grazed by 1327 when there was mention of the Sheephouse yard in Alstonefield. (fn. 277) A presentment was made in 1401 for overburdening the common pasture with 20 sheep. (fn. 278) Sheep were grazed on Gateham hill in the mid 1490s and the mid 1540s. (fn. 279) Robert Jackson of Stanshope possessed 160 old sheep and 39 lambs at his death in 1556, and John Jackson of Stanshope had 80 old sheep when he died in 1579. Philip Jackson of Stanshope (d. 1675) had 48 sheep and his son William (d. 1679) 63. William's brother Henry (d. 1702) had 236 sheep and their young, and his house contained wool worth £22. (fn. 280) In 1736 a fine of 5s. 10d. was imposed for putting sheep on Alstonefield marsh, Hope marsh, Hope green, and Greenhill; it was raised to 10s. in 1738, 'they being places subject to rot sheep, which is a disreputation to the rest of the sheep in the neighbourhood'. (fn. 281)
In the mid 20th century dairy farming predominated. All nine of the larger farms on the Harpur Crewe estate in Alstonefield civil parish which were offered for sale in 1951 were dairy farms. (fn. 282) The later part of the century saw a decline in dairying in favour of cattle rearing and sheep farming. Returns in 1988 listed 2,191 head of cattle, including calves, and 5,387 sheep. Of the 1,345.2 ha. of farmland returned, grassland covered 1,220.1 ha. and rough grazing 115.2 ha. All but one of the 41 farms returned were under 100 ha. in size, 33 of them being under 50 ha.; the remaining one was under 200 ha. (fn. 283)
Annual cattle sales, apparently in the yard of the George inn, were recorded in the 1880s and later 1890s. (fn. 284) Autumn sheep sales, begun in 1963, were still held in 1994 in a field on the Alstonefield side of the boundary with Sheen at Hulme End. Similar sales were begun on a playing field in Alstonefield village in 1981; by 1994 they were held on land called the Clays. (fn. 285)
Mills.
There was a mill in Astonefield manor by 1282. (fn. 286) It was probably in Alstonefield township, where a mill can be traced from 1348. (fn. 287) That mill was presumably on the Dove in Mill Dale, so named by the late 16th century; a mill there was mentioned in 1658. (fn. 288) It probably stood in Milldale hamlet, where there was a mill to the north of Viator's bridge by 1775. (fn. 289) A mill on that site ceased to operate in the late 1870s, although the derelict building still stood in the mid 1920S. (fn. 290)
Lode mill further upstream at the foot of Lode Lane was evidently newly built in 1814. (fn. 291) It continued in operation until c. 1930, (fn. 292) and the 19th-century mill building still stands.
Westside mill on the Manifold in the northwest corner of the township existed by 1584. (fn. 293) A mill there was worked in the late 1880s by J. W. Bassett of Hulme End, who was also a builder and contractor. He continued there in the early 20th century, but by 1924 the mill had passed to John Wilshaw Bassett & Sons, who worked it until c. 1930. (fn. 294)
There is said to have been a mill in Beresford Dale in 1658. (fn. 295)
Trade and Industry.
In the 1680s Robert Plot recorded that limestone was dug 'in great plenty' along the banks of the Dove from Beresford downstream. (fn. 296) In the late 1870s there were two quarries near the parish boundary west of Steep Low, each with an old limekiln nearby, and there were also two quarries at Narrowdale. In 1898 there was a quarry on the road between Hopedale and Milldale and in 1919 a disused quarry on Archford moor. (fn. 297) In the later 19th century several stonemasons were recorded, notably at Milldale. (fn. 298)
Plot mentioned that there was copper ore around Beresford, though it had never been thought worth digging. (fn. 299) In the 1840s, however, it was stated that copper had been mined there. (fn. 300) Miners, some of them lead miners, were living in the Archford moor area in the mid and later 19th century, (fn. 301) but they were probably working elsewhere.
Samuel Mellor of Alstonefield, owner of the George inn when he was declared bankrupt in 1826, was also described as a cheese factor, dealer, and chapman. He was still a cheese factor living in Alstonefield in 1834. (fn. 302) Other Alstonefield cheese factors were Bartholomew Massey in the earlier 1850s, Anthony Massey by 1860 and until the earlier 1890s, and George Hambleton in the 1860s and early 1870s. (fn. 303) A cheese factory was opened at Hopedale in 1878 by 20 local farmers trading as Alstonfield Dairy Association. By 1916 the factory was run by Dovedale Dairy Association Ltd. and by 1924 by Derbyshire Farmers Ltd. It closed c. 1930 and was later converted into a private house. (fn. 304)
LOCAL GOVERNMENT.
Manorial government.
Alstonefield township formed a tithing in Alstonefield manor, (fn. 305) and by the late 1390s it sent four frankpledges to the twice-yearly view. Beresford, in the detached part of Fawfieldhead, formed another tithing, with one frankpledge. (fn. 306) Narrowdale was part of Beresford tithing in the earlier 1530s, (fn. 307) but it later became part of Alstonefield tithing. In 1594 the four Alstonefield frankpledges were described as for Alstonefield, Stanshope, Hope, and Narrowdale. (fn. 308) That continued to be the arrangement, with Narrowdale linked with Gateham and Westside, until 1800, when the number of what were then styled headboroughs was reduced from four to one. (fn. 309) One headborough still served in 1835. (fn. 310)
A manorial pinfold mentioned in 1493 (fn. 311) may have been in Alstonefield township. By 1595 there was a pinner for Alstonefield village and Hope and another for Stanshope; they also served as haywards. By custom the responsibility for providing the pinner and hayward for Alstonefield and Hope fell on a different pair of householders each year, rotating among all the householders in each place; they or the person serving were recompensed by the other inhabitants at the rate of a thrave of oats for every ploughland held. (fn. 312) There were still two pinners in 1609, but there appears to have been only one by 1611. (fn. 313) In 1620 two haywards were appointed for Alstonefield and one each for Hope and Stanshope. (fn. 314) One person was evidently serving as pinner and hayward for the whole township by 1698, and a pinner was still appointed in 1835. (fn. 315) There was a pinfold at Stanshope in 1713 (fn. 316) and one at Alstonefield in 1852. (fn. 317) In the late 1870s there was a pinfold by the crossroads on Archford moor; the structure evidently still stood in 1901. (fn. 318)
Four surveyors of the highways were appointed for Alstonefield township by the manor court in 1601, one each for Alstonefield village, Hope, Stanshope, and Narrowdale with Gateham and Westside. (fn. 319) The four were still appointed in 1683. (fn. 320) There was a surveyor for Milldale in 1735. (fn. 321)
Township government and poor relief.
Alstonefield township formed the division of the ancient parish known as the part below Archford bridge, and two of the parish's four churchwardens were for the township. (fn. 322) It ran its own poor relief. In 1766 its overseer collaborated with the overseers of several other parishes and townships, including Warslow and Onecote, in Leek, in the establishment of a workhouse at Ipstones. (fn. 323) In 1770 Elizabeth Mellor of Wetton conveyed a cottage in Alstonefield township to the churchwardens and overseer for use as a poorhouse. (fn. 324) By the 1820s there were several such parish houses, but they belonged to Sir George Crewe, whose agent in 1829 gave the overseer notice to quit. (fn. 325)
The township was one of several parishes and townships in Staffordshire and Derbyshire included in Alstonefield union formed, evidently in 1817 or 1818, under Gilbert's Act of 1782; no other part of Alstonefield parish was a member. A house in the village, possibly the former Black Lion inn, was leased and converted into a workhouse for the union, in use probably from 1819. (fn. 326) At the beginning of June 1823 it had 16 male inmates and 13 female; in the earlier 1830s the inmates were employed mainly in breaking stone and working marble slabs from the quarries at Wetton. (fn. 327) In 1821 there were 14 parishes and townships in Alstonefield union; there were 21 by 1823 and 43 by 1837. (fn. 328) The union resisted attempts by the poor-law commissioners from 1837 to suppress it, (fn. 329) and the workhouse continued in use, with 34 inmates in 1841, 19 in 1851, and 21 in 1861. (fn. 330) In 1869 Alstonefield union was dissolved and the township became part of Ashbourne poor-law union. (fn. 331) The workhouse was closed and in 1871 was described as three uninhabited buildings. (fn. 332) By 1985 the building was occupied as three houses. (fn. 333)
CHURCH.
Although the earliest features of the present church are Norman, Anglo-Saxon carved stones survive on the site, most of them parts of standing crosses. (fn. 334) The church's dedication to St. Peter, recorded in 1533, (fn. 335) may also suggest a pre-Conquest foundation, that being the most common early Anglo-Saxon dedication. (fn. 336) The church served a large parish, with dependent chapels at Longnor, Warslow, and Elkstone in the Middle Ages. A chapel was opened at Flash in 1744. In 1902 separate parishes were created for Flash, Longnor, and what had become Warslow with Elkstone.
Alstonefield church was included in Hugh Malbank's endowment of Combermere abbey in 1133, and Richard Peche, bishop of Coventry 1161-82, licensed the monks to appropriate it. (fn. 337) A vicarage had been ordained by the late 13th century. (fn. 338) The abbey was dissolved in 1538, (fn. 339) and the advowson of the vicarage was retained by the Crown until the end of the century. In 1564 the lessees of the rectory, Laurence and Thomas Beresford, presented. (fn. 340) In 1599 the Crown sold the advowson with the rectory to John Harpur, (fn. 341) and it then descended with Alstonefield manor, Harpur being described as patron in 1604 and 1607. (fn. 342) From 1940 the benefice was held in plurality with that of Wetton. (fn. 343) In 1985 it was united with the benefices of Butterton, Warslow with Elkstone, and Wetton, although the parishes remained distinct. The patronage of the united benefice was vested jointly in the trustees of the Harpur-Crewe estate as patrons of Alstonefield, the bishop of Lichfield as patron of Wetton, and the vicar of Mayfield as patron of Butterton. Alstonefield was made the vicar's place of residence. (fn. 344)
By 1535 the vicar received 6s. 8d. a year from glebe, £6 from the Easter roll (evidently 3d. from every house), and £1 from offerings, with 13s. 4d. from tithe of hay and 13s. 4d. from tithe of calves (and probably other small tithes). (fn. 345) In the late 1540s the tenant of Gateham Grange claimed that by custom and by the terms of his lease he paid the vicar one load of hay for all tithes; by the 1590s the load of hay was in lieu of tithe of corn and hay and the tenant also paid 4d. to the vicar and 4d. to the clerk in lieu of small tithes. (fn. 346) In 1604 the vicarage was stated to be worth £30. (fn. 347) There were 4 a. of glebe by 1612. (fn. 348) In 1646 the vicarial tithes were stated to be worth £40 a year in the best times but only £10 'in these times'. The committee for plundered ministers therefore granted the vicar £50 out of the impropriate rectory sequestrated from Sir John Harpur, changing the grant later the same year to £50 from the sequestrated rectory of Pattingham. (fn. 349) By 1698 Easter payments consisted of house dues of 3d. from every house in the parish and offerings of 2d. from everyone over 16, except for servant maids who paid 1d.; 2d. was paid for every mare and foal and 2d. for every stall of bees. The former Frith mill in Heathylee paid 4s. at Easter and Longnor mill, also in Heathylee, 1s. 8d. Some tithes, including tithe of hay, were then paid in cash, but those of geese, pigs, and calves were paid in kind; tithe of eggs was paid in kind in Alstonefield township only. Gateham Grange paid 6s. 8d. in lieu of all vicarial tithes. (fn. 350) In 1705 the annual income of the vicarage was given as c. £30. (fn. 351) A grant of £600 was made from Queen Anne's Bounty in 1816 and another of £300 in 1823 to meet a benefaction that year of £200 from the vicar, John Simpson. (fn. 352) The net income c. 1830 was £112, and there were still 4 a. of glebe, including the garden of the vicarage house. (fn. 353) Under the inclosure award of 1839 covering much of the parish the vicar was allotted land worth £300 in lieu of most of the small tithes and moduses, and in 1841 the land belonging to the vicar amounted to 366 a. (fn. 354) The vicarial tithes and moduses of Longnor were commuted in 1848 for a rent charge of £29 with another of £1 in respect of Easter payments; the vicarial tithes and moduses of Upper Elkstone were commuted in 1850 for a rent charge of £20. (fn. 355) There were 258 a. of glebe in 1887, with an estimated rental of £310. (fn. 356) The income of the benefice in 1936 was £365, consisting of £75 from the Ecclesiastical Commissioners, £44 from Queen Anne's Bounty, £25 from stock, £217 from glebe rents, and £4 from fees. That year c. 70 a. of glebe on the Staffordshire bank of the river Dove were sold to the National Trust. (fn. 357)
A vicarage house was mentioned in 1609. (fn. 358) Peter Parr, vicar 1714-64, spent £180 'in repairing the vicarage house etc. etc.' (fn. 359) J. J. Dewe, on his appointment as vicar in 1821, found the house old and dilapidated and hoped to have a new house built immediately. (fn. 360) One was built in the late 1820s, the cost being met partly by Sir George Crewe and partly by a grant of £600 from Queen Anne's Bounty. (fn. 361) A new house was built on part of the garden in the mid 1980s. (fn. 362)
In 1413 there was a warden of the goods of the Virgin Mary at Alstonefield. (fn. 363) In 1533 a priest sang mass in the church every day in honour of Our Lady. There was a rent of 10s. 10d. given for his support, presumably from the cottage and garden in Alstonefield given for the chaplain of Our Lady's Service by one Walker of Castern, in Ilam. (fn. 364) There was also a guild of the Blessed Mary at the Reformation. (fn. 365) A service of St. Nicholas existed in 1533. (fn. 366) In his will of 1556 Robert Jackson of Stanshope left two sheep 'towards the beginning of Our Lady's service again at Alstonefield'; he also wished to be buried as near as possible to 'Our Lady's choir door'. (fn. 367) In 1576 Mary, the wife of John Jackson, was buried in Our Lady's choir, and John himself was buried in Our Lady's chapel in 1579. (fn. 368) There was a burial in St. Nicholas' choir in 1574. (fn. 369) The two choirs were presumably side chapels. John Beresford (d. 1523) made arrangements in his will for a priest at Beresford, presumably at the hall, for three years; John's son and heir Robert was to provide the priest with board, and the executors were to pay him his wage. (fn. 370)
Robert Aston, vicar 1564-1604, was also rector of Standon from 1570 and was buried there in 1604. He had no degree and at the end of his life was stated not to be licensed to preach. He was then described as 'a grievous swearer, whoremaster, and drunkard, and very unlearned'. (fn. 371) Several curates lived in the parish during his incumbency, some of them serving the chapels of ease. (fn. 372) The longest serving was Francis Paddy, who arrived in 1577 and was then described as farmer of the vicarage. He was described as minister and curate at the time of his marriage in 1586. He was officiating at Alstonefield c. 1603, but he was stated to be not licensed to preach and without a degree. In 1604, when he was at Longnor, he was described as 'a mere worldling'. At his death in 1617 he was described as minister of Alstonefield. (fn. 373) John Bagshawe, who was admitted in 1604 to teach throughout the diocese, also had the duty of reading prayers in Alstonefield church. (fn. 374) Aston's successor as vicar, John Croft, was also vicar of Lockington (Leics.). He stated in 1607 that he preached at Alstonefield one Sunday in five, with a curate officiating at other times. He also stated that of the 1,200 or so communicants in the parish barely half attended the parish church rather than the chapels. (fn. 375) There was an assistant curate in the later 1760s and in the 1790S. (fn. 376) By 1830 there were two services on Sunday, with a lecture on Wednesday evening. The sacrament was celebrated four times a year, and there were 20 to 25 communicants. (fn. 377) On Census Sunday 1851 there was a congregation of 79 in the morning and 60 in the afternoon, besides Sunday school children. (fn. 378)
By 1900 there was a meeting on Sunday afternoon 'on Archford moor, generally at the Field', presumably Field House Farm. (fn. 379) A wooden mission room was built in 1901 near the crossroads on Archford moor, with a service and Sunday school on Sunday afternoon. A bell in a turret was installed in 1902. (fn. 380) The mission continued until the early 1960s, (fn. 381) and the building still stood in 1994.
A parish magazine was started in 1900. (fn. 382)
The parish clerk had duties relating specifically to Alstonefield church. By 1736 he was paid for ringing the curfew bell and by 1764 for looking after the clock. He was still paid for both in 1901. There was a dog whipper for the church by 1726. By 1828 Mary Beresford, the church cleaner, was paid for dog whipping, and the duties of her successor as cleaner were stated in 1841 to include dog whipping. (fn. 383)
The church of ST. PETER is built of coursed rubble and consists of a chancel, an aisled and clerestoried nave of four bays with north and south porches, and a west tower. (fn. 384) Evidence for a substantial church by the 12th century is provided by the chancel arch of three orders, the south doorway, which is probably reset, and loose stone fragments kept in the north aisle. When the chancel was rebuilt in the 13th century, it was both wide and long; the nave, which has aisles added at different dates in the 14th century, preserves the length and possibly the width of the early building. The south porch is early 14th-century and is probably contemporary with the south arcade, whereas the north arcade is later. New windows were inserted on each side of the chancel during the 14th century and in the south aisle in the 15th century. The tower was added or rebuilt in the 16th century; in 1534 3s. 4d. was left 'to the building of the steeple'. (fn. 385) The north aisle appears to have been largely rebuilt in the 16th century, perhaps at the same time as the clerestory was added; in 1542 a sheep was left for 'the edifying of Alstonefield church'. (fn. 386) The east end of the chancel was rebuilt in 1590. (fn. 387) An external feature of the north aisle and the clerestory is a chequer pattern of pink blocks and grey rubble; the two lower storeys of the tower have alternating bands of similar pink and grey. The chancel was restored in 1875, and the present east window in 14th-century style was inserted at the same time, in place of the window of 1590, as a memorial to Sir George Crewe (d. 1844). (fn. 388) There was a general restoration of the south aisle evidently in 1877. (fn. 389) The north porch was added in 1880, the north door having become the main entrance as a result of the earlier realignment of the road past the church. (fn. 390) The roofs are 19thcentury except for the nave; its roof was renewed in 1984, although the two tiebeams of 1657 and 1797 and the two of 1879 were retained. (fn. 391)
Two stone bowls kept in the north aisle may be medieval font bowls; one was found in the churchyard in 1936. (fn. 392) In 1830 the font lacked a proper basin, and in 1841 the 'old font' was ordered to be placed in a convenient situation or broken up. (fn. 393) The present font was given in 1875 by W. Bradley of Farmer & Bradley of London, who designed it as a copy of the font in Ashbourne church; a native of Alstonefield, he gave it in memory of his parents. (fn. 394)
The fittings of the church include a finely carved two-decker pulpit dated 1637 and box pews dated 1637 and 1639; to the last date is added the name Edward Unsworth 'the workman'. A richly carved pew now at the east end of the north aisle bearing the arms of the Cotton family of Beresford Hall is of the same period, (fn. 395) as is the screen which is used to form a vestry at the west end of the south aisle. The communion rail is probably of the later 17th century.
In 1553 the church goods included two silver chalices with patens, two brass candlesticks, and three brass crosses; there were also numerous vestments. (fn. 396) In the mid 20th century the plate included a silver dish dated 1787 and a silver chalice dated 1789; the chalice was later stolen. (fn. 397) There were three great bells in 1553. (fn. 398) There was a peal of three by 1830, consisting of two bells cast by George Oldfield of Nottingham in 1677 and one of 1680, probably also the work of Oldfield. In 1989 a peal of six was installed, made up of the two 1677 bells and four which had earlier formed part of the peal in St. John's church, Longton; those four were cast in 1815 by T. Mears of London, although one had been recast in 1930 by John Taylor & Co. of Loughborough (Leics.). The 1680 bell was kept for the clock chime and for ringing as a single bell. (fn. 399) In 1682 an existing clock was replaced by one made by Edward Baily of Uttoxeter. (fn. 400) The £19 16s. paid to a clock maker by the Alstonefield churchwardens in 1792-3 (fn. 401) was presumably for a new clock. In 1852 the vestry meeting decided to discontinue the annual payment of 15s. for cleaning the clock, which was worn out and useless. Payment was resumed after the installation of the present clock made in 1853 by the firm of Elleby of Ashbourne. (fn. 402)
There was a group of psalm singers by 1797, and they were still being paid in 1826-7. (fn. 403) There was an organ by 1822, described in 1830 as in a small west gallery. (fn. 404) It was moved to the north side of the chancel probably in the course of the restoration of 1875. (fn. 405)
The registers date from 1538. (fn. 406)
By 1698 most of the churchyard wall was maintained by the parish. (fn. 407) The churchyard was planted with trees in 1724 at the expense of the vicar, Peter Parr, who added two yews on the north side in 1738. (fn. 408) It was extended in 1909 and 1961 by the addition respectively of 2,100 and 1,845 square yd. of the glebe. (fn. 409)
Alstonefield has the largest number of preConquest carved stones in Staffordshire, most of them parts of standing crosses. (fn. 410) The majority are kept in the north aisle of the church, but two are in the churchyard, one of them re-erected in the base of what was probably a medieval cross; another piece, in the south porch in the mid 1940s, (fn. 411) has since disappeared. The carving is datable to the period between the late 9th and the mid 11th centuries, and two regional schools are represented, North Midlands and West Pennine. The unfinished state of the carving on two pieces suggests that they were being sculpted on site at Alstonefield.
NONCONFORMITY.
In 1668 five Quakers and an Anabaptist were recorded in the parish. (fn. 412) One of the Quakers, Alice, wife of Henry Bowman, had been put in prison in 1664 for disturbing the administration of the sacrament on Easter Sunday. (fn. 413) In 1687 she and her son Henry conveyed a plot of land in Gypsy Lane, 16 yd. square, in trust to John Hall and John Mellor, both Quakers, specifying in 1688 that it was to be used as a burial ground. The last of the three recorded burials there was of a Henry Bowman in 1747. The trust had lapsed by 1813, when the land was sold. (fn. 414) By will proved 1740 Robert Mellor of Alstonefield left £25 to 'my poor friends at Leek meeting called Quakers'. (fn. 415)
A Baptist minister preached in Alstonefield village in 1810, causing 'a storm of accusations of conscience', but no cause was founded. (fn. 416) Soon afterwards John Benton, a Primitive Methodist missionary, preached in the houses of Daniel Stones and T. Hills in Alstonefield, and a society of 10 was established. William Clowes, a Primitive Methodist pioneer, preached in Alstonefield in 1813, and the same year Hugh Bourne, another pioneer, registered a house in Alstonefield for worship. He registered another at Milldale in 1815. (fn. 417) There were still societies at both places in the early 1820s. (fn. 418) A chapel was built at Milldale in 1835 and opened in January 1836. (fn. 419) On Census Sunday 1851 there was an afternoon congregation of 20. (fn. 420) The chapel is now Milldale Methodist church.
There was an unsuccessful attempt to establish Wesleyan Methodism at Alstonefield c. 1815, but following a revival at Wetton a class was formed at Alstonefield in 1821, meeting in the house of Mr. Hambleton. Numbers grew, and a chapel was opened in 1824 on a site given by Hambleton. It had seats for 280, but membership was only 37 in 1837. (fn. 421) On Census Sunday there was a congregation of 94 in the morning, besides Sunday school children, and 90 in the evening. (fn. 422) The chapel was rebuilt in 1879. (fn. 423) It was closed in 1981 and converted into a private house; a furniture workshop was opened in the former Sunday school building. (fn. 424) There was a Wesleyan Methodist meeting at Stanshope between 1827 and 1833. (fn. 425)
EDUCATION.
Richard Hallowes (d. 1589) evidently kept a school at Alstonefield, combining it with the office of parish clerk. (fn. 426) Several schoolmasters were recorded there in the 17th and early 18th century. (fn. 427) By will proved 1727 German Pole of Alstonefield left £40 to be either lent out at interest or used to buy land; the income was to be paid to a master to teach poor children living in Alstonefield township to read. He hoped to encourage other gifts by his example. (fn. 428) There appears to have been no schoolmaster in 1732, (fn. 429) but in 1746-7 Sir Henry Harpur paid £6 for Alstonefield schools. (fn. 430) In 1748-9 the churchwardens paid for the glazing of a school window. (fn. 431) Pole's bequest was producing £1 8s. a year by the later 1780s. (fn. 432) The master was then James Brown, who continued until his death in 1796. (fn. 433)
By 1812 only c. 12 children were attending the school. To improve matters Sir Henry Crewe's steward, with the approval of the principal inhabitants, inclosed a plot of land on Archford moor and let it in 1813 for £20. That sum, with £5 5s. from Sir Henry, £2 15s. interest on a bequest from a Dorothy Green, and the £1 8s. from Pole's bequest, was assigned to the master to teach 35 poor children. About 1815 the master, Mr. Kidd, complained that a woman teaching 10-20 girls was keeping the numbers in his school low. Sir Henry's agent inclosed more land and paid her an annuity to desist. In 1816 it was stated that there were 75 children at Kidd's school. (fn. 434) When Sir George Crewe succeeded in 1819, the freeholders complained that the inclosure on Archford moor had been made without their consent, and he felt obliged to throw it open. Kidd lost the £20 rent and resigned. (fn. 435)
In 1828 Sir George re-endowed the school. He vested 29 a. on Archford moor in trust to provide an income of £17 10s. a year for a master to teach 25 poor children from Alstonefield township chosen by the trustees; the master was to be a member of the Church of England. Adjacent townships were eligible if there were not enough children from Alstonefield township. If the rent from the land exceeded the sum specified, the trustees might choose an additional child for every extra 14s. (fn. 436) For the next few years the new master received the rent, a further £5 from Sir George, and the income from German Pole's bequest, and he taught 35 children free. (fn. 437) Pole's endowment, however, was evidently never invested, and c. 1838 payments from it seem to have ceased. (fn. 438) In the mid 1830s the schoolhouse was repaired at Sir George's expense. (fn. 439) A new school was built in 1842 by subscription on a site given by Sir George. It consisted of a single room, which by 1871 was divided by sliding doors into separate schoolrooms for boys and girls. (fn. 440) As Alstonefield Church of England school it received a government grant from 1871. (fn. 441) Average attendance was then c. 35, but the number on the books reached 81 in 1892. (fn. 442) A classroom was added in 1895, (fn. 443) and a bell in a turret in 1902. (fn. 444)
By the 1850s the master's wife acted as schoolmistress, and the practice continued whenever the master was a married man. From the earlier 1880s the mistress was described as the sewing mistress. (fn. 445) By 1871 she was helped with the sewing by the vicar's wife, who was later joined by two daughters. (fn. 446) The staff was increased to three in 1893 when an assistant mistress was appointed to teach the younger children and help the master's wife with needlework. (fn. 447) The staff remained at three until 1935 when it was reduced to two because of a falling roll. (fn. 448)
Numbers dropped from 56 in 1933 to 28 in 1939 but were up to 55 by 1948. (fn. 449) They were down to 39 by 1955 and were further reduced that year when the school became a junior mixed and infants' school and 15 senior children were transferred to Leek. (fn. 450) In 1953 the village reading room was converted into the school kitchen and dining room, (fn. 451) and in 1960 alterations were made to the main building. (fn. 452) The closure of Wetton school in 1978 increased the roll at Alstonefield school from 20 to 29, but the opening of Warslow middle school in 1979 reduced it to 14. (fn. 453) The staff was reduced to one in 1981, and the school was closed in 1982, the 10 pupils then on the roll going to Warslow middle and first schools. (fn. 454)
The schoolhouse and the school building reverted to the trustees of the Harpur-Crewe estate and were sold. (fn. 455) By a Scheme of 1986 the land on Archford moor and the school garden were vested in a trust to promote the education of people aged under 25 living in Alstonefield parish or its neighbourhood and to provide instruction in the doctrines of the Church of England for children in St. Peter's parish. In 1992-3 the income consisted of £403 from investments and £678 in rents. Grants totalling £450 were made to three students, and £100 was paid to the Lichfield Diocesan Board of Education. (fn. 456) The garden has been landscaped and opened to the public.
In 1818 it was stated that at Alstonefield two or three old women taught a few girls, whose parents paid for them. (fn. 457) By 1848 John Kilvert and his wife Catherine, master and mistress of the endowed school, were also running a private school. In 1851 they advertised it as a boarding school for boys and girls, and it was still in existence in 1854. (fn. 458) Mary Partrige (or Partridge) had a boarding and day school by the later 1880s and was still running it in 1912. In 1891 her household at West View in the Rakes included a music governess. (fn. 459)
There was a Sunday school attached to the parish church by 1824, and it had c. 100 children in 1830. (fn. 460) On Census Sunday 1851 there was an attendance of 75 in the morning and 76 in the afternoon. (fn. 461) The Wesleyan Methodists started a Sunday school at Alstonefield in 1851, and there was an attendance of 29 on Census Sunday. A schoolroom was built in the same year. (fn. 462)
CHARITIES FOR THE POOR.
By will proved 1702 Henry Jackson of Stanshope left £100 for the poor of Alstonefield township. It was to be used to buy land, the rent from which was to be distributed on 2 February. Land was bought in Waterfall in 1705. The rent, £4 7s. in the later 1780s, was £22 by 1824, when it was payable on Old Candlemas day (13 February). The money was distributed as soon as received in sums varying from 1s. to 10s., preference being given to those 'who are most industrious and the least burthensome to the parish'. (fn. 463) More property in Waterfall was bought in 1846 and 1849. (fn. 464)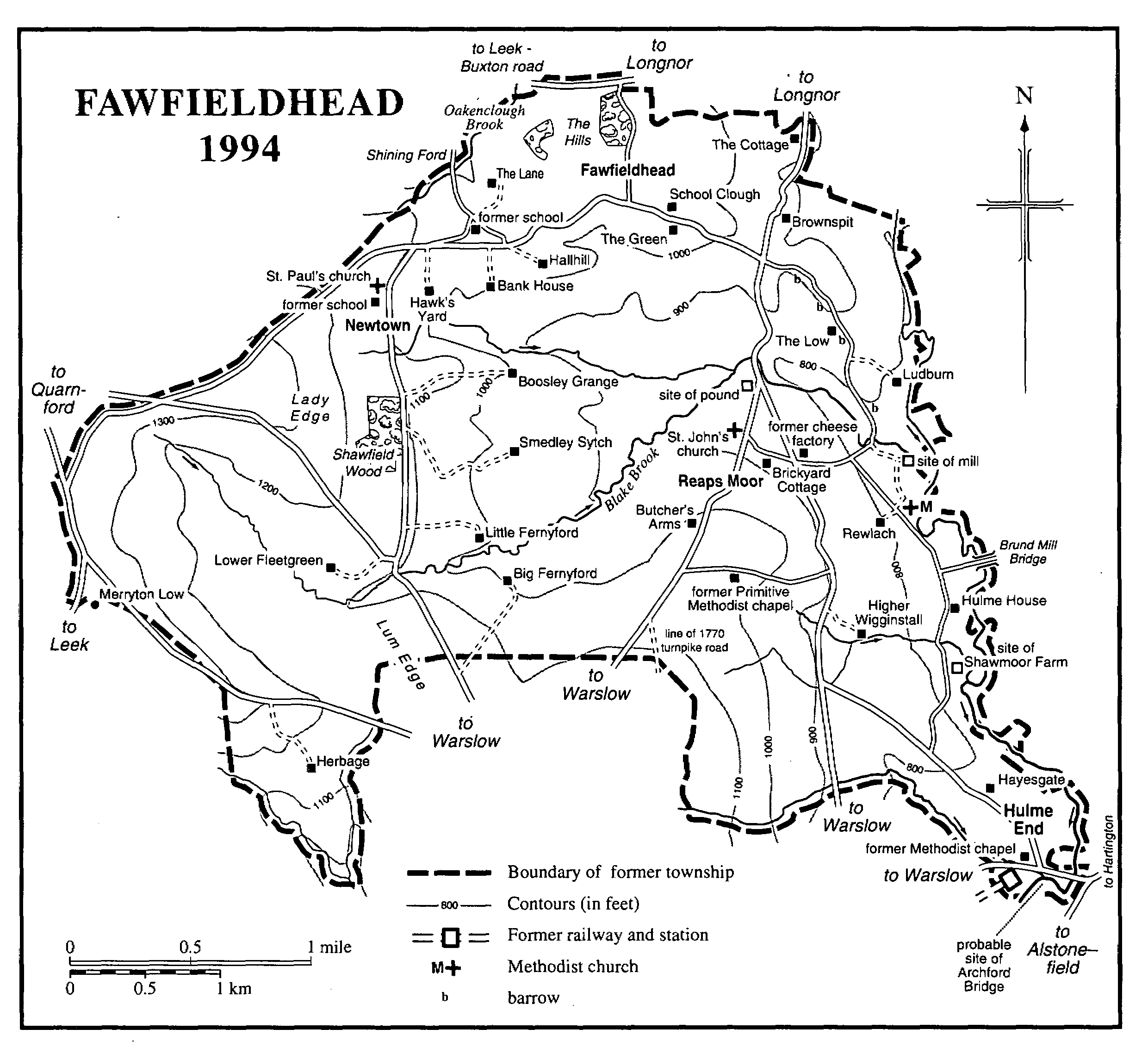 By deed of 1716 John Port of Ilam left a stock of wool to provide an annual distribution of 40s. to the poor of Alstonefield township. Payments were made by his successors in the Ilam estate until 1819. In that year Jesse Watts Russell, who had initially continued the payments after buying the estate, stopped them because he could find no documentary proof of any claim on the estate. In 1824 the charity commissioners them selves could find no evidence to enable them to enforce payment, but the charity was subsequently revived. (fn. 465)
By will proved 1858 Constantia Bill left £93 stock, the interest to be used first for the repair of her monument, with the remainder distributed in bread to the poor. (fn. 466)
The Jackson, Port, and Bill charities were amalgamated in 1943. (fn. 467) In the early 1990s the annual income of £80 was normally distributed to people aged over 70 living in Alstonefield civil parish. (fn. 468)
By will proved 1727 German Pole of Alstonefield left £20 for the poor of Alstonefield township. The money was to be put out at interest or used to buy land and the income distributed about Christmas time. The income was 14s. by 1786 and 20s. by 1824. (fn. 469) The capital was evidently never invested, and payment presumably lapsed like that from Pole's educational charity c. 1838. (fn. 470)
By will of 1777 William Ensor of Windley (Derb.) left £300 to be invested, with half the interest used to apprentice at least one poor child from Alstonefield township annually or once every two or three years; the other half was to be used in like manner by the parish of Tissington (Derb.). Because Ensor's personal estate was insufficient to pay his debts, his son William charged the payment of the charity on part of the real estate. He was paying £6 in the later 1780s and £7 10s. by 1807. Having been advised that the legacy could not be charged on the real estate, he then stopped making the payment, and the charity lapsed. (fn. 471)
At an unknown date before 1786 Richard Bowman of Old Basset in Cheddleton gave £10, the interest to be distributed annually to the poor of Alstonefield township. In the later 1780s the income was 7s., but the charity had lapsed by 1824. (fn. 472)