Pages 205-224
A History of the County of Stafford: Volume 8. Originally published by Victoria County History, London, 1963.
This free content was digitised by double rekeying. All rights reserved.
FENTON
THE town of Fenton lies in the south of the Potteries and in 1910 formed an urban district. (fn. 1) Historically it consisted of the two townships of Fenton Culvert or Great Fenton and Fenton Vivian or Little Fenton, manorially distinct by the 13th century. (fn. 2) The two Fentons are mainly an area of lowlying land. In the northern part of the area there remains much open country which rises to over 600 ft. in the north-east and drops steeply in the northwest from about 450 ft. to the River Trent. In the south, below Grove Road, the land rises to 500 ft.
In 1832 the River Trent formed the boundary of Fenton to the west and the Cockster Brook to the south and the east (the common boundary with Longton), while the northern boundary adjoining the township of Botteslow followed an irregular line with no geographical significance. (fn. 3) Fenton Vivian lay north of Fenton Culvert; the boundary between the two townships ran from the River Trent south of Stoke Bridge to join the road from Newcastle to Uttoxeter at the corner of the present Napier Street and then ran in a loop north of the main road to rejoin it at the junction of what are now City Road, Manor Street, and Christchurch Street. It then continued along the main road, Park Street, and Fenpark Road to Pool Dole and thence to the Caverswall boundary. (fn. 4)
The names Fenton Low and Culverd's Low (Mole Cop) (fn. 5) in the western part of the area suggest primitive burial-places. At Lawn Farm in the northeast of the area there exists a homestead moat, which, it has been suggested, may have been the site of Fenton Vivian manor house. (fn. 6) As a result of the growth of the pottery and mining industries, there were by 1775 three main centres of population: Great Fenton, formerly Fenton Culvert; Little Fenton and Lower Lane; Lane Delph. (fn. 7) Lower Lane and Lane Delph lay along the Newcastle-Uttoxeter road and were the most populous parts at this time. (fn. 8) In 1818 the Fenton district was said to 'present nothing remarkable' and was described as a kind of suburb of Lane End. (fn. 9) By the 1830's, however, the area was noted for 'its many large potteries and handsome houses'. (fn. 10)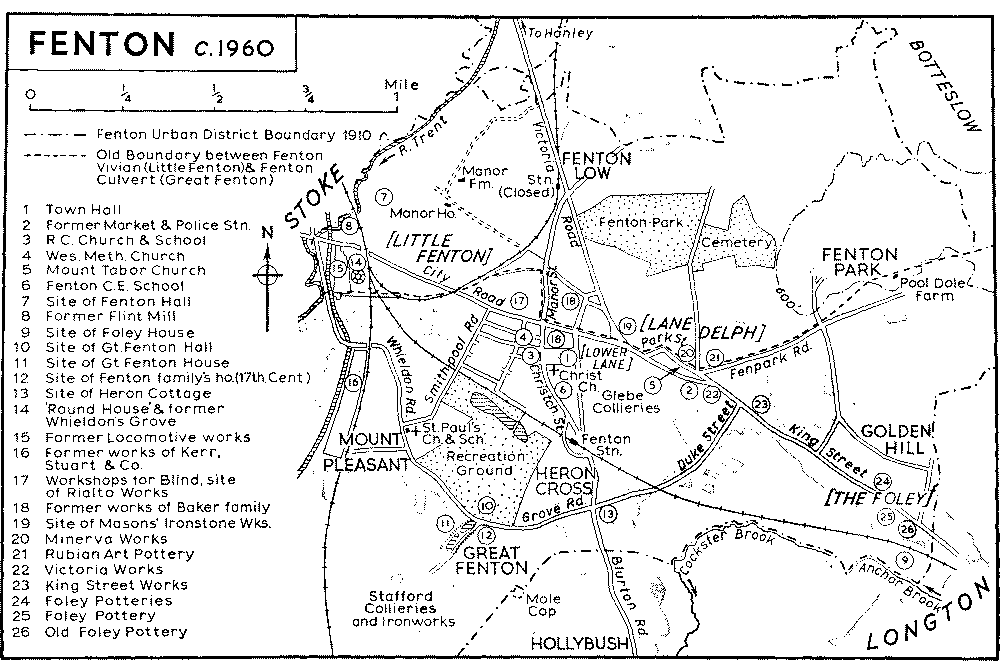 By this time Lower Lane and Lane Delph were still the largest centres of population and contained two chapels, the only places of worship in the area. (fn. 11) Lower Lane itself had been developed around the crossroads formed by the Newcastle-Uttoxeter road and the roads to Bucknall and to Blurton (now Manor Street and Christchurch Street respectively), and this area is still the centre of the town. (fn. 12) Lane Delph increased rapidly in buildings and population during the early 19th century, presumably in connexion with the many potworks there, and was described in 1834 as the most populous part of the district. (fn. 13) Most of the houses at Lane Delph lay along the main road and in the area around Duke Street and China Street. At the Foley, near the Longton boundary, there were by the 1830's several potworks and some large houses. (fn. 14) Apart from this development along the main road there were also some scattered houses at Great Fenton by 1832, including Great Fenton Hall, Great Fenton House, Grove House, and Heron Cottage. Little Fenton manor house, or Fenton Manor as it was called, and Fenton Hall were situated in the north-west of the area, while Whieldon's Grove lay to the south of the main road near Stoke Bridge. (fn. 15)
In the next half-century Fenton gradually ceased to be a collection of separate villages and assumed a more urban character. During this period Lower Lane, known as Church Fenton after the building of Christ Church in 1838–9, (fn. 16) became by far the largest centre of population. In this area the building between 1840 and 1842 (fn. 17) of Victoria Road leading to Hanley had been followed by the laying-out of streets leading off it on both sides which in the late 1870's however, were not completely built up. (fn. 18) On the north side of the main road and east of the railway line to Bucknall four other streets had been laid out and built up with terraced houses during this period, (fn. 19) while Pratt (now Temple) Street and Raglan Street had been built south of these on the other side of the main road. (fn. 20) The engine sheds of the North Staffordshire Railway were built over the Whieldon's Grove estate in the late 1840's (fn. 21) and immediately south of them three streets of terraced houses had been built by the late 1870's. (fn. 22) The area known as Mount Pleasant lying between Whieldon Road and the railway had been built up by the late 1870's with terraced houses. (fn. 23) At Great Fenton part of the area known as Heron Cross had also been built up by the late 1870's, presumably in connexion with the Glebe Colliery which lay to the north. (fn. 24) Bourne Street, Clyde (now Tweed) Street and Hill (now Derry) Street had also been laid out by the late 1870's at the south-west of the crossroads but only partially built up. Scattered building of terraced houses between Heron Cross and the centre of Fenton had taken place on the west side of Church (now Christchurch) Street and its continuation Heron Street. (fn. 25) A few terraced houses had also been built by the late 1870's along the north side of Duke Street which leads from Heron Cross to Lane Delph. (fn. 26) North of Lane Delph several small cottages were built in this period along the north side of the present Fenpark Road and in the present Hulse Street at Pool Dole, perhaps in connexion with the colliery workings nearby. (fn. 27)
In the last two decades of the 19th century, there was comparatively little building in Fenton, (fn. 28) but in this period a town centre emerged around the town hall, built in 1888 and Christ Church, rebuilt in 1890. (fn. 29) Some streets south-west of the town centre, the present Masterson, Alma, Welby, Nelson, Marlborough, Blenheim, Evelyn, and Crawfurd Streets, which had been partially laid out by the late 1870's, (fn. 30) had been built up with terraced houses, with small gardens or yards at the rear, by 1898. (fn. 31) Houses had also been built along Regent (now Smithpool) Road connecting Mount Pleasant with the present City Road stretch of the Stoke-Uttoxeter road. (fn. 32) In the north of the Fentons, at Fenton Low east of Victoria Road, Dimmock, Coburg, and Alfred Streets, which had been laid out by the late 1870's, had been built up with terraced houses by 1898. (fn. 33) At Heron Cross the present Hines Street and Chilton Street were laid out and built up in this period, (fn. 34) while in the area known as Golden Hill on the north side of the main road, where Queen (now Burnham) Street had been built by the late 1870's, (fn. 35) the present Berdmore and Hollings Streets, lying parallel to and east of Queen Street, had also been built up by 1898. (fn. 36)
In the first quarter of the present century the only notable housing development in Fenton was at Golden Hill. Here, adjoining the Longton-Fenton boundary, Goldenhill Road, (fn. 37) May Place, Foley Street, and Packett Street had been built up, while behind the streets leading off the main road from Uttoxeter and parallel to the latter Carron Street, Brocksford Street, and Elgin (now Marriott) Street had been laid out and built up. (fn. 38) Minor extensions of the other areas of housing had also taken place between 1898 and the early 1920's. Pool Street at Fenton Park was also built up during this period. Warrington Street, parallel to Victoria Road and behind the streets leading off that road on the east side, had been laid out but only partially built up by the early 1920's. Leading off Fenpark Road on the north side, Vivian Road, and St. Matthew, Cowper, Colville, Wallis, and Ashleigh Streets had been laid out but only partially built up. South-east of Heron Cross another block of houses was built by the early 1920's on the site of Heron Cottage, consisting of Grosvenor (now Bracken) Street and Holly Place, while Daisy Place parallel to Holly Place had been laid out but not built up. (fn. 39) Fenton Park was opened in 1924 over the site of old coal shafts at Fenton Low. (fn. 40)
In recent years the notable changes in Fenton have been the extension of Fenton Municipal Park to Victoria Road in 1957, (fn. 41) and the creation of a large recreation ground at Mount Pleasant between Grove Road and the houses in the centre of Fenton. In 1934 the Workshops for the Blind in City Road were erected on the site of a former pottery. (fn. 42) In the sphere of housing comparatively little has been done. Three streets, Carling Grove, Newmount Place, and Surtees Grove, have been built at Golden Hill, while the Hollybush council estate which lies mainly in Longton just crosses the boundary into Fenton at Heron Cross. Some demolition of old property has taken place but much still survives, particularly in the Christchurch Street area.
In 1666 there were seventeen persons chargeable to Hearth Tax in Fenton Vivian and sixteen in Fenton Culvert. (fn. 43) In 1811 the population of Fenton Culvert was 1,650 and of Fenton Vivian 856 (fn. 44) and during the 19th century the population figures show a steady rise: in 1831, 2,708 and 1,002 for the two townships, (fn. 45) and in 1851, 5,767 for the whole area, (fn. 46) and in 1871, 10,299. (fn. 47) In 1891 the figure was 16,998. (fn. 48) In 1901 the population of the urban district was 22,742. (fn. 49) The population of the same area in 1911 was 25,626 (fn. 50) and in 1921 26,714. (fn. 51)
The principal road through Fenton is the road from Uttoxeter to Newcastle which crosses the area as King Street and City Road. This follows the course of the Roman road called Ryknield Street as far as the junction of Vivian Road and King Street (fn. 52) where it inclines westwards and runs directly to Stoke Bridge. The road occurs as a highway in 13thcentury records. (fn. 53) It was subsequently turnpiked under an Act of 1759; (fn. 54) the toll house for this stretch was situated first at Meir and was replaced by a toll house on the Longton boundary at the Foley under an Act of 1763; (fn. 55) the latter is still (1960) standing as a small gabled cottage on the south side of the road. In 1794 Thomas Whieldon of Whieldon Hall was licensed to divert this road for 280 yards east of Stoke Bridge to a line slightly north of Whieldon's Grove. (fn. 56) By 1832 there was also a toll gate on the main road at the junction of the present City Road and Napier Street. (fn. 57) The road was disturnpiked in 1875 and declared a highway and a county responsibility under the Highways and Locomotives (Amendment) Act of 1878. (fn. 58)
By 1775 the road from Stoke through Great Fenton ran in a semicircle from its junction with the main road just east of Stoke Bridge down to Great Fenton and then east along the present Duke Street to rejoin the main road at Lane Delph. (fn. 59) It was straightened north-west of Great Fenton Hall c. 1800 by John Smith. (fn. 60) Another road from the centre of Fenton to Blurton intersecting this road at Heron Cross was turnpiked in 1778. (fn. 61) A toll gate was erected at Heron Cross under the UttoxeterNewcastle Turnpike Act of 1763. (fn. 62) This road was disturnpiked in 1877 and declared a main road under the 1878 Act. (fn. 63) By 1775 a road ran northwards from the main road at Lower Lane through Little Fenton to join the road from Stoke to Bucknall west of Fenton Low. (fn. 64) By 1832 the roads from Lane Delph to Pool Dole and Fenton Park were in existence. (fn. 65)
Victoria Road, running from the Masons' factory on the Uttoxeter-Newcastle road just west of Lane Delph in a straight line to Hanley, was built by 1842 under an Act of 1840, reducing the road distance between the two towns by about a mile. (fn. 66) The road from Little Fenton to Bucknall intersected this just below Fenton Low, the northern section of the Fenton-Bucknall road subsequently becoming merely a trackway. (fn. 67) Other alterations to the more important roads of Fenton included the diverting of Whieldon Road in the mid-1880's to run west of the canal to the new gasworks, (fn. 68) and a minor diversion of Christchurch Street by Fenton Station by the early 1920's. (fn. 69)
In the early 19th century Fenton was served by the same coaches as Longton. (fn. 70) A tramway from Stoke to Victoria Place, Fenton, was constructed in 1881 and extended to Longton in the same year. (fn. 71) It was taken over by the British Electric Traction Company (later Potteries Electric Traction Company) which electrified the system and built a new line along Victoria Road from Hanley. (fn. 72) The trams were replaced by buses between 1926 and 1928. (fn. 73)
By 1802 a post-office had been opened at Lane Delph. The area was served by a horse-post from Newcastle from 1835 until 1854. (fn. 74)
The Trent and Mersey Canal, started in 1766 and completed in 1777, (fn. 75) crosses Fenton near its former western boundary. By 1832 there was a wharf on the east side of the canal just south of Whieldon's Grove connected with Fenton, Lane Delph, the Foley, and Longton by a mineral line which was still in use in the late 1870's. (fn. 76) There was a second wharf on the west side of the canal by 1832, close to Stoke Bridge. (fn. 77)
Three railway lines cross the area. The first is the London-Manchester line, the first section of which, from Stoke to Norton Bridge, was opened in 1848. Whieldon's Grove, the house built by the potter, Thomas Whieldon, was used as a temporary station until the opening of Stoke station at the end of 1848; (fn. 78) it is now the motive power depot for the Stoke-on-Trent District. The engine sheds of the railway, including the 'monster engine stable' or Round House, were erected in the Whieldon's Grove area. This Round House, which still stands, was then described as 'circular in form, and no less than 200 feet in diameter within the walls. The exterior is composed of massive pilasters of brick work, with a bold stone cornice, surmounted by a parapet, the height being 30 feet from the line of the plinth. Between the pilasters are large Venetian windows, (fn. 79) 36 in number. . . . Within this building is another circle 87 feet in diameter, divided into 24 archways, corresponding with compartments for that number of engines. A siding from the railway communicates with the entrance to the "stable".' It was said to be the largest in the country. (fn. 80) Goods and carriage sheds were also erected (fn. 81) and general maintenance work has been carried on there to the present day. An engine and carriage works was developed later nearby. (fn. 82) The second line, from Stoke to Derby, opened as far as Burton-upon-Trent in 1848, has a station at the south end of Christchurch Street dating from the early 1860's. (fn. 83) The third railway line, from Stoke to Bidulph, was opened for mineral traffic in 1860 and for passengers in 1864; a station at Fenton Low called Fenton Manor was opened in 1864 and closed in 1956. (fn. 84)
Buildings
Few buildings other than cottages have survived from early-19th-century Fenton. The Dog and Partridge Inn near the demolished Smith Square in King Street is a brick building of the cottage type, probably late 18th century in date. A more substantial inn is the 'Royal Oak' (fn. 85) at the junction of Christchurch Street and City Road which has three Venetian windows and a pedimented gable above an altered ground floor. The Canning Hotel, now demolished, stood next to the former market in what is now King Street and was evidently a Georgian building of some pretensions. (fn. 86) At Great Fenton a row of plastered houses with front gardens, which may date from the early 18th century, still preserve their rural character. At the north end of Duke Street are two detached houses of c. 1800 standing in their own gardens, one of which has a brick stable with 'Gothic' windows. Foley Place near the east end of King Street was probably built in the 1830's or 1840's and is an example of middle-class housing with some attempt at a formal layout, rare in the Potteries at this date. It consists of an L-shaped block of two-storied stucco houses with basements, late Georgian in style. There were originally eleven houses and an inn, the 'Foley Arms,' while a communal garden (now covered by a garage and filling station) was laid out to the west. (fn. 87)
Although many of the larger residential houses which were in existence in the early 19th century have been demolished, the former manor house of Fenton Vivian or Little Fenton (fn. 88) is still standing on the crest of a hill at the north-west corner of the township, surrounded by several acres of agricultural land. The older part of the house, which Philip Broade was said to have much improved by the early 1840's, (fn. 89) appears to date from c. 1800. It is of two tall stories and is built of stucco-covered brickwork on an H-plan; a stone pedimented doorway occupies the centre of the south front. A later wing to the east is still occupied. The drive leads south to entrance gates and a stucco lodge on the main road. Manor Farm, about 100 yards north of the house, has one wing which may be of 17thcentury origin and in the farmyard the roof of a cowshed is of the same period.
Before the railway was built across their grounds in 1847–8 there were two houses on the low ground to the south-west of the Manor House, both belonging to the Whieldon family. (fn. 90) On the north side of the main road Fenton House or Fenton Hall, a 'very good house' with 'extensive pleasure-grounds, gardens and fish-ponds attached', (fn. 91) had been tenanted by William Adams (d. 1829) and later by his widow. It was demolished in 1847 at which time it was a rectangular two-storied building with a front of five bays, a small central pediment and an early 19th-century veranda. (fn. 92) South of the road a larger house, known as Whieldon's Grove was probably built by Thomas Whieldon the potter (fn. 93) in the mid18th century. Its two-storied front of five bays faced west and had a central doorway. About 30 or 40 years later a large north wing was evidently added at right angles to the original house. This had bay windows at both ends and a pedimented doorway flanked by Ionic pilasters in the centre of its principal front. (fn. 94) Most of this later wing was cut off when the railway embankment was constructed immediately to the east, the house by this time being empty and in a neglected condition. (fn. 95) The west side of the building, which remained standing, was taken over by the railway, in whose hands it still remains. (fn. 96) The Ionic doorway has been re-erected in the centre of a former bay window, the bay itself having been raised to two stories. A ground-floor room in the older wing contains an enriched plaster ceiling.
The two dwelling houses originally belonging to the partners and brothers-in-law Ralph Bourne and William Baker (fn. 97) are on high ground immediately south of Victoria Place. Both are square two-storied brick buildings with hipped roofs, probably built about 1800. Bourne's house, now occupied as colliery offices, has a central pedimented doorway facing City Road. The front of the other house, approached from Glebedale Road, was faced with stone and altered in the 19th century. It was known at one time as Fenton House and was used by William Meath Baker at least until 1896. (fn. 98) It became Christ Church vicarage in the 1920's (fn. 99) and in 1960 was being converted into a china factory.
At Great Fenton the three principal houses, said c. 1840 'to distinguish that eminence', (fn. 100) have all disappeared. They included Great Fenton Hall on the north side of the present Grove Road (demolished c. 1900), (fn. 101) Great Fenton House (demolished after the Second World War), (fn. 102) and the house which became known as Great Fenton Hall in the present century (demolished c. 1955). (fn. 103) The last two stood to the south of Grove Road and were separated by a large depression or 'fosse' which at one time contained fish-ponds (fn. 104) and in which water is still standing. This suggests that one of the two houses occupied an ancient fortified site.
At the south-east corner of the cross-roads at Great Fenton stood Heron Cottage, (fn. 105) described in 1829 as a 'small but superb edifice' (fn. 106) and c. 1840 as 'agreeable for its seclusion' and having 'the character of an episcopal seat'. (fn. 107) It was the home of Charles J. Mason until it was put up for auction at his bankruptcy in 1848. The house was evidently an early19th-century gabled 'cottage' with Gothic features which included a cloister; Mason added a large redbrick dining-room and a ballroom. Some of its luxurious fittings were damaged by Chartist rioters in 1842. (fn. 108) The site was built over by the early 1920's. (fn. 109)
The first public buildings in Fenton, which are still standing, were erected on the south side of Market Street (now part of King Street). At the east end of the group the former market, built by C. J. Mason c. 1831, (fn. 110) is a small single-storied brick building with a central arched entrance flanked by round-headed windows set in recessed panels, the whole being surmounted by a raking parapet of stone; it is now (1960) used as a garage. The two buildings which adjoin the market on its west side were erected in 1839 or soon afterwards by the newly established Improvement Commissioners on land leased from the Mason family. (fn. 111) They are now occupied as a china warehouse, a dwelling-house, and two small shops. The central building, which still carries the words 'Police Station' on a string course above its round-headed doorway, has a twostoried front of five bays with a small central pediment. It contained the commissioners' offices and a large first-floor room used for meetings and as a courtroom; cells with barred windows are still in existence at the rear. The third building, also of two stories, was originally the police inspector's house. (fn. 112) At the front is a round-headed doorway, three firstfloor windows, and a pedimented gable.
The present town hall in Albert Square, Christchurch Street, was built in 1888 (fn. 113) and is a large twostoried building of red brick with stone dressings, designed in a combination of the late Gothic and Tudor styles. The main block of six bays has a small central gable and is flanked by lower gabled side wings with oriel windows to the upper floors. The public library (1906) (fn. 114) and the police station (1914– 15) (fn. 115) lie behind the town hall, their entrance fronts facing Baker Street.
The former Athenaeum, erected in 1853 to the designs of Ward and Sons of Hanley, (fn. 116) stands at the junction of Christchurch Street and City Road and is now occupied by the District Bank. It is a rectangular building in a heavy Italianate style, the lower story being of stone and the upper of brick with stone dressings. The principal front, which faces Christchurch Street, is of five bays and has a central entrance flanked by stone Doric columns.
Along the main road many of Fenton's earlier terraced cottages have disappeared but a group on the north side of King Street, which includes the Dog and Partridge Inn, is still standing. Immediately to the west a three-sided court known as Smith Square was demolished after the Second World War, as was Meakin's Row, a cul-de-sac off China Street. (fn. 117) In Duke Street a single row of old cottages survives and in the former Lower Lane area there are terraces dating from before 1830 both in Temple Street and on the west side of Christchurch Street. All these are built on the usual cottage plan of the period, having two rooms to each floor, but in some cases wash-houses have been added later. (fn. 118) At the junction of Masterson (formerly Havelock) Street and Christchurch Street a row of five cottages represents one of the few remaining examples in the Potteries of an early type of layout; the front rooms open straight upon the street and the back rooms upon a communal yard which contains a row of three water-closets. On the south side of City Road, between the canal and the railway, a terrace of 20 plain well-built houses behind wooden palings dates from c. 1848 when they were put up for employees of the newly opened railway. (fn. 119) These all have projecting wash-houses at the rear and individual yards with back access. At the junction of City Road and Victoria Place a rebuilding scheme was evidently undertaken by W. Meath Baker about 1887, (fn. 120) probably for his own workers at the adjacent pottery. Early cottages, some of which were arranged in a threesided court, (fn. 121) were replaced by about 30 terraced houses and a corner shop. A few of the original cottages can still be seen between the later ornate frontages which incorporate much moulded brickwork and terracotta ornament. The houses are of various sizes, some double-fronted and some with passage halls, but all have a two-storied rear wing containing a third bedroom, as well as a watercloset at the end of the yard. A block of about twelve similar houses at the junction of Victoria Place and Hitchman Street also includes a corner shop and is dated 1890 with the monogram 'w.m.b.'
In the mid-19th century sanitary conditions were poor in Fenton (fn. 122) and there were several pockets of substandard housing. For example, at Mason's Buildings, 'a half-square of about 24 houses', the privies were opposite the house doors and there was 'neither any pavement or drains'. (fn. 123) On the other hand, Fenton had the smallest population of the Six Towns and this was spread over a fairly wide area, resulting in less overcrowding than elsewhere. By the end of the century housing conditions in Fenton, which had been the first of the towns to adopt building by-laws, were considered to be the best in the Potteries. (fn. 124)
Manors
In 1086 a virgate of land in Fenton was held of the king by Alward, a king's thegn. (fn. 125) This was presumably included in the three virgates in Fenton held of the Crown in 1212 de antiquo jure by William of Erdington. (fn. 126) By 1236 this estate was held of Newcastle manor (fn. 127) with which the overlordship remained until at least 1650. (fn. 128)
William of Erdington held Fenton in 1212 in right of his wife Philippa at a rent of 7s. (fn. 129) He still held it in 1236 by which date the rent of 1212 had been increased to 7s. 4d. and 40 days' castle guard had been added to the service of the fief. (fn. 130) In 1241 possession of Fenton was given by the king to Vivian of Standon as Philippa's nearest heir. (fn. 131) The estate was still rendering 7s. 4d. c. 1249. (fn. 132) Vivian died in or before 1250 when Philip Lovel was given custody of the lands and the wardship and marriage of his heirs. (fn. 133) Robert, Vivian's heir, was of age and in possession of his estates by 1283 when his right of free warren in his Fenton estates, then first called FENTON VIVIAN, was confirmed. (fn. 134) Robert still held Fenton Vivian in 1297, the service to the overlord being then the same as in 1236. (fn. 135) By 1310 it had passed to his son Vivian (fn. 136) and between 1310 and 1347 to Henry Motlowe. (fn. 137) Henry still held it in 1359, (fn. 138) but had died before 1367. It is not clear on what terms Henry held the estate since in 1367 and 1368 Vivian of Standon's widow successfully sued the guardians of Henry Motlowe's heirs for dower in one-third of Fenton Vivian. (fn. 139) Thomas Roos, guardian of Henry Motlowe's heir, still held the remaining two-thirds of Fenton Vivian in 1369, (fn. 140) but in 1374 he was sued for waste there by John Massey and his wife Joan claiming that they held it 'as dower of Isabel' (presumably Isabel, widow of Vivian of Standon) of the inheritance of Joan. (fn. 141) John and Joan Massey disseised John son of James Thyknes and Elizabeth his wife of land and tenements in Fenton Vivian which in 1401 were judged to belong to John and Elizabeth, in right of Elizabeth. (fn. 142) In 1415 or 1424 John Thyknes held in right of his wife lands and tenements at Fenton Vivian worth 7s. 4d. formerly held by Vivian of Standon. (fn. 143)
It appears that the land at Fenton Vivian was divided, for in 1438 John Mountforde son and heir of Elizabeth, daughter of John Boydell, was holding half the manor of Fenton Vivian, but this division of the manor does not seem to have persisted for long. (fn. 144) In 1471 a manor of Fenton Vivian was held by Thomas Rogers who, on his death in that year, was succeeded by his son Thomas. (fn. 145) This Thomas Rogers died before 1507, having conveyed Fenton to trustees for the benefit of his daughter Elizabeth, wife of William Essex. (fn. 146) It was still held in trust for William and Elizabeth Essex in 1513, (fn. 147) but between 1547 and 1551 it had passed to their son Thomas Essex. (fn. 148) In 1564 his son Thomas Essex leased 3 messuages, one to John Hill, (fn. 149) another to Hugh Machin, (fn. 150) and a third to Joan Brode, widow. (fn. 151) By 1614 the estate had passed to William Essex who in that year conveyed it to Andrew Vyse. (fn. 152) Vyse is said to have conveyed it to Thomas Broade (fn. 153) but Simon Degge was holding a capital messuage called Fenton Hall at his death (fn. 154) which was sold in 1734 under the terms of his will to the mortgagee of the estate, William Cotton of Crakemarsh. Cotton sold it in 1735 to Thomas Broade, who, however, may already have purchased the manorial rights as he is then described as of Fenton Vivian. (fn. 155) The lordship of Fenton Vivian was divided by 1767; part was held with Botteslow by Thomas Baddeley of Newfield (fn. 156) in Tunstall, son of Elizabeth Machin of Botteslow who in 1699 had married Randle Baddeley, and the rest was held in 1789 by Thomas Broade. (fn. 157) Thomas Broade and James Caldwell, the latter probably a trustee, held four-fifths of the manor in 1808, (fn. 158) while the remaining Botteslow fifth was held in 1807 by John George Child, son of Thomas Baddeley's heir Smith Child, and in 1828 by William Kelsall Tait. (fn. 159) By the early 1840's Philip Barnes Broade had inherited four-fifths of the manor and had also purchased the remaining one-fifth, which comprised lands in Botteslow, from Tait. (fn. 160)
Philip Barnes Broade was living at Fenton Manor House in 1851 (fn. 161) but by 1868 it was occupied by Edward Challinor. (fn. 162) Thomas William Minton was living there by 1880 (fn. 163) and continued to occupy it until at least 1884 (fn. 164) but by 1892 (fn. 165) it was occupied by Henry Warrington who still lived there in 1912. (fn. 166) In 1960 it was partly derelict and was owned by Berry Hill Brickworks Ltd.; the adjacent Manor Farm belonged to the National Coal Board. (fn. 167) The homestead moat near Lawn Farm may indicate an earlier manor-house site. (fn. 168)
By 1274 the chief rents, pleas, and perquisites of the court of the manor of FENTON CULVERT were held by John de Verdon as part of the Alton barony. (fn. 169) The early history of the manor is obscure but it may have formed part of the large estates of Orme (temp. Henry I) (fn. 170) whose great-granddaughter Avice de Gresley married Henry de Verdon, (fn. 171) who was holding land in Bucknall in 1204. (fn. 172) An undated charter of her mother, Aline lady of Darlaston, granting land in Culverds Fenton to her uncle Thomas fitz Orme is witnessed by the halimot de Culverdislow which is evidence of the existence of the manor probably in the late 12th century. (fn. 173) In 1274–5 Eleanor widow of John de Vernon sued his son and heir Theobald for one-third of the manor of Fenton Culvert. (fn. 174) On the death of the latter in 1316 (fn. 175) the lands of the Alton barony were taken into the king's hands to await the birth of Theobald de Verdon's fourth child. (fn. 176) A daughter was subsequently born and by 1327 the de Verdon lands had been divided between Theobald's four daughters. (fn. 177) New extents of the property were made in that year to settle disputes over the partition (fn. 178) and in 1328 lands in Fenton were retained in the king's hands as the portion of the youngest daughter Isabel. (fn. 179) Isabel had married Henry de Ferrers by 1331 when lands in Fenton were assigned to him by the king. (fn. 180) The overlordship of Fenton Culvert manor remained in the Ferrers family until 1520 when it passed to Anthony Fitzherbert. (fn. 181) It was still in the hands of the Fitzherbert family in 1619 (fn. 182) but its later history is unknown.
At an early date the manor appears to have been subinfeudated to the Biddulph family and in the later 12th century Thomas Biddulph made a grant of land in Great Fenton. (fn. 183) In the late 12th or early 13th century Francis Biddulph was making grants of land in Fenton Culvert, and was also holding a court there at that time. (fn. 184) About the mid-13th century Thomas son of Henry de Bidulf granted William of Fenton Culvert 3 bovates in that vill at a yearly rent subject to suit at his court and to the rent payable to the chief lord of Alton. (fn. 185)
In 1563 Richard Biddulph headed the subsidy roll of that year for Biddulph, Bucknall, and Fenton Culvert. (fn. 186) In 1633 another Richard Biddulph received a grant of the manor from certain trustees, (fn. 187) and by 1639 it had passed to his son John Biddulph. (fn. 188) In 1652 quit-rents payable by freeholders in Fenton formed part of the Biddulph estate, (fn. 189) and in 1668 these were sold by Richard Biddulph to Thomas Fenton of Fenton Culvert, (fn. 190) the transaction apparently bringing to an end the Biddulph tenure of the lordship of Fenton Culvert manor. In 1715 Thomas Fenton sold the quit-rents to Thomas Smith of Great Fenton Hall (fn. 191) and he in the same year to Thomas Hunt of Newcastle-underLyme. (fn. 192) The further history of the manor is not known.
Other Estates
In 1719 Simon Degge mortgaged a messuage called Fenton Hall in Fenton Vivian to Elizabeth Carter. This mortgage was transferred to Robert Cotton in 1723. In 1734 under the terms of Simon Degge's will the premises were sold to William Cotton of Crakemarsh who in 1735 sold them to Thomas Broade of Fenton Vivian. (fn. 193) In 1742 Broade sold Fenton Hall and the adjacent lands to John Peate of Lane Delph (fn. 194) who built a potworks there. Peate went bankrupt and sold Fenton Hall to Thomas Whieldon in 1748. (fn. 195) The Whieldons continued to hold Fenton Hall until 1810 when George Whieldon, then of Knightsbridge, London, leased it for seven years to Robert Hamilton of Stoke-uponTrent, earthenware manufacturer. By then it was called Little Fenton Hall. (fn. 196) In 1824 George Whieldon of Cotton Hall agreed to lease Fenton Hall to William Bishop, (fn. 197) who was probably acting for William Adams to whom a seven-year lease was eventually granted in 1827. (fn. 198) This lease was renewed in 1834 to Lewis Adams of Fenton, earthenware manufacturer. (fn. 199) In 1846 George Whieldon leased the hall to Michael Daintry Hollins of Stoke, china manufacturer, for 14 years. (fn. 200) It was demolished in 1847 when the railway was being built. (fn. 201)
In 1730 Joseph Hill of Fenton Vivian, a cordwainer, conveyed a house in Fenton Vivian to Thomas Broade. (fn. 202) Broade held the house in 1755 when it was still subject to the dower of Rose, widow of Joseph Hill. (fn. 203) By 1764 it had passed to Broade's son, also called Thomas, who then sold it to Thomas Whieldon. (fn. 204) This was possibly the house in Fenton Vivian sold to Thomas Whieldon in 1764 and then occupied by Thomas Lakyn. (fn. 205) Another house in Fenton Vivian near Fenton Hall occupied by Thomas Lakyn was also sold to Whieldon by Broade in the same year. (fn. 206)
A chief rent of 40s. was owed by Thomas Crompton to William Essex as lord of Fenton Vivian for land in Fenton Vivian, but Andrew Vyse remitted this rent for £38 in 1614 after his purchase of the manor. (fn. 207) In 1628, when the land was sold to Robert Bagnall of Longton, it consisted of various fields in Fenton Park (fn. 208) and was still held by him in 1639. (fn. 209) By 1670 this estate was owned by John Hewitt. He or his son, also called John, still held it in 1697. (fn. 210) Elizabeth Bagnall (d. 1747), daughter of Robert Bagnall, married John Fenton (d. 1746) of Newcastle and subsequently of Fenton Park. Fenton Park descended in the Fenton family, subsequently Fenton Fletcher Boughey, (fn. 211) and was held c. 1840 by Sir Thomas Boughey and Lawrence Armitsted as representatives of the elder line of the Fenton family. (fn. 212) The Fenton Park estate, including Fenton Park farm and Yew Tree farm, was the scene of coal mining, from at least the 18th century, and this was still in progress there in the late 1870's. (fn. 213)
Great Fenton Hall and the adjoining estate was owned by 1715 by Thomas Smith. (fn. 214) About 1840 it was said that the largest part of the township had been owned by the Smith family for upwards of a century. (fn. 215) The hall which stood on the north side of the present Grove Road was empty in 1829, the owner John Smith living at Elmhurst, near Lichfield. (fn. 216) It was occupied by a tenant of C. J. Smith in 1849 (fn. 217) and was demolished c. 1900, (fn. 218) the site now forming part of Mount Pleasant Recreation Ground.
A John Fenton was holding lands in Fenton Culvert by 1540. (fn. 219) In 1666 Thomas Fenton was assessed for tax on five hearths, the second largest number in Fenton. (fn. 220) This assessment probably applied to the house which stood on rising ground to the south of what is now Grove Road next to Great Fenton House from which it was separated by a ditch and fish ponds. (fn. 221) About 1840 the house was occupied by the widow of John Bourne, the potter. (fn. 222) It was then described as 'an old farmhouse, modernised and beautified'. (fn. 223) Before its demolition c. 1955 it was apparently a stucco-covered house of Regency character but with an ancient chimney at its north end inscribed with the name 'Thomas Fenton' and a 17th-century date. (fn. 224) By the beginning of the 20th century the house, which became known as Great Fenton Hall, was owned by Stafford Coal and Iron Company who used it as offices. (fn. 225) A garage for the colliery now (1960) occupies the site; an early-19th-century stucco lodge and outbuildings, however, are still standing.
In the later 12th century Thomas Biddulph granted land in Great Fenton to William of the Hill (del Hull) (fn. 226) who presumably took his name from the hill on which Great Fenton stands. Philip of the Hill (de Monte) still held lands in Great Fenton in 1303, (fn. 227) but by 1368 lands and a messuage formerly held by Ralph de Hull in Fenton Culvert had passed to John Bron and his wife Sybil. (fn. 228) John Browne was holding lands in Fenton Culvert in 1399, including a house and land acquired by a Roger Benet from William Wylat who had received it from Thomas Biddulph. (fn. 229) A later John Browne was holding land in Fenton Culvert in 1540. (fn. 230) By 1668 Thomas Allen was holding the capital messuage formerly owned by a Thomas Browne, (fn. 231) and in 1666 he had been assessed for tax on ten hearths. (fn. 232) In 1728 another Thomas Allen was occupying the capital messuage. (fn. 233) Another Thomas Allen was living in the house c. 1840. (fn. 234) In 1855 the trustees of the late Thomas Allen leased Great Fenton House to Edward Challinor for ten years. (fn. 235) In 1878 the Aliens' representatives leased the land and house to the Duke of Sutherland for mining purposes. This lease was surrendered in 1887 but renewed again several times until in 1913 the estate was sold to the Stafford Coal and Iron Company. (fn. 236) For some time Great Fenton House was the home of the furnace manager of that company and afterwards of its secretary. By the outbreak of the Second World War it was uninhabited and was used by the Home Guard during the war, being demolished c. 1948. (fn. 237)
A house called Millridding or the Folly was owned by Michael Nicholls in 1755 and occupied by John Dixson, father-in-law of Michael Nicholls. There were 66 acres of land attached to the house. (fn. 238) The estate passed to John Richardson in 1759 when he purchased the equity of redemption of the mortgage. (fn. 239) Foley House, lying south of the railway line and just west of the boundary with Longton, still existed as a farm in the early 1950's. (fn. 240)
In 1666 a Richard Nicholls was assessed for tax on three hearths in Fenton Culvert, (fn. 241) and in 1755 Michael Nicholls was holding a capital messuage there and 78 acres of land, then said to be usually called Nicholls' farm. (fn. 242) This house was tenanted in 1755 by George Thompson and previously by John Matthias. (fn. 243) The estate passed to John Richardson in 1760 when he purchased the equity of redemption of Nicholls' mortgage. (fn. 244) This appears to have passed to the Allen family (fn. 245) who also held Great Fenton House in the mid-19th century. (fn. 246)
By 1728 Thomas Allen of Great Fenton House owned Sideway House, the occupier being Thomas Peake. (fn. 247) Harry Allen, the owner by 1768, (fn. 248) leased it as Sideway House or Sideway House Farm to William Steel in 1785. The farm was then 110 acres in extent. (fn. 249) By 1829 Robert Eccles and Benjamin Butter were tenants of the farmhouse, the land remaining in the hands of the Allen family. (fn. 250) In 1879 Sideway farm, then only 60 acres in extent, was bought by Stoke Corporation for development as a sewage farm. (fn. 251)
Whieldon's Grove, which lay close to Stoke Bridge and south of the main road to Uttoxeter, was evidently built by Thomas Whieldon, the potter, (fn. 252) and occupied by him at his death in 1795. By 1829 it had been abandoned and was then described as a 'dilapidated mansion'. (fn. 253) It had been taken over by the North Staffordshire Railway by the late 1840's. (fn. 254)
Churches
Until the 19th century the Fenton area lay within the parish of Stoke. Christ Church, in what is now called Christchurch Street, was built in 1838–9. (fn. 255) Ralph Bourne (d. 1835) left £3,500 to trustees for the erection and maintenance of the new church. Of this £1,000 was to be used as an endowment and the rest towards the building costs. Over £3,000 more was needed to erect the church, and this was provided by his sister Mrs. W. Baker. (fn. 256) In 1841 a new parish was created covering both the Fenton townships except for the part already included in the new Longton parish. (fn. 257) The living was a perpetual curacy until 1868 (fn. 258) when it became a titular vicarage. (fn. 259) The right of presentation to the living at first lay with the bishop (fn. 260) but was transferred in 1861 to William Baker, nephew of Ralph Bourne the founder of the church. (fn. 261) On William's death in 1865 it passed to his brother, the Revd. R. B. Baker, with whom it remained until he died in 1875. (fn. 262) It was in the hands of his executors and trustees until 1883 when it passed to his son William Meath Baker of Hasfield Court (Glos.) (fn. 263) William died in 1935, (fn. 264) and the patronage then passed to the Rector of Stoke (fn. 265) with whom it still remains. (fn. 266) The benefice received a grant of £200 out of Queen Anne's Bounty in 1842. (fn. 267) The church of 1838–9, which stood on the east side of the present Christchurch Street, was a Gothic building of brick with stone dressings; it had an unaisled nave of five bays and two low structures flanking a west tower surmounted by angle pinnacles. The four-light east window was filled with stained glass. The interior, which contained about 1,000 sittings, was fitted with an organ and with galleries supported on iron pillars. (fn. 268) In 1890 the present CHRIST CHURCH, a larger building to seat 1,900 people, was erected on the same site. (fn. 269) It was designed by Charles Lynam (fn. 270) in the Decorated style and was built of red brick with stone dressings. At first it consisted of an aisled and clerestoried nave of six bays, a south chapel, a north organ chamber and north vestries, but in 1899 a tall west tower containing eight bells was added. (fn. 271) This has paired windows to the belfry stage and a line of white-brick arcading below an embattled parapet. Memorial tablets include one to William Baker (d. 1865), erected by his brother, the Revd. R. B. Baker, and evidently removed from the old church. Its inscription states that William Baker 'built this church, vicarage house, and infant school, gave the organ, and augmented the living'. The vicarage house was originally the square brick house at the end of Glebedale Road opposite the station, now called Glebedale House. Baker's own house at the other end of Glebedale Road became the vicarage in the 1920's, but a house on the opposite side of the road from this is now (1960) being made into the vicarage. (fn. 272)
A mission church was founded from Christ Church in 1849 in the former Primitive Methodist chapel in China Street. (fn. 273) This was replaced in 1882 by St. Matthew's Mission Church erected in that year at the junction of Park Street and Market Street (now King Street). (fn. 274) The church is a cruciform brick building in the Gothic style, with a small central bell turret containing one bell.
Pear Tree Mission, located presumably in the Pear Tree district off Manor Road, was opened from Christ Church in 1874. (fn. 275) It was evidently replaced by the school-church built at Fenton Low in 1875–6 and dedicated to St. Michael and All Angels. (fn. 276) The present church of St. Michael in Victoria Road, erected in 1887, (fn. 277) is a brick building in the Early English style with a bell-cote and one bell. From c. 1913 it has been in the parish of St. Luke's, Hanley. (fn. 278)
A mission hall was erected near St. Matthew's Church c. 1888. (fn. 279) It continued to be used as a mission hall until at least 1892. (fn. 280)
Mount Pleasant Mission Church in what is now Smithpool Road was opened from St. Peter's Church, Stoke, c. 1870. (fn. 281) Since at least 1887 it has been known as St. Paul's Mission, Mount Pleasant. (fn. 282)
A small mission church at St. Anthony's Row, Victoria Road, on the northern boundary of Fenton was opened c. 1896 from St. Jude's Church, Shelton, to serve the houses near the mines at Berry Hill. (fn. 283) A new church, dedicated to St. Margaret and St. Anthony, was built on the site in 1921, the gift of Margaret Hudson of Market Drayton. It was still in use in 1940, (fn. 284) but by 1960 the building was occupied by Edco Supplies.
Local Government and Public Services
Both Fenton Culvert and Fenton Vivian lay within the ancient parish of Stoke-upon-Trent and by the early 17th century were combined for the purposes of parish government with Longton and Botteslow to form one of the four 'quarters' into which that parish was divided. (fn. 285) Manorially Fenton Vivian was part of Newcastle manor by the early 13th century (fn. 286) and was still subject to its leet jurisdiction in the early 19th century. (fn. 287)
In 1839 Fenton, like Stoke, Longton, and Trentham, was placed under a body of commissioners with powers of policing, lighting, and generally improving the streets. (fn. 288) Local government in Fenton continued to be the responsibility of these commissioners until 1873 when they were superseded by a local board of health consisting of twelve members. (fn. 289) The functions of the board were discharged by a number of sub-committees which in 1881 consisted of Finance, Sanitary and General Purposes, Rating, Highways, Joint Gas, Contagious Diseases and Hospital, and Sewerage. (fn. 290)
In 1894 the Fentons were constituted an urban district administered by a council of 24 members, six from each of the four wards into which the district was divided. (fn. 291) The committees of the council in 1909–10 were General Purposes, Gas, Rate Excuse, Highway and Lighting, Health, Sewage Disposal, Finance, Library, and Education. (fn. 292) In 1910 the urban district, as part of the new borough of Stokeon-Trent, (fn. 293) was divided into three wards, each being represented on the Stoke borough council by an alderman and three councillors. (fn. 294)
The offices of the Improvement Commissioners were at the police station of c. 1839 in Market Street (now King Street), Lane Delph, and these, having been bought from the Mason family in 1860, were occupied by the newly constituted board of health for a few months in 1873. (fn. 295) Later in the year, by agreement with William Meath Baker, the board took possession of the former Athenaeum. (fn. 296) In 1888 the present town hall in Christchurch Street was built by Baker and occupied by the board of health, and subsequently the urban district council, as his tenants. (fn. 297) In 1897 the urban district council decided to acquire the building by purchase. (fn. 298)
By 1335 Fenton Vivian, as a member of Newcastle manor, was represented at the court leet by two frankpledges. (fn. 299) These represented Fenton Vivian and Botteslow jointly in the mid-16th century, (fn. 300) but by 1679 each had one frankpledge. (fn. 301) Fenton Vivian formed a joint constablewick with Longton and neighbouring places. (fn. 302) Fenton Culvert formed a separate constablewick with Bucknall. (fn. 303) By 1829 two joint constables for Fenton Culvert and Fenton Vivian were being appointed at the court leet of Newcastle manor. (fn. 304)
Under the Act of 1839 the Improvement Commissioners were empowered to raise a police force and in the same year they arranged for the erection of 'a station house, public offices, and buildings for holding of meetings and transacting the business of the Commissioners of the Police and also dwelling rooms for the habitation of the Inspector of Police or Constable and also cells'. (fn. 305) As a result of the Chartist riots of 1842, during which the police office was attacked, (fn. 306) the commissioners in the following year secured the establishment in Fenton of a branch of the new county force, which leased the police station from the commissioners. (fn. 307) Additions to the police office were made in 1846, (fn. 308) and a new station was opened in 1915. (fn. 309)
In 1839 a stipendiary magistrate for the Potteries area was appointed and sat in alternate weeks at Fenton police office and Stoke. The two Fentons formed one of the six rating districts established to support the new system. (fn. 310) At first Fenton was in Hanley County Court District, formed in 1847, (fn. 311) but it was transferred to the Stoke County Court District in 1853. (fn. 312)
PUBLIC HEALTH. In the sphere of public health the Improvement Commissioners do not seem to have exercised to any marked extent the powers conferred on them by the 1839 Act. The report to the General Board of Health on the Fenton district in 1850 disclosed an unsatisfactory state of affairs, and attention was drawn to the existence of ash pits, communal privies, filthy channels in front of houses, and other sanitary defects. (fn. 313) The report recommended that an adequate sewerage scheme for the area with waterpan closets and watertight pipes should be undertaken. As a result of the report a sewerage plan for the area was prepared in 1852, (fn. 314) and in the following year sewers were being laid under the commissioners' authority in the China Street district. (fn. 315) In 1855 sewers were laid in the area around the junction of Park Street and Market Street (now King Street) and along the main road from Park Street to the post office, (fn. 316) then in High Street. (fn. 317) In 1853 scavengers had been appointed whose duties included the removal of ashes, rubbish, and filth, the emptying of privies and cesspools, and the watering of the streets. (fn. 318) The commissioners were again faced with the sewerage problem in 1866 when the surveyor attributed the amount of illness in the town to bad ventilation and imperfect drainage. (fn. 319) When, however, after an outbreak of typhus in the same year, the commissioners were met with an estimated expenditure of £292 on sewers they elected to spend only 'the minimum and absolutely necessary amount' of £59. (fn. 320) In 1883 a sewage disposal works was opened at Blurton (fn. 321) and extended three years later. (fn. 322) This, however, proved inadequate to the needs of the town, and between 1905 and 1908 the urban district council built a new works on 18 acres of land at Sideway. (fn. 323)
Although restrictions were placed on burials in Christ Church and in its graveyard in 1856 (fn. 324) it was not until 1887 that a cemetery of 16½ acres was laid out. (fn. 325) This is situated to the north-east of the town on sloping ground near Fenton Park.
Other Public Services. In the matter of watersupply Fenton in the early 19th century was probably worse off than the other Pottery towns; it was described as being 'almost destitute of water excepting such as falls from the heavens and in summer the want is most severe'. (fn. 326) In 1845 the chief bailiff, together with the chief bailiffs of other Pottery towns, approved on behalf of their respective towns a project for a better water-supply, which culminated in the establishment of the Staffordshire Potteries Water Works Company in 1847. (fn. 327) Two years later a piped supply was brought to Fenton. From then until the end of 1924 the company, and thereafter the Staffordshire Potteries Water Board, have been responsible for the town's watersupply. (fn. 328)
By the early 1840's Fenton was being supplied with gas by the Stoke, Fenton and Longton Gas Company, established in 1839. (fn. 329) In 1878 the undertaking was bought by the Stoke Borough Council and the Fenton Local Board and run by a joint committee. (fn. 330) In 1883–4, after a dispute between the two authorities, Fenton Local Board erected its own gasworks between the canal and the river Trent. (fn. 331) The Fenton Gas undertaking passed under the control of the new county borough in 1910. (fn. 332)
In 1882 (fn. 333) and again in 1889 (fn. 334) the local board declared its opposition to the introduction of electricity by outside companies on the ground that it had expended large sums on its gas undertaking, that there was no demand for electric light, and that if the demand arose the board itself would obtain the necessary sanction. (fn. 335) There was no general supply of electricity to Fenton until 1923. (fn. 336)
The establishment of a fire brigade dates from 1859 when the Improvement Commissioners acquired a fire engine. The brigade's offices adjoined the former market house which was offered to them as a fire station but was declined. (fn. 337) By 1865 there was an officer acting as Inspector of Nuisances, Lodging Houses, and Fire Brigade, but on his resignation in that year the last two functions were transferred to the Inspector of Police. (fn. 338) Fenton retained its own fire brigade until the reorganization of the city's fire service in 1926. (fn. 339)
Each of the townships of Fenton Culvert and Fenton Vivian seems to have been individually responsible for the maintenance of its highways, and there were still township surveyors in 1852 (fn. 340) when legal difficulty arose over a proposal to substitute a district surveyor for them. (fn. 341) Separate highway surveyors were still in existence in 1860, (fn. 342) but three years later a district surveyor was appointed to act under a newly created Ways and Means Committee. (fn. 343) In addition to the supervision of the highways, his duties included drainage inspection, the examination of plans for all new buildings, and the making of contracts. (fn. 344)
Economic History
In 1086 Fenton was described as waste, (fn. 345) but little is known of its economic history until the emergence of coal mining at the end of the 17th century and of pottery manufacture in the early 18th century. Evidence of its agrarian development in the Middle Ages seems to be lacking. In 1540 five free tenants agreed to divide amongst themselves all their lands, meadows, and pastures in the lordship of Fenton Culvert which had not been previously inclosed; the open fields then mentioned were Surbarowe, the Birche, Olde Field, Brantell Field, and Woocrofte Field. (fn. 346) Despite the progressive industrialization of the area there still remained in the early 1950's about half a dozen farms (fn. 347) but these are rapidly disappearing. The farm at Fenton Manor House is run by the Ministry of Agriculture for testing fluorine deposits in the grass. (fn. 348)
Market. A small market, with stalls and shambles, was established in Lane Delph c. 1831 by C. J. Mason. (fn. 349) It was still in use in the early 1840's when the market was held on Saturday. (fn. 350) It had failed by 1851 allegedly because of its proximity to Stoke and Longton markets. (fn. 351) In 1839 a pinfold was erected by the Improvement Commissioners behind the adjoining police station, and in 1844 was placed under police superintendence. (fn. 352)
MILL. In 1544 Richard Germon of Fenton Culvert leased ground called Broadmeadow, then held by Richard Fenton and Roger Ashe for 45 years, to Thomas Bolton of Penkhull and James Bolton of Fenton Culvert for the building of a mill. (fn. 353) It was evidently this mill which was held by the Procter family in 1732 (fn. 354) but by 1768 it was owned by Harry Allen of Great Fenton House. (fn. 355) It was then leased to Edward Bennet of Madeley for 21 years. (fn. 356) By 1782 it had become a flint and colour mill and was still in use as such in the 1870's. It was situated on the Trent south of Boothen. (fn. 357)
POTTERY INDUSTRY. The earliest known potter at Fenton is Thomas Heath who was working there, probably at Lane Delph, c. 1710 (see below). The member of the Poulson family who was said to be potting at Stoke c. 1710 may in fact be identifiable with William Poulson of Fenton Low (d. 1746), and it is even suggested that Thomas Whieldon took over William's works. (fn. 358) Thomas Astbury, a cousin of John Astbury of Shelton, was producing pottery at Lane Delph in the late 1720's, and at the end of the century John's grandson, Richard Astbury, was recorded as a potter at the Foley. (fn. 359) Thomas Whieldon of Fenton Low, 'whose name is more intimately mixed up with the early development of the potter's art than that of almost any other man', (fn. 360) began working at Fenton Low in 1740. About 1750 John Barker, one of Whieldon's ovenmen in 1749, began to make shining black ware and salt-glazed stoneware at the Row Houses near the Foley. He worked in partnership with his brothers and with Robert Garner, who had been one of Whieldon's apprentices. He later made cream-coloured ware also. (fn. 361) There were at least six potters in the Fentons c. 1760 (fn. 362) but only four were mentioned in 1781, three of them at Lane Delph. (fn. 363) There were 13 works in the Fentons some 20 years later (fn. 364) and in the early 1840's 2 at Fenton, 6 at Lane Delph and 3 at the Foley. (fn. 365) There are now some 11 larger works in the Fenton area, situated in the main to the north and south of King Street. Most of them produce either bone china or earthenware, although in a few cases both are made at the same works. (fn. 366)
About 1710 Thomas Heath of Lane Delph was producing a good durable ware, light grey in colour and made from a mixture of clay and 'a species obtained from the coal mines'; he apparently made dipped ware also. (fn. 367) One of his daughters married a Mr. Pratt of Fenton, (fn. 368) and the William Pratt who was working at Lane Delph in what is now Fenpark Road from at least the early 1780's until his death in 1799 may well have been a descendant of Heath; it is possible, too, that he was working on the same site as Heath. (fn. 369) His widow Ellen (d. 1815) and their sons Felix (1780–1859) and John ran the pottery together until 1812. (fn. 370) Felix then moved to Fenton, (fn. 371) but John continued at his father's works which, as the Lane Delph Pottery producing earthenware, was run by John and William Pratt from 1835 and by John Pratt and Company from the 1850's until 1878. (fn. 372) It then passed to Pratt and Simpson who were evidently succeeded in 1882 or 1883 by Wallis Gimson and Company, still the occupants in 1890. (fn. 373) By 1892 it was held by Barker, Batty, and Reid and by 1903 by H. K. Barker and Company. It evidently became known as the Rubian Art Pottery during this period. (fn. 374) In 1905 or 1906 it passed to the Rubian Art Pottery Company, who were still there in 1932. (fn. 375) The extensive site is now (1960) owned by Grimwades Ltd. of Stoke and Shelton, who occupy a small part of it; the firms of Fenton Products, figure-makers, and Casburt's, metalworkers, lease other parts, but most of it is derelict.
Thomas Whieldon (1719–95) opened his works in a small range of low, thatched buildings at Fenton Low in 1740, extending it in 1749. (fn. 376) He leased this or another works to William Meir in 1749 or 1750 and to Thomas Broade for eleven years in 1750; Broade assigned the lease to Edward Warburton in 1754. (fn. 377) In 1748 Whieldon had bought Fenton Hall from the bankrupt John Peate along with the adjoining potworks built by Peate after his purchase of the Hall estate in 1742, (fn. 378) but it is not clear whether it was there or at Fenton Low that Whieldon subsequently worked. He entered into partnership with Josiah Wedgwood and John Harrison in 1754; Harrison withdrew the same year, but Wedgwood remained until 1759. (fn. 379) Whieldon continued in business until c. 1780 and acquired a fortune which has been estimated at £10,000; he was high sheriff in 1787. (fn. 380) Part of the works at Fenton Low still stood as cottages in the late 1820's, (fn. 381) but it was stated in the early 1840's that the factory was no longer standing. (fn. 382) Whieldon's earliest products were agate knife-hafts for the Sheffield cutlers and agate snuffboxes for the Birmingham hardwaremen; about 1750 he began making black ware and figures in salt-glaze and earthenware. His name is chiefly associated with earthenware of a wide range of colours, marbled ware, and tortoiseshell ware. Wedgwood contributed much to Whieldon's fame, but on the other hand Whieldon's formula for creamcoloured ware was the basis of the Queen's ware with which Wedgwood later established his reputation. (fn. 383) Among Whieldon's apprentices was Josiah Spode. (fn. 384) A flint mill was built on the Trent near Fenton Hall by John Peate after his purchase of the Hall estate in 1742; it was bought by Whieldon in 1749. It had a steam-driven engine of over 24 horsepower by 1825 (fn. 385) and remained in use until c. 1946. (fn. 386) The mill buildings are still (1960) standing.
A works on the site of the present Minerva Works in Park Street was in existence in the early 1760's, owned by the Broade family and in the tenure of James Kent; the Broades were looking for a new tenant in 1764. (fn. 387) In 1806 or 1807 it was taken over by Miles Mason (1752–1822), (fn. 388) who moved there from the Victoria Works, Market Street (now King Street). (fn. 389) His eldest son William (1785–c. 1855) worked with him from c. 1806 until 1811 when he started to make earthenware at a works nearby, (fn. 390) and when Miles retired in 1813 it was to his other two sons, George Miles (1789–1859) and Charles James (1791–1856), that the Minerva Works passed. (fn. 391) They moved to the works in what is now Victoria Place in 1815. (fn. 392) The Minerva Works was in the hands of Pratt, Hassall, and Gerrard by 1827 and passed in 1833 to Richard Hassall and Thomas Green of Bank House, Fenton, son of Thomas Green of the Churchyard Works, Burslem. (fn. 393) Hassall retired the same year and Green then bought the works from Francis Broade, entering into partnership with W. Richards of Great Fenton from 1834; Richards withdrew in 1847. (fn. 394) At first china 'of the commonest kind of blue-figured, white and gold' as well as lustre ware was produced, but Richards introduced the manufacture of 'a variety of ornaments, small ewers and basins, toy mugs and jugs etc.'; French competition put an end to this, and in 1851 Green turned 'to a better class of productions'. (fn. 395) Since his death in 1859 the business has remained in the hands of the Green family. It was incorporated as the Crown Staffordshire Porcelain Company Ltd. in 1903, but in 1948, with the growing demand for bone china by name, the company became the Crown Staffordshire China Company Ltd. (fn. 396) and now produces nothing but bone china. (fn. 397) Part of the works was rebuilt in 1906, and there is an extension of 1950 to the east (fn. 398) and another of the same period to the west. A second factory at Heron Cross, which includes a grinding mill, was acquired in 1947. (fn. 399)
William Bacchus was making cream-coloured and blue-printed ware at Fenton in the mid-1780's, (fn. 400) and his works evidently stood to the north of what is now City Road between Manor Street and Fountain Street where Ralph Bourne and William Baker were working by the end of the century. (fn. 401) By the late 1820's Bourne and Baker, in partnership with John Bourne, had acquired an additional works, evidently on the south side of the main road, opposite the first. This seems to have been the site where William Greatbach, son of a Berry Hill farmer and one of Whieldon's apprentices, had made biscuit ware in the 1760's. (fn. 402) Both Bourne and Baker had houses, still (1960) standing, on the south side of the road. (fn. 403) The business included a flint mill by 1829. (fn. 404) With the deaths of John Bourne and William Baker in 1833 the partnership was dissolved, and then for a short time the business was carried on by Ralph Bourne, William Baker the younger, and John Baker. (fn. 405) By the early 1840's William Baker was running it alone and was then using 'machinery for the exercise of the potters' operations' in addition to the mill. (fn. 406) The business was subsequently carried on by William Baker and Company, makers of printed, sponged, and pearl-white granite ware for export in the early 1880's at the works between Manor and Fountain Streets; the works on the south side of City Road was by then an encaustic tile works, apparently still in the hands of the Baker family, (fn. 407) and is now (1960) occupied by the Ceramic Tile and Pottery Company. Its two-storied front range, dating from the earlier 19th century, has a central arched entrance surmounted by a Venetian window and a pedimented gable. Since at least the early 1920's the other site has been occupied by the flint mill of James Kent Ltd. of the Old Foley Pottery. (fn. 408)
The Foley Pottery, described in the 1880's as 'one of the oldest works in the district', (fn. 409) was built c. 1790 on the south side of King Street by Josiah Spode for Samuel, his second son (1758–1817). Samuel lived at the Foley Cottage at the north-west corner of the works and is said to have been the last salt-glaze potter in Staffordshire. (fn. 410) At his death the house and works passed to Charles Bourne who retired c. 1830. (fn. 411) John Hawley had bought the works evidently by 1832, but it was unoccupied some ten years later. (fn. 412) He was, however, working there from the early 1840's, and John Hawley and Company were making earthenware there between at least 1862 and 1884. (fn. 413) The Foley Pottery was occupied by Barkers and Kent between at least 1889 and 1940, (fn. 414) and the building is now (1960) in the hands of John Knox (Stoke-onTrent) Ltd., wholesale and manufacturing chemists. The cottage still stood at the end of the last century. (fn. 415)
A house and potworks at the east end of the Foley was occupied during the last decade of the 18th century by Joseph Myatt, maker of white and printed earthenware and red ware; John Wesley preached in the yard of the house in 1790. (fn. 416) The works, which may have been held by the Burrows family between at least 1815 and 1823, (fn. 417) was in the hands of Robert Gallimore between at least 1840 and 1850. (fn. 418) It was held by Moore and Company as the Old Foley Pottery by 1872, evidently with Samuel Bridgwood as tenant in the mid-1870's; Moore and Company made granite ware for the American market and were succeeded in 1892 by Moore, Leason and Company, still the occupants in 1896. (fn. 419) The firm of James Kent Ltd., apparently connected with Barkers and Kent of the Foley Pottery, had succeeded by 1900 (fn. 420) and are still (1960) working at the Old Foley Pottery. The remains of the 18th-century house have formed part of the west end of the works since at least the beginning of the present century; (fn. 421) its upper story was recently removed, but several of the original windows and a moulded stone doorway still survive.
The King Street Works on the north side of King Street to the east of Park Lane was established towards the end of the 18th century by a Mr. Shelley, probably Thomas Shelley of Lane Delph who went bankrupt in 1804. (fn. 422) The works was evidently taken over by Jacob Marsh in 1806 (fn. 423) and had passed to John Carey by 1820. (fn. 424) John had been joined by Thomas Carey by 1826, and they remained in partnership until 1842, producing Rockingham ware and ordinary earthenware. (fn. 425) The works then passed to a company and in 1850 to John Edwards who in the early 1880's was producing 'semi-porcelain and white granite for the American markets'. (fn. 426) In 1859 he patented 'a ring frame or holder' for stacking pottery ready for firing. (fn. 427) The firm of John Edwards Ltd. was working there in 1900. (fn. 428) The building is now (1960) occupied as a tea warehouse.
The pottery in Market Street (now King Street), later known as the Victoria Works, was occupied from 1796 by Miles Mason and George Wolfe as the tenants of the Revd. John Wolfe. (fn. 429) Mason had become a prosperous china and glass merchant in Fenchurch Street, London, in the early 1780's and began to make china at Liverpool in partnership with Thomas Wolfe of Stoke and John Lucock in 1796; the Fenton factory was used for the production of earthenware. (fn. 430) Both partnerships were dissolved in 1800, and Mason then began to make porcelain on his own at the Victoria Works, moving in 1802 from Chigwell (Essex) to an 'excellent modern-built sash-window house' adjoining the works. (fn. 431) The business evidently prospered, and in 1806 or 1807 he moved to the larger Minerva Works; the Victoria Works was then described as 'new erected'. (fn. 432) It was held by Messrs. Ginder from 1807 and by Samuel Ginder and Company between at least 1811 and 1843. (fn. 433) Messrs. Wathen and Lichfield held it by 1862, and from 1864 it was in the hands of James Bateman Wathen alone. (fn. 434) In 1869 or 1870 he was followed by James Reeves, and a James Reeves was still working there in 1940. (fn. 435) The works was held some ten years later by the Victoria Porcelain (Fenton) Company (fn. 436) which still occupies it as part of the Victoria and Trentham Potteries. The house, held by a firm of building contractors c. 1951, (fn. 437) was demolished in 1959. (fn. 438) Its symmetrical two-storied front had a pedimented doorcase, flanking Venetian windows, and a central pediment at eaves level. (fn. 439)
A works on the north side of what is now City Road was evidently held c. 1800 by Harrison and Hyatt. (fn. 440) It was occupied from 1812 by Felix Pratt who moved there from Lane Delph and became noted for his distinctively coloured ware. (fn. 441) This earthenware works was run by Felix and Richard Pratt from at least 1818 and by F. and R. Pratt and Company between at least 1840 and 1916, and specialized for a time in multi-colour printing; this printing and the Etruscan ware produced at the works won medals at the 1851 Exhibition. (fn. 442) It was worked as the Rialto Pottery by the British Art Pottery Company (Fenton) Ltd. between at least 1920 and 1926, (fn. 443) but it had been demolished by 1934 when the present Workshops for the Blind were opened on the site. (fn. 444)
A works on the east side of what is now Victoria Place was occupied c. 1800 by Bagnall and Hull. (fn. 445) The pottery, with a house attached, was bought from Sampson Bagnall by Charles and George Mason of the Minerva Works in 1813. It was then, however, held by Josiah Spode and it was not until his lease expired in 1815 that the Masons moved there from the Minerva Works. (fn. 446) Charles had taken out a patent for ironstone china in 1813, and making this china at their new works the Masons 'obtained extensive public favour and an almost exclusive sale on account of its very superior hardness and durability'; they also produced blue-printed earthenware. (fn. 447) George retired c. 1829, but Charles, under the name of Charles J. Mason and Company, continued at the works until his bankruptcy in 1848; he was in partnership with Samuel Faraday from c. 1840 until Faraday's death in 1844. (fn. 448) The Masons evidently rebuilt or extended the works which stood 'obliquely to the turnpike road and on the line of the canal company's railway'; it was stated in the late 1820's that 'the front warehouse is four stories high, is fire proof, and has the most beautiful facade of any in the district'. (fn. 449) This elevation, as shown on tradesman's cards of the period, was punctuated by three pedimented gables and had a range of 33 windows to each story; inscribed in large letters below the topmost range were the words 'Patent Iron-Stone China Manufactory'. (fn. 450) The factory was described in the early 1840's as of 'recent date and built very commodiously: well ventilated, well drained, but badly provided with accommodation for the sexes'. (fn. 451) By 1829 'a steam engine of some peculiarity in its construction', built by Holford of Hanley, was in use, (fn. 452) and Mason subsequently installed Potts' improved patent printing machine. (fn. 453) Late in 1844 Mason installed an improved version of George Wall's hand- or steam-operated machine for making flat and hollow ware, but fierce opposition from his workers and a mechanical defect caused its withdrawal early in 1845. (fn. 454) After Mason's bankruptcy in 1848 the works passed to Samuel Boyle and in 1852 or 1853 to Edward and Charles Challinor of Sandyford, Tunstall, who in the early 1880's were producing ironstone china and white granite, printed, sponged, and common earthenware there. (fn. 455) Mason's moulds and engravings were sold after his bankruptcy to Francis Morley of Broad Street, Hanley, and are used by Morley's successors, George L. Ashworth and Brothers Ltd.; Mason himself worked at Daisy Bank, Longton, from 1851 to 1854. (fn. 456) In 1891 or 1892 the works passed to Charles Challinor and Company who still held it in 1896. (fn. 457) It may have been occupied by William Baker and Company between at least 1916 and 1930, (fn. 458) but the site is now occupied by housing of the years between the world wars.
The Foley Potteries were built by John Smith c. 1820, with 'a powerful steam engine and flint mill' which was still in operation in the early 1840's. (fn. 459) The premises were then described as 'modern, well constructed, open, roomy and in all respects good'. (fn. 460) The works was first occupied by George and Thomas Elkin, John King Knight and John Bridgwood, who produced blue-printed earthenware, the designs on which included Willow and Broseley patterns. (fn. 461) Thomas Elkin withdrew in 1833, but the others continued as makers of earthenware, dealers in china, colour grinders, and farmers. (fn. 462) Bridgwood retired c. 1840 and Elkin in 1847 or 1848, (fn. 463) and Knight was joined in 1853 by Henry Wileman who continued alone after Knight's retirement in 1856. (fn. 464) Wileman's two sons, James and Charles, succeeded him in 1864, but the partnership was dissolved within a few years; James then continued at the earthenware works, and Charles took over the Foley China Works which had been built by their father in 1860. (fn. 465) James took over the china works also on Charles's retirement in 1870, and in 1872 went into partnership with J. B. Shelley as Wileman and Company. (fn. 466) In the early 1880's the Foley Potteries were producing granite ware, printed ware, lustres, Egyptian, shining black, and cream-coloured ware, mainly for export; the china works was producing china 'of the ordinary useful class for household purposes'. (fn. 467) Wileman and Company still seem to have been in business there in 1925. (fn. 468) J. Stoddard Goodwin and Company, however, evidently occupied part of the building by 1899 and were still there in 1935. (fn. 469) In 1900 the mill was in the hands of the Potter's Mills Ltd. (fn. 470) The building is now (1960) divided between the Don Pottery Company, china and earthenware dealers, who were there by 1940, (fn. 471) the China and Earthenware Millers Ltd. who run the mill and have their office there, a firm of tile makers, a firm of earthenware factors, and a firm of cabinet makers and upholsterers. The eastern half of the long two-storied range facing King Street and the courtyard behind it probably represent the original works built by John Smith c. 1820; the western half was added at a later period, with a frontage in the same style as the earlier building. (fn. 472) The complete range is pierced by two elliptical archways, each surmounted by a Venetian window and a pedimented gable.
The flint mills at Fenton Hall, at the Crown Staffordshire China Company's Heron Cross Works, at Bourne, Baker, and Bourne's works, and at the Foley Potteries have been mentioned above. Great Fenton Mill on the Trent south of Boothen had been converted into a flint and colour mill by 1782 when it was held by Josiah Wedgwood. (fn. 473) It was still used as a flint mill in the 1870's. (fn. 474)
MINING. Mining in the Fentons can be traced from the end of the 17th century. (fn. 475) There was then coal-working in Fenton Culvert, possibly in the Pool Dole area. By the beginning of the 18th century there were mines on the Wood farm in Fenton Vivian; their exploitation, apparently confined to the 18th century, was largely the work of the Broade family who acquired a share in them in 1725. (fn. 476) By 1728 several small coal and ironstone mines were being worked on the adjoining Fenton Park estate. It is possibly because of these workings that the village along the main road to the south was known as Lane Delph by the later 18th century. (fn. 477) There were also several pits at Fenton Low in the northwestern part of the area by the second half of the century. (fn. 478) New ventures appeared throughout the first three-quarters of the 19th century, encouraged by the needs of the pottery and iron industries, and already c. 1840 John Ward could note that 'the coal and ironstone mines in the Fentons are extensively wrought'. (fn. 479) The mineral line which had been built by 1832 from the wharf on the Trent and Mersey Canal south of Whieldon's Grove to Longton ran through the Fentons and was linked with several of the collieries there by branch lines. (fn. 480) The only collieries now in operation in Fenton are the Glebe and Stafford Collieries, opened in the 1860's and 1870's respectively. The Stafford Colliery lies to the south-west in the open country near Sideway, but the Glebe Colliery dominates the centre of Fenton with its tips.
The mines on the Fenton Park estate are known to have been worked for 150 years from 1728 by the owners and their tenants. (fn. 481) During the early part of this period it was probably the Fentons, then the owners of the estate, who were working there, with eighteen small coal and ironstone mines in operation by 1728. (fn. 482) Mining rights on the estate, including Yew Tree farm, had been let to Jeremiah Smith of Great Fenton by the second half of the century (fn. 483) and in 1790 were leased to the Fenton Park Company; this consisted mainly of potters, including Josiah Spode and John Harrison. (fn. 484) A 30-year lease was granted to a similar group, including Spode, Wolfe and Minton, in 1813. (fn. 485) The Fenton Park Colliery was evidently the most notable in Fenton c. 1840 when Ward singled it out for special mention; he also described it as situated 'on and about a commanding eminence, once the pure and peaceful domicile of their [the owners'] ancestry but now the black and noisy seat of Cyclopean labours'. William Taylor Copeland was an important member in the company at this time. (fn. 486) There were then eleven pits in operation, employing about 250 men. (fn. 487) An advertisement of 1850 offering the lease of the coal and ironstone mines under the Fenton Park estate specified the area as 197 acres, consisting of The Patches, Yew Tree, and Fenton Park farms. (fn. 488) Various companies continued to run the colliery, including one of the early 1870's formed by Lawrence Armitsted, (fn. 489) and shortly afterwards it was being operated jointly with a neighbouring colliery known as the Victoria. (fn. 490) Work had ceased at this new colliery by 1877, (fn. 491) and the Fenton Park Colliery itself was closed about two years later. (fn. 492) The Broadfield Colliery to the south, in existence by 1832 and closed in the mid-1860's, was evidently worked in conjunction with the Fenton Park Colliery for part at least of this period. (fn. 493)
In 1695 Richard Nicholls of Fenton Culvert leased several coal mines to William James of Ashbourne for 99 years. These mines included one in the Ash seam under closes of land in Fenton Culvert called Doles Meadow, the Dolesbank, and the Doles as well as mines on the Woodhouse estate in Longton. James's executors conveyed this lease to Obadiah Lane of Normacot Grange in 1703, and in 1713 Lane's son and heir Nathaniel of Longton Hall entered into partnership with Stephen Wood of the Ash to work all the mines specified in the lease. Lane conveyed, or mortgaged, his share of the mines to Francis Parrott of Talke and John Bourne of Newcastle in 1720, and Parrott assigned his interest to Bourne four years later. (fn. 494) This activity was presumably in the Pool Dole area in Fenton where there was mining in the last decade of the 18th century. (fn. 495) A Pool Dole Colliery was being worked by William Hulse between the early 1850's and at least the late 1860's. (fn. 496) In 1877 Goddard and Sons were mining coal and ironstone there, (fn. 497) but the colliery was evidently closed soon afterwards.
John Smith of Golden Hill, Fenton, granted a 22year lease of mines on Golden Hill and Fieldswood farms in Fenton to Josiah Spode in 1802 (fn. 498) and was himself mining in the area in 1818. (fn. 499) The pits were evidently in the hands of William Hanbury Sparrow between the late 1820's and mid-1850's. (fn. 500) The Goddards, who subsequently took over the rest of Sparrow's mines in Fenton (see below), were working the Golden Hill Colliery from 1854 until at least 1872 (fn. 501) but had suspended operations there by 1877. (fn. 502) The Calfcroft Colliery to the south-west of the Golden Hill Colliery in the mid-1870's (fn. 503) may have been run in conjunction with it.
The Oldfield Colliery was run by William Hanbury Sparrow probably from c. 1826 when he opened the nearby Lane End Ironworks. (fn. 504) By 1868 the colliery had passed with the ironworks to the Goddards (fn. 505) and by the early 1880's was evidently in the hands of Balfour and Company. (fn. 506) By 1889 it was being run by the Lane End Works Ltd., (fn. 507) and part of it was closed two years later. (fn. 508) It passed subsequently to the Oldfield Colliery Company who, though they were employing 285 men below ground there and 63 above in 1896, closed it in September of that year. (fn. 509)
By 1841 Ralph Handley, an iron-master, had a colliery in Duke Street (fn. 510) which was known as the Railway Colliery by 1857. (fn. 511) It was in the hands of his executors in 1862 (fn. 512) and evidently ceased to operate about this time.
Of the two Fenton collieries now in existence, the Glebe had been opened by John Challinor and Company by 1868 and remained in their hands until the end of the century when it passed to John Heath and Company. (fn. 513) By this time operations were expanding rapidly: 119 men were employed below ground there and 62 above in 1895, 174 and 87 in 1896, and 209 and 94 in 1902. (fn. 514) In 1957 400 were employed below ground and 130 above. (fn. 515) The Stafford Colliery and Ironworks at Great Fenton was opened about the mid-1870's by the Great Fenton Iron and Coal Company (later the Stafford Coal and Iron Company), largely the creation of the Duke of Sutherland and Messrs. Pender, Charles Homer, and John Bourne, all four of whom were commemorated in the names of the pits at the colliery. (fn. 516) There were three pits in operation by 1884, with a fourth being sunk, and five pits by 1891; by 1902 these were employing 1,383 men below ground and 309 above. (fn. 517) The three pits in operation in 1957 employed 900 men below ground and 310 above. (fn. 518) The Sutherland Pit (3,318 feet) is said to be the deepest in the country and there are still deeper seams below the present workings. (fn. 519)
IRON-WORKING. Reference has been made already to the mining of ironstone at many of the collieries in Fenton. In many cases the stone was smelted on the spot. Thus Ralph Handley, who was working the colliery in Duke Street by 1841, was also an ironmaster. At the Foley and Oldfield collieries there were furnaces in the 1850's and 1860's, worked presumably as an adjunct of William Sparrow's Lane End Ironworks nearby; (fn. 520) the Sparrow mines and ironworks passed to the Goddards in the late 1860's. The Fenton Park coal and ironstone mines were run at least during the 1860's and early 1870's in conjunction with an ironworks there which then had two furnaces in blast. (fn. 521) The present Stafford Colliery and Ironworks at Great Fenton has been engaged in smelting as well as mining from the time of its opening in the mid-1870's; there were two blast furnaces in operation there by 1884, and in 1892 it was described as producing all kinds of pig-iron. (fn. 522)
The furnace at Fenton Low opened by Thompson and Massie c. 1830 does not appear to have been worked in conjunction with any colliery. It evidently ceased operations c. 1840. (fn. 523)
OTHER INDUSTRIES. There was a brickworks at Trenthay Sough (presumably in the north-western part of the area) (fn. 524) on the Fletcher estate by 1783; between late April and early October that year 266,362 bricks were produced 'for Earl Gower's use'. (fn. 525) There was one brickworks in Fenton in 1818, at Lane Delph, (fn. 526) but by the middle of the century there were four such works in Fenton. (fn. 527) By the early 1890's there were six brick- and tile-makers there. (fn. 528) In 1959 bricks were made by D. Duddell Ltd. at the Oldfield Brick and Marl Works and by J. Hewitt and Sons (Fenton) Ltd. who also had a quarry at Fenton Park. (fn. 529)
The North Staffordshire Railway Company's locomotive works running south from City Road developed out of the repair and maintenance sheds opened in 1848. (fn. 530) At first locomotives were supplied to the company by outside firms, but in 1868 the company's own works began to produce engines. (fn. 531) The works was extended before the end of the century and again in the early part of the 20th century to include the production of carriages and wagons. (fn. 532) It ceased to be used for this purpose c. 1923 (fn. 533) and the buildings are now (1960) divided between the Midland Carton Works of Board Products Ltd., and the North Staffordshire Steel Foundry of Robert Hyde and Son. The California Engineering Works to the south, in the hands of Hartley, Arnoux and Fanning by 1884, was producing locomotives by 1892. (fn. 534) By 1900 the works had passed to Kerr, Stuart and Company who continued in occupation until the late 1920's; they were still supplying the North Staffordshire Railway in 1919. (fn. 535) The buildings are now (1960) divided between Doulton Sanitary Potteries Ltd., the Brookfield Foundry and Engineering Company, and Wagon Repairs Ltd.
Social Life
Fenton Mechanics' Institute was founded in 1839 under the influence of the Masons of Lane Delph and their partner Samuel Bayliss Faraday. It then attracted 'a good audience of serious-minded workmen'. It did not, however, flourish and had ceased to exist by 1850. (fn. 536)
Fenton Athenaeum was opened in 1853. (fn. 537) It was still in use in 1868 (fn. 538) but had been closed by 1873 when the buildings became the offices of the Fenton Board of Health. (fn. 539) In 1889 William Meath Baker adapted the building for use as an Art School; (fn. 540) it is now (1960) occupied by the District Bank.
Fenton Free Library was built in 1906 in Baker Street at a cost of £5,300 which was contributed by Andrew Carnegie, the site being given by William Meath Baker. By 1912 it had a lending library of nearly 5,500 volumes and a reference library of about 600 volumes. (fn. 541)