Pages 363-365
A History of the County of Surrey: Volume 3. Originally published by Victoria County History, London, 1911.
This free content was digitised by double rekeying. All rights reserved.
PIRBRIGHT
Pirifrith and Pirifright (xiii cent.); Purifright (xiv cent.).
Pirbright is a parish, formerly a chapelry of Woking, 5½ miles north-west of Guildford. It contains 4,674 acres, and measures about 3 miles each way. It is bounded on the north by Chobham and Bisley, on the east by Woking, on the south by Worplesdon and Ash, on the west by Ash and Frimley. It is almost entirely upon the Upper and Middle Bagshot sands, and is therefore generally unproductive. It lies upon the western side of the ridge of Bagshot sandhills, of which Chobham Ridges is the general name, and a great deal of it is open heath-land. No less than 3,070 acres, nearly three-quarters of the parish, have been acquired by H.M. War Office for military purposes, training and musketry especially. An encampment of the Brigade of Guards is permanently maintained here, and extensive rifle ranges are laid out.
Pirbright Common and Cow Moor (the latter name appears in the boundaries of the earliest Chertsey charter) are the names of the principal wastes.
The main line of the London and South Western Railway and the Farnham line pass through it; and it is also crossed by the Basingstoke Canal.
The village lies in the only fertile part of the parish, between higher ground both east and west, in the valley of a small stream. A by-road leads west from the village for a short distance to the church, which stands in a large graveyard, recently extended and thickly planted with a variety of shrubs. It is long and wedge-shaped, being widest at the west, where a small stream runs along its southern boundary. At the east end is the grave of Sir H. M. Stanley, the African explorer, a great block of unworked stone bearing his name cut deeply on it.
The Court House, now called the Manor House, is the seat of Major Armstrong. It is a stone house of 16th-century date, but on the site of an earlier house surrounded formerly by a moat. The manorial courts were formerly opened here.
Heatherside is the residence of Mr. F. C. Selous, the famous African big-game hunter, and contains a remarkable collection of hunting spoils and native African curiosities. The Lodge is the residence of Mrs. Mangles, widow of the late Mr. Ross Mangles, V.C., of the Indian Civil Service. In the 18th century this house was the property of Admiral Byron, the explorer, grandfather of Lord Byron. He planted an avenue of Scotch firs, still called the Admiral's Walk, which extends for a mile over the Government land attached to the ranges.
There is a Congregational chapel in the parish.
A drinking-fountain on the village green was presented by Lord and Lady Pirbright as a memorial of the Diamond Jubilee, 1897. The same benefactors, then resident at Henley Park in Ash, presented a village hall and recreation ground in 1899, completed in 1901 as a memorial of the accession of H.M. King Edward VII. The Church of England Institute, at the Guards' Camp, was built in 1892, enlarged in 1894, and rebuilt in 1902.
Schools (Provided) were built in 1870, and enlarged in 1889. An infants' school was built in 1902.
MANOR
The manor of PIRBRIGHT (Pirifright, xiii cent.) does not seem to occur earlier than the 13th century, when it was reported to be held of the honour of Clare by Peter de Pirbright. (fn. 1) John Trenchard died seised of it under the Earl of Gloucester in 1301–2. (fn. 2) His heir was Henry, aged 18; but in 1314 John Bishop of Bath and Wells held it. (fn. 3) The overlordship passed to Hugh le Despenser, who was holding in 1324. (fn. 4) After Hugh le Despenser's forfeiture in 1326 the manor was granted to Edmund, Earl of Kent, (fn. 5) who not long afterwards was executed for treason and lost his estates. (fn. 6) Sir John Mautravers in 1330 received Pirbright from Edward III, (fn. 7) but this grant was probably only temporary, since Sir John's name does not occur in a descent given less than a century later. (fn. 8) Edmund son of Edmund was restored in blood and to all his lands in the same year in which his father had been executed. He died a minor. His brother John succeeded, and died in 1352 holding Pirbright. (fn. 9) His wife Elizabeth had Pirbright in dower, (fn. 10) but subject to her right of dower it passed to Joan, Princess of Wales, John's sister, whose son by her first husband, Thomas Holand, Earl of Kent, died seised of it in 1397. (fn. 11) He was succeeded by his sons Thomas and Edmund in turn, but they both died without issue, (fn. 12) and from them the manor passed into the family of Mortimer by the marriage of their sister Eleanor with Roger Mortimer, Earl of March. (fn. 13) Edmund, Earl of March, son of Eleanor, died seised of the manor in 1425, (fn. 14) leaving three co-heirs : Richard, Duke of York, son of his sister Anne, and his two surviving sisters, Joan wife of Sir John Grey, and Joyce wife of Sir John Tiptoft. (fn. 15) Probably some deed of partition was executed by virtue of which this manor was assigned to the Duke of York, for some years later it was held by his widow Cecily as part of her dower; (fn. 16) and passing later to her son Edward IV, became merged in the possessions of the Crown. Edward inclosed a great part of the lands pertaining to the manor for a park, and appointed Sir Thomas Bourchier first keeper. (fn. 17) There had been a park before, disparked under Richard II. (fn. 18)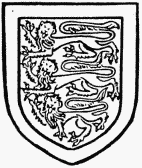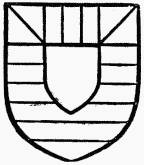 During the reign of Henry VIII the manor changed hands several times. It formed part of the marriage portion of Queen Katharine of Aragon, (fn. 19) and was later successively in the possession of Sir Thomas Boleyn (fn. 20) and Sir William Fitz William. (fn. 21) Finally it was granted to Sir Anthony Browne, afterwards Viscount Montagu, (fn. 22) with whose family it remained until the middle of the next century. In 1677 Francis, Lord Montagu, greatgrandson of Sir Anthony, conveyed it to John Glynne of Henley Park. (fn. 23) At Mr. Glynne's death the manor descended to his daughter Dorothy, (fn. 24) who became the wife of Sir Richard Child, afterwards Earl Tylney of Castlemaine. (fn. 25) The earl sold Pirbright in 1739 to Solomon Dayrolles (see Henley), (fn. 26) who in 1784 disposed of it to Henry Halsey. (fn. 27) The Halsey family are still in possession.
CHURCH
The church of ST. MICHAEL AND ALL ANGELS consists of chancel with north vestry, organ bay and south chapel, nave, north aisle with gallery extending also round the west end, west tower, and south porch. The building is of little architectural interest, being mostly of 18th-century date or later, the chancel and tower being of Heath stone and the nave of red brick with a stone plinth. The chancel is in 15th-century style with an east window of three traceried lights, a moulded arch and door on the north to the vestry and organ bay, and a similar but wider arch to the chapel on the south. The chancel arch is of 15th-century style, and consists of two moulded orders, which continue nearly to the ground.
The north arcade is formed by three wooden Tuscan columns carrying a panelled architrave. The north aisle has three large round-headed windows, and in the south wall of the nave are two like them, and between them a round-headed brick doorway opening to a simple but pleasing wooden porch. All internal fittings, including the octagonal font by the south door, are modern.
The tower has a tall round-headed west doorway, the upper part glazed, plain round-headed belfry lights, and two circular lights in the second stage. It is finished with a small shingled spire and battlements. On the exterior of the south walls of the nave and tower, which has been recently in part repaired, are various initials and the date 1785. In the south aisle of the chancel is a plain and ancient three-lock chest of oak.
The six bells are modern, by Mears & Stainbank.
The plate comprises a chalice made in 1654, with L\LR pricked on the bowl, a small flat paten made in 1739, a modern paten and modern flagon. There are also two London pewter plates and a pewter flagon.
The first book of registers contains mixed entries 1574 to 1600, the second is a transcribed copy of this book, but contains baptisms to 1655, burials to 1642, and marriages to 1641. There are also further burial entries 1650 to 1664; the third book contains mixed entries 1653 to 1733, the fourth baptisms and burials 1733 to 1812, the fifth marriages 1733 to 1754, and the sixth marriages 1754 to 1812.
ADVOWSON
The chapel of Pirbright was in early times attached to the church of Woking, and was granted by Peter of Pirbright to the Prior of Newark in 1240. (fn. 28) It was still part of the priory possessions in 1535, and was then worth £6 8s. 4d. (fn. 29) It was served separately from Woking, and after the Dissolution was in all respects a parish served by a perpetual curate.
In 1640 the family of Stoughton were holding the advowson; (fn. 30) in 1694 they released it to George Martin, (fn. 31) in whose descendants it remained till 1779, when George Tate, second husband of the widow of Martin's grandson, presented. It was probably bought by the Halseys with the manor, they being now patrons.
In Pirbright were two plots of land called Torch Plot and Lamp Plot, let at 12d. and 8d. a year respectively for lights in the church. They do not appear among lands devoted to such uses in Surrey in the certificates of Edward VI. They were granted by Elizabeth to John Dudley and John Ascough, 17 May 1575.
CHARITIES
Smith's Charity is distributed as in other Surrey parishes. There is a charity of about £6, left by Mr. George Poulton of Pirbright, which is distributed in clothing to old persons.