Pages 80-86
A History of the County of Surrey: Volume 3. Originally published by Victoria County History, London, 1911.
This free content was digitised by double rekeying. All rights reserved.
BRAMLEY
Bronlei, Brunlei, Brunlege, Brolege (xi cent.), Bromlegh, Bromley, Bromle, (xiii cent.).
Bramley was originally a part of the ecclesiastical parish of Shalford, with a separate chapel since probably the 11th century at least, for there may be work of that or the 12th century in the church, and it would seem to be one of the three churches in Bramley Manor in 1086. It was a distinct civil parish from Shalford before it was ecclesiastically separated in 1844. The parish lies south-east of Guildford, about 3 miles. It is about 5 miles north to south, and 2 miles from east to west, but tapers towards the south. It contains 4,510 acres of land, and 34 of water. It is bounded on the north by Shalford, on the east by Wonersh and Cranleigh, on the south by Hascombe and Dunsfold, on the west by Godalming and an outlying part of Dunsfold. The soil is the Lower Greensand over the great part of the parish, this soil rising into hills of some elevation on the borders of Godalming parish to the west. Southwards occurs a rather wider outcrop of Atherfield clay than is usually seen in the neighbourhood, but the Wealden clay is in the south-east.
The country is well wooded. There are extensive roadside wastes, but no large commons. The land is agricultural. There is a water-mill, Bramley Mill, or Snowdenham Mill, worked by a tributary of the Wey, which flows from Hascombe into Bramley village, where it joins another stream which falls into the Wey below the railway bridge of the Brighton line. The mouth of this stream was utilized for the old Wey and Arun Canal, which here left the former river, and passed along the eastern verge of Bramley parish. This canal was virtually disused when the railway was opened in 1865, and was barely passable for a small boat above Bramley village in 1872, and is now quite blocked and dry in places. There is a station at Bramley on the Brighton line from Guildford to Horsham, opened in 1865.
A road from Guildford to Horsham passes through Bramley. A branch leads from the village to Hascombe and Dunsfold and Alfold.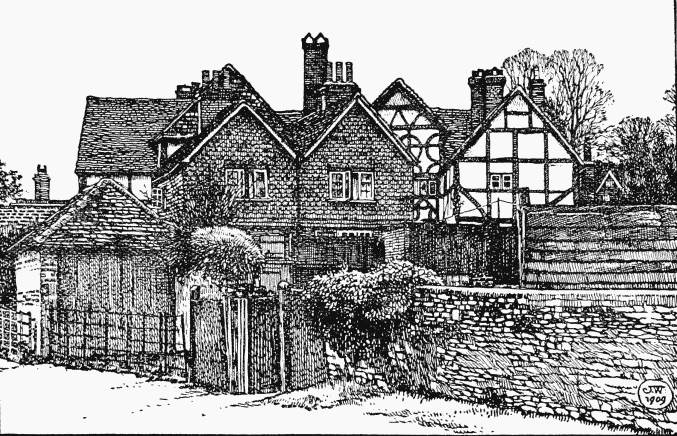 Historically it is remarkable that Bramley, which gave its name to the very extensive possessions of the Bishop of Bayeux in the neighbourhood, so that the manor of Bramley intruded into several neighbouring parishes of later date, was not itself a parish. Whatever the enumeration of population in Domesday may mean, Bramley is the third in order in the county, coming after only Southwark and Guildford. As is the case all over the dry soils of Surrey, a great many neolithic flint implements and flakes have been found. Some are in the Surrey Archaeological Society's museum at Guildford, some in the Charterhouse Museum.
The cemetery was made in 1851 by the late Mrs. Sutherland, and enlarged by the late Mr. Percy Ricardo in 1890. The Constitutional Hall, which includes a Conservative Working Men's Club, was opened in 1888. Thorncombe is the residence of Captain Fisher Rowe, Bramley Park of Colonel Ricardo, Snowdenham Hall of Mr. John Kinnersley Hooper, Woodrough of the Hon. E. P. Thesiger, Bramley Grange of Colonel Fox Webster, Nore of Colonel Godwin Austen, and Unstead Park of Mr. L. C. W. Phillips. Lord John Russell had a lease of the last named during Sir Robert Peel's ministry, when the Whigs were out of office.
The Parish Schools were built by Mrs. Sutherland in 1850, and enlarged in 1874, 1894, and 1901.
St. Catherine's School for Girls (Church of England middle class school) was built by subscription in 1885, and incorporated by charter with Cranleigh Boys' School in 1898. There is a handsome redbrick chapel in 13th-century style containing good painted glass, showing English and other female saints on opposite sides of the chapel.
In 1884 Brookwell and Graffham were transferred from Dunsfold civil parish to Bramley, being before isolated parts of Dunsfold, and High Billinghurst was transferred from Bramley to Dunsfold. (fn. 1)
The parish abounds in ancient houses. Bramley East was the name both of a house and a manor; the house is a three-gabled brick and stone building, nicely proportioned. Opposite to it is a far more interesting half-timber house, the details of which recall Great Tangley manor-house, in the adjoining parish of Wonersh. Tangley Manor was rebuilt by Mr. Carrill in Elizabeth's reign. He was also lord of Bramley East. The date of the latter may be about 1560. The most valuable feature is a two-storied gabled staircase wing resembling those at Rake House and Shottermill, in which the timber framework is designed in squares, four quadrants of a circle being placed back to back within each square, the total effect being a pattern of intersecting squares and circles. The grouping of roofs and crow-stepped chimneys in this building is very picturesque.
At Nursecombe, an outlying hamlet, is an interesting old timber-framed house of the 16th century— probably of two dates—with projecting upper stories, ornamental barge-boards to the gables and a delightful jumble of tiled roofs. There is a picturesque porch to the front, having an oak doorway with fourcentred arch and carved spandrels. Among other interesting details are the moulded joist-boards and brackets, the barge-boards of two patterns, and pendants to the barge-boards and wall plates. There is a good gable of timber pattern-work at the back, retaining its barge-board.
Another old house, at Snowdenham, although marked by later alterations, exhibits internally some door-posts of perhaps 15th-century work. A stable belonging to this house is in a very perfect condition and apparently of early 17th-century date.
Thorncombe Street, a straggling hamlet to the south of Nursecombe, contains a number of old timber-framed cottages. One of these, T-shaped in plan, has some very solid half-timber work, and the original windows with lead lights. An old farmhouse called Slades, in the same hamlet, has a good staircase and other woodwork of 18th-century date.
MANORS
At the time of the Domesday Survey the manor of BRAMLEY covered apparently the inhabited parts of the county from near Shalford Church southwards to the Sussex border. All the manors of the parishes of Wonersh, Cranleigh, Hascombe, Dunsfold, and Alfold, and part of Shalford seem to have been formed out of it. Alnod Cild held it in the time of Edward the Confessor. After the Conquest it became the holding of Odo of Bayeux, who found various pretexts for annexing to it land in Clandon and Gomshall, the manors of Chilworth and Sutton, and lands elsewhere. (fn. 2) It is recorded in Domesday that the manor paid no geld since Odo held it. After the forfeiture of the Bishop of Bayeux it escheated with his other lands to the Crown. Under Henry I Eustace de Brutvile held it for a short time. (fn. 3) Henry II gave the manor to Ralph de Fay, who was, however, dispossessed during the war between the king and his son, the young King Henry. (fn. 4) Bramley paid tallage as king's demesne in 1187. (fn. 5) It was afterwards held for a short time by Baldwin de Bethune, (fn. 6) but in 1196 £46 is given as the ferm of Bramley for half a year before it was given to John Count of Mortain. (fn. 7) After his accession John granted the manor to Ralph de Fay, son of the former tenant. (fn. 8) His son John de Fay had seisin of his father's lands in 1223, (fn. 9) and after his death in 1241 the manor was divided between his two sisters, Maud de Clere and Philippa de Fay. (fn. 10) They each held a moiety by service of half a knight's fee, the two portions being afterwards accounted separate manors. Maud de Clere's portion was again divided into three in the 17th century, but Philippa's remained entire, and is now known as the manor of Bramley.
Philippa married a William Neville (fn. 11) and enfeoffed her only daughter Beatrice, who married William of Wintershull, lord of the manor of Wintershull in Bramley, of her portion of the manor of Bramley. (fn. 12) Beatrice survived her husband (fn. 13) and entailed the manor on their younger son Walter, (fn. 14) whose son Thomas succeeded him, (fn. 15) and married Alice (fn. 16) afterwards wife of Henry de Loxley, who held with Alice, or was at all events answerable for dues from the manor. (fn. 17) Thomas died on Good Friday 1339, (fn. 18) holding half the manor of Bramley of John de Hadresham as of his manor of Combe Neville. (fn. 19) He left a son and heir William, (fn. 20) who died in 1361. He was succeeded by his brother, (fn. 21) Thomas Wintershull, from whom the manor descended to his son Thomas. (fn. 22) The latter died in January 1414–15, leaving a son, also Thomas, whose proof of age was taken in 1418. (fn. 23) He died in 1420, his heirs being his sisters, Joan wife of William Weston of Sussex, and Agnes wife of William Basset. (fn. 24) Joan married a second husband, William Catton. (fn. 25) No more is known of Agnes Basset; (fn. 26) in 1485, after the death without issue of William Weston, Joan's only son, the manor was divided between Margaret Appesley, Joan's daughter, and John Pope, son of Thomas Pope and Joan, another of her daughters. (fn. 27) Margaret Appesley died 27 August 1516, leaving a son and heir, John Welles, by her first husband William Welles. (fn. 28) In January 1534-5 John Welles died possessed of half the manor of Bramley, and was succeeded by his son Thomas Welles, (fn. 29) who, with his wife Cecily, joined with Edmund Pope (probably a descendant of John Pope and as such seised of the other half of the manor) in a sale of the whole manor to William Harding of Knowle in Cranleigh, citizen and mercer of London, and his wife Cecily. (fn. 30) After William Harding's death in September 1549 (fn. 31) the manor was divided between his daughters Helen and Catherine. Catherine married in 1559 Richard Onslow, (fn. 32) who became Speaker of the House of Commons and SolicitorGeneral. (fn. 33) Helen in 1561 sold her share to her brotherin-law Onslow. (fn. 34) From him the manor descended to his son Sir Edward, whom Queen Elizabeth had knighted. (fn. 35) The manor was settled on Sir Edward's son Thomas at his marriage with Mary Lennard in 1616. (fn. 36) He died in the same year and was succeeded by his brother Sir Richard Onslow, knight of the shire for Surrey from 1627 to 1658. (fn. 37) Bramley descended to his son Arthur, (fn. 38) whose son Richard was created Baron Onslow in 1716. (fn. 39) George, first Earl Onslow, grand-nephew of Richard first Baron Onslow, sold Bramley to William Lord Grantley in 1805. (fn. 40) He also owned the whole of the other moiety, thus uniting the portions which had been separate for nearly six centuries. He was succeeded by his nephew Fletcher Norton, third Lord Grantley, in 1822. (fn. 41) The Grantley property was sold in 1886, and Captain W. H. Waud is now lord of the manor.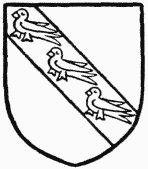 The second moiety, which was assigned to Maud de Clere, descended at her death in 1250 to Alice daughter of Maud's daughter Agatha and William de Ros, who afterwards married Richard Longespee. (fn. 42) Her daughter Alice, wife of Richard Breus, (fn. 43) granted it in 1266 to Maud Longespee to hold for life. (fn. 44) In 1271 Richard and Alice Breus conveyed the manor to William Breus and his wife Mary in exchange for Akenham Manor, co. Suffolk. (fn. 45)
In 1293 Mary Breus obtained licence to grant Bramley in fee simple to Walter de Gedding for his good services to her. (fn. 46) Evidently this grant was only for life, for Mary Breus was holding it at her death in May 1326. (fn. 47) She was succeeded by her grandson Sir Thomas Breus, (fn. 48) whose widow Beatrice held Bramley for life. (fn. 49) Sir Thomas Breus, kt., died seised of it in 1395, (fn. 50) leaving two children who died within a week of their father. The manor of Bramley, however, after being for a time in the hands of trustees, (fn. 51) instead of passing to his niece and heir Elizabeth, wife of William Heron, descended in tail male to George de Breus son of John brother of Thomas de Breus the elder. (fn. 52) This George died seised of it in 1418. (fn. 53) Dower was assigned out of the manor to his widow Elizabeth, afterwards wife of Thomas Slyfeld. (fn. 54) She held it of the inheritance of Sir Hugh Cokesey, kt., greatgrandson of Agnes sister of George de Breus. (fn. 55) After Hugh's death in February 1445–6 (fn. 56) Bramley remained with his widow Alice in accordance with the terms of a previous settlement, (fn. 57) but at her death descended to his sister Joyce Beauchamp, then wife of Leonard Stepelton. (fn. 58) Her son Sir John Greville, kt., succeeded her as lord of the manor (fn. 59) and died seised of it in 1480, leaving a son Thomas who assumed the name of Cokesey. (fn. 60) At his death there was a partition of the family estates, and the Surrey part, including Bramley, passed to the Earl of Surrey. (fn. 61)
The manor of Bramley is mentioned as a possession of his son Thomas Duke of Norfolk, in 1545. (fn. 62) His widow, Agnes, Duchess of Norfolk, held it for life with reversion to the king by reason of her husband's attainder. (fn. 63) Her grandson and heir, being restored to the dukedom, sold Bramley to Richard Carrill (or Caryl) in 1559. (fn. 64) Richard Carrill died in February 1575–6 (fn. 65) and was succeeded by his son John Carrill, attorney of the Duchy of Lancaster. His kinsman and heir, John Carrill, proved himself of age in 1578, (fn. 66) and died seised of the manor of Bramley in 1612, leaving a son Simon, (fn. 67) on whom he had settled it at the time of his marriage with Elizabeth daughter of Sir Francis Aungier. (fn. 68) Elizabeth survived her husband, and Bramley ultimately passed to her son John Carrill, who in 1649 granted it, (fn. 69) as a security probably, to a relative, George Duncombe, for life, for the yearly rent of one peppercorn. (fn. 70) John Carrill mortgaged all his property heavily. His widow, Hester, married Sir Francis Duncombe, bart., who complained that he had to abandon his profession as barrister-at-law in order to give proper attention to the estates of his stepchildren. These were Lettice, Elizabeth, and Margaret, daughters of John Carrill. At the age of sixteen Lettice Carrill married John Ramsden, (fn. 71) and joined with her husband in a suit against her stepfather for ill-treatment of herself and her sisters and mismanagement of their estates. Bramley was divided among the three sisters, Lettice Ramsden's portion of the estates being known as the 'manor of EAST BRAMLEY or Great Tangley.' (fn. 72) In 1673 she conveyed it to John Child. (fn. 73) His grandson Charles Child left it to his nephew Charles Searle, who conveyed it in 1759 to Fletcher Norton, first Lord Grantley, (fn. 74) in whose family it descended together with the first moiety of the manor.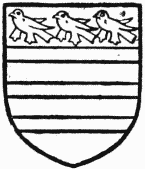 John Carrill's second daughter Elizabeth, wife of Peter Fermor, conveyed her third of the estate in 1674 to Ambrose Holbech and Lawrence Lord, (fn. 75) probably as trustees to sell to Richard Gwynn, clothworker of London, (fn. 76) whose niece and heiress Susan Clifton had a daughter Trehane, who married Sir William Chapple, justice of the King's Bench. His daughter Grace married Sir Fletcher Norton, first Lord Grantley, (fn. 77) who thus obtained another third of this manor.
John Carrill's third daughter married Henry Ludlow, and their share of the estate was known as WEST BRAMLEY. (fn. 78) Henry Ludlow, by will in 1724 (proved P.C. Cant. 15 October 1730), devised the manors of West Bramley, Markwick, Monkenhook, and Shoelands in Puttenham to his daughter Elizabeth. She became insane, and on her death her next heirs were found to be her father's first cousin's sons Captain Harcourt Masters and Mr. Giles Strangways. By a deed of partition in 1750 West Bramley fell to Captain Harcourt Masters. He sold West Bramley to William Hammond, who was already tenant of the manor-house. (fn. 79) William Hammond sold it to John Shurlock and Richard Elliott. John Shurlock's grandson John conveyed his interest to Thomas Smyth, nephew of Richard Elliott, who thus owned the whole of West Bramley. (fn. 80) He sold it to William Lord Grantley, (fn. 81) who already owned the rest of the original manor, with which it has since descended.
William de Breus and William Wintershull with their wives, lords of the divided manor of Bramley in the time of Edward I, made good their claim to view of frankpledge, assize of bread and ale and liberties of pillory and cucking-stool according to a charter of Henry III. (fn. 82) The lord of Bramley used also to hold pleas for merchants attending Shalford fair, and to take the stakes set up in his fee. (fn. 83)
View of frankpledge was held by William, grandson of Walter Wintershull, on Wednesday in Whitsun week. (fn. 84) He also had a rent called 'worksilver' from his free tenants in Bramley. (fn. 85) The view of frankpledge was sold with the manor to William Harding in 1542.
Of the liberties peculiar to the de Breus' half of the manor of Bramley free warren was granted to Walter de Gedding in 1304. (fn. 86) Among items given in the account of Robert the Tailor, 'bedell' of Sir Thomas de Breus in 1354 and the following years, are a rent called 'Toppingselver' from Clandon and 'Workselver' from various tenants. (fn. 87)
THORNCOMBE STREET or MARSHALS
THORNCOMBE STREET or MARSHALS was that land of 'Torncumba' of which Stephen de Turnham the king's marshal was enfeoffed by William and Roger de Paceys, and which he was holding in 1205 in accordance with a charter of Ralph de Fay. (fn. 88) It probably returned to the de Fay family through Beatrice daughter and co-heiress of Stephen de Turnham and wife of Ralph de Fay. (fn. 89) It afterwards formed part of lands granted to John of Wintershull by Maud de Fay. (fn. 90) No documentary evidence concerning Thorncombe during the next three centuries has been found.
In 1502 John Mellersh recovered the manor of Thorncombe, &c., from Robert Marshall. (fn. 91)
In 1505 John Onley and others acquired the manor of Thorncombe alias Marshall from John Aprye, Robert Marshall and Elizabeth his wife being called to warrant. (fn. 92)
In 1510 Onley conveyed to William Lusher. (fn. 93) George Lusher settled it on his son William on his marriage (1564–5); and subsequently, in 1593, his son's first wife being dead, was trying to recover possession against John Comber, to whom William had conveyed it in 1583, (fn. 94) presumably on a second marriage with a daughter of Comber. In 1596 Comber and William Lusher were able to convey it to Henry Mellersh, at whose death it seems to have been split up into fifths, which descended respectively to Martha wife of Robert Roydon, Anne wife of John Wight, Eleanor wife of William Skynner, James and Christopher Hobson, and Margaret wife of John Scales, (fn. 95) which last sold her fifth to Francis Aungier in 1604. (fn. 96)
The portions of the manor often reappear, and 'Marshall or Marshalls' kept its name as a farm. It was owned by Budds and Balchins, and conveyed by George Chandler's trustees to Mr. Richard Gates, in 1839. He sold it to Mr. Fisher in 1849, and it is now, as Thorncombe, the property of Captain Fisher-Rowe.
The manor of WINTERSHULL seems to have been separated from Bramley Manor soon after the death of Ralph de Fay the younger, for in 1227 a royal confirmation was made to Henry Wintershull of 'all the land of Wintersell and all service of the land saving the king's service only,' which he had of the gift of John de Fay. (fn. 97) Ralph de Fay's widow, Beatrice, had also granted land in Bramley to Henry Wintershull. (fn. 98) The manor remained in the Wintershull family, though not in that branch which held Bramley halfmanor. It was held of Bramley by the service of a knife for cutting bread yearly. (fn. 99) In 1279 John Wintershull proved his claim to view of frankpledge in the manor. (fn. 100) In 1327–8 Francis Wintershull witnessed a conveyance of land in Bramley. (fn. 101) John Wintershull was lord in 1340. (fn. 102) In 1362 John vested the manor in trustees for himself, his son John and his heirs, and other children and their heirs in succession. (fn. 103) John the younger made his will in 1396, mentioning his children, Thomas, John, and Joan. (fn. 104) John had a son Robert, (fn. 105) whose son Thomas died seised of the manor in 1476–7. (fn. 106) Robert, son of Thomas, petitioned for the manorial records to be delivered to him by Elizabeth Wintershull. (fn. 107) Robert died in 1487, (fn. 108) leaving a son Robert, then eight years old, (fn. 109) who died in 1549, and was succeeded by his son John. John, son of John Wintershull, (fn. 110) made proof of his age in 1565, but died in 1571. (fn. 111) He left an infant son William, who afterwards, in 1601, conveyed Selhurst or Wintershull to George Austen, (fn. 112) probably for the purpose of a settlement, as Austen was not in possession a few years later.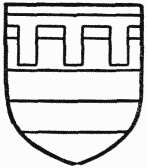 William Wintershull was probably a recusant. He was connected with the Lumleys, recusants, to whom he let the manor-house; and he ultimately conveyed the reversion of the manor to trustees for their benefit. Henry Lumley parted with his interest, and by a series of conveyances the manor passed to George Chandler, who in 1655 conveyed one moiety in possession and one in reversion to his brother Richard. (fn. 113) Richard Chandler held a court in 1663. Thomas Chandler his son held a court in 1667, and made a conveyance of the manor in 1671 (fn. 114) to John Child, who held a court in 1672. His grandson Charles Child is said to have sold the manor after 1723 to Mr. Barrett, father of George Barrett, the owner in 1808, (fn. 115) and it is now in the possession of Mr. George W. Barrett.
HAM
HAM was held by Henry de Guldeford, when he died in 1312–13, of the Prior and convent of Sandleford. (fn. 116) Ham was connected with the manor and park of Ashurst (see Witley). The keeper of these was accountable for rent of land called 'Hamme,' circa 1369–71. (fn. 117) The rent occurs again in 1374–5, (fn. 118) and in 1439–40 Walter Bedall, keeper of Ashurst Manor and park, took proceedings against Sir Henry Hussey for usurping the profits of Ham. (fn. 119)
Ashurst and Frydynghurst seem to be the same estate. The Windsor family bought land in them, and the Fordes from them. (fn. 120) Thomas Mellersh was dealing with Hamland in 1574, (fn. 121) and is said to have owned Nore and Ham Manor, (fn. 122) and to have bought the latter from Forde, of Harting, Sussex. (fn. 123)
NORE
NORE, which with Ham is called a manor, was acquired by George Austen of Shalford, by marriage with Anne, daughter and co-heiress of Thomas Mellersh of Nore. The Mellersh family had held it for some time. George Austen died holding the capital messuage of Nore in 1611, together with Hameland and Unstead Manors. (fn. 124) It is still the property of the family, and the residence of Colonel Godwin Austen, owner of Shalford Park.
Rushett Farm was called Marhoks before the Durgats held it in the 16th century, (fn. 125) and was afterwards in the possession of Joshua Mellersh. (fn. 126) Birtley House was perhaps originally Berkeley, for in 1604 Brian Annesley held 'Burtley,' otherwise Eurkeley. (fn. 127) It was held by Henry Polsted, to whose family it had passed from Thomas Elliott of Yateley. Ralph de Fay, when lord of Bramley, had granted 10s. rent from the tenement of William 'of Berkele in Bromlegh' to the priory of Amesbury. (fn. 128) 'Bromley House in Bromley Street' was the residence of Dame Joan Pole in 1548. (fn. 129) The house was afterwards claimed by Lawrence Stoughton, to whom it descended by various enfeoffments from Drew, brother and heir of Charles Barentyne, son of Dame Joan. (fn. 130)
CHURCH
The church of the HOLY TRINITY, originally a chapel attached to Shalford, has been grievously injured by several restorations and enlargements. It stands towards the north of the village street, near the corner at the cross roads. The site is level, and the churchyard is prettily planted with trees and shrubs, there being a fine old yew on the north side. It is built of Bargate stone rubble, with dressings of hard chalk in the older parts and of Bath stone in the new. The squat spire is shingled, and the chancel has been re-roofed in slates with very inharmonious effect.
Until 1850 the plan was cruciform, and consisted of a nave, about 57 ft. by 21 ft., chancel 31 ft. 6 in. by 21 ft., south transept (or Ludlow chapel) about 17 ft. square, and low tower and spire on the north forming a north transept of about the same dimensions. At the west end was a porch, within which was a plain doorway of mid-12th-century date, to which period the nave seems to have belonged. The head of this doorway, with zigzag moulding, has been rebuilt on modern jambs. The chancel and tower, which still remain, were evidently added in about 1210, and the south transept, roofed, with its gable parallel to that of the chancel, in about the middle of the 13th century. Both tower and chancel have been much modernized within, but externally, save for the slated roof of the chancel and some modern outbuildings and buttresses, they have been little altered. The chancel has a slight inclination to the north on plan.
There are three long lancets in the east wall; the middle one slightly higher, and three in each of the side walls, worked in hard chalk, their internal splays radiating round the head, without scoinson arches—a mark of early date in the period. Under the easternmost lancet on the south side of the chancel is a piscina with a pointed arch, upon the apex of which a fleur-de-lys is carved in relief—an ornament of not very common occurrence in the beginning of the 13th century. The chancel arch is lofty, pointed, of two chamfered orders upon stop-chamfered jambs, having square-edged moulded imposts at the springing. On the south side of this arch are traces of a squint, which formerly opened into the south transept. The door to the vestry on the north of the chancel is modern, and it does not appear that there was ever a priest's door. The roofs of both chancel and nave are ancient, of collar-beam construction, with braces and struts, and of somewhat flat pitch—that of the former being only 45 degrees.
The destroyed transeptal chapel on the south had a single lancet in each wall, and on either side of the nave before its enlargement was a plain blocked doorway of later date than the 12th-century door in the west wall.
In 1850 the north aisle was added in the style of the early 14th century, and in 1875 the south aisle followed, being prolonged into what had been the transeptal chapel, which was rebuilt, and vestries were built to the east of the tower. The west front, with its 'Norman' windows, is modern. The present font is modern, as is also the chancel screen.
In the chancel windows is some heraldic and pattern glass, noticed by Cracklow in 1824, parts of which are ancient.
There are many monuments of late 17th and 18thcentury date to the Ludlow family.
There are a silver paten of 1592 and a cup and paten-cover of 1664, besides more modern pieces, among the church plate.
There are six bells.
The registers of baptisms and marriages date from 1566, with three baptisms, entered later, in 1563, 1564, and 1565 respectively. In 1676 Bishop Morley for the first time licensed a burial-ground round the chapel of Bramley. (fn. 131) The register of burials begins from that year.
ADVOWSON
The parish church was probably one of the three churches contained in Bishop Odo's fee in 1086. (fn. 132) Until 1844 Bramley was a chapelry of Shalford, but in that year it was constituted a separate parish under Sir Robert Peel's Act for establishing parishes.
CHARITIES
In Thorncombe Street were five cottages built and owned by the parish. They are described by one who remembers them as disgracefully bad. They were sold by the parish in 1837.
Mrs. Finchett in 1815 left £100 stock to trustees to provide a dole of bread yearly for the poor.
Smith's Charity exists as in other Surrey parishes. About £22 10s. in all is distributed in bread and clothing.