Pages 97-101
A History of the County of Surrey: Volume 3. Originally published by Victoria County History, London, 1911.
This free content was digitised by double rekeying. All rights reserved.
EWHURST
Yweherst and Uhurst (xiii cent.); Iwehurst (xiv cent.); Ewehurst (xv cent.).
Ewhurst is a parish bounded on the north by Shere, on the east by Ockley (formerly detached, now added to Abinger) and Abinger, on the west by Cranleigh, on the south by the county of Sussex. It is 5 miles from north to south, and a mile and a half from east to west, of a fairly regular form. It contains 5,417 acres. The village is 12 miles south-east of Guildford, and 11 miles south-west of Dorking.
The northern part of the parish is on the Greensand hills—Ewhurst Hill, Pitch Hill, and Coneyhurst Hill; but the greater part of it is upon the Wealden Clay, in the ancient forest. It is still well wooded, and the oak grows with great vigour in the soil. It has no large open spaces, except upon the hills to the north; and these have been much inclosed and planted during the last twenty years. A road from Rudgwick in Sussex, whence are branches to Horsham and Pulborough, runs through the village to Shere. By the side of this road, where it crosses the summit of the hill, stood Ewhurst Mill, which for many years was a conspicuous landmark visible for many miles. Of late years it has been disused as a mill, the sails are taken down, and the greater growth of trees has helped to make it less easily seen.
Till the 19th century had advanced some way there was no properly made road in Ewhurst parish. A Roman road existed, which was carefully traced by the late Mr. James Park Harrison, (fn. 1) and is laid down on the 6-in. Ordnance map as running west of the village. When King John was at Guildford and Knepp Castle in Sussex on the same day, 21 January 1215, in winter-time when unmade ways were foul, he very probably used this road. Nothing shows the backwardness of the Weald more than the absolute disuse and forgetting of these lines of through communication. Ewhurst is not named in Domesday. It was part of the great royal manor of Gomshall, but was probably sparsely inhabited. That there was some population soon afterwards is implied by Norman work in the church. But it was a chapel to Shere still, the earliest evidence of it as a parish being in 1291.
The schools were built in 1840. In 1870 another school was built at the hamlet of Ellen's Green, in the extreme south of the parish.
The house of Baynards Park is in Ewhurst parish, though most of the park is in Cranleigh. It is now the seat of Mr. T. J. Waller.
Among modern houses in Ewhurst parish are Coverwood, the seat of Mr. H. F. Locke-King; Ewhurst Place, the seat of Col. Thomas Warne Lemmon; Woolpits, high up Coneyhurst Hill, the seat of Mr. H. L. Doulton.
The Ewhurst Institute and Reading Room was built by subscription in 1901.
MANORS
SOMERSBURY
SOMERSBURY Manor, which includes the central portion of Ewhurst parish, was originally a member of Gomshall. (fn. 2) It was separated from the main manor in the 12th century, when Henry II retained it at the time of his grant of Gomshall to William Malveisin and Ingram Wells. (fn. 3)
The first indication of a tenant occurs in 1272, when Herbert of Somersbury obtained from the parson of Ewhurst a quitclaim of a house and land in Ewhurst. (fn. 4) He was still living in 1276, (fn. 5) but seems to have been succeeded by Henry of Somersbury, probably his son, who was holding land of the manor of Gomshall in 1298–9. (fn. 6) Early in the next century Richard and Henry of Somersbury were buying land in the neighbouring parish of Cranleigh. (fn. 7) About the year 1317–18 Henry of Somersbury died holding Somersbury, which then consisted of a house and half a carucate of land in Gomshall. (fn. 8) He was succeeded by his son Henry, who obtained licence to hear divine service in the oratory of Ewhurst. (fn. 9) At his death the manor descended to his son Richard, (fn. 10) who enfeoffed Eleanor, Countess of Ormond, (fn. 11) probably in order to secure himself against any claim she might make on the manor as a member of Shiere Vachery, for in 1344–5 she re-enfeoffed Richard of Somersbury of it. (fn. 12) He then alienated it to a certain Agnes, afterwards wife of Walter of Hamme, (fn. 13) who conveyed it in 1364–5 to John Busbridge on consideration of a liferent to Walter and Agnes. (fn. 14) John Busbridge was succeeded by his son Robert, (fn. 15) who died holding the manor in 1416, leaving a son and heir Thomas. (fn. 16) In September 1455 John Busbridge, who was then holding Somersbury, died leaving a brother Robert, during whose minority the king granted the custody of Somersbury to Richard Langport, clerk. (fn. 17) The heir had already alienated it to a certain Thomas Playstow, (fn. 18) so that it seems probable that on that account it was forfeited to the Crown. It was granted with Shiere to John, Lord Audley, and forfeited by his son James after the insurrection at Blackheath. (fn. 19) It was then farmed by a certain William Cokys, (fn. 20) and in October 1511, Henry VIII granted it with other lands in Ewhurst to Thomas Salter, Sewer of the Chamber, to hold for the annual rent of a red rose. (fn. 21) The manor seems, however, to have been restored to John, Lord Audley, for he conveyed it in 1532 to Thomas Wolley the younger. (fn. 22) In 1549 Ambrose Wolley sold the manor to Robert Whitfeld, (fn. 23) who held it till 1576, when he sold it to Nicholas Dendy (fn. 24) and his son John, who were also holding Breach. (fn. 25) Nicholas died at Ewhurst in October 1587 and was succeeded by John Dendy, (fn. 26) who conveyed the manor to Edward Dendy in 1621. (fn. 27) In 1640 Henry Ockley and his wife Beatrice were in possession, and sold the reversion to John Clifton of Worplesdon. (fn. 28)
In 1648 these three conveyed it to Richard Evelyn of Baynards. (fn. 29) John Dendy was farming it at the time of the Commonwealth. (fn. 30) It descended from Richard Evelyn to his daughter Ann, wife of William Montague, who conveyed it to William Freeman in 1674. (fn. 31) In 1680 William Montague, junior, 'seised in fee in reversion,' surrendered all his rights to William Freeman. The latter in 1700 granted a lease for a year to Sir Richard Onslow 'to test the possession,' and his son, Thomas Onslow, afterwards the second Lord Onslow, mortgaged the property in 1714, (fn. 32) as owner. It continued in Lord Onslow's family till about 1863, when it was bought by the late William Lord Abinger, in whose heir it now remains.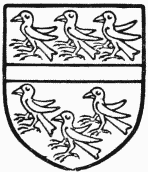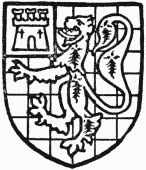 It seems possible that the manor of BAYNARDS, which lies on the boundary between Ewhurst and Cranleigh, was originally a part of Pollingfold (q.v.), and never a separate manor, though so called, for tenants of the Baynards estate appear in the court rolls of Pollingfold (extant between 1772 and 1883). In 1447 William Sydney the younger obtained a licence to impark 800 acres of land appertaining to his 'manor' of Baynards. (fn. 33) According to a monumental inscription in Cranleigh Church, quoted by Aubrey in the 17th century, William Sydney died in 1449. (fn. 34) He was succeeded by a son William, whose widow Elizabeth obtained the custody of his lands during the minority of his daughters Elizabeth and Anne. (fn. 35) Baynards Manor appears to have been the portion of Anne, who married William (afterwards Sir William) Uvedale. (fn. 36) According to his will (fn. 37) a rent was to be paid to his eldest son and the residue of the profits divided between his younger son John and his brother Thomas. The manor was conveyed to Reginald Bray or his brother John. Edmund Lord Bray, son of the latter, sold it in 1535 to his brother Sir Edward Bray. Sir Edward Bray died in 1558. His son Sir Edward mortgaged Baynards, 2 November 1580, to John Reade of Sterborough, (fn. 38) to whom he sold Pollingfold 3 December, a month later. On 29 October 1587 John Reade released his rights in Baynards to George More of Loseley, afterwards knighted, and a fine was levied in 1588 confirming the conveyance. Baynards was bought by More with his wife's money, she being a wealthy heiress. (fn. 39) He probably rebuilt the house with the great hall, which now exists, for his home while his father Sir William was alive. (fn. 40) In 1604, after the death of the latter, Sir George, his wife Constantia, and his son Sir Robert, conveyed Baynards to Sir Francis Woolley of Pirford, Sir George More's nephew, for a sum of money and the manor of Witley in exchange.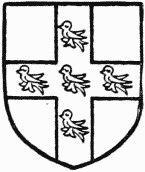 On 6 March 4 James (1607) Sir Francis Woolley sold Baynards for £4,400 to Edward Bayninge, gentleman, of London. He presumably died, leaving an heir Andrew Bayninge, who sold it 15 February 1608–9 to Isaac Woder of Plumstead in Kent. Woder, who also had acquired Knowle in Cranleigh, described as 'a manor in Surrey and Sussex,' in the same year, sold Baynards 28 February 1609–10 to Robert Jossey. His son James Jossey alias Hay mortgaged his property, and was clearly in considerable difficulties, for on 23 January 1628–9 his mother Margaret surrendered to him all her jointure, Pollingfold Manor, Coneyhurst Hill, and two rooms over 'the great dining chamber' at Baynards. The mortgage changed hands, and finally Richard Gurnard, citizen and clothworker, conveyed his rights under it to Richard Evelyn, father of the diarist, 13 November 1629. On 30 August 1630 Jossey released all his rights in Baynards and Pollingfold to Richard Evelyn, and in 1631 a lessee of Mrs. Jossey's jointure surrendered his lease to Evelyn. (fn. 41)
He settled the manor on his youngest son Richard, (fn. 42) who in 1648 acquired Somersbury (see above), and the entire property descended to the Onslow family as already stated. (fn. 43) A distinction of Baynards is that it has belonged at various times to the four leading families in Surrey since the year 1500, namely Bray, More, Evelyn, and Onslow. The second Sir Edward Bray who held it married Elizabeth Roper, granddaughter of Sir Thomas More, whence the fact or legend that Sir Thomas More's skull was preserved at Baynards.
John Evelyn visiting it in 1657 describes the house as 'a very fair noble residence having one of the goodliest avenues of oaks up to it that ever I saw.' (fn. 44)
Later, however, the house ceased to be used as a gentleman's house, Arthur Onslow the Speaker, Lord Cranley, resided at Knowle, and Baynards was merely a farm-house. In 1818 Lord Onslow sold Pollingfold and Baynards to John Smallpeice of Guildford. In 1824 Pollingfold was sold to Richard Gates, and in 1832 the estate was reunited by the Rev. Thomas Thurlow, son of the Bishop of Durham and nephew to the Lord Chancellor Thurlow. He added to and restored or rebuilt the house, under the direction of Sir Matthew Digby Wyatt, and made a fine collection of paintings, armour, furniture and tapestry, which remain in the house. He raised the roof of the original hall, turning one of the rooms over it into the present gallery at the end, and altered the entrance. Mr. Thurlow died in 1874, and was succeeded by his son Mr. Thomas Lyon Thurlow, who in 1889 sold Baynards and the manor of Pollingfold to Mr. T. J. Waller, the present owner. The house is mainly of brick, but the foundations are of Sussex marble and the roof of Horsham slates, both found in the neighbourhood. The house is very handsome, with an air of antiquity about it, and the grounds are picturesque. An avenue of Wellingtonias leads from the station towards the house.
The reputed manor of BREACH was probably a member of Gomshall Netley. (fn. 45) In the 16th century it was the property of John Agmondesham. (fn. 46) He mortgaged the manor to William Atlee and Nicholas Dendy, who disputed the division of the estates. Nicholas Dendy died during the dispute, but it was settled by compromise that his son John should have the northern half of the lands, i.e. North Breach. (fn. 47) Finally, in 1594, William Atlee conveyed all his right to Ralph Dendy, probably the heir of John Dendy. (fn. 48) In 1630 Edward Dendy sold the manor to Walter Longhurst, (fn. 49) whose descendants remained in possession for nearly a century and a half. Ralph Longhurst and Richard Stening (fn. 50) were holding South Breach at the time of the Commonwealth. In 1768–9 Richard Longhurst and his wife Anne sold the manor to John Vincent of Stoke by Guildford. (fn. 51) His grandson and heir died leaving an only daughter, (fn. 52) probably the Mary Hone, who joined with her husband, William Smith, in a sale of the manor, under the name of North Breach, to Samuel John Symons Trickey in 1803. (fn. 53) It afterwards belonged to a family named Donithorne, from whom it was bought by Mrs. Fletcher Bennett about 1877. It is now in the hands of the Bennett trustees.
CONEYHURST
CONEYHURST is situated on the rising ground north of the village and was in the possession of Ambrose Wolley in 1553, and probably formed a part of his manor of Somersbury. It was then sold by him to Sir Edward Bray, (fn. 54) who bequeathed it in 1558 to his son Edward on condition of paying off a mortgage. (fn. 55) In 1593 it was in the possession of a certain Ralph Dalton, (fn. 56) to whose son, Richard, it descended in November 1601, (fn. 57) and from him it passed in 1615 to his two daughters, Joan and Elizabeth, who were then both minors. (fn. 58) Joan married Richard Bridger, and Elizabeth, Henry Matchwick. (fn. 59) In 1676 the whole manor was settled on Joan, (fn. 60) and descended from her to her nephew Henry Bridger. Henry died in 1695, and his cousin Richard covenanted with Edward Wood, who had married Elizabeth daughter to Henry, to levy a fine. (fn. 61) In 1776 it was the property of Thomas Wood, (fn. 62) who died in 1779 leaving a son and heir Thomas, (fn. 63) in whose family it continued.
POLLINGFOLD
POLLINGFOLD in Ewhurst extended into Cranleigh parish and into Sussex. It was held of the lords of Gomshall, (fn. 64) and the first under-tenant of whom record has been found is John of Pollingfold, who lived in the time of Edward I. (fn. 65) From him the manor passed to Lettice wife of William Man, (fn. 66) who sold it in 1334 to a certain Robert, (fn. 67) who was perhaps a trustee for the Brocas family, for in 1345 Sir John Brocas had a grant of free warren there. (fn. 68) The manor was released by his widow to his son Sir Bernard with remainder to Sir Bernard's half-brother John, but, John having died, his brother Oliver succeeded to Pollingfold, where he took up his residence. (fn. 69) He granted it in 1397 to Sir Bernard's son Bernard, whose son and heir William entered upon it in 1405–6, and died in 1456, (fn. 70) before which date he is said to have sold it to William Sydney of Loseley. (fn. 71) It was evidently divided between the two daughters of William son of William Sydney; of these, the one, Anne, married William Uvedale, and the other, Elizabeth, married John Hampden. (fn. 72) The manor was divided in moieties, whence doubtless arose the names EAST and WEST POLLINGFOLD. The Uvedale moiety, East Pollingfold, chiefly in Ewhurst, was alienated by Anne (fn. 73) to Sir Edward Bray and others in 1528. (fn. 74) He had already purchased Elizabeth Hampden's moiety, or West Pollingfold, and Baynards from his brother Edmund Lord Bray, (fn. 75) whose uncle Reginald, to whom Edmund was heir, or whose father, John, had apparently purchased it from Michael Dormer, to whom Sir John Hampden had conveyed it in 1520, (fn. 76) and thus the manor was reunited, but not for long. In 1581 Sir Edward sold the manor of Pollingfold with 40 acres of land and 30s. rent in Sussex to John Rede, (fn. 77) who conveyed it to Edward Tanworth seven years later. (fn. 78) The latter sold it in 1595 to George, afterwards Sir George More, (fn. 79) of Baynards, with which it has since descended (q.v.).
EAST POLLINGFOLD
EAST POLLINGFOLD apparently was again separated from the main manor before 1560, and in October 1606 Sir Thomas Leedes, son of John Leedes of Wapingthorne, Sussex, sold it to John Hill of Ewhurst. (fn. 80) Some years after the latter's death it was assigned to one of his daughters, Sarah, wife of John Stevens. (fn. 81) A John Stevens was in possession in 1690, (fn. 82) but in 1695 Robert Gardiner and his wife Mary held it, (fn. 83) probably in her right, and conveyed it in 1701 to George Mabank, (fn. 84) evidently as a marriage portion, for in 1790 George Mabank Gardiner sold it to John Crouze. (fn. 85)
The remains of a moated inclosure called the Site of Pollingfold Manor House are just outside Baynards Park, in Cranleigh parish. This house was presumably pulled down by Sir George More when he rebuilt Baynards close by. But there is some doubt whether it was really the old manor-house, for the court baron was recently held at Moated Farm, an old moated house now also pulled down, in Ewhurst parish. (fn. 86) If Baynards had taken the place of the old manor house the courts would have been held there.
MAYBANKES
MAYBANKES, in the south of the parish, was occupied in 1503 by William Edsalle, (fn. 87) and was granted with Somersbury Manor, Saltland, and Slehurst in Ewhurst to Thomas Salter in 1511. (fn. 88) About the same time Rumbemyr in Ewhurst was occupied by Richard Astret, and Marschall by Thomas Edsalle. (fn. 89) Lands called Mascalls Pipers and Potfelds were sold by Robert Browning to Nicholas Dendy in the 16th century. (fn. 90) At the same time Moon Hall was held (of Coneyhurst Manor) by William Ticknor, (fn. 91) and land called Sprout or Prout was the subject of a dispute between Agnes Hill and her uncle, Richard Hill. (fn. 92) Thomas Hill sold it in 1608 to Sir Francis Wolley. (fn. 93)
CHURCH
The church of ST. PETER AND ST. PAUL consists of a chancel 24ft. 9 in. by 15 ft. 9 in.; a central tower 17 ft. 10in. by 15 ft. 3 in.; a north transept 21 ft. 5 in. by 19 ft. 2 in.; a south transept 23 ft. by 18 ft. 3 in.; a nave 34 ft. 5 in. by 19 ft. 5 in. The whole structure was almost completely rebuilt in 1838–9, for during the progress of some repairs the central tower collapsed and brought down much of the chancel in its fall. The nave would appear to have been less altered than the rest, and is of 12th-century date. Alterations were evidently made, however, late in the 15th century, and a century or so later the nave at least was a good deal altered as regards its windows. But in view of the devastating repairs of 1838 the early history of the church must remain a matter of uncertainty, for they included a skin of plaster which hides all evidence possibly contained in the walling. The present church, however, is probably on the foundations of the old one.
The windows of the chancel all date from 1838, that to the east being of three cinquefoiled lights and 'perpendicular' design. To north and south are plain rather wide single lancets. To the south is also a plain pointed door of the same date as the windows. Externally the chancel appears entirely modern, and the walls are of rubble plastered with sham joints representing masonry.
The tower rests upon four two-centred arches, all of two continuous chamfered orders, heavily plastered and probably completely modern. Above these the tower rises in two stages. The second one, containing the ringing chamber, is quite plain. The belfry stage however, is of 12th-century design with round-headed shafted openings, pilaster buttresses, and a crowning corbel table with plain corbels and small round connecting arches; above this is a tiled broach spire of a somewhat obtuse type. The whole of this part of the tower is completely modern, as are also the diagonal buttresses set in the angles of the chancel and transepts and the nave and transepts. The ringing chamber is reached by a wooden stair in one flight in the north transept.
The north transept appears to have been wholly rebuilt in 1838. It is lit on the north by three wide grouped lancet lights with wide chamfered pilastered external jambs, and (over these) a trefoil light. To east and west are two single lancet lights, and on the west is also a small pointed door, all of which date from the rebuilding. The south transept is similar in every way, but lacks the door, and retains an old window of late 15th-century date. This is of two rather wide trefoiled lights with submullions over and a square main head. It has been a good deal disfigured in the resetting and restoration.
The nave is lit on the north by three windows, all of two rounded lights. The first and third are very rough and probably very late. The middle one is of better workmanship, has spandrel sinkages, and is of 16th-century date. It is placed higher in the wall than the others in what is apparently the roundheaded internal reveal of a 12th-century window which has been partly cut away to allow for this. The heavy coats of plaster, both inside and out, however, make this a little uncertain. On the south is a window of late 15th-century date of two wide trefoiled lights with sub-mullions over and a segmental main head, and of the same character as the east window of the south transept. West of this is the south door. This is of 12th-century date, though somewhat restored. It is of rather rough workmanship, with a semicircular head of two non-concentric orders, the inner, which is square, being a little below the outer, which is rather awkwardly worked with a pair of rolls and a chamfer. The jambs have circular shafts with plain cushion capitals and cone bases. The west window of the nave is of 15th-century date and has three cinquefoiled lights with sub-mullions over and a two-centred main head. Under the window is the west door, which is of the same date. It has a two-centred head and a continuous hollow chamfer, and is of chalk, almost the only use in the church of this material. In the south jamb are the remains of a holy-water stoup. Covering this door is an open timber porch of late 15th-century date, with a scalloped barge-board and a rounded arch of entrance, but otherwise of the plainest design. The nave walls are of rubble, plastered and ruled with sham jointing to represent 12th-century masonry.
The roofs of the chancel and the north transept are quite modern, and that of the north transept is partly modern, but also retains some moulded beams of late 16th-century date. The nave has its late 16th-century roof complete. It is ceiled with a plaster barrel vault and has moulded tie-beams and wall plates and strutted king-posts.
The font has been very much restored with roman cement, but the square bowl appears to be of 12th-century date and is of very crude design. The flat faces are ornamented with saltire ornaments of clumsy rolls. The four supporting columns are modern.
The pulpit is a fair example of early 17th-century work. It is octagonal with two stages of panelling in each face, the lower forming an arcade of enriched arches and the upper carved with arabesques in flat bands. The altar-table is of late 17th-century date with fluted legs, an inlaid top and a carved rail decorated with cherub-heads. The altar-rails are a good example of early 18th-century church fitting. They are returned on the flanks to form three sides of a square with rounded and mitred corners. The handrail is broad and moulded and is carried on panelled posts and twisted balusters. In the chancel are a pair of handsome carved chairs of late 17th-century date, and, possibly, foreign workmanship. In the nave are four painted tablets of the commandments and texts. These are inclosed in handsomely carved frames of late 17th-century design. These and the altar rails were brought from Baynards in 1879 and were the gift of Mr. T. L. Thurlow. The font cover is from the same donor and is partly made up of some 17th-century consoles.
At the north-west of the nave is a small vestry cut off from the rest of the nave by a screen in part made from the 17th-century clerk's desk. There are no monuments.
In the east window of the chancel are three shields of arms. The first of these is the arms of Rev. Thomas Thurlow of Baynards—Argent a cheveron between couplecloses sable with three portcullises argent on the cheveron, impaling Argent a lion in a double tressure counter-flowered azure, for Lyon. Above is the crest of Hovell—A golden greyhound lying down with collar and line sable. The second shield is Onslow quartered with Harding of Knowle—Argent a bend azure with three martlets or thereon. The third shield is: Or a fesse checky azure and argent and a bend engrailed gules all within a double tressure counter-flowered gules, for Stewart, with a scutcheon of pretence—Azure a bend between six scallops argent, for Freshfield.
The tower contains a clock and six bells. The treble and second were cast by Mears of London in 1839. The third is inscribed 'Sancte Petre Oţ' in black-letter smalls and capitals and bears the leopard's face, cross flory and coins of John Saunders. The fourth has the same marks and is inscribed 'Sancte Johannis Ora Pro Nobis.' The fifth and tenor were cast by William Eldridge in 1671.
The first book of the registers contains all entries from 1614 to 1719. The second contains all entries from 1720, baptisms and burials running to 1803 and 1810, and marriages to 1773. The latter, after 1754, are entered in manuscript, but in the form of the printed book. A third book, a printed one, continues the marriages to 1812, and a fourth book carries the baptisms and burials to 1812.
ADVOWSON
The advowson belonged in 1206 to Merton Priory. (fn. 94) At that date William Brews disputed the presentation, but judgement was given for the priory. The latter retained the advowson until its dissolution. (fn. 95) The living was not appropriated, but paid a pension to the priory. This pension was granted in 1541 to the Dean and Chapter of Canterbury, (fn. 96) while the king retained the right of presentation. The advowson remained thenceforward with the Crown. (fn. 97)
CHARITIES
Smith's Charity is distributed as in other Surrey parishes. A Mr. Worsfold gave, at an unknown date, a rentcharge of £1 2s. 8d. for teaching poor children.