Pages 110-113
A History of the County of Sussex: Volume 4, the Rape of Chichester. Originally published by Victoria County History, London, 1953.
This free content was digitised by double rekeying. All rights reserved.
UP MARDEN
Up Marden is a downland parish of 2,942 acres. It of roughly triangular shape, measuring about 2½ miles from base to apex (south to north) and about 3 miles at the base. Up Marden church is in the north-east, almost at the highest point of the parish on the 500-ft. line, with a farm and one or two cottages. South-west of this, at 400 ft., is Locksash Farm, and ½ mile west of this, at 200 ft., is West Marden village, in a small valley running from north-west to south-east and falling to 100 ft. There is one cottage with a 17th-century central chimney-stack; the others, of flint and brick, are all later. The road from South Harting and Compton to Walderton passes through West Marden and along this valley. To the east, another road past Up Marden church runs roughly parallel and reaches Walderton from the other side. In the extreme north of the parish is Fernbeds Down, where there is a long barrow (neolithic) (fn. 1) and other earthworks. By the West Sussex Review Order of 1933, this parish was added to the parish of Compton. (fn. 2)
MANORS
In about 900 Goda the thegn gave 4 cassatos in 'Upmerdon' to Wiohstan his son-in-law, who later bought from Ealfred and his wife Ealsware 1 manentem near the pool called Blackmere; all this Wiohstan sold in about 935 to Bishop Wlfhun (of Selsey), (fn. 3) but no later connexion with the see is known. This charter is only known from a 14th-century copy and it is not unreasonable to think that the form of the place-name is a gloss by the copyist of an original 'Meredune', the prefix 'Up' not being otherwise recorded before 1227. At the time of the Domesday Survey the Mardens, the subjects of four entries, are not distinguished. One 'Meredone' was held in the time of Edward the Confessor by Lefsi from Countess Gida, wife of Earl Godwin; it was assessed at 3 hides and had I haw in Chichester attached to it. (fn. 4) In 1086 this was held of Earl Roger by Engeler (de Bohun), and as his successor Savaric fitz Cane gave the church of Up Marden to Lewes Priory (fn. 5) this may be identified as UP MARDEN. The overlordship passed with the honor of Arundel until the division of the estates of Hugh d'Aubigny between his coheirs in 1244, when 3 fees held by William Aguillon in Nutbourne (in Westbourne, q.v.), Up Marden, and Burpham were assigned to Robert de Tateshale. (fn. 6) These passed in 1306 to Robert de Cailli. (fn. 7)
The manor was probably held about the end of the 12th century by Eustace de Valle Pironis, as his daughter Mary in 1227 gave it to her son Reynold Aguillon, (fn. 8) excepting certain lands which she gave to John Aguillon, probably a younger son, to hold of him. (fn. 9) By 1240 Reynold's estates had passed to his four daughters—Mary wife of William Covert, Cecily wife of Peter de Gatesden, Godehuda wife of Ralph St. Owen, and Alice then wife of William Russel. (fn. 10) Cecily seems to have given all her share to the Knights Hospitallers, (fn. 11) and ¼ fee in Up Marden was held by the Prior of St. John of Jerusalem in 1428 (fn. 12) and until the Dissolution. The remainder appears to have come to the fourth daughter, Alice, who subsequently married Robert Haket. (fn. 13) John Haket was the largest contributor to the subsidy of 1296 in Up Marden; (fn. 14) he or a namesake held the manor in 1326 (fn. 15) and figures in the subsidies for 1327 and 1332; (fn. 16) and in 1357 John Haket and Maud his wife and Thomas their son sold a large estate in Up Marden, apparently the manor though not so termed, to Richard, Earl of Arundel. (fn. 17) After this date the manor figures among those held by the Earls of Arundel, (fn. 18) the Countess Beatrice holding ¾ fee there in 1428, (fn. 19) and was settled by Henry, Earl of Arundel, on his daughter Jane and her husband Lord Lumley in 1566. (fn. 20)
In 1581 Philip, Earl of Arundel, sold the site of the manor and its demesnes, already leased to him, with a windmill and pasturage rights on Ligh Common, to William Paye, (fn. 21) who died seised of the farm, held in chief of the queen, in 1598, his son Henry being his heir, but most of the estate passing by settlement to his younger son John. (fn. 22) William Paye had already sold the windmill to Thomas Marten in 1593, (fn. 23) and the estate seems to have been split up, manorial rights lapsing.
After the suppression of the Knights Hospitallers their manor, later known as UP MARDEN SAINT JOHN, was granted in 1544 to Henry Audeley and John Cordall, (fn. 24) who at once alienated it to John Sone. (fn. 25)
In 1547 it passed from John to Thomas Sone; (fn. 26) he held it as 1/30 fee at his death in 1557, when it was inherited by his son William. (fn. 27) He died in 1571, his son Walter being 8 years old at the time. (fn. 28) Walter had livery of the manor in 1585, (fn. 29) and in 1590–1 sold it to Thomas Green. (fn. 30) In 1606, Thomas Green and his wife Margaret disposed of it by a fine to Thomas Cook and Edward Green; (fn. 31) Thomas Green died in 1608 possessed in Up Marden of only 'Southleazes' as parcel of the manor of Northwood; (fn. 32) this was still held by his son in 1616. (fn. 33) Thomas Cook and Edward Green are not mentioned again; but we find the manor in 1609 in the possession of John Paye and Susan his wife and Richard Paye and Anne his wife, (fn. 34) who then sold it to William Grey and Richard Peckham. (fn. 35) William Grey in 1627 settled on his son William certain lands, including the Hackettes and the Hospitall Downe. (fn. 36)
In 1641 William Grey bought from Edmund Fairmanner what is called the manor of Up Marden. (fn. 37) Members of this family held property in the parish at least as early as 1588, (fn. 38) but Edmund's father, Edmund Fairmanner, who died in 1631, is the first recorded to have held a manor here. (fn. 39) Possibly this was the manor farm which had belonged to the Payes (see above). William Grey died in 1646 possessed of property in Up Marden; his heir was his son Thomas, aged 18, (fn. 40) who in 1663–4 sold to Anne Peckham, widow, the manor of Up Marden St. John and other tenements in Up Marden. (fn. 41) Anne Peckham died at Lordington in 1713 and left the manor, 'which I bought of Thomas Grey', to her son Richard. (fn. 42)
The manor remained in the Peckham family and passed with Compton (q.v.). Thomas Peckham Phipps's name occurs in connexion with this manor and Compton and North Marden in 1793, (fn. 43) and ViceAdmiral Sir G. T. Phipps Hornby held it in 1879. (fn. 44)
In 1922 James Reckitt was lord, and in 1933 and 1938 Mrs. Pollock was lady of the manor. (fn. 45)
WEST MARDEN
WEST MARDEN is not so described until the beginning of the 14th century. The manor was held as of the honor of Arundel by the family of de Chartres and in 1304 Joan, widow of Alan de Chartres, claimed dower in one-third of the manor against Robert de Chartres and others. (fn. 46) In 1316 Roger de Chartres, son of Alan, let to Robert the Scot for life a messuage and one virgate in West Marden. (fn. 47) In 1346 the manor was sold by Roger de Chartres and Christiane his wife to Henry Romyn and his wife Joan. (fn. 48) Henry Romyn continued to hold land in West Marden until his death in 1350: in 1346 it is described as half a knight's fee held of Alan la Zouche as of the manor of Treve (River in Tillington), (fn. 49) and in 1350 as a tenement held of the same Alan's heir by service of one eighth of a knight's fee. (fn. 50) Henry's heir was his son Edmund, then aged 8.
The la Zouches held of Robert de Tateshale and his heirs. (fn. 51) In 1303 (fn. 52) and 1305 (fn. 53) Alan la Zouche held of Robert 3 fees in Nutbourne by Pulborough, Wildbridge, and West Marden. Alan la Zouche died in 1346, leaving a son Hugh aged 7: he held the half-fee of which Henry Romyn was the tenant. While a minor, Hugh la Zouche was in the wardship, with his lands, of John de Beauchamp. (fn. 54) After the middle of the 14th century the descent of these holdings in West Marden becomes uncertain.
Before 1461 it seems to have come with Compton (q.v.) to Sir Thomas Browne, attainted of treason; in 1461 and 1465 grants were made giving the manor for life to Eleanor his widow and Thomas Vaughan, (fn. 55) then her husband. The overlordship belonged to the honor of Arundel (fn. 56) and it was held by Sir George Browne of the Earl of Arundel at the time of his attainder. (fn. 57) Later Elizabeth, widow of Sir George, died seised of it in 1489. (fn. 58) It remained in the family of Browne, Sir Matthew Browne and Frideswide his wife dealing with it in 1532, (fn. 59) until Richard Browne sold the reversion of it after the death of his mother Eleanor Gaynesford, widow, to John Hewson in 1577. (fn. 60) In 1386 it was sold by John Hewson and John Rowe to Thomas Green, (fn. 61) who left it in 1607 to his eldest son Thomas. (fn. 62)
In 1693 one 'quarter' of the manor was mortgaged by William Peckham and his wife Mary to Arthur Bayly, (fn. 63) under whose will (1699) the mortgage was foreclosed. (fn. 64) In 1736 Elizabeth Bayly, widow, sold 'half' the manor to John Shales. (fn. 65) He died in 1741, leaving a widow Isabel, who married George Atkins, and John's brother Henry Shales conveyed the moiety to her. (fn. 66) Half the manor (presumably the other half) occurs in 1727, when it passed to John Butler from John Marden and his wife Rose. (fn. 67) A 'manor' of West Marden was held by Richard Barwell, of Stansted, in 1798, (fn. 68) and it, or another, belonged to Admiral Sir Phipps Hornby in 1864. (fn. 69)
CHURCH
The church of ST. MICHAEL (fn. 70) consists of chancel, nave with south porch, and west tower; it is built of rubble, plastered, with freestone dressings and a little brickwork in the modern additions, and is roofed with tile, except the tower, which is slated. The nave and chancel were built at the same time in the 13th century; the tower was added later in the same century, the porch is modern.
The chancel has pairs of shallow modern buttresses at each eastern corner. The east window consists of three lancets under a common rear-arch, the lancets being 13th-century, the rear-arch a modern restoration. On the south side is a trefoil-headed piscina with stone credence shelf; on each side are two plain lancet windows, the sills of those on the north being higher than those of the south windows; all are of the 13th century. The roof is in three bays; tie-beams and wallplates alone are visible, the underside of the rafters and collars being ceiled in plaster; the wall-plates of the middle bay are of the 13th century and bear the dogtooth moulding.
The contemporary chancel arch is of two orders, without impost or break between jambs and arch. On the north side the chamfer of the outer order has an ornamental stop about 5 ft. from the ground, below which the wall is carried forward to serve as the chancel screen; the south side was doubtless the same, but the wall has been lowered somewhat. Owing to settlement of the south wall (which is noticeably out of plumb) a crutch of masonry was subsequently inserted, perhaps in the 17th century; (fn. 71) this is a straight-lined arch of one order resting on square jambs and an impost with a crude torus moulding. Till the discovery in 1923 of the 13th-century arch this was considered Saxon, (fn. 72) and the impost and the tooling are indistinguishable from 11th-century work; it is possible that the stones were brought here from a demolished building, perhaps the chapel at West Marden.
The nave has a single buttress at the south-west corner; in both north and south walls are three 13th-century lancets, those on the south having their sills at one level, those on the north having them successively lower as they go westward. Between the second and third window on each side is a plain pointed doorway of one order, and a similar doorway, originally the west door of the church, now opens into the tower. In the north wall, under the easternmost window, is a piscina like that in the chancel; (fn. 73) all these features are of the 13th century. The roof is in three bays, with plain tiebeams and plates, ceiled under the rafters and collars.
The south porch is a modern addition of stuccoed brick.
The tower has a pair of buttresses at the north-west corner and a single diagonal one, a later addition, at the south-west; the lowest stage has a single 13th-century lancet window in the west wall; the next stage is blank; the uppermost, which is timber-framed and boarded, has louvres on the south, west, and north sides.
The font is circular, cup-shaped, on a plain circular stem, and may date from the 12th century; the other fittings are modern.
There are three bells (now taken down, owing to the unsafe condition of the tower): one uninscribed, the second dated 1620, and the other 1628 with the names of Bryan Eldridge and Thomas Wakefield, founders. (fn. 74)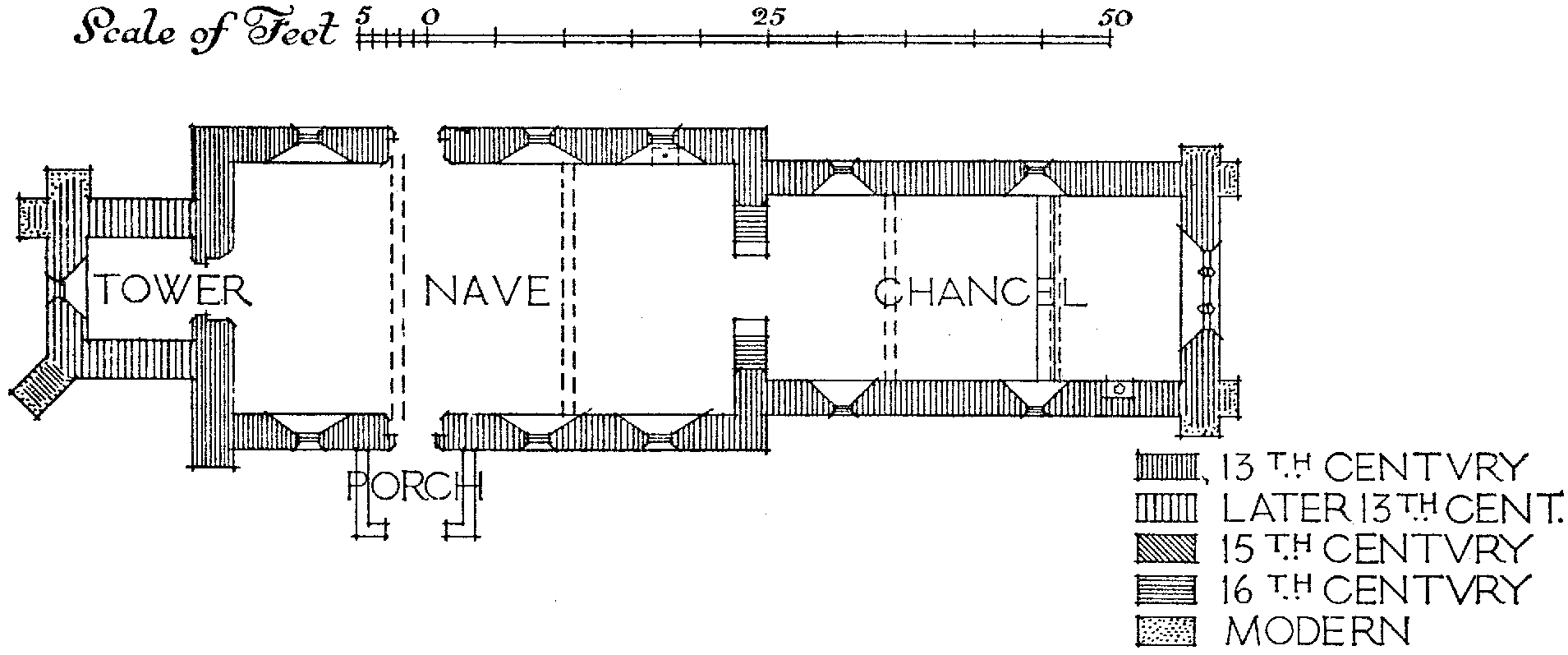 The communion plate includes a silver cup and paten cover (of 1697 ?) and flagon (of 1698), all given by Camilla, Countess of Tankerville, in 1724, and a paten given by Mary Lodge also in 1724. (fn. 75)
The registers begin in 1714.
ADVOWSON
The church of [Up] Marden had been given to Lewes Priory before 1121, (fn. 76) probably by Engeler de Bohun, whose daughter Muriel with her husband Savaric fitz Cane in about 1142 made a fresh grant of it to the priory. (fn. 77) In 1291 the rectory was rated at £13 6s, 8d., (fn. 78) and in 1340 the rector had a house, 40 acres of arable, and pasturage rights on the Downs. (fn. 79) In that year, 1340, arrangements were made to transfer the church to the Priory of Shulbred, (fn. 80) but this was not done, and Lewes retained the advowson until 1409, when licence was given for it to be granted to the prioress and nuns of Easebourne. (fn. 81) This transfer was carried out, Lewes retaining a yearly pension of 40s., (fn. 82) and in January 1412 the nuns were allowed to appro- priate the rectory, subject to the assignment of a reason- able vicarage, (fn. 83) particulars of which were laid down by the Bishop of Chichester in 1414. (fn. 84) In May 1439 the benefices of Compton and Up Marden were united, (fn. 85) and the joint vicarage was valued at £11 0s. 2d. in 1535. (fn. 86) For the descent of the advowson, see Compton.
The chapel of West Marden is referred to in 1414, when all offerings made there were assigned to the vicar of the mother church. (fn. 87) Bequests were made to it in 1515 and, under the title of the Chapel of the Blessed Virgin Mary, in 1525. (fn. 88) How much longer it functioned is not known, but it had apparently become secularized before 1585, when John Hewson granted to John Rowe of Bedhampton (Hants) the chapel lying in West Marden between the high road on the north, a meadow called Court Garden on the south and west, and 'a backside' on the east. (fn. 89)