Pages 21-27
A History of the County of Sussex: Volume 4, the Rape of Chichester. Originally published by Victoria County History, London, 1953.
This free content was digitised by double rekeying. All rights reserved.
ROGATE
Rogate is a large parish of 4,873 acres, on the Hampshire border of the county, consisting of a main block some 3 miles from north to south, with a breadth of 2½ miles, and a narrow projection at the north running for another 2 miles from Rake. The Rother divides it from Harting on the south and the high road from Petersfield to Godalming, here the county boundary, forms part of its western boundary. The north of the parish is chiefly woodland, including Langley and Coldharbor Woods and Harting Combe, which was an outlier of Harting manor. The village is in the south, on a road leading to Midhurst. From it a road crossing the Rother at Haben leads south to Harting.
About 1190 Henry Husee gave to Durford Abbey a rent of 25s. from the mill of Haben (Haggebeden). (fn. 1) In 1590 there was an iron hammer-mill at Haben and an iron furnace in Harting Combe. It was found that the wood required by these iron-workings was making serious inroads upon the woodland at Harting Combe and New Wood. (fn. 2) In 1273 when Robert de Rogate intended to build a mill an inquiry was held which stated that its construction would not injure anyone. (fn. 3) This, however, was opposed by Henry Husee and Richard le Jay, who said that the mill, pool, and sluices obstructed the ford beside Rogate Bridge; and they seem to have interfered with his building it. A compromise was reached by which two bridge-wardens were to be appointed, one by Henry and the other by Robert, who should keep the bridge in repair, collecting contributions from persons using it and from others in the neighbourhood. (fn. 4) This, which may have been a reconstruction of an older mill, (fn. 5) was probably the mill at Haben mentioned in 1585, (fn. 6) but the principal mill in Rogate was Durford mill. This had been granted to the abbey by the first Henry Husee, and confirmed to them by Henry II. (fn. 7) It belonged in 1585 to the queen, and was leased by Henry Mervyn. It was on the Rother about 2 miles west of Haben, and stood upon a strong stream and 'would be often overflowen with great waters and stand in great charges and reperations'. It was, however, often still working when many of the neighbouring mills were at a standstill for want of water. (fn. 8) Durford mill and the mill-house were granted in 1609 to Edward Ferrers and Francis Phillips, (fn. 9) and had been acquired by Sir Edward Morley before 1620, when he bequeathed the mill to his son John. (fn. 10)
The manor of Wenham was inclosed about 1820, (fn. 11) and another 830 acres in Harting Combe, including Fyning Wood, were inclosed in 1856. (fn. 12)
A detached part of Bramshott (Hants) was transferred to the civil parish of Rogate under the Local Government Act of 1894.
The stone bridge over the Rother, south of the village and half-way between it and Rogate station, which is just over the parish boundary, in Harting, was built probably in the 16th or early 17th century. It is of four spans with round arches, the two southernmost being of two chamfered orders, the northernmost having key-stones and possibly representing an 18th-century repair. There are cut-waters up and down stream, the former triangular in plan, the latter square. The parapets are chamfered but the eastern one seems to be a repair.
Haben Farm lies north of the bridge. It is a late-16th-century house of two bays with central stack and outshot aisle.
There are several old farms off the south side of the Petersfield Road. Lower Farm is a house of two stories, with gabled dormers, built c. 1600. It consists of three bays with outshot aisle, and is built of stone and brick with a moulded brick plinth. The attic windows are blocked. Stop-chamfered ceiling-beams are exposed internally.
Wenham lies farther west. Externally it shows Georgian or modern features, rough-cast and sash windows, but some of the original late-16th-century work is visible inside. It was a house of three bays with a central stack between the two eastern. A modern addition to the east links the house with an 18th-century brewhouse which projects north, as does the modern porch. The chief feature of interest is the number of original doors with strap or fleur-de-lis hinges and moulded styles. One leading down to the cellar has a removable flap in the top left-hand corner. On the first floor stop-chamfered beams can be seen in the central bay, also an ovolo-moulded wooden fender, apparently original. In this room the floor is original with wide baulks, and also in the attics, where a filleted roll-moulded twolight window remains in the east wall.
A thatched barn, north-west of the house, is contemporary. It is weather-boarded, on a stone base, and contains 10 bays with curved queen-post struts, brick footings to the posts, and curved wind-braces and thatched tester to the transepts.
After the suppression of Durford Abbey parts of the monastic buildings were incorporated in Durford Farm, as shown in drawings made by Grimm in 1782. (fn. 13) All this, however, was swept away when Lord Stawell acquired the property and built the present house in 1784 (which date occurs on the range projecting southwards). The north front is of stone, with a wooden door-hood of that period and sash windows with keystones. The cellar windows, chamfered two-lights, are of an earlier type; but sash windows would anyhow not be practicable there. In the garden are moulded fragments of the abbey—capitals, bases, and a carved head. A tombstone (fn. 14) is set in a wall on the south side of the house, and there are medieval tiles (fn. 15) in a summer-house.
There are stone stables and a barn of c. 1600, weather-boarded on a stone base, with brick footings to the braced posts, and queen-post struts.
Commonside lies north-west of the village. The house is of two stories with cellar and attics: the walls of sandstone with garetting, brick dressings, and tilehanging; the roofs are tiled. It was built on an L-shaped plan early in the 17th century, but is considerably modernized externally: no original windows remain and additions on the north include a heightened outshot aisle. The central stack, partly old, serves wide lintelled fire-places with stone jambs: in the diningroom a chimney-seat and cooking-hooks remain, and a 'Jesuit' fireback (with the sacred monogram IHS and a figure of St. Ignatius Loyola) in the drawing-room. Chamfered beams are exposed on both floors, (fn. 16) and contemporary panelling is re-used in the south room.
There are some thatched cottages in the hamlet of Slade. One, north of the lane, probably dating from c. 1600, is of two bays with a central stack and outshots to the east and west. The south front is of sandstone in rough ashlar with garreting, and the side walls of rubble, but original timber-framing is visible on the north side; with brick nogging and some wattle and daub. The windows are modern. South of it is another, of similar date, timber-framed on a stone base, with weather-boarding above. Near it is a thatched range of farm-buildings, part timber-framed and part stone.
Slade Farm lies farther west; the house is of L-shaped plan, built in stone, with brick dressings. It belongs to the late 16th century. The windows are modern, and the side walls seem to be refaced, as the east end still displays timber-framing in close studding with stone filling, and tile-hanging over the wattle and daub above; there is a moulded beam and brackets with leaf ornament. The main range is of three bays lying east and west and a central stack, with renewed top, between the two western, and a timber-framed partition, in wide panels, east of it. There is an outshot aisle on the north side of the west bay, and a stone wing to the south may be somewhat later; certainly the end, which has a straight joint. Ovolo-moulded ceilingbeams are exposed in the two west bays, and there are plainer beams, also with stop-chamfers, on the floor above. The drawing-room (middle bay) shows a wide lintelled fire-place with stone jambs, but the others are blocked by modern grates. On the first floor, however, the old chamfered lintels are visible above, and on one of these a fleur-de-lis leaf ornament has been carved. An old stair leads to the attic.
West of the house is a contemporary barn, weatherboarded on a stone base, with a gabled transept, of nine bays with queen-post struts and braced posts on brick footings. The woodshed has a date-stone W.M. 1729.
Carrols, in the fields to the north-west, is a slate-roofed cottage with two rooms on each floor. It shows no features earlier than the 18th century, the date of some farm-buildings near.
Fyning preserves some interesting houses. Fyning House lies south of the Petersfield road. It has an imposing mid-Georgian frontage, (fn. 17) painted white with green shutters, a Doric portico, dentilled cornice and pediment, and sash windows. Windows of an earlier type, chamfered two-lights, remain in the cellars, but sashes would be impracticable here, and no feature earlier than the 18th century is visible in this west block, though the chimneys, of brick with sunk arcading, are of a late-17th-century form. The long back wing, projecting east, apparently represents the 17th-century house, but is much altered. It has four gables facing north and a Georgian door-hood, and some stopchamfered beams are visible internally. The west block contains mid-18th-century fire-places, door-frames, and panelling, and there is a decorated plaster ceiling over the staircase.
Across the road are thatched and weather-boarded farm-buildings, including a barn, probably of 17th-century date.
Fyning Manor was probably built in the second half of the 16th century. It is of three bays with an outshot aisle to the eastern. The south extension is probably of 18th-century date. The south front is timber-framed with rough-cast, on a stone base; the other walls are of stone. Recent additions have included the porch, baywindow, and a northern extension of the drawing-room. The chimney-stack between the two west bays may be an early-17th-century insertion, for the rafters are said to be blackened above the central bay, suggesting an open hearth originally. The wide fire-places have chamfered lintels and stone jambs. Stopchamfered ceiling-beams are exposed internally, those in the east bay apparently of slightly earlier type; carpenters' marks are visible on the timbers. Inside the entrance is a large stepped fireback dated 1594, which was found in the kitchen: its ornament includes a reversed shield with a falcon over a saltire (perhaps a blundered form of Michelgrove), and a crescent in the setting sun. There is a cellar under the east bay.
Fyning Cross is a thatched cottage of three bays with an outshot to the south-west. It dates probably from the second half of the 16th century. The timberframing, with brick nogging in wide panels, is on a stone base and exposed chiefly on the south-east front. Original ceiling-beams show on the first floor but are cased below. The staircase, with renewed treads, is in its old position between the front door and the stack. The chimney is modern.
Langley Court, a large stone-built house, incorporates a small Elizabethan house, of which some of the windows, in the centre of the present building, appear to be original.
MANORS
It seems probable that Rogate was originally part of Harting, and that it was given by William, Earl of Arundel, to Savaric son of Cane, ancestor of the Bohuns of Midhurst, or to Ralph son of Savaric, his son. Ralph's lands were divided after his death, in 1158, between his brothers Geldwin and Savaric.
Geldwin had the land in Harting and Westbourne (Burne) held by William de Chesney (Caisneto), Gernagod, Richard Ruffus, and Thomas de Aseville. (fn. 18) Apparently each of these estates became a separate manor in Rogate.
William de Chesney's land became known as the manor of ROGATE BOHUNT, held of the Bohuns of Midhurst: (fn. 19) Enjuger de Bohun, grandson of Geldwin, was in controversy with Richard Chesney in 1207 about land at Rogate. (fn. 20) The Chesney estates passed by the marriage of Maud, sister of William de Chesney, and William Sanzaver, to her son Ralph Sanzaver. (fn. 21) Ralph's son Hugh in 1229 was disputing the possession of a hide of land in Rogate with John de Chesney. (fn. 22) Hugh died about 1250, and his son Ralph in 1262 had a grant of free warren in his land of Rogate, then described as a hamlet in his manor of Bignor. (fn. 23) This land passed with Bignor manor to the Earls of Arundel. (fn. 24)
Henry, Earl of Arundel, made a grant of part of the manor in 1565 to—Turner, and in this conveyance it is called for the first time Rogate Bohunt. (fn. 25) In 1583 the earl's son-in-law, John, Lord Lumley, conveyed it with Rogate College on a lease for 10,000 years to Thomas Bettesworth of Trotton. (fn. 26) Thomas died seised of it in 1594. (fn. 27) On the death of his son and successor Sir Peter Bettesworth of Milland in 1635, (fn. 28) the manor passed to his fourth son Charles. (fn. 29) Charles held a court for the manor in 1638, but seems to have died in that year, for his father's trustee, John Bellamy, and widow Elizabeth, then wife of John Herris, sold the estate in that year to Humphrey Stewart. (fn. 30) Humphrey died in 1662 leaving it to his eldest son John Stewart, lord of the manor in 1684. John was succeeded before 1701 by Thomas Stewart who with his wife Abigail made a conveyance of the manor in that year. (fn. 31) Thomas Stewart assigned it in 1719 to John Reeves, who sold it in 1723 to Thomas Ridge of Portsmouth. It passed from him in 1729 to his eldest son Humphrey, and from him in 1732 to his brother Thomas (afterwards Sir Thomas Ridge). He became a bankrupt and the estate was sold in 1770 to William Richardson. Richardson became a bankrupt in 1781 and the manor was sold to Mr. John Utterson. He died in November 1804. Sir Charles Taylor, bart., purchased Rogate Bohunt, (fn. 32) and the estate was sold in 1866 by Sir Charles's son to Sir John Hawkshaw, who was the owner in 1875. (fn. 33)
The manor of ROGATE COLLEGE probably originated in part of the 6 hides held in 1086 by the clerks of St. Nicholas of Arundel. (fn. 34) In 1280 the Prior of Arundel leased land in South Harting and Rogate to William son of Henry de Westebroke, for which William was to do suit at the prior's court of Arundel or Rogate at the prior's choice. (fn. 35) The estate consisted in 1380 of land bringing in a rent of £4 10s., and was then granted by the prior to Richard, Earl of Arundel, (fn. 36) who refounded the priory as the College of the Holy Trinity of Arundel, regranting to the new foundation the land at Rogate. (fn. 37) The holding of the college at the Dissolution comprised rents of assize of tenants valued at £4 7s. 8d. yearly. (fn. 38) It was granted with the college in 1544 to Henry, Earl of Arundel, (fn. 39) and it afterwards became attached to the manor of Rogate Bohunt and followed the same descent.
Gernagod's holding later became known as the manor of WENHAM, described as a member of Harting in 1195, (fn. 40) and was held of the Bohuns of Midhurst. (fn. 41) Gernagan and his wife Basile gave to the Abbey of Durford Alwin Bulluc and his land. (fn. 42) Ralph son of Gernagan gave the abbey the tithes of his mill at Wenham, (fn. 43) and in 1195 land of Ralph Gernagan at Wenham was an escheat. (fn. 44) In 1263 Wenham belonged to Simon de Ferring and Amice his wife, who agreed with the Abbot of Durford to overlook an encroachment made by the abbot upon the moor near Durford, if permission could be obtained for Simon to have an oratory in his house at Wenham. Permission for this was obtained in November 1263, on condition that Simon and his wife should attend the parish church of Rogate four times a year. (fn. 45) In the time of Edward II John de Ferring granted a messuage and a carucate of land in Rogate to Richard de Ferring and Agnes his wife, and this land was in 1327 claimed by Henry Husee and his wife Isabel. (fn. 46) Henry and Isabel were apparently successful, for Henry died in 1332 seised of land in Wenham (fn. 47) which was settled in 1347 upon Sir Henry Husee, son of Henry and Isabel. (fn. 48) This land, afterwards known as the manor of Wenham, descended with Harting to Edmund Ford, (fn. 49) and was settled by him upon his only son Thomas on his marriage with Frances, daughter of John Knottesford. Thomas died before his father; his posthumous child also died, and Frances married Thomas Kyrll of Grays Inn. She and her husband, who held the manor for her life under the settlement, leased it in 1569 to Francis Blackwell. (fn. 50) It subsequently reverted to John Ford and Magdalen (sister of Thomas Ford) and was held by John when he died in 1583. (fn. 51) It was delivered in 1606 to John's son William, (fn. 52) but passed within a year to Edmund Ford second son of John, (fn. 53) who with his wife Mary conveyed it in 1607 and 1608 and 1618 to Peter and Benjamin Beconsawe. (fn. 54) Peter died in 1641 (fn. 55) and the manor was probably bought by George Duncombe, as in 1650 he conveyed it to John Stynt, (fn. 56) presumably on the marriage of George's son John with John's daughter Jane. (fn. 57) It was sold in 1692 by George, son of John, Duncombe and Martha his wife to Lewis Buckle, (fn. 58) and passed to his brother Christopher's son Lewis, who died in 1785, in whose family it remained until 1832. (fn. 59) It was then sold by the trustees of William Buckle, a lunatic, to George O'Brien, Earl of Egremont. (fn. 60) By a codicil to his will 7 November 1837 (fn. 61) the earl bequeathed 'the Rogate Estate' including Wenham manor to his third natural son Charles Wyndham Hive for life, with remainder to Charles's son George Hugh Wyndham. (fn. 62) Charles died in 1866 and George Hugh Wyndham was owner of the manor in 1876. (fn. 63) The manor passed to his son Sir Percy Charles Hugh Wyndham, who died in 1944.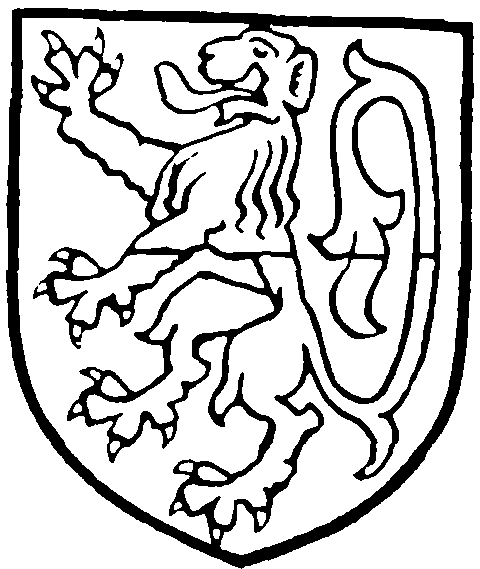 The overlordship of the manor of FYNING may have been given by one of the Bohuns of Midhurst to the abbey of Durford, for Fyning was said in 1421 to be held of the manor of Durford. (fn. 64) It probably originated in the land held in 1158 by Richard Ruffus, for half a hide in Fyning was given in 1229–30 by Nicholas son of Ruffus to Robert son of Walter for a rent of 7s., on condition that Robert son of Henry de Hurst should hold for his life half the land with the capital messuage, except two crofts lying upon La Tye, this half lying to the south of the road from La Rogate to Trotton. (fn. 65) A virgate of land and 30 acres of moor in Rogate were sold in 1311–12 by Robert de Fyning to William de la Rogate, and this was probably the land known later as the manor of Fyning held by the Camoys family, brought to them by the marriage of Ralph de Camoys and Elizabeth daughter of William de Rogate. (fn. 66) Thomas de Camoys died seised of the manor in 1421, (fn. 67) and it seems to have passed with Trotton to the Lewkenor family, by the marriage of Eleanor Camoys and Sir Roger Lewkenor. It then seems to have passed to a younger branch of the family, for in 1544 Edmund Lewkenor, (fn. 68) grandson of Sir Roger and Eleanor, died seised of the manor, leaving a son Thomas, aged 6. (fn. 69) Thomas settled the manor in 1563 upon himself and his wife Bridget, and they sold it in 1572 to Peter Bettesworth. (fn. 70) Peter was succeeded at Fyning by his second son Richard Bettesworth, (fn. 71) who died in 1613. (fn. 72) He was succeeded by a son Peter, whose only son Peter died in his father's lifetime. (fn. 73) The younger Peter left two daughters, eventually coheiresses of their grandfather, Elizabeth who died without issue, and Edith who married in 1640 Thomas Bilson of Mapledurham. (fn. 74) Edith and Thomas made a conveyance of the manor in 1647 to his brother Leonard Bilson, (fn. 75) whose grandson Leonard died in 1715 and left his Rogate estates to Thomas son of Thomas Bettesworth of Fyning on condition that he took the name of Bilson. (fn. 76) He was grandson of Susan, who was either sister (fn. 77) or daughter (fn. 78) of Thomas Bilson (husband of Edith) and had married Thomas Bettesworth, great-grandson of Richard Bettesworth of Fyning. (fn. 79) Thomas Bettesworth Bilson made a conveyance of Fyning manor in 1731, (fn. 80) and died in 1754, (fn. 81) having bequeathed his estates to Thomas Bettesworth of Chithurst. (fn. 82) Thomas had no children, and Fyning was sold in 1757 by his sisters to John Unwin, (fn. 83) who may have been a trustee for Sir Thomas Ridge, who is said to have bought the manor from the coheirs of Thomas Bettesworth. (fn. 84) Richard Ridge was holding the manor in 1783 and 1796; (fn. 85) Thomas Roger Ridge and Louisa Eames his wife dealt with the manor in 1817, (fn. 86) and on his death in 1828 it passed to his son Thomas John Ridge. (fn. 87)
In 1875 it was held by Samuel Moody. (fn. 88)
The land which Thomas de Aseville held of Geldwin son of Savaric in 1158 apparently passed to the Abbey of Waverley. By an undated deed, probably of the early 13th century, William, Abbot of Waverley, gave to Robert de Rogate all the land which the abbot and convent held in Rogate and Dudebergh, to hold at a rent of 73s. 4d. (fn. 89) Robert in 1202 obtained a hide of land in Rogate from William Burne. (fn. 90) It may have been his son Robert de Rogate, king's serjeant, who in 1264 was exempted from serving on juries, (fn. 91) and four years later obtained, jointly with Henry Husee, a grant of a yearly fair at Rogate on the eve, day, and morrow of St. Bartholomew. (fn. 92) In 1271 Robert de Rogate had a grant of free warren, (fn. 93) and in 1273 he obtained licence to build a mill at Rogate. (fn. 94) Robert son of Robert de Rogate was killed by Thomas de Springham in 1310, (fn. 95) and in 1316 William de Rogate held the manor. (fn. 96) With the rest of William's land Rogate passed to Ralph de Camoys and his wife Elizabeth, probably William's daughter, (fn. 97) and they in 1326 obtained a confirmation of the fair and free warren granted to Robert de Rogate. (fn. 98) The manor then passed with Trotton (q.v.) in the Camoys family until 1377, (fn. 99) and probably became attached to Fyning manor, as that manor was said in 1614 to be held of the manor of Waverley. (fn. 100)
Land in Rogate was held by the Husees of Harting and descended with that manor. The fair at Rogate, granted in 1268 to Robert de Rogate and Henry Husee jointly, became attached to Harting Combe. This woodland is first mentioned in 1290, (fn. 101) and belonged to Harting manor. When the Husee estate was divided between the Brays and Lovells, Harting Combe was held in common. (fn. 102) The fair at Rogate was divided between the Fords and Fortescues and in 1590 Edmund Ford sold to Edward Caryll with West Harting manor his share of the fair, and land called Harting Combe, and a piece of meadow with a watermill built on it in Hawberden (fn. 103) (Haben) with all forges and ironworks thereupon. (fn. 104)
Harting Combe was sold by the Carylls to—Paice of Petersfield, who left it to his son Thomas Paice of Midhurst. By him it was sold to Thomas Samuel Jolliffe of Trotton, with which manor it continued to descend.
Besides the site of the abbey of Durford, given by the founder, Henry Husee, successive abbots acquired other estates in Rogate from other donors. Gernagan and his wife Basile gave Alwin Bulluc and his land, (fn. 105) and Henry Husee the younger gave all his wood on the west of the road from Durford to Styngel. (fn. 106) The abbot's principal estate here was acquired in 1270 from Sir Thomas Paynel, who had purchased the rights of John son of Franco de Bohun for 30 marks and a rent of a red rose at Midsummer. This grant was confirmed by the overlord John de St. John, who retained the rent of a rose. (fn. 107) In the time of Edward I the abbot held 2 virgates in Rogate, (fn. 108) and in 1341 the ninths of corn and wool on his property were worth 26s. 8d. (fn. 109) At the Dissolution the demesne land of the abbey was valued at £12, (fn. 110) and the farm of the manor of Rogate at £15 10s. 3d., besides perquisites of the courts. (fn. 111)
In 1537 the manor of Rogate was granted with the site of the abbey to Sir William Fitz William in tail male. (fn. 112) He was created Earl of Southampton in 1537 and died without legitimate issue in 1542. (fn. 113) The manor reverted to the Crown. A steward was appointed in 1545, (fn. 114) and the manor was granted, with many others, in 1551 to Sir Thomas Tresham and George Tresham. (fn. 115)
The site of the abbey had been granted in 1544 to Sir Edmund Mervyn, (fn. 116) who settled it in 1549, as 'the manor of Upperton Durford', (fn. 117) upon himself and his wife Elizabeth. (fn. 118) In 1555 Henry Mervyn, son of Sir Edmund by his second wife, (fn. 119) was required to show his title to the site of the monastery, (fn. 120) and in the same year he was licensed to settle the capital messuage and lands on himself in fee simple. (fn. 121) About the same time Elizabeth widow of Sir Edmund was disputing with Edmund Ford of Harting the possession of certain land which had belonged to the abbey. (fn. 122) Henry Mervyn conveyed the site to John Bellingham in 1610, (fn. 123) and 3 years later joined with Sir Edward Bellingham and others in selling it to Thomas Bilson, Bishop of Winchester. (fn. 124) There appears to have been some irregularity in the sale, for in 1616 Bishop Bilson was required to show his right to it. (fn. 125) The estate subsequently descended with Fyning (q.v.) and under the will of Leonard Bilson passed to Henry Bilson Legge, who was succeeded in 1764 by a son of the same name, who became Lord Stawell on the death of his mother in 1780. (fn. 126) He died in 1820, and his cousin the Rev. William Legge held the 'manor' in 1844. (fn. 127) The Rev. Alfred Legge owned the estate in 1887, as did the Rev. Augustus George Legge in 1895. (fn. 128)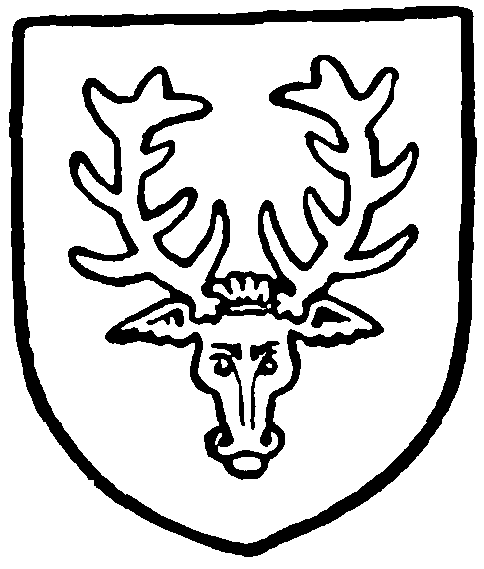 CHURCH
The parish church of ST. BARTHOLOMEW (fn. 129) stands in the middle of the village at the south-east angle of the cross-roads; it consists of a chancel flanked by a chapel on the north and another, now used as an organ chamber, on the south, a nave with north and south aisles, a north porch, a west tower, and a vestry north of the tower. It is built of local sandstone ashlar and roofed with tile, the upper part of the tower and its small broach spire being shingled. The nave and aisles were originally of the late 12th century, the chancel and south chapel of the 13th, the north chapel seems to have been added in the 14th; in the 19th the nave and aisles were extended westwards, the exterior walls of the chapel and aisles were rebuilt, the porch moved, the tower and vestry added, and practically every stone of the ancient work scraped or retooled.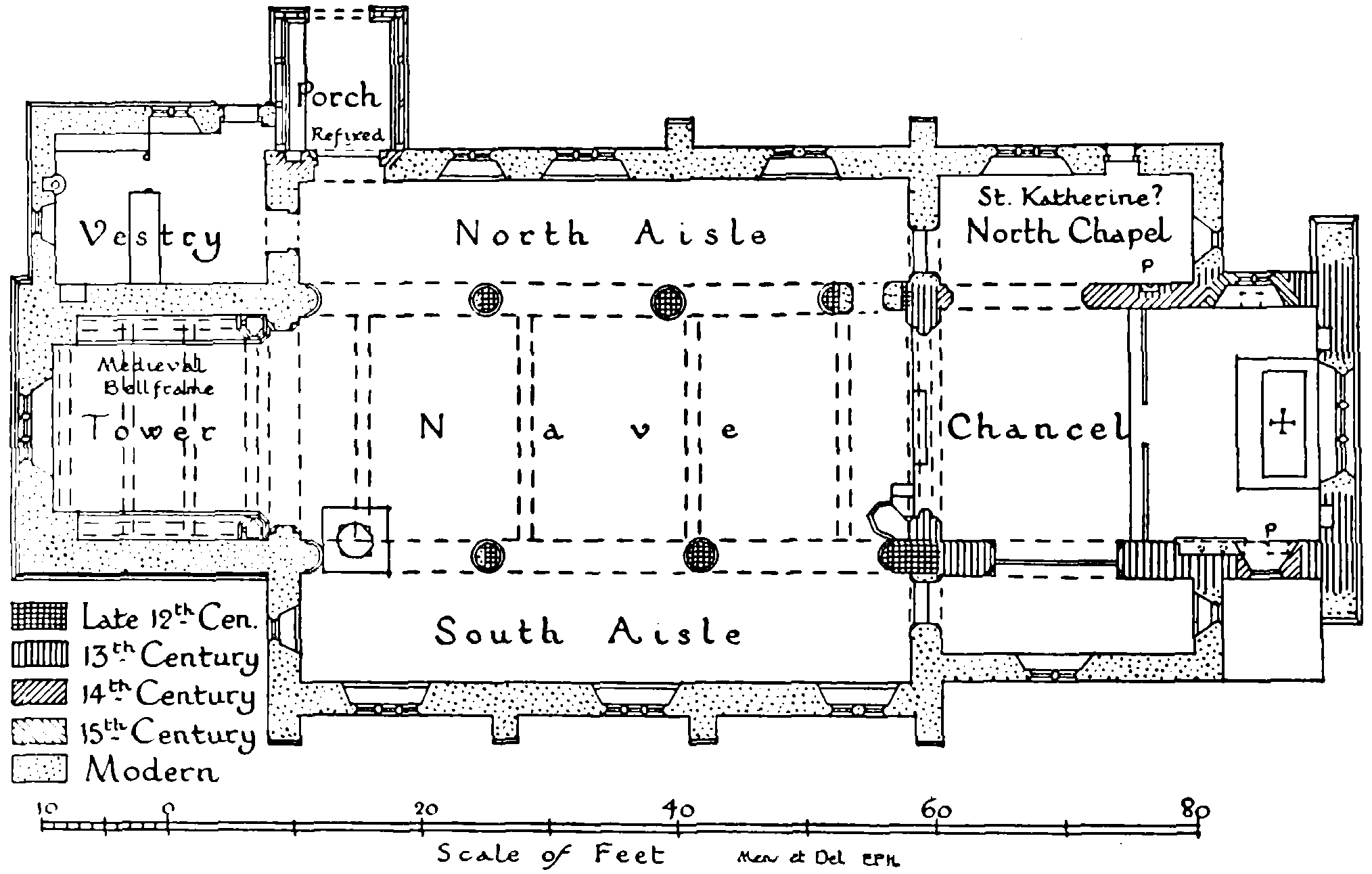 The chancel has modern buttresses, each with one sloping offset, to the north and south of the east wall; the east window (modern) is of three lights with tracery in 14th-century style, replacing a window of three lights with reticulated tracery of cusped foils, shown in Grimm's drawing of 1791. (fn. 130) In the east wall are two recesses, credences or reliquaries, that on the south with a pointed arch, that on the north square-headed with door rebates; a third, like that on the south side, is in the north wall; the piscina in the south wall is of the same design (the drain is modern); west of this are triple sedilia with plain pointed arches of equal height carried on corbels; this work is all of the 13th century. Over the piscina is a window of one light with ogee cinquefoiled head, of the 14th century; opposite to it is a square-headed window of two trefoiled lights of the 15th century, shown in Grimm's drawing. The arch now leading to the organ chamber is pointed, of two chamfered orders, resting on semi-octagonal responds with simple caps and bases; this is either ancient work much restored, or modern. The arch leading to the north chapel (14th-century, but retooled) resembles it, but the arch dies away into the responds. The chancel arch (13th-century, but enlarged in the 19th) is of two orders, pointed, resting on moulded imposts and jambs of the same section as the arch. The roof is modern.
The north chapel has in the south wall a piscina of the 13th century with pointed trefoil head, in the east wall a modern window of one light with trefoil head, and in the north wall a square-headed doorway and a square-headed three-light window, both modern. The arch leading to the aisle, also modern, is pointed, of one order resting directly on chamfered jambs. The organ chamber resembles the north chapel save that it has no outer doorway and no piscina.
The south arcade of the nave is of three bays with pointed arches of two chamfered orders; the cylindrical piers have moulded bases and caps with square abaci (the cap and abacus being of one stone), the responds have the form of half-piers save that the abacus of the eastern is semi-octagonal; this work is originally of the late 12th century, but it has been much restored, and the west arch and respond are entirely modern. East of the north arcade is a narrow opening with pointed arch of one order resting, without imposts, on square jambs, evidently inserted in the 19th century in what was formerly a long respond. The arcade of three bays resembles that on the south, but the easternmost arch is of one order and semicircular (possibly originally opening into a transeptal chapel); the west arch and respond are modern.
The tower arch (modern) is pointed, of two orders resting on responds of like section with no imposts. The nave roof (much restored) has ancient tie-beams with braced king-posts and modern trussed rafters.
The south aisle has four buttresses, each with one sloping offset, on the south wall; between them are three square-headed windows of three lights each, all modern. The north aisle has two buttresses and two windows like those on the south, a window of two lights of similar design, and, west of all, the north doorway, having a semicircular arch of two chamfered orders resting directly on jambs of similar section, perhaps 13th-century, but retooled and refixed. West of it on the outside is a holy water stoup with cinquefoil head, of the 15th or 16th century, also refixed.
The porch, much restored, is of wood on a stone base; originally it stood west of the nave but was refixed here in the 19th century.
The tower is wholly modern and has a square-headed window of three cinquefoil lights in the west wall. Formerly standing in the west end of the nave, but rebuilt here, is a massive medieval bell-frame; four puncheons, now resting on modern stone bases, are tied together by timbers at the level of the nave wall-plate, and also by intermediate timbers on the north and south sides, and there are four massive transverse arch braces.
The vestry is entirely modern; the communion table is perhaps of the 17th century; the font is of the 19th.
There are three bells, one of 1607, the other two, by Brian Eldridge, 1625 and 1641 respectively. (fn. 131)
The old communion plate was stolen in 1821. (fn. 132)
The registers begin in 1558.
ADVOWSON
It seems probable that the church of Rogate was granted with that of Harting by Roger, Earl of Shrewsbury, to the Abbey of Séez, for the abbot held both churches towards the end of the 12th century, (fn. 133) and in 1195 sold the advowson of Rogate Church with that of Harting to Henry Husee, reserving a rent of 100s. (fn. 134) Henry Husee, the second of that name, gave the church of Rogate to the Abbey of Durford, with the consent of his wife Cecily and his son Henry. This grant was confirmed by Bishops Seffrid II, Simon de Welles, and Richard Poor; by Hubert, Archbishop of Canterbury; and by the Dean and Chapter of Chichester in 1265. (fn. 135) The rectory was valued in 1291 at £10 13s. 4d. and the vicarage at £5 6s. 8d. (fn. 136) In 1535 the vicarage, served by John Beston, canon (of Durford), was worth £10 4s. 8d. clear, (fn. 137) and the rectory was farmed at £6 6s. 8d. (fn. 138)
The advowson remained in the possession of the abbots of Durford until the Dissolution. (fn. 139) It was granted in 1537 to Sir William FitzWilliam, Great Admiral of England, afterwards Earl of Southampton, in tail male, (fn. 140) but reverted at his death in 1542 (fn. 141) to the Crown, in which it has since remained.
The rectory was granted with the advowson to Sir William FitzWilliam, and in 1549 to Thomas Gargrave and William Adam. (fn. 142) It subsequently passed to Richard Bettesworth of Fyning, and descended with that manor. (fn. 143)
In August 1646 the livings of Rogate and Terwick were united for a time, since the combined emoluments were only £80. (fn. 144)
CHARITIES
John Elger by his will dated 4 August 1923 bequeathed to the vicar and churchwardens of Rogate £100, the income to be expended in the maintenance of the churchyard.
Mary Dorothy Lane on 18 October 1927 conveyed to certain trustees a piece of land containing 5 a. 15 p. in this parish upon trust as public ground for the purposes of the Recreation Grounds Act, 1859, with the sum of £234 12s. 1d. 4 per cent. Consolidated Stock upon trust to utilize the income for the upkeep and improvement of the recreation ground and for purchasing and replenishing any sports equipment.
Margaret Simpson by indenture dated 1 March 1892 gave to the vicar and churchwardens £100, upon trust to pay the income to the vicar of Rogate to be applied by him as he might deem expedient towards maintaining the churchyards belonging to the parish church of St. Bartholomew, Rogate.
John Souter by will dated 3 December 1886 gave to the vicar and churchwardens of Rogate £100 upon trust to divide the income thereof upon Easter Monday amongst such necessitous widows and orphan children resident in the parish as they deem worthy. The testator also gave them a further sum of £100 upon trust to apply the income as occasion may require towards the keeping in good repair the nave of the parish church and the churchyard of Rogate. The annual income of each charity amounts to £2 10s.