Pages 105-117
A History of the County of Sussex: Volume 5 Part 1, Arundel Rape: South-Western Part, Including Arundel. Originally published by Victoria County History, London, 1997.
This free content was digitised by double rekeying. All rights reserved.
BARNHAM
The parish of Barnham, well known in the 20th century for its market gardens, lies on the coastal plain north-east of Bognor Regis. (fn. 1) The ancient parish was 872 a. in area. Five detached portions to the south-east comprising 31 a. were added to Yapton between 1882 and 1891, so that in 1971 Barnham had 340 ha. (841 a.). (fn. 2) The eastern tip of the parish and a salient of Barnham into Yapton in the south-east were transferred to that parish in 1985, and at the same date a block of land comprising parts of Yapton, Walberton, and Eastergate was added to Barnham. (fn. 3) The present article deals with the parish as constituted before 1985.
The boundary of the ancient parish partly follows streams. Its configuration seems to show that Barnham once formed part of Eastergate or of a larger area also including Yapton.
The parish lies chiefly on brickearth, with alluvium in the valleys of the streams that separate it from Eastergate and Yapton. (fn. 4) The former was called the Walberton brook in 1910 (fn. 5) but is more usually the Barnham brook; it seems likely to have been tidal in historic times (fn. 6) and was probably the site of the 40 a. of arable which lay uncultivated in 1341 because of flooding. (fn. 7) There were several ponds in the parish in the 18th and 19th centuries. (fn. 8) Land along the Barnham brook in the north part was liable to flooding, sometimes severe, in the later 20th century. (fn. 9) Despite the proximity of Barnham station in Eastergate in 1993, only a small part of the parish was then built up, the rest being divided between agriculture and market gardens.
Woodland belonging to the manor yielded three swine in 1086. (fn. 10) A grove called 'Chelewardesly', perhaps near the later Choller Farmhouse in Walberton, supplied timber for repairing Barnham manor house and for other purposes in 1253, (fn. 11) and closes called the Woodread mead and Middlewood and Littlewood reeds mentioned in the 16th century and early 17th seem from their names to be assarted land; the close of 60 a. called the Great wood in 1558, however, was perhaps then still woodland. (fn. 12)
Free warren was granted to the lord of the manor in 1253. (fn. 13) The close east of Barnham Court and north of the church was called the Warren c. 1762 and later. (fn. 14)
The parish is traversed at its north end by an early route from Chichester to Cudlow in Climping, the modern Yapton Road. (fn. 15) At the point where it crossed the Barnham brook on the boundary between Barnham and Eastergate there was a bridge by 1317; (fn. 16) it was called Barnham bridge in 1649, when the inhabitants of the two parishes shared the cost of its repair. (fn. 17) The road's alignment was altered when the railway embankment was built c. 1846. (fn. 18) Other roads in the parish which linked the various settlements or gave access to the fields included Church, Brook, Leys, (fn. 19) and Hill lanes. Parts of Church and Hill lanes are sunk between higher land on either side. (fn. 20)
Buses passed through Barnham between Chichester and Littlehampton by 1927 and between Slindon and Bognor Regis by 1934. (fn. 21) Both services continued in 1965, though the former then ran only to Yapton. (fn. 22) Chichester, Slindon, Bognor Regis, and Arundel were accessible by bus in 1992.
The Portsmouth-Arundel canal was opened through the centre of the parish in 1823, (fn. 23) crossing the Barnham brook and the Lidsey rife in the west by embankments, while south and south-east of the village it was crossed itself by two swing bridges, one inscribed 'Stewart Bridge 1820'. (fn. 24) After the closure of the canal in the mid 19th century the company's liquidators cut one embankment at the point where it crossed the Barnham brook but the vestry enforced the building of a bridge instead to preserve the right of way. (fn. 25)
The Chichester-Brighton railway line crosses the northern tip of the parish. Barnham was served from 1846 by stations at Yapton and at Woodgate in Aldingbourne; at the opening of the Bognor branch railway, which also runs through the parish, in 1864 they were replaced by the station named Barnham in Eastergate. (fn. 26)
A hoard of Bronze Age celts was found during the construction of the Bognor railway in the north-west part c. 1864. (fn. 27) Barnham Court and the parish church lie slightly to the east, towards the centre of the parish and away from the modern main road. There are a few houses or sites of houses nearby, and the close east of Barnham Court and north of the church may show evidence of dwellings otherwise unrecorded. (fn. 28) Other houses flanked Church Lane, leading north-east from the church, c. 1762, (fn. 29) and since many of them belonged to manorial tenements and occupied parallel plots that pattern was probably medieval. (fn. 30) The only pre-19th-century houses in the area described apart from Barnham Court are Manor cottage, north-east of the church, apparently 18th-century and with a red and blue brick front dated W E M/1784 (for William and Elizabeth Murrell), (fn. 31) and perhaps the smaller cottage called Curacoa in 1992. About 1762 there had been c. 9 others. Two ponds then existed nearby, and later there were as many as seven in the same area.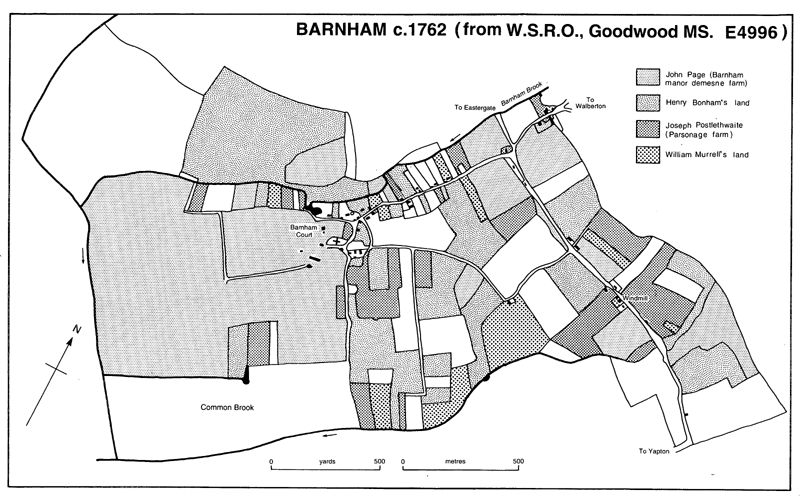 Parsonage Farmhouse beside the northern boundary of the ancient parish also presumably occupies an early site, (fn. 32) but there is no indication of medieval settlement along the Chichester-Cudlow road in the north-east; Luccombe cottage by the junction with Church Lane, of flint with brick dressings, is apparently 18th-century, and the c. 8 other buildings shown c. 1762 apparently represented recent inclosures from waste land. (fn. 33)
From 19 houses in 1801 the total rose to 30 in 1841, 37 in 1871, and 58 in 1901. (fn. 34) The opening of the railway station in Eastergate in 1864 caused an immediate increase, five cottages being built by the following year, (fn. 35) and a terrace of four flint and brick cottages was put up at the south end of Church Lane in 1890 for the farm labourers of C. F. Field. (fn. 36) A few larger houses were built at the north end of Church Lane in the period 1890-1910, (fn. 37) and by the early 20th century the junction of Church Lane and Yapton Road, with the inn, school, parish hall, and shop, had become the new focus of the parish. Suggestions for large-scale development to match that in Eastergate, however, were never taken up. (fn. 38) After 1918 several pairs of brick houses were erected on new county council smallholdings in Yapton Road and Hill Lane, (fn. 39) and in 1948 a small estate of council houses was built at the top of Church Lane. (fn. 40) Other individual houses and bungalows were built in the 20th century in both Yapton Road and Church Lane, some farm buildings in the latter also being converted as dwellings; north-west of the church, meanwhile, a few houses were put up beside the nearby orchards. There was further development on either side of Lake Lane north of the railway after 1957, (fn. 41) including an area of Arun district council grouped housing for the elderly. (fn. 42) In 1994 houses were being built on the site of Barnham Nurseries' 'old nursery' in Yapton Road. (fn. 43)
Twelve villani and 12 cottars were enumerated on Barnham manor in 1086, (fn. 44) but 14th- and 16th-century tax lists do not distinguish Barnham vill from Walberton. (fn. 45) Thirty-nine adult males signed the protestation in 1642. (fn. 46) There were 16 families in 1724. (fn. 47) The population in 1801 was 124, falling to 112 in 1811 and fluctuating thereafter until 1861 between that figure and 173. From 1861, with the opening of Barnham station, there was a steady rise to 255 in 1901, 428 in 1951, 557 in 1971, and 1,222 in the altered area of the parish in 1991. (fn. 48)
An inn of unknown site was recorded in 1686 (fn. 49) and a victualler in 1811. (fn. 50) The Murrell Arms at the junction of Church Lane and Yapton Road was opened in 1866. (fn. 51)
A men's reading room or club room was opened in or shortly before 1890, when lectures were being held there; it was presumably the same as the corrugated iron building next to the former poorhouse in Yapton Road which was presented to the parish by W. A. Hounsom of Yapton. (fn. 52) The parish hall behind it was put up in 1931. (fn. 53) A Barnham choral society existed by 1929. (fn. 54) In 1965 there were several local groups including a folk dance club, (fn. 55) and in 1992 the hall was used by 18 organizations. (fn. 56) It belonged by 1965 to the parish council. In the same year the county council managed a library there with voluntary help, which was open twice a week. (fn. 57)
A Barnham sports club flourished in 1935, (fn. 58) but no sports were played in the parish in 1992. (fn. 59)
Mains water was laid on, presumably by the Bognor Water Co., in part of Yapton Road by 1912, (fn. 60) and was available in Church Lane in 1933. (fn. 61) By 1912 gas mains had been laid by the Bognor Gas Co. in Yapton Road under an Order of 1904. (fn. 62) Electricity was supplied at least to Church Lane by 1933 (fn. 63) and more generally by 1938; (fn. 64) the only street lighting in 1965, however, was a single lamp under the railway bridge. Main drainage had been put in by 1965. (fn. 65) A sewage treatment works beside the former canal in the west end of the parish existed by 1981. (fn. 66)
MANOR AND OTHER ESTATE.
Alnoth, a free man, held Barnham in 1066, and William held it of earl Roger in 1086. (fn. 67) Perhaps from that date (fn. 68) and certainly from 1230, when William de St. John had it, (fn. 69) it descended as a member of Halnaker in Boxgrove (fn. 70) through Robert de St. John (fl. 1250-3), (fn. 71) John de St. John (fl. 1275; d. 1301), (fn. 72) and thence in the direct line through John (d. 1329), (fn. 73) Hugh (d. 1335), (fn. 74) and Edmund (d. 1347). (fn. 75) In 1253 it was leased to Master Richard, king's cook, and another for 14 years, and in 1299 to the company of the Bonsignori of Siena for 16 years. (fn. 76) It continued to descend with Halnaker (fn. 77) until at the death of Thomas Poynings, Lord St. John, in 1429 it passed under a settlement of 1416 to (Sir) John Paulet, (fn. 78) husband of his granddaughter Constance. John's son and namesake succeeded his father in 1437, and at his death in 1492 (fn. 79) was succeeded by his son, Sir John (d. 1525), (fn. 80) whose son William Paulet, created in 1539 Lord St. John, exchanged the manor c. 1542 to the Crown. (fn. 81)
In 1570 the reversion of Barnham was granted to William Howard, Lord Howard of Effingham. (fn. 82) Courts were held in the names of Agnes Browne, widow, and William Browne in 1593 and of William Browne alone in 1596. (fn. 83) Sir William Browne of Loseley (Surr.) had the manor in 1608; (fn. 84) in 1629 he conveyed it to Sir William Morley (fn. 85) (d. 1658 or 1659), (fn. 86) after which it once again descended with Halnaker, from 1765 in the Lennox, later Gordon-Lennox, family, dukes of Richmond. (fn. 87)
Barnham farm, the manor demesne, then 201 a., was sold in 1700 to the Revd. Thomas Musgrave (fn. 88) (d. c. 1725), whose niece and heir Elizabeth married Ogle Riggs. (fn. 89) In 1748 they conveyed the farm to John Page, M.P. for Chichester (d. 1779), (fn. 90) whose daughter Frances married George White Thomas, M.P. (fn. 91) After his death in 1821 it passed to their daughter, also Frances (d. 1835), and her husband Lt.-Genl. John Gustavus Crosbie (d. 1843). (fn. 92) About 1848 the estate had 265 a. within the parish. (fn. 93) John's son and heir Charles sold it apparently in 1853 to the tenant Richard Cosens, (fn. 94) members of whose family had held the lease since 1756 or earlier; (fn. 95) the same or another Richard Cosens had himself owned 159 a. in the parish before c. 1848. (fn. 96)
After Richard's death in 1871 (fn. 97) Barnham Court farm was sold apparently to George and Arthur Woodbridge. (fn. 98) The land seems to have been divided between Arthur Woodbridge and James Harrison before 1899, and c. 1910 Woodbridge and Joseph Harrison each owned a farm called Church farm, respectively of 166 a. and 187 a. By 1915 Harrison was the only large landowner. In the early 1930s the estate belonged to a Mrs. Kittow; (fn. 99) in 1934 she sold it to William Forse, after whose death in 1952 it passed to his son John (d. 1989); (fn. 100) John's son William retained it in 1993.
The medieval manor house of Barnham manor mentioned from 1253 (fn. 101) seems likely to have stood either on the site of its successor Barnham Court or in the close east of it. In 1337 it had a dovecot and two gardens. (fn. 102)
Barnham Court (fn. 103) is of red brick and has a north-east front of five bays, with two superimposed orders of pilasters and prominent entablatures of cut and moulded brick, above which there are shaped gables surmounted by small pediments alternately segmental and triangular. The pedimented brick doorcase has Doric pilasters against a rusticated surround. The plan is double-pile with four very tall chimneystacks along the side walls and a massive oak staircase in the centre of the rear block. The original entrance was probably across the end of the south-eastern room, since divided.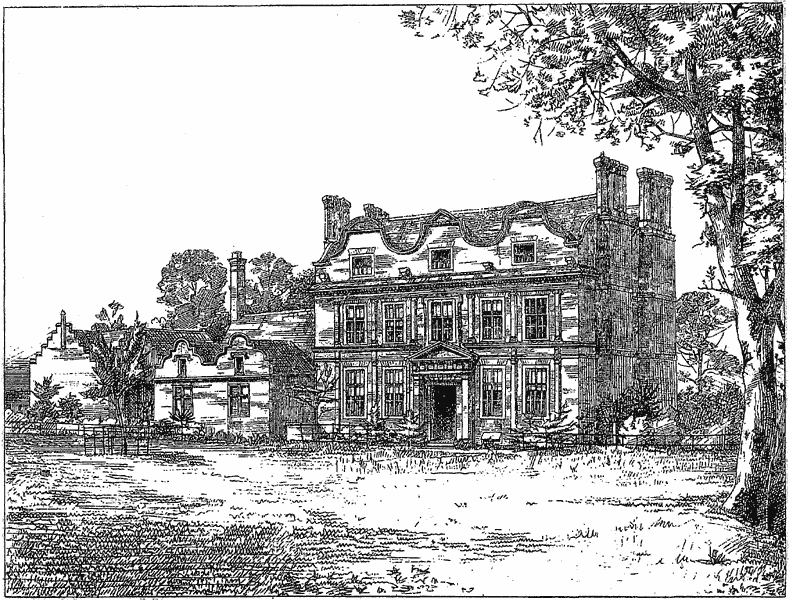 Stylistically the building belongs to the group of 'Artisan Mannerist' houses of the mid 17th century, other examples of which are Albourne Place, Ford Place, and Kew Palace near London; (fn. 104) the same bricklayer was perhaps responsible for both Barnham Court and Kew Palace. (fn. 105) Since the lord of the manor then lived elsewhere, Barnham Court was clearly built by a lessee, presumably someone with City of London connexions, like the builders of other such houses. (fn. 106) Nothing, however, is known of him or of the date of the building. (fn. 107) In 1670 it was assessed for 12 hearths. (fn. 108)
For most of its history Barnham Court has been a farmhouse rather than a gentleman's house. (fn. 109) The interior was remodelled in the early 19th century, and the single-storeyed 17th-century service wing abutting the south-eastern side of the house was extended upwards and south-eastwards in matching style at the same period. The present dining room, formerly the kitchen, was refitted in the 20th century with 17th-century-style panelling and a moulded plaster ceiling.
A possibly 16th-century barn south of the house, c. 150 ft. (46 metres) long with a queen-post roof and two lateral entrances, was demolished in the 1960s. (fn. 110)
About 1762 an avenue of trees ran northeastwards from the entrance front of the house. (fn. 111) A small formal garden with crisscrossing paths was laid out behind the building in the 19th century; (fn. 112) tall hedges of box and yew survived in 1916 (fn. 113) but most had gone by 1992. Land to the north between the house and the Barnham brook, including former marlpits, (fn. 114) was laid out as a wild garden in the late 1930s, a pond north-west of the house being extended southwards in the 1970s to surround a high island approached by a bridge from the east. (fn. 115)
The RECTORY estate, which belonged to Boxgrove priory from the late 13th century or earlier, (fn. 116) in 1324-5 had a house, two barns, 48 a. of arable, and 3 a. of meadow, besides free tenants. (fn. 117) After 1440 it also included all the vicarial tithes and glebe. (fn. 118) A portion of tithes descended with Bilsham manor in Yapton between 1568 and 1727. (fn. 119) After the Dissolution the reversion of the estate was conveyed in 1537 to Sir William Fitzwilliam, (fn. 120) created in the same year earl of Southampton (d. 1542), (fn. 121) but by 1566 the rectory had passed to John Standen and Nicholas Knight, (fn. 122) then or later Standen's son-in-law. (fn. 123) After Nicholas's death in 1584 his son John (fn. 124) and others conveyed it in 1587 to John Tilly, (fn. 125) apparently the tenant, (fn. 126) who died in 1596 or 1597. (fn. 127)
Later members of the Tilly family to have the estate were John (fl. 1643), (fn. 128) John (fl. 1648-63), (fn. 129) Mary (fl. 1673), and the second John's sons George (fl. 1680-4; d. by 1695) and Samuel (fl. 1680-1701), who owned it jointly with Edward Madgwick. In 1695 it was described as a house and 90 a. (fn. 130) In 1701 Samuel and Edward conveyed it to William Madgwick. (fn. 131) A Mr. Madgwick was described as impropriator in 1724, (fn. 132) and William Madgwick in 1758. (fn. 133) In 1762 Edward Madgwick conveyed the estate to Joseph Postlethwaite, (fn. 134) occupier of Parsonage farm (fn. 135) in succession to his father Henry (d. 1730). (fn. 136) By 1770 Joseph had been succeeded by his son and namesake, (fn. 137) after whose death 1824 X 1827 the farm descended to his daughters Mary Ann, wife of Thomas Tourle, and Susannah, wife of John Rickman, as tenants in common. (fn. 138) By 1849, when the farm had only 8 a. in the parish, they had been succeeded by Joseph Legg Postlethwaite and John Joseph Tourle, described as joint owners, who at the commutation of tithes in that year received a rent charge of £302 10s. (fn. 139) A 'Mr. Rickman', perhaps W. C. Rickman, later patron of the living, was described as lay rector in 1865. (fn. 140)
The front range of Parsonage Farmhouse is early 17th-century, with timber-framed walls on a brick plinth; in 1648 the building had a parlour, a hall, and various chambers, and in 1730 there were a study, several chambers, and garrets. (fn. 141) A service wing was added to the northwest, probably in the early 18th century. (fn. 142) The walls of the older range were largely replaced in brick and flint in the 18th century, the front wall was rebuilt in chequered brick in the early 19th, and the Lutyens-style porch with square wooden piers was added in the 20th.
John Bonham Smith had 225 a. in Barnham in 1747 of which at least 175 a. had passed by c. 1762 to his son and heir Henry Bonham. The latter estate, which included Manor cottage in Church Lane, later belonged to John Woods. (fn. 143) Joseph Woods (d. 1800) settled it on his granddaughters Elizabeth and Maria James. (fn. 144) It was presumably the farm of 146 a. occupied by Joseph Murrell in 1794, (fn. 145) and seems to have passed to the dukes of Richmond, who c. 1848 had Manor cottage and 123 a. in the parish, divided into two holdings. (fn. 146) From 1869 or earlier that land formed a single farm of 168 a., (fn. 147) which in 1919-20 was bought by West Sussex county council for smallholdings. (fn. 148)
The yardland called Borham in 1086, which a free man had held in 1066 and which Morin then held of earl Roger, (fn. 149) may have been in Barnham; it is not otherwise recorded.
In the mid 18th century and later Shipley and West Dean churches and St. Bartholomew's church, Chichester, had glebe lying within the parish. (fn. 150)
ECONOMIC HISTORY.
Agriculture.
Arable fields named in the Middle Ages were la Rude, (fn. 151) Hayley, (fn. 152) and Northfield. The last named perhaps lay east of Church Lane, (fn. 153) and from the topography seems likely to be the same as Hill field mentioned in the 17th century. (fn. 154) Town and East fields recorded in 1543 (fn. 155) have not been located. The instruction to all manor tenants to repair fences (clausur') in the arable fields in the same year indicates that at least partial inclosure had taken place. (fn. 156)
Crops grown in 1341 included flax and hemp. Arable farming was then the chief land use, the ninth of sheaves being worth nine times those of fleeces and lambs together. (fn. 157) In the 17th and 18th centuries wheat was the main crop, others being barley, vetches, peas, oats, and tares. (fn. 158) A rotation of wheat, barley, and peas and vetches with or without oats may be indicated in the 17th century. (fn. 159) Clover was grown by 1713. (fn. 160)
A common meadow called the Long mead was mentioned from 1298, (fn. 161) and geese and ducks were prohibited from feeding in the common meadows in 1543. (fn. 162) The common brooks mentioned from 1543, perhaps the same, evidently lay in the southern tip of the parish. In that year they were ordered to be protected by a bank on all sides. (fn. 163) Tenants of the manor had pasture rights there for small numbers of cattle from the late 16th century. (fn. 164)
What was called the 'common brook of meadow or pasture' in 1747 seems likely to have been the same land. The nine tenants who had rights there agreed in that year to mow only part of it in future, and to separate the two sections by a ditch and fences. (fn. 165) The section that remained meadow was 72 a. in area c. 1762. (fn. 166) About 1848 five landowners had between 1½ and 27½ beast leazes, i.e. rights of pasture, in the common brook, then 84 a. (fn. 167) The brook was inclosed in 1853 under the General Inclosure Act, Richard Cosens' executors receiving 31 a., Charles Crosbie 21 a., the duke of Richmond 25 a., and the two other commoners smaller areas. (fn. 168)
Land along the Barnham brook in the northwest was perhaps always in severalty. The manor demesne farm had 20 a. of meadow in 1086 (fn. 169) and larger amounts later: 50 a. in 1302, (fn. 170) 29 a. in 1337, (fn. 171) 40 a. in 1687, (fn. 172) and c. 100 a. in 1784. (fn. 173) Other landowners had smaller pieces in the Middle Ages, for instance the chantry estate and the rectory. (fn. 174) At least one estate based outside the parish had meadow within it: the Middleton manor demesne farm, which had 3 a. in 1606. (fn. 175) In the 17th century and later meadow on Barnham manor demesne farm included the Tithing and Chantry meads, afterwards called the First and Farthest tithing meadows (8 a.), along the Barnham brook; (fn. 176) the first hay crop from each belonged respectively to the rectory estate and another farm by 1783. (fn. 177)
Sheep and pigs as well as cattle were widely kept in the parish in the 17th and 18th centuries. (fn. 178)
The demesne farm of Barnham manor had 348 a. including 284 a. of arable in 1302, (fn. 179) and 319 a. including 290 a. of arable in 1337. (fn. 180) That farm was still the largest in the parish in the late 17th and 18th centuries, when it had 190-210 a., divided roughly equally between arable and pasture. (fn. 181) About 1762 it included other land, making a total acreage of 263 a. (fn. 182) In the mid and later 18th century it was held on leases of 14 or 15 years, and in the early 19th century on a 7-year lease. (fn. 183) The two flocks of 200-300 sheep recorded in 1671 and 1776 (fn. 184) seem to have been on the demesne farm.
There were 12 villani and 12 cottars on the manor in 1086. (fn. 185) In 1302 there were 12 free tenants; 7 customary tenants holding single yardlands who owed two days' work a week for most of the year, and daily work except on Sundays and holidays during harvest; 11 customary tenants holding half yardlands whose works were assessed at half the rate stated; and 16 cottars who owed two days' work a week during harvest. (fn. 186) In the late 16th century there were both freeholders and tenants for life; some holdings were then still described as whole or half yardlands. (fn. 187)
Thirteen tenants held land of the manor c. 1762, most having a house or what was apparently the site of one along Church Lane. The largest holdings apart from Barnham manor demesne farm were those of Henry Bonham (175 a.), Joseph Postlethwaite of Parsonage farm (76 a.), John Hasler (83 a.), and William Murrell (37 a.), and there were then also seven cottages said to be held freehold. (fn. 188) By the 18th century some, possibly all, copyholds were held for three lives; (fn. 189) they could be sublet. (fn. 190) There were still nine freeholds in the early 19th century, when a later Joseph Postlethwaite held the six remaining copyhold tenements and one other tenant held a piece of waste land, the site of a cottage, at the will of the lord. (fn. 191) At least two farmers in the 17th and 18th centuries had land in neighbouring parishes too. (fn. 192)
Other tenants in the Middle Ages held land of the rectory (fn. 193) and chantry (fn. 194) estates.
About 1848 the chief holdings were the manor demesne farm, called Barnham farm (265 a.), a farm belonging to Richard Cosens' executors (159 a.), and two belonging to the duke of Richmond (59 a. and 64 a.); all were worked from sites close to the church. (fn. 195) The two pairs of farms were amalgamated soon afterwards, and in the 1860s Richard Cosens owned and occupied c. 500 a., (fn. 196) while the duke of Richmond's farm, also called Barnham farm (168 a.), was let to C. F. Field on a 14-year lease by 1869. (fn. 197) The Cosens farm had been divided into two farms of 187 a. and 166 a., each called Church farm, by c. 1910, when the duke of Richmond's farm remained the same size as before. (fn. 198) The farm buildings south of Barnham Court already occupied a large area in the mid 19th century, (fn. 199) as they still did in 1993. Parsonage farm in 1881 had 60 a. (fn. 200)
Most land was still arable in the early 19th century, roughly two thirds of the parish being under crops in 1819; (fn. 201) in the late 1840s at least one farm practised a four-course rotation. (fn. 202) The very inconvenient intermingling of small closes belonging to different holdings, characteristic of land inclosed at an early date, (fn. 203) was redressed in 1862, when c. 325 a. were redistributed by agreement into consolidated blocks under the General Inclosure Act. (fn. 204) The larger closes that resulted, some over 50 a., allowed cultivation by steam power, (fn. 205) and at the same time pipe drains were laid through part of the parish. (fn. 206)
From the later 19th century pastoral farming gained in importance. Sheep fattening was apparently practised in 1867, (fn. 207) and 1,220 sheep were listed in 1875. (fn. 208) One farm specialized in dairying from 1887 or earlier, (fn. 209) and by 1909 the proportion of oats to other corn crops grown had greatly increased over what it had been 35 years before. (fn. 210)
After 1918 West Sussex county council bought land in the eastern half of the parish as smallholdings for ex-servicemen. (fn. 211) About 20-25 were created, each with a house, the tenants disposing of their produce at Barnham market in Eastergate. Most were of 1-3 a. and were used as market gardens (fn. 212) or for raising pigs and poultry, (fn. 213) but Church farm, which was much larger, had both arable land and grazing for a dairy herd founded in 1921 that still flourished in 1978. The scheme was not as successful as had been hoped, due to lack of experience in the smallholders and the awkward size of holdings; some tenants had bought their land by 1951, (fn. 214) other holdings became part-time, and by 1965 much land had been added to adjacent farms. Besides Church farm one other smallholding and one other small farm specialized in dairying in 1965. Two smallholdings then included small retail shops.
The brookland in the south end of the parish was described in 1920 as some of the richest in the neighbourhood. (fn. 215) In the later 1930s Barnham Court farm had a prizewinning flock, but it had been dispersed by c. 1950. (fn. 216) The farm had c. 400 a. in 1949 (fn. 217) and 1965; at the latter date there were both arable land and a herd of Friesians. (fn. 218)
In 1985, of 307 ha. (759 a.) returned, three fifths was in owner occupation. Barnham Court farm remained the largest holding and there were 19 others, including market-garden land, of which 13 were less than 2 ha. in area and the rest under 40 ha.; three were specialist dairy holdings and 17 were worked part-time, while the total number of workers in agriculture and market gardening was 79. Land was then equally divided between arable and pasture; the chief crop was wheat (87 ha.) and 439, mostly dairy, cattle were listed. (fn. 219) Barnham Court farm in 1993 was a mixed arable and dairy farm, growing wheat, peas, and maize for cattle. (fn. 220)
Market gardening.
Cider was made in Barnham in 1341 (fn. 221) and hops may have been grown in 1637. (fn. 222) Orchards were mentioned in 1742 (fn. 223) and 1839. (fn. 224) Three 'gardeners', perhaps market gardeners, were recorded between 1813 and 1827 (fn. 225) and two market gardeners in 1845. (fn. 226) In the 1870s there were 1¼ a. of orchards on the west side of Church Lane. (fn. 227)
The later growth of market gardening in Barnham and Eastergate was due in the first place to the favourable local climate and easy rail transport after 1864 for perishable goods, and secondly to the arrival of the Marshall family c. 1880. (fn. 228) In 1881 the brothers Harry and Sidney Marshall, though only 21 and 18 respectively, together ran a nursery, employing 13 men and a boy, (fn. 229) on two sites: one north of Yapton Road known as the 'old nursery', and the other north-west of the church between the Barnham brook and the railway. (fn. 230) The company was known in 1887 as Marshall Bros., but by 1895 it had been divided in two, thereafter trading as S. S. Marshall Ltd. and H. R. Marshall.
The eastern part of the nurseries north of Yapton Road thereafter belonged to H. R. Marshall, and the rest of the land to S. S. Marshall Ltd., (fn. 231) by 1907 Barnham Nurseries Ltd., which also had a large nursery in Eastergate. (fn. 232) S. S. Marshall was described as nurseryman, 'market grower', and landscape gardener in 1895 and the firm were also fruit growers in 1899, the fruit farm of 23 a. occupying the land beyond the Barnham brook. (fn. 233) H. R. Marshall was a nurseryman, florist, and seedsman in 1895 and also grew fruit in 1903; he had a shop at Brighton in 1895 and one at Southsea (Hants) in 1899.
By 1940 Barnham Nurseries Ltd. had over 300 a. in the Barnham area, growing fruit trees, roses, ornamental trees, and shrubs, and undertaking garden design, (fn. 234) as later. (fn. 235) The orchards west of the Barnham brook expanded further west across the railway line by 1950. (fn. 236) By that date, however, the firm's total acreage had contracted to 230 a. and by 1955 it was 100 a. (fn. 237) A 'garden centre' employing c. 45 men was opened on the Yapton Road site in 1965 (fn. 238) but closed in 1981. (fn. 239)
The other large firm in the parish, Toynbee's Nurseries, (fn. 240) originated in a county council smallholding of c. 19 a. further east in Yapton Road held by Frank Toynbee from 1919. At first it grew market-garden produce and soft fruit, but in the 1920s it diversified into landscape gardening, serving especially owners of houses in the new residential estates at Middleton. The firm was later alternatively known as Croftway Nurseries. (fn. 241) After 1945 a mail order department supplied both the home and overseas markets, and in 1962 all sorts of plants, trees, and shrubs were sold, besides soft fruit, culinary herbs, grass seed, manure, and peat. In 1965, when the premises extended to c. 31 a., 30-40 men were employed. The business survived in different ownership in 1996.
Other market gardeners, including county council smallholders, were mentioned in the 1920s and 30s. (fn. 242) In 1992 there were a firm of fruit growers and another specializing in house plants north-west of the Barnham brook, and many small market-garden holdings in the east part of the parish; of the latter some had glasshouses, at least three specialized in flowers, (fn. 243) and several had shops on their premises.
Mills.
The mill recorded on the manor in 1086 (fn. 244) was presumably a water mill on the Barnham brook. A manorial windmill of unknown location was mentioned between 1230 and 1683. (fn. 245) Four millers are known by name between 1678 and 1774; one, in 1682, kept stock and had at least 15 a. under crops. (fn. 246)
There was a post windmill on the site of the present mill in Yapton Road by c. 1762 and perhaps by 1724. (fn. 247) After its destruction in 1827 it was replaced before 1830 by the existing four-storeyed tower mill. The woman miller who had it between 1845 and 1862 was also described as a baker. (fn. 248) From c. 1880 (fn. 249) until its closure c. 1985 the mill was worked by members of the related Baker and Reynolds families. In 1886 Maurice and John Baker were also bakers and dealers in malt and hops, and linseed and cotton cakes, additionally working Aldingbourne mill. (fn. 250) From 1905 the business also included that of corn merchant, with retail shops in Littlehampton (fn. 251) and Bognor. (fn. 252) A steam engine was added to supplement wind power c. 1890, (fn. 253) a gas engine c. 1910, and an electric engine after 1945. (fn. 254) Wind ceased to be used in the 1920s or 30s, and the sweeps and fan stage were removed from the building in 1958. (fn. 255) In 1979 some animal feedstuffs were still processed on site and others bought in for retailing. Six men were employed in 1965. (fn. 256)
Other trades.
Trades recorded in the 16th and 17th centuries were those of brewer, (fn. 257) butcher, sawyer, shoemaker, (fn. 258) and blacksmith. (fn. 259) Between 1813 and 1845 tailors, bakers, a grocer, a farrier, and a carpenter were mentioned, (fn. 260) but the opening of the canal through the parish in 1823 seems, in the absence of any wharf, to have had no effect on occupations. After 1866 licensees of the Murrell Arms inn successively carried on the trades of carpenter, wheelwright, and blacksmith. (fn. 261)
The railway provided employment after 1864; in 1881 two railway porters, a railway clerk, and a ticket collector lived in Barnham. (fn. 262) The subsequent growth of population brought further occupations in the later 19th century and early 20th: those of bricklayer, (fn. 263) stone mason, patten maker, chimney sweep, and cycle repairer. (fn. 264) The three 'agricultural' engine drivers listed in 1881 were probably employees of the firm of Sparks in Yapton. (fn. 265)
The smithy at the Murrell Arms ceased working at some time after 1910 (fn. 266) and the post office stores nearby, which in 1916 dealt in groceries, drapery, boots and shoes, medicines, china and glass, and hardware, (fn. 267) closed after 1938. (fn. 268) In the early 20th century goods from Chichester were delivered by carrier. (fn. 269) A butcher's shop founded by 1962 (fn. 270) still existed in Yapton Road in 1993, when there was also a large shop selling farm and other produce by Barnham windmill.
A building on the embankment north-east of the railway bridge accommodated at different times a butcher, a fishmonger, a grocer, a hairdresser, and a vet; (fn. 271) in 1992 it was a shop dealing in garden machinery. Further north in Lake Lane at the same date were a garage and general stores.
A brickfield on the south side of Yapton Road was worked at least between 1910 and 1913. (fn. 272)
By 1965 some residents travelled daily to work in London or other towns, (fn. 273) as still happened in 1993.
LOCAL GOVERNMENT.
There are court rolls or draft court rolls for Barnham manor for the years 1448 × 1455, (fn. 274) 1543, 1548, (fn. 275) 1593, 1596, (fn. 276) and 1686-1776. (fn. 277) A view of frankpledge was held in the 1540s; there is no later record of it though frankpledge jurisdiction was still claimed in 1629. (fn. 278) A sheriff's tourn was also held in 1543. (fn. 279)
In the 1540s the view and the court held the assize of bread and of ale, heard cases of assault and one plea of land, managed the common lands, saw to the repair of roads, fences, ditches, and houses, and elected a headborough, an aletaster, and two 'curemen'. By the mid 18th century courts were held between six and eight times a decade, but during the years 1761-76 only five times in all. Besides conveyancing they then continued to oversee the common lands and to present buildings in disrepair. Business was dealt with out of court from 1691. A tithingman still served in 1822. (fn. 280)
A manor pound was mentioned in 1566. (fn. 281) In 1636 it stood beside the vicarage land, (fn. 282) perhaps near the church.
Two churchwardens were recorded between 1548 and 1670 and generally after 1862, but there was usually only one between 1674 and 1861. (fn. 283) There was a collector for the poor in 1642 (fn. 284) and there were two overseers in 1826, when 15 parishioners received permanent and 3 casual relief. (fn. 285) A parish poorhouse in Yapton Road east of Church Lane had become two cottages by c. 1848 (fn. 286) and was demolished after 1937. (fn. 287) The parish clerk received wages in the late 16th century. (fn. 288)
Barnham joined Westhampnett union, later Westhampnett rural district, in 1835. From 1933 it was in Chichester rural district (fn. 289) and from 1974 in Arun district.
In 1965 the parish council owned the parish hall next to the site of the poorhouse, and five adjacent allotments. (fn. 290)
CHURCH.
There was a church in 1086. (fn. 291) In 1105 the lord of Barnham, Robert de Haye, gave it to Lessay abbey (Manche), together with a measure of wheat called church scot (cerchet). (fn. 292) It later passed to Lessay's English priory of Boxgrove. A vicarage was ordained c. 1174 x 1180, (fn. 293) but as a result of the substitution of an annual pension for the vicarial tithes and glebe in 1440 (fn. 294) its status came afterwards to seem unclear. Incumbents from the late 16th century were often 'licensed to serve the cure' or granted sequestration of the endowments (fn. 295) rather than instituted; they were called at different times minister, (fn. 296) curate, (fn. 297) or sequestrator (fn. 298) as well as vicar, and the benefice was usually described as a perpetual vicarage (fn. 299) or curacy. (fn. 300) The union of Barnham with Eastergate was suggested in 1881. (fn. 301) From 1983 the two parishes were held by a single priest in charge, (fn. 302) and in 1985 Aldingbourne, Barnham, and Eastergate became a single benefice, the parishes remaining distinct. In 1992 they were united as the parish of Aldingbourne, Barnham, and Eastergate. (fn. 303)
The advowson of the vicarage belonged to Boxgrove priory until the Dissolution, the bishop of Chichester presenting in 1478 and the archbishop of Canterbury in 1464; (fn. 304) thereafter it descended with the rectory (fn. 305) until 1762, when it was retained by Edward Madgwick at the sale of that estate. By 1776 it had passed to the duke of Richmond. (fn. 306) Between c. 1830 and 1862 the bishop was patron (fn. 307) and in 1859 the Crown presented by lapse. (fn. 308) By 1884 the advowson had passed to W. C. Rickman (fn. 309) (d. by 1897), whose executors conveyed it c. 1915 to the bishop. (fn. 310) From 1985 the bishop and the dean and chapter of Chichester were to present jointly. (fn. 311)
The vicarage was endowed at its ordination c. 1174 × 1180 with offerings and a third of all the tithes of the parish including the rectory estate. (fn. 312) There was a house in 1341, (fn. 313) which in 1440 had a garden and dovecot. (fn. 314) The living was valued in 1291 at £5 6s. 8d., (fn. 315) but by 1429 it had become so poor that the vicar needed the additional income of the chantry endowment. (fn. 316) In 1440 Boxgrove priory substituted an annual pension of £7 6s. 8d. for the vicar's share of tithes and glebe; though that represented an augmentation (fn. 317) the living remained impoverished in the later 15th century and early 16th. (fn. 318)
The vicarage house was ruinous in 1573 (fn. 319) but in good repair in 1665; (fn. 320) c. 1704, however, it was pulled down by the lay rector and the materials were used to build a house in Yapton. (fn. 321) Its site is uncertain but was near the churchyard. The 1 a. previously held with it (fn. 322) was being kept from the incumbent in 1724. (fn. 323)
The incumbent is said to have received £10 a year from the lay rector in the 17th century. (fn. 324) In 1727 the living was augmented with £200 from Queen Anne's Bounty, so that the annual income rose to £24. (fn. 325) Four further augmentations, each of £200, were made between 1786 and 1827. (fn. 326) There were five closes of glebe in Yapton c. 1762 (fn. 327) and 22½ a. in Barnham and Yapton in 1808; (fn. 328) some land in Barnham was exchanged with other land in the parish under a general redistribution of 1862. (fn. 329) The average income was £41 16s. 4d. in 1809 (fn. 330) and £67 c. 1830; (fn. 331) in 1875 the stipend was described as 'miserable'. (fn. 332) A new vicarage house at the southern end of Church Lane was built shortly before 1903; (fn. 333) it was replaced before 1976 (fn. 334) by a nearby bungalow, which itself ceased to be used in 1983. (fn. 335)
The vicar apparently resided in 1440. (fn. 336) Between the early 14th century and the early 16th additional spiritual care was presumably provided by the priests of the chantry of St. James, (fn. 337) founded in 1324 by ancestors of Sir William Shelley of Michelgrove in Clapham (d. 1549). (fn. 338)
In the 1570s sermons were delivered at irregular intervals. (fn. 339) At least one early 17th-century vicar was not a licensed preacher, and only three incumbents appointed during the 17th century are known to have been graduates; another was only in deacon's orders. (fn. 340) The poverty of the living led to several cases of pluralism between the 17th and early 19th centuries. (fn. 341) A Rogationtide procession with perambulation of the parish boundaries, to which occupiers of land brought cakes, was still held in the 17th century. (fn. 342)
In 1724 services were held only monthly and communion was celebrated three times a year. (fn. 343) After the augmentation of 1727 the frequency of services was increased to fortnightly, as apparently continued to be the case in 1758 despite an attempt to enforce weekly holding in 1728 or 1729. (fn. 344) In the earlier 19th century the cure was often served by assistant curates or the clergy of neighbouring parishes. (fn. 345)
By 1838 services were weekly, alternately in morning and evening; (fn. 346) alternation continued in 1851, when c. 30 attended in the morning and c. 60 in the afternoon. (fn. 347) Frequency of communion increased from four times a year in 1838 to eight times in 1844 and later. (fn. 348) A. P. Cornwall, vicar 1859-c. 1900, (fn. 349) lived at Runcton near Chichester in 1884 and perhaps earlier (fn. 350) and in Chichester itself from 1887, (fn. 351) walking 10 miles each Sunday to take services in 1875. Parish visiting suffered at that period from the lack of any gentleman's family in the parish. (fn. 352)
After the building of a new vicarage house shortly before 1903 Barnham had a resident vicar until 1983, (fn. 353) but from that date the incumbent lived in Eastergate. Services were no longer held every Sunday in 1995.
The church of ST. MARY (fn. 354) has a structurally undivided nave and chancel, a north vestry and organ chamber, a south porch, and a west bellcot. The walls are mostly of rubble, much of it plastered, with freestone dressings and areas of later brick. The bellcot is boarded.
The nave is 12th-century and the rear arch of the south doorway and two small windows are of that date. The chancel was built, presumably to replace a smaller unit, early in the 13th century and retains three lancet windows in the east and south walls. At or soon after that time a north aisle and chapel were added, probably accommodating the chantry of St. James founded in 1324. (fn. 355) They were linked to the main body of the church by arches cut through the earlier wall. The south doorway, the porch, and a window in the south wall of the nave are 14thcentury, as also are reset windows in the north wall. The west doorway and the window above it are 15th- or early 16th-century. The date of demolition of the north aisle and chapel is not known although it must be later than a late medieval graffito on the west respond of the arch to the chapel. (fn. 356)
Both nave and chancel were in bad condition in 1579 (fn. 357) and the nave remained so in 1724. (fn. 358) In 1776 the building was described as 'much out of repair' (fn. 359) and in 1865 as neither decent nor in proper order. (fn. 360) It was restored in the latter year, (fn. 361) when the gallery erected shortly before 1844 (fn. 362) was presumably removed. The arch into the former chapel was reopened c. 1930 when the vestry was built. (fn. 363)
The square late 12th-century font of Sussex marble has badly rubbed decoration including foliage and arcading; its central supporting pillar is original but the outer four are apparently painted drainpipes. (fn. 364) The single bell of c. 1348 probably by John Rufford is inscribed 'AFE MA RIA DRA SIA PLE NA' (for 'Ave Maria gratia plena'). (fn. 365) The top of a four-tiered pyramidal censer in champlevé Limoges enamel was found c. 1930 at the east end of the chancel. (fn. 366) A French 15th-century painted wooden statue perhaps of St. Genevieve was inserted in the mid 20th century. (fn. 367) Box pews had been installed by 1865, when they were described as 5 ft. high and rotten; (fn. 368) they were evidently removed in the restoration of that year.
The plate includes a two-handled silver communion cup of 1779. (fn. 369) The registers begin in 1676. (fn. 370)
ROMAN CATHOLICISM.
One parishioner was presented for not receiving Easter communion in 1584 (fn. 371) and three parishioners were convicted for recusancy in 1668. (fn. 372) There were two papists in 1781. (fn. 373) Sunday mass was said in Barnham in 1929, (fn. 374) and apparently by 1938 a church of timber converted from a workshop stood south-east of the railway bridge; (fn. 375) it was served by the priest from Slindon. The church was superseded in 1970 by that at St. Philip Howard school in Eastergate. (fn. 376)
PROTESTANT NONCONFORMITY.
There was one Baptist in the parish in 1664, (fn. 377) and in 1724, presumably because of the infrequency of services at the parish church, four out of the sixteen families living in Barnham were Presbyterian. (fn. 378) In 1856 Dissenters attended the Independent chapel in Yapton. (fn. 379) The Methodist congregation which flourished in 1992 grew out of Sunday evening meetings held in the market room of Barnham market in Eastergate from 1923. In 1929 there were 11 church members. The brick chapel south of the railway bridge was opened in 1931; (fn. 380) in 1940 it could seat 117. (fn. 381) The minister came from Bognor Regis in 1965 (fn. 382) and from Littlehampton in 1992. (fn. 383)
EDUCATION.
Licences to teach in the parish were granted in 1580 and 1584, on the second occasion to a reader at the church. (fn. 384) In 1818 an old woman kept a school with 10 pupils, (fn. 385) but from c. 1845 or earlier Barnham children went to school in Eastergate, Walberton, or Yapton. (fn. 386) Barnham council school, later Barnham county primary school, was built in Yapton Road in 1906. (fn. 387) Average attendance was 85 in 1914, rising to 100 in 1922 and falling to 67 in 1938. (fn. 388) A new building was put up in Orchard Way, Eastergate, in 1968 (fn. 389) and the Yapton Road site was used thereafter by infants. (fn. 390) By 1978, as a result of large-scale building in the area, nearly 300 pupils attended on the two sites. (fn. 391) There were 278 on the roll in 1993. (fn. 392)
A workshop for instruction in carpentry was supported by West Sussex county council in 1895 (fn. 393) and survived till c. 1910 or later. (fn. 394) From 1958 many older children from Barnham went to Westergate secondary modern school in Aldingbourne, but after the opening of St. Philip Howard secondary school in Eastergate in 1959 most went there. (fn. 395)
CHARITIES FOR THE POOR.
None known.