Pages 190-204
A History of the County of Sussex: Volume 5 Part 1, Arundel Rape: South-Western Part, Including Arundel. Originally published by Victoria County History, London, 1997.
This free content was digitised by double rekeying. All rights reserved.
MIDDLETON-ON-SEA
The parish of Middleton-on-Sea, (fn. 1) which includes Elmer, lies along the south coast east of Bognor Regis and in the 20th century was a seaside resort. The ancient parish, called Middleton, had 370a. in 1881 (fn. 2) but had been reduced in area in previous centuries by sea erosion. (fn. 3) The configuration of the western and northern boundaries suggests that the parish was once part of Felpham, and the name Middleton may refer to the manor's central position between Felpham and either Elmer or Cudlow in Climping. (fn. 4) Part of the eastern boundary was formed c. 1310 by a ditch and part by Elmer pool, (fn. 5) while the north-eastern boundary follows the Ryebank rife. The parish was enlarged in 1933 by the addition of Ancton (522 a.) from Felpham parish and in 1971 had 361 ha. (892 a.); (fn. 6) its name was extended in 1934 to prevent confusion with other Middletons. (fn. 7) The present article deals with the ancient parish until c. 1900, after which the history of Ancton is included as well.
Landscapehistory.
The ancient parish lies on brickearth, overlain by small areas of coastal alluvium in the centre and at Elmer; the Upper chalk outcrops along the beach. (fn. 8) The climate is exceptionally sunny though subject to storms, and before modern development the landscape, to which the South Downs c. 6 miles (10 km.) northwards form a backcloth, was windswept with few trees. (fn. 9)
Elmer pool, i.e. 'eel pool', (fn. 10) mentioned in 953, (fn. 11) was presumably fed by the overflow of seawater, as later, (fn. 12) and seems naturally to have drained into the Ryebank rife rather than seawards, since the alluvium on which it lay is separated from the coast by a narrow band of brickearth. (fn. 13) The land around the pool was evidently marshy since a 'marsh of Elmer' was mentioned in 1318. (fn. 14) Eels could be caught in the pool in 1457. (fn. 15) Fishing rights there were enjoyed by Elmer manor in 1578 (fn. 16) and by Felpham manor in the 17th century. (fn. 17) The pool survived in 1669 (fn. 18) but was drained when Elmer sluice was constructed before 1748. (fn. 19)
Erosion along the coast had begun by 1341, when 60 a. of arable were said to have been lost in the last 50 years. (fn. 20) Since no open fields have been identified within the parish as it afterwards existed, they may have been among the land destroyed, either then or later. Sea banks had been built by 1570, when the lessee of Middleton farm was required to maintain them; (fn. 21) such banks were still kept up in the early 18th century. (fn. 22) In 1606 the sea was encroaching 'daily' at several places along the coast in the west, and the process of erosion is indicated by the small size and odd shape of some closes and of a piece of common pasture there at that date. (fn. 23) The place name Middleton point was recorded in 1724, perhaps indicating what was later the coastal promontory at the Felpham boundary. (fn. 24)
The south wall of the medieval church was only c. 60 ft. (18 metres) from high tide mark in 1724, (fn. 25) and c. 40 years later the building was said to be in danger of being washed away. (fn. 26) In 1779 the rector put up a groyne at his own expense to protect the nearby glebe, (fn. 27) perhaps the double line of stakes curving to the east which remained on the foreshore in the 1920s. (fn. 28) It may have made the problem worse rather than better. (fn. 29) By 1789 the sea was within a few feet of the building, many graves in the churchyard had been destroyed, and human remains could be found along the shore. (fn. 30)
In the east end of the parish (fn. 31) the owner of Elmer farm constructed a sluice before 1748 in order to return the overflow of high tides directly to the sea. An existing ditch between Elmer pool and the Ryebank rife was widened perhaps at the same date and a second channel cut; one of the two was called the Pool ditch in 1848. (fn. 32) As a result Elmer pool was drained and became good pasture. (fn. 33) Groynes too had been constructed at Elmer by c. 1768, but they fell into decay after that date and in 1771 the sluice was destroyed by the sea so that the overflow of seawater once more ran northwards, re-creating a pool of 20-30 a. and causing flooding at Felpham and Ancton. (fn. 34) After the sluice was repaired c. 1775 the pool was again drained, remaining dry pasture c. 1786 except at very high tides. (fn. 35) There were two sluices at Elmer in 1910, one on the parish boundary and one 250 yd. (230 metres) west. (fn. 36)
Erosion continued in the 19th and 20th centuries. (fn. 37) Much land was said to have been lost between c. 1800 and 1819, (fn. 38) and in 1828 a cottage had recently been swept away. (fn. 39) The medieval church itself succumbed to the sea after 1838. (fn. 40) Other groynes had meanwhile been put up off Sea Lane by 1838 (fn. 41) and a new defensive bank was built in 1853, running roughly straight between a point north-west of the site of the old church and the Felpham boundary. (fn. 42) At the east end of the parish a road along the coast between a point south-east of Elmer Farmhouse and Elmer sluice was eroded away between 1838 and c. 1875. (fn. 43) Between 1778 and c. 1875 128 yd. (117 metres) are reckoned to have been lost at Middleton and 110 yd. (100 metres) at Elmer. (fn. 44)
In 1895 the sea was said to have made great ravages during the previous few years. (fn. 45) The lord of Middleton manor spent heavily on banks and groynes at that period, but they often proved ephemeral and most of the surviving glebe east of Sea Lane was removed shortly before 1907. (fn. 46) At Elmer embankments were constructed inland south-east of the new Middleton church apparently between 1896 and 1910; (fn. 47) but in 1907 the mortgagees of Elmer farm were failing to maintain any defences so that a little land was lost each year. (fn. 48) Near the Climping boundary, on the other hand, land was actually gained from the sea between c. 1875 and 1896; at the latter date it was rough grass. (fn. 49) Remains of two successive sea banks survived there within the modern coastline in 1991.
With the construction of building estates after 1918 (fn. 50) coast protection acquired new urgency. Capt. Coldicott, the developer of Middleton, at first had no capital to maintain existing defences and much land was lost at the end of Sea Lane in the 1920s and 30s. (fn. 51) Individual owners undertook their own defences at that period, some of their concrete constructions causing worse erosion than before. After c. 1937 the Middleton-on-Sea Association assumed responsibility, raising money through voluntary contributions. (fn. 52) At Elmer a bank erected before 1931 was destroyed in that year, flooding much of the Elmer Sands estate. As a result a similar association was formed to maintain defences there and a timber barricade was built. Between 1937 and 1939 the successor Elmer Sands Association carried out more permanent works, and further work was done at Elmer in the late 1940s. (fn. 53)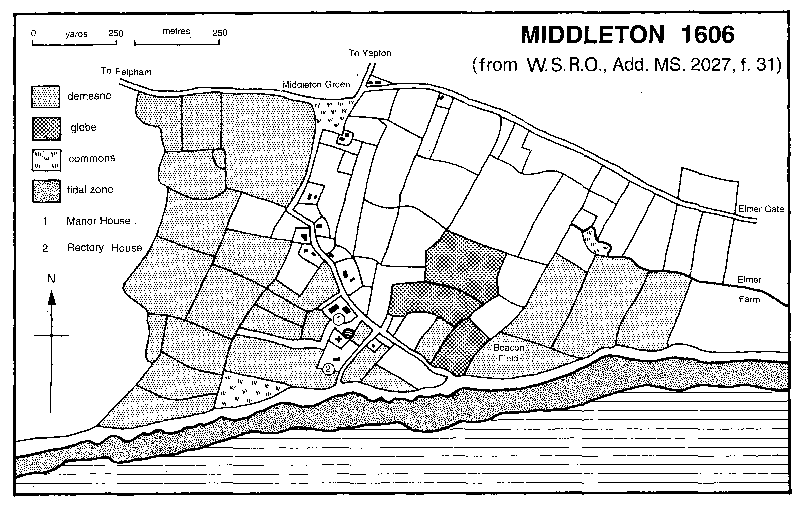 New defences were constructed at Middleton in the 1950s, but coastal protection at Elmer remained less adequate, (fn. 54) the combination of spring tides with south-westerly gales still causing occasional flooding in the 1970s and later. (fn. 55) Between c. 1990 and 1993 the National rivers authority and Arun district council built eight rock islands offshore in order to break the force of the sea. (fn. 56) By that time most of the coastline of the modern parish was fronted by shingle. (fn. 57)
The only woodland recorded in the parish before the 20th century was a copse in the north-east corner, (fn. 58) which evidently adjoined the wood of the bailiff of Atherington in Climping mentioned on the Middleton-Climping boundary c. 1310. (fn. 59) The wood had disappeared by c. 1875. (fn. 60) Between 1927 and 1932 Walter Guinness, Lord Moyne, planted a thick curtain of trees behind and beside the new estates at Elmer in order to screen them from his property at Bailiffscourt in Climping; (fn. 61) the trees survived in 1991.
As in neighbouring parishes there were several ponds in Middleton in the mid 19th century, including one at the north end of Sea Lane which survived in 1991, two near Elmer Farmhouse, and three at the south end of Sea Lane. (fn. 62)
Settlement.
Roman pottery and a Roman coin found in the low coastal cliff south of the present Middleton church and elsewhere on the beach suggest settlement nearby. (fn. 63) The chief centres of medieval settlement, however, were around the old church beyond the modern coastline off Sea Lane, and apparently at Elmer.
Medieval occupation of the part of Sea Lane since lost to the sea is indicated by remains of wells found there together with 15th- or early 16th-century pottery perhaps from a kiln site. (fn. 64) In 1606 there were c. 10 dwellings along the lane, including the old Middleton manor house, besides empty crofts which were apparently sites of houses. Two subsidiary lanes flanked the church, with a pond beside one of them. (fn. 65) By 1778 there were only c. 6 houses there. (fn. 66) Before 1838 the old manor house and the southern flanking lane had disappeared, (fn. 67) to be followed by the ruins of the church and the northern lane in the mid 19th century. (fn. 68) A pair of mid 19thcentury flint estate cottages remained in Sea Lane in 1991.
At the junction of Middleton and Elmer roads with Yapton Road in 1606 were two or three dwellings; (fn. 69) only one older building remained there in 1996, the one-storeyed, flint and thatched Rose Cottage, which is apparently 17th-century or earlier with 19th-century additions.
The manor house at Elmer may similarly have been a nucleus for settlement: Elmer Road like Sea Lane in Middleton once continued beyond the present coastline and a possibly medieval well has been found on the foreshore south of Sea Way nearby. (fn. 70) There seems to have been one other house there in the later 18th century. (fn. 71) High Kettle cottage in Elmer Road further west is originally a late 17th- or early 18th-century building of flint with brick dressings and thatch.
In 1801 there were only six houses in the parish; in 1841 there were 19, (fn. 72) including the new manor house at Middleton and newly built coastguard cottages at Elmer. Most of the latter remained unoccupied after the departure of the coastguard until demolition between 1910 and 1932. (fn. 73) Two larger houses were built during the same period: Middleton Field west of Yapton Road, of 1896 × 1899, home of the owner of the adjacent brickworks, (fn. 74) and the half-timbered and pebbledashed Ancton Lodge of 1910 × 1927. (fn. 75) Some small brick farmhouses were built in Yapton Road and Ancton Lane after c. 1920 for county council smallholders. (fn. 76)
After 1918 rapid building development took place along the coast; as in Felpham it progressed piecemeal in individual estates. The west end was the first part to be developed. In 1921 Capt. R. Coldicott began to build detached houses, some large, along Sea Lane, afterwards laying out two branch roads from it roughly parallel to the coast: Sea Way to the west and Old Point to the east. Further houses were put up by him along and to the north of Middleton Road. By 1928 he had erected over 100, at peak output claiming to finish one every ten days. (fn. 77) Further east the Southdean estate was also developed after 1921, as an adjunct to the New City holiday resort on the site of a former seaplane factory; c. 20 houses had been built there by 1926. (fn. 78) East of that was the small Elmer Beach estate, where Central Drive was laid out in or shortly before 1923 (fn. 79) and c. 30 houses had been built by 1927. (fn. 80) The last two named estates also included houses north of Elmer Road. Much of the area so far described was built up by 1932 and the rest by 1940. (fn. 81)
In the south-east corner of the parish a few houses were put up in the 1920s on plots leased from the owner of Elmer farm. (fn. 82) Most of the farmland, however, was bought c. 1928 and afterwards developed for building, as the Elmer Sands estate, by the surveyor F. C. Stedman, who also laid out estates elsewhere in south-east England. (fn. 83) The eastern part around Alleyne Way was largely finished by 1932 and the rest was mostly built up by 1940. (fn. 84)
North-west of Middleton church the Harefield estate had been laid out for building by 1929; (fn. 85) some houses had been put up by 1932, when there were others to north and west in Yapton Road and along Ancton Lane, and the area was fully developed by 1940, by which date there were also houses to the east between Ancton and Elmer. (fn. 86)
The new estates were a mixture of permanent residences and weekend houses and bungalows: (fn. 87) both the Elmer Beach and Harefield estates were advertised as suitable for the building of either (fn. 88) and at Elmer Sands before 1939 only c. 12 houses were permanently occupied. (fn. 89) Most estates were private, and some remained so in 1996, with unadopted roads and open spaces managed by residents' associations that either owned or leased them. (fn. 90) Many houses had gardens running down to the sea, though in Sea Way Capt. Coldicott instead laid out an open space along the front (fn. 91) called the Greensward.
Some visual unity between the different estates was provided by the common elements of open spaces, numerous trees, curving streets, and grass verges and banks. (fn. 92) Middleton could thus be described in 1929 as a miniature garden city (fn. 93) and in 1937 as a delightful mixture of rural and urban. (fn. 94) Another shared feature was the use of romantic, nostalgic, or exotic names for houses. (fn. 95)
Houses were varied in design, many adopting neo-vernacular styles. On Capt. Coldicott's estate, perhaps unusually among contemporary seaside developments, the intention was to create an effect of medieval rusticity, the developer designing many of the houses himself, especially in Sea Lane. (fn. 96) Rows of shops set back from Middleton Road at the north end of Sea Lane, those on the south side behind a grass bank, were explicitly intended to seem older buildings converted for the purpose; materials used included weatherboarding and lavish 'half-timbering', one pair of premises being an imitation of a 'Wealden' house. The proximity of the manor house and of Middleton green with its pond added to the suggestion of a previously existing settlement. (fn. 97)
Elsewhere a few houses were built in the 'International Modern' style, for instance on the Southdean estate, near Ancton, and at Elmer Sands. (fn. 98) Others were of more ephemeral construction, with asbestos walls, for instance, on the Southdean estate and at Elmer. (fn. 99) Frequent use was made of old railway carriages especially at Elmer, among the grandest examples being three luxury coaches previously used by the Prince of Wales, Princess Mary, and the duke of Sutherland, which were set up as virtually self-sufficient dwellings with their original highquality fittings, heating and lighting plants, and water cisterns. (fn. 100)
New building had removed the gap between Elmer and Ancton by c. 1960. (fn. 101) The proportion of houses occupied permanently at Elmer Sands greatly increased after 1945 and by 1957 over a third of the c. 350 houses there were so used, mostly by retired people. By the 1970s many properties were changing hands, some being enlarged or rebuilt. (fn. 102) North-east of the church before 1957 an estate of council houses and old people's bungalows was built by Chichester rural district council in a spacious and varied layout. (fn. 103) Cornfields could still be found among the houses in 1965, (fn. 104) but the largest remaining open space, Shrubbs field south of Elmer Road, was largely built on after 1964, (fn. 105) while two housing developments for retired people were put up in the same area between 1968 and 1974, one of them for members of the National and Local Government Officers Association or their aged dependents. (fn. 106) There were other flats for retired people at Elmer in 1991. (fn. 107) Meanwhile west of Yapton Road an estate of detached houses had been put up in the early 1970s, (fn. 108) to the north and west of which there was further building in the 1990s. Ancton hamlet, however, retained working farms in 1991, (fn. 109) when fields separated it from development to the south and there was open country to the north.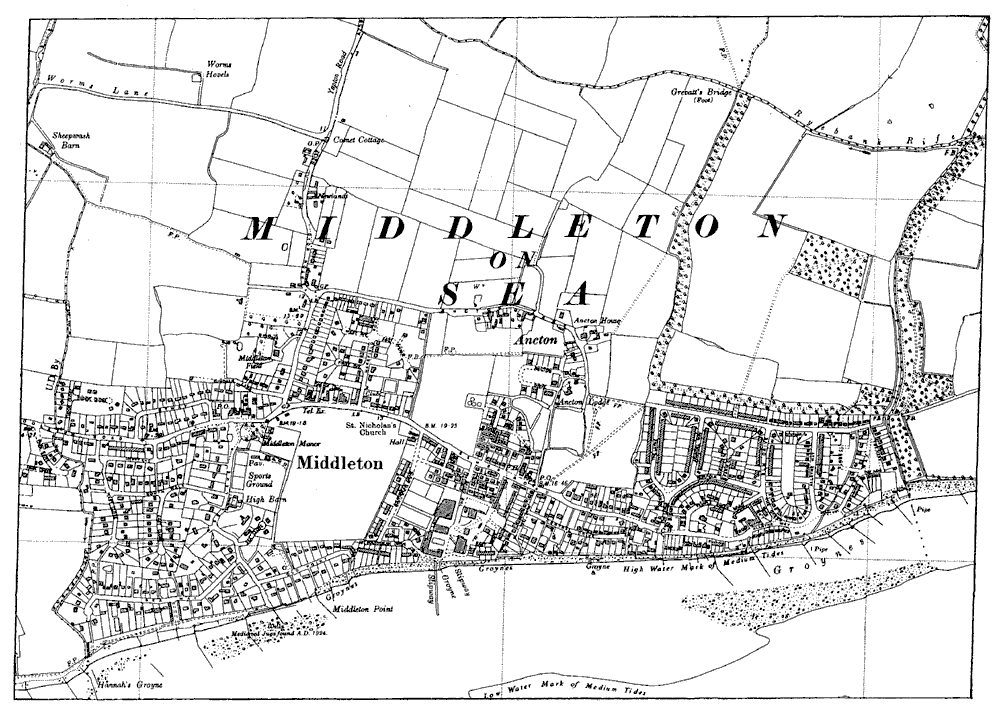 Twelve inhabitants of Middleton tithing paid the subsidy in 1327 and 21 in 1332. (fn. 110) In 1642 the protestation was signed by 14 adult males. (fn. 111) Sixteen parishioners were listed in 1676 (fn. 112) and there were four families in the mid 18th century. (fn. 113) In the early 19th century the population fluctuated between 40 and 50, rising to 100 in 1841 with the opening of the coastguard station at Elmer, and falling after its closure to 35 in 1901. The area of the modern parish had 148 inhabitants in 1921, 918 in 1931, 2,443 in 1951, and 4,197 in 1991. (fn. 114)
Middleton as a seaside resort.
Visitors to Bognor and Felpham often came to Middleton in the early 19th century to see the ruined church, (fn. 115) but the parish's development as a resort in its own right did not begin until after 1920. Safe, sandy beaches were a chief reason for its popularity, (fn. 116) and by c. 1928 bungalows for renting were in steady demand. (fn. 117) Some estates had private beaches, (fn. 118) and on the Coldicott estate at Middleton there were beach huts on the Greensward west of Sea Lane. (fn. 119) By 1929 Middleton was said to have become a formidable rival to Bognor, than which it was both quieter and cheaper. (fn. 120)
The largest attraction was the 'New City' created by Sir Walter Blount, Bt., and opened in 1922 in the former seaplane factory south of the church. (fn. 121) It was one of the earliest attempts to provide a self-contained environment for enjoying the seaside. There were c. 200 bedrooms, all with central heating and half with private baths, besides a garage for 100 cars; visitors without cars could be met at Barnham station. Almost every form of amusement was claimed to be catered for. One of the hangars accommodated a dance hall and another indoor tennis courts; there were also outdoor tennis courts, a putting green, and rooms for cards and billiards. Sand yacht racing and motor gymkhanas took place on the beach, and children's sports were organized. The New City had its own dairy, farm, ice generating plant, and mineral water factory, besides a laundry, hairdressing rooms, and lending library. By the mid 1920s it was said to be very popular with large numbers of 'distinguished' visitors. A less exclusive alternative, the Elmer Sands holiday resort, existed by the early 1930s, offering similar sporting facilities. (fn. 122)
Guest houses and hotels were also opened in the parish in the 1920s and 30s; there was one guest house in 1927 (fn. 123) and three boarding houses and two hotels in 1934. By the latter date the New City had become the Southdean hotel and sports club, (fn. 124) which in 1937 was open to nonresidents, and which by then could offer squash courts and a sea-water swimming pool. (fn. 125) There were other social and sports clubs in the period. The Middleton sports club in Sea Lane, formed in the early 1920s, was at first merely for cricket but later provided squash, tennis, and hockey as well, together with social activities in winter including lectures and card parties. (fn. 126) The Middleton country club on the Harefield estate was opened in 1929, when it had over 70 members who could enjoy cards, billiards, tennis, and dancing. (fn. 127) There was a social club at Elmer Sands by 1934. (fn. 128)
After the Second World War the renting of furnished property at both Middleton and Elmer continued to be very popular especially for families with children, and both places remained quiet and free from day trippers. (fn. 129) The former New City site changed hands several times in the period, being variously known as Southdean holiday camp, the South Coast country club, and the Sussex Coast holiday centre. In 1983 many visitors to it came from the north of England. (fn. 130) The Sussex club and holiday centre at Elmer was opened c. 1969 (fn. 131) and in 1974 had a private beach and swimming pool with dancing and entertainment every evening. (fn. 132) The Middleton sports club still flourished in 1991 offering bowls and stoolball as well as the sports mentioned earlier. (fn. 133) In 1977, when it had 950 members, it was described as the social centre of the village. (fn. 134) There were five social or sports clubs in 1959; some survived in 1972, when there were also six hotels or public houses, including the former Elmer manor house. (fn. 135)
Besides sports and social facilities mentioned above, tennis courts were laid down on the Elmer Beach estate in 1923 (fn. 136) and a boating and angling club was formed at Elmer after 1936. A putting green was also created there. (fn. 137) A community hall stood in Yapton Road in 1927. (fn. 138) The church hall built c. 1938 accommodated apparently from the 1950s a branch of the county council library service which in 1966 was open one and a half days a week. (fn. 139) Playing fields were laid out in Elmer Road c. 1970; (fn. 140) by 1974 they were managed by the parish council. (fn. 141) A village hall, proposed since the 1930s, was opened alongside in 1982. (fn. 142) There was another recreation ground west of Yapton road in 1992.
The only roads to Middleton before the 19th century led from Felpham and Yapton; (fn. 143) the creation of the Bognor-Littlehampton road c. 1824 gave eastwards communication as well. (fn. 144) An additional link with Felpham may have been provided by Limmer Lane, which perhaps once connected with Sea Lane beyond the present coastline. In the early 19th century Elmer Road continued eastwards beyond the modern coastline to the sluice west of the Climping boundary. (fn. 145) Elmer gate, of unknown significance, stood on it at the division between Middleton and Elmer manors in the 17th century, (fn. 146) but is not heard of after 1719. (fn. 147) Buses ran from Bognor to Middleton by 1922 (fn. 148) and to Elmer by 1927, (fn. 149) and a carrier continued to ply between Bognor and Middleton in 1938. (fn. 150) The road between Bognor and Littlehampton in the north part of the modern parish was straightened in 1963. (fn. 151) Portsmouth, Brighton, and Haslemere (Surr.) could be reached by bus from the parish in 1992.
Middleton's water supply in 1928 came from wells, which were sometimes contaminated with seawater. (fn. 152) On both the Middleton manor and Elmer Sands building estates cesspits were used for drainage at first and at the former there was a private gas plant. (fn. 153) The New City development had its own drainage and sewerage systems and an electricity generator which supplied light to neighbouring houses in 1926. (fn. 154) Mains water and electricity reached the parish from Bognor in the later 1920s, (fn. 155) but main drainage not until c. 10 years later. (fn. 156) Street lighting was installed after 1956. (fn. 157) A medical centre in Elmer Road was opened by 1991.
A close south-east of Sea Lane called Beacon field in 1606 (fn. 158) was presumably the site of a beacon for coastal defence. A signal station was set up at the end of Sea Lane in 1794 or 1795 during the threat of a French invasion; after closure in 1802 it was reinstated in the following year and closed finally in 1814. (fn. 159)
There was a convalescent home in Yapton Road in 1934. (fn. 160)
Twentieth-century residents of Middleton included William Page (d. 1934), antiquary and editor of the Victoria County History, (fn. 161) the pianist Charlie Kunz (d. 1958), (fn. 162) and the music-hall comedian Chesney Allen (d. 1982). (fn. 163)
MANORS.
The manor of MIDDLETON was held in 1066 by five freemen and in 1086 of Roger de Montgomery by William. (fn. 164) The overlordship descended with the rape until 1243, when at the division of the d'Aubigny inheritance it passed to Roger de Mohaut, (fn. 165) descending then in the direct line to Robert (d. 1275) and Roger, Lord Mohaut (d. 1295 or 1296). (fn. 166) After the death of Roger's brother and heir Robert in 1329 it passed to Queen Isabel, wife of Edward II (fn. 167) (d. 1358). (fn. 168) In 1361 Edward, the Black Prince, had it. (fn. 169)
The undertenancy of the manor descended until the mid 15th century with the honor of Halnaker through the St. John and Poynings families. (fn. 170) At the division of the Poynings inheritance in 1458 between the representatives of the three granddaughters of Thomas Poynings, Lord St. John (d. 1429), Middleton passed to Alice's son Thomas Kingston, subject to the life interest of Eleanor, widow of Thomas Poynings' son Hugh, and her husband Godfrey Hilton. (fn. 171) At Thomas's death in 1506 he was succeeded in turn by his grandson John Kingston (d. 1514), John's brother Nicholas (d. 1516), Nicholas's sister Mary and her husband Sir Thomas Lisle (d. 1542), and Mary's cousin William Gorfen, (fn. 172) who in 1544 sold the manor to the Crown. (fn. 173)
In 1599 Middleton was granted to Sir John Spencer, (fn. 174) lord mayor of London, descending with Priory farm in Tortington between 1600 and 1640 or later. (fn. 175) By 1654 it had apparently passed to Thomas Bridger, (fn. 176) who was lord in 1682 and died in the following year. (fn. 177) In 1686 Bridger's great-nephew Ambrose Dench conveyed it to Henry Hall and his wife Grace. (fn. 178) By 1692 the manor seems to have been divided in two. Members of the Cooper and Peachey families then apparently had a moiety of Middleton farm (200 a.), (fn. 179) and in 1699 a moiety of the manor and the portion of the farm west of Sea Lane were settled on Henry Hall and the other moiety with the portion to the east on Thomas Cooper and Thomas Lewknor. (fn. 180)
In 1710 Hall's son Thomas mortgaged his share of the farm (99 a.) to Thomas Sparkes (d. in or after 1734). Henry Sparkes, apparently Thomas's son, (fn. 181) had that land in 1762 and 1771, (fn. 182) and in 1775 his nephew and heir Thomas sold it to Richard Coote (fn. 183) (d. 1803). (fn. 184) Henry Peckham of Chichester at his death in 1764 had some interest in a moiety of the manor with lands in Middleton, which he devised, after Thomas Ludgater's life interest, to his cousin Harry Peckham. (fn. 185) In 1776 those two conveyed their interest in what was evidently the Hall share of the manor farm to Thomas Palmer and Richard Coote. (fn. 186) Richard was succeeded by his nephew Joseph Coote (fn. 187) (d. 1814), (fn. 188) who devised his lands in Middleton to his sons Joseph and Richard as tenants in common. (fn. 189) Joseph was dealing with a moiety of the manor in 1821, (fn. 190) and had Middleton farm in 1828. (fn. 191)
The second moiety of the manor descended in the Cooper family. Thomas Cooper was described as lord in 1712, (fn. 192) and in 1732 his daughter Mary Johnson conveyed the moiety, together with 88 a., to her nephew, another Thomas Cooper. (fn. 193) It was evidently later re-united with the first moiety but by the early 19th century, with manor courts no longer held and with the extinction of common grazing rights, the lordship of the manor had become only notional.
Joseph Coote (d. 1844) was succeeded by Richard Coote. At that date Middleton farm had 137 a., (fn. 194) roughly the same acreage as in the early 20th century. (fn. 195) In 1852 Richard leased the farm to his son Middleton Richard Coote, who surrendered the lease in 1866. After Richard's death in 1873 (fn. 196) it was sold by his executors c. 1875 to Frederick Dixon-Hartland, M.P. (created Bt. 1892; d. 1909). (fn. 197) In 1911 Sir Frederick's executors sold both manor and farm to George Stay; (fn. 198) he in 1919 sold 396 a. at Middleton and Ancton in Felpham to West Sussex county council for smallholdings, and most of the rest shortly before to Capt. R. Coldicott, who developed his land after 1921 for building. (fn. 199)
A manor house at Middleton was mentioned in the later 16th century, when it was evidently the residence of successive Crown lessees. (fn. 200) Standing north of the old church at the south end of Sea Lane beyond the present coastline, it may have consisted of a central range with two cross wings; (fn. 201) in 1683 it had a hall, parlour, and office rooms, with chambers above. (fn. 202) Part may still have been standing c. 1875. (fn. 203) A new three-bayed, two-storeyed, stuccoed building was built before 1828 (fn. 204) to replace it on the corner of Sea Lane and Middleton Road, where it occupies a slight elevation. The Doric porch is a copy made in the 1920s or 30s of one in Chichester, (fn. 205) and the high-quality joinery inside the house may also belong to the modernization carried out at that time.
A park west of the manor house may be indicated by field names, the Parks and the Coney ground or Coney field, recorded in 1683 and later. (fn. 206)
The reputed manor of ELMER, which was not apparently called a manor before 1590, (fn. 207) perhaps originated in the four hides and five yardlands which three Frenchmen held of Middleton in 1086; (fn. 208) since Felpham manor's hidation had been reduced by about the same amount since 1066 (fn. 209) the estate may have been detached from that. At the division of the d'Aubigny inheritance in 1243 the overlordship passed with the share of Robert Tattershall. (fn. 210) William de Montfort held five fees in Elmer and elsewhere between 1303 and his death in 1310, (fn. 211) and William Elmer at his death c. 1325 held a house and six yardlands there of Barpham manor in Angmering; his heir was his son, also William. (fn. 212)
An estate called the manor of Elmer and comprising a house and c. 100 a. was said to have passed from John Standbridge (d. c. 1520) to his daughter Joan, wife of John Cowper, whose son John (d. c. 1540) was succeeded in the direct line by Robert, Ralph (d. c. 1578), and Edward (fl. 1590). In 1590, however, it was also claimed by Richard Cooke, who alleged that he had bought it from Henry Greene, son and heir of Nicholas. (fn. 213)
Cooke evidently made good his claim, for in 1603 the manor passed from him to Sir Henry Goring, (fn. 214) who with his wife Elizabeth conveyed it in 1614 to Sir Allen Apsley and Henry Bartellot. (fn. 215) Apsley evidently made over his share in 1620 to Sir Nicholas Jordan, (fn. 216) who with Bartellot sold the manor in the same year to Nicholas Thompson (d. 1628). (fn. 217) In 1640 Nicholas's two daughters and coheirs Elizabeth, wife of John Boys, and Catherine, wife of Robert Anderson, conveyed it to Robert and John Spence, (fn. 218) and in 1685 it was settled on John's son and namesake on his marriage. The manor farm then contained 183 a. (fn. 219) From the younger John (d. 1713) it passed to his son Robert (d. 1750), whose great-nephew Thomas Powys, later Lord Lilford, (fn. 220) apparently sold it c. 1768 to Thomas Palmer. Palmer still owned it c. 1790 (fn. 221) and a namesake was living there in 1841, though by 1851 he had become a pauper. (fn. 222)
In 1848 Elmer farm, of 180 a., belonged to the executors of Edward Bowden Puttock, (fn. 223) and by 1874 it had passed to members of the Redford family. (fn. 224) In 1907 it was in the hands of mortgagees. (fn. 225) Between c. 1910 and 1913 both manor and farm were bought by Ralph Brown, (fn. 226) who c. 1928 sold the land to F. C. Stedman (d. 1963), who disposed of it in three portions: two were soon afterwards developed for building, but Walter Guinness, later Lord Moyne, bought c. 120 a. in the north-east corner of the parish as a buffer between those new estates and his land at Bailiffscourt in Climping. (fn. 227)
The former Elmer manor house, perhaps of the later 17th century, is of flint with brick dressings and has two stories divided by a plat band and an attic storey with dormer windows of 'eyebrow' form; the pedimented front doorcase is probably 18th-century. Agricultural labourers lived in the house in the later 19th century. (fn. 228) By 1962 it had become a hotel (fn. 229) and in 1991 it was used as a club.
Before 1176 William d'Aubigny, earl of Arundel, gave land in Middleton, apparently ½ hide, to Boxgrove priory to maintain a lamp in the chapter house. (fn. 230) Tortington priory had land at Elmer in 1535. (fn. 231)
ECONOMIC HISTORY.
Agriculture.
Two villani were recorded on Middleton manor in 1086 and ten villani and four cottars on what may have been Elmer manor. (fn. 232) No tenants of Elmer are recorded later, but there were both free and copyhold tenants of Middleton in the early 17th century, (fn. 233) and at least one remained in the later 17th. (fn. 234) Copyholds seem generally to have been held for lives (fn. 235) and in the 1590s could be sublet. (fn. 236) In 1606 two freehold estates totalled 26 a. but there were 98 a. of copyholds, of which 56 a. were held by Thomas Lende. Most of the tenants' land was scattered around the manor, each estate having a house or a plot on the village street. Some cottages were then also held at copyhold. (fn. 237)
The parish was later divided between the two demesne farms, which were generally leased. (fn. 238) Middleton farm already had 133 a. in 1606 (fn. 239) and Elmer farm 183 a. in 1682. (fn. 240) They remained about the same size in the 1840s; (fn. 241) in 1831 the population consisted chiefly of landless labourers. (fn. 242) Later in the 19th century Middleton farm was held together with Ancton farm in Felpham with a combined acreage of 300 a. in 1861 (fn. 243) and 326 a. by the 1910s, when Elmer farm had 217 a. (fn. 244)
The ninth of sheaves was worth eleven times those of fleeces and lambs in 1341, though 60 a. of arable had been lost to the sea since 1291. Apples, flax, and hemp were also then grown, and cattle and pigs kept, the parishioners being said to live by great labour. (fn. 245) Middleton manor in 1606 (fn. 246) lay in small closes and no open fields are known in the parish, though they may have lain in the part lost to the sea before that date. At that period the land west of Sea Lane was mostly several pasture. Three pieces of common pasture then also remained: Middleton green at the junction of Middleton Road and Sea Lane (3 a.), a meadow east of the village divided between three copyholders, and a piece of land by the sea south-west of the old church (6 a.). North Horn mead south-west of the modern manor house had apparently once been commonable too, since one freeholder then had rights there and in 1699 another had the cut of ½ a. of grass from it. (fn. 247) A small inclosure was made from Middleton green c. 1700. (fn. 248)
In the 17th century cattle, sheep, and pigs continued to be kept, and wheat, barley, peas, vetches, hemp, beans, oats, and tares were grown. One of the two manor farms in 1664 had 180 or more sheep, at least 100 a. of crops, chiefly wheat and barley, and 22 a. of summer fallow. In 1683 the farmer of Middleton farm also leased land at Bilsham in Yapton. (fn. 249)
In the mid 19th century there was five or six times as much arable as meadow and pasture. (fn. 250) Large crops of wheat had been taken in 1796, (fn. 251) and in 1801 and 1803 only small numbers of stock were listed. (fn. 252) During the late 19th century and early 20th the acreage of pasture in the area of the modern parish increased, while more fodder crops were grown than earlier. A shepherd was recorded in 1881, and by 1909 the large total of 1,231 sheep were listed; (fn. 253) there were c. 500 head of Southdown sheep on Middleton and Ancton farms in 1912, (fn. 254) though in the previous year the Middleton part of the combined farm had been mostly arable. (fn. 255) Most closes in Middleton were amalgamated into larger ones during the mid 19th century; c. 1875 the two largest were of 67 a. and 95 a. (fn. 256)
After 1919 much of the area of the modern parish was divided up by West Sussex county council into smallholdings. (fn. 257) There were eight or ten in the 1930s run chiefly from premises in Yapton Road or Ancton Lane; (fn. 258) one specialized in milk production, (fn. 259) four or five in poultry, and one or two others in fruit or market-garden produce. (fn. 260) There were still several holdings in 1960, (fn. 261) but by 1992 they had been amalgamated into three. One then remained a poultry farm; another, Elms farm, had 76 a. of which 66 a. were grazed by Hereford cattle and 10 a. were a nursery for fruit and ornamental trees; while Guernsey farm, of 106 a., had mostly vegetables and soft fruit besides 1,500 free-range chickens, and included a farm shop in Yapton Road opened in 1988. (fn. 262)
Other trades and industries.
The mill mentioned at Middleton in the 1190s (fn. 263) may later have been lost to the sea, since the only other indication of a mill is field names recorded near Grevatts bridge north of Elmer in the mid 19th century. (fn. 264)
The surnames Taylor and Thatcher, perhaps indicating the practice of trades, were recorded in 1332. (fn. 265) Pottery found in a well belonging to a house in the lost section of Sea Lane may indicate the existence of a medieval kiln nearby. (fn. 266)
A 'stade' or landing place on the beach between Middleton and Elmer was accessible only around high tide in 1587. (fn. 267) In the 17th century two or three seamen were sometimes recorded at a single date. (fn. 268) The appointment of a riding officer by 1730 (fn. 269) suggests that smuggling was already common, as it continued to be later in the 18th century, notably at Elmer sluice. (fn. 270) A coastguard station accommodating 10 men was built beside the sluice c. 1831 (fn. 271) and was closed in 1881. (fn. 272)
No other non-agricultural occupations are recorded in the 19th century. (fn. 273) In 1910 the engineer Norman Thompson, (fn. 274) attracted to the area by the large expanse of firm sand and the constant winds along the shore, founded an aircraft works which after the removal of much of the sand in a storm in 1913 turned to making seaplanes. The firm was later called the Norman Thompson Flight Co. During the First World War it supplied aircraft to the navy, the workforce growing from ten at the beginning to between 700 and 900. Workers were brought by bus or lorry from Bognor and elsewhere, (fn. 275) a request to put up workers' cottages at Middleton being turned down by Westhampnett rural district council in 1916. (fn. 276) About 250 aircraft in all were built, some by sub-contractors, but with the cancellation of orders at the end of the war the firm went into liquidation.
Building development from c. 1920 brought new work in the building trades and in brickmaking. A brickfield which existed north of Sea Lane by 1899 (fn. 277) was closed in the 1930s. (fn. 278) Capt. R. Coldicott founded a building firm to develop his land at Middleton, which later became Middleton Builders (fl. 1993). (fn. 279) There were two other builders in 1927, besides two house or estate agents, an architect, and a landscape gardener. (fn. 280) In 1940 there were four or five building firms. (fn. 281)
Retail businesses grew up to cater for the new estates. In 1927 there were said to be ample shopping facilities in the west end, including an exhaustive general stores at the New City, (fn. 282) and with the construction of further shops in the 1930s at both Middleton and Elmer (fn. 283) it was claimed in 1937 that residents of both places had no need to go elsewhere to shop. (fn. 284) Sait's dairies, recorded from 1930, (fn. 285) survived in 1970 as one of the few private dairies then remaining on the south coast. (fn. 286) By 1940 there were also three branch banks, three or more doctors, an insurance agent, and a firm of solicitors. (fn. 287) There was a motor engineer in the parish in 1922 (fn. 288) and garages at both Middleton and Elmer by 1937, (fn. 289) one of them built c. 1929 as an adjunct to the Harefield estate. (fn. 290) The New City resort employed nearly 80 staff at the height of the season in 1926 (fn. 291) and other work was provided by hotels, guest houses, and refreshment rooms mentioned from 1927. (fn. 292) The Elmer Sands estate in 1957 employed several workmen continuously on maintenance. (fn. 293) In 1991 four separate groups of shops in Middleton and Elmer roads included wine merchants, car showrooms, a bathroom and kitchen centre, a television and electrical shop, and a computer firm. There were then also banks, two building society branches, an insurance office, and a solicitor at Middleton, and estate agents at both places, besides various restaurants and take-away food shops.
One workshop had been built at the junction of Yapton Road and Ancton Lane before 1980; (fn. 294) by 1992 at least one other firm had arrived at what was then called the Middleton business park, while nearby were a joinery firm and a gardening and landscape contractor.
Three riding stables were recorded in the 1930s, at Elmer, at Southdean, and in Yapton Road. (fn. 295) A caravan park laid out north-east of Ancton Lane by 1978 (fn. 296) still existed in 1992.
In the 1980s and 90s many inhabitants were retired or worked in other places, especially neighbouring towns.
LOCAL GOVERNMENT.
There are court rolls or draft court rolls for Middleton manor for the years 1547 and 1595-9, when the court was held up to twice a year. (fn. 297) The last recorded court baron took place in 1606. (fn. 298) Besides land transactions the court dealt in the 1590s with the repair of tenements. The assize of bread and of ale was claimed for the manor in 1288, (fn. 299) and strays, felons' goods, the profits of wrecks, and other franchises in 1606; (fn. 300) none are known ever to have been enjoyed. (fn. 301) A chief pledge was mentioned in the mid 16th century (fn. 302) and a tithingman c. 1822. (fn. 303)
Elmer manor seems never to have had courts. There was a tithingman c. 1822. (fn. 304) Right to wreck was apparently asserted in 1571. (fn. 305)
There were two churchwardens apparently between 1548 and 1634 but thereafter only one before the 20th century. (fn. 306) A single overseer served in 1642 (fn. 307) and 1826 (fn. 308) and there was a waywarden in the later 19th century. (fn. 309) Three parishioners were receiving permanent relief and one casual relief in 1826. (fn. 310)
The parish joined Westhampnett union in 1835, and was later first in Westhampnett and after 1933 in Chichester rural district. (fn. 311) From 1974 it was in Arun district.
CHURCH.
There was a church at Middleton in 1086. (fn. 312) The living remained a rectory. It was briefly united with Felpham in 1657 (fn. 313) and again in 1906. The parishes, which had remained distinct, were also united in 1976, creating a benefice of Felpham with Middleton of which the incumbent was called rector. (fn. 314)
The advowson descended with the manor until 1599, when it was retained by the Crown; in 1546 John Knight and others presented for a turn. (fn. 315) Presentations after 1720 were often made by the Lord Chancellor. (fn. 316) In 1865 the Crown sold it to George Hartwell Roe (d. 1874), whose widow Eliza (d. 1889) devised it to the rector, the Revd. Alfred Conder, apparently her son-inlaw (d. 1895). (fn. 317) It afterwards passed from his executors to W. H. B. Fletcher of Bognor, who gave it in 1901 to the dean and chapter of Chichester, (fn. 318) the patrons of Felpham vicarage.
The living was worth £8 in 1291 (fn. 319) and the same or less in the 15th century. In 1513 it was said to have been impoverished by floods (fn. 320) and its value declined to £5 10s. 6d. net by 1535 (fn. 321) and less than £5 in 1579. (fn. 322) In 1341 there were a house and 24 a. of arable, besides a tenant or tenants who paid 4s. rent. (fn. 323) The house stood south of the old church in 1606, and at the same period the glebe, by then only 16 a., lay together in three closes east of Sea Lane. (fn. 324) In 1617 the house was said to be very decayed and so near the sea that it was likely to be soon destroyed. (fn. 325) The building in fact fell down some years before 1663, (fn. 326) perhaps through the action of the sea which afterwards, despite the construction of a groyne in the later 18th century, (fn. 327) reduced the glebe to c. 5 a. by 1819, (fn. 328) 3 a. by 1887, (fn. 329) and 1½ a. by 1926 when it was sold. (fn. 330) The rectory barn still stood in 1758 (fn. 331) but afterwards disappeared.
The value of the living increased to £35 by 1657, (fn. 332) nearly £41 by 1724, (fn. 333) £95 by 1782, (fn. 334) and £118 15s. 3d. by 1809. (fn. 335) Some tithes at Elmer, defined in 1848 as half the corn tithes arising from Elmer farm (fn. 336) and presumably representing Tortington priory's portion of 1291, (fn. 337) descended with Trynebarn rectory in Yapton in the later 17th century (fn. 338) and in 1848 belonged to George Puttock. At the commutation of tithes in that year he received a rent charge of £27 and the rector one of £128. (fn. 339)
Medieval rectors included one killed in an insurrection at Winchelsea in the mid 13th century, (fn. 340) another deprived for incest, (fn. 341) and Geoffrey Spede, registrar to the bishop of Chichester in 1382. (fn. 342) Rectors resided in 1440, (fn. 343) 1563, (fn. 344) 1579, (fn. 345) 1615, (fn. 346) and 1622, (fn. 347) but John Lewes (1616-19) neither resided nor always provided a substitute to serve in his absence, (fn. 348) as also happened in the early 1660s when holy communion was sometimes not held at the appointed times. (fn. 349) Julian Browning (1546-82) was a licensed preacher, (fn. 350) as was Adam Page (inst. 1619; fl. 1642), but Browning's successor was not a graduate. (fn. 351) Assistant curates served in the 1610s. (fn. 352) From the mid 16th century or earlier rectors often held other local benefices as well, especially Felpham, (fn. 353) and after the destruction of the glebe house in the mid 17th century they presumably always lived outside the parish. (fn. 354)
By 1724 services were held fortnightly, as they continued to be in 1782. Communion was celebrated three times a year in 1724 but with only three communicants. (fn. 355) Thomas Durnford, rector 1768-99, held Kirdford besides and was curate of South Bersted and Felpham though he served Middleton himself. (fn. 356)
James Douglas (1799-1819) (fn. 357) served the church for a time while incumbent of Chiddingfold (Surr.), but from 1803 he lived at Kenton (Suff.) and from c. 1810 at Preston near Brighton where he was a chaplain to the Prince Regent. By the early 19th century morning and afternoon services were held on successive Sundays alternately with Felpham, a practice which continued until 1868 or later (fn. 358) despite the bishop's stipulation of weekly duty in 1803. The vicar of Felpham, J. B. Beed, (fn. 359) served as curate with a stipend of £20 in 1803, but in 1806 he was presented by the churchwarden for drinking in church during services, for not doing regular duty, and for reading the services too fast. Later in the same year the lack of a curate sometimes meant that no service was held. Other local clergy served the church in the 1810s. (fn. 360) There were seldom more than six or seven in the congregation in 1804.
Douglas's successor lived in Bognor in the 1820s but died in 1832 in Horsham gaol, where he had been imprisoned for debt; thereafter until 1847 the living was held in plurality with Felpham. Assistant curates continued to serve in the 1820s and 30s but the virtual destruction of the church in 1838 put an end to the holding of services (fn. 361) until the new building was opened in 1849. The construction of the coastguard station at Elmer, meanwhile, had doubled the potential congregation and on Census Sunday 1851 morning service was attended by 50 people. (fn. 362) Communion was celebrated six times a year in 1856 for c. 8 communicants, monthly by 1878, and fortnightly by 1903. (fn. 363)
In 1851 and 1861 the rector lived in Felpham, (fn. 364) and his successor Alfred Conder (1866-95) in Bognor, where he ran a successful private school and took a leading role in the town's affairs. (fn. 365) Average congregations in 1868 were said to be 70 in the morning and 120 in the evening, evidently including children from the rector's school. (fn. 366) Between the 1870s and 90s, on the other hand, services were sometimes abandoned for lack of a congregation. In 1887 most churchgoers were non-parishioners. (fn. 367)
With the beginning of building development after c. 1920 an assistant priest was appointed to the united benefice in 1923 to serve Middleton. (fn. 368) The practice continued until the 1980s, when the parochial work for Felpham and Middleton was shared instead between the clergy. (fn. 369) A house for the curate was built near the church c. 1930 (fn. 370) but was replaced in the 1980s by one on the Flansham Park estate in Felpham. A building in Elmer Road was bought instead c. 1992. (fn. 371)
The old church of ST. NICHOLAS (fn. 372) consisted of chancel, nave with south aisle and north porch, (fn. 373) and west tower. (fn. 374) It may have incorporated part of the building mentioned in 1086, (fn. 375) but the window forms and the four-bayed south aisle arcade depicted shortly before its destruction were 13th-century. (fn. 376)
A light to the Virgin Mary was mentioned c. 1535 and a rood in 1538; (fn. 377) the latter had gone by 1602 when the building was in poor condition. The porch was evidently built afterwards since there was none at that date. (fn. 378) In 1663 the chancel was in danger of falling down through neglect (fn. 379) but it was repaired before 1724 when, however, the nave had become 'a common burial place', (fn. 380) perhaps because part of the churchyard had already been eroded away. (fn. 381) By the late 18th century most of the chancel had been destroyed, the south aisle demolished and its arcade filled in, and part of the west end including the tower removed. (fn. 382) Repairs were carried out in 1803. (fn. 383) Meanwhile, the sea had reached to within a few feet of the building by 1789, breaking up many of the graves so that human remains were washed onto the beach. (fn. 384) A very high tide early in 1838 virtually destroyed what was left of the building, rendering it unusable; (fn. 385) the ruins survived in 1847 (fn. 386) but had disappeared by c. 1849. (fn. 387) A small portion of the north part of the churchyard remained in 1860. (fn. 388)
The new church, with the same dedication, consists of apsed chancel and nave without structural division, and west porch and vestry. There is a bellcot. Of flint with stone dressings and some brick and in 13th-century style, the building was consecrated in 1849 on a site given by Richard Coote, lord of Middleton manor. (fn. 389) Originally it was small and rectangular; (fn. 390) the one-storeyed western extension was added in 1949 (fn. 391) and the apse in 1978. (fn. 392) A west gallery was built c. 1928 to house an organ. (fn. 393)
There was one bell in 1724 (fn. 394) and more than one in 1664, (fn. 395) but the present bell is of 1840. (fn. 396) Some 'old and rotten' seats survived in 1724 (fn. 397) and the medieval font in the late 18th century; (fn. 398) all were afterwards destroyed. There are a silver communion cup and paten cover of 1576. (fn. 399) The registers begin in 1553. (fn. 400) Remains of at least one tombstone from the old churchyard, found on the beach, could be seen in the new churchyard in 1992. (fn. 401)
NONCONFORMITY.
The lack of resident Anglican clergy in the 19th century encouraged other denominations. Two coastguard families in the 1830s attended Slindon Roman Catholic church, (fn. 402) and others in 1868 occasional services held in a private house by an itinerant Congregational preacher. In 1878 there was a family of 'Bible Christians', and in 1887 a congregation of Brethren met in an outbuilding at Middleton farm. There were said to be 10 Nonconformists in 1898. (fn. 403)
EDUCATION.
The history of Felpham and Middleton National, later C.E., school is treated under Felpham. Some children attended Yapton school in 1867. (fn. 404) In 1940 there were four private schools in the modern parish including an 'open air' school in Sea Way; one at least remained in 1972. (fn. 405) In 1992 most younger children went to school in Felpham or Climping and most older ones to Felpham or Chichester. (fn. 406)
CHARITIES FOR THE POOR.
None known.