Pages 10-21
A History of the County of Sussex: Volume 6 Part 1, Bramber Rape (Southern Part). Originally published by Victoria County History, London, 1980.
This free content was digitised by double rekeying. All rights reserved.
CLAPHAM
Clapham (fn. 1) lies 4 miles north-west of Worthing on the south slope of the South Downs. The modern parish is elongated from north to south, with an eastwards extension in the south part. The ancient parish, however, also included two detached parts to the north-west, higher up the downs, which contained Michelgrove house and Lee Farm. Those detached parts, amounting to 324 a. and 198 a., were transferred in 1933 to Patching and Angmering respectively, reducing the area of the parish from 1,807 a. to 1,285 a. (fn. 2) The history of the two detached parts before 1933 is included here. Though so close to Worthing, from which it was visited by picnic parties already in 1814, (fn. 3) Clapham has remained rural.
The parish lies on the chalk, overlaid in the south by later deposits on which are Clapham common and the brickworks of the Clapham Brick Co. (fn. 4) During the Napoleonic War there was an encampment of 1,000 men on the common. (fn. 5) The northern part of the parish was the scene of prehistoric settlement as in neighbouring parishes. (fn. 6) It is dissected by dry valleys, one of which provided the sheltered site of Michelgrove house. The dry valleys meet to form the valley which separates the villages of Clapham and Patching. The soil of the parish is generally light, (fn. 7) and land use is divided between arable and pasture.
There are nearly 400 a. of woodland in Clapham, a large proportion for the locality. The closeness of the villages of Clapham and Patching to the common boundary of the two parishes seems to indicate that at the time of their settlement the surrounding country was less amenable to cultivation, and the place-names Holt, Lee, and Michelgrove all suggest settlement in woodland. In 1773 Clapham Woods totalled 264 a., and other woods in the main part of the parish belonging to the Shelley family comprised 60 a. (fn. 8) In 1843-4 there were 380 a. of woodland in the parish, of which Clapham Woods comprised 275 a. (fn. 9)
The first element of the name Clapham probably means 'hill', (fn. 10) and the second may indicate early Saxon settlement. Clapham village consists of a single street climbing eastwards out of the valley and levelling out, with a steep drop to the south and a more gradual one to the east. The church and Clapham Farm are on rising ground some distance to the north, but were probably once linked with the village; there are disturbances in the ground in that area, and the surviving network of paths might indicate former streets. (fn. 11) There are several timberframed buildings in the village, some of the 17th century, and some mid-19th-century flint and brick cottages built by the duke of Norfolk. (fn. 12) Council houses were built in Clapham in the 1920s and 1930s. (fn. 13)
In the east part of the parish the settlement of Holt, called a vill in 1415, (fn. 14) lay north of the modern Holt Farm. In the 13th century Holt had 21 proprietors, but land-holding was gradually consolidated in succeeding centuries, (fn. 15) and after 1816 virtually the whole area was part of the Michelgrove estate. (fn. 16) Holt Farmhouse is converted from three brick cottages dated 1851. Further north lie two timber-framed houses, one of which is 17thcentury or earlier. (fn. 17)
The outlying settlement of Michelgrove was mentioned in 1193, (fn. 18) and Lee farm in 1327. (fn. 19) Remote in the past, they remained so in 1974. The buildings of Michelgrove house are discussed below; Lee Farm, which was described in 1587 as an old thatched building, (fn. 20) was destroyed during the Second World War, and afterwards rebuilt on a different site. (fn. 21)
The parish is crossed at its southern end by the Chichester-Brighton road, which is of great antiquity. (fn. 22) Another east-west road further north, however, was more important in the Middle Ages and later. Crossing the northern tongue of the main part of the parish from the east it proceeded to Michelgrove, turning south to climb Patching hill, and then west along the crest. (fn. 23) During the 18th century the part between Michelgrove and the Findon boundary was under the control of the Shelleys, who from time to time closed it to the public, on one occasion levying a toll of 1d. (fn. 24) In the early 19th century R.W.Walker of Michelgrove, attempting to set up a coach service from Littlehampton to London in opposition to the commercial one via Arundel, made a private turnpike road along the dry valley called Long Furlong to take advantage of the Worthing turnpike road. The castellated toll-house on the boundary between Clapham and Findon, which survived in 1974, may have been built contemporaneously, or may have been converted from an existing lodge. The scheme was a failure, however, and in 1823 the Long Furlong road was incorporated in the public turnpike road between Findon and Littlehampton, Walker's right to the tolls on his section of the road being protected. At the same time the Michelgrove-Findon road was closed as a public carriage road. (fn. 25) The Long Furlong road was disturnpiked in 1878. (fn. 26)
A road leading from the Chichester-Brighton road to Storrington formed almost the entire western boundary of the main part of Clapham parish, and is therefore presumably ancient. (fn. 27) Another north-south road, described as a public carriageroad in 1812, led through the hamlet of Holt towards Findon. (fn. 28) Within the parish two tracks connected Clapham and Holt, one, which was a footpath in 1974, leading east from the village street and the other, mentioned in 1415, leading from Clapham church along the south side of the modern Clapham Woods. (fn. 29) The old road to Lee farm was replaced in the 20th century by a longer, lower one of concrete. (fn. 30)
The Coach and Horses inn in the south-east corner of the parish was newly built in 1741, when it was called the Rose and Crown. Additions were made before 1763, when the inn was described by its present name. In 1779 it was known as the half-way house between Arundel and Shoreham. A coachhouse was built shortly before 1786. (fn. 31)
Thirteen inhabitants were enumerated in Clapham in 1086. (fn. 32) Twenty inhabitants were taxed in 1296, (fn. 33) and 31 in 1378. (fn. 34) In 1524 19 inhabitants were assessed for subsidy. (fn. 35) Forty-nine adult male inhabitants, excluding some of Michelgrove, were recorded in 1642. (fn. 36) In 1676 there were 110 adults in the parish, (fn. 37) and in 1724 21 families. (fn. 38) The population was 197 in 1801, and thereafter rose, fluctuating around 250 for most of the 19th century and reaching a peak of 320 in 1961, despite the loss of the two detached parts to other parishes. In 1971 the population was 264. (fn. 39)
Cricket may have been played at Clapham in the late 18th century. (fn. 40) A single race meeting was held at Michelgrove in 1816. (fn. 41) An institute and reading room for Clapham and Patching was built in the village street by Mrs. Joad of Dulany House, Patching, c. 1882, (fn. 42) and burnt down in 1973. (fn. 43) A new building, in Patching, was opened c. 1975.
MANORS.
The manor of CLAPHAM was held of King Edward by one Alwin in 1066, when it was described as belonging to an estate in Lyminster. (fn. 44) In 1073 it belonged to William de Braose as part of what became the honor of Bramber, to which it always belonged later. (fn. 45) The under-tenant in 1086 was Gilbert, apparently the same as the Gilbert of Clapham recorded in the reign of William II and the Gilbert St. Owen recorded in 1103. (fn. 46) The St. Owen family held the manor during the next 300 years as 2 knight's fees. (fn. 47) Four by the name of Ralph were tenants c. 1150, in 1201-2, in 1242, and in 1268, (fn. 48) the last two perhaps being identical. They were succeeded by John (fl. 1291), Ralph, who in 1304 was granted free warren in Clapham (fn. 49), another Ralph, a minor in 1316 and later sheriff of Sussex, (fn. 50) and another John (fl. 1378). (fn. 51) In 1402 Thomas St. Owen, son and heir of John St. Owen, died a minor and was succeeded by his father's uncle Patrick, but 8 years later Patrick was shown not to have been the rightful heir and the manor passed to Thomas Downton, nephew of Thomas St. Owen and then a minor. (fn. 52) At his death, before 1456, he was succeeded by his three daughters, one of whom married William Wood. (fn. 53) The Wood family later came to hold the manor alone. John Wood was described as lord of Clapham in 1501, and other members of the family of the same forename held the advowson, which apparently descended with the manor at that date, in 1483, 1516, and 1524. (fn. 54) Edward Wood, son and heir of John, sold the manor in 1527 to Sir William Shelley of Michelgrove. (fn. 55)
The manor of MICHELGROVE was perhaps represented by the two hides belonging to Clapham manor which were in the rape of Roger de Montgomery in 1086. (fn. 56) It was recorded as held of the honor of Bramber in 1242 (fn. 57) and apparently always later. In the 1190s, together with Heene manor, it was disputed between John of Coombes and Robert Falconer. (fn. 58) The same Robert or a namesake had held Wootton in Folkington in 1175. (fn. 59) Robert Falconer had been succeeded by his son Robert by 1203; (fn. 60) in 1201 Beatrice daughter of Hugh of St. Denys conveyed her right in Heene and Michelgrove to one or other of them. (fn. 61) The Falconer family continued to hold Michelgrove by knight-service thereafter. (fn. 62) Robert's son Godfrey succeeded between 1239 (fn. 63) and 1244. (fn. 64) A Godfrey Falconer held Michelgrove in 1248 and 1268 (fn. 65) and died in 1279, (fn. 66) being succeeded by his son Robert (fl. 1291; d. 1302), (fn. 67) who was succeeded by his son John (d. 1320). (fn. 68) John's son and heir Henry was a minor, but the manor was restored to John's widow Lettice in 1321, since she had been joint tenant. (fn. 69) In 1324, however, the king again had custody. (fn. 70) From the mid 14th century the Falconers adopted the alternative surname Michelgrove, and later used it exclusively. Henry Michelgrove alias Falconer (d. 1364), (fn. 71) perhaps the same as the heir of John (d. 1320), was succeeded by his son John, collector of various taxes in Sussex (fn. 72) (d. 1393), (fn. 73) and John by his son Henry (d. 1395). (fn. 74) When Henry's son John died a minor in 1398 he was succeeded by his father's brother, another John, (fn. 75) who fought at Agincourt in 1415, (fn. 76) but had died by 1439. His son and heir John was a knight of the shire in 1445. (fn. 77) He died in 1459, (fn. 78) and was succeeded first by his son John who died later in the same year, (fn. 79) and then by John's daughter Elizabeth (b. 1460), who married John Shelley in 1474, (fn. 80) thus bringing the Michelgrove family estates to the Shelley family, with which they were to remain for three centuries.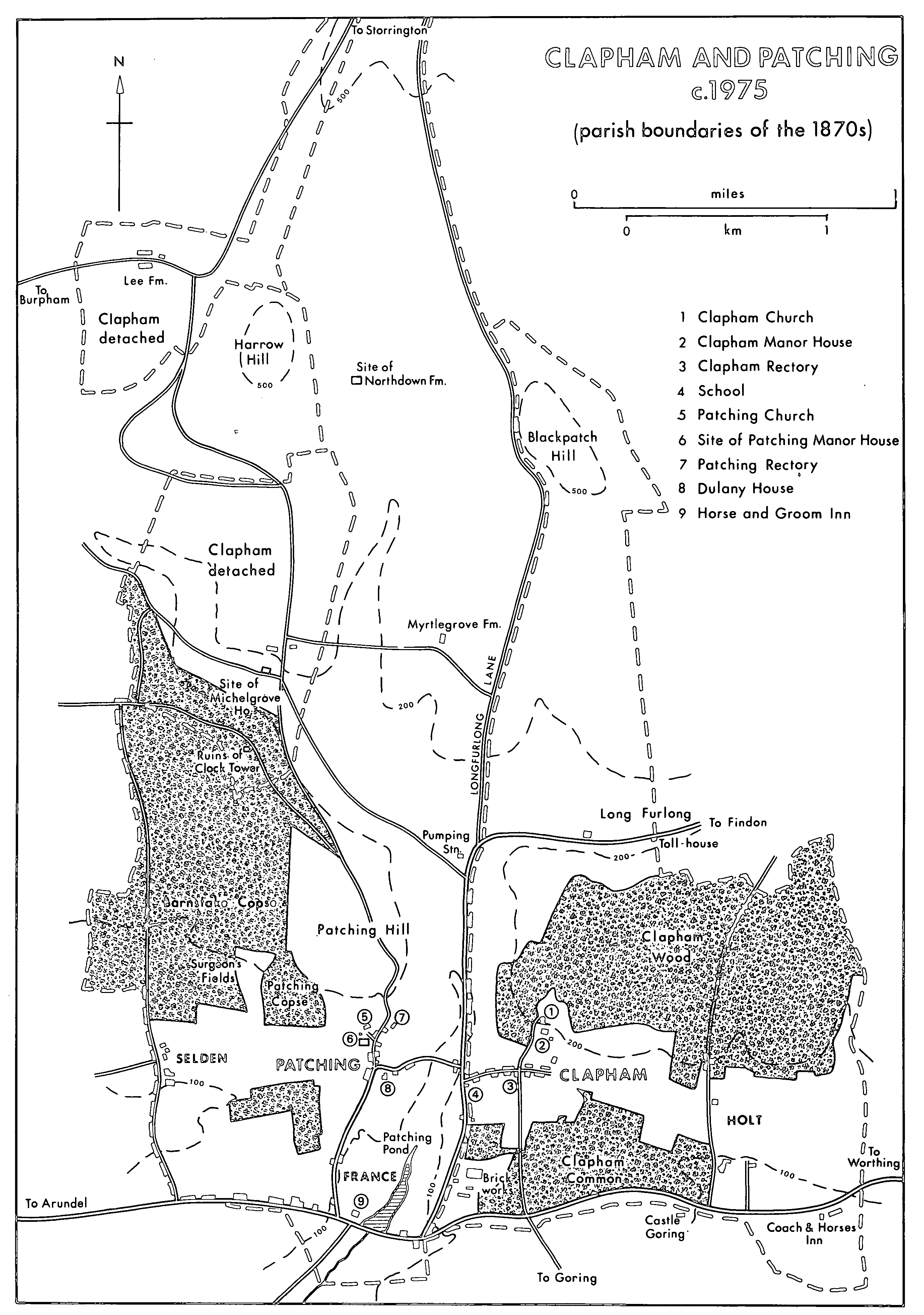 Sir William Shelley, John's son, succeeded in 1527 (fn. 81) and bought Clapham manor in the same year. Thereafter the two manors descended together, Michelgrove eventually becoming absorbed in Clapham. Sir William found favour with Henry VIII and was made a judge of Common Pleas and recorder of London. (fn. 82) His brothers Edward and Richard founded the Warminghurst and Patcham branches of the family. (fn. 83) Sir William was succeeded in 1549 (fn. 84) by his son John (d. 1550). (fn. 85) John's son William was imprisoned in 1580 for recusancy, (fn. 86) and was attainted in 1586-7 for his part in Throckmorton's plot. (fn. 87) Sentence of death was commuted, however, (fn. 88) and he was released from the Tower in 1596. (fn. 89) The family estates were leased by the Crown to John and Henry Shelley, Sir John Caryll and others, (fn. 90) but in 1604 they were restored to William Shelley's nephew John on payment of £11,000. (fn. 91) He was created one of the first baronets in 1611 (fn. 92) and was later a commissioner of sewers for Sussex. (fn. 93) His son Sir William having predeceased him he was succeeded by his grandson Sir Charles, a minor, at his death in 1641. (fn. 94) Sir Charles was abroad in 1649 (fn. 95) and though resident at Michelgrove in 1671 (fn. 96) was abroad again from c. 1678 until his death in 1681. (fn. 97) During the time of his son Sir John (d. 1703) Michelgrove was let to the Butler family for a number of years. (fn. 98) John's son and namesake (d. 1771) renounced his recusancy in 1716 and was M.P. for Arundel and Lewes between 1727 and 1747, (fn. 99) and his son, another Sir John (d. 1783), besides sitting in parliament, held various offices of state. (fn. 100) In 1800 the last-named John's son Sir John (d. 1852) sold the Michelgrove estates, (fn. 101) which by then included the greater part of the parish, (fn. 102) to Richard Walker of Liverpool. Walker died in the following year; (fn. 103) his son, Richard Watt Walker, who came of age in 1813, (fn. 104) lived so extravagantly that he had to sell the estate in 1827 to the duke of Norfolk. (fn. 105) In 1843-4 the whole parish except c. 100 a. was in the duke's possession. (fn. 106) In 1874 a later duke exchanged 400 a. in the east and south of the main part of the parish with Lady Burrell, widow of Sir Percy Burrell, Bt., of Castle Goring; (fn. 107) from her the lands passed to her sister Adelaide Harriet, who married Lt.-Col. (later Sir) Alfred Somerset, also of Castle Goring. (fn. 108) In the 1920s more of the parish, including Clapham farm, passed from the Norfolk estate to the Castle Goring estate. (fn. 109)
The manor-house of Clapham manor, formerly Clapham Farm, lies south of the church. (fn. 110) The building, which is largely cased in brick and hung tiles, has a central timber-framed range with east and west cross-wings, and is probably of the late 16th century. A brick range with two large external chimney-stacks was added on the south in the 17th century, and the roofs were reconstructed in the late 17th or early 18th. North of the house is a square dovecot of flint rubble with sandstone quoins, which may be medieval in origin.
A house at Michelgrove was mentioned in 1279, 1302, and 1364, (fn. 111) and at the time of her marriage in 1474 Elizabeth Michelgrove was seised of a capital messuage, two granaries, a dovecot, and two gardens there. (fn. 112) In 1534 (fn. 113) the house was rebuilt by Sir William Shelley who is said to have entertained Henry VIII in it. (fn. 114) The Tudor building (fn. 115) was quadrangular, with an open internal courtyard and polygonal towers at the outer angles. It was of brick, and the south or entrance faôade had a three-bay Doric or Tuscan arcade, apparently of stone, with an achievement above. The entrance hall may have been incorporated from the previous building. Upstairs was a gallery 78 feet long. In 1585 the house was said to contain more than 50 rooms, but their scanty furnishing, much of it in poor condition, suggests neglect and non-residence. Eight years later it was described as in great decay and urgently needing repair. (fn. 116)
About 1769 (fn. 117) large alterations were made. The building was apparently cased in cream-coloured brick, and the internal courtyard was made into a hall 53 feet by 27, and 40 feet high, rising above the rest of the building, and having four square towers at its corners. Further alterations in the Gothic style were made after 1800 for the Walker family to the designs of George Byfield. (fn. 118) One-storeyed wings were added on both sides of the house, that on the west including a conservatory and that on the east containing a dining-room 50 feet by 27, and a drawing-room 46 feet by 40 with a groined chestnut ceiling. The very elaborate staircase inserted at the same date was later moved to Burton Park near Petworth. (fn. 119) At the same time apparently a new stable block was built north of the house, replacing the earlier stables to the east. (fn. 120)
The former pigeon-house, which stood on the hill to the south, (fn. 121) was apparently built between 1755 and 1768. (fn. 122) After 1800 it was converted into a clocktower by the addition of another storey. The building was square and of three storeys, each narrower than the last; it was built of brick and flint with some cement rendering. (fn. 123) By 1955, (fn. 124) and probably long before, it was in ruins, and it had been demolished by 1974.
The park belonging to the house lay to the south, almost entirely in Angmering parish, and consisted in 1793 of 660 a.; (fn. 125) much of it had been planted during the mid 18th century. (fn. 126) In 1802 it contained 649 deer. (fn. 127) Plans for its improvement, which Humphrey Repton made c. 1800-1 for Richard Walker, were not carried out. (fn. 128)
After the Michelgrove estate was bought by the duke of Norfolk the house was demolished and the park partly cut down and abandoned. (fn. 129) In 1974 only one wall and a turret, apparently of the early 19th century, remained, besides the stables and a walled garden to the east. A pair of 18th-century lodges south-east of the house survived, much altered, in 1974 as cottages.
ECONOMIC HISTORY.
In 1086 Clapham manor contained 4 plough-lands; two ploughs were in use on the demesne, and 5 villani and 8 bordars had two others. (fn. 130) The two detached portions of the parish may be included in this description, for they are not mentioned separately. Later the demesne lands of the two manors formed large estates. In 1402 the demesne of Clapham manor included 540 a. of arable. (fn. 131) Michelgrove manor in 1279 contained 160 a. of arable, (fn. 132) and in 1474 350 a. with 200 a. of pasture. Lee farm was mentioned as part of Michelgrove in 1474. (fn. 133) In 1587 it had c. 100 a. of arable and 2 granaries. (fn. 134)
There were fixed rents and farms worth 10 marks at Clapham manor in 1402. (fn. 135) Numerous freehold estates of between ½ a. and 5 a. are recorded in the Middle Ages, but there is little information about rents or services. (fn. 136) Three tenants of the manor at a money rent are recorded at the end of the 16th century, two holding estates of 3 a. and 20 a., and another a much larger estate which was probably Clapham farm. (fn. 137) At Michelgrove in 1302 there was one free tenant holding a yardland at a money rent. (fn. 138)
By the mid 18th century much of the parish belonged to the Shelley family, and was divided into three large farms, Clapham, Michelgrove, and Lee farms, which were let on 15 or 21 year leases in common with other Shelley farms elsewhere. At Michelgrove farm, as well as paying a money rent, the tenant was to supply 12 hens and 12 chickens, to fatten 6 of the landlord's pigs every year, and to carry furze to Michelgrove when necessary. The landlord reserved free access across the farm to Michelgrove house. The tenant of Lee farm, besides his money rent, was to supply 10 days' work for the landlord with his horses, though the landlord could not require this during the wheat or barley sowing seasons or at harvest. (fn. 139)
Numerous coyphold and customary freehold tenants were also recorded at Clapham manor in the 17th and 18th centuries, owing money rents and heriots in kind. Copyhold estates could be sub-let to others, and were sometimes held for lives. (fn. 140) Some of the tenants mentioned in contemporary probate inventories left property of considerable value. (fn. 141)
The eastern portion of the main part of the parish remained longest in the hands of small freeholders. The 21 free tenants of the early 13th century had declined by the 16th to six. (fn. 142) Roger Hide (d. 1630) was seised of a messuage called the Holt, (fn. 143) which apparently passed to the Parson family; (fn. 144) that family held Holt farm from at least 1686 until the early 19th century. In 1686 the farm consisted of 110 a. freehold. (fn. 145) In the 18th century the family also held lands on lease from the Shelleys which included the former copyhold lands of others, and which were described at different dates as 131 a. (fn. 146) and 83 a. (fn. 147) In 1807 Holt farm consisted of 79 a. freehold and 79 a. copyhold land, (fn. 148) and in 1815, after an exchange with R. W. Walker, of 110 a. freehold and c. 60 a. copyhold. (fn. 149)
Three open fields are known in the parish, which by 1773 contained only 38 a.; two lay to the north of the village along the boundary with Patching parish, and one to the south. (fn. 150) In 1615 there had been parcels of glebe of ½ a. in each of them. (fn. 151) In 1773 the strips remained unconsolidated and were mostly less than 1 a. in area, each northern field being divided into two furlongs. At that date 2 a. were glebe, 18½ a. belonged to Sir John Shelley, and the rest was divided between four small freeholders. (fn. 152) In 1811 the fields were still described as open. (fn. 153) There may also have been an open field or fields in Holt, as the layout of the closes east of the hamlet in 1773 suggests. (fn. 154) A parcel of 1 a. lying in Holt field in Holt was mentioned in 1686 and 1816. (fn. 155)
There was inclosed arable land in the parish too from early times. The demesne of Clapham manor included recent assarts c. 1150, and there are other medieval references to assarting and to the existence of crofts. (fn. 156) In 1615 the glebe land included 5 closes totalling 18 a. (fn. 157) The disjointed layout of the fields belonging to Clapham farm in 1773 suggests piecemeal assarting, (fn. 158) and some of the field-names of Holt farm might indicate colonization in woodland. (fn. 159) Similarly six large regular fields lying north of the road to Findon and first recorded in 1773 were apparently carved out of upland pasture. (fn. 160)
The 100 a. of pasture disputed between Clapham manor and Henry Tregoze of Goring in 1201-2 was probably common pasture. (fn. 161) In later times Clapham manor included common pasture on the downs. (fn. 162) About the end of the 18th century four tenants were recorded as having the right to pasture between 30 and 60 sheep there. (fn. 163) In 1811 the tenantry down was attached to Clapham farm, the tenant of which had the exclusive use of it during part of the year, while the manorial tenants had rights of common there at other times. (fn. 164) Clapham common meanwhile, before its inclosure, supplied furze for fuel. (fn. 165)
Crops grown in the parish in the 17th and 18th centuries included wheat, barley, oats, flax and hemp, clover, tares, peas, and beans, as well as sainfoin at Michelgrove farm. (fn. 166) Sheep-farming was prominent in the Middle Ages and later. In the 14th century William Isemonger of Clapham possessed a large flock. (fn. 167) Clapham manor had pasture for 300 sheep in 1402, (fn. 168) and an 18th-century tenant apparently of Clapham farm died owning 690 sheep. An inhabitant of Holt had 318 sheep in 1708, and other large flocks are recorded in the 17th and 18th centuries besides. (fn. 169) In the detached parts of the parish the emphasis on sheep was even greater. At the end of the 16th century Michelgrove farm had pasture for 1,000 sheep, (fn. 170) and there were 124 weighs of wool at the house. (fn. 171) Lee farm at the same date had pasture for 1,340 sheep. (fn. 172) In 1730 there were apparently 1,350 sheep at Lee farm. (fn. 173) Between 3,000 and 4,000 sheep were recorded in the parish in 1801 and 1803, when there were also over 150 pigs. (fn. 174) There was a rabbit warren at Michelgrove, with a lodge, in 1595. (fn. 175)
The open fields and commons in the main part of the parish were inclosed in 1812 by an agreement recorded in the manor court. Of the former Thomas Rawson as trustee for R. W. Walker received 26½ a. in two parcels, the rector a close of 2 a. as glebe, and three other tenants parcels of 2½, 3½, and 4 a. Of the commons Rawson received 67 a., including the tenantry down, which was added to Clapham farm, Thomas Parsons 11 a., and three other tenants parcels of between 1½ and 5½ a. A parcel of 6½ a. was reserved as public gravel pits, for the use of the lord of the manor and of the surveyors of highways. However, land promised to be reserved to provide fuel for the poor was not in fact awarded. (fn. 176)
The consolidation of the parish into the Michelgrove estate reached its culmination in 1816, when R. W. Walker bought Holt farm from the Parson family. (fn. 177) In 1843-4 the duke of Norfolk's estate in the main part of the parish comprised two farms, Clapham farm of 586 a. and Holt farm of 143 a., and a number of small tenements, many of less than 1 a. Michelgrove and Lee farms included large areas of the parishes surrounding them, (fn. 178) Lee farm having 1,000 a. in 1851, when 21 labourers were employed there. (fn. 179) By c. 1870 Clapham farm included most of the western portion of the main part of the parish, and Holt farm almost the whole of the eastern portion. (fn. 180) In 1881 Lee farm comprised 1,200 a. in all, with a work-force of 14, (fn. 181) which often swelled in the summer to 50 or 60 of all ages. (fn. 182) A new farm, Stanhope farm, was created at the end of the 19th century, and had over 150 a. in 1922. (fn. 183) In 1975 Clapham farm contained c. 300 a., and the eastern part of the parish was farmed as part of the Castle Goring estate. (fn. 184)
In 1843-4 there were 545 a. of arable, 273 a. of meadow and pasture, and 586 a. of upland pasture in the parish. (fn. 185) Since then the amount of arable in the northern part of the parish has increased. In 1930 the crops of the parish were listed as wheat, oats, turnips, mangel-wurzels, and rape. (fn. 186) Sheep remained important until the 20th century: there were c. 2,000 at Lee farm in 1886 and 650 at Clapham farm in 1901, (fn. 187) but more recently cereals and dairy farming have predominated. Poultry-farming has also been practised in recent times. (fn. 188) There was a market-gardener in the parish in 1884. (fn. 189)
A miller was mentioned in the parish during the Middle Ages, (fn. 190) and there was a windmill on the downs near Michelgrove in 1595. (fn. 191) The two chief means of livelihood in the parish apart from agriculture, the timber trades and brickmaking, have existed for a long time. There was a carpenter in 1554 and a sawyer in 1614. (fn. 192) Coppicing was being practised in 1587, (fn. 193) and two centuries later most of the woodland in the parish was coppiced. (fn. 194) Numerous woodmen are recorded in the parish in the 19th and 20th centuries, making hurdles and fencing, (fn. 195) and at the end of the 19th century the existence of plentiful woodland yielding work in winter was said to be one cause of the relative prosperity of the inhabitants. (fn. 196) In 1731 Sir John Shelley licensed Thomas Colebrooke to dig clay for making bricks and tiles on Clapham common, and to inclose c. 1 a. of the common for a brickyard, paying the commoners 1s. a year in compensation. (fn. 197) In 1742 the stock in trade included some 17,000 tiles and 6,000 bricks. (fn. 198) A later tenant (fn. 199) supplied bricks for use at Michelgrove in 1769. (fn. 200) By 1843-4 the brickyard had grown to 7½ a., (fn. 201) and in 1869 its chief kiln could burn 20,000 bricks. (fn. 202) The Clapham Common Brick and Tile Co. was established in 1928, and in the 1920s and 1930s supplied at least 5 million paving bricks to Worthing corporation. Before 1939 c. 60 men were employed, but mechanization later reduced that number considerably. In 1975, apart from making bricks, the firm dealt in building materials of all kinds. (fn. 203)
Other occupations recorded since the late 18th century are those of blacksmith, (fn. 204) shoemaker, (fn. 205) and shopkeeper. Members of the Hazelgrove family have kept the village store since c. 1870. (fn. 206) From c. 1840 until the Second World War, a training-stable flourished at Michelgrove, in buildings which survived in 1974 north of the house. (fn. 207) In 1975 many parishioners worked outside Clapham in Littlehampton, Worthing, and other places. (fn. 208)
LOCAL GOVERNMENT.
There are court rolls of Clapham manor from 1651 to 1848, during which period the court was held about once every two years for the first thirty years and thereafter about once every ten years. As at Patching, manorial jurisdiction lapsed in the late 18th century and an attempt was made in 1772 to discover the names, rights, and services of the tenants. (fn. 209) Churchwardens are recorded from 1560, sometimes one a year, but at other times two. (fn. 210) There was a single overseer of the poor in 1642 (fn. 211) and 1834. At the latter date labourers' cottages were often exempted from rates, and their rents paid by the parish, and six men were being supported in the winter by work on the roads. (fn. 212) The parish was one of the original members of Sutton united parishes, formed in 1791. (fn. 213) In 1869 it was transferred to East Preston union, (fn. 214) later East Preston rural district, and in 1933 to Worthing rural district. (fn. 215) After 1974 it was in Arun district.
In 1769 Sir John Shelley was cautioned by the parish surveyor of highways for not supplying his share of statute labour. (fn. 216) Between 1795 and 1827 most of the parishioners compounded for the work required of them. (fn. 217)
CHURCH.
Clapham was apparently a parish by 1073 when William de Braose gave tithes from it to his college at Bramber; (fn. 218) the existing church may include late-11th-century work. The first known rector was mentioned in 1257. (fn. 219) Between 1654 and 1660 the rectory was united with Patching, (fn. 220) and the two benefices were again united in 1888, under a scheme of 1875, the parishes however remaining distinct. (fn. 221) In 1974 the two parishes were served by a priest-in-charge, and the future status of the united benefice was in doubt. (fn. 222) There was a chapel of ease at Michelgrove in the late 14th century, (fn. 223) which was later commemorated by the field-names Chapel field and Chapel croft. (fn. 224)
The advowson (fn. 225) of the rectory apparently always descended with the manor until the 19th century. (fn. 226) Between 1411 and 1414 the Crown presented during the minority of Thomas Downton. (fn. 227) In 1515 the patronage belonged for a single turn to Richard Peke. Thomas Andrews alias Clarke presented for a turn in 1573, and Richard Evans in 1582. After the resignation of the then rector in 1591, during the attainder of William Shelley, the living lay vacant for more than two years, and the right of presentation reverted to the Crown, which continued to hold it after the restoration of the Shelley estates to John Shelley in 1604. (fn. 228) It had been restored to Shelley by 1616 when he granted the next turn to Thomas Shelley of Findon, who presented Laurence Gibson in 1618. Sir Thomas Holland, however, successfully claimed the presentation, under a grant of 1468, because of Thomas Shelley's outlawry. (fn. 229) Gibson was deprived in 1619, and Holland presented another incumbent in 1620. (fn. 230) Thereafter the Shelley family continued to hold the advowson and usually exercised it, despite their being recusants until 1716, but the earl of Dorset presented for a turn in 1662. In 1859 the duke of Norfolk sold the advowson, and it passed in 1862 to Katherine Annabella, widow of Vice-Admiral Sir G.R. Brooke-Pechell, Bt. (fn. 231) At her death in 1871 it passed to her daughter Henrietta Katharine, wife of Sir Percy Burrell, Bt., who left it in 1880 to her sister Adelaide Harriet, wife of Lt.-Col. (later Sir) Alfred Somerset. (fn. 232) The Somerset family still held it in 1974. Since 1875 the right of presentation to the united living of Clapham and Patching has been exercised alternately by the holders of the two advowsons and their successors. (fn. 233)
The living of Clapham was valued at £6 13s. 4d. in 1291, (fn. 234) and in 1535 at £14. (fn. 235) In 1653 the rector was described as overwhelmed with charges, and the poverty of the living was one reason for its union with Patching in the following year. (fn. 236) In 1677 its value was estimated at £60 a year, (fn. 237) and in 1724 its real value at £30 3s. 6½d. (fn. 238) It was not augmented, but by c. 1830 its value had risen to £113. (fn. 239) In 1853 it was again described as a 'miserably poor' living. (fn. 240) The demesne tithes of Clapham which William de Braose had granted in 1073 to his college at Bramber (fn. 241) presumably passed along with its other endowments to Sele priory. (fn. 242) Before the mid 12th century a member or members of the St. Owen family granted further tithes to the priory, and c. 1150 Ralph St. Owen granted half the tithes of his new assarts in the parish. (fn. 243) At an unknown date the priory was receiving half the tithes of a large part of the parish; by the late 17th century their share had come to be a moiety of all the tithes. (fn. 244) The tithes were apparently usually leased, either to the rector or to others, for instance the incumbents of Washington and Findon. (fn. 245) In 1255 they were valued at £1 6s. 8d.; (fn. 246) the rent remained the same until the early 16th century, when it was increased by 1s. The lessee at that date also held a lease of the parsonage. (fn. 247) When John Whistler (inst. 1662) refused to accept a new lease from the college at a higher rent, the college won a decree for the true value of the tithes, estimated at between £20 and £30 a year. (fn. 248) In 1684 and c. 1690 Charles French alias Westridge was the lessee of the college's share of tithes, (fn. 249) and in 1724 a Mr. Lloyd, (fn. 250) presumably a relation of the previous rector. In 1769 and 1811 the moiety was let to the vicar of Findon; (fn. 251) later it was usually let to the same, under a beneficial lease. (fn. 252) The tithes were commuted in 1843-4 for £314 12s. 6d., which was divided equally between the college and the rector. (fn. 253)
In 1615 the glebe land consisted of 5 closes comprising 18 a. and four small parcels in the open fields comprising 2½ a. (fn. 254) Between 1773 (fn. 255) and 1830 all but 14 a. was sold to redeem the land-tax. (fn. 256) In 1843-4 the rector also leased 11 a. from the duke of Norfolk. (fn. 257) After an exchange between the rector and the duke in 1873 only 11 a. of glebe remained. (fn. 258)
In 1615 there was a parsonage house with two barns and a herb garden. (fn. 259) In 1735 it was described as a large, old, and inconvenient timber-framed building; urgent repairs were carried out in the same year when part of it was blown down in a storm. (fn. 260) After enlargement in the early 19th century it was described in 1830 as a very eligible residence. (fn. 261) Between 1872 and 1875 £1,500 was raised to repair and further enlarge it, (fn. 262) but it was sold after the union of Clapham with Patching and during the 1920s was a school of gardening. Later it was again sold, the north part was demolished, and houses were built in the grounds. (fn. 263)
The Reformation seems to have been strongly resisted in Clapham. John Wall, rector 1531-59, adhered to the old faith, (fn. 264) and his successor David Spencer was reported in 1569 to be refusing to preach the new doctrines, (fn. 265) although he remained in office until his death four years later. In 1579 the churchwardens of the previous year were themselves presented for refusing to present recusants. (fn. 266)
During the 16th and early 17th centuries rectors were often pluralists, and sometimes non-resident. In 1556 there was a curate with a stipend of £7 6s. 8d., (fn. 267) and though the rector was resident in 1563, (fn. 268) his successor in 1579 lived at Cowfold, employing a nonpreaching curate at Clapham. (fn. 269) David English, instituted in 1606, held Patching as well as Clapham.
The Roman Catholic leanings of the 16th century were succeeded in the early 17th by equally strong protestant leanings. Henry Nye, rector 1620-44, was inhibited from preaching by the vicar-general in 1635 on suspicion of Puritanism, and seven years later was appointed a member of the Westminster Assembly of Divines. (fn. 270) His successors, Andrew and Samuel Wilmer, were members of a notable Puritan family. Samuel Wilmer, instituted in 1651, seems to have been a Congregationalist; at any rate his parishioners drew attention to his zeal in 'gathering the scattered saints into one body to enjoy gospel ordinances' when they petitioned in 1653 that he should be granted the living of Patching in addition. (fn. 271) Wilmer was ejected from Patching at the Restoration, and forfeited Clapham in 1662 for failure to comply with the Act of Uniformity. (fn. 272) His successor John Whistler, a former royalist soldier, (fn. 273) brought the parish back to orthodoxy. (fn. 274)
In 1724 a service with sermon was held each Sunday, and the sacrament was administered three times a year to between 26 and 35 communicants. (fn. 275) In 1742 there were the same services, which were held by the rector himself though he was not resident. (fn. 276) During the third quarter of the 18th century and again during the first 20 years of the 19th a number of assistant curates were recorded in the parish. (fn. 277)
The 19th century was dominated by the fifty-year tenure of William Nourse (1821-71). In 1838 a service was held every Sunday, alternately in morning and afternoon, with communion four times a year. (fn. 278) Six years later the number of communicants had increased slightly, and in 1853 their average number was 25. (fn. 279) After 1850 alternate morning and afternoon services were held in Clapham and Patching on successive Sundays by arrangement with the rector of Patching, who for a time acted as curate of Clapham. (fn. 280) Average attendances from the two parishes in 1851 were estimated to be c. 100 at morning service and up to c. 150 at afternoon service. (fn. 281) Hymn-singing was introduced at Clapham church in the 1850s, and was soon emulated at Patching. (fn. 282) Towards the end of Nourse's incumbency the number of communicants had dropped to 12. (fn. 283) The next rector instituted two full services each Sunday, (fn. 284) and his successor added an early service twice a month and various weekday services. By 1884 communion was being celebrated four times a month, and the average attendance at Sunday services was 95-100 in the morning and 115-30 in the afternoon. By then all 156 sittings were free, (fn. 285) whereas only one in three had been so in 1853. (fn. 286) The last-mentioned rector's zeal caused friction in Patching, where the elderly rector Edmund Tew complained that his parishioners were being enticed away. (fn. 287) At Tew's death in 1888 the union of the two benefices ordered thirteen years earlier came into effect, a curate being appointed to share the duty. (fn. 288) For a time double services continued, but later an alternating system was re-introduced. (fn. 289)
The inhabitants of the detached parts of the parish, especially Lee farm, could not easily get to Clapham church, as the rector noted in 1884. (fn. 290) To serve their needs a chapel of ease or mission room was later opened at Lee farm, where a Sunday afternoon service was held once a month. (fn. 291)
The church of ST. MARY THE VIRGIN (the dedication is recorded in 1406) (fn. 292) is a small and irregular building of flint with stone dressings. It has a chancel, aisled nave, and north-west tower in the west part of the north aisle. The north wall of the nave is of the 11th or 12th century; (fn. 293) it survives entire as the south wall of the tower and also above the later two-bay arcade. The rest of the building is structurally of the 13th century, but the tower and north arcade were built before the south arcade. (fn. 294) All but one of the aisle windows were replaced in the 15th century, when a western doorway was put into the nave. The roofs of the nave and south aisle are probably 15th-century too.
In 1684 the chancel was reported to have fallen down, (fn. 295) evidently because of disputes over responsibility for its upkeep. (fn. 296) The line of the former chancel roof was visible in 1777 and 1858. (fn. 297) In 1724 the chancel had been repaired and adorned, partly at Sir John Shelley's expense. (fn. 298) A shingle spire, recorded in 1777 and 1805, (fn. 299) perhaps the one for the building of which money was left in 1550, (fn. 300) was taken down before 1830. (fn. 301) A project to replace it in the early 1870s was not carried out, (fn. 302) and the tower has a simple pyramidal shingled cap. The church was under repair in 1838, (fn. 303) and was 'barely decent' in 1853. (fn. 304) A thorough restoration was carried out in the early 1870s by Sir Gilbert Scott. The 18thcentury chancel ceiling was taken out and the roof reconstructed. The chancel arch was rebuilt, the original south doorway, previously closed, was renewed, and many original details were restored. (fn. 305)
A fragment of a medieval oak screen and traces of wall paintings were discovered during the Scott restoration. (fn. 306) The other fittings of the church apart from monuments are 19th-century; the font is of before 1830, (fn. 307) and the pews are of the 1870s and later. The brass chancel screen on a marble base, which incorporates a lectern and matching pulpit, are perhaps from designs by Scott. The church is rich in monuments of the Shelley family, among them a mural monument to Sir William (d. 1549) of clunch with roughly carved figures, (fn. 308) and three figured monumental brasses, to John (d. 1527) and his wife Elizabeth, John (d. 1550), and John (d. 1592). (fn. 309) There is also a marble mural monument to Richard Walker (d. 1801) and his wife and daughter. The three bells, all of 1320-30 and by the founder Nicholas, comprise the earliest ring of three in Great Britain. (fn. 310) The large collection of plate includes two silver communion cups of 1568 and 1785 and a silver ciborium of Spanish or Italian workmanship. (fn. 311) The registers begin in 1685. (fn. 312)
ROMAN CATHOLICISM.
William Shelley of Michelgrove, described in 1564 as a 'misliker of religion', (fn. 313) did not subscribe to the order for uniformity of public worship in 1569. (fn. 314) In 1580 he was imprisoned for recusancy, (fn. 315) and twelve years later his brother John Shelley was reported to have a priest at Michelgrove. (fn. 316) Numerous recusants were recorded in Clapham during the next 60 years, including members of the Shelley household, among them two schoolmasters. (fn. 317) In 1635 it was only the king's favour which prevented Sir John and Lady Shelley from being charged with recusancy. (fn. 318) In 1676 there were 14 recusants in the parish. (fn. 319) Forty years later, however, Sir John Shelley abjured Roman Catholicism, (fn. 320) and in 1742 there were claimed to be no Roman Catholic families in the parish. (fn. 321) A later Roman Catholic landlord, the duke of Norfolk, was reported by the rector in 1881 to be luring parishioners to the Roman church with gifts and offers of free schooling. (fn. 322)
PROTESTANT NONCONFORMITY.
It was claimed in 1662 and 1676 that there were no protestant dissenters in the parish; (fn. 323) and in 1724 all the families were church families except for one Baptist. (fn. 324) At the end of the 19th century nonconformist open-air services in Clapham Street are said to have been well attended. (fn. 325)
EDUCATION.
A schoolmaster was recorded in the Shelley household in 1574 and 1580, (fn. 326) and other schoolmasters were mentioned in the parish in 1598 and 1622. (fn. 327) There was a dame school with 6 pupils in 1772, perhaps under the patronage of the Shelleys, (fn. 328) but it had lapsed by 1818. (fn. 329)
Clapham and Patching C.E. (Controlled) School was founded in 1833, when 10 children attended during the week and 60 boys on Sundays, many from other parishes. (fn. 330) In 1846-7, when it was supported by subscriptions and payments, it had 44 pupils during the week and a paid mistress. (fn. 331) In 1871 there was accommodation for only 40 pupils, but 16 boys and 37 girls attended on the return day. (fn. 332) A new school, of flint with brick dressings, was built in 1873, (fn. 333) and enlarged c. 1897; (fn. 334) average attendance was 80 in 1893, (fn. 335) and 107 ten years later, including 28 infants. (fn. 336) Thereafter it declined to 74 in 1922, remaining about the same number in 1938 and in 1973. (fn. 337)
A night school run by the rector had c. 30 pupils, including some from Patching, c. 1875, and continued in 1884. (fn. 338) In 1975 the older children went to school in Littlehampton. (fn. 339)
CHARITY FOR THE POOR.
Henry Hilton of Clapham by will proved 1641 left the sum of £24 annually for 99 years out of his lands in co. Durham to be distributed among the 12 poorest inhabitants of the parish. (fn. 340) The lands were sequestered for the recusancy of his brother and heir John, and no income had been received by 1651. (fn. 341) In 1724 the income was said to be £16 a year. (fn. 342) Nothing more is heard of the charity.