Pages 247-259
A History of the County of Sussex: Volume 6 Part 1, Bramber Rape (Southern Part). Originally published by Victoria County History, London, 1980.
This free content was digitised by double rekeying. All rights reserved.
WASHINGTON
Washington (fn. 1) lies 7 miles north of Worthing at the head of the wind-gap through the South Downs which is traversed by the London–Worthing road. The ancient parish was 3,185 a. in area. Between 1882 and 1891 two islands of Ashington parish within it, comprising 21 a., were united with it, and in 1933 a further 142 a., part of a detached part of Ashington adjacent to the east, was added. (fn. 2) In 1960 the northern part of the parish was transferred to Ashington parish, to which it had belonged for ecclesiastical purposes since 1872. (fn. 3) In 1971 Washington comprised 2,848 a. (1,153 ha.). (fn. 4) The present article deals with the ancient parish until 1816, the date of the inclosure of Ashington common, which straddled the boundary between Ashington and Washington. After that date Ashington village migrated to the newly laid out line of the Horsham– Worthing road in the north part of Washington, and the later history of that part of Washington parish belongs properly with the history of Ashington. The area with which the present article is concerned after 1816, therefore, corresponds roughly to that of the modern parish.
Washington ancient parish was roughly square in shape, with a long strip going north from the northeast corner. (fn. 5) Parts of the parish boundary correspond to the bounds of Washington manor described in the mid 10th century, but the manor was not co-extensive with the parish. (fn. 6) The northwestern boundary follows the line of the Roman Greensand Way, (fn. 7) and part of the south-eastern boundary what is presumably an ancient track. (fn. 8) Across Chanctonbury Hill the Wiston–Washington boundary was undefined. (fn. 9) Boundary marks in that area were mentioned in 1530 (fn. 10) but by the end of the 18th century the boundary between the manors of Chancton and Wiston, and therefore between Washington and Wiston parishes, was uncertain. (fn. 11) The boundary between Washington and Ashington on Ashington common was also apparently undefined before the inclosure of 1816.
Like Wiston and Steyning to the east, Washington is very varied in its relief and geological character. (fn. 12) The south part consists of rolling chalk downland often over 500 ft. high, dissected by dry valleys, one of which gives its name to Highden, (fn. 13) while another is followed by the London–Worthing road. Chanctonbury Hill, on the south-east border, is one of the highest points in the county (782 ft.) (fn. 14) and a landmark for miles around. It was called Chankbury Hill until the late 18th century, (fn. 15) the modern version of the name, first found in 1840, (fn. 16) being the result of antiquarianism. Its second element 'bury' refers to the Iron Age hillfort on the summit, and the hill's dominance in the landscape is due to the clump of beeches and other trees planted within the fort in the late 18th century by Charles Goring of Wiston (d. 1829), who lived to see them grow to maturity. (fn. 17) The summit was used as a beacon station in 1805, (fn. 18) as it had been at the time of the Spanish Armada. (fn. 19) By 1814 the hill had become a favourite picnic spot and goal for excursions from Worthing, (fn. 20) and in the mid 19th century at least two Worthing entrepreneurs organized trips to it by charabanc or omnibus. (fn. 21)
A narrow ridge of Upper Greensand north of the chalk carries Washington village and the site of Rowdell House. Next, going northwards, is a belt of Gault clay, which in the west part of the parish forms a wide valley possibly commemorated by the name Rowdell. (fn. 22) The Lower Greensand belt north of that provided the sites of Lower and Upper Chancton farms in the east of the parish, but in the centre and west part, where the land rises to 250 or 300 ft., (fn. 23) much remained uninclosed heath until the mid 19th century. The latter area was divided in 1977 between market-gardens, sand-workings, and heath or mixed woodland much of which had been acquired by the National Trust in 1942. (fn. 24) The northernmost part of the parish lies on Weald clay. Ashington common, roughly half of which lay in Washington ancient parish, was a venue for musters in the 17th century. (fn. 25) Except for the chalk country in the south, the parish is well watered by streams leading east and north towards the river Adur. (fn. 26)
There were only 265 a. of woodland in the ancient parish c. 1840, (fn. 27) and the amount has not greatly changed since. A rabbit warren belonging to Washington manor during the Middle Ages apparently lay ½ mile north-west of the village, where there was a Warren field c. 1840. (fn. 28) William de Braose (d. 1290) was granted free warren at Washington in 1281, (fn. 29) and the tithe of rabbits was mentioned 60 years later. (fn. 30) Fines for trespass at the warren were still being levied in 1449. (fn. 31) In the late 17th century the warren was let at farm, (fn. 32) but it may no longer have served its original function at that date. There were parks at both Highden and Rowdell in 1875. (fn. 33) Highden park, where there had been plantations in 1814, (fn. 34) was enlarged before 1896, (fn. 35) but was converted to other uses after Highden House became a school in 1935. (fn. 36) Rowdell park too had gone by 1977.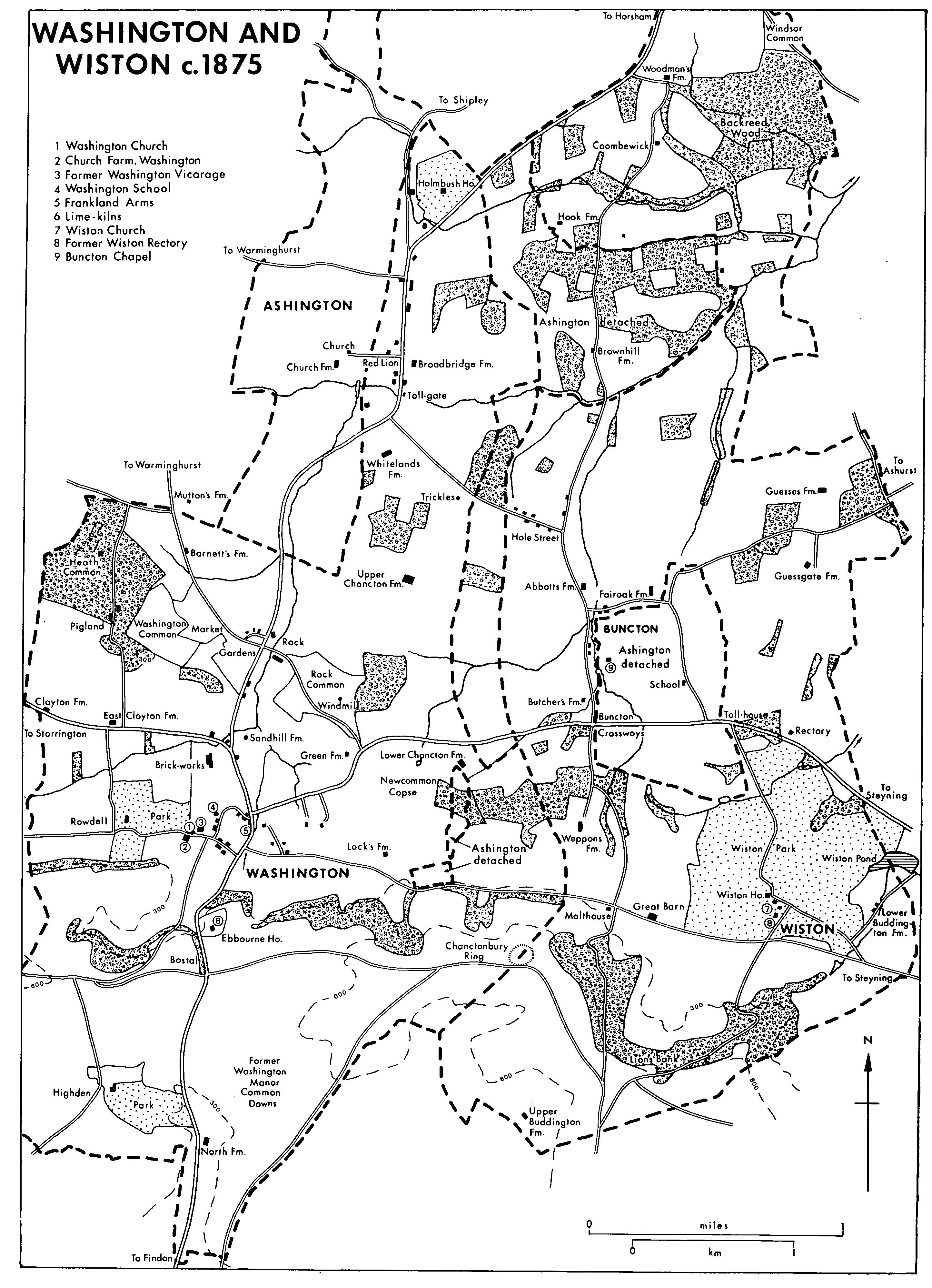 Washington village lies at the crossing of two former routes. The road along the Upper Greensand ridge between Steyning and Amberley, which forms the main village street, was mentioned c. 1230 (fn. 37) and later, (fn. 38) and was still an important route c. 1745. (fn. 39) In 1778 the part east of the village was closed to traffic in favour of a new road to the north, apparently the modern Steyning–Storrington road. (fn. 40) The south part of the other route through the village was described in 1540 as the road between Washington church and Highden. (fn. 41) North of the village street it followed School Lane to emerge on the uninclosed common north of the village. (fn. 42) It was replaced, apparently by 1615 (fn. 43) and certainly by 1724, (fn. 44) by another road of easier gradient, which bypassed the village on the east. That road, together with its northern continuation, was made a turnpike in 1802 as part of the London–Worthing road, (fn. 45) and not long afterwards the gradient of the 'Bostal', or ascent of the downs, was further eased by a diversion near the site of Elbourne house. (fn. 46) The road was disturnpiked in 1878. (fn. 47) The modern road leading from the London–Worthing road towards Storrington existed c. 1745. (fn. 48) Between 1810 and 1877 it, and the new Steyning road mentioned above, were part of the Steyning–Pulborough turnpike road. (fn. 49)
Another east–west route through the parish was that along the crest of the downs south of the village. (fn. 50) The road between Green Farm and Warminghurst by way of Rock apparently formed part of a Roman route leading from the Greensand Way near Mutton's Farm in Thakeham to the summit of Chanctonbury Hill; a field-name 'Coldharbour field' near Green Farm suggests that it continued to be used later. (fn. 51)
The increase of traffic which the two turnpike roads brought to Washington receded during the 19th century, as schemes for railway lines through the parish between London and Worthing and between Steyning and Pulborough were abandoned. (fn. 52) With the growth of motoring in the early 20th century there was a resurgence of traffic on the London–Worthing road, which was widened as a dual carriage-way throughout the parish in 1967–8, a western bypass being provided for Washington village. At the same time the junction with the Storrington–Steyning road was simplified by the construction of a roundabout. (fn. 53) In 1975 there was a half-hourly bus service to Worthing, and an hourly one to Horsham and Pulborough. (fn. 54)
The antiquity of settlement in the village is shown by the way the road surface in some parts of The Street and of School Lane is lower than the level of the ground to either side. The buildings of the village are of various materials–brick, flint, clunch, and sandstone–as befits its situation on the border between downs and Weald. (fn. 55) Several buildings are of the 18th century or earlier, including The Old Cottage, Weaver's Cottage, and Rose Cottage in The Street, which are probably 17th-century. A row of cottages on the south side of The Street is apparently contemporary, from architectural evidence, with the vicarage and Church House. (fn. 56) East of the village, on the edge of the former Washington common, is a group of 17th-and 18thcentury houses, some timber-framed, which probably originated as the homes of squatters. Since c. 1920 the village has been greatly enlarged by infilling, a large group of council houses, for instance, being built north of The Street c. 1949. (fn. 57) In 1977, however, the appearance of an old village remained.
Outlying settlements have always been important in the parish. A hamlet at Highden was perhaps referred to in the 16th century, (fn. 58) and there was presumably another at Chancton inhabited by the manorial tenants there. Medieval locative surnames like at Marsh, at Sand, at Heath, and at Clay indicate the places of residence of other holders of outlying lands. Parishioners surnamed 'atter Ok' (at the oak) at the same period were early inhabitants of what became the hamlet of Rock, ¾ mile north of Washington village. (fn. 59) There were a few houses there c. 1745, (fn. 60) and about 10 c. 1840. (fn. 61) In 1977 surviving buildings there were of the 18th century and later. There were also some houses between Washington and Rock in 1724, (fn. 62) which had evidently originated by encroachment on roadside waste. Further ribbon-development followed the turnpiking of the Horsham–Worthing road after 1802, both in that area and south of the village, where building land along the road was offered for sale in 1835, (fn. 63) and where Elbourne House was built c. 1850. (fn. 64) A road of council houses was built south of Rock in 1932–3. (fn. 65) The hamlet of Clayton, which straddled the boundary with Sullington in the west part of the parish, (fn. 66) is reserved for treatment elsewhere. Another hamlet called Pigland lying north of it had 7 or 8 buildings c. 1840, (fn. 67) which had probably originated in encroachment on waste land; the woods on its northwest side were developed in the mid 20th century as a private estate of scattered detached houses. (fn. 68) Isolated farm-houses dating from the 18th century or earlier include those of Sandhill and Upper Chancton farms north and north-east of Washington village, Broadbridge farm in the extreme north of the ancient parish along the modern Ashington village street, and North farm in the extreme south near the boundary with Findon.
An alehouse-keeper was recorded in Washington in 1622. (fn. 69) There was an inn, the Red Lion, on Ashington common before its inclosure in 1816. (fn. 70) The innholder recorded in Washington a century earlier may have occupied the same site. (fn. 71) Another inn was built north-east of Washington village, on the Worthing–Horsham road, shortly before 1814; (fn. 72) by 1820 it was called the Frankland Arms. (fn. 73) Meetings in connexion with local government and other business were held there in 1821–2 and 1839, (fn. 74) and a friendly society met there in the mid 19th century. (fn. 75) In 1905 the licensee described himself as also a wine and spirit merchant. (fn. 76) The inn survived in 1977.
In 1086 151 persons were listed under Washington manor, together with 6 at an unidentified submanor, and 5 at Chancton. (fn. 77) The total for Washington manor presumably included tenants of lands in the north of the county, (fn. 78) and the sub-manor may have been outside the parish too. Thirty-two inhabitants were listed in the subsidy of 1296, 29 in that of 1327, and 19 in that of 1332. (fn. 79) In 1378 67 adults were taxed, (fn. 80) and in 1524 43 inhabitants. (fn. 81) In 1642 113 adult male parishioners signed the protestation, (fn. 82) and in 1676 320 inhabitants were recorded. (fn. 83) There were estimated to be c. 70 families in 1724. (fn. 84) In 1801 the population of the parish was 512, and in 1811 619. Thereafter until 1881 the only figures available are for the ancient parish, including Ashington village; the population continued to rise until 1841, when it was 880, and then remained about the same until 1881 when it was 844. In 1891 the population of the ecclesiastical parish, which excluded Ashington village, was 596; after some fluctuation, it rose to 649 in 1931. In 1951 the area of the modern parish had 1,058 inhabitants, and by 1971 1,228, (fn. 85) less than a fifth of whom lived in the village itself. (fn. 86)
Nine inhabitants of Washington, a large number, were pardoned for their participation in Cade's rebellion in 1450. (fn. 87) The village and its surroundings are alluded to at the opening of Rudyard Kipling's story 'They', (fn. 88) and the beer sold at the Frankland Arms was celebrated at the same period by Hilaire Belloc. (fn. 89)
MANORS AND OTHER ESTATES
The manor of WASHINGTON is probably identical with the estate granted by King Edred (946–55) to Ethelwold the alderman c. 946, since the bounds of that estate show it to have comprised much of the future parish. Ethelwold's devise of the lands to his brother Edric was confirmed by the king in 947; by 963, however, they had reverted to King Edgar, who granted them in that year to Bishop Ethelwold of Winchester, who conveyed them before 973 to one Wulfstan in exchange for lands in Yaxley (Hunts.) and Ailsworth (soke of Peterborough). (fn. 90) In 1066 the manor was held by King Harold's brother Gurth, (fn. 91) and by 1073 it was in the hands of William de Braose, (fn. 92) who retained it in demesne thirteen years later, evidently because of its strategic position at the head of the wind-gap through the South Downs. Its assessment in 1066 at 59 hides, instead of the 20 or 24 mentioned in the mid 10th century, is probably explained by the inclusion of outlying lands, both in the Weald and in the Adur valley. (fn. 93) Washington's importance in the late 11th century is indicated by the fact that the Bramber honor court was held there on one occasion then or shortly after. (fn. 94)
From that time until 1547 the manor usually descended with Bramber rape. On the death of William de Braose in 1290, his son and heir William granted Washington to his father's widow Mary as her dower, (fn. 95) but her younger son Richard de Braose claimed it and other manors under a settlement of 1286. (fn. 96) The king, to prevent the dis memberment of Bramber barony, arranged that Richard should receive instead other Braose lands outside it. (fn. 97) Claims under the 1286 settlement made by Richard's heirs in 1308 and later were unsuccessful. (fn. 98) Mary de Braose was taxed in Washington in 1296, (fn. 99) and recorded as lady in 1316, (fn. 100) and she died seised of the manor c. 1326. (fn. 101) Aline de Mowbray, daughter of William de Braose (d. 1326), was taxed in Washington in 1327. (fn. 102) In 1369 Peter de Brewes, perhaps a descendant of the rival claimants to the manor, was granted wardship there (fn. 103) but he committed serious depredations. (fn. 104) In 1462 Elizabeth, duchess of Norfolk, received a grant of Washington during the minority of her husband, John, duke of Norfolk (fn. 105) (d. 1476). After his death it descended with Bramber rape until 1547, when it was reserved by the Crown in the grant of the rape to Thomas Seymour, Lord Seymour. (fn. 106)
In 1553 it was granted to Sir Henry Hussey to be held in chief as 1/40 fee, (fn. 107) but by 1587 it had come into the hands of Philip, earl of Arundel, lord of Bramber rape, who conveyed it in that year to Edward Caryll. (fn. 108) At his death in 1610 it passed to his son Sir Thomas (d. 1617), (fn. 109) who was succeeded by his daughter Philippa, wife of Henry Parker, Lord Morley (d. 1655). (fn. 110) In 1657 (fn. 111) she and her son Thomas, Lord Morley, conveyed their rights in it to John Caryll (d. 1681), a distant cousin. John's younger son and heir Richard was succeeded in 1701 by his son John (d. 1736), (fn. 112) who in 1711 (fn. 113) conveyed Washington to his son John (d. 1718). (fn. 114) The last-named John's widow, Lady Mary Caryll, held the manor until her death c. 1738, (fn. 115) being succeeded by her son John, who sold it in 1766 to William Frankland of Muntham in Findon. Thereafter it descended with Muntham until 1835 when Capt. F. W. Frankland sold it to Mary Goring of Wiston. (fn. 116) It has since descended with Wiston.
A capital messuage at Washington manor was recorded in 1326 and 1368. (fn. 117) It presumably occupied the same site south of the church as the manor-house recorded in 1724 (fn. 118) and later. The present building, called Church House, is of c. 1830, with later additions to the south and west.
The reputed manor of HIGHDEN, described as a manor in 1617, (fn. 119) was a freehold tenement of Washington manor. (fn. 120) Various inhabitants of Washington called of Highden were recorded in the Middle Ages, including Isabel, widow of Humphrey, who was dealing with 46 a. in the parish in 1235, (fn. 121) and Nicholas, who held ½ yardland at Highden of Bramber honor in 1361. (fn. 122) John Bellingham died seised of c. 480 a. there in 1577, and was succeeded by his son John. (fn. 123) By 1610 the lands had passed to Edward Goring (d. 1617), who settled them in that year on his son Henry (fn. 124) (d. 1655), (fn. 125) an important figure in county politics. (fn. 126) Henry's son Henry, on whom the property had been settled in 1651, (fn. 127) succeeded in 1680 to the baronetcy of Sir James Bowyer. At his death in 1702 he was succeeded by his grandson Charles Goring (d. 1713). Charles's half-brother and heir Harry died in 1731, and thereafter the descent went from father to son through Charles Matthew (d. 1769), Harry (d. 1824), Charles Foster (d. 1844), Harry Dent (d. 1859), and Charles (d. 1884). (fn. 128) In 1887 Highden was sold by the heirs of the last-named to Genl. R. T. Godman (d. 1912), whose widow lived at Highden until at least 1930. (fn. 129) The estate was sold again during the 1930s to Sir R. D. Denman, whose son Sir C. S. Denman, Bt., later Lord Denman, had it in 1977. (fn. 130)
A house at Highden, with a garden and dovecot, was mentioned in 1577; (fn. 131) in 1664 it had 14 hearths. (fn. 132) It was rebuilt in brick in the late 17th or early 18th century, with stone quoins, a hipped roof, and tall chimneys; the symmetrical south faôade was of nine bays and two storeys. (fn. 133) Large additions, including an extra storey, were made to the building in 1934 for Windlesham House school, which moved into it in the following year and still occupied it in 1977. Parts of the previous school buildings, including the chapel, were brought from Brighton. (fn. 134) The gates at the main entrance to the former park, previously at Muntham House, Findon, originally came from Seville cathedral. (fn. 135)
Before 1066 the manor of CHANCTON was held of Earl Godwin by Essocher, and in 1086 it was held of Bramber honor by Richard. (fn. 136) In later times at least the manor was in two parts, the larger in the east of the parish and the smaller in the west. (fn. 137) Humphrey of Chancton, recorded in the mid 12th century, (fn. 138) may have held it. The manor was apparently identical with lands held of Bramber honor in the early 13th century by Ellis of Chancton, the mesne lordship of which was granted by John de Braose (d. 1232) to John de Gatesden, later lord of Broadwater, (fn. 139) for Chancton was usually afterwards said to be held of Broadwater. (fn. 140)
Ralph of Chancton held 2/3 fee in Chancton in 1242 (fn. 141) and was still alive c. 1260. (fn. 142) In 1287 or 1288 his brother and heir Walkelin (fn. 143) conveyed the manor to Robert and Hawise le Veel; (fn. 144) Robert was taxed in Washington in 1296, (fn. 145) but had died by 1300 when Hawise was recorded as lady. (fn. 146) In 1303 a grant of free warren at Chancton was made to Henry of Guildford (fn. 147) (d. c. 1312), who was succeeded by a kinsman, John the marshal. (fn. 148) He, or his son of the same name, (fn. 149) forfeited the lands for felony in 1343, but they were restored later that year. (fn. 150) John the marshal the younger had the manor in 1348. (fn. 151)
Sir William Thorp, chief justice, had acquired Chancton by purchase before 1351; he forfeited it in that year for corruption, but received it back in 1352. (fn. 152) In 1375 or 1376 it was settled on Richard FitzAlan, earl of Arundel (d. 1376), whose younger son John succeeded to it. (fn. 153) At his death in 1379 he was succeeded by his son John (d. 1390), (fn. 154) whose widow Elizabeth sought dower there in 1398, (fn. 155) and held the manor in 1401. (fn. 156) Thomas Arundel held it in 1412, (fn. 157) but had died by 1431, (fn. 158) and six years later his widow Joan and daughter Eleanor settled the reversion on Thomas Browne, (fn. 159) who was attainted in 1460 (fn. 160) and died soon after. In the following year the manor was restored to his widow and her next husband Thomas Vaughan for their lives. They still held it in 1467, (fn. 161) but in 1475 it was settled jointly on George Browne and his wife Elizabeth, she retaining it after his attainder in 1484 until her death four years later. (fn. 162)
In 1523 Sir Matthew Browne was lord of Chancton, (fn. 163) and at his death in 1557 was succeeded by his grandson Sir Thomas Browne, (fn. 164) who sold it in 1592 to Sir Thomas Shirley of Wiston. From him it passed in 1602 (fn. 165) to Robert Edsaw (d. 1628), (fn. 166) lessee of the demesne lands since 1584, (fn. 167) and Robert's son and namesake sold it in 1665 to Prudence Butler, widow of James Butler of Amberley, to whom it had apparently been mortgaged in 1657. (fn. 168) Thereafter it descended in the Butler family, after 1702 of Warminghurst, from father to son through James's son James (d. 1696), James (d. 1741), John (d. 1766), and James (d. 1775). (fn. 169) On the partition of the Butler inheritance in 1789 between James's two daughters and coheirs, Chancton passed to Ann Jemima and her husband the Revd. Roger Clough, (fn. 170) who in 1805 sold it to the duke of Norfolk. (fn. 171) Thereafter it descended with Steyning. (fn. 172)
A house at Chancton with a dovecot was mentioned in 1343 and 1398. (fn. 173) It was still occupied by the lord of the manor in 1664, (fn. 174) but after the purchase of the estate by the Butler family it declined to a farm-house. (fn. 175) It is presumably represented by Lower Chancton Farmhouse, a 17th-century timber-framed building with later, mainly 19th-century, additions in brick.
William de Byne was dealing with a yardland at ROWDELL in 1241. (fn. 176) In 1285 James Byne held lands there of Fécamp abbey, (fn. 177) evidently of their Steyning property, since Rowdell was held after the 15th century of Charlton manor in Steyning. (fn. 178) John Byne had lands in Washington c. 1310, (fn. 179) and James Byne, recorded in the parish in 1378, (fn. 180) was farmer of Washington manor twenty years later. (fn. 181) Another James Byne held the land apparently in the late 15th century, (fn. 182) and Thomas Byne died seised of it c. 1519. Thereafter it descended from father to son through William (d. 1558 or 1559), John (d. 1600), Sir John (d. 1641), Edmund (d. 1646), and John (d. 1661). (fn. 183) John's three daughters and coheirs, Susanna, Frances, and Mary, still owned the property in 1669. (fn. 184)
In the 1680s Robert Leeves, the second husband of Elizabeth, widow of Edmund Byne (d. 1646), was living there, (fn. 185) and in 1705 Sir Walter Walker, Bt., a grandson of John Byne (d. 1661) through his daughter Susanna, had it. (fn. 186) In 1710 Sir Walter's sister and coheir Susanna and her husband Hugh Bosvile sold it to James Butler of Warminghurst, and it descended thereafter with Chancton until 1789, when at the partition of the Butler estates it passed to Patty, widow of Richard Clough. She sold it in 1799 to Charles Goring (fn. 187) (d. 1821), whose executors sold it to Sir C. M. Burrell. He sold it in 1825 (fn. 188) to Major C. F. Sandham, a veteran of Waterloo (d. 1869), (fn. 189) from whom it passed successively to Genl. George Sandham (d. 1887) and C. M. Sandham (d. 1892). (fn. 190) In 1928 (fn. 191) it was bought by Sir Eustace Wrixon-Becher, Bt. (d. 1934), (fn. 192) whose widow Constance died in 1957. (fn. 193) Their son, Sir W. F. Wrixon-Becher, Bt., had it in 1977. (fn. 194)
A house at Rowdell was mentioned c. 1225 and in the 16th century. (fn. 195) It was rebuilt or refronted in the early 17th century, with a regular nine-bay faô ade with mullioned and transomed windows, Dutch gables, and tall chimneys. (fn. 196) In 1664 the house had 15 hearths. (fn. 197) It was demolished before 1814 and replaced by a plain stuccoed building (fn. 198) which was itself demolished in 1952. (fn. 199) An early19th-century lodge on the Washington–Storrington road survived in 1977.
A hide in Chancton which Werun had held of Earl Godwin (d. 1053) (fn. 200) was granted by Tetbert, an under-tenant of William de Braose, to Battle abbey. (fn. 201) It is presumably represented by lands in the parish, including 8 a. called Haselholt, which were held in the late 16th and 17th centuries of Alciston manor (Pevensey rape), for Alciston had also belonged to the abbey. (fn. 202)
ECONOMIC HISTORY
There were 34 ploughlands at Washington manor in 1086. The demesne was worked by 5 teams and 6 servi, and there were also 120 villani and 25 bordars who had 34 teams. Those very large totals, however, probably refer not only to Washington parish, but also to outlying lands, both in the Adur valley and in the north of the county. The woodland for 60 swine mentioned at the same date (fn. 203) probably lay mostly in the north of the county, corresponding to the detached pasture places there which had belonged to the manor in the 10th century. (fn. 204) Four villani and 2 bordars held of an unidentified sub-manor in 1086, and had 2½ plough-teams. Chancton manor at the same date comprised 2 ploughlands; 1 team worked the demesne, and 5 bordars had an unspecified number of teams. (fn. 205) There may have been detached pasture places belonging to Chancton too in the north of the county, for lands in West Grinstead were held of the manor in later centuries. (fn. 206)
The arable land presumably occupied much the same parts of the parish in 1086 as later: (fn. 207) a broad east–west strip between the village and the downland scarp, the chalk valley leading south through the downs towards Findon, and parts of the sandstone outcrop north of the village. The heavy Weald clay in the north part, however, may not have been cultivated at that time. The open fields lying south and south-east of the village can be identified from later maps, (fn. 208) and included the East and West Clays, the Ebburn, the Wishering or Withern Gate, the White Acres, and the Snows, the last two taking their names from their chalky soil. North-east of the village lay the Sands. (fn. 209) The layout of closes north-west of Washington village in the mid 18th century (fn. 210) may indicate the former existence of open fields there. There were certainly open fields west of the village, straddling the boundary between Washington and Sullington, and apparently belonging to Clayton in Sullington. (fn. 211) There may also have been open fields at Chancton, where land was described as lying in a field (campo) called Southfield in 1248; their outline may be reflected in the mid-19th-century layout of closes south of Upper Chancton farm. (fn. 212) The process by which the outlying parts of the parish were brought under cultivation is not recorded, but farms recorded in later centuries which were called from personal names may represent assarts by individuals. Thus Trickles north of Upper Chancton farm, (fn. 213) mentioned in 1288, seems to perpetuate a personal name recorded contemporaneously in Shoreham; (fn. 214) and Barnett's or Barnard's farm, (fn. 215) recorded from the 18th century, may be another example.
The fixed rents paid by tenants of Washington manor were valued in 1210 at £6 18s. 11d. (fn. 216) In the mid 14th century the manor comprised 228 a. of demesne arable, 10 a. of meadow, and 74 a. of sheep pasture, with several heath besides; free tenants and 8 neifs paid £7 9s. in fixed rents, the customary works of the neifs being valued at £8. (fn. 217) At the same period Chancton manor comprised 170 a. of demesne arable, 166 a. of pasture, 18 a. of heath, and 10½ a. of meadow. Freehold tenants and 5 neifs paid £2 9s. in fixed rents. (fn. 218) By the end of the 14th century the Washington demesnes were being farmed. (fn. 219) In 1341 the tithe of sheaves in the parish was valued at £10, and that of fleeces and lambs at only £1 7s. 2d., indicating a predominance of arable over pasture, though a sheep population of between 1,000 and 2,000 has been suggested. Apples, flax, and hemp were among crops then being grown. (fn. 220)
In 1449 the demesne lands of Washington manor were still let at farm, partly in small parcels. The fixed rents of both free and villein tenants then totalled £6 9s. 8d. Some still performed services, including ploughing, hoeing, mowing, shearing, and carrying wood from St. Leonard's forest in Lower Beeding or Knepp park in Shipley to Bramber or Findon. Others had commuted their services for money payments. (fn. 221) As late as 1530 four neifs were presented at the manor court for being absent from the manor without licence. (fn. 222)
By the late 15th century there were fences in some of the open fields, probably for temporary rather than permanent inclosures. At the same date there was common pasture belonging to Washington manor on 'Washington Heath', (fn. 223) evidently the land on the Lower Greensand outcrop which remained common in later centuries. The western half, called West Heath in 1695, (fn. 224) had come by 1875 to be called Washington common, (fn. 225) while the eastern half, called East Heath common c. 1745, (fn. 226) and apparently East Heath in 1572, (fn. 227) was later known as Rock common. (fn. 228) There was also common land on the Gault clay north and north-east of the village. The main portion, along the modern Horsham and Steyning roads, was called Washington common in the mid 18th century; (fn. 229) the smaller eastern arm, extending as far as Lower Chancton Farm, was called New common from at least 1692. (fn. 230) Two other commons belonged to Chancton manor. One, known as Heath common, lay west of Washington Heath in the north-west corner of the parish; (fn. 231) the other, Ashington common, in the north, (fn. 232) was intercommonable between Ashington and Chancton manors. The downs presumably provided common sheep pasture, though no record has been found before the late 16th century when three tenements at Highden had between 50 and 500 sheep-leazes there. (fn. 233) In later centuries the common downs of Washington manor extended into the north-east part of Findon.
Between the 17th and 19th centuries the demesne lands of Washington manor included two large farms, both leased for terms of years, North and Court (later Church) farms. (fn. 234) There were both free and copyhold tenements of the manor, on both of which heriots were payable in kind. (fn. 235) Copyholds were usually heritable, according to the custom of borough English, (fn. 236) but a few were held for lives. (fn. 237) They could be mortgaged (fn. 238) or sub-let; (fn. 239) in 1800 a tenant who sub-let without a licence forfeited his holding. (fn. 240) In the mid 18th century two widows forfeited their freebench on remarriage. (fn. 241) Some copyhold tenements mentioned in the late 17th century, for instance Green in 1682 and Sandhill in 1689, were afterwards enlarged into medium-sized farms. (fn. 242) About 1745 (fn. 243) the manor had c. 36 copyholds, of which some were compact holdings, like Sandhill farm (48 a.), (fn. 244) while others were composed of open field strips. Two tenements included strips in the north common field of Findon. (fn. 245) In 1766 Church farm comprised 174 a., and North farm 165 a., (fn. 246) and there was a third demesne farm c. 1745, Barnett's, comprising perhaps 50 a. (fn. 247)
There were both free and copyhold tenements of Chancton manor too between the 16th and 19th centuries. (fn. 248) Two of the larger freehold tenements, Whitelands and Broadbridge farms in the north of the parish, were mentioned in the mid 16th century; (fn. 249) by the end of the 18th century they comprised 80 a. and c. 150 a. respectively. (fn. 250) In 1789 the manor also included three medium-sized demesne farms, Chancton and Little Chancton farms and Trickles. (fn. 251)
The open fields of Washington manor were still partly uninclosed in the mid 18th century, most of the land being divided between the copyhold tenants in strips of less than 1 a. (fn. 252) During the next 80 years the Gorings of Wiston gradually bought out most of the other tenants, (fn. 253) and by c. 1835 the fields had been largely turned into closes of up to 20 a. Those south and south-east of the village were mostly divided between North and Church farms, while the Sands, apart from four strips belonging to Steyning school, comprised Sandhill farm. (fn. 254) By c. 1840 the former common fields near the village belonged entirely to the Gorings, except for two strips in the White Acres. (fn. 255)
Pasture-rights in the commons of both Washington and Chancton manors were mentioned in the 18th century. (fn. 256) Both Washington and Ashington commons had suffered encroachment, as their serpentine boundaries showed. (fn. 257) In 1816 Heath and Ashington commons were inclosed, Ashington common being divided between Ashington and Chancton manors. The duke of Norfolk received 44 a. on Heath common as lord of Chancton, besides another 28 a. there and 29 a. on Ashington common. Thirty-four other tenants received parcels of between ¼ a. and 6 a. (fn. 258) Inclosure of the Washington manor commons, proposed at the same time, (fn. 259) was not carried out until 1851. The Revd. John Goring received 11 a. at New common as lord of the manor, and another 78 a. besides, including the rest of New common, and fifteen other tenants were allotted between ¾ a. and 40 a. each. The only common rights described in the inclosure award were 12 leazes belonging to the vicar, and 4 leazes on New common belonging to two others. (fn. 260) Meanwhile rights of common on the downs were presumably extinguished by c. 1840.
At the last-named date four large estates dominated the parish, those of Charles Goring (over 1,100 a.), Sir H. D. Goring of Highden (329 a.), the duke of Norfolk (313 a.), and Major Sandham of Rowdell (438 a.). Highden and Rowdell farms were kept in hand, but most of the other land in the parish was tenanted; with the exceptions of North farm (429 a.) and Upper Chancton farm (248 a.), the tenanted farms were under 170 a. (fn. 261) At about the same time Washington manor still had 19 copyholds of inheritance, 6 of them in Findon, and 2 copyholds for lives, (fn. 262) the copyholds amassed by Charles Goring (d. 1829) having been enfranchised in 1831. (fn. 263) During the mid 19th century most of the remaining copyhold tenements were either enfranchised or engrossed by the lord of the manor, but some lands continued to be held of the manor until 1923. (fn. 264) There were still many tenements of Chancton manor in 1860, mostly freehold, and including Whitelands and Broadbridge farms. All the tenements of that manor had however been enfranchised by 1891. (fn. 265)
Wheat, barley, rye, oats, peas, and tares were grown in Washington in the 17th and 18th centuries, (fn. 266) and between 1801 and 1803 there were estimated to be over 2,000 sheep. (fn. 267) In the 19th and 20th centuries the growth of Worthing has greatly influenced agriculture in the parish; already in 1814 there were said to be many small farms supplying the town with dairy produce, eggs, poultry, and pork. (fn. 268) In 1840 there were c. 1,400 a. of arable and 1,100 a. of inclosed meadow and pasture land, (fn. 269) and the principal stock kept were sheep, but the soil of the parish was described as not specially good either for arable or pasture. (fn. 270) Wheat, rye, barley, and oats were grown at North farm in 1849, together with rape, turnips, clover, tares, lucerne, and trefoil, ley farming being practised. (fn. 271) In 1874 wheat, barley, oats, turnips, peas, and beans were said to be the chief crops of the parish. (fn. 272)
The most important effect of the growth of the coastal towns on land use in Washington was in the development of market-gardening on the ideal sandy soil of Washington common after the inclosure of 1851. One market-gardener was recorded in 1866, and more in 1874; by 1887 there were 12 and by 1905 thirteen. Two families dominated, the Goatchers, of whom four were marketgardeners in 1887 and later, and the Charmans, of whom three were in the trade in 1905. (fn. 273) Much of the produce was fruit, the area of orchards in the parish increasing greatly during the period 1875– 1909. (fn. 274) In 1899 large quantities of fruit were being sent to Brighton and other markets. (fn. 275)
In the 1920s and 1930s, besides the bigger estates, there were several small farms in the parish. (fn. 276) In 1949 market-gardening was still very important, many big growers having their nurseries in Washington and raising tomatoes, early French beans, peas, melons, grapes, and peaches, and dairying and the raising of pigs were also carried on. (fn. 277) In 1975 there were five general horticultural holdings in the parish, growing vegetables and fruit, mostly apples. Much of the parish still belonged to the Wiston estate; North farm, of c. 3,000 a., was one of the largest producers of turkeys in the south of England. There were three other poultry farms in the parish, chiefly for egg-production, and three predominantly dairy farms. (fn. 278)
There was a mill at Washington manor in 1326, (fn. 279) and in 1449 it or a successor was said to be totally decayed. (fn. 280) Its site is unknown, but if it was a water-mill, as a later reference to a mill pond belonging to the manor (fn. 281) suggests, it probably stood on the stream ⅓ mile north of the village. There was a mill at Chancton in 1348, (fn. 282) which had probably existed a century before, when Richard of the Mill was dealing with land there. (fn. 283) Two men of the same surname were dealing with land at Washington in 1309, (fn. 284) and a Thomas at Mill was mentioned there in 1341. (fn. 285) A mill at Chancton recorded in the mid 17th century (fn. 286) was presumably the windmill which stood south-east of Upper Chancton farm in 1724. (fn. 287) A third mill was recorded in 1086 on an estate apparently identical with Clayton in Sullington, which extended into Washington. (fn. 288) Its site may have been the same as that occupied by a mill described as at Rowdell in 1600, (fn. 289) which had disappeared by 1710. (fn. 290) A miller was recorded in the parish in 1689. (fn. 291) A windmill had been built on Rock common by 1835, (fn. 292) and c. 1840 (fn. 293) and in 1889 (fn. 294) was owned and occupied by the same man as Ashington mill. It ceased to be used between 1896 and 1909, (fn. 295) and by 1936 had been converted into a house, (fn. 296) which was later the residence of John Ireland, the composer. (fn. 297)
Two potters and a smith were recorded in Washington in the late 13th and early 14th century. (fn. 298) The surnames Webb, Taylor, and Skinner listed in 1378 (fn. 299) may also indicate trades. In 1450 a cooper and a carpenter were mentioned in the parish. (fn. 300) The large number of people who paid the taxes of 1378 and 1524 at the higher rates suggests a wealthy community. (fn. 301) Between the 16th and early 19th centuries there seems usually to have been a blacksmith, (fn. 302) a carpenter or wheelwright, (fn. 303) and a tailor or weaver (fn. 304) in Washington. In the 18th century there was usually a butcher (fn. 305) and a maltster, (fn. 306) and three bakers were recorded in 1801. (fn. 307) Other trades recorded irregularly during the period were those of mason, (fn. 308) thatcher, (fn. 309) cooper, and shoemaker. (fn. 310) In the first three decades of the 19th century one in five or six families in the parish in employment was supported mainly by trade or manufacture. (fn. 311)
Between the mid 19th and early 20th centuries (fn. 312) there were always one or two grocers and drapers, a wheelwright, and until 1909 one or two blacksmiths, in the area of the modern parish. In 1855 and later (fn. 313) there was a beer retailer, in 1887 three shoemakers, and in 1913 a butcher. In 1927 there was a confectioner, and in 1938 a firm of builders' merchants. By 1977, however, the number of tradesmen in the parish had greatly declined, and there were only two general stores and a newsagent in the village. The great increase in motoring and tourism during the 20th century had brought two garages and three tea-rooms by 1938, as well as a hotel and country club in the north-west part of the parish. (fn. 314) In 1977 there were still two garages, a hotel and a restaurant, and two antique shops. Many parishioners then worked outside the parish, in neighbouring towns or in London. (fn. 315)
A lime pit held of Washington manor in 1449 (fn. 316) was perhaps on the same site as the chalk pit held of that manor in the late 17th and early 18th centuries. (fn. 317) Several old pits were recorded in the parish in the 19th century. (fn. 318) From at least 1839 there was a flourishing chalk quarry near the top of Washington Bostal; between that date and 1922 it belonged to the Floate family. (fn. 319) By 1971 the business belonged to the Duncton Quarrying Co., (fn. 320) who were still working the pits in 1977.
A large brickworks on the Gault clay outcrop north of the village was active between 1839 and 1899. (fn. 321) It had ceased to exist by 1909, (fn. 322) and its remains were partly obliterated by the construction of the new roundabout in 1967–8. The commercial extraction of sand from the Lower Greensand outcrop had begun by 1915, (fn. 323) and a very large area on and around Rock common was quarried away during the next 60 years, especially after c. 1960. Two firms were active there in 1977, on both sides of the road across the common. (fn. 324) A business dealing in cement and concrete products was recorded in 1938. (fn. 325)
After the inclosure of 1816 part of the former Heath common was planted for coppicing, (fn. 326) and a timber merchant was recorded in the parish between 1855 and 1922. (fn. 327) Forestry has again been practised since the Second World War, on part of the National Trust estate in the west of the parish. (fn. 328) Two members of the Goatcher family were recorded as 'gardeners' in 1828, (fn. 329) and there was a seedsman in the parish in 1836. (fn. 330) The nurseries of A. Goatcher and Son were founded in 1845, and after 1851 occupied an allotment of the former Washington common. After dealing at first in forest transplants for the large estates near by, the firm later dealt in all hardy nursery stock. During the 1960s over 40 a. were cultivated, and a full-time staff of 20 employed, but by 1977 the staff had dropped to c. 15. (fn. 331)
LOCAL GOVERNMENT
There are court rolls of Washington manor for the years 1491–2, 1530, 1572, 1617–18, and 1682–1923. (fn. 332) During the 18th century roughly eight or ten courts were held in each decade, but after 1800 the frequency declined greatly. Between the 16th and 19th centuries, apart from recording changes of tenure, the court was chiefly concerned with managing the common wastes. (fn. 333) In 1722 it was being held at Court (later Church) Farm. (fn. 334) Business began to be transacted out of court in 1745; at first only the granting of licences to sub-let copyholds was dealt with, but later all kinds of business. The last court was held in 1854.
There are court rolls of Chancton manor for 1457–63 and 1523–1891. (fn. 335) Courts were held up to six times a decade in the 16th century, but less often thereafter until c. 1770 when they increased in frequency. Besides business concerned with tenancies, the court dealt with strays, and with the regulation of common land.
Churchwardens are recorded for most years after 1560. 97 Between 1790 and 1841 one churchwarden was appointed by the vicar, and one by the parishioners. (fn. 336) Two collectors for the poor were mentioned in 1584, (fn. 337) and two overseers in 1642 and later. (fn. 338) There were two waywardens in 1829–30, (fn. 339) and usually one or two between 1848 and 1862. (fn. 340) In the 17th century the parish clerk's wages were defrayed by a rate; Philip Taverner, who died in 1692, had been clerk for at least 46 years, and during the Interregnum had held the office of 'register'. (fn. 341) A separate poor-rate was levied in the late 17th and early 18th century. (fn. 342) Among the methods of relief used then and later were weekly payments, the provision of clothing, food, fuel, and medical care, and the payment of rent. In the 1820s a doctor was paid a yearly salary for his attendance. Pauper children were farmed out or apprenticed, many in Brighton or Worthing; and parish work was provided, flint-digging in the 1820s and apparently weaving in the 1740s. (fn. 343) There was also a parish workhouse, first recorded in 1739, (fn. 344) and perhaps situated north of The Street, where there was a close called Workhouse Mead c. 1840. (fn. 345) In addition, two cottages for poor people were built on Longbury Hill in the north-west part of the parish c. 1778. (fn. 346) In 1789 Washington became part of Thakeham united parishes, which in 1835 became Thakeham union, (fn. 347) later Thakeham rural district. The parish workhouse, however, apparently remained in use in 1825. (fn. 348) The two cottages were still used for their original purpose in 1824, (fn. 349) but were sold in 1840. (fn. 350) In 1933 Washington was transferred from Thakeham to Chanctonbury rural district, (fn. 351) and in 1974 to Horsham district.
At the inclosure of the Washington manor commons in 1851, 4 a. north of the village were allotted to the parish for recreation, and 2 a. adjoining as gardens for the labouring poor. (fn. 352) The parish council continued to manage both in 1977. (fn. 353) A parish reading room and institute was built on the recreation ground in 1907 by Mrs. Godman of Highden. (fn. 354) It was enlarged in 1955 and was still in use in 1977. (fn. 355)
CHURCH
Philip de Braose granted Washington church to Sele priory c. 1096 (fn. 356) in exchange for Shipley church, the grant being confirmed in 1126 and later. (fn. 357) The church had been appropriated and a vicarage ordained by c. 1260, (fn. 358) the advowson of the vicarage belonging to Sele priory and later to its successor Magdalen College, Oxford, (fn. 359) until c. 1953, when it was resigned to the bishop of Chichester. (fn. 360) During the late 14th century the Crown usually presented, owing to the war with France. (fn. 361) In 1977 the benefice was united with those of Ashington-with-Buncton and Wiston, the parishes remaining distinct. The advowson of the new benefice was to be exercised alternately by the bishop of Chichester and Mr. J. Goring and his heirs. (fn. 362)
Demesne tithes in Washington had been granted to Sele priory by William de Braose in 1073. (fn. 363) In 1291 the rectory was valued at £16 13s. 4d. and the vicarage at £6 13s. 4d., (fn. 364) and 50 years later there were a house, 14 a. of arable land, and rents and services worth 16s. 8d. belonging to the two benefices. (fn. 365) In later times the vicar came to own the small tithes of the parish, and Magdalen College the great tithes. (fn. 366) The latter were leased by the college to the vicar in 1532, and apparently usually in the 18th and 19th centuries. (fn. 367)
The vicarage was said to be worth £9 9s. 10d. in 1535. (fn. 368) In 1615 (fn. 369) there was a vicarage house (which had six hearths in 1664), (fn. 370) and 13 a. of glebe. The real value of the living was said in 1730 to be £30. (fn. 371) By the early 19th century the income was only £125, (fn. 372) and in 1830 it was augmented by two grants of £200 from Magdalen College and Queen Anne's Bounty. (fn. 373) In 1832 the vicar was licensed for non-residence for a year, as the vicarage house was uninhabitable, (fn. 374) and it was presumably then that the old rambling building (fn. 375) was replaced by a new one, of five bays and two storeys. Twelve acres were allotted to the vicar in 1851 under the Washington Commons inclosure award, (fn. 376) of which 9 a. were exchanged in the following year for 5 a. north of the vicarage. (fn. 377) In 1873 the living was valued at £320, the vicar leasing the rectorial tithe-rent-charge. (fn. 378) There were 20 a. of glebe in 1894. (fn. 379) The vicarage house was sold c. 1968, a new one being built to the east of it which in turn was for sale in 1977, after the union of benefices. (fn. 380)
Two 12th-century rectors of Washington are known by name, Oliver (instituted 1128 X 1155) (fn. 381) and Bovo (fl. 1174 X 1184). (fn. 382) Between 1502 and 1936 the cure was held by only twelve vicars, all except one of whom served more than 30 years, one more than fifty. All were either alumni or former fellows of Magdalen College, Oxford. (fn. 383) Two vicars in the early 16th century also held other livings, one being rector of Sullington. (fn. 384) Robert Parkhurst's long incumbency from 1534 to 1581 (fn. 385) spanned all the mid-century doctrinal changes, though it is clear from his reported refusal in 1569 to preach the new doctrines, that he was an adherent of the old religion. (fn. 386) In 1563 and 1579 he was residing at Washington, though in the latter year he was assisted by a curate. (fn. 387) The next two vicars apparently served through curates in 1581–2 and in the 1620s and 1630s, (fn. 388) and the second was living at Chichester in 1636. (fn. 389) Nicholas Garbrand, vicar 1638–71, also held Patching from 1660, (fn. 390) but was resident, without a curate, in 1662, (fn. 391) and his successor also held South Stoke. (fn. 392)
In 1724 there were two services at Washington every Sunday, with a sermon by the incumbent in the morning, and communion was celebrated four times a year with c. 60 communicants. (fn. 393) A late18th-century vicar held Old Shoreham too, (fn. 394) and c. 1785 a curate was living at the vicarage house. (fn. 395) Curates were also recorded c. 1830. (fn. 396) In 1851 congregations were said to average 90 to 100. (fn. 397) By 1865 the figures were estimated at 140 or 150, there being two full services each Sunday and communion six times a year. Although many who lived in the north part of the parish attended Ashington church, more accommodation was urgently needed; (fn. 398) it was provided by the rebuilding of the church in 1866–7. By 1884 communion was being celebrated twice a month, and congregations were said to number 150 or 170. (fn. 399)
After the union of benefices in 1977 the incumbent of the new benefice lived at Ashington, a group ministry being established. (fn. 400)
The church of St. Mary (the dedication is recorded as early as 1146) (fn. 401) is built of ashlar, and has a chancel, aisled nave with south porch, and west tower. The early history of the fabric has been largely obscured by the rebuilding of everything except the tower and the north arcade in the 19th century. The north arcade is of c. 1200 and presumably indicates that a north aisle was added at that time; it was partly reworked in the 13th century. The tower is late-15th or early-16thcentury, and replaced an earlier tower at the west end of the north aisle, part of which survived in 1865 as a staircase. (fn. 402) There may also have been a chapel for the chantry which was dissolved c. 1548, but of which no other record has been found. (fn. 403)
The chancel was described in 1636 as about to fall down, but in 1724 was said to be again in good repair. (fn. 404) It was rebuilt apparently in the 18th century, (fn. 405) and galleries were put up in the nave at some time before 1865. After a change of vicars in that year the church was extensively restored in 1866–7 by G. M. Hills in a 13th-century style. The nave and chancel were rebuilt, the south aisle added, and the north aisle widened by 2 ft. (fn. 406)
The octagonal font is 15th-century, but most of the other fittings date from after 1865, including the marble and alabaster reredos. (fn. 407) Stencilled decoration of the walls carried out in 1880 was partly obscured before 1965. (fn. 408) Monuments include one to John Byne of Rowdell (d. 1600) and one to Sir Harry Goring of Highden (d. 1824). The plate comprises two 19th-century silver communion cups and two 18th-century silver patens. (fn. 409) There are six bells, including one of the 14th century and another of 1614. (fn. 410) The registers begin in 1559. (fn. 411)
NONCONFORMITY
Two parishioners presented by the churchwardens in the 1620s for non-attendance at church may have been recusants. (fn. 412) In 1724 there were 3 Anabaptists and one Quaker in the parish. (fn. 413) A building in The Street belonging to Reuben Parker was registered for worship by an unspecified nonconformist sect in 1846. (fn. 414) No more is heard of it, but in 1903 a mission room was said to have been recently opened in a cottage in the parish. (fn. 415)
Nonconformity in the part of the parish which was transferred to Ashington in 1960 is reserved for treatment elsewhere.
EDUCATION
There was a schoolmaster in Washington in 1579, but apparently no fit pupils, (fn. 416) and another in 1622. (fn. 417)
In 1818 there were three schools for young children, with 53 pupils in all, and one for older children with 12; that provision was felt to be inadequate. (fn. 418) In 1833 there were four schools for the poor with 97 pupils, supported chiefly by private charity, besides two fee-paying day and boarding schools, one attended by 20 girls and the other by 30 boys. (fn. 419) The four schools for the poor had become three 13 years later, each with a paid mistress; the total number of children was then also 97. (fn. 420)
St. Mary's C.E. (Controlled) School was opened in 1867 with one schoolroom for boys, girls, and infants. The building is of flint with brick dressings and plain Gothic windows. In the following year the school was receiving a government grant; average attendance was then 50, the children paying scaled fees. (fn. 421) Additional accommodation was provided c. 1875, (fn. 422) and in 1884 the master also taught an evening-school. (fn. 423) Average attendance in 1893 was 87, (fn. 424) rising in 1906 to a peak of 107, (fn. 425) and falling by 1938 to 90. (fn. 426) In 1977 there were 91 on the roll. (fn. 427) In 1949 the older children of the parish went to school in Steyning, Worthing, or Horsham; (fn. 428) in 1977 they went first to a middle school in Thakeham, and then to Steyning grammar school. (fn. 429)
CHARITIES FOR THE POOR
Thomas Barnard of Burton in 1683 devised £10, the interest to be given to the poor of the parish in kind. The income was still being paid in 1724, (fn. 430) but the charity is not heard of later. At an unknown date two Miss Finches devised 2 a. of land for the same purpose; the income was known to have been received only once, in 1738, and by 1788 the lands had been annexed by Roger Clough. (fn. 431) Mrs. A. B. Lloyd of Warren Hill, by will proved 1941, devised six cottages she had built in 1925 on the Washington– Storrington road, as dwellings for poor labourers, artisans, and tradesmen of the parish, or their dependants. (fn. 432) The Washington Almshouses, as they were known, were still being used for that purpose in 1977. (fn. 433)