Pages 34-53
A History of the County of Sussex: Volume 6 Part 1, Bramber Rape (Southern Part). Originally published by Victoria County History, London, 1980.
This free content was digitised by double rekeying. All rights reserved.
LANCING
The parish of Lancing (fn. 1) lies between Worthing and Shoreham on the west bank of the river Adur where it meets the sea. The ancient parish was roughly oblong in shape, with a long shingle spit projecting eastwards from its south-east corner. That spit was breached by the new entrance to Shoreham harbour made in 1760 and renewed in 1821; the truncated eastern section of the spit, however, remained in Lancing parish. Much of Lancing's western boundary is marked by the straight line of Boundstone Lane, of which the eponymous stone survived in 1978, and part of the northern boundary by the Ladywell stream, a tributary of the Adur. (fn. 2) In 1881 the ancient parish consisted of 2,530 a. including water, and in 1901 of 2,534 a. In 1910 240 a., comprising the two parts of the shingle spit to the south-east, were transferred to Shoreham-by-Sea civil parish and urban district, another 11 a. being transferred in 1927. Meanwhile 50 a. were lost between 1911 and 1921 through coastal erosion. In 1971 the area of the parish was 2,236 a. (905 ha.). (fn. 3) The present article deals with the area of the ancient parish until 1760, after which the truncated eastern part of the shingle spit is treated with Shoreham. The modern history of the western part of the shingle spit, generally in modern times called Shoreham Beach, is, however, included here.
The northern part of the parish lies on the southern slopes of the South Downs, rising to 358 ft. at Lancing Ring in the north-west corner. (fn. 4) In the south part the chalk is overlaid by later deposits. The settlements of North and South Lancing lie on an area of Coombe deposits and brickearth which evidently once formed a peninsula of dry land between the estuaries of the Teville stream on the west and the river Adur on the east. (fn. 5)
The estuary of the Adur in early times seems to have been at least a mile wide between South Lancing and New Shoreham. The assertion made in the early 17th century (fn. 6) that the river originally debouched at the former place is apparently evidence for that. Corroboration is provided by the name 'water of Pende' sometimes given to the Adur in the Middle Ages. (fn. 7) The place called Pende, often mentioned between the 13th and 15th centuries (fn. 8) and now lost, seems to have lain very near South Lancing, to judge from the common-field names North and South Penhill recorded east of South Lancing where Penhill Road was later built. (fn. 9) Pende was a busy port in the 14th and 15th centuries. Its name was presumably derived from the pynd or enclosed piece of water on which the port lay, (fn. 10) and which may have been the inlet represented by the modern stream between South Lancing and Old Salts Farm. Alternatively it is possible that the eastward longshore drift of shingle had already caused the Teville stream, instead of reaching the sea west of South Lancing, to flow parallel to the coast and join the Adur estuary. (fn. 11) It had apparently assumed that course by 1587, when a place called Penhouse lay on it, just south-east of South Lancing; (fn. 12) if the same conditions obtained two centuries earlier, Penhouse may represent the site of the lost port. (fn. 13)
The eastward drift of shingle gradually forced the main channel of the Adur to the east side of its flood plain, and the western part of the estuary consequently silted up and was reclaimed. Some marshland had already been used for salt-extraction in the 10th century. (fn. 14) There was presumably reclamation for pasture during the next 300 years, for the land valued at more than £2 a year which was lost to the sea between 1291 and 1341 (fn. 15) seems likely to have been reclaimed land. The danger evidently continued, for on two occasions in the mid 14th century commissioners were appointed to repair sea defences at Pende. (fn. 16)
By the late 16th century the shingle spit across the mouth of the Adur estuary reached as far east as New Shoreham, and the river had assumed its modern channel. (fn. 17) Much land to the east of the settlements of North and South Lancing was reclaimed after c. 1540, and defended on the east by a sea-wall, mentioned in 1592, which ran southwest from a point on the North Lancing to Shoreham road near the modern Sussex Pad inn. Outside the wall at that date lay 200 or 250 a. of saltmarsh and shingle beach, overflowed by every tide. Most of the saltmarsh was common land, but south of South Lancing village in 1622, on either side of the deflected Teville stream, were a number of pasture closes in several ownership, totalling c. 53 a. (fn. 18) The shingle beach is unlikely to have been static; in 1622 it appears to have been narrower than it had been 35 years earlier. (fn. 19) In 1684 the lord of the manor agreed with a drainage engineer or 'scavellman' to reclaim the saltmarsh outside the sea-wall, constructing a new dam on the course later followed by New Salts Farm Road. (fn. 20) The work seems to have been done by 1723, when the 'Salts farm' was being leased. (fn. 21) Old Salts Farmhouse existed by 1698; (fn. 22) the present building, faced with cobbles, is apparently 18th-century with early-20th-century alterations. In 1753 New Salts Farm Road was described as the old sea wall; more land, part of which was used as arable, had been inned outside it and new defences constructed further east. A farm-house at New Salts farm had been built by that date; (fn. 23) the existing building, however, is externally of the 19th and 20th centuries. A little more land was inned during the next 90 years; (fn. 24) by c. 1840 the riverside had virtually its modern appearance. The successive dams built to defend the reclaimed lands were then still visible. (fn. 25) In 1977 the sea-wall mentioned in 1592 could still be traced, but only the northern and southern ends of New Salts Farm Road survived, the rest having been destroyed in the construction of Shoreham airport. (fn. 26)
Meanwhile the shingle spit had become relatively stable by the mid 18th century, when there was some arable land there, (fn. 27) and storage sheds for corn belonging to the lord of Lancing manor. (fn. 28) About 1760 a boat-house was built there, and in 1791 the lord of Lancing granted two inhabitants of Shoreham the right to place up to 20 bathing-machines there. (fn. 29)
About 1840 there was still inclosed pasture land at South Lancing between the coast road and the lower course of the Teville stream; land south of the stream, defended from the sea by a high gravel bank, had also been used for pasture in 1826, but in 1833 was being used at least sometimes for recreation. (fn. 30) At about the last mentioned date an embankment was built further east to protect the new road to Shoreham authorized in 1830; the ground on its south side, which had been excavated to build it, formed a lake c. 1840, (fn. 31) the forerunner of the modern Widewater. The beach still fluctuated in area and quantity during the 19th century, (fn. 32) and on two occasions it was necessary to rebuild parts of the Worthing–Lancing coast road further north because of erosion. (fn. 33) Between 1875 and 1896 a large area of land was lost south-west of South Lancing, the Teville stream being breached; its truncated lower course thereafter gradually disappeared, (fn. 34) so that by 1977 the open space called the Beach Green opposite South Lancing was dry. Meanwhile a coastguard station had been built on the shingle spit by 1851, (fn. 35) and various other buildings followed during the late 19th century. In 1896 they included a boat-house, a lifeboat station, and a cholera hospital; most of the spit, however, remained waste land. (fn. 36) Intermittent storm and flood damage continued along the coast during the early 20th century, (fn. 37) but after the various bodies responsible for coastal defence in Lancing and Shoreham Beach were replaced by one unified body in 1921, (fn. 38) the danger was averted. An elaborate plan made in 1945 for the layout of the area of the modern parish south of the coast road with gardens and sports facilities was not carried out; (fn. 39) in 1977 that area included, besides open spaces, houses and flats, a caravan park, and a nursery.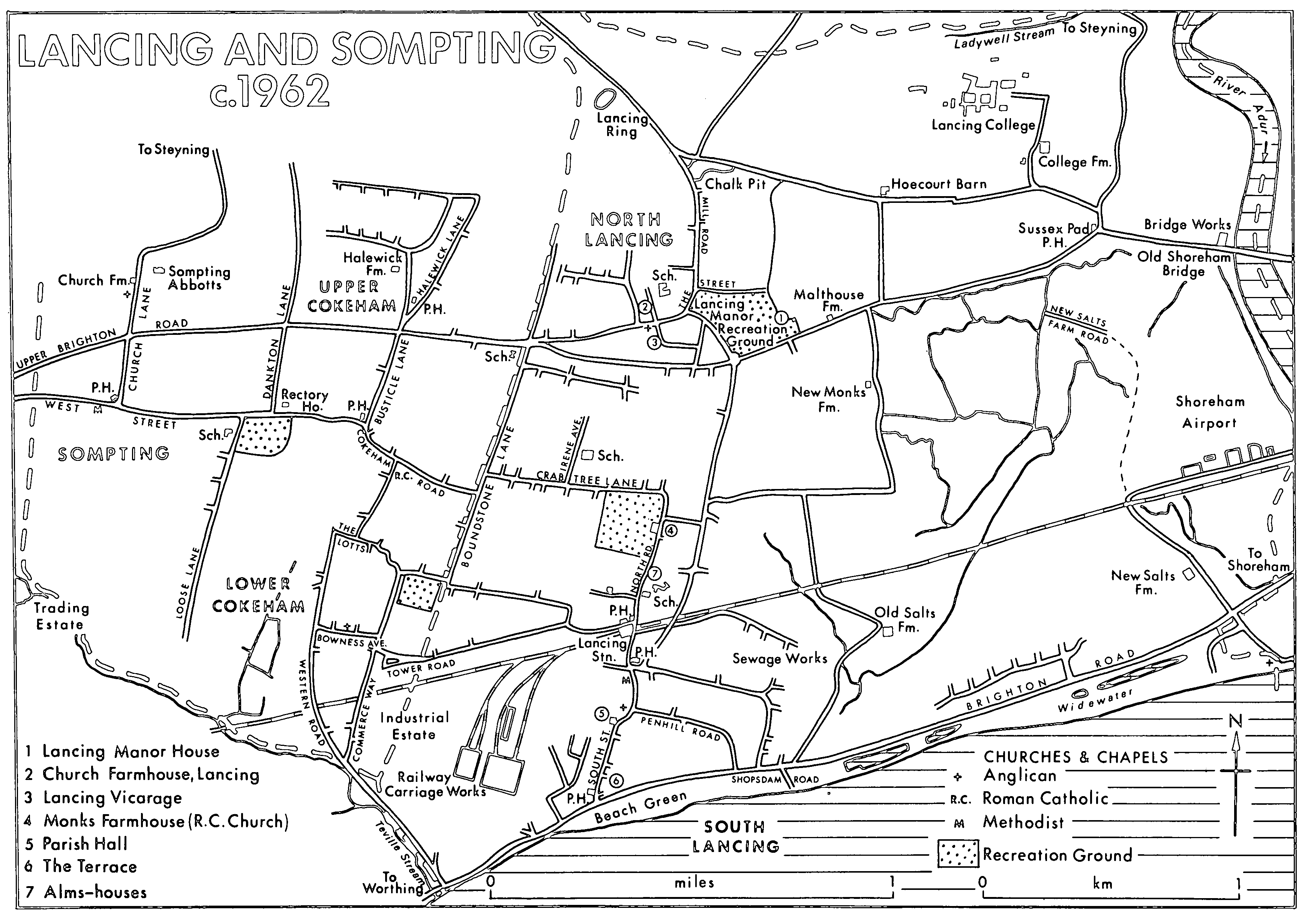 By 1977 most of the western part of the parish was built over or was used for industry. The northern and eastern parts contained some farmland, but were dominated by Lancing College and Shoreham airport. The buildings of the college, begun in 1854 by R. C. Carpenter, occupied a large area on Lancing Hill. The most conspicuous part, especially as seen from the beach or the river Adur, was the chapel, c. 150 ft. high, begun in 1868 to designs by R. H. Carpenter, and completed externally in 1977. (fn. 40) The airport in 1977 occupied much of the reclaimed land in the eastern part of the parish. In 1910 a field had been rented by H. Piffard to test a biplane he had built. A proper airfield existed in the following year when a pioneer cargo flight was made; there was also a flying school there before 1914. After being requisitioned during the First World War the site was returned to grazing. In 1933 c. 150 a. were bought by Brighton, Hove, and Worthing corporations for a joint municipal airport, which was opened three years later. During the late 1930s, besides charter services, there were scheduled services to British and foreign destinations. After use as a fighter station during the Second World War and for some scheduled services during the 1950s, the airport lapsed until 1971, when it was reopened. Thereafter it expanded greatly. In 1977, despite the lack of a hard runway, it was used by 200 businesses; charter flights and air taxis operated from it, and there was an aeronautical training college there.
In the Middle Ages there were three main settlements in the parish, North Lancing, South Lancing, and Pende; the last–named has already been discussed. The place-name Lancing dates from a relatively early period of Saxon settlement, but the suggestion that it can be connected with Wlencing, son of Aelle the founder of the Saxon kingdom of Sussex, is incorrect. (fn. 42) North Lancing, containing the church, lay at the foot of the South Downs, and South Lancing on a promontory of dry land to the south which terminated in a low cliff. (fn. 43) The name South Lancing is recorded in 1236, and North Lancing a century later. (fn. 44) In 1592 they were described as 'both Lancings'. (fn. 45) Later alternative descriptions were Northtown and Southtown in the 17th century (fn. 46) and Upper and Lower Lancing in the early 19th. (fn. 47) The buildings of North Lancing include The Old Cottage, which comprises a main range of the late 16th or early 17th century and a late medieval jettied cross-wing, and The Old Posting House, a timber-framed building apparently of the mid 16th century, with a brick facade of the late 18th century or early 19th. Friar's Acre east of the church is a timber-framed building with red brick infilling, the west end of which has been rebuilt in brick. Church Farmhouse is mentioned elsewhere; (fn. 48) the other buildings are chiefly of the 19th and 20th centuries. Pre-19th-century buildings at South Lancing apparently included South House, demolished in 1937. (fn. 49) The former Yew Tree Farmhouse, a 19th-century building at the corner of Penhill Road, apparently replaced an earlier farm-house of the same name. (fn. 50) At the end of the 18th century North Lancing village extended from a point just west of the church eastwards along the old course of the Chichester–Brighton road, through what was later the manor-house park. After the road was diverted round the park in 1804, the east part of the village disappeared. The village of South Lancing at the same period was more scattered, extending from Monks Farm to the coast. (fn. 51) Remains of a 6th-century cemetery found at Hoecourt, north-east of North Lancing, testify to the existence of a settlement there at that date; (fn. 52) it still comprised at least four houses in 1592. (fn. 53)
Soon after 1800 the development of Worthing as a seaside resort was imitated at South Lancing, (fn. 54) apparently at the instigation of a group of local men who had formed themselves by 1809 into the Lancing House Club or Lancing Building Society; a leading member was a Lancing builder, Nathaniel Blaker. In 1807 one lodging-house was mentioned at South Lancing; by 1813 there were eight, including part or all of The Terrace, which comprised five three or four-storeyed houses facing the sea at the south end of the village. Since part of it was apparently called Jubilee House, it was probably built c. 1810; it survived in 1977. Other terraces were built further north at the same time. (fn. 55) In 1977 many had disappeared, but some survived in Alma and East streets, of two or three storeys and built of painted beach pebbles with brick dressings. One terrace on the corner of East and South streets has a hipped mansard roof and is dated 1806. In 1811 Lancing was described as much frequented, and three years later there were several bathingmachines. The resort was always secluded: in 1833 there was no hotel, library, or any other public room. The contrast to Worthing and Brighton was one of its attractions; among others mentioned during the 19th century were the extensive sands, and the climate which one medical writer preferred to those of Torquay, Madeira, and Malta.
The resort gradually became less important, though South Lancing was still occasionally visited in 1845, and was still described as a resort fourteen years later. (fn. 56) The parish continued, however, to be a popular place of residence for moneyed people. There were three 'gentry' living at The Terrace in 1833, (fn. 57) and the number of similar people greatly increased in later decades, partly on account of the growth of Lancing College. Twelve gentry were listed in 1855; in 1895 there were 50, including 17 at the college. (fn. 58)
There was little further building development at South Lancing before 1875, (fn. 59) though land was offered for sale as building land in 1862, (fn. 60) and some labourers' cottages had been built during the previous decade. (fn. 61) During the last quarter of the century several large detached houses were built, Penhill Road was constructed, and the land near by began to be built up with houses. (fn. 62) At the same period there was much market-garden land in the south-west part of the parish, as there continued to be later. In the early 20th century the pace of new building at South Lancing increased, partly because of the opening of the railway carriage works in 1912. Further streets in the Penhill Road area had been laid out by 1909; (fn. 63) two large areas of land near by were offered for sale at the same period as building plots, (fn. 64) and in 1907 much of the east part of the parish was sold by the lord of Lancing manor to a property company. (fn. 65) By 1912 the parish was said to be acquiring a semi-urban character. (fn. 66) One estate agent was recorded in 1913, and there were three in 1915. (fn. 67) North Lancing as yet was hardly affected by building development, but meanwhile houses had begun since c. 1890 to be built along the coast, chiefly on the shingle spit, but also further west. By 1905 there were c. 200, and by 1909, when they extended almost continuously along the coast for nearly three miles, there were c. 260. (fn. 68) Many were constructed from disused railway carriages, and most were used as holiday homes, and the settlement, which came to be called Bungalow Town, had a varied and somewhat makeshift character, which found expression in bright paintwork and outlandish names for the houses. (fn. 69) A heavy storm in 1913, however, destroyed many of them. (fn. 70)
After the First World War the residential development of the parish proceeded much faster, with the support of the parish council, which published or gave approval to the publication of guidebooks to the parish. (fn. 71) The fast and frequent railway service enabled business men to live in Lancing and work in London or Brighton; about 1930 the journey to London took 90 minutes. (fn. 72) Between 1921 and 1935 much of that part of the Lancing manor estate not already disposed of was sold in small or mediumsized lots, (fn. 73) and most of the south-west part of the parish not already built up was developed for building during the 1920s and 1930s, the settlements of North and South Lancing becoming physically joined. What had been market-garden land before the First World War, however, very largely remained so, especially in the south part of the parish, until at least 1950. (fn. 74) Some of the new estates were laid out to a uniform pattern, but the predominant impression was of great variety, houses and bungalows occuring in roughly equal numbers. Besides private estates there was an estate of council houses between North and South Lancing. In the southeast part of the modern parish houses were practically continuous along the South Lancing to Shoreham coast road by 1929. (fn. 75) Meanwhile new roads were laid out on Shoreham Beach, and the settlement there grew rapidly, most houses in 1929 being of brick. (fn. 76) Some houses were also built during the 1920s and 1930s north of North Lancing village. (fn. 77) The number of houses in the parish more than doubled between 1921 and 1931, and there was probably an equal if not greater increase between 1931 and 1939. (fn. 78) Many houses south of the coast road, however, both in Lancing and on Shoreham Beach, were destroyed by the military authorities c. 1940. (fn. 79)
Development continued after the Second World War, 205 new private houses and 268 council houses being built by 1953, (fn. 80) when Lancing was said to resemble a small town. (fn. 81) Besides the completion of estates begun before 1939, the 1950s and 1960s saw the replacement of most of the marketgardens in the parish by new closes of houses or blocks of flats. (fn. 82) In North Lancing during the 1960s and 1970s a number of old buildings were demolished and replaced by new houses. (fn. 83) Meanwhile in 1951 the county council had approved a plan for the rebuilding of Shoreham Beach. (fn. 84) In 1977 most of that area was covered by neat, nearly treeless rows of varied bungalows and small houses, with a few blocks of flats.
Though residential development was the main cause of growth in the parish after c. 1920, Lancing also during the same period resumed its character of a small resort. After c. 1890 there had been an increase in the number of apartment houses, perhaps partly because of the typhoid epidemic in Worthing. There were 9 apartment houses in 1895, (fn. 85) and 10 in 1900. (fn. 86) In 1921 the large number of summer visitors was remarked on, (fn. 87) and 8 years later South Lancing was said to have the appearance of a small watering-place. (fn. 88) Among its attractions were shelter from north winds, long sunny periods and freedom from fogs, and the extensive sands, which the parish guide of c. 1932 optimistically described as the best in Sussex. (fn. 89) Lancing's popularity continued after the Second World War; in 1953 there were a beach park and numerous beach huts. (fn. 90) There were also three caravan parks in the same year (fn. 91) which survived in 1977, but in the latter year catering for visitors was no longer an important part of the economy of the parish.
The northern part of the parish is traversed by the Chichester–Brighton road, which crosses the river Adur near the Sussex Pad inn. It has been convincingly suggested that the road existed in Roman times, following a slightly more northerly course east of North Lancing village than the modern road. The original river crossing was probably a ford, but a ferry may already have existed in Roman times. (fn. 92) The crossing was of great importance, as the lowest on the river; it was also the destination of a probably prehistoric downland track which led from Cissbury and Chanctonbury by way of Lancing Ring. (fn. 93) In the Middle Ages there were two ferries, one to Old and one to New Shoreham; the latter had apparently gone out of use by the late 18th century. (fn. 94) A causeway leading to the ferry on the Lancing side of the river existed by 1622; (fn. 95) in 1758 it was called the 'padway', (fn. 96) a name perhaps derived from the wooden faggots sunk into the marsh of which it was constructed. (fn. 97) The part of the road between the causeway and North Lancing village formed the boundary in 1622 between the cultivable land to the north and the marshes to the south. (fn. 98) The river crossing was fordable at low water in the mid 18th century; (fn. 99) the ferry could be dangerous, however, and travellers sometimes preferred the bridge at Bramber. (fn. 100) In 1782 Old Shoreham bridge was opened in place of the ferry, a new causeway being constructed on the Lancing side. (fn. 101) It was itself bypassed in 1970 by a new bridge further north. (fn. 102) The course of the Chichester–Brighton road through North Lancing has been twice altered. In 1804 the original course of the eastern section by way of The Street and past the west front of Lancing manor-house was replaced by the present road round the park. (fn. 103) In the late 1930s the west part of the village street was bypassed by a new road to the south. (fn. 104) In 1977 the course of the Chichester–Brighton road throughout the parish was a dual carriage-way.
A road from South Lancing to Sompting was mentioned in 1452. (fn. 105) The road between South Lancing and Worthing which existed in 1622 (fn. 106) was later washed away. (fn. 107) A new road constructed along the coast after 1803 (fn. 108) was often breached by the sea. The construction of a new bridge over the Teville stream in 1822 gave only temporary relief, (fn. 109) and in 1826 the road was made a turnpike, a new embankment being constructed over the Teville stream, and parts of the road being rebuilt further north. (fn. 110) There had been a road along the sea wall for c. ½ mile east of South Lancing village in 1622. (fn. 111) In 1830 it became a turnpike, and was continued by a new road eastwards to the new bridge at New Shoreham. The new road also served as a defence against the sea, and the turnpike act gave partial exemption from tolls to the owners and occupiers of lands along it, in compensation for previous expenditure on the defences. (fn. 112) The Worthing– Brighton coaches ran through South and North Lancing after the opening of the Worthing–Lancing road, (fn. 113) and later presumably used the Lancing to New Shoreham road. In 1821 there were also daily coaches from Lancing to London, Southampton, and Chichester, (fn. 114) and in 1833 three coaches a week to Bath. (fn. 115)
In 1840 the cost of maintaining the sea defences was not being met from the toll income on either section of the coast road. (fn. 116) The tolls on the section between Lancing and New Shoreham were increased in the following year, (fn. 117) but the construction of the railway in 1845 removed much of the traffic. By 1868 the road had begun to disappear, (fn. 118) and in the following year the Worthing and Lancing turnpike trust was dissolved, the section of its road in Lancing becoming a parish highway. (fn. 119) When in 1879 part of that section was breached by the sea, however, the parish declined responsibility for its repair and was upheld in the court of Queen's Bench. By 1887 the breach was 200 yards wide, and traffic to Worthing went by way of Ham Lane. The breach was closed between 1890 and 1893 by the construction of a new road further north. (fn. 120) Meanwhile the South Lancing to New Shoreham road had ceased to be a turnpike in 1878. (fn. 121)
There was a ferry, and at low tide a ford, in 1873 between the shingle spit at the south-east corner of the parish and New Shoreham. (fn. 122) Later the number of ferries grew to three; in 1921 they were replaced by a footbridge, (fn. 123) with a moveable central span, on which a toll was charged until c. 1950. (fn. 124) There was a bus service c. 1930 between Shoreham Beach and New Shoreham. (fn. 125) Communication from Lancing northwards was provided in past centuries by downland tracks leading from North Lancing to Steyning and Findon. (fn. 126)
The railway line from New Shoreham to Worthing, much of it carried by an embankment, was opened through the parish in 1845, with a station at Lancing. (fn. 127) Bungalow Town Halt, serving Shoreham Beach, was opened in 1910 and closed in 1933. Two years later it was reopened as Shoreham Airport station, but it was closed again in 1940. (fn. 128) A tramway line along the coast road through the parish proposed between 1901 and 1903 was not carried out. (fn. 129)
In 1086 17 villani and 11 bordars were recorded at Lancing manor and its sub-manors, and 14 villani and 8 bordars at Hoecourt. (fn. 130) Between 21 and 26 inhabitants were recorded in subsidies between 1296 and 1332, (fn. 131) and 117 adults, including 42 wives, in 1378. (fn. 132) Forty-seven persons were assessed to the subsidy in 1524, (fn. 133) and in 1566 there were 45 households. (fn. 134) Seventy-one adult males subscribed the Protestation in 1642, (fn. 135) but the figure of 350 adults in the parish given in 1676 seems to be too high. (fn. 136) There were said to be about 30 families in 1724. (fn. 137) In 1801 there were 451 inhabitants, the population thereafter rising steadily to 1,341 in 1881. The extent of immigration can be gauged from the fact that in 1841 more than one in five inhabitants had been born outside Sussex. A 14 per cent increase in population in the decade 1851–61 was attributed partly to the extension of market-gardening and to the building of Lancing College and of the fort on Shoreham Beach. After a temporary drop the population began to rise again after 1901, swelled in summer by visitors. The area of the modern parish, excluding Shoreham Beach, had c. 2,000 inhabitants in 1911, and 3,153 in 1921. The very large increases in later decades were due to residential development; from 4,698 in 1931 the population rose to 11,913 in 1951, and 16,773 in 1971. (fn. 138)
There was an alehouse in the parish in 1584, (fn. 139) and another in 1640, (fn. 140) perhaps the same as the Black Lion mentioned in 1686. (fn. 141) An innkeeper was recorded in 1719, an alehouse-keeper in 1769, (fn. 142) and an innholder in 1778. (fn. 143) One or other of them was perhaps connected with the Sussex Pad inn at the west end of the causeway leading to the ferry. The first record of the inn by name is of 1789, (fn. 144) but it was very likely there before; the Pad house had been recorded there in 1753, (fn. 145) and a group of houses called 'Padd' in 1698. (fn. 146) In 1622 there had been buildings there called Welldyke shops, perhaps used by fishermen. (fn. 147) The inn's lonely position and nearness to the estuary is said to have made it a centre for smuggling. (fn. 148) In 1789 the Lancing Society for Prosecuting Felons met there, (fn. 149) and horses and postchaises could be hired there in 1814. (fn. 150) Nathaniel Woodard, the founder of Lancing College, acquired the lease c. 1850 in order to safeguard the school's moral atmosphere, and some years later the college acquired the freehold as well. (fn. 151) The old building, a rambling structure apparently of 18th-century date externally, was destroyed by fire in 1905 (fn. 152) and later rebuilt.
The Three Horseshoes, at the south end of South Lancing village, was mentioned in 1788. (fn. 153) In 1862 the landlord was also described as a wine and spirit merchant. (fn. 154) A second inn at South Lancing, the Farmers' inn (later hotel) was built c. 1855, (fn. 155) and rebuilt as a roadhouse in the 1930s. The Railway hotel by the station (renamed c. 1973 the Merry Monk) was mentioned in 1874. (fn. 156) In North Lancing there was no public house before the 1930s, when the Corner House, later the Sussex Potter, was opened. (fn. 157) Two public houses were built in the 1930s on the new building estates between North and South Lancing. In 1978 there were also a public house on Shoreham Beach, and a roadhouse on the coast road near the Shoreham–Lancing boundary.
There was a friendly society in the parish between 1800 and 1856, which met at the Sussex Pad inn and had between 60 and 80 members. (fn. 158) The Sussex Pad was also the scene of cricket matches at the same period. (fn. 159) Later in the 19th century cricket was played on the Beach Green, (fn. 160) and c. 1920 at Lancing manor. At the latter date there was also a football club, (fn. 161) and a reading room at South Lancing which had existed since 1893. (fn. 162) A parish hall was built near the reading room in 1915, on land given by J. M. Carr-Lloyd, (fn. 163) and a workingmen's club was founded there in 1916. (fn. 164) During the building development of the 1920s and 1930s a number of open spaces were preserved for recreation. A small piece of land just over the Sompting boundary was presented to the parish in 1923; (fn. 165) football, cricket, and hockey were played there c. 1932. At the same period there was a tennis club in Queen's Road. (fn. 166) In the mid 1930s the parish council bought the Beach Green (8 a.) and a piece of land west of Monks farm-house (10 a.) for recreation, and Lancing manor-house and grounds (40 a.) were bought for the parish at about the same time by the rural district council. (fn. 167) Forty-six acres of downland including Lancing Ring were presented to the parish by Lancing College in 1949. (fn. 168)
Various social clubs existed in the parish in the 1930s, (fn. 169) when there were also two at Shoreham Beach. (fn. 170) The Odeon cinema in Penhill Road was opened c. 1932 (fn. 171) and still flourished in 1953, (fn. 172) and the Luxor cinema by the station was opened in 1940 and closed in 1965. (fn. 173) Cricket, tennis, and bowls were being played at Lancing manor in 1965. (fn. 174) After the demolition of the manor-house a new sports centre was built there c. 1973. (fn. 175) In 1977 Lancing football club had a permanent ground south of the Monks Farm recreation ground. Clubs and societies which flourished in the 1970s included an art club, a horticultural society, and orchestral and choral societies. (fn. 176) There had been a limited public library service at the parish hall since 1949; (fn. 177) a new building was opened north of the railway in South Lancing in 1974. (fn. 178) A new parish hall incorporating part of the old one was opened in 1976, and a youth centre in 1977, both also in South Lancing. (fn. 179)
There was a station of the preventive service (later the coastguard) at South Lancing from c. 1820, (fn. 180) the men of which were used in 1830 to quell a riot at North Lancing. (fn. 181) In 1851 there was also a coastguard station at Shoreham Beach. (fn. 182) The South Lancing station was closed at some time after 1907; the station at Shoreham Beach had gone by 1909, (fn. 183) but there was a new one there in 1978. In the late 19th and early 20th centuries the mild climate of Lancing led to the foundation of many convalescent homes in the southern part of the parish. Most were the property of William Chorley, a London missioner; many of the patients came from London, and church services formed an important part of the daily routine. There were separate homes for women and children, for male chest patients, and for the aged and dying. In 1899 there were 100 beds in all. In 1921 Chorley's homes were formed into a limited company called Southern Convalescent Homes. After 1945 many of the buildings were sold, the various homes being replaced by the Bell Memorial Home in South Street. (fn. 184) Among other homes in the parish during the 20th century were one for women and girls mentioned in 1932, and one for children with heart complaints which flourished between 1930 and 1955. (fn. 185) There was a county council health centre at Irene Avenue in 1953; in 1973 a new building was opened in South Lancing. (fn. 186)
Lancing has three times appeared briefly in military history. In 1587 preparations were made to resist the Spanish Armada, and beacons were set up on the coast. (fn. 187) In 1643 royalist sympathizers planned to defend the Old Shoreham ferry from Hoecourt farm-house. (fn. 188) A fort was built on Shoreham Beach c. 1855 to protect Shoreham harbour. (fn. 189) In the early 20th century it was used by a detachment of Volunteer Artillery, (fn. 190) and the building was being restored in 1978. (fn. 191) Two modern literary associations with the parish were those of A. C. Swinburne, who stayed at The Terrace in the 1880s to enjoy walking and swimming, (fn. 192) and Lord Alfred Douglas, who died at Monks Farmhouse in 1945. (fn. 193)
MANORS AND OTHER ESTATES.
In 1066 LANCING was held by one Lewin, perhaps the same as King Harold's brother Leofwin. Robert le Savage, lord of Broadwater, held it in 1086, retaining most of it in demesne. Two knights jointly held 2½ hides and ½ yardland of him. Two other portions were held by two tenants called Ralph, one of whom was probably Ralph de Buci; one of the two also held another small estate in Lancing. (fn. 194) Various people called William of Lancing are recorded locally in the 12th (fn. 195) and early 13th centuries, but none is certainly known to have held Lancing except the latest, who died seised of it at some time before 1206. It was then divided between his daughters Bertha, the widow of Niel de Brock, and Alice, whose husband was surnamed Malmeyns.
Alice's son and heir Nicholas Malmeyns (fn. 196) had been succeeded before 1219 by his younger son Maurice, an elder son William being a leper. (fn. 197) About the same time the mesne lordship of the Malmeyns moiety of the manor was granted by John de Braose (d. 1232) to John de Gatesden, later lord of Broadwater. (fn. 198) Maurice Malmeyns had died by 1242, when his moiety was in the hands of John de Gatesden, the heir being a minor. (fn. 199) Meanwhile the other moiety had passed by 1222 to Ranulph or Randolph de Brock, who held 2 fees of Bramber honor in Lancing and elsewhere in 1242. (fn. 200) The two moieties of the manor were apparently re-united soon afterwards, perhaps by the same Ranulph de Brock. (fn. 201) They remained distinct as lordships, however, the former Malmeyns share continuing to be held of Broadwater manor, (fn. 202) and the other directly of Bramber honor. (fn. 203) Niel de Brock was lord c. 1265 and in 1279, when he was claiming right of wreck, (fn. 204) but had died by 1289 when his widow Christiana held Lancing. (fn. 205) In 1291 and 1296 Thurstan de Brock was lord, (fn. 206) and between 1299 and 1332 his son Niel. (fn. 207) The same or a namesake apparently held Lancing in 1361–2. (fn. 208)
In 1400 Richard Radmyld died seised of Lancing, his brother and heir Ralph being named as lord in 1412. (fn. 209) From 1426 Lancing descended with the Radmyld moiety of Broadwater (after 1457 the whole manor). (fn. 210) After the death of William Radmyld in 1499, however, it diverged from that descent, passing after complicated transactions to Radmyld's cousin and co-heir John Goring of Burton, (fn. 211) whose family had held lands in Lancing since the late 14th century. (fn. 212) After John's death in 1520 the manor passed from father to son through Sir William (d. 1553/4), Sir Henry (d. 1594), Sir William (d. 1601–2), Sir Henry (d. 1626), Sir William (d. 1658), Sir Henry (d. 1671), and Sir William (d. 1724). (fn. 213) In the 16th and 17th centuries it was often described as the manors of NORTH LANCING and SOUTH LANCING, which may have been the names of the two moieties in the 13th century. South Lancing was alternatively called Monks, (fn. 214) presumably because of a connection with the Monk family, frequently mentioned in the parish in the Middle Ages. (fn. 215) The original territorial division, if there was one, between the two manors is obscure, and the two had become confused by the late 18th century, when the name was corrupted as the manors of NORTH LANCING AND MONKS and SOUTH LANCING AND LYONS. (fn. 216)
Sir William Goring (d. 1724) was succeeded by his great-nephew Charles Biddulph (d. 1784), (fn. 217) who was confirmed in right of wreck at the manor in 1755; the duke of Norfolk's claim as lord of Bramber, deriving from references in medieval documents, was rejected. (fn. 218) Charles's son John (fn. 219) sold Lancing in 1827 to James Martin Lloyd, M.P. for Steyning (created Bt. 1831). (fn. 220) The Lloyd family had held land in the parish since the early 18th century, (fn. 221) and as the Biddulphs did not reside at Lancing, had acquired the role of 'squire'. (fn. 222) On Sir J. M. Lloyd's death in 1844 the estate passed first to his daughter Rebecca M. Lloyd (d. 1846), and then to his widow Elizabeth, whose nephew G. K. Carr-Lloyd succeeded in 1850 or 1858. (fn. 223) At his death in 1877 he was succeeded by his son J. M. Carr-Lloyd (d. 1919), whose heir was his son-in-law Col. T. Fetherstonhaugh. (fn. 224) In the early 20th century the Carr-Lloyd estate comprised most of the parish. Much of the eastern part was sold for development in 1907, the rest being sold to various purchasers between 1921 and 1951. (fn. 225)
Church Farmhouse, north of the church, the manor-house of North Lancing manor, is an 18thcentury building with a flint and brick façade. The manor-house of South Lancing manor, Monks Farmhouse, incorporates part of a probably timberframed building of the 16th or early 17th century at its north end. The south part of the building was reconstructed, and the whole refronted, in the 18th or early 19th century, and there have been further alterations since. The building known in the 19th and 20th centuries as Lancing manor-house originally had no connection with the manor, but continued to be lived in by the Lloyd (later CarrLloyd) family, its previous owners, after their acquisition of the manor in 1827. (fn. 226) The house seems to have been 17th-century or earlier, to judge from the central chimney-stack depicted in 1789. It was refaced apparently in the 18th century with a fivebay, two-storeyed facade. (fn. 227) At that date it was called Whitehouse. (fn. 228) Further alterations were carried out in the early 19th century, including the addition of a storey. (fn. 229) In 1920 the building was bought by Lancing College, which sold it to Worthing rural district council c. 1935. After being used for various purposes (fn. 230) it was demolished in 1972. (fn. 231) The grounds, which were enlarged after the inclosure of 1803–5 and by 1875 comprised c. 50 a., were used in 1978 for recreation. (fn. 232)
The reputed manor of GRANTS, held of North Lancing manor, (fn. 233) derived from lands belonging to the Grant family, which was often mentioned in the Middle Ages. (fn. 234) Its site is unknown. In 1515 it was held by Peter Grant, an idiot, (fn. 235) and in 1567 Stephen Boord died seised of it. (fn. 236) Thomas Boord (d. 1602) was succeeded by his son Ninian (d. 1606), whose son Herbert (fn. 237) conveyed it in 1623 to Henry Chatfield, who in 1669 sold it to Edward Jones (fn. 238) (d. in or after 1680). Frances Young, apparently Edward's daughter, devised it in 1732 to her nephew John Langford, and in 1780 it was sold by Charles Langford, possibly John's nephew, to John Borrer. (fn. 239) Not long afterwards Borrer exchanged it with either J. M. Lloyd (d. 1844) or his father James (d. 1798), (fn. 240) and after 1827 it descended with Lancing manor. (fn. 241)
The manor of HOECOURT had belonged before 1066 to earl Godwin (d. 1053), as an outlying part of Hurstpierpoint in Lewes rape. William son of Bonard held it of Bramber honor in 1086. (fn. 242) William Largius who held land in Lancing at the end of the 12th century (fn. 243) perhaps held Hoecourt, for Richard le Large held 2 fees there and at West Grinstead of Bramber honor in 1242. (fn. 244) The connection with West Grinstead was maintained in later centuries by the payment of great tithes from part of the estate to the rector there. (fn. 245) The 49 a. at Hoecourt which William de Braose granted to John of Coombes in 1276 or 1277, (fn. 246) and which thereafter descended with Coombes until at least 1453, were perhaps identical with the manor or part of it. In 1349 those lands were held of Bramber honor as 1/8 fee. (fn. 247) Ralph Shirley of Wiston later apparently bought Hoecourt from an unknown vendor, (fn. 248) and after his death in 1510 it descended with Buddington in Wiston until in 1551 Francis Shirley conveyed it to Edward Fiennes, Lord Clinton. (fn. 249) By 1578 it had passed to the Crown. The lands held of Hoecourt of which Francis Shirley died seised in that year (fn. 250) may have been part of the demesnes; at any rate 14 years later Francis's son Thomas was apparently the lessee of Hoecourt farm. (fn. 251)
In 1629 the manor was granted at fee farm to Sir Allen Apsley (fn. 252) (d. 1630), whose son Peter (fn. 253) sold it in 1633 to Henry Barttelot, (fn. 254) who settled it on Francis Watker in 1641. In 1656 Watker sold it to Richard Mille in order to pay debts, and in 1659 it was bought by the executors of Margaret Dobel and settled on her granddaughters Judith and Margaret Rose. Margaret's husband Sir Joseph Sheldon (d. 1681) was succeeded by his brother Daniel who died c. 1699 seised of the whole manor, and was succeeded by his daughters Judith and Mary as coheirs. By her will proved 1726 Judith devised her moiety to her sister. At Mary's death c. 1739 Hoecourt passed to Samuel Levinge, to whom it had been mortgaged in 1737. After his death c. 1747 his cousin and heir Elizabeth Vanleythuysen settled it in 1751 on Thomas Pelham, who in 1758 sold it to James Lloyd (d. 1798), whose father James (d. 1754) had leased the demesnes in 1731 and later. (fn. 255) Thereafter the estate descended with Grants through the second James's son J. M. Lloyd. Hoecourt manor-house, whose site was presumably represented in 1978 by Hoecourt barn, still existed as a farm-house in 1643, (fn. 256) but had disappeared by 1731. (fn. 257)
BURWELL'S FARM may be identical with the hide which an un-named knight held of Hoecourt in 1086. (fn. 258) Its name is derived from the Burdeville family, a member of which granted tithes from Lancing to Henfield church before 1209. (fn. 259) After that date the land probably descended with Eatons in Ashurst and Henfield, another property of the family. (fn. 260) Walter Burdeville granted marshland at Lancing before c. 1247 to Boxgrove priory, the gift being confirmed at that date by his son Robert. (fn. 261) The same or another Robert held land in the parish in 1296, as did John Burdeville in 1327 and 1332. (fn. 262) Robert Burdeville died seised of lands in Lancing held of Bramber honor in 1377. (fn. 263) Thomas Burdeville of Eatons was dealing with lands in Lancing in 1534, (fn. 264) but thereafter the descent of Burwell's farm is lost until 1608 when Sir Edward Caryll had it. (fn. 265) Thereafter it descended with Washington (fn. 266) probably until at least 1664, when Caryll Molyneux, Viscount Molyneux, grandson of Sir Thomas Caryll (d. 1617) was assessed to two hearths there. (fn. 267) In 1729 the estate was devised by Thomas Shadwell to his son Thomas, (fn. 268) and in 1731 Hugh Roberts conveyed it to Thomas Luxford. (fn. 269) Thereafter it passed under his or a namesake's will before 1797 to William Willes, who leased it in that year to his son of the same name. In 1811 it was settled on William and Young Willes, (fn. 270) and c. 1840 it belonged to John Willes. (fn. 271) The estate was bought by Nathaniel Woodard, founder of Lancing College, in 1852, (fn. 272) and remained in the hands of the college in 1977.
The manor-house, called College Farm in the 19th century and later, (fn. 273) is a small timber-framed house of the 17th century which was enlarged in the early 19th century and again more extensively in the 20th.
Besides Boxgrove priory, two other religious houses held lands in the parish. Tortington priory had an estate by 1291, (fn. 274) which in 1535 was rented at £71 6s. 9d. (fn. 275) The land which the Knights Hospitaller had at Lancing at the Dissolution (fn. 276) was presumably identical with the manor of ST. JOHN'S which belonged to the Crown between 1592 and 1602. (fn. 277) In 1629 what was apparently the same manor was held by a Mr. Raynes, afterwards passing to John Wood, who held it at least between 1647 and 1659, Thomas Wood (fl. 1673–9), and Eleanor Wood (fl. 1722–4). John Fowler held it in 1733, and another John Fowler between 1755 and 1759; the latter sold it to John Brown, who sold it in 1765–6 to James Lloyd, (fn. 278) after which it descended with Hoecourt.
The Lancing RECTORY estate belonged between 1387 and the Dissolution to Mottenden minster (Kent). (fn. 279) It had included glebe land in 1298, (fn. 280) and in 1341 there were a house, land, and tenants owing rents and services. (fn. 281) After the Dissolution it was granted first in 1538 to Thomas Cromwell, Lord Cromwell (fn. 282) (attainted 1540), (fn. 283) and then in 1547 to the bishop of Lincoln. (fn. 284) In 1573 it consisted of a house and 20 a. land, (fn. 285) besides tithes. Except during the Interregnum the estate belonged thereafter to the bishop. In 1650 Henry Barttelot of Stopham was dealing with it, (fn. 286) and in 1662 his son or grandson Walter was apparently the lessee. (fn. 287) The lease thereafter evidently descended in the family. In 1741 the estate was held at three lives. (fn. 288) Either Walter Barttelot (d. 1764) or his son Walter sold the lease to the vicar, Edward Martin (d. 1766). After the marriage of Martin's daughter and heir Elizabeth with James Lloyd (fn. 289) (d. 1798) the lease descended with Hoecourt, J. M. Lloyd (d. 1844) purchasing the fee simple from the bishop. (fn. 290) In the early 18th century the estate still included 20 a. dispersed in the open fields; (fn. 291) by c. 1840, however, they were not distinguished from the rest of the Lloyd estates. Besides lands, the rectory estate at the latter date included most of the great tithes of the parish. (fn. 292)
ECONOMIC HISTORY.
Land for 5 ploughs was listed at Lancing in 1086, and land for 6 ploughs at Hoecourt. (fn. 293) Presumably that land corresponded roughly to the open-field arable as it existed in later centuries, (fn. 294) covering most of the west part of the parish. North Lancing village was surrounded by fields and furlongs, including Hampshire furlong, Mill furlong, Crutch furlong, and Carter's Park. South of Hoecourt lay Hoe Laine, and other fields and furlongs clustered around South Lancing village, including Capenham on the north, and Northovers, Penhill, and North and South Penhill on the east. It is possible that there were once separate groups of fields for the settlements of North and South Lancing, Hoecourt, and Pende.
In 1086 there were demesne farms at Lancing manor, two of its sub-manors, and Hoecourt manor. Thirteen villani and 7 bordars held of Lancing manor, 3 villani and 4 bordars of two of the submanors, and 14 villani and 8 bordars of Hoecourt. (fn. 295) What appears to have been Hoecourt manor or part of it had at least 9 tenants in 1276–7. (fn. 296) There were also tenements of Wiston (fn. 297) and Little Broadwater (fn. 298) manors in the parish in the Middle Ages. One inhabitant in 1330 held an estate of 100 a. on a 20-year lease. (fn. 299) In 1341 the tithe of sheaves was valued at £15, and that of fleeces and lambs at £1. Other crops mentioned at the same date were apples, flax, and hemp. (fn. 300) There was presumably abundant pasture in the parish in the Middle Ages, both on the downs and in the Adur estuary; common pasture rights apparently on the downs were mentioned in 1276–7, (fn. 301) and several lowland pasture was mentioned in 1341. (fn. 302)
At the end of the 16th century the demesne lands of both Lancing and Hoecourt manors were leased out. Lancing manor demesnes were divided between North and South Lancing farms, the latter being alternatively called Monks farm; Hoecourt farm meanwhile comprised c. 100 a. There were free or copyhold tenements of both manors, and also of the manor of St. John's, (fn. 303) besides 8 freehold tenements of Wiston manor. (fn. 304) During the 17th and 18th centuries North farm and Monks farm were apparently always leased out. In 1719 they were both leased for 21 years; North farm then comprised 178 a. of which more than half lay in openfield strips, and about the same time Monks farm comprised 194 a. (fn. 305) Hoecourt farm was leased in 1712 and 1731, and was said to contain 67 a. in 1731 and 120 a. in 1758. (fn. 306) Many of the smaller farms named during the same period consisted of strips scattered throughout the open fields. Those which comprised c. 8, 15, 30, or 60 a. seem to represent yardlands or fractions or multiples of yardlands. (fn. 307) Culverhouse farm and the future Yew Tree farm at least were copyholds of Lancing manor. (fn. 308) Among names which no longer exist were Whitehouse, (fn. 309) Brickhouse, (fn. 310) Chatfields, (fn. 311) and Northbarns (fn. 312) farms, all mentioned in the 17th century. Malthouse farm was recorded in 1649 (fn. 313) and comprised 110 a. in 1722. (fn. 314) Burwell's farm also comprised over 100 a. in the 18th century. (fn. 315) There was a farmhouse on the site of Old Salts farm in 1698, (fn. 316) and the 'Salts farm', presumably including land inned after 1684, (fn. 317) was leased in 1723, with the proviso that it should not be ploughed without permission. (fn. 318) New Salts farm-house had been built by 1753. (fn. 319) In 1786 the reclaimed marshland in the east part of the parish was divided between Old and New Salts farms, (fn. 320) of which the former comprised 279 a. four years later. (fn. 321)
Common pasture rights on the downs were occasionally mentioned in the 17th and 18th centuries. (fn. 322) In 1736 the owners of Hoecourt and Burwell's farm divided between them 80 a. of downland presumably belonging to Hoecourt manor on which each had been entitled to put 150 sheep. (fn. 323) There was still apparently common pasture on Hoecourt down in 1739, (fn. 324) but by 1803 all the downland had become several. (fn. 325)
The saltmarsh to the east and south-east of North Lancing village which was inned by the lord of Lancing manor between c. 1540 and c. 1590 had previously been commonable by the tenants of Lancing, St. John's, and Hoecourt manors. Much common marsh remained at the end of the 16th century, however, including the Ham, on the Lancing–Broadwater boundary, and the Fresh Brook, which though inclosed and used exclusively by the farmer of Monks farm during part of the year, was commonable at other times. (fn. 326) Cowleazes in the Ham were frequently mentioned in the 17th and 18th centuries. (fn. 327) The tidal saltmarsh outside the sea-wall mentioned in 1592 was used by the tenants of Lancing and St. John's manors for feeding their sheep during the 17th century, but ceased to be commonable after reclamation. (fn. 328) Meanwhile many holdings in the parish had parcels of several marshland, a distinction often being made between new and old marsh. (fn. 329)
Wheat, barley, and tares were grown in the parish in the 17th and 18th centuries, and flocks of more than 100 sheep are recorded. Hemp was grown by one farmer in 1611, and oats, peas, (fn. 330) turnips, lucerne, and clover (fn. 331) were mentioned in the early 18th century. In 1801 1,123 a., or just under half the parish, was returned as under crops, notably wheat, barley, and oats, but also peas, beans, and turnips or rape. (fn. 332) At the same period there were apparently at least 2,000 sheep in the parish, besides the large total of 250 or 300 pigs, (fn. 333) which presumably supplied Worthing with ham, bacon, and pork.
In 1803 the open fields of the parish largely survived, except where small inclosures had been made round their edges, and together with the common marshes comprised c. 700 a. Both fields and marshes were inclosed soon afterwards. John Biddulph received 180 a., including 5 a. as lord of the manor, J. M. Lloyd 295 a., and twenty others up to 63 a. each. A chalk pit at North Lancing was allotted for the use of the parishioners in agriculture or building. (fn. 334) In 1813 there were 9 farms in the parish of between 150 and 300 a. in area, besides other smaller ones; (fn. 335) the high state of cultivation there was remarked on in the following year. (fn. 336) After 1827 most of the parish belonged to the Lloyd (later Carr-Lloyd) family. About 1840 the manor-house grounds and home farm comprised c. 460 a.; most of the rest of the estate was divided between five leased farms: North, Monks, and Culverhouse in the west part of the parish, all of between 100 and 270 a. in area, and the much larger Old and New Salts farms in the east part. Outside the Lloyd estate were 5 farms of between 45 a. and 177 a. in area, the largest being Burwell's farm, and smaller estates belonging to c. 50 other landowners. At that date c. 1,500 a. were arable, growing wheat, oats, seeds, beans, peas, and turnips, and c. 560 a. were pasture. (fn. 337) The two Salts farms remained the largest in 1851, Old Salts with 320 a. employing 17 hands, and New Salts with 630 a. 39 hands. (fn. 338) Burwell's farm after becoming the nucleus of the Lancing College estate was at first tenanted. (fn. 339) In the late 19th century, however, it was kept in hand, its name being changed to College farm. (fn. 340) In 1874 wheat, barley, oats, turnips, and mangel-wurzels were said to be the chief crops of the parish. (fn. 341) In the following year 1,415 sheep and 181 pigs were recorded. (fn. 342)
Since the mid 19th century much of the agricultural land of the parish has been used as marketgardens or developed for building. There seem to have been some market-gardens as early as c. 1840. (fn. 343) In 1845 eight market-gardeners were mentioned. (fn. 344) The later growth of the industry was due to the mild and sheltered climate, which made early production possible, and to the markets provided by Worthing and Brighton. (fn. 345) Between 1851 and 1866 it expanded greatly, and in the latter year market-garden land was said to yield two or three times the rent obtainable from agriculture. (fn. 346) By 1875 there were market-gardens and orchards all round the built-up area of South Lancing and elsewhere, totalling 60 a. altogether. (fn. 347) Thirteen marketgardeners or fruit-growers, two nurserymen, and a florist were recorded in 1895. Hothouse grapes were being grown in 1887 and figs in 1899. (fn. 348) In 1913 there were 110 a. of orchards, growing especially apples, and 90 a. of soft fruit, chiefly currants and gooseberries. (fn. 349) Twenty market-gardeners or fruitgrowers and two nurserymen had been recorded in 1909. (fn. 350) Market-gardening continued to expand after the First World War, despite building development; (fn. 351) during the 1920s more than 100 a. from the Lancing manor estate was sold to market-gardeners or fruit-growers. (fn. 352) In 1922 the land of the parish was described as some of the best in the area for the purpose. (fn. 353) Five years later when marketgardening was described as the chief industry, there were 15 market-gardeners, 9 fruit-growers, and 5 nurserymen. (fn. 354) Cucumbers, tomatoes, mushrooms, and chrysanthemums were mentioned as being grown in the parish c. 1932. (fn. 355)
After c. 1950 most of the market-gardens ceased production, (fn. 356) though in 1975 there were still 5 general horticultural holdings in the parish, comprising 52 a. in all. (fn. 357) By 1977 building development had reduced the number of farms to three. The largest, College farm, comprised c. 375 a. of downland and brookland in the north part of the parish. New Monks farm, with new farm buildings built in 1935 to replace Monks farm-house, comprised 186 a., including much former brookland which had been drained since 1951 and converted to arable. At New Salts farm, of c. 85 a., a dairy herd was raised, the farmer cutting the grass at the airport for silage. (fn. 358)
A water-mill was recorded at Lancing manor in 1086, (fn. 359) perhaps on the same site as the one destroyed by the sea between 1291 and 1341. (fn. 360) A windmill at Hoecourt was mentioned in 1276–7. (fn. 361) A windmill which Sir William Goring had built in the early 16th century on land in Hoe Laine still existed in 1592. (fn. 362) During the next three centuries there seems usually to have been a windmill at North Lancing, (fn. 363) and millers are often known by name. (fn. 364) On at least two occasions during the 19th century there was also a miller at South Lancing. (fn. 365) The mill at North Lancing was demolished in 1905, (fn. 366) and the one at South Lancing apparently ceased operation at about the same date.
Salt was being extracted in the parish from the tidal estuary of the river Adur in the 10th century. (fn. 367) In 1086 there were 23 salterns at Lancing and 6 at Hoecourt. (fn. 368) The number apparently increased greatly during the next two centuries, for between 1291 and 1341 70 saltcotes were said to have been destroyed by the sea. (fn. 369) At least three religious houses, Boxgrove (fn. 370) and Sele (fn. 371) priories and Cokeham hospital in Sompting, (fn. 372) owned salterns in Lancing. Rents in salt were paid on a number of holdings in the parish in the 13th century and later. (fn. 373) In 1592 a local witness stated that the salterns had not been in use during his lifetime; (fn. 374) it seems that salt production had ceased by the mid 15th century when foreign salt was apparently being imported at Pende. (fn. 375) A group of low mounds composed of the débris from the operation survived in the mid 20th century south-east of North Lancing village. (fn. 376)
A ferryman and a tailor were recorded in the parish in 1378. (fn. 377) The surname Chapman occurred in the mid 13th century, (fn. 378) there was a wool merchant 80 years later, (fn. 379) and two merchants were mentioned in 1341. (fn. 380) In 1334 Lancing had the largest tax assessment in Brightford hundred. (fn. 381) Some of its prosperity was evidently due to the port of Pende, which flourished between at least the mid 14th century and the early 15th. (fn. 382) Trade with Flanders was being carried on there in 1363, there is evidence of shipbuilding in 1399, and provisions were taken from Pende to Harfleur in 1416. (fn. 383) No certain later reference to the port has been found, (fn. 384) but foreign salt may have been imported there in 1444–5. (fn. 385) There was a thriving fishing industry in the parish in 1385. (fn. 386)
The port of Pende had disappeared, either through erosion, or more likely through silting, by the 16th century. There remained then, however, a 'stade' or landing-stage on the beach, where small trading vessels and fishing boats were loading and unloading in 1566. (fn. 387) Four years later one vessel of 45 tons and at least 9 mariners were recorded in the parish. (fn. 388) Seamen and fishermen continued to be recorded during the late 16th and 17th centuries: in the 1670s there were said to be 19 in all. (fn. 389) A shipwright was mentioned in 1687. (fn. 390) Later, smuggling was another source of profit provided by the sea. (fn. 391) Lancing 'shops' for the use of fishermen, on the site of the 16th-century landing-stage, were recorded until 1803; the site was marked in 1978 by Shopsdam Road. (fn. 392) Other trades recorded from time to time between 1500 and 1800 were the usual ones to be found in a medium-sized village: blacksmith, (fn. 393) carpenter, (fn. 394) brewer, (fn. 395) shoemaker, (fn. 396) and tailor. (fn. 397) In the early 18th century a butcher, (fn. 398) a maltster, a hempdresser, (fn. 399) and a mercer were also mentioned, (fn. 400) and in 1791 a maltster, a victualler, and two grocers or shopkeepers. (fn. 401)
The basic trades continue to be recorded during the 19th and early 20th centuries. (fn. 402) The growth of the resort in the early 19th century brought others: a gunsmith in 1815, a baker in 1816, (fn. 403) and a turner in 1830. (fn. 404) The construction of new houses gave work to a brickyard recorded between 1805 and 1813, (fn. 405) and to builders recorded between 1809 and 1829. (fn. 406) Between 1811 and 1831 the proportion of non-agricultural to agricultural occupations in the parish was one to three or four. (fn. 407) From the mid 19th century more specialized trades began to appear: a coal dealer in 1866, a laundry in 1882, a milliner and a dressmaker in 1895, and a chemist and a photographer in 1909. Professional men began to be recorded at the same time: a veterinary surgeon in 1862, a surveyor in 1866, two doctors in 1895, and a solicitor in 1913. (fn. 408) Meanwhile a chemical works established on Shoreham Beach had c. 45 employees in 1879. (fn. 409) There was a large area of oyster beds near New Shoreham bridge in the late 19th century. (fn. 410)
The construction of new houses and streets, both in Lancing and neighbouring places, gave work to three builders in 1895. (fn. 411) For the same reason a number of brick-works flourished on the brickearth outcrop in the south part of the parish between c. 1870 and c. 1935. One firm was recorded in 1874. By 1895 there were three, and the area of brickfields had increased. In 1909 there were four firms; one was also a sand and beach merchant, and two others were also fruit-growers or marketgardeners. The extraction of sand and gravel, for building and road metalling respectively, continued in 1924, and one firm of brickmakers still flourished ten years later, but thereafter the industry ceased, the former brickfields being replaced by houses or market-gardens. (fn. 412) The most important event in the economic life of the parish in the early 20th century, however, was the opening of the London and Brighton railway carriage works in the south-west part in 1912, the original building of which had been greatly enlarged by 1931. (fn. 413)
During the 1920s and 1930s the number of shops and businesses in South Lancing greatly increased, while those in North Lancing changed relatively little. Builders were frequently recorded, and there were two architects in 1932. The increase in population brought a demand for further specialized trades and services. One bank had opened by 1915, and there were two 12 years later. A jeweller and two dentists were recorded in 1929, and five music teachers in 1932. (fn. 414) In 1937 the carriage works was the chief employer; c. 1,500 people worked there, two-thirds of them from Lancing and the rest from Brighton. The other chief occupations at that time were said to be market-gardening and building. Some employment was provided by the airport and related undertakings. Meanwhile, many residents travelled daily to work in London or Brighton, special train services to London having been arranged by the Southern Railway. There were also a large number of retired people living in the parish, especially on the new estates north of the railway. (fn. 415)
Between 1913 and 1922 there were film studios at Shoreham Beach. (fn. 416) A firm of motor manufacturers, Ricardo's, was founded near Old Shoreham bridge in 1919, (fn. 417) and continued in 1977 as engineering consultants. Since the Second World War many manufacturing firms have settled in the parish. In 1948 the rural district council inaugurated an industrial estate of 14 a. at Commerce Way in the south-west part next to the railway carriage works. (fn. 418) Seven firms had moved there by 1953, and there were 13 in 1960, including two firms of manufacturing chemists and several general engineering firms. (fn. 419) The carriage works in 1953 comprised 66 a. and employed 1,750 people. (fn. 420) When it was closed in 1964 the site was bought by the county council to safeguard employment; the existing buildings were then converted into factory units and new ones built, and the council negotiated with firms to occupy them. (fn. 421) The site was afterwards named the Churchill industrial estate. By 1975 there were c. 60 firms there and at Commerce Way, including engineering and tool-making firms, manufacturers of scientific instruments and of industrial plant, and firms connected with timber. (fn. 422) Some used Shoreham port and others Shoreham airport for the import of materials and the export of finished goods. (fn. 423) A government training centre was opened on the estate in 1967, the first in the county. (fn. 424) The chemical works on Shoreham Beach had closed at some time after 1930; (fn. 425) in 1978 there were 6 or 8 firms there including a timber merchant and a boatbuilding firm. Meanwhile there were several firms at the airport with interests relating to flying, and the holiday trade provided a little seasonal employment in boarding houses, cafés, and restaurants.
Shopping facilities continued to expand with the increase in population after the Second World War. The main shopping centre was at South Lancing, the smaller, older shops being south of the railway, while north of the railway in North Road were shopping parades of various dates since the 1920s or 1930s. The five largest clearing banks all had branches in the parish c. 1957. (fn. 426) The new housing estates were served by small parades of local shops, for instance in Brighton Road, at Crabtree Lane, at North Lancing, and on Shoreham Beach.
LOCAL GOVERNMENT AND PUBLIC SERVICES.
In the mid 13th century Lancing tithing was divided, one moiety thereafter making suit to Brightford hundred court, and the other to the Broadwater manor view. The distinction still apparently obtained in the 15th century. (fn. 427) There was an ale-taster of the moiety subject to Broadwater in 1501, (fn. 428) and other separate officers may have been appointed for that area too. Courts for the combined manor of North and South Lancing were still being held in the mid 19th century; in 1857 the court was held at Monks farm-house. (fn. 429) Court rolls survived c. 1920, (fn. 430) but were untraceable in 1978. A reeve or bailiff of the manor was mentioned in 1791, (fn. 431) and a headborough in 1823. (fn. 432) There are draft minutes of one court of Hoecourt manor held in 1505, at which the only business dealt with concerned tenancies. (fn. 433) The court of Queen Elizabeth held in the parish in the 16th century was apparently that of St. John's manor. (fn. 434) A court leet of the same manor was still said to be held in 1608, when there was a bailiff. Court rolls for 1619–1759 of what was apparently the same manor survived at the end of the 18th century. (fn. 435) The extent to which manorial had been overtaken by parochial jurisdiction by 1757 is shown by the fact that it was a parish meeting, not the manor court, which met in that year to regulate pasturage on the common-field stubble. (fn. 436)
Churchwardens were mentioned at Lancing in 1495; (fn. 437) after 1560 there were apparently always two. In 1748 the vicar's right to nominate one was upheld in the consistory court after it had been challenged by James Lloyd, the lessee of Hoecourt. (fn. 438) Collectors for the poor were mentioned in 1584. (fn. 439) Two overseers were recorded in 1650, (fn. 440) and there were apparently always two during the 18th century. Among methods of poor relief employed during the 18th and early 19th centuries were weekly pay, boarding out pauper children, apprenticing, the organization of parish work in weaving and spinning, the provision of fuel and clothing, and the payment of rent. (fn. 441) One house already served as a poorhouse in 1752, when a lease was taken on another; in 1768 the vestry agreed to raise a loan to purchase a third. (fn. 442) There was still apparently a poorhouse in the parish in 1843. By that date weekly pay had come to be the chief method of relief, though salaries were also paid from the poor rates to a surgeon and to the schoolmaster. (fn. 443) Two parishioners who were perhaps surveyors of highways were mentioned in 1649. (fn. 444) Separate highway rates were being levied from at least 1791. Between 1793 and 1816 the names of the surveyors are known; there were sometimes one or two, but usually more. (fn. 445) In 1895 the surveyor of highways was also the assistant overseer. (fn. 446) A single family, the Stringers, supplied parish clerks for 120 years from 1856. (fn. 447) In 1799 Lancing joined East Preston united parishes, formed 8 years earlier. In 1869 the parish was transferred from East Preston union to Steyning union, (fn. 448) and after 1894 was in Steyning West rural district. (fn. 449) In 1933 it was transferred to Worthing rural district, (fn. 450) and in 1974 to Adur district.
Despite the great expansion of population and of the built-up area in the late 19th and 20th centuries, Lancing remained a parish in 1978. By 1907 as a result of increasing business arising from the progress of development it had become necessary for the parish council to meet monthly. (fn. 451) Five years later the parish meeting voted to apply for urban powers, (fn. 452) but no application was made. At that period the chief figure in parish government was the lord of the manor, J. M. Carr-Lloyd, for many years chairman of the council, who was described at his death in 1919 as the leader in every local movement. (fn. 453) Between the 1920s and 1973 the parish applied unsuccessfully on at least one occasion for urban status, and abortive proposals were also made for its absorption by Worthing or Shoreham. (fn. 454) The business of the council meanwhile continued to increase, a full-time clerk being employed from 1972. (fn. 455)
The Shoreham and District Waterworks Co. was empowered in 1879 to supply water in Lancing. Their application had been unsuccessfully opposed by the vestry, which claimed to be able to provide a water supply itself if one were necessary. (fn. 456) The company may not have used its powers, for a water supply for the parish was being discussed in 1907. (fn. 457) Two years later it was being laid on by Brighton corporation, which had taken over the Shoreham company in 1896. (fn. 458) A reservoir was built on the downs at the top of Mill Road c. 1909. (fn. 459) Various wells nevertheless remained in use in 1928. (fn. 460) Main drainage was being discussed between 1911 and 1913, (fn. 461) but nothing was done until after the First World War. A sewer was being constructed in 1922, (fn. 462) and by c. 1930 all the principal residential roads had main drainage, (fn. 463) the sewage being later discharged through the Worthing corporation outfall. (fn. 464) By 1931 the Steyning West rural district council had two sewage works east of South Lancing village. (fn. 465)
Part of the parish was being supplied with gas by the Brighton and Hove General Gas Co. in 1887, (fn. 466) and the Brighton, Hove, and Worthing Gas Co. was supplying the parish in 1945. (fn. 467) The parish council had adopted the Lighting and Watching Act, 1833, by 1912, when a tender for gas street lighting was accepted; (fn. 468) for a number of years previously, however, the proposal to adopt the act had been annually rejected by the parish meeting. (fn. 469) Brighton corporation was empowered in 1903 to supply electricity to the parish, (fn. 470) but evidently did not do so, for in 1922 their powers were transferred to F. Gibbs of Shoreham. (fn. 471) About 1930 the Shoreham and District Electric Light and Power Co. was providing a supply. (fn. 472)
There was a parish fire brigade by 1914, (fn. 473) with a fire station next to the parish hall in South Street. (fn. 474) The parish council still maintained the fire brigade in 1937. (fn. 475) A new fire station for the county fire service was opened on the Churchill industrial estate in 1969. (fn. 476) The recreation grounds managed by the parish council are mentioned elsewhere. (fn. 477) From at least 1922 the council also maintained allotments on various sites; there were some at Lancing manor in 1952 (fn. 478) and 1977. In 1976 the council also leased out more than 300 beach huts. (fn. 479)
CHURCHES.
Architectural evidence shows that there was a church at Lancing on the present site in the 12th century. (fn. 480) It was a rectory by the early 13th century, when the advowson apparently descended with the Brock moiety of the manor. A vicarage was ordained before 1222, the patron being the rector. (fn. 481) In 1362 or 1363 Sir Michael of Poynings and others conveyed the advowson of the vicarage to Mottenden minster (Kent), (fn. 482) to which the church was appropriated in 1387. (fn. 483) The minster was confirmed as patron in 1374, (fn. 484) and presented to the vicarage in 1414. (fn. 485) During the next two centuries, except for the period 1446–8 when it was retrieved by Robert Radmyld, lord of Lancing, (fn. 486) the advowson of the vicarage descended with the rectory, passing in 1547 to the bishop of Lincoln. In 1558 Sir Edward Gage presented for a turn, in 1561 the bishop of Chichester, and in 1639 the Crown. For about a century after that the identity of the patron was lost. During the late 17th century no institutions were made; in 1707 the Crown again presented by lapse, and in 1743 the bishop of Chichester. In 1766 the bishop of Lincoln again presented, and the advowson remained with his successors (fn. 487) until 1852 when it was transferred to the bishop of London. (fn. 488) Since 1910 the living has been held in plurality with Coombes rectory, alternate presentations being made by the patrons of the two livings until c. 1973 when the patron of Coombes resigned his share of the advowson to the bishop of London. (fn. 489)
In the early 13th century the vicar's share of the revenues was all the small tithes, one third of the corn tithes of villein holdings, and all altarage and offerings. That share was confirmed in 1222, with the addition of 2½ a. glebe, and the tithes from all crofts in the parish. (fn. 490) Tithes from Hoecourt and Burwell's farm had been granted in 1209 to Henfield vicarage. (fn. 491) At an unknown date further tithes from the same two estates were granted to West Grinstead rectory. (fn. 492) In later centuries, and perhaps from the beginning, the two portions comprised only great tithes. (fn. 493) In 1291 the rectory was valued at 35 marks and the vicarage at 8 marks. (fn. 494) In 1335 the vicar surrendered his share of the villein tithe corn in exchange for a yearly pension of £1. (fn. 495) The vicarage remained poor during the late 15th and early 16th centuries. (fn. 496) In 1535 it was valued at £6 9s. 4d.; besides the pension from the rector, the vicar also then received 4s. a year from the rector of West Grinstead, perhaps in compensation for great tithes. (fn. 497) A century later the vicarage comprised the small tithes of the parish, 2½ a. glebe, the two pensions, and mill tithes; the then vicar also built a cottage on the glebe and put in a tenant. (fn. 498) During the Interregnum the living was augmented for a time from confiscated episcopal lands, perhaps from the rectory estate. (fn. 499) In 1730 its true value was said to be £26, but by then the pension from the rector was no longer being received. (fn. 500) In 1792 the living was augmented by a grant of £200 from Queen Anne's Bounty. (fn. 501) About 1840 the vicarage estate comprised 8 a. glebe, including 2 a. allotted at the inclosure of 1803–5, and all the small tithes of the parish, the vicar's share of tithe-rent-charge being £177. (fn. 502) The net value of the vicarage had been estimated c. 1830 as £151, (fn. 503) and remained about the same in 1884. (fn. 504)
A vicarage house was mentioned in the early 14th century, when it had a garden and 2½ a. attached, (fn. 505) and between the 16th and 18th centuries. (fn. 506) It was rebuilt in 1817–18, partly at the vicar's expense and partly with a loan from Queen Anne's Bounty, as a three-bay, three-storeyed building. (fn. 507) In 1890 it was apparently let, the vicar living at another house in North Lancing. (fn. 508) The vicarage house was demolished c. 1938, and replaced by a new building on the same site. (fn. 509)
Nicholas Thomas, (fn. 510) instituted as vicar in 1549, was deprived of his cure in 1554, perhaps as a protestant. His successor but two was resident in 1563, (fn. 511) and in 1569 was licensed to hold two benefices. Walter Gibbons, vicar 1571–1623, was apparently usually resident. As he was not licensed to preach, he seems to have read others' sermons. In 1571 the quarterly sermons were in default, Gibbons claiming that it was the responsibility of a Mr. Apsley to provide them, and in 1579 there were said to have been only 3 or 4 sermons during the last 3 years; in 1605, however, sermons were being read monthly. (fn. 512)
Gibbons's successor, Thomas Robinson, vicar 1623–6, evidently had puritan sympathies. In 1624 the churchwardens alleged that he prayed 'very humoursomely', alluding directly to members of the congregation, and gave or refused the sacraments in an arbitrary way. Generally refusing to wear a surplice, he also altered the form of services at will, and often kept the congregation at church until one o'clock. (fn. 513) The next two incumbents held more orthodox views, though the second, Thomas Langridge, was rumoured in 1640 to be committing adultery with a parishioner. Communion at that date was being celebrated four times a year. (fn. 514)
During the next century, while the advowson lapsed, the status of the incumbents was uncertain, many being called 'minister' or 'curate'. (fn. 515) John Newman, perhaps the same as the former rector of Rodmell near Lewes, was inducted as vicar in 1649, and still served in 1658. (fn. 516) The names of two who apparently served as vicars before him are recorded in the parish register. (fn. 517) Thomas Langridge resumed the cure during 1660 and 1661. (fn. 518) The vicar of Sompting served as 'minister' or 'preacher' between 1662 and 1670, (fn. 519) and Bernard Chatfield, variously called 'curate', 'official', or 'vicar', served between 1671 and 1686. (fn. 520) In 1724 a Sunday service with sermon was held each week by the vicar of Sompting, communion being celebrated three times a year. (fn. 521) Two late-18th-century vicars also held New Shoreham, but both almost always served Lancing in person.
During the first quarter of the 19th century vicars continued to serve the church themselves, (fn. 522) but between 1828 and 1835 there was an assistant curate, (fn. 523) who in 1833 lived at the vicarage. (fn. 524) Fisher Watson, vicar 1834–60, served in person; (fn. 525) by 1844 he had increased the numbers of communicants and of services held. (fn. 526) Attendance on Census Sunday, 1851, including children at Sunday school, was c. 185 in the morning and twice that number in the afternoon, the vicar claiming that congregations were larger in summer. (fn. 527) By 1865 communion was being held once a month, and by 1884 weekly, three services being held every Sunday. (fn. 528) Despite the growth of population, there was apparently no assistant curate in the parish during most of the later 19th century. (fn. 529) Since that period Lancing parish church has had a tradition of High churchmanship. The choir adopted surplices and cassocks in 1887, and in 1903 there was a branch of the Church Lads Brigade. (fn. 530) The sacrament was reserved by 1962, and continued to be so in 1977. (fn. 531)
The church of ST. JAMES THE LESS, formerly apparently dedicated to St. Mary, (fn. 532) is built of flint rubble with ashlar dressings, and has a chancel with north vestry, central tower with aisles, aisled nave, and south porch.
Surviving fragments of 12th-century masonry indicate that by the latter part of that century the church was already of the same length as in 1978, and that it comprised a west tower, nave, and chancel. A complete reconstruction was begun c. 1300, substituting the present plan; the south porch is of that date, but incorporates a 12thcentury doorway. The north and south tower arches suggest that transepts were intended, but it is not certain whether they were built. The tower aisles are 15th-century, and the west doorway and several of the aisle windows are of similar date.
Before 1621 the tower partly collapsed, and it was presumably at that period that it was reduced to its present height. (fn. 533) In 1636 the font no longer held water and pigeons were said to be breeding in the church. (fn. 534) In 1662 the chancel was no longer fit for the celebration of communion as the impropriator refused to repair it, (fn. 535) but it had been ceiled by 1776. (fn. 536) There was a general restoration in 1827, (fn. 537) and piecemeal restoration seems to have taken place at various later dates. (fn. 538) The vestry was added in 1934. (fn. 539)
The 12th-century font has a square bowl on an octagonal central pillar with four circular corner pillars. Remains of sedilia and of a stoup survived in 1978. In the north wall of the chancel is an ogee-arched recess which may be a tomb or an Easter sepulchre. A monument to a priest dated 1591 survived at the end of the 18th century. (fn. 540) There were four bells in 1724, three of which, all of the 17th century, survived in 1978; a fourth bell was made in 1934. (fn. 541) The plate includes a silver communion cup apparently of 1685. (fn. 542) The registers begin in 1560. The statement made in 1870 that they record burials at New Shoreham between 1669 and 1673 is incorrect. (fn. 543)
The church of ST. MICHAEL AND ALL ANGELS, South Lancing, succeeded a mission of 1879. By 1878 a need had been felt for a chapel of ease at South Lancing, where many parishioners were being drawn to the Methodist church. (fn. 544) A room in the grammar school was licensed for worship in 1879; two years later it was said to seat 130, and the average congregation was 90. (fn. 545) In 1893 an iron reading room in South Street was erected from subscriptions collected during the previous decade; (fn. 546) it was demolished c. 1969. (fn. 547) Services were held there until 1924 (fn. 548) when a new church paid for by the vicar of Lancing was consecrated on a site given in 1912 by J. M. Carr-Lloyd. It was served by a priest-in-charge until 1931 when a parish was assigned out of Lancing parish and a vicar appointed. (fn. 549) The bishop of Chichester became patron. (fn. 550) St. Michael's has followed the High Church tradition of St. James's. The church consists of a nave and chancel, north and south aisles with Lady chapel, and a baptistry at the west end with a wooden bell turret. Most of the building is externally of flint with stone dressings, but the west end, of 1958, (fn. 551) is partly of brick.
The church of the GOOD SHEPHERD, Shoreham Beach, apparently originated in a mission from New Shoreham, the vicar of which was visiting the houses on Shoreham Beach occasionally in 1898. A church was planned in 1903 (fn. 552) and built in 1913. It was served by a curate-in-charge, who in 1918 and 1922 lived at Shoreham, (fn. 553) and was at first open in summer only. (fn. 554) From 1953 it was served by the vicar of St. Michael's, South Lancing. A curate was appointed in 1957. In 1973 a parish was assigned out of Lancing parish and a vicar appointed. (fn. 555) Like St. James's and St. Michael's the Good Shepherd has a tradition of High Church worship. The church consists of a nave with north porch and west chancel, and is roughcast.
ROMAN CATHOLICISM.
There was at least one recusant family at Lancing in 1625, (fn. 556) and one parishioner refused the Protestation in 1642. (fn. 557) Roman Catholics were meeting in a private house in the parish c. 1930. (fn. 558) During the early 1950s a hall was used for services. A chapel at Monks farmhouse was registered in 1954, and after extension in 1959 could seat 200 people. (fn. 559) There was a resident priest by 1970, who also served the church at Sompting. The parish church of the Holy Family, north of Monks farm-house, was consecrated in 1972, (fn. 560) the farm-house becoming the presbytery.
PROTESTANT NONCONFORMITY.
Four families of probable puritans were recorded in the parish in 1662, (fn. 561) but in 1724 there were said to be no dissenters. (fn. 562)
A nonconformist meeting-place in South Lancing described as newly erected in 1815 (fn. 563) was presumably identical with the Methodist chapel there mentioned in 1833, (fn. 564) and with the chapel recorded c. 1840 in what later became Alma Street. (fn. 565) In 1851, when it was described as Wesleyan, it had 70 free sittings, but evening service only was held, with an average congregation of 34. (fn. 566) Though the chapel had apparently been founded from Shoreham, (fn. 567) the return of that year was signed by a Worthing minister. A new chapel was opened in 1865, and was said in the same year to draw much of its congregation from other parishes. (fn. 568) During the late 19th century the congregation comprised the poorer parishioners, brickmakers, market-gardeners, coastguards, and others who found the parish church too far away. Ministers came from Shoreham and Worthing, and a flourishing Sunday school took many children of churchgoers, even after a rival church Sunday school was founded c. 1880. Church and chapel were not always rivals, however; there was collaboration at the same period over temperance. (fn. 569) In 1904 a new stone church was opened, (fn. 570) which in 1940 could seat 250 people. (fn. 571) A resident minister was appointed in 1953. In 1978 the church served Lancing and Sompting, average congregations being 250 in the morning and 55 in the evening. (fn. 572)
An evangelical mission to railway workers and others, begun by a Miss Wilson, was perpetuated in 1927 by the building of the first Lancing Tabernacle, a wooden building near the station. The Lancing church was at first under the supervision of the Worthing Tabernacle, but later became independent. A new brick building in North Road was opened in 1937, and in 1977 was attended by nearly 200 people. (fn. 573) A meeting-house for Plymouth Brethren, First Avenue Hall, was opened c. 1931, and survived c. 1957. (fn. 574) A Kingdom Hall of Jehovah's Witnesses was opened in 1960. (fn. 575)
EDUCATION.
A boy's fee-paying grammar school was founded at South Lancing c. 1820 (fn. 576) in a building facing the sea at the south end of South Street. (fn. 577) In 1833 it was a boarding school, thirty children attending, (fn. 578) and in 1851 there were two masters and 33 pupils. (fn. 579) In 1865 it was said to be one of the leading schools in the area. (fn. 580) The private school attended in 1871 by 20 boys and 51 girls (fn. 581) was presumably the same institution; it survived in 1887, (fn. 582) but was closed soon afterwards. (fn. 583) There were other private schools in the parish in the mid 19th century too. In 1833 three fee-paying schools kept by women were attended by c. 50 children. (fn. 584) In 1846–7 22 boys and 5 girls attended two day-schools and one evening-school. (fn. 585) There was a girls' school with 7 pupils at South House, South Lancing, in 1851. (fn. 586)
A National school was founded at North Lancing in 1826. In 1833 it was attended by 16 boys and 22 girls, and was supported by voluntary contribut ons. (fn. 587) By 1846–7 24 boys and 40 girls attended during the week, and 22 boys and 12 girls on Sunday only; there were a paid master and mistress, and besides subscriptions and payments the school was supported by a National Society grant. (fn. 588) A new school was built in 1872, with one mixed and one infant schoolroom. Twenty-eight boys, 36 girls, and 36 infants then paid 2d. each, and an annual grant was also received. (fn. 589) In 1887 there were a master and two mistresses. (fn. 590) Average attendance had risen to 147 by 1893, (fn. 591) and to 181 by 1914. (fn. 592) In the latter year Lancing Infants' Council School was opened at South Lancing with accommodation for 130 pupils. (fn. 593)
The pace of building development had caused overcrowding at the junior school at North Lancing by 1932, (fn. 594) and in 1937–8 the two schools were reorganized. Both thereafter took infants and juniors, c. 150 attending at North Lancing and c. 385 at South Lancing. Lancing Senior Mixed Council School in Irene Avenue had been opened in 1935, with accommodation for 360; average attendance in 1938 was 273. (fn. 595) A new junior and infants' school was opened at North Lancing in 1940, to accommodate 288 children. (fn. 596) By 1965 it had 370 pupils. (fn. 597) A new infant school, The Willows, was opened in 1971, and a new primary school at East Lancing in 1972. (fn. 598) In 1975 the schools of the parish were reorganized into first and middle schools, South Lancing First School being grouped with Thornberry Middle School at East Lancing and The Willows County First School with Irene Avenue School, while North Lancing School became a combined first and middle school. (fn. 599) Meanwhile, the Lancing Secondary Modern (formerly senior mixed) school had moved in 1960 to Boundstone Lane in Sompting; after re-organization as a comprehensive school it continued to serve Lancing parish in 1977.
Shoreham Beach County First School in Shingle Road was opened in 1972. (fn. 600)
From 1941 to 1962 there was a nursery school at Lancing manor, originally for evacuees. (fn. 601) Meanwhile there have been various preparatory schools in the parish for both sexes since the 1920s. (fn. 602)
CHARITIES FOR THE POOR.
Alms-houses were built in North Road, South Lancing, in 1882 by the last two survivors of the Penfold family of Sompting. (fn. 603) In 1965 that charity was amalgamated as the Lancing Parochial Charities with three others: the Mary Bone Charity, for the general benefit of the poor, inaugurated by will proved 1913; and the Hemmings and Sharp Trusts, each inaugurated in 1924 to distribute the income from £100 in kind. In 1967 the combined income was £129. (fn. 604)