Pages 75-81
A History of the County of Sussex: Volume 6 Part 3, Bramber Rape (North-Eastern Part) Including Crawley New Town. Originally published by Victoria County History, London, 1987.
This free content was digitised by double rekeying. All rights reserved.
GROWTH OF THE NEW TOWN.
The master plan provided for 4,000 a. of the designated 5,920 a.; the rest was to be kept in reserve and as green belt land. (fn. 1) Much of the land was already covered by Crawley town, Ifield village, and outlying settlements. The new town would have a new centre and nine residential neighbourhoods, separated by radial roads. Industry was to be concentrated in the northeast. Four of the neighbourhoods were to be within a ring road, the western half of which already existed. Each neighbourhood would be socially balanced, with a wide range of house types, (fn. 2) and its own shopping centre, primary school, church or chapel, and social facilities, grouped near a central green. Although the recommended population of neighbourhoods in new towns was then 10,000, those planned for Crawley were much smaller. The proposed population varied from 4,300 to 7,800, but only one was to exceed 6,600 and that was to have two neighbourhood centres. Almost all houses would thus be less than ½ mile from a neighbourhood centre and within 1¼ miles of the town centre. The road pattern was designed to discourage through traffic in the neighbourhoods. To meet the actual and expected increases in population, the development corporation in 1958 adopted a new plan by Minoprio. It was suspended until West Sussex county council completed its town map for Crawley in 1961; that retained from Minoprio's proposals extensions to two existing neighbourhoods and the addition of two new neighbourhoods. (fn. 3) One of those neighbourhoods was built up in the 1960s and the other, with a third additional neighbourhood, in the 1970s. The last two were planned on a much larger scale than the others; the new neighbourhoods used much of the planned green belt, which was further affected by the unexpected growth of Gatwick airport from the mid 1950s. (fn. 4)
Although many different house plans were adopted, (fn. 5) most of the houses of the new town are characteristic of public housing of the 1950s. They include terraces and semidetached pairs in pale red brick, sometimes rendered or clad, with pitched and tiled roofs, concrete lintels and door-hoods, and metal window frames. Most houses were provided with private gardens and were set at varying angles to the roads, from which they were separated by grass verges. Many of the verges were later converted to hard standings for motor cars. Existing trees were preserved as far as possible. In the 1960s roofs of lower pitch were adopted, and in the 1970s and 1980s a greater variety of brick colours including buff and dark red was used; houses were often built round courts facing away from roads. (fn. 6) Tower blocks were eschewed. By 1958, besides the development corporation's own architects, 12 firms of architects had been commissioned for the design of houses, 25 for factories, 15 for shops, 5 for schools, and 13 for churches; some firms, such as Goodhart-Rendel Broadbent and Curtis, designed more than one type of building. (fn. 7)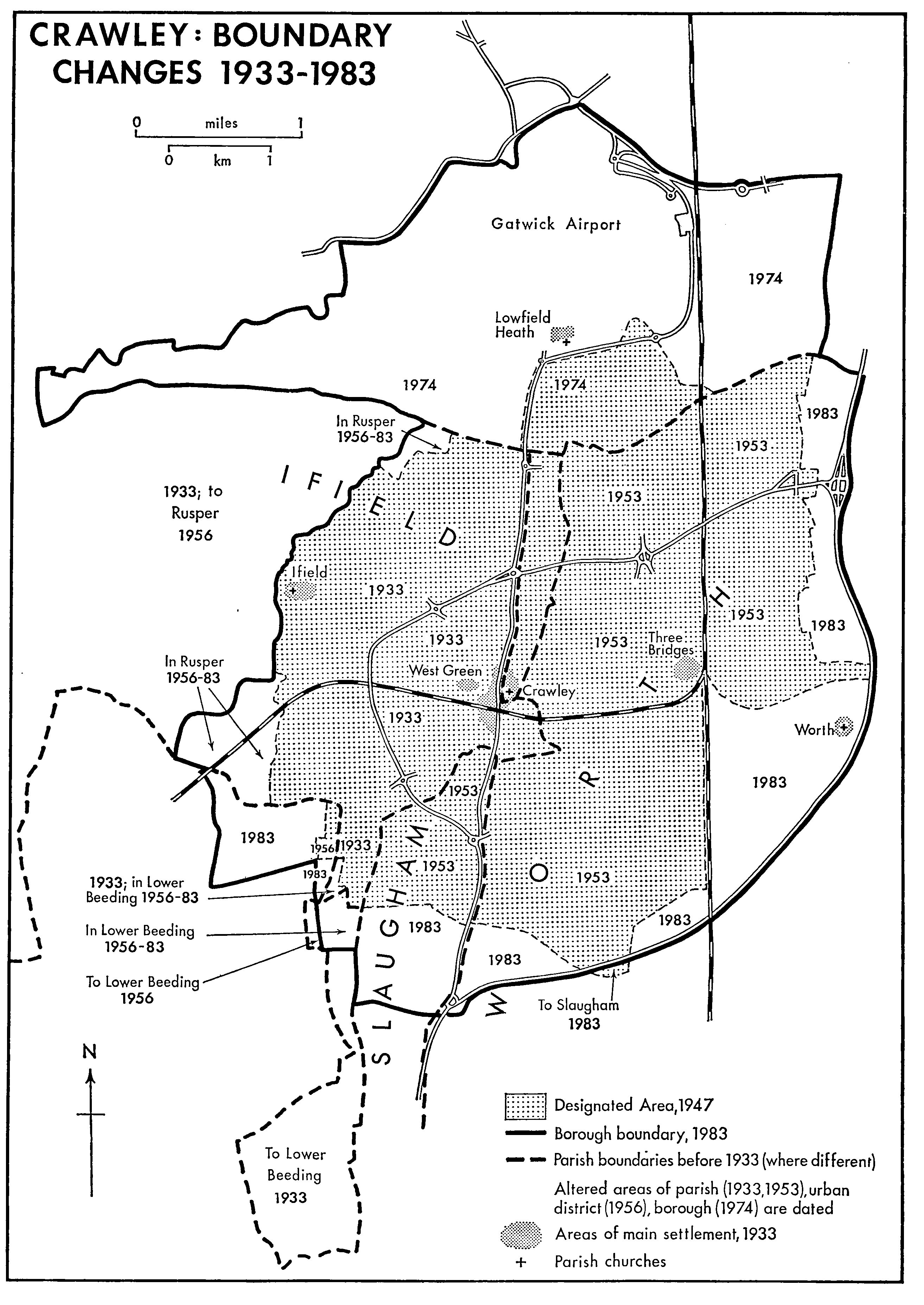 Development of the town centre was delayed by repeated changes of plan, by the fact that the existing Crawley High Street could provide shopping facilities in the early years, and by the need to attend to mains services, housing, and industrial employment first. A plan of 1948 provided for 100 a. within an inner ring road extending west of Crawley High Street and closing it on the south; the ring road was to enclose a larger area east of High Street. In the southern half of that area would be shops, flanking a crossroads and enclosing car parks, and separated by a boulevard from public buildings to the north. At its eastern end the boulevard was to fork, each fork leading to a roundabout on the ring road. South of the ring road a large area was reserved for service industry and a railway goods yard. (fn. 8) After repeated alterations (fn. 9) a revised plan designed by the development corporation's chief architect A. G. Sheppard was published in 1952. It omitted the ring road and the goods yard, preserved the existing Northgate Road to the north-west and war memorial recreation ground to the south-east, and extended the centre less far to the east than its predecessor. The enclosed car parks and several proposed buildings including a market, a county college, a swimming bath, and an arts centre were abandoned. (fn. 10) The new plan was followed with only minor changes. Broadwalk pedestrian way linking High Street with the shopping centre to the east was opened in 1954. (fn. 11) The main roads in the northern half of the town centre had been finished by 1958, as had the central Queens Square, where the development corporation provided a bandstand brought from Gatwick racecourse, a fountain, a kiosk, and mosaic paving; many shops there were already open. Queen Elizabeth II formally named the square in 1958. (fn. 12) The new centre soon became congested with traffic. The corporation introduced a one-way traffic system and sought extra spaces for car parks, (fn. 13) which in the early 1980s were scattered round the fringes of the town centre, occupying space originally intended for other purposes. Queensway, the east-west road through the square, was closed to traffic experimentally in 1967 and permanently in 1971, and was paved in 1974-5. In 1965 the Commission for the New Towns gave an ornamental clock which was removed in 1973. (fn. 14) The space north of the Boulevard as far as Kilnmead was filled with public buildings and office blocks in the late 1950s and the 1960s; the college of further education east of the town centre was begun in 1956, and county buildings beyond Exchange Road to the north-east were opened in 1963. (fn. 15) The shopping centre was extended eastwards in the late 1960s and again in the late 1970s and early 1980s. (fn. 16)
The industrial area north-east of the town was begun early, and 50 a. of sites had been set out by 1951. (fn. 17) The main carriageway, Manor Royal, running east from London Road, was opened in 1950, (fn. 18) factories being built eastwards along it in the 1950s. (fn. 19) Crompton Way to the south was laid out about the same time and several factories had been built by 1951. Kelvin Way north of Manor Royal was being built up by 1953. (fn. 20) Roads and sewers had been completed by 1954 to serve 130 a., and a further 45 a. were being developed. (fn. 21) The southern end of Gatwick Road and Napier Way flanking it had been built up by 1955, and Maxwell Way east of it by 1956. (fn. 22) A northwards extension to open up a further 78 a. was approved in 1954. (fn. 23) Factories on Fleming Way, parallel with and north of Manor Royal, were opened from 1956, (fn. 24) and by that time the corporation was planning an extension of the industrial area along Gatwick Road north of its junction with Fleming Way. (fn. 25) Works flanking the northern end of Gatwick Way were opened from 1956, in Rutherford Way west of it from 1957 to 1959, and in Priestley Way west of that in 1963. (fn. 26) Fleming Way was extended westwards after 1968. (fn. 27) By 1983 the industrial area covered more than 300 a.; (fn. 28) in 1985 it included a further north-eastwards extension along Gatwick Road, Whittle Way west of it, and Cobham Way to the east, besides Tinsley Lane North estate between Whetstone Close and the London-Brighton railway. (fn. 29)
The development corporation claimed in 1955 that the industrial area was an 'unusually attractive district'. (fn. 30) Some original trees were retained, new ones being planted; the main roads were flanked with lawns and flower beds, and in 1985 several factories stood in large grassed areas.
The construction of residential parts of the town began with two neighbourhoods within the ring road. The first to be built was West Green, covering 180 a. west of the town centre, and including much of the existing town of Crawley. The population, then c. 2,100, was intended to rise to c. 4,700. Houses were being built by 1949, (fn. 31) and most had been finished by 1951. (fn. 32) There were 622 dwellings complete or under construction by 1952, when the neighbourhood centre had been designed. (fn. 33) West Green was regarded as largely complete in 1954 (fn. 34) although some infilling was taking place in 1955 (fn. 35) and old people's flats were built in the area in 1975. (fn. 36) The neighbourhood included the existing cemetery and hospital. (fn. 37) Together with the town centre, it had 4,714 inhabitants in 1981. (fn. 38) For Northgate a detailed plan had been prepared by 1951; the neighbourhood was named after a turnpike tollgate in the London road and covered 168 a. north of the town centre including some existing housing in Tushmore Lane, Cobbles Crescent, and Woolborough Road. The master plan foresaw an increase to 4,328 inhabitants. Some houses and roads had already been built. (fn. 39) By 1952 the neighbourhood centre had been designed and 758 houses and flats had been or were being built, (fn. 40) and by 1955 the neighbourhood was complete except for infilling. (fn. 41)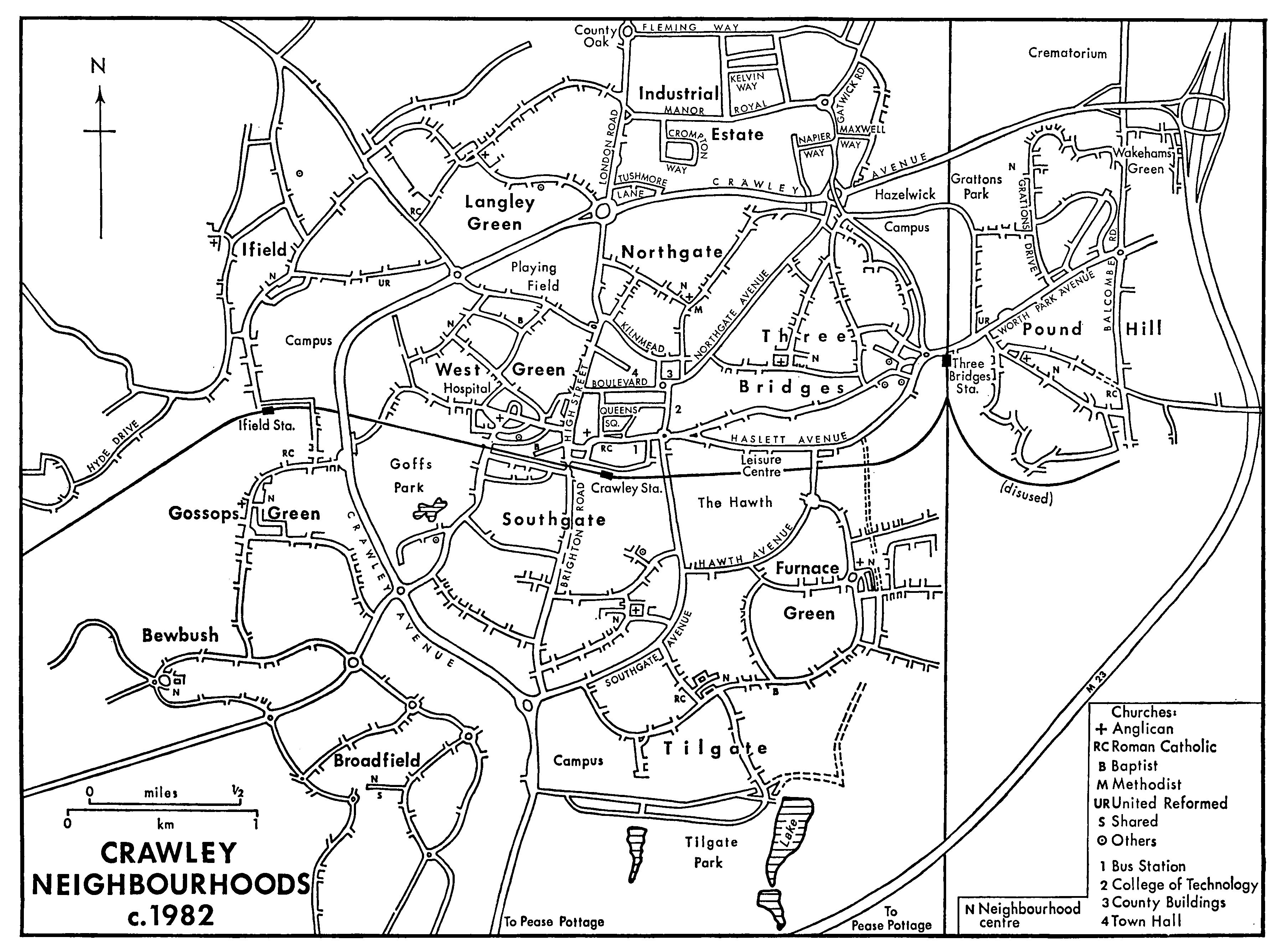 Work on Three Bridges neighbourhood in the east part of the town, including the existing settlement west of Three Bridges station and intended for a population of 4,500, began in 1952; by 1955 the neighbourhood was largely complete, 982 houses having been built. (fn. 42) Old people's flats were built there in the late 1970s. (fn. 43) There were 5,400 inhabitants in 1981. (fn. 44)
The development corporation originally intended to build Langley Green neighbourhood, north-west of the ring road, only after the neighbourhoods within the ring had been finished. It was the first neighbourhood to contain little earlier settlement. By 1951, however, the corporation had decided to bring forward the building of the neighbourhood, and a survey and plan were prepared. The corporation was expecting to let contracts in 1952. (fn. 45) Nearly 1,600 houses had been finished by 1955, (fn. 46) and the neighbourhood was thought complete in 1956. (fn. 47) Its growth coincided with the arrival in Crawley of many semi-skilled and unskilled workers, and it thus became a mainly working-class community. (fn. 48) By 1981, when the population was 7,517, more than a fifth of pupils in Langley Green junior school came from ethnic minority families. (fn. 49)
In contrast Pound Hill in the east, between the London-Brighton railway and Balcombe Road, was expected to become a middle-class area. (fn. 50) Work began c. 1953, (fn. 51) and by 1954 the roads had been built and house building was well advanced. (fn. 52) By 1955 the southern part of the neighbourhood was 'half completed'; the northern part was reserved for unsubsidized, i.e. middle-class, housing. (fn. 53) The southern part of Pound Hill was completed by 1956 and the northern part was then being developed. (fn. 54) Pound Hill was designated to expand under the new plan of 1961. (fn. 55) Private detached houses were being built there in 1972. (fn. 56) In the later 1970s there was infilling in the north-west and a new shopping parade was built west of Grattons Drive; in addition, the neighbourhood expanded beyond Balcombe Road as far as the M 23 motorway, Wakehams green being built over. In 1981 Pound Hill was Crawley's largest neighbourhood, with 11,617 inhabitants, of whom c. 2,000 lived east of Balcombe Road. (fn. 57) In the early 1980s further development, largely complete by 1984, took place at Crabbet Park, south of Wakehams green. (fn. 58)
Three more neighbourhoods were rapidly built up in the mid 1950s. Although development in Ifield, which extended to the old village, had been intended to begin in 1953, (fn. 59) detailed planning was complete only in 1954. (fn. 60) By 1955 some 330 houses were being built and contracts had been let on a further 906. (fn. 61) Parts of the area were reserved for unsubsidized houses. (fn. 62) By 1957 Ifield was virtually complete. (fn. 63) It attracted professional people and skilled technicians, including c. 130 teachers; the middle-class population later partly dispersed to other neighbourhoods. (fn. 64) Deerswood Court, a group of 99 flats in blocks, was built in 1961-2. (fn. 65) Ifield neighbourhood had 7,221 inhabitants in 1981. (fn. 66)
Southgate, intended as the largest of the original nine neighbourhoods, was to cover 342 a. between the old Crawley town and the southern ring road, with an estimated population of 1,577 in 1950. (fn. 67) Although a provisional plan had been prepared by 1952, (fn. 68) the outline plan was not submitted until 1954 (fn. 69) and house building began only in 1955; the western part was reserved for private housing. (fn. 70) Southgate East was mainly built up by 1957. (fn. 71) The planning of Southgate West, designated for expansion in 1961, (fn. 72) was delayed until 1966, (fn. 73) and building started in 1968; a second shopping parade was planned. (fn. 74) Building was delayed by failures of industrialized methods, (fn. 75) and by 1970 only 284 houses and 213 flats, just over half the planned total, had been finished. (fn. 76) Southgate West was completed in 1972. (fn. 77) Southgate had 7,653 inhabitants in 1981. (fn. 78)
Tilgate neighbourhood in the south-east was begun with the construction of roads and sewers in 1955. (fn. 79) The houses were built between 1956 and 1958. (fn. 80) The southern part included the 72-a. Tilgate park, which the Commission for the New Towns transferred to the urban district council c. 1964. (fn. 81) An army camp there was used as a labourers' hostel for building workers from 1950 to 1957 and later transferred to the Crawley community association for use by clubs. (fn. 82) Tilgate had a population of 7,130 in 1981. (fn. 83)
The ninth and last of the original planned neighbourhoods, Gossops Green south-west of the ring road, was expected from the first to attract the richer settlers. (fn. 84) Roads were built in 1956-7, (fn. 85) and houses from 1958, including an above average proportion of private houses. Gossops Green was regarded as complete by 1961 (fn. 86) but the neighbourhood centre was still unplanned in 1963. (fn. 87) Old people's homes were planned in the area in 1963, (fn. 88) and 140 private houses and flats were completed in 1972. (fn. 89) There were 5,698 inhabitants in 1981. (fn. 90)
In 1956 the development corporation proposed that Tilgate East, reserved in the master plan for possible use as housing, should be covered with c. 1,000 houses to meet the needs of Crawley's natural expansion. (fn. 91) The new neighbourhood, sanctioned by the expansion schemes of 1958-61 (fn. 92) and renamed Furnace Green after the existing farm there, was intended for 'the lower executive class' (fn. 93) and grew more slowly than had the older ones. Work on roads and sewers started in 1960, (fn. 94) and on houses in 1961, and 460 'standard II' houses each with a garage had been built for rent by 1962, with another 42 for sale. (fn. 95) Building continued in the mid and late 1960s. In 1965 it was claimed that shortages of labour and materials had delayed work, though the urban district council had built 98 houses. (fn. 96) Two further housing schemes, for c. 120 and c. 140 houses respectively, were begun in 1967 and finished in 1970; proposals for using industrialized methods were abandoned. (fn. 97) Further building was done by selfbuild groups and housing associations. Seventy-two old people's flats were completed in 1975, (fn. 98) but the neighbourhood was still unfinished in 1978. (fn. 99) There were 6,737 inhabitants in 1981. (fn. 100)
Broadfield neighbourhood, outside the ring road south-west of the town and the first new neighbourhood in the scheme of 1961, (fn. 101) was planned in 1967 and begun in 1969. Much larger than the other neighbourhoods, it was intended to cover 562 a. and to provide 4,000 dwellings for 14,000 people. (fn. 102) By 1971 a school and temporary shops had been built, (fn. 103) and later in the year the Commission for the New Towns began to build 184 houses for sale, finished in 1973. (fn. 104) Three fifths of the rest were to be council houses, two fifths private. (fn. 105) More than half the council houses had been built by 1976, (fn. 106) and the rest were completed c. 1978. Private building (including some by housing associations) was slower, so that the neighbourhood was then still only half finished. (fn. 107) A shopping parade, with a large supermarket, and a community centre were built between 1976 and 1980. The Guinness Trust Housing Association was building houses at Broadfield in 1981, when the neighbourhood had 8,300 inhabitants. (fn. 108)
Bewbush neighbourhood, west of Broadfield and separated from it by a main road, was begun in 1974-5, despite objections that it was on green belt land. (fn. 109) It too was large, being intended to cover 385 a. and to house 9,000 people in c. 3,000 houses and flats. By 1976, when the first houses were occupied, the planned total had been increased to 3,600 dwellings. (fn. 110) Houses and flats were built around courts and walkways, away from traffic. (fn. 111) By 1980, when the neighbourhood was due to be complete, the shopping centre had still not been started, (fn. 112) and in 1981 there were fewer than 5,000 inhabitants. (fn. 113) A leisure centre was opened c. 1984, (fn. 114) and the shopping centre had been completed by 1985, when houses were still being built. The plan for the neighbourhood included an area to the west cut off from the rest by the railway; (fn. 115) it was developed in the early 1980s as Hyde Drive, a detached area connected by road to Ifield neighbourhood.
In 1980 the area known as Maidenbower, south of Pound Hill and outside the original designated area, was chosen as the most likely to fulfil Crawley's future need for more houses. An outline scheme for a privately built neighbourhood of c. 3,700 houses and flats was announced in 1986. (fn. 116)