Pages 49-57
A History of the County of Warwick: Volume 3, Barlichway Hundred. Originally published by Victoria County History, London, 1945.
This free content was digitised by double rekeying. All rights reserved.
BIDFORD
Acreage: 3,348.
Population: 1911, 1,634; 1921, 1,698; 1931, 1,842.
Bidford is a large parish stretching on either side of the Avon and including the hamlets of Broom on the north and Barton and Marlcliff on the south of the river. The ground is mostly low-lying, though the contours rise to 200 ft. on the east, between the Stratford road and Bidford Grange. The Roman Ryknield Street runs north and south through the parish and an important Saxon cemetery was discovered here in 1922. (fn. 1) The Roman road originally crossed the Avon by a ford just to the east of the church, and its northward course is still marked by a lane under the churchyard wall which crosses the High Street and continues as the main road to Alcester. The southern portion was deflected westwards to its present line probably in the 15th century, when the bridge was built about 200 yards below the ford. This diversion may account for the plan of the village itself, which consists of a single street (the Stratford-Evesham main road) running along the north bank of the river, the bridge being about half-way down. At its eastern end, near the church, the street widens into a small square, which was probably the site of the Market Cross, described by Sir Simon Archer in 1639 as 'all downe and ruinated'. (fn. 2) It is significant that all the buildings, about 16 in number, of 17th-century or earlier construction, are within 200 yards of the church.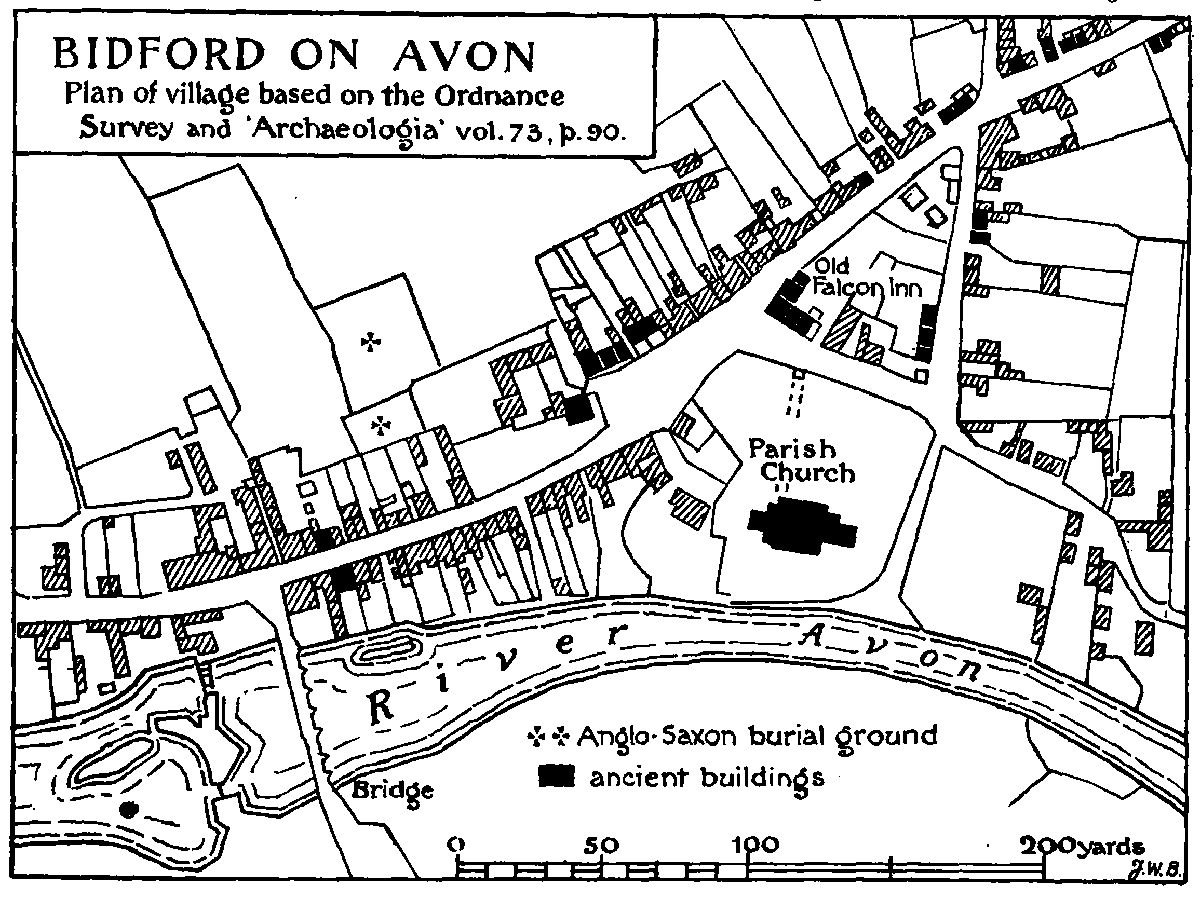 The largest of these, the former Falcon Inn, stands at the corner of High Street and a road bordering the north side of the churchyard. It is for the most part of mid- to late-16th-century date, built of local lias stone in alternating narrow and wide courses. The plan is L-shaped, formed by two blocks, with a seam in the masonry between them: that facing the High Street is probably rather the earlier and consists of two stories and attics with a lath-and-plaster gable at the south end; the other, to the west of it, has three stories and attics with two gables overlooking the churchyard and a gabled south-east end. The windows are mullioned and, in the first floor of the taller part, transomed as well. All have moulded drip-stones, those over the firstfloor windows forming a continuous string-course step ping up for the higher transomed windows. One window in the south-west front has been altered to a modern doorway and window. At the junction of the two blocks is a massive rectangular chimney-stack of stone with the stumps of six diagonal shafts of thin bricks. Another chimney against the south-east gable end has two similar shafts rebuilt. The back (northwest) wall of the higher block is plastered above a lower lean-to addition and has a gabled staircase wing. The lower block has some moulded ceiling beams of about mid-16th-century date and stop-chamfered joists; the taller block has plainer chamfered beams. The wide fire-places have been reduced for modern grates. The painted sign belonging to the Inn is preserved in the New Place Museum at Stratford. In the 19th century the building was divided up, part being used for the Bidford Institute and Working Men's Reading Room established in 1861. (fn. 3) It is now divided into about seven separate tenements.
Adjoining the north-east end is a lower building, probably of earlier date, of close-set timber-framing on stone foundations, with a jettied upper story, and a lattice-framed gable towards the High Street. The north-east side has rectangular framing and a curved brace to the front part. Inside are stop-chamfered beams; and the framing of the back gabled wall suggests that the building extended farther to the rear.
Set back on the north side of the Market Place is a building of early to mid-16th-century origin, now partly occupied as a bank. It has a middle block refaced with stone, with cross wings, of which the gabled ends are plastered, but the east side of the east wing is of close studding to both stories. The west side is of brick. Above the middle is a chimney-stack with three diagonal shafts of thin brick. East of it is a late17th-century house of stone with brick chimneys, and south-west of it, facing east, is an altered building retaining a stone chimney at one end with two diagonal shafts of 17th-century bricks.
Farther east are five buildings, two west of the Alcester road and three east of it, on the north side of the street, of 17th-century timber-framing, and on the south side is another with a central chimney of stone and brick. In the continuation of the Alcester road, south of the High Street, are two houses of late-17thcentury framing with tiled roofs. The easternmost has a thatched outbuilding, and the other an original central chimney-stack.
Two houses in the High Street, on either side of the turning to the bridge, have remains of 17th-century framing, and one, opposite the turning, has a roughcast south front, but shows framing in its east gabled end.
Bidford bridge dates from the early 15th century. In 1449 it was found to be very much decayed and John Carpenter, Bishop of Worcester, offered a year's Indulgence to all who should contribute to its repair. (fn. 4) It consists of eight arches of about 13½-ft. span, with piers of about 8¼ ft. The cutwaters remain on the east side but have been removed on the west, and the whole shows signs of frequent repair. The northernmost, second, sixth, and seventh arches are original and are segmental-pointed or four-centred, formed by two rings of square voussoirs; the medieval masonry above them is of rubble work and fairly large squared stones in courses. Leland in 1545 found that the bridge had been repaired with stone from the recently demolished priory at Alcester. (fn. 5) The masonry above the low round arch of the fifth bay has the alternating wide and narrow courses common in this district in the 16th century. There may originally have been nine or ten arches, for it was alleged in 1639 'that there is a necessity that there shall be two or three arches newly erected at the south end of the said bridge where it plainly appeareth arches have formerly been, but are now utterly demolished and decayed, without which the main bridge will be of little or no use at all at the time of any flood'. (fn. 6) Considerable repairs were carried out in 1641 at a cost of £180, (fn. 7) and perhaps the southernmost arch dates from this time. This, which is similar to the third, is segmental-pointed, like the 15th-century arches, but with long thin rough voussoirs. In June 1644 Charles I broke down the bridge to cover his rear in his march from Worcester back to Oxford. (fn. 8) This damage was not repaired until 1650. (fn. 9) It was probably the fourth arch that was destroyed; this is round-headed and much higher than all the others, possibly to admit the passage of boats plying between Stratford and Gloucester. (fn. 10) The fifth arch, also round-headed, may have been repaired at the same time. The cutwaters between arches one, two, and three, and between six and seven are of coursed squared stones; those in the middle have been repaired with thin rubble work, brick, &c., and the southernmost is wholly of brick. Between the old north arches on the west side are indications of the cutwaters and between the old southern arches they are cut back to form shallow buttresses. Over the pier between bays five and six a little of the original canted parapet is retained on the west side, but apart from this the parapets are modern.
A few yards below the bridge are the remains of a paddle weir.
The hamlet of Broom lies in the north-west corner of the parish between the River Avon, which forms its western boundary, and the road from Bidford to Alcester. It is approached from Bidford by a road branching north from the Evesham road at the end of the village. A modern bridge carrying the road to Dunnington crosses the Arrow at Broom Mills. This replaces a ford, but until the beginning of last century there was a second and more important crossing about half a mile to the south, near Broom Court. (fn. 11)
Broom formerly consisted of two hamlets known as King's Broom and Burnell's Broom. Burnell's Broom, the southern portion, was said to have been depopulated by Sir Rice Griffin in Elizabeth's time. (fn. 12) The former manor-house, Broom Court, was built by Sir Simon Clarke about 1618. (fn. 13) It is said to have been burnt out, and though the shell of the present house is probably original the details are no earlier than mid18th century. Behind the original rectangular block a modern enlargement in brick connects up with a detached stone building of the date of the house. The front, which faces south, is of plain ashlar, and of two stories and attics; it has a middle porch, the entrance doorway flanked by round shafts with Tuscan capitals and bases on plain pedestals. The windows are modern bays, but three upper mullioned windows are probably original; above each is a shield with the Clarke arms. In the roof are three gabled dormers. The sidewalls are of alternate large and small courses of squared lias rubble. They probably each had two gables afterwards altered for two 18th-century chimney-shafts. The plan has a middle entrance and stair hall and on each side were formerly two rooms, each with angle fire-places; the middle partitions have been removed and the two fire-places altered into one; the beams are encased. The 18th-century staircase has turned balusters. The upper rooms have ancient chamfered beams, and a little panelling and several doors of the 17th century. A small modern window next to the entrance contains 17th-century glass achievements of arms of Woodchurch and Clarke with their names: Roger Woodchurch and Isabel Wakehert, Sir Simon Woodchurche, knight, and Susan Clarke, Humfry Clarke and Margaret Maynye, and William Clarke and Elizabeth Winterborne. A coped garden wall east of the house is original; a short return wall with an embattled parapet may have been the side of a summer-house; in a merlon is a shield with the Clarke quarterings and badge of Ulster. Two other shields are reset in the end of the same wall. Farther east and north of the house are the remains of a moat inclosing a large area; it is now mostly dry and reduced in part to little more than a ditch.
Broom village lies along three parallel lanes running westwards from the Bidford road, the two most northerly ones being connected by a short cross-road. There are here about twenty small buildings with timberframing, about half of which have thatched roofs. Some of them may be approximately dated from the complaint made early in James I's reign against Thomas Throckmorton that he had lately erected certain tenements there whose occupants were unlawfully pasturing their beasts on the common. (fn. 14) The largest of them is the Broom Inn at the south-west corner of the crossroad. It is of rectangular framing on stone foundations with heavy timbers and brick infilling. Long struts from the sills help to support the story-posts of the angles. The plan consists of a main block facing east with two parallel wings projecting behind, all with gable ends to the tiled roofs. The Holly Bush Inn to the west of this is partly timber-framed and thatched. There are besides three farm-houses and groups of six and five cottages along the northern, middle, and southern lanes respectively.
Broom Hall stands on the west side of the Bidford road. This is a late-16th-century house; the east front is of close-set studding to both stories and is of four 13½-ft. bays with a range of four plastered gable-heads to the second floor, and it is probable that the two endbays originally had bay windows. The north and south ends have close studs to the lowest stor yand square framing to the upper story and gable-heads. The foundations are of stone: the roofs are tiled. The house, which has been very completely modernized inside, is owned by the Warwickshire County Council and let as a private hotel.
King's Broom in the 16th and 17th centuries was reckoned within the constabulary of Grafton, an anomaly that gave rise to a prolonged dispute at Quarter Sessions. At Easter 1641 the constable's rates were ordered to be paid in Bidford; (fn. 15) this was reversed at Epiphany 1642, proof being made that Broom had been 'time out of mind' in the constabulary of Grafton and that its constables' rates had been paid there for sixty years past. (fn. 16) At Trinity 1647 this ruling was confirmed, (fn. 17) but in 1669 the controversy was finally settled in favour of Bidford. (fn. 18)
Barton lies opposite Bidford on the south side of the river and on the Welford-Cleeve Prior road about ¼ mile from the point where it crosses the Rycknield Street. It has only about sixteen buildings, of which at least nine are pre-18th-century. The largest is the Manor House on the south side of the road. The north front, nearly 60 ft. long, is of two stories and attics, in lias stone. The eastern part, which projects slightly, has a gable-head rebuilt in brick. The western has an original coped gable flush with the middle main block and bearing a panel inscribed John Payton, Anno Domini 1663. The windows have stone mullions and moulded labels. In the middle part are two doorways, of which the western has an ancient nail-studded door and ornamental strap-hinges. A red-brick addition of early-18th-century date on the west side has tall windows with oak frames, mullions, and transoms.
Farther east on the same side is a timber-framed building, about 48 ft. long, of late-16th-century date. The rough-cast north front has the jettied upper story and gable-head of an east cross-wing. Above the wing is a fine square chimney-stack of brick with two square pilasters on each face. The west end of the main block shows the original framing with shaped story-posts and curved braces, and is gabled.
Next east is a smaller L-shaped building showing a little early-17th-century framing, a gabled wing of late-17th-century stonework with mullioned windows and moulded dripstones and later brick repairs and alterations.
Opposite these is a small but comparatively tall cottage of 17th-century framing with a thatched roof, a small square stone pigeon-house with gabled tiled roof and lantern, and farther east a small farm-house of 17th-century square framing, gabled east and west ends, and a tiled roof. There are modern additions behind and an old granary of framing.
The road takes a double right-angled deflection here, and on the west side of it is the Cottage of Content Inn, brick-fronted, but showing some 17th-century framing on the south side, and the village shop, a late-16thcentury cottage of heavier square framing with curved braces, a thatched roof, and a heavy projecting chimneystack of stone against the west gable: next south of it is a tiny thatched cottage of framing.
Marlcliff, ¾ mile west of Barton, on the same road, consists of an irregular group of buildings spreading down a blind lane towards the river. There are two stone farm-houses, probably late-17th-century, with later brick additions and tiled roofs, and about eight cottages, also pre-1700, three of which are timberframed and the others built of stone.
Bidford was ancient demesne. The inhabitants paid an aid of £5 in 1176–7 (fn. 19) and were tallaged at 4 marks and again at 2 marks in 1199 (fn. 20) and at 2 marks in the following year. (fn. 21) From Elizabethan times at least the town appears to have enjoyed something of the status of a borough. In 1567, the manor having been certified in the Exchequer as ancient demesne, the inhabitants received a confirmation of the customary privileges of freedom from toll throughout the kingdom and exemption from jury service and from contributing to the expenses of knights of the shire. (fn. 22) Parish documents of the 17th century show that the town was then governed by two bailiffs, (fn. 23) one of whom in 1686 signs a burial certificate as 'His Maiesties Bailiffe of the Burrow of Bidford'. There is, however, no trace of burgage tenure or of a borough court, and though the appointment of bailiffs was still being continued in 1788, (fn. 24) it is not known when the office lapsed. A relic of the bailiff's authority survives in the mace now preserved in the church. This is of gilt brass, 7 in. long, with a narrow moulded stem and three ornamental lugs at the base, which terminates in a flat button engraved with the initials I. T. On the flat part of the hemispherical head (2 in. in diameter) was engraved the Tudor royal arms, of which only the lion and dragon supporters now remain, and on the sides are Tudor badges and the initials E. R. (fn. 25) It may perhaps have been made soon after the charter of 1567.
In 1220 Llewelyn, Prince of North Wales, obtained a grant of a weekly market at Bidford to be held on a Tuesday. The day was soon afterwards altered to Friday (fn. 26) and the grant was confirmed to Bishop Burnell in 1281 (fn. 27). The market seems to have been discontinued between 1788 and 1808. (fn. 28) Two annual fairs, in April and September, were granted by Queen Elizabeth to Leonard Danett, then lord of the manor, in 1564. (fn. 29) These were held until 1872, when monthly sales, now also abandoned, were substituted for them. (fn. 30) There is an old-established brick and tile industry here, a large flour-mill at Broom, and a gasworks established in 1869.
Bidford was inclosed by an Act of 1766, (fn. 31) Broom (with Wixford and Exhall) by an Act of 1767, (fn. 32) and Barton and Marlcliff by an Act of 1776. (fn. 33) There was some inclosure at King's Broom early in the 17th century when the inhabitants, in the document already cited, complained that Thomas Throckmorton, by making a headland near the Marriage Brook, (fn. 34) had made it difficult for them to cart away the corn from their lands at harvest time and by inclosing King's Brook from Candlemas to harvest had stopped up the 'p'cessyon waye' and taken away the common.
There are two stations in the parish—Broom junction and Bidford—both, since 1921, belonging to the L.M.S. Railway. The former was opened in 1866 by the Evesham and Redditch Railway Co., which was taken over by the Midland Railway in 1882. The latter is situated on the line from Broom Junction to the station formerly belonging to the East and West Junction Co. at Stratford, which was planned by the Evesham, Redditch, and Stratford-upon-Avon Junction Co. in 1873 and opened in 1879. (fn. 35)
Manors
The manor of BIDFORD was ancient demesne and is assessed in Domesday at 5 hides. (fn. 36) The Survey also makes mention of 2½ virgates here which before the Conquest Ernulf and Ernegrin had held freely and which in 1086 were held by Robert d'Olgi of Odo, Bishop of Bayeux. (fn. 37) This latter entry must refer to that manor of Bidford which the Evesham Chronicler includes among the acquisitions of Abbot Ethelwig that Odo had seized. (fn. 38) But there is no further record of its separate existence.
The manor remained in the hands of the Crown throughout the 12th century and in 1154 was accounted for by the Sheriff of Worcestershire, together with Hales [Halesowen] and Tardebigg, at £10. (fn. 39) It was granted by John as part of the dowry of his illegitimate daughter Joan, who in 1206 married Llewelyn, Prince of North Wales. But, owing perhaps to the frequent border warfare of the next few years, Llewelyn did not obtain livery of it until 1218, when it was valued at £3 16s. (fn. 40) Llewelyn in his turn gave it as dower on the marriage of his daughter Helen to John the Scot, Earl of Huntingdon and Chester; but Henry III seized it during the Welsh Wars of 1228–31. After the truce of 1231 it was restored to John the Scot. (fn. 41) He died without issue in 1237 and this estate descended to the heirs of Helen by her second marriage, with Robert, son of Saier de Quincy, Earl of Winchester. Their daughter Joan married Humphrey de Bohun of Brecon (son of Humphrey, Earl of Hereford) who in 1265 was holding land in Bidford and Broom worth £11 12s. (fn. 42) Hawise the sister and heir of Joan brought both manors soon afterwards to her husband Baldwin Wake, (fn. 43) and in 1280 Baldwin and Hawise sold them, together with the manors of Barton, Marlcliff, and Suckley in Worcestershire, for £1,000 to that acquisitive prelate Robert Burnell, Bishop of Bath and Wells, to hold of them by the service of a knight's fee. (fn. 44) The bishop obtained a grant of free warren in his demesne lands here in 1281, (fn. 45) and in 1285 made an unsuccessful claim to view of frankpledge. (fn. 46) He died in 1292, having settled all his property on Philip Burnell his nephew, whose son Edward died without issue in 1315, when the male line of the baronial family that the bishop had aspired to found came to an end. Edward Burnell held Bidford of the king as ancient demesne and not by any service, (fn. 47) and Aline his widow continued to hold it in dower until her death in 1363. (fn. 48) Meanwhile the reversion passed to his sister Maud and her husband John de Haudlo, who levied various fines to ensure their title. (fn. 49) In 1325 they settled the manor on their heirs male, with reversion to Maud's children by her first husband John Lovell of Tichmarsh, Northants. (fn. 50) John de Haudlo died in 1346 and his son and heir Nicholas, who took the name of Burnell, inherited his aunt Aline's interest and died in 1383. (fn. 51) On the death of Hugh, the last of the Burnell-Haudlo line, in 1420 the manor reverted by the entail of 1325 to William, Lord Lovell. From him it passed to his son William, who became Lord Morley in right of his wife, and his grandson Henry. (fn. 52) The latter died in 1489, (fn. 53) and as his nearest male kinsman, his cousin Francis, had already been attainted for his part in the rising of Lambert Simnel, the manor escheated to the Crown. In 1515 Henry VIII granted it in tail male to Gerard Danett, one of the squires of his bodyguard, and Mary his wife. (fn. 54) Gerard died in 1520 (fn. 55) and Mary in 1559. (fn. 56) Their grandson Leonard Danett thereupon succeeded and obtained confirmation of his rights in the manor in 1565. (fn. 57)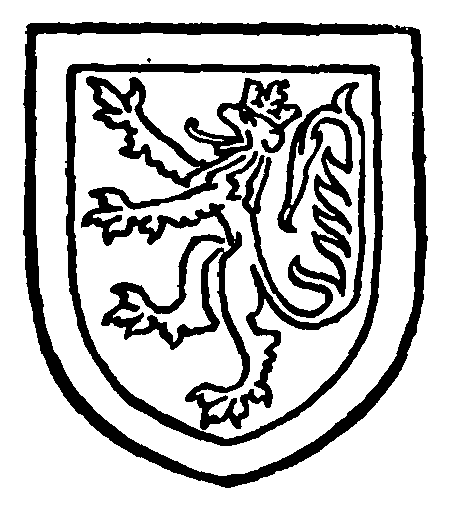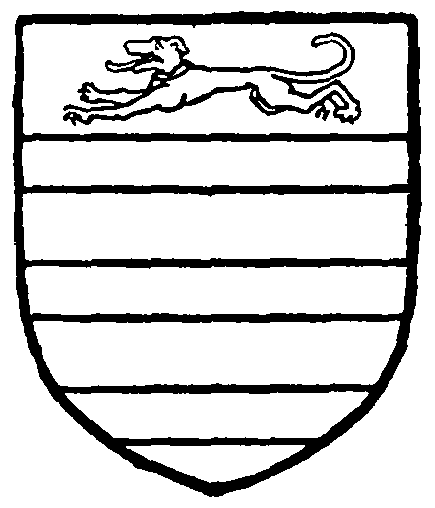 In 1568 Leonard Danett sold the manor to Lewis Greville of Milcote, (fn. 58) who sold it again in 1570 to Elizabeth widow of Sir Edward Griffin, in trust for her son Rice Griffin of Bickmarsh. (fn. 59) Having wasted his estate and fallen into debt, Griffin sold the manors of Bidford and Broom, with Broom Mills, for £4,600 to Thomas Nurse of Lincoln's Inn about 1614. Nurse declared that after the sale he had discovered that the property was heavily encumbered, which perhaps explains why in 1616 he sold it again to Ferdinand Dowdeswell for only £3,404. (fn. 60) Dowdeswell leased it to Sir Simon Clarke and Sir William Sidley, and by 1618 Sir Simon Clarke had possession of both manors.
In 1654 Sir John Clarke sold the manor, with Salford (q.v.), to Fulwar Skipwith, in whose family it descended until 1840. In that year it was bought by Edmund Wells Oldaker, who sold it in 1852 to William Brown of Belbroughton, Worcs. The latter sold it in 1873 to James William Carlile of Temple Grafton Court. (fn. 61) The manor then followed the descent of Grafton (q.v.) until 1921, when the estate was broken up.
The manor of BIDFORD GRANGE was so called from the grange here which belonged to the Abbots of Bordesley. The Empress Maud in her foundation charter to that monastery granted the whole demesne (totum dominicatum) of Bidford. (fn. 62) This holding is assessed in the Pipe Rolls between 1154 and 1230 at £14 12s. (fn. 63) It was increased by various later gifts (fn. 64) and in 1276 included two pastures known as Calvescroft and Shepescroft which had formerly been part of the common fields. (fn. 65) In 1276 the abbot claimed assize of bread and ale in this manor (fn. 66) and in 1285, in addition, sac and soc and view of frankpledge, (fn. 67) to which he successfully maintained his right against both the King and Bishop Burnell; for the jurors declared that the abbot of about a century earlier had built certain houses on his land and placed his free tenants in them, so that the services in question had ever since been attached to these holdings. The view of frankpledge was still being taken in 1566. (fn. 68) In 1535 the abbot's manor or grange of Bidford was valued at £27 2s. 8d. (fn. 69)
At the Dissolution John Bayley, the last Abbot of Bordesley, desired that Bidford Grange might be allowed to him as a place of retirement. (fn. 70) The request was not granted, however, and the property escheated to the Crown. Certain lands here formerly belonging to the abbey were granted in 1544 to Thomas Broke, merchant, of London, (fn. 71) from whom they descended to his heir Joan Arrowsmith (fn. 72) and to John Arrowsmith, who granted them to Cuthbert Thomson, citizen and brewer, of London, in 1549. (fn. 73) But the manor was granted in 1545, with other Bordesley estates, to Thomas Badger, who was then occupying the Grange, Thomas Fowler of Stretton-on-the-Fosse, and Robert Dyson of Inkberrow. (fn. 74) The property was apparently divided and Badger received the Bidford portion. He died in 1572 and his eldest son Thomas (fn. 75) was succeeded in 1595 by his son William Badger, (fn. 76) who in 1610 conveyed the manor to William Brode of Bidford, the husband of his daughter Frances. (fn. 77) On William Brode's death in 1653 his son Francis conveyed it to Francis Bridges of Beauchamp's Court, Alcester. (fn. 78) The manor passed from Bridges to Thomas Cookes of Sambourne in 1665; (fn. 79) from the latter's second son Robert to Henry Tolly of Ombersley in 1690; and from Tolly to John Ayshcombe in 1701. (fn. 80) Ayshcombe in 1742 sold it to Sir Francis Skipwith, (fn. 81) since when it has followed the descent of the chief manor.
Cookhill Priory also had a small holding in Bidford which in 1276 consisted of half an acre of land, granted by Alice Duraunt about thirty years before. (fn. 82) In 1539 it was valued only at 3s. 4d. a year (fn. 83) and in 1542 was granted with other lands of the priory to Nicholas Fortescue. (fn. 84)
BROOM is included in Ceolred of Mercia's spurious grant to Evesham Abbey of 710 (fn. 85) and also in the list of manors acquired by Abbot Ethelwig (1055–77) and seized by Odo Bishop of Bayeux. (fn. 86) T.R.E., according to Domesday, 5 men held it freely. In 1086 it was assessed at 4½ hides, held by Stephen of Bishop Odo. (fn. 87)
Stephen, the under-tenant in Domesday, also held Milcote and Dorsington in chief and it is significant that c. 1140 Ralph Boteler gave the tithes of his demesne in these three places to Alcester Abbey, (fn. 88) and that in 1167 the sheriff renders account of £15 as the rents of Dorsington, Broom, and Milcote in the possession of Geoffrey Martel, (fn. 89) who pays £5 annually for the farm of Broom between 1170 and 1174, in which year the estate was given to William de Cricklade, (fn. 90) who held it till 1187; (fn. 91) but between 1196 and 1201 half the manors of Broom and Alcester (q.v.) were in escheat to the Crown, as the former possession of Henry de la Penne. (fn. 92) This may mark the division of the manor into what afterwards came to be known as King's Broom and Burnell's Broom. (fn. 93)
In 1232 half the manor was held by Hamo de Brome by serjeanty for the service of 1/8 of a knight's fee, and half by Olenta widow of Walter de Rodes, who paid 40s. to the king. (fn. 94) Olenta had been allowed in 1221 to retain these lands, given by King John to her husband as master of the king's yacht; (fn. 95) she still held them twenty years later. (fn. 96) On her death they reverted to the Crown and subsequently constituted the manor of Bellcourt (q.v.).
Hamo de Brome, who was dead by the end of 1240, when his widow Emma claimed dower in a moiety of the manor of Alcester, (fn. 97) probably held by a falconer's serjeanty, (fn. 98) as Robert the Faukener who in 1242 was holding 1/10 of a knight's fee here of the king in chief (fn. 99) may be identified with Hamo's son Robert de Brome or Robert 'Hamond' who died seised of 1/10 fee, held of the king in King's Broom in 1274. (fn. 100) His son Robert was squire to Mr. William Pikerel, whom he enfeoffed of the whole estate in 1275. Pikerel, who died in 1297, (fn. 101) conveyed it to his nephew Walter Pikerel, who enfeoffed Peter de Leycester, clerk. The latter died holding the 1/10 fee, now described as a manor, in 1304. (fn. 102) From him it passed to his niece, Juliana de Leycester, wife of Walter de Berthorpe. (fn. 103) Walter was still in possession in 1328. (fn. 104) In 1577 Thomas Throckmorton produced a deed by which Ralph Pauncefote, Lord of Bradley, gave to John de Popihull of Alcester the manor of Little Broom. (fn. 105) As the Pikerel property included land in Exhall (q.v.), where Geoffrey Pauncefote was mesne lord c. 1240, it seems probable that the estates were united and at some time in the 14th century became part of the manor of Oversley. (fn. 106)
BELL COURT, (fn. 107) referred to as a manor in 1623, originated in a grant made in 1238 to Geoffrey le Chaumberlayn of the 7 virgates which Walter de Rodes had held in Broom (see above), to be held by render of a pair of shears at Christmas. (fn. 108) In 1250 Geoffrey Chamberlain died holding in Broom 3½ virgates in demesne and 3½ in villenage, all of the king in free socage. (fn. 109) This passed to Simon his son, and Henry Chamberlain enfeoffed Richard de Stanford and Idonea his wife of it in 1306, when it is described as in King's Broom. (fn. 110) Richard died in 1320 holding a toft and 4½ virgates of the king in free socage and a messuage and 60 acres of land by rent of 6d. yearly of Philippa lady of Belne (otherwise unrecorded), as of her manor of Broom. (fn. 111) The family of Belne (fn. 112) probably gave its name to Bellcourt. Richard was succeeded by his son John, then aged 23. He died in 1359 holding a messuage, a carucate, and 20s. in rents of the king in chief. (fn. 113) His son John died without issue in 1362, holding the property and no other lands in the county. (fn. 114) His estate was divided between his two sisters, Joan wife of Thomas de Morehall and Maud wife of Roger de Harewell. Thomas de Morehall, a commissioner of the subsidy in Warwickshire in 1380, (fn. 115) apparently died without issue, so that the estate became reunited in the possession of the Harewells. In 1444 Roger's younger son Thomas Harewell died seised of a life interest in what were described as the manors of Bidford and Broom, consisting of 6 carucates of land, &c., held of the king as half a knight's fee. He had received the property from certain trustees, (fn. 116) probably acting for the heirs of Thomas's elder brother John Harewell of Wootton Wawen (q.v.), who died in 1428. In 1500 William Harewell, John's grandson by his son Roger and Agnes daughter of Sir William Clopton, died seised of some 30 acres in Bidford, 'Bellyncourt', and Bick marsh, altogether worth 17s. 4d., and 60 acres of land in Broom worth 22s. (fn. 117) He had devised it to his younger son William in tail male, but this line seems soon to have died out and the property to have passed to the Lingens, who were his cousins on the female side through the marriage of Sir John Lingen and Isabel, a granddaughter of Sir William Clopton. In 1554 lands in Bidford and Haselor (q.v.) to the value of £60 were in the hands of the Crown by reason of the minority of Jane daughter of John Lingen. (fn. 118) Jane, who married William Shelley, died in 1610 and was succeeded by Edward Lingen her cousin. (fn. 119) The property is then described as the manor of Bidford, but in 1623, when Edward was declared a lunatic, it appears as the manor of Bell Court. (fn. 120) On Edward's death in 1636 it passed to his son Henry, (fn. 121) a prominent Royalist, who was knighted by Charles I in 1645 and taken prisoner at the fall of Goodrich Castle in 1646. (fn. 122) In 1649 his sequestrated tenements in Bidford, valued at £9, were leased to John Throckmorton for one year, (fn. 123) but the order was soon afterwards discharged. (fn. 124) He died in 1662, much impoverished by his loyalty. The subsequent history of Bell Court, which he may perhaps have been obliged to sell, cannot be traced.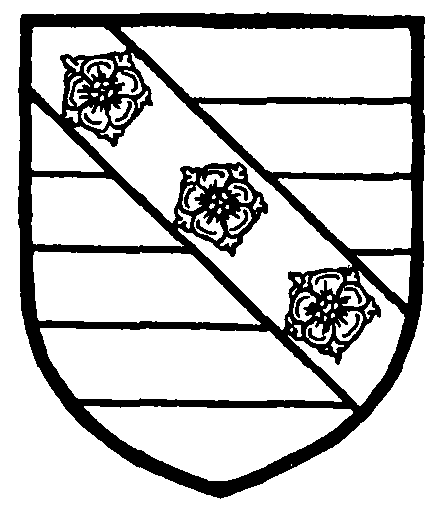 BARTON descended with the chief manor of Bidford until about 1564, when it was in the possession of William Beswyke. (fn. 125) But in 1578 Richard Copley died seised of the manor of Barton, held in chief as 1/20 of a knight's fee, 'a full third part' of the profits being derived from rents in the town of Bidford. These he bequeathed to John Copley son of his brother and heir Thomas, and the lands to his widow Mary for her life, with remainder to John. (fn. 126) Thomas received the manor six months later, (fn. 127) and in 1589 Thomas and John Copley granted it to John Harward and Rose his wife. (fn. 128) In 1641 John Harward, Margaret his wife, and Edward Harward granted it to Thomas Bushell. (fn. 129) By 1654 the manor was sold by Sir John Clarke to Fulwar Skipwith with the main manor of Bidford, (fn. 130) with which it descended. In 1655 the farm of Barton, then in the hands of Alice, Duchess Dudley, was said to be 'parcel of the manor of Bidford Grange'. (fn. 131)
Bordesley Abbey held property in Barton acquired during the 13th century by grants from Reynold and Ralph Menir and Thomas son of William de Barton, including land opposite Bidford Church and Bidford Mill, land abutting on 'le Grenehewed Lond', and land in Kingesbuttes and Wefhameshull in the fields of Barton. (fn. 132)
The manor of MARLCLIFF, then called Clyve, was sold in 1280, with Bidford, Broom, and Barton, by Baldwin Wake and Hawise to Bishop Burnell. At some time before 1355 Walter Lenche acquired from Aline Burnell 2 messuages, a virgate of land, meadow, and rent in Marlcliff, which he held in chief and passed to his son John, (fn. 133) who died in 1362 holding this property of the king, and also a virgate of land there of the heirs of Baldwin Wake; (fn. 134) John's heir was his brother Walter. In 1500 William Harewell died seised of the manor, valued at £5 6s. 8d. (fn. 135) In 1654 it was among the manors sold by Sir John Clarke to Fulwar Skipwith, and subsequently it descended with the main manor; (fn. 136) but in 1655 Alice, Duchess Dudley, daughter of Sir Thomas Leigh, settled her 'reputed manor' of Marlcliff for charitable purposes: (fn. 137) presumably she held the lands but not the manorial rights.
Church
The parish church of ST. LAWRENCE consists of a chancel with a north vestry and organ-chamber, nave, north and south aisles, north porch, quire vestry in place of a south porch, and a west tower.
The chancel, west end of the nave, and west tower date from about 1250. The nave was long and narrow and may (in part) have been on the lines of an earlier nave, but no 12th-century details remain. In 1835 it was widened for about two-thirds of its length and aisles of the same length were added, with arcades of three bays. The chancel was restored in 1886–9 and the roofs in 1922.
The chancel (c. 38 ft. by 19½ ft.) has a modern east window of three trefoiled lancets and tracery. In the north wall are two trefoiled lancets of the 13th century with rebated jambs and with much wider recesses inside, having segmental-pointed rear-arches. Next west is a priest's doorway of the same date with a trefoiled head and pointed rear-arch, and west of this a modern archway to the organ-chamber. In the south wall are three similar lancet-windows. The chancel-arch is pointed and of two moulded orders with undercut roll-moulds, and has a western hood-mould, all of the 13th century: the jambs have short modern shafts.
The chancel walls are mostly of a rubble of thin stones inside and out with some external courses, in the lower part of the south wall, of larger squared stones: one stone, clearly re-used, has an edge-roll worked on it. At the angles are square buttresses, with moulded plinths that extend across the east wall. Below the modern east window is a patching of rough ashlar, the blocking of a former lower east window. The roof has a modern panelled ceiling with moulded ribs, and is covered with tiles. In the south wall under the easternmost window is a restored 13th-century piscina with a perished foiled basin and roll-moulded jambs to the recess.
The nave (78 ft. by 24½ ft. wide at the east end and 17¼ ft. wide at the west end) has modern north and south arcades of three bays with cylindrical columns and semicircular arches, all plastered. The arcades occupy about two-thirds of the length of the nave with north and south aisles of the same length.
In the western third part of the nave are north and south doorways with plain round heads: the southern, of modern rough stonework, opens now into a vestry; the north doorway is plastered. Above the doorways are windows of three modern round-headed lights. West of the doorways the nave walls thicken 13 or 14 ins. inside, being probably parts of the 13th-century walls: at a height of about 15 ft. the faces set back again to the thinner walls continued from over the doorways. In the thick south wall is a modern window of two lights and tracery. The roof is a modern one of low pitch, covered with slates.
Each aisle (13½ ft. wide) has four side-windows, each of three round-headed lights under a square head, and in the east wall of the south aisle is a more modern window of two lights and tracery. The roofs are of lean-to type.
The west tower (8½ ft. square) is of two stages, built of rubble with some angle-dressings, and has a battering plinth. On the north side is a square stair-turret with a low buttress against it, and in the corresponding position on the south side near the east end is another taller and deeper buttress. The upper stage of the tower is much narrower and probably later than the lower: at the bottom of it are three courses of weathering. The parapet is embattled and has a wave-moulded string-course with defaced paterae at intervals, some of which were carved and others were spouts. The archway from the nave has square jambs flush with the towerwalls, and a pointed head of two square orders. Above it (to the south of the tower archway) is the weathercourse of the former steep-pitched gabled roof of the nave: the west window has jambs and a round head of two chamfered orders, and a three-centred, formerly round, rear-arch: the inner order of the jambs and head is modern, the outer partly restored: above it is a relieving arch. There is said to have been a doorway below the window. The second story (clock chamber) has a south window of two small round-headed lights of the 13th century, with a shouldered rear-arch. The bell chamber is lighted by a window on each wall of a single trefoiled light under a square head, probably of the 14th century.
The north porch is cemented and is apparently all modern: it has a round-headed entrance.
The font is modern. A chest in the nave is of c. 1600; it is 6 ft. 1 in. by 2 ft. 1 in. wide by 2 ft. 6 in. high and has three strap hinges with flowered ends and other ornamental ironwork for three staples and locks. Two chairs in the chancel are made up of 17th-century material.
In the chancel is a monument to Dorothy (Parker) first wife of Sir Fulwar Skipwith, Baronet, 3 February, 1655, with her bust in a round recess.
The clock in the tower has a skeleton frame with spurs above the standards. It is inscribed halford fecit and is probably of the late 17th century.
The communion plate, presented by Alice, Duchess Dudley, in 1665, consists of a 10-in. cup and coverpaten, stand-paten and cover, and a large flagon, all silver-gilt, and with repoussé ornament: the hall mark is of 1663.
There are six bells of 1791 by John Rudhall of Gloucester.
The registers date from 1664. (fn. 138)
There is a chapel-of-ease at Broom built in 1878 and a Wesleyan chapel built in 1803.
Advowson
No priest is mentioned in Bidford in the Domesday Survey and if there was a church here then, it was probably a chapelry of Salford. It appears as such in Henry I's time when Bernard, the first Prior of Kenilworth (1122–30), successfully claimed it for his house as involved in the grant of Salford Church made in the foundation charter; (fn. 139) this was confirmed by Simon (1125–50) (fn. 140) and Baldwin (1180–4), (fn. 141) Bishops of Worcester, and the Canons of Kenilworth presented until the Dissolution, (fn. 142) although the advowson was included in the grant of the manor to Gerard Danett in 1515. (fn. 143) After the Dissolution it passed with the manor. In 1602 Rice Griffin sold the advowson and rectory to Sir John Sedley, (fn. 144) whose younger son Sir William held them at his death in 1619. (fn. 145) Sir Simon Clarke presented in 1625, (fn. 146) but Sir John Sedley son and heir of Sir William owned the advowson in 1628 (fn. 147) and in 1630 he conveyed it to Sir Edward Spencer and Richard Brauthwaite. (fn. 148) In 1654 it came into the possession of Fulwar Skipwith (fn. 149) and remained in that family until 1852, when it was bought by the Rev. Thomas Boultbee, the then incumbent. (fn. 150) But on his resignation his successor, the Rev. Alfred Evans, was presented by Miss Alice Lees of Prescot, Lancs. (fn. 151) Mr. Evans afterwards acquired the patronage and presented his own successor in 1905. (fn. 152) By 1934 it had come into the hands of Mrs. Bicheno of Munnik, North Transvaal, who conveyed it in that year to the Bishop of Coventry, (fn. 153) the present patron. The living was held in plurality with Salford from 1758 to 1877. (fn. 154)
The grant of the church involved the canons of Kenilworth in numerous disputes. Two parts of the tithe in demesne had been granted to the College of St. Mary Warwick by Roger, Earl of Warwick, its founder; (fn. 155) and the monks of Bordesley, in virtue of their foundation charter, claimed the whole tithe on certain lands and a third of the tithe within their manor of Bidford Grange. The latter controversy was settled by an agreement, made in 1206, by which the monks were to pay £1 17s. yearly in lieu of tithe on their present holding, and the full tithe on any lands in Bidford subsequently acquired. (fn. 156) Bordesley had previously compounded with Warwick with an annual payment of 15s. (fn. 157) In 1291 the church was valued at £11 6s. 8d., of which Kenilworth received £5 and Warwick £1. (fn. 158) It was not until 1316 that the rights of Kenilworth were finally confirmed by Walter Maydenstone, Bishop of Worcester, and the Priory of Worcester then secured a pension of £1 out of the rectory. (fn. 159) The church was valued at £11 6s. 8d. in 1341 (fn. 160) and the vicarage was worth £7 10s. 7d. in 1535. (fn. 161) In 1521 the Abbot and Convent of Kenilworth granted a 46 years' lease of all the tithes, obventions, and glebe belonging to the rectory at £16 6s. 8d. to Eustace Kyghtley of Broom. (fn. 162) The tithes of Bidford Grange, valued in 1539 at £3, (fn. 163) were then let to Thomas Badger (fn. 164) and were granted to him with the manor after the Dissolution (fn. 165) and passed to his son Thomas in 1572. (fn. 166) The Kyghtleys after the Dissolution likewise retained possession of the rectory, which Bartholomew Kyghtley and his son Philip transferred to Sir Rice Griffin in 1593. (fn. 167) It passed with the advowson to the Sedleys, but in 1646 Challenor Chute is described as impropriator. (fn. 168) Elizabeth Chute sold it to Sir Fulwar Skipwith in 1708 (fn. 169) and it has since been joined with the advowson.
Ralph Boteler gave the titles of his demesne in Broom to Alcester Abbey in c. 1140 (fn. 170) and the grant was confirmed in 1340. (fn. 171)
There was also a chapel of St. Leonard at Barton, to the fabric of which the chaplain Thomas son of William de Berton (temp. Edw. I) gave ½ acre in one field at Astwelle and ½ acre in another field. (fn. 172) In the 13th century also both the parson and the chaplain of Bidford appear as witnesses to a grant. (fn. 173) By 1547 it was in ruins and was valued, together with the dwelling (camera) of the chaplain, at 12d. yearly: (fn. 174) and in 1549 it was granted, with the site and a selion of land in the common fields belonging to it, to Thomas Dabridgecourt and Thomas Fisher. (fn. 175)
Mills
There were four mills worth 43s. 4d. in Bidford in 1086. (fn. 176) It is difficult to disentangle their history, but one or perhaps two of them were at Broom. A water-mill is mentioned as part of the chief manor in 1315, (fn. 177) in 1363, when it is said to be in bad condition, (fn. 178) and in 1383. (fn. 179) Two watermills and two windmills are included in 1570 in the sale of the manors of Bidford and Broom by Lewis Greville to Rice Griffin, (fn. 180) who conveyed the 'water mill commonlie called Brome Mill' to Thomas Throckmorton in 1594. (fn. 181) Griffin had apparently recovered it by 1611, when he granted a twelve-years' lease of 'Broom Mills' to Thomas Peirs of Alcester. A few years later Griffin sold the estate to Thomas Nurse, to whom Peirs agreed to surrender the remainder of his lease in return for a jewel, which, according to Nurse, was worth £20, being set with about 40 rubies. But Peirs declared that it was by no means so valuable and that, discovering the fraud, he had sought to return it, but that Nurse had kept the door of his chambers in Lincoln's Inn shut against him and would not receive it. (fn. 182) Three mills are mentioned in Bidford and Broom manors in 1635 (fn. 183) and again in 1664, when one of them is stated to be a fulling mill. (fn. 184)
The Abbots of Bordesley had two mills granted to them by the Empress Maud. (fn. 185) Only one, worth £5 13s. 4d., is mentioned in the Valor Ecclesiasticus, (fn. 186) but a contemporary rental gives the two, valued at £8 13s. 4d. and leased to John Penne for 53 years from 1535. (fn. 187) In 1545 Penne occupies three mills, called Grange Mills, as the tenant of Thomas Badger, (fn. 188) who left them to his younger sons Richard and Edward. (fn. 189) They were conveyed with the manor in 1610, when one of them was said to be in use as a fulling mill. (fn. 190) 'Grainge Mille' was broken down in the Great Avon flood of 1588, which was a yeard and a halfe in the howse, and cam in soe suddenly that John Penne's wife then millard was soe amazed that shee sate still tell shee was almost drowned and was welnigh besides herselfe and soe farr amise that shee did not know her owne child when yt was broughte unto her'. (fn. 191) There was a paper mill at Bidford Grange during the last century, but all the mills here have now disappeared.
Fisheries in the Avon and Arrow are included with Bidford and Broom manors in numerous deeds from 1315 onwards. The Arrow fishery is defined in 1594 as extending from Broom Mills to Moor Hall. (fn. 192)
Charities
Alice, Duchess Dudley, in 1655 settled her estates in Marlcliff and Barton on trustees to be administered after her death, which occurred in 1668, for the benefit of the poor in various parishes, including Bidford. (fn. 193) Under the provisions of a scheme of the Charity Commissioners dated 13 June 1879 the share of the charity applicable to this parish consists of 2/17 of the net income, to be applied for the benefit of the poor, and a moiety of 3/17 of the net income to be paid to the vicar. The sum of £75 6s. 6d. per annum, representing the poor's share, is paid to the churchwardens and distributed in food, clothing, or fuel, and the vicar of Bidford receives yearly a sum of £56 10s.
John Wilcox by will in 1814 directed the interest on £500 to be paid to such persons resident in Bidford as the minister and churchwardens should think fit. The income, amounting to £13 8s. 8d., is so applied.
Henry Clare by will dated 14 June 1897 gave the residue of his estate, the income from the investment thereof to be applied for the benefit of the poor of Broom and Bidford. A scheme of the said Commissioners dated 16 June 1908 appoints a body of three trustees to administer the charity and contains provisions for the application of the income among the poor. The endowment produces £2 19s. 8d. yearly.