Pages 19-21
A History of the County of Warwick: Volume 4, Hemlingford Hundred. Originally published by Victoria County History, London, 1947.
This free content was digitised by double rekeying. All rights reserved.
BADDESLEY ENSOR
Acreage: 1,155.
Population: 1911, 1,364; 1921, 1,537; 1931, 1,603.
Baddesley Ensor lies 3 miles west from Atherstone Station, on coal measures.
The Roman road of Watling Street forms the boundary of the parish at its north-east angle for about 300 yards, and the northern boundary is formed by the Penmire Brook. The ground rises steadily from 250 ft. where the brook meets Watling Street to about 400 ft. on the southern edge of the parish and just touches 500 ft. at the eastern edge on Baddesley Common, at the upper end of which lies the village. A branch of the L.M.S. Railway from Kingsbury to Baddesley Colliery (in Baxterley parish) crosses the parish, and there are several disused shafts, and many ponds in the parish. There are also several blocks of woodland, of no great size.
Reference is made in a Chancery suit of c. 1630 to a piece of land lately inclosed out of the common field called the More field, which belonged to William Drake the elder at the time of his death. (fn. 1)
The village contains a very few old buildings.
The parish church was rebuilt entirely on a new site in 1848, but the entry to a passage between cottages in Church Row, a little south of the church facing eastwards to the Common, has the reset round arch of a 12th-century doorway from the church; it has moulded zigzag ornament in yellow sandstone. Another 12th-century doorway was set up at Atherstone Church (q.v.).
Another cottage at the north end of Church Row has a stone wall in which is a reset four-centred door head and a pointed window, probably also from the old church.
The old Quakers' Meeting house, now part of the Wesleyan Chapel, about ¼ mile south-south-east of the church, is a rectangular building of c. 1700 of red brick with wood-framed square-headed windows. The roof has trusses with heavy chamfered tie-beams and kingand queen-posts. In the chapel is the pulpit reputed locally to have been used by Bishop Latimer. It is heptagonal with sides of two tiers of panels with moulded muntins and rails of mid-16th-century form: the upper tier has its panels ornamented with a sunk round moulding forming a diamond pattern. Over it is a heptagonal sounding board supported by a standard in two panelled tiers: this is perhaps a later addition.
Baddesley Old Hall, in the principal village street at the junction of a fork about a ¼ mile south of the church, is a small rectangular building of the 16th century facing south. The walls are of red sandstone rubble with ashlar dressings. The front has an original mullioned window of four lights with a transom and a moulded dripstone. The window over it is a dormer of brick and a little timber-framing. The west gable retains its old coping. The central chimney-stack has a star-shaped shaft of thin bricks. At the east end of the front is a short wing of 17th-century timber-framing and brick. The east side is plastered.
A little farther north on the east side of the road is a cottage showing some 17th-century timber-framing.
MANOR
Baddesley Ensor appears as 'Bedeslei' in the Domesday Survey, being held as 2 hides by one William from Turchil. (fn. 2) It presumably came to Henry de Newburgh, as it was given to the monks of Gerondon in Leicestershire by his son Roger, Earl of Warwick. In a short time the monks surrendered all their rights therein to William, (fn. 3) Roger's son. In 1166 Baddesley was held by William, Earl of Warwick, (fn. 4) and it continued to be held from the Earls of Warwick until the end of the 15th century, (fn. 5) after which it was held of the Crown as of the Honour of Hinckley, a parcel of the Duchy of Lancaster. (fn. 6) Some time before 1198 (fn. 7) Robert de Harecourt was in possession of Baddesley as one knight's fee. The manor was held of the Harecourt family by various sub-tenants. (fn. 8) Dugdale says that Baddesley Ensor was confirmed by the Earl of Warwick to Geoffrey Savage, (fn. 9) and in 1235 it was held as one knight's fee by the widow of Geoffrey Savage. (fn. 10) In 1242 Richard de Harecourt is returned as holding half a knight's fee in Baddesley from the Earl of Warwick. (fn. 11) This may have been during a minority, as Geoffrey's son Geoffrey seems to have died under age in 1248, when his lands in the county passed to his uncle William Savage, rector of Newton. (fn. 12) The manor was held by William Savage in 1258, when he died, leaving as his heirs Thomas de Ednesor, son of his sister Lucy, and Philippa wife of Hugh de Meinil, his sister. (fn. 13) The name Ensor, now always used with Baddesley to distinguish it from Baddesley Clinton, is derived from Thomas's family name. Philippa died in 1285, leaving a son Sir William, (fn. 14) but had apparently relinquished her claim, as Thomas was holding the whole manor as one knight's fee at the time of his death in 1285. (fn. 15) The manor at that time consisted of one capital messuage, half a mill, and 2 virgates of demesne of yearly value of 40s. (fn. 16) His widow Alice received ⅓ of the manor of Baddesley in dower. The heirs of Thomas were Richard de Herthill, son of Adam son of his sister Joan, and his other sister Amice, wife of Sir Walter de Miridene; Richard was then about 18 and in ward to the king. (fn. 17) At the death of Richard de Harecourt, his overlord, in 1293, only the half-fee held by Richard de Herthill is mentioned under Baddesley. (fn. 18) Amice had previously been married to Andrew de Derley, who died in 1249, leaving a son Hugh, then aged about 3. (fn. 19) Hugh died a minor, and his daughter Isabel predeceased her grandmother, leaving no issue. (fn. 20) Walter de Miridene died in 1291, (fn. 21) and on the death of Amice de Derley in 1302 Richard de Herthill was her heir. (fn. 22) He died in 1325, holding the manor of Baddesley Ensor of John Harecourt by fealty and service of a pair of gilt spurs, price 6d. (fn. 23) Richard was succeeded by his son Adam. (fn. 24) The reversion of the manor after the death of Robert de Herthill, who held it for life, was conveyed to Adam and Christiana his wife and their heirs in 1332. (fn. 25) Their son Sir Richard Herthill made various settlements of the manor between 1379 and 1389. (fn. 26) In 1404 Laurence Allesthorpe and others (probably feoffees to uses), claiming to be lawfully seised of the manor, complained that they were violently dispossessed by Sir John Cokayn. (fn. 27) A writ was issued summoning Sir John to appear before the Council. (fn. 28). It seems as though Sir John may merely have been too previous in his entry, as in 1417 Elizabeth, widow of Edmund Cokayn, daughter and heir of Richard de Herthill, released to John Cokayn, her son, all right in the manor of Baddesley Ensor. (fn. 29) The manor remained in the Cokayn family until the beginning of the 17th century, following the descent of the manor of Pooley (q.v.). Dugdale relates that the manor was sold 'about the beginning of King James his reign' by Edward Cokayn to Francis Leving. Francis and Timothy Leving were dealing with a moiety of the manor in 1599, (fn. 30) and Francis was lord of the manor at the time of his death in 1621. (fn. 31) It consisted at that time of a messuage and 16 cottages, a water-mill and wind-mill, &c., and descended to Thomas Leving son of Francis, who held it in Dugdale's time. (fn. 32) In 1640, when escheator for Warwick and Leicester, Thomas Levinge dated a letter to the Treasurer from Baddesley; (fn. 33) in 1666 Francis Leving dealt with the manor, (fn. 34) and in 1675 it was conveyed to Francis Levinge by Thomas Levinge, senior. (fn. 35) After this date the manor seems to have been divided among a number of persons. In 1736 the living was in the gift of 'the Lords of the Manor of Baddesley Ensor'. (fn. 36) In 1779 a twelfth part of the manor was the object of a fine (fn. 37) levied between Thomas Barber and John Wharr and others; 9/10 of the manor, however, had been conveyed the previous year by William Harrison and Elizabeth his wife to Richard Geast. (fn. 38) He married Jane daughter of William Dugdale, and their son Richard took the name of Dugdale. In this family the manor has descended through five generations to Sir William F. S. Dugdale, the present lord. (fn. 39)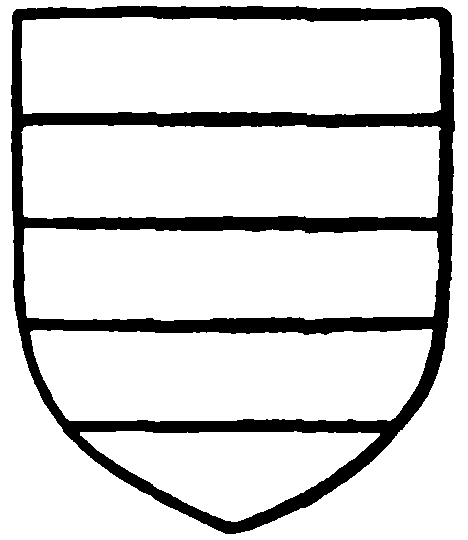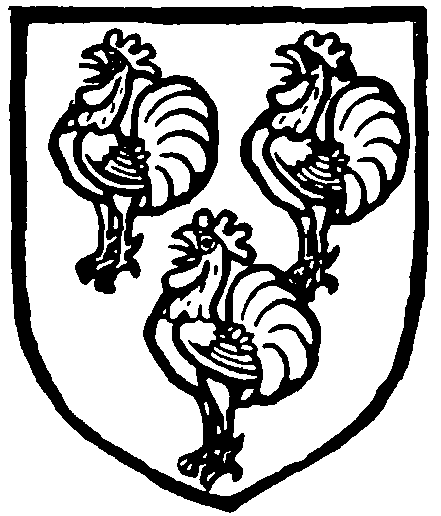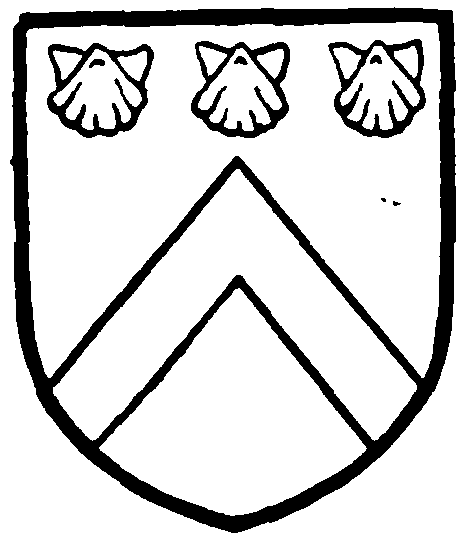 In 1481 land in Baddesley Ensor was granted to the prior and convent of Laund by Thomas Greene, chaplain, and Ralph Fraunceis. (fn. 40) This land was apparently granted by Edward VI to John Wright and Thomas Holmes of London and is described as all the lands in tenure of Robert Vyncent and a pasture inclosed in the land of Thomas Cokayn within the lordship of Baddesley Ensor, late of Laund Monastery, held of the king as of his manor of East Greenwich. (fn. 41)
ADVOWSON
Baddesley Ensor was formerly in the parish of Polesworth and there was said to be there a chapel dedicated to St. Nicholas which belonged to Polesworth Nunnery, and to which Richard de Herthill gave ½ virgate of land. (fn. 42) There were tithes in Baddesley belonging to the rectory of Polesworth which were granted by Henry VIII to Roger Cokayn of Baddesley and Alice his wife in 1539. (fn. 43) The advowson of the Church of Baddesley Ensor seems to be mentioned for the first time in 1666 when it was in the hands of Francis Leving, lord of the manor. (fn. 44) It afterwards followed the descent of the manor or of some part of it. (fn. 45) Some time before 1822 (fn. 46) the living appears to have come into the gift of the inhabitants of the parish and it is now in the gift of the Parochial Church Council.
CHARITIES
George Abbott by will dated 21 Sept. 1647 gave out of his lands at Baddesley £4 10s. for ever for a salary to a Free School to teach boys and girls to read, and he bequeathed 10s. to buy school books and catechisms for the poor children of the school. The endowment was represented by a rent-charge of £9, which was redeemed in 1922 in consideration of £360 Consols producing £9 annually, which is applied in accordance with the trusts.
Sarah Ball by will dated 23 April 1880 bequeathed the residue of her estate, the interest to be applied in aid of the parish church and the services therein or the funds thereof, due regard being paid to her desire that the poor of the parish should not be forgotten in any distribution of moneys. The endowment consisted of a sum of £1,362 18s., of which £1,014 was paid to the Ecclesiastical Commissioners in consideration of a payment of £38 10s. per annum in augmentation of the stipend of the vicar of the parish and the balance invested in £383 14s. 1d. Consols. A Scheme of the Charity Commissioners of 15 May 1885 appoints the vicar and churchwardens trustees and directs the interest, which amounts to £9 11s. 8d., to be applied for the benefit of necessitous persons in Baddesley Ensor in one or more ways set out in the scheme.