Pages 210-212
A History of the County of Warwick: Volume 4, Hemlingford Hundred. Originally published by Victoria County History, London, 1947.
This free content was digitised by double rekeying. All rights reserved.
BENTLEY
Acreage: 1,967.
Population: 1911, 272; 1921, 253; 1931, 257.
The hamlet and chapelry of Bentley, which is separated from Shustoke by the parish of Over Whitacre, forms a narrow strip 3½ miles from north-east to south-west by about a mile broad. It stands high, being mostly above the 500 ft. contour line and reaching 580 ft. in the north, but dropping steeply to 360 ft. at the north-east angle. The soil is a stiff clay and the land is heavily wooded, Monks Park and Bentley Park Woods, containing 600 acres, and Hoar Park on its southern boundary being the largest blocks of woodland.
The modern church of St. John, erected in 1837, is a red brick building consisting of chancel, nave, and tower. It stands in the north of the parish on the road from Coleshill to Atherstone, and north-west of it is the rectangular moat which is said to mark the site of Bentley Manor House. One mile due south of this is the ruined chapel of the Holy Trinity, which was already 'decayed' in 1589, (fn. 1) and was but a 'carcasse' when Dugdale wrote (c. 1640). (fn. 2)
Only the east wall and a little of the north and south walls are standing, the remainder being entirely cleared away and grassed over. It was 15½ ft. wide inside. The wall is of rubble faced outside with ashlar in orange, yellow, and red sandstone, with a chamfered plinth on footings, and low diagonal buttresses. The gable-head has the original copings and a gable-faced apex-stone. The narrow east window was of two cinquefoiled lights and tracery in a square head, probably of the 14th century; the mullion is missing. In the stump of the south wall is a small piscina with an ogee-head to the niche and a round basin, and south of the window is a plain image-bracket.
On the road skirting Monks Park Wood, north-east of the church, are three or four old thatched cottages. Two show remains of 17th-century timber-framing. A third is partly of local stone and partly red brick with stone dressings and has a 17th-century central chimneystack of bricks.
MANOR
Ansgot the priest held 1 hide in Bentley in free alms of Geoffrey de Wirce in 1086. (fn. 3)
There was woodland ½ league long by 3 furlongs broad. It passed with Shustoke to the Camviles, (fn. 4) being divided between two of the sisters of Roger de Camvile, namely Maud wife of Thomas de Asteley and Pernell wife of Richard de Curson. (fn. 5) Their descendants Thomas de Asteley and Henry de Curson certainly held BENTLEY PARK in moieties in 1265, when they were respectively killed and taken prisoner at the battle of Evesham. (fn. 6) Nothing further is heard of the Curson share of the park, except that William de Belne died in 1347 holding a messuage and 2 virgates in Bentley from Thomas 'le Courson', (fn. 7) but Thomas de Asteley's heir was Andrew, whose park was broken into in 1296. (fn. 8) Andrew de Asteley died in 1300, when his possessions in Bentley were found to be 30 acres of wood held of the heirs of Roger de Mowbray by service of 1/30 knight's fee and two attendances yearly at his court. (fn. 9)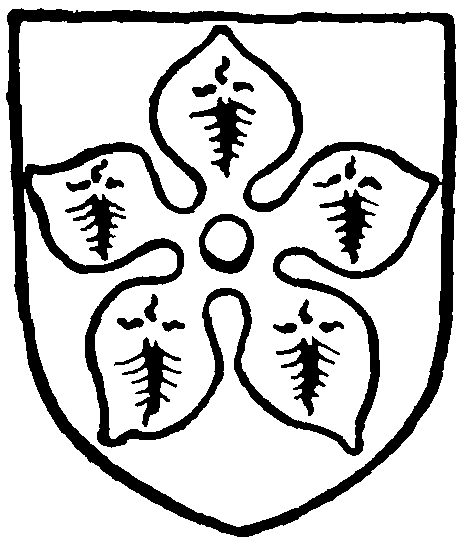 From this time it appears that Bentley Park descended with the manor of Astley in Knightlow Hundred, and as Bentley Wood (Boscus) it was granted in August 1484 by Richard III to Edward, Viscount Lisle, (fn. 10) after the attainder in January of Thomas Grey, Marquess of Dorset, who had previously held it. (fn. 11) After the attainder of Henry, Duke of Suffolk, Bentley Park, along with the manor of Astley, was sold by Queen Mary to Edward Chamberlain in 1554. (fn. 12) He died in 1557 leaving a young son Richard, (fn. 13) who was still living in about 1607. (fn. 14)
Meanwhile Sir Thomas de Asteley, some time before 1265, is said to have granted land in Bentley, outside the limits of the park and outwood, to John de Wilmcote of Aston Cantlow at a fee farm rent of 5 marks. (fn. 15) This rent was reduced by Sir Andrew de Asteley to 40s. (fn. 16) and in 1388, being described as rent from BENTLEY manor, was given by his great-nephew Sir William de Asteley (fn. 17) to the collegiate church at Astley. (fn. 18) The manor was settled by John de Wilmcote on his daughter Joan and her husband Henry de Lisle of Moxhull (fn. 19) before 13 July 1315. (fn. 20) Henry was dead by the end of 1336, when the manor, which had been demised by Joan to a younger son Henry for the term of her life, was confirmed to him and his heirs by his elder brother Philip, rector of Cavendish. (fn. 21)
From this time the manor appears to have descended with Moxhull (q.v.) (fn. 22) to Sir Andrew Hackett and his wife Mary (Lisley), who with their son Lisle Hackett were dealing with it in 1689. (fn. 23) In 1722 Lisle Hackett and John Roland conveyed the manor to Edward Homer. (fn. 24) In 1739 Jane Holbeche was apparently lady of the manor, (fn. 25) as in 1752 was Lettice Adderley, (fn. 26) widow of Bowyer Adderley of Hams Hall and mother-in-law of Andrew Hackett of Moxhull. (fn. 27) But from 1755 to his death in 1762 Thomas Moore of Appleby (Leics.) held the manor. (fn. 28) He was succeeded by his son the Rev. Thomas Moore, after whose death in 1793 it went to his half-brother the Rev. John Moore. (fn. 29) He still held it in 1812, as did Mary Moore, either his widow or his daughter, in 1821. (fn. 30) By 1850 William Stratford Dugdale was lord of the manor, (fn. 31) and Sir William F. S. Dugdale, bart., is the present lord.
Part of his woods in Bentley was given by Walter de Camvile in the second half of the 12th century to the abbey of Merevale (q.v.). (fn. 32) In 1399 the abbot and convent made an agreement with Maxstoke priory concerning tithes from the 'wood, park or grove vulgarly called Bentele park', (fn. 33) afterwards known as Monks Park. (fn. 34) In 1540 the priory lands in Bentley and elsewhere were granted to Sir Walter Devereux, Lord Ferrers of Chartley. (fn. 35)
ADVOWSON
The chapel of Bentley is presumed to have been originally in the patronage of the lords of Shustoke (fn. 36) and by 1250 enjoyed an annuity of 4 marks from the heirs of Roger de Camvile, viz. 3½ marks from the farm of a mill in Shustoke, and ½ mark from Ouston Grange (in Lea Marston). (fn. 37) At some time between 1248 and 1262 presentation (fn. 38) was made by the guardian of Robert de Esseby, lord of Shustoke, and in 1311 by Sir Nicholas de Asteley, son of Andrew de Asteley of Bentley Park (q.v.). In 1331 presentation was made by John de Mowbray, (fn. 39) lord of Shustoke, and in 1343 when the church of Shustoke passed into the possession of the canons of Maxstoke (fn. 40) the grant specified the advowson of the chantry in the chapel of Bentley, and the canons presented to a chantry there in 1347. (fn. 41)
According to a statement made in about 1570, divers closes or pastures in Bentley, called Symon in Blythes, (fn. 42) had been given about 200 years earlier in trust to provide a chaplain to celebrate daily in the chapel of Bentley; and their profits were so used until chantries were abolished by Edward VI. (fn. 43) This may refer to the grant of a tenement and half a yardland in Bentley made to trustees in 1413 by Sir William de Clinton, lord of Maxstoke, and John Boteler of Exhall near Coventry for an identical purpose. (fn. 44)
The chapel or chantry was appropriated to Maxstoke and in 1483 there is evidence of an appointment of a priest, to perform divine service there on Sundays and double festivals only, and for the rest of the time, at least 3 days a week, at the altar of St. Catherine in Maxstoke priory, but always, apparently, for the souls of the founder and benefactors of the chantry. (fn. 45) Immediately before the Dissolution the priory of Maxstoke was paying 4 marks to a priest for celebrating once a week in the chapel of Bentley. (fn. 46) This corresponds to the original endowment, and also to the annual farm of tithes of corn from Bentley. (fn. 47)
In 1536, among the servants of the priory were included two priests 'to serve the church of Maxstoke and sing mass in the chapel of Bentley in the parish of Shustoke'. (fn. 48)
The advowson and rectory of the free chapel of Bentley was granted by the Crown in 1538 to Charles Brandon, Duke of Suffolk. (fn. 49)