Pages 40-42
A History of the County of Warwick: Volume 4, Hemlingford Hundred. Originally published by Victoria County History, London, 1947.
This free content was digitised by double rekeying. All rights reserved.
CALDECOTE
Acreage: 707.
Population: 1911, 123; 1921, 114; 1931, 133.
Caldecote is a small parish, described in 1849 as excellent land in equal portions arable and pasture. (fn. 1) There are quarries in the south-west corner of the parish at Caldecote Hill, where a height of 460 ft. is reached, the ground sloping rapidly northwards down to about 250 ft. where the church and the Hall stand on the east bank of the Anker. The woodland, which in 1086 was 3 leagues long and the same in breadth, is now confined to Caldecote Park in the northern part of the parish and a few scattered spinneys. The parish is bounded on the north-east by Watling Street, separating it from Leicestershire, and on the west by the River Anker. A branch road from Watling Street runs south to the church, the Rectory, the Hall, and Caldecote Farm. In 1730 there were 10 houses in the parish besides the manor-house, and a house and mill on the other side of the Anker. There was a mill worth 2s. at Caldecote in 1086, (fn. 2) and a water-mill is mentioned in 1364 (fn. 3) and 1548. (fn. 4) In 1584 there were three mills in Caldecote. (fn. 5) A water-mill and a windmill were conveyed with the manor in 1794, (fn. 6) but both have now disappeared.
Caldecote Hall was attacked by Prince Rupert and Prince Maurice in 1642, at the head of 18 troops of horse. It was defended by George Abbott, son of George Abbott, Archbishop of Canterbury, and sonin-law of Colonel Purefey, assisted by only 8 men, besides his mother and her maids. The small garrison held out until the Royalists fired the outbuildings, forcing them to surrender to avoid suffocation by the smoke. Prince Rupert was so struck by their courage that he spared their lives and forbore to sack the house. Tradition states that the pewter dishes and plates used in the house were hastily melted into bullets. The whole story is set out on a monument to George Abbott in Caldecote Church. (fn. 7) The present Hall is modern.
By the Borough of Nuneaton (Extension) Order, 1931, a small portion of the parish was transferred to Nuneaton, and by the Leicester and Warwick Order, 1934, parts of the parishes of Higham-on-the-Hill and Fenny Drayton, co. Leic., were added to this parish.
MANOR
CALDECOTE
CALDECOTE was held before the Conquest by Tonna, 'who could not betake himself where he would with his land'. In 1086 the Bishop of Chester held it in demesne as 2 hides, with land for 6 ploughs. (fn. 8) One of the bishops evidently subinfeudated the land at an early date to the family of Ruffus or Rous of Walsall, but the overlordship of the bishops was recognized until 1470. (fn. 9)
Caldecote was perhaps the half-fee held in 1166 by Herbert Ruffus of the Bishop of Coventry, (fn. 10) Coventry and Chester being then alternate titles of the see. In 1201 Margaret widow of William Ruffus, then wife of William Fitz Odo, claimed the manor as dower against William grandson of Herbert Ruffus. (fn. 11) William Ruffus succeeded and in 1228 his possession of the manor as half a knight's fee in Caldecote was apparently disputed by William le Archer. (fn. 12) The latter conveyed the manor in that year to William Ruffus, (fn. 13) but in spite of this a long controversy ensued between the descendants of Ruffus and le Archer. William Ruffus, or le Rous, left two daughters, Margaret and Enycina as his heirs. (fn. 14) Margaret was married about 1255 by the Bishop of Chester to Richard son of Richard de Alanson (or Alizun), (fn. 15) but they subsequently separated, and in 1270 Margaret recovered the manor against Richard de Alanson and William de Morteyn, who had married Enycina. (fn. 16) Four years later Nicholas le Archer grandson of William le Archer sued Margaret for the manor but she refused to plead without her sister. (fn. 17) They based their claim upon the fine of 1228 and the suit dragged on for several years, during which Enycina was succeeded by her son William de Morteyn, (fn. 18) and Nicholas by a son Nicholas le Archer of Sybertoft. (fn. 19) By 1284 William de Morteyn also was dead and had been succeeded by his nephew Roger son of Roger de Morteyn. (fn. 20) Meantime, though she had not been formally divorced from Richard de Alanson, Margaret appears to have married John Paynel, for in 1283 John Paynel is called lord of Caldecote when he and Margaret granted land in Walsall to a canon of Lichfield. (fn. 21) In 1289 Richard de Alanson and two of his sons came to the manor and took away goods, and the jury appointed to inquire into the matter said they knew of no true lord of the manor save Richard, since he had children by Margaret and had never been divorced. (fn. 22) The suit between the Archers and Margaret was still going on in 1294, (fn. 23) but in 1304 Margaret sold the manor to Robert de Herle, (fn. 24) and this was confirmed by her son Richard Paynel. (fn. 25)
Caldecote manor was settled in 1320 upon Robert's successor William de Herle and his wife Margaret. (fn. 26) William died in 1347 when his son Robert, afterwards a knight, succeeded. (fn. 27) He died in 1364 and was succeeded by his nephew Sir Ralph de Hastings, son of his sister Margaret. (fn. 28) Sir Ralph gave the manor in 1369 to the Warden of the Chapel of St. Mary, Noseley, co. Leic., (fn. 29) and although in 1418 the manor was claimed by Sir Richard Hastings, who said that it had been settled in fee tail on William de Herle, (fn. 30) the wardens continued to hold the manor until the Dissolution.
All the estates of the late warden in Caldecote were granted in August 1548 to Michael Purefey of Whellesborough, co. Leic., who already held some land in Caldecote of the warden. (fn. 31) Michael settled the manor in 1559 on the marriage of his son William with Katherine daughter of Sir William Wigstone, (fn. 32) and died about 1570. (fn. 33) William sold three mills in Caldecote to Francis Curzon in 1584. (fn. 34) His son Francis Purefey, upon whom the manor had been settled, died before him, and on his death in 1615 his grandson William son of Francis succeeded. (fn. 35) William made conveyances of the manor in 1617 and 1657. (fn. 36) He was a strong supporter of Parliament and at the head of his regiment of horse took part in many small engagements. He was a member of the high court which tried the king, and signed his death warrant. He succeeded in keeping Coventry and the neighbourhood for Parliament in 1659, and died in that year. (fn. 37) At the Restoration he was exempted from the Act of Indemnity and his estates were forfeited. (fn. 38) Caldecote was apparently restored to the Purefey family, for William Purefey presented to the church in 1662 (fn. 39) and in 1702 Dorothy Purefey, William's widow, Jane Purefey, his only surviving daughter, (fn. 40) and Sir Edward Seabright and Anne his wife conveyed it to Sir Nathan Wright, Keeper of the Great Seal. (fn. 41) Wright made it his principal seat, and died there in 1721. (fn. 42) William and George Wright his sons sold it in 1751 to Robert Prinsep. (fn. 43) Robert presented to the church in 1755 and the manor passed before 1771 to his son Thomas Prinsep, who conveyed it in 1781 to John Cave Brown, who was probably trustee for Thomas Fisher the elder of Raunston Hall, co. Leic. (fn. 44) Thomas Fisher his son held it in 1794 and 1797. (fn. 45) It passed before 1811 to Thomas Bowes, Earl of Strathmore, (fn. 46) who still held it in 1828, (fn. 47) but in the following year Dempster Heming was lord of the manor. (fn. 48) From him it appears to have passed to Henry Townshend, who owned Caldecote Hall in the middle of the 19th century, and Capt. Harry Leigh Townshend was lord of the manor until about 1925, soon after which date the property was sold and the manorial rights apparently lapsed.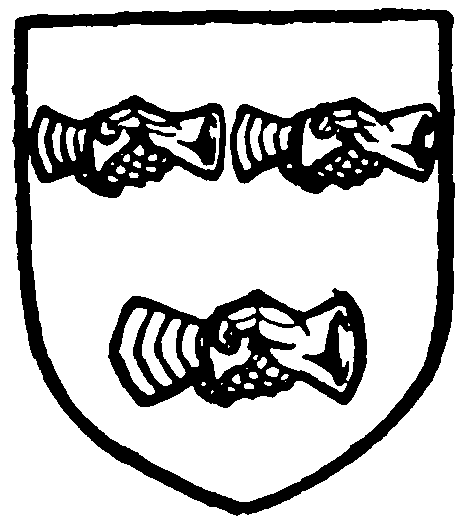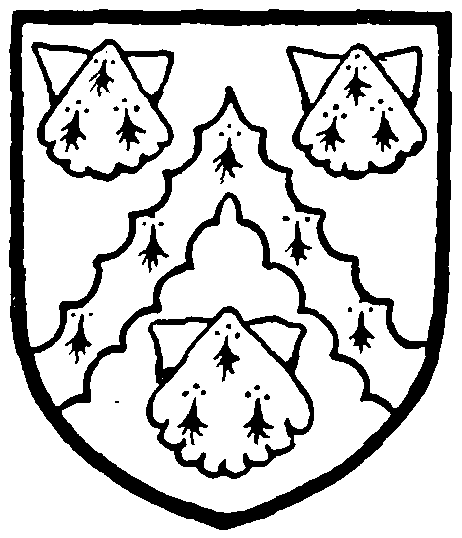 CHURCH
The parish church of ST. THEOBALD AND ST. CHAD consists of a chancel, organ-chamber, nave with a west turret, south porch, and north vestry in place of a porch.
The chancel and nave are of late-13th-century date. The remainder is modern. The church was restored in the 19th century at a cost of £2,000.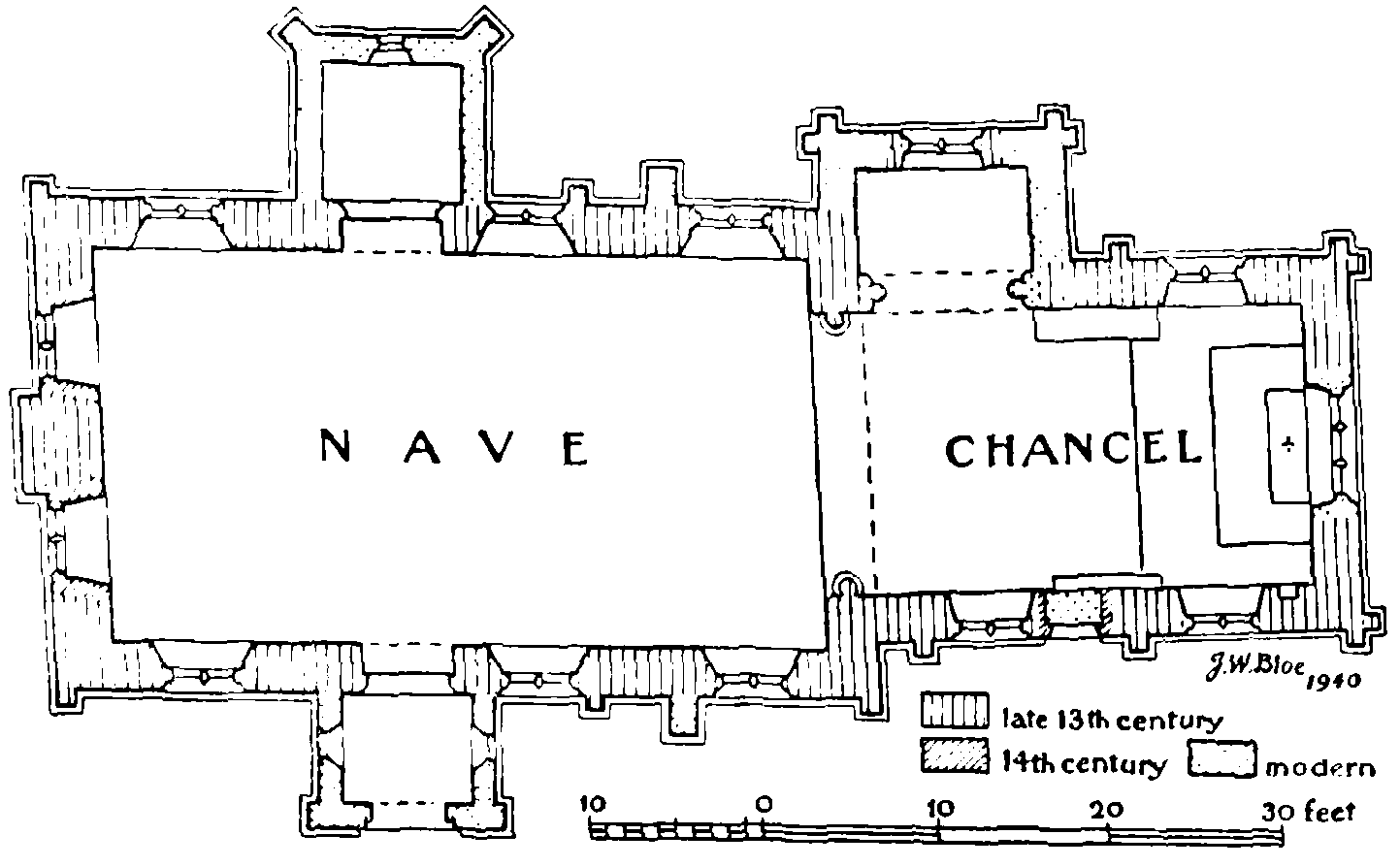 The chancel (about 28 ft. by 16 ft.) is deflected slightly north of the nave-axis. It has a restored east window of three trefoiled lights and tracery in a two-centred head of late-13th-century style. In the south wall are two original windows of two trefoiled lights and restored tracery with external hood-moulds. Between them is a blocked doorway of the 14th century with chamfered jambs and a segmental-pointed head. Under the western window is a blocked rectangular low-side window. The north wall has a similar window and in the west half is a modern archway to the organchamber. The original two-light window and a lowside window have been reset in the north wall of the chamber. In the south wall is a piscina with hollowchamfered jambs and trefoiled head. The walls are of local purple-red sandstone rag and have chamfered plinths and moulded string-courses below the windows. At the eaves are later medieval moulded stone courses. The angles and side walls have small square buttresses of cream stone ashlar. The gabled roof is modern, with hammer-beam trusses. The chancel arch is two-centred and of two chamfered orders with small voussoirs of cream sandstone; the inner is carried on attached round shafts with moulded capitals and bases: the outer order towards the nave is hollow-chamfered with trefoiled stops.
The nave (about 41 ft. by 22½ ft.) has three windows each side like those of the chancel with restored tracery; the hood-moulds, which differ from those of the chancel, have fleurs-de-lis carved on the splayed ends. The doorways have original jambs and pointed heads of two chamfered orders with hood-moulds. The southern has an ancient oak door with applied ribs and hung by strap-hinges; the upper is original and has large thin scrolled branches and a fleur-de-lis end. The lower and later hinge is a plain strap with a fleur-de-lis end. There is also an ancient ring-handle with a plain plate. The side walls have similar masonry and buttresses to those of the chancel. The thicker west wall has most of its masonry concealed by ivy. It has a 6-ft. wide shallow middle buttress to support the bell turret. This is flanked by two much restored 14th-century windows high in the wall, each of two trefoiled lights and a quatrefoil in a two-centred head. The turret is octagonal and of rebuilt stonework. Four sides have halfheight buttresses, the western being carried on an ancient moulded corbel above the wide buttress; the other four sides are pierced by open lancets. Above is a tall pointed roof with a weathercock. The nave roof is modern. The north doorway opens into a small modern vestry which is lighted by a north window; in the glass is set a small 15th-century figure of St. John, mostly of white and yellow but wearing a blue robe: he holds a chalice and dragon and a quill pen. A scroll bears the black letter inscription: 'euāgelifta'. The font is modern. (It is claimed that the remains of a 12th-century font in the grounds at Ansley Hall belonged to this church.) At the west end of the nave are two mural monumental tablets of stone; the southern is to Michael Purefey, lived 73 years and died 22 July 1570, and the northern to Joyce his wife, who died 6 March 1585 (6). They are alike carved with fluted Corinthian shafts standing on shelves and supporting entablatures and curved pediments, with crests of a hand holding a spear. In panels are achievements of the Purefey arms and brief inscriptions in Latin.
On the north side of the chancel is an alabaster mural monument to William Purefey, son of Michael and Joyce, married Catherine Wigston, and died 1 September 1616; and to Francis son of William and Catherine, married Eleanor Baskervile and died 27 April 1613. It contains their life-size kneeling effigies in identical armour, before prie-dieux, one behind the other. The monument has a pair of round-headed recesses flanked by Corinthian shafts, on enriched pedestals, that support an entablature with fourteen painted shields in its frieze. Above is an achievement of arms between scroll cresting and obelisks. There are also two shields on the middle prie-dieu. The apron has panels with the inscriptions. The arms are those of Purefey, Wigston, and Baskervile, and lozenges on the obelisks bear the wives' arms.
On the south side another monument with a similar effigy before a round-headed recess flanked by Ionic shafts is to Michael, only son of Thomas, who was the fourth son of Michael and Joyce; he died 23 August 1627; also to Gamaliel, only son of George the fifth son of Michael and Joyce, who was executor to this Michael and caused the monument to be erected. Also on the south side is an alabaster tablet, flanked by Corinthian shafts of grey marble, to George Abbott of Caldecote who defended the 'adjoining house' against Prince Rupert 28 August 1642 with eight men besides his mother and her maids. He died 21 February 1648 (9) in his 44th year and the monument was erected by his mother and executrix Joan Purefey, wife of Colonel William Purefey his beloved father-in-law, 28 August 1649.
A small mural tablet is to Sir D. Nathan Wrighte, over five years keeper of the Seal of England, died 4 August 1721.
The registers date from 1725.
An ancient table tomb with a coped top in the well-kept churchyard is of the 18th century or earlier: there is no visible inscription left.
ADVOWSON
There was a priest at Caldecote in 1086. (fn. 49) The advowson apparently passed with the manor, though no mention is made of the patronage until 1349, when Sir Robert de Herle presented. (fn. 50) He held the advowson at his death (fn. 51) and it was not granted with the manor by Sir Ralph Hastings to the warden of Noseley, but passed from Sir Ralph to Sir Richard Hastings, on whose death about 1436 it passed to his brother Leonard. (fn. 52) Leonard was afterwards knighted and was succeeded in 1455 by his son William. (fn. 53) William became Lord Hastings of Hastings in 1462 and held many offices under King Edward IV. He was arrested in 1483 by order of Richard, Duke of Gloucester, charged with high treason, and beheaded. (fn. 54) His grandson George Hastings was created Earl of Huntingdon in 1529, (fn. 55) and in 1540 a presentation was made to the church by John Osburne, clerk, by the earl's grant. (fn. 56) Before 1566 the advowson had been acquired by the Purefeys, (fn. 57) and it descended with the manor until about 1925, when it was acquired by Mr. Bracebridge Lindsay Hall, the rector. (fn. 58) The living is now united with Weddington in the gift of the Church of England Temperance Society.
CHARITY
George Abbott by will dated 24 Sept. 1647 gave out of lands at Badsley (1) £4 10s. per annum for a salary for a schoolmaster to teach poor boys and girls, (2) 10s. per annum to buy schoolbooks and catechisms for the schoolchildren, and (3) £5 per annum to be disposed of as follows: 10s. a year to the minister to buy himself a pair of gloves, and the remainder to be laid out in Bibles and catechisms to be given to poor families. The rent-charges amounting to £10 per annum were subject to certain deductions and in 1922 were redeemed under the authority of the Charity Commissioners in consideration of a sum of £360 Consols, producing £9 annually in dividends. The charity is regulated by a Scheme of the said Commissioners of 22 May 1914 which appoints the rector and two others as trustees and directs that out of the income of the charity one-half shall be applied to educational purposes, 10s. a year to the rector for his own use, the remainder to be applied in the purchase of Bibles and Testaments to be distributed among deserving poor people resident in the parish or towards the maintenance of a Reading Room.