Pages 136-137
A History of the County of Warwick: Volume 5, Kington Hundred. Originally published by Victoria County History, London, 1949.
This free content was digitised by double rekeying. All rights reserved.
PILLERTON PRIORS
Acreage: 1,547.
Population: 1911, 117; 1921, 110; 1931, 112.
This parish, also known as Over Pillerton from its standing some 100 ft. higher than its northern neighbour Pillerton Hersey, is attached to the latter for ecclesiastical purposes. In the village the site of the ancient church, or chapel, is now marked only by its churchyard. West of this is an early-17th-century farmhouse, of L-shaped plan; it has rubble stone walls with Hornton stone dressings. The central stone chimney-stack contains a Tudor fire-place in an upper room and has a rectangular shaft of thin bricks, with square pilasters on each face. An original window in the east face of the back wing has lost its mullions.
The Methodist chapel was built in 1863 by Mr. John Walton of the adjacent Millfield Farm. (fn. 1) This farm no doubt marks the site of the windmill referred to in various Elizabethan records, (fn. 2) and lies on the Stratford-Banbury Road, known in the 17th century as Nollens Lane, (fn. 3) now marked by Nolands Cottage.
Manor
In addition to the estate which he retained in Nether Pillerton Hugh de Grentemaisnil held one in Little Pillerton, the whole of which he granted to the abbey of St. Evroul before 1081, when it was confirmed to the monks by William the Conqueror. (fn. 4) Accordingly, the abbey is entered in the Domesday Survey as holding 6 hides and 1 virgate in PILLERTON under Hugh. This had been held before the Conquest by four thegns, and in 1086 three thegns and a Frenchman were among the tenants. (fn. 5) The abbey's English estates were administered from their cell, the priory of Ware in Hertfordshire, and in 1279 the Prior of Ware was returned as lord of OVER PILLERTON. (fn. 6) On the suppression of the alien monasteries the possessions of Ware priory were given in 1415 to the Carthusian priory of Sheen, in Surrey; (fn. 7) and after the dissolution of that house the manor of Pillerton was granted in 1543 to Geoffrey Shakerley. (fn. 8) He at once disposed of it to William Holte, merchant tailor of London, (fn. 9) who died in 1546, leaving the manor to his sister Agnes, widow of William Dunkyn and then wife of Christopher Alee, cutler of London. (fn. 10) She and her husband sold the manor in 1557 to Henry Warde, (fn. 11) who died next year, leaving a son William, aged 19. (fn. 12) William Warde and Lucy his wife made a settlement of the manor of PILLERTON PRIORS in 1577, (fn. 13) and in 1587 they, with Richard and Humphrey Warde, probably their sons, conveyed it to Thomas Broxolme. (fn. 14) By 1594 the manor had passed into the hands of Roger Manners, (fn. 15) who still held it in 1607. (fn. 16) John (Manners), Earl of Rutland, was dealing with the manor in 1646, (fn. 17) and it was held by the succeeding Earls and Dukes of Rutland until at least 1800. (fn. 18) By 1779 the property is described as 'the manors of Over and Nether and Nallands Pillerton'. (fn. 19) The manor was in the hands of Charles Mills, who held Nether Pillerton in 1823, (fn. 20) and has descended with Pillerton Hersey since that date.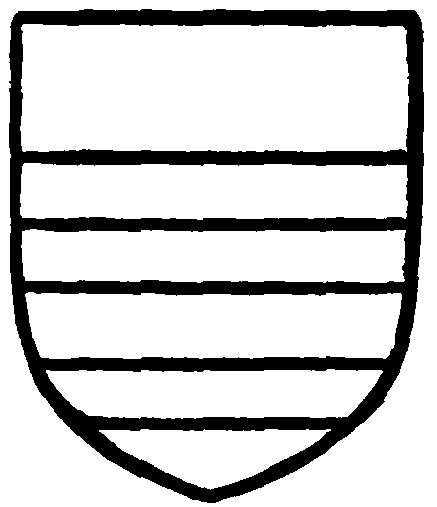 Earl Hugh of Chester in 1086 held 1 hide 3 virgates in PILLERTON, which Waleran held of him; before the Conquest it had been held by Hugh, the Chamberlain of Edward the Confessor. (fn. 21) On the death of Ranulph, Earl of Chester, in 1232, his estates were divided between the representatives of his four sisters, (fn. 22) and Pillerton is found in 1235 (fn. 23) as a quarter-fee among the fees of Hugh d'Aubigny, Earl of Arundel, son of Ranulph's sister Mabel. After his death without issue in 1243 it seems to have passed to Ada, one of the four daughters of Maud, Mabel's elder sister, who married Henry de Hastings, (fn. 24) as his descendant Laurence de Hastings, Earl of Pembroke, died in 1348 seised of a carucate in Pillerton, then let for 40s. (fn. 25) His son John settled the 'manor' of Pillerton on trustees in 1370 (fn. 26) and after his death it was assigned to his widow Anne, subsequently Countess of Warwick. (fn. 27) Their son John died in 1389, when his heir was Reynold de Grey of Ruthin, (fn. 28) who, in 1400, made a settlement of various manors, including Pillerton. (fn. 29) After this time it seems to have lost any manorial character that it had possessed.
Hugh de Hercy's grant to the priory of St. Neots of Nether Pillerton church (q.v.) included the chapel of the Blessed Mary of Over Pillerton. No other reference to it appears to be known until 1513, when John Walton was curate here. (fn. 30) It does not figure in the Valor of 1535, but it is said that at that time the curate serving it had tithes to the value of £5. (fn. 31) The chapel seems to have survived until 1672, when it was burnt down, all that was saved being 'pieces of the three bells, part of the clock, a silver chalice and cover, the great church Bible and Book of Common Prayer'. (fn. 32) The chalice seems to have come into the hands of the family of Gardner at Sandpit Farm in the 19th century, but its present whereabouts is unknown. (fn. 33) The register of baptisms, beginning in 1604, is preserved at Pillerton Hersey, in the registers of which parish marriages and burials of parishioners of Pillerton Priors are entered. (fn. 34)
Charity
Poor's Money. In the Returns to Parliament in 1786 there was at that time a sum of £30 belonging to the poor of this parish, but from what source was unknown. The endowment now produces an annual income of 17s. 8d. A Scheme of the Charity Commissioners dated 23 February 1909 appoints trustees to administer the charity and contains provisions for the income to be applied for the general benefit of the poor under various heads.