Pages 3-5
A History of the County of Warwick: Volume 5, Kington Hundred. Originally published by Victoria County History, London, 1949.
This free content was digitised by double rekeying. All rights reserved.
ATHERSTONE-ON-STOUR
Acreage: 1,089.
Population: 1911, 83; 1921, 83; 1931, 75
Until 1931, when the county boundaries were readjusted by a Transfer Order, (fn. 1) this parish formed a narrow tongue (4 miles in length with an average width of ½ mile) projecting westwards from Loxley into Gloucestershire. The country is open and gently undulating, rising from about 140 ft. on the Marchfont Brook, which forms the western boundary of the parish, and on the Stour, which runs northwards through the centre of the parish, to about 200 ft., with a maximum elevation of 250 ft. on Atherstone Hill in the southwest. The church, with a few houses round it, stands on the left bank of the Stour, across which and connected by two stone bridges, over the river and its backwater, lies the hamlet of Ailston. On the Stour was the manorial mill mentioned in 1497 (fn. 2) and 1526 (fn. 3) and in subsequent conveyances of the manor down, at least, to 1794. (fn. 4) And its waters no doubt fed the fishpond for the stocking of which the Constable of Kenilworth was directed in 1231 to give Godfrey de Crawecumb 200 live bream. (fn. 5)
Just east of the Stour, and parallel to it, are the remains of the horse tramway to Shipston-on-Stour built by Telford in 1820.
Atherstone Hill Farm was built by Dr. William Thomas, the editor and continuator of Dugdale's Antiquities, and was bought from him by James West, F.R.S., F.S.A., of Alscot Park, in 1751. West at the same time inclosed part of Ailston in the Park. (fn. 6)
Manors
In 1086 Bishop Odo of Bayeux held 4 hides in ATHERSTONE which Corbin held of him; Sberne had held it before the Conquest. (fn. 7) By the beginning of the 13th century it was in the hands of Ralph de Ruperes, on whose adhesion to the King of France in 1204 it was seized into the king's hands and leased to the Knights Templars at its full value of £4. (fn. 8) In 1208–9, however, King John gave it to Godfrey de Crawecumb, (fn. 9) to whom Ralph de Ruperes later assigned his lands here and at Pinnock and elsewhere in Gloucestershire to hold by the yearly render of a pair of gilt spurs, the grant being confirmed by Henry III in 1227 and 1229. (fn. 10) Godfrey, in exchange for land in Stamfordham (Northumberland), returned this manor to the king, who in 1248 granted it to Geoffrey de Langley. (fn. 11) Geoffrey died in 1274 (fn. 12) and his son Sir Walter, who was then aged 40, in 1279, (fn. 13) when his son Sir John inherited the manor, which was held of the king by render of a pair of gilt spurs. (fn. 14) Sir John seems to have conveyed the manor to his uncle Geoffrey. (fn. 15) Edmund de Langley, son of Sir Geoffrey and Emma, (fn. 16) was lord of Atherstone in 1312 (fn. 17) and 1316. (fn. 18) John de Langley of Atherstone-on-Stour, grandson of Edmund, occurs in 1392, (fn. 19) but in the following year John de Barndusley of Chesterton (Glos.) and Elizabeth his wife made a settlement of the manor. (fn. 20) Elizabeth was great-granddaughter of Edmund by his first wife, (fn. 21) but the manor apparently reverted to Isabel daughter of Margery sister of the last John Langley, who married Walter Langley of Knolton (Kent), (fn. 22) and was granted by their son William de Langley in 1474 to his brother John. (fn. 23) His son John died without issue and the manor passed to his sister Eleanor, wife of John Clarell, (fn. 24) and in 1496 John Clarell and Eleanor his wife conveyed the manor, in her right, to Richard Empson. (fn. 25) He in 1498 conveyed it to John [Morton], Cardinal Archbishop of Canterbury, and others, (fn. 26) presumably in trust. The manor is next found, in 1526, as having been held at the time of his death by Thomas Morton, esq., whose son and heir John was a lunatic. (fn. 27) Another Thomas Morton in 1545 conveyed the manor to Thomas Hunks, (fn. 28) who died in 1558, leaving a son Robert. (fn. 29) He was over 50 and must have died shortly after his father, as his successor John Hunks, perhaps his brother, (fn. 30) died seised of the manor on 18 December 1558, leaving a daughter Ursula, who was married to Ralph Lydcote before 1577. (fn. 31) Meanwhile, in 1573, the manor was conveyed by John Lydcote to Robert, Earl of Leicester, and by him to John Turner. (fn. 32) He settled it on his wife Anne and his son John, both of whom survived him on his death in December 1601. (fn. 33) The younger John's son John sold it in 1627 to Joas, or Joce, Godschalk, (fn. 34) who settled it in 1638 on the marriage of his son Jacob with Elizabeth daughter of Sir John Finett. (fn. 35) Anne Godschalk, the widow of Joce, by her will in 1653 left the manor to her grandson John. (fn. 36) This Sir John Godschalk's daughter Anne in 1685 married Sir Thomas Samwell, bart., of Upton (Northants.) (fn. 37) and their son Sir Thomas in 1753 sold the manor to John Bullock. (fn. 38) His son Francis Brownsword Bullock in 1794 sold it to John Kinderly, who left it to Mary wife of Henry Gale, by whom it was sold in 1797 to William Devaynes, whose grandson William Angus Devaynes sold it to James Roberts West, in whose family it has remained. (fn. 39)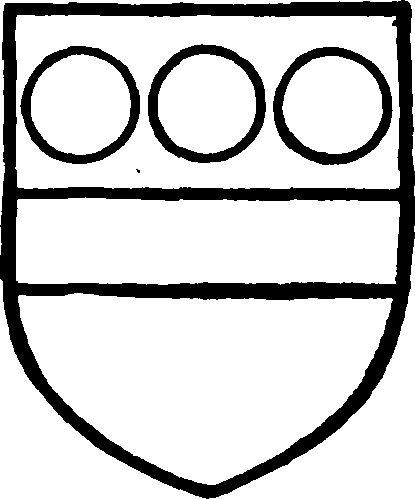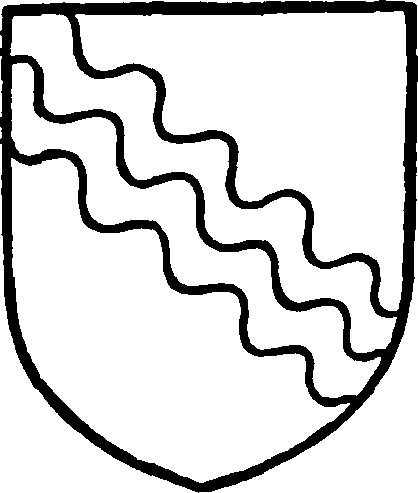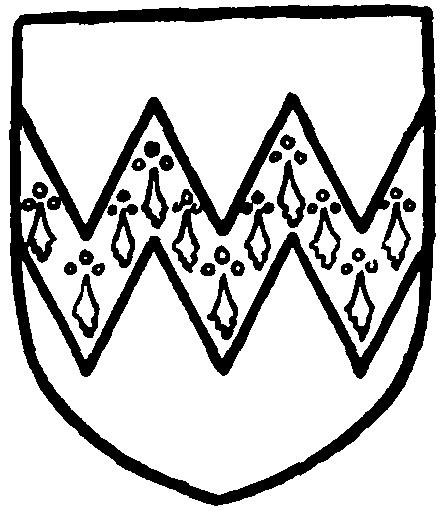 In 1086 Nicholas the Crossbowman held 3 hides 1 virgate in AILSTON which Levric had held before the Conquest. (fn. 40) This he, as Nicholas de la Pole, (fn. 41) gave to the abbey of St. Peter of Gloucester in 1095 in exchange for an estate at Plumtree in Devon. (fn. 42) From this time Ailston seems to have been considered part of the adjacent Gloucestershire manor of Clifford, assigned to the chamberlain of the abbey; thus in an extent of Clifford Chambers in 1266 it is noted that Ralph de Eylestone holds a virgate, of 48 acres, by service of attending the county court of Warwick and the hundred court of Kington on behalf of the abbot, and also the manorial court at Clifford; (fn. 43) and there were 8½ virgate customary holdings. (fn. 44) At the Dissolution the manor of Clifford came to the Crown and was granted, with the hamlet of Ailston to Charles Rainsford in 1562. (fn. 45) His grandson Sir Henry Rainsford was licensed in 1616 to impark any part of his lands in Clifford and Ailston, (fn. 46) and at the death in 1641 of his son, also Sir Henry, Ailston is for the first time called a manor. (fn. 47) The next Henry Rainsford, as a result of his loyalty to King Charles, had to sell his estates, (fn. 48) and in 1649 sold the reputed manor of Ailston to Joas Godschalk. (fn. 49) Since this time it has descended with the manor of Atherstone.
Church
The church of ST. MARY consists of a chancel (about 21 ft. by 18½ ft.), nave (43 ft. by 21½ ft.), north vestry, and a south-west tower. It was rebuilt in 1876 with walls of grey rag-faced rubble and yellow free-stone dressings. A number of ancient stones were re-used, mostly dating from the beginning of the 14th century.
All the features are modern unless otherwise described.
The chancel has an east window of three lights and tracery. In the north wall is one and in the south wall are two windows, each of two trefoiled lights and a quatrefoil in a two-centred head; they have some old external jamb-stones of two chamfered orders, and the head of the north-east window is also of the early 14th century and is cut out of a single piece of stone, without a hood-mould. A similar window was reset in the north wall of the vestry. The roof is of trussed rafter type.
The nave has three north windows of two lights and tracery. Near the east end is a large pointed recess suggesting a former archway, but it is all plastered and no clue is given as to its date and the reason for it. In the south wall the east and west windows are similar but the middle window is a single light with old jamb-stones: it has a pair of trefoiled heads, the lower one obviously inserted to make the window 'traceried'; the upper one is probably the original head re-tooled. The south doorway is also original but repaired with stone of a lighter tint than the old yellow stone, which has been re-tooled. It has moulded jambs and a two-centred head, the back of which has not been re-tooled and is certainly ancient. Above it inside is a two-light window belonging to the tower. In the west wall are three lower lancets and above is a large rose window. Externally there are a few of the darker yellow ancient stones reworked and re-used in the lancets and angles of the west buttresses. The roof is of four bays with arched trusses.
The tower is of three stages: the lowest forms a porch, with a pointed entrance, the second has very narrow long lancets, and the bell-chamber windows of two lights and a quatrefoil in a two-centred head under a gabled hood-mould. In the north-west angle is a stair vice entered from the porch. Above the tower is a tall pyramidal grey stone spirelet with crockets.
The font is modern, but in the south-west corner is an ancient plain round bowl with broken top surface and lower edges. In it is set another small octagonal bowl, probably early 19th century.
On the north wall of the chancel is a tablet to William third son of William and Elizabeth Thomas, 4 December 1710.
There are three bells, two of pre-Reformation (14thcentury) date inscribed (treble) '+ + Maria Mater Dei Miserere Mei' and (second) '+ Jhesu Campanam tibi semper Protege Sanam'. The tenor is inscribed 'Jesus be our spede 1627. r.m. h.p.' (fn. 50)
The church plate includes an Elizabethan cup of unusual pattern, with dotted line ornament, and 'fringed' stem; the lower part of the stem renewed. (fn. 51)
The registers begin in 1654.
The view of c. 1820 in the Aylesford collection is from the south-west and shows a chancel, nave, south porch, and west tower which is boarded in the upper half and has a tall boarded pyramidal roof. The nave had a low-pitched gable but no roof is seen. There was one south window east of the porch and one south window to the chancel, of two lights and tracery (14th century?). A heavy fleur-de-lis pinnacle stands above the east apex of the nave. There was a small west window and low west buttresses in pairs.
There is also a print of a grave slab with a cross and chalice and a Latin inscription: 'Hic jacet Dns. Thomas Copto quondam Rector istius ecclie, &c'.
Advowson
The church was said in 1251 to have been given to the abbey of Tewkesbury by 'Roger' (probably Ralph) de Ruperes in the time of King John, and to be worth 10 marks. (fn. 52) In 1291 it was rated at £7 6s. 8d. (fn. 53) The rectory was never appropriated and in 1536 was worth £13 1s. 8d., with a pension of 4s. payable to Tewkesbury. (fn. 54) By 1581 the advowson had come into the hands of John Turner, (fn. 55) then lord of the manor, and he bequeathed it in 1601 to his grandson William. (fn. 56) In 1659 it was conveyed by Edward Barkham and Ann his wife (daughter of Sir Robert Lee) to Sir Charles Lee with the advowson of Billesley, with which it descended (fn. 57) until about the end of the 18th century, when Bernard Whalley probably sold it. By 1745 the patronage was in the hands of 'Mr. Kendrick' (fn. 58) —probably the rector, Edward Kenwrick, who had been presented by Robert Hunt, patron pro hac vice, in 1718; (fn. 59) and Edward Townsend Kenwrick was rector and patron in 1766. (fn. 60) The Rev. Thomas Cox was patron in 1799 (fn. 61) and it was presumably his son the Rev. Thomas Cox, D.D., who was rector and patron from 1814 till his death in 1868; (fn. 62) he was followed by Cecil Walker Cox, who was rector from 1871 to 1901 and patron till 1935. (fn. 63) The advowson was then acquired by Mrs. Graham Rees-Mogg.