Pages 259-261
A History of the County of Warwick: Volume 6, Knightlow Hundred. Originally published by Victoria County History, London, 1951.
This free content was digitised by double rekeying. All rights reserved.
WILLEY
Acreage: 815.
Population: 1911, 99; 1921, 98; 1931, 82.
Willey is a small parish on the north-east border of the county, 3 miles west of Lutterworth. Wedgeshaped, its north-east and south boundaries are very sharply defined by the Watling Street and the Lutterworth-Hinckley road respectively, though where these two roads meet at Cross-in-Hand at the eastern corner a small 'gore' is taken in south of the Hinckley road, on which the Rectory, 'a good substantial brick building' (fn. 1) stands, in a rather isolated position. The parish is drained by the head waters of the Soar, which, rising in Monks Kirby just west of the Willey boundary, flows eastwards through the northern part of the parish near Willey Fields Farm, whose name recalls the preinclosure days. (fn. 2) Along the southern boundary the height above sea level is over 400 ft., falling to 353 ft. where the Watling Street crosses the Soar. The small village is built along a by-road joining the Watling Street to the Hinckley road, a short distance to the east of which runs the Rugby-Leicester branch of the former L.M.S. Railway, which crosses the Watling Street by a level crossing, one of the very few on that highway. Just east of the railway there is a small plantation, the only woodland in the parish, though all along the southern boundary, on the Monks Kirby side of the road, is one of the long shelter-belts characteristic of the neighbourhood, bounding the Newnham Paddox Estate. A fire in 1656 destroyed 5 cottages, causing £213 damage; a general collection throughout the county was ordered, Knightlow and Kington Hundreds having produced only £11 13s. 10d. (fn. 3)
Manor
WILLEY is entered in Domesday Book with Wibtoft (q.v.) as part of the estates of the Count of Meulan. (fn. 4) The resulting overlordship of the earls of Warwick can be traced down to 1460, when it was in the king's hands by the forfeiture of Richard, Earl of Warwick (the Kingmaker), and 1473. (fn. 5) Before 1268 an intermediate tenancy was granted to the Hastings, Henry Hastings in that year holding Bedworth and Willey as one fee; (fn. 6) this is again recorded at various dates up to 1535. (fn. 7)
In 1180–1 Robert de Wilega owed 2 marks for a plea against Simon de Verdun concerning land here. (fn. 8) Hugh de Herdebergh granted Willey to Nicholas de Herdebergh and his heirs, (fn. 9) and in 1309 Nicholas received 14 messuages, 13¼ virgates, and rents in Brailes and Willey from Alice widow of John de Puttenham, with remainder to Roger and Aline de Puttenham and his heirs; (fn. 10) this 'manor' was granted by Aline and her second husband Thomas de la Haye (fn. 11) to John and Alice de Peyto in 1332. (fn. 12) Nicholas was dead without issue by 1315, when Willey was described as held by the heirs of Hugh de Herdeberewe. (fn. 13) These were his grandchildren Ela and Isabel (their father Roger having died in Hugh's lifetime), the wives respectively of William le Boteler of Wem (Salop) and John de Hulles. (fn. 14) Alice, daughter of John and Isabel's surviving child Isabel, with her second husband John de Peyto the younger, came into possession of the whole of Willey, (fn. 15) of which manor they made settlements in 1333 and 1339. (fn. 16) The remainders in the settlements of 1333, in which the manor was divided into two halves, one lying 'towards the east', and of 1339, when a moiety only was dealt with, were to William son of William le Boteler and the right heirs of his mother Ela. John de Peyto was still alive in 1345, when he did fealty to Edmund le Boteler (brother of the younger William), a fine having been concluded in which Ela le Boteler granted the reversion of the manor to her second son. (fn. 17) This transaction led to a lawsuit the following year between Ela, John and Alice, and William le Boteler, the latter maintaining that the original grant by Hugh to Nicholas de Herdebergh was in fee. The judgement, however, was that the grant had been in tail, thus legalizing the reversion of 1345. (fn. 18) Edmund le Boteler died without issue, (fn. 19) as also his brother Edward, a priest, at whose death in 1376 all the Boteler estates in Willey, except a windmill, were let out and producing £8 11s. 4d. rent. (fn. 20) His heirs were the descendants of his four sisters: 'Joan', more correctly Elizabeth, (fn. 21) great-granddaughter of Ankaretta wife of John Strange of Blakemers; Nicholas, grandson of Alice wife of Nicholas de Langeford; Margaret, daughter of Ida wife of William Trussell of Odiham; and Walter, son of Denise wife of Hugh de Cokesey. The estates were therefore divided into four parts, of which Elizabeth Strange's was kept for the time being in the king's hands, she being a minor. (fn. 22) The following year Margaret and her husband Fulk de Penebrugg quitclaimed their quarter of the manor of Willey to Walter de Cokesey for 100 marks. (fn. 23) The Strange share passed to Ankaretta, Elizabeth's aunt; (fn. 24) she died in 1413 and her son and heir Gilbert Talbot before 1422, when it was divided into thirds, one of which was held in dower by Gilbert's widow Beatrice, the other two being in the king's hands owing to the minority of his daughter, another Ankaretta, to whom Sir John Talbot, Gilbert's brother, was heir and successor. (fn. 25) He was in 1442 created Earl of Shrewsbury, (fn. 26) and this quarter descended in his family till the death of Gilbert, 7th Earl (1616), when the Talbot estates were divided, Willey coming to his daughter Elizabeth, Countess of Kent, who enjoyed it when Dugdale was collecting materials for his history, (fn. 27) and was dealing with her share of the manor, described as a complete manor, in 1640. (fn. 28) She left no issue and this portion of Willey seems to have come to her brother-in-law Thomas Howard, Duke of Norfolk, as in 1679, when it consisted of one messuage and land, it was one of the estates proposed for vesting in trustees to pay off the family debts. (fn. 29) It was probably sold for this purpose, having lost its identity by 1730. (fn. 30)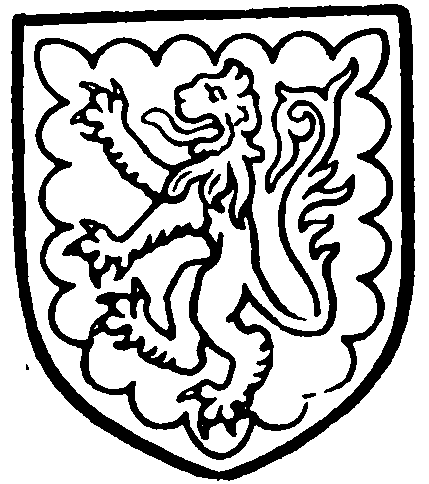 The Langeford quarter was by 1562 in the hands of Henry Leigh, (fn. 31) whose son and successor Edward sold it to 'several private persons within memory'. (fn. 32) John Jorden (died 1625) and Richard Garrett (1640) possessed tenements in Willey, (fn. 33) perhaps fragments of this quarter.
As regards the other two quarters, Sir Hugh Cokesey, son of the Walter who obtained the Penebrugg quarter in 1377, died in possession in 1445; this manor had been settled on him and his wife Alice in tail in 1441 (fn. 34) and remained with her till her death in 1460 as widow of Sir Andrew Ogard, but she having no children by her first husband the manor passed by the entail to his sister Joyce Beauchamp, (fn. 35) and at her death (1473) to Sir John Grevyle, her son by a previous marriage. (fn. 36) His son Thomas Grevyle, alias Cokesey, was dead by 1500, when licence of entry to his lands was granted to Robert Russell and Robert Winter, his distant cousins. (fn. 37) Willey came to the Winter family, in which it descended for three generations. (fn. 38) George, greatgrandson of the Robert above mentioned, sold the estates to the tenants on coming of age (1565), (fn. 39) but was stated to hold the manor at his death in 1593, (fn. 40) and Robert Winter his son, aged 26 in 1593, was concerned in a recovery in 1604. (fn. 41) Manorial rights later came to the Feilding family of Newnham Paddox, earls of Denbigh, who were lords in 1830, when courts leet were held, (fn. 42) and 1900, (fn. 43) but the manorial rights seem to have lapsed by 1936. (fn. 44)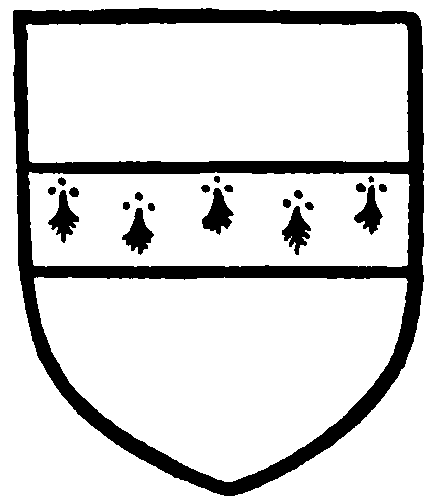 In 1197 William de Turvill owed £80 to Aaron the Jew on his lands in Linton, Fulbrook, and Willey. (fn. 45) The knight's fee representing Bedworth, Willey, and Sharnford (Leics.) was stated to be held in part by Robert Turvyle in 1313 and by his heirs as late as 1437–8, (fn. 46) but it seems probable that the family relinquished its rights in Willey before the middle of the 13th century to Roger de Craft, whose sister and coheir Isabel married Hugh de Herdebergh. (fn. 47)
A portion of the demesne lands of Monks Kirby Priory, later transferred to the Carthusians of Axholme (Lincs.), extended into Willey. Its value was not separately returned; in 1539 it was granted for life to Thomas Mannyng, ex-prior of Butley (Suffolk) and Bishop of Ipswich, with reversion to Charles, Duke of Suffolk, and his heirs. (fn. 48)
Church
The church of ST. LEONARD, on the east side of the village street, stands in a small churchyard. It is small and consists of a chancel, nave, vestry, south porch, and west tower. It has undergone considerable restoration and the chancel was rebuilt and enlarged with a vestry on the north side, and at the same time the south porch was built, the south wall refaced and battlemented parapets added to the nave and stair turret. Earlier the west wall had been refaced with ashlar. The tower and nave probably date from the late 14th or early 15th century.
The chancel and vestry are built of small red sandstone rubble with light-coloured dressings and are roofed with slates. The vestry has a two-light window on the north and is entered on the west. The chancel is lighted by a single-pointed cinquefoil light on the north, on the east by a pointed traceried window of three cinquefoil lights, and on the south by a single-and a two-light window, with a moulded trefoil-headed doorway between them; it has a hood-mould with shields as stops. The north wall of the nave is built of ashlar to sill level with a mixture of rubble and ashlar above. It is lighted by square-headed windows, one of three cinquefoil lights and one of two, both with label mouldings and between them there is a pointed doorway of one splay with a square label. The door has been blocked with ashlar. At the angle there is a small modern buttress. The 19th-century battlemented parapet includes a coved string-course with lions' head gargoyles. At the west end there is a projecting halfoctagon stair turret built of rubble with worked dressings, the upper part rebuilt with a loop-light and battlemented parapet in the 19th century. The south side, entirely refaced, is lighted by two windows corresponding with the north side, and between them is a porch built of small rubble similar to the chancel. It is lighted on the west by a small single light, and the entrance has a pointed arch of two splays. There are buttresses at each end and one in the centre, all three rebuilt. The battlemented parapet on the north is repeated.
The tower, built of sandstone ashlar, with a moulded plinth and battlemented parapet, rises in three stages, diminished by weathered offsets. At the western angles there are diagonal buttresses rising in six stages, the upper stages forming bases for pinnacles now missing; at the eastern angles the buttresses are at right angles to the north and south walls. It is lighted on the west on the ground floor by a window of two trefoil lights under a four-centred head, by a quatrefoil light in a square frame on the south side to the ringing-chamber, and by belfry windows on each face, of two trefoil lights under four-centred heads with transoms; all have hoodmoulds with carved head-stops.
The chancel (22 ft. 6 in. by 15 ft.) has plastered walls, tiled floor and an open roof with matchboarded panels. On the north side there is a segmental arched opening into the vestry and on the south a pointed trefoil-headed piscina. The altar, which dates from the 17th century, is of oak with carved rails and turned legs and round it there are four contemporary stools with similar carving and legs.
The nave (40 ft. by 14 ft. 6 in.) has plastered walls and a tiled floor. At the eastern end of the north wall there is a doorway to a circular stair leading to one above it which opened on to the rood-loft. It has a chamfered four-centred arch under a square head, with sunk spandrels; the one above has a four-centred head. Built across the blocked north door is a modern tomb recess with a segmental pointed arch. The back of the recess is built on a thick carved red sandstone leger leaving only half exposed. It appears to represent an elaborate cross with three panels and resting on an heraldic lion. (fn. 49) The upper panel has a male head and shoulders with the hands conjoined in prayer, the others may represent drapery; probably 15th-century. On the south side against the chancel arch there is a modern octagonal stone pulpit and near the south door a modern octagonal stone font. Standing in the southwest corner is a disused 14th-century font with a circular cup-shaped basin on an octagonal stem with a moulded capital and base on a square pedestal. The chancel arch is pointed, of two splayed orders, on halfoctagon responds with moulded capitals and bases; the tower arch is also pointed, but of three splayed orders which die out on the walls. The roof is a good example of 16th-century work, consisting of three bays with wall trusses each end. It is of low pitch, covered with lead, and its cambered tie-beams are supported on curved brackets and wall-posts. The beams, purlins, and wall-plates are richly moulded and in the centre of each tie-beam there is a carved boss; some of the purlins, and rafters have been replaced. The tower, 6 ft. square, has unplastered rubble walls, tiled floor, and a fourcentred rear-arch to the window.
There are three bells: (fn. 50) (1) by Brian Eldridge, 1658; (2) by Eayre of Kettering, 1730; (3) by Hugh Watts, 1617.
The plate includes a silver chalice and cover, 1662.
The registers commence in 1661.
Advowson
The church of Willey, with a vir gate of land and 2 tofts, was given to the Norman abbey of Préaux between 1129 and 1146 by Roger Abbadon, when he became a monk there. His gift was confirmed by his son Hugh, and by the earls Roger of Warwick and Robert of Leicester, before Roger, Bishop of Chester. (fn. 51) Hugh de Herdebergh in 1273 quitclaimed the advowson to William, Abbot of Préaux, and Nicholas, prior of its cell at Warmington, for 10 marks. (fn. 52) During the 14th century presentations were frequently made by the king, the possessions of the cell being in Crown hands owing to the war with France. (fn. 53) On the suppression of alien priories, life grants of the Warmington property were made to Lewis de Clifford and to Thomas Erpyngham, (fn. 54) and finally (1413) to the Carthusian priory of Witham (Som.), (fn. 55) which held the advowson till the Dissolution. An annual pension of 13s. 4d. out of the rectory was granted to Warmington Priory in or before 1380 (fn. 56) and this, reduced in amount to 6s. 8d., was in 1550 granted to John Croker the elder with remainders to his sons Gerard, John, and Richard, and their heirs male. (fn. 57) This pension or rent remained as a separate entity to the end of the 17th century. (fn. 58) The advowson was retained by the Crown till the latter part of the 19th century; (fn. 59) in 1900 it was held by Lord Camoys, (fn. 60) and it has changed hands several times since, being in 1940 held by Mr. R. A. Lucas. (fn. 61)
The value of the church in 1291 was £3 6s. 8d., (fn. 62) and of the rectory in 1535 £8 6s., in addition to 7s. 4d. or proc urations and synodals. (fn. 63)