Pages 415-416
A History of the County of Warwick: Volume 8, the City of Coventry and Borough of Warwick. Originally published by Victoria County History, London, 1969.
This free content was digitised by double rekeying. All rights reserved.
SEALS, ARMS, INSIGNIA, PLATE, AND OFFICERS
AN impression of what may possibly be the first common seal of Coventry is appended to a document of 1349. (fn. 1) It is round, ¾ in., and bears an oak-tree, fructed, with, in base, a fleur-de-lys and another object, possibly a fish. Legend, lombardic:
SIGILLUM COVENTREYE
The second, or alternatively the first, common seal was round, 2¼ in., and bore on the obverse an elephant trippant supporting a castle consisting of a central keep and 3 flanking towers. Behind the castle is a two-branched tree rising from a mount. On the reverse St. Michael slaying the dragon, with 5 sprigs of oak behind. Legend, lombardic, on both obverse and reverse:
SIGILLUM COMUNITATIS VILLE DE COVENTRE
The seal was in use by 1351. (fn. 2)
The third, or alternatively the second, common seal was round, 11/8 in., was made in 1606, (fn. 3) and bore on the obverse an elephant supporting a tripledomed castle, each castle surmounted by a flag. Legend, humanistic:
CIVITAS COVENTRIAE
In 1682–3, when it was still in use, it is said to have been known as 'the white seal for certificates, etc.' (fn. 4) This phrase would more appropriately have described the mayor's seal. (fn. 5)
The fourth, or alternatively the third, common seal was a round steel stamp, 25/8 in., and bore on the obverse the city arms, namely, per pale, an elephant and castle. The original legend is said to have been:
THE MAYOR ALDERMEN AND BURGESSES OF THE CITY OF COVENTRY1836
This was altered in 1859 to read, in black letter:
THE MAYOR ALDERMEN AND CITIZENS OF THE CITY OF COVENTRY
with the date MDCCCXXXVI in humanistic lettering. In 1894 the date was altered to read 18 EDWARD III in the same lettering. The matrix of the 1894 version survives. In 1960 a new stamp was cut to incorporate the supporters granted in the preceding year. (fn. 6)
The first mayor's seal (fn. 7) was round, 1¼ in., and bore on the obverse an elephant supporting a tripletowered castle, with a tree behind. The reverse was the same as that of the first common seal. Legend, lombardic:
SIGILLUM OFFICII MAJORITATIS VILLE DE COVENTRE
The second mayor's seal, of which the silver matrix survives, was in use by 1450. (fn. 8) It is round, 2 in., and bears on the obverse an elephant supporting a triple-towered castle topped with a flag charged with 3 scimitars or ostrich feathers. In the background are 2 trees each of 2 sprigs, Legend, black letter:
SIGILLUM MAJORATUS CIVITATIS COVENTRIE
In 1682–3 it was called 'the great seal of the city to seal deeds, etc.' (fn. 9) This phrase would more appropriately have described the common seal.
The third mayor's seal, a gold signet, existed by 1682–3, when it was used 'to seal letters, etc.' (fn. 10) It still survives. It is oval, c. 7/8 in., and bears the city arms with c.c. in chief. In c. 1895 it was worn by the mayor. (fn. 11)
The seal for the recognizance of statute merchant debts, granted in 1345, (fn. 12) was, as was usual, in two parts. The larger part, of which the latten matrix survives, is round, 1¾ in., and bears on the obverse a king's head, full-faced, crowned, the drapery on the neck ornamented with a band of quatrefoils. A lion lies on the king's breast and on each side is an oaktree of 3 branches, fructed. Legend, lombardic:
SIGILLUM EDWARDI REGIS ANGLIE AD RECONICIONEM DEBITORUM APUD COVENTRE
The smaller part (fn. 13) was round, 1¼ in., and bore a lion passant guardant in front of a three-sprigged oak-tree, fructed. Legend, lombardic:
SIGILLUM COVENTRE
Another seal, represented only by a loose impression cut from a document, (fn. 14) was oval 11/8 × 7/8 in. and bore an eagle displayed, and, in lombardic lettering:
S[IGILLUM] [T]HESAURIE COVE . . .
A seal of unknown purpose, of which the silver matrix, probably 19th century, survives, is oval, c. ¾ in., and bears an elephant supporting a castle gatehouse with 2 flanking towers, capped. No legend.
The matrix of another seal or signet existed in 1894 but was untraceable in 1966. It was oval and bore an elephant and castle within a shield. Legend: C.C. (fn. 15)
Impressions of two other seals or signets, ¾ in. and ½ in. severally, have been preserved. (fn. 16) Each is round, bears an elephant and castle, and is probably 19th century. Legend on the smaller, in humanistic lettering:
CIVITAS COVENTRIE
No legend on the larger.
The arms of Coventry as registered in 1619 were per pale an elephant and castle, and, for crest, a cat statant guardant. (fn. 17) In 1682 they were registered as per pale gules and vert an elephant and castle or. (fn. 18) A crest is not then mentioned. Supporters were granted in 1959.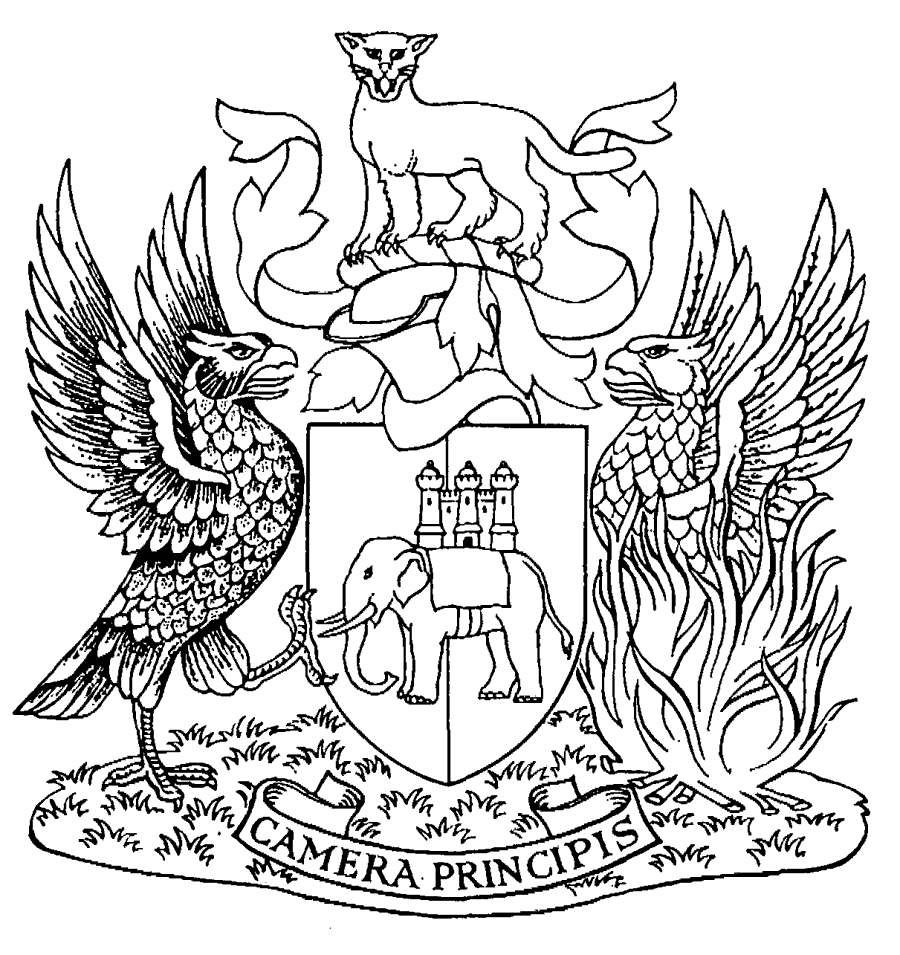 The most important pieces of civic insignia are the sword of state, three maces, and the mayoral chains and badges. (fn. 19) A sword existed in 1384 when Richard II ordered it to be carried behind instead of in front of the mayor because that officer had failed to do justice. This practice continued for four years. In 1471 the sword was confiscated by Edward IV with the city's liberties. (fn. 20) It was presumably restored with those liberties in the following year. (fn. 21) In 1481 there appear to have been two swords, for in that year what was described as the 'old' sword was stolen from the mayor's house. The hilt of a sword, believed to be this one, was recovered from a rubbish-heap in Whitechapel in 1897, acquired by Sir Guy Laking, (fn. 22) sold in 1920 to C. H. Mackay, and sold by him to John Hunt, of Bury Street, London, S.W.1, in 1939. It is now in the Glasgow City Museum. It bore the rose of York, the badge of Edward IV, and the arms of Coventry and England. In 1583 and 1597 there were again two swords. In the latter year one of these was called the 'new' sword. In 1704 there were 3 swords and 4 scabbards, but only one sword and scabbard survived in 1965. This is 4 ft. 4½ in. long. It is said to be of 15thcentury date. The hilt and its pommel are silver-gilt and on the hilt are engraved the words 'Civitas Coventre' and 'Domine, salvum fac regem'. Both inscriptions had become faint by 1965. The scabbard dates from the Restoration, is covered with red velvet, and is adorned with silver-gilt lockets bearing the Stuart arms and the badges of England, Scotland, Ireland, and France.
There were already 3 maces in 1450, borne severally by the mayor and bailiffs. The 'best' of these was stolen in 1481 with the 'old' sword. There are still 3 maces. One is 1 ft. 6½ in. long, of silver parcel-gilt, and consists of a short 16th-century mace to which a second head surmounted by a crown has been later added. On the crown are the royal arms as used 1714–1801. A second is 1 ft. 9 in. long, silver gilt, and is 'an unique example' of a mace made or altered during the Interregnum, in fact in 1651. The great mace is 3 ft. 11 in. long, of silver-gilt, and bears the royal badges and monogram of Charles II. It appears to have been made in 1651 at the same time as the last-mentioned mace. It was repaired in 1817 and 1889.
A gold chain and badge for the mayor were presented to the corporation in 1874 by R. A. Dalton, mayor. The chain is still in use. A 'dress' badge was presented in 1928 by Fred Lee, mayor. This is still used. In 1954 a new formal badge, to be worn on the mayoral chain, was presented by the West Midlands Gas Board to signalize the grant of the title 'Lord Mayor'. Thereupon the 1874 badge fell out of use. A badge and chain for the mayoress were presented in 1914 by M. K. Pridmore, mayor, and a 'dress' badge in 1965 by Madge Whiteman, lady mayoress. All the badges are of gold and bear the city arms in enamel. The lady mayoress's badge is set with diamonds.
Some at least of the city plate, together with the waits' insignia, was ordered to be sold in 1711 at a moment of financial crisis. (fn. 23) Other plate was sold by the 'reformed' corporation in 1836. (fn. 24) Consequently all the existing plate is modern.
A complete list of the mayors and lord mayors of Coventry to 1964 may be found in the City of Coventry, Municipal Handbook (1965–6). This is more accurate than the list of mayors in Poole's History of Coventry, but Poole does give the occupations of many of the mayors. (fn. 25) The Municipal Handbook also contains a list of the recorders of the city, and Poole prints biographical information on some of the holders of that office. (fn. 26) A list of sheriffs from 1454 to 1831 is printed in Public Record Office, Lists and Indexes, No. IX (1898). Poole gives the names of some before 1454 and after 1831. (fn. 27)