Pages 173-190
A History of the County of Wiltshire: Volume 10. Originally published by Victoria County History, London, 1975.
This free content was digitised by double rekeying. All rights reserved.
URCHFONT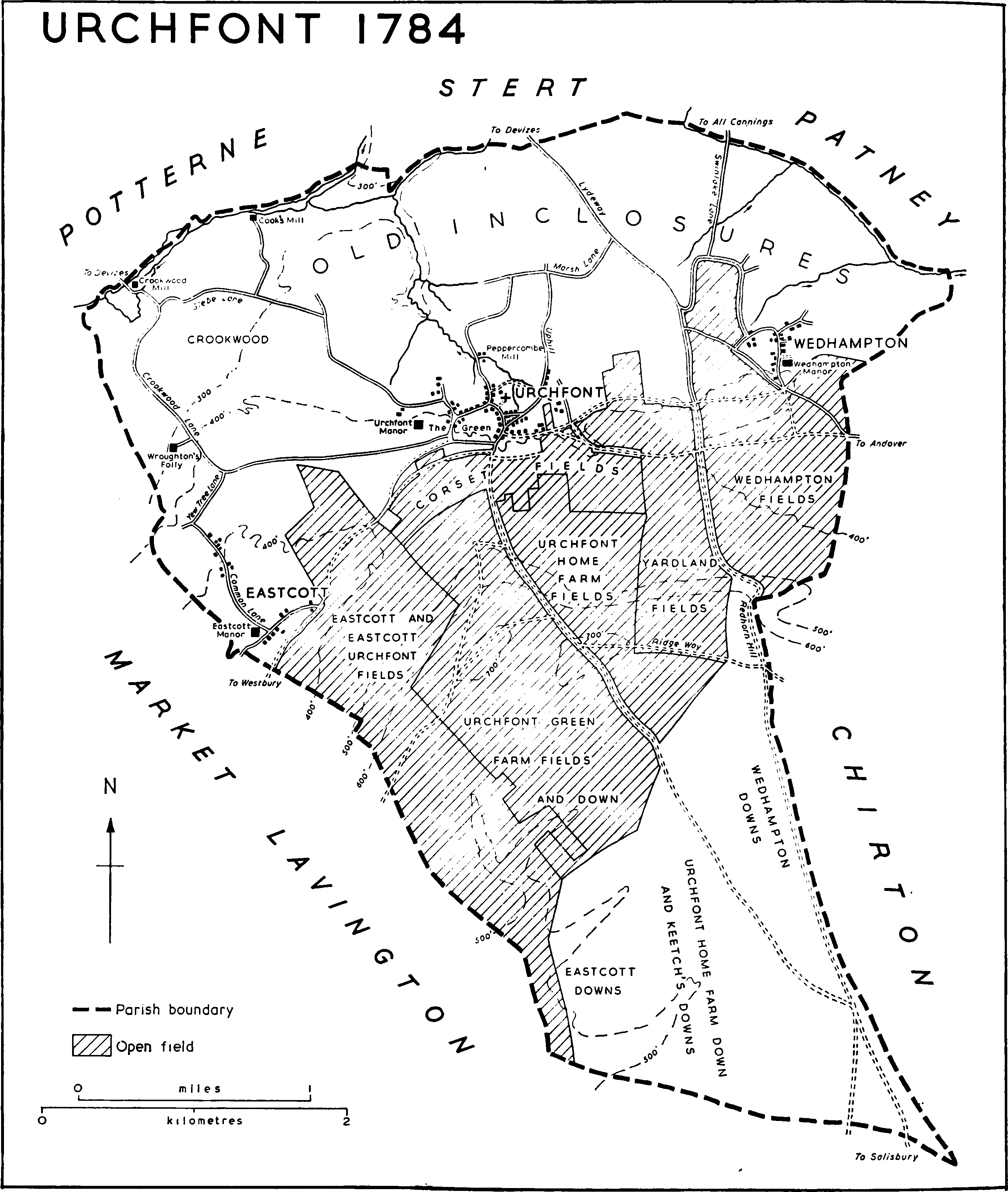 Urchfont lies at the extreme south-western end of the Vale of Pewsey about 5 miles south-east of Devizes, and measures 3¾ miles across the clays in the north and 4¾ miles from north to south. (fn. 1) An inverted pear-shape, the parish lies at the centre of Swanborough hundred and, reckoned in 1961 at 4,893 a., is the largest parish in it. (fn. 2) The hamlet of Wedhampton lies 1¼ mile to the east of Urchfont village.
By the later 12th century the parish was divided lengthwise into three tithings, Eastcott, Urchfont, and Wedhampton. (fn. 3) Each stretched from north to south across clay, greensand, and chalk soils and contained a settlement which probably originated in Saxon times in woodland clearances made where springs rose on the Upper Greensand about ½ mile north of the chalk escarpment. (fn. 4) Urchfont tithing was subdivided into Yardland, Cosset, and Urchfont (later Eastcott Urchfont) tithings by the later 16th century, but formed a single tithing again in the 19th century. (fn. 5) Lydeway, represented in 1969 by a few houses strung out along the road of that name leading to Devizes, was considered a tithing in the 19th century. (fn. 6) The ancient parish of Stert, always part of Urchfont for ecclesiastical purposes, was named as a tithing in 1841 but by 1881 formed a separate civil parish. (fn. 7) In 1891 Urchfont, then made up of the tithings of Eastcott, Urchfont, and Wedhampton, contained 6,285 a. (fn. 8) In 1934 Eastcott tithing (1,392 a.), representative of the former manor of Eastcott, was transferred to the civil parish of Easterton. (fn. 9) Thereafter Urchfont contained 4,893 a. (fn. 10)
The north of the parish lies on the Gault Clay at 300–400 ft. (fn. 11) Formerly well wooded, but probably cleared and inclosed in the 17th century, the land in 1969 was given over to permanent pasture on which dairy cattle were maintained. (fn. 12) To the south a milewide belt of Upper Greensand, formerly devoted to market-gardening, (fn. 13) lies at over 400 ft. It has been penetrated by the clay at Eastcott, Peppercombe, and Urchfont bottom, a process which has resulted in the formation of deep curving valleys enclosed on either side by densely-wooded 'hangings'. The area was known as 'Northcombe' by the 17th century. (fn. 14) The greensand gives way southwards to a gentlyrising expanse of Lower Chalk, devoted to large arable fields: at its junction with the Middle Chalk, the northern scarp of Salisbury Plain rises steeply and reaches over 600 ft. on Urchfont Hill. Two outcrops of Upper Chalk there rise above 700 ft., while a ridge of Upper Chalk curves southwards over Great Fore Down, Little Hill, and Urchfont Down. To the west of the ridge the downland drops away over the Middle and Lower Chalk to below 500 ft., and to the east slopes gently away to the Clay-with-flints, which lies at over 600 ft. The wide treeless expanse of downland in the south of the parish was formerly sheep pasture. The War Department bought some 1,000 a. of downland south of the Ridge Way in 1897, 1900, and 1911, and the land in 1969 formed part of one of the firing ranges of the Salisbury Plain area. (fn. 15)
The course of the Lydeway, as its name suggests, marks the water-shed between the Bristol and Christchurch Avons. (fn. 16) A head-water of the Bristol Avon forms part of the north-western boundary of the parish, while a head-stream of the Christchurch Avon marks part of the north-eastern boundary. (fn. 17) A number of streams rise on the Upper Greensand on either side of the water-shed: one flows northwestwards through Peppercombe, where the land is marshy and overgrown, and joins the northwestern boundary stream east of Crookwood Mill Farm. A small head-water of the Bristol Avon rises north-east of Wedhampton. The copious spring whence Urchfont derives its name rises north-west of Rookery Farm and is reputed never to fail, even in the driest season. (fn. 18)
The Ridge Way runs on an east-west course along the crest of the northern scarp of Salisbury Plain and ample evidence of prehistoric occupation has been found nearby, including a late-Bronze-Age plain socketed axe, an iron brooch, and a haematitecoated bowl of the early Iron Age. (fn. 19) Two (possibly three) bowl-barrows lie on either side of the Ridge Way at Urchfont Hill. There are two smaller bowlbarrows on Great Fore Down and a field system on Penning Down. (fn. 20)
The course of roads and tracks in the parish has altered little since the 18th century. The northern part of the parish was then served by a network of roads which remain as tracks or green lanes. (fn. 21) The most important ran south-eastwards from Crookwood Farm through the deep coomb in Folly wood to Wickham Green whence it turned sharply eastwards and ran immediately south of Urchfont Manor, where its course was clearly visible in 1969, and into the village at the Green. The most important change was the closure, as a result of military manœuvres, of the former main Devizes-Salisbury road, which ran by way of Redhorn Hill over Salisbury Plain; thereafter the main route to Salisbury followed the road which runs via West Lavington, Tilshead, and Shrewton. Part of the former main road, known as early as the 16th century as Lydeway, follows the course of the water-shed between the head-waters of the Bristol and Christchurch Avons (see above). It was turnpiked in the early 1760s and formed part of the main road from Devizes to Amesbury and Salisbury in 1969. The hundred courts met at Foxley Corner on the Salisbury road. (fn. 22) The Berks. & Hants Extension Railway, opened in 1862, ran across the northernmost tip of the parish but that section was closed in 1966. (fn. 23) In 1900 the G.W.R. constructed a line branching off the Hungerford-Devizes line at Patney which passed through the parish on its course to Westbury. The line was still in use in 1969 as part of the main route to the west of England. (fn. 24)
Urchfont, Eastcott, and Wedhampton together were assessed at £8 14s. for the fifteenth of 1334, the highest payment recorded for the small hundred of Studfold. (fn. 25) In 1377 the entire parish had 310 poll-tax payers, of whom 209 lived at Urchfont, 65 in Wedhampton, and 36 in Eastcott. (fn. 26) The contribution made by the three tithings to the benevolence of 1545 was the highest in the combined hundred of Swanborough, King's Rowborough, and Studfold. (fn. 27) There were nineteen contributors from the parish to the subsidy of 1576. (fn. 28) By 1801 the parish had 1,190 inhabitants, of whom 899 lived in Urchfont, 173 in Wedhampton, and 118 in Eastcott. (fn. 29) The population continued to expand until 1841 when there were 1,711 inhabitants, a rise attributed in part to the inclusion of the ancient parish of Stert as a tithing of Urchfont (see above). Thereafter, probably as a result of unemployment and the consequent drift away from rural areas, the population declined. (fn. 30) Urchfont and its hamlets had only 683 inhabitants in 1951. By 1971 the population had risen to 820. (fn. 31)
Urchfont village had a street called 'Dengestret' in the later 14th century and another known as 'Molys Lane' in 1547, but their locations are unknown. (fn. 32) By the later 16th century, however, the village, centred then as now on 'the street' (in 1969 called High Street), was flanked to the west by an extensive area of common land by then known as the Green. (fn. 33) By the earlier 17th century the village covered a considerable area east of the high street and extended about ½ mile to the east as far as Townsend (known by that name in 1621). (fn. 34) Townsend Cottage, which stands on the south side of the road, is a 17th-century timber-framed house, while directly to the north a group of small cottages, externally of 19th-century date, retains an earlier cruck on the west side. Rookery Farm, which lies ¼ mile east of Townsend, is a 16th-century house partly timber-framed and partly with stone walls. The ground floor contains an entrance passage and three rooms, the central one of which has elaborately moulded beams. The house was extensively altered in the 18th century and again c. 1960. During the 17th and 18th centuries the high street and the lane, known by 1784 as Back Street, which branched off it to the west and led to a small triangular space then known as Lower Green, were built up. The 18th-century houses in the high street, which contemporary maps show with back gardens encroaching westwards on to the Green, are mostly of brick, although a few are colour-washed. (fn. 35) Many of the cottages around Lower Green and the lane formerly known as Back Street are of 17th-century origin but have subsequently been extended and some encased with brick. From the high street a lane, known variously along its course from west to east in 1784 as Friars Lane, the Knapp, Ram Alley, and Frog Alley, runs to Urchfont bottom. Friar's Cottage, which stands at the lane's junction with High Street, is a 17th-century timber-framed house of one storey and attics above a rubble-walled basement. (fn. 36) The date 1633 in the plasterwork of a bedroom wall may be that of the house's construction. It appears to have consisted originally of two rooms, one of which has a fire-place in a rubblebuilt gable wall. There are a number of 17th- and 18th-century cottages at Urchfont bottom. (fn. 37) 'The Baish', which leads north-westwards from Urchfont bottom, was known as 'Fish Way' in 1784. (fn. 38) At the junction of the high street and the former Back Street the road widens and skirts a pond, around which lie, from west to east, Manor Farm, Mulberry House, and the Vicarage. Mulberry House completely obscures the church, which lies to the north. The original late-17th-century house was enlarged and refronted in the early 18th century by the addition of a range to the south. The house was refitted in the early 19th century and a new service wing added to the north-west. Church Farm, which stands west of the church, probably dates from the 16th century. The original single-range building had a two-bay hall framed with cruck trusses and two smaller rooms at either end, of which the eastern one incorporated a passage entry. The hall fire-place, which is against the passage, and the ceiling may be later insertions. In 1972 the stabling north of the house had been converted into living accommodation and the house itself considerably modernized.
The Green remained common at inclosure in 1793 but during the 19th century part became divided up into allotments. (fn. 39) In 1969 it was transected by Romains Lane. (fn. 40) Urchfont, although always a large and prosperous village, remained rural and undeveloped until just before the Second World War. A row of council houses, facing the Lavington road, was built soon after the First World War on that part of the Green previously occupied by allotment gardens. Another council estate was built east of Rookery Farm in the 1950s. After the Second World War the village became a dormitory for Devizes. Subsequently much private housing development took place and a number of cottages were converted into middle-class residences. Sewage disposal works were opened at Peppercombe in 1959. (fn. 41) The first private housing estate, known as Manor Close, was built behind the council houses at the south-west corner of the Green. At roughly the same date a few houses were built behind the church at the north-eastern end of Church Lane. Other private housing estates are of fairly recent construction and include developments, known as the Orchard and Peppercombe estates, to the west and north-west of Peppercombe Lane. Estates called the Croft and Walnut Close have been built at Townsend. An unusual brick house, designed by the Architects' Design Unit of Devizes, has been built along Crookwood Lane at Cuckoo Corner, and a few houses of more conventional design were in the process of being built in Peppercombe in 1969. (fn. 42) Despite the considerable expansion of Urchfont in the 1960s the village itself contains no more than a post office and one or two shops.
The hamlet of Eastcott, separated from Urchfont by Wickham Green, has no recognizable centre and consists of a few buildings strung out along the Market Lavington road and of several cottages scattered along the east side of the lane which runs northwards past Eastcott Manor.
Eastcott House, which lies north of the manorhouse, may originally have been attached to one of the small estates which once existed within the tithing. (fn. 43) Its western range incorporates part of a late-16th- or early-17th-century building with stone walls and a surviving buttress. The house, which by 1842 was part of the manorial estate, was refronted to the east in the earlier 19th century by the addition of a brick range which provided new principal rooms. (fn. 44)
The large compact hamlet at Wedhampton is grouped round a semi-circular lane running off Lydeway and contains some timber-framed houses, mostly of the 17th and 18th centuries. North of Wedhampton Manor, which stands at the hamlet's south-east corner, a large two-storeyed 17th-century house with a thatched roof is timber-framed and has the remains of carved oriels below a gable on the west front.
Manors and other Estates.
T.R.E. the abbey of St. Mary, Winchester (Nunnaminster), held an estate at Urchfont which then apparently covered the entire ancient parish but which later divided to form several distinct estates, all held of the abbey (see below). (fn. 45) Nunnaminster retained the manor of URCHFONT until it was suppressed in 1536. Although some of the house's possessions were restored the same year, Urchfont was expressly excluded from the grant. (fn. 46)
In 1536 the manor was granted in tail male to Edward Seymour, later duke of Somerset, and his second wife Anne. (fn. 47) It was forfeited on the duke's execution in 1552, but in 1553 Seymour's son-inlaw, John Dudley, styled earl of Warwick (d. 1554), was granted custody. (fn. 48) The manor was not restored to the duke's son Edward, earl of Hertford (d. 1621), until 1582. (fn. 49) It thenceforth descended with the Hertford and Somerset titles until 1671, when, on the death without issue of William, duke of Somerset, it passed to Elizabeth (d. 1697), William's sister, wife of Thomas Bruce, earl of Ailesbury. (fn. 50) Elizabeth was succeeded by her son Charles, the 3rd earl (d. 1747), who in 1720 sold the estate to his cousin Henry Boyle, Lord Carleton (d. 1724). (fn. 51) Henry devised the manor in tail male to his nephew, Charles, duke of Queensberry (d.s.p.s. 1778), although apparently the entail was subsequently barred. (fn. 52) Thus the manor, augmented in 1767 by the purchase of the former Pynsent estate in Urchfont (see below), passed to his kinsman and heir William, duke of Queensberry (d.s.p. 1810), who c. 1788 sold the estate, then reckoned at some 4,000 a., to William Salmon of Devizes, who in turn sold it in 1825 to George Watson-Taylor (d. 1841). (fn. 53) He was succeeded by his son Simon (d. 1902), who sold much of the estate. In 1863 he sold 1,233 a. in Urchfont and Wedhampton, including Manor and Dairy farms at Lydeway (known in 1969 as Lydeway farm), Manor and Manning's farms at Wedhampton (known in 1969 as Manor farm), and Manor farm at Urchfont, to the trustees of Heytesbury Hospital, who in 1969 sold off their estate in lots to the tenants, Mrs. I. Plank, Mr. M. G. Willis, and Mr. F. J. Snook. (fn. 54) The War Department bought 970 a. more in 1897. (fn. 55) Simon Watson-Taylor was succeeded by his son George S. A. Watson-Taylor (d. 1942), who in 1920 sold Crookwood farm to the tenants Messrs. R. Allen and M. Giddings. (fn. 56) The rest of the estate, c. 800 a. comprising Church, Green, Breach, Cuckoo, New End, Wickham Green, and Bishop's farms, was sold in 1928 to Hamilton Rivers Pollock (d. 1940). (fn. 57) The remaining farms were sold in lots in the 1930s and in 1946 the county council bought the Manor, built for Sir William Pynsent and described below, with c. 100 a. from H. R. Pollock's executors. Since 1947 the house and its grounds have been used as an adult education college. (fn. 58)
A manor-house is first mentioned in 1487, when a new chamber was added to the hall. (fn. 59) About 1500 it was much repaired with its outbuildings. (fn. 60) Manor Farm, which lies at the northern end of the high street to the west of Mulberry House, incorporates one range of a tall 16th-century building with at least two rooms on each floor. The ground-floor room at the east end has an elaborately moulded ceiling whilst the room above it was originally open to the roof where the arch-braced collars and two tiers of curved wind-braces would have been visible. The house was encased in brick in the earlier 19th century. It was also extended to the north: a beam in the roof of the new portion bears the date 1845. In the garden, to the south-west, a tall two-storeyed timber-framed barn stands clear of the ground on staddle stones. It was once a store for horse corn and casual labourers employed on the farm at harvest were housed in its loft. (fn. 61)
By the end of the 16th century Robert Noyes (d. c. 1614) had built up an estate of some 300 a. in Urchfont and Eastcott. Some 90 a. of this total were bought from Thomas and Alice Sherar in 1567 and in 1570 70 a., known as Sloper's Hold, from Richard and Elizabeth Sloper. (fn. 62) In 1573 Noyes acquired 70 a. in Urchfont and Eastcott from Roger and Joan Willis and in 1589 bought 20 a. there from Robert's son Nicholas. (fn. 63) He also bought 50 a. known as 'Northcombe' from Sir William Eyre in 1595. (fn. 64)
In 1610 Robert Noyes settled in fee his newlyacquired estate on his son William, and on William's wife Anne, the daughter of Michael Ernle (d. 1594). William died in 1618 leaving a son, William, to whom the lands were delivered in 1633 when he came of age. (fn. 65) The younger William died before 1645, and since his brothers Robert and Richard had predeceased him, he was succeeded by three coheirs, his sisters Susan (d. c. 1655–6) wife of Henry Eyre (d. before 1649), Elizabeth wife of John Richards, and Anne wife of Edward Howard. (fn. 66) In 1649 they conveyed 296 a. in Urchfont, Eastcott, and 'Stockweeke' to Edmund Proby, presumably a trustee for the settlement of their lands. (fn. 67) In 1678 Edward Howard, widower of Anne Noyes, and his wife Lucy, both of whom seem to have acquired Susan Eyre's share, conveyed 184 a. in Urchfont, Eastcott, and 'Stockweeke' to John Richards, who then conveyed the land to William Pynsent (cr. baronet 1687). (fn. 68) It seems likely that Richards may have conveyed his first wife Elizabeth's share to William Pynsent at about the same time.
Sir William died in 1719 and was succeeded by his son William the younger (d.s.p.s. 1765). He devised his lands at Urchfont to William Pitt (later earl of Chatham and d. 1778), who in 1767 sold them, then reckoned at 400 a., to Charles, 3rd duke of Queensberry. (fn. 69) They were subsequently merged in the capital manor of Urchfont.
The house known as Urchfont Manor was built for Sir William Pynsent (d. 1719) directly north of the common known as Upper Green, from which it was separated by the lane which formerly led from Eastcott to Urchfont. (fn. 70) It was called Urchfont House until the earlier 19th century. (fn. 71) The house, of local brick with stone dressings, (fn. 72) is apparently of c. 1680 but incorporates a 16th-century fire-place and associated chimney stack. Although the architectural details of the various elevations differ, the house nevertheless appears to have been the product of a single building operation. The west side, with its mullioned and transomed windows, may have been completed before the seven-bay east elevation. The east front's central projection is crowned with a pediment containing a cartouche inscribed 'W.P.' and appears always to have had sashed windows. (fn. 73) The south elevation, which had seven irregularly spaced but symmetrical bays, originally had mullioned and transomed windows but those were replaced by sashes probably in the 18th century. The house was much altered internally by Simon Watson-Taylor (d. 1902), who lived there from about 1850 to 1862. (fn. 74) The rearrangements chiefly resulted in the conversion of the east elevation from an entrance to a garden front. Of the 17th-century fittings, the principal staircase and some fire-places and panelling in upper rooms survive. Contemporary oil paintings on wood are set into the panelling above some of the fire-places. One, in the library, gives a detailed picture of the east front at the turn of the 17th century, when the house was fronted by formal walks between an avenue of cypresses. (fn. 75) The grounds were later landscaped and an avenue of trees planted across Upper Green to provide a southerly vista. (fn. 76)
Land at Eastcott was probably included in the Domesday assessment for Urchfont and apparently later became divided into at least two estates, which were acquired by the rector and convent of Edington in the 14th century.
The most substantial estate at Eastcott was held of the abbey of St. Mary, Winchester, in the 14th century but afterwards the overlordship appears to have lapsed. (fn. 77) The estate is first mentioned in 1304 when Michael of Eastcott was granted free warren in his demesne lands at Eastcott. (fn. 78) These lands may be identified with the manor of EASTCOTT held in 1310 by Hugh of Eastcott, probably Michael's heir, and his wife Joan. (fn. 79) Hugh died at an unknown date and was succeeded by his son Walter (d. 1341), whose heir was his son Hugh (II). (fn. 80) Before 1351 Hugh (II) had conveyed the fee simple to John de la Roche, who had already acquired a life estate in the manor in 1349. (fn. 81) In 1351 Roche conveyed the manor to William Overton (d. 1352), who was succeeded by his son Thomas. (fn. 82)
In the 13th and 14th centuries another branch of the family had an estate which included land at Eastcott. A John of Eastcott had an estate which at an unknown date passed to his son Richard. On his death, also at an unknown date, the land passed to four coheirs, his sisters, who partitioned the lands in the early 14th century. That part of the estate situated in Eastcott was allotted to Margery of Eastcott and her sister Gillian, wife of Lawrence Wylye. (fn. 83) No more is known of the Wylye portion, which was possibly acquired by Margery, who in 1335 conveyed 70 a. in Eastcott to Nicholas of Rollestone and his wife Katharine. (fn. 84) The lands passed at an unknown date to their son Henry, rector of Orcheston St. Mary, who in 1363 conveyed the estate to Thomas Overton. (fn. 85) The lands thenceforth became merged in the manor of Eastcott and in the same year Overton conveyed it to the rector and convent of Edington. (fn. 86) The Eastcott estate was further enlarged in 1366 when Michael Skilling and William Wroughton conveyed three virgates in Eastcott and Urchfont to the convent. (fn. 87) The manor continued to be held by Edington until the house was dissolved in 1539. (fn. 88)
In 1545 Nicholas Hame and James Tutt received a royal grant of the manor of Eastcott. (fn. 89) Tutt presumably released his interest to Nicholas Hame, who in 1546 conveyed Eastcott to John Hame, possibly his son. (fn. 90) In 1572 John Hame and his wife Joan sold the manor, then reckoned at over 400 a., to Robert Flower (d. 1577), who was succeeded there by his son John. (fn. 91) John Flower died in 1595 leaving a son William, who received the estate when he came of age in 1609. (fn. 92) He died in 1613 and was succeeded by his son James, aged three years, to whom the manor was delivered when he came of age in 1633. (fn. 93) James Flower died in 1651 and was apparently succeeded by coheirs, presumably his daughters. Elizabeth and her husband William Knapton, Mary and her husband Thomas Arnold, and Sarah and her husband Robert Heming, who each held a third of the estate, conveyed it at an unknown date to Sir Walter Ernle (d. 1682). (fn. 94) The land descended in the Ernle and Drax families like the manor of Etchilhampton to Lady Dunsany. (fn. 95) During the later 19th century the large manorial estate was divided into Manor and Eastcott farms. In 1900 and 1911 land totalling 250 a. was sold to the War Department. (fn. 96) Manor farm was sold off at an unknown date and by 1920 had passed to the Revd. Charles F. W. T. Williams. (fn. 97) On the death of Lady Dunsany in 1916 Eastcott farm passed to her second son the Hon. Reginald Plunkett-ErnleErle-Drax, who sold it in 1918 to a Mrs. Strong of Bath. (fn. 98)
Eastcott Manor is set back north of the Urchfont to Market Lavington road on a greensand embankment and is enclosed by a walled garden. The original house, probably of c. 1600, was made up of a westfacing rubble-walled hall range of one storey and an attic. Some years later the house was extended on the south, perhaps to provide service accommodation: at the same time displayed timberframing was also added to the hall range. A room built of stone was added to the east of the hall range and a new staircase built within the old house c. 1690. In the mid 18th century a new kitchen wing was constructed at the north-west corner, and the south wing panelled to form parlours and principal bedrooms. A new garden wall incorporating a gazebo and a western entrance with ornamental gate-piers were also added. The last main structural alterations were made c. 1800 when the attics of the hall range were raised to form a complete second storey and the south wing partly under-built with brick.
It is possible to identify land held of the abbey of St. Mary, Winchester, by the Malwain family in the 14th century with the later manors of NORTHCOMBE and WEDHAMPTON. (fn. 99)
In the earlier 14th century John Malwain the elder had lands in Urchfont, Eastcott, and Wedhampton. He was dead by 1376 when trustees delivered seisin to John the younger (d. after 1412). (fn. 100) John the younger was succeeded by his son Roger who settled the estate on his wife Avice (d. 1473) for life. Roger and his heir, his daughter Joan, both died at unknown dates and the estate passed to John Ernle (d. 1519), great-grandson of John Malwain the younger, who was seised by 1507. (fn. 101) On his death he was succeeded by his son John (d. 1555), grandson John (d. 1572), and greatgrandson Michael (d. 1594). (fn. 102) Michael Ernle died seised of the manor of Northcombe in Urchfont, including a farm called 'Duellis', held of the main manor of Urchfont, and the farm of Wedhampton. (fn. 103) Thereafter Northcombe and Wedhampton descended separately until 1656.
Northcombe, which, as its name suggests, comprised land in the north of the parish, descended to John Ernle (d. 1648), Michael's eldest son by his first marriage to Mary Finnamore. In 1624 John and his wife Margaret conveyed Northcombe to Robert Whoode, (fn. 104) who in 1634, with his wife Alice, reconveyed it to trustees. (fn. 105) The following year Robert and Alice Whoode sold the manor to John Hampton. (fn. 106) Hampton soon resold the manor, as William Jeay and his wife Anne held it in 1637 when they sold it to Walter Ernle (d. 1682). (fn. 107)
In 1577, on the occasion of his second marriage to Susan Hungerford, Michael Ernle settled his Wedhampton estate on the heirs male of the marriage. (fn. 108) At his death in 1594, Michael was succeeded at Wedhampton by his sons Walter (d.s.p. 1618) and Edward (d. 1656). Edward's heir was his son, Sir Walter (d. 1682), who already held the manor of Northcombe (see above). (fn. 109)
Thereafter the manors of Northcombe and Wedhampton, which by 1695 included farms known as 'Dwellis' and 'Franklin's', followed the descent of the manor of Eastcott until 1918. The former manor of Northcombe had lost its separate identity by that date and as early as 1815 the name was applied to the entire Drax estate in Urchfont. (fn. 110) In 1918 Manor farm, Wedhampton (known as Old Manor alias Uncle's farm in 1969) was sold to a Mrs. Strong of Bath, Franklin's farm to John Smith of Potterne, and Uphill farm to the tenant, Mr. T. Stone. (fn. 111) Later all three were bought by the Heytesbury Hospital trustees, and c. 1969 were sold to Mr. M. G. Ellis, Mr. W. G. Potter, and Mr. R. H. Alexander respectively. (fn. 112)
Old Manor Farm, Wedhampton, is a timberframed house of the early 17th century, with two ground-floor rooms, one of which contains a fireplace. It was enlarged by the addition of a wing to the east later in the 17th century.
The Eyre family was established at Wedhampton as customary tenants of the abbess of St. Mary, Winchester, as early as the 14th century, and by the early 16th century had acquired a freehold estate there. (fn. 113) In 1554 John Eyre died seised of a tenement in Wedhampton and was succeeded by his son John, who, on the occasion of his second marriage to Elizabeth Dauntsey in 1579, settled his Wedhampton estate, including East Crook Mill, on her as a life estate. (fn. 114) John Eyre died in 1581 and was succeeded by his son William, to whom his stepmother Elizabeth subsequently released her life estate. (fn. 115) In 1624 Sir William Eyre settled the estate on Henry, the younger son of his second marriage to Elizabeth Jackman (d. 1622). (fn. 116) Sir William died in 1629 and was succeeded by Henry (d. before 1649). (fn. 117) Henry's heir was his son William upon whose death in 1660 the lands passed to William's son Henry, who held a farm comprising four yardlands at Wedhampton in the early 18th century. (fn. 118) In 1722 Henry Eyre sold the estate, reckoned at 115 a. in 1732, to William Tichborne and his brother Michael. (fn. 119) William died at an unknown date and was succeeded by his son Michael, who died in the early 1790s. (fn. 120) Michael was succeeded by his daughter Teresa Tichborne, who in 1797 conveyed the estate to Thomas Noyes Lewis (d. c. 1807), who devised it to his nephew, also called Thomas Noyes Lewis (d. 1861). (fn. 121) In the early 1860s Thomas (II) Noyes Lewis's executors sold the property to George Mannings the younger. (fn. 122) Thereafter little is known of the estate until 1889 when the trustees of Alexander Meek (d. 1888) owned it. They sold the farm to Heytesbury Hospital, who already had a considerable amount of land in the parish (see above), in 1912. (fn. 123) The land lay in the south-east of the parish immediately north of Redhorn Hill. Its farm-house, which formerly stood north of Wedhampton Cottage, was burnt down in the 19th century and never rebuilt. (fn. 124) The farm apparently later became merged with the other Heytesbury lands in Wedhampton.
The house known as Wedhampton Manor stands behind a walled terrace garden close to the road, from which it is approached by stone steps. The oldest part of the house is the timber-framed northeast range of two storeys with attics: it dates from c. 1650 but has been much altered at various times. In the last years of the 17th century, at the time of his second marriage, Henry Eyre extended and refronted the house on the west by the addition of three principal rooms and a central staircase block projecting to the east. Much of the panelling in the new wing is of early-17th-century date, however, and may have come from an earlier house. The date 1701 and the initials of Henry Eyre and his second wife Susanna, which appear on a rainwater head on the west wing, may mark the date of its completion. (fn. 125) Soon after he acquired the property in 1722, William Tichborne made many alterations, mostly to the interior, notably the insertion of a new principal doorway, some panelling, and perhaps some of the plasterwork. Early in the 19th century the angle between the staircase and the south rooms was filled in by a small block in a style to match the early-18th-century work. Later in the 19th century new fire-places were put into most of the principal rooms. By 1842 the house was detached from the estate and was owned by John Townsend Compton. (fn. 126)
In 1546 Nicholas Hame died seised of lands in Eastcott, and the bulk of his estate there passed to his son Robert, although small grants of land were made to his son William and daughter Joan. (fn. 127) Robert Hame died seised of his portion in 1558 and his coheirs were his daughters Joan, Jane, and Agnes, all minors. (fn. 128)
A third was delivered to Joan and her husband Roger Willis in 1562. (fn. 129) Joan was dead by 1580 when the lands were delivered to her son Nicholas. (fn. 130) He died without issue before 1602 whereupon his lands passed to his sister Anne, wife of John Whitbread. (fn. 131)
Jane Hame received her third in 1567. (fn. 132) In 1603 she and her husband John Bennet conveyed their share to Michael Tidcombe the elder (d. 1639), who in 1623 settled the land on a younger son Michael. (fn. 133) About 1631 the younger Michael conveyed his land at Eastcott, reckoned at some 50 a., to Edward North, who in 1649 resold it to William Shergall. (fn. 134) In 1660 Shergall sold the estate to William Talman the elder (d. 1663), father of William Talman the architect. (fn. 135) On the elder William's death, the land passed to his son Christopher Talman. (fn. 136) In 1683 he sold it to William Pynsent, who a few years later acquired other lands in the area (see above). (fn. 137)
The remaining third was delivered in 1573 to Agnes, later the wife of William Springe. (fn. 138) She died in 1622 and was succeeded by her grandson William Springe. (fn. 139)
In 1546 John Sainsbury (d. 1559) held an estate of some 70 a. in Eastcott in chief. He was succeeded there by his grandson John (II), son of Richard Sainsbury. (fn. 140) The estate was delivered to John (II) when he came of age in 1578, and at his death in 1634 he was succeeded by his son John (III), who died at an unknown date. (fn. 141) In 1696 William Sainsbury (d. 1705), possibly the son or grandson of John (III), had an estate in Eastcott and Urchfont, but thereafter its descent is obscure. (fn. 142) Robert Sainsbury held 34 a. in Eastcott and Urchfont in 1732. (fn. 143)
In 1732 Francis Wroughton held 175 a. around Eastcott, including land in Eastcott Urchfont field and the old inclosures. (fn. 144) Francis (d. 1733) was succeeded by his brother William (d. 1750), from whom the land passed to William's son Seymour (d. 1789). (fn. 145) Its later descent has not been traced. It would appear, however, that the estate was broken up soon afterwards. In 1973 Maggot's mead, the site of the house described below, was owned by the Giddings family of Crookwood Farm. (fn. 146)
By 1732 the estate included Castle House. (fn. 147) Seymour Wroughton is thought to have either rebuilt or extensively remodelled it c. 1758. (fn. 148) The house stood north of Folly wood, c. 1 mile north-west of the settlement at Eastcott, directly below the steep-sided outcrop of greensand known in the 18th century as Maggot Castle. It was approached from the lane between Workforth common and Crookwood Farm by a drive cut through the greensand. The formal gardens north of the house were arranged round three ornamental fishponds, and a gazebo stood some distance southeast on Maggot Castle. In 1789 the mansion, then probably known as Folly House, was a substantial building with garrets, cellars, and extensive outhousing. Its dining- and drawing-rooms were well furnished and the library stocked with works on various topics including literature, philosophy, and gardening. There were at least six bedchambers. Its contents were auctioned on Seymour Wroughton's death and the house afterwards became ruinous. The foundations were visible in the later 19th century in the meadow, then wooded, called Maggot's mead. (fn. 149) The legends and hauntings with which the area was by then associated doubtless originated in the reputed eccentricity of Wroughton himself, the house's desolate condition, and its isolated situation. (fn. 150) All that marked the position of Folly House in 1973 were the sites of the drive, fishponds, and gazebo.
In 1291 a portion valued at £12 was payable from Urchfont church to Master Ralph of York who, later evidence shows, held the prebend of Urchfont in the nuns' church at Winchester. (fn. 151) How part of the church's revenues came to be taken to endow a prebend at Nunnaminster is not known but by the late 13th century such an endowment clearly existed and from 1291 a number of prebendaries presented by the abbess can be traced. (fn. 152) By 1309 the endowment of the prebend was made up of twothirds of the tithes from the abbess's demesne lands in Urchfont, with certain exceptions, and from 20 virgates of tenant land there. A house with garden in Urchfont was also attached to the prebend at that date. (fn. 153) The prebend was valued at 24 marks in 1341 and consisted entirely of great tithes valued at about £15 and small tithes at about £1 13s. (fn. 154) In 1535 the prebend was valued at £14. (fn. 155) The prebend passed in 1536 with Urchfont rectory and the advowson of the vicarage to Edward Seymour, in 1547 to the Crown, and subsequently to St. George's, Windsor. (fn. 156) Thereafter no more prebendaries were presented, except in 1593 when the king presented the vicar of Urchfont. (fn. 157) The prebendal endowment, however, continued to form a distinct part of the church's revenues. In 1624 6 a., perhaps the remains of the site of the medieval house, and known as Strawlinches field piece and Parsonage close, belonged to the prebend. (fn. 158) The prebendal tithes apparently comprised all the great and most of the small tithes from Wedhampton tithing in the 17th, 18th, and earlier 19th centuries. (fn. 159) In 1799 and 1824 the prebend was reckoned to be worth £883. (fn. 160) £340 was allotted to St. George's, Windsor, in 1842 in place of prebendal tithes. (fn. 161)
The estate was leased in 1539 to William Noyes (d. 1557) at £14 yearly, a constant rental in the 16th and earlier 17th centuries. (fn. 162) William's son Robert (d. c. 1614), grandson William Noyes (d. 1618), and great-grandson William Noyes (d. before 1645) were also lessees. (fn. 163) The last's mother Dame Anne Eyre (d. 1654) was lessee in 1649 and his brother-in-law Edward Howard in 1666. (fn. 164) By 1675 Sir Walter Ernle (d. 1682), had acquired a lease and was followed by his son Walter (d. 1721), and grandson Sir Walter (d. 1732). Margaret, Sir Walter's widow, was lessee in 1734. Gifford Warriner (d. 1787) had a lease in 1742. He was probably followed by his son Gifford (d. 1820), elder grandson Gifford (declared a lunatic in 1821 and d. 1880), and younger grandson Ernle (d. 1850), lessee in 1842. (fn. 165)
As explained below, Nunnaminster formally appropriated Urchfont church in 1382. (fn. 166) The house retained the appropriate rectory until 1536, when it was acquired, with the prebend and advowson of the vicarage, by Edward Seymour. Rectory, prebend, and advowson were sold to the Crown in 1547 and immediately afterwards passed to St. George's, Windsor. (fn. 167) Little is known of the rectory's endowments until 1649. The overall value of the rectory was then £180 5s., of which the rectorial tithes were worth £160 yearly. (fn. 168) In the later 17th century the rectorial estate comprised some 20 a. in an open field called 'Dunfurlonge'. (fn. 169) In 1784 the estate included Lower, Middle, Hither, and Little Glebe, which lay north of Glebe Lane (known in 1969 as Crookwood Lane), in the north-west of the parish. (fn. 170) The same estate was reckoned at 34 a. in 1831 and was worth £55 yearly. The rectorial tithes were then worth £959. (fn. 171) In 1842 St. George's, Windsor, as appropriators, received a rent-charge of £1,088 to replace their rectorial tithes, which included the small tithes from 25 a. in Wedhampton called Filk mead. The rectorial estate passed to the Ecclesiastical Commissioners in 1867 and the land, estimated at 35 a., was offered for sale by them in 1892. (fn. 172) It was sold off in small lots at various dates during the next thirty years. The two largest parcels of 16 a. and 12 a. were sold to A. J. Hues and T. Stone respectively in 1921. (fn. 173)
The rectory was farmed at £15 in the 15th, 16th, and earlier 17th centuries. (fn. 174) Robert Wilkins (d. 1499), the demesne farmer, farmed it in 1478. (fn. 175) In 1612 William Noyes was lessee. (fn. 176) Thereafter the rectory was leased like the prebend until at least 1666, when Edward Howard was lessee. He assigned his lease to his brother-in-law John Richards in 1677. (fn. 177) Sir William Pynsent (d. 1719) was lessee in 1681, and his son and namesake in the earlier 18th century. (fn. 178) John, Henry, and Elizabeth Compton were lessees in 1842. (fn. 179)
Economic History.
Urchfont contained land for twenty ploughs in 1086. There were seven ploughs on the six demesne hides and nine elsewhere on the estate. Meadow was reckoned at 64 a. and there was pasture a league long and half a league broad. (fn. 180)
There were 65 customary tenants on the manor in 1086, of whom 17 worked on the demesne lands. (fn. 181) There were 19 free tenants in 1260 and 34 unspecified tenants in 1480. (fn. 182) In the later 14th century a number of tenants were presented for the dilapidated condition of their tenements. Others fled from the manor, and in 1385 the tithings of Eastcott, Urchfont, and Wedhampton refused to nominate a suitable man to brew beer for Nunnaminster, apparently an ancient duty. (fn. 183) By the 15th and 16th centuries labour services had been commuted for a yearly total payment of £2 10s. 8d. (fn. 184) Little is known of the type or size of tenant holdings, although in the later Middle Ages the manor contained certain customary holdings, each known as an acremansland. (fn. 185) The manor, when surveyed in 1540, comprised 9 freeholders, whose estates are not described, and 64 customary tenants who held a total of 1,362 a. Of the customary tenants, 47 held 722 a. in Urchfont and Eastcott; 8 had yardlands, another a yardland and a half, 2 half-yardlands, 10 cotsetlands, and 11 acremanlands. A total of 640 a. at Wedhampton was held by 17 customary tenants, of whom 4 had yardlands, 11 two yardlands each, and another a holding made up of 3 yardlands. (fn. 186) In 1615 there were 10 free and 51 customary tenants and in 1634 18 free and 73 customary tenants. (fn. 187) Wedhampton contained 2 freeholds and 23 copyhold estates in 1732. Urchfont tithing then had 21 freeholds and 107 copyholds. (fn. 188) In 1784 Urchfont manor contained 97 leaseholds, mostly held for lives and totalling 2,426 a., as well as 73 copyholds totalling 900 a. There were then 12 leasehold estates totalling 400 a. at Wedhampton. (fn. 189)
The demesne was farmed in 1205 by Thomas Griffin and in the later 15th century by William Harvest and his son William the younger (d. 1502). (fn. 190) During the 16th century farmers were generally members of the Noyes family: a William Noyes is mentioned in 1510 and he was evidently succeeded by his son William (d. 1557), and grandson Robert (d. c. 1614). (fn. 191) In 1540 the demesne farm contained 524 a., of which 24 a. of pasture in Over and Nether Breche were worth 3s. 4d. the acre, 7 a. of meadow in 'Longhe', 'Harmersshe', 'Mowre mede', and 'Whytt Croft' 5s. the acre, while 440 a. of arable in the open fields were worth 1s. 8d. the acre. (fn. 192) In the 17th century Urchfont farm, which represented the earlier demesne lands, contained some 1,288 a. (fn. 193) By 1784 the demesne had been divided into Home and Green farms, both of which contained considerable areas of downland and lay south and east of Urchfont village. (fn. 194)
In 1086 the value of the manor had increased from £15 T.R.E. to £30. (fn. 195) The receipts of the manor were £102 in 1464 and £190 in 1500. (fn. 196) Its economy was based on sheep and corn. In 1260 the demesne flock totalled 1,185 sheep, in 1461 1,268, and in 1464 1,261 sheep, then tended by two shepherds. (fn. 197) In 1461 about 12 cwt. of lambs' wool and about 14 cwt. of torn wool were sold that year and in 1462 45 wool-fells, six bare fells, and three 'little' fells were sold, while 950 fleeces weighing 21 cwt. were sent to Nunnaminster. (fn. 198) In 1464 872 sheep were sent to the convent. (fn. 199) Secondary to the demesne flock and to a large extent dependent upon it were the tenant flocks. Evidence suggests that some of these were fairly numerous, since in 1384 two tenants pastured 160 sheep above the number allowed on the abbess's demesne pasture at 'Holcombe'. (fn. 200) Presentments of this kind occur frequently in the court rolls of the manor throughout the 14th century. (fn. 201) The sheep pastures belonging to Urchfont manor in 1464 were 'le Whythecroft', 'le mour', 'Gaveldoune', and 'Otbreche', of which 'Gaveldoune' and 'Otbreche' were leased to the abbess's tenants at Wedhampton at that date and in 1488. (fn. 202) Large demesne flocks and smaller tenant flocks were still maintained on these pastures in the 17th century. At that date Holcombe down was estimated at 100 a., while 'Rowdowne' and 'Gavelsdowne' contained some 200 a. each. (fn. 203)
The crops produced on the manor varied little in the Middle Ages. In 1260 144 qr. of corn, 180 qr. of oats, and 80 qr. of barley were produced. (fn. 204) Some 170 qr. of corn were harvested in 1462, of which 49 qr. were sent to St. Mary's, Winchester. Of 226 qr. of barley produced in the same year, a certain amount was allotted in liveries. (fn. 205) Barley yields were apparently still substantial in the earlier 19th century. (fn. 206)
In 1540 the open fields within the manor contained an overall acreage of c. 970 a. Wedhampton field contained 442 a., Yardland field 150 a., and Eastcott field 100 a., all apportioned amongst tenants holding yardlands, while the largest of the open fields, Cotset or Cotsetland field, had 278 a. of arable held by the tenants of cotsetlands and acremanlands. Wedhampton field had been divided into east, middle, north, and west fields by the 16th century and by the earlier 17th century a similar subdivision had been made in the other fields. (fn. 207) In 1784 the fields stretched southwards from the hamlets across the Upper Greensand and Lower Chalk to the scarp of Salisbury Plain. (fn. 208) The area was still devoted to large open arable fields in 1969. Most of the pasture land in the north of the parish was probably inclosed in the later 17th century: by 1695 two small farms known as 'Franklin's' and 'Dwellis' had emerged within the manor of 'Northcombe', then held by the Ernle (later Ernle-Erle-Drax) family. (fn. 209) A similar process had taken place elsewhere in the parish: in 1784, just before inclosure, besides Home and Green farms, which together represented the former manorial demesne (see above), there were four substantial leasehold estates within Urchfont manor: one was Crookwood farm and another, then called Harris's farm, is identifiable with the later Little Crookwood farm. (fn. 210) Other farms formed before parliamentary inclosure in 1793 can be identified with Dairy and Lydeway (later called Manor) farms, all part of the manorial estate, and Marsh farm, then owner-occupied. (fn. 211) Thus only 1,622 a. remained commonable in the later 18th century. When the open fields, then named as Wedhampton, Yardland, Corset, Eastcott, and Eastcott Urchfont fields, were inclosed in 1793 662 a. were allotted to the lord of the manor, William Salmon, and his tenants. (fn. 212) As a result, a number of small farms were formed, of which three were in Urchfont tithing and two, identifiable with the later Eastcroft and Snook's farms, at Eastcott. (fn. 213) Various other freeholders received allotments of land, including Teresa Tichborne, who received 105 a. for her estate at Wedhampton. Land known as Upper Green, Yardland cliff, and Filk mead (26 a.) remained commonable. (fn. 214) Filk mead, which lay north-east of Wedhampton on the Urchfont-Chirton boundary, was still common to certain landowners in 1912 from August to April each year. (fn. 215)
In 1842 the manorial estate at Urchfont, then owned by the Watson-Taylor family, comprised some 248 a. in hand and fifteen farms leased out. Eleven, including Home (822 a.), Green (609 a.), Little Crookwood (75 a.), Crookwood (200 a.), Dairy (69 a.), and Lydeway (later Manor) (82 a.) farms, were in Urchfont. Two, later known as Manor and Manning's farms, were in Wedhampton, while another two, later Eastcroft and Snook's farms, lay at Eastcott: all contained over 100 a. (fn. 216) Over 2,000 a., including most of the downland within the manor, were sold in the later 19th century. (fn. 217)
Eastcott was included in the Domesday assessment for Urchfont. As an economically separate estate, it supported twelve free tenants in 1352. (fn. 218) Its receipts totalled £22 in 1539 and the manor was estimated to be worth £19 in 1545. (fn. 219) An open field known as Eastcott field was mentioned in the later 15th century. (fn. 220) The economy of the manor, like that of Urchfont, was based on sheep and corn, and in 1539 there was a flock of 400 wethers on the farm: at that date the manor was stated to have been required previously to send 10 qr. each of wheat, barley, and oats yearly to the rector and convent of Edington. (fn. 221) In 1566 the farm contained 438 a., including 200 a. of arable, 200 a. of rough, and 20 a. of ordinary pasture, 12 a. of meadow, and 6 a. of woodland, presumably that known as 'Maggotswode' in 1539. (fn. 222) The acreage of woodland had perhaps been miscalculated at that date since in 1610 it was estimated at 20 a. and comprised Westham, Marshfield, Marshcliff, Eastcott common, and Maggots woods. (fn. 223) By 1610 the entire farm was reckoned at 540 a. and in the 18th and 19th centuries at some 600 a. (fn. 224) Under the inclosure award of 1793 Richard Erle-Drax-Grosvenor, the owner, was allotted 187 a. in place of his lands in Eastcott and Eastcott Urchfont open fields. (fn. 225) In 1842 the land was farmed from Eastcott Hill farm-house which then stood on the downland south-west of Eastcott hamlet. The farm then contained a large sheep pasture of some 250 a. known as Blackheath Down. (fn. 226) The farm was divided into Eastcott and Manor farms in the later 19th century. (fn. 227) In the late 19th and early 20th centuries over 600 a. in Eastcott tithing were sold to the War Department. (fn. 228)
In the later 19th century some villagers leased small allotments, most of which lay on the Upper Greensand between Urchfont bottom and Foxley Corner on either side of the Market Lavington road. There vegetables, notably potatoes, carrots, and peas, were grown for the Bristol and South Wales markets. Allotment gardening had declined by the earlier 20th century and by 1903 the land was consolidated in the hands of a few tenants. By 1969 most of the allotments around the village formed Hales farm, while the remainder had been merged with Uphill and Franklin's farms and with Old Manor (alias Uncle's) farm at Wedhampton. (fn. 229) Well over 1,000 a., which consisted of most of the downland formerly attached to the Urchfont and Eastcott estates, was bought by the War Department in the late 19th and early 20th centuries and subsequently its value as agricultural land has diminished, although much was leased to local farmers at nominal rents in 1969. (fn. 230) Land on the crest of the downs was then under arable cultivation. In 1969 Urchfont contained the following substantial farms: Manor, Rookery, Uphill, Hales, Cuckoo, Newside, Green, Lydeway, Marsh, Crookwood, Crookwood Mill, Bridge, and Church farms, and Manor and Old Manor farms (at Wedhampton). The Eastcott farms (then in Easterton), were known as Manor, Eastcott, Eastcroft, and Snook's farms. The land to the south of a line formed by Eastcott, Urchfont, and Wedhampton villages consisted in 1969 of large unfenced arable fields. Most of the clay lands in the north of the parish were then under pasture and mostly devoted to dairy farming although a little stock rearing was done.
The north of the parish was well wooded in the Middle Ages. In 1086 woodland measured a league in length by half a league in breadth. (fn. 231) In 1461, the woods, which lay on the clays north of Urchfont and Wedhampton villages, were known as 'Westrudyng', 'Rudelfate', 'Okfrygh', 'Crowkwode', 'Hawkescombe', 'Whytecroft', and 'Inlond', and were tended by a woodward. (fn. 232) Crookwood contained 6 a. of 'okes and scruggis . . . very thyn sett' in 1536 and was commonable to the abbess's tenants there. (fn. 233) Another copse called 'Foxeleyse', contained 12 a. of thinly-set trees. (fn. 234) The woodward's account that year totalled some £34. (fn. 235) During the next hundred years much replanting was done. The acreage of Oakfrith coppice at some date in the 17th century was 16 a., while Crookwood had apparently become broken up into a number of coppices: these included Burnodokes coppice (18 a.), Stert coppice (11 a.), Ruddlebat coppice (20 a.), and Wickham Cliff coppice (8 a.). Foxley coppice then totalled 8 a. The woodland on the entire manor amounted to over 100 a. at that time. (fn. 236) Thereafter the woodland rapidly declined and Aubrey, writing in the later 17th century, said that Crookwood, once full of well grown oaks, was then destroyed. (fn. 237) Oakfrith coppice was replanted after the First World War but cut down during the Second. (fn. 238) Many well established trees still stood in the hedgerows in the north-west of the parish, in Peppercombe, Ruddlebats hanging, Breach hanging, and in Urchfont bottom in 1969.
In 1655 the lord of the manor allowed James Claston, 'coal-finder', to dig on the manor, but the enterprise proved a failure partly because tenants refused to allow digging on their land, and partly, according to Aubrey, because the woodland in the parish at that date provided sufficient fuel. (fn. 239) At a later date bricks were produced on the clay in the parish: a brickworks formerly stood near the Bell inn at Lydeway but had been closed by the later 19th century. Traces of a former brickworks could also be seen in 1969 in a field, known as Brick Plot, directly north of Chapel Lane. (fn. 240) Clock-makers flourished in the neighbourhood in the 18th century: among them was Thomas Keyte of Eastcott, who in 1710 produced a 30-hour clock. (fn. 241) In the 19th century there were two forges in Urchfont and other trades included those of saddler, cooper, and tailor. In 1969 there were two builders and a thatcher, but, apart from a few people employed on the farms, most people then worked outside the parish, some travelling as far as Bristol each day. (fn. 242)
Mills. In 1086 there were three mills on the manor which together paid £1 1s. 3d. (fn. 243) They may be identified with the mills at Peppercombe, Crookwood Farm, and Crookwood Mill Farm, which served the parish in the early 20th century. The pond at Peppercombe Mill was fed by a stream which rose in Urchfont bottom, while the two Crookwood mills lay on the Eastcott side of the parish and were fed by the south-westwards-flowing stream which forms the north-western parish boundary. (fn. 244) Both Peppercombe Mill and that at Crookwood Mill Farm drew their water-supply from higher up the streams on which they stood, the water being channelled in a leat along the valleyside until sufficient power to drive their overshot wheels was obtained. (fn. 245)
In 1768 Peppercombe Mill, described as newlybuilt, was part of the former Pynsent lands, which by then had become merged with the manorial estate at Urchfont. (fn. 246) In 1842 it was leased to Robert Giddings. (fn. 247) It remained in use until the early 20th century and in 1969 its site, although partly hidden in dense undergrowth, could still be seen in the wooded, marshy coomb north of the church. (fn. 248)
A mill at Eastcott was held of Nunnaminster in the later 14th century by Henry Denys. (fn. 249) He died in 1387 and his widow Grace succeeded him at 'Crouke'. William Bele held the mill in 1396. (fn. 250) It was perhaps that mill, later part of Crookwood farm, which was held in 1502 by William Harvest, who devised his copyhold to his wife Joan. (fn. 251) The mill remained in the Harvest family until 1582, when the lord of the manor regranted it to William Ashurst. (fn. 252) John Cook leased the mill in 1784, and Thomas Weeks in 1842. (fn. 253) It remained in use until the earlier 20th century. (fn. 254)
In 1498 and 1517 Crookwood Mill was held by John Eyre and described as at Eastcott. (fn. 255) Another John died seised of the freehold in 1554. (fn. 256) Known in the 16th and 17th centuries as East Crook Mill, it descended with the Eyre estate at Wedhampton until 1653 when William Eyre and his wife Sarah conveyed it, together with some land, to Robert Amor. (fn. 257) Crookwood Mill, as it became known in the early 18th century, remained in the Amor family and in 1729 was held by Anne Amor the elder, Richard Amor, and his wife Elizabeth. (fn. 258) It afterwards passed to Chafin Grove (d. 1771) who married Anne Amor, perhaps a daughter of Richard and Elizabeth. Anne succeeded her husband there. (fn. 259) John Cook, lessee of the other Crookwood mill (see above), was doubtless tenant at that time, since it was known as Cook's Mill in 1773. (fn. 260) On Anne Grove's death in 1794 the mill and a small estate attached to it passed to her grandson Chafin Grove (d. 1851), who sold to Richard Giddings in 1802. (fn. 261) Richard Giddings (d. c. 1821) devised it to his son James (d. c. 1843), who devised it upon trust for sale. (fn. 262) Stephen Giddings was owner in 1867. (fn. 263) Mr. and Mrs. Herrod-Taylor owned Crookwood Mill farm in 1972 and maintained a pedigree dairy herd there.
Crookwood Mill Farm was described as newlybuilt in 1677. (fn. 264) The water-mill itself had fallen into decay by 1802 (fn. 265) but a new one was built in the earlier 19th century. That building, which ceased to be used in the earlier 20th century, still stood in 1972. (fn. 266)
Local Government.
The jurisdiction of the abbey of St. Mary, Winchester, and of the house's successors after the Dissolution, extended over the entire ancient parish. (fn. 267) Records of courts are extant for 1260, 1355–99, 1498, 1500, 1517, 1526–30, 1546–8, 1587–9, 1615–38 (entries for 1628–30 and 1633 are wanting), 1725–43, 1743–71, and 1789–99. (fn. 268)
In the 14th century the courts, which met two or three times a year, dealt with the usual manorial business. Presentments were then made by tithings, although that distinction was no longer observed by the later 16th century. (fn. 269) Sessions of medieval courts were probably held in the court-house, mentioned in 1461. (fn. 270) In 1443 Nunnaminster was granted view of frankpledge, assize of bread and ale, and quittance from suit at the hundred court. The grant, although repeated in 1468, apparently proved ineffective, and a further one was made in 1476. (fn. 271) The business of both manorial and leet courts was thereafter conducted on the same day and presentments recorded together until the 18th century when leet and manorial business were sometimes entered separately, as in 1725, 1730, and 1738. (fn. 272) Frequency of courts varied greatly during the 17th and 18th centuries but generally at least one court a year was held.
Besides general matters the manorial courts, both before and after the Dissolution, frequently dealt with the felling of trees without licence, an offence usually presented by the homage of the manor. In 1358, 1365, and 1387, however, the woodward's presentments were listed separately, and in 1387 the number of trees delivered to the abbey's tenants at Urchfont was recorded. (fn. 273) Medieval presentments generally concluded with those made by the carrion men. (fn. 274) Brewers who had broken the assize of ale were presented at the court leet in 1500 and 1517. (fn. 275) From the later 16th century onwards the court leet also dealt with such matters as illegal under-tenancies, while in 1622 and 1738 the need for stocks was noted. (fn. 276)
In 1439 the three tithings of Urchfont, Eastcott, and Wedhampton had two tithingmen each. (fn. 277) After Nunnaminster acquired view of frankpledge (see above) tithingmen were elected at the courts leet. By the later 16th century Urchfont tithing, probably for local convenience only, was divided into three smaller tithings, Eastcott Urchfont, Yardland, and Cosset tithings: during the 17th and 18th centuries those tithings, as well as Eastcott, had a tithingman each, but during the 18th century at least, Wedhampton was served by two. (fn. 278)
In 1592 the justices of the peace ordered that the church-house should be used as a house of correction. (fn. 279) That use may have lapsed by 1651 when the three-weekly courts of the hundred were held there. (fn. 280) The justices again ordered the establishment of such a house in 1660. (fn. 281) A poor-rate, amounting to about £52, was levied in 1724. (fn. 282) In the later 18th century outdoor relief was introduced into Wiltshire and c. 1832 some £400 was paid out by the parish in weekly doles of 3s. each to about 50 ablebodied unemployed men for at least 45 weeks yearly. (fn. 283) No overseers' accounts are known to survive. Urchfont became part of Devizes poor-law union in 1835. (fn. 284)
Churches.
St. Mary's Abbey, Winchester (Nunnaminster) presented rectors to the church of Urchfont from at least the early 13th century until 1382. (fn. 285) In the earlier 13th century, probably c. 1232, the rector, John Griffin, endowed a vicarage within the church and appointed a chaplain, Richard de Stokes, to it. Griffin's endowment was confirmed by the bishop of Salisbury in 1232. (fn. 286) The rectors continued to appoint vicars until the later 14th century. (fn. 287) Although by the 13th century part of the church's revenues had been taken to endow a prebend in Nunnaminster (see above), the church of Urchfont was not completely appropriated by St. Mary's until 1382. (fn. 288) Thereafter no more rectors were presented and the abbesses of Nunnaminster presented vicars to the church. (fn. 289) The appropriation was confirmed in 1391. (fn. 290) Three years before the dissolution of the abbey the rectory and advowson of the vicarage were granted to Edward Seymour (later duke of Somerset and executed 1552), who in 1547 sold them to the king. (fn. 291) The king immediately conveyed them to the dean and canons of Windsor for the endowment of masses to be said at the tomb of Henry VIII. (fn. 292) They were subsequently claimed unsuccessfully by Somerset's heir, the earl of Hertford (d. 1621), and were confirmed to the dean and canons in 1598. (fn. 293) The dean and canons remained rectors and patrons of the vicarage in 1969. (fn. 294) The chapel of Stert was annexed to the church by the earlier 13th century and remained a chapel of Urchfont in 1969. (fn. 295) By the 14th century there was a free chapel at Eastcott, described below, which survived until the Reformation. Eastcott tithing was detached from Urchfont parish in 1874 and included in the newlyformed ecclesiastical parish of Easterton. (fn. 296)
In 1291 the church of Urchfont was valued at 20 marks, only slightly more than the portion which formed the endowment of the prebend (see above). (fn. 297) It was worth £22 2s. 4d., about £5 more than the prebend, in 1341, a value which included great tithes worth about £14, all the small tithes other than those allotted to the prebend, and some land. (fn. 298)
At some date in the earlier 13th century, probably c. 1232, the rector of Urchfont, as mentioned above, endowed a vicarage with certain dues and tithes from Urchfont church, and with Stert chapel. (fn. 299) In 1386 the endowment was found to be insufficient and was augmented by the bishop of Salisbury with most of the small tithes of Urchfont and certain of the great ones. (fn. 300) By 1478 the vicarial tithes included a portion of the great tithes from the rectorial glebe as well as from 9 a. of the abbess's demesne land in Urchfont. (fn. 301) In the later 17th century the vicar received great and small tithes from Urchfont tithing worth £40 a year and all the small tithes from Wedhampton. (fn. 302) He also had all tithes from Stert except those from its demesne farm. (fn. 303) The vicarial tithes were commuted in 1842 for a rentcharge of £303. (fn. 304)
By 1478 a close called the rector's, presumably part of the rectorial estate, had been allotted to the vicar. (fn. 305) In the later 17th century and in 1842 it comprised 1½ a., 1 a. of which lay in Stert. (fn. 306) The western range of the Old Vicarage, which contains a timber-framed house of 17th-century date with three rooms in a line, is to be identified with the vicar's house mentioned in 1649 and 1677. (fn. 307) It proved inadequate by 1783, when the incumbent lived at Potterne, where he had 'a much more comfortable residence'. (fn. 308) The house was enlarged c. 1810 by a range of three rooms on the east and extended on the south in the later 19th century. It was sold as a private dwelling c. 1970 and replaced by a new Vicarage to the north. (fn. 309)
A portion payable from Urchfont church to the prior of Malvern (Worcs.) in 1291 was by 1341 a charge upon the great tithes of Stert. (fn. 310) In 1349 Robert of Etchilhampton and John Malwain (d. before 1376) endowed a chantry in the church by conveying three virgates in Eastcott to support a chaplain to pray daily for their own souls, their parents', and John le Froend's soul. (fn. 311) No more is known of the chantry, which was probably situated in the south transept, although it may later have been represented by the altar of St. Nicholas, mentioned in 1502. (fn. 312) There were at least five lights in the church in 1502, one of which, it was reported in 1574, was apparently maintained by the income from 2 a. of land in Urchfont. (fn. 313)
In 1301 the archdeacon of Salisbury was ordered to sequestrate the fruits of the church because the rector was absent and would not repair the chancel. (fn. 314) So it was in 1302. (fn. 315) In 1305, 1306, and 1308 the rector was granted leave of absence but not until 1310, when he was given leave to study in Oxford, was he required to appoint a deputy. (fn. 316) He evidently continued to be non-resident and the only presentation of a vicar by him found occurred in 1317. (fn. 317) Another rector presented vicars in 1349 and 1361. (fn. 318) Among the vicars, the royalist scholar and author David Stokes, vicar 1644–5, presumably did not live in the parish as he held other important preferments. (fn. 319) Richard Wall, vicar for an unspecified time during the Interregnum, signed the presbyterian manifesto in 1648. (fn. 320) He was probably ejected at the Restoration and in 1662 the royalist scholar Thomas Anne (d. 1671) became vicar. (fn. 321) In 1783 the vicar, who lived in Potterne, employed a curate because of illness. (fn. 322) By 1835 £86 had been allotted as an annual stipend for a curate, and in 1864 the vicar employed a curate of St. James's, Devizes, to help him. (fn. 323) In 1783 services with sermons were held in the morning and afternoon alternately with those at Stert chapel. Services were also held on major feast days and Holy Communion, attended by an average of 100 communicants, was celebrated at Christmas, Easter, Whitsun, and the Sunday after Michaelmas at either church or chapel. (fn. 324) The average attendance during 1850–1 was 400 at morning and 350 at afternoon services. (fn. 325) In 1864 services were held alternately in the morning and afternoon with those at Stert. There was an average of 65 communicants at festivals and 50 at other times. (fn. 326) What was probably an isolated example in an area where unorthodox opinions later became more widespread occurred in 1532 when John Bent, tailor, of Urchfont, was burnt at the marketplace in Devizes for denying the doctrine of transubstantiation. (fn. 327)
The church of ST. MICHAEL AND ALL ANGELS is of local sandstone with limestone dressings and has a chancel, aisled and clerestoreyed nave with transepts and south porch, and a west tower. (fn. 328) The earliest surviving part is the chancel arch of c. 1200. The piers of the nave arcade may be of similar date and the dimensions of the nave suggest that it may have been laid out at that time. The church also retains an early-13th-century font. There was a south aisle by the early 14th century. In 1302 the archdeacon ordered the rector to renew the chancel. (fn. 329) That injunction seems to have occasioned the extensive rebuilding and enlargement of the entire church which took place in the earlier 14th century. It involved the construction of a new chancel with pronounced staged buttresses on the exterior and a vaulted ceiling internally, a north transept and aisle, and a south transept, which may have been built as a chantry probably c. 1349 (see above). The south aisle was rebuilt and so too were both north and south nave arcades, re-using, as suggested above, earlier piers. The west tower and embattled parapet of the south aisle were added in the 15th century. The chancel roof was repaired in 1478 when four cartloads of freestone were brought from Hazelbury quarry for the purpose. (fn. 330) The south porch was added and the window to its west renewed early in the 16th century. Thereafter minor alterations and repairs only were made to the fabric. A window in the north aisle was altered in the earlier 17th century, and the aisle's roof, dated 1631, renewed. Repairs were made to the roof of the south transept in 1787, to that of the south aisle in 1791, and to that of the nave in the 19th century. A gallery, built 1724, was taken down c. 1864. (fn. 331) The east window was replaced some time in the 19th century, and later, in 1899–1900, the church was restored by C. E. Ponting. (fn. 332) Three monuments are noteworthy: Thomas Ernle (d. 1725), Robert Tothill (d. 1753) and his wife by Peter Scheemakers, and James Long (d. 1768). Long, who gave the land for the road which runs below Etchilhampton Hill to Lydeway, is commemorated by a monument of coloured marbles with an obelisk by Mauge of Bath. (fn. 333)
In 1553 the church was allowed to keep a chalice of 14 oz. by the king's commissioners. The plate in 1969 comprised two silver chalices, one of 1560 and another, hall-marked 1827, given by the Revd. George Hendrick and his wife in 1830; a paten, hall-marked 1726, given by Mary Pierce in 1728; a flagon, hall-marked 1764, given by James Long in 1765; and an alms-dish, given by Harriet Read Halliday in 1845. (fn. 334) The church also had a pewter alms-dish of 1837.
Urchfont church had four bells in 1553. One of them, possibly of 14th-century date, has survived as the treble of the present (1969) peal of eight bells. The age of the tenor, inscribed '1610', suggests a fairly early ring of eight bells, although all except the treble have been renewed. Besides the treble and tenor, three of the remaining bells are of 17thcentury date, two of 18th-, and one of 19th-century date. (fn. 335) The peal was rehung in 1933. (fn. 336)
Registrations of baptisms, marriages, and burials all run from 1538; those for baptisms and burials are complete, while those for marriages are lacking only for the year 1560. (fn. 337)
A free chapel had been established at Eastcott by the 14th century, probably by a lord of the manor. By 1309 both manor and advowson were held by Hugh of Eastcott and later in the 14th century both passed to the convent of Edington. The chapel, which apparently had no cure attached, was served by clerks whose sole means of support was a small estate. The building apparently fell into disuse after the property was confiscated by the Crown in 1548.
The advowson is first mentioned in 1309 when Hugh of Eastcott, lord of the manor, conveyed a life interest in it to Thomas of Aston, who made the first recorded presentation in 1319. (fn. 338) He presented until 1348 when he resigned his interest shortly before Hugh (II) of Eastcott, grandson of Hugh mentioned above, conveyed the advowson in 1351 to William Overton (d. 1352). (fn. 339) Thereafter the advowson passed with the manor of Eastcott to Edington, probably in 1363, and the convent presented chaplains until the chapel was dissolved in 1548. (fn. 340)
The property was granted to John Berwick and Robert Freke in 1549. (fn. 341) Shortly afterwards it was acquired by William Noyes (d. 1557) who devised it to his son John, later M.P. for Calne. (fn. 342) By 1642 the property had apparently passed to another John, presumably son of the elder John. (fn. 343) The lands were held in 1680 by Israel Noyes (d. 1708) of Calne and his wife Margery (d. 1716), probably the son and daughter-in-law of John the younger. (fn. 344) Thereafter nothing is known of the estate.
Nothing is known of the value or endowments of the chapel during the Middle Ages. In 1535 the chapel was worth £2 yearly, a sum which represented the profits arising from the small estate which had presumably formed the original endowment of the chapel. (fn. 345) The land, leased out to Nicholas Hame (d. 1546) and his son Robert (d. 1558) in 1536, comprised 38 a., including a close called 'Harmers', which contained 6 a. of pasture, 5 paddocks of pasture amounting to 3 a., and 29 a. of arable in the open fields at Urchfont, where there was also right of pasture for 60 sheep. (fn. 346) The chaplains never appear to have claimed any tithe and evidently relied solely upon the profits of the estate for their support.
By 1969 the chapel buildings had entirely disappeared, although in the 19th century Chapel field, which lay north of the Easterton-Urchfont road, was thought to mark their site. (fn. 347) In 1546 furnishings, which were sold when the chapel was confiscated, included a chalice weighing 8 oz., a small bell, altar-hangings, vestments, two cruets of tin, and a 'mass book'. (fn. 348)
Nonconformity.
Quakerism was firmly implanted in the area by the later 17th century and was probably brought to Urchfont by Samuel Noyes, a serge-maker from Devizes. Noyes was active in the parish by 1658 when he spoke in the church there at the conclusion of a service. He was subsequently fined for the offence and on his refusal to pay was imprisoned. (fn. 349) The Friends' influence continued and by 1707 the Market Lavington meeting, led by Isaac Selfe, had established a meeting at Urchfont. (fn. 350) Thereafter Quakerism in the parish apparently lapsed.
Independency was established in Urchfont by the later 18th century and in 1775 a group of Independents registered a house there. (fn. 351) The meeting was probably later affiliated to St. Mary's chapel, Devizes (founded 1776), since the group, described in 1783 by the vicar of Urchfont as 'Lady Huntingdon's methodists', was then served by the chapel's minister, Robert Sloper. (fn. 352) Another building was registered by the group in 1797. (fn. 353) Independents also registered a house at Wedhampton in 1797 and certified another at Eastcott in 1817 but these meetings seem to have lapsed. (fn. 354) The Urchfont Independents certified a newly-built chapel in 1817 and increased their accommodation again in 1825 when a schoolroom was certified. (fn. 355) The chapel, served by an occasional preacher, James Staples, was apparently shared by both Independents and Baptists in 1851, when there was accommodation for 291 people. Over the past year the congregation had averaged 12 at morning, 60 at afternoon, and 130 at evening services, while an average of 50 pupils in the morning and 30 in the afternoon were present. (fn. 356) The chapel was attended by about twelve dissenting families in 1864. (fn. 357) In 1886 it was used by Plymouth Brethren. (fn. 358) A charity for the chapel's maintenance was founded in 1896. It was served by lay preachers from the Salem chapel at Devizes and following its closure c. 1965, members afterwards attended the Devizes chapel. (fn. 359) The Urchfont chapel, a square red-brick building standing in Chapel Lane north of Urchfont Green, was sold in 1969 and demolished in 1971. The proceeds of the sale, with the capital from the maintenance fund instituted in 1896 (see above), were later invested and the profits used to help maintain the Salem chapel, Devizes. (fn. 360)
Houses at Urchfont were certified for worship in 1745 and 1822 and at Wedhampton in 1821, but their denominations are unknown. (fn. 361) Wesleyan Methodism, although occurring only sporadically in the parish, seems none the less to have established a lasting influence there. By 1757 23 Wesleyans, led by David Saunders, the original of Hannah More's Shepherd of Salisbury Plain, were meeting at Eastcott, but the meeting apparently lapsed. (fn. 362) Wesleyan Methodism was established at Wedhampton in the later 19th century and a redbrick chapel was built in the north of the hamlet in 1867. (fn. 363) It was used until about 1964 but in 1969 was being converted into a house. (fn. 364)
Education.
In 1808 five 'petty' schools in the parish were attended by 22 boys and 36 girls. (fn. 365) A day-school in Urchfont accommodating some 40 children was supported by subscribers in 1818. (fn. 366) In 1833 the school was attended by 40 boys and 10 girls. (fn. 367) It may have been this school, thought to be unsatisfactory, where 7 boys and 10 girls were taught by an untrained mistress c. 1859. (fn. 368) The school may have survived until 1871 when an 'adventure' school in Urchfont, attended by 15 boys and 14 girls, was supported by the National Society. (fn. 369) A 'dame' taught a few children reading and writing in her cottage at Wedhampton c. 1859. (fn. 370)
In 1833 another day-school, supported by a yearly subscription of £12 and by payments from parents, was attended by 25 boys and 53 girls. (fn. 371) Eighty boys there were taught by a master and a pupil teacher, while 90 girls were taught by a mistress and a pupil teacher c. 1859. Children from Eastcott attended and both teaching and discipline were good. (fn. 372) It later became affiliated to the National Society. In 1871 43 boys and 71 girls attended on inspection day. (fn. 373) In 1906 the school, which stood east of the high street on land leased out by the Watson-Taylor family, had an average attendance of 159 pupils. (fn. 374) Over the next 30 years the average attendance figures steadily declined, and an average of 74 juniors and infants attended in 1938. (fn. 375) Some 63 pupils were taught by three teachers in 1969. (fn. 376)
Charities for the Poor.
Before 1786 a person surnamed More gave £50 to be invested for the benefit of the parish. (fn. 377) The capital was reported to yield £1 10s. yearly. In 1834 no payments had apparently been made for at least 25 years and some of the older parishioners maintained that the capital had previously been used to set up a spinning establishment to employ parish paupers. In 1903 the charity was deemed lost.
Mrs. Sarah Parry, by will proved 1816, bequeathed £50 in trust to be invested, the interest to be distributed yearly on old Christmas day (5 January) in loaves to needy widows in the parish. In 1834 Vincent Snook (d. 1876), one of Sarah Parry's executors, stated that he had spent £2 interest each year on half-gallon loaves, which were distributed to widows in Urchfont, Eastcott, and Wedhampton. He subsequently undertook to invest the money under the terms of the will and was said to have bought a field called 'Freeland' which was then charged with the yearly £2 payment. The land was afterwards sold to Thomas Snook but in 1903 no bread had been distributed for at least 40 years.
By will proved 1879, Eliza Compton bequeathed £1,000 in trust, the interest to be spent on fuel, food, or clothing for the poor. In 1903 the income was £25 yearly and each year the vicar and churchwardens met to choose recipients, who generally included most workers in the parish. The charity was distributed yearly at Christmas in coal and in food vouchers whose value was determined by the price of coal. There were about 170–80 beneficiaries in 1903, each of whom received coal and at least one voucher. In 1969 the charity, which amounted to some £25, was still being distributed yearly at Christmas when 50 pensioners each received vouchers worth 10s. and redeemable at the village grocer's and butcher's shops. (fn. 378)