Pages 119-135
A History of the County of Wiltshire: Volume 15, Amesbury Hundred, Branch and Dole Hundred. Originally published by Victoria County History, London, 1995.
This free content was digitised by double rekeying. All rights reserved.
LUDGERSHALL
Ludgershall parish, (fn. 1) 724 ha. (1,789 a.), 774 ha. from 1992, (fn. 2) lies at the eastern edge of Salisbury Plain and borders Hampshire. The village, 11.5 km. WNW. of Andover (Hants), is the site of Ludgershall castle and of a medieval borough. Biddesden has been part of the parish from 1446 but most aspects of its history are dealt with separately under its own name. (fn. 3) Faberstown, a 20th-century settlement in Kimpton (Hants), adjoins Ludgershall on the east and was transferred to the parish in 1992. (fn. 4)
In the west the parish boundary is marked by a prehistoric ditch along a ridge, and the west half of the northern boundary is marked by the bank and ditch of the north park of the castle. (fn. 5) The north—south part of the boundary with Hampshire follows a dry valley, west of which the boundary with North Tidworth was on its present course in 901. (fn. 6) The north part of the eastern boundary is apparently the western boundary of Chute forest as defined in 1300: (fn. 7) it is not clear whether the line existed before, or was newly made in, 1300. It was considered indistinct in 1783, (fn. 8) but was on its present course across Long bottom in 1841. (fn. 9)
The whole parish is on Upper Chalk. Feeders of the river Anton, a tributary of the Test, deposited gravel in shallow valleys, now dry, in the centre of the parish but not in three deeper dry valleys in the north-east corner. (fn. 10) The highest land is in the west where Windmill Hill reaches 187 m.; the lowest is at c. 105 m. in the extreme south and at 102 m. in the south-east corner. Ludgershall's name may mean 'the nook of land where traps are set' and suggests that its land was a hunting ground before the Conquest. (fn. 11) Much land in the west was in the castle parks in the Middle Ages; most of the parish's woodland was in the east. From the 16th century or 17th, after it was disparked, most of the land in the west was arable. (fn. 12) Windmill Hill has been in an army training area since c. 1898, (fn. 13) and other land in the west has been used by the army since 1939. (fn. 14)
Ludgershall is on an old Marlborough—Winchester road, an important route in the early 13th century. (fn. 15) The road, as part of an Andover— Devizes road, was turnpiked across the parish in 1762 and disturnpiked in 1873; (fn. 16) a turnpike house stood on the south side at the Hampshire boundary in 1841. (fn. 17) That no major road joins it in the west part of the parish may be attributed to the existence of the castle parks. In the east several mainly north—south lanes follow the valleys. The easternmost was diverted east of Biddesden House, presumably when the house was built in the early 18th century, (fn. 18) but Crawlboys Lane and the east—west road called Biddesden Lane are apparently on their original courses. (fn. 19) Crawlboys Road, leading north-east from an extension of Dewey's Lane, was made at inclosure in 1853, when roads leading northeast and south-west, and north-west and southeast, across Ludgershall common were closed. (fn. 20)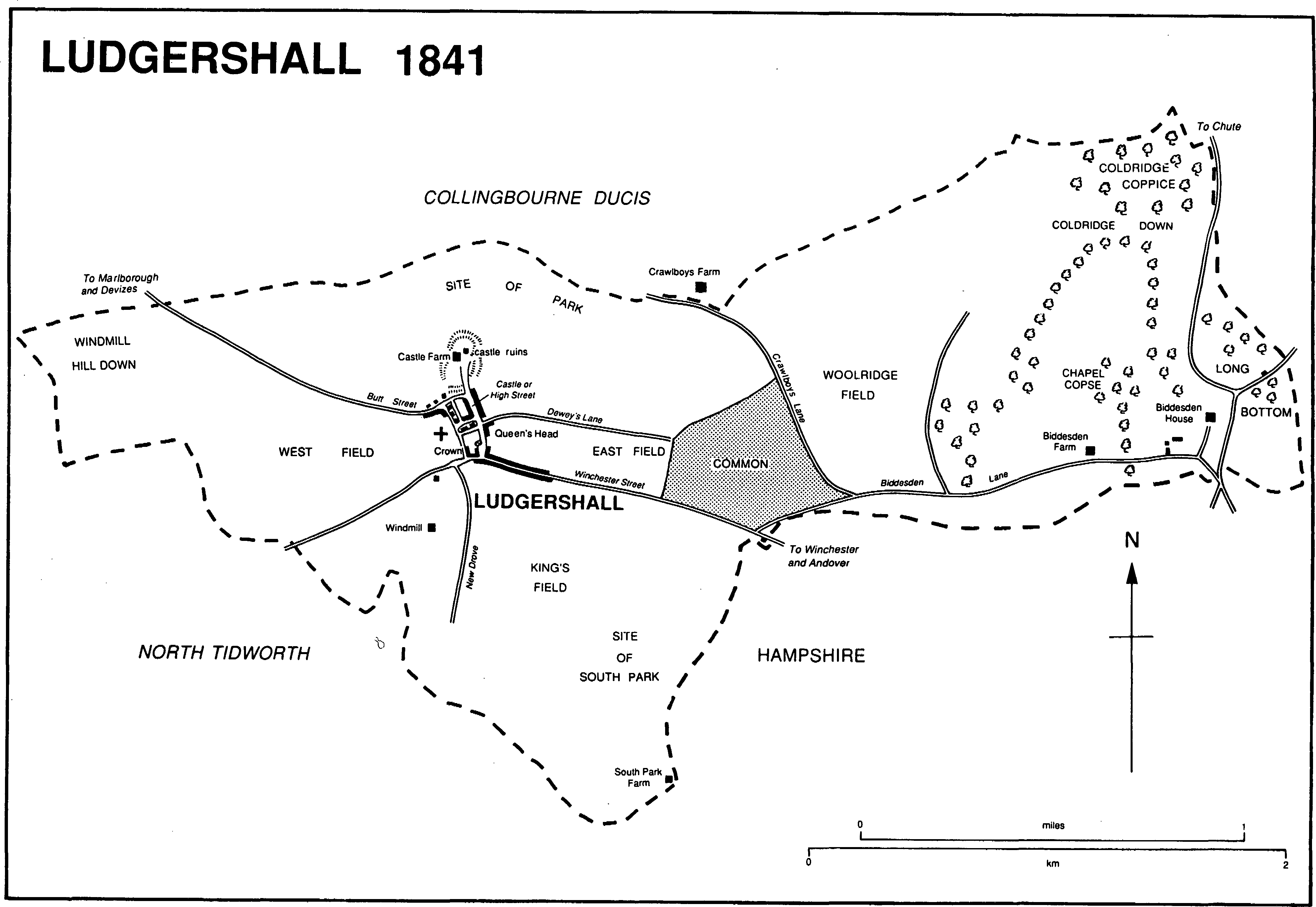 The Swindon, Marlborough & Andover Railway, from 1884 the Midland & South Western Junction Railway, in 1882 opened a line through Ludgershall parish, immediately south of the Andover—Devizes road east of the village and with a station south of the junction of Winchester Street and High Street. From west of the station a branch line to a station in South Tidworth (Hants) was opened for the army in 1901. The public used it from 1902 until it was closed in 1955. (fn. 21) In 1943 a line from an army depot south of Tidworth Road was built to join the Ludgershall-Tidworth line. (fn. 22) Ludgershall station was closed to passengers in 1961 and entirely in 1969. (fn. 23) The line from Andover to Ludgershall and the branch from south of Tidworth Road were used by the army in 1990: by 1974 the station had been demolished and the line across the north-west part of the parish dismantled. (fn. 24)
The ditch which marks the west boundary, and two Bronze-Age bowl barrows on Windmill Hill, attest prehistoric activity on what became Ludgershall parish. A late Bronze-Age axe has also been found. Three Romano-British skeletons, headless and perhaps of executed felons, were found in a pit in the west part of the parish. (fn. 25)
In 1377 Ludgershall and Biddesden had a total of c. 135 poll-tax payers. (fn. 26) The population of the parish rose from 471 in 1801 to 595 in 1861. It declined by a sixth between 1861 and 1871 and was 476 in 1891. It rose rapidly before the First World War as civilians working at the new army camps at North and South Tidworth were housed at Ludgershall and was 1,117 in 1911. It was 1,091 in 1921, 1,259 in 1931, and rose rapidly again from the 1930s, again stimulated by military activity in the parish and nearby. There were 1,906 inhabitants in 1951, 3,379 in 1991. (fn. 27)
LUDGERSHALL. To judge from its low assessment in Domesday Book, Ludgershall was no more than a very small village in the 11th century. Before 1103, and almost certainly after 1086, Ludgershall castle was built, (fn. 28) and later settlement was in a small grid of streets between the castle and the Marlborough—Winchester road, the natural line of which would sweep past the south end of High Street. Since the grid of streets is likely to have been built up before the church was built, west of the grid in the 12th century, (fn. 29) it is possible that the settlement is a planned borough of the early 12th century. The Marlborough—Winchester road was diverted through the main street: its old course to the east, Winchester Street, and its new course to the west, Butt Street, became boundaries of the borough. A bank, part of which survives, was the east boundary, and a lane called Back Lane in 1511 and 1809, (fn. 30) possibly near the old course of the Marlborough—Winchester road, may have been the west boundary. The borough was one of the smallest in Wiltshire (fn. 31) and, although represented in parliament, did not grow as a town and developed no institution for self government.
All that survives of the medieval borough are its plan and the base and shaft of the high or market cross. (fn. 32) The main street was called High Street in 1598, (fn. 33) and part of it Castle Street in the 18th century: (fn. 34) in the early 20th century the north part was Castle Street, the south High Street. (fn. 35) It is wide, especially at its junction with Winchester Street; long and narrow burgage plots lay on both sides, and it was presumably the site of Ludgershall's markets and fairs, held from the 13th century. The cross was erected in the 15th century and around its base the Descent from the Cross, the Three Marys, the Incredulity of St. Thomas, and the Ascension are depicted in relief. In 1897, when it was railed, (fn. 36) it was halfway along the street on the east side. A lane parallel to and west of High Street was called Church Street in 1895, (fn. 37) St. James Street in 1903 and later. (fn. 38) The cross streets linking High Street and St. James Street were Church Lane, so called in 1631, (fn. 39) and to the north Cox's Lane, so called in the 19th century but later Chapel Lane. (fn. 40) There were burgage plots on the south side of Winchester Street and in Back Lane. (fn. 41) Butt Street was called Parsonage Lane in 1816 when the rector lived in it, (fn. 42) and by 1773 Dewey's Lane, so called in 1792, had breached the borough bank by leading east from High Street. (fn. 43)
The borough was seriously damaged by fire in 1679, (fn. 44) but before then had lost the importance it had in the earlier Middle Ages. Ludgershall was 'a poor thatch'd village' c. 1757, (fn. 45) its houses were 'mean' in 1764, (fn. 46) and in the later 18th century and earlier 19th gaol fever and smallpox were common causes of death among its inhabitants. (fn. 47) Its poverty occasioned a local rhyme:
'At Ludgershall the beer is small and very very thin,
At every door there stands a whore to call her cully in. (fn. 48)
The chief building materials of the oldest surviving houses are brick and flint, and some houses retain thatched roofs. In 1775 the lord of the manor called Ludgershall beggarly, (fn. 49) an epithet echoed in 1826 by William Cobbett. (fn. 50) Part of the village was designated a conservation area in 1981. (fn. 51)
By the mid 16th century Ludgershall castle had become ruinous and a lodge had been built on its site. (fn. 52) A banqueting house, possibly associated with it, still stood in 1703. (fn. 53) Castle Farm was built on part of the castle site in the late 18th century. In Castle Street, on the west side at its junction with Butt Street, a range of brick cottages, divided into bays by pilasters and retaining a thatched roof, was built in the later 17th century. On the east side a range of flint cottages with red-brick dressings was built in the 18th. (fn. 54) In High Street the Queen's Head, on the east side, survived the fire of 1679. Built in the 16th century, it was possibly the alehouse licensed in 15775; (fn. 55) it is timber-framed and contains a large 16th-century fireplace; its jettied west front was rebuilt in the 19th century. The Crown, on the west side near the junction with Winchester Street, retains timber-framing in its north part but was otherwise rebuilt in the 19th century. Also on the west side Erskine House was built of flint with red-brick dressings on an L-shaped plan as a two-storeyed house with attics in the late 18th century: it was altered and its west service wing heightened in the mid 19th century, and in 1968 it was again altered and was extended as an old people's home. (fn. 56) In the 19th century ranges of cottages were rebuilt on each side of High Street and a nonconformist chapel was built near the Crown, (fn. 57) but there are few 20th-century buildings in the street. Two ponds, one near the Crown (fn. 58) mentioned in 1655 and one near the Queen's Head mentioned in 1789, were drained between 1891 and 1899. (fn. 59)
On the north side of Butt Street the garden of a house had incorporated part of the castle earthworks as an ornamental mound by c. 1757: (fn. 60) the house was perhaps that owned or occupied by Sir Philip Meadows (fn. 61) (d. 1757) (fn. 62) and in 1816 lived in by the rector, (fn. 63) but no longer stood in 1841. (fn. 64) Cottages were built further west along Butt Street in the 17th century and early 18th, and a school was built on the south side in the 19th. (fn. 65) North of the church both sides of St. James Street had been built up by 1773. (fn. 66) A house built on the east side in 1737, (fn. 67) afterwards extended and altered, survives. St. James's well near the churchyard gate was arched over in 1759 (fn. 68) and was still open in the 19th century, (fn. 69) but it was covered, and the arch removed, before 1990. The chapel which gave its name to the lane formerly Cox's Lane was built in the earlier 19th century. (fn. 70)
Although both sides of Winchester Street had been built up by 1773, (fn. 71) the oldest building to survive in it is Perry's Cottage, built on the north side in 1791. (fn. 72) On the south side Highfield House was built at the west end and Laurel House at the east end between 1841 and c. 1878. (fn. 73) Also on the south side, near the junction with High Street, the Prince of Wales, a large red-brick inn, was built c. 1867: (fn. 74) it was closed between 1956 and 1965, (fn. 75) and in 1990 was being adapted for flats.
South of the village South Park Farm stood in 1720. (fn. 76) It was burned down in 1830, and in 1831, at Salisbury, Henry Wilkins was hanged for arson. (fn. 77) A barn stood on the site in 1841 (fn. 78) and 1990.
Ludgershall was transformed into a small town in the 20th century. From c. 1900 the needs of nearby army camps encouraged the growth of commerce and the building of private and council houses in Ludgershall: shops and other business premises were built and public services were provided. To the west a few houses were built beside a bottling works in Simonds Road c. 1905 and c. 1911, (fn. 79) and more were built between 1930 and 1935 on the Astor estate south of Tidworth Road. (fn. 80) Army depots built in 1939 north and south of Tidworth Road restricted westward growth of housing, (fn. 81) but c. 1955 c. 60 council houses were built in New Crescent and Roberts Road (fn. 82) and in 1990 private houses were being built east of the Astor estate. Most development was to the east along a strip of former common pasture and on other land, but vacant sites were also built on in and around High Street. Early 20th-century speculative building to the east included Bell Street, two parallel terraces each of 16 red-brick cottages built by Walter Faber c. 1903, (fn. 83) and terraces of cottages in Andover Road dated 1900 and 1901. Building continued between 1918 and 1939: 6 council houses were built in Andover Road before 1924, (fn. 84) and 92 others were built in new roads on the former common, Short Street from the late 1920s, South View and Central Street from the early 1930s. (fn. 85) The council estate was enlarged eastwards in the 1950s when Coronation Road, Linden Close, and Perham Crescent were built, (fn. 86) in the early 1960s council houses were built in Recreation Road and Byron Close, and in the late 1960s council houses were built in Hei-lin Way, Fleming Close, and, for old people, Crown Lane. (fn. 87) Private and council houses were built in Meade Road in the early 1960s, (fn. 88) in Wood Park, Spray Leaze, and St. Nicholas's Close in the early 1970s, in Abbatt Close in the late 1970s, (fn. 89) and in Lady Diana Court, Prince Charles Close, Old Common Way and on the site of the station in the 1980s. (fn. 90) After c. 1900 shops, including a cooperative stores, were opened in Andover Road. (fn. 91) In 1990 a garage and a supermarket were open in Andover Road and a total of c. 23 shops there and in High Street.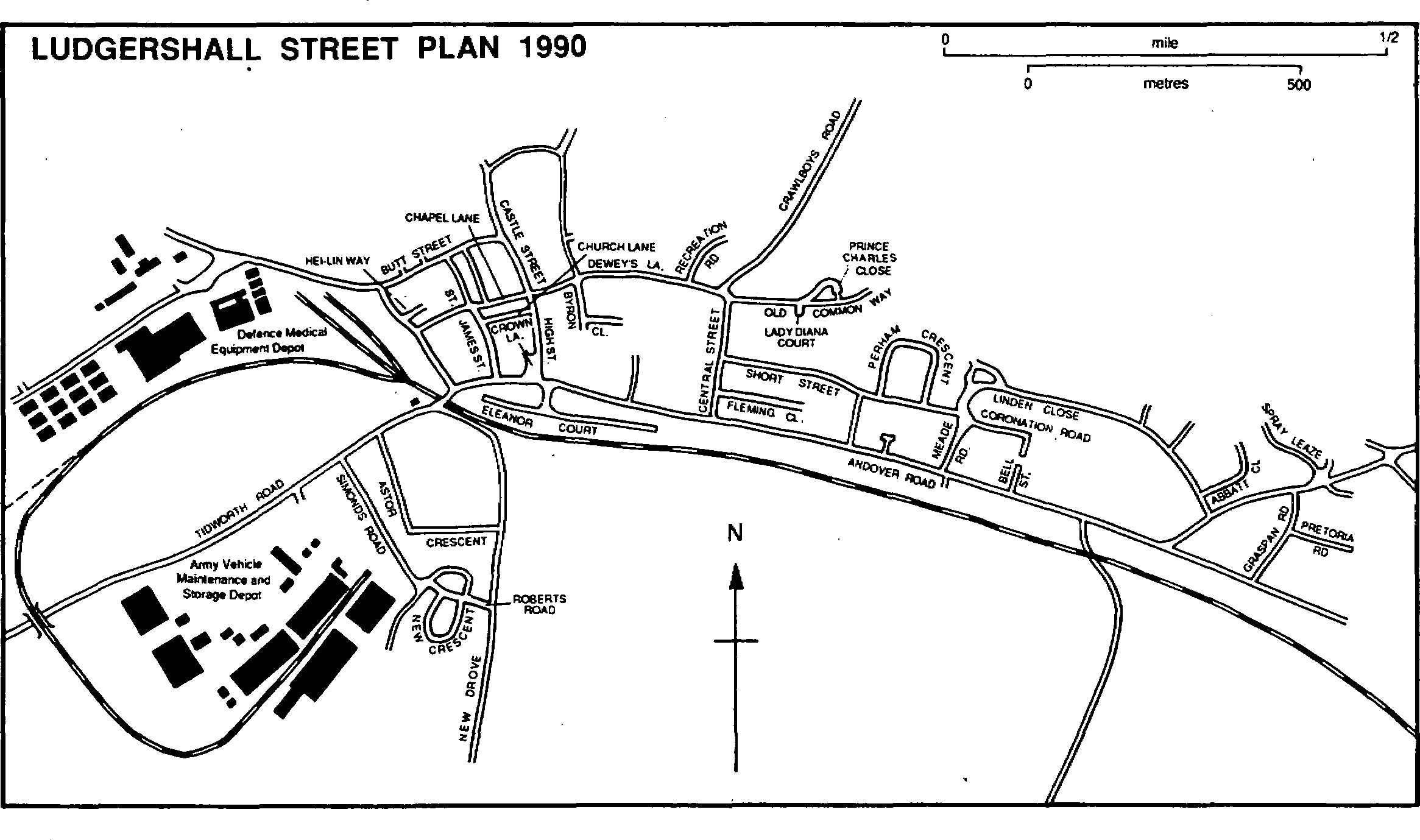 Three inns stood on the east side of High Street: the Falcon was closed before 1698, (fn. 92) the White Horse was closed before 1710, (fn. 93) and the George, next to the White Horse, was called the Queen's Head from between 1710 and 1721. (fn. 94) Three also stood on the west side, the Crown, open in 1695, (fn. 95) the Half Moon, open in 1728, (fn. 96) and the Star, open in 1756. Only the Queen's Head, the Crown, and the Star were open in 1756–7 when soldiers travelling to France were quartered in them. (fn. 97) The Star was closed before 1796; (fn. 98) the Queen's Head and the Crown remain open. The Prince of Wales was also called the Railway inn from 1882. (fn. 99)
Ludgershall had a police station, in Butt Street, by 1908, and an inspector and a constable were based there. (fn. 100) A new station was opened in Castle Street between 1947 and 1960. (fn. 101) Petty sessions were held at Ludgershall from c. 1907 to 1973. (fn. 102) From 1903 to 1959 or later Ludgershall was supplied by waterworks built by Walter Faber at Faberstown, (fn. 103) and a sewage disposal works and pumping station were built in the south corner of the parish in 1949. (fn. 104) Electricity was supplied from 1933, (fn. 105) a fire station was opened in High Street in 1939 and replaced by one built in Castle Street in 1968, (fn. 106) and a part-time branch of the county library was opened in the Memorial hall on the south side of Andover Road in 1968. (fn. 107) A health centre was opened in Central Street in 1980. (fn. 108) In 1966 many of the streets were renumbered. (fn. 109)
A friendly society in Ludgershall, presumably that which existed in 1819, (fn. 110) had c. 130 members, more than a quarter of the population, between 1813 and 1815. (fn. 111) The Prince of Wales gave its name to a lodge, which met in it, registered by the Modern Order of Foresters in 1869 and dissolved in 1912. (fn. 112) A craft lodge, 'Border', for freemasons, was formed in the Prince of Wales in 1905 (fn. 113) and still met there in 1990. During the First World War two cinemas were open at the west end of Winchester Street: (fn. 114) one on the north side was still open in 1920. (fn. 115) In 1853, when the common was inclosed, 2 a. south of Dewey's Lane were allotted to the parish as a recreation ground, (fn. 116) and in 1990 they were still used as such. A scout hall in Chapel Lane, given by G. J. Gribble in 1912, (fn. 117) was used in 1990. Other clubs in 1990 included a sports and working men's club, begun c. 1922, which had premises in Tidworth Road, the Old Castle club for Royal British Legion members, begun before 1945 in Castle Street, and a boys' club, begun c. 1949 in Andover Road. (fn. 118)
In 1939 the War Office transferred the Army Medical stores, from 1969 the Defence Medical Equipment Depot, to a 15-a. site west of Ludgershall station. The stores were rebuilt between 1971 and 1982. South of Tidworth Road, also in 1939, a mobilization depot and workshops for the manufacture and repair of vehicles were built for the army on a site of which c. 36 a. were in Ludgershall. In 1943–4 the United States army and navy prepared vehicles there for the invasion of Europe. The Armoured Vehicle Storage Depot was still used for maintenance and storage in 1990. (fn. 119)
Faberstown is the name given to a group of houses in the east angle between Andover Road and Biddesden Lane, and alludes to Walter Faber (d. 1928), M.P. for Andover 1906–18, (fn. 120) who began the settlement as a speculative investment c. 1900. There are houses on the south side of Biddesden Lane, beside Andover Road, where bungalows on the south side occupy the site of the waterworks, in Pretoria Road where one is dated 1901 and another 1902, and in Graspan Road. Faberstown was, when begun, separate from Ludgershall, but by the 1970s Ludgershall's eastwards expansion had reached it, and since then it has generally been considered part of Ludgershall.
Castle, manor, and other estates.
King Ethelred (d. 1016) gave 3 hides at Ludgershall, likely to have been Ludgershall in Wiltshire, to his son Athelstan (d. 1014), who devised them to Godwine the driveller. (fn. 121) A hide at Ludgershall was held by El ward in 1066 and by Edward of Salisbury in 1086. (fn. 122) Before 1103 the king resumed the estate and Ludgershall castle was built on it.
Ludgershall Castle had been built by 1103 when Henry I visited it. (fn. 123) Like Marlborough castle, it was fortified in 1138 by John FitzGilbert, the marshal, (fn. 124) for the Empress Maud who took refuge in it after the rout of Winchester in 1141 and was taken from it to Devizes castle disguised as a corpse on a bier. (fn. 125) After FitzGilbert's death in 1165, (fn. 126) Henry II committed the castle to William FitzPeter. (fn. 127) The king himself was at the castle in 1175–6 while on an extended visitation of forests. (fn. 128) On his brother John's marriage to Isabel of Gloucester in 1189 Richard I gave the castle to John, (fn. 129) presumably resumed it after John's rebellion in 1193–4, and in 1194 committed the keeping of it, with that of Marlborough castle, to Hugh de Neville. (fn. 130) The castles were linked administratively and both King John and Henry III favoured and improved them as residences and strengthened them as fortresses.
Ludgershall castle was garrisoned with knights, mounted Serjeants, and foot soldiers in 1198–9, (fn. 131) the keep, a room within the keep, and the castle walls were strengthened in 1211, (fn. 132) and money was paid into the king's chamber in it in 1215–16, (fn. 133) but the castle may not have been one of John's provincial treasuries. The king visited it in 1200–1, 1204–5, 1207–8, and 1213–16, (fn. 134) and Queen Isabel was there in 1210. (fn. 135) Its assignment as jointure to Queen Eleanor (d. 1291) in 1236 (fn. 136) indicates that the castle was not strategically important in the 13th century. The improvement of the living accommodation, (fn. 137) and the ordering of 119 casks of wine 1245–57, (fn. 138) show the castle to have been used mainly for recreation in the mid 13th century. Henry III was there in 1239, 1241, (fn. 139) and 1248. (fn. 140) In 1261, when the barons were opposing him, he entrusted the castle to Robert Waleran, as he did Marlborough castle. Probably at the insistence of Simon de Montfort, earl of Leicester, Waleran was replaced in 1262 by Roger de Clifford, an adherent of Montfort, but was reinstated in 1263 when Clifford returned to his allegiance. (fn. 141) Marauders who entered Ludgershall castle after the battle of Lewes in 1264 were ejected. (fn. 142) Henry III was again at the castle in 1267 (fn. 143) and 1271, (fn. 144) and Queen Eleanor may have spent much of her widowhood there both before and after 1276, when she became a nun of Amesbury priory. (fn. 145) Edward I was at the castle in 1276, (fn. 146) 1278, 1281, and 1302, (fn. 147) and his brother Edmund was there in 1291. (fn. 148)
After c. 1300 the castle was used only as a house. Its residential quarters were called the king's houses and its lands a manor. In 1294 they were granted during pleasure to Almaric St. Amand, Lord St. Amand (d. 1310), (fn. 149) in 1317 for life to Edward II's sister Mary (d. 1332), a nun of Amesbury priory, (fn. 150) in 1334 to Queen Philippa, (fn. 151) and in 1356 for life to Edward III's daughter Isabel (d. 1379), wife of Ingram de Coucy (cr. earl of Bedford 1366), as her residence. (fn. 152) As part of the manor the castle was granted as dower in 1382 to Queen Anne (d. 1394) (fn. 153) and in 1403 to Queen Joan (d. 1437). (fn. 154) It was granted in 1440 for life, in 1449 in tail male, to William Ludlow (d. 1478), the parker of Ludgershall, (fn. 155) but both grants were revoked before 1453 when it was granted to Henry VI's half-brother Edmund Tudor, earl of Richmond (d. 1456). (fn. 156) It was granted to Edward IV's brother George, duke of Clarence, in 1464 but from his execution in 1478 (fn. 157) it remained with the Crown until 1547.
The castle had around it a demesne farm and a park, and woodland was nearby: (fn. 158) resources from them may have been sufficient to support its daily administration and no serjeanty is recorded. The chief officer of the castle was the constable, first mentioned by that name in 1233 (fn. 159) and also called the castellan or keeper, later keeper of the manor. (fn. 160) In the late 12th century and the 13th the constables were lessees of the lands around the castle (fn. 161) and were allowed wood from Chute forest for repairs. (fn. 162) Other officers included a bailiff, mentioned from 1226 and also responsible for Marlborough castle, (fn. 163) and, in 1255, a serjeant and a porter. (fn. 164) The castle was a common gaol in the 13th century but no reference to its delivery or to its use as such after 1289 has been found. (fn. 165)
The fortifications raised at Ludgershall before 1103 were within two embanked enclosures forming an irregular north—south figure eight. (fn. 166) The southern enclosure had timber revetting, later replaced in stone. Within it a timber building with a cellar was constructed in the 12th century and replaced in the 14th by a threebayed building on stone foundations: the functions of both buildings are obscure. In the northern enclosure, on higher ground, timber buildings were erected in the late 11th century and replaced in the early 12th by a stone keep with dressings of greensand ashlar. In the late 12th century the keep was replaced by a hall which possibly had aisles and an undercroft. Also in the late 12th century the inner edge of the northern half of the ditch was fortified at intervals with stone mural towers, the remains of one of which forms the main feature of the surviving ruins. (fn. 167) The buildings were often repaired 1198–1228, and in 1205 the construction of an oven large enough to roast two or three oxen was ordered. From 1234 rebuilding and alterations for Henry III converted the castle from a fortress to a country house. The royal chambers were redecorated, the king's in 1234–5 with wainscotting and a stained glass window, the queen's in 1241–2. The 12th-century hall was rebuilt from 1244. The new hall, measuring 40 ft. by 60 ft., was lit by gable dormers, and it had wooden pillars, painted to resemble marble, and opposite the king's dais a gable wail painted with the story of Dives and Lazarus. In 1247 the king's carpenter made a new dais. A covered passage between the hall and the queen's chamber was also built in 1247. The castle wall was repaired and crenellated in 1250. New service rooms, including a kitchen for the king and another for his household, were built from c. 1244. Other service rooms were rebuilt in 1250, and in 1251–2 a new chamber and two privy chambers were built for Henry Ill's son Edward. All those rooms of 1250–2 were possibly part of a range built east of the surviving mural tower and partly over the northern ditch, which was spanned by a latrine block. The castle was repaired in the period 1403–37 but was afterwards allowed to decay. About 1540 it was 'clean down'. (fn. 168)
A chapel in the castle in 1200 (fn. 169) was repaired in 1205. (fn. 170) In the period 1234–44 there were two chapels, one invoking St. Catherine, the other St. Nicholas, and each was served by a chaplain; in 1244 two sets of vestments and a chalice were bought. (fn. 171) In 1250 a crucifix and a statue of St. Mary were ordered for the king's chapel, presumably a third. Another, for which a statue of St. Mary and Child was ordered in 1251, invoked St. Leonard. (fn. 172) The chaplain who served the king's chapel received a gown in 1267. (fn. 173) One of the chapels was rebuilt in 1285, and one in 1341–3 when glass, made by John the glazier of Calne and depicting the royal arms and the Passion, was inserted in its east window. (fn. 174) In St. Mary's chapel masses were said for the king, his heirs, and his ancestors in 1352. (fn. 175)
In 1547 LUDGERSHALL manor, including the remains of the castle, was granted to Edward Seymour, duke of Somerset, who was deprived of it in 1549. It was restored to him in 1550 but was forfeited on his execution and attainder in 1552. (fn. 176) The manor was granted in 1553 to John Russell, earl of Bedford, and Edmund Downing. In that year they sold it to William Allen, (fn. 177) in 1556 Allen sold it to Richard Taverner, (fn. 178) and in 1558 Taverner sold it to Sir Richard Bridges (d. 1558), the lessee from 1539, and Richard's wife Jane, later wife of Sir Simon Harcourt (d. 1577). On Jane's death in 1593 the manor passed to her son Anthony Bridges, (fn. 179) who apparently sold it then to his son-in-law Sir George Browne (d. 1614). Two thirds of it were forfeited by Sir George for recusancy in 1610. He was succeeded as owner by his son George (d. 1664), by George's son Sir George (d. 1678), and by Sir George's son John (cr. baronet 1665, d. c. 1680). The manor passed with the baronetcy to Sir John's son Sir Anthony (d. 1688), and to Sir Anthony's brothers Sir John (d. 1692) and Sir George. (fn. 180) In 1703 Sir George sold it to Sir Walter Clarges, Bt. (fn. 181) (d. 1706), and it passed to Clarges's relict Elizabeth (d. 1728), who devised it to her sons Christopher and Gould Clarges as tenants in common. (fn. 182) They sold it in 1741 to John Selwyn (fn. 183) (d. 1751). It descended to John's son George (d. 1791) and to his grandson Thomas Townshend, Viscount Sydney (d. 1800). Thomas's son John, Lord Sydney, sold it c. 1817 to Sir James Graham, Bt. (fn. 184) Sir James (d. 1825) was succeeded by his son Sir Sandford Graham, Bt., (fn. 185) who c. 1833 sold his burgage tenements (fn. 186) and in 1845 sold the rest of the manor to the trustees of the will (proved 1837) of W. H. Maund. In 1876 Maund's trustee sold the estate to Nathaniel Young, after whose death his mortgagee sold it in 1898 to the War Department. (fn. 187) In 1990 the Ministry of Defence owned 225 ha. in Ludgershall. (fn. 188)
SOUTH PARK farm, formerly part of Ludgershall manor, was owned by John Richmond Webb (d. 1724) in 1720. (fn. 189) As part of Shoddesden manor in Kimpton it descended to his daughter Frances and her husband Thomas Humphreys, who sold it in 1756 to John Peachy. (fn. 190) John's son William (d. 1790) owned it in 1780, and it passed to William's son William (d. 1839), whose relict Susannah (fn. 191) sold it to James Henry in 1839. Henry sold the land, 145 a., to Richard Pollen and his wife Charlotte in 1849. In 1854 the Pollens sold it to Richard's uncle Sir John Pollen, Bt. (d. s.p. 1863) and his wife Charlotte (d. 1877). (fn. 192) From Charlotte it passed back to Richard, who had succeeded to his uncle's baronetcy. From Sir Richard (d. 1881) it descended to his son Sir Richard Pollen, Bt., who sold it in 1907 to A. J. Kemble. (fn. 193) In 1910 and 1924, when the land was still part of an estate based in Shoddesden, the owner was R. Young. (fn. 194) From c. 1943 South Park farm was owned by the firm of W. E. & D. T. Cave. It was bought in 1983 by Mr. R. D. Hendry, the owner in 1990. (fn. 195)
St. Mary's chantry in Ludgershall church (fn. 196) had in the parish two burgage tenements in Winchester Street given before 1405, (fn. 197) two houses in the same street, one given before 1518 and one before 1525, and, all given in 1528, two messuages in Ludgershall, one in Biddesden, and a total of 6 a. in the fields of Ludgershall and Biddesden. (fn. 198) The estate passed to the Crown in 1548. (fn. 199)
The great tithes from Ludgershall were apparently due to Amesbury priory between 1228 and 1446. From 1446 to the Dissolution the rector of Ludgershall paid the priory £4 a year instead. (fn. 200)
Economic history.
Parks and woodland. Land near Ludgershall castle had been imparked by 1203. (fn. 201) There was a South park in the late 13th century: (fn. 202) its name, and the existence of a bank and ditch north of the castle, (fn. 203) show that there was also a north park. In the early 13th century the parkland to the south apparently extended into Hampshire. (fn. 204) A park was inclosed by a ditch and a hedge in 1244, (fn. 205) and in 1271 was impaled. (fn. 206) Deer from it were sent to William de Valence's park at Collingbourne Kingston in 1254, (fn. 207) and in 1265 three deer leaps were built in Ludgershall park for the Lord Edward. (fn. 208) In 1305 royal officials spent three weeks trapping beasts in Chute forest and carting them to Ludgershall to stock the park. (fn. 209) The parkland was increased in 1348 when arable was imparked, (fn. 210) and was possibly enlarged to the north in 1464 when George, duke of Clarence, was licensed to impark 200 a. of Collingbourne woods, to construct a deer leap, and to have free warren there. (fn. 211) The office of parker, mentioned in 1332, (fn. 212) was from 1400 or earlier usually held by the farmer of Ludgershall manor. (fn. 213) The south park was still stocked with deer in 1549 (fn. 214) and was presumably later the land of South Park farm. There is no further evidence of parkland north of the castle.
Ludgershall had woodland ½ league by 2 furlongs in 1086. (fn. 215) By 1203 some near the castle had been taken into the parkland, (fn. 216) and there is likely to have been little other woodland in the west part of the parish. Ludgershall forest, so called in 1189, (fn. 217) may have been the name for all or part of Chute forest, and Ludgershall woods, including North grove, were part of Chute forest: they are likely to have lain to the east, were disafforested in 1300 but as ancient demesne remained subject to the forest law, and in 1332 were administered by the keepers of the castle park. (fn. 218) In the 16th century Ludgershall manor included Coldridge coppice, which was inclosed between 1510 and 1539. It was partly coppiced in the late 16th century, (fn. 219) amounted to 37 a. in 1838, (fn. 220) and was still woodland in 1990.
Agriculture.
In 1086 Ludgershall had land for 3 ploughteams: there were 2 on the demesne with 3 servi, and 8 coscets had a third. Pasture measured 2 furlongs by ½ furlong. (fn. 221)
The demesne or barton of Ludgershall castle may have included land south, east, and west of the castle: later evidence shows arable to have been in King's field, south of the Marlborough— Winchester road, and Woolridge field, north of Biddesden Lane. Sheep-and-corn husbandry was practised. In 1222 the tenants were enjoined to plough on the demesne, money was sent from the Exchequer to buy grain, and an officer was sent to oversee cultivation. (fn. 222) Corn for seed was sent from Ludgershall to Marlborough in 1223, and in 1225 surplus grain was sold to pay for repairs at Ludgershall castle. (fn. 223) In 1291 c. 180 a. of demesne were sown, mostly with barley and oats, and a hayward, a shepherd, and a ploughman were employed; a further 48 a., possibly Woolridge field, were leased to the tenants. (fn. 224)
Before the castle and the borough were built arable at Ludgershall was almost certainly in open fields, and Windmill Hill down may have been a common pasture for sheep. Afterwards, East and West may have survived as open fields, but customary tenure was apparently ended. The inhabitants of the borough may have taken over the open arable: they were required to cultivate the barton, but commuted the service before 1233. (fn. 225) From 1291 they held, in addition to the 48 a. of arable, 84 a. of Woolridge, (fn. 226) the later Ludgershall common. (fn. 227) Rights claimed in the 17th century may have been long held: the tenant of each burgage had the right to keep a beast in the open fields after harvest and on Coldridge down and Spray leaze, to take wood from Coldridge coppice and dig chalk for repairs, and to use dirt from the street for compost. (fn. 228) Feeding was lost when demesne arable was imparked in 1348 and Coldridge coppice was inclosed in the earlier 16th century. In the 16th and 17th centuries the tenants held, for 6d. an acre, land in the three, possibly open, fields, Woolridge, East, and West: an attempt by the lord of the manor to raise the rent to 8d. in the late 16th century provoked a riot in which a tenant was killed. (fn. 229) Between 1614 and 1647 part of Coldridge down was lost to the tenants and added to Biddesden, possibly c. 1636 when a ditch was dug to distinguish Coldridge and Biddesden downs. (fn. 230) In 1682, by agreement, land, most of it almost certainly open arable, was inclosed, divided, and allotted to 16 tenants in portions, apparently one each, which all adjoined a track called the Drove: (fn. 231) if the Drove was the road called New Drove in 1838 and 1990 the allotments were of c. 90 a. south of High Street. (fn. 232) There is no later evidence of open arable or, apart from Ludgershall common, of common pasture, and the allotments of 1682 may have been to compensate the tenants for their exclusion from such lands.
In 1786 most of Ludgershall's land was in three farms, Manor or Castle based near the castle ruins, South Park based in the south corner of the parish, and Crawlboys based in Collingbourne Ducis and including c. 145 a. in Ludgershall. Ludgershall common remained open for the cattle of tenants in the borough, and the rector was accustomed to provide a bull from Whit Sunday to 21 December each year. (fn. 233) In 1838 Castle farm was 563 a., South Park was 147 a., and Crawlboys still included 145 a. A farm of 56 a. was worked from buildings north of Butt Street, and one of 52 a. from the Queen's Head.
Apart from Windmill Hill down, 105 a. in Castle farm, nearly all the land was arable. In the earlier 19th century sheep-and-corn husbandry was practised on a four-field system in which wheat, barley, and temporary grasses including sainfoin, were grown in rotation. By 1838 that arrangement had been modified to include the cultivation of turnips. (fn. 234) The 87 a. of Ludgershall common were inclosed and allotted by Act in 1853: 36 a. were added to Castle farm and 5 a. to South Park farm. (fn. 235) In the later 19th century racehorses, including two winners of the Grand National, were trained on gallops on Windmill Hill down. (fn. 236)
Possibly in the later 19th century, certainly in the earlier 20th, arable was laid to grass: sheep rearing was largely replaced by dairying and pig keeping. (fn. 237) In the mid and late 20th century agricultural land was appreciably reduced by new housing and building for military purposes. (fn. 238) In 1990 the 371 a. of Castle farm were worked mainly from Court Farm in Collingbourne Ducis, and South Park farm, with 500 a. in Ludgershall, was part of Lower House farm based in Everleigh: (fn. 239) the Ludgershall lands of the two farms were largely arable. A commercial horticultural nursery was open in Astor Crescent in 1966 (fn. 240) and 1990, and a poultry farm in Crawlboys Lane in 1978 (fn. 241) and 1990.
Mills.
A horse mill was built on the castle barton in 1250. (fn. 242) The windmill standing on the barton in 1274 (fn. 243) was perhaps the mill held on lease from the king 1291–3. (fn. 244) In 1585 there was a windmill in West field, (fn. 245) and in 1773 one stood east of Dewey's Lane. (fn. 246) The only windmill at Ludgershall in 1838 was one owned by James Hunt south of Tidworth Road. (fn. 247) It was still working in 1865 (fn. 248) but no longer stood in 1878. (fn. 249)
Markets and fairs.
A market was presumably held in 1255 when inhabitants of Ludgershall committed market offences, (fn. 250) and Ludgershall market attracted people from elsewhere in 1268. (fn. 251) The tolls were held by lease from the Crown in 1291. (fn. 252) In 1348 it was claimed that the closure of roads on land taken to enlarge the king's park discouraged trade, and quittance from toll was granted to those attending the market. (fn. 253) A small market was still held in 1756, (fn. 254) possibly on a Wednesday (fn. 255) and around the market cross in High Street, but c. 1757 Ludgershall was of no importance as a market town. (fn. 256) No market was held in 1792. (fn. 257)
In 1248 the king proclaimed a three-day fair at the Nativity of St. Mary (7–9 September). (fn. 258) In 1291, however, the fair was on the eve and day of St. James (24–5 July). (fn. 259) Freedom from toll was granted in 1348. (fn. 260) In the later 16th century the lord of the manor was reported to have taken away the weights used at the fair. (fn. 261) A small pleasure fair, held on 25 July in the later 19th century, (fn. 262) was last mentioned in 1903. (fn. 263)
Trade and industry.
Ludgershall may have prospered as a trading centre in the late 14th century, when an apparently prosperous merchant represented it in parliament, (fn. 264) and in the 15th. Oil, herrings, and wool were brought from Southampton in 1443–4, fish in 1528, (fn. 265) and Henry Bridges, keeper of Ludgershall manor 1510–38, may have dealt in cloth. (fn. 266) The request of four Germans from Westphalia to live in Ludgershall, granted in 1436, suggests commercial opportunities. (fn. 267) Later, an itinerant tobacco seller was licensed to trade in Ludgershall in 1637, (fn. 268) and in 1665 a Ludgershall tradesman issued a token. (fn. 269)
Cloth was worked in Ludgershall in the 17th and 18th centuries: there was a weaver in 1647, (fn. 270) a serge weaver in 1671–2, (fn. 271) and in 1706 a Mr. Cook employed 150–200 of the poorer inhabitants in spinning, (fn. 272) but c. 1757 no trace of the cloth industry remained. (fn. 273) A roper worked in Ludgershall in 1426. (fn. 274) Tiles from Ludgershall used to repair Devizes castle in 1411–12 may have been second-hand and not made there. (fn. 275) A butchers' shambles was near the market cross in 1515, (fn. 276) and several butchers, seven in 1620, traded at Ludgershall in the later 16th century and earlier 17th. (fn. 277) There was a malthouse in 1671–2, presumably the large one which stood in Winchester Street in 1692, (fn. 278) and another at the Crown in 1735. (fn. 279) In the later 19th century and early 20th malting was carried on by the Berry family at Laurel House in Winchester Street, (fn. 280) and there were other 20th-century businesses concerned with drink. (fn. 281) A brick kiln in Ludgershall in 1796 was apparently near Crawlboys Farm. (fn. 282)
Economic activity in Ludgershall was stimulated by the opening of the station in 1882 and the construction of an army camp in North Tidworth from 1897. (fn. 283) Three banks had opened by 1907, and that opened by the Wilts, and Dorset Banking Co. in Winchester Street in 1901, a branch of Lloyds Bank from 1914, remained open in 1990. (fn. 284) A branch of the Midland Bank was open in High Street from 1938 to 1983. (fn. 285) H. & G. Simonds, brewers and wine and spirit merchants, opened offices and bottling works on the south side of Tidworth Road in 1903. (fn. 286) From 1960 the works belonged to Courage, Barclay, & Simonds Ltd., based in Reading, after 1970 Courage (Central) Ltd., and were closed in 1988. (fn. 287) Waugh Bros, made mineral water in Ludgershall in 1903, (fn. 288) in 1907 the Crown Mineral Water Works Ltd. did so, (fn. 289) and in 1910 the Aqua Pura Mineral Water Co. had a factory in St. James Street. (fn. 290) George Younger & Sons Ltd., brewers, apparently had a depot in Ludgershall in 1939. (fn. 291) Other new businesses were White & Co. Ltd., camp furnishers, open in 1903, the South Wilts. Grocery Stores, also open in 1903, (fn. 292) the Crown Sanitary Laundry, open in St. James Street in 1907, (fn. 293) and the Adjutants Press, opened in Butt Street in 1914 (fn. 294) and closed in 1989. There was much unemployment in Ludgershall in 1921, presumably caused by reduced military activity after the First World War; the army camp at North Tidworth remained the chief source of employment. (fn. 295) New businesses opened after 1918 included a gravel merchant's at Faberstown before 1923, (fn. 296) E. Roy's furniture showroom in High Street c. 1931 (fn. 297) (open in 1990), Seawell Electronics in St. James Street after 1978, (fn. 298) and B.M.G. Concrete Products in Tidworth Road in 1984. (fn. 299)
Local government.
Although its inhabitants farmed the borough in 1233 and later, (fn. 300) and claimed their own coroner in 1289, (fn. 301) Ludgershall developed no civic institution and there was no justification for the inhabitants' claims, made in the later 16th century and earlier 17th, to be incorporated and to have a common seal. (fn. 302) The borough was governed by the castle bailiff, the sheriff was excluded, royal writs were returned direct to Westminster, the bailiff, assisted by catchpoles, took view of frankpledge twice a year, and the king had a gallows. (fn. 303) View of frankpledge was granted with Ludgershall manor in 1449, (fn. 304) and the view may have been held by the lessees of the manor in the earlier 16th century and by the lords of the manor thereafter, but no direct record of it survives. (fn. 305) At quarter sessions in 1648 the lord was ordered to repair the cage, blindhouse, stocks, and pillory. (fn. 306) The borough officers, a bailiff and two constables, the successors of the castle bailiff and catchpoles, and two aldermen were appointed at the court leet in the earlier 17th century. (fn. 307) Earlier the bailiffs may have been elected yearly, but some evidently served for several years: the same man was bailiff in 1518 and 1525, and another, appointed c. 1597, served for 14 years. (fn. 308) An impression of a bailiff's seal of the 15th century, on which the castle is depicted, survives. (fn. 309) A manor court was held by the castle bailiff several times in 1291–2, (fn. 310) and was held near the castle ruins c. 1757, (fn. 311) but its records do not survive.
References in the later 18th century and earlier 19th to Ludgershall being beggarly may have implied a lack of gentility rather than extreme poverty. (fn. 312) In 1802–3 only 18 people received regular poor relief, but between 1813 and 1815 the number averaged 79, (fn. 313) a sixth of the inhabitants. (fn. 314) The average of c. £400 a year spent on relief 1813–35 was not exceptional for a parish with c. 500 inhabitants. Ludgershall became part of Andover poor-law union in 1835 (fn. 315) and was transferred to Pewsey union in 1879. (fn. 316) It became part of Kennet district in 1974. (fn. 317)
The accounts of the two surveyors of highways exist for 1792–1829. (fn. 318)
Parliamentary representation.
Ludgershall returned two burgesses to parliament in 1295, and was represented nine times in the period 1300–30. Although summoned in 1360–1 the borough was not represented again until 1378: Robert Monk, a resident merchant, sat for it 1378–80 and in 1382–3, and Roger Sotwell, parker of Ludgershall, 1380–5. Ludgershall was represented in nearly all parliaments from 1421 to 1832. (fn. 319)
Ludgershall was a royal borough in the 15th century and earlier 16th. The son and grandson of Sir William Sturmy (d. 1427), joint keeper of Ludgershall manor from c. 1412, sat in 1422. (fn. 320) In 1432–3, 1435, 1437, 1453–4, and 1455–6 one of the borough's members was William Ludlow, who kept Ludgershall park from 1433 and held the manor from 1440. (fn. 321) In the earlier 16th century Henry Bridges and his son Sir Richard were successive lessees of the manor, (fn. 322) possibly resident, and together represented the borough in 1523, 1529, and 1536. As lessee and as bailiff and ex officio returning officer, Sir Richard secured his own election in 1553 and 1558. (fn. 323) The members returned in 1562–3 may have had the patronage of Sir Richard's relict Jane, but for the rest of the 16th century the borough was apparently open. (fn. 324)
In the 17th century most elections may have been influenced by members of the Browne family, the owners of Ludgershall manor, but from 1660 to 1689 the Brownes shared the influence with the owners of the Savernake estate, the Seymours and Bruces. (fn. 325) Among the members returned was John Selden, the jurist, in 1628. (fn. 326) The franchise may originally have been limited to those holding burgage tenements but before 1660 was extended to other inhabitants. In 1699 the right to vote was restricted to those with a freehold or leasehold estate of inheritance in Ludgershall. (fn. 327) In the early 18th century elections took place at the market cross and the interest was split between John Richmond Webb, the owner of Biddesden manor, and members of the Clarges family, owners of Ludgershall manor. Webb, a Tory and the only resident member since Sir Richard Bridges or earlier, was returned n times in the period 1695–1722, and his son was elected in 1724 and 1727. John and George Selwyn owned Ludgershall manor 1741–91 and Ludgershall became their pocket borough. Charles Selwyn was returned in 1741, George four times in the period 1754–90, but at other times the seats were sold to the government, in 1768 for £9,000. Lord George Gordon was one of the members returned in 1774. (fn. 328)
Between 1790 and 1793 Thomas Everett, the owner of Biddesden manor, unsuccessfully challenged the Selwyn interest, held from 1791 by John Townshend, Viscount Sydney. He petitioned against the returns made in 1790 and at a byelection of 1791 on the grounds that the Selwyns had increased the number of voters by dividing estates to which the franchise was attached, and between c. 1716 and 1792 the number of voters had increased from 70 to 149. Everett was returned in 1796 and 1806–7, and his son J. H. Everett in 1810 and 1812. Sydney sold his interest c. 1812 to Sir James Graham, Bt., whose son Sandford, returned in 1812, 1818, 1830, and 1831, voted successfully in 1832 for the borough's disfranchisement. (fn. 329)
Church.
A church stood at Ludgershall in the 12th century. (fn. 330) It was granted to Amesbury priory in 1228 (fn. 331) and appropriated, (fn. 332) but no vicarage was ordained: in 1446 the church was united with Biddesden church and the benefice was again called Ludgershall rectory. (fn. 333) Faberstown was added to the ecclesiastical parish in 1945. (fn. 334) From 1979 the benefice was called Ludgershall and Faberstown rectory and in 1986 was united with Tidworth rectory. (fn. 335)
The king presented rectors until 1228. (fn. 336) Amesbury priory, appropriator of Ludgershall and patron of Biddesden, was from 1446 (fn. 337) to the Dissolution (fn. 338) entitled to present rectors of Ludgershall. In 1547 the advowson was granted to Edward, duke of Somerset, (fn. 339) and it descended with Ludgershall manor until the 19th century. (fn. 340) In 1553 William Nottingham presented by grant of a turn from the prioress of Amesbury. (fn. 341) Because members of the Browne family who owned it were recusants, (fn. 342) the advowson may have been leased in the 17th century and early 18th. As either lessees or grantees Gregory Geering presented in 1670 and Morgan Randall and Peter Birch together in 1707. (fn. 343) The lord of Ludgershall manor still held the advowson in 1824. (fn. 344) By 1859 the advowson had been bought by Jason Smith, and it may have been from his devisees that West Awdry bought it in 1867. Awdry's trustees, to whom he conveyed it in 1868, sold it in 1899 to Charles Awdry (d. 1912). The advowson passed to Charles's son C. S. Awdry (d. 1918). In 1941 C. E. Awdry owned it and in 1964 he conveyed it to the Salisbury diocesan board of finance, which shared the patronage of the united benefice from 1986. (fn. 345)
All the tithes of Ludgershall were presumably taken by the rector until 1228, and the tithes of both Ludgershall and Biddesden were assigned to the rector in 1446, subject to a payment to Amesbury priory. (fn. 346) The rectory was worth £16 in 1535, (fn. 347) £100 in 1650, (fn. 348) and an average of £296 a year 1829–31. (fn. 349) The tithes were valued at £427 in 1838 and commuted. (fn. 350) There was no glebe house until 1920 when one on the west side of High Street, lived in by the curate in the late 19th century, was bought. (fn. 351) That house was sold in 1966, (fn. 352) and a new Rectory fronting St. James Street was built in its garden. (fn. 353)
St. Mary's chantry was founded apparently between 1352 and 1395 in the north chapel of the church, the chapel being called St. Mary's in 1395. That the chaplain serving it was paid £2 a year to say masses for the king, his heirs, and his ancestors, and that a chaplain had been similarly paid for such services in a chapel in the castle in 1352, suggests that the chantry chapel replaced the castle chapel. (fn. 354) It was dissolved in 1548. (fn. 355)
Ralph de Neville (d. 1244), rector from 1215 to c. 1222, and from 1224 bishop of Chichester, was a pluralist who presumably owed his presentation to Hugh de Neville, constable of Ludgershall castle. (fn. 356) It is not clear how Ludgershall church was served between 1228 and 1352, but in 1352 the inhabitants of Ludgershall appointed and paid a chaplain to serve it. The chaplain also served St. Mary's chapel in Ludgershall castle, and later served St. Mary's chantry in the church. (fn. 357) A curate assisted the rector in 1550. (fn. 358) In 1565 no sermon had been preached during the past year and the church lacked Erasmus's Paraphrases. (fn. 359) Bartholomew Parsons, rector 1620–42, was a royalist preacher and author of sermons. (fn. 360) Curates either assisted him or served the cure in his absence. (fn. 361) Andrew Reade, rector 1642–70, was described as an idle and simple man who neglected to preach. He was ejected, and Henry Cusse, intruded c. 1646, (fn. 362) preached twice on Sundays in 1650. (fn. 363) Only three rectors served Ludgershall 1670–1823. (fn. 364) In 1783, when the church was a confirmation centre, (fn. 365) the third, John Selwyn, held two services each Sunday and preached every Sunday morning, but had recently discontinued weekday services because few attended them. Selwyn administered the sacrament four times a year, but only 15 received it on Easter day in 1783. (fn. 366) He was the borough bailiff in 1791 and succentor of Salisbury cathedral from that year. (fn. 367) He was resident 1777–83 and seems to have resided frequently even after 1791. (fn. 368) John Pannell, rector 1824–72, (fn. 369) was assisted 1829–31 by a curate. (fn. 370) Morning and evening services with sermons were held in 1832. (fn. 371) Curates may have served alone in 1844 and 1859. (fn. 372) In 1851 on Census Sunday 79 people attended morning, and 70 afternoon, service. (fn. 373) In 1864 W. H. Awdry, curate from 1862, held two services each Sunday and preached, to a congregation averaging 150, at both. He also held services on Friday evenings and administered the sacrament monthly and at the great festivals. Of c. 120 communicants an average of 31 attended at the great festivals and 24 each month. (fn. 374) Awdry became rector in 1872 and rectors have since resided. (fn. 375) In the 1920s inhabitants of Faberstown were already being treated as parishioners and attending Ludgershall church. (fn. 376)
The church of ST. JAMES, so called in 1763 (fn. 377) and probably in the Middle Ages, (fn. 378) is built of stone rubble with ashlar dressings and comprises a chancel, a nave with north and south chapels and south porch, and a west tower. (fn. 379) The nave, which has thick walls, is of the 12th century: surviving features of that date are a window in the north wall, a blocked doorway in the north wall, and the inner arch of the south doorway. The chancel, with plain lancet windows, was rebuilt in the earlier 13th century. In the 14th two windows were inserted in the north wall of the nave, and the north chantry chapel was built. The outer lancets of the chancel's triple-lancet east window were blocked, and the central one was replaced by a traceried three-light window, in the 15th century. The south chapel was apparently built in the earlier 16th century. All or part of the tower fell before 1662 (fn. 380) and it was rebuilt or extensively repaired in 1675. (fn. 381) In 1727 a west nave gallery was built. (fn. 382) It was removed in the early 1870s, when the church was restored under the direction of J. L. Pearson. (fn. 383) The porch and the top stage of the tower were then rebuilt, two new windows were inserted in the nave, (fn. 384) and the 13th-century appearance of the east window was restored by replacing the 15thcentury window with a lancet and unblocking the flanking lancets. All the roofs were renewed, and that of the south chapel, formerly flat and surrounded by an embattled parapet, was rebuilt with a transeptal ridge ending in a gable. The south chapel may have been built for the Bridges family and was used by Jane (d. 1593), wife of Sir Richard Bridges and of Sir Simon Harcourt. (fn. 385) She and Sir Richard (d. 1558) are commemorated on a canopied tomb placed between the chapel and the nave. The tomb is open on both sides and, although of traditional latemedieval form, incorporates Corinthian columns and has Renaissance decoration on the panelling. (fn. 386)
The parish holds a paten hallmarked for 1707. A chalice hallmarked for 1708 was replaced when a new set of plate, also held in 1990, was given in 1867. (fn. 387) There were three bells in 1553. They were replaced by a treble cast by John Danton in 1631, a second cast by Richard Purdue in 1638, and a tenor cast by Clement Tosier in 1686. A new treble and second, cast in 1749 by J. Burrough, were added to make a ring of five. Of that ring the treble was replaced in 1818 by a bell cast by James Wells of Aldbourne, the second and the tenor were replaced in 1859 by bells cast by John Warner & Sons. The ring was increased to six and rehung in 1908 when a new treble by Taylor of Loughborough (Leics.) was added. (fn. 388) The registers survive from 1609. (fn. 389)
Roman Catholicism.
From the time of Sir George Browne (d. 1614) to 1703 the lords of Ludgershall manor were Roman Catholics, but they did not live at Ludgershall and are unlikely to have encouraged recusancy there. (fn. 390) There was one recusant in 1663, five 1675–80, (fn. 391) none in 1783. (fn. 392) A chapel of ease, served from Amesbury, was opened west of the church in 1943. (fn. 393) It remained open in 1990. (fn. 394)
Protestant nonconformity.
There was no protestant nonconformity in Ludgershall in 1676 (fn. 395) or 1783. (fn. 396) A house was certified in 1806 for a group described as Baptists and Independents: the same group certified a new building nearby in Cox's (later Chapel) Lane in 1810 and another house in 1818, and may have been the group which certified a house in 1822. The group's minister was John Walcot in 1818 (fn. 397) and 1832. (fn. 398) By 1851, when its minister was John Smith, it had become Strict Baptist. On Census Sunday in 1851 morning and evening services were attended by 60, afternoon services by 50: the chapel, possibly the building erected in 1810 but said to have been built in 1818, was in Chapel Lane and was rebuilt in 1903. (fn. 399) The chapel was open in 1910, (fn. 400) closed before 1915, ruinous c. 1920, (fn. 401) and later demolished. Registrations of births and baptisms survive for 1817–36, (fn. 402) of births only for 1835–7. (fn. 403) Stock given for the graveyard, which survived on the north side of Chapel Lane in 1990, in 1924 produced £1, which was given to the Gospel Standard Aid Society, £3 in 1990. (fn. 404)
Methodists were active in Ludgershall in 1818. (fn. 405) They may have been the Primitive Methodists who in 1844 certified the chapel (fn. 406) which on Census Sunday in 1851 was attended by 100 people in the afternoon and 180 in the evening. (fn. 407) The chapel was presumably that near the Crown: (fn. 408) it was closed between 1885 and 1889. (fn. 409) A mission hall built on the north side of Winchester Street in 1904 for Wesleyan Methodists was open in 1907. (fn. 410) Services were held in 1990 in a hall on the south side, registered in 1921 for the Ludgershall Evangelical Mission. (fn. 411)
Education.
Interest on £1,000 stock was used by a daughter of the rector, John Selwyn, for a school for 15 girls, some of whom were provided with clothing, in 1818 and possibly still in 1831. Another school, begun c. 1828, was attended in 1831 by 40 children. (fn. 412) In 1833 a total of 46 children, and in 1846–7 a total of 85, were taught in three schools. (fn. 413) An existing school was reserved for younger children when a new National school was built in Butt Street in 1856. In the old schoolroom 50–60 children, in the new 60, were taught in 1858. (fn. 414) An evening school was held in 1864, (fn. 415) and 74 children were present at the National school on attendance day in 1871. (fn. 416) The Butt Street school was enlarged in 1894 and was reserved, for the younger children when a new primary school was built in St. James Street in 1906. (fn. 417) Average attendance at the two schools rose from 148 in 1906–7 to 251 in 1938, (fn. 418) and the St. James Street school was enlarged in 1914. (fn. 419) The Butt Street school was closed in 1941, and between then and 1954, when new classrooms were opened in Central Street, the scout hall in Chapel Lane and other buildings provided additional school accommodation. (fn. 420) When Tidworth Down secondary school in North Tidworth was reserved for boys in 1965, a new secondary school for girls, Ludgershall Castle school, was opened in Short Street. (fn. 421) In 1978 the St. James Street school and the Central Street classrooms were closed, Ludgershall Castle school became a primary school, and the boys' school in North Tidworth became a mixed comprehensive school. (fn. 422) In 1990 there were 340 children on roll at Ludgershall Castle school. (fn. 423)
Charities for the poor.
By will dated 1624 Peter Blake gave to the poor of Ludgershall £1 5s. a year; in 1833 the money was spent on clothes or shoes for three or four ploughboys. By deed of 1627 Henry Smith ('Dog' Smith), alderman of London, gave income from lands to parishes including Ludgershall, which received £7 a year from 1641 and c. £21 a year 1823–30. Before c. 1823 the money was spent on bread and clothes, but 1823–33 was distributed among 12–18 old or single people in sums of between 5s. and £5. The income averaged £28 a year 1867–9, £13 10s. 1900–5. By a Scheme of 1905 Blake's and Smith's charities were administered together to relieve poverty generally: (fn. 424) in 1905 and 1912 money, coal, and groceries were distributed, in 1906 and 1912 donations to Savernake hospital were made, and in 1912 a contribution was made to Ludgershall coal club. (fn. 425)
Before c. 1682 c. 2 a. were bought with money given to the poor of Ludgershall by a Mr. Mundy. The income of £1 4s. was distributed on 21 December in 1786. Distribution of the £1 income, to 40 widows who received 6d. each in the early 19th century, ceased in 1828. (fn. 426)
Anna Maria Everett by will proved 1851 gave £200, Martha Everett by will proved 1867 gave £200 stock, and Ellen Everett by will proved 1884 gave £300, all for the poor. Until 1898 the total yearly income of c. £18 was distributed to a clothing club and in gifts to the sick and poor. That only small sums were given 1898–1905 was attributed to the parish's increased prosperity arising from military activity nearby. (fn. 427) In 1908 £19 from the Everett charities was spent on coal for 70 people, meat for 33 sick people, and groceries for 80 people. (fn. 428)
From 1921 Blake's, Smith's, and Everetts' charities were administered jointly. The £35 total income was given in small money doles to 34 people in 1935, and in 1950 spent on groceries for 48. (fn. 429) In 1989 £5 was given to each of 20 old people. (fn. 430)
BIDDESDEN
In the Middle Ages Biddesden had a church and was apparently a parish until 1446. (fn. 431) It had little land, possibly less than 400 a., and the village, although separately assessed for taxation in the 14th century (fn. 432) and with poll-tax payers in 1377, (fn. 433) was clearly very small. There has been a manor house there from the 16th century. (fn. 434) In 1841, when its population was 12, (fn. 435) the hamlet consisted of a farmstead and of the manor house and its farm buildings. There has since been little new building. North-west of the manor house, Chapel copse may mark the site of the church.
Biddesden Farm, west of Biddesden House, was built in the early 18th century, possibly about the same time as Biddesden House, and was standing in 1732. (fn. 436) It is of flint with redbrick dressings, and above the windows of the south entrance front has decorative cut heads and moulded plaitboards. It was originally one room deep with a stair turret which projected to the north. The staircase was embraced when the house was extended northwards between 1841 and c. 1870, perhaps in 1864 when the north garden was walled. (fn. 437) Internal decorations of the 1930s by Roland Pym survived in 1990. An aisled barn stands south-east of, and is possibly contemporary with, the house. Further southeast, on the south side of Biddesden Lane, a pair of estate cottages was built in the early 20th century. North-east of Biddesden House an 18th-century aisled barn stands in Long bottom. A pair of brick and flint cottages was built there in the later 19th century and a bungalow in the 20th.
Manor.
A yardland that became BIDDESDEN manor was held in 1066 by Coolie and in 1086 by Robert son of Gerald. (fn. 438) Amesbury priory held the estate in 1272, (fn. 439) was granted free warren in its demesne in 1286, (fn. 440) and kept it until the Dissolution. (fn. 441)
In 1543 Biddesden manor was granted to (Sir) Richard Bridges (fn. 442) (d. 1558). It passed to his son Anthony (fn. 443) (d. 1613), and to Anthony's son-in-law Sir George Browne. (fn. 444) From Sir George (d. 1614) (fn. 445) the manor descended like Ludgershall manor to Sir Anthony Browne, Bt. (d. s.p. 1688), who devised it to his mother Elizabeth Browne. She sold it in 1693 to John Webb, (fn. 446) later John Richmond Webb. Webb (d. 1724) bought other land in the parish and devised the enlarged estate to his son Borlace Richmond Webb (d. s.p. 1738), on the death of whose relict Hester (fl. 1749) (fn. 447) it reverted to his half-brother John Richmond Webb (d. s.p. 1766). In 1766 it passed to John's sister Frances (d. 1777), the wife of Thomas Humphreys, whose children (fn. 448) sold the Biddesden estate in 1786 to Thomas Everett. (fn. 449)
From Thomas (d. 1810) the estate, 802 a. in 1838, passed to his son J. H. Everett (d. 1853), (fn. 450) who was succeeded by his sons the Revd. Thomas Everett (d. 1860) and Henry Everett (d. 1892) in turn. From Henry it passed to his nephew C. E. Everett, (fn. 451) who in 1908 sold it to Sir John Denison-Pender. Sir John sold it to G. J. Gribble, from whom Guy Baring bought it in 1913. In 1925 Baring's relict Olive sold all except Biddesden House and c. 200 a. to her brother O. H. Smith. In 1926 Smith conveyed his land to trustees, in 1930 the trustees sold it to C. E. Stern and Stern sold it to Nellie L. Bates, and in 1931 she sold Biddesden farm, 313 a., to Charles Hatt, the owner in 1966. In 1928–9 Biddesden House and the c. 200 a. were sold, presumably by Olive Baring, to E. R. Fothergill, who sold them in 1931 to Bryan Guinness (from 1944 Lord Moyne). In 1990 Lord Moyne and members of his family owned c. 600 a. in Ludgershall including Biddesden farm. (fn. 452)
Biddesden House, of chequered brick with stone dressings, was built for John Richmond Webb (d. 1724) (fn. 453) and replaced a manor house mentioned in the 16th and 17th centuries. (fn. 454) Irregularities in its internal plan show that, despite its external symmetry, the new house was built in stages, west, south, and east ranges in that order. The staircase, which has corkscrew balusters and an enriched handrail, was built in the angle of the west and south ranges. Each main elevation is of three storeys and seven bays. The principal south entrance front has groundand first-floor windows with semicircular heads and prominent keystones, attic windows, above a carved and moulded cornice, with segmental heads and keystones, and, in the three central projecting bays which are surmounted by a semicircular pediment, circular mezzanine windows. (fn. 455) Three bays in each of the east and west elevations are blind. At the north end of the east range a castellated circular tower was built to house a bell from Lille (Nord) given to Webb c. 1708. (fn. 456) Soon after the east range was built the court between the three ranges was built over, and a two-storeyed north service range and, north of that, an outhouse court were built. Inside the house the entrance hall, which is lit by the mezzanine windows, is cubic, west of it the drawing room has been extended north by the inclusion of a smaller room, and east of it the dining room may also have been enlarged.
In the early 19th century a wide pillared porch was built across the projecting bays of the south front and, among other alterations, a new service staircase was made. The porch was later re-used as the front of an ornamental temple in gardens north-west of the house. In the 1930s the west part of the service range was altered to form a first-floor library, and trompe d'oeil scenes were painted by Dora Carrington and Roland Pym in blank windows in both the east and west groundfloor elevations.
Rising ground west of the house was terraced, possibly in the early 18th century, and west of the terraces lay a walled garden. (fn. 457) Outside the garden's north-west corner a swimming pool was built, with a changing pavilion designed in 1932 by George Kennedy and decorated with mosaics in 1937 by Boris Anrep. (fn. 458)
Economic history.
There was land for 1 ploughteam at Biddesden in 1086: 1 villanus, 4 servi, and 2 bordars had 1 team on 1 yardland, and there were 2 square furlongs of pasture. (fn. 459) Much nearby land may have been wooded, and the cultivated land was perhaps a recent assart. Biddesden was summoned to Chute forest eyres in the 13th century and from 1300 was bisected by the west boundary of the forest. Westcroft wood at Biddesden was disafforested in 1330, (fn. 460) and later only a small proportion of Biddesden's land was woodland. (fn. 461) In 1838 and 1990 there were, apart from Coldridge copse to the north, c. 40 a. of woodland at Biddesden. (fn. 462)
Common husbandry was practised at Biddesden in 1528, (fn. 463) but there is no evidence of it later, and by c. 1636, when inclosed downland separated from Ludgershall's land was added to Biddesden farm, (fn. 464) all the cultivated land may have been in one farm. Biddesden farm was the only one in 1786. (fn. 465) In 1838, when copses and long lines of trees gave nearly all Biddesden's land the appearance of a park, Biddesden farm was 370 a., of which c. 297 a. were arable; 169 a., including 19 a. of woodland, a park of 6 a. near the house, c. 58 a. of pasture, c. 85 a. of arable, and farm buildings south of the house, were held with Biddesden House. (fn. 466) The buildings included a dairy in 1990, when mixed farming was practised on the c. 600-a. Biddesden estate. (fn. 467)
Local government.
A court for Biddesden manor may have been held in the Middle Ages, (fn. 468) but no record of one held then or later survives.
Church.
A church had been built at Biddesden by 1297. (fn. 469) Between then and 1446, when it was united with Ludgershall church, it was served by rectors presented by Amesbury priory, and in 1446 it was called a parish church. (fn. 470)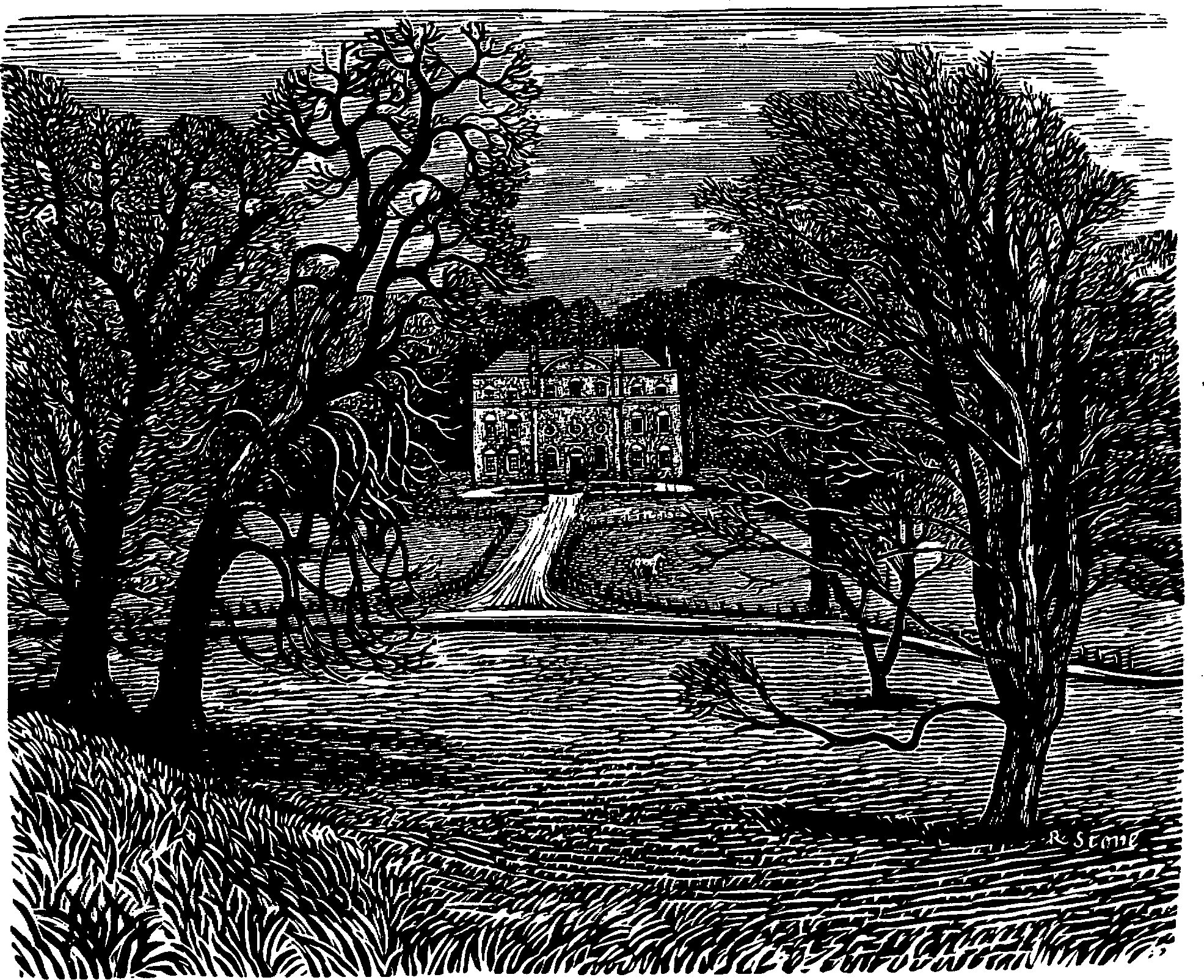 The rectors presumably took the tithes of Biddesden, which were part of the endowment of Ludgershall rectory after 1446. (fn. 471)
Two early 14th-century rectors of Biddesden were in minor orders. Roger of Purbrook, the second of them, was licensed in 1312 to study at Oxford or Cambridge for a year. (fn. 472) Roger Tonge, rector c. 1438, was also rector of Broughton Gifford c. 1438 and rector of Steeple Ashton 1429–38. (fn. 473) By 1446 no rector of Biddesden had resided for many years. (fn. 474)
As a chapel of Ludgershall church from 1446 Biddesden church was to be served by the rector of Ludgershall, who was to maintain the chancel and churchyard. Mass was to be said on All Saints' day, on the anniversary of the church's dedication, and on All Souls' day or in the following week for those buried there. (fn. 475) The church evidently fell into disuse, and its exact site is not now known.