Pages 227-234
A History of the County of Wiltshire: Volume 15, Amesbury Hundred, Branch and Dole Hundred. Originally published by Victoria County History, London, 1995.
This free content was digitised by double rekeying. All rights reserved.
ORCHESTON ST. MARY
Orcheston St. Mary lies in the upper Till valley 11 km. WNW. of Amesbury. (fn. 1) Before the late 11th century there may have been a single large estate called Orcheston, but in 1086 four estates, probably divisions of it, bore the name, (fn. 2) and Orcheston St. Mary parish was formed from two of them. In the late 13th century the parish was called Orcheston Bovill: the suffix, the surname of lords of the principal manor, was replaced from the 14th century by the suffix St. Mary, the dedication of the church. (fn. 3) The other two Domesday estates made up Orcheston St. George parish: a detached part of a southern tail of Orcheston St. Mary parish lay between the two main parts of Orcheston St. George, and the parish embraced several islands of Orcheston St. George. Further south down the Till valley, surrounded mainly by Winterbourne Stoke, a field of less than 1 a. may have formed a detached part of Orcheston St. Mary in 1812 but not in 1841. (fn. 4) In 1885 the detached part of the tail, c. 3 a., was transferred to Orcheston St. George, and the detached parts of Orcheston St. George, c. 139 a., were transferred to Orcheston St. Mary. Thereafter Orcheston St. Mary comprised 1,895 a. (766 ha.). (fn. 5) The parishes were united as Orcheston in 1934. (fn. 6)
Most of the parish boundary, nearly all of which was with Orcheston St. George, crossed gently sloping downland on Salisbury Plain and largely ignored relief. To the north-west the boundary with Tilshead was marked by the prehistoric Old Ditch, other ditches marked short stretches of boundary with Orcheston St. George, and to the south the Till marked the eastern boundary of the tail. (fn. 7) Chalk outcrops over the whole parish and gravel has been deposited in the valleys. (fn. 8) The Till, which flows mainly in winter, (fn. 9) follows a curving course across the southern part of the parish. Only in its valley and in a dry valley in the south-east corner of the parish is the land below 100 m.: it rises to 130 m. on Orcheston down and to 158 m. at the northern corner. In the 19th century and presumably earlier the arable was in the south and centre of the parish, and the western and northern downs provided pasture. The tail brought within the parish part of a strip of unusually valuable meadow, and the detached land in Winterbourne Stoke was also meadow. There was little woodland, c. 25 a. in 1841, (fn. 10) 31 a. in scattered plantations on the downs in 1899, probably c. 35 a. in 1991. Nearly all the parish was bought by the War Department between 1897 and 1934, and the northern downs became part of artillery ranges extending north-west from Larkhill in Durrington. (fn. 11)
The Devizes—Salisbury road, turnpiked in 1761, disturnpiked in 1870, and closed c. 1900 to allow for military training, (fn. 12) crossed the parish's northern tip; the road which superseded it, linking West Lavington and Tilshead in the north to Shrewton and Maddington in the south, was thereafter the principal route through the parish, crossing its western corner in the Till valley. A road leading from Tilshead to the Bustard inn in Shrewton across the parish's northern downland may have been prominent in the earlier 19th century, when it was wide and called London Road, (fn. 13) but was apparently never a major route. In the mid 20th century it was diverted to a more northerly and indirect course (fn. 14) but was a tarmacadamed road in public use on roughly its old course in 1991. In the late 18th century other roads radiated from Orcheston St. Mary village south to Maddington and Shrewton, south-east to Elston in Orcheston St. George, south-west towards Warminster, north to the Devizes—Salisbury road, and northeast towards Netheravon. (fn. 15) Only that leading south to the modern Devizes—Salisbury road and Shrewton was in regular public use in 1991.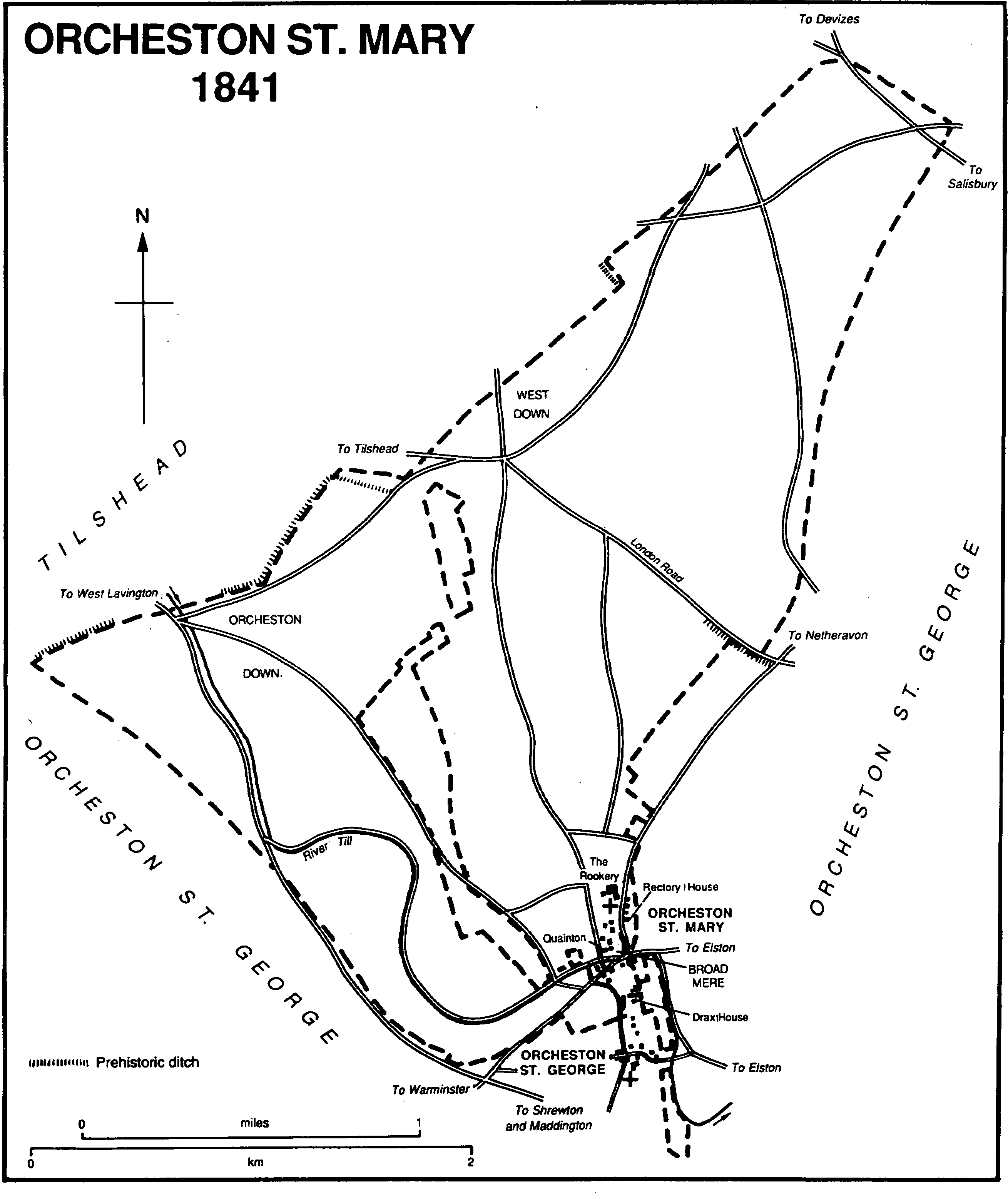 The north part of the parish is the site of an extensive prehistoric field system, c. 900 a., crossed north-west and south-east by a long and possibly contemporary ditch. The ditch was prominent across the parish in the earlier 19th century but was later visible only from the air. Other nearby ditches are on the parish boundary and another field system, c. 80 a., is on Orcheston down. Two barrows have been identified on West down and two on Orcheston down: one of those on Orcheston down may have been the site of intrusive Saxon burials. (fn. 16)
Orcheston St. Mary had 26 poll-tax payers in 1377. In the earlier 19th century the population fluctuated: it was 133 in 1801 and 134 in 1831, but only 106 in 1811 and 113 in 1841. For reasons which are not clear the population rose by 55 per cent between 1841 and 1851, when it was 175. It declined steadily from 177 in 1861 to 117 in 1921. In 1931, the last date for which a figure for Orcheston St. Mary is available, there were 134 inhabitants. (fn. 17)
Orcheston St. Mary village lies on the gravel where the Till valley and a northern tributary valley meet. Its church is 750 m. north of Orcheston St. George's. The two villages which grew up between the churches coalesced only in the 20th century but some older buildings on the southern and eastern edges of Orcheston St. Mary village lay within Orcheston St. George parish. In 1773 and 1991 most houses in the village were beside a lane, straight at its north and south ends but winding in the middle where it crossed the Till. Beside the river in the late 18th century there was an open space, (fn. 18) in 1841 called Broad Mere. (fn. 19) Between 1773 and 1817 a second lane parallel with the first was made leading north from the western edge of Broad Mere. (fn. 20)
The principal farmhouse in the village was the Rookery, north of the church. In 1753 it was extensively repaired, (fn. 21) sashes were made for windows on the east front, a new staircase was built, and new roof tiles replaced what may have been thatch. A kitchen block was added in the later 18th century, and in the mid 19th a new main entrance, with a porch, was made in the south front. Quainton, 250 m. south of the church, is a brick house of the late 17th or early 18th century with stone dressings: it has a nearly symmetrical south front, with a central main doorway, and end chimneys. Also of 17th-century origin is a timber-framed and thatched cottage east of the church. Further south the farm buildings of Drax House, a building of 17th-century origin in Orcheston St. George, were in the parish: a large weatherboarded barn of the mid 18th century survives. A house south of the church was the rectory house until c. 1827, thereafter one south-east of the church; (fn. 22) in the late 18th century there were cottages south and west of Broad Mere. (fn. 23) A flood of 1841 destroyed several cottages, presumably those west of Broad Mere and closest to the river, and in 1842 two pairs of cottages, paid for by a public subscription to aid victims of the flood, were built on higher ground further south. (fn. 24) Later in the 19th century a house and a small school were built near the church. (fn. 25) Thereafter there was little new building until a line of council houses was erected in Whatcombe Brow to link Orcheston St. Mary and Orcheston St. George villages, in one parish from 1934: (fn. 26) 6 houses were built soon after 1919, (fn. 27) 10 in 1948, (fn. 28) and 10 in 1957. (fn. 29) There was little other 20th-century building in Orcheston St. Mary.
In 1841 there was no building in the parish outside the village. (fn. 30) By 1886 three new farmsteads had been built, New Buildings 500 m. south of the Tilshead boundary beside what became the main Devizes—Salisbury road, Prospect Farm at the parish's northern corner, and Keeper's Farm 1.5 km. north of the church. Presumably because of military training Prospect Farm had passed out of use by 1899 and Keeper's Farm was demolished between 1899 and 1923. (fn. 31) New Buildings remained in use in 1991. By 1903 two army camps had been built, West Down North straddling the northern part of the boundary with Tilshead, and West Down South on the north side of the road from Tilshead to the Bustard inn. Both were demolished c. 1925, (fn. 32) and in the mid 20th century Greenland camp 1.75 km. NNE. of the church and another camp west of New Buildings were built. (fn. 33) Most of Greenland camp had been demolished by 1979, (fn. 34) and in 1991 a crescent of huts used by the Wiltshire Army Cadet Force was all that remained of the camp near New Buildings.
Manors and other estate.
In 1066 Godric held lands in Orcheston St. Mary, from which geld was paid for 4½ hides, and Alwin held 2 hides. Both estates were held of Edward of Salisbury in 1086, Godric's by Hugh and Alwin's by William. (fn. 35) Overlordship of both apparently descended with Shrewton to Edward's descendants and with the overlordship of Shrewton and the earldom of Salisbury. (fn. 36) Thomas Montagu, earl of Salisbury, was apparently overlord in 1409. (fn. 37)
In 1242–3 Sir Ellis Giffard (d. 1248) was mesne lord of what became ORCHESTON ST. MARY manor. (fn. 38) His interest may have passed to John Giffard who held ½ knight's fee in Orcheston St. Mary at his death c. 1327. (fn. 39)
What became the manor was held by Matthew de Bovill in 1168 and 1169. (fn. 40) Henry de Bovill held it in 1242–3, (fn. 41) and in 1297 it was settled on Parnel de Bovill (fl. 1308) with reversion to William of Rollestone and his wife Margaret. (fn. 42) William held it in 1316 (fn. 43) and it may have passed by 1332 to Nicholas of Rollestone. (fn. 44) The manor was apparently conveyed to Hugh de Audley, earl of Gloucester, and his wife Margaret: in 1337 Nicholas held it from them for a term of years. (fn. 45) From Hugh (d. 1347) it passed to his daughter Margaret, Baroness Audley, wife of Ralph de Stafford, Lord Stafford (cr. earl of Stafford 1351, d. 1372), and from her to her son Hugh, earl of Stafford (d. 1386). Hugh was succeeded by his sons Thomas, earl of Stafford (d. 1392), William, earl of Stafford (d. 1395), and Edmund, earl of Stafford (d. 1403), and by Edmund's son Humphrey, earl of Stafford (cr. duke of Buckingham 1444, d. 1460). From Humphrey the manor passed to his grandson Henry, duke of Buckingham, executed in 1483, (fn. 46) and in 1484 it was granted for seven years to trustees for payment of Henry's debts. Although the reversion was granted in 1485 to John Howard, duke of Norfolk, (fn. 47) the manor was probably restored later that year with Henry's other lands to his son Edward, duke of Buckingham. It was again forfeited on Edward's execution in 1521, (fn. 48) and in 1522 was granted in tail male to Sir Edward Darell (fn. 49) (d. 1530), whose heir was his grandson Sir Edward Darell. (fn. 50) In 1544 the king granted the reversion to Edward Seymour, earl of Hertford, (fn. 51) but in 1545 the manor was assured to Darell and his heirs by an exchange with Hertford. Darell (d. 1549) devised the manor to his daughter Eleanor, (fn. 52) who with her brother William conveyed it in 1575 to Robert Downe. (fn. 53) It apparently passed to Nicholas Downe (fi. 1585), who had a son Edward. (fn. 54) By conveyances of 1609–16 it was settled on Nicholas's son-in-law John Low (fn. 55) (d. 1632), and it passed to John's son John (fn. 56) (fl. 1657) (fn. 57) and to that John's son Laurence. With Semington manor in Steeple Ashton it apparently passed to Laurence's relict Lucy (d. 1697) who married George Pitt (d. 1734). From 1697 it was apparently held for life by Lucy's sister Elizabeth Freke and after her death in 1714 or 1715 probably passed to Lucy's son George Pitt (d. 1745). (fn. 58) That George's son George (cr. Baron Rivers 1776, d. 1803) (fn. 59) held Orcheston St. Mary manor in 1753. (fn. 60) By 1780 it had been acquired, presumably by purchase, by Gifford Warriner who from c. 1785 held all but c. 600 a. of the parish. (fn. 61) Warriner (d. 1787) was succeeded by his son Gifford (d. 1820), who devised the estate to his son Ernie. (fn. 62) From Ernie it passed, probably by sale in 1841 with an estate of tithes in Chirton, to Stephen Mills, who in that year held 1,117 a. in Orcheston St. Mary. (fn. 63) Mills (d. 1857) was succeeded by his sister Martha Mills (fn. 64) (d. 1903), who sold 676 a. to the War Department in 1897 and devised the remainder to her cousin Frederick Mills (fn. 65) (d. 1914). In 1911 Mills sold a further 487 a. to the War Department. He devised Rookery farm, 112 a., to his brother Stephen, who in 1916 sold it to George Williams (d. 1926). Williams's daughter Alice, wife of E. W. Grant, bought the farm from his executors in 1927 (fn. 66) and sold most of it to the War Department in 1934. (fn. 67) Nearly all of what had been Orcheston St. Mary manor belonged to the Ministry of Defence in 1991. (fn. 68)
The second estate held of Edward of Salisbury became a manor sometimes called LITTLECOTT'S. (fn. 69) William son of Everard of Littlecott held lands in the parish in the late 12th century, (fn. 70) and in 1242–3 Adam of Littlecott held lands as ⅓ knight's fee there. (fn. 71) In 1423 Thomas Quinton and his wife Alice granted lands, evidently those formerly William of Littlecott's, to John Pocock and his wife Joan for life. (fn. 72) In 1428 Joan held them with reversion to John Quinton, and Richard Littlecott held other land, formerly Nicholas of Rollestone's. (fn. 73) One or both of those estates was presumably the manor held after 1428 by John Littlecott and by 1466 by Ralph Littlecott. Ralph settled the manor for life on his son Edward (fl. 1497), from whom it passed to Alice Littlecott, daughter of Edward's brother Simon and later wife of Robert Thornborough (d. 1522). (fn. 74) Simon's relict Joan Gorge held it, perhaps as lessee, at her death in 1524. (fn. 75) Thereafter it passed in turn to Alice's son William Thornborough (d. 1535) (fn. 76) and William's son John. In 1590 John sold it to John Eyre (fn. 77) (d. 1599), who left a wife Anne and daughter Eleanor, later wife of John Boys. Anne held the manor for life, and c. 1616 she and Eleanor disputed the inheritance with Giles Tooker, Eyre's executor and formerly Eleanor's guardian. (fn. 78) Tooker owned the manor at his death in 1623 and it passed to his son Edward (fn. 79) (d. c. 1671) and to Edward's son Sir Giles Tooker, Bt. (d. 1675), whose heirs were his sisters Philippa, wife of Sir Thomas Gore, and Martha, wife of Sir Walter Ernie. (fn. 80) In a way that is not clear the lordship and perhaps half the lands had passed to John Gibbs by 1779. (fn. 81) From Gibbs they passed c. 1785 to Gifford Warriner, presumably by sale: (fn. 82) thereafter they descended with Orcheston St. Mary manor.
Land of Littlecott's manor was apparently inherited by Martha Ernie (d. 1688) and presumably passed with Winterbourne Maddington manor in Maddington in turn to her grandsons Sir Walter Ernie, Bt. (d. 1690), and Sir Edward Ernie, Bt. (d. 1729), to Sir Edward's daughter Elizabeth Drax (d. 1759) and her sons Thomas (d. 1789) and Edward (d. 1791), and to Edward's daughter Sarah, whose husband Richard Erle-Drax-Grosvenor held c. 580 a. in 1815. From Richard (d. 1819) the land passed successively to his son Richard (d. 1828) and daughter Jane (d. 1853), wife of John Sawbridge-Erle-Drax, to Jane's daughters Maria (d. 1885) and Sarah (d. 1905), and to Sarah's daughter Ernie, Baroness Dunsany (d. 1916). (fn. 83) In 1911 Lady Dunsany sold 281 a. to the War Department. In 1917 her son Reginald Plunkett-Ernle-Erle-Drax sold 207 a. to E. W. Grant and 113 a. to Archibald Wallis. Grant's lands were conveyed to his wife Alice in 1931, (fn. 84) and sold with Rookery farm to the War Department in 1934. Wallis also sold his lands to the War Department in 1934. (fn. 85)
In the late 12th century William son of Everard of Littlecott gave two thirds of the tithes from his demesne to Bradenstoke priory. (fn. 86) By 1291 the tithes had apparently been replaced by a pension of 16s. (fn. 87) which was still payable at the Dissolution. (fn. 88)
Economic history.
In 1086 Orcheston St. Mary had land for 3 ploughteams: 5 bordars and 7 servi had 2 teams, and the larger of the two estates had demesne on which was 1 team. That estate had pasture 4 furlongs by 2, the smaller had 80 a. of pasture. (fn. 89)
There were apparently two sets of open fields and common pasture in the 17th century corresponding with the manors of Orcheston St. Mary and Littlecott's and presumably of long standing. (fn. 90) The demesne of Orcheston St. Mary manor, held at farm in 1394, (fn. 91) comprised 168 a. of arable, 3 a. of meadow, and pasture for 200 sheep in 1397. On it were a hall house and a barn, both thatched and old. The 10 tenants held between them 13 yardlands, each nominally of 24 a. (fn. 92) Littlecott's manor may have comprised both demesne and customary land in the 16th century. A copyholder held 57 a. of arable in East, West, and Middle fields and pasture for 100 sheep c. 1590. (fn. 93) The fields of Littlecott's were still open in 1677, (fn. 94) and common husbandry in that part of the parish may not have ceased until the early 19th century. (fn. 95)
Land in the parish was not inclosed by formal agreement or award, and common husbandry in each part apparently ended when the lands were merged in a single holding. In 1780 the lands of Orcheston St. Mary manor were apparently a single farm, those of Littlecott's manor were apparently in two farms, one of which was probably worked from Drax House, and there was a much smaller glebe farm. (fn. 96) In 1841 all but the glebe formed a single farm. There were c. 870 a. of pasture on the downs in the west and north and c. 900 a. of arable, including c. 25 a. which had been burnbaked, in the south and centre. There were c. 50 a. of meadow beside the Till, and there was a hopyard north of the church. Most of the land was worked with neighbouring estates of Stephen Mills, owner of the principal farm probably from 1841 and a prominent sheep farmer. (fn. 97)
Although in the mid or later 19th century new farmsteads were built on the downs, (fn. 98) and some new land was presumably ploughed, the proportion of arable to pasture changed little before 1900. In 1896 farms based in the parish had flocks totalling 3,750 sheep and grew c. 550 a. of cereals and c. 400 a. of fodder crops. (fn. 99) Thereafter lands owned by the War Department were presumably less intensively used and some passed out of cultivation. In 1910 there were two farms, the Rookery, c. 1,250 a. including War Department lands, and Drax farm, c. 500 a. (fn. 100) By 1917 Drax had become a farm of c. 313 a.: it was worked from Drax House and New Buildings and more than two thirds of its land was arable. (fn. 101) Much of the parish was pasture in the 1930s. (fn. 102) In 1991 Rookery was a dairy and beef farm of c. 250 a., (fn. 103) and nearly all the rest of the parish was rough grassland used for military training. (fn. 104)
In the 17th century John Aubrey reported that grass in a meadow in Orcheston St. Mary grew as much as 17 ft. in a season. (fn. 105) The prolific grass was grown in the 1790s on 2–3 a. beside the Till in the parish's tail and was mown once or twice a year: the meadows were watered naturally when the river flooded. (fn. 106) The grass was still famous for its prolificacy in 1939. (fn. 107)
There was a windmill on Orcheston St. Mary manor in 1623. (fn. 108)
Local government.
A manor court and a view of frankpledge were held for Orcheston St. Mary manor in the Middle Ages. At a court held in 1394 the homage presented the disrepair of buildings on the demesne and the death of cottagers. (fn. 109) A leet court was apparently held annually in the 15th century. (fn. 110) The view of frankpledge and the court recorded for 1452–3 and 1458–60 were held together once or twice a year: cert money was paid, a tithingman presented defaulters, the homage presented boundaries and buildings in need of repair, and customary tenants were admitted. (fn. 111)
In the 1770s and 1780s the annual cost of poor relief in the parish was c. £45. (fn. 112) In 1797–8 regular relief was given to 8 or 9 people and occasional payments were made for clothes, midwifery, and rents. (fn. 113) The cost had risen to £81 by 1803, when 13 adults and 17 children received regular relief and 20 people occasional relief: the poor rate was slightly lower than the average for Branch and Dole hundred. (fn. 114) Expenditure reached a peak of £169 in 1813, although only 12 adults then received regular relief. (fn. 115) By 1820 it had fallen to £118 and thereafter was always less than £100 and often less than £70. (fn. 116) An average of £94 was spent yearly 1833–5. In 1835 the parish became part of Amesbury poorlaw union; (fn. 117) in 1974 Orcheston parish was included in Salisbury district. (fn. 118)
Church.
There was a church at Orcheston St. Mary probably in the 12th century and certainly in the 13th. (fn. 119) Recommendations of 1650 that the parish be united with Orcheston St. George and that Orcheston St. George's be the parish church (fn. 120) were not carried out. The two rectories were united in 1933 as the Orcheston benefice, (fn. 121) which in 1991 became part of the united benefice of Tilshead, Orcheston and Chitterne. (fn. 122)
In 1297 Parnel de Bovill claimed the advowson. (fn. 123) It may have passed with Orcheston St. Mary manor to Nicholas of Rollestone, patron in 1342. A rector was presented in 1364 by Henry Fleming and his wife Joan and another by Joan in 1380, by what right is unknown. Four presentations were made between 1405 and 1416 by Richard Littlecott and another four between 1434 and 1468 by Ralph Littlecott, who by 1466 had become lord of Littlecott's manor. Lords of that manor owned the advowson until the early 17th century but did not always present. The bishop of Salisbury presented by lapse in 1480 and the king presented in 1526, perhaps by lapse, and in 1534, when William Thornborough was a minor. By grants of a turn John Wroe presented in 1538, Laurence Clifton in 1637. (fn. 124) In the earlier 17th century the advowson was acquired, presumably by purchase, by a lord of Orcheston St. Mary manor, and in 1632 John Low, lord of the manor from that year, sold it to Giles Thornborough (fn. 125) (d. 1637), the rector. (fn. 126) It descended in the direct line to Giles (fl. 1661), Giles (fl. 1691), and Giles (fl. 1718), each of whom was rector. (fn. 127) In 1680 Richard Hayter and Robert Wansborough presented by grant of a turn. (fn. 128) Clare Hall, later Clare College, Cambridge, bought the advowson from Thornborough in 1718. (fn. 129) From 1933 the college was patron of the united benefice at alternate turns: (fn. 130) its rights were transferred to the Salisbury diocesan patronage board in 1961. (fn. 131)
The rectory's value was below average for a living in Wylye deanery in 1291 when it was £6 13s. 4d., (fn. 132) about average in 1535 when it was £13 13s. 4d. (fn. 133) In 1830 the rector's income, c. £360, was above the diocesan average. (fn. 134) Some tithes from the parish were not the rector's in the late 12th century (fn. 135) but later the rector received all tithes. They were valued at £350 and commuted in 1841. (fn. 136) In 1341 the rector had 2 yardlands and received 4s. rent from other land. (fn. 137) The glebe comprised c. 40 a. of arable with pasture rights for 80 sheep in the 17th century. (fn. 138) In 1827 the arable was only 25 a., (fn. 139) and in 1841 the glebe was a compact holding of 21 a. (fn. 140) All but 3 a. was sold to the War Department in 1912. (fn. 141) A rectory house standing in the 1530s (fn. 142) may have been that which was rebuilt or extensively altered in the early 18th century, perhaps soon after the advowson was bought by Clare Hall. The brick and flint house was said in 1783 to be too small for a family (fn. 143) and ceased to be the rectory house c. 1827. (fn. 144) Thereafter the northern half was reroofed and used as a barn, the southern end was a cottage: the whole was restored as a house in the later 20th century. (fn. 145) A new house was built c. 1827. It consists of a three-storeyed square block built of white brick with a red-brick northern service wing of slightly later date: extensive gardens to the east were walled in red brick and cob. The house was sold when the Orcheston benefice was formed in 1933. (fn. 146)
Dispensations to hold additional livings were granted in 1451 and 1463 to the rector Thomas Chippenham, from 1459 a canon of Exeter. (fn. 147) In the earlier 16th century the churchwardens held 2 a. and stock including 2 cows and 35 sheep for obits and lights in the church, including a light on the high altar. (fn. 148) In 1553 it was reported that there had never been a pulpit in the church: a carpet for the communion table was also lacking. (fn. 149) Three parishioners failed to receive Easter communion in 1584: two of them had been refused the sacrament by the minister then and at Whitsun. (fn. 150) Members of the Thornborough family owned the advowson from the earlier 16th century to 1590 and from 1632 to 1718, and, except 1680–90, were rectors from 1575 to 1735. John Thornborough, presented by a namesake in 1575, (fn. 151) held other livings in Wiltshire and Dorset and was later bishop of Limerick, Bristol, and Worcester. (fn. 152) His successor at Orcheston St. Mary was his brother Giles, rector 1588–1637 and subdean of Salisbury. Giles's son Giles, rector 1637–60, was said in 1650 to preach every Sunday but may later have been sequestrated. He presented his son Giles, rector 1660–80, (fn. 153) who received a dispensation to hold an additional living in 1679 (fn. 154) and presented his son Giles as rector in 1690. (fn. 155) Giles was still rector in 1718: (fn. 156) James Thornborough was replaced as rector in 1735. (fn. 157)
In 1783 the rector did not reside and the curate also served Shrewton and Maddington churches. At Orcheston St. Mary one service was held each Sunday, none on weekdays. There were usually 12 communicants at the celebrations at Christmas, Easter, and Whitsun. (fn. 158) On Census Sunday in 1851 the congregation at the only service, held in the afternoon, was 51. (fn. 159) In 1864 the average congregation was between 50 and 60; additional services were held on Christmas day, Good Friday, Ascension day, and Wednesdays and Fridays in Lent. Communion was celebrated at Christmas and Easter, on Whit Sunday or Trinity Sunday, and on four other Sundays: there were 41 regular communicants. (fn. 160)
ST. MARY'S church, so called in 1297, (fn. 161) is built of limestone rubble and flint and has a chancel, a nave with south aisle and south porch, and a south-west tower. The nave has thick east and west walls, possibly surviving from a small 12th-century church; the aisle and tower were built in the 13th century. A staircase was made in the south-east corner of the tower, and the aisle was refenestrated, in the 14th century, and the chancel was apparently rebuilt or extensively altered in the 16th century. In 1832–3 the chancel, the north wall of the nave, and the aisle walls were rebuilt, the nave was reroofed, and the porch, until then of timber, was rebuilt in stone. (fn. 162)
In 1553 a chalice weighing 9½ oz. was retained and 2½ oz. of plate were confiscated. An early 16th-century paten and a late 16th-century chalice belonged to the parish in 1991, as did a flagon given in 1730. (fn. 163) Of three bells hanging in the church in 1553 two, cast at Salisbury, survived until 1914: a third bell was replaced in 1715 by one cast by Clement Tosier. The three bells were destroyed by fire in 1914; three cast by Taylor of Loughborough (Leics.) (fn. 164) hung in the church in 1991. (fn. 165)
Incomplete series of registers survive, of baptisms from 1688 and of marriages and of burials from 1691. (fn. 166)
Nonconformity.
Although in 1765 a house was certified for dissenters' meetings and in 1801 another for Baptist meetings, (fn. 167) there was said to be no nonconformist in the parish in 1783. (fn. 168) In 1864 there was no meeting house and the 32 Baptists and 4 Wesley an Methodists who lived in the parish presumably attended chapels elsewhere. (fn. 169)
Education.
A small red-brick school built in 1854 (fn. 170) was attended by 15–20 pupils in 1859, when it was said to be very good of its kind. (fn. 171) By 1871 it had become a National school. (fn. 172) Apparently from 1894, when the school was enlarged, it was attended by children from Orcheston St. George: average attendance was 50 in 1900, 40 in 1910. (fn. 173) There were 16 pupils on roll in 1931 and the school was closed in 1932. (fn. 174)
Charities for the poor.
With other Till valley parishes Orcheston St. Mary benefited from the Shrewton Flood charity established in 1843. Four cottages were built in 1842 and the parish was entitled to a seventh of the charity's income, to be spent on clothing or fuel for the poor: 27 sheets were distributed in 1904. (fn. 175) In the later 20th century the income was spent on repairing the cottages, and in 1991 their transfer to a housing association was being negotiated. (fn. 176)
By will proved 1904 Martha Mills (d. 1903) gave the income from £250 to buy coal for the poor of Orcheston St. Mary. About £6 a year was spent until 1949; thereafter the income was allowed to accumulate. (fn. 177)