Pages 55-61
A History of the County of Wiltshire: Volume 15, Amesbury Hundred, Branch and Dole Hundred. Originally published by Victoria County History, London, 1995.
This free content was digitised by double rekeying. All rights reserved.
BOSCOMBE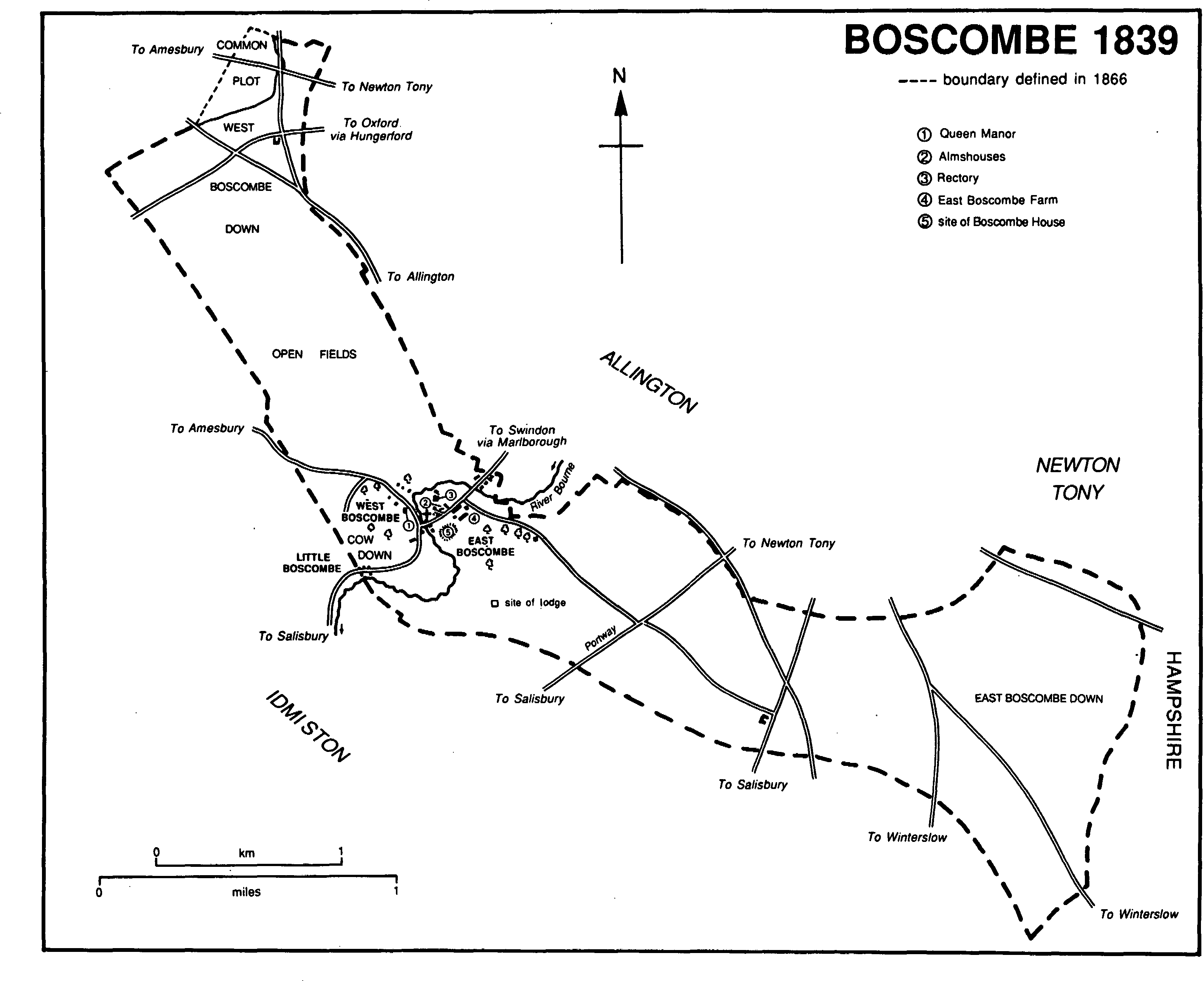 Boscombe (fn. 1) lies in the Bourne valley 11 km. north-erast of Salisbury. (fn. 2) The parish, 1,688 a. (683 ha.), was added to Allington parish in 1934. (fn. 3) It was long and narrow, the river Bourne winds across the middle of it, and it contained two small villages, East Boscombe on the left bank and West Boscombe on the right: each village had a strip of land extending to the downs, East Boscombe's east of the river, West Boscombe's west.
The parish boundary crosses downland for most of its length; on the south-east the boundary with Hampshire follows a ridge, and near the north end of the parish a road and mounds marked the boundary with Allington. Near the river a zigzag in the boundary with Allington suggests a late division of common land, some of which may have been marshy. To the northwest the use of downland was disputed between Boscombe and Amesbury in the 16th and 17th centuries; by 1726 the dispute had been ended by allotting 36 a. for joint use by the two parishes, and in 1866 a line bisecting the common plot was adopted as the parish boundary. (fn. 4) Chalk outcrops over the entire parish. There is gravel along the Bourne and in a tributary valley north-west of the church, and a small amount of alluvium has been deposited south of the church. (fn. 5) The downland, at over 160 m., is higher in the east than in the west. The Bourne, at c. 72 m., flows intermittently in winter and spring and is dry in summer and autumn. On each side of the river there was meadow land, and open fields lay between the meadows and the downs. (fn. 6) A few acres planted near the villages in the earlier 19th century (fn. 7) was the only woodland in the parish in the late 20th. (fn. 8) Both the east downs and the west downs have been used for military training in the 20th century. (fn. 9)
Portway, the Roman road from Silchester to Old Salisbury, crosses the east part of the parish: (fn. 10) it apparently remained in use locally until the 20th century. (fn. 11) The Oxford–Salisbury road via Hungerford (Berks.) crossed the west part, where it became a minor road after a new course was adopted for the Hungerford road between 1675 and 1773. (fn. 12) In 1835 the road linking the villages beside the Bourne to Salisbury was the last part of a Swindon—Salisbury road via Marlborough to be tumnpiked; disturnpiked in 1876, it remained the main Swindon—Salisbury road in 1993. A short new stretch was built in 1939 to take traffic eastwards away from the church. (fn. 13) At both ends of the parish roads or tracks were closed in the 20th century to allow for military training, (fn. 14) but in the 1950s one across the north corner was improved as a new route from Allington to Amesbury. (fn. 15) The London–Salisbury railway line was built for the L. & S.W.R. across the parish along the south-east side of Portway: it was opened in 1857 and remained a main line in 1993. A light railway between Amesbury and Grateley (Hants), diverging from the main line in Newton Tony parish, was opened across the north corner of Boscombe parish in 1902 (fn. 16) and closed in 1963. (fn. 17)
Evidence of prehistoric activity is abundant in the parish. East of the village a prehistoric ditch crosses the parish and there are three bowl barrows. (fn. 18) On East Boscombe down a Bronze-Age enclosure of ¼ a. was possibly for cattle, (fn. 19) and iron may have been smelted on the site. (fn. 20) On West Boscombe down a hill fort was constructed in the mid 1st century A.D. and there is a cemetery of the late 3rd or early 4th century. (fn. 21) An Iron-Age enclosure c. 700 m. ESE. of Boscombe church was the site of a Romano-British villa. (fn. 22)
Boscombe's assessment for taxation in 1332 was high for a place in Amesbury hundred. (fn. 23) There were 46 poll-tax payers in 1377, but in 1428 fewer than 10 households. Between 1801 and 1851 the population of the parish rose steadily from 103 to 159, between 1851 and 1921 fell steadily to 81, and in 1931 was 117. (fn. 24) In 1991 no more than a third of the 469 inhabitants of Allington parish lived in Boscombe. (fn. 25)
East Boscombe and West Boscombe villages were on the gravel beside the Bourne, which divided them. In 1773 the river was forded by the Salisbury road, later called Tidworth Road, immediately south-west of the church and 350 m. north-east. (fn. 26) In each place a bridge had been built by 1817: (fn. 27) the south-western was rebuilt in brick as a single span in the later 19th century; (fn. 28) the north-eastern was rebuilt in 1930. (fn. 29) The two villages kept their separate identities until the mid 20th century but from then they and other settlement beside Tidworth Road have been collectively known as Boscombe village. (fn. 30)
East Boscombe had buildings on both sides of the main road, the church and the rectory house north-west and Boscombe House, a large manor house standing until the later 18th century, (fn. 31) south-east. A lodge south-east of Boscombe House was demolished between 1773 and 1817. (fn. 32) Immediately north-east of the church a farmhouse called the Close in 1993 was built in the 18th century and enlarged in the 19th. In the early 19th century the principal farm buildings were on both sides of the main road north-east of the farmhouse. Two timber-framed granaries on staddle stones survive, one of the 18th century north-west of the road, one of the 18th or early 19th century south-east of the road. A new farmhouse, East Farm, was erected south-east of the buildings on the south-east side between 1839 and 1877 (fn. 33) and the farmyard on that side remains in use. An 18th-century house survives between the Close and the rectory house; an almshouse and, near the church, two cottages are also 18th-century. (fn. 34)
In the early 19th century West Boscombe consisted of no more than Queen Manor, farm buildings, and a few cottages. (fn. 35) Queen Manor, lying east-west with a north entrance front, was built of brick in the 18th century. In 1832, to designs by John Peniston, (fn. 36) a north–south range, also of brick, was built at the east end. In the later 19th century an extension was built along the south side of the 18th-century range. In the later 20th the east side of the earlier 19th-century range was made into an entrance front and a large bay window was constructed on the south side. A large garden south of the house was enclosed with a high cob wall on brick and flint footings in the 18th century or earlier 19th. Farm buildings immediately west of the house in the early 19th century went out of use. Others further west included a long timber-framed and weatherboarded granary of the 18th century or early 19th on staddle stones, which survives: their site was a farmyard with mainly modern farm buildings in 1993. Near the old granary a thatched house was built in the late 19th century on the site of two cottages. (fn. 37) An early 17th-century cottage stands south-west of the church.
In the later 18th century small groups of buildings stood beside the main road near the parish boundary. That to the south-west, where buildings were on each side of the road, was called Little Boscombe in 1773, (fn. 38) Lower Boscombe in 1817. (fn. 39) On the north-west side of the road a 17th-century cottage of cob and thatch survives: buildings on the south-east side were demolished in the late 19th century. (fn. 40) The group to the north-east was on the south-east side of the road in 1773. (fn. 41) On the north-west side a cottage was built before 1817 (fn. 42) and a school c. 1900: (fn. 43) those two buildings and a pair of late 19th-century cottages on the south-east side survived in 1993.
In the earlier 20th century Little Boscombe was linked to East and West Boscombe by a line of houses, including eight council houses, built on the north-west side of the main road. (fn. 44) To the north-east on what was the boundary with Allington until 1934 an estate of council houses was built in the late 1940s and the 1950s: (fn. 45) 12 are in the former Boscombe parish. A working men's club open by 1919 (fn. 46) remained in Boscombe village in 1993. Between 1923 and 1939 a cemetery was opened beside the main road and south-west of the church. (fn. 47)
A barn was built on the downs of East Boscombe between 1773 and 1817, (fn. 48) and a farmstead with a house stood at its site in 1839. (fn. 49) The farmstead was removed between 1916 and 1923 when buildings associated with the Experimental Station based at Porton down in Idmiston were erected on the site. The downland east of them was used as firing ranges, and later more buildings were erected for what is now the Chemical and Biological Defence Establishment. (fn. 50) Boscombe gave its name to Boscombe Down airfield, the landing ground and buildings of which were in Amesbury parish, and from c. 1944 downland of West Boscombe has been used for some of the runways. (fn. 51)
Manors and other estates.
In 1086 William of Eu (d. c. 1095) held 7 hides in Boscombe, the later EAST BOSCOMBE manor, and Edward of Salisbury held them of him. (fn. 52) Like other estates of William, the overlordship of the manor descended to Walter Marshal, earl of Pembroke (d. 1245). (fn. 53) The overlordship has not been traced further.
Roger Bernard evidently held the manor in demesne c. 1175. (fn. 54) Eudes Bernard held it in 1242–3 and Mabel Bernard held it of him, possibly by a temporary tenure. (fn. 55) The manor may have been the estate held in 1288 by Walter of Durnford (fn. 56) and in 1298 settled by him and his wife Joan on Henry Thistleden and his wife Thomasine: that estate was apparently held by trustees in 1322 when the remainder in it was settled on William Peverel and his wife Edith. (fn. 57) The manor was evidently that held at his death in 1362 by Sir Henry Peverel, who had a son Thomas. (fn. 58) It was probably the manor conveyed by Walter of Milcombe and his wife Margaret to Thomas Hungerford (d. 1397) in 1370, (fn. 59) and was the manor sold in 1382 by Sir Peter Court enay and his wife Margaret to Sir John Thorp (fn. 60) (d. 1386). Sir John was succeeded by his son Edward. (fn. 61) Henry Thorp (d. 1416) held the manor in 1402 and from him it passed in the direct line to Ralph (fn. 62) (d. 1446), John (fn. 63) (d. 1464), and William (fn. 64) (d. 1509), an idito by 1479. William was succeeded by his nephew William Clifford (fn. 65) (d. by 1536). The manor was held after Clifford's death by his relict Elizabeth (will proved 1544) and descended to his son Henry (fn. 66) (will proved 1578), to Henry's son Anthony (fn. 67) (d. 1580), and to Anthony's son Henry, (fn. 68) who conveyed it to his brother Simon in 1623. (fn. 69) In 1628 Simon sold it to William Kent (fn. 70) (d. 1632), who was succeeded by his son William (fn. 71) (d. 1666), a royalist in arms in the Civil War. The manor descended to the younger William's son William, (fn. 72) who sold it in 1675 or 1676 to his cousin John Kent (fn. 73) (d. s.P. 1710). John devised it to his nephew John Kent, (fn. 74) whose son John sold it to Robert Eyre in 1733. (fn. 75) Robert (d. 1752) devised the manor to his wife Mary (d. 1762), from whom it passed to her husband's cousin Samuel Eyre (d. 1794). Samuel's daughter and heir Susannah (d. 1833), whose husband William Purvis (d. 1810) assumed the surname Eyre in 1795, was succeeded by her daughter Harriet, wife of George Matcham (d. 1877). The manor passed to Harriet's son William Matcham (d. 1906), who assumed the surname Eyre-Matcham in 1889, and to William's son George Eyre-Matcham. (fn. 76) In 1919 the War Department occupied the downland of East Boscombe, c. 764 a., and in 1925 bought it; the Ministry of Defence owned it in 1993. (fn. 77) Between 1919 and 1922 George Eyre-Matcham sold East farm, c. 276 a., to W. C. Thomas. (fn. 78) In 1924 Thomas sold the farm, then c. 300 a., to John Bament (d. 1933), whose son Mr. A. G. Bament owned it in 1993. (fn. 79)
Members of the Clifford and Kent families lived at Boscombe, (fn. 80) presumably in Boscombe House, which stood on East Boscombe manor. (fn. 81) From c. 1733 Boscombe House was leased; one tenant was a doctor who in 1768 used it as an inoculation hospital. In 1768 it contained a large saloon and a hall, 4 parlours, and 18 bedrooms, and had gardens and a bowling green. It was demolished c. 1770: (fn. 82) the site of the house and the outline of the bowling green were visible in 1993.
In 1364 Thomas Peverel sold land, presumbly in East Boscombe, to Sir Thomas Tyrell. (fn. 83) It passed in the Tyrell family (fn. 84) and was held of Sir Thomas Tyrell by John Clement (d. 1526). Clement was succeeded by his son Edward. (fn. 85) The estate has not been traced further.
In 1320 Richard Thistleden granted I yardland, presumably in East Boscombe, to the vicars choral of Salisbury cathedral in mortmain. (fn. 86) The later ownership of the land is obscure.
WEST BOSCOMBE was held in 1086 by Amesbury abbey. (fn. 87) In 1179 the manor was confirmed to Amesbury priory, (fn. 88) which was granted free warren in its demesnes in 1286, (fn. 89) and held the manor until the Dissolution. (fn. 90) The Crown sold it to Richard Reeves in 1599. (fn. 91) By 1609 it had been acquired by Sir Thomas Freke, (fn. 92) and in the earlier 17th century was evidently split into three portions.
In 1609 Freke sold the demesne and a copyhold of the manor to Simon Clifford (fn. 93) (d. 1640), the owner of East Boscombe manor. In 1628 Clifford sold 178 a. of the demesne to William Kent with East Boscombe manor. (fn. 94) They descended with that manor (fn. 95) and were reunited with the rest of West Boscombe manor between 1831 and 1866. (fn. 96)
The remainder of the demesne and the copyhold, called Queen's farm in the earlier 18th century, (fn. 97) descended to Clifford's son Simon, who sold it to Stephen Kent in 1641. (fn. 98) Kent sold the estate in 1656 to James Harris (will proved 1680), who sold an undivided moiety in 1667 to William Harris. James's moiety passed to Joan (d. 1734), relict of his son Thomas (d. 1679). (fn. 99) In 1734 it passed to Thomas's grandson James Harris (d. 1780), whose son Sir James Harris (later earl of Malmesbury) sold it in 1785 to Thomas Waters. (fn. 100) The second moiety descended from William Harris (d. 1668) to his son James, (fn. 101) to James's son William (fn. 102) (d. 1746), and to William's daughter Sarah, (fn. 103) who married William Hayter (d. by 1780) and afterwards Henry Southby (d. 1797). (fn. 104) In 1799 Sarah's daughter Sarah Hayter sold it to Thomas Waters, (fn. 105) the owner of the first moiety. Waters (d. 1831) devised his estate to his nephew Robert Waters, (fn. 106) who sold it before 1866 to George Matcham, (fn. 107) the owner of the other two portions of the manor.
In 1646 Dorothy, relict of the younger Simon Clifford, sold 5 yardlands, formerly customary land of West Boscombe manor, to Bridget Thistlewaite. (fn. 108) In 1699 Francis Thistlewait sold the land to Thomas Cooper, who immediately sold it to Robert Freemantle (fn. 109) (d. 1718). It passed to Freemantle's son Robert, (fn. 110) who sold it c. 1741 to Robert Eyre. (fn. 111) Thereafter it descended with East Boscombe manor along with the 178 a. of demesne. (fn. 112)
The whole of West Boscombe manor, called Queen Manor farm, descended with East Boscombe manor from the mid 19th century. George Eyre-Matcham sold the farm, 586 a., between 1919 and 1922 to R. E. Macan. (fn. 113) Queen Manor farm belonged to Macan's relict Dorothy Macan in 1945, was sold by her representatives to J. Read c. 1955, and belonged to Read's son, Mr. J. S. Read, in 1993. (fn. 114) The government bought c. 175 a. from Macan in 1925 and c. 75 a. from his relict in 1950, all for Boscombe Down airfield: (fn. 115) it owned the land in 1993.
Amesbury priory was evidently entitled to the tithes from the demesne of its manor of West Boscombe. (fn. 116) After the Dissolution the tithes belonged to the lord of the manor, and from the 17th century to the owners of that portion of the manor which passed in the Harris family. (fn. 117) In 1840, when they were due from 241 a. of land to which pasture rights were attached, they were valued at £95 and commuted. (fn. 118)
Economic history.
East Boscombe. In 1086 there were 3½ ploughteams although there was land enough for 4; there were 2 teams and 2 servi on the 4½ demesne hides, and 3 villani and 4 coscets with 1½ team on land assessed at 2½ hides. There were 6 a. of meadow and there was pasture 12 furlongs square. (fn. 119)
In 1362 what was evidently the demesne of East Boscombe manor had 240 a. of arable, of which half was sown each year, 10 a. of meadow in severallty, a several cattle pasture worth 4s., and feeding in common for 4 working cattle, 18 oxen, and 500 sheep. None would hold land of the manor in bondage; free tenants held land but how many and how much are not known. (fn. 120) In 1446 the demesne was said to include 8 a. of meadow, 600 a. of downland pasture, but only 60 a. of arable; it also had a rabbit warren. (fn. 121)
Between 1577 and 1580 the lord, his tenants, and the rector exchanged lands, and from then all the land of East Boscombe was evidently in a single farm worked in severalty. In 1719 East Boscombe farm was said to have c. 300 a. of arable, 80 a. of 'ingrounds', and 700 a. of down. The c. 300 a. of arable were presumably former open fields; the 80 a. of 'ingrounds' included 20 a. of meadow, 40 a. of arable in inclosures formerly pasture, and a cattle pasture of 20 a. near the village; every part of the down had been burnbaked once or twice. (fn. 122) About 1840 the farm, 1,038 a., included 687 a. of arable, 35 a. of meadow and lowland pasture, and a downland field of 292 a. of which part was additional arable. It also included a downland farmstead, (fn. 123) and a flock of 1,130 sheep was kept. (fn. 124) For periods in the late 18th century and early 19th it was worked by the farmer who worked the land of West Boscombe. (fn. 125)
It is likely that in the later 19th century on East Boscombe farm arable was converted to pasture and that dairy and pig farming increased. (fn. 126) In the early 20th the two thirds of the farm east of the railway were taken for military training, (fn. 127) and in the 1930s East farm was about half arable and half pasture. (fn. 128) In 1993 East farm, c. 300 a., was mainly arable but had on it cattle reared for beef. (fn. 129) Of the c. 764 a. east of the railway, c. 75 a. were then cultivated for the Chemical and Biological Defence Establishment and the rest was rough grassland. (fn. 130)
West Boscombe. There was land for 4 teams in 1086: there were I team and 1 servus on the demesne, 2½ hides; 2 villani, 5 coscets, and 2 cottars held 1 team on 1½ hide. There were 4 a. of meadow, and there was pasture 1 furlong by ½ furlong. (fn. 131)
In the Middle Ages and the 16th century West Boscombe is likely to have had as much arable as, and less pasture than, East Boscombe. In the 16th century the demesne was c. 147 a. and there were 4 copyholds, 2 of c. 70 a., 1 of c. 64 a., and 1 of c. 14 a. All five holdings had land in the three open fields, then called Church Hill, Brownberry, and West, and each holding except the smallest shared a common meadow of c. 8 a. There was a cow down and pasture for sheep on downs called Church Hill, Pike, and West. (fn. 132) The demesne included the right to feed 289 sheep in common. (fn. 133) In the 16th century and later downland on West Boscombe's boundary with Amesbury was disputed, and in the 18th and 19th centuries a sheep pasture of 36 a. was used in common by the farmers of both places. (fn. 134)
In the earlier 18th century there remained three open fields, Idmiston, Middle, and Church Hill or Allington, presumably south, middle, and north fields, nominally a total of 307 a. and shared among nine holdings. Between the earlier 18th century and the earlier 19th the amount of open field was increased, perhaps doubled. In 1839 there were 248 strips totalling 414 a.; the new arable to the west was divided into strips on a more regular pattern than the old arable to the east. Cow down, west of the church, was 31 a., and north of it a 26-a. pasture was used in common for sheep or pigs; together the two pastures were later called Little Boscombe down. Downland pasture for sheep, including half the common plot, was 113 a. (fn. 135) The arable was worked on a four-course rotation in which two fields were sown with corn, one was sown with grass, and one was left fallow. (fn. 136)
Common husbandry continued nominally until 1866, but between the earlier 18th century and the earlier 19th nearly all the land was absorbed into a single farm, Queen Manor farm, (fn. 137) and by c. 1840 linchets in the open fields had been ploughed. A flock of 1,210 sheep was kept c. 1840. (fn. 138) From 1780 or earlier to c. 1794 Thomas Waters worked nearly all the land in the parish, as did his nephew Robert Waters from c. 1832. (fn. 139)
In West as in East Boscombe arable may have been converted to pasture, and dairy and pig farming may have increased, in the later 19th century. (fn. 140) In 1910 Queen Manor farm was 586 a. (fn. 141) In the mid 20th century c. 250 a. were taken from the farm for Boscombe Down airfield. (fn. 142) In 1993 Queen Manor farm, c. 750 a., had all the other land in West Boscombe and much elsewhere: it was an arable and sheep farm with a flock of c. 1,000 breeding ewes. (fn. 143)
A windmill was built on Little Boscombe down between 1773 and 1793. It was a post mill, (fn. 144) which went out of use between c. 1876 and 1899 and was demolished before 1926. (fn. 145)
Local government.
Amesbury priory held a court for West Boscombe manor 1315–18 (fn. 146) and c. 1535. (fn. 147) No direct record of the court, or of the view held twice a year for the manor c. 1540, (fn. 148) survives. Records of a court for East Boscombe manor are extant 1634–1796. The court was convened very infrequently: it transacted copyhold business, (fn. 149) and was still held c. 1826. (fn. 150)
Annual expenditure on the poor in 1775–6 was high at £54, in the early 1780s low at an average of £25. In 1802–3 £79 was spent on relieving 23 paupers, a quarter of the inhabitants, 17 regularly and 6 occasionally. (fn. 151) A yearly average of £113 was spent 1812–15 on relieving c. 12 paupers. (fn. 152) Between 1816 and 1834 the few paupers may have been relieved comparatively generously: expenditure was highest, at £157, in 1832, lowest, at £49, in 1818. (fn. 153) The parish became part of Amesbury poor-law union in 1835. (fn. 154) It was included in Salisbury district in 1974. (fn. 155)
Church.
Boscombe church was mentioned in the 12th century. (fn. 156) In 1650 it was proposed to add Allington and part of Idmistion to the parish but the proposal was not implemented. (fn. 157) Boscombe rectory was united with Allington rectory in 1924, (fn. 158) the two parishes were united in 1970, (fn. 159) and the united benefice became part of Bourne Valley benefice in 1973. (fn. 160)
About 1175 Roger Bernard granted the advowson to St. Neots priory (Hunts.). In 1227 the priory gave it to the bishop of Salisbury in exchange for a pension of 13s. 4d., (fn. 161) and the bishop afterwards collated rectors. John Bamaby presented in 1564, Thomas Painter in 1584, and Richard Hooker, the rector, in 1595, each time by grant of a turn. (fn. 162) From 1924 the bishop collated at alternate vacancies, and in 1973 became chairman of the Bourne Valley patronage board. (fn. 163)
The rectory was worth £4 6s. 8d. in 1291, (fn. 164) £14 in 1535, (fn. 165) £60 in 1650. (fn. 166) Valued at £330 c. 1830 it was one of the richer livings in Amesbury deanery. (fn. 167) The rector took all the tithes except Those from about half of West Boscombe. The rector's were valued at £250 10s. in 1840 and commuted. (fn. 168) From 1577 X 1580 all the rector's glebe was in West Boscombe. (fn. 169) It was nominally c. 24 a., presumably with pasture rights, in 1671, (fn. 170) c. 22 a. from inclosure in 1866. (fn. 171) It was sold in 1925. (fn. 172) The rectory house was built in the 15th century as a north–South hall, of which all but the north end survives; an upper floor was inserted in the 17th century. In the earlier 19th century a roofed cellar occupied the site of the north end. Near the north-west corner of the surviving part of the hall, and linked to it by a passage, an east—west range was built in 1836. (fn. 173) In the 20th century the ground floor of the medieval range was altered and an entrance hall was built in the angle between the two ranges.
The incumbents were in minor orders in 1309 and 1412. (fn. 174) William of Codford, curate in 1327, (fn. 175) rector in 1333, was a commissary of the court of Canterbury. (fn. 176) Augustine Church, rector 1498–9, was titular bishop of Lydda, and John Kite, 1499–1504, was archbishop of Armagh from 1513, bishop of Carlisle from 1521. Few later rectors were not pluralists. Nicholas Balgay, 1584–91, was also vicar of Idmiston and a canon, and from 1589 subdean, of Salisbury. Richard Hooker, 1591–5, also subdean of Salisbury, wrote part of his Ecclesiastical Polity while at Boscombe. (fn. 177) James White, 1632–61, was rector of Rollestone until 1644, (fn. 178) rector of Newton Tony 1660–1. (fn. 179) He preached once every Sunday in 1650, but did not observe fasts and thanksgiving days prescribed by parliament and used the Book of Common Prayer. (fn. 180) Charles Moss, 1738–50, was bishop of St. David's from 1766, of Bath and Wells from 1774. (fn. 181) John Jennings, 1750–68, was also vicar of Idmiston (fn. 182) and John Nairn, 1769–1815, was also rector of Pertwood. At Boscombe in 1783 a curate, who also served Bulford, held a service every Sunday, alternately morning and afternoon, and a service on some feast days. He administered the sacrament thrice a year to c. 5 communicants. (fn. 183) The rector held two services each Sunday in 1832. (fn. 184) On Census Sunday in 1851 a congregation of 73 attended morning and 79 afternoon service. (fn. 185) In 1864 the rector lived in the parish and held a service every Sunday, alternately morning and afternoon, for a congregation of 50–60. He held services on Ash Wednesday, Good Friday, and Ascension day, and administered the sacrament six times a year to c. 20 communicants. (fn. 186) H. W. Barclay, rector from 1891, was also rector of Allington from 1895 and the first incumbent of the united benefice. (fn. 187)
ST. ANDREW'S church, so called in 1763, (fn. 188) is built of rubble with ashlar dressings and has a chancel and a nave with north transept and west bellcot. The thick walls of the chancel and of the nave may survive from the 12thcentury church. The roofs were rebuilt, and the nave windows inserted, in the 15th century or early 16th. In the 17th the transept was built and new chancel windows were inserted. In 1709 the floors were repaved, box pews incorporating 17th-century panelling were fitted, the pulpit, dated 1623, was reset and given a sounding board, and above the pulpit a small casement window was inserted high in the south wall of the nave: the box pews and the pulpit remain in the church. In 1755 the east wall was rebuilt, in the 19th century the nave roof was reconstructed, and in the 20th century the transept was screened with re-used panelling to create a vestry. Weatherboarding on the sides of the bellcot was replaced by shingles after 1805. (fn. 189)
In 1553 a chalice of 6 oz. was left for the parish and 1 oz. of plate was taken for the king. A chalice, a paten, and a fiagon, all hallmarked for 1708, were given in 1709, (fn. 190) and were held in 1993. (fn. 191) There were two bells in 1553. In 1993 a bell cast by Richard Florey in 1676 hung in the bellcot; a bell cast in the 18th century by William Tosier (fn. 192) fell in the 20th century and was stolen c. 1961. (fn. 193) Registrations of baptisms and marriages survive from 1696, of burials from 1698. Marriages are lacking for 1742–9 and burials for 1776–83. (fn. 194)
Nonconformity.
None known.
Education.
There was a school with c. 14 pupils in 1833, (fn. 195) one with 27 in 1846–7, (fn. 196) and one with c. 10 in 1858. The older children went to school in Newton Tony or Idmiston in 1858. (fn. 197) Fewer children may later have gone to school in other parishes and c. 25 children were in Boscombe school, possibly held in a farm building, on attendance day in 1871. (fn. 198) That school lapsed and children again went to school in other parishes. (fn. 199) A new school opened in 1902. Anna Brunston, the teacher 1902–10, depicted Boscombe as 'Downlands' and gave an account of life at the school 1902–5 in Letters of a School Ma'am published in 1913. (fn. 200) Average attendance was 51 in 1906–7, 60 c. 1911, and 34 in 1938. (fn. 201) The school closed in 1972 and children from Boscombe afterwards attended school at Idmiston. (fn. 202)
Charity for the poor.
John Kent (d. 1710) built at Boscome a range of four oneroomed almshouses in 1708 and bequeathed £24 a year for the inmates, two widowers and two widows from either Boscombe or Winterbourne Dauntsey. Each inmate received 2s. 4d. a week. In 1833 three of the houses were held by the parish to house paupers and one was vacant. From the later 19th century those receiving the weekly payments were not required to live in the almshouses, which were often either empty or let. (fn. 203) In 1930 the almshouses were sold to the Bourne Valley Nursing Association and converted to a house for a nurse. (fn. 204) Weekly doles of 2s. 4d. or more were regularly paid to 3 or 4 recipients 1901–51. (fn. 205) The income of £22 a year was allowed to accumulate from 1973. (fn. 206)