Pages 82-88
A History of the County of Wiltshire: Volume 16, Kinwardstone Hundred. Originally published by Victoria County History, London, 1999.
This free content was digitised by double rekeying. All rights reserved.
BUTTERMERE
Buttermere (fn. 1) lies c. 7 km. south of Hungerford (Berks.) on Wiltshire's boundary with Berkshire and Hampshire; the parish, which contains Buttermere village and Henley hamlet, measures 608 ha. (1,501 a.). The parish church stands near the centre of Buttermere's land, the boundaries of which were given in the mid 9th century; (fn. 2) Henley's land, forming the parish's south-west tail, may have been added to Buttermere's to form the parish in the 11th century, when apparently both were held by St. Swithun's priory, Winchester. (fn. 3)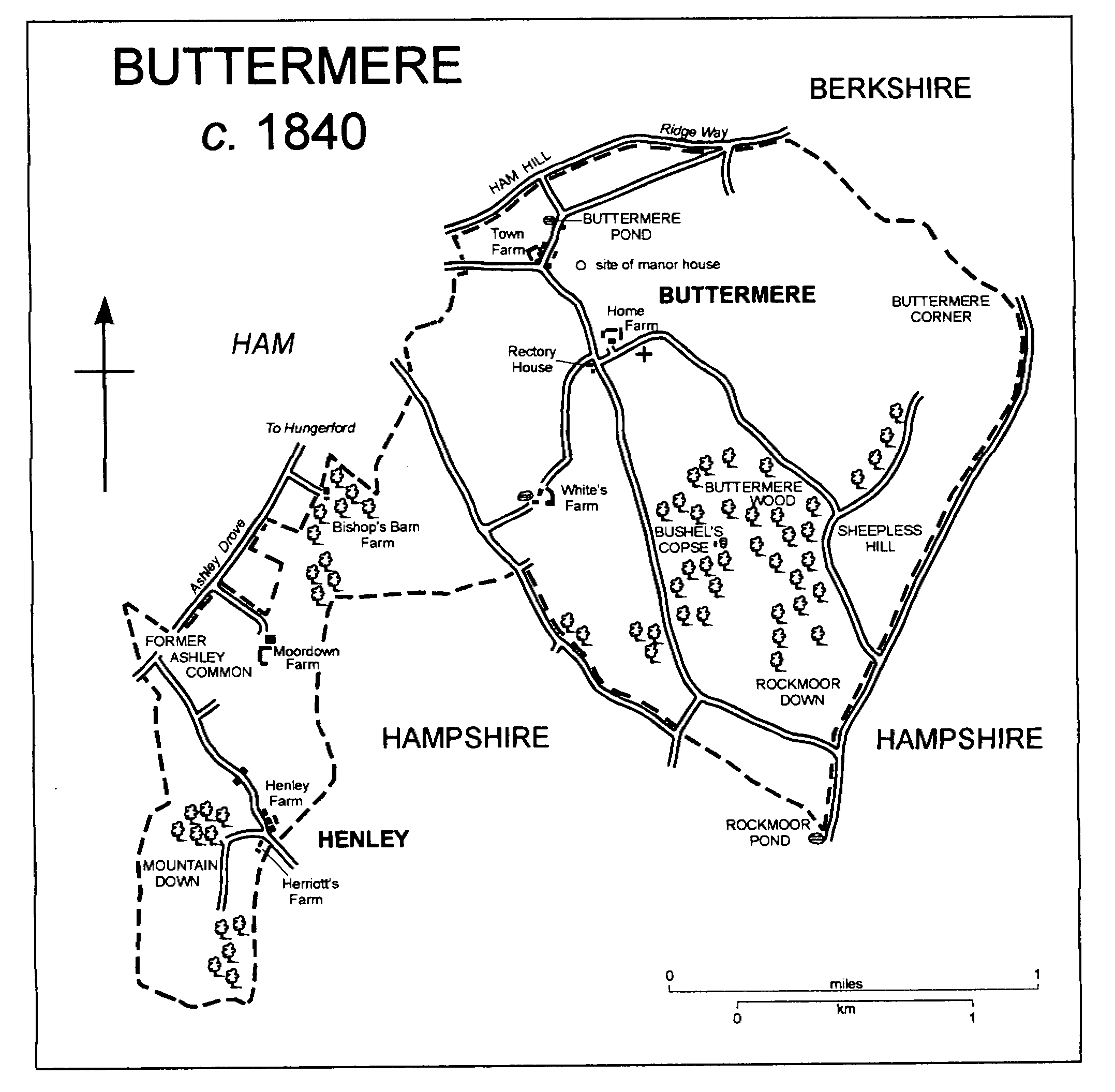 On the north the parish boundary is marked by a ridge way, and on the east the boundary with Hampshire, from 1895 partly with Berkshire, follows another ridge and was marked by another road. Until boundary changes of 1895 Wiltshire, Berkshire, and Hampshire met at Buttermere Corner. (fn. 4) Another part of the parish's boundary with Hampshire is also marked by a road across high ground. On the east the boundary of the tail follows a dry valley; on the west it crossed land possibly used in common by men of Ham and Henley and may have been given its indentations at inclosure in the later 17th century. (fn. 5)
Chalk outcrops over the whole parish, and on the highest ground is overlain by large areas of clay-with-flints. (fn. 6) The parish is on the dip slope of downland, the highest land, at 287 m., being in the extreme north, the lowest, at 155 m., at the south-east corner of the tail. The relief is broken and every valley is dry. In the north part of the parish Buttermere probably had open fields on all sides of the village, and it had upland pastures near the parish boundary north-east, east, and south-east of the village. On the chalk in the tail Henley almost certainly had open fields and probably had a common pasture for sheep, and there was a common pasture on the high land north-west of the hamlet. Parts of the clay-with-flints are wooded. (fn. 7)
In 1377 Buttermere had 6 poll-tax payers and was one of the least populous places in Wiltshire. (fn. 8) In the 19th century the population of the parish was remarkably constant, not exceeding 138 or falling below 121. From 130 in 1901 it declined steadily to 39 in 1971. It was 51 in 1981, 43 in 1991. (fn. 9)
No main road crosses the parish. The ridge way on the northern parish boundary, leading east to Basingstoke (Hants), went out of use as a thoroughfare in the 19th century. (fn. 10) Ashley Drove along the western parish boundary leads to and from Hungerford. For traffic from Buttermere village to reach it more directly a new road, later called Woodcote Road, leading west from the north end of the village, was made between 1773 and 1808. (fn. 11)
The whole parish was part of Savernake forest until 1330. (fn. 12)
Buttermere is a hill-top village standing on the clay on generally level ground above the escarpment called Ham Hill. It almost certainly stood on its present site in the mid 9th century: its name was in use then and was taken from a pond (or mere), possibly the embanked pond on the clay at the north end of the present village which may have been its early source of water. (fn. 13) In the 18th century the village was small and consisted of two groups of buildings, (fn. 14) in the lane between which a new pond was made in the mid 19th century. (fn. 15)
In the later 18th century the group of buildings to the south-east consisted of the church, the rectory house, and a farmstead later called Home or Manor Farm and in the late 20th century called Grange Farm. (fn. 16) Earthworks west of the church suggest that a manor house may have stood there. (fn. 17) A school was built near the rectory house in the later 19th century. (fn. 18) The farmhouse of Grange Farm was rebuilt in the later 19th century; in 1995 most of its extensive buildings were of the later 20th century. Large farm buildings north of the rectory house were also erected in the later 20th century.
In the later 18th century the group of buildings to the north-west included a manor house, a farmstead, and presumably several cottages. The manor house, standing in 1773, (fn. 19) had been demolished by 1808. (fn. 20) West of its site Town Farm includes a house built on a three-roomed plan in the 17th century. Its farm buildings were disused in 1995. Of the six cottages standing c. 1840 (fn. 21) none survives. In the lane north of Town Farm, called Downs Lane in 1995, a brick house was built in the mid 19th century; south of Town Farm a pair of cottages was built in the same period, (fn. 22) and two bungalows were built in Downs Lane in the later 20th century.
About 750 m. south-west of the church a farmstead called White's, later Manor, Farm was standing in 1773. (fn. 23) The farmhouse was rebuilt in the later 19th century. About 900 m. south of the church a range of flint and brick cottages was built in the mid 19th century. The cottages were later called Newtown, and in the later 20th century were converted to a house called Ballyack. A gamekeeper's cottage built in the woods east of Newtown in the earlier 19th century was replaced by a bungalow in the 20th. (fn. 24)
Henley.
The hamlet stands at the parish boundary around a pond in an otherwise dry valley. In 1773 it comprised two farmsteads and, on the south-west side of the lane north-west of them, a pair of cottages. The two farmhouses and, in single occupancy, the cottages, were standing in 1995. Henley Farm, called Herriott's Farm c. 1840, is a timber-framed house of the 17th century. Its walls were rebuilt in flint and brick in the 18th and 19th centuries. Henley Lodge, called Henley Farm c. 1840, (fn. 25) and the cottages are also timber-framed and 17th-century. In the 19th and 20th centuries farm buildings were renewed on the Wiltshire side of the boundary, and a few buildings were added on the Hampshire side.
On high ground north of the hamlet Moordown Farm, called the Folly in 1773, (fn. 26) was built in the 17th century. Originally timber-framed, its walls were rebuilt in rubble and brick in the 18th century, possibly c. 1786, (fn. 27) and the 19th. Bishop's Barn Farm, incorporating a house, was built north of Moordown Farm between 1773 and 1808. (fn. 28) The house was extended c. 1938. (fn. 29)
MANOR AND OTHER ESTATES.
Between 862 and 867 either King Ethelbert or King Ethelred granted to Wulfhere 6 cassati, including what became BUTTERMERE manor. (fn. 30) Wulfhere was outlawed 877 × 883 and forfeited his lands. (fn. 31) Buttermere was later held by Wulfgar, possibly Wulfhere's grandson, who between 933 and 948 devised 2 hides of his estate there to Byrhtsige. (fn. 32) Later the whole estate belonged to St. Swithun's priory, Winchester: land at Buttermere apparently passed to the priory when, between 1016 and 1035, Wlwric became a monk there, and between 1070 and 1087 the king confirmed land at Buttermere to it. (fn. 33) In 1110 the priory granted Buttermere manor to Walter of Combe for a fee-farm rent of £3 a year, (fn. 34) a rent paid by the lords of the manor to the priory until the Dissolution and to the dean and chapter of Winchester until the 18th century (fn. 35) or later.
In the late 12th century Robert held the manor. William of Buttermere held it from 1199 or earlier (fn. 36) to 1228-9 or later. (fn. 37) William Buggy held it in 1242-3, (fn. 38) and Henry Buggy held it in 1259. (fn. 39) William de St. Martin held it in 1275, when Walter Northwich held it of him. (fn. 40) In 1379, when they granted a rent of 8 marks from it to Michael Skilling, the manor was held by Peter Besiles and his wife Mabel and apparently of them by Richard Thorold. (fn. 41) It was later held in fee by Hugh Thorold, who by 1390 had granted it for life to Isabel, wife of Lambert Farmer; under a grant of that year (fn. 42) Farmer acquired the reversion and c. 1403 died seised of the manor. (fn. 43) John Franks, clerk of parliament 1414-23 and Master of the Rolls from 1423, held the manor in fee in 1411, (fn. 44) and in 1417 he bought from Michael Skilling's son John the rent of 8 marks. (fn. 45) About 1433 Franks sold the manor to Thomas Chaucy. (fn. 46) By 1447 Chaucy had conveyed it to William Ludlow, (fn. 47) presumably the William Ludlow who died in 1478. (fn. 48)
Buttermere manor passed from William Ludlow to his son William, who was succeeded by his son Thomas (fl. 1504 × 1515). (fn. 49) In 1571 John Ludlow (d. 1614) settled the manor for life on Catherine Dallyson. He devised it to William Curll (fn. 50) (d. 1617), (fn. 51) and it descended to Curll's son Edward (fn. 52) (d. 1621). It was held by Edward's relict Mary and passed in turn to his son John (fn. 53) (d. c. 1661), (fn. 54) John's son Walter (d. c. 1686), and Walter's relict Frances (d. by 1698). Walter's son Walter (fn. 55) sold the manor in 1719 to Nicholas Terrell (d. 1727). (fn. 56) It descended to Terrell's son Nicholas (d. s.p. 1736-7), (fn. 57) who was succeeded by a kinsman, Sir Charles Crispe, Bt. (d. 1740). Sir Charles's heir was his niece Mary Crispe (d. 1751), (fn. 58) who devised the manor to her husband the Revd. George Stonehouse. (fn. 59) About 1790 Stonehouse sold it to William Southby, c. 1796 Southby sold it to James Lockhart, (fn. 60) and in 1803 Lockhart conveyed it to his son John (d. 1835), who took the name Wastie instead of Lockhart in 1832. Wastie devised the manor to his nephew James Lockhart, who sold it in portions c. 1861. (fn. 61)
Lockhart sold White's (later Manor) farm, 626 a., to M. H. Marsh (fn. 62) (d. 1881). Marsh's trustees sold it in 1889 to H. O. Kidman, and Kidman sold it in 1909 to William Wiles. (fn. 63) A. D. Hart owned it from c. 1926 to c. 1934. His successor C. MacPherson sold it c. 1947. Mr. J. J. Hosier owned Manor farm from c. 1966 and in 1994. (fn. 64)
Lockhart sold Home and Town farms, 551 a., to J. T. Gough (d. 1868), who was succeeded by his brother James (d. 1890). James's trustees sold the farms in 1892 to his son Henry, (fn. 65) who sold them c. 1910 to Henry a'Barrow (fn. 66) (d. 1934). A'Barrow's son Maurice sold the farms c. 1951 to Douglas and Iris Waters. Members of the Waters family owned the land as Grange farm in 1994. (fn. 67)
The land of HENLEY belonged to St. Swithun's priory, Winchester, in the mid 13th century as part of the priory's manor of Ham, (fn. 68) and it may have been part of it in the mid 10th century when Wulfgar devised Ham to his wife Aeffe for life with remainder to the Old minster at Winchester. (fn. 69) As part of Ham manor Henley passed from the priory to the dean and chapter of Winchester in 1541 and to the Ecclesiastical Commissioners in 1861. (fn. 70) Henley farm, 70 a., was enfranchised for H. D. Woodman (d. 1915) in 1862, (fn. 71) and Herriott's farm was probably enfranchised for a member of the Herriott family. As Henley farm, 169 a., both farms were owned in 1910 by John Herriott (fn. 72) and in 1994 by members of the Herriott family. (fn. 73) Bishop's Barn farm, 59 a., was enfranchised for John Canning (fl. 1863), (fn. 74) whose executors owned it in 1910. (fn. 75) It was part of White's farm c. 1934, (fn. 76) and c. 1947 belonged to J. Alexander. (fn. 77) It has not been traced further. In 1914 the Ecclesiastical Commissioners sold Moordown farm, 59 a., to S. W. Farmer (fn. 78) as part of an estate based in Ham. As part of that estate Farmer sold it in 1920 to S. R. Brown, (fn. 79) who offered it for sale in 1928. (fn. 80) It was part of White's farm c. 1934 and was later sold to W. Hine. (fn. 81) Mr. R. Hine owned it in 1994. (fn. 82)
Three estates at Buttermere in 1086 have not been traced further. Waleran the huntsman and of him Azelin held 1 hide and 1 yardland held by eight thegns in 1066, Anschitil held ½ yardland held by Godwin in 1066, and Ernulf of Hesdin held 5 a. (fn. 83)
ECONOMIC HISTORY.
Buttermere.
Waleran's, Anschitil's, and Ernulf's were the only estates in Buttermere to be separately surveyed in 1086, when they were said to consist of land for 2 ploughteams, land for 2 oxen, and 5 a. (fn. 84)
Sheep-and-corn husbandry in common was probably practised at Buttermere, and 17thcentury evidence suggests that open fields may have been called East, West, and Church. Sheepless (otherwise Sheep Leaze) Hill southeast of the village was presumably a common pasture for sheep, and Rockmoor down south of it and downland at the parish boundary east of the village may have been for cattle and sheep. Both arable and pasture had evidently been inclosed by 1686. (fn. 85)
Between 1624 and 1686 the demesne farm of Buttermere manor was possibly divided into Home farm and Town farm, and Town Farm may have been built as a new farmstead in that period. (fn. 86) About 1700 there were four other farms, two of c. 92 a. each, one of c. 31 a., and one of 12 a. (fn. 87) All four had apparently been united as White's by c. 1730, when that farm, Home, and Town were roughly the same size as each other. (fn. 88) Town and White's were held by the same tenant in the period 1791-1800, and c. 1827 part of Home farm, including the farmstead, was added to Town farm and the rest to White's. (fn. 89) About 1840 Town and Home farm, mainly to the north-east, was 550 a., White's, mainly to the south-west, c. 547 a. More than two thirds of each was arable. All but one of the arable fields were of less than 50 a. Each farm had downland pasture, Town and Home at the parish boundary north-east of the church, White's on Sheepless Hill and Rockmoor down. (fn. 90)
In the late 19th century the amount of arable at Buttermere declined, and in the earlier 20th there was more grassland than arable. Sheep farming declined and dairy farming increased. In the 1930s most of the arable lay in an arc along the northern parish boundary and there was some near Buttermere wood. There was rough grazing on Sheepless Hill and Rockmoor down. Town and Home (then called Manor, later Grange) was presumably an arable and sheep farm, White's (later called Manor) presumably a dairy farm. (fn. 91) In 1994 Grange remained an arable and sheep farm; Manor, c. 700 a. including Bishop's Barn farm and land in Ham, was entirely arable; (fn. 92) the late 20th-century farm buildings north of the rectory house were used for cattle rearing.
In the late 17th century and early 18th Buttermere had c. 24 a. or more of coppiced wood. (fn. 93) Between 1773 and 1817 Buttermere wood, c. 72 a., and Bushel's copse, c. 14 a., were planted, (fn. 94) and c. 1840 they and other coppices totalled c. 95 a. (fn. 95) In 1994 those woods, and several others mainly planted in the 20th century, totalled c. 130 a. (fn. 96)
Henley.
In the mid 13th century all Henley's land, c. 300 a., was held by copy of Ham manor. Four holdings were based at Henley hamlet, those of a yardlander with 30 a., a ½-yardlander with 15 a., and two cottagers with 10 a. each; two were allegedly based at Moordown, those of a yardlander with 30 a. and a ½-yardlander with 15 a. The arable of all six almost certainly lay at Henley and in open fields; the tenants probably shared Mountain down, 46 a. south-west of the hamlet, as a common pasture for sheep, and they had pasture rights on Ashley common northwest of the hamlet. The tenants all had obligations comparable to those of the manor's customary tenants with holdings based at Ham: they owed a wide variety of labour services, the yardlanders twice as many as the ½-yardlanders, and they had to serve as officers of the manor. The service was presumably done at Ham. (fn. 97) In 1649 there were three holdings of 1 yardland, one of ½ yardland. Nearly all the arable had been inclosed by then, (fn. 98) Ashley common was inclosed in the later 17th century, (fn. 99) and Mountain down had been inclosed by the earlier 19th century. (fn. 100)
There were still four holdings in the earlier 19th century. About 1840 Bishop's Barn farm and Moordown farm each had c. 59 a., Henley farm had 70 a., Herriott's farm 95 a. All four were mainly arable; no field was as large as 25 a., and Mountain down had by then been ploughed. Herriott's farm was then worked by a farmer with much land in Ham, (fn. 101) and in the later 19th century Henley, Bishop's Barn, and Moordown were all worked with land in Ham. (fn. 102) In the 1930s there was arable west of the hamlet but most of Henley's land was grassland. (fn. 103) In 1994 Henley farm, a mixed farm of 169 a., included Herriott's and was worked with land in Hampshire; (fn. 104) Moordown farm, c. 250 a., was arable. (fn. 105)
About 1840 there was 5 a. of woodland near Bishop's Barn Farm, 3 a. west of Henley hamlet, and 5 a. south of it. (fn. 106) The 3 a. had been cleared by 1879 (fn. 107) but most of the other woodland was standing in 1994.
LOCAL GOVERNMENT.
In 1775-6 the parish spent £66 on the poor, in the period 1783-5 an average of £83. Although in 1802-3 £102 was raised by the poor rate, only £68 was spent; 3 children received regular relief, 8 adults occasional relief. On average in the three years to Easter 1815 £75 was spent on relieving 8 adults regularly and 3 occasionally. (fn. 108) At £48 expenditure on the poor was lowest in 1816 and at £157 highest in 1832. (fn. 109) Buttermere became part of Hungerford poor-law union in 1835, (fn. 110) and was included in Kennet district in 1974. (fn. 111)
CHURCH.
Buttermere church was standing in 1268. (fn. 112) The rectory was united in 1912 with the vicarage of Combe (Berks., formerly Hants). (fn. 113) That union was dissolved in 1933, when the rectory was united with Ham rectory. (fn. 114) Shalbourne vicarage was added in 1956, (fn. 115) Buttermere and Ham parishes were united in 1958, (fn. 116) and in 1979 the united benefice became part of Wexcombe benefice. (fn. 117)
In 1284 St. Swithun's priory confirmed the bishop of Winchester's right to collate rectors of Buttermere. (fn. 118) The bishop thereafter collated except in 1594 and 1626 when the Crown presented because the see was vacant. (fn. 119) The advowson was transferred in 1869 to the bishop of Oxford, (fn. 120) and in 1905 to St. George's chapel, Windsor. (fn. 121) The chapel had the right to present at alternate vacancies from 1933 (fn. 122) and at two of every three vacancies from 1956; (fn. 123) from 1979 it had a seat on the board of patronage for Wexcombe benefice. (fn. 124)
The rectory was worth £4 6s. 8d. in 1291, (fn. 125) £10 10s. 7d. in 1535, (fn. 126) and £229 c. 1830. (fn. 127) A pension of 9s. being paid to Poughley priory (Berks.) in 1291 (fn. 128) apparently lapsed. The rector took all tithes from the whole parish: they were valued at £299 in 1843 and commuted. The glebe, c. 2 a. (fn. 129) until c. 4 a. near the rectory house was bought in 1914, (fn. 130) was sold c. 1933. (fn. 131) The rectory house was burned down before 1668. (fn. 132) The small cottage which had been built by 1671 to replace it (fn. 133) was in poor condition in the 19th century. (fn. 134) A new red-brick rectory house was built on the site of the cottage in 1876 (fn. 135) and sold in 1933. (fn. 136)
In 1304-5 the rector was licensed to study canon law at Oxford for three years, (fn. 137) and in 1307 his successor was also licensed to study for three years. (fn. 138) Other early 14th-century rectors were also in minor orders. (fn. 139) William Rede, rector 1361-5, became bishop of Chichester in 1368. (fn. 140) In 1412 the rector was licensed to hold a second benefice, (fn. 141) and in 1560 the rector held two benefices. (fn. 142) Curates served the church in 1620 and 1623. (fn. 143) Joseph Nixon, rector 1637-79, was in 1647 accused of intemperance; he employed sequestered ministers to serve the cure, was ejected c. 1655, and was restored in 1660. Three intruders served successively from 1656 to 1658. (fn. 144) From 1660 Nixon was also rector of West Shefford (Berks.), (fn. 145) and a curate served Buttermere in 1668. (fn. 146) Thomas Baker, rector 1772-89, was also vicar of Combe, where he lived. At Buttermere in 1783 he held two services each Sunday and one on Christmas day. Few attended his quarterly celebrations of communion. (fn. 147) In 1812, when the church was served by a curate who lived outside the parish, only one service was held each Sunday. (fn. 148) Curates also served Buttermere during the incumbency of Nathaniel Dodson, rector 1818-67 and a pluralist. (fn. 149) In 1851 the curate lived in Combe and his service each Sunday at Buttermere, held alternately morning and afternoon, was attended by 55 people. (fn. 150) The pattern of Sunday services was the same in 1864, when a congregation of c. 38 attended. A Good Friday service was then attended by 50-60, and there were c. 10 communicants. (fn. 151)
The church of ST. JAMES, so called in 1763, (fn. 152) was wholly rebuilt in 1855-6. (fn. 153) The old church, standing in the 13th century, (fn. 154) was built of flint and had an undivided chancel and nave, a north porch, and a western bell turret of timber. (fn. 155) The windows in the north wall were replaced in the 14th century, and the porch was built in the 18th. (fn. 156) The new church, built of rubble with freestone dressings to designs by R. J. Withers, has the same plan as the old except that it was given a small central timber spirelet instead of a western turret. (fn. 157) The spirelet was removed in 1946, when the bell was hung on the outside of the west wall. A new spirelet was built in 1991, but the bell was not moved. (fn. 158)
In 1553 a chalice of 5 oz. was kept for the parish and 14 oz. of plate was taken for the king. A chalice with cover in use in 1783 and 1812 was replaced c. 1856 by the chalice and paten held in 1994. (fn. 159) There were two bells in the old church, (fn. 160) an undated one in the new. (fn. 161) Registrations of baptisms begin in 1720, of burials in 1721, and of marriages in 1722; they are apparently complete. (fn. 162)
NONCONFORMITY.
About 1864 a few inhabitants of Buttermere were Primitive Methodists and met in a house which was apparently in the parish. (fn. 163) There is no other evidence of nonconformity in the parish.
EDUCATION.
There was a school attended by 13 children c. 1846, (fn. 164) perhaps that in which a woman taught 10-15 in 1859. (fn. 165) There was no school in the parish in 1864, when children went to school at Fosbury in Tidcombe, (fn. 166) or in 1871, when they went to school at Fosbury or Ham. (fn. 167) Buttermere school, opened in 1872, (fn. 168) was attended by c. 27 children in 1906-7, by c. 38 in 1938, (fn. 169) and by only c. 9 when it closed in 1944. (fn. 170)
CHARITY FOR THE POOR.
None known.