Pages 125-171
A History of the County of Wiltshire: Volume 7. Originally published by Victoria County History, London, 1953.
This free content was digitised by double rekeying. All rights reserved.
TROWBRIDGE
The urban district of Trowbridge, the administrative centre of Wiltshire, lies in the extreme west of the county. The parish boundary between Trowbridge and Hilperton, as it then ran across Hilperton Marsh, was straightened when that common was inclosed in 1816. (fn. 1) It was contracted in 1894 to form the parish of Staverton (see below). By two separate Orders of 1897 parts of the parishes of Hilperton and Steeple Ashton were included within the urban district and parish. By the Wiltshire County Review Order, 1934, a part of the urban district and parish was lost to Wingfield. (fn. 2)
The River Biss enters Trowbridge on the east and passes through the centre of the town. Its most easterly arm and subsequently the whole stream form a portion of the parish boundary on the east. At the Park it is joined by the Paxcroft Brook, and at Trowle Bridge by a now innominate stream, called the Were in 1773, (fn. 3) which rises at Southwick and flows northward through Studley. An arm of this stream, called 'Lambrok', forms the parish boundary on the south and west. For the last 2 miles of its course the Biss forms the parish boundary first of Trowbridge and Holt and then of Staverton and Holt, and thus meets the Avon at 'Biss Mouth' (fn. 4) on the boundary of the last two parishes. The river, flowing in a wide and floodable valley of clay and alluvium, has cut its way through a 'rocky hillet' (fn. 5) of Cornbrash on which the older part of the town stands. The 'hillet', however, is not now the highest land in the parish. It is between 125 ft. and 150 ft., whereas the ground rises behind it to the north-east to 175 ft. Upper Studley on the other side of the valley is also on or above the 175 ft. contour.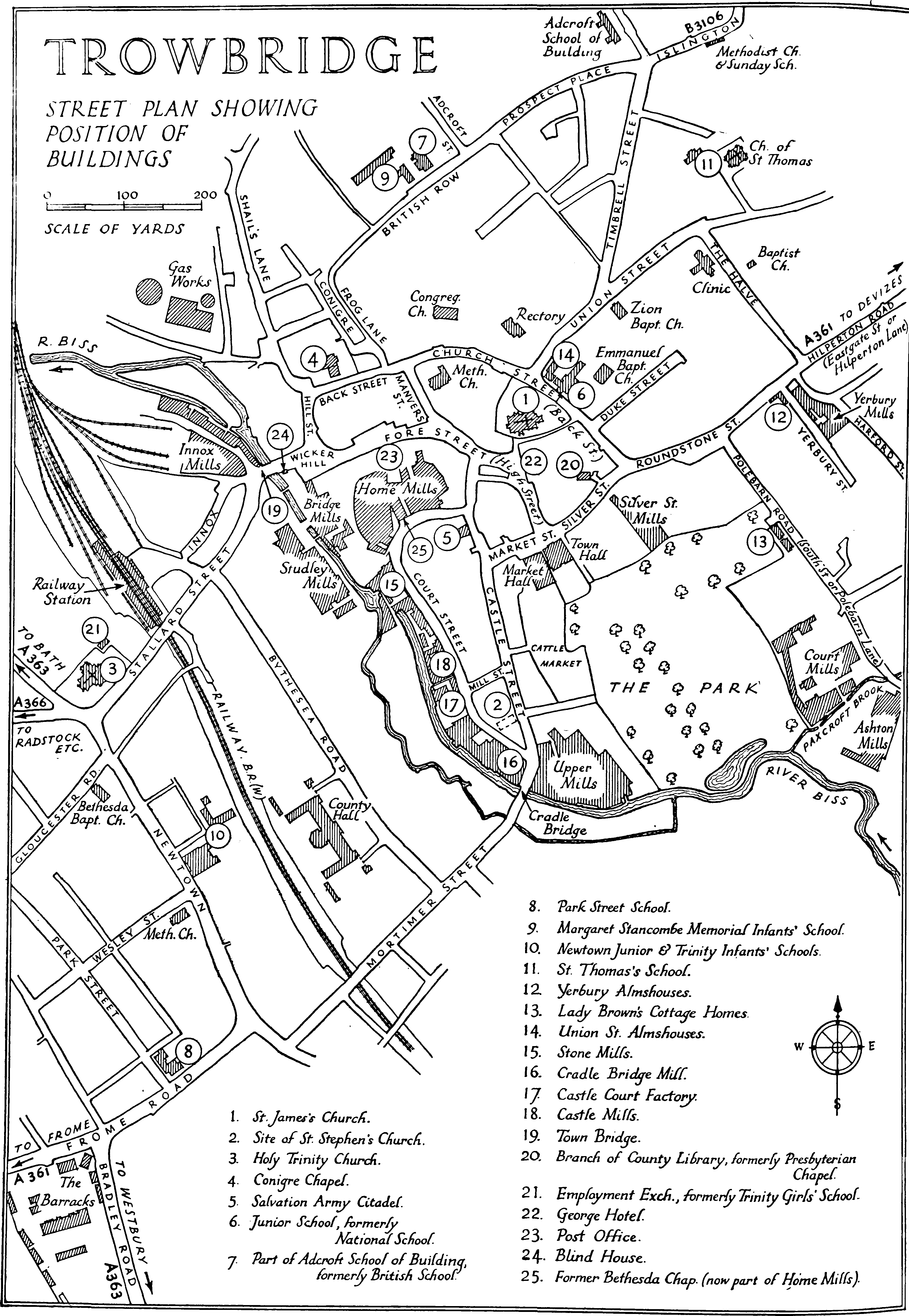 1. St. James's Church.
2. Site of St. Stephen's Church.
3. Holy Trinity Church.
4. Conigre Chapel.
5. Salvation Army Citadel.
6. Junior School, formerly National School.
7. Part of Adcroft School of Building, formerly British School.
8. Part Street School.
9. Margaret Stancombe Memorial Infant's School.
10. Newtown Junior & Trinity Infants' School.
11. St. Thomas's School.
12. Yerbury Almshouses.
13. Lady Brown's Cottage Homes.
14. Union St. Almshouses.
15. Stone Mills.
16. Cradle Bridge Mill.
17. Castle Court Factory.
18. Castle Mills.
19. Town Bridge.
20. Branch of Country Library, formerly Presbyterian Chapel.
21. Employment Exch., formerly Trinity Girls' School.
22. George Hotel.
23. Post Office.
24. Blind House.
25. Former Bethesda Chap. (Now part of Home Mills).
Trowbridge is traversed by the main roads from Devizes to Frome (A 361) and Bradford to Westbury (A 363). There is also direct road connexion with Norton St. Philip (Som.) and Wells (B 3139). Lesser roads pass through Staverton to Holt and Melksham and through West Ashton to Edington. It is of interest that the westward flow of traffic through the town has changed its course. In 1675 the only important thoroughfare was the road from Devizes to Wells. (fn. 6) When, however, the north-east limb of this road came to be repaired and turnpiked in 1752, it was extended in a south-westerly direction over White Row Bridge at Beckington (Som.) and not westward towards Wells. This road was being improved between that year and 1768, by which time another set of turnpike commissioners, acting under a separate Act of 1752, had improved the road from Tinhead Hill to the Round Stone in Trowbridge and extended it through Trowle Bridge and Westwood to Midford (Som.) on the road from Frome to Bath. The latter road is now of minor importance. The Act of 1768 shows that the present road system was already in being, but that the constituent roads were in 'a ruinous condition, narrow in many places and for want of proper bridges and drains . . . often overflowed'. Powers were therefore acquired to place under a single turnpike trust the roads from Seend to Beckington, and Trowbridge to Midford (Som.), and to reconstruct and to place under the same trustees the roads from Trowbridge to Hilperton Marsh, Trowbridge to Norton St. Philip, Studley Lane to 'Out Marsh Common', and Stallards to Trowle Bridge Lane, with certain neighbouring roads not passing through the town. (fn. 7) (fn. 8) These powers were perpetuated and extended by an Act of 1799 which added three small stretches of roads within the town and named the whole agglomeration 'the Trowbridge roads'. A small addition was made by an Act of 1819. (fn. 9) By 1840 the 'Trowbridge roads' measured just over 30 miles and were spanned by gates. (fn. 10) Further small extensions were made in 1854. (fn. 11) The Acts were repealed by theTurnpike Acts Continuance Act(1870). (fn. 12) The road from Bradford to Westbury through Trowbridge existed in 1773, though its southern limb appears tortuous. It is not clear when, if ever, it was turnpiked throughout. (fn. 13) In c. 1791 coaches plied along the 'Trowbridge roads' thrice weekly in the directions of London and Frome. (fn. 14)
The Kennet and Avon Canal crosses the northern part of the parish and is carried over the railway about 1½ mile north of Trowbridge station by an aqueduct.
The Great Western Railway Act of 1835 which authorized the construction of a line from Bristol to meet the London and Birmingham Railway provided incidentally for a branch line to Trowbridge. (fn. 15) Work, however, was not at once undertaken and in the end it was the Wilts., Somerset and Weymouth Railway Co., formed in 1844 (fn. 16) with Great Western assistance, that built the line—its only real achievement. The line from Thingley Junction (just outside Chippenham) to Westbury, with stations at Melksham and Trowbridge, was opened in 1848. (fn. 17) A branch from Staverton to Bradford was built at the same time but not furnished with rails or brought into use until very much later. The Wilts., Somerset and Weymouth line was handed over to the Great Western in 1850. (fn. 18) The lines from Holt to Devizes and Bradford to Bathampton (Som.) were opened in 1857. (fn. 19) In 1895 the loop connecting Bradford with Trowbridge was opened (fn. 20) and in 1900 the line from Patney and Chirton. (fn. 21) The latter gave Trowbridge ready access to fast trains to the metropolis. The existing station building at Trowbridge, including the veranda root's surrounding it, is of original construction. The platform on the down side and its roof, and the platform on the up side in the Bradford direction with the roof in both directions, have been subsequently extended. Staverton Halt was opened in 1906, when a rail motor service between Chippenham and Trowbridge was started. (fn. 22)
In 1931 most of the omnibuses started from the Town Hall (fn. 23) and still did so in 1950. (fn. 24)
In 1645 (fn. 25) and again in 1814 (fn. 26) the 'liberty' of Trowbridge consisted of Trowbridge itself and the 3 tithings of Staverton, Studley, and Little Trowle. Of these Staverton, whose ecclesiastical history is narrated below, was also a chapelry in Trowbridge parish. It was formed into a separate civil parish (see above) in 1894. The Avon now forms its northern and western, the Biss its south-western, and the Kennet and Avon Canal its south-eastern boundary. Studley, now informally divided into Upper and Lower Studley, had a separate surveyor of the highways in 1799. (fn. 27) In 1802 the Biss divided it from the 'liberty', (fn. 28) — a word then apparently equivalent in meaning to 'town'. The homage of Staverton and Studley but not of Trowle appeared at Trowbridge court leet between 1837 and 1847. (fn. 29)
The location of the township of Trowle presents difficulties. In a taxation assessment of 1327 there are two places of the name, one in Bradford hundred and the other in Melksham hundred, the latter containing the smaller number of taxpayers. (fn. 30) In 1504 there is a reference to 'Bradfordestroll' which shows that the two places were beginning to be differentiated by the hundreds in which they lay. (fn. 31) In an assessment of 1524 the petty collectors of both Trowle and Little Trowle (here first so named) accounted to the high collector of Bradford hundred. There is no petty collector for Trowle named in the return for Melksham hundred, though it must be admitted that Trowbridge is also absent from the return. (fn. 32) In a certificate of musters of 1539 and assessments of 1545 and 1576 Trowle (undifferentiated) is found in Bradford hundred only. (fn. 33) In 1632 Trowle appears as one of the places in which the appurtenances of Little Trowle manor lay. (fn. 34) Great Trowle (first so called in 1632) (fn. 35) formed a tithing of Bradford hundred in 1642. (fn. 36) In c. 1660 various sums were due from the tithing of Trowle to the manor and hundred of Bradford. (fn. 37) In 1720, 1721, and 1728 the tithingmen and constables of Great Trowle presented at the court leet of Bradford. (fn. 38) In 1773 Great Trowle lay across the Trowbridge-Bradford road, and Little Trowle beside a small hill just west of London Bridge. (fn. 39) In 1752, however, there was a detached portion of Little Trowle tithing near Holt. (fn. 40) In 1857 there was a tithing in Bradford called Trowle. (fn. 41) Today (1949) there are two distinct groups of place-names in which the word Trowle is included. Trowle Farm, Trowle House, and Trowle Wood lie in Wingfield, Trowle Common, Trowel Manor Court Farm, and Trowle Bridge in Trowbridge. (fn. 42) The fact seems to be that by 1327 Great and Little Trowle virtually existed as separate places in the hundreds of Bradford and Melksham respectively, and as townships so remained; that Little Trowle, which had become a manor by 1498, was absorbed into the parish and 'liberty' of Trowbridge, though in 1752 an appurtenance of the manor house lay in Bradford; (fn. 43) that Great Trowle, which in 1663 formed a single manor with Little Trowle, (fn. 44) was reputed a separate manor by 1731 and was absorbed parochially into Bradford; that when in 1934 Bradford Without (created a parish in 1894) lost land to Wingfield, Great Trowle, or at least a part of it, was placed in that parish. (fn. 45) Between 1731 and 1770 the tithe of (undifferentiated) Trowle, and church and poor-rates in Great and Little Trowle, were paid to Bradford. (fn. 46) In the 18th and 19th centuries Trowle Common appears to have been looked upon as an appurtenance of Great Trowle manor lying in Bradford parish. (fn. 47)
With the possible exception of the siege of the castle (see below, Castle and Manor Houses) in 1139, and the Chartist disturbances in 1838–9 (see below), Trowbridge has played no prominent part in national history. Nor have the sovereigns of England often visited it. King John was there in 1212 (fn. 48) and 1215. (fn. 49) On the second occasion he received some pieces of armour. King George III and Queen Charlotte, on their way from Longleat to Windsor in 1789, passed through the town, the entrances to which were decorated with cloth. In 'an open part of the town', apparently near the Town Bridge, a loom and tools used in dressing and shearing cloth were placed, so that Their Majesties might as they passed view the clothiers at their work. (fn. 50) King George V and Queen Mary visited the town in 1917. (fn. 51)
A Trowbridge Working Men's Association, doubtless in correspondence with the London Association, existed from early 1838 and by February 1839 was holding meetings twice weekly in the disused barracks (see below, Town as an Administrative and Military Centre). (fn. 52) The first overt Chartist demonstration in the town took place on 19 November 1838 when a concourse of perhaps 3,000 marched by torch-light from the barracks to Timbrell Street. They were there addressed by the Trowbridge Chartist, William Carrier, and by W. P. Roberts, a Bath attorney. (fn. 53) This meeting alarmed the Trowbridge magistrates and the townspeople alike. Through Carrier's influence the town became the centre of Wiltshire Chartism. Large meetings of both men and women were held on 12 January. (fn. 54) Another was held in the Market Place on 1 April 1839 at which Carrier addressed a crowd which was about to march to a mass meeting at Devizes (q.v.). (fn. 55) Other demonstrations occurred in Trowbridge on 30 April and 1 May. (fn. 56)
Carabineers had been stationed in the town in December 1838, but by early March 1839 had been removed, in accordance with the system of rotatory postings. (fn. 57) Their absence may have encouraged the Chartists. The Government refused to allow the troops to return until the barracks had been repurchased and put in order. (fn. 58) Repurchase was effected in early May and a small force of Metropolitan Police took up their quarters there on 5 May. (fn. 59) On 7 May another Chartist meeting occurred at which Roberts and another Trowbridge Chartist, the druggist William Potts, were arrested. (fn. 60) Thereafter the presence of the police, who on 20 June were replaced by cavalry, seems to have prevented further overt demonstrations, (fn. 61) and to have restored the town, which in early May was in grave disorder, (fn. 62) to tranquillity.
Carrier was arrested on 7 June, (fn. 63) but Trowbridge Chartism did not die. There was a threat of further trouble in November, (fn. 64) and in the winter of 1839–40 collections were raised for Frost, the Monmouth Chartist. (fn. 65) In the early months of 1840 and throughout 1841 and 1842 Chartist meetings, lectures, tea- and supper-parties were frequent, and a meeting in August 1842 in what was by then known as Chartist Square was large and noisy enough to arouse the attention of the magistrates. (fn. 66) In December 1842 two Trowbridge delegates were sent to the Universal Suffrage Conference in Birmingham. (fn. 67) On 29 July 1843 Feargus O'Connor himself visited Trowbridge, and was escorted from Trowle Common by a large crowd. The meeting, however, was not a great success. (fn. 68) Thereafter there are few evidences of Chartism in Trowbridge. The last recorded meeting was held in November 1845. (fn. 69)
After their eviction from the barracks, the Trowbridge Chartists met in a 'Democratic Chapel' for which a licence had been taken out by August 1839. (fn. 70) It is not known where this stood. By the middle of 1840 a group of shareholders had bought some buildings called the Charter House and by 1841 were running it as a kind of co-operative enterprise. Part of the buildings formed a 'Democratic Chapel', the rest was let as shops. (fn. 71) In August 1842 another group of Chartists were meeting in the 'Hope Chapel'. (fn. 72) In September the two communities were united, (fn. 73) but both 'chapels' continued in use. (fn. 74) It was at the 'Hope Chapel' that O'Connor addressed his followers (see above).
The most celebrated Trowbridge residents have been the poet George Crabbe, (fn. 75) rector from 1814 to 1832, and Sir Isaac Pitman, (fn. 76) the inventor of the bestknown system of short-hand, who was born in Trowbridge in 1813 and educated at the Free School. A memorial bust to Pitman in the Town Hall was unveiled in 1913. Trowbridge was also the birthplace of Samuel Brewer (fn. 77) (d. ? 1743), botanist, George Keate (fn. 78) (1729–97), poet, painter, and naturalist, and Robert Weaver (fn. 79) (1773–1852), Congregational divine and naturalist. Matthew Hutton (fn. 80) (1693–1758), successively Bishop of Bangor and Archbishop of York and Canterbury, was rector from 1726 to 1729, and Francis Fulford (fn. 81) (1803–68), first Bishop of Montreal, from 1832 to 1842. Percivall Willoughby (fn. 82) (1596–1685), writer on obstetrics, was at school in the town and Edmond Barker (fn. 83) (1721–?1780), physician and a friend of Dr. Johnson, practised there for a short time.
In 1739 the population of Trowbridge numbered c. 3,000. (fn. 84) Judging from such baptismal statistics as are available (fn. 85) it remained fairly constant between 1680 and 1783. The average for these years is 56, the highest total being 88 (1759) and the lowest 40 (1779). From the early 18th century, however, the credibility of the figures is adversely affected by the increase in Nonconformity. In 1784 there was a fairly sharp increase in baptisms which was maintained until 1790, when a total of 153 was reached. A decline then set in, but in 1794 the curve began to rise again. In 1801 the population was 5,799. Between 1811 and 1821 there was a marked increase from 6,075 to 9,545. The increases at the next two censuses were much smaller. Between 1841 and 1851 the population was almost stationary and in 1861 there had been an actual decrease since the last census of 661. In 1871 there was a rise of 1,185 to 11,672, the highest figure for the 19th century, and increases were recorded in 1881 and 1891. In 1901 a fall by 720 to 11,181 was recorded, but since then there have always been increases. The preliminary figure for the 1951 census is 13,844, which represents an excess of 1,240 over the estimate of 1939. (fn. 86)
Manors
The manor of TROWBRIDGE. Trowbridge is not mentioned eo nomine in Domesday Book. The Survey, however, records that Brictric, a king's thane, held 'Straburg', Staverton, and Trowle in 1086 and that his father had held them before the Conquest. (fn. 87) Staverton and Trowbridge are said to have been in the possession of Edward of Salisbury in 1100 (fn. 88) and were certainly in his hands at the time of his daughter's marriage with Humphrey de Bohun (see below). Since the overlordship of 'Straburg', Staverton, and Trowle long descended in the same course, it is plausible to assume, as has usually been done, that 'Straburg' is identical with Trowbridge. If, however, Trowbridge means 'tree bridge' (fn. 89) the word is very different etymologically from 'Straburg'.
The manor of Trowbridge as well as numerous fees held of the honour of Trowbridge were given to Humphrey de Bohun on his marriage with Maud daughter of Edward of Salisbury. (fn. 90) He was probably the builder of the castle, for in 1139 his son Humphrey fortified it on behalf of the Empress Maud. (fn. 91) Henry de Bohun, grandson of this Humphrey, was created Earl of Hereford in 1200, (fn. 92) but he joined the barons against King John, and forfeited all his possessions. In 1214 King John granted to his brother William Longespée, Earl of Salisbury, who had married Ela, the heiress of William Earl of Salisbury, all the lands and chattels of the knights, holding of the honour of Trowbridge, who rebelled with the Earl of Hereford. (fn. 93) In 1215, however, the manor was restored to the Earl of Hereford, though the castle was retained by the Earl of Salisbury. (fn. 94) In 1222 Maud relict of Henry Earl of Hereford released to William Longespée and Ela all her right to dower in the manor of Trowbridge, (fn. 95) and in 1229 Maud's son Humphrey, Earl of Hereford, sold this part of his possessions to the Countess Ela. (fn. 96) The manor passed from her to her grandson William Longespée, whose daughter Margaret married Henry de Lacy, Earl of Lincoln. (fn. 97) In 1280–1 and 1288–9 he claimed at Trowbridge gallows, amends of the assize of bread and ale and free warren. (fn. 98) Henry died in 1311 leaving as his heir a daughter Alice wife of Thomas, Earl of Lancaster, (fn. 99) who in 1319 granted this manor among others to John de Warenne, Earl of Surrey for life. (fn. 100) Three years later the Earl of Lancaster rebelled against the king, was defeated and captured at Boroughbridge, and beheaded at Pontefract. His relict Alice, in July of the same year, granted to the king her interest in the reversion of the manor of Trowbridge after the death of the Earl of Surrey. (fn. 101) In August the king granted this reversion to Hugh le Despenser, the younger, (fn. 102) Alice de Lacy subscribing to the grant. (fn. 103) John de Warenne 'to save himself from destruction of Hugh le Despencer, Earl of Winchester' granted to Hugh his life interest in part of the appurtenances of the manor, i.e. in the foreign court of Trowbridge. (fn. 104) On the forfeiture of the Despensers in 1326, (fn. 105) however, the king granted the whole manor including the foreign court to Joan, Countess of Surrey, for life. (fn. 106)
In 1337 the king, having created William Montagu Earl of Salisbury, granted to him in tail male the reversion of the castle and manor of Trowbridge after the death of John and Joan, Earl and Countess of Surrey. (fn. 107) It was provided that 800 marks yearly should be paid to William from the tin mines of Cornwall until the manor should come into his possession. (fn. 108) John, Earl of Surrey, died in 1347, (fn. 109) and his wife Joan survived him and in 1348 granted her life estate in the manor to Edward, Prince of Wales. In the event of the prince dying before the countess the life interest was to pass to the king and his heirs. (fn. 110) Joan died in 1361 and Trowbridge then passed in possession to William Montagu, Earl of Salisbury, son of the original grantee. (fn. 111) He did not, however, enjoy possession long. John of Gaunt brought an action in the King's Bench against the earl for the restitution of Trowbridge and other lands to him in right of his wife Blanche, heiress of the earls of Lancaster. John of Gaunt's case rested upon the contention that when Henry, brother and heir of Thomas, Earl of Lancaster, had been restored in blood and honours in 1324, it had been declared that he should be admitted to crave his inheritance and have it by due process. A writ of procedendo in this suit was issued in May 1365, but the justices were enjoined not to enter judgement without further reference to the king. (fn. 112) A settlement was reached between the parties in October of the same year. John of Gaunt's peaceable enjoyment in the manors of Trowbridge and Aldbourne was assured to him on the security of a yearly rent of £200 of the earl's lands in Martock (Som.), which rent was only to become payable if the earl sought to recover the lands. The other lands in issue remained with the earl. (fn. 113) In Michaelmas term 1366 Trowbridge manor was settled upon John of Gaunt and Blanche in tail. (fn. 114) Henry Bolingbroke, son and successor of John of Gaunt, became King of England in 1399 as Henry IV, and the manor of Trowbridge was annexed to the Duchy of Lancaster.
The manor was granted in 1406–7 by the king to John Typtot and Philippa his wife for their lives. (fn. 115) In 1412 it was valued at £50. (fn. 116) In 1415 the castle, manor, and honour were granted (in the case of the manor no doubt subject to the before-mentioned life interest) with many other Duchy lands to trustees to perform Henry V's last will. (fn. 117) The lands were released to the Crown next year for twelve years, with a proviso for defeasance if the king should die within that term. (fn. 118) In 1444 the manor was likewise conveyed to feoffees to the performance of Henry VI's last will. The grant was confirmed in Parliament in 1446 (fn. 119) and regulated by Statutes of 1449 and 1459. (fn. 120) In 1460 the arrangement terminated and the lands were once again managed by Duchy officers. (fn. 121) In 1467 the manor was granted for life to the Queen, Elizabeth Wydville. (fn. 122) On her death in 1492 it reverted to the Duchy and remained in hand until 1536 when it was granted to Edward Seymour, Viscount Beauchamp (afterwards Earl of Hertford, Duke of Somerset, and Lord Protector) and the heirs male of his body begotten upon Anne his second wife. (fn. 123) Somerset, who was attainted and executed in 1552, died seised of the manor. (fn. 124) His heir was a minor, Edward Seymour, the child of the Protector's second marriage. In 1553 the young man was deprived of his tithes by an Act of Parliament, which at the same time set up machinery for partitioning certain of the father's estates. (fn. 125) Trowbridge was not affected by the provisions of the Act, so the young Edward (who had been restored in blood in 1553 (fn. 126) and had been created Viscount Beauchamp, Earl of Hertford in 1559) (fn. 127) presumably entered upon it on attaining his majority in 1559. (fn. 128) The Act of 1553, however, was evidently ambiguous and it was deemed necessary to regrant or confirm the manor and other lands to the earl in 1581. (fn. 129)
Edward died in 1621 and the manor passed in unexplained circumstances in or before 1646 to his younger grandson Francis, (fn. 130) created Baron Seymour of Trowbridge in 1640–1. Francis's son Charles succeeded in 1664 and was dealing with the manor in that year. (fn. 131) Charles was succeeded by his son Francis who became 5th Duke of Somerset in 1675 on the death of his cousin John and died without issue in 1678. (fn. 132) His brother Charles succeeded and settled the manor in 1707 upon his son Algernon, then Earl of Hertford. (fn. 133) In 1715 in anticipation of marriage the manor among other lands was settled upon Algernon and his future wife in tail male, with remainder, in default of other dispensations, to the Duke of Somerset's daughters. Algernon succeeded to the dukedom and lands in 1749 but died next year without male issue. Thereupon the lands specified in the settlement of 1715 became divisible between the late duke's halfsisters, Frances afterwards wife of John Manners, Marquess of Granby, and Charlotte wife of Heneage Finch, Earl of Aylesford, and Charles Wyndham, bt., afterwards Earl of Egremont, the son of Catherine the late duke's sister of the whole blood. By 1779 the persons beneficially interested in the first and third of these purparties respectively were Charles, Marquess of Granby, as son of Frances, Marchioness of Granby, and (under his father's will) the infant Charles William Wyndham the youngest son of the 2nd Earl of Egremont. In that year Lord Granby, Charlotte, Countess of Aylesford, Alicia, Countess of Egremont (on behalf of her minor children), together with Lord Egremont himself and his eldest brother agreed that the whole inheritance should be valued and divided up so that each third might be held separately. This was effected by private Act of Parliament in the same year. (fn. 134) By this means Trowbridge fell to Lord Granby (who became 4th Duke of Rutland in the same year) in severalty. His son John Henry, the 5th Duke, sold the manor in 1809 to Thomas Timbrell, a Trowbridge dyer. It was purchased from his representatives in 1851 by William Stancomb, a member of a clothing family, of Blount's Court, Potterne. (fn. 135) He died in 1902 and was succeeded by his son William (d.1941). (fn. 136) Capt. Arthur M. Stancomb, R.N. (retd.) is the present (1950) lord of the manor.
Fifteen court rolls of the manor ranging from 1302 to 1601 and a court leet book (1837–47) are in the Wiltshire Record Office. Court rolls of 1461–2 and 1479 (fn. 137) and numerous late 14th- and 15th-century ministers' accounts are in the Public Record Office. A map of the manor, prepared in 1778, doubtless in connexion with the Allotment Act of 1779, was presented to the Urban District Council in 1941. (fn. 138) The original surveyor's name is illegible. It was restored by J. Howell in 1883. (fn. 139)
A Richard Dauntsey is mentioned as a tenant of the manor of Trowbridge in 1327–8. (fn. 140) In 1462 John and Joan Dauntsey and Walter their son held land in the manor. (fn. 141) Walter Dauntsey died in 1502 seised of 22 messuages or burgages, a water-mill, land, pasture, meadow, and wood, in the 'borough' of Trowbridge, Studley, and Staverton, held in free burgage as of the manor of Trowbridge. He was succeeded by his son John. (fn. 142) Christopher Dauntsey held a mill and several burgages in Trowbridge in 1552. (fn. 143) As a settlor he conveyed TROWBRIDGE DAUNTSEY manor, then first so named, to Christopher Aleyn in 1555. (fn. 144) Thomasine wife of Christopher Dauntsey married as her second husband John Duckett of Flintham (Notts.). (fn. 145) A conveyance by her son Rowland Dauntsey in 1567 to her brother Walter Copinger (fn. 146) was probably made for the purpose of settling the manor on the issue of Thomasine by her second husband; for in 1591 Stephen Duckett, of Pinhills (in Calne), son of Thomasine died seised of the manor, leaving his son Lionel as heir. (fn. 147) Lionel died without issue and the manor, said to be held of the manor of Trowbridge, passed to his brother John in 1609. (fn. 148) It descended in the Duckett family (fn. 149) until 1692 when Lionel Duckett and Martha his wife sold it to John Hall. (fn. 150) Its subsequent descent appears to have been the same as that of Hall's manor of Bradford (fn. 151) (q.v.). A chief rent of £7. 10s. 6d. in acknowledgement of overlordship was being paid to the Duke of Somerset as lord of the capital manor in 1731. (fn. 152) Lord Manvers was described as lord in 1829. (fn. 153) A court book of the manor, 1593–1600, is in Bristol University Library. Courts were still being held twice a year in 1730–1. (fn. 154)
Something has already been said of the difficulty of localizing Trowle. (fn. 155) The estate that eventually became the manor of LITTLE TROWLE appears to have been represented in 1086 by a hide of land held by Brictric. (fn. 156) In 1242–3 Humphrey de Bohun held 1/8 of a knight's fee in Trowle of the honour of Trowbridge, (fn. 157) and, since several of Brictric's tenements descended upon the Bohuns, it may well be that this is the same estate. The Bohuns still held the overlordship in 1349, (fn. 158) and Queen Elizabeth in 1478. (fn. 159) The overlordship is last mentioned in 1632 when the manor of Trowle was held as of the manor of Trowbridge. (fn. 160) It seems clear that the overlordship descended with that of Trowbridge main manor. In 1242–3 Humphrey de Bohun's under-tenant was a Richard Walwyn. (fn. 161) In 1254–5 it was stated that a Robert Walwyn had held a carucate and 2 mills in Trowle and that since his death the estate had descended upon his two daughters. (fn. 162) Walwyns of Trowle are mentioned in 1274. (fn. 163) In 1320 James Walwyn released to his son Richard all his land in Trowle and Holt and in the bailiwick of the bedelry of Farleigh. (fn. 164) It was probably this Richard who died c. 1349, when the custody of his son and heir Richard was granted to his relict Agnes. (fn. 165) In 1401–2 a Richard Walwyn, perhaps the aforesaid ward, held 1/5 of a knight's fee in Trowle, rated at 4s. (fn. 166) In 1410 an estate comprising 10 messuages, 2 carucates of land, 40 acres of meadow, 20 acres of wood, 100 acres of pasture, and 40s. rent in Trowle, Trowbridge, Bradford, Holt, and Melksham was conveyed by William Kaynell to Roger and Agnes Trewbody for the life of Agnes with remainder to William Besil of Bradford in tail male. (fn. 167) In 1425, for reasons not apparent, a William Besil, of Bradford, restored the lands late of Richard Walwyn in Trowle and elsewhere in Bradford and Melksham hundreds to Roger Trewbody. (fn. 168) In 1478 Nicholas Hall died seised of the same estate. Nicholas had married Margaret daughter and coheir of William Besil of Bradford (fn. 169) and it was probably through her that he acquired the Walwyn lands in Trowle. If so, the conveyance to Trewbody was temporary in character. In 1498 John Drakys conveyed Trowle manor (so described for the first time) to feoffees. (fn. 170) The nature of this transaction is also unexplained. John Hall died seised of the manor in 1597. (fn. 171) The manor, which was called Little Trowle in 1620 (fn. 172) and Great and Little Trowle in 1663, (fn. 173) thereafter descended as Hall's manor in Bradford (q.v.). Lord Manvers was described as lord in 1829. (fn. 174) Courts were still being held twice a year in 1730–1. (fn. 175)
A Robert Ashley was joint lessee of the 'Erlesdoune', Staverton fishery, and the lordship of Trowbridge in 1414. (fn. 176) It was perhaps a member of the same family upon whom in 1548 4 messuages, a toft, 3 gardens, 8 acres of land, 17 acres of meadow, and 58 acres of pasture were settled for life with remainder to his sons Henry and Anthony successively. (fn. 177) In 1552 what is evidently the same estate was settled upon Henry's wife Katharine, with successive remainders to Henry and his heirs male and Anthony and his heirs male. (fn. 178) In 1571 Sir Henry Ashley, by then knighted, and his wife conveyed the estate, then described as a manor, to Thomas, Earl of Sussex in fee. (fn. 179) By a process that has not been traced the manor of TROWBRIDGE ASHLEYS, in Trowbridge and Studley, came into the hands of John Wallis ante 1611. (fn. 180) The manor descended to William Wallis and his relict Katharine who sold it to Thomas Wallis of Bristol from whom it was purchased by William Duckett. Courts for the manor were held by William and Thomas Wallis and by Duckett. (fn. 181) The manor is not again heard of after 1663 and was perhaps united with Trowbridge Dauntsey.
The manor of STAVERTON was held in 1086 by Brictric and had been held by his father. (fn. 182) It passed to Humphrey de Bohun on his marriage with Maud, daughter of Edward of Salisbury, (fn. 183) and was held by him in 1125. (fn. 184) In 1229 one of the manors was sold by Humphrey, 6th Earl of Hereford, to Ela, Countess of Salisbury. (fn. 185) There are intervening references to the Bohun connexion. (fn. 186) It is therefore almost certain that the manor descended with the main manor of Trowbridge until 1229. Thereafter it seems to have lost its separate identity as a manor for some centuries. Property described as parcel of the demesne land and pasture of Staverton in the lordship of Trowbridge was in 1504 leased for forty years by Henry VII to Thomas Lovell and William Erle. (fn. 187) This terminology suggests that Staverton was not then manorially separate. On the other hand, in 1535 the Duchy leased the demesnes of Staverton manor, the site of the manor house (½ acre) and other lands for sixty years to Richard Billet and Richard Erle, (fn. 188) and, since this looks like an extension of the preceding lease, it is to be presumed that the estate was beginning to be regarded as a manor again. At some undetermined date between 1535 and 1592 the manor under the name of STAVERTON WYKE appears to have been granted to Henry Viner. In 1592 it was granted to William Tipper and Robert Dawe, (fn. 189) and is not encountered again. The Viner family, however, either retained some part of the demesnes or resumed possession of them, for in 1626 Sir Henry Viner died seised of the 'farm' of Staverton Wyke (fn. 190) where he had been living since at least 1616. (fn. 191) The 'farm' was delivered to Richard, Henry's son, in 1628. (fn. 192) It may be surmised that it descended with the great tithes (see under Staverton church) to the Minshulls. In 1667 the Minshull inheritance was partitioned and Wyke House passed thereunder to Mary (Minshull) the wife of Thomas Bythesea. (fn. 193) It remained in the Bythesea family until 1832 when John Clark, of Trowbridge, purchased it from the Revd. J. L. Bythesea. In 1858 it was in the occupation of Samuel Hooper. (fn. 194) It remained in the Clark family until they sold it in 1933 to Mr. J. G. Hammond. (fn. 195) Wyke House is said to have been burnt ante 1675 and rebuilt. The present (1950) building, completed in 1865, is a replica of a typical house of the late 16th century and is probably a copy of its predecessor. (fn. 196) Carved stone panels and 17th-century oak panelling from the earlier house have been reused. One stone panel is dated 1616 and bears a baton and in chief a saltire engrailed between two Cornish choughs (?Vyner). There are two other panels, one dated 1668.
Castle and Manor Houses
Trowbridge castle is first mentioned in 1139 when it was fortified and held by Humphrey de Bohun on the Empress Maud's behalf against King Stephen. Stephen laid siege to it but, despite a long investment, could not take it. (fn. 197) The castle with his other possessions was forfeited in John's reign by Henry de Bohun, and though the manor of Trowbridge was restored to him in 1215 the castle remained in the possession of William, Earl of Salisbury, to whom it had been granted on Humphrey's forfeiture. (fn. 198) It is not positively known whether the castle was ever restored to the earls of Hereford, or whether it remained vested in the descendants of the Earl of Salisbury. In 1337, however, it was held for life by John de Warrenne, Earl of Surrey, (fn. 199) and it may be plausibly conjectured that since 1319 it had followed the same descent as the manor, which, in the earlier year, had been granted to Surrey for life. From 1337 the descents of castle and manor are the same. (fn. 200)
Leland says that the castle was on the south side of the town. (fn. 201) In 1875 Canon Jones, using all the available evidence, approximately delineated and described the site. The castle area was bounded by the Biss on the west and by a semicircular wet ditch or moat, which, starting at the Town Bridge, followed the curved line of Fore Street to the Market House and thence south-west to rejoin the Biss. The moat was spanned by two drawbridges, one beside the Town Bridge and the other at the point where Castle Street and Fore Street join. The latter is believed to have marked the main entrance to the castle. Within the moat stood the castle wall, of which some vestiges were discovered in the 19th century. Fore Street is supposed to have taken its curved shape from following this wall, (fn. 202) which inclosed a motte and bailey. (fn. 203) The castle consisted of seven 'gret toures'. (fn. 204) It contained a chapel. On roofing and mending the towers and chapel 2s. was spent in 1295–6, (fn. 205) and in 1375 oak boards were furnished to cover the tower. (fn. 206) Though references to different parts of the enceinte occur in ministers' accounts of the 14th and 15th centuries, none suggests that any works were being done, and the repeated leasing of the close of the motte and bailey from 1372–3 (fn. 207) is a strong hint that by that time the building was no longer a fortress. Indeed the surrender of a placia in fosso in 1306 (fn. 208) makes it reasonable to suppose that the castle was ceasing to be of military value at a considerably earlier date. When Leland visited the town in c. 1540 the castle was 'clene down', (fn. 209) though two pieces of the towers yet stood, and there were sufficient vestiges remaining in 1670 for Aubrey to be able to write of 'a ruinated castle of the Dukes of Lancaster'. (fn. 210) Indeed Bodman, then advanced in years, stated in 1814 that he had known those who could remember fragments of four towers. (fn. 211) Bodman speaks of a cannon having been placed on West Ashton hill to demolish the castle. (fn. 212) Perhaps the ruins were bombarded in 1813 when the site and buildings were sold for the erection of dye works and factories. (fn. 213) In 1814 part of the ditch and ramparts were visible to the southward. About ninety years before, the ditch on the north was 12 ft. deep and many in 1814 could remember when it was 3–4 ft. and fenced with wicker work; Wicker Hill, which rises from the Town Bridge, took its name from this fencing. (fn. 214)
The office of constable of Trowbridge is not met with until the castle was in decay. William Rous (d. 1452), lord of the manor of Great Chalfield, is said to have once held the constableship of the castle,—a serjeanty which he performed for the manor. According to one account he was succeeded by Robert Andrew or Andrews, steward of Trowbridge manor and lordship, who purchased the office from the feoffees of the Duchy of Lancaster. According to another account John Bourne, with the help of Cardinal Beaufort and the aforesaid Andrews, Bourne's uncle, ousted Rous. It was subsequently alleged that the office was occupied for life by Thomas Hervy, of Hampshire, yeoman of the Crown to Henry VI, and that in 1461–2 John Bourne, son of the foregoing John, was admitted to the office at 'a lawday' by hereditary right. Thomas Tropenell (d. 1488) is declared to have died seised of the office, which thereafter descended with the lordship of Great Chalfield. (fn. 215) The constableship is last mentioned in 1840. (fn. 216) In the 15th century it was subject to the same disputed claims as the overlordship of Great Chalfield (q.v.) and, since the statements made about it mostly come from partisans, it is hard to trace its history. It seems clear, however, that the officials of the Duchy did not regard it as a hereditary fee, but as an office in their gift, which could be leased or sold at will. In 1348 Henry de Percy III, lord of Great Chalfield, is said to have held lands in Little Chalfield of the lords of Trowbridge by the service of guarding a tower in Trowbridge. (fn. 217) This may be the origin of the more inflated claims put forward in the next century to the constableship itself.
It was the apparent contention of Thomas Tropenell that a plot of land called 'loggeplace', with a garden and an adit 7 ft. broad, was annexed to the constableship at the time of William Rous's death. The site, similarly described, had been conveyed in 1397 by Henry and Constance de la Ryver and Joan daughter of Philip Fitzwaryn to William and Isabel Wolf, of Trowbridge, for their lives. It seems to have been later occupied by John and Margery Brokworth. In 1408 it was conveyed for life in survivorship to John and Isabel Bompas. The tenement has not otherwise been traced and Tropenell did not die seised of any land in Trowbridge. (fn. 218)
Apart from the castle there was a manor house in Trowbridge in 1311, which, with its garden and other appurtenances, was worth 6s. 8d. It was valued at nothing in 1347 and 1361 suggesting that it was then ruinous. (fn. 219) In 1372–3 1s. 6d. was paid for eight 'crestes' for mending its hall and 10d. for putting them in place. (fn. 220) In 1472 the hall was retiled. (fn. 221) In 1450–1 the Court House, which is only conjecturally the same building as the manor house, was being leased to Thomas Wattes, the elder and younger, and remained in their hands for several years. (fn. 222) It was thereafter invariably leased with the fishery in the Biss (fn. 223) (see below, Agrarian History). From 1461–224 until 1552 (fn. 224) it is called the Court Barn. A barn in the manor, evidently standing within the castle area, had been mended in 1383–4 (fn. 225) and was on lease in 1405–6. (fn. 226) Another was built in 1438–9. (fn. 227) Perhaps the truth is that from 1461–2 the house was little, if at all, used as a dwellinghouse but rather as the nucleus of the farm buildings of the demesnes. Certainly no manor house is known eo nomine in later times, though 'the Limes' which stood on the site of the present Town Hall is reputed to have been such.
The manor house of Trowbridge Dauntsey (2 r. 28 p. in 1752) (fn. 228) was in 1731 being leased with other lands to John Grant. (fn. 229) In 1763 part of the house, with a woodhouse and granary, were on lease to a Mr. Drinkwater at a rack rent of £12. 12s., and the other part, including the dwelling of a Mrs. Stancomb and a carpenter's shop, to another tenant at £21. (fn. 230) The same division prevailed in 1770, when Drinkwater was paying £16. 16s. for his portion. (fn. 231)
The manor house of Little Trowle, called Walwaynes Court (1 a. 2 r. 10 p. in 1752), was leased in 1687 to Grace Powell (d. 1746) who married Richard Long. William her brother appears to have been joined with her as tenant in 1716 (fn. 232) and was the tenant in 1731. (fn. 233) In 1753 a lease for 3 lives was granted to John Powell the younger upon the surrender of 2 other leases, under one of which John Powell his father was apparently already in occupation. (fn. 234) A John Powell was still tenant in 1770. (fn. 235)
Lesser Estates
Only three pieces of monastic property in Trowbridge have been noticed. At an undetermined date Ralph le Franceis gave Lacock Abbey a burgage and all the rest of his land in Trowbridge, reserving quit rents. (fn. 236) In 1383 there is a reference to a burgage and 2 acres of land called 'Lacockestenement' in an undetermined district in Trowbridge called 'Foghelden'. (fn. 237) In 1397 it is stated that 'Lacokkesplace', presumably the same, adjoined 'Loggeplace' and was not far from 'Pyryplace'. (fn. 238) In 1535 Lacock Abbey was receiving a rent of 8s. yearly from a tenement in Trowbridge, out of which a rent of 2s. in lieu of 1b. of pepper was payable to the Crown. (fn. 239) The former rent was accounted for by the Crown's minister in 1538–9. (fn. 240) In 1563 the lands, then valued at £1. 18s. and 1 1b. of pepper, were granted by the Crown to William Revett and Thomas Bright, citizens and merchants of London. (fn. 241)
In 1540–1 a rent of 1s. 1d. was payable to the Crown by a member of the Dauntsey family, for certain lands in Trowbridge, late of the preceptory at Anstey. (fn. 242) In 1558 the revived hospital of St. John of Jerusalem in England received this land back. (fn. 243)
From the early 14th century there are references to 'Lovemede' or 'Lowemet' of a kind that suggest that the area so named was a township rather than a meadow. Burgages in 'Lovemede' are mentioned in 1303 and 1349, the bridge of 'Lowemet' in 1306, and a garden in 'Lovemed' in 1349. (fn. 244) In 1341–2 8 tenants of the Abbess of Romsey held between them 9 messuages, a grove, a croft and 17 acres of arable, and 2 meadows in Lovemead. (fn. 245) In 1424 a William Thomas, of Trowbridge, leased a croft in 'Lofmede' next to 'Pynchesmede' to William Wygmour, of Trowbridge, for life, covenanting to save Wygmour harmless against the abbess. (fn. 246) In 1500 the abbess was licensed to grant a pasture 'near' Trowbridge, then divided into five small meadows or pastures called 'Lovemedes', late in the tenure of William Temys (presumably the same as William Thomas), to Anthony Stileman. (fn. 247) In 1502 Walter Dauntsey died seised of 7 acres of pasture, 4 acres of meadow, or 6 acres of land, and 4 acres of meadow in 'Lovemedes', worth 12s., held of the abbess. (fn. 248) Thomas Long, the Trowbridge clothier, by his will proved 1562, bequeathed the lease of his ground called 'Lovimedes' to his nephew Edward, (fn. 249) but there is no means of ascertaining whether this was the same or some adjacent parcel. The old name for Roundstone Street was Lovemead Street and Lovemead House still stands within it. From this it may be inferred that Lovemead lay on the east of the old town.
Sir John Fortescue, Chief Justice of England, held before his attainder half burgages in Lovemead and Back Streets, and burgages in Castle and High Streets, which he had leased for life to Margery Trewbody. (fn. 250) These were forfeited in 1461 and Margery died the same year. The Crown thereupon granted the premises to John Fortescue, and William Chichely, esquires. (fn. 251)
It is possible, somewhat uncertainly, to trace the descent of Nos. 66 and 66a Fore Street, said to have been owned by Edward Langford, clothier (d. 1594). (fn. 252) Langford's daughter, Mary, married Henry Hyde and according to tradition (fn. 253) gave birth to Edward, the future Lord Clarendon, in her father's house. Dinton, however, is the commonly accepted birthplace. In 1641 the house was sold to Robert Houlton, (fn. 254) apparently the first of the family to live in Trowbridge. (fn. 255) A house on the site long remained in the Houlton family, who apparently rebuilt it in ashlar in the early 18th century and transferred thither much oak panelling from Farleigh Castle (Som.). (fn. 256) In 1814 that part of the building in which Clarendon was reputed to have been born belonged to a Mrs. Martin, the rest of it apparently to E. Salter. (fn. 257) In 1893 it was used as a County Court office (fn. 258) and in 1919 by the Trowbridge Conservative Club. (fn. 259) It is still (1950) used partly by the club and partly by Mr. W. P. Prior as a shop.
Edward Mortimer, by his will proved in 1704, left his dwelling-house, presumably in Trowbridge, to his relict Katharine for life, and then to his son John. (fn. 260) In 1773 Joseph Mortimer grandson of Edward was the chief landlord in the town. He appears to have been living at a house on the site of Bellefield in Hilperton Road. (fn. 261) At Bellefield lived E. H. Mortimer (fn. 262) Joseph's son, likewise the chief landlord in his day. (fn. 263) The house was bought by John Clark, clothier (d. 1846), who was living there in 1823. On his death it passed to his brother Thomas (d. 1859) and thence to Thomas's son Thomas, (fn. 264) whose relict Dorcas died there in or before 1938. (fn. 265) The threestory house, with flanking wings, and basement, of early-19th-century date, is now occupied by the Ministry of National Insurance and small houses are being built in the circumjacent park of 7 acres, which held about 25 fallow deer in 1892. (fn. 266)
The two-story Polebarn House, in Polebarn Road, was erected in the late 18th century by the Revd. John Clark on land purchased from a Mr. Hart. Clark constructed an observatory (no longer visible) on the roof, and installed an organ. (fn. 267) In 1884 the house belonged to Henry Atwood Clark and by 1893 had been sold to Mrs. Mackay. (fn. 268) William Mackay occupied it until his death. In 1921 it was bought for £1,950 (fn. 269) by the County Council who sold the organ for £60. (fn. 270) The present police station was then built on a part of the grounds. (fn. 271) In 1931 (fn. 272) and 1939 (fn. 273) the building housed the County Agricultural Education Department.
Rodney House, a three-story building in Roundstone Street of Bathstone, is said to have been built by an Edgell, cloth manufacturer, in the late 18th or early 19th century, and named after the Admiral. (fn. 274) It is now (1950) used as offices by the Trowbridge Co-operative Society.
An inn called the 'George' is mentioned in 1467. (fn. 275) According to the suspect assertion of an injured party the inn was in 1549–50 in the tenure of one Dorothy Bradford, whose former husband, Anthony Bonham, had in 1548 been murdered by his wife at the instigation of Egyon Wilson. The Bradfords sold the inn to feoffees and levied a fine upon it, whereby, in a manner not explained, Alexander Langford, one of the Trowbridge clothiers, became possessed of the estate. In 1551 Dorothy bigamously married Wilson, her abettor. About twelve years after Langford had come into the estate, and therefore approximately in 1562, Wilson, accompanied by a disorderly crowd, came to the 'George' as guests and in the night 'with divers great words and brags' declared themselves to be the rightful owners. Wilson had brought with him the Undersheriff of Wiltshire, a young and inexperienced person, and prevailed upon him to issue a writ by which Wilson and his wife might gain possession. Wilson demanded the writ next day. It was a Sunday, and the time of morning prayer, and many worshippers came out of church to watch the spectacle of execution. Hereupon Langford, who had been absent, returned, demanded to have the writ read, and advised the under-sheriff over some wine, not to use such 'high words'. (fn. 276) From subsequent proceedings of 1580 it appears that Dorothy Wilson, then a widow living at Steeple Ashton, had been put into possession by decree of the Court of Requests in or about 1575, but was now herself in danger of ouster by Thomas Stevens, a person subject to the decree. (fn. 277) In 1709 the inn appears to have come into the hands of Rachel, Countess of Kingston, who then leased it to George Taylor. (fn. 278) The lease to Taylor was renewed in 1718. (fn. 279) In 1731 John Watts was tenant. (fn. 280) The lease was renewed to him in 1736, at which time the area leased measured 1 r. 8 p. (fn. 281) A Mrs. Emblen succeeded Taylor, not necessarily directly. By 1763 she had been succeeded by a Mrs. Drewett, (fn. 282) who was tenant in 1770. (fn. 283) The building, which was evidently refronted if not rebuilt in the late 18th century, was the common meeting-place for public business in that and the next centuries. The paving commissioners (see below, Town Government) were required by statute to meet there, (fn. 284) and in 1830 it was said to be the venue of the Court of Requests. (fn. 285)
Agrarian History
The manor, when extended in 1311 —the first extent so far as is known— consisted of the following: a capital messuage with a garden, and easements of other houses (6s. 8d.); a dovecote (6s. 3d.); 214 acres of arable (£3. 11s, 4d.); 37 acres of meadow (2s. an acre); several pasture (13s. 4d.); 40 acres of woodland, without underwood (6s. 8d.); free tenants paying £16. 2s. 9d.; 10 customers, each holding a virgate, paying £11 and whose works were worth £3; 15 customers, each holding ½ virgate, paying £3 and whose works were worth 10s. 2½d.; and 15 cottars, paying £1. The pleas of the home and foreign courts were valued at £1. 10s. and £1. 6s. 8d. respectively. There was a Saturday market worth £2. 10s. The value of the whole estate was £41. 8s. 9½d. (fn. 286) When extended in 1347 the manor consisted of a capital messuage (worth nothing), a dovecote (3s. 4d. yearly), 80 acres of arable (6d. an acre), 50 acres of meadow (2s. an acre) and several pasture (£1. 10s.). The rents of assize were valued at £60 and the perquisites of the home and foreign courts at £17. 6s. 8d. yearly. (fn. 287) The total value was thus £85. In 1361 the rents of assize had fallen to £51 and the perquisites of courts to £13. 6s. 8d. Otherwise the extent was the same. (fn. 288) The total value was thus £72. Valors exist for 1393–4, (fn. 289) 1395–6, (fn. 290) and 1399–1400, (fn. 291) and show gross values of £98. 10s. 8½d., £98. 4s. 6½d., and £95. 0s. 1d., and net values of £76. 7s. 5½d., £77. 5s. 9½d, and £77. 2s. 6½d. respectively. These figures are possibly more reliable than the figures (which are in any case gross values), given in the extents of 1347 and 1361. But even if the latter figures are accurate it may be doubted whether they are strictly comparable with those in the valors; for the figures in the valors represent, so far as lands are concerned, the actual letting values rather than the estimated productivity.
It is impossible to determine satisfactorily the number, names, or location of the common fields. West Field does indeed occur in 1349, (fn. 292) East Field in 1462, (fn. 293) 1515 (fn. 294) and later, and 'Marshfeldeyeate' in 1456–7. (fn. 295) Longfield has not been found before 1840. (fn. 296) Little can be deduced from these references. It was declared in 1552 that every yardland in the manor contained 24 acres and paid the best beast as a heriot at every decease or succession. Half-yardlands were not subject to heriot. (fn. 297) It had been found in 1386 that heriot did not arise on a Mondaysland or on bordland which had been demesne land from of old. (fn. 298) Undoubtedly some measure of inclosure both of arable and meadow had begun early. 'La Inhoke', i.e. the inclosure, occurs in 1232. (fn. 299) In 1303 James Walwyn was charged with having made an 'inhouk' to the damage of the lord's pasture in Trowle (fn. 300). Gradually the Innox emerges as the proper name for an area now lying between the railway line and the Biss. In 1349 an acre of headland in 'Inhoke' was taken of the lord. (fn. 301) By 1372–3 (fn. 302) this inclosure had been divided into the East, South, and North Innox and so remained for generations, though in 1451–2 the North is called the Nether Innox. (fn. 303) A 'door' was provided in 1474–5. (fn. 304) In 1552 the area was divided between the Upper and Nether Innox, 15 and 18 acres respectively. (fn. 305) In 1552 4 acres of the Nether Innox were meadow. (fn. 306) By the earlier 19th century the whole area appears to have been meadow land of fine quality. (fn. 307) Probably it was meadow from the first. La Shawe, a close near the East Innox, occurs in 1372–3. (fn. 308) It was surrounded by a ditch in 1433–4. (fn. 309) In 1385 Agnes atte Mulle was ordered to throw down a close that she had made about Millmead, which, it was claimed, ought to have been common meadow. (fn. 310) Many other close and croft names occur throughout the later Middle Ages and in Tudor times, associated with the names of their owners and occupiers, and suggesting several cultivation. The following first occurrences of meadow names are worth notice: Lovemead (1341–2), (fn. 311) Longmead (1346), (fn. 312) Hallmead (1372– 3), (fn. 313) 5 'Hammede' (1383–4), (fn. 314) Millmead (1385), (fn. 315) Pinchmead (1424), (fn. 316) Pavymead (1474–5), (fn. 317) 'Grevells Mede' in South Wood, and Eyton's Mead (1515). (fn. 318) Meadow names are much commoner than field or furlong names, and, since in 1347 the acreage of meadow and of arable was in the proportion 5:8, it may be permissible to regard the manor from at least the mid-14th century as one where rich grassland preponderated over the corn. This is borne out by the customary services performed in and after 1382–3. (fn. 319) Thirty customers cut the meadow and carried the hay. Eleven customers, called Mondaysmen, (fn. 320) tossed the herbage of the meadow and carried and bound the hay, and divers burgesses and free tenants carried the hay in Longmead each for half a day. All these boon works are valued in the ministers' accounts. The only other works to be mentioned were also performed by the Mondaysmen, each of whom, besides his other duties, planted beans and cut corn. These services remain constant until the late 15th century, though by 1480–1 (fn. 321) the Mondaysmen had also to cut beans and plant corn—converse operations. By 1552 the service of each Mondaysman had been converted into that of finding for three nights a watchman to keep the felons taken within the manor. (fn. 322) The evidence suggests that the part of the customary services which it was considered really important to retain was that which concerned lifting the hay crop, particularly in the 40–acre area of Longmead. It may be added that the Prior of Monkton Farleigh held Monkton Farleigh manor by the service of finding for the lord's tenants in Trowbridge at the haymaking of Longmead 14 convent loaves, 14 1b. of cheese, and 64 gallons of beer. In 1462 he had withdrawn the service for 33 years. (fn. 323)
Little is known of the pasture of the manor. Some of it at least was on 'le Doune' (mons), where the cemetery now is. Bullocks were kept here in 1302–3 and foals in 1306. (fn. 324) Upon the Down a shepherd's house stood in 1383–4. (fn. 325) In 1552 the area was wooded, but the herbage was still let for pasture, and certain tenants of the manor could each stock it with 30 rother beasts and 2 horses in summer. (fn. 326)
In 1552 there belonged to the manor a common or waste of 200 acres, called Slowgrove, in which the tenants intercommoned with those of Steeple Ashton. The tenants of Trowbridge claimed thorns in the common which was evidently partly wooded (fn. 327) and was in 1277–8 part of Selwood forest. (fn. 328) The manor indeed contained a good deal of woodland, of which three separate parcels can be distinguished—Ham Wood, Shaw Wood, and South Wood. In 1249 John Bassett surrendered his right to estovers in Ham Wood, which then contained a meadow, to the Abbess of Shaftesbury. (fn. 329) Out of the same wood 756 faggots were sold in 1295–6. (fn. 330) The wood lay beside Ham Mead from which it was separated by a ditch in 1405–6. (fn. 331) In 1430–1 it seems to have been inclosed by a ditch. (fn. 332) Then and in 1433–4 the ditches were mended. (fn. 333) In 1552 Ham Wood contained 14 acres well set with timber oaks of 200 years' growth. (fn. 334) Shaw Wood occurs first in 1430– 1 when its surrounding ditches were mended. (fn. 335) It was probably the same wood around which 430 perches of ditch and fence were constructed or reconstructed in 1474–5. (fn. 336) In 1552 it contained 10 acres of oaks of 100 years' growth. (fn. 337) South Wood occurs in 1303–4. (fn. 338) It had begun to be cultivated by 1342, when an acre of land in it was surrendered. (fn. 339) In 1456–7 (fn. 340) it contained a lane called Newlands Lane, which by 1482–3 Nicholas Straunge had been given licence to inclose. (fn. 341) Pigs ran in it in 1552. (fn. 342) In 1552 Trowbridge Down of 50 acres carried thin-set shrub oak of 100 years' growth and young oak of 16 and 20 years' growth, the latter likely to make good timber if not damaged by the lessee of the pasture. (fn. 343)
In 1295–6 pigeons were sold for 4s. 4d. (fn. 344) In 1372–3 the manor dovecote was being leased at 6s. (fn. 345) and was repeatedly let thereafter. It was repaired in or shortly before 1405–6. (fn. 346) The rabbit warren was let at 10s. in 1372–3 (fn. 347) and often afterwards. It appears then to have been on the Down. In 1383–4, however, it was damaged by floods (fn. 348) which suggests a site nearer the river.
It remains only to examine the principles upon which the estate was managed in the Middle Ages. In 1295–6 (fn. 349) and 1303–4 (fn. 350) the bondsmen and cottars were paying £16. 13s. 5d. and £16. 14s. 5d. for their lands. By 1372–3 the leasing of the demesnes had been carried some distance. The sum of £4. 6s. 1d. was then received for 95 a. 1 r. of arable let for 10 years, of which 9 had passed; £7. 0s. 1d. arose from the farm of the demesne meadow let to tenants, together with the boon-works of burgesses and others in Longmead, and £1. 13s. from the farm of 6 acres of meadow there. The whole demesne land at the Down, except the rabbit warren, was let at £3. 6s. 8d. (fn. 351) These arrangements persisted at least until 1450–1. (fn. 352) In 1393–4, (fn. 353) 1395–6 (fn. 354) and 1399–1400 (fn. 355) the farm of the demesnes brought in £19.18s. ½d., £13.14s.4½d., and £21.0s. 2½d. respectively. By 1405–6 the whole of Longmead had been leased. (fn. 356) In 1381 the demesnes of Trowbridge were let to John Wolf for seven years. (fn. 357) In 1494 parcels of the demesnes were let to Richard and Philip Stokes, (fn. 358) and in 1498 the whole of them to William Longe, (fn. 359) in each case for the same term. In 1552 the site of the manor and the demesnes were let to Thomas Ellis. (fn. 360)
The materials are lacking for tracing the state of husbandry in Trowbridge after the 16th century. In 1645 the town supplied more beef and hay to the Chalfield Parliamentary garrison than any other place, (fn. 361) which suggests that Trowbridge was still mainly pastoral. Meat was still produced in the parish in 1814 and could not be exceeded 'for flavour and fatness'. (fn. 362) The Chalfield garrison was also supplied with peas, kale, turnips, radishes, carrots, and 'salad'— greater delicacies than they are today. (fn. 363) In 1801 there were 29 acres of potatoes, 11½ of wheat, and 15½ of beans (fn. 364) —a tiny proportion of the 2,000 acres at which the area of the parish was in 1814 computed. The parish was then said to consist mainly of meadow and pasture with very little woodland. It could not then supply its needs in vegetables, for twenty loads had to be imported weekly from surrounding places. (fn. 365)
The process of inclosure has not been traced. The East and West Fields were still uninclosed in 1671, but inclosure on a small scale seems to have then recently occurred. (fn. 366) The manorial map of 1778 shows that inclosure of the capital manor was very extensive. Inclosure of some of the waste of Trowbridge, Trowbridge Dauntsey, and Hilperton manors was carried out in 1816 (fn. 367) under an Act of the previous year. (fn. 368) The lands affected lay mainly along the Hilperton and Staverton roads and around Studley Green. The area affected in both Staverton and Studley tithings was 44 a. 2 r. 5 p. The beneficiaries were numerous, but the Longs, lords of Hilperton manor, came off best. Many of the allotments look like building plots. In 1797 the land was mostly given over to grazing; it was let at £2 to £2. 10s. an acre; farms tended to be small. (fn. 369) By 1814 enfranchisement had been carried far, for most of the land was freehold 'belonging to gentlemen of the town'. (fn. 370) In a total area of 2,126 acres there were in 1905 1,694 acres of grass—land and 59 of arable. (fn. 371) There are now (1950) said to be roughly 1,250 acres of agricultural land (fn. 372) in a somewhat smaller total acreage.
The agrarian history of Staverton can be unravelled even less satisfactorily than that of Trowbridge. It is noteworthy that in 1295–6 it contained a garden, the herbage of which yielded £1. 4s. (fn. 373) In 1303–4 the fruit sold from this garden brought in 3s. 9d. (fn. 374) The lease of 1535 by the Duchy of the demesnes of the manor specified, besides various named pastures, crofts or closes, and meadows, and the site of the manor house (½ acre), a rabbit warren, 16 acres in Staverton field, and a common field called 'Thestfeld'. In 1552 the lessees of 1535 were letting each acre of pasture at 3s. 4d., each acre of meadow 'shere and goo' at 6s. 8d., and each acre of arable at 8d. (fn. 375) There was a common marsh called Staverton Marsh where the men of Staverton and Wick intercommoned. (fn. 376)
In 1295–6 eel fisheries in Trowbridge and Staverton were leased at 2s. and 9s. respectively. (fn. 377) John de Staverton held the latter and was paying the same rent for it in 1304. (fn. 378) The rents were still the same in 1552. Alexander Langford then held the Trowbridge fisheries, described as 12 sticks of eels, and Christopher Dauntsey those at Staverton. (fn. 379) In 1372–3 a fishery, described as in Staverton and Trowbridge, was leased at 3s. 4d. (fn. 380) —a rent which was still customary in 1461–2. (fn. 381) It was evidently localized at Staverton and is sometimes called the Avon fishery. With other property it was leased to William Besil, Robert Ashley, and John Horton in 1414. (fn. 382) In 1433–4 (fn. 383) and 1438–9 (fn. 384) it did not yield its accustomed rent because the heir of William Fisher, the former tenant, had not prosecuted his claim to it. It was, however, again being farmed in 1451–2 (fn. 385) and 1461–2. (fn. 386) A fishery in the Biss at 'Soperlis', (fn. 387) was being farmed, with other property, in 1430–1. (fn. 388) In 1450–1 it was let to Thomas Watts, the elder and younger, for twelve years of which five had run, (fn. 389) in 1461–2 to Thomas Watts, John Ingram, John Byde, and others for a like term, (fn. 390) in 1472–3 to Henry Jurdan (fn. 391) and in 1474–5 to Richard Gatford. (fn. 392) The lessees usually also held the Court House (see above, Castle and Manor Houses). In 1544 the fishery was conveyed with 4 mills by the Worths and Gores to the Langfords. (fn. 393) In 1563 Alexander Langford con— veyed it, presumably in settlement, to William Chester. (fn. 394) It passed from the Langfords to William Rede in 1571 (fn. 395) and from the Rede family to Lord Hertford in 1602. (fn. 396) A fishery in both Biss and Avon was held by Richard Billet and Richard Erle in 1552. (fn. 397) Its relationship to the foregoing fisheries is uncertain.
Commercial and Industrial History
In 1295–6 there was a body of 'burgesses' paying reliefs on their burgages. (fn. 398) In 1303 these burgesses, or some of them at least, enjoyed a 'liberty', (fn. 399) which in 1346 was defined as quittance of toll and custom. (fn. 400) In return the 'burgesses' owed a money rent and a boon—work in Longmead (see Agrarian History). (fn. 401) The 'burgesses', who are ex— pressly mentioned for the last time in 1482–3, (fn. 402) paid tallage in 1372–3 (fn. 403) and 1462–3. (fn. 404) In 1349 their burgages could be devised. (fn. 405) Burgages are last mentioned in 1552. (fn. 406) Here are unmistakable signs of an urban element in medieval Trowbridge.
Certain other customs exhibit themselves at the end of the 15th century which suggest that Trowbridge, though it never enjoyed municipal institutions, approximated in some ways to a borough. Thus in or shortly before 1486 devise of lands was possible 'according to the usage and custom of the town'. (fn. 407) In 1502 Walter Dauntsey died seised of 22 burgages and other land held in free burgage determinable (determinabilia) in the manor by writ of right close. (fn. 408) In 1502 Thomas Horton and Walter Barbour sued the Bailiff of Trowbridge for disseisin by the same writ. In 1504 a writ of re. fa. lo. issued out of the Common Pleas in the same case in consequence of which judgement went in favour of the bailiff. (fn. 409) These references to the little writ of right have, of course, an independent interest. The writ may have been used because Trowbridge as a Duchy manor was also a royal one, though it was never ancient demesne in the sense in which that term was ultimately understood. Equally, however, the writ may have been used because, as a borough, the town was closely akin to the royal demesne.
Trowbridge has long been the centre for the manufacture of woollen cloth. Robert le Toukere was a suitor to its court in 1356 and William le Toukere in 1359, (fn. 410) and there is a reference to the erection of a tenter in 1372–3. (fn. 411) It is not, however, until the end of the 15th century that there is good evidence that clothiers were established in the town. Trowbridge then contained several prosperous manufacturers. The best known among them was James Terumber (d. c. 1484), whose wealth and standing were still a byword in Leland's time. (fn. 412) James Smith, clothier, and John Sely, draper, were contemporary fellow craftsmen. (fn. 413) By the next century the cloth trade was the prevailing in— dustry, Leland (c. 1540) remarking that the town 'flourished by drapery'. (fn. 414) The town began to attract businessmen from other places. Walter and Thomas, sons of Robert Long, a prominent Steeple Ashton clothier, had established themselves in Trowbridge by 1545. (fn. 415) Thomas was as prosperous as many country gentlemen and died seised of 9 manors. (fn. 416) A Henry Long occurs in 1556. (fn. 417) Alexander Langford (d.1545), his sons Alexander (1519–85) and Edward (1515– c. 1551), (fn. 418) and another Edward (1594), (fn. 419) were all clothiers. Thomas Yerbury (1573), (fn. 420) his son William (occurs 1572), (fn. 421) and another Thomas (occurs 1600) (fn. 422) were the founders of one of the most persistent clothing families in the town. Among other Trowbridge clothiers of the century may be mentioned Martin Flemmyng (also of Castle Combe) (1509), (fn. 423) Christopher Pyarde (1515), (fn. 424) Anthony Passion (1545), (fn. 425) Thomas Bayly (1543) (fn. 426) and William his son (c. 1540), (fn. 427) Thomas Stock (1579), (fn. 428) and William Wilkins (1586). (fn. 429)
In 1602 the Wiltshire justices, in compliance with an Act of 1598 (39 Eliz., c. 12), imposed upon the county wage-rates for workers in the cloth trade. The rates were those adopted by the weavers and clothiers of Trowbridge. (fn. 430) This suggests that the Trowbridge clothiers were by that time very well organized, but it is also possible that there was a justice living in or near Trowbridge who was pre-eminently active in enforcing the policy.
In the late 16th century a new clothing family, the Wallises, was founded in Trowbridge. John Wallis died ante 1597. (fn. 431) A Thomas Wallis named his son Ezekiel in his will proved in 1599. (fn. 432) The Wallises, however, conforming to the tendency of Trowbridge clothiers of every generation, did not retain a connexion with their craft. Ezekiel's son Thomas was armigerous by 1623 and later in the century was accounted gentle, (fn. 433) though a Thomas Wallis was described as a clothier in 1648. (fn. 434) Amongst new clothiers of the early 17th century were William Blagden (1600), (fn. 435) William Morrice (1616), (fn. 436) Richard Blake (1616), (fn. 437) Joseph Marten (1620), (fn. 438) Robert (1622) (fn. 439) and John (c. 1630) Darke (fn. 440) and Edward Tanner (1637). (fn. 441)
The depression in the broadcloth industry that hit the west of England in the later years of James I presumably affected Trowbridge no less than other Wiltshire towns. Conditions, however, began to improve in the 'thirties, and, after the Restoration, Spanish medley cloths began to be made on a large scale in the area.
A surviving monument to this trade revival is furnished by some of the fine merchants' houses that adorn the Trowbridge streets. Without completely ousting their predecessors, a new generation of Trowbridge clothiers arose. William Brewer was notable among them. In James II's reign he was said to be the leading manufacturer of medleys in the realm. He is also remembered as an importer of workmen from Holland, (fn. 442) and as playing a leading part in suppressing a combination formed in the town in 1677 to raise wages. (fn. 443) Robert Houlton (also of Bradford) first occurs in 1662, (fn. 444) Joseph Houlton in 1663, (fn. 445) William Perry in 1664, (fn. 446) John Clark in 1667, (fn. 447) William and James Singer and John Parke in 1668, (fn. 448) two Edward Grants in 1669 and 1674, (fn. 449) Edward Mortimer (fn. 450) and Robert Witchell in 1672, (fn. 451) Thomas Sloper in 1683, (fn. 452) Joseph Houlton the younger in 1687, (fn. 453) James Willett (serge-maker) in 1695 (fn. 454) and John Purnell in 1698. (fn. 455) Of the older families the Yerburys certainly remained. An Edward Martyn (1648 (fn. 456) and 1672 (fn. 457) ) was perhaps descended from Joseph, and an Edward Bayly (1664) (fn. 458) less pro— bably from the 16th-century Baylys.
By the beginning of the 18th century Bradford and Trowbridge were, as Defoe testified, the chief centres of medley manufacture in England. (fn. 459) Among the new Trowbridge clothiers of the first half century were William Petticary (1710), (fn. 460) John Napper (1713 (fn. 461) and 1726 (fn. 462) ), William (1713) (fn. 463) and Samuel (1724) Watton, (fn. 464) Edward Davis (1713), (fn. 465) John Gibbs (fn. 466) and James Gibbs the elder and younger (1713), (fn. 467) James (1713), (fn. 468) Richard (1713) (fn. 469) and Edward Shrapnell (1729), (fn. 470) Walter Bignell (1720), (fn. 471) John Watts (post 1727), (fn. 472) Thomas Burgess (1734), (fn. 473) and Henry Randolph (1713 and ante 1744). (fn. 474) An 'eminent' clothier called Turner died in 1733 (fn. 475); William Temple, with a taste for poetry and mathematics, in 1736. (fn. 476) Some old clothing families went on. Nathaniel Houlton occurs in 1713. (fn. 477) Joseph Houlton, who owned much property at Seagry and Grittleton, died in 1731. (fn. 478) In 1723 he held 'workhouses' for the clothing trade in Trowbridge. (fn. 479) His grandson, Joseph, went bankrupt in 1758. (fn. 480) John Mortimer, the elder, and Edward Mortimer the younger, John Purnel, the elder and younger, and Samuel Brewer occur in 1713. (fn. 481)
By this time the majority of the townsmen of Trowbridge was presumably engaged in clothing or dependent upon it, and their behaviour was affected by incidents in the trade. Thus in 1726 there were riots in the town over a decision by the master clothiers to lengthen the piece without raising wages. (fn. 482) It may have been due to the impoverishment consequent upon this measure that it became necessary to build a workhouse in 1732. (fn. 483) At any rate the houses of Trowbridge could be described in 1738 as 'filthy, without goods and clothing' and their occupants as drunken. (fn. 484)
In the second half of the 18th century there are again new names among the clothiers. In 1752 William Crowter bequeathed to his son-in-law, William Hewes, a house in Fore Street with a clothier's tools and utensils. (fn. 485) John Dowding occurs in 1758 (fn. 486) and William Whitaker the younger in 1762. (fn. 487) William Hawkes was late of Trowbridge in 1770. (fn. 488) James Dowding Cook, described in 1769 (fn. 489) (fn. 490) (fn. 491) and 1771 as a clothier and in 1770 as a baker, formed a partnership in the latter year with James Little, of Bradford, for the manufacture of cassimeres. (fn. 492) The existing firm of Samuel Salter & Co. is said to have been founded in 1769. (fn. 493) John Clark (1702–80), a 'gentleman clothier' with wide connexions, owned shares in vessels trading with Portugal. His son, the Revd. John Clark (d. 1808), founded a typical 'domestic' woollen industry employing spinners and weavers over a wide area. (fn. 494) James Read occurs in 1780, (fn. 495) Thomas Stillman in 1790, (fn. 496) Samuel and Henry Bythesea in 1790 (fn. 497) and 1792 (fn. 498) respectively, James Self in c. 1800, (fn. 499) and Samuel Cook, the younger, in 1802. (fn. 500) Joseph Paradise bequeathed his cassimere loom to his daughter Mary in 1796. (fn. 501) Joseph Mortimer the younger (1762) (fn. 502) and a Yerbury (1788) (fn. 503) are the sole representatives of the clothiers of earlier generations.
At the opening of the 19th century the Trowbridge area was affected by a number of disturbances caused by improved methods of manufacture and the consequent threat or actuality of unemployment. A group of Trowbridge shearmen organized a committee of resistance, struck in protest against the introduction of gig mills and shearing frames and burnt Littleton Mill (in Steeple Ashton), the property of a Trowbridge manufacturer called Naish. It was asserted at the time that the new machinery had not in fact been introduced into the mills of Trowbridge, but the town was chosen by the strikers as their base, and it was a Trowbridge youth, Thomas Helliker, who in 1803 was executed for alleged complicity in the riots. (fn. 504)
In the early years of the 19th century the Revd. John Clark's nephews, John and Thomas, formed the partnership which is perpetuated in the present name of the firm. The fortunes of their business fluctuated much, but the years 1810–12 were certainly good ones. In general the first fifteen years of the century seem to have brought relative affluence to the clothiers. The town increased in size and several new factories were built. (fn. 505) There was a noteworthy arrival of new men. In 1814 most of the 'well built family houses' were occupied by new families, who from 'small properties' had 'accumulated ample fortunes'. The builders of these houses, on the other hand, were 'lost in name or reduced in circumstances' and there were said to be only three clothiers in the town who were 'of that branch' seventy years before. The labouring population was said to be industrious and neatly dressed. (fn. 506) The end of the French war brought a fall in prices from which Clarks at least suffered only temporarily owing to their ability to increase productivity. Certainly by 1821 the slump seems to have been over. There was then said to be no unemployment, some factories were working day and night, and the poor-rate had much decreased. (fn. 507)
Very soon, however, poverty and unemployment began to harass the labouring classes of Trowbridge and neighbouring textile towns. On 6 May 1826 a violent disturbance occurred in Trowbridge itself; large numbers of windows and gas lamps were broken and the 'blind house' partly unroofed. The damage was assessed at £4,000. The cause of the trouble is said to have been the high price of potatoes in the market. (fn. 508) It was thought in 1827 that serious crime in Trowbridge was only kept in check by the presence of troops. A migratory movement to America began. Twenty families sailed from Bristol in the last week of January 1827. (fn. 509) In July 1829 a crowd of ragged and haggard paupers met at Trowbridge church, perhaps in protest at the mechanization of the cloth industry. (fn. 510) In the same year there were some 5,000 on the parish books, nearly all of whom had been employed a few years before. (fn. 511) In 1833, Samuel Salter, a Nonconformist clothier, drew attention to an increase in drunkenness and prostitution—sure signs of misery—though he considered that the poor were on the whole well fed. (fn. 512) In 1834 nearly 3,000 unemployed shearmen and weavers had been in receipt of regular outdoor relief.
The number was indeed smaller than in 1833, but the decline was attributed to emigration. (fn. 513) The spread of machinery and consequent displacement of the handloom weavers seem in the 'thirties to have drawn into the town many of the surrounding villagers, seeking, but not always finding, work. In 1834 there were 1,500 non-parishioners in Trowbridge. (fn. 514) In such soil Chartism took easy root in 1838.
In 1831 the churchwardens and overseers had ascribed the smallness of the increase in population since the last census to a 'falling off' in the cloth trade. (fn. 515) It is not certain that this was an accurate way of expressing the facts. Clothing manufacture was being mechanized and concentrated. This prejudicially affected both the hand-loom weavers and the smaller manufacturers, but may not necessarily have meant an absolute decline in the output of the Trowbridge looms. Some picture of the industry in Trowbridge may be obtained from the reports of the Factory Commissioners of 1833. Evidence was taken from thirteen different clothing firms, presumably the most substantial. The largest of them was J. & T. Clark, which employed 160–70 workpeople within and 800–900 outside its factories, and owned steam-engines of 50 h.p. Edward Cooper of Staverton was a close second. He employed 400– 500 workpeople indoors and about the same number outside. He had steam-engines of 80 h.p. and waterwheels of about 40 h.p. Next in order of size came Samuel Salter (150 indoors and 450 outdoors), William Stancomb (80 indoors and 400 outdoors), John Stancomb (100 indoors and 250 outdoors), J. H. Webb (about 120 indoors and about 180 outdoors), and James Edgell (50–60 indoors and about the same number outdoors). Other employers were William Edgell, Messrs. Clark & Perkins, Samuel Pitman, Messrs. Stancomb & Wilkins, James Stancomb, and John Cooper; but the number of their workpeople is not stated. All but the last of them used steam-engines for some purpose. (fn. 516) In 1842 there were said to be twenty-six clothing firms in the town but some of these were doubtless very small. (fn. 517)
The history of Trowbridge textiles in the second half of the 19th century is dominated by the figure of Sir Roger Brown (1831–1902). At the beginning of his career Brown visited the northern textile areas, studied their methods and increased the mechanization of the Trowbridge industry. As a partner in the firm of Brown & Palmer (later Palmer & Mackay) he himself at one time employed 1,000 workpeople. (fn. 518) This number had fallen to 700 in 1895. (fn. 519) Brown's expedient for arresting decline was to manufacture fancy cloths and cloths of cheaper price. The immediate effect of this may have been good. At any rate a change came over the Trowbridge artisan; in 1886 the U.S. Consul at Bristol was able to report that Trowbridge exemplified factory life in England in its most favourable light. (fn. 520) But at the last the results of Brown's policy were baneful. They merely led to a deterioration in the quality of Trowbridge cloth without enabling the town to undersell or even to keep pace with towns in the North. (fn. 521)
At least two new clothing firms came into being in this half-century. The brothers Kemp of Trowbridge formed a partnership with a clothier called Hewitt, who moved from Upton Lovell in c. 1865. Secondly, in 1897 George Kerr McCall and his brother Gilbert, formerly of the firm of Messrs. Davis of Stroud (Glos.), came to Trowbridge and started the business of McCall Brothers, Limited, which was incorporated in 1898. G. K. McCall died in February 1923, and Gilbert McCall in September 1924. In 1931 the control was purchased by Mr. J. Gordon Hammond from the executors of Gilbert McCall, and he and his sons subsequently purchased over 98 per cent. of the holdings. (fn. 522)
In 1913 there were said to be about six firms in the town, employing 1,200 persons and mainly manufacturing heavy coatings. The industry was described as flourishing with a good export market. (fn. 523) There are now only five firms: J. & T. Clark, Salter & Co., Kemp & Hewitt, Palmer & Mackay, and McCall Bros.
Besides the manufacture of woollen cloth, Trowbridge has been or is the seat of other industries— notably the ancillary dyeing industry. There was a dyer (Walter Bayley) in the town in 1553. (fn. 524) Others, Thomas Singer (alias Smith), John Cabbie, and William Singer, were living in 1597, (fn. 525) 1618, (fn. 526) and 1636. (fn. 527) John Whitaker, a dyer, dated his will in 1719, and a William Whitaker, a clothier and doubtless a descendant, by his will dated 1784, left property which included dye-houses. Henry Bythesea, another Trowbridge clothier, owned a dye-house in 1792. (fn. 528) Thereafter the industry appears to have made rapid strides. The Biss suddenly acquired the reputation for possessing 'a large quantity of various alkaline salts', and plots of land along its banks sold as sites for dye-houses at prices rising to 1s. 6d. a square foot. (fn. 529) In 1814 a dyehouse had recently been erected a little to the west of the castle moat. (fn. 530) Peter Anstie and Thomas and Charles Timbrell were dyers in the town at this time. In course of time Trowbridge dyers began to receive undyed cloths manufactured elsewhere. (fn. 531) In 1833 John Oban ran a braying, milling, and dyeing factory, which had been erected about fourteen years before. It contained a 10 h.p. steam-engine. (fn. 532) In 1842 there were five dyers in the town. (fn. 533) There are now none.
Another derivative of the textile industry was the firm of G. N. Haden & Sons. In 1814 Messrs. J. & T. Clark found it necessary to erect a steam-engine. They consulted James Watt, who sent an assistant, George Haden, to see to its installation. The mission was accomplished by September 1815, but Haden settled in Trowbridge and was to a considerable extent responsible for converting the other textile firms in the town to steam. (fn. 534) Hadens' subsequently specialized in heating engineering. They were engaged on munitions manufacture during the First World War. (fn. 535) In 1945 G. N. Haden & Sons, Ltd., as the firm had then become, transferred their manufacturing interests in Trowbridge to N. H. Engineering Ltd., in which company Hadens' had a controlling interest. In 1947 Hadens' disposed of their whole interest in N. H. Engineering. The latter occupy Hadens' premises. (fn. 536)
Since the late 18th century Trowbridge has been a home of brewing. Edward Sheppard, brewer, occurs in 1782. (fn. 537) Messrs. Watten & Timbrell owned several public houses in the town in 1814. (fn. 538) Messrs. Usher & Co., Ltd., Manvers Street, is said to have been founded in 1824 (fn. 539) and is now a substantial concern. The family is perhaps an old one, for a John Usher, of Trowbridge, was living in the late 17th century. (fn. 540) In 1842 Thomas Usher lived in Back Street. (fn. 541) The present brewery buildings were designed by W. W. Snailum (d. 1934). (fn. 542) In 1842 there were three other breweries: Curme & Joyce, wine and spirit merchants, of Back Street; Edward Mandry, Market Place; and William Nightingale, Silver Street. (fn. 543) The firm of J. H. & H. Blake, Union Street, existing in 1903 but now departed, was of 19th-century foundation. (fn. 544)
The Trowbridge and North Wilts. Advertiser, a monthly newspaper, was founded in 1854. Its offices were in Back Street. In 1855 it began to be issued weekly under the name of The Trowbridge Advertiser. It moved its offices to Silver Street in 1877. In 1880 it was incorporated with The Wiltshire Times, a Devizes and Swindon paper, with offices in Duke Street. It still survives and has been associated editorially with the Lansdown family since its establishment. The Trowbridge Chronicle, Volunteers' Gazette & West of England Advertiser was founded in 1861 by William Collins, of the Market Place. The words Volunteers' Gazette were dropped from the title in 1867. A printing works for the newspaper was established in Narrow Wine Street in 1875. In 1876 its title was changed to The Trowbridge Chronicle, Bradford-on-Avon Times, and Melksham and Westbury Gazette. In 1890 it was purchased by a Conservative party syndicate. It ceased publication in 1906. In 1910 the West Wilts. Post, also a Conservative organ, was started by George Samuel Rose, at 66 Fore Street. It was absorbed into The Wiltshire News founded in 1911, (fn. 545)
Other industries can only be briefly enumerated. Limepits near the Town Bridge are mentioned in 1455–6 (fn. 546) and 1482–3. (fn. 547) Philip le Tannere and Richard the skinner were living in the town in 1302, and next year John and Philip le Tannere were tenants of burgages. The name Philip le Tanner persists until 1346 in which year Roger and William le Tanner and Avice Skynnere also occur. Geoffrey le Tannere is encountered in 1356 and 1360 and Robert Tannere in 1383. Henry le Glovere occurs in association with Philip le Tannere in 1343 and William le Glovere in 1360. Tanner later established itself as a Wiltshire surname, so it must not be too readily inferred that all the Trowbridge Tanners of this age practised the trade from which they took their name. Nevertheless the cumulative evidence for a 14th-century tanning industry in Trowbridge is good. (fn. 548) John Tilton (1587), (fn. 549) James Matravers (1670, 1693), and Nicholas Cole (1678) (fn. 550) were tanners of later days. The names Christine le Yrmangeres and Edith wife of William Yrmangere (1303), Roger le Juweler (1342), John and William le Brasyetere (1346), and Robert le Cornmanger (1349), suggest a fairly wide range of industrial and commercial employments in the 14th century. (fn. 551) In 1645 Trowbridge was supplying salt to the Great Chalfield garrison on a larger scale than any other place; Christopher Long was a vendor. (fn. 552) The town also supplied them with cartridge paper, one Davys and Lionel Whitechurch being vendors. (fn. 553) A Trowbridge pinmaker is mentioned in 1671. (fn. 554) Ten clock-makers, presumably of the 18th century, have been identified. (fn. 555) In 1763 (fn. 556) and 1770 (fn. 557) William Harding was leasing land on Trowle Common from the Duke of Kingston for a brick kiln, no doubt the forerunner of the Cockhill Brick and Tile Works which still existed in 1890. (fn. 558) At the close of the 19th century the Acetylene Light Syndicate, Ltd., established itself at Cradle Bridge. (fn. 559) Bedsteads are made (1950) by the firm of Chapman, and brush-making, bacon curing and the manufacture of dairy produce are carried on. (fn. 560) The firm of H. J. Knee, Ltd., furnishers, ironmongers, and furniture removers, with premises now in Fore and Castle Streets, originated under its present name in 1879, when Knee bought the furniture side of Isaac Chapman's business. (fn. 561)
The Trowbridge Chamber of Commerce was established in 1900. John Chapman, for sixteen years its organizing secretary, was a founder. (fn. 562)
Mills
There was a mill in Trowbridge in 1086 paying 10s. (fn. 563) Two mills are referred to in 1331 when it is stated that Maud relict of John de la Grave and Richard her son had recovered seisin of a third of them against Walter atte Mulle and Joan his wife. (fn. 564) These were no doubt the Castle Mill and West Mill which occur in 1349, 1356, and 1359. In or shortly before 1349 2 water-mills, presumably the foregoing, were held in socage by Walter ate Mull. (fn. 565) A water grinding-mill formed part of the inheritance of the Dauntsey family in 1502 (fn. 566) and in 1552 2 water-mills with a water course. (fn. 567) By 1555, when the Dauntsey estate is first called a manor, there were 3 water fulling-mills appurtenant to it. (fn. 568)
In 1526 Thomas and Elizabeth Gore conveyed 3 mills to Alexander and Agnes Langford and to Richard and Alexander Langford the younger for their lives at a rent of £4. 13s. 4d. (fn. 569) In 1544 2 water fulling-mills, perhaps the same as 2 of the foregoing, were conveyed in fee by George and Elizabeth Worth and Giles and Edith Gore to the two Alexander Langfords. (fn. 570) Worth had evidently married Thomas Gore's relict. In 1571 Edward Langford, son of Alexander the younger, sold his interest in these mills to William Rede. (fn. 571) William died in 1593 leaving as the heir to his 2 water- and 1 fulling-mills his son Edward, (fn. 572) who, with his wife Agnes and his mother Maud, conveyed 4 water grainmills and a fulling-mill in Trowbridge and elsewhere to Lord Hertford in 1602. (fn. 573) In 1536 a mill, probably the Castle Mill of the 14th century, had been granted to Lord Hertford's father with the capital manor. One or more of the grain-mills now conveyed may have been added to this tenement to form what were later called the Castle Mills. At any rate in 1648 (fn. 574) and 1672 (fn. 575) the Castle Mills and a tucking-mill were put in settlement by the Seymour family. They passed with other Seymour lands to Thomas, Lord Bruce, subsequently Earl of Ailesbury, on his marriage in 1675, (fn. 576) and in 1706 were vested in his son Charles. (fn. 577) They were then described as 2 water grist-mills and a tucking-mill. Under the settlement of 1779 they were assigned with the manor (see above—Manors) to Lord Granby. It was presumably the 2 castle grist-mills that in 1671 owed 10s. yearly to the benefice. (fn. 578) It is said that one or both of the Castle Mills stood between the Town Bridge foot and the area later occupied by the Stone Mills or Factory. (fn. 579) It is possible that the site passed to the Stancombs (see below).
A mill-house, tan-house, bakehouse, and scouring house were conveyed in 1693 by Richard Couch of Malmesbury and William Couch of Milbourne to William Clarke, of Trowbridge, innholder. (fn. 580)
Lady Down Mill, between the canal aqueduct and Trowle Bridge, existed in 1838. (fn. 581) In 1903 (fn. 582) and 1939 (fn. 583) it was occupied by H. M. Norris, flour miller. It is still a flour-mill and belongs to S. D. Tucker & Sons, Holt. (fn. 584) In 1773 (fn. 585) there was a mill called Trowbridge Mill east of the present railway line. In 1890 it appears to have been a saw-mill. (fn. 586) In 1838 there was a flour-mill near Trowle Bridge west of the line. (fn. 587) In 1890 it was called Innox Mill and still ground flour. (fn. 588) It is no longer so used and has in part been converted into cottages.
From the late 18th century a great increase in the number of Trowbridge mills took place, consequent upon the development of the textile industry. Many of these mills were sited beside the streams, to obtain the benefit of water-power for fulling and other subsidiary processes of manufacture. In course of time waterpower tended to be abandoned in favour of steampower. The buildings therefore ceased to be 'mills' in the technical sense, though they remained so in name. In addition to the water-side mills factory buildings were erected away from the water. These were also sometimes called mills. In these respects Trowbridge presumably does not differ from other cloth towns. For convenience mills and factories are here considered together regardless of their location or the type of power that they used.
The Stone Mills or Factory on the east side of the Town Bridge belonged in the early 19th century to the firm of J. & T. Clark. In 1861 the premises consisted of 8 shops. (fn. 589) In 1872 Clarks' sold it to S. Walker & Co. (fn. 590) By 1939 it had passed to Samuel Salter & Co., (fn. 591) but they do not hold it now (1950).
Studley Mills to the west of the Town Bridge have been in the possession of Clarks' since the early 19th century. In 1861 the premises consisted of an enginehouse and seven large mills with a power-loom shed. The buildings were extended in 1884 when the firm concentrated their whole premises on the site. (fn. 592)
Between 1814 and 1821 Clarks' bought land in Duke Street for a new factory. Here they constructed a reservoir (stoned in 1820) and an engine-house. In 1861 the premises consisted of an engine-house and twelve rooms. Clarks' presumably parted with this factory in or before 1884. (fn. 593) It apparently passed to Salter & Co. whose 'Home Mills' were said in 1896 to lie in Fore and Duke Streets. (fn. 594) The building has now been demolished and Messrs. Usher's bottling-store stands upon the site. (fn. 595)
In 1814 Messrs. Yearsley & Co. possessed a factory, 'as it is called' in Fore Street. It formerly belonged to a Mr. Naish. (fn. 596) This is perhaps the same as the Fore Street mill occupied by Samuel Salter in 1830. (fn. 597) It was then leased (fn. 598) from a Mrs. Webster. Power was provided by steam-engines of 30 h.p. and an irregular flow of water. In 1862 the factory was badly damaged by fire. The damage was assessed at £50,000 and 500– 600 men were put out of work. (fn. 599) The factory formed part of Salter & Co.'s 'Home Mills' in 1896. (fn. 600) In 1923 a triple-expansion high-pressure engine of 100 h.p. was installed. It replaced a 35 h.p. steam-engine supplied before the fire by Messrs. Haden. (fn. 601) The building was again almost burnt out in 1931. This time the damage was assessed at £50,000–£100,000 and 250 men were put out of work. (fn. 602) Salters' still (1950) occupy the mill.
The Bridge Mills, near the Town Bridge, appear to have been owned in 1796 by Francis Nash and then successively by clothiers called Read & Carrick, and Maclean. (fn. 603) In 1830 they were owned by the firm of W. E. Waldron & Co. (fn. 604) The buildings that existed in 1833 appear to have dated in part from 1770. By 1833 they had been acquired by J. H. Webb, and contained steam-engines of 24 h.p. (fn. 605) The firm, known as J. H. Webb & Sons by 1875, still occupied the mills in 1896. (fn. 606) Subsequently the building was used as a dye-house. (fn. 607) It is now occupied by Messrs. H. R. & S. Sainsbury, provision merchants, (fn. 608) and has been since at least 1939. (fn. 609)
A Samuel Pitman built a factory in Silver Street in c. 1795. Its machinery was driven by a horse-wheel until 1812 and thereafter by an 8 h.p. steam-engine. (fn. 610) It was probably to this factory that Samuel Pitman, father of Isaac Pitman, moved in 1829, from the house and workshops which he had built in 1826 at No. 4 the Down. (fn. 611) Shortly afterwards he moved to Bradford (q.v.). The Silver Street factory was eventually taken over by the brothers Kemp. They formed a partnership with an Upton Lovel clothier called Hewitt. The factory is still (1950) occupied by the firm of Kemp & Hewitt. (fn. 612)
Between 1793 and 1797 William Webb, clothier, built workshops in Yerbury Street, which was then in course of construction. In 1877 these premises were purchased by S. Walker & Co. who still occupied them in 1903. (fn. 613)
The Castle Factory, built in 1828, was occupied by John Stancomb in 1830. In 1833 it contained steamengines of 20 h.p. William Stancomb occupied a factory in Castle Street in 1830 (fn. 614) and it was perhaps by a partnership between John and William that the firm of Stancomb Bros. came into existence. In 1902 this firm occupied Cradle Bridge Mill to the south of the factory. (fn. 615) In 1917 these mills, or a part of them, had passed to Messrs. Yates, bedstead-manufacturers, (fn. 616) and are now occupied by Messrs. Chapman, mattressmakers. (fn. 617)
In 1833 James Edgell and William Edgell occupied separate factories in Polebarn Road. Each building then contained a 20 h.p. steam-engine. James Edgell's factory was built in 1812–15. (fn. 618) Messrs. Stancomb & Wilkins also occupied a factory in Polebarn Road in 1833. The firm had purchased a 6 h.p. steam-engine in 1827. (fn. 619) It may perhaps be surmised that one or more of these Polebarn Road buildings became the Ashton Mills which were owned by Samuel Brown in the earlier 19th century. (fn. 620) Samuel was joined in the business by his nephew (Sir) W. Roger Brown (1831– 1902). (fn. 621) By 1861 the business was being conducted in the names of Brown & Palmer. (fn. 622) By c. 1882 the partnership had been converted into that of Palmer & Mackay and the mills had passed to their control (fn. 623) in which they remain.
A clothier called John Cooper was in business in 1805 when he installed a steam-engine in his factory. (fn. 624) He was presumably a member of the family which by 1833 had been constituted as the firm of Cooper Bros. & Co., later Cooper & Co. The then head of the firm, much beloved by his workpeople, stated that his mills had been built at sundry times since 1800 and were driven by water which flowed irregularly. (fn. 625) In 1847 the head of the firm was Benjamin Cooper. He erected ten power-looms, the first in use in the town, in his factory in the Courts (now Court Street). (fn. 626) By 1903 this factory was being managed by the firm of Palmer & Mackay, (fn. 627) and between 1895 and 1920 was in the actual ownership of Lucy, relict of Alexander Mackay. (fn. 628) The factory is no longer used for textiles, but in 1939 its name was still preserved in the title, 'Ashton & Courts Mills', borne by Palmer & Mackay's factory in Polebarn Road. (fn. 629)
Another factory in Court Street, built in 1815, was owned by Messrs. Clark & Perkins in 1833. It then contained a 6 h.p. steam-engine. (fn. 630)
A mill in the Innox, then in process of rebuilding, was taken over by Messrs. Kemp & Hewitt in c. 1865. The firm still occupies it. (fn. 631) This factory and the other two mills or factories that stood in Court Street in the 1830s (see above) are difficult to locate today. Two of the three, however, may be identifiable with Castle Mills and Castle Court Factory which are named on the 1938 25—inch O.S. map.
In the late 19th century Upper Mill, Cradle Bridge, was occupied by Messrs. Cogwell & Co. In or about 1898 it was taken by the brothers George Kerr and Gilbert McCall, who in 1898 formed a company under the name of McCall Bros., Ltd. In 1919 the firm bought out the McCalls' private interest in the mill. In 1911 the brothers purchased the adjacent Victoria Mill which they sold to the company in 1920. (fn. 632)
There was a mill at Staverton in 1086 paying 20s., (fn. 633) and a miller in 1236. (fn. 634) In 1295–6 (fn. 635) and 1304 (fn. 636) John de Staverton farmed 2 mills, with 2 messuages and some land, for 40s. It cannot be determined whether both these mills were in Staverton or whether one was in Trowbridge. The miller of Staverton is mentioned in 1349, 1356, and 1359. (fn. 637) In 1671 9s. issued annually out of the Staverton mills to the rector of Trowbridge. (fn. 638) In 1785 there were said to be 4 tucking stocks and 2 grist-mills in Staverton. (fn. 639) By 1811 the firm of Messrs. John Cooper & Co. had established the Staverton Superfine Woollen Factory beside the Avon, probably on the site of one of the ancient mills. The firm struck tokens for 2s. 6d. and 1d. which depict mills standing over a river with a clock tower on the centre building. (fn. 640) In November 1824 a fire destroyed the factory almost completely, causing damage to the estimated value of £100,000. The factory was rebuilt next year. (fn. 641) It was described in 1891 as an imposing structure of six floors, measuring 120 by 40 ft., with a handsome faç (fn. 642) In 1833 Edward Cooper, master of the mill, had an 80 h.p. steam-engine and 2 water-wheels of about 40 h.p. (fn. 643) The first power-loom in the district was built at Staverton in c. 1839. In 1847 ten power-looms were transported thence to Trowbridge and erected in Benjamin Cooper's factory. (fn. 644) By 1873 Staverton Mills had passed into the hands of James Hargreaves whose interests in the waters of Semington and Paxcroft Brooks were protected by Act of Parliament. (fn. 645) These interests were restricted by agreement in 1878. (fn. 646) Hargreaves died in or before 1883, and the mill became vested in his relict and two other trustees, who leased it to T. H. Hargreaves and James Hargreaves, junior. (fn. 647) In 1888 the trustees and tenants sued G. P. Fuller, the owner of Great Chalfield manor house (q.v.), for alleged interference with the flow of water over the plaintiff's 2 water-wheels, fed by a weir in the Avon. (fn. 648) Fuller agreed to restore the works that had caused the interference. (fn. 649) In 1891 the trustees offered for sale the mill, adjacent dwelling-house, 'rack field', engines of 100 h.p., and other property, amounting to 12 acres and let to the firm of Hargreaves at £500. There was no bid at the auction but a private offer for the premises was said to have been made. (fn. 650) In 1893 the machinery was overhauled and £2,000 spent in clearing out the bed of the Avon and the mill stream. The property, then including a new turbine (50 h.p.) and a beam engine (150 h.p.) which had cost £3,000, was again put up for auction in 1897. There were again no bids (fn. 651) but the same year the Acetylene Light Syndicate, of Trowbridge, was using the mills for the manufacture of calcium carbide. (fn. 652) By 1903 the mills were occupied by the Anglo-Swiss Condensed Milk, Co., now known as Nestlé's Milk Products, Ltd.
Markets and Fairs
A Tuesday market in the town was granted by the Crown to Henry de Bohun in 1200 and at the same time a fair on the vigil, day, and morrow of St. James the Greater (25 July). (fn. 653) In 1311 a Saturday market is mentioned. (fn. 654) In 1295–6 the toll of market and fairs together brought the lord £1. 11s. 7¼d., (fn. 655) in 1303–4 the toll of the market brought in £1. 12s. 4d. and of the fair 5s. 1d. (fn. 656) In 1349 4s. was received from tolls and other perquisites of the market, in 1356 2s. 10½d. from 'tolls and markets', and in 1360 2s. 6½d. from 'tolls and fairs'. (fn. 657) In 1372–3 the fairs brought in 6s. and the market was being farmed at 3s. 4d. (fn. 658) In 1383 the toll of the fairs brought in 3s. (and not more because the weather was wet) (fn. 659) and in 1386 5s. 1d. (fn. 660) In 1393–4 the toll and perquisites were valued at 5s. 7d. (fn. 661) In 1407 they brought in 2s. (fn. 662) Normally throughout the later Middle Ages both market and fairs were let to farm. The Rector of Trowbridge was lessee in 1430–1, (fn. 663) 1433–4, (fn. 664) and 1451–2, (fn. 665) Agnes Shireman in 1458–61, (fn. 666) Edward Maundevile in 1471–2, (fn. 667) and James Terumber in 1476–9. (fn. 668) The rent in 1430–1 and again in 1471–2 was 10s. yearly.
A market place was in existence by 1303. (fn. 669) Nearby stood, at least as early as 1466–7, a 'high cross', (fn. 670) no doubt the same as that which Leland found in c. 1540. Leland described it as octagonal with a pillar in the middle, thus resembling the cross at Malmesbury. (fn. 671) In later times it was used as a butter-market. It was taken down 'by consent' in c. 1784. (fn. 672) Thereafter there was no market house of any kind, until William Stancomb, lord of the manor, caused one to be erected in 1861. (fn. 673) The 'Round Stone' which stood near the end of Polebarn Road is believed to have been a place at which market debts were settled. It was still a landmark in 1752. Perhaps the stone was buried on the site when the town was repaved in or shortly after 1799. (fn. 674)
Stalls or shambles in the market were being let out by 1303 when orders were issued for an inquiry into the terms of their tenure. (fn. 675) They were heritable by 1349. (fn. 676) By 1382–3 the lessees came not only from Trowbridge itself but from Southwick, Beckington (Som.), Frome, Bradford, and even Chippenham, (fn. 677) and in 1383–4 also from North Bradley and Aidbourne. (fn. 678) In 1375 William Mantel 'of Norton' (probably Norton St. Philip, Som.) paid 4d. for a waste place in the market intended for a shamble. (fn. 679) Sites for other new shambles were still being leased in 1405–6, one of them to a man from Shepton Mallet (Som.). (fn. 680) This suggests that Trowbridge was gaining in reputation as a commercial centre at the opening of the 15th century. The estimated annual rent from shambles was then 5s. 10d. (fn. 681) It does not seem, however, that the expansion continued. In the 17th century shambles and stalls were still the subject of conveyances. (fn. 682) In the 1840's stalls still stood in the open on either side of Market Street. (fn. 683)
In 1673, (fn. 684) 1792–3, and 1814 Saturday appears to have been the only market day. (fn. 685) In 1739 meat, roots and greens' were the only commodities marketed. (fn. 686) By 1830 a Tuesday market was again being held and a Thursday market had been added. (fn. 687) There were the same three market days in 1842, the Saturday market being the most important. (fn. 688) In 1888 Stancomb, as owner, declared that the markets were only held on Tuesdays and Saturdays, but according to the Local Board there was also a Thursday market. (fn. 689) In 1903 the market days were Tuesdays and Saturdays. A large cattle market was then held on alternate Tuesdays. (fn. 690) In 1939 the general market itself was held on alternate Tuesdays. (fn. 691) Today a market is held every Tuesday. The Market House which Stancomb built together with the market rights were at first leased to the Trowbridge Local Board. In 1892, however, after considerable negotiation, the privileges of the lord of the manor with respect to stallages, the rent and tolls of the market and fairs, the market house and adjacent lands and buildings were purchased from Stancomb by the Board for £4,400. (fn. 692)
The fair was still being held on St. James's day in 1356 (fn. 693) and 1372–3. (fn. 694) In the latter year a piece of land adjacent to 'la Tolselde' was being leased subject to an easement by the lord on fair day. (fn. 695) The day had not changed by 1731, (fn. 696) but, as often occurred, the date was moved forward after the passing of the Calendar Act. In c. 1791, (fn. 697) 1814, (fn. 698) and 1830 (fn. 699) it was said to be held on 5 August, in 1792 on 5–7 August. (fn. 700) Bodman (1814) said it was held on 5 August, and sometimes on the three days following. (fn. 701) In 1842 it was said to be held on 5 and 6 August. (fn. 702) It was abolished in 1892 by Home Office Order. (fn. 703) According to Bodman 'toys and trifles' were the main commodities sold in 1814, though a cheese fair had then recently much increased. (fn. 704) Britton, however, a somewhat less reliable witness, says it was chiefly a mart for woollen goods, though some cattle and cheese were sold. (fn. 705) In 1830 horses, cattle, cheese, and toys were said to be the chief commodities on sale. (fn. 706) In the 19th century the fair must have been an inconvenience to traffic, for in the 1830's the 'lines of shows' extended from the Town Bridge to the end of Fore Street near the present Market House. (fn. 707) It was certainly disorderly. Crabbe is said to have attended regularly in the hope that his presence might check 'improprieties of conduct'. (fn. 708) In. 1871, when its early extinction was predicted, the fair was characterized by 'din, dust and buffoonery'. (fn. 709) Even in 1857 it exhibited signs of decay and was thinly attended. (fn. 710) Stancomb agreed to its extinction in the contract for the purchase from him of the market and fair rights. (fn. 711)
Growth of the Town
The urban character of the core of Trowbridge is apparent by the second half of the 14th century, when references to streets begin. High (now Fore) Street occurs in 1346 (fn. 712) and Castle Street in 1386. (fn. 713) Court Lane (now Court Street) first occurs c. 1461, (fn. 714) Lovemead or Lowmead (now Roundstone) Street and Back Street in 1462, (fn. 715) and West Street in 1488. (fn. 716) By his will proved in 1562 Thomas Long, a Trowbridge clothier, left £3. 6s. 8d. towards mending the town streets. (fn. 717)
The encroachment of the town upon the country was doubtless effected by informal and sporadic nibblings. Thus in 1572 William Horton and another were presented for building upon the waste. (fn. 718) While on this occasion Horton's house was ordered to be seized, there were many instances where such offences were condoned. The evolution of the town plan from the 16th century cannot be traced in detail. Adcroft Lane first occurs in 1671 (fn. 719) and Silver Street in 1773. (fn. 720) Yerbury Street was begun in or shortly after 1793, (fn. 721) Hill Street, Eastgate Street or Hilperton Lane (now Road) and Duke Street, first occur in 1814. (fn. 722) Timbrell Street was begun in that year. (fn. 723) The Conigre, known as a locality in 1671, (fn. 724) was a built-up area in 1814 and consisted of several small streets called 'ranks'. (fn. 725) The town evidently grew considerably in the early 19th century. The suburbs or suburban streets of Islington, Brick Plat, Polebarn Lane or South Street (now Polebarn Road), Stallards (the point of junction of Stallard Street with Bradford Road), Newtown and Trowle Lane (now Bradford Road) apparently existed as builtup areas in 1814. (fn. 726) Between 1818 and 1822 500 houses forming streets had been built in the parish. More were building. (fn. 727) In 1822 29 poles of road were 'pecked' and laid in the Halve and Duke Street, 23 in the Courts, and 28 in the Conigre. (fn. 728) The 1821 census enumerators counted the townspeople by the following streets or districts: Silver Street, Union Street, Brick Plat, Timbrell Street, Cross Street, Charlotte Street, Islington, Prospect Place, Hilperton Lane, the Halve, Yerbury Street, Pole Barn Lane, Round Stone Street, Duke Street, Fore Street, Back Lane, Hill Street, Court Street, the Courts, Castle Street, Frog Lane, Back Street, the Conigre, Shails Lane, Plat, Studley and Little Trowle tithing, Studley Green and West Row, Middle Studley, Silver Street Lane, Bradley Lane, Cuckold Corner, Mortimer Street, Cross Post, Lower Studley, and Staverton. (fn. 729) Studley, Little Trowle, and Staverton were presumably still rural, as the last remains.
When the town was first surveyed on a large scale in 1887–8 there had been added to the original core three fair-sized areas of new houses: (a) south-west of Trowle Lane (now Bradford Road) and Newtown, (b) along Mortimer Street, connecting Cradle Bridge with the railway south of the station, and (c) on the north-east side of Polebarn Road. (fn. 730) Few further additions had been made by 1901. (fn. 731) Bythesea Road was presented to the town by Samuel Bythesea. (fn. 732) By 1924 the built-up area to the south-west of Newtown had been extended, and there were now buildings on the north-west side of the Bradford Road and on the north side of West Ashton Road just beyond Paxcroft Brook. (fn. 733) The first slum clearance scheme had been completed before 1936, and the displaced population rehoused on a site at the top of Shails Lane. A second scheme was in progress in 1936, when 124 dwellings were being erected on the Longfield estate between the Biss and Mortimer Street. (fn. 734) By 1939 there was also a housing estate south of Upper Studley, houses, facing those existing in 1924, on the south side of West Ashton Road, more houses than formerly along the west side of Holbrook Lane, connecting Lower Studley with Bradley Road, and ribbon development along Bradley Road. (fn. 735)
A bridge, of a more or less permanent kind, must have existed in Trowbridge from the 12th century, but the first specific mention is in 1375, when oaks for its repair were given by the lord of the manor. (fn. 736) References to the town bridge, great bridge, or Biss bridge are common in ministers' accounts of the later 15 th century. It is called 'Busshopbrigge' in c. 1461. (fn. 737) At sundry times between 1465 (fn. 738) and 1483 (fn. 739) there are allusions to 'Brusshbrigge'. This sometimes appears to be distinguishable from the Town Bridge, but in an account of 1468 (fn. 740) it is said to be next 'le Inhoke', which is the location of the present Town Bridge. Leland mentions only one bridge in the town and says it was of stone. (fn. 741) From at least 1704 (fn. 742) until at least 1852–5, (fn. 743) the Town Bridge was repairable by the county. It was repaired in 1704. It appears to have been rebuilt in 1777, for the present building of three arches bears that date. In the 19th century it seems to have been widened. (fn. 744) The Cradle Bridge in Castle Street was in the middle 19th century a foot-bridge of cradles set upon trestles. The passenger could see the stream beneath him as he crossed. A post was set at one end to obstruct vehicular traffic. The present bridge was built ante 1908. (fn. 745) Trowle Bridge is first mentioned in 1462. (fn. 746) It appears to have been widened in the late 18th or early 19th century, for Bodman says that it was 'formerly' very narrow with an angle in the centre on south side for the avoidance of traffic. (fn. 747) It was repairable by the county in 1852–5. (fn. 748) There is a late 18th-century three-arch stone bridge at Staverton which at the same date was likewise repairable. (fn. 749) Leland records a stone bridge here in 1540. (fn. 750) Thomas Long, a Trowbridge clothier, by his will proved in 1562, left £6. 13s. 4d towards its repair. (fn. 751) It was repairable by the county in 1792. (fn. 752) London Bridge, which spans the Trowbridge to Norton St. Philip road on the Trowbridge parish boundary, was known by name in 1752. (fn. 753) It was repairable by the county in 1852–5. (fn. 754) White Row Bridge, carrying the Trowbridge-Frome road over the 'Lambrok', existed in 1737. (fn. 755) In 1456 there is a reference to 'le lepegate' beyond the great bridge. (fn. 756) From 1468 (fn. 757) to 1472, (fn. 758) when it disappears, it is called a bridge. Its precise location and character are unascertainable.
There were fine houses in the town in Leland's day (c. 1540). (fn. 759) Many have been built since, but it remains as true now as it did when Britton wrote (1814) that they 'appear to great disadvantage, from the narrowness of the passage in front and from the intermixture of old and shabby looking buildings'. (fn. 760) In the late 18th century some houses with projecting upper stories, suggesting considerable antiquity, stood in Fore Street, but had been demolished by 1814. (fn. 761) Except for the rectory (see below—Churches) there are now no traces of domestic buildings earlier than the late 17th century. (fn. 762) Cockhill Farm in Cock Hill, and the Liberal Club in Frog Lane may be of that century, but the former was largely rebuilt in the 19th century and the latter refronted in the 18 th. A house in the Conigre (now the premises of G. Applegate), No. 5 The Halve, Barclay's Bank, Messrs. Gardner's premises and the offices of the Bath and Wilts Chronicle in Wicker Hill, and Lovemead House, Roundstone Street, are all thought to be of the early 18th century. The last of these, said to have been once a cloth factory, (fn. 763) is specially noteworthy. Other 18th-century domestic buildings worthy of mention include West Croft in British Row (reconstructed 1744), Court House in Castle Street, Fernleigh House in Church Street, Cockhill House in Cock Hill, The Parsonage in the Conigre, Messrs. Diplock's office (formerly a factory) in Upper Broad Street, the Midland Bank in Fore Street, Nos. 14–26 The Halve, Kitchener's Arms and No. 12 in Hill Street, Longfield House in Mortimer Street (extended in the early 19th century), Courtfield House in Polebarn Road, the offices of the Ministry of Agriculture in Stallard Street, Nos. 22 and 23 Union Street, the offices of Messrs. Usher and the Parade House in Wicker Hill, and Trowle Manor Farm in Widbrook Hill. Parade House is specially noteworthy. Houses of late 18th or early 19th century worth special mention include Castle House in Castle Street, Lloyd's Bank in Fore Street, No. 13 The Halve, Nos. 36–39 and 41–43 Hilperton Road, Nos. 28–35 Stallard Street, the Crown Inn in Timbrell Street, the Royal Oak and Nos. 28, 30–34 Union Street, and the offices (dated 1823) of Samuel Salter & Co. in Court Street.
The town contains many lines of early 19th-century red brick three-story mill houses of a distinctive and not unpleasing design. Yerbury Street and a part of Newtown furnish good examples. At Staverton there are two rows of c. 18th century three-story weavers' houses. A terrace often such houses stands opposite the church. The front is of ashlar, the sides and back of squared and coursed masonry, the roof covered with pantiles. Each house has a pair of windows to the first and second floors, and two single lights to the ground floor, one now covered by a later one-story brick addition. At the back each house has one window to the second floor, a small square one to the first and a square-headed door on the ground floor. Opposite the Old Bear Inn there is another such terrace of the late 18th or early 19th century. It consists of 2 rows, one of 5 and the other of 4 houses, back to back, the former being the earlier. The houses, which are all under one roof covered with pantiles, are of red brick, but one end wall of the earlier row is of rubble and the later row has been faced with ashlar. Each house in the earlier row has a three-light casement window to the second floor, a four-light to the first floor, and a two-light and a door on the ground floor. In the later row there is a threelight window to the second floor, two-light and singlelight windows to the first, and a two-light window and door to the ground floor.
The Town as an Administrative and Military Centre
Trowbridge is now an important administrative centre. This is not altogether so recent a development as might at first be supposed. The large number of foreign appurtenances of the medieval manor gave the town a quasi-metropolitan character. The foreign court of Trowbridge, to which presumably the tenants who held their lands as of the manor did suit, was in existence eo nomine in 1306. (fn. 764) At intervals between 1372–3 (fn. 765) and 1482–3 (fn. 766) it sat once a year and still so sat in 1652, when under the name of the Honour Court, it was the place of resort for all Duchy tenants within the county. (fn. 767) In c. 1791 it met at Michaelmas (fn. 768) and still satin 1814. (fn. 769)
A court for the recovery of debts to the amount of 40s., known as 'The Court of Requests for the Hundreds of Bradford, Melksham and Whorlsdown' and with jurisdiction throughout those hundreds, was set up by statute in 1763. It was to sit alternately once in three weeks at Bradford, Trowbridge, and Melksham. (fn. 770) By an Act of 1807 the ambit of the court was slightly enlarged and the amount of a debt, the recovery of which the court could enforce, was raised to £5. (fn. 771) In 1830 the court sat in Trowbridge monthly, (fn. 772) in 1842 every 3 weeks. (fn. 773) It was abolished as such by the County Courts Act of 1846. (fn. 774) Trowbridge, however, is still the centre of a County Court district. (fn. 775)
Though the Wiltshire Quarter Sessions occasionally sat in the town, e.g. in 1582, 1585, and 1586 and a special sessions in 1577, (fn. 776) Trowbridge never became a regular meeting place for the Bench.
The County Council, upon its establishment in 1889, met at various Wiltshire towns in rotation. Trowbridge was amongst them. The Council sat there first in August 1889, (fn. 777) and since 1899 has done so regularly. Trowbridge was no doubt chosen as the permanent location for the Council and its officers, because it was the best rail centre in the county. This reason, however, does not seem ever to have been officially stated.
In 1889 the county clerk was a solicitor living in Marlborough. The other county officials, however, who were then stationed in different parts of the county, did not gather round him. Instead a policy of concentrating offices in Trowbridge was begun. In 1893 the Council took a seven-year lease of No. 56 Stallard Street, at £78 p.a., for county offices. (fn. 778) In 1895 it was agreed that as soon as possible the staff of the county clerk's office should be moved to Trowbridge. The clerk at once leased from William Walker and Jacob Usher one floor in Arlington House, No. 72 The Parade, a two-story 18th-century building of ashlar, at £22 p.a. Some officials moved in forthwith. (fn. 779) In 1896 this house was purchased for £1,200. Behind the house was some vacant land, (fn. 780) upon which in 1898 it was resolved to build an extra office, so as to bring all the county offices under one roof. A contract was accordingly placed with Messrs. Hayward & Wooster of Bath for erecting a building, not visible from the streets and therefore not 'ornamental', at a cost of £4,804. (fn. 781) The work was complete by August 1900 when the staff left the Stallard Street office and the Council resolved to hold its quarterly meetings in future in the Council Chamber in the new building. (fn. 782)
By 1904 the functions of the Council had already outgrown its accommodation and in 1905 some adjacent property belonging to the Wiltshire Working Men's Conservative Benefit Society was acquired for £2,400. (fn. 783) In 1908 the Council approved the lease at £25 p.a. of some rooms in a house in Fore Street, belonging to the Territorial Forces Association, as a further extension of the offices. (fn. 784) In 1912 the house of a Mr. Hayman, also adjacent, was leased (fn. 785) and subsequently purchased (fn. 786) for the same purpose. In 1913 a sub-committee on office accommodation reported in favour of the erection of a new block of offices, adjacent to Arlington House, (fn. 787) on land purchased in 1912 from Mrs. Buckpitt and Messrs. Blake. (fn. 788) Some property, also adjacent, belonging to a Miss Blake was bought at the same time. (fn. 789) The tender of Messrs. Hayward & Wooster for £10,979 for putting up this block and adapting the existing offices was accepted. (fn. 790) At least a part of this building was in occupation in 1914. (fn. 791) Demands for space continued. By 1919 the Council seem to have acquired a house in Back Street. (fn. 792) In 1921 they were leasing some property in Fore and Roundstone Streets. These leases were terminated in the same year, when the purchase of Polebarn House (see above—Lesser Estates), an adjacent cottage, and 3 a. of land was approved and the expenditure of £750 on their adaptation authorized. (fn. 793) In 1923 the Council purchased for £1,250 from F. A. P. Sylvester No. 8 Wicker Hill, which lay in front of Hayman's former property. (fn. 794) In 1929 they leased a building in Stallard Street for three years. (fn. 795)
In 1929 it was decided that in view of the passing of the Local Government Act (1929) new offices must be built either at Trowbridge or Devizes. (fn. 796) There was at first some opposition to Devizes as a possible location, but in 1930 by 45 to 27 votes the Council swung round completely in its favour. (fn. 797) A site was selected, and Sir Edwin Cooper, an architect called in to advise in view of continuing dissatisfaction, pronounced his preference for it in 1931. (fn. 798) Further consideration of the project was then adjourned in consequence of the economic crisis, and was not resumed until November 1933. The Council's sub-committee on accommodation then put forward as alternatives the Devizes site and the Trowbridge Town Football Club's ground in Bythesea Road. The Finance Committee voted in favour of the latter and their decision was upheld in Council by 40 votes to 27. (fn. 799) Accordingly in 1934 it was resolved to buy the ground (3 a. 3 r. 36 p.) for £1,650 and to appoint Mr. P. D. Hepworth architect. (fn. 800) The total expenditure on construction eventually recommended to the Council in 1937 was £150,000. In 1938 the tender of Messrs. J. Long & Sons of Bath for erecting the superstructure was accepted. (fn. 801) The staff began to move into the new building in the late summer of 1940 and the Council held its first meeting in the Council Chamber in November, resolving at that meeting that the building be called The County Hall. (fn. 802)
A barracks was erected in the Bradley road in 1794 by a contractor called John Scobell, who built several other barracks in the west of England. It was based upon a design furnished by the Barrack Office for the barracks at Modbury (Devon), which formed a model for several similar establishments. (fn. 803) A troop of cavalry appears to have been stationed in the building by the end of 1802. The approved establishment was for 4 officers and 58 other ranks, and 63 horses; there was hospital accommodation for 10. (fn. 804) The establishment was the same in or shortly before 1816. (fn. 805) The barracks lay in the Severn district (fn. 806) and doubtless had a strategical purpose, but the cavalry it housed was required quite as much for police purposes. The large working-class population in the town and neighbourhood seemed, in an age when there was no rural police, to render the presence of the troops necessary.
After the close of the French wars the barracks appears to have been abandoned. Troops, however, were reintroduced into Trowbridge in 1826 (fn. 807) and were billeted in the inns. Thus a troop of the 3rd Dragoon Guards was stationed in the town in 1830. (fn. 808) The arrangements for billeting were unpopular with the innkeepers, who in 1837 petitioned that the neighbouring towns might share the burden. (fn. 809) Accordingly a system of six-monthly quarterings in Trowbridge, Bradford, and Frome (Som.) was introduced in 1838, (fn. 810) and though it did not satisfy the Trowbridge publicans, appears to have continued for a while. Thus in December 1838 a troop of 28 carabineers was distributed up and down the town. (fn. 811) By May 1839, however, and probably much earlier in the year, Trowbridge was ungarrisoned, though there were troops in Bradford and Frome. (fn. 812)
Normal military arrangements were upset by the Chartist disturbances which took place in the town and neighbourhood in 1838–9. A part of the barracks had been used since at least 1838 to house the Trowbridge Working Men's Association. (fn. 813) The Government decided to put an end to this and also to provide proper quarters in the town for cavalry. Accordingly in March 1839 the repurchase of the barracks from one Taylor at £3,500 was sanctioned. (fn. 814) The conveyance was complete next month, a barrack master was installed and stores ordered for 4 officers and 56 men and horses. (fn. 815) Repairs and enlargements, however, were necessary before the cavalry could be received. In June the purchase of some extra ground was authorized (fn. 816) and eventually eight tenements on the north of the barracks were purchased from James Perkins for £800 for delivery by 6 August. (fn. 817) The building was due for occupation by cavalry on 1 November. (fn. 818) During the interval between March and November the barracks were not untenanted. On 5 May a small force of metropolitan police arrived in the town and were accommodated in one of the officers' houses. (fn. 819) On 5 June they were assaulted in the barracks by an armed party of seven, but the leaders were arrested. (fn. 820) The police were withdrawn on 20 June and replaced by slightly larger numbers of infantrymen. (fn. 821) In February 1840 a troop of the 12th Lancers and a company of the 45th Foot were in the barracks. (fn. 822) In March the expenditure of £1,050. 0s. 8¾d. on the erection of a guardhouse, orderly rooms and prisons was sanctioned. (fn. 823) Troops were still stationed in the town in March 1842 (fn. 824) and perhaps as late as 1865. (fn. 825)
In the 'sixties and 'seventies the barracks was generally empty and housed the fire brigade. (fn. 826) The building eventually became an artillery barracks. Artillery were stationed in the town in 1876. (fn. 827) The 81st Field Battery, R.F.A., left the town in 1899 en route for South Africa. (fn. 828) In 1903 the barracks could accommodate 150 men. The 146th Field Battery, R.A., were then stationed there. (fn. 829)
Town Government and Public Services
Though the history of the courts of Trowbridge capital manor belongs at least as much to the agrarian as to the governmental history of the town there is some advantage in tracing it here. In 1295–6 (fn. 830) and again in 1303–4 (fn. 831) the Lacys enjoyed the profits of a home court and a free court baron. The latter may well be the same as the 'foreign court' which met under that name at least until 1482–3 (see above—Town as Administrative and Military Centre). Throughout the 14th and 15th centuries the usual practice seems to have been to hold three to five home courts in the year, two of them with view of frankpledge. (fn. 832) At the views, which from 1405–6 (fn. 833) are called leets, a blanched farm or certainty of 13s. 4d. was collected. The views and leets met nominally at Martinmas and Hockday. Judging from the surviving records leet as well as ordinary manorial business was conducted at all the 14th- and 15th century courts. In 1501–2 the court met eighteen times, and, so far as the records show, concerned itself only with pleas of debt and trespass. (fn. 834) For 1572 there is a roll for only one court with a view. Between 1596 and 1600 the court met on an average eleven times each year and concerned itself with debt and trespass and the framing of hygienic and agrarian regulations. Admission to burgages and copyholds do not then seem to have formed part of its work. (fn. 835) In 1814 a court leet met at Easter to elect officers. 'In some sense' it also perambulated the parish and presented nuisances, but the sessions were mainly an occasion for conviviality. (fn. 836) The court leet met each Easter Monday from 1837 to 1845 and on Easter Monday 1847 to elect officers and transact certain other business. (fn. 837) It is said that a court leet and baron were still being held in 1849. (fn. 838)
From 1306 a tithingman accompanied by the tithing or by 'the homage' usually presented at these courts and paid the certainty. The presentments mainly concerned raising the hue, bloodshed, and strays. But other offences were sometimes presented. Thus in 1356 (fn. 839) the tithingman and the homage found that the lord's park at Staverton had been broken and that a bound had been unlawfully ploughed up. The homage sometimes acted without the tithingman. In 1385, for example, they separately presented butchers for selling excessively, and next year they declared that the tithingman had made a good and true presentment. (fn. 840) The homage also served, e.g. in 1343, as a petty jury in civil pleas. (fn. 841) In 1303 there was a separate tithmgman for Staverton, (fn. 842) but from 1359 it was customary for 1 tithingman to represent Trowbridge and Staverton together and for another to represent Studley. This arrangement seems to have persisted until 1406. From 1572, however, until the end of the 16th century there was 1 tithingman for Trowbridge and Studley and 1 for Staverton. In 1814 there were 3 separate tithingmen for Staverton, Studley, and Trowle; Trowbridge itself was represented by constables. (fn. 843) In 1837 and 1840–1 there were 2 tithingmen for Staverton and 2 for Studley and in 1838, 1839, and 1843 1 for each place. (fn. 844)
In 1343 the constables presented 15 persons who did not duly make the watch. (fn. 845) They are not met with again until 1595, when there were two of them for the town and liberty. There were 4 constables in 1837, 1839, and 1842 and 2 in 1838, 1839, and 1842. (fn. 846) None was appointed afterwards. Of the officers the most interesting are the coronatores, who from 1342 to 1360 regularly present beasts dead of murain. In 1343 they are called cadaveratores (fn. 847) and in 1356 caronatores. (fn. 848) In 1572 there were two coronatores mercati, (fn. 849) who presented common butchers who had committed statutory offences. (fn. 850) In 1814 the 'cornets of the market', undoubtedly the same officers, inspected provisions and surveyed weights and measures. (fn. 851) The word 'coroner' is peculiar. Perhaps the original function of presenting dead animals suggested to contemporaries a half-comic resemblance to the function of the king's coroner who presented dead men. (fn. 852) Alternatively the word may be falsely derived from caro—a suggestion to which the form caronator lends colour. Aletasters, or as they were called in 1814 'aleconners', (fn. 853) occur from 1349 until 1847. From 1814 to 1847 there were two of them. A hay ward occurs from at least 1360 until 1845. In 1837 a crier was being appointed; his office was combined with that of haywar next year. (fn. 854)
In 1295–6 the lord of the manor of Trowbridge appears to have exercised a peculiar jurisdiction there, for he was then in receipt of the perquisites of a chapter amounting to 10s. 8d. (fn. 855) In 1303–4 the perquisites amounted to 6s. 8d. (fn. 856) In 1371–2 the chapters were let to farm to John Marreys and John bailiff of the rector of Trowbridge, (fn. 857) and in 1382–4 to John Wolf. (fn. 858) In 1375, however, the lord appears to have himself received 6s. 6d. from one chapter. (fn. 859) In a valor of 1393–4 the profits of the chapters are estimated at 8s. 6d., (fn. 860) suggesting that farming had by then been discontinued. In 1430–1 the profits were 3s. 4d., (fn. 861) in 1433–4. 7s. 8d., (fn. 862) in 1438–9 2s. (fn. 863), in 1450–1 8s.6d. (fn. 864) and in 1461–2 8d. (fn. 865) In 1372–3 (fn. 866) and 1383–4 (fn. 867) 6s. 8d. was paid to an official for holding or celebrating the chapters, in 1430–1, (fn. 868) 1438–9, (fn. 869) 1450–1, (fn. 870) and 1461– 2 (fn. 871) the like sum to the Archdeacon of Wiltshire, and in 1472–3, (fn. 872) 1474–5, (fn. 873) and 1477–8 (fn. 874) the like sum to the Archdeacon of Dorset for the same purpose. In 1482–3 the Archdeacon of Dorset received only 5s. (fn. 875) In 1461 a master Roger Fabelle, official of the king's chapters in Trowbridge, is encountered. He received an oak as his customary fee. (fn. 876) His relationship to the intrusive archdeacons is not clear.
The peculiar appears to have passed with the manor to the Seymours, for in 1572 a testament was proved in the manor court. (fn. 877) Moreover, there exists a 17th century seal of John Pelling (Peilinge), Lord Hertford's official in his peculiars of Great Bedwyn, Collingbourne Ducis and Trowbridge. (fn. 878) In 1814 the peculiar of Trowbridge, but not the others, belonged to the Bishop of Salisbury. (fn. 879)
In the 18th and early 19th centuries the government of the town was mainly entrusted to the local magistrates and the vestry. Petty sessions were being held at Trowbridge in 1722. (fn. 880) In 1814 the justices of the peace for the Trowbridge division of Melksham hundred met alternately at Trowbridge and Melksham, (fn. 881) and, when at Trowbridge, apparently at the Woolpack. (fn. 882) They had had a clerk of their own (Elijah Bush) since at least 1809. (fn. 883)
The vestry, first mentioned in 1663, (fn. 884) was evidently 'open'. From the early 19th century the churchwardens and overseers employed several paymasters, who were from time to time summoned as a body to special meetings to consider pauperism or parish buildings. (fn. 885) They were also given an attentive hearing in the vestry. (fn. 886) In 1821 there were 4 overseers, 1 of them expressly allocated to Staverton tithing. (fn. 887) Surveyors of the highways existed in 1799. (fn. 888) In 1816–23 there were 2 for the town and liberty of Trowbridge. In 1818 and 1819 there was 1 and in 1820–3 there were 2 for Studley tithing. There was 1 constable for the town and liberty in 1817 and 2 constables for the same in 1818–23. (fn. 889) A miniature picture of parish government, as it existed in 1834, is to be found in the Appendix to the First Report from the Poor Law Commissioners. There were then 3 overseers, who were assisted by a vestry clerk, acting as paymaster to the poor, and an assistant overseer, who collected the rates. The special paymasters of the last generation appear to have gone. The amounts to be raised in poor-rates were settled at special meetings of the vestry. Applications for relief were heard and determined at monthly meetings of churchwardens and overseers which ratepayers were expected to attend. The parish accounts were audited at a public annual vestry. (fn. 890) The Report only shows the method of dealing with poor-law business, but probably this occupied most of the time of the vestry. It was in the vestry that the townspeople considered, in October 1842, whether a force of special constables should be raised. (fn. 891)
In 1751 a committee was formed to settle the positions of thirty-three street lamps and provide for their maintenance. Money for this purpose was to be raised by voluntary subscriptions. How long this body lasted is not known. (fn. 892) A body of forty-nine paving, lighting, and cleansing commissioners was set up by Act of Parliament in 1799–the year in which, by a separate Act, the 'Trowbridge roads' were entrusted to a reformed commission. The paving commissioners were to be local residents of substance. They were empowered to appoint one or more treasurer, clerk, assessor and rate collector, collector or receiver of tolls, surveyor, and scavenger. They were to raise funds by levying Sunday tolls at the town turnpikes and by special rates. (fn. 893) The powers of the paving board were transferred to the Trowbridge Local Board (see below) by Home Office Order in 1870, confirmed by statute next year. (fn. 894)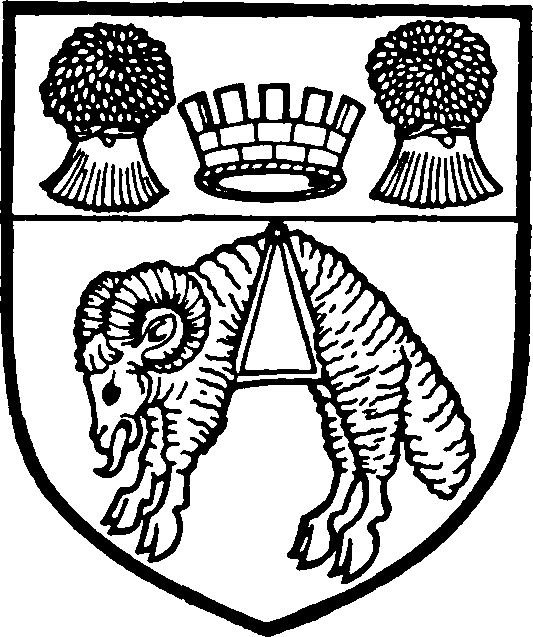 A Local Board of Health was established in 1864. (fn. 895) It first met in 1865 and set a rate of 8d. in the £ on houses and 2d. in the £ on land. (fn. 896) An Urban District Council of twenty-one members was established in 1894. (fn. 897) In 1925 it resolved that it would be in the town's interest to obtain a charter. An Incorporation Committee, jointly constituted of members of the Council and of the Trowbridge and District Chamber of Commerce, was set up. (fn. 898) Further proceedings have not been traced, but it is said that an application was lodged but was refused. (fn. 899)
In the Urban District Council offices are the minute books of the Local Board and the Council itself complete from 1865. From 1926 the minutes are printed. Indexes exist from the beginning. There is also a range of committee minute books, of which the earliest seems to be that of the Sanitary Committee, 1908 to 1917.
In 1871 the Local Board was meeting twenty times a year in a hall, leased at £12 yearly with service. (fn. 900) In 1887 the present Town Hall was opened and the Board and Council have since sat there. The Town Hall was presented to the town by Sir Roger Brown and cost £20,000. (fn. 901) On the ground floor is the Sessions Court where Divisional Petty Sessions are now held fortnightly. (fn. 902) In 1903 they were held monthly. (fn. 903) The building contains a South African War Memorial (unveiled 1903) (fn. 904) and a tablet to the memory of Sir Isaac Pitman (unveiled 1913). (fn. 905)
A parish pump formerly stood in Back Street against the churchyard wall. It was sold in 1790 for £2. 9s. (fn. 906) In or shortly before 1844 Joseph Slade, of Trowbridge, dug a well and built a pump on the north side of Lower Broad Street, Conigre, for the free use of the inhabitants. In 1844 he gave a house in that street, the rent arising from which was to be applied to the maintenance of the pump. In 1897 the charity was regulated by a scheme. By 1903 the well water had been declared unfit for drinking, and the house was out of repair. (fn. 907) In 1908 the house was sold for £40 and the money invested for the benefit of the Cottage Hospital. (fn. 908) In the 19th century there was also a pump near the blind house. (fn. 909) No doubt such wells as these and the waters of the Biss and other brooks were originally the only water supply of the town. In 1864 a Trowbridge Water Works was established on the west of the town to furnish a supply of spring water. (fn. 910) By 1865 the reservoir had been excavated and was fit for puddling, and the iron pipes for the mains were arriving on the site. (fn. 911) The well was eventually sunk to a depth of 159 ft. 6 in. The site was not perhaps well chosen and the works were put up for sale in 1871. (fn. 912) In that year the Trowbridge and District New Water Company was formed. It was dissolved in 1873 and reincorporated by Local Act of Parliament, as the Trowbridge Water Company, to supply the town and the neighbouring villages of North Bradley, Steeple Ashton, Hilperton, Upton Scudamore, and Semington. The Company was empowered to take water from the Biss, Semington, and Paxcroft Brooks, subject in the case of the last two streams to certain limitations imposed in the interests of the owners of Staverton factory. The reservoir was on the Biss in Westbury parish, and a pipe line ran thence into the waterworks across the Frome Road near the barracks. Compensation water was to be supplied to Messrs. Brown & Palmer's Ashton Works. (fn. 913) In 1878 powers were taken to extend the area of supply and to extinguish the interests of Staverton factory. (fn. 914) In 1926 the Company was authorized to construct a reservoir and aquaduct in Hilperton parish. (fn. 915) In 1931 by the Trowbridge and District Water Board Act a new board was incorporated to take over the powers of its predecessor. It was to consist of representatives appointed by the Urban District Councils of Trowbridge and Melksham, and the Rural District Councils of Melksham and Westbury. The mill owners using the Biss were to be supplied with compensation water. (fn. 916)
A company to supply the town with gas was formed in 1824. Its works were at Gooseacre. (fn. 917) Its history has not been traced. In 1880 the British Gas Light and Coke Co., Ltd., were empowered by local Act of Parliament to maintain gas-works and supply gas to Trowbridge, Staverton, Studley, Hilperton, West Ashton, Semington, and Wingfield. (fn. 918) A gas-works was to be established near the railway station on land belonging to E. E. Porter. Further powers were taken in 1918 and 1925. (fn. 919)
By local Act of Parliament in 1901 the Trowbridge Urban District Council was authorized to supply the urban district with electric light. Mains were to be laid down within two years in Stallard Street, Wicker Hill, Fore Street, Silver Street, and Roundstone Street. (fn. 920) This Act was repealed in 1904, and the Western Electric Distributing Corporation Ltd. were authorized to supply the urban districts of Trowbridge and Bradford and the rural district of Bradford. The Trowbridge Urban District Council was empowered to purchase so much of the undertaking as fell within their district. (fn. 921)
In 1811 the churchwardens were directed to provide a proper place for a fire-engine house, (fn. 922) and in 1816 George Haden was paid £3. 5s. for repairing the engine. (fn. 923) A new engine was purchased in or shortly before 1821 for £53. 13s. (fn. 924) Until 1846 it was kept under the church tower. (fn. 925) In the 'sixties and 'seventies it is said to have been kept in the barracks (see above— Town as an Administrative and Military Centre) which was usually empty. (fn. 926) Through the efforts of the Revd. Harry Sanders (1862–1929) an up-to-date engine and fire-station were provided. (fn. 927) The firestation is now at the County Cricket Ground.
In 1665 a pest house is said to have been established as a quarantine station. It stood at the south corner of 'Choksalls', near the Biss. The house had gone by 1814. (fn. 928) In 1870 a cottage hospital was established at Fernleigh House in Church Street, (fn. 929) evidently in connexion with the Tabernacle Church. (fn. 930) The foundationstone of a new cottage hospital with eight beds was laid in the Halve in 1883. (fn. 931) The costs of erection were met by Jesse Gouldsmith, partly by gifts during his lifetime and partly by bequests. The nuclear site was conveyed in trust in 1885 and additional land in 1892, 1894, and 1896. The first two gifts were made by Hannah Gouldsmith, Jesse's relict, who also gave some houses in the Halve towards an endowment under a trust created in 1902. In the same year other houses there were conveyed in trust by Sir Roger Brown, who also by his will, proved in 1902, bequeathed £1,000. In 1902 the hospital was still managed by a committee of five as provided by the trust deeds of 1886. There were then seven honorary medical officers, an honorary dental officer, a matron, and a nurse. (fn. 932) In 1927 Adcroft House, formerly the home of Burchell Rodway, was purchased as the site and nucleus of a new hospital. Building was begun in 1928, and the hospital opened in 1929. Messrs. A. J. Taylor and A. C. Fare, of Bath, and W. W. Snailum, of Trowbridge, were the architects. (fn. 933) The old cottage hospital building was bought by the County Council in 1929 as a new site for the Trowbridge school clinic, which, since at least 1923, had been situated in Bythesea Road. (fn. 934)
Bodman has described the town watch as it existed in 1814. It patrolled in the summer only. Beginning at the top house in Hilperton Lane, six householders were warned each day to serve in person or by deputy. At 8 p.m. they were charged at the bailiff's house to watch until 6 a.m. next day, to examine passers-by and take into custody vagrants and any who could not account for themselves. A constable, generally the most respectable of the watchmen, was appointed. When the watch had traversed the urban area it was suspended until next year. Bodman connected these arrangements with a system of watching surviving from the days of the castle. (fn. 935) The suggestion is plausible. In 1552 every ' Mondaysland' was bound to find a watchman to keep for three nights the felons taken in the manor. (fn. 936) It is not impossible that in course of time the burden should have been extended to all householders. If the bailiff referred to was a Duchy officer—a bailiff of the honour existed in 1451–2 (fn. 937) —support is given to the argument for antiquity. The ancient police services of township and manor were supplemented in the early 19th century by measures of self-help, characteristic of the age. A Trowbridge Prosecution Society was founded in 1800 and still existed in 1828. (fn. 938) A Trowbridge Tradesmen's Association, to repress robberies, was in existence from 1821 to 1845 and perhaps longer. (fn. 939)
A two-chambered lock-up known as the blind-house stands beside the Town Bridge and formerly bore the date 1757. It was still in use in the 19th century. (fn. 940) It was damaged by a mob in 1826 (fn. 941) and by enemy action in the Second World War. A stone ball surmounting the building has given the town a mascot; the townspeople traditionally bear the name Trowbridge 'knobs' in contradistinction to Bradford 'gudgeons' who are named from the emblem of that fish once erected above a similar building on Bradford bridge. (fn. 942) The building seems to have been in use until the police station (see below) was opened in 1874. Stancomb, as lord of the manor, then gave Chapman, a local tradesman, permission to store petroleum in it, presuming it to be part of the waste of the manor. The Standing Joint Committee seems to have wished to demolish the building in 1895, (fn. 943) and the County and Urban District Councils thereupon proceeded to debate its ownership. The county clerk made an oral statement on the subject in 1909, but nothing was placed on record by the Council. (fn. 944)
In 1814 there was a ducking-stool near Trowle Bridge. (fn. 945) In the 19th century there were stocks before the blind-house (fn. 946) and on Trowle Common. (fn. 947) In 1853 a committee of the County Quarter Sessions considered the provision of lock-ups in each Petty Sessional Division. The committee reported that a dwelling for a superintendent and two constables should be provided in each division. In pursuance of this, 1 r. 1 p. of land in a pasture called Innox in Trowbridge was conveyed to the justices by H. G. G. Ludlow for £250. (fn. 948) Here a police station was erected and in it petty sessions were being held in 1859. (fn. 949) In 1874 the police station was enlarged. (fn. 950) In 1926 a new police station in Polebarn Road was opened and the former premises conveyed to the Wiltshire Working Men's Conservative Benefit Society. (fn. 951)
The People's Park, now of 14½ acres, to the south and east of the Town Hall, originated in the purchase of 4½ acres from William Walker, woollen manufacturer, in 1884. The ground was opened in that year, purchased by public subscription in 1887 and vested in the Urban District Council. In 1919 W. Jenkins, a native of Trowbridge, gave the town the field of about 10 acres stretching from the original Pleasure Grounds to the Biss. The park is now equipped with hard-tennis courts, and bowling- and puttinggreens. It also contains a bronze figure of a soldier, commemorating the 300 men of the town who were killed in the First World War. (fn. 952) Beyond the Park is an open air bathing-pool opened in 1939. (fn. 953) A public bathing-place already existed at more or less the same point in 1903. It was then controlled by the Rural District Council. (fn. 954)
A cemetery of 10 acres, at the Down, was formed in 1856 at a cost of £5,045. It is under the control of the Urban District Council as successors to the Trowbridge and Staverton Joint Burials Committee. There are two mortuary chapels. (fn. 955) The cemetery contains the mausoleum of Lady (Roger) Brown, whose husband left the interest on £300 2¾ per cent. Consols for its upkeep. (fn. 956)
The earliest record of a postal service in Trowbridge is 1672. (fn. 957) In 1769 a William Ball was appointed postmaster. (fn. 958) In c. 1791 there were posts to and from London six days a week, (fn. 959) in 1830 a daily horse post routed via Melksham. (fn. 960) In 1855 the post office was in Back Street. (fn. 961) The present office is housed in a building in Fore Street leased to the Postmaster-General. It was opened in 1911 and almost rebuilt in 1936 at a cost of £1,550. (fn. 962) A telegraph service was introduced by the Post Office in 1870 (fn. 963) and a telephone service by the National Telephone Company in 1898. (fn. 964)
Churches
The advowson descended in the same way as the main manor until 1809. (fn. 965) After the death of the Earl of Surrey in 1347 the Crown presented. The Countess Joan at first objected to this intrusion, but later agreed to submit on the understanding that future rights would not be prejudiced. (fn. 966) In 1553 the advowson was granted to Thomas Seymour and Roger Blake, (fn. 967) presumably by way of lease or mortgage. In 1555 the advowson of the 'vicarage' was conveyed, with Trowbridge Dauntsey manor, under a settlement by Christopher Dauntsey to Christopher Aleyn. (fn. 968) Here again a lease or mortgage must be suspected. The advowson was not included in the sale of the manor to Timbrell in 1809. (fn. 969) In 1779 the next turn of presentation had been vested in Charlotte, Countess of Aylesford by the private Act of that year. The Dukes of Rutland execised the patronage from 1814 until 1863 when the advowson passed to trustees. It was then purchased by the Revd. J. D. Hastings, Rector, and handed over to the Church Patronage Society the present patrons. (fn. 970)
In 1125 a portion of 10s. out of Trowbridge rectory was granted by Humphrey de Bohun to Monkton Farleigh priory. (fn. 971) The same portion, then rated at 20s., was still payable in 1291 (fn. 972) and 1428. (fn. 973) In 1236 William Longespée confirmed to Trowbridge church the Countess Ela's gift of a messuage. (fn. 974) In 1291 the value of the rectory was £8. (fn. 975) Out of this the rector in 1341 paid a pension of 4s. to the vicarage of Steeple Ashton and £7. 6s. 8d. in stipends to two chaplains celebrating in Trowbridge parish. In augmentation of the benefice the rector was endowed with a messuage and carucate and certain tithes and oblations. Together these were said to be of equivalent value to the outgoings. (fn. 976) The gross value was the same in 1428. (fn. 977) In 1535 the gross value was £21. 7s. 4d.; its net value, after deducting procurations (10s. 9d.), the pension to Steeple Ashton, and the two curates' stipends, was £17. 19s. 3d. One of the curates was by this time serving Staverton chapel (see below) and the other receiving 4s. 4d. (fn. 978) By his will dated 1640 James Davis, of Trowbridge, mercer, bequeathed £1 to the church. (fn. 979)
In 1671 the property of the benefice consisted of the parsonage with its garden and orchards, a cottage and garden adjoining, 2 barns and other farm buildings, a cottage and 3 gardens in Adcroft Lane, about 45 a. of meadow or pasture, and 10½ a. of arable. Amongst other sources of tithe revenue 10s. was payable at Easter by the 2 mills of Trowbridge, and every parishioner whose back door opened upon the churchyard paid 6s. The terrier from which these details come contains some later history of the ancient portion payable to Steeple Ashton. It is explained that six grounds on the north-west and eight grounds on the south-west of Steeple Ashton common and lying within Steeple Ashton parish were tithable to Trowbridge, but that in lieu of this portion a rent of 4s. was customarily paid to Steeple Ashton. At some unspecified date, the terrier adds, the Vicar of Steeple Ashton had questioned Trowbridge's right to this portion but when it was demonstrated to the bishop that for fifty years the lands had tithed with Trowbridge the vicar desisted from his claim. (fn. 980) It is known from other evidence (fn. 981) that in 1609 the occupiers of these grounds refused to pay their dues to Trowbridge and that thereupon the churchwardens of Trowbridge in a test case sued one occupier in 'the ecclesiasticall court of Sarum'. Steeple Ashton parish supported the defendant, but evidently lost or abandoned the case. It is not clear whether this is the incident to which the terrier refers. Before the time of Dr. Ekins, Rector 1774–1808, some of the glebe-land had been let for building plots, Ekins, as ground landlord, tried unsuccessfully to sell the land to the occupiers, thus alienating a part of the glebe. (fn. 982) In 1797 all tithes were taken by composition. (fn. 983) In 1814 the benefice was worth £700–£800 a year, (fn. 984) in 1939 £684 with residence and 4 a. of glebe. (fn. 985) In 1949 the greater part of the glebe was sold for £6,500. Of the proceeds £4,000 was invested to augment the rector's stipend; it yields £100. (fn. 986)
Portions of the ecclesiastical parish were lost to Staverton and Holy Trinity, Trowbridge, in 1839, (fn. 987) and to St. Thomas, Trowbridge, in 1870. (fn. 988) Procurations and synodals were released in 1876. (fn. 989)
The rectory house, of 2 stories with an attic, is of 16th-century date, with additions of the 17th, 18th, and early 19th centuries. (fn. 990) Some structural work on the rectory, which had cost £183. 15s. 4d., was completed in 1902. (fn. 991) In 1949 £2,500 (a portion of the proceeds of the sale of the glebe) was spent in relaying the roof and in rearranging the interior to form two separate dwellings. Crabbe's study, with its original fittings and bookcases, was preserved. (fn. 992)
In excavations in Court Street carried out in 1902 and 1924 there were discovered several human skeletons and four 12th-century tomb-stones. (fn. 993) The tomb-stones consist of a tapered slab bearing a cross with wedge-shaped limbs in relief; an unusually constructed monument combining head- and foot-stones and decorated with semicircular arcades; a stone decorated with diaper work and inscribed to the memory of a girl called Aceline; and another stone (probably the earliest) crudely carved with a cross in relief and commemorating an infant. Since these burials were made inside the castle area they have hitherto been thought to show where the castle cemetery lay. It is, however, more probable that they mark the site of the original parish church. There is a persistent tradition that the parish church, which even in 1842 was still called the 'new' church, (fn. 994) has not always stood upon its present site. It has, however, previously been assumed that the 'old' church was near the rectory. (fn. 995) Be this as it may, it is unlikely that tombs of such elaborate workmanship would have been placed in the yard of a castle chapel or even within the chapel itself; and other cases could be cited of parish churches, originally standing within a castle wall, which for greater convenience have been moved outside it.
The present parish church, dedicated to ST. JAMES, is of ashlar, and consists of a nave, north and south aisles, each with a porch surmounted by a parvise, (fn. 996) chancel, flanked by two chapels in prolongation of the aisles, and west tower. There are battlemented parapets to all the roofs, with pinnacles, and a fine series of grotesque gargoyles. The tower is in three stages with a battlemented parapet and angle pinnacles and terminates in a tall slender spire, decorated with three bands of traceried panelling. Remains of a 13thcentury building are said to exist in the present tower and some capitals and shafts of that period were discovered at the restoration of 1846–8. (fn. 997) The tower and spire (fn. 998) are thought to be of the 14th century. The main body of the church, however, the existing casing of the tower, and the octagonal font with emblems of the Passion on its panels are of the late 15th century.
Thomas Long, a Trowbridge clothier, by his will proved in 1562, left £2 towards the repair of the church. (fn. 999) The absence of 16th- and 17th-century churchwardens' accounts prevents us from knowing how much care was lavished on the fabric. In the 18th century, however, the church seems to have been often and not very skilfully repaired. In 1789 the bishop instructed the churchwardens to make 'casements for admission of air', to repair the sunken stone floor and the flooring below the seats in the Duke's Aisle (see below) and remove the earth that had been piled against the wall outside. Certain instructions were given at the same time in the interests of more hygienic sepulture. In 1792 the ceiling was embellished and whitewashed. (fn. 1000) John Clark, by his will dated 1802, had left inter alia 100 guineas towards the erection of an organ (fn. 1001) and the interest on £400 towards an organist's salary. (fn. 1002) An organist, apparently the first, was appointed in 1806, at a salary of £20 together with the profits of the foregoing bequest. The sum of £63. 19s. was subscribed towards the expenses of a gallery in which to house the organ. (fn. 1003) At some unknown, but presumably near, date Thomas Dundee, of Trowbridge, gave £200 to complete the instrument. (fn. 1004) It may be remarked that the income from the Clark bequest now brings £10. 10s. and is still applied towards the augmentation of the organist's salary. (fn. 1005) That salary amounted to £30 in 1903. (fn. 1006) It now amounts to £65. (fn. 1007)
At an uncertain date four headless draped figures, now housed in the garden of the Town Hall, appear to have been taken from the church and cast into the castle ditch. Their draperies suggest a 15th-century date, while in size they would fit the vacant niches between the clerestory windows. Their provenance, however, is speculative and the tablet beside them not illuminating. By 1814 most of the gargoyles, which within memory had been visible, had been severely mutilated—doubtless in consequence of repeated botchings. (fn. 1008) In 1812 the vestry decided, despite representations to the contrary from some parish paymasters, that the steeple did not need repairing. (fn. 1009) In 1825, however, some masonry fell from it. (fn. 1010) In 1833 it was decided to move the side galleries farther back and erect beneath them 200 extra sittings, all free. The work cost £303. 4s. 2d., raised by subscription. (fn. 1011) In 1844 the 'Bude Light' was installed. (fn. 1012)
By the middle 19th century the building was in a bad condition. The spire was out of the perpendicular and was held together by iron bands. The piers of the nave inclined inwards and the walls were tied together with bonds. The nave roof had sunk considerably and its carving was clogged by several coats of colouring. The base of the tower was filled by the heating apparatus. (fn. 1013) The joists and flooring of the church and of the vaults beneath were decayed and insecure. (fn. 1014) In 1846 stones actually began to fall from the tower. A thorough restoration was decided upon. (fn. 1015) A faculty was applied for and granted in 1847 for the removal of the box pews, which varied in height, shape, and size, the replacement of joists and flooring with new materials, the repair of the vaults, the removal of the west gallery and the 'Grecian' altar-piece that 'nearly stopped' up the east window, the transfer of the organ, 'a large old instrument', from under the tower arch to the south porch. (fn. 1016) The upper half of the spire, chancel, south chapel, nave arcades, and clerestory were rebuilt in the style of the original and the pitch of the roofs of nave and aisle lowered. (fn. 1017) In pursuance of the faculty, new pews, increasing the accommodation from 893 to 996, were introduced and arranged 'stall-wise' in two or three tiers. The organ was shifted to the south porch, (fn. 1018) whence a carved stone chimney piece with three heraldic panels was removed to the vestry. (fn. 1019) A new communion table was presented by the Sundayschool teachers. Samuel Salter presented a new clock, to replace the 30—hour clock that had become useless through the alterations at the west end. (fn. 1020) The restoration was completed in 1848. It cost in all £7,000– £8,000, of which £1,200 was, under the faculty, to be raised in the town by a rate of 1s. 6d. in the £. (fn. 1021) The successful completion of the work owed much to the energy of the rector, the Revd. J. D. Hastings, who helped to find the money by publishing an edition of Crabbe's sermons and a description of the old and new buildings called The Church Restored. (fn. 1022)
In 1865 the organ was entirely rebuilt. (fn. 1023) In 1873 the sum of £129. 5s. 1d. was raised for laying a pavement of encaustic tiles in the chancel, lowering the reading-desk and pulpit and placing the latter where it stood at the time of the restoration. The reflooring of the chancel was completed in 1876. An extra £54. 15s. was subscribed for the purpose, but the work owed something also to the generosity of Alexander Mackay, who in the same year presented a brass lectern executed by Mr. Singer, junior, of Frome. (fn. 1024) In 1907 a further restoration was undertaken at an approximate cost of £4,000. The 'stall-wise' pews were turned to face the east, and a central aisle cut through the pews in the nave. The organ was moved to the north chapel and the vaulted ceiling, removed to house the organ, replaced. At the same time the south porch was restored. In 1908 a carved stone reredos was erected. Between 1926 and 1930 the battlements and pinnacles were renewed at a cost of £2,600. (fn. 1025) In 1931 a combined warm air and hot-water heating apparatus was installed. (fn. 1026) T. C. Usher gave the electric light installation in 1914 and a chiming clock in 1934. (fn. 1027)
A chapel at the east end of the south aisle, now commonly called the Duke's Chapel, but formerly the Duke's Aisle, was long annexed to Trowbridge manor. In 1875 William Stancomb, then lord of the manor, made over his rights therein to the rector and churchwardens. It was consecrated as a chapel in memory of J. H. Starkey of Trowbridge in 1935. (fn. 1028) Below the chapel is buried Charles, 2nd Lord Seymour of Trowbridge (d. 1665).
In 1484 James Terumber, the Trowbridge clothier, gave all his lands in Trowbridge, Studley, Broughton Gifford, and Bradford in trust for the maintenance of a chantry priest after his death to sing divine service in a prescribed manner. (fn. 1029) Leland states that the 'notable fair house' that the founder had built in the town formed part of the endowment. (fn. 1030) The clear annual value of the chantry at its suppression was £14. 9s. 1d. The incumbent was well learned and had occupied himself in keeping a school ever since he came. The inhabitants of Trowbridge petitioned for the continuance of the chantry, because there were 500 communicants in the parish and none beside the chantry priest to help the vicar. (fn. 1031) The chantry, however, did not survive. Two messuages in Trowbridge 'High Street' belonging to it were leased to William Cowper in 1542, and its lands in Broughton, or some of them, were granted to John Barwicke, of Easton, and Robert Filke, of London, in 1549. (fn. 1032) In 1548 the chantry furniture, valued at the dissolution at 14s. 4d. and at sale 8s. 2d., was sold. It consisted of a parchment mass book, a pair of vestments of red silk, another pair of green silk, another pair of black camlet, two altar cloths, two corporal cases, a pair of brazen candlesticks, and a little pillow. (fn. 1033) In 1563, 16 tenements, 7 'rooms' (6 of them in Trowbridge almshouse), and 3 shambles in Trowbridge and Bradford, 8 other tenements, and one tenement in Beckington (Som.) were leased to Alexander Langford at a rent of £14. 16s. 4d. In the same year lands in Studley, formerly belonging to the chantry, were granted by the Crown to Cecily Pickerell, provided it were established that they had been concealed. (fn. 1034) 'Chauntry Close' in Trowbridge (valued 6d.) was recognizable in 1574, (fn. 1035) and Trowbridge chantry lands in Bradford in c. 1660. (fn. 1036) It has been assumed that this chantry was housed in the North, commonly called the Wyke, Chapel. This was the patrimony of the owners of Staverton Wick manor and is alleged to have descended with the manor. In 1907 the private interest was purchased from the Clerk family and presented to the church. (fn. 1037)
A brotherhood of Corpus Christi in Trowbridge parish church owned at its dissolution lands of the clear annual value of £1. 14s. 6d. The churchwardens declared that the lands had not been employed towards finding a priest for more than five years but had been converted to the repair of the surrounding highways. (fn. 1038) The chantry furniture, valued at 8s. 2d. at the dissolution and at 4s. 3d. at sale, was sold in 1548. It consisted of 2 mass books, 1 printed and 1 written, 2 pairs of parti-coloured vestments, 2 corporal cases with 2 cloths, another cloth, an old silk cope, 2 red silk curtains, a pair of latten candlesticks, and a silk cloth to hang before the altar. (fn. 1039)
The monuments in the church are numerous but only eighteen precede the restoration of 1846–8. (fn. 1040) The most notable is that to the Revd. George Crab be, Rector, by E. H. Baily, placed in the chancel in 1833. The funds for its erection were publicly subscribed. (fn. 1041) Crabbe's skull was stolen from his coffin in 1847 but recovered and replaced in a specially made casket in 1876. (fn. 1042) The church also contains memorials to the officers and men of the 2nd/4th Battalion, the Wiltshire Regiment, who were killed or died in 1914–19 and to the officers and men of the 81 st Battery, Royal Field Artillery, who were killed in the South African War.
The churchyard was enlarged in 1769 by the addition of a piece of land 100 ft. by 60 ft. (fn. 1043) It was inclosed in 1790–2. The pavement of the churchyard walk was renewed in 1803. A further addition (4,608 sq. ft.) was made to the churchyard in 1811, by the destruction of two adjacent houses which were purchased for £100 out of a fund raised from the sale of the materials of the neighbouring almshouse (see below—Charities), which was demolished. (fn. 1044) The graveyard was closed in 1856. (fn. 1045) The gravestones have mostly been removed, but the altar-tomb of Thomas Helliker, a youth executed in 1803 for alleged complicity in machine-breaking riots in 1802, remains.
The registers date from 1538 and are complete. A manuscript index of much later date is kept with them. (fn. 1046) A considerable quantity of other parochial records is kept in a cupboard in the north-east pillar of the tower and in the south parvise chamber. These include a vestry minute book, 1789–1905, vestry order book, 1807–1826, poor-rate assessment books, 1740–1835, church-rate book, 1763–1764, volumes (presumably overseers' accounts) called Payments to the Poor, 1708–1748, 1754–99, 1801–1836, receipts and disbursements of overseers, 1739–1742, 1773–1828, seat-rent book, 1874–1893, Sunday-school register, 1878–1894, charity-distribution book, 1760–1782, charity accounts, 1807–1910, a register called Money Collected and Disbursed on the Highways, 1790– 1802, surveyors' accounts, 1817–1823, and copies of the population returns of 1821 and 1831. There are also bundles of apprenticeship indentures, bastardy papers, militia papers (1759–1815), jail and marshalsea money receipts (1743–1765), vagrancy examinations and certificates, removal orders (1684–1851), settlement certificates, tithe rent charge redemption certificates, faculties, and deeds and wills relating to parochial, school, and charity lands. (fn. 1047) The deeds include the Terumber chantry deed (1483), and an annuity bond in favour of Terumber (1487). (fn. 1048) The tithe award map (1838) and accompanying terrier are in the Urban District Council's custody.
Edward VI 's commissioners left for the parish a chalice weighing 14 oz.; 25 oz. of silver were taken for the Crown. There are now two chalices and two patens, hall-marked 1870, the gift of Maria Waldron, of Trowbridge. There is a third paten, hall-marked 1701, the gift of John Davis. There is a tankard-type Britannia metal flagon, hall-marked 1708, the gift of William Brewer, a prosperous Trowbridge clothier, in 1707. There are four silver alms-dishes, one of 1814, one of 1845, and two of 1873. An 18th-century silver spoon and a small scalloped oval dish were given by G. A. Mackay in 1880. (fn. 1049) Two additional silver almsdishes were given by Catherine M. Meade in 1906. (fn. 1050)
The same commissioners left five bells and a sanctus bell for the parish. In 1800 the earliest of the existing bells (5 to 9 and the Sanctus bell) were recast into 8. In 1870 the tenor was recast. Bells 3, 4, and 10 were recast in 1912, when the whole peal was rehung. Bells 1 and 2 were added to the peal in 1923 as a war memorial. Trowbridge was the first church in the diocese and county to possess a peal of twelve bells. C. M. Lansdown (d. 1940) originated the scheme which was realized in 1934 with the generous support of T. C. Usher. The renovation of 1934 cost £1,200. (fn. 1051)
A Sunday school existed in 1811 when it was resolved to fit up the then school house for the use of the Sunday school children. (fn. 1052) There were 230 pupils in 1818. (fn. 1053) Samuel Pitman, though a Baptist, was at one time superintendent, and his sons Jacob and Isaac teachers. (fn. 1054) In 1835 the Sunday school was connected with the National school and had 101 male and 106 female pupils. (fn. 1055)
The church of ST. STEPHEN, at the south end of Castle Street, was established as a chapel of ease to St. James's in 1863 in the former Bethel Chapel (see below—Protestant Nonconformity). On its conversion to Anglican use a tower with a spire was added to the building. (fn. 1056) The church was closed in 1924 (fn. 1057) and demolished in 1926 (fn. 1058) under a faculty obtained in 1925. (fn. 1059) The buildings and organ were sold at a net profit of £156. 2s. 1d. (fn. 1060) The stones were used in building the Co-operative Hall. (fn. 1061) The church possessed two chalices, a paten and a flagon, all plated and presented by T. W. Hardman in 1859, and two almsdishes presented by the Revd. J. L. Prester in 1863. (fn. 1062) This plate was given to a mission station at Dornakel, Deccan, South India. (fn. 1063)
The plans of an iron mission church in Upper Broad Street, in connexion with St. James's, were approved in 1887. (fn. 1064) The proceeds from the sale of St. Stephen's were devoted to its maintenance. (fn. 1065) (fn. 1066) The room was closed in 1940 and has now been pulled down. (fn. 1067)
In 1835 an appeal was opened for funds for the erection of a new church in Trowbridge, and in 1838 the church of HOLY TRINITY, with 1, 200 sittings, was built from designs by A. F. Livesey of Portsmouth. (fn. 1068) It is cruciform, in the 'Early English' style, with a tower on the south. The total cost of erection amounted to £6,404. 8s. 4d., of which £3,959. 18s. 6d. was raised privately, £400 contributed by the Salisbury Diocesan Church Building Society, £400 by the Incorporated Church Building Society, and £1,644. 9s. 10d. by H.M. Commissioners for Building Churches. (fn. 1069) In 1839 a new ecclesiastical parish, which Holy Trinity was to serve, was formed out of the tithings of Studley and Little Trowle. (fn. 1070) In 1858 parts of this district were assigned to the chapelry of Studley. (fn. 1071) The patronage was vested in the rectors of Trowbridge in 1843. (fn. 1072) The living was endowed in 1843 with £80 out of the Common Fund and in 1845 with a sum towards a residence. (fn. 1073) The church has greatly benefited from the bounty of the Stancomb family. The reredos, credence table, bishop's stall, and sedilia were presented by the children of A. P. Stancomb. (fn. 1074) Capt. A. J. G. Stancomb (ob. 1938) provided the electric lighting and adorned the east end and transept chapel. (fn. 1075) The organ and choir stalls were placed in the church by public subscription in 1888. A Sunday school existed in the late 1830's. (fn. 1076) An old carved chest for records was presented in 1911 by F. H. Woods, of Trowle Farm, Wingfield. (fn. 1077) Two chalices, two patens, and flagon, hall-marked 1838, were presented by the Revd. J. H. Pinder, the first vicar. (fn. 1078) There are also two Sheffield plate alms-dishes. There is one bell. (fn. 1079)
The ecclesiastical parish of ST. THOMAS was formed out of Trowbridge and Staverton in 1870. (fn. 1080) The living, which is a vicarage in the gift of trustees, was endowed the same year out of the Common Fund with £50 yearly (fn. 1081) and in 1871 with £3. 6s. 8d. yearly and £800 for a parsonage. (fn. 1082) The foundation-stone of the church of St. Thomas the Apostle, a cruciform building in 'Early English' style, was laid by Thomas Clark, of Bellefield, in 1868 in memory of his deceased father, who had provided funds for its erection. It was opened in 1870. In 1880 the relict and children of Christopher Tayler, M.R.C.S. (d. 1878), as a memorial to their husband and father, endowed the church with £300 for the maintenance of services. (fn. 1083) A chalice, paten, and flagon, hall-marked 1869, were given by W. P. and J. B. Clark. (fn. 1084) Another paten, hall-marked 1917–18, was given by S. H. Williams in 1918. (fn. 1085) There are four bells. (fn. 1086)
The ecclesiastical parish of Studley was formed out of Trowbridge in 1858. (fn. 1087) The living, which is a vicarage in the gift of the rector, was endowed out of the Common Fund with £34 (1861), (fn. 1088) £8. 13s. 4d. (1866), (fn. 1089) and £15. 13s. 4d. (1881) (fn. 1090) p.a. The church of ST. JOHN was begun in 1852 from designs by W. H. Wilkins, a native, to whom there is a memorial window in the nave. The lectern came from the demolished church of St. Stephen. (fn. 1091) The parish possesses a chalice, a paten, and a flagon, all hall-marked 1853 and presented by Miss Waldron of Trowbridge. (fn. 1092) Another chalice, hall-marked 1914–15, was given by Miss Sarah Wilkins in 1915. There is also another (plated) paten. (fn. 1093) There is one bell. (fn. 1094)
One of two curates attached to Trowbridge church in 1535 was perpetual curate of Staverton. (fn. 1095) This is the first (implicit) mention of Staverton chapel. In 1656 it was proposed to unite the chapelries of Holt (in Bradford) and Staverton, but the plan does not seem to have been realized. (fn. 1096) In August 1658 an inhabitant of Devizes deposed at Quarter Sessions that one Bayly of Staverton had told him, about twelve months before he became churchwarden, that there had long been no prayers said in the church because Staverton belonged to another place; that the pulpit cloth was in one man's hand, the communion table cloth in another's, the silver bowls in another's and that the bell was to be sold. (fn. 1097) In 1839 the chapelry was formed into a separate ecclesiastical parish. (fn. 1098) Parts of this were lost to the new district of Trowbridge St. Thomas (see above) in 1870.
In 1125 Humphrey de Bohun gave Monkton Farleigh Priory the tithe of his lordship of Staverton. (fn. 1099) In 1538 these tithes were leased to Christopher Dysmars, (fn. 1100) and in 1549 granted to Robert Woode of the Inner Temple, London. (fn. 1101) Sir Henry Viner died seised of them in 1626. (fn. 1102) From 1650, when they are next noticed, until 1667, they descended as the manor of Godwell and Chapmanslade in Westbury to the Minshulls. Upon the partition of the Minshull inheritance in 1667 they passed to Mary wife of Thomas Bythesea. They are last encountered in 1716 when they were conveyed by the Bytheseas to John Lewis, (fn. 1103) but whether absolutely or in settlement has not been determined. It was stated in 1671 that the tithes of Staverton were paid by 'an ancient composition or custome'. The greater tithes of demesne were not paid to the Rector of Trowbridge but the lesser demesne tithes were commuted for a rent-charge of £1. 13s. 4d. The tithes of Staverton mills were paid by a stated annual composition of 9s. By the same custom the herbage of the chapel-yard belonged to the rector. (fn. 1104) Dr. Ekins, Rector of Trowbridge 1774 to 1809, tried to advance the tithes of Staverton from a modus to a tithe per acre. His efforts were, however, defeated by the tithe payers, who were determined, if need be, to take the matter to court. (fn. 1105) In 1844 the benefice was endowed with £100 out of the Common Fund. (fn. 1106) It is a vicarage in the gift of the Rector of Trowbridge.
The small church (then chapel) of ST. PAUL was rebuilt on the original site in 1826, with a grant from the Incorporated Church Building Society. (fn. 1107) It is of ashlar, roofed with Welsh slates, and consists of nave, rectangular apse, west tower, and south porch and a vestry, built against the north side of the apse. The porch and vestry are later additions. The building is plain within and without and in a poor form of 'Gothic'. The seating capacity was increased in 1826 by 120 making a total of 200 sittings. (fn. 1108) In 1835 there were said to be 220 sittings of which 160 were free. (fn. 1109) Electric light was installed in 1938. The registers date from 1685. The parish possesses a cup, hall-marked 1577, a paten, hall-marked 1855, a plated flagon, (fn. 1110) and a chalice, hall-marked 1932–3, given by Mrs. Julia Blease (d. 1935). (fn. 1111) There is one bell said to have come from the neighbouring factory c. 1820. (fn. 1112)
The vicarage was erected between 1860 and 1888. Previously the incumbents had lived in Trowbridge. (fn. 1113)
Roman Catholicism
After the reoccupation of the barracks in the 1870's a place of worship was needed for Roman Catholic soldiers. At first the club room of a public house near the barracks was used. Eventually the Revd. E. A. G. Arundell, who had conducted services there, and his brother Lord Arundell of Wardour, bought land in Wingfield Road on which the present Roman Catholic Church, dedicated to St. John the Baptist, was erected in 1875 at a cost of £700. (fn. 1114) It is of stone in the 'Decorated' style. It was enlarged in 1907, when a new porch was built and an altar of Caen stone, marble, and alabaster, designed by Canon Scholes of Basingstoke, was erected. There are 250 sittings. (fn. 1115)
Protestant Nonconformity
In 1669 there are said to have been four dissenting conventicles in Trowbridge. Anabaptists to the number of 140 or 150 met at the house of Edward Grant, a clothier, between 20 and 30 Presbyterians at Robert Jeames's house, 'scarce 20' of the same sect at Widow Davis's house, and 30 or 40 Quakers at John Matravers's house. (fn. 1116) In 1672 Thomas Rutty, who had been ejected from the living of Milston, was licensed to preach as a Presbyterian in Trowbridge. (fn. 1117) In the same year Edward Grant's house was licensed as a Baptist conventicle (fn. 1118) and Paul Frewen, Fluine or Fluellin, ejected from Kempley (Glos.), was suffered to preach as a Baptist in Trowbridge. (fn. 1119) In 1683 Frewen was presented at Quarter Sessions for preaching in unlawful conventicles and violating the Five Mile Act. (fn. 1120) In 1676 there were 174 dissenters in the parish (fn. 1121) —a decline from the minimum estimated total of 1669. In 1700 the dwelling-house of Adam Chivers and in 1702 buildings on Abel Pierce's land were certified as dissenting conventicles. In the latter year the houses of James Willett, James Webb, Philip Long, and one other were certified as Quaker meetings. (fn. 1122) In 1715, however, there were said to be only two dissenters' meetings in the town, a Presbyterian and a Baptist; (fn. 1123) so it is evident that the Friends of 1669 and 1702 failed to form a permanent Meeting and that the two Presbyterian congregations of that year had been amalgamated. It was computed that in 1827 three-quarters of the population of the town were dissenters, (fn. 1124) a fact which may be attributed in part to the industrial character of the town and partly to an insufficiency of Anglican churches. (fn. 1125)
The earliest congregation of dissenters still existing in the town is the Unitarian (General Baptist) chapel at the Conigre. The years 1655, (fn. 1126) 1660, (fn. 1127) 1680, (fn. 1128) and 1697 (fn. 1129) have all been claimed as years of foundation. The congregation appears to have been one of several in the county that gathered round the preachers Andrew Gifford and Thomas Collier. The first seat of the society was South wick (in North Bradley). After the Revolution and certainly by 1697 the congregations at Southwick and Trowbridge began to meet separately. (fn. 1130) A chapel was built at Trowbridge in c. 1700 on a site acquired in 1699. This site had formerly been occupied by a meeting-house, which was the private property of the Houlton family. (fn. 1131) The society was at first known as 'the Church of Christ at Southwicke and Trowbridge', a phase that preserves the memory of the old connexion. (fn. 1132) In 1700 lands in Road (Som.) were conveyed in trust and in 1903 still continued to form one of the charitable endowments of the chapel. (fn. 1133) The first minute in the chapel book is dated 30 July 1714 and is signed by 2 pastors, 3 ministers, 4 deacons, and 224 members. (fn. 1134) Evans's statistical survey of c. 1715, however, mentions but one pastor. He is said to have drawn a congregation of 600, 4 of whom were 'very rich'. (fn. 1135) Davisson, the second, and Thomas Lucas, the third pastor, were reputed to be 'teachers', the latter in a dissenting academy in the town which was perhaps connected with Houlton's foundation (see below). (fn. 1136) Lucas's authority extended over the congregation at Southwick as well as that at Trowbridge. Strife disfigured his pastorate. Though Lucas's views were still Trinitarian in 1723, he died a Unitarian in 1741, and the Trowbridge church appears to have drifted in that direction in his latter days. This grieved a part of the congregation, which seceded, and formed the Back Street church (see below) in 1736. (fn. 1137) Rules of discipline were drawn up in 1729. (fn. 1138) In 1731 land near the Conigre was conveyed to trustees and upon it had been erected by 1798, and probably long before, a minister's house. (fn. 1139) By his will dated 1729 Joseph Houlton, an early minister at Southwick, left the interest on £120 for the maintenance of a minister at the Conigre and the interest on a further £100 for the use of the poor of the congregation and towards the education of young ministers. These sums, with a further sum of £165, were in 1748 invested in lands at Woolverton (Som.) and the rents applied in varying proportions to the three purposes specified in the will. (fn. 1140) In 1834 no part of this estate was devoted to the education of ministers. (fn. 1141) William Waldron, whose fifty-year ministry terminated with his death in 1794, was reputed to be a good classical scholar and an eloquent preacher. 'Having a family he deemed it prudent to engage in the clothing trade, which he carried on with great success.' (fn. 1142) He 'was so renowned for his veracity, that his word was more as a confirmation than many persons oaths are accounted'. (fn. 1143) During his ministry lands in the Conigre and Back Street were conveyed (1763) to trustees for the minister's benefit. (fn. 1144) Besides this, Robert Houlton, by his will dated 1769, bequeathed £100 for the benefit of the minister and £30 for the benefit of the poor, and Eleanor Temple, by her will dated 1781, left £200 for the former and £30 for the latter object. These endowments brought in £10. 16s. 11d. in 1834 and were applied solely to poor relief. (fn. 1145)
Although in his last seventeen years Waldron was assisted by another minister, he seems to have left the congregation in an unsatisfactory state. His immediate successor (Thomas Twining) revived it. It then declined under Daniel Jones and John Gisburne but was revived again by Samuel Martin who was appointed in 1827. His salary of £70 out of trust funds was augmented by £40 which his flock undertook to raise. In the same year church business was entrusted to a committee of nine. Martin was an energetic minister. He preached three times each Sunday and once on week-days and conducted two weekly prayer meetings. In 1833 the attendance on Sundays was about 120 at morning service, and about 200–50 in the afternoons. Thirty members of the congregation were said to be either indifferent to or opposed to Baptism. There was a congregational library, a 'sick fund', and a benevolent society. The congregation in 1835 consisted mostly of the poor. (fn. 1146) Further rules and articles of faith were drawn up in 1847. (fn. 1147) In 1890 there were 80 members, 46 teachers, and 250 school-children. (fn. 1148) At the present time (1950) there is a resident minister, (fn. 1149) although between 1913 and 1924 and again in 1931–2 the chapel was in lay charge. (fn. 1150) During the 19th century the endowments of the chapel were further augmented. Maria Waldron bequeathed £200 in 1835, and houses in Back Street and Middle Rank, Conigre, were purchased in 1865, 1872, and 1894. In 1881, under a scheme made by the Chanrity Commissioners, the proceeds, amounting to £111. 8s. 9d., from the sale, which occurred in 1870, of the old Unitarian meeting-house at Warminster, were paid over to the Conigre chapel. The trust income in 1903 amounted to £148. 11s. 5d. which was devoted partly to augmenting the minister's stipend and partly to poor relief. (fn. 1151)
The original meeting-house, as described in the 1830's, was spanned by a roof of 'several arches, curiously constructed and supported by two large pillars'. There were three galleries, a baptistry, and vestry. (fn. 1152) There were tablets to three former ministers and 'a monument with the names of all the other ministers' erected at Martin's expense. Martin also removed the sounding board and caused the words 'Jesus Christ came into the world to save sinners' to be placed over the pulpit in gold. In 1835 the trust deeds were 'renewed' and the chapel repaired at a cost of £140. (fn. 1153) In 1856 the chapel, which was much decayed, (fn. 1154) was pulled down and rebuilt in 1857 in 'Decorated' style, with a stone pulpit, three galleries, and a baptistry. (fn. 1155) There were and are sittings for 550. (fn. 1156) The graveyard was closed in 1856. (fn. 1157) The registers date from 1819. (fn. 1158)
In 1833 there was a Sunday school, supported by an annual collection, with 120 boys, 56 girls, and 24 teachers. (fn. 1159) New schools were built in 1838 (fn. 1160) at a cost £700. (fn. 1161) In 1844 there were 300 pupils. (fn. 1162) In 1865 the schools were again rebuilt on land acquired in 1856. (fn. 1163) In 1890 there were 250 pupils and 46 teachers. (fn. 1164)
The community that was later to become the Silver Street Presbyterian Chapel is said to have been once under the same management as the Conigre and Southwick chapels. By c. 1680–90, however, it had severed any connexion it may have had with them and was worshipping in a building that may once have been a glove factory. This building was adapted for worship c. 1695–1700. A gallery clock was presented in 1705. (fn. 1165) In c. 1715 the church was apparently receiving £5 from the Presbyterian fund. Its minister, who lived at Bradford, was reputed to draw a congregation of 200. (fn. 1166) There is the record of a settled pastor in 1720–1724. (fn. 1167) He and his successor, though ministers of a presbytery, became Baptists and Arians. (fn. 1168) The next minister, however, saved the congregation itself from lapsing into Arianism. Thereafter orthodoxy prevailed. (fn. 1169) A silver christening bowl was presented in 1767. (fn. 1170) In 1770 Sarah Gibbs and in 1809 Philip James Gibbs bequeathed respectively the income arising from the sums of £200 and £210 to the minister of the chapel. In 1903 the annual income from these sums amounted to £9. 13s. 8d. and was used for 'preaching supplies'. (fn. 1171) The chapel charities were regulated by a scheme of the Charity Commissioners in 1904. (fn. 1172) By 1827 the congregation was regarded as Independent. (fn. 1173) In the late 'twenties the chapel was enlarged by the addition of a gallery and the insertion of two windows near the pulpit. (fn. 1174) The congregation numbered 450 in 1829. (fn. 1175) In 1835 there was a Sunday school, with a lending library, attached to the chapel. There were 51 male and 56 female pupils. (fn. 1176) During the pastorate of the Revd. David Millard there were dissentions in the congregation which seem to have depleted the number of worshippers. Millard's successor, the Revd. David Salmon, found only 18 church members. By 1862, however, when he left, the number had been raised to 82, and he had started or restarted a Sunday school of 80–90 pupils. In his time, too, a house in front of the chapel was bought and the site cleared, some new pews were inserted, an organ was built, the gallery altered, (fn. 1177) and the burial-ground closed (1855). (fn. 1178) Salmon had hoped to rebuild the chapel but had failed to raise the funds. His successor helped to build a small additional chapel at Lower Studley with the object of eventually moving the Silver Street congregation thither. He prospered at first and was able to create a Sunday and day school, each of 50–60 pupils. But after two years his enterprise failed and the chapel at Studley was sold. Though Silver Street chapel was reroofed and otherwise renovated in 1876 to 1880 the congregation never flourished after the 'seventies. The Sunday school had disappeared by 1905–6. (fn. 1179) The last settled pastor resigned in 1891 and the chapel itself was closed in 1927, (fn. 1180) in consequence, it is said, of the impossibility of renewing the lease. (fn. 1181)
Stylistically the building is of the late 17th century. (fn. 1182) It is presumably the 'newly erected' Presbyterian Meeting House for which a licence was sought in 1723. Abel Pearce signed the petition for the licence, which suggests a connexion with the buildings licensed in 1702 (see above). In 1932 the chapel was being used as a Conservative club. (fn. 1183) It is now a branch of the County Library. The registers of baptisms begin in 1757 and of burials in 1782. (fn. 1184) They are now believed to be in private hands. (fn. 1185)
In 1736 certain members of the Conigre chapel, disliking the Arianism of that congregation, seceded from it and formed themselves into a Particular Baptist community. They first met at Studley but in 1743 moved to a house in Trowbridge apparently on the site of the present Town Hall. The house belonged to a Mrs. Thresher and was leased at £4 yearly. The first settled pastor was appointed in 1752. In 1754a chapel, now called Emmanuel chapel, was erected in Back (now Church) Street (fn. 1186) on land conveyed in trust in 1755. (fn. 1187) The total cost of the site and buildings was £234. 15s. 11d. Services were first held in the new building in 1755. In 1766 a vestry was added at a cost of £46. 15s. 3d. The chapel itself was enlarged in 1784, in consequence of the growth of the congregation, at a cost of £264.. 12s. 6d. During the lengthy and apparently distinguished pastorate of Nathaniel Rawlings (1765–1771, 1778–1809), a colony of Baptists was planted at Hilperton (q.v.) by members of the Back Street congregation. In the pastorate of his successor (1810 to 1814) the chapel was again enlarged at a cost of £700–£800. In 1814 a group of some forty worshippers seceded to form Zion chapel (see below) and in 1821 another group of separatists formed Bethesda (see below). In 1829 the Back Street congregation was said to number 700. (fn. 1188) The chapel was again extended in 1846 at the sole expense of Mr. Salter, and between that year and 1890 was thrice enlarged to furnish extra seats. Thus was created the present plain square building, which, in 1890, possessed a gallery and a baptistry in front of the pulpit. (fn. 1189) The graveyard was closed in 1856. (fn. 1190) The chapel was reseated and renovated in 1902 and again renovated in 1920. (fn. 1191) There are now 690 sittings. (fn. 1192) The membership was 283 in 1843, (fn. 1193) and 451 (including three village stations) in 1890. (fn. 1194) The membership is now 229 and there are a settled minister and 8 lay preachers. (fn. 1195) In the church are kept many trust deeds belonging to chapels in the Wilts, and East Somerset Baptist Association. (fn. 1196)
In 1799 a boys' Sunday school was established in a picking shop in Back Street belonging to Jacob Chamberlain. In c. 1820 the school was accommodated in rooms in Fore Street. A girls' school was started at about the same time. In 1822 a proper schoolroom, 39 by 24 ft., was built behind the chapel. This room soon proved too small and extra rooms had to be hired in other parts of the town. These arrangements were superseded when Samuel Salter gave land for the purpose of a new schoolroom, known as the 'Boys' Room', 36 by 28 ft., the cost of which (£300) he largely bore. This was opened in 1835. (fn. 1197) By her will proved in 1863 Mrs. Margaret Stancomb bequeathed £25 for the use of the school. (fn. 1198) In 1885 the existing girls' schoolroom was replaced by a new building connected with the chapel. This cost £1,600 of which John Stancomb bore a considerable share. In 1890 there were 87 superintendents and teachers and 588 pupils, all of whom enjoyed the benefit of a lending library. (fn. 1199) By his will proved in 1899 W. A. Diplock left £20 for the benefit of the school. (fn. 1200) In 1949 there were 34 teachers and 190 pupils. (fn. 1201)
The church has received several benefactions. By her will proved in 1764 Mrs. Ruth Temple left £200 to be invested for the support of the minister. In 1768 the executor of Nicholas Temple, presumably relict of the last, gave £104. 7s. 6d. for the same purpose. By her will proved in 1765 Mrs. Elizabeth Reyner bequeathed £390 to the minister and deacons of Broadmead Chapel, Bristol, the income on £100 of which was to be used for the benefit of Emmanuel. In 1827 Thomas Timbrell and in 1841 William Deverell each conveyed one house in Timbrell Street to the congregation. The income from the Reyner bequest and the rents from the Timbrell Street houses were in 1903 being applied to the expenses of public worship. Various charities existed in 1903 for the benefit of the poor of the congregation. Thus £187. 16s. New Consols represented a bequest, of unknown date, from a Mrs. Rees. The £150 which had been invested in 1812 in £271. 11s. 1½d. Government Stock, for the use of the poor of the church, was believed to be represented by the General Poor Fund consisting of £239. 8s. 7d. New Consols. J. V. Diplock by his will proved in 1887, had bequeathed £50, the income on which was to be applied to six poor persons not living in Salter's almshouses (see below—Charities), and Mrs. Harriet Halsey by her will proved in 1886 had left £20 to the sick society connected with the church. (fn. 1202)
From 1829 a group of Baptists met for worship successively in three different cottages in Upper Studley. In 1831 a house was rented, opposite the present chapel, and fitted up with a gallery and preacher's desk. It could accommodate 170. A Sunday school was started the same year. The congregation was not thriving in 1842, but its fortunes revived. In 1849 a piece of land was purchased, and in 1850 the present chapel was erected and the house given up. Mr. Salter contributed largely to the building costs. In 1863 a schoolroom was built and the chapel pewed. The congregation tended to decline after St. John's Church (see above— Churches) was built. In 1890 the number of resident members was 19, teachers 14, school-children 51, and superintendents 3. (fn. 1203) The chapel, with those at Westwood, Wingfield, and Yarnbrook (in North Bradley), is still (1950) under the superintendence of Emmanuel Chapel, (fn. 1204) whose members have always played a leading part in its development.
Zion Strict or Particular Baptist Chapel, Union Street, orginated in 1813 in the secession of 41 worshippers from the Back Street congregation in consequence of their disapproval of the doctrines preached by its newly appointed minister. Some premises (still standing in 1950) on Wicker Hill, near the Town Bridge, were rented from Thomas Timbrell, and in the upper room the congregation worshipped. (fn. 1205) The first settled pastor, John Warburton, was appointed in 1815, (fn. 1206) His popular preaching overfilled the premises, so that in 1816 the congregation was obliged to purchase a site in Union Street and at a cost, with the site, of £1,231. 12s. to erect a chapel thereon. (fn. 1207) This chapel was (fn. 1208) and is (fn. 1209) capable of seating 700. In 1825 a baptistry and in 1828 a vestry were constructed. In 1826 'certain members of the congregation' seceded and formed 'Little Bethel' church (see below). (fn. 1210) Zion Chapel graveyard was closed in 1856. (fn. 1211) In 1870 the chapel floor was renewed, the high-backed pews replaced by open benches and the pulpit by a rostrum. (fn. 1212) In 1893 a vestry was built on adjacent land at the cost of W. Applegate. Applegate also gave an organ. (fn. 1213) In 1865 and 1890 church members numbered 182, (fn. 1214) in 1913 89. (fn. 1215) In the last year, morning congregations averaged 150 and evening ones 250. (fn. 1216) There is still a settled pastor. (fn. 1217) In 1828 a Sunday school was established in a schoolroom built at the back of the chapel. Here Isaac Pitman taught. In 1863 proper schoolrooms were built at a cost of £400–£500. In 1879 three new schoolrooms were built behind them. (fn. 1218) In 1893 Applegate erected three more. (fn. 1219) In 1890 the Sunday school consisted of 240 pupils with 2 superintendents and 40 teachers, all of whom enjoyed the benefit of a library of 819 volumes. (fn. 1220)
In 1826, 27 persons were excluded from Zion Chapel owing to a disagreement with the rest of the congregation. They formed themselves into a separate society and met for worship in the chapel on Wicker Hill which the Zion community had formerly occupied. Soon afterwards they bought land in the Lower Courts (now Castle Street) on which they built in 1828 a chapel (Little Bethel) with galleries, capable of holding 150, (fn. 1221) though in 1829 the congregation was said to number 250. (fn. 1222) A Sunday school was established in 1833 which in 1835 contained 16 males and 34 females. (fn. 1223) The congregation did not flourish and in 1843 the chapel was sold to Jonas Purnell for c. £300. In 1844, however, it was reopened. The ensuing pastorate of Joseph Rudman witnessed a revival so marked that it was necessary to enlarge the chapel. Land was purchased from Mr. Stainer and the old chapel was almost completely rebuilt at a cost of £800 by W. Smith in 1850. Galleries ran round three sides of the new building which included a Sunday school and vestry. There was accommodation for 300–400. During rebuilding the congregation met again in the premises on Wicker Hill. The congregation remained burdened with the costs of rebuilding and did not flourish after Rudman's departure in 1852. (fn. 1224) The graveyard was closed in 1856. (fn. 1225) In 1863 the buildings were sold by their owner, Jonas Purnell, who seems to have recovered possession, to the Revd. J. D. Hastings, Rector of Trowbridge, and were converted into the Anglican church of St. Stephen (see above—Churches). The congregation mostly joined Zion Chapel. (fn. 1226)
Bethesda Chapel, a Baptist congregation, was founded in 1821 by a body of worshippers who migrated from the Back Street chapel. The separatists met first in Back Street Sunday School and later in a warehouse on Wicker Hill formerly used by the Zion Chapel congregation. In 1822 a site for a new chapel was purchased from the trustees of William Dunn in the Courts (now Court Street). Here a chapel was erected at a total cost of £2,100 and opened in 1823. The site was conveyed in trust in 1825. (fn. 1227) In 1829 the congregation was said to number 400. (fn. 1228) In 1840 a Sunday schoolroom was built and opened. In 1856 a piece of land behind the chapel adjoining Home Mills was sold to Jesse Gouldsmith for £100. (fn. 1229) In the same year the graveyard was closed. (fn. 1230) In 1862 the chapel was slightly damaged by the fire that then nearly consumed Messrs. Salter's factory. In 1868 the galleries in the chapel were grained and the pews stained. During the pastorate of Amos English (1867–89) considerable alterations were done. The very high old pulpit was replaced by a platform above the baptistry and the schoolrooms and vestry enlarged. (fn. 1231) In 1885 four cottages in Court Street were conveyed in trust, the rents to be applied to church purposes. These and the rest of the trust were regulated by a scheme of the Charity Commissioners of 1898. (fn. 1232) In 1890 a new organ was built and the chapel renovated. It then contained two galleries, one above the other, running round three sides. Doorways led from the schoolroom to the first galleries. There were 840 sittings. (fn. 1233) In 1930 the foundation-stone of a new chapel was laid in Gloucester Road and a building designed by W. W. Snailum, of Trowbridge, erected. (fn. 1234) The old chapel building was sold by order of the Charity Commissioners in 1930. (fn. 1235) It is now (1950) occupied by Messrs. Samuel Salter & Co. (fn. 1236) In 1931 the congregation moved to the new chapel, (fn. 1237) which furnishes 350 sittings. (fn. 1238) In 1890 the membership was 230, with 50 superintendents and teachers, and 450 school-children, all of whom enjoyed the benefit of a lending library. (fn. 1239) The present membership is 95 with a Sunday school of 81 pupils and 16 teachers. There are a settled pastor and 3 lay preachers. (fn. 1240)
In 1835 there were four Baptist Sunday schools in Trowbridge, one with 200 male and 180 female pupils, another with 100 males and 60 females, another, founded 1822, with 144 males and 210 females, and a fourth, founded 1828, with 74 males and 86 females. The first three had lending libraries attached. (fn. 1241)
The Congregational chapel, called the Tabernacle, originated in the meetings of pious persons who gathered round Mrs. Joanna Turner (née Cook) the daughter of a clothier. The worshippers first met in each other's houses and Mrs. Turner procured preachers from Bath and Bristol to minister to them once a fortnight on week-days. The congregation next settled at the house of a preacher-blacksmith. Mrs. Turner then acquired a cottage as a home for herself and a meeting-house. This she replaced by a small chapel erected at a cost of £500. In 1771 a proper chapel, built almost at the sole cost of Mrs. Turner and her husband, measuring 40 by 30 ft., was opened. (fn. 1242) It was called the Tabernacle in honour of Whitefield, with whom the Revd. John Clark (see above—Indus— trial History), its first minister and a member of the clothing family, was in sympathy. (fn. 1243) Mrs. Turner was a Methodist, as originally John Clark had been, but by 1773 the latter was beginning to be troubled at the Arminianism of the Wesleyan preachers. (fn. 1244) Although John Wesley preached in the Tabernacle in September 1780 (fn. 1245) the Trowbridge Methodists fell away from the chapel. In 1785 the Tabernacle was enlarged by the erection of a gallery for the Sunday school which had previously been conducted in hired rooms. In 1794 the chapel was doubled in breadth. In 1804 the site and adjacent burial-ground were conveyed in trust. (fn. 1246) The same year an organ was installed. (fn. 1247) In 1811 five adjacent houses were conveyed in trust, the rents to be applied to the minister's support. In 1815 adjacent land was conveyed in trust for the enlargement of the burial-ground. (fn. 1248) In 1829 the congregation is said to have numbered 700. (fn. 1249) Between 1827 and 1837 side galleries were added to the chapel at a cost of £946 for the accommodation of the Sunday school. The whole church was rebuilt on the same site in 'Perpendicular' style by Messrs. Paull & Bonella, architects, and dedicated in 1884. (fn. 1250) The burial-ground was closed in 1856. (fn. 1251) There are sittings for 730. The church membership amounts to 226. There is a settled minister and 2 lay preachers. (fn. 1252) The registers of the chapel include births and baptisms from 1773 and burials from 1785. (fn. 1253)
Thomas Dundee ante 1809 bequeathed £50, the interest on which was to be paid to poor members of the Tabernacle congregation. From 1816 until 1834 £2. 10s. was given yearly to about 20 poor. In 1903 the money was being put to a like use. (fn. 1254)
The Sunday school is reputed to be the earliest in the town. (fn. 1255) It was in existence in 1807 when the Revd. John Clark bequeathed to it the yearly sum of £2. 10s. The will was proved in 1809. (fn. 1256) In 1835 the school numbered 194 males and 215 females and possessed a library of 700 books, chiefly theological. (fn. 1257) A new building was provided in 1842. At an uncertain date William Smith gave land and grounds for the erection of a new infant school on which £2,500 was spent. (fn. 1258) In 1873 more land was given in trust by G. N. Haden and classrooms erected upon it. (fn. 1259) Further classrooms were added in 1882. (fn. 1260) By his will proved 1881 Josiah Perkins bequeathed £19. 19s. to the school. The income from the Clark charity which appears to have been withheld for some years was restored to the school after an action in the Chancery Division in 1889–90. (fn. 1261) There are now 149 children in the school and 34 teachers. (fn. 1262)
It has been seen that Trowbridge was an early centre of Methodism. Laurence Oliphant, a convert of John Haine, secured a 'preaching room' in Frog Lane on returning from the wars in Flanders. Here John Wesley preached in 1754. (fn. 1263) For some years Wesleyan preachers visited the place, but in the end desisted, 'not seeing the desired success resulting'. Wesley himself preached in Trowbridge again in 1780 and thenceforth every year until 1790. (fn. 1264) In 1781 the Revd. William Moore of Bristol preached at Trowbridge in the open air and so impressed one John Knapp that he arranged for services twice weekly in his house in what is now Manvers Street. Later he rented an empty scribbling shop and fitted it up for worship. Here the first society class, numbering 6, was formed. (fn. 1265) The reputed date for the establishment of a separate church is 1786. (fn. 1266) In 1789 there were 70 members whose number rose to 100 within that year. A chapel, now part of Messrs. Kemp & Hewitt's cloth factory beside the Town Bridge, was erected and opened in 1790. (fn. 1267) In 1796 a division in the congregation occurred over the decision of the minister that the Sacrament should be taken in the chapel instead of in the parish church. The chapel building was not well sited; it was subject to floods which were apt to destroy both floor and seats. In 1814 a gallery was constructed as a partial mitigation of these inconveniences. The chapel was enlarged in 1821 at a cost of £300. (fn. 1268) In 1829 the congregation was said to number 500. (fn. 1269) In 1835 the site of Knapp's original meeting-house was purchased for £1,100 and a new chapel—the present one—built thereon in 'the Grecian style' and opened the next year. It measured 56 by 43 ft. and was designed by John Dyer, a member of the congregation. It cost more than £4,600 in all. An organ was erected in 1844, and in 1846 a building, containing four classrooms and a vestry, was added. (fn. 1270) The chapel has been subsequently altered. In 1924 £1,300 was spent on improvements. (fn. 1271) In 1862 there were 203 church members. (fn. 1272) There were 700 sittings in 1939. (fn. 1273) The burial-ground was closed in 1857. (fn. 1274) The registers of births and baptisms begin in 1793. (fn. 1275)
In c. 1805–6 a Sunday school was established in connexion with the Society and soon contained 300 children. The children attended the parish church and the rector's interest in their welfare was such that he arranged for the school to be accommodated in the Free Schoolrooms. The rector, however, so altered the character of the school that the superintendent (John Dyer) and teachers resigned. The numbers then declined. Dyer was eventually recalled and raised the numbers again. (fn. 1276) In 1835 the school contained 90 males and 70 females. (fn. 1277) In 1831 a second Methodist Sunday school was established. In 1835 it contained 90 males and 67 females, (fn. 1278) in 1862 249 pupils. (fn. 1279) The first Sunday school appears ultimately to have become Anglican. (fn. 1280) In 1852 Mr. Usher and Mr. Marvin began to give Christian instruction to a few children on Sundays in a cottage at the top of Timbrell Street. The children were taught in these cramped quarters until John Kemp, a Trowbridge draper, presented to the Methodist Conference two cottages in the same street on which to build a school. A 'Gothic' building was erected at a cost of £150 and opened in 1860. Here in 1862 100 pupils were being taught. (fn. 1281) The building is still put to its original purpose.
A Methodist church was founded at Islington in 1814. There were sittings for 150 in 1939. (fn. 1282)
In 1871 a site for a third Methodist church was purchased in Newtown and a school, designed by W. J. Stent of Warminster, built upon it and opened in 1872. The chapel cost £1,641. 2s. 10d. A new road, adjacent to the chapel, and constructed by the lord of the manor, was named Wesley Road. (fn. 1283) The chapel has been subsequently enlarged. (fn. 1284) In 1877 there were 100 members of the church. (fn. 1285) In 1939 there were sittings for 350. (fn. 1286) A Sunday school, with 150 children, was started in 1873. (fn. 1287)
A Methodist chapel at Staverton was built in 1824 to seat 100. (fn. 1288) It is a rectangular building of ashlar with slated roof and pointed door and windows.
Trowbridge, which from 1793 had been in the Bradford circuit, became the head of the Trowbridge and Bradford circuit in 1885. (fn. 1289) The superintendent minister has since lived at Trowbridge. (fn. 1290)
The Salvation Army Citadel, Castle Street, was opened in 1930. It accommodates 340. There is a Young People's Hall housing 185. (fn. 1291) The Strict Baptist church at the Halve, the Pentecostal Trinity (Baptist) Church in Westbourne Road, the Railway Gospel Mission Hall in Bond Street, the Frome Road Gospel Hall, and the Plymouth Brethren's Hall in Prospect Place house existing congregations. (fn. 1292) The second of these is said to have been founded about 20–30 years ago, the fourth in c. 1900. The Railway Gospel Mission services were originally held in a waiting-room at the railway station. (fn. 1293) A Friends Meeting opened at Westbury in 1943 was moved to Trowbridge in 1944, where it has since met in the Deacons' vestry of the Tabernacle Church twice a month. (fn. 1294) The Trowbridge Company of Jehovah's Witnesses in Church Street, existent in 1939, (fn. 1295) has disappeared. A Sandemanian meeting existed in 1797 and 1806. (fn. 1296) A Catholic Apostolic church existed in 1838. The congregation must have been small. In 1843 the baptismal register was closed, and William Keene, the chief pastor and a former Baptist minister in the town, was transferred to Bath, whence the congregation was from time to time visited. (fn. 1297) There seems to have been no congregation in 1851. (fn. 1298) In the Charter House, Middle Rank, there was a congregation of Latter Day Saints in 1851. (fn. 1299)
Schools
A Free school is said to have been erected in the churchyard in 1677. (fn. 1300)
James Singer, a Trowbridge clothier, by his will proved in 1725, left £200, the income on which was to be devoted to the education of 10 poor Anglican boys of Trowbridge parish in Church doctrine, reading, writing, and arithmetic. He also left £2,000, subject to a contingent life interest, for the education of additional children and for the erection of a school and schoolmaster's house. The master and children were to be chosen by the trustees of the estate. A parish school-house, built on a part of the present churchyard, was in existence in 1834. It was then believed to be about 100 years old. It was said to have cost £500 and to have been kept in repair by the parish. The original design was not completed and in 1834 it was not known whether or not the building had been erected out of the Singer estate. There was a rumour in the parish that the £2,000 had been embezzled. A schoolmaster had been appointed periodically, with the concurrence, it was said, of the minister, churchwardens, and trustees. (fn. 1301) A house was provided for him, at the expense of the parish, in 1811. (fn. 1302)
A Trowbridge District School Society, in union with the National Society, was instituted in 1812 with the idea that the town would be a good centre from which to disseminate the 'Madras system' in the district. The old parish school was to become the basis of this experiment. The parish granted to the Society a house as a school building. The school was opened in 1812 as a day, evening, and Sunday school, under a master and mistress trained at the National Society's Central School, who replaced the previous 'Very incompetent master'. In 1813 there were 112 boys and 50 girls in the day school, 96 pupils in the evening school, and 200 pupils in the Sunday school. (fn. 1303) The master appointed in 1815, like his predecessor in office in 1813, received a salary of £52 made up from other bequests besides Singer's. He was required to educate 30 boys but was privileged to take a few more. His successor (William Nightingale), appointed in 1817, enjoyed the same salary, had to attend the Sunday school and might take not more than 20 boys on his own account. (fn. 1304) The subjects taught were those of 1725. Of the 30 poor boys who were taught free, 10 were nominated by the Singer trustees and 10 by each churchwarden. (fn. 1305)
Although Nightingale's school continued, the new parish school does not seem to have flourished, for in 1821 it was described as 'long since broken up'. A meeting, however, was held in that year with the aim of converting the old endowed school into 'one general School on the national Plan'. This fusion was accomplished in 1824. (fn. 1306) The precise arrangements, however, are obscure, for in 1833 J. H. Webb, an Anglican clothier, declared that he would contribute to the funds of a National school if one existed, implying that none did. (fn. 1307)
In 1834 Nightingale's emoluments were being supplemented out of certain other charities. Thus an extra £10 a year was paid out of funds (amounting in 1829 to £200), which mainly represented the accumulated interestupon £20 which in 1730 Richard Shrapnell had left for the education of one poor boy. In return for this £10 ten more boys, nominated by the churchwardens, were taught. (fn. 1308) Similarly in 1677 Walter Pilling had given lands in Hunsden (Herts.) to the poor of Bath and Trowbridge. By 1834 the income from Trowbridge's moiety amounted to £9. 9s. and had for many years been paid over to the schoolmaster. (fn. 1309) Similarly in 1680 Thomas Beach conveyed to trustees two small parcels of land in Hilperton which had in practice been applied for the relief of the poor and were called Poor's Grounds. These lands were exchanged for others in 1816 when lands in Trowbridge and Hilperton were inclosed. A rent of £14. 1s. 8d. out of these lands was being paid in 1834 to the schoolmaster. Similarly in 1661 William Shergoll devised two small parcels of land called Bell Lands lying on either side of the road at Hilperton but belonging to Trowbridge parish. By 1834 the rents of these lands amounting to £6. 10s. 10d. were being paid to the schoolmaster. In addition the parish 'used to' pay the schoolmaster 'an allowance' of £10 and the rent (£7) of his house, the use of part of which the parish had as a Sunday school and place for parish meetings. The schoolmaster also received £11. 5s. 8d. from an investment in the 'Parent Society'. In return for the payments out of charitable funds the schoolmaster considered himself bound to educate in all 50 poor boys free. Besides this he had been in the habit of teaching, also free, the children of soldiers stationed in the town. These apparently numbered 22 in 1834 and altogether 30 had been so taught in Nightingale's time. In 1834 fees were paid for 18 boys under instruction. Nightingale gave the impression of being 'very efficient'. (fn. 1310)
In c. 1825 the school occupied cramped quarters. The schoolroom measured 25 by 15 ft. and was 8–9 ft. high. 'The boys were stowed away in two layers, one in raised desks round the room, and the other in classes on the floor.' (fn. 1311) In 1845 a new site was acquired in Back Street. (fn. 1312) The lands included the Three Tuns Inn which with other property was demolished, and a new school building and houses for the master and mistress were erected by a Mr. Gane at a cost, with the cost of the site, of £3,700. Of this sum £726 was contributed by the State and £500 by the National Society. (fn. 1313) The new school was ready in 1846, and from then until 1848 was used to house the congregation of St. James's during the restoration of that church. (fn. 1314) The debt upon the buildings was not cleared until about 1866 and meanwhile the income of the Singer charity was applied to defraying the interest upon it. (fn. 1315)
In 1858 the National schools were divided into separate schools for boys and girls. In the boys' school were 300–10 pupils taught by a certificated master and a pupil teacher 'in excellent rooms' fully provided with fittings and apparatus. The school was declared in 1857 to be most efficiently conducted. The 230–40 girls were taught in very good rooms, well supplied with books, fittings, and apparatus, by an uncertificated mistress and a pupil teacher. A very favourable report was furnished in 1857. The endowments then amounted to £30;–£40. (fn. 1316)
In 1867 the school contained 375 boys and 360 girls under a certificated master and mistress aided by 14 teachers. Rather surprisingly 12 boys were studying natural science and 21 mensuration and book-keeping. There was a teacher's house. The endowments then amounted to £47 gross of which £40 were applied to education. (fn. 1317) In 1867 the charity funds were liquidated and the proceeds paid to the Revd. J. D. Hastings who had purchased at his own cost some houses in Church Street for the benefit of the charity. These houses were made over to the trustees of the charity and in 1903 the rents upon them were being applied to the expenses of the schools. (fn. 1318) At that time the proceeds of the Bell Lands and Poor's Ground were being applied to the same purpose. (fn. 1319)
In 1864 another site in Church Street was acquired and a school for 198 infants erected upon it. (fn. 1320) The State contributed £198. 10s. towards the costs of erection and subscriptions brought in £842. 16s. 2d (fn. 1321) In 1878 the statue of a blue-coat boy which formerly stood over the Free school was re-erected over the National schools (fn. 1322) and still (1950) stands there. In 1887 the schools were enlarged to a capacity of 900. (fn. 1323) About the same time the former infants' school was given over to vestry and other parochial meetings. (fn. 1324) In 1907 a cloak-room to accommodate 117 children was erected and in 1908 a staircase for the use of the infant school. (fn. 1325)
In 1923 the Church of England schools in the town were put under a single body of managers, the boys in the Parochial (or National) and Trinity schools were brought together to form a single school in the Trinity boys' and infants' premises (see below), and the Parochial and Trinity girls were similarly placed in the Parochial schools' premises. (fn. 1326)
In 1931 the schools became a junior mixed school. (fn. 1327) The school is now a junior school. It is still affiliated to the National Society but was controlled in 1949. (fn. 1328) The accommodation was computed at 473 in 1893, (fn. 1329) 1,130 in 1895, (fn. 1330) 586 in 1899, (fn. 1331) 652 in 1906, (fn. 1332) and 290 m 1938. (fn. 1333) The figure for 1895 represents 397 boys and 733 girls, and that for 1906 223 boys, 281 girls, and 148 infants. The average attendance was 420 in 1893, (fn. 1334) 323 in 1895, (fn. 1335) 304 in 1899, (fn. 1336) 279 in 1906, (fn. 1337) and 217 in 1938. (fn. 1338) James Singer's charity, and the charities called Poor's Ground and Old School House were regulated by a Ministry of Education scheme of 1949. (fn. 1339)
The boys' and girls' schools, British Row, were begun in 1831 (fn. 1340) and completed in 1832 with a capacity of 520. (fn. 1341) The schools cost £1,700–£2,000, to which William Stancomb and Samuel Salter, clothiers, contributed £100 each. (fn. 1342) In 1833 the site was conveyed in trust to the Trowbridge British School Society. (fn. 1343) In 1833 280 boys were being taught in the boys' school by a schoolmaster at a salary of £54. 12s. 3d. with 'a moiety of the children's pence'. (fn. 1344) In early May 1839 the children of the British Schools joined a Chartist procession. They also locked the schoolmaster out of the school. (fn. 1345) In 1857 170 pupils were taught by a certificated master and 4 pupil teachers. It was reported that 'the aggregate results are disproportioned to the teachers' toil'. (fn. 1346) An additional building was erected in 1893. (fn. 1347) Accommodation was computed at 238 in 1893 (fn. 1348) and 1895, (fn. 1349) 241 in 1899, (fn. 1350) and 1906. (fn. 1351) In 1907 the name was changed from the British Boys' (fn. 1352) to the Adcroft Boys' School. (fn. 1353) It was taken over by the Council in 1908. (fn. 1354) In 1913 a new building, which in 1912 it had been resolved to name The Adcroft Council School, was erected on the site of the County Cricket ground at a cost of £3,679. 13s. 8d. (fn. 1355) In 1931 the school became a senior boys' school with accommodation computed at 200. (fn. 1356) The average attendance was 227 in 1893, (fn. 1357) 213 in 1895, (fn. 1358) 232 in 1899, (fn. 1359) 181 in 1906, (fn. 1360) and 141 in 1938. (fn. 1361) The school and the corresponding girls' school were closed in 1940 and have now been converted into the Adcroft School of Building, maintained by the County Council. (fn. 1362)
The British girls' school was begun in 1832. In 1835 187 girls were taught by a mistress at a salary of £47. (fn. 1363) In 1857 50 girls were taught by a mistress. Instruction was said to be 'at the lowest ebb', but the ladies' committee were satisfied with the mistress, who was considered by the inspector to be the best obtainable at the low salary of £30. (fn. 1364) In 1913 the expenditure of £695 was authorized for alterations. (fn. 1365) The accommodation was computed at 423 in 1893, (fn. 1366) and at 265 in 1895, (fn. 1367) 1899 (fn. 1368) and 1906. (fn. 1369) In 1931 it became a senior girls' school (fn. 1370) with accommodation computed at 190. (fn. 1371) The change of name and transfer to the Council occurred at the same times as in the case of the boys' school. The average attendance was 177 in 1893, (fn. 1372) 153 in 1895, (fn. 1373) 183 in 1899, (fn. 1374) 175 in 1906, (fn. 1375) and 118 in 1938. (fn. 1376)
The Conigre Infants' School, Broad Street, perhaps arising out of a Sunday school belonging to the Baptist Chapel at the Conigre, was probably founded in 1830. In 1833 it is said to have contained 198 infants of both sexes and to have been supported partly by subscription and partly by the weekly payment of 1d. a child. The salary of the mistress was £40. (fn. 1377) The practice was to admit infants at 2 and discharge them at 6 or 7 years. (fn. 1378) The trust deed is dated 1834 and provides that children of Christian parents of all denominations shall be admitted. (fn. 1379) The school appears to have been in union with the National Society despite this proviso, and in 1857 the trustees were Churchmen, though the school was 'attached nominally to a dissenting body'. (fn. 1380) In 1906 instruction was still undenominational. (fn. 1381) By 1857 the school had become a mixed infants' school of 70–80 pupils, taught by a mistress in a very fair building 'adapted' about twenty years before. (fn. 1382) The accommodation was computed at 133 in 1893, (fn. 1383) 1895, (fn. 1384) 1899, (fn. 1385) and 1907. (fn. 1386) The average attendance was 104 in 1893, (fn. 1387) 94 in 1895, (fn. 1388) 106 in 1899, (fn. 1389) and 74 in 1907. (fn. 1390) The school was closed in 1907. (fn. 1391) In 1913 the building was converted into a Handicraft Centre. In 1933 its use as a store was authorized. (fn. 1392)
The Trinity Schools originated in a girls' school in Stallard Street, with a capacity of 190, built in 1836 (fn. 1393) with a grant of £105 from the State, (fn. 1394) on a site conveyed in trust in 1837. The school was in union with the National Society. By the terms of the trust the uses to which the building might be put were left to the discretion of the standing committee of the Trowbridge National and Church Sunday School. (fn. 1395) The State made a further building grant in 1851. (fn. 1396) Before 1857 the school had become a mixed one. It then consisted of 140–50 pupils, under a certificated mistress and pupil teacher, and was very favourably reported upon. The children were taught in 2 rooms, one above the other. (fn. 1397)
In 1873 Jacob Gayton conveyed in trust to the vicar and churchwardens of Holy Trinity for £173.17s. 10d. a site in Frome Road or Upper Park Street, (fn. 1398) which they had apparently purchased in 1871. Here in 1872 an additional school, with a capacity of 240, was erected, and in 1892 an infants' school with a capacity of 186. (fn. 1399) Presumably on the acquisition of the first new block of premises girls and boys were segregated and the latter housed in Park Street. Accommodation for the three departments was computed at 537 in 1893, (fn. 1400) 566 in 1895, (fn. 1401) and 604 in 1899. (fn. 1402) In 1906 the accommodation for the boys' and infants' school was 416. (fn. 1403) The average attendance, at the three departments, was 473 in 1893, (fn. 1404) 535 in 1895, (fn. 1405) and 456 in 1899, (fn. 1406) and 240 in the boys' and infants' school in 1906. (fn. 1407) In 1923 the Trowbridge Church of England Schools were reorganized in the manner described above. At the same time the infants were moved to the Stallard Street building. In 1928 these departments were converted into a boys' school only. This was transferred to the Council in 1931 and became a junior mixed school. (fn. 1408) The average attendance in 1938 was 227. (fn. 1409) The school was closed in 1940, (fn. 1410) but reopened in 1947 to relieve pressure. (fn. 1411) In 1928 the infants' school was transferred to the Council and at the same time the Newtown Infants' School (see below) was fused with it. (fn. 1412) This left the Stallard Street building vacant. It was used for Sunday schools and similar purposes until 1932 when it was leased to the Ministry (then Office) of Works for a labour exchange. (fn. 1413) In 1935 two new classrooms were added to the Trinity Infants' School, (fn. 1414) whose accommodation in 1938 was computed at 300. (fn. 1415) The average attendance was then 340. It is still (1950) an infants' school. (fn. 1416) The trust funds of the Old Trinity Church of England Schools were regulated by a Ministry of Education scheme of 1949. (fn. 1417)
Staverton Church of England School was established in 1850 in a house leased from the Kennet and Avon Canal Company to a Mr. Newth, one of the managers, who in turn leased it to the managers. It was united with the National Society in the same year. (fn. 1418) The attendance in 1857 was 50. The pupils were then taught by a temporary mistress and 2 pupil teachers. The discipline and instruction were reported to be 'fair' but the school suffered from the absence of a proper mistress. (fn. 1419) In 1880 a new building with a capacity of 100 was erected on a site conveyed under the Schools Sites Acts by S. S. Kiddle to the vicar and churchwardens. (fn. 1420) The accommodation was computed at 107 in 1893 (fn. 1421) and 1895 (fn. 1422) and 100 in 1938. (fn. 1423) From 1857 (fn. 1424) to 1899 (fn. 1425) it was a mixed school. In 1931 it was converted from a mixed to a junior mixed and infants' school. (fn. 1426) The average attendance was 48 in 1893, (fn. 1427) 53 in 1895, (fn. 1428) 60 in 1899, (fn. 1429) 57 in 1906, (fn. 1430) and 30 in 1938. (fn. 1431)
The building of Studley St. John's School was begun in 1853 and completed in 1854 on a site conveyed in the latter year by Lord Manvers to the rector and churchwardens of Trowbridge. It was united with the National Society. (fn. 1432) In 1855 the State made a building grant of £381 in augmentation of £446. 6s. subscribed by the promoters. (fn. 1433) In 1857 it was a mixed school of 100–10 pupils, taught by a certificated mistress and a pupil teacher in a schoolroom and classroom. The discipline and instruction were reported to be 'fair'. The school was much used by children from Southwick (in North Bradley). (fn. 1434) The accommodation was computed at 152 in 1893, (fn. 1435) 1895, (fn. 1436) and 1899. (fn. 1437) The average attendance was 46 in 1893, (fn. 1438) 39 in 1895, (fn. 1439) and 33 in 1899. (fn. 1440) The school was closed in 1898. (fn. 1441) The trust funds of the Studley St. John's old National school were regulated by a Ministry of Education scheme of 1949. (fn. 1442)
In 1857 20–30 children were being taught in Studley Baptist chapel. (fn. 1443)
St. Stephen's school for infants was founded ante 1893. It was never affiliated to a society. The accommodation was computed at 100 in 1893, (fn. 1444) 1895, (fn. 1445) and 1899. (fn. 1446) The average attendance was 103 in 1893, (fn. 1447) 90 in 1895, (fn. 1448) 54 in 1899, (fn. 1449) and 60 in 1901–2. (fn. 1450) The school was closed in 1902. (fn. 1451)
St. Thomas's Church of England School, Timbrell Street, was built in 1872 to hold 183. (fn. 1452) The conveyance under the Schools Sites Acts is dated the same year. It was united with the National Society. (fn. 1453) The State made a building grant of £198. 10s. in augmentation of £842. 6s. 2d. subscribed by the promoters. (fn. 1454) The accommodation was computed at 193 in 1893, (fn. 1455) 1895, (fn. 1456) 1899, (fn. 1457) and 1906, (fn. 1458) and at 153 in 1931 when the school was discontinued. (fn. 1459) In 1893 (fn. 1460) and 1895 (fn. 1461) it was a school for girls and infants. In 1899 (fn. 1462) it was used for infants only. The 'average attendance was 112 in 1893, (fn. 1463) 129 in 1895 (fn. 1464), 65 in 1899, (fn. 1465) 63 in 1906, (fn. 1466) and 64 in 1931. (fn. 1467) The trust funds of the St. Thomas's Church of England School were regulated by a Ministry of Education scheme of 1949. (fn. 1468)
The Margaret Stancomb Memorial Infants' School was built in 1893 by J. P. Stancomb, in memory of his deceased wife. Its capacity was 160. It was intended to serve as an extension of the British boys' and girls' schools. The premises were conveyed in trust under the founder's will proved in 1900. (fn. 1469) The school was undenominational and affiliated to the British Society. (fn. 1470) It was transferred to the Council in 1908. (fn. 1471) The accommodation was computed at 158 in 1895, (fn. 1472) 1899, (fn. 1473) and 1906. (fn. 1474) The provision of additional accommodation for 140 children was authorized in 1930 and a building tender for £5,175 was accepted. (fn. 1475) The accommodation was computed at 350 in 1938. (fn. 1476) The average attendance was 123 in 1895, (fn. 1477) 127 in 1899, (fn. 1478) 107 in 1906, (fn. 1479) and 176 in 1938. (fn. 1480)
The rapid development of Newtown at the end of the 19th century led the committee of the Trowbridge Old British Schools in 1897 to plan the establishment of an undenominational school in that quarter. In 1898 the Wesley Road Sunday School, accommodating 200, was by arrangement with the trustees taken over as a day school and £140 spent on minor improvements. (fn. 1481) A State grant became payable in that year. (fn. 1482) A site for a new school and £500 was given by Sir Roger Brown, and by 1900 £2,377 had been received in donations. The building of brick with Bath stone facings, designed by T. B. Silcocks of Bath, was opened in 1901. When opened it was said to be of the 'central hall' type, so arranged within that the head teacher could watch each classroom, though without the possibility of the children in one room seeing these in another. It was warmed with hot-water pipes. The school was considered both in the design of its buildings and the methods of its teaching to be in the forefront of educational progress. (fn. 1483) In 1906 the buildings were claimed to be private property. The County Council paid a nominal rent from 1905. The school was united to the British Society (fn. 1484) until its transfer to the County Council in 1909. (fn. 1485) A new building on adjacent land to provide places for 200 infants in 5 classrooms was decided upon in 1926, and expenditure of £4,450 authorized next year. (fn. 1486) The school was graded as mixed in 1899. (fn. 1487) In 1931 it became a senior mixed school. (fn. 1488) It is now a junior Council school. (fn. 1489) The accommodation was computed at 122 in 1900, (fn. 1490) 432 in 1901 (fn. 1491) and 1906, (fn. 1492) and at 236 in 1938. (fn. 1493) The average attendance was 155 in 1899, (fn. 1494) 165 in 1900, (fn. 1495) 170 in 1901, (fn. 1496) 404 or 425 in 1906, (fn. 1497) and 171 in 1938. (fn. 1498)
In 1936 a site in Frome Road was purchased from Jabez Smith for a new school. Additional land, at Galley Farm, was acquired later in that year. Here were erected senior schools for 400 boys and 400 girls, called (after the Chairman of the building Sub-Committee) the Nelson Haden schools. The building was opened in 1940. By the operation of the Education Act (1944) it became a secondary modern school. (fn. 1499)
In 1947 the managers of the St. John's Roman Catholic (Independent) School announced their intention of establishing it as a voluntary-aided school for about 160 children mainly between 5 and 11. Effect was given to this intention by a Ministry of Education Order of 1950. (fn. 1500)
From the earliest date for which we have any record there have been private schools in the town. In 1818 there were 3 such schools for 80 to 100 boys. (fn. 1501) In 1833 there were 7 schools entirely without endowments. Two belonging to Nonconformist communities contained 29 girls, another 12 girls, another (begun 1828) 35 boys, another (begun 1830) 24 girls, and another (begun 1831) 16 children. There were also 3 'day boarding schools', one of 4 boys and 29 girls, another (begun 1824) of 36 boys, and another (begun 1833) of 9 girls. There were also 10 Sunday schools (noticed under the churches), (fn. 1502) one attached to the parish church and one to each chapel. Many of them were formed into a Sunday School Union. Some 1,300 children attended these schools. (fn. 1503) In 1857 60 children were taught in 8 dame schools. (fn. 1504) In 1871 there were 5 'private adventure' schools besides a 'private' school managed by a committee not acting under a trust. (fn. 1505) Today (1950) there are a convent school and 2 boys' preparatory schools. (fn. 1506)
In 1835 (fn. 1507) there were 3 lending libraries attached to Baptist Sunday schools, and one attached to the British schools. (fn. 1508) One of these four was reputed to be among the earliest lending libraries to be established in the country. (fn. 1509) In 1890 lending libraries were attached to 4 Baptist Sunday schools. (fn. 1510) A not very flourishing Mechanics Institution for Mutual Improvement existed in the town in 1849. Tradesmen and mechanics to the number of 70 attended it. The quarterly subscriptions were 2s. 6d. and 1s. 6d. There was a library of 287 books. (fn. 1511) In 1851 it had a quarterly membership of 166 and a library of 354 volumes. It ran fortnightly lectures in winter. In the same year it promoted the establishment of an annual flower show. (fn. 1512) It still existed in 1865 when it was housed in Court Hall, Castle Street, now the Court Hall Café. It then had a librarian and two secretaries. (fn. 1513) The Victoria Technical Institute, Castle Street, formerly the Trowbridge Technical School, designed by Thomas Davison, was opened in 1899. (fn. 1514) Its Technical Department (The Wilts. County Textile School) was opened in 1929. (fn. 1515)
When George III visited Trowbridge in 1789 the town band was called out. Its reputation was then good and was still maintained in 1814. (fn. 1516) A Trowbridge Amateur Operatic Society was founded in 1922 but has ceased to exist. An Amateur Dramatic Society was founded in 1933. (fn. 1517)
Parochial Poor Relief
A parish workhouse was under construction in 1732, (fn. 1518) towards the completion of which £120 was borrowed from divers charities. (fn. 1519) A master was appointed in 1733 at a salary of £15 per annum. Between October 1736 and May 1737 the inmates averaged 41. (fn. 1520) The fate of this building is unknown, but it had disappeared by 1797. (fn. 1521) From 1786 to 1811 the parish poor seem to have been placed in the Old Almshouse. (fn. 1522) In 1811 the vestry resolved that outdoor relief being inadequate, a 'house of industry' should be established. A committee of management was appointed. Timbrell offered a free site and the parish voted £650 to meet the building costs. It does not seem, however, that the building was erected. Later in the year a house in Back Street was taken by the parish for the use of poor children and other paupers. (fn. 1523) It was stated in 1834 that there was no workhouse, but that the parish rented a building for lodging the homeless poor. It contained forty-three persons who were at liberty to do what work they could get. (fn. 1524)
In 1769 Joseph Harford, of Studley, an infirm old man, conveyed to the churchwardens and overseers two cottages in Studley in return for a fixed annual maintenance. (fn. 1525) In c. 1772 William Somner, an acting overseer, embezzled £97. 7s. 2d. of the parish money. He discharged his debt, in part at least, by assigning to the parish his share in a fine imposed upon Dr. Isaac Long, a Trowbridge physician, whom he had delated for participating in a lottery. (fn. 1526)
In 1814 the parish was said to have a good reputation for relieving the poor. The parish paymasters had a voice in the vestry and were heard there with more candour and respect than in many 'arbitrary' vestries in the neighbourhood. In cases of genuine distress 'vilifying language' was avoided. (fn. 1527) In 1834 there were three overseers, not usually re-elected after their year of service, assisted by a vestry clerk and by an assistant overseer, who acted respectively as paymaster of the poor and rate collector. Poor-rates were fixed at specially summoned meetings of ratepayers, at which a rate equal to three months' expenditure was usually voted. Monthly meetings were held by churchwardens and overseers to decide applications for relief, and ratepayers were expected to attend to give their aid. (fn. 1528) Eden prints a table of poor-rates for twenty-two years between 1774 and 1795. The highest figure was £1,624. 6s. 8d. in 1784, the lowest £776. 7s. 3d in 1792. The decline in rates towards the end of the period was attributed to the higher wages that clothworkers could earn after the industry had begun to be mechanized. (fn. 1529) The poor-rates amounted to £2,940, £3,553, £4,249, and £5,611 in 1803, 1813, 1821, and 1831 respectively. This represents an average per head of population of 10s. 2d., 11s. 8d., 8s. 11d., and 10s. 4d. in each year. (fn. 1530) About 3,000 paupers were relieved in 1834. (fn. 1531)
Charities (fn. 1532) for the Poor
Old Almshouse. At Trowbridge manor court in 1479 James and Joan Terumber and others took of the lord a vacant piece of ground, 116 by 33 ft., on the north part of Trowbridge churchyard for an almshouse. They also took the reversion of another plot, 117 by 33 ft., which the rector held, for a garden for the almspeople. (fn. 1533) An almshouse was subsequently built. By a deed of feoffment of 1483 six poor men and women of the almshouse were to have 3d. apiece weekly for their finding until 6 marks should have been expended. By the same instrument it was provided that each almsperson should have a separate room and should enjoy the common garden. A priest was to have a room on the north side of the almshouse, with a garden adjacent, and, with the oversight of the feoffees and churchwardens, was to govern the community. The almspeople were to pray twice daily for the souls of the founder and his wives Joan and Alice. (fn. 1534) The almshouse was evidently in use when Leland visited the town in c. 1540. (fn. 1535) When the chantry was dissolved, a sum of £4, alms to the poor, issued out of the chantry lands. This was said to be by force of the foundation, but there is no express reference to a rent-charge in the foundation deed. (fn. 1536) The same rent issued in 1563 (fn. 1537) and in c. 1645 was still paid to six almspeople. It is not clear, however, whether Edward Yerbury, who paid it at the latter period, did so as owner of the lands called Naylers or Bradleys Leaze in Studley, out of which it issued, or as collector of the king's rents. The payment lapsed during the Civil War and the almspeople are reported to have complained for the want of it. How far they actually suffered is not certain, for it was alleged in 1661 that they were supported by the parish. In any case, however, the house fell into disrepair. (fn. 1538)
In 1661–1663 the Yerburys, Wallises, and Singers were involved in litigation in the Exchequer over the rent. The outcome has not been ascertained. It is plain, however, that the building remained. In 1727 its windows were glazed and in 1737 repairs were carried out. (fn. 1539) At a special vestry called in 1764 it was apparently decided to lease the building and apply the rent to poor relief. (fn. 1540) A rent of £4 per annum was paid, somewhat irregularly, from 1766 to 1786. Thereafter the almshouse appears to have been used as a 'poorhouse for the reception of parish paupers' until 1811, when it was pulled down for the enlargement of the churchyard. The building, of six small rooms above and six below, could still be remembered in 1834. The charity appears to have lapsed after 1811.
Yerbury's Almshouses. In the 17th century another almshouse was erected in Roundstone Street by the brothers William, John, and Richard Yerbury. (fn. 1541) William bequeathed £50 towards enlarging it and £200 towards the maintenance of the inmates, and in 1700 Richard bequeathed £100 for the latter purpose. Dr. Henry Yerbury, a fourth brother, by his will dated 1685, bequeathed the sum of £200 to pious uses. It was eventually decided to invest this sum in land and to apply the rents to the benefit of the almspeople. In 1692 Edward Yerbury, and at an unknown date William Yerbury, 'of Hempstead', Richard's sons, gave £50 and £100 respectively towards the almshouse and its inmates.
In 1724 the sums given or bequeathed towards the maintenance of almspeople were vested in trustees who were required to purchase land therewith, and use the profits first on the repair of the building and secondly on the support of six poor widows of the parish residing in the almshouse. In 1735 a meadow called Oster's, adjacent to the almshouse, with some ground adjoining, and a field called Pepper Acre, all in Trowbridge, were conveyed to the trustees, who by 1739 had also acquired certain lands in North Bradley. In 1748 they acquired another plot adjacent to the almshouse. All these properties were held by the trustees in 1834 except one of those in North Bradley, which was lost. In 1793 the trustees, with doubtful legality, leased most of Oster's to John Ching on a 1,000—year building lease. Upon this land Yerbury Street was erected. Some parts of the estate were afterwards bought from the lessee by members of the Webb family and others. These measures raised the revenues of the trust, which, taking rents and investments in Consols together, amounted in 1834 to £129. 18s. and in 1903 to £144. 18s.
In 1834 the five almswomen were all unrelieved Anglican widows. They were in receipt of £15 per annum, to which sum their former annual stipends of £20 had at some uncertain time been reduced. In 1899 the Trowbridge parochial charities were vested by Local Government Board Order in the Urban District Council. The trustees of the Yerbury charity protested against this decision on the ground that the charity was ecclesiastical. It was, however, impossible to prove this contention, as there was little evidence, other than usage, to support the practise of confining the benefits of the charity to Anglicans. The charity is now (1951) open to all without denominational restriction. (fn. 1542) In 1903 and 1939 (fn. 1543) there were six widows in residence, each in receipt of £1. 12s. monthly.
The stone almshouses with tiled roofs consisted in 1834 and 1903 of six tenements, each of two rooms. In 1834 the building had recently been repaired at a cost of about £200. Behind each tenement was a garden plot. The buildings were described in 1903 as 'very old' and the rooms as 'small and rather dark'. They were rebuilt in 1914. (fn. 1544)
In 1724 William Yerbury and Thomas Bennett conveyed the property of the trust to 4 trustees, with whom they were themselves associated for the purpose of choosing the almspeople. In 1790 the trustees numbered 6 and in 1872 8. In 1903 there were 7 acting trustees who met at least once a year.
Salter's Almshouses. An indenture of 1851 records that Samuel Salter, then deceased, conveyed seven houses adjoining Emmanuel Chapel to trustees. Five of the houses were to be used as an almshouse for poor widowers and widows, who were to be chosen by the chapel deacons from among communicant members of the congregation. In 1884 two of the houses were surrendered to the building committee of the chapel, who pulled them down and used the site to improve the approach to the chapel and school. In return, part of the school was adapted to form two new almshouses. At an uncertain date the remaining old almshouses were removed and rebuilt as a row of red brick cottages in Chapel Yard. In 1903 there were ten inmates, all widows.
In 1859 some land in Back Street was conveyed in trust to the Revd. J. D. Hastings, who in 1861 built thereon, partly at his own cost and partly by subscription, eight almshouses for men. In 1868 these houses, fronting upon Union Street, and hence known as the Union Street Almshouses, were conveyed to trustees, to the use of unrelieved men of Trowbridge parish aged 60 or more and incapable of earning their living. The inmates were to be chosen by the trustees, but it was provided that donors of £250 and £500 towards the costs of erection should be entitled for life and in perpetuity respectively to nominate candidates for the almshouses. If funds permitted each occupant was to receive 5s. a week towards his keep. The Revd. F. H. Wilkinson, by his will proved 1861, left £1,200, the income on which became payable to the almshouses in 1866. To this members of the Clark family added £500 stock in 1870. Isaac Besser and Maria Waldron, by their wills proved 1867 and 1872, left £100 and £200 respectively. William Stancomb in his lifetime gave £500 for the purpose of raising the stipends of the inmates to 6s. a week, a figure at which they stood in 1939. (fn. 1545)
Zion Chapel Almshouses. In 1893 William Applegate conveyed various lands and buildings in Union Street to trustees to the use of Zion Chapel. The conveyance comprised two almshouses in the backyard of Zion Chapel, each of two rooms. These were to be occupied by members of the Zion congregation (or, in default, of neighbouring churches of the same faith and order), aged 60 or over. Vacancies were to be filled at a church meeting. In 1903 there were two female inmates, each of whom received an annual allowance of £3. 15s. 6d., which in 1939 had been reduced to £3. (fn. 1546)
Shortly before 1901, Sir Roger Brown constructed in Polebarn Road two blocks of almshouses, each of stone roofed with tiles, and fit for three inmates. The houses, which were built in memory of the founder's deceased wife and were consequently called Lady Brown's Cottage Homes, were comparatively spacious and the accommodation 'very well arranged'. These buildings were conveyed to trustees in 1901 and the conveyance was confirmed by the founder's will proved in 1902. The inmates were to be six women 'of good character and moral worth' in reduced circumstances, aged 60 years or more, and born or recently resident in Trowbridge or Hilperton. If funds permitted, they were to receive on an average 7s. a week, a payment which was still being made in 1939. (fn. 1547) In 1903 all vacancies were filled, five of them by persons nominated by the founder.
In 1893 Brigadier-General G. L. Palmer founded, in memory of his father, the New Almshouses for aged couples at Islington or The Down. Each occupant of the three houses received £1 monthly in 1939. (fn. 1548)
In commemoration of the Golden Jubilee of Queen Victoria a fund was accumulated by public subscription for the benefit of poor and aged widows. A body of twelve trustees, part Anglican, part Nonconformist, was formed in 1888 and regulations drawn up for the administration of the sum of £650 already subscribed and of any additions thereto. The fund was named the 'Queen Victoria Jubilee Widows Fund'. The interest on the capital, with any annual subscriptions, was to be distributed to widows, aged at least 50, poor, 'of sober and moral life' and resident for three years in Trowbridge. The distribution was to be made, without regard to denomination, in sums not exceeding £2 a head. By his will proved 1902 Sir Roger Brown bequeathed £250 to the fund. At the annual distribution in 1902 120 widows received 10s. each. In 1903 the endowment amounted to £1,750 and the gross annual income to £69.
Ray's Charity, for the benefit of poor clothiers of Trowbridge, Chippenham, Westbury, and Marlborough, will be described under Westbury. In 1903 the Trowbridge portion of the dividends upon the invested capital of the charity was applied to the benefit of the inmates of the Union Street Almshouses.
Wallis Charities. In 1652 William, in 1661 Ezekiel, and at an uncertain date Edward Wallis, gave £20, £10, and £10 yearly to be distributed to the poor at Christmas. Henry Wallis, by his will proved 1692, bequeathed the interest on £50 to be distributed among twelve poor housekeepers of Trowbridge and Studley, not already in receipt of alms. Ann Wallis his daughter bequeathed the interest on £20 for a like purpose in 1693 and Ann Wallis his relict, the interest on £30 in 1721. In 1769 the sum of £120, derived from these charities was invested in Trowbridge turnpike trust bonds and yielded £6 per annum.
Temple Charities. In 1736 William Temple gave the interest on £20 to be distributed yearly to the poor on Twelfth Night. In 1773 his son William bequeathed the interest on a like sum to be similarly distributed at Christmas. At first these moneys were lent out on personal security. In 1779 £31 were invested in Trowbridge turnpike bonds. In 1786 the proceeds were given to the second poor.
Pinchin's Charity. At a date unknown but before 1672 Robert Pinchin, citizen and draper of London, left £100, the profits on which were to be distributed in bread to the unrelieved poor. The money was invested in closes called Brandier's Mead and White Trowe Leaze, in Studley and Trowbridge, the area of which was slightly enlarged by allotments made at the inclosure of 1816. The lands were long let and managed by the churchwardens.
Richard Singer's Charity. In 1704 Richard Singer bequeathed £120 for the purchase of land or a rentcharge, the profits whereof were to be distributed weekly in bread to the oldest unrelieved housekeepers in Trowbridge who attended church. In 1769 the capital was invested in Trowbridge turnpike bonds. There is no record of a distribution of the profits until 1790, when bread, purchased with this and other charity moneys, was distributed to the poor on St. Thomas's Day. After 1797 bread to the value of 4s. was given to the poor weekly out of the charity.
Clark's Charity. In 1802 John Clark, the clothier, bequeathed the interest on £52. 10s. to be given on Christmas Day to the poor in bread. The money was at first invested in Consols but in 1825 placed on mortgage. This was paid off in 1847 and the proceeds again invested in Consols.
Bissie's Charity. By his will dated 1684 Richard Bissie bequeathed £50 in trust for the purchase of land, the profits on which were to be devoted towards binding forth yearly a poor boy of Trowbridge. In 1687 pasture called White Trowe Close, Studley, was purchased with the trust money. At the inclosure of 1816 a small allotment was made towards the enlargement of the tenement. Apprentices appear to have been bound until 1756. In 1834 it was proposed to restore the charity to its original purpose and it was being so used in 1903. The usual premium paid in 1903 was £7. The income then amounted to £8. 13s. in rent and £9. 2s. interest on stock. The trustees of the charity appear always to have been the churchwardens of Trowbridge, who were still binding boys in 1923. (fn. 1549)
It was stated in 1834 that 'all the charity moneys belonging to Trowbridge' had 'for about 40 years last past' been brought into one account. On this the schoolmaster's salary was the first charge and the residue was distributed to the poor in bread. This arrangement appears actually to have been made in 1787, to have then applied to the Wallis, Pinchin, Bissie, and the various school charities, and presumably also to the Temple charities, and subsequently to the Richard Singer and Clark charities. It was doubtless in consequence of this unification that it was considered reasonable in 1787 to invest that part of the capital of the Temple charities, not invested in turnpike bonds, in the redemption of a rent-charge on lands believed to belong to Pinchin's charity.
The turnpike bonds in which the Wallis, Singer, and Temple charity moneys were invested were paid off in 1870 and reinvested next year in Consols. The allotments made to the Pinchin and Bissie charities in 1816 were sold in 1871 and invested in Consols. It was stated in 1903 that the income derived from these charities, except Bissie's, and from Clark's charity had 'for many years' been distributed as follows: £5. 8s. in sums of 9s. each to twelve poor and unrelieved Trowbridge housekeepers selected by the churchwardens; £4 in bread on or about St. Thomas's Day; in bread each Wednesday to thirty poor attending service at St. James's church.
Maria Waldron's Coal and Blanket Charities. By her will proved 1872 Maria Waldron left £1,200 in trust, the profits on which after investment were to be devoted to supplying 1 cwt. of coal weekly in December, January, and February to poor persons of Trowbridge parish aged 65 and more. Distribution was entrusted to the Rector of Trowbridge and the Vicar of Holy Trinity, Trowbridge. It was stated in 1903 that from 80 to 100 persons habitually benefited each year. Before her death in 1872 Maria Waldron had given £233. 6s. 8d. stock for the establishment of a blanket charity. By Order of the Charity Commissioners (1873), following upon a declaration of trust in which the charity was named 'Maria Waldron's Gift', this sum was transferred to the Official Trustees of Charitable Funds. A further sum of £347. 10s. 8d. was added at the same time. It was stated in 1903 that the charity was distributable in two ways. First, depositors of 3d. a week throughout the year could at the end of the year obtain a pair of blankets usually sold at 18s. Secondly, anyone producing a loan ticket and depositing 6d. at the beginning of winter could borrow a blanket until the following June, whereon his 6d. would be restored if the blanket were in good condition. Any 'respectable person' might purchase a loan ticket. By a Charity Commission scheme made in 1927 the trustees were empowered to apply to the purchase of coal any part of these charity moneys which the purchase of blankets did not absorb. (fn. 1550) The charity is now (1951) wholly devoted to coal. (fn. 1551)
Lost Charities. In 1687 Mrs. Margaret Davis gave £10 to be distributed to the poor at Christmas and in 1700 John Davis gave £10 for a like purpose. No interest arising from these gifts appears to have been applied to charity after 1760. Thomas Cooper, of Stowford (in Wingfleld), by a legacy distributed in 1731, left £50 either for the purchase of land or as security for the payment of interest at 4 per cent. The profits or interest were to be given to the poor on St. Thomas's Day. Interest was paid until 1779 and then ceased. Edward Davis devised a yearly rent-charge of £2 out of a messuage in Trowbridge to be paid to the poor on St. Thomas's Day. It was paid by the churchwardens in 1782 and advanced by them in 1783, but has not thereafter been traced. In 1611 John Hawkins gave £20 and at unknown dates Anthony Shepherd, Robert Witchell, Ann Witchell, Mrs. Langford, Mrs. Mary Langford, and Mr. Bushell gave £5, £5, £5, £10, £3, and £2 respectively. The intention in each case seems to have been a distribution to the poor at Christmas. The sum of £78 invested in 1680 in land at Hilperton, called the Poor's Ground (see above—Schools), may have been derived from these benefactions. In 1736 Michael Elliott gave land for the benefit of the second poor. In 1786 this produced £5. 5s. All these charities were lost in 1834.
The following non-recurrent gifts to the poor are on record. By his will dated 1551 Edward Langford of Trowbridge bequeathed to 'everyone of my poor neighbours in Trowbridge 8d. to each house'. (fn. 1552) By his will dated 1640 James Davis, of Trowbridge, mercer, left £1 to the poor. (fn. 1553) By his will proved 1714 Nathaniel Houlton left £20 to the poor. (fn. 1554) The establishment of a soup kitchen by Hannah Gouldsmith in 1888 was a measure of poor relief of a different kind. (fn. 1555)