Pages 6-23
A History of the County of Wiltshire: Volume 9. Originally published by Victoria County History, London, 1970.
This free content was digitised by double rekeying. All rights reserved.
CHISELDON
The parish of Chiseldon (fn. 1) adjoins the borough of Swindon in the north and the distance from the centre of Swindon to Chiseldon village is about 5 miles. It is a long, narrow parish typical of those in this region which stretch northwards from the chalk escarpment of the Marlborough Downs. From north to south the distance is some 5 miles. Across the northern tip it is less than ¼ mile wide, but at its widest point, in the south, it is about 3 miles broad. (fn. 2) In 1891 the area was 4,884 a. (fn. 3) Three years later the entire ancient parish of Draycot Foliat (705 a.) was transferred to Chiseldon. (fn. 4) In 1928 a small area at Coate in the north of the parish, including part of Coate Water (see below), was transferred to Swindon and a few years later 5 a. in the same region were similarly transferred. (fn. 5) After these changes the area was 5,561 a. (fn. 6)
The geology of the parish is varied and that of the northern part, where there are small zones of Pectinatus Sands and Portland Beds, has been described elsewhere. (fn. 7) Chiseldon extends from the low-lying clays in the north across belts of Gault and Upper Greensand to the Upper Chalk of the Marlborough Downs in the south. (fn. 8) At their lowest point the clay lands do not rise above 350 ft. (fn. 9) To the south of the clays there is a gently rising belt of Gault which stretches right across the parish and on which is situated Burderop Wood, a densely planted area of woodland. (fn. 10) Beyond the Gault is the ridge of Upper Greensand, also well-wooded, on which are situated the three main areas of settlement in the parish, namely, the village of Chiseldon and the hamlets of Hodson and Badbury. (fn. 11) On the ridge the ground is distinctly hilly and at several points, notably to the south-east of Hodson and to the west of the parish church, deep tree-lined coombs have been gouged out of the chalk. The greensand ridge is succeeded to the south by the Lower Chalk Terrace at the foot of the Marlborough Downs. Here is an expanse of flat treeless land lying mostly at 500 ft. But beyond the chalk terrace the ground rises steeply to the Upper Chalk of the downs and at Burderop Down in the south-west corner of the parish it reaches to over 800 ft. (fn. 12) The parish has, therefore, a great variety of soils ranging from the heavy clays in the north, best suited for dairy farming, to the moreeasily drained land of the Lower Chalk Terrace in the south which in 1967 was partly arable and partly pasture. On the Upper Greensand there was in 1967 a large nursery garden growing tomatoes. (fn. 13) Bricks are made on the Gault Clay south of Badbury Wick. (fn. 14)
A tributary of the River Cole rises north of Chiseldon village and flows northwards out of the parish by way of Coate Water. North of the reservoir this tributary, anciently known as the 'Dorcan', forms the northern and extreme north-western boundaries of the parish. (fn. 15) The River Ray, since diverted by the construction of Coate Water, formerly rose in Burderop Wood. (fn. 16)
The parish is crossed by a number of ancient tracks of which some still served as roads in 1967. The Ridge Way enters directly south of Chiseldon village and crosses the parish in a south-westerly direction. Most of the eastern boundary of the parish is formed by the 'Eldene Hegheway' which runs west of Liddington Castle northwards towards Snodshill. Part of the Roman road between Cirencester and Mildenhall, known for some of its course as 'Brokene Street', is now part of the main road between Swindon and Marlborough and runs right through the parish from north to south. (fn. 17) It probably only became the main road after 1819 when it was turnpiked. Until then the main road southwards ran due south from Burderop up the steep slope of Burderop Down and thence south-eastwards to Marlborough via Ogbourne St. Andrew. This road was turnpiked in 1761–2. (fn. 18) In 1967, as a minor road, it formed the western boundary of the parish. A track, called Gipsy Lane in 1845, forms part of the southern boundary. (fn. 19) The road running south of Burderop Park eastwards towards Chiseldon village was turnpiked in 1813–14 (fn. 20) and two former toll-houses still stood on it in 1967. At the time of the turnpiking the course of the road through the village was diverted a little and extended eastwards to join the high road between Swindon and Marlborough. (fn. 21) Where it left the village the road became known as New Road. One or two small lanes in the village itself were disrupted when the railway line was constructed through Chiseldon in 1881. (fn. 22) Butts Road, leading towards Badbury, was known as Butt Way in 1781. (fn. 23) The hamlet of Badbury lies on the secondary road running from Liddington westwards towards Chiseldon. In 1773 the nucleus of the hamlet seems to have clustered between this road and a lane which ran to the north of it (fn. 24) but in 1967 the lane was only a rough track.
The railway line between Swindon and Andover was opened in 1881 and cut right through the centre of the village where there was a station. (fn. 25) A halt for Chiseldon Camp (see below) was opened in 1930. (fn. 26) The railway was closed in 1961 and in 1967 the line through Chiseldon had been pulled up and the station was derelict. (fn. 27)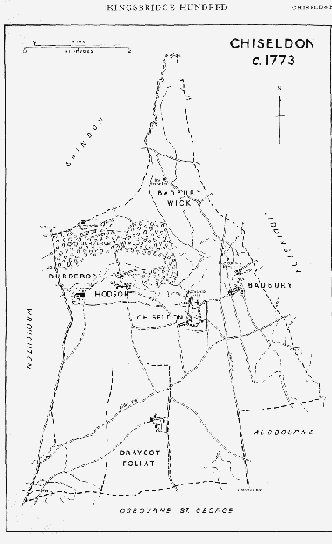 The prehistoric archaeology of Chiseldon provides evidence of continuous habitation since Neolithic times. A stone circle of this period, first found by Richard Jefferies to the east of Day House Farm, was made up of 9 recumbent stones. (fn. 28) The parish has 3 bowl barrows (fn. 29) and a disc barrow on Burderop Down (fn. 30) was found to contain Iron Age sherds. (fn. 31) Sherds of this date were also found in 1951 (fn. 32) in a quadrilateral 'kite' excavated in Burderop Park. (fn. 33) The most numerous remains in Chiseldon are those of Romano-British origin, and include traces of huts (fn. 34) and fragments of a hypocaust. (fn. 35) The Roman highway from Corinium (Chencester) to Cunetio (Mildenhall) passes the length of the parish (fn. 36) and an extensive field system of similar date stretches from the downs at Badbury and Burderop southwards to Smeathe's Ridge. (fn. 37) On Burderop Down an earthwork, which formerly inclosed a plantation and was probably of 18th-century date, was placed over an earlier field system. (fn. 38)
By the late 13th century Chiseldon manor was made up of three parts, Eastrop, Westrop, and Hodson. (fn. 39) The first two must be variants of East and West Chiseldon, two of the four or five tithings into which the parish was divided for certain purposes until the 19th century. (fn. 40) There was also at the end of the 13th century a place known as 'Cumbe', presumably lying in or near one of the deep coombs which are a feature of the parish. (fn. 41) Land belonging to the Cardeville family was known at the beginning of the 14th century as 'Cardevilleswick' and may have been situated near the Burderop estate with which it was merged in the mid 14th century. (fn. 42)
The modern parish contains a number of settlements. The three largest are the village of Chiseldon, the hamlet of Hodson, and the hamlet of Badbury. All three are ancient settlements. Chiseldon and Badbury certainly are the subjects of 10th-century charters. A charter of 901 concerning land at Chiseldon, also includes a reference to Hodson under the form 'Horeston'. (fn. 43) Descriptions of these three places are given below. Two miles north of Chiseldon village are a few houses belonging to the tithing of Coate, by far the greater part of which forms a detached portion of the parish of Liddington. (fn. 44) Here in 1822 the great reservoir for the Wilts. and Berks. Canal, known as Coate Water, was built along the boundary between Swindon and Chiseldon, so that until the boundary change of 1928 (see above) half the water lay in each parish. (fn. 45) Coate Farm, to the north of the reservoir, the birth place of Richard Jefferies, was also taken into Swindon in 1928. (fn. 46) North of Coate the narrow northern tip of the parish is occupied by the two farms of Upper and Lower Snodshill.
Badbury Wick, which lies about a mile north-west of Badbury, may once have been a larger settlement. A few cottages are shown here on a map of 1773. (fn. 47) But in 1967 there was only Badbury Wick Farm with its farm buildings and the brick works just to the south of the farm. A region in the west of the parish may have been known as Burderop from early times. In the form 'Burithorp' it occurs as a tithing in 1249. (fn. 48) The Abbot of Hyde's manor of Burderop emerges by that name in the mid 14th century. (fn. 49) In 1967 Burderop Park still retained some of the features of a great estate but part of the land was built over during the Second World War (see below).
In 1086 six burgesses in Cricklade were attached to the manor of Chiseldon and another Cricklade burgess contributed 5d. to the manor of Badbury. (fn. 50) When assessed for taxation in 1334 Chiseldon was rated at 126s. 8d. and with Liddington had the second highest assessment in the small hundred of Thornhill. (fn. 51) On this occasion Badbury was assessed separately at 86s. (fn. 52) In 1377 there were 145 poll-tax payers in Chiseldon and 78 in Badbury. (fn. 53) There were 3 contributors in Chiseldon to the Benevolence of 1545 and 4 in Badbury. (fn. 54) In 1576 there were 14 taxpayers in Chiseldon, Badbury, and Hodson together. (fn. 55) In 1801 there were 904 people in the whole parish. (fn. 56) The population then rose gradually until 1841 when it was 1,176. (fn. 57) Of this total Chiseldon village accounted for 547, Badbury 395, and Hodson 234. (fn. 58) In 1851 the population of the parish had fallen to 1,137 but had risen slightly by 1861 when it was 1,246. (fn. 59) For the rest of the 19th century there was little significant change, since the addition of Draycot Foliat to the parish in 1884 only added 56 people. (fn. 60) In 1911 the population was 1,197 but in 1921, after the military camp had been established in the south of the parish (see below), it rose to 1,688. (fn. 61) Thenceforth the population rose as more and more people working in Swindon made their homes in Chiseldon. In 1961 it was 2,598. (fn. 62)
The old centre of Chiseldon was to the west of High Street, where an open space known as The Square lay at the head of the steep coomb which runs north-westwards from the village. The Square was obliterated when the railway was constructed along the coomb and through the village. The Elm Tree Inn, which overlooked The Square, has been rebuilt. (fn. 63) The village streets, all south of the church, contain a number of old buildings, most of which have walls of local chalk stone and thatched roofs. On the north side of Turnball are several ranges of cottages dating from the 17th and 18th centuries. The former toll-house at the junction of Turnball and New Road was probably built c. 1814 and consists of a three-sided brick addition to one of these ranges. Cottages in Slipper Lane have walls faced with stone and brick but may originally have been of timber-framed construction. Nearby the thatched outbuildings of Dykes Farm include a long Lshaped barn. In Mays Lane the Cottage, formerly Chiseldon Cottage, appears to be a stone house of the early 19th century but carries date stones of 1583, 1615, and 1841. Further south a reconditioned house at right angles to the road has a dated chimney of 1623. In Church Street, facing the churchyard, is a thatched range of buildings some of which were originally timber-framed and possibly of medieval origin. A tablet of 1699 may record the date at which one of them was faced with stone. Glebe Cottage, at the east end of the range, was converted from derelict buildings c. 1954. (fn. 64) Parsonage Farm, immediately west of the church, has a ground floor of stone, probably of the 17th century, and an upper story of 19th-century brick. Two larger houses in the village have some claim to architectural distinction. The former Southfields House, re-named Chiseldon Manor in the 20th century, is a late-18thcentury brick building with a symmetrical front and two low flanking wings. Chiseldon House, an elegant stucco-faced villa of c. 1825, has an arcaded verandah and a cast-iron balcony with Greek key-pattern ornament.
The first houses to be built in the village for people travelling daily by rail to Swindon are situated in New Road and Butts Road. They are semi-detached or terraced brick houses, uniformly urban in style, carrying date tablets of 1904–8. Much housing development took place in Chiseldon between the two World Wars. Houses were built in the north of the parish along either side of Butts Road and northwards to Plough Hill along the western side of the road from Swindon to Marlborough. Houses were also built at this date along the east side of Station Road and along the road between Burderop and Chiseldon. After the Second World War considerable development took place to the north of the railway line on either side of the allotment gardens. In 1955 land behind the Y.M.C.A. hall was developed and in 1959 a council estate, which contained a number of old persons' bungalows, was built on the site of the allotment gardens to the north-east of Station Road. In 1964 houses were built on the former Recreation Ground in the west corner of the village and also on ground along New Road to the east of Chiseldon House. (fn. 65)
In 1968 the hamlet of Hodson remained almost unaffected by modern building. It consists largely of chalk-stone cottages with thatched roofs, forming several picturesque groups on either side of a steep and thickly-wooded road. Hodson House is a larger building with a roof partly of stone slates. The oldest house is Hodson farm-house which consists of a medieval cruck-framed range and a taller crosswing probably added in the 16th century. The remnants of two smoke-blackened cruck trusses survive in the older range which was formerly an open hall. To the east of the road to Burderop Wood is a cottage which shows traces of timber-framing. Nearly opposite a chalk-stone cottage with a thatched roof has a date stone of 1714 with initials 'I.H.M.'; this was the house of the principal character in The Gamekeeper at Home by Richard Jefferies (see below).
At Badbury a few new houses and bungalows were being built in 1968. There was formerly a group of old cottages at Badbury Bottom, a steep coomb lying west of the hamlet. (fn. 66) Several have been demolished, but survivors include an altered house with a thatched roof, chalk-stone walls, brick dressings to the windows, and a dated brick chimney of 1689. The stone is said to have been quarried in the side of the coomb. A smaller cottage has walls of Sarsen stone. Several springs rise at Badbury Bottom and further down the coomb lie the site of Badbury mill and the ruins of the mill house.
From 1811 to 1831 race-meetings were held at Burderop Down under the auspices of Thomas Calley of Burderop Park, one of the stewards of the course. (fn. 67) During the First World War a hutted army camp was built in the south of the parish east of the ancient parish of Draycot Foliat. It covered a considerable area of ground, extending about ½ mile from east to west and from north to south. After the war it was used for a time as a vocational training centre and during the Second World War accommodated both British and American troops. It was occupied by the army until about 1963 but by 1967 the married quarters alone were used. (fn. 68) The camp had its own chapel, dedicated to St. Michael and St. George, but this had been closed by 1967. (fn. 69) Shortly before 1939 land from the Calley estate was acquired by the Royal Air Force as an addition to Wroughton R.A.F. Aerodrome and Hospital. During the Second World War an American Base Hospital was built in Burderop Park. (fn. 70) The hospital was vacated by the Americans about 1965 and was taken over by the South-West Regional Hospital Board.
In 1619 William Calley (c. 1565–1641) purchased Burderop Park with the proceeds of a successful business transaction with the Spanish court. (fn. 71) His friends and correspondents included Endymion Porter and Sir Francis Cottington, English Ambassador in Spain. (fn. 72) He was knighted in 1629 and in 1632 was appointed, together with his son, Receiver General of the Crown Rents of Oxfordshire and Berkshire in recognition of his services. (fn. 73) Richard Jefferies (1848–87), the poet-naturalist, was born at Coate Farm (fn. 74) which was situated in Chiseldon until 1928 (see above). His boyhood was spent wandering in the countryside around Chiseldon and it was then that the foundations of his knowledge of the countryside and of natural lore were laid. The Gamekeeper at Home, written in 1877, commemorates his friendship with Benjamin Haylock, a gamekeeper on the Burderop estate. (fn. 75) An account of the conditions of farm and countrylife on the Burderop estate was given in 1880 in Roundabout a Great Estate. (fn. 76)
Manors and Other Estates.
Land at Chiseldon was devised to the Old Minster at Winchester by King Alfred who stated in his will that this and other lands were to be given to the church there in accordance with the wishes of his father. (fn. 77) About 900 the monks of the Old Minster appear to have surrendered this land (fn. 78) to Edward the Elder who granted the estate about 901 to his newly-founded abbey of St. Peter at Winchester, otherwise known as the New Minster. (fn. 79) It is uncertain whether the grant of Edward the Elder was made up of 40 or 50 hides, but at the time of the Domesday Survey the land held by the monks of the New Minster at Chiseldon was estimated at 40 hides. (fn. 80) In 1109 the New Minster moved to Hyde Mead and thereafter was known as Hyde Abbey. (fn. 81) It was noted in 1388 that from time immemorial the Abbot of Hyde and his predecessors had held as their own portion the manor of CHISELDON. (fn. 82) The estate continued to be held by Hyde and its abbots until 1538 when the house was dissolved. (fn. 83)
In 1540 the king granted the manor with its appurtenances in Chiseldon, Hodson, and Badbury to Sir John Bridges of Blunsdon, (fn. 84) later Lord Chandos, who died seised of it in 1558. (fn. 85) Lord Chandos was succeeded by his son Edmund, upon whose death in 1572 (fn. 86) the estate passed to his son Giles, who was seised of the manor, known as that of Chiseldon and Hodson, jointly with Frances his wife. (fn. 87) Giles, Lord Chandos (d. 1593) and his wife conveyed the manor together with lands, tenements, and rents in Chiseldon, Hodson, and Burderop to Thomas (II) Stephens in 1579. (fn. 88) Before his death in 1596 Thomas (II) settled the manor and rectory upon his second wife Dorothy for life. After Dorothy's death the manor passed to Nicholas Stephens, the eldest son of Thomas (II), although it seems that his brother Thomas (III) disputed the succession unsuccessfully. (fn. 89) Nicholas Stephens died in 1611 and was succeeded by his son Thomas (IV) Stephens (d. c. 1631), (fn. 90) who in 1619 conveyed the manor to trustees. In the same year they reconveyed it to William Calley the elder, citizen and draper of London. (fn. 91) On the death of William Calley in 1641, the manor passed to his son William (II) Calley, who in 1660 was succeeded by his son, yet another William. (fn. 92) William (III) Calley died without issue in 1670, whereupon the manor passed to his brother Oliver. (fn. 93) Oliver Calley died in 1684 and on his death the estate was inherited by his second son, Oliver (II) Calley, who died in 1715 and was succeeded by his son William. (fn. 94) William Calley died in 1768 and his heir was his son, Thomas Browne Calley, who died in 1791, and was succeeded by his son, another Thomas. (fn. 95) This Thomas died in 1836 and was succeeded by his son John James Calley, upon whose death in 1854 the direct male line of the Calley family failed. (fn. 96) J. J. Calley was succeeded by his cousin Henry, son of his father's younger brother. (fn. 97) Henry Calley died in 1881 and the estate passed to his son Thomas Charles Pleydell Calley, who died in 1932. (fn. 98) In this year the manor of Chiseldon passed to his only child Miss Joan Marion Calley, (fn. 99) who owned the estate in 1967.
The Cardeville family held a small estate in Chiseldon as early as the 13th century. At some date before 1236 Thomas de Cardeville conveyed to John de Cardeville a hide and 4 a. of land in Chiseldon, (fn. 100) and in 1236 John regranted Thomas half of the lands as a life estate with reversion to John and his heirs. (fn. 101) In 1305 Agnes de Cardeville, daughter and heir of a Thomas de Cardeville, granted land in 'Cardevilleswick' and in all places within the parish of Chiseldon to Hyde Abbey. (fn. 102) At this date Agnes also conveyed to the abbey all her land and tenements in Burderop and Hodson together with the reversion of 1 virgate, 2 a. of meadow, 2 a. of woodland, 12d. rent, and also the reversion of a messuage then leased to her sister Alice. (fn. 103) In 1306 the king pardoned the abbey for acquiring land in Chiseldon from Agnes de Cardeville. (fn. 104) Agnes was said to hold no other lands than those which she had conveyed to Hyde. (fn. 105) It was noted in 1355–6 that the Abbot of Hyde had acquired a carucate at 'Cardevilleswick' and also a messuage, 2 virgates, 26 a. of land, 2 a. of meadow, 4 a. of woodland, and 3s. rent, all parcel of an estate by then called the manor of BURDEROP. (fn. 106) The abbey of Hyde was again pardoned by the king in 1361 for acquiring the lands of Agnes de Cardeville. (fn. 107) In 1482–3 Agnes, wife of Thomas Dobyns, died seised of certain unspecified lands and tenements in Burderop and Hodson. (fn. 108) No more is known of the manor or estate of Burderop in the Middle Ages, but in all probability it remained with Hyde Abbey and was surrendered with the manor of Chiseldon in 1538. (fn. 109)
In 1540 Burderop manor and a grange called 'Monkebaron' were granted with Chiseldon to Sir John Bridges (see above). (fn. 110) On his death his lands passed to Sir Edmund Bridges, Lord Chandos (fn. 111) who in 1561 received a licence to alienate the capital messuage of Burderop Farm, together with Monkebaron grange and the tithes of both, to Thomas (II) Stephens of Burderop. (fn. 112) In 1561–2 the conveyance took place when messuages and lands in Burderop were transferred to Thomas (II) Stephens, (fn. 113) who died seised of Burderop Farm in 1596. (fn. 114) Before his death he had settled Burderop upon his first wife Elizabeth (d. 1574) as her jointure, with the intention that after his death his third son John should stand seised of the estate for the payment of legacies. (fn. 115) After this period the property was to remain to his eldest son Nicholas in tail male. (fn. 116) On the death of Thomas (II) Stephens trouble arose over the term of 6 years assigned to John. (fn. 117) In 1596 Nicholas and John Stephens agreed that Nicholas should have peaceful possession of the manor house of Burderop, together with demesne and parkland for the 6-year term, but the following year dissention arose and Nicholas accused his brother of wasting the park and reviving an old lease granted to Thomas Stephens (see below) in order to circumvent the 6-year term. (fn. 118) The dispute must have been resolved satisfactorily, since in 1611 Nicholas Stephens died seised of the manor and farm of Burderop, (fn. 119) and was succeeded by his son Thomas (IV) Stephens. (fn. 120) The estate thereafter followed the descent of the main manor and passed into the Calley family with whom it remained.
Burderop Park stands within extensive grounds in the north-west corner of the parish. The square three-storied stone house appears from the outside an entirely Georgian structure. (fn. 121) Internally the existence of an earlier house is revealed by two rooms with panelling and enriched plaster ceilings of the late 16th or early 17th century. Their position, one at the south-west and the other at the north-east corner of the present house, suggests that the original building may have consisted of two or more ranges disposed round a courtyard. It is possible that the main entrance was on the west side where a surviving Tudor doorway may have led through the west range to the courtyard. The original north-east room has an enriched plaster frieze above its oak panelling. The ceiling design includes the initials 'T.S.' and 'E.S.', possibly belonging to Thomas (II) Stephens (d. 1596) and his first wife Elizabeth (d. 1574). The initials 'W.C.' and figure '36' may have been added by William Calley (d. 1641) in 1636. An upper room on the north front has, above the fireplace, the painted arms of William (III) Calley, dated 1663. The north side of the house appears to have been remodelled at this date and at the same time was extended by a long wing projecting westwards. The main conversion probably took place before the middle of the 18th century and may have been carried out in more than one stage, the facades showing certain variations in detail. When it was complete the old building, except for the west wing, had been enclosed in a new square structure of formal classical design. To this a third story, of brick faced with stone, was added. A fine early-18th-century staircase occupies what is thought to have been the site of the courtyard. The most imposing of the facades are those facing south and east, the former being of five bays and having a central doorway with a segmental pediment. In front of it a forecourt is flanked by outbuildings which were evidently remodelled to match the house. A straight avenue leading southwards to the road has now disappeared. (fn. 122)
Burderop Farm lies immediately west of the forecourt, part of the farm-house being incorporated in one of its flanking buildings. The house has a projecting two-storied porch on its long south front and appears to be basically a 17th-century stone structure, much altered in the 18th and 19th centuries.
In 955 King Eadred was said to have granted Badbury in Chiseldon, then assessed at 25 hides, to St. Dunstan, Abbot of Glastonbury. (fn. 123) But it is probable that the grant, although authentic, was made to another, possibly secular person and that the name of Dunstan was a later interpolation. (fn. 124) The manor of BADBURY was certainly held by Glastonbury at the time of the Domesday Survey, when it was reckoned at 20 hides. (fn. 125) In 1168 Alexander III confirmed the manor to Henry of Blois, Bishop of Winchester and administrator of Glastonbury. (fn. 126) Bishop Savaric united the see of Bath with the abbacy of Glastonbury in 1200 and, in the subsequent apportionment of lands, Badbury was allotted to the Bishop of Bath in 1203. (fn. 127) In 1219 an agreement regarding the temporalities of Glastonbury and Bath was reached and Bishop Jocelin restored the manor to Glastonbury Abbey. (fn. 128) The agreement was repeated in 1266 between Walter, Bishop of Bath and Wells, and Abbot Robert of Glastonbury. (fn. 129) Finally in 1280 Abbot John and the convent of Glastonbury were regranted Badbury in chief. (fn. 130) The manor continued to be held by Glastonbury until the house was dissolved in 1539. (fn. 131)
In 1543 Sir William Essex of Lambourn (Berks.), and his son Thomas, received a grant of the manor of Badbury. (fn. 132) Sir William Essex died c. 1548 (fn. 133) and was succeeded by his son Thomas (d. 1575), (fn. 134) who in 1571 conveyed Badbury to Thomas Browne, a London merchant. (fn. 135) By 1576 the property had passed to Thomas Kibblewhite, who died seised of the capital messuage and site of Badbury manor in 1579. (fn. 136) It appears that Badbury passed at an unknown date to Thomas's grandson John Redferne, elder son of his daughter Elizabeth, who had married Arthur Redferne. (fn. 137) John died in c. 1609–10 and was succeeded by Thomas Redferne, his younger brother, who in c. 1621 conveyed certain lands within the manor to William Norden. (fn. 138) In 1623 the residue of the manor was conveyed to Ferdinando Hughes. (fn. 139) Hughes had no land in Badbury at the time of his death in 1640, (fn. 140) and it is possible that he conveyed his part of the manor to William Norden, who died in 1638 seised of the manor and farm of Badbury. (fn. 141) William Norden was succeeded by his son Richard, who died seised of the estate in 1640. (fn. 142) The manor then passed to his younger brother John (d. c. 1670–1), (fn. 143) who subsequently sold it, together with other lands, to William Mellish of London. (fn. 144) William Mellish was first named as lord of the manor in 1682 and after his death in c. 1691 (fn. 145) his widow Dorothy and her nephews (fn. 146) Robert and Edward were seised of the manor, the capital messuage called Place House, Badbury Farm, and Dairy Farm. (fn. 147) Dorothy Mellish died in c. 1702 and her moiety was inherited by Robert and Edward. Edward Mellish died intestate in 1707 seised of his moiety and was succeeded by his son Edward (II). (fn. 148) Robert likewise died intestate in 1710 and his moiety passed to his elder brother Charles, who settled lands including the moiety of Badbury manor on his wife Elizabeth upon trust for sale after his death. (fn. 149) Charles Mellish died in 1713. (fn. 150) In 1717–18, the remaining tenants-in-common, Edward (II), Bridget, and Elizabeth Mellish made arrangements for the sale of the manor to James Stone of London, (fn. 151) who had acquired it by 1718. (fn. 152) The manor hereafter descended in the Stone family until the 20th century. (fn. 153) On the death of James Stone in 1743 (fn. 154) the manor passed to his son John, who was succeeded on his death in 1774 by his son John (II) Stone. (fn. 155) This John Stone died in 1792 (fn. 156) and the estate passed to his son John (III) Stone (d. 1858). (fn. 157) John (III) was succeeded by his daughter Catherine, who married William Warry in 1860 (fn. 158) and died a year later. (fn. 159) The estate presumably passed to her son William Ellis Warry-Stone, who died in 1944. (fn. 160) Before his death W. E. Warry-Stone devised a life interest in Badbury to a cousin Mr. R. G. W. Stone, (fn. 161) and left the estate absolute to another remote cousin Miss Jane Rosemary Alethe Stone, (fn. 162) both descendants of his great-uncle Robert Stone (d. 1853). (fn. 163) Miss Jane Stone married Mr. D. Buchan in 1948. (fn. 164) By 1967 the manor was represented by West and Folly Farms, which had, at some date previously, been purchased by the Whatley family firm of Chiseldon Grain Driers. (fn. 165)
The house known in 1968 as The Manor, and earlier as Badbury House, stands on high ground between the hamlet and the deep coomb to the west of it. It incorporates a stone building of three bays with a date tablet of 1597. (fn. 166) The only visible features of this period are heavy ceiling beams with carved stops of several different patterns. Much alteration, including the addition of a staircase wing to the east, appears to have taken place in the 18th and early 19th centuries. A depression in the ground to the north-west of the present house is thought locally to mark the site of an earlier one. (fn. 167) It is also possible that terraced ground on the edge of the coomb had some connexion with the medieval capital messuage.
It is possible to trace a number of small estates within Chiseldon. In 1242–3 Oliver of Earlscourt held ¼ knight's fee of Sampson Foliot, who held of Earl Richard as of the honor of Wallingford. (fn. 168) The land had passed to the Wroughton family by 1393 when the escheator was ordered to release 10 virgates in Chiseldon, Hodson, and Draycot lately held by William Wroughton, to Wroughton's widow Isabel. (fn. 169) It remained in the Wroughton family and descended for the next hundred years in the same way as the manor of Woodhill (Clyffe Pypard). (fn. 170) The estate, which in 1428 was said once to have been held by Oliver of Earlscourt, is last mentioned in 1496 when John Wroughton died seised of 12 virgates in Chiseldon and Hodson then held of Hyde Abbey. (fn. 171)
The Walrond family had a small estate at Chiseldon in the 14th century, held before 1318 by William Walrond and his wife Joan. (fn. 172) By 1400 William had been succeeded by his son John. (fn. 173) In 1438 Ingram Walrond and his wife Elizabeth, probably members of the same family, conveyed 2 carucates in Chiseldon to John Byrd and Isabel his wife. (fn. 174)
A number of small estates held by the Hodson family at Hodson in the 13th and 14th centuries eventually passed to Hyde Abbey. In 1223 Stephen of Hodson conveyed ½ hide there to Walter, Abbot of Hyde. (fn. 175) Other land in Hodson apparently passed to Stephen's daughter Emma, wife of Henry de Gal of Woodhill (in Clyffe Pypard). In 1270 Henry and Emma conveyed a virgate in Hodson to Joan de Bocland, who reconveyed it to the abbey between 1270 and 1281. (fn. 176) In the later 13th century Roger of Hodson conveyed 10½ a., parcel of Chiseldon manor, to William Than, who granted it to Abbot Roger of Hyde (1282–92). (fn. 177) Some time during the 14th century another member of the family Robert, son of William of Hodson, granted 1 virgate, 12 a., and pasture for 2 oxen in Chiseldon to Hugh of Ogbourne. Hugh later granted the land, saving the rights of Robert, to Abbot Walter of Hyde (1319– 1362). (fn. 178) Robert also conveyed a virgate which Philip the miller held of him in Hodson to the abbey. (fn. 179)
In Badbury, as in Chiseldon, there were a number of small estates. In 1189 Geoffrey Foliot held 4 hides there by knight service of Glastonbury Abbey. (fn. 180) The land held by the Foliot family at Badbury passed to Roger Foliot, who held land there during the abbacy of Michael of Amesbury (1235–52). (fn. 181) In 1242–3 Geoffrey (II) Foliot held ½ knight's fee in Badbury. (fn. 182) Before 1241 Geoffrey (II) Foliot conveyed 34 a. of land to the Abbot of Glastonbury, who in return granted him certain pasture rights in 1241. (fn. 183) It was Geoffrey (II) Foliot who in c. 1265 relinquished his entire holding in Badbury to Glastonbury Abbey. (fn. 184) It seems that the estate remained intact into the 15th century, since in 1428 William Wereman held of Glastonbury those lands which had once been held by Geoffrey Foliot by service of ½ knight's fee. (fn. 185)
A number of small estates in Badbury were acquired by Glastonbury Abbey in the 13th century. In 1214 Stephen the clerk conveyed to Jocelin, Bishop of Bath and Glastonbury, ½ hide there which had previously been held by Richard Sampson his brother. (fn. 186) Alice le Champion, sister of Stephen and Richard, in 1227 quitclaimed the land to Stephen the chamberlain, an obedientiary of Glastonbury Abbey to whom the estate had evidently been allotted. (fn. 187) In c. 1235 Simon, son of William of 'Berwick', confirmed ½ hide in Badbury to Everard, son of John the miller. (fn. 188) The land passed to Everard's widow Gillian, who in c. 1269 conveyed her entire holding to her son John. (fn. 189) In 1269 John conveyed the lands he had received from his mother to Glastonbury Abbey. John had also at some date received lands from Henry de Montfort, which he now also granted to Glastonbury. (fn. 190) In c. 1296 William Steven of Broome (in Swindon) conveyed a virgate at Badbury, an estate which he had previously acquired from Robert atte Grene, to the abbey. (fn. 191)
In the later Middle Ages an estate called 'Strangbows' in Badbury was held immediately of Glastonbury Abbey. In 1424 John Mychell of 'Stratton' and his wife Alice conveyed land in Badbury and Badbury Wick to Robert Shottesbrook and Edith his wife. (fn. 192) This small estate was first called 'Strangbows' in 1428 when Robert Shottesbrook held it of Glastonbury for ¼ knight's fee. (fn. 193) By 1470 it was held by Richard Estbury of Chute, who granted a messuage and land, which he said he had by feoffment of Robert Shottesbrook, to William Yorke the elder, a London merchant, William Mille of Ramsbury, chaplain, and John Ewen of Draycot Foliat. (fn. 194) Land known as 'Strangbows' was part of Badbury manor in 1718. (fn. 195)
The estate of Badbury Wick is not mentioned by name until the 17th century, (fn. 196) but it is possible to identify it with land held in Badbury by Thomas Morse, described as of Badbury Wick, who died seised in 1581 of 183 a. there. (fn. 197) He was succeeded by his son Richard, also of Badbury Wick. (fn. 198) Richard died seised of the same lands in 1616 and his heir was his son William, who may possibly be identified with the William Morse who conveyed tithes in Badbury and Badbury Wick in c. 1651. (fn. 199) It is probable that Richard Morse the elder who in 1664–5 conveyed a messuage and land in and around Badbury to Richard Morse the younger, Jane his wife, and others, was the son of this William. (fn. 200) At some date before 1689 Jane Morse, widow, and William and Richard her sons, conveyed the capital messuage of Badbury Wick, commonly known as 'Badham Weekhouse', as well as pasturelands in Badbury Wick amounting to 27 a., and called Newlands, and Upper and Lower Cowleaze, to John Haskins. (fn. 201) It eventually passed to William Codrington (d. 1842) of Wroughton and he was succeeded by his younger brother Oliver Calley Codrington (d.s.p. 1855), (fn. 202) who in 1845 owned Badbury Wick House and c. 28 a. land. (fn. 203) Subsequently the estate passed to a member of the Crowdy family, since in 1885 the farm known as Badbury Wick and about 44 a. were said to have been lately in the possession of Francis Crowdy. (fn. 204) Mr. John Sutton owned the farm in 1967. (fn. 205)
The Morse family was apparently well-established in Badbury in the 16th century for between 1518 and 1536 the demesne of the manor was being farmed by John Morse. (fn. 206) Between 1518 and 1520 William Morse, a free tenant of Badbury manor, had a holding called 'Blaks'. (fn. 207) This is elsewhere described as a 2-virgate estate held by military service, which Thomas Morse his father had bought from William Dayley. (fn. 208) In 1564 a William Morse, possibly either the William mentioned above or his son, conveyed a messuage and 2 yardlands known as 'Blakys' to Richard Morse of Badbury, who was said to have been already leasing it. (fn. 209) It was this Richard, presumably, who died seised in 1578 of 12 a. and other lands which were lately part of Badbury manor. (fn. 210) His heir was his son William, a boy of seven. (fn. 211) William, at his death in c. 1581, held 4 a. in North Mead, 6 a. in Badbury, 12 a. of pastureland at Snodshill (in Badbury), and 3 a. in the Foremead, all formerly part of Badbury manor. (fn. 212) In addition William was seised of a messuage and 28 a. which he had held of Thomas and John Kibblewhite as of their manor of Badbury. (fn. 213) William's heir was his brother John Morse (fn. 214) who died seised of the same lands in 1611. (fn. 215) John's heir was his son Richard, then a minor, (fn. 216) but no more is known of the estate.
In 1618 Joan Harding held a life estate in a messuage and 2 virgates of land in Badbury and granted the reversion to her son Nicholas. (fn. 217) It appears that Nicholas predeceased his mother in 1636, (fn. 218) but before his death he had acquired other lands in Badbury. These amounted to some 88 a. which he had acquired in 1626 from a James Looker, son of William Looker. (fn. 219) This land probably represents the messuage and 3 virgates of which Nicholas Harding died seised, together with the reversion conveyed by his mother. Nicholas's heir was his son Robert, a boy of six, (fn. 220) and in 1636 his widow Edith was granted the wardship and custody of Robert and of certain lands in Badbury. (fn. 221) In 1668–9 Robert Harding (d. 1687) and Elizabeth his wife were holding what appears to be the same estate. (fn. 222) By 1690 his son Nicholas Harding and Nicholas's wife Anne had conveyed this estate to Peter Sayer. (fn. 223) In 1723 Peter Sayer, Dorothy his wife, and their son Peter, sold the estate to Isabel Calley, widow. (fn. 224)
Other branches of the Harding family seem to have held land in Badbury. In 1630 Robert Harding died seised of an estate there and was succeeded by his son Robert (II). (fn. 225) Robert (II) was seised of his father's lands and also of the reversion of 34 a. called 'Greenhill', late parcel of Badbury manor and purchased from Thomas Redferne. Robert the younger died in 1631 and his heir was his son Thomas. (fn. 226) No more is known of the estate until 1698 when Thomas Harding, possibly the son or grandson of Robert the younger, and Dorothy his wife, conveyed some land to Thomas Cresby. (fn. 227) The land was held by John Cresby in 1780 and by 1830 it had passed to Mary Anne Cresby, who in 1845 held some 13 a. north of Badbury village. (fn. 228)
Land in Badbury was held by the Collet family. In 1602 William Collet died seised of tenements there and was succeeded by his son Henry. (fn. 229) What is probably part of the same holding was conveyed in 1687 by another Henry, possibly a descendant of William Collet or his son, to Thomas Hardyman. (fn. 230) It is likely that the Collet family still held some land in Badbury after this date, since in 1700 Richard Collet and his wife Elizabeth conveyed Westrop's House and some land to John Allen of Upham (in Aldbourne). (fn. 231) Two years later other lands in Badbury were also conveyed by Richard and Elizabeth Collet to John Allen. (fn. 232)
Economic History.
In 1086 estates at Chiseldon and Badbury were surveyed separately. In the time of King Edward Chiseldon was assessed for geld at 40 hides. Here, in 1086, there was land for 22 ploughs. Of this land 17 hides were in demesne and had 5 ploughs. There were 40 a. of meadow and pasture ½ league long and 4 furlongs broad, while there was woodland 3 furlongs in length and 2 furlongs in breadth. On the demesne there were 6 serfs. Elsewhere on the estate there were 45 villeins and 13 bordars with 10 ploughs. The estate had increased in value from £18 T.R.E. to £24 in 1086. (fn. 233)
A survey of the manor of Chiseldon, most probably of either late-13th-century or early-14thcentury date, showed the estate to comprise 5 distinct areas, Eastrop, Westrop, Hodson, Burderop, and the Coomb ('Cumbe'). (fn. 234) On the estate as a whole there were 20 free tenants, (fn. 235) while in Eastrop there were 10 customary holdings of ½ hide (fn. 236) and 3 of 1 virgate. (fn. 237) There do not appear to have been any holders of half-hides in Westrop but here there were 23 virgaters of whom 3 held 1½ virgate each. (fn. 238) Westrop also had 3 holdings of ½ virgate. (fn. 239) Twenty cottars' holdings (fn. 240) and 5 cotsetlings are also mentioned, (fn. 241) but it is not clear whether these were the total number on the whole estate, or in Westrop alone. No customary tenants are mentioned at Hodson. There were 17 other tenants in Coomb, who held no more than a few acres each for money rents. (fn. 242) The total rents of the manor were worth £20 8s. 7d. at this time. (fn. 243) The rents of the free tenants amounted to £7 1s. 8½d. (fn. 244) Each holder of ½ hide owed a rent of 5s. (fn. 245) and the virgaters in Eastrop and Westrop, as well as the cottars, all owed average rents of 2s. 6d. (fn. 246)
The same survey specifies certain labour services. Duties owed by those tenants who held ½ hide in Eastrop included, besides sheep-washing and shearing, the carrying of wool and cheese to Hyde Abbey. In addition, these tenants were expected to hoop barrels and to provide 2 men for 3 days' work when the lord's meadow was mowed, for which they received certain privileges, including 2 rams, 2 wethers, and 2 cheeses, which were had in common by all the mowers as recompense for every 2 meadows mowed. Those who held ½ hide also owed haymaking services and each was liable to have to provide a man and a horse for hay-carrying and 4 men to stack hay for 4 days. Ploughing, harrowing, wattling, walling, and fencing services could also be exacted. (fn. 247) Virgaters in Eastrop were liable for exactly half the services expected of those who held half a hide, (fn. 248) and those of Westrop might expect to render similar services. (fn. 249) Cottars on the manor at this time could choose to pay rent instead of doing 3 days' boonwork. (fn. 250)
In the late 13th or early 14th centuries Chiseldon manor had 2 open fields, namely, East and West Fields. (fn. 251) Common pasture lay in the Marsh, on the Down, on East Haddon, West Haddon, and at Coomb. Those who held half a hide in Eastrop were entitled to 6 a. on the Down, 3 a. in the Marsh, 2½ a. of meadow land elsewhere and an extra ¼ a. in an unspecified place. (fn. 252) Virgaters in Eastrop had 7 a. in one field and 7 a. in the other, as well as half the amount of land held on the Down and in the Marsh that was allotted to the half-hiders. (fn. 253) The tenants of Westrop and Hodson were allowed similar amounts in the open fields, while those of Hodson were allowed an additional 1/8 a. in the second field. (fn. 254) East Haddon and West Haddon were apparently pasture lands and the tenants of Hodson were said to hold a marsh in the cultivated part of East Haddon, which they claimed to be their common pasture. (fn. 255) The cottars of Chiseldon were allowed 5 a. in both the East and West Fields. (fn. 256) The tenants of Burderop held a croft called 'Chalvecrofte'. (fn. 257) There were several small inclosures, presumably of pasture, on the manor at the time of the survey and at least 5 free tenants had a small inclosure amongst their lands. (fn. 258)
Chiseldon lay in the cheese-producing region of Wiltshire. In 1282–3 from May to Michaelmas 165 cheeses were made, of which 52 were sent to Hyde Abbey. (fn. 259) The manor also supported a fairly large flock of sheep. Some time between 1203 and 1218 there were 200 ewes and 110 hoggets on the manor. (fn. 260) A demesne flock was still kept at Chiseldon in 1282– 1283, when there were 209 ewes, 6 rams, 94 wethers, and 116 lambs as well as 84 hoggets, which were disposed of. The wool-fells produced in this year totalled 320 gross, of which 32 went in tithe, 4 were sold, and the remaining 284 went to Hyde Abbey. (fn. 261) A considerable herd of cattle was kept at Chiseldon during the 13th century. Between 1208 and 1213 the manor supported 48 oxen and 2 cows, (fn. 262) while in 1282–3 there were 56 oxen, 10 cows, 1 bull, 6 calves, and 22 bullocks of varying ages, of which 12 remained at the end of the year. (fn. 263)
Between 1203 and 1218 the manor was reckoned to be worth £31 3s., (fn. 264) while in 1468–9 it was valued at about £28. (fn. 265) In 1540 the manor of Chiseldon with Burderop (see below) was let for a farm of £27 6s. 8d. (fn. 266) Assessed rents were reckoned at £5 7s. 11½d., rents of customary tenants at £12 15s. 10d., and perquisites of the court at 6s. 8d. (fn. 267)
The woodland mentioned in Domesday is probably to be identified with Burderop Wood. This covered 60 a. in 1540 and was valued at £20. (fn. 268) The woodland, in which oaks were numerous, included at this date Norrey Coppice (25 a.), Sunmarsh (18 a.), and Holme (7 a.). Three years earlier Thomas Stephens acquired a lease of the woods, excepting the 'great' trees, for 62 years at a yearly rent of 6s. 8d. (fn. 269)
By the early 14th century Hyde Abbey's manor of Chiseldon included lands which may be identified with the later manor of Burderop. (fn. 270) Chiseldon and Burderop then seem to have passed together, (fn. 271) and after 1619, when Sir William Calley purchased the two manors, (fn. 272) the lands were known jointly as the Burderop estate. The land once belonging to the church was probably also acquired by Hyde Abbey at an early date. (fn. 273) It was probably this estate, then forming part of the Burderop estate and known as Parsonage Farm, which was estimated at c. 439 a. in 1781. (fn. 274)
By the 18th century East Chiseldon, West Chiseldon, and Hodson all had their own sets of open fields, which covered a total acreage of 1,230 a. in 1779. (fn. 275) The fields in East Chiseldon were known as North and South Fields. (fn. 276) The progress of the inclosure of this arable has not been traced. In 1779 inclosures of arable, meadow, pasture, and woodland totalled 460 a. and under a private Act of that year rights of common were extinguished. (fn. 277) An award was made the following year, and besides allotments received in lieu of tithe, Thomas Calley as lord received five parcels of land, totalling some 114 a. and lying chiefly in the North Field of East Chiseldon and in the East and West Fields of Hodson. (fn. 278)
The Stephens family, who later acquired the freehold (see above), leased the Burderop estate in the 16th century. In 1537 Thomas Stephens, already described as of Burderop, together with his sons Thomas and Nicholas, leased the site of the manor there and a grange called 'Monkebaron' from Hyde Abbey. (fn. 279) In 1789 Elizabeth Haverfield, late Elizabeth Calley, widow, leased Burderop Farm to John Canning and his son Richard for 12 years. (fn. 280) In 1825 Thomas Brown, a member of a well-known Wiltshire farming family, and a pioneer of steamploughing, had a lease of the farm, then reckoned at 770 a. of which 310 a. were downland and 460 a. arable. (fn. 281) This farm was reckoned at 984 a. in a terrier of the Burderop estate compiled in 1845, and other properties at this date were listed as Chiseldon Farm (584 a.), Lower Farm (96 a.), Hodson Farm (19 a.), and Lambert's (76 a.), (fn. 282) which had been bought in 1840. (fn. 283) In 1919 Charles W. Whatley began to farm c. 1,000 a. at Burderop as tenant of Gen. T. C. P. Calley. He was still tenant in 1941. (fn. 284)
The manor of Badbury was assessed at 20 hides T.R.E. and in 1086 there was land for 10 ploughs. There were 13½ hides in demesne and here there were 3 ploughs, while on the remaining 6½ hides there were likewise 3 ploughs. There were 100 a. meadow land in 1086 and pasture land 1 league long and 3 furlongs broad. There were 4 serfs on the demesne, while on the remaining land there were 11 villeins and 10 bordars. T.R.E. Badbury had been worth £8 but by 1086 it was worth £10. (fn. 285) The total of 25 tenants in 1086 had increased to 38 by 1189, which included 16 virgaters, 11 cotsetlers, and a crofter. (fn. 286) Some time between 1235 and 1252 there were 39 tenants on the manor, including the same number of virgaters, cotsetlers, and crofters as in 1189. (fn. 287) There were 20 tenants during the period 1518 to 1520, a number which included 3 free tenants, 16 customary tenants, and a cottager. Most of the customary tenants held one virgate. (fn. 288)
In 1189, when Abbot Henry of Sully surveyed the manors of Glastonbury Abbey, holders of half-hides and single virgates were all liable for general haymaking services, while cotsetlers had to mow at the lord's command. Services were owed daily from Midsummer to Michaelmas, but for 3 days only during the remainder of the year. (fn. 289) Badbury services were more explicitly defined in Abbot Michael of Glastonbury's customal of c. 1235–52. Virgaters owed fallowing and ploughing services from Midsummer and from Michaelmas respectively. Virgaters also owed ploughing, harrowing, and mowing duties. Haymaking was rewarded by 1 'richel' and after mowing duties had been performed, the virgaters were paid 12d. and were allowed to choose, by sight and not by touch, a sheep from the lord's fold. Virgaters also owed multifarious general agricultural duties, such as carrying, grinding, and reaping. Fold-repair, shearing, and sheep-washing services might also be demanded, and virgaters were expected to render the lord 5 sheep at Easter. Cotsetlers at Badbury could be required to do 3 days' work each week for the lord from Michaelmas to Midsummer, and were also liable for the same general duties as the virgaters. The reeve, hayward, and shepherd were all allowed certain privileges. The reeve's perquisites included an acre of land and a piece of meadow above 'Nettleford', those of the hayward, a piece of meadow, while the shepherd was allowed to graze 15 sheep with the lord's flock, and to use the demesne plough at specified times during the ploughing season. (fn. 290)
A series of manorial accounts extending from the late 13th to the early 16th century survives among the records of Glastonbury Abbey. (fn. 291) From these rolls it appears that early in the 14th century the paid farm servants at Badbury included an oxherd, a shepherd, a dairyman, and 2 carters. Paid labour was also employed at this time for weeding and harvest work. (fn. 292) In 1299–1300 a payment of 27s. 6½d. was made from the manor to the larder at Glastonbury, and was apparently an annual charge. (fn. 293) The accounts reveal a considerable amount of interchange in both stock and grain between Badbury and other manors in the neighbourhood belonging to Glastonbury Abbey.
Part of one of the abbey's demesne flocks was maintained at Badbury. The survey of Abbot Henry of Sully shows a flock of over 100 sheep on the manor in 1189. (fn. 294) There were also apparently fairly large tenant flocks and during the period 1235–52 a total of 22 customary tenants were bound to render 5 ewes each to Glastonbury at Easter. (fn. 295) In 1312–13 the demesne flock was pastured on Gavelhill and sheep came to Badbury from Ashbury (Berks.) and Winterbourne Monkton, both Glastonbury Abbey manors. (fn. 296) In the mid 14th century of the 5 flocks maintained by the abbey on the North Wiltshire downs, one was pastured on the downs around these three manors. (fn. 297) There continued to be much interchange of stock: at Badbury in 1333 there were 118 wethers, which were sent to Ashbury, and 267 hoggets, of which 100 were sent to Ashbury and 80 to Winterbourne Monkton. (fn. 298) In the same year 337 sheep fleeces and 61 lamb fleeces were rendered in tithe, while 40 sheep-fells and 45 lamb-fells were sold. Six sheepskins and 16 lambs' skins were also sold. (fn. 299) In 1333 there were 3 ploughs and 3 horses on the manor, which maintained a herd of breeding, as well as working, cattle. (fn. 300) The breeding herd in 1333–4 was made up of 16 cows, of which 8 were sold and 3 sent to South Damerham (then in Wilts.), another Glastonbury manor. (fn. 301)
In 1333 95 qr. of wheat, 37 qr. of oats, and 46 qr. of barley were produced at Badbury and the following year 63 a. of wheat, 20 a. of oats, 38 a. of barley, and 6 a. of beans were sown. (fn. 302) A certain amount of grain was consumed on the manor, some was sold, and as in the case of livestock, there were also considerable exchanges of grain between Badbury, Ashbury, and Winterbourne. (fn. 303) As far as is known, no grain was ever sent to the granary at Glastonbury and it seems possible that the larder rent mentioned above was to some extent in place of this.
At the time of the compilation of Abbot Beere's terrier of 1518–20 virgaters and half-virgaters on the manor were still said to owe general agricultural duties such as mowing and haymaking. (fn. 304) The land held by Glastonbury Abbey within the parish at this date included Badbury, Badbury Wick, and an area to the north known at this date as Snodshill. (fn. 305) The terrier records two open fields at Badbury, known as East and West Fields. (fn. 306) There were apparently 6 common meadows at this date, named Northmede, Stertmarsh, Nywelond, Formede, Cotsetylmede, and Losmere, (fn. 307) while in 1534–6 a further four, of which three, from etymological evidence, were probably inclosures, were called Reveharme, Haywardsharme, Cowmede, and Goseharme. (fn. 308) The low-lying clays at Snodshill were preeminently suitable as pasture land and in 1518–20 this area contained c. 45 a. of pasture which were held in common. (fn. 309) Two of the free tenants on the manor were allowed to pasture 15 plough beasts and 12 other animals with those of the lord at this date, while the virgaters were allowed to pasture 7 similar animals, and the half-virgaters to have 4 beasts and their pigs on the pasture with the lord's beasts. (fn. 310) All tenants held pasture at Snodshill according to the size of their holdings. (fn. 311) There were apparently small inclosures of arable land within the manor at this time. (fn. 312) The East and West Fields were inclosed in 1748 and rights of common extinguished. (fn. 313) The main allotment made under the inclosure award of 1749 was one of 426 a. made to John Stone, as lord of the manor, in the East and West Fields which lay south of Badbury village. (fn. 314)
From 1534–6 John Morse farmed the demesne of the manor. At this date it comprised 201 a. of pasture in Gavelhill, Northcliff, Closelacke, and Shappeclose, 22 a. of arable land and pasture in 'Burycrofte' (an unidentified parcel of land), 2½ a. in the common meadows, and 198 a. of arable in the open fields. (fn. 315)
In 1718 James Stone, who that year acquired the manor of Badbury, had an estate which included 50 a. of pasture land called Waxhill, 70 a. known as the Plain, and 50 a. called Gainehill. (fn. 316) In 1839 John Stone, great-grandson of James, farmed 227 a. at Day House, which was mainly a pasture farm. (fn. 317)
The manor of Badbury was broken up at an early date into a number of smaller estates. In 1845 there were seven farms at Badbury and Snodshill, all of which lay entirely under pasture. The estate, then owned by Baynton Stone, which represented the remainder of Badbury manor, was farmed in two parcels of 82 a. and 62 a. John Stone farmed 208 a. at Day House, while John Brown owned Greenhill, then estimated at 38 a., but formerly parcel of the manor, and reckoned at 50 a. in 1718. There were three farms at Snodshill in 1845: one of 95 a. and another of 52 a. were owned by William Morse Crowdy, while one of 52 a. was owned by Jonathan Belcher. All were worked by tenant farmers. (fn. 318) In 1967 five of the six farms in Badbury and Snodshill were entirely under pasture. These were Badbury Farm, Day House, Badbury Wick Farm, Lower Snodshill, and Upper Snodshill. The former manor, then known as West and Folly Farms, was owned by the Whatley family firm of Chiseldon Grain Driers and was devoted to mixed farming. (fn. 319)
The Burderop estate survived intact into the 20th century. In 1967 the estate comprised Parsonage Farm, with 400 a. which supported a herd of 70–80 cows, (fn. 320) Nightingale, Burderop, and Hodson Farms, besides Draycot Farm (fn. 321) with 577 a. acquired in 1867. (fn. 322) All were given over to mixed farming except Nightingale Farm which was completely under grass at this date and supported beef and other cattle. A herd of pedigree Jersey cows was kept at Burderop Park in 1967. (fn. 323)
A brickworks was operating on the Gault Clay in the parish as early as 1736 and was probably connected with the Burderop estate. (fn. 324) This may have been situated north of Burderop Wood. (fn. 325) A brickyard at Badbury Wick, probably quite distinct from the earlier one, was being worked in 1857, (fn. 326) and had been acquired by the Swindon firm of Edward Hill by 1903. (fn. 327) This firm still owned the brickyard in 1931. (fn. 328) In 1947 Hill's brickpit at Badbury Wick displayed a section 10–12 ft. deep. (fn. 329) The brickyard was still worked by a Swindon firm in 1967 and employed mainly foreign workers, (fn. 330) who were accommodated in cottages beside the brickyard. A foundry which stood in Chiseldon high street opposite the railway station in 1887, (fn. 331) provided a little work for the parish in the later 19th and early 20th centuries. Owned in 1901 by W. E. N. Browne of Chiseldon House, it comprised workshops which included a moulding shed, a blacksmith's shop with two forges, and a fitting shop. (fn. 332) In 1913 the foundry, owned by a Swindon firm, employed 34 men and was largely engaged in repair work, although a few farm waggons and carriages were made. (fn. 333) Formerly it was said to have made steam-traction and ploughing sets. (fn. 334) In 1967 it was used as a grain-drying plant for Parsonage Farm. (fn. 335) At this date most of the inhabitants of Chiseldon travelled to Swindon to work, although some were still employed on the farms within the parish.
Mills. At the time of Domesday Survey there was a mill at Chiseldon which paid 40d. (fn. 336) A mill there was mentioned in 1305 when Philip atte Mulle conveyed it, together with a virgate of land, to Richard of Chiseldon. (fn. 337) A mill, perhaps the same, is mentioned in 1341 (fn. 338) and at some date in the 14th century Nicholas the miller, a free tenant of Chiseldon manor, held a mill and ½ hide of land there. (fn. 339) In 1370 William Stodlegh and Joan his wife, who held a messuage and 2 carucates of land in Chiseldon, granted the reversion of this small estate to William Wroughton and his heirs. (fn. 340) In 1391 Margery, the wife of Thomas Calston, gave up her life interest in lands which included a mill and 2 virgates in Chiseldon and Hodson granted her by William and Joan Stodlegh, in favour of William Wroughton and Isabel his wife, and in the following year Joan Stodlegh, now the wife of John Burcy, finally granted the mill, with a messuage and 2 virgates of land, to the Wroughtons. (fn. 341) No more is heard of a mill at Chiseldon until 1690 when William Taylor and his wife Anne granted a watermill, together with a messuage and 2 a. of meadow land in Chiseldon, to William Hill. (fn. 342) In 1773 the mill at Chiseldon lay directly north of the main village and was fed by a tributary of the River Cole. (fn. 343) The mill is not marked on maps of the 19th century.
By 1887 (fn. 344) a windmill stood to the west of the cemetery at the corner of Butts Road on ground known as Windmill Piece. In 1901 Windmill Piece (9 a.) was sold on the instructions of W. E. N. Browne to an unknown purchaser. (fn. 345) This mill was still standing in 1967 but had no sails and had been converted into a dwelling house.
The earliest mention of a mill at Badbury occurs in 1086, at which date it was paying 40d. (fn. 346) It may have been this mill which fell into ruin at some date during King Stephen's reign, and in 1189 the loss to the lord of the manor was reckoned at 15s. (fn. 347) Badbury mill had been rebuilt by c. 1235–52, when John the miller, a free tenant of the manor, held a mill there as well as 3½ a. of land and small amounts of meadow. (fn. 348) No further mention is found of a mill until 1767 when it was held by Robert Berry and known as Berry's mill. (fn. 349) In 1773 Badbury mill, presumably that held a few years earlier by Robert Berry, lay to the north of the hamlet beside the Roman road and was fed by a tributary of the River Cole. (fn. 350) Robert Walker occupied the mill at Badbury in 1825, the last reference found to it. (fn. 351)
Local Government.
Rough drafts of the proceedings of the court-leet and view of frankpledge for the manor of Chiseldon exist for the years 1695– 1732 and 1738–84. (fn. 352) There are also court books for 1738–61, 1801–53, and 1854–81. (fn. 353) By 1738 the court met once a year only to appoint tithingmen for East Chiseldon, West Chiseldon, and Hodson and to deal with the usual small matters of agricultural concern. (fn. 354) Frequent presentments about the provision of stocks in Chiseldon were made in the 18th century, as in 1743, 1746, and 1753. (fn. 355) Encroachments upon the waste and the erection of a pound were often presented also. In 1839 the question of a public footpath from Hodson to Swindon was brought before the court. (fn. 356) The court continued to meet once a year during the 19th century and tithingmen for the same three tithings were appointed. A hayward and a constable were also appointed during this century. (fn. 357) In 1803 fines for non-attendance were imposed upon jurors but by 1853 the court had become a mere formality. It sat in the later 19th century at the 'Patriots Arms', (fn. 358) and for the last time in 1881. (fn. 359)
In the later 13th century Glastonbury's franchises in Badbury included view of frankpledge, return of writs, and the right to hold assizes of bread and ale. All these rights were exercised in the court-leet. (fn. 360) A court-leet and a hallmoot court were held at Badbury twice a year by the steward of the Abbot of Glastonbury for the tenants of that manor. Records of these courts survive from the mid 13th century until 1533. (fn. 361) After the beginning of the 14th century the two courts were held together and little distinction seems to have been made between the types of business dealt with by each. The court-leet then dealt with Glastonbury's franchisal jurisdiction, such as offences against the assize of ale, as well as exaction of excessive tolls by millers and many complaints of nuisances and breaches of manorial custom, which could equally well come before the hallmoot court. The court-leet also heard complaints about straying animals and defective buildings. A court book for view of frankpledge for Badbury manor survives for the period 1640–1932. The entries are similar to those contained in the court books of Chiseldon manor. Law-day quit-rents at Badbury are first recorded in 1742 but had probably been customary before this date, and continued to be paid in 1932. (fn. 362)
Churchwardens' accounts exist for the period 1778–1837 while the vestry minute book, begun c. 1834, was still used in 1967. (fn. 363) The accounts of the surveyors of highways for the tithing of Badbury run from 1766–1836. From 1824 the surveyors were nominated yearly at the Plough Inn by the local inhabitants. (fn. 364)
Some kind of provision for the poor of the parish was apparently made early in the 17th century, since five two-roomed thatched cottages, which survived in Strouds Hill until the 20th century, carried a tablet inscribed: 'These houses were built by the parish of Chiseldon 1616'. (fn. 365) A poor-rate assessment for Chiseldon survives for 1649 (fn. 366) and later assessments cover the period 1825–34, during which time either five or six rates a year at 1s. in the £ were levied, although seven such rates were collected in 1833–4. (fn. 367) Overseers' accounts run from 1780–9 and list sums laid out monthly in payments and the buying of clothes. (fn. 368) These monthly sums varied and in 1781 the amount paid out by the overseers during the past year amounted to c. £209, while in 1784–5 the total paid out was c. £399. (fn. 369) Various other accounts of the Chiseldon overseers run to 1834 with gaps of a few years at intervals and lists of those employed as overseers exist for 1779– 1834. (fn. 370) Various poor-house accounts, including lists of inmates, cover the years 1786–1804. Work provided there at that time included spinning, weaving, and sewing. In 1786 43 people, excluding the children taken in, were admitted. (fn. 371) The early-17thcentury poor house was replaced in 1818 by a range of cottages for the use of the poor built on waste land. (fn. 372) In 1968 these cottages, which were presumably converted into private dwellings after 1834, were represented by a range of stone and brick cottages with a thatched roof, then Nos. 3–6 Station Road.
During the 16th, 17th, and 18th centuries a church ale was held at Chiseldon to raise money for the clerk's wages. (fn. 373) The custom survived into the 19th century when the parish clerk was expected to provide a dinner for the principal parishioners. (fn. 374)
Church.
According to a charter of Edward the Elder the church of Chiseldon was granted in 903 to the New Minster, Winchester, later Hyde Abbey. (fn. 375) The patronage of the church was probably included in the grant, although the first reference found to the abbey as patron occurs in 1259. That year the Precentor of Chichester, Geoffrey de Ferynges, later Abbot of Hyde (1304–17), was presented to the rectory. (fn. 376) He was still rector in 1281 (fn. 377) and it is probable that he presented William de Penes as vicar at some time during the later 13th century. (fn. 378)
Although in 1330 the abbey was given leave to appropriate the church, (fn. 379) it took no advantage of the grant but continued to present rectors until 1416. On about a dozen occasions the rectors, who were presumably sinecurists, presented vicars, one of whom subsequently became rector. (fn. 380) Some tithe and land were available for their support (see below). In 1425 Hyde formally appropriated the church, the appropriation was confirmed four years later by Bishop Nevill, (fn. 381) and in and after 1435 the abbey presented to the vicarage. (fn. 382) Henceforth until the Dissolution the abbots of Hyde continued to present vicars. (fn. 383)
In 1540 the rectory and advowson were granted to Sir John Bridges, (fn. 384) although in 1544 John Barnabe, to whom Hyde Abbey had apparently assigned the presentation for one turn, presented. (fn. 385) Sir John Bridges presented in 1546 (fn. 386) and died seised of the rectory and of the advowson of the vicarage in 1558. (fn. 387) Hereafter the descent of the rectory and advowson followed that of Chiseldon manor until 1578–9 when Giles, Lord Chandos, conveyed both to Thomas (II) Stephens, (fn. 388) who had previously held a lease of the rectory. (fn. 389) From Thomas (II) the rectory descended to his second son, Thomas (III) Stephens, (fn. 390) who conveyed it in 1623 to William Calley the elder and his son William. (fn. 391) The advowson, however, did not pass with the rectory from Thomas (II) to Thomas (III), but to Thomas (II)'s eldest son Nicholas, who died seised of it in 1611. (fn. 392) Nicholas was succeeded by his son Thomas (IV), who in 1620 conveyed the advowson to trustees for William Calley the elder and his son. (fn. 393) The rectory was conveyed to the Calleys in 1623 and thenceforth both rectory and advowson remained in the Calley family and their descent followed that of the main manor. (fn. 394) In 1967 the impropriate rector and patron of the vicarage was Miss J. M. Calley. (fn. 395) So far as is known, the patrons only once delegated their right of presentation to the vicarage; this was in 1616 when Aaron Nashe presented to the vicarage with the permission of Thomas (IV) Stephens. (fn. 396)
The church was valued for the taxation of 1291 at £20. (fn. 397) In 1341 its value, including tithes and glebe, was reckoned at £26 4s. 4d., and that of the vicarage at £5. (fn. 398)
In 1259 the rector had the small as well as the great tithes of Badbury. (fn. 399) Besides the great tithes of the whole parish, he was also entitled to the tithe of the mill and certain small tithes in 1341. He then also had 2 carucates in demesne. By the same date, the vicar was entitled to the small tithes from a virgate belonging to the church. (fn. 400) He had also been granted some land in the parish by Hyde Abbey during the abbacy of Roger of St. Valery (1248–63). (fn. 401) By 1341 he held a virgate in demesne. (fn. 402) The Bishop of Salisbury confirmed the right of Hyde Abbey to certain tithes in Chiseldon in 1397, presumably because of the unexecuted licence to appropriate. (fn. 403) This confirmation seems to have led to a dispute which was heard in the consistory court in 1412. It was then ordained that the rectors were to have all tithes of corn and hay within the parish, all tithes of lambs and wool, except those arising from the vicar's land, and certain small tithes. The vicar was to have all the small tithes in the parish, except those from the rectory estate, and in lieu of these he was to receive a pension of £3 6s. 8d. (fn. 404) The award of 1412 presumably formed the basis of the arrangements made for the support of the vicar when the church was finally appropriated by Hyde Abbey in 1425.
After the Dissolution the rectorial tithes, with the exception of those of Badbury, descended in the same manner as the impropriate rectory (see above). The great tithes of Badbury seem to have been acquired at various dates by the landowners there. By the inclosure award of 1780 360 a. were allotted to the rector in place of the great tithes due to him from the rectorial glebe in the open fields. (fn. 405) In 1845 remaining rights of tithe were extinguished and a rent charge of £57 13s. was made to John James Calley in lieu thereof. (fn. 406)
After the dissolution of Hyde Abbey, the rectorial lands passed to the lay rectors and the estate was somewhat enlarged by the Inclosure Act of 1779 when land was allotted in lieu of tithe. (fn. 407) Thus in 1845 the estate comprised some 25 a. and as Parsonage Farm became merged in the Calley estate. (fn. 408)
In 1535 the vicarage was worth £8 12s. 10d. (fn. 409) No more is known of the value of the living until 1757 when Thomas Calley made a grant of £200 to which another £200 was added by the Governors of Queen Anne's Bounty. (fn. 410) By 1800 its yearly value was reckoned at £202 2s. 5d. This sum included the value of some land, tithes, and a vicarage house. (fn. 411) In 1812 the value of the vicarage was given as £125. (fn. 412) Its income was augmented in 1817 by small gifts from the then vicar and from the trustees of a Mrs. Horner and a Mrs. Pyncombe. In the same year a grant of £300 was made from Queen Anne's Bounty. (fn. 413) The vicarage was valued at £173 net in 1835, and at £207 6s. 6d. net in 1865. (fn. 414)
The vicar still received the pension of £3 6s. 8d. in lieu of small tithes from the rectorial lands (see above) in 1705. (fn. 415) By 1738 (fn. 416) the small tithes of Badbury had been commuted for money payments. In 1780, when the open fields of Chiseldon were inclosed, the vicarial tithes were extinguished and 39 a. of land were awarded instead. (fn. 417) By 1786 the small tithes due from Burderop tithing had been commuted for an annual payment of 15s. (fn. 418) Between 1780 and 1831 the vicars disputed certain arrangements, which had been made for money payments in lieu of payments in kind. (fn. 419) But in 1845 all remaining vicarial tithes in the parish were commuted for a rent-charge of £106 1s. 8d. which included the £3 6s. 8d. due from the rector for the small tithes of the rectorial glebe. (fn. 420)
In 1608 the vicarage glebe was estimated at some 18 a. (fn. 421) Like the rectory estate it was enlarged by the inclosure award of 1780 when land was allotted in place of tithes (see above). (fn. 422) In 1786 the estate amounted to 56 a. (fn. 423)
A vicarage house is mentioned in 1705 and 1786. (fn. 424) It may have been derelict in 1812 when the vicar lived in Swindon (see below), and in 1841 the vicar lived in the parsonage house. (fn. 425) In 1887 the vicarage lay to the east of the church. (fn. 426) It was sold as a private residence in 1953 and a new vicarage, built of local brick, was erected in 1954 at the corner of Butts Road. (fn. 427)
In 1291 a portion of £3 13s. 4d. was paid by the church to the abbots of Hyde. (fn. 428) In 1389 the abbot maintained that he was entitled to an annuity of 20s. from the rector. (fn. 429) Litigation arose over the payment between rector and abbot and in 1390 the case was decided in favour of the abbot who was to receive the arrears. (fn. 430) In 1397 the payment was confirmed by the Bishop of Salisbury. (fn. 431)
The Rector of Ashbury (Berks.) was apparently entitled to a portion of the tithes of Badbury. Some time in the 13th century the Bishop of Salisbury ordained that the Rector of Chiseldon was to pay a pension of 50s. to the Rector of Ashbury in place of these. (fn. 432) A dispute evidently arose and papal judgesdelegate repeated the Bishop of Salisbury's ordinance in 1259. (fn. 433) Records of subsequent payments occur in 1291 and 1540. (fn. 434) In the 16th century Dr. Walter Bayley, under-tenant of Ashbury rectory since 1591, claimed that Thomas (II) Stephens had refused to pay the pension ever since he had bought the rectory of Chiseldon in 1578–9. (fn. 435) The outcome of the dispute is unknown and no more is heard of the annuity. The rectors of Chiseldon presented by Hyde Abbey during the 13th, 14th, and early 15th centuries were probably non-resident. As has been shown, Geoffrey de Ferynges was Precentor of Chichester (fn. 436) and his successor at Chiseldon, Master Gilbert of Popham, obtained licence to study abroad for 2 years in 1298 (fn. 437) and on his return he received permission to go to Oxford for a year in 1300. (fn. 438)
There seems to have been a certain amount of unrest in the parish during the Interregnum. In 1648 John Stevens, presumably the vicar, signed the Concurrent Testimony of Ministers in Wiltshire. (fn. 439) Puritan sympathies were also evident in 1650 when a dispute arose over the position of the pulpit and the provision of seats within the church. (fn. 440) The chief objector to the new arrangements was William (II) Calley, (fn. 441) who in 1658 presented John Baker to the vicarage. (fn. 442) Baker was ejected in 1662. (fn. 443)
In 1783 the Vicar of Chiseldon was also incumbent of Liddington. (fn. 444) It had then long been customary to hold services at Chiseldon on a Sunday alternately in the morning and afternoon. Services were held on Holy Days and on Wednesdays and Fridays in Lent, likewise alternately in Chiseldon and Liddington. Holy Communion was celebrated at the four customary seasons and there were generally fewer than 20 communicants at these services. The vicar at this time had lived in the parish for the past 20 years. (fn. 445) In 1812 the vicar lived at Swindon and services were still held on Sundays alternately in the morning and evening. Holy Communion was celebrated four times a year and there were 30 communicants. (fn. 446) On Census Sunday 1851 average attendance at morning service over the past year was estimated at 210 persons and in the afternoon at 260. (fn. 447) In 1864 services were held twice on a Sunday, and the Sacrament was administered 12 times a year. There was an average of 50 communicants. (fn. 448)
The church of HOLY CROSS consists of a chancel, a clerestoried nave with north and south aisles, a south tower, the base of which serves as a porch, and a north vestry. It is apparent from the interior that the fabric dates largely from soon after 1200. An even earlier origin for the church is suggested by the head of a small Saxon window which has been built into a pier near the south-west corner of the nave. The nave arcades have pointed arches supported on circular piers, the carved capitals showing a transition from Norman scallops to the 'stiff-leaved' foliage of the 13th century. The arcades are of five bays, but two substantial piers which stand one bay from the west end may indicate the position of the west wall of an earlier and shorter church. The chancel may be slightly later in date than the arcades and its east window consists of three graded lancets; below them externally is a circular recessed panel containing a muchweathered carving of the Crucifixion. There are several 14th-century windows in the church and the south doorway, which retains its ancient oak door, may be of the same date. The embattled south tower, of three stages, was added in the 15th century. Also of the 15th or early 16th century are the nave roof and clerestory. The north, or Draycot, aisle was reputed to have been repaired with material from Draycot Foliat church, demolished in 1572. (fn. 449) A parish rate for the repair of the church was levied in 1691. (fn. 450) In 1892 a restoration was carried out by C. E. Ponting, (fn. 451) but a view of the building in 1810 (fn. 452) suggests that little alteration was made to the exterior except for the replacement of some of the windows and the addition of a more steeply-pitched roof to the chancel. The vestry, which stands to the north of the chancel, was built in 1895 and also serves as an organ chamber. (fn. 453)
The church contains part of a 13th-century coped coffin lid with a foliated cross, fragments of mid16th-century carving in the choir stalls, the remains of a screen, and a carved Jacobean pulpit. There are also two 18th-century commandment boards; one was formerly above the chancel arch, but both may originally have formed a reredos. (fn. 454) The church is particularly rich in monuments. They include a 15th-century tomb-chest in the chancel and brasses commemorating Francis Rutland (d. 1592) and his wife, the daughter of Thomas Stephens. (fn. 455) Also in the chancel is an altar tomb with a blank escutcheon, described by Aubrey as that of 'Ridforn, lord of Badbury'. (fn. 456) A mural tablet in the north aisle to Edward Mellish (d. 1707) has kneeling figures of a man and his wife with their numerous children behind them — an unusual grouping for so late a period. There are also many Georgian memorials to members of the Calley family.
In 1553 the king's commissioners left the church a chalice weighing 12 oz. (fn. 457) In 1770 Arabella Calley presented the church with a silver paten, hallmarked 1768. (fn. 458) This was still among the church plate in 1967, when there were also a chalice with its original paten cover, hallmarked 1625, a flagon hallmarked 1885, an almsdish of 1808, a silver standing pyx given in 1958, and a small silver chalice and paten given in 1960. (fn. 459)
In 1553 the church had 4 bells and a sanctus bell. (fn. 460) One of these, of 14th-century date, has survived. (fn. 461) The church had a peal of 6 bells, including the medieval bell, in 1967: four bells were of 17thcentury date, (fn. 462) while a 6th bell was hung in 1937. (fn. 463) On the east buttress of the tower of the church is a scratch dial. (fn. 464) Registrations of baptisms run from 1641 but are lacking between 1669–1708. Marriage entries run from 1654 but are lacking from 1668– 1713. Burial entries begin in 1641 but are lacking between 1659–1713. There are separate entries for baptisms and marriages in Draycot Foliat from 1817–19 and for burials in 1817 and 1830. (fn. 465)
In 1865 a building at Coate, which had formerly been a schoolroom, was licensed as a chapel of ease for Chiseldon church and from 1956 was known as the chapel of the Ascension. In 1958 it was so dilapidated that it was closed but was still standing in 1967. (fn. 466)
Nonconformity.
John Baker, the Vicar of Chiseldon who was ejected from the living in 1662, remained in Wiltshire and preached in the area around Berwick Bassett, Avebury, and Winterbourne Monkton. (fn. 467) In 1668 Richard Morse of Chiseldon was presented for holding a conventicle at his house at which four people were present. (fn. 468) The census of Bishop Compton in 1676 recorded 11 nonconformists in the parish. These, it has been suggested, were either Baptists, or both Quakers and Baptists. (fn. 469) Seven years later six people were presented for refusing to attend church or to receive the Sacrament, while one had refused to have his child baptized. (fn. 470) Chiseldon, in common with most of north-east Wiltshire, remained largely uninfluenced by nonconformity until the evangelical movement of the late 18th century. Methodism was brought to this corner of the county by George Pocock, one of Wesley's Bristol friends, who visited the area with a large tent mounted on a machine drawn by paper kites. (fn. 471) One of Pocock's first missions brought him to Hodson, (fn. 472) where, as a result of his evangelizing activities, a Methodist chapel was registered in 1789 by Thomas Wheeler. (fn. 473) The house was then said to be but lately erected and constructed of wattle and daub with a thatched roof. (fn. 474) This building was presumably the one which James Looker conveyed for purposes of worship in 1800. (fn. 475) There were said to be 21 members in 1823. (fn. 476) In 1828 services were held on alternate Sundays at the Hodson chapel, in the morning and afternoon respectively. (fn. 477) On Census Sunday 1851 the general congregation over the past year was reckoned at 65 in the morning and at 92 in the afternoon. (fn. 478) The chapel remained in use until 1895 when it was replaced by a small red-brick chapel built on land given by Gen. T. C. P. Calley. (fn. 479) Services were discontinued for a period of 8 years, which included the years 1914–18, and the chapel became derelict. (fn. 480) Subsequently the old thatched chapel, which had reverted to the Looker estate, was rented again and after repairs had been carried out services were held there. (fn. 481) The chapel was demolished in 1964. (fn. 482) The newer brick chapel, too, was renovated and reopened in 1924, (fn. 483) but was closed by 1954. (fn. 484)
Premises occupied by William King were registered for worship at Chiseldon by an unspecified denomination in 1829. (fn. 485) Primitive Methodism appeared at Coate early in the century, since in 1828 a building occupied there by Joseph Smith was registered for worship by this denomination. (fn. 486) Later in the century it was said that for many years services had been held in the cottages of Messrs. Webb and Gregory, (fn. 487) but in 1888, largely as a result of the activity of the newly-formed Swindon Circuit, (fn. 488) a chapel for Primitive Methodists was built at a total cost of £117. (fn. 489) By 1964 the low brick chapel at Coate was no longer used for worship. The Primitive Methodist movement was also active at Badbury at an early date, and a building occupied by William Cox was registered there in 1828. (fn. 490) This congregation was still flourishing in 1851 when the average congregation over the past year was reckoned at 41 each Sunday afternoon. (fn. 491) Primitive Methodism at Badbury probably did not flourish for very long and there was apparently only a Wesleyan chapel in the 20th century. (fn. 492)
In Chiseldon itself a Wesleyan chapel was registered for worship in 1809. (fn. 493) On Census Sunday 1851 there was said to have been a general congregation of 43 people in the morning, 86 in the afternoon, and 102 in the evening over the past year. (fn. 494) Chiseldon retained a Wesleyan chapel in the 20th century. (fn. 495) This chapel, used as store in 1967, was a tall brick building which stood behind the Post Office and bore the date 1861. In 1835 Primitive Methodists at Chiseldon registered a building. (fn. 496) In 1851 average attendance there on a Sunday was reckoned to be 121 people in the morning and 120 in the afternoon. (fn. 497) A new chapel appears to have been built in 1853, (fn. 498) although it was not registered until two years later. (fn. 499) This building in its turn proved inadequate by the end of the 19th century and a new chapel and school were built in 1896. (fn. 500) The new chapel had 36 members, while the school could accommodate 90 children. (fn. 501) This building, which stood in Turnball, was still used by the Methodists of Chiseldon in 1967.
Education.
In 1808 there was a charity school for 40 children, supported by the vicar and inhabitants, and a dissenters' Sunday school for 30 pupils. (fn. 502) There was also a day school for about 15 children, who were taught to read at their parents' expense. (fn. 503) In 1819 the only means of education for the poor was a school supported by voluntary contributions, at which about 90 children were taught by a master, whose salary depended upon subscriptions. (fn. 504) Two day schools, kept by a master and mistress, were maintained by subscription in 1835. One was attended by about 30 boys each day and by some 17 girls. (fn. 505) New school buildings were provided in 1837 with financial aid from the National Society. Buildings, and the land on which they stood, which was part of the Workhouse Close, were conveyed by John James Calley to trustees in the following year. (fn. 506) The school was to provide for the children of the poor inhabitants of Chiseldon, Badbury, Burderop, and Hodson, who were to be taught in accordance with the principals of the Church of England. (fn. 507) Some 40 to 50 boys were taught by a master, who was also parish clerk, but neither instruction nor discipline were considered satisfactory. (fn. 508) About the same number of girls were taught by the master's wife, and although the instruction was said to be of an elementary kind, the girls were thought to be cleanly and wellmannered. (fn. 509) In 1864 the Vicar of Chiseldon, assisted by the curate, ran a small school. (fn. 510) In 1868 a new National school was built on land from the Workhouse Close, given by Henry Calley. (fn. 511) The infants there were taught by a certificated teacher, a probationer, and a monitress in 1902, while the older children were taught by a head teacher and three assistants. (fn. 512) In 1906 the school, graded as Class 'A', had an average attendance of 186 children. (fn. 513) By 1909 average attendance had risen to 205, but by 1938 it had dropped to 169. (fn. 514) In 1930 the school was transferred to the county. (fn. 515) It occupied three buildings in 1967 and was attended by some 200 juniors and infants. (fn. 516)
An emergency teachers' training college for 250 men was opened in Burderop Park in 1947 and was closed in 1951. (fn. 517) Buildings in Burderop Park also housed a secondary modern school for the area from 1948 to 1967, (fn. 518) when a new school at Wroughton was opened. (fn. 519)
Charities.
Richard Harvey, by his will proved in 1669, gave £100 to the parish of Chiseldon to be invested in lands worth £5 yearly, so that 20 poor persons might receive 5s. each from the income. (fn. 520) In 1677 the money was invested in about 5 a. in Chiseldon known as the New Mead purchased from Elizabeth Calley, widow of Sir William Calley. (fn. 521) The lands produced £8 in 1786, but no more was known about the charity at this date. By 1834 the lands, then known as the Poor's Mead, were let at a yearly rent of £12. This sum was distributed on 21 December to 20 of the most deserving men of the parish, not in receipt of parish relief. The recipients were chosen by the vicar and churchwardens and once nominated were entitled to receive the charity until death or disqualification. In 1903 the Poor's Mead was let for a yearly rent of £10, which was distributed in sums of 10s. to 20 poor persons, who must live in the ancient parish of Chiseldon. In 1964 the income of the charity was still about the same and was similarly distributed yearly among 20 poor persons.