Pages 120-123
A History of the County of Worcester: Volume 3. Originally published by Victoria County History, London, 1913.
This free content was digitised by double rekeying. All rights reserved.
FRANKLEY
Franchelie (xi cent.); Frangelce (xii cent.); Frankeleg, Francele, Fraunkel (xiii cent.).
The parish of Frankley is situated on high ground 3 miles south-east of Halesowen, the lowest part being in the north-west about 500 ft. above the ordnance datum, near the brook which divides the parish from Hunnington. The parish is situated on the east side of a continuation of the Clent and Lickey Hills. Frankley Beeches, a high point in the parish, is one of the great landmarks. The ridge from thence to Frankley Hill commands fine views, extending from the Cotswolds, Edge Hill, and the Leicestershire Hills by Barr Beacon and Dudley to the Wrekin and North Clee, and on a clear day as far as the Berwyn range, 70 miles away. The principal roads are a branch from Scotland Lane in Northfield, which cuts through the parish from east to west and then turns south towards Bromsgrove, and a road from Rubery station, which runs northward through the parish. This station, which is just within Frankley parish, is on a branch line of the Midland railway and was opened in 1881. There are reservoirs here for the storage of the water conveyed from Wales for the supply of Birmingham.
The village of Frankley, in the north-east of the parish, is very small and consists of the church, a farm called Westminster Farm, and a few cottages. The site of the old manor-house lies to the west of the church. It was formerly the chief seat of the Lyttelton family, but during the Civil War was occupied by Prince Rupert, who, on leaving it, burnt it to the ground to prevent its falling into the hands of the enemy. In 1601 the house was described as 'a very fair brick house and in good repair, and hath large and sufficient barns, stables, and outhouses.' (fn. 1) The tower of the present church was built out of the ruins of Frankley Hall. (fn. 2) The rectory is about a quarter of a mile further west, where the two principal roads intersect. The National school was built in 1865 and has since been enlarged.
Frankley Green (fn. 3) was formerly common land running on each side of the roadway now bearing the name. The irregular line of its boundaries can still be traced.
The parish, which is entirely agricultural, has an area of 1,934 acres, of which the greater part is pasture land, 682 acres being arable land and 112 wood. (fn. 4) The soil is chiefly clay and the subsoil sandstone and marl. A bed of running sand is found on Frankley Lower Hill Farm, near the railway, where it has caused landslips. A red stone from a quarry at Holly Hill has been used for many years for road-making in the parish. The best of it has been taken by the Birmingham Corporation to make concrete for their reservoir.
The chief crops are oats, wheat, clover, roots, and recently potatoes. Certain old field-names such as the 'Hopyard,' now part of the station yard, and a 'Hop Leasowe' at Egg Hill suggest a former cultivation of this plant. There is a tradition of flax having been grown, as at the 'Whitening Ground,' and old women forty years ago used to talk of 'hurdening,' i.e. making hurden in their younger days. Some nail-making used to be carried on some thirty years ago. (fn. 5)
Among the place-names are Grandynneslone Road, (fn. 6) Whickeweye, (fn. 7) Bynghameslond, Berghenlond, Slowlond, Hullefeldes, (fn. 8) Brande Ground, (fn. 9) Hoblets, (fn. 10) Jounax, Hobacre, Sling, Welsh Meadow, Sollycroft, Kettles, Grumbling Leasowe, Price's Wood, or Priests' Wood, Ravenhays Wood, Scotland Lane, and California.
MANOR
The manor of FRANKLEY belonged before the Conquest to a certain Wulfwine, but in 1086 was held by Baldwin of William Fitz Ansculf. (fn. 11) The overlordship followed the same descent as the barony of Dudley (q.v.) until 1323, (fn. 12) when on the division of John de Somery's lands it was assigned to his younger sister Joan de Botetourt. (fn. 13) The representatives of Joan de Botetourt held the overlordship until early in the 15th century. (fn. 14) The Bishop of Worcester was said to be overlord in 1481, (fn. 15) 1508, (fn. 16) and in 1599, (fn. 17) after which date the overlordship seems to have lapsed. Of these lords the manor was held by knight service. The amount of service said to be due for it varies in different deeds.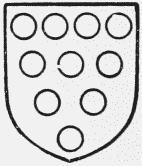 The names of Baldwin's successors as underlords are not known before 1166, when Bernard de Frankley is mentioned as holding four knights' fees of Gervase Paynel. (fn. 18) This Bernard is known to have held the manor of Trysull, co. Stafford, at the same time and occurs about 1160 under the name of Bernard son of Giles de Trysull. (fn. 19) In 1196 Miles Pichard conveyed half a hide of land in Frankley to Stephen de Every and his wife Constance. (fn. 20) Nash mentions a grant in the reign of Richard I by Philip de Frankley, son of Philip de Worcester, of land in Frankley to Simon de Heyles. (fn. 21) Philip was succeeded by Simon de Frankley, (fn. 22) who early in the 13th century gave a rent of 4s. to the Abbot and monks of Halesowen to pray for the souls of Rose his wife and of 'Elicia' his mother. (fn. 23) He is mentioned early in the 13th century as holding a quarter of a knight's fee in Frankley, (fn. 24) and was living in 1232, (fn. 25) but he must have died before 1233, when his son and heir is mentioned as having been given by Roger de Somery as a hostage to Walter de Beauchamp. (fn. 26) Simon's heir is generally supposed to have been a daughter Emma, (fn. 27) but the above entry shows that he had a son. Further, the Lyttelton charters show that the son's name was Philip and that Simon also had a daughter Margery. (fn. 28) Philip is called lord of Frankley in several charters, (fn. 29) and Emma lady of Frankley, who married Thomas de Lyttelton, (fn. 30) was evidently his heir, whether as his sister or daughter is not known. She too left an only daughter Emma, who married firstly Anger de Talton, who died before 1276, (fn. 31) and secondly Nicholas de Wheathampstead. In 1276 Emma, then a widow, gave to the Abbot and convent of Halesowen a rent of 2s. yearly from the land of Hugh de la Ruding in Frankley, for the soul of Anger de Talton, her late husband. (fn. 32) In 1280–1 she and her second husband settled the manor on themselves and the heirs of their bodies with remainders to Nicholas son of Emma (fn. 33) and to Emma's brother Edmund son of Thomas. (fn. 34) In 1286, under an agreement between Nicholas de Wheathampstead and Nicholas de Talton (called de Frankley) son of Emma by her first husband, (fn. 35) it was provided that Nicholas de Wheathampstead was to hold the manor for his life, and that Nicholas de Frankley was to receive yearly from the manor of Frankley 5 marks until the should come of age, and afterwards all the rents of the manor. (fn. 36) Emma died in 1298, her son Nicholas being then twenty-eight years of age. (fn. 37)
He as Nicholas de Frankley sold the manor in 1299 to Sir Nicholas de Wymale, (fn. 38) to whom he also granted the wardship and marriage of his eldest son Thomas, (fn. 39) together with certain rents in Frankley which Christine, lady of Frankley (possibly the wife of Philip de Frankley), had held in dower. (fn. 40) These conveyances extended over the years 1299 to 1302, but before 1305 Sir Nicholas de Wymale must have exchanged the actual possession of the manor for a life estate in a rent of £25 from it, for in that year Nicholas de Frankley released to Sir John de Benstede, clerk, his right in the manor and the reversion of a yearly rent of £25 which Sir Nicholas de Wymale held for life of his grant. (fn. 41) At the same time Richard de Capenore granted to Sir John a yearly rent of £5 15s. which Nicholas de Frankley had given him. (fn. 42)
John de Benstede, who was chief justice of the Common Pleas, received a grant of free warren at Frankley in 1305, (fn. 43) and sold the manor in 1308 to Adam de Harvington, (fn. 44) whose right in it was confirmed in 1319 by Thomas son of Nicholas de Frankley. In 1323–4 Adam granted the reversion of the manor after his death to Edmund de Grafton and his heirs, (fn. 45) and in 1344 Thomas son of Nicholas de Frankley confirmed the manor to Adam de Harvington and John de Grafton, who was presumably the successor of Edmund de Grafton. (fn. 46) John son of John de Grafton gave the manor to John Seers, Richard de Doverdale and other clerks, who were probably trustees, and they conveyed it in 1350 to Gilbert Chasteleyn, (fn. 47) who in the same year obtained a grant of free warren there. (fn. 48) Gilbert and his wife Margaret sold the manor in 1354 to Sir John Beauchamp, (fn. 49) who died seised of it in 1360. (fn. 50) His brother and heir, Thomas Earl of Warwick, must have sold it to Sir Richard Fitton, for in 1383 the executors of the will of Sir Richard were released by the overlord John de Botetourt from all claims in respect of the manor of Frankley. (fn. 51) Joan widow of Sir Richard Fitton in 1384 sold her right to William de Spernall, (fn. 52) who in 1399–1400 settled the manor on himself and his wife Alice and their issue male, with contingent remainder to his right heirs. (fn. 53) William died without issue male, leaving two daughters, Margaret, who married firstly Henry Hervyle, and secondly William Wybbe, and Joyce, who married William Swynfen. (fn. 54) Alice widow of William married Sir Thomas Stafford, and afterwards John Mulsho. (fn. 55) She apparently held the manor for life, and made various settlements of it, conveying it to William Sulney and John Alrewich as trustees, and in 1401–2 it was confirmed to them by Edward son of Thomas de Frankley. (fn. 56) Later Alice conveyed her claim in the manor to Cornelius de Wirleye, who reconveyed it to Sir Thomas Burdet, Edmund Stafford, Bishop of Exeter, and others, who were probably trustees for Alice's daughters. (fn. 57)
In 1405 the manor was claimed from these trustees by Thomas Lyttelton grandson of the first Thomas Lyttelton of Frankley by his second wife Acelina, daughter of Warin Fitz William de Upton. (fn. 58) He based his claim on the fine levied in 1281 by which Nicholas de Wheathampstead and Emma his wife had settled Frankley on her son Nicholas de Frankley and his heirs, with contingent remainders to her half-brother Edmund Lyttelton. Lyttelton stated that Thomas son of Nicholas de Frankley and the said Edmund had both died without issue, though it has been seen above that Thomas had a son Edward, who was alive in 1401–2, and the defendants stated was still alive at the time of the suit. Thomas Lyttelton, the claimant, was nephew and heir of Edmund Lyttelton, (fn. 59) and, in spite of the numerous sales that had taken place, he recovered seisin of the manor, and in 1410 settled it on his wife Maud. (fn. 60) He is said to have died in 1422, (fn. 61) leaving an only daughter Elizabeth, who married Thomas Westcote alias Heuster. (fn. 62) His widow Maud granted the manor in 1429 to John Massy, (fn. 63) whom she is said to have married as her second husband. (fn. 64) John was holding the manor in 1431, (fn. 65) and granted it in that year to Thomas and Nicholas Burdet and others. (fn. 66) Possibly they were trustees for Elizabeth daughter of Thomas Lyttelton, for in 1461–2 the manor was settled upon her and her heirs, (fn. 67) and in 1476 Thomas Burdet gave up the manor to Elizabeth and her son Sir Thomas Lyttelton, (fn. 68) who was known by his mother's name on account of the importance of the property he inherited from her. (fn. 69)
He was made justice of the Common Pleas in 1466, and is famous for his book on Tenures, which he wrote for his son Richard, who was a barrister. (fn. 70) In 1476 he obtained an inspeximus from Edward IV confirming his right to the manor of Frankley. (fn. 71) He died seised of it in 1481 and was succeeded by his eldest son William, (fn. 72) who was knighted by Henry VII after the battle of Stoke in 1487. (fn. 73) Sir William died in 1507, having left the manor of Frankley to his wife Mary for her life. (fn. 74) His son John married Elizabeth daughter of Sir Gilbert Talbot, and settled the manor on her in 1531. (fn. 75) He died in the following year, and was succeeded by a son John, (fn. 76) who obtained livery of the manor in 1541. (fn. 77) The manor of Hagley was purchased by this John in 1565, (fn. 78) and the further descent of Frankley is identical with that of Hagley, (fn. 79) Viscount Cobham being at present lord of both manors.
A tenement called OLDENHULL in Frankley belonged to a family of that name in the 13th and 14th centuries. (fn. 80) John son of John de Oldenhull was outlawed in 1353 or 1363, (fn. 81) and his property was taken into the king's hands. In 1382 Oldenhull was claimed and recovered by Sir Richard Fitton as lord of Frankley, (fn. 82) and continued to be held with the manor. (fn. 83)
A deer park existed at Frankley in 1360, and it was then worth nothing beyond the keep of the deer. (fn. 84) At the beginning of the 17th century it is said to have contained twenty red deer and 200 fallow deer. (fn. 85) It seems to have been disparked after the house was burnt down during the Civil War.
A wood called Bromwich Wood containing 'seaven acres wherein are some few timber trees, some fire wood [and] oak trees, the underwood [being] for the most part alder trees,' (fn. 86) is mentioned in the 17th century.
CHURCH
The church of ST. LEONARD consists of a chancel 24 ft. 7 in. by 13 ft. 2 in., a nave 41 ft. 6 in. by 21 ft. 6 in., a south porch and west tower about 8 ft. 6 in. square. These measurements are all internal.
The earliest details in the building date from the 15th century. The modern east window of the chancel is of three lights with old jambs, the stops to the external label being carved with butterflies. The five windows in the side walls are all modern, as is the chancel arch.
The nave is lit by three two-light windows with square heads in the north wall, with two similar windows and one single light in the south wall, but except for the jambs of the south-eastern window all are modern. The south door and porch are also modern. The modern tower opens with a round arch on to the nave with smaller arches on the north and south, the nave being prolonged on each side to the western face. The west window is of 15th-century date, of two lights, with a four-centred head. Both roofs are old, with arched braces to the principal rafters and moulded wall-plates. The chancel roof has two cambered tie-beams with braces.
The external facing of the church is of red and grey sandstone, and the tower is finished with a plain parapet with pinnacles at the angles.
There were formerly two bells; one being cracked was exchanged for a school bell about 1865. The remaining bell bears the inscription 'Sir Iohn Littilton 1588.'
The plate includes a large cup with cover paten of the Puritan type, hall mark 1707. On the foot of the cup is the inscription 'This belongs to Frankley in the County of Worcester and Chappel of St. Kenellum 1708.' The flagon is plated.
The registers before 1812 are as follows: (i) and (iA) bound together, containing baptisms 1598 to 1697, burials 1642 to 1695, marriages 1604 to 1695; baptisms and burials 1701 to 1748, marriages 1701 to 1745; (ii) baptisms and burials 1748 to 1812, marriages 1748 to 1794. The marriages overlap with volume iii, which includes marriages 1754 to 1812.
ADVOWSON
Frankley was formerly a chapelry annexed to the church of Halesowen. The chapel is first mentioned at the end of the 12th century, when Simon, lord of Frankley, granted to it certain lands in 'Cleilond in Frankley.' (fn. 87) Evidently the right of burial belonged to the mother church of Halesowen, since in 1236 Ralph, chaplain of Frankley, was accused of burying a dead body there to the detriment of the mother church, and was obliged to restore the mortuaries then made. (fn. 88) Nash mentions a confirmation of the chapel of Frankley to the monastery of Halesowen by Emma de Frankley in 1275–6. (fn. 89) This was probably in consequence of a claim by the prior and monks of Dudley to the advowson of Frankley as part of the church of Northfield, but they gave up their claim in 1297 to the Abbot and convent of Halesowen. (fn. 90) The advowson of the chapel has always followed the same descent as that of the church of Halesowen (fn. 91) (q.v.), and now belongs to Viscount Cobham. The chapelry was declared a rectory in 1866. (fn. 92)
By licence of Bishop Polton dated 1427 Maud Lyttelton had an oratory where mass was celebrated at Frankley. (fn. 93) A similar licence was granted to Thomas Lyttelton in 1443. (fn. 94) This chapel is mentioned in the will of Thomas Lyttelton in 1481 as Trinity chapel, Frankley. He bequeathed to it his 'gode litel massbook and gode vestment with the apparyl to an auter of the same sort of vestments which were my moder's,' while to the chapel of St. Leonard he left his 'great antiphoner.' (fn. 95) The Trinity chapel was probably destroyed with the manor-house.
In 1471–2 the Abbot of Halesowen was summoned to answer Sir Thomas Lyttelton why he did not find a priest during all the time Sir Thomas was at Frankley, (fn. 96) the reference probably being to the chapel of St. Leonard, as it appears from an earlier suit between the Abbot of Halesowen and the Archdeacon of Worcester that the abbot was bound to find a priest three days a week to perform divine service in St. Leonard's chapel. (fn. 97)
After the Dissolution Frankley was served by a perpetual curate, who was provided with a stipend of £10 by the Lytteltons. Sir Henry Lyttelton in the time of Charles II endowed the chapel with tithes amounting to about £40 a year, in lieu of this stipend. (fn. 98)
In 1738 Sir Thomas Lyttelton, bart., inclosed a plot of ground round the chapel for a cemetery, and with the bishop's permission it was used as a common burial-ground for the parishioners of Frankley. (fn. 99)
The vill of Frankley being in the county of Worcester, but owning Halesowen, which was in Shropshire, as its parish church, was occasionally assessed for ninths in both counties. The inhabitants complained that this had happened in 1341, and prayed the king for a remedy. (fn. 100)
During the 15th century the inhabitants of Frankley subscribed 7d. yearly for the 'hye light. (fn. 101) The church ale at Frankley is mentioned in churchwardens' accounts of Halesowen in 1497. (fn. 102)
There are no endowed charities.