Pages 203-205
A History of the County of Worcester: Volume 3. Originally published by Victoria County History, London, 1913.
This free content was digitised by double rekeying. All rights reserved.
RUSHOCK
Russococ (xi cent.); Rossoc (xii cent.); Roshock, Russok, Ruschok (xiii cent.); Ruschok (xiv cent.); Ryshok (xv cent.).
Rushock is a fertile and well-wooded parish, having an area of 1,257 acres, 538 acres being arable land and 597 pasture. (fn. 1) It is situated south of Chaddesley Corbett and was formerly a chapelry of that parish. When Ombersley Forest was partly disafforested in 1229 the new forest boundary passed through the middle of the town of Rushock to La Brodeford. (fn. 2) The other half of the town appears to have been in the forest of Feckenham. (fn. 3) The Elmley Brook and one of its tributaries are the only streams in the parish. The main road from Kidderminster to Droitwich is the chief road; it enters Rushock by the Bradford bridge. The village is situated almost in the centre of the parish, north-east of this road. The houses are scattered and surrounded by trees. In the south of the village there is a pound.
The parish lies about 200 ft. above the ordnance datum, the land falling slightly in the west to the bank of Elmley Brook. The inclosure award is dated 15 April 1812, (fn. 4) the Act having been passed in 1805. (fn. 5)
The soil is clay, the subsoil marl and clay. Agriculture is the only industry. In the 18th century flax and hemp were cultivated to a certain extent, and in 1782 and later Henry Ellins claimed the bounties offered for their cultivation in Rushock. (fn. 6)
Rushock Court was the scene of the arrest in 1679 of Father Wall, a Roman Catholic priest, who was afterwards tried at Worcester on the charge of remaining in England contrary to the statue of Queen Elizabeth, and executed at Red Hill near Worcester. (fn. 7)
The Rev. Timothy Goodwin, rector of Rushock, was consecrated Bishop of Kilmore and Ardagh in 1714. He became Archbishop of Cashel in 1727. (fn. 8)
MANOR
Before the Conquest RUSHOCK was held by Achil, but by the time of the Domesday Survey Hunulf was holding it of Urse D'Abitot. (fn. 9) The overlordship passed with the barony of Elmley Castle until 1512–13, when it is mentioned for the last time. (fn. 10)
Hunulf's successor in the manor was Robert de Rushock, who was holding it by the service of one knight's fee in 1166. (fn. 11) Early in the reign of King John Robert and his wife Alice were arrested for the murder of Walter de Portes. Robert's property was forfeited, but on payment of a fine he was allowed to take the habit of a monk, and retired to Worcester, where he died. His widow Alice, who had also apparently promised to assume the religious habit, tried unsuccessfully in 1220–1 to recover one third of the manor of Rushock in dower, stating that part of Robert's lands had been restored by King John to the daughter of Robert. (fn. 12) The whole manor had been granted after Robert de Rushock's forfeiture to William de Braose, but was seized with his other property by King John in 1208, (fn. 13) and granted by William de Beauchamp, the overlord, to Thomas Sturmy, to whom it was afterwards confirmed by Walter de Beauchamp. (fn. 14)
In the mean time William de Braose died, and in 1215 his property was restored to his second son and heir, Giles Bishop of Hereford, on payment of a fine. (fn. 15) The bishop died in November of that year, and his brother Reynold de Braose was allowed to succeed to his estates in 1217, (fn. 16) and received seisin of Rushock in the following year. (fn. 17) He granted it to Alexander D'Abitot and the heirs of his body. Alexander died without issue, but his brother and heir Osbert claimed Rushock by another charter to Alexander and his heirs, and brought an unsuccessful action against Geoffrey, son of the above Thomas Sturmy, (fn. 18) and Reynold de Braose. (fn. 19) He was succeeded in 1246 by his son Henry, (fn. 20) who came of age in 1254, (fn. 21) and died seised of the manor about 1295. (fn. 22) It then passed to his son Henry Sturmy, who was succeeded about 1304–5 by a son Henry. (fn. 23) He settled the manor in 1325 on his eldest son Henry and the latter's wife Margaret. (fn. 24) The elder Henry died about 1338–9, (fn. 25) and Henry Sturmy, his son, obtained in 1359 a grant of free warren in his demesne lands of Rushock. (fn. 26) This Henry, who died in 1381, (fn. 27) had granted the manor before his death to Sir John Attwood and his wife Lucy, and his grant was confirmed in 1379 by William Sturmy, his nephew and heir. (fn. 28)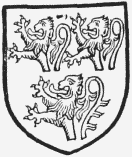 By an undated charter Thomas Beauchamp Earl of Warwick (who died in 1369) granted a fee at Rushock to his younger son William Lord Bergavenny, (fn. 29) and it is probable that the manor lapsed to the overlord soon after this date, for in 1411 William Beauchamp Lord Bergavenny died seised of it. It then followed the descent of Kidderminster Biset (fn. 30) (q.v.) until it was sold, probably by George fifth Lord Bergavenny, to Sir Stephen Jenyns, kt, who in April 1513 obtained licence to grant it to the Merchant Taylors' Company, London, in trust for their grammar school at Wolverhampton. (fn. 31) This grant was confirmed by James I in 1619, (fn. 32) and the manor still belongs to the trustees of the school.
During the reign of Elizabeth Francis Brace was tenant of the manor of Rushock, and apparently resided there. (fn. 33) In 1619 the manor seems to have been occupied by Thomas Russell. (fn. 34) Later in the 17th century the manor was leased by the Finches. Francis Finch of Rushock was among the prisoners taken by the Parliamentary forces at Worcester in 1646, (fn. 35) and he seems to have been an ardent Royalist. He was fined 50s. in 1649 for the estate at Rushock, (fn. 36) and in 1658 was obliged to obtain a pass to come to London on business. (fn. 37) On the accession of Charles II he petitioned for the office of Grand Commissioner of Excise as a reward for seventeen years of faithful service. (fn. 38) Francis and his son Windsor Finch were dealing with the manor of Rushock in 1665, (fn. 39) and Windsor and his wife Margaret were in possession in 1681 and 1684. (fn. 40)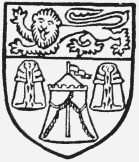 CHURCH
The church of ST. MICHAEL stands on the edge of a ridge and is of no architectural interest, consisting of shallow chancel, north vestry, transepts, nave with west gallery and tower, all in poor modern Gothic.
There is a tall octagonal font of uncertain date, with trefoiled panels and a shallow bowl. In the chancel are two 17th-century chairs and a few other pieces of old woodwork. Built into the tower walls are also a few carved stone fragments of an earlier church, probably that known to have been consecrated in October 1285. (fn. 41)
There are two bells: treble, by C. & G. Mears, 1853; tenor (cracked), 'All prayse and glory be to God for ever D.L. C.W. 1681,' by John Martin.
The plated cup, paten, flagon and almsdish are modern but of mediaeval pattern.
The registers before 1812 are as follows: (i) all entries 1661 to 1681; (ii) 1685 to 1812.
ADVOWSON
The chapel of Rushock was consecrated by Bishop Giffard in 1285. (fn. 42) It was dependent on the church of Chaddesley Corbett, (fn. 43) and the rector of Chaddesley was patron until 1389 or later. (fn. 44) The advowson of Chaddesley had been granted in 1385 to the Dean and canons of Warwick, and they appear shortly after to have appropriated the rectory of Chaddesley, and thus become patrons of Rushock, for they presented to Rushock from 1397 until 1512. (fn. 45) After that time they appear to have leased it, for their grantees are said by Nash to have presented in 1534, 1561 and 1587. (fn. 46) The connexion between Rushock and Chaddesley Corbett was apparently severed before 1535, probably at the time when Chaddesley Corbett was appropriated by the college of Warwick, for Rushock is called a rectory in 1535 and was then valued at £10. (fn. 47) The queen presented to the church in 1589, (fn. 48) and the advowson has since been in the Crown. (fn. 49)
CHARITIES
The charity of William Norris, founded by deed 22 September 1702, and the subsidiary charities of Frances and John Aaron are regulated by schemes of the Charity Commissioners, 1878 and 1894.
The trust property consists of 4 a. 2 r. 30 p. at Cutnall Green in Elmley Lovett let at £20 a year, and a rent-charge of £5 10s. issuing out of Lowbridge Farm in Rushock; also £119 10s. consols with the official trustees, producing £2 19s. 8d. yearly, arising from a gift of 20 guineas by Frances Aaron in 1766 and a legacy of £100 by will of John Aaron, proved in 1771.
The income is applicable in support of the school at Cutnall Green for children from Rushock and Elmbridge, and any balance in grants for the benefit of the school at Rushock.
The bread money consists of a sum of 7s. 7d. paid quarterly out of Lowbridge Farm and applied in bread to seven widows or aged persons. This donation is attributed to a gift of William Norris in 1710.