Pages 1-3
A History of the County of Worcester: Volume 4. Originally published by Victoria County History, London, 1924.
This free content was digitised by double rekeying. All rights reserved.
THE HUNDRED OF PERSHORE
The hundred of Pershore contains the following parishes (fn. 1)
ABBERTON
ELEDERSFIELD
PRESHORE, HOLY CROSS
ALDERMINSTER
FLYFORD FLAVELL
WITH WADBROUGH AND
BEOLEY
GRAFTON FLAYFORD
WALCOT CUM MEMERIS
BESFORD
HANLEY CASTLE
PERSHORE, ST. ANDREW
BIELILNGHAM
LEIGH WITH BRANSFORD
WITH BRICKLEHAMTON,
BIRTSMORTON
LONGDON
DEFFORD, PENSHAM,
BROADWAY
MADRESFIELD
PINVIN AND WICK
BROUGHTON HACKETT
GREAT MALVERN WITH
NORTH PIDDLE
BUSHLEY
NEWLAND
PIRTON
CASTLEMORTON
MARTIN HUSSINGTREE
POWICK WITH CLEVELODE
CHACELEY
MATHON
AND WOODSFIELD
GREAT COMBERTON
NAUNTON BEAUCHAMP
SEVERN STOKE
LITTLE COMBERTON
PEOPLETON
STAUNTON
DORMSTON
THE BOROUGH OF
STRENSHAM
ECKINGETON
PERSHORE
UPTON SNODSBURY
UPTON UPON SEVERN
Nearly the whole district now comprised in the hundred of Pershore belonged originally to the abbey of Pershore, having probably formed part of its earliest endowments. In a charter attributed to King Edgar, dated 972, (fn. 2) the lands granted are said to have been given to the abbey by Coenwulf, Edgar's predecessor, at the request of the ealdorman Beornoth. More than half this property was taken from Pershore Abbey and given by Edward the Confessor, as the manor of Pershore, (fn. 3) to the re-founded monastery at Westminster, and in the Domesday Survey the hundred of Pershore is not mentioned, but the lands afterwards contained in it were then comprised in the possessions of Westminster Abbey belonging to the manor of Pershore and the lands of St. Mary of Pershore. (fn. 4)
In 1086 Bushley, now in Pershore Hundred, was part of the manor of Bredon in Oswaldslow, but it was surveyed in Herefordshire as well as under Bredon Manor, (fn. 5) since it formed part of the estate of William Earl of Hereford and was to a certain extent annexed to his lordship of Hereford. It had, however, been transferred to Pershore by the beginning of the 13th century. (fn. 6)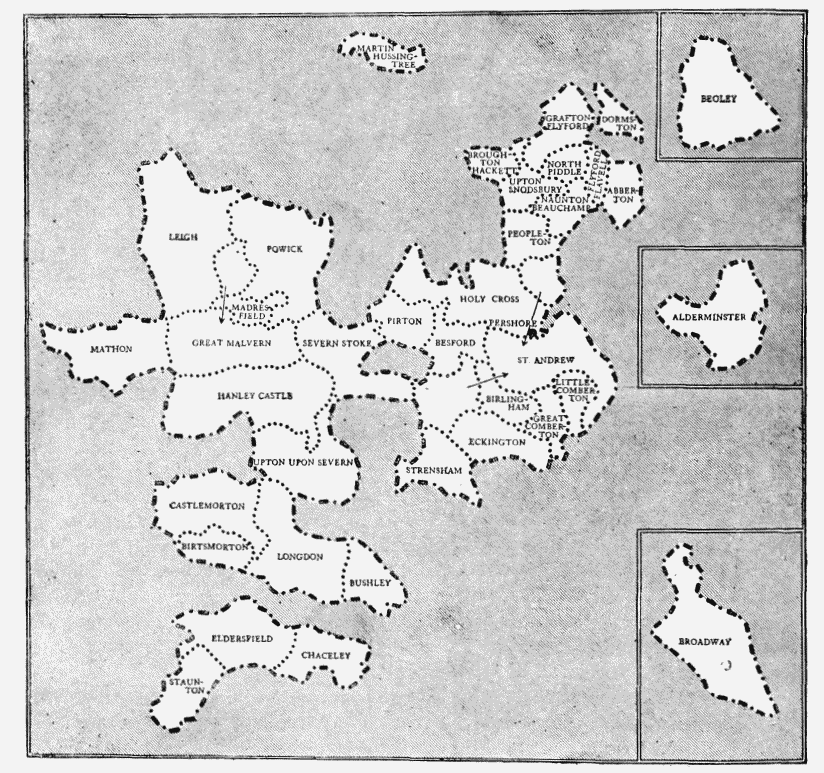 Eldersfield was also for the same reason surveyed under Herefordshire, (fn. 7) though it lay in Worcestershire and formed part of the manor of Longdon in Pershore Hundred. (fn. 8) Hanley Castle, as a member of Brictric son of Algar's honour of Tewkesbury, was surveyed in Gloucestershire in 1086, but is entered under Pershore Hundred in 1210-12. (fn. 9) Mathon was in 1086 in the hundred of Doddingtree, and one hide of it was in Radelaw Hundred in Herefordshire. Being part of the possessions of Pershore Abbey it had been transferred to Pershore Hundred before 1280. (fn. 10) Part of it has always remained in Herefordshire, and in 1897 this part was constituted the new Herefordshire parish of Mathon Rural, the Worcestershire portion being made into the parish of West Malvern. (fn. 11) Upton upon Severn in 1086 formed part of the parish of Ripple in Oswaldslow (fn. 12) and remained in that hundred until 1760, when an Act was passed legalizing its assessment in the hundred of Pershore. (fn. 13) From that time it seems to have been considered part of Pershore Hundred. Queenhill was also in the manor of Ripple, (fn. 14) but has always been in Pershore Hundred, though the rest of Ripple is in Oswaldslow. Yardley which was, as a member of Beoley, in the hundred of Pershore in 1086, (fn. 15) remained in that hundred until 1760, when by the above mentioned Act it was transferred to Halfshire. Under the same Act the commissioners were empowered to assess Alderminster, until that time in Pershore Hundred, under Oswaldslow Hundred, but though it was returned as partly in Oswaldslow in 1831, (fn. 16) it still forms part of Pershore Hundred.
The hundred was shared by the Abbots of Westminster and Pershore (fn. 17) until the Dissolution, and was granted in 1542 to the Dean and Chapter of Westminster as 'all those leets and views of frankpledge of Calcroft and Rydgrene,' (fn. 18) and it has since remained in the possession of the dean and chapter. (fn. 19)
The hundred courts were held at Calcroft, (fn. 20) Rhydd Green (fn. 21) and Pinvin. (fn. 22) The Abbots of Westminster and Pershore claimed assize of bread and ale, return of writs, estreats and pleas of namii vetitithroughout the hundred. They seem to have frequently come into collision with the Beauchamps, as Sheriffs of Worcester, as to their rights in the hundred. (fn. 23) Roger Abbot of Pershore (1234-50) made an agreement with William Beauchamp that certain suitors in Broadway, Mathon, Leigh and Alderminster should do suit at the county court of Worcester. (fn. 24)