Pages 202-208
A History of the County of Worcester: Volume 4. Originally published by Victoria County History, London, 1924.
This free content was digitised by double rekeying. All rights reserved.
STRENSHAM
Strengesho (x cent.); Strenchesham (xii cent.); Strengesham (xiii cent.); Straynsham (xv cent.).
Strensham occupies a very beautiful situation on the southern boundary of the county, facing the Malvern and Bredon Hills. It is on the right bank of the Avon, which forms its eastern boundary, its northern being the Bourne Brook, which flows east into the Avon. A road to Pershore from Tewkesbury runs through it from south to north. The village is at Upper (or Over) Strensham near the southern boundary, with Lower (or Nether) Strensham to the north. At the eastern side of the parish is the church, on a hill overlooking the Avon. It marks the highest point, 160 ft., the ground sloping away from it north, west and south, the lowest points reached being on the banks of the Avon. The land along the Bourne Brook and the Avon is liable to floods.
The village is small and contains a few black and white buildings. The almshouses are a half H on plan and contain six tenements. They are built of brick with stone quoins, one story high with attics. In the centre of the front is a stone coat of arms, Russell (baronet) impaling Lytton, with the date 1697.
At Lower Strensham is the site of a castle said to have been destroyed in the Civil War, (fn. 1) with moats forming a nearly complete square. To the west of it lies Moat Farm, supposed to have been the gateway of the ancient building. No traces of the masonry of the castle remain, but the moats are still in excellent condition. (fn. 2) This must be the site of the mansion-house that Sir John Russell received licence to crenellate in 1388, (fn. 3) and it may have been here that the house stood in which James Russell received licence to build an oratory in 1283. (fn. 4)
Strensham Court, at Upper Strensham, now occupied by Mr. Gerald Dudley Smith, is near the site of a Strensham Court which was the home of the Russells after their house at Lower Strensham was dismantled. The present house was built in 1824 by Mr. John Taylor, who then pulled down the older Strensham Court. It is a large stone mansion in the Greek manner of the period, and stands in beautiful and well-planted grounds.
Strensham has an especial interest because Dr. Treadway Nash, the historian of the county, was lord of the manor and became rector in 1797. (fn. 5) It has an interesting connexion with Charles Cotton (1630– 87), the friend of Izaak Walton, whose second wife was Mary, eldest daughter of Sir William Russell of Strensham, and widow of the second Earl of Ardglass. (fn. 6) He added to the Complete Angler, 'Instructions how to angle for a Trout or Grayling in a Clear Stream,' and was well known in his day as a poet and wit. Until about forty years ago there stood in the village a low timbered building which was the birthplace in 1612 of Samuel Butler, the author of Hudibras. (fn. 7) An old trench road is described by Allies as passing not far from this house through a pasture on the south side of the Moat Farm, up what is called Green Hill and the Park grounds, to that part of the hill where Strensham Church stands, and probably from thence across one of the fords to Eckington. (fn. 8)
The parish has an area of 1,967 acres, of which 551 are arable land, 1,164 are permanent grass and 64 woods and plantations. (fn. 9) The soil is clay and loam, the subsoil Lower Lias. The chief crops grown are wheat, barley and beans.
An Act for inclosing lands and for making compensation for tithes was passed in 1814, (fn. 10) and the award is dated 25 July 1817. (fn. 11)
Among place-names have been found Boteshull, Holdegora (fn. 12) (early undated deeds); Barbecroft (fn. 13) (undated); Horiputte, Tweningesdich, Suthslade, Lynhamfurlug, (fn. 14) Homfurlungeshouere (fn. 15) (xiii cent.); Ormesining, Hokewelle, Arwynesleye, Prinnokestyle (fn. 16) (xiv cent.).
MANORS
Ten manses at STRENSHAM are said to have been granted to the abbey of Pershore by King Coenwulf at the request of the ealdorman Beornoth, and after being lost to that abbey to have been restored to it by King Edgar in 972. (fn. 17) Strensham was afterwards granted to the abbey of Westminster by Edward the Confessor as belonging to the manor of Pershore. It is not entered by name in the Domesday Survey, but from another survey made shortly after it appears that it is to be identified with a berewick of 10 hides belonging in 1086 to the manor of Comberton. Under the abbey of Westminster it was held by Gilbert Fitz Turold as successor to Ulf and Ansgot, (fn. 18) and Gilbert's interest in the manor seems to have passed at an early date to the Abbots of Westminster.
The Abbots of Westminster apparently held this manor, afterwards known as NETHER STRENSHAM, in demesne, until Abbot Walter (ob. 1191) granted it to Geoffrey de St. Leger to hold for service of two knights' fees. (fn. 19) The St. Leger family held for a short time, Reginald de St. Leger confirming a grant to Tewkesbury Abbey of land held of his fee in Strensham by an undated deed. (fn. 20) Engelm de St. Leger also granted land at Strensham to Tewkesbury Abbey, (fn. 21) but forfeited his estate here for some reason in the reign of John. (fn. 22) Hugh de Fokinton or Fulketon was holding Strensham in 1210–12, (fn. 23) but Engelm's land was restored in 1216. (fn. 24) It seems possible that the St. Legers and Fokintons may then have held Strensham between them, as Geoffrey de Fokinton was holding land in Strensham in 1226–7. (fn. 25) In 1232 certain land in Strensham forfeited by Robert de Dicleston, an outlaw, was held of William de Englefield, (fn. 26) who in 1248–9, with Margery his wife, granted a messuage and a carucate of land in Strensham to Andrew son of William de Englefield. (fn. 27) John la Warr and Olimpia (fn. 28) his wife and William de Englefield and Margery his wife were holding the manor jointly in 1254–5. (fn. 29) In 1276 Margery, relict of William de Englefield (one of the justices of England), paid a subsidy of 20s. in Strensham. (fn. 30) Roger son of John la Warr, (fn. 31) who was holding the advowson in 1278, (fn. 32) received a grant of free warren in his demesne lands of Strensham on 2 January 1285, (fn. 33) and sold the manor in that year to Godfrey de Auno in exchange for the manor of Rushall (co. Wilts.). (fn. 34) In 1298–9 Godfrey and Joan his wife sold the manor to James Russell, (fn. 35) who had probably acquired the Englefields' moiety before 1283, when he obtained licence to build an oratory in his house at Strensham. (fn. 36) James was still alive in 1300, (fn. 37) but had been succeeded before 1312 by his son Nicholas, (fn. 38) who presented to the church at that date. (fn. 39) He was appointed collector of the aid for the county in 1322, (fn. 40) and on 27 January 1328 he received a grant of free warren in his demesnes of Strensham and Peopleton. (fn. 41) In 1337–8 he settled the manor on his heirs by his wife Agnes with contingent remainders to his children John, Edmund, Robert, Christine, Margaret de Appurleye and Margery de la Bourne. (fn. 42) He must have died before 1346, when his widow Agnes was holding the two knights' fees which he had formerly held. (fn. 43) John son of Nicholas died in 1349, and as Edmund his brother was already dead without leaving issue the third brother Robert succeeded. (fn. 44) Robert Russell of Strensham received exemption for life on 9 October 1353 from being put on assizes, juries, &c., against his will. (fn. 45) He married Catherine daughter of John Vampage, (fn. 46) and must have been living as late as 1361, when he presented to the church. (fn. 47) He was succeeded before 1376 by his son Sir John Russell, Master of the Horse to Richard II. (fn. 48) In 1383 Thomas Earl of Warwick gave him a yearly rent of £20 in time of peace and £40 in time of war from the earl's manor of Chedworth, with bouche-au-court for himself, a chamberlain, three grooms and five horses in time of war, in return for bachelor service. This was inspected and confirmed by Richard II on 25 April 1383. (fn. 49) In 1388 he received licence to crenellate his mansion-house at Strensham, (fn. 50) and in 1397 confirmation of the grant of free warren made to Nicholas in 1328. (fn. 51) A grant of land and rent in Strensham, made to him by Thomas Beauchamp, Earl of Warwick, before the forfeiture of his lands, was confirmed to him in the same year, (fn. 52) and in 1398, (fn. 53) for gratuitous good service. On the last occasion he was described as 'long keeper of the king's great horses.' In 1399 he settled the manor and advowson on his wife Elizabeth. (fn. 54) His son William ratified the estate of Elizabeth, his father's wife, in the manor in 1400–1, (fn. 55) and in 1405 Sir John died at Letheringham in Suffolk, according to the inscription on his tomb at Strensham, on which are recorded also the names of his three wives, Elizabeth, Margaret and Agnes. Elizabeth survived him and as Lady de Clinton held the manor until her death in 1423. (fn. 56) William Russell followed, and was succeeded by his son Robert, who was holding the manor in 1428 (fn. 57) and 1431, (fn. 58) and married Elizabeth daughter of Sir John Throckmorton. (fn. 59) She was holding the manor with her husband in 1433–4, when it was conveyed by them to John Throckmorton and others for purposes of settlement. (fn. 60) The manor, described as having been forfeited by John Russell in 1461, (fn. 61) was granted to the king's kinsman Richard Nevill, Earl of Warwick, in 1462. (fn. 62) On 7 June 1471 Elizabeth Russell of Strensham, widow, received a general pardon for all offences committed before 5 June last, (fn. 63) and the manor must have been restored to her, for in 1483–4 a warrant was issued to hinder all persons from hunting in the park of Strensham without her special licence, the king (Richard III) desiring to have the park replenished with game. (fn. 64) She settled the manor by her will on her son Robert, and enfeoffed Robert Throckmorton and others for execution of this settlement and for providing portions for the sons and daughters of Robert Russell. (fn. 65) Robert, who married Joan daughter of Sir Kinard de la Bcere, succeeded to the manor, and was followed at his death in 1493 by his son Robert, who married Elizabeth daughter of Thomas Baynham (fn. 66) and died in 1502. (fn. 67) Robert's son John, who then inherited the manor, married Edith Unton. (fn. 68) In 1523 he and his son Thomas were appointed surveyors of the lands of the bishopric of Worcester. (fn. 69) He died in 1556, (fn. 70) and was succeeded by his son Sir Thomas Russell (knighted in 1549), (fn. 71) who in 1557 made a settlement on his wife Frances daughter of Sir Roger Cholmeley, and in 1572 settled Strensham on his son John at the marriage of the latter with Elizabeth daughter of Ralph Sheldon of Beoley. He died at Worcester on 9 April 1574 (fn. 72) and was succeeded by his son John, afterwards Sir John, who suffered attainder, his lands being granted in 1588 to Walter Coppinger and others. (fn. 73) Sir John's lands were, however, restored before he died in 1593. (fn. 74) His son Thomas, who succeeded him, and who was knighted in 1603, (fn. 75) was in 1624 engaged in a suit to recover documents dealing with the manor from a former servant or clerk, William Dingle or Dinely. (fn. 76) In the same year he made a settlement on his son William and his heirs male by Frances daughter of Sir Thomas Reade, (fn. 77) and on his death in 1632 this son, then Sir William, succeeded. (fn. 78) He had been created a baronet in 1627, (fn. 79) and suffered imprisonment and heavy losses of property for his zeal in the Royalist cause. (fn. 80) After the Restoration he was one of the knights nominated for the projected order of the Royal Oak. (fn. 81) He died in 1669 and was succeeded by his second but first surviving son, Sir Francis Russell, bart., who married Anne daughter of Sir Rowland Lytton of Knebworth. (fn. 82) Sir Francis Russell was the last male representative of his line, and at his death in 1705 left Strensham equally between his three daughters: Anne, who married, firstly, Sir Henry Every, secondly, Richard Lygon of Beauchamp Court, and thirdly, Sir John Guise of Elmore; Mary, who married Thomas Jones; and Elizabeth, who married William Dansey. (fn. 83) According to Nash, two shares were soon re-united by the death of one of the sisters, and descended to Catherine Dansey, daughter and sole heir of the third sister Elizabeth and of her husband William Dansey. Catherine Dansey married John Ravenhill, and these two shares passed to their daughter and sole heir Frances Ravenhill, who married as her first husband Richard Russell Nash, D.D., brother of Dr. Treadway Nash, the historian of Worcestershire. (fn. 84) Dr. Richard Nash and his wife Frances conveyed the manor in 1754 to Dr. Shipley and Dr. Treadway Nash, (fn. 85) apparently in execution of some settlement. But according to the historian's own work they were only holding two-thirds of it, he himself having acquired the remaining third in 1775, after it had passed through various hands, and the reversion of his sister-in-law's two-thirds after her death being bequeathed to him by his brother, whose wife survived him and married as her second husband Charles Trubshaw Withers. She presented to the church with Charles Trubshaw Withers in 1774, (fn. 86) and both were living in 1781. (fn. 87) She apparently died before 1795, when Dr. Treadway Nash was holding the whole manor. (fn. 88) He died in 1811. His only daughter and heir Margaret married John Lord Somers, (fn. 89) who held the manor in 1811 (fn. 90) and 1812. (fn. 91) By him it was sold in 1817 to Mr. John Taylor, (fn. 92) eldest son of Mr. John Taylor of Bordesley Park and Moseley Hall, a most successful Birmingham button manufacturer. He died childless, and was succeeded by his brother James, who died in 1852. He was followed by his son James Arthur Taylor, M.P. for the eastern division of Worcestershire from 1841 to 1847. His son, Mr. Arthur James Taylor, who succeeded on his death in 1889, (fn. 93) is now lord of the manor.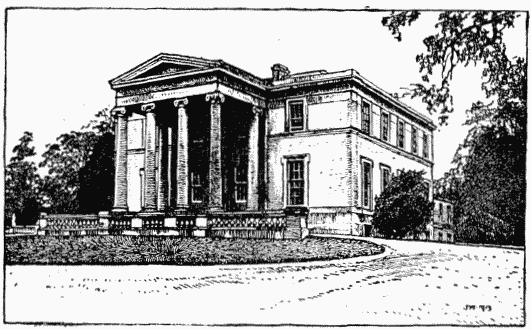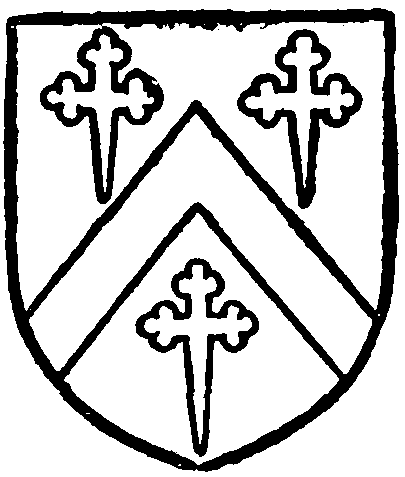 The manor of OVER STRENSHAMwas held of the abbey of Westminster, the overlordship of the dean and chapter, as successors to the abbot, being acknowledged as late as 1594. (fn. 94)
Land in Strensham was granted to the monastery of Tewkesbury by various donors. William de Mare and Mabel his wife and Robert their son gave a virgate (1137–61), Reginald de St. Leger gave half a hide in his fee, William de Buckingham gave half a virgate granted to him by Engelm de St. Leger, and Robert son of Hugh de Dicleston, and Robert de Dicleston and his wife gave land. (fn. 95) This must have been the free tenement in Strensham which Nicholas Russell was holding of John de Mare, and John de Mare of the Abbot of Tewkesbury in 1327, (fn. 96) and the origin of the manor of Over Strensham which this monastery was holding at the Dissolution. (fn. 97) In July 1545 this manor was granted in fee to James Gunter and William Lewes, (fn. 98) who in the same month received licence to alienate it to John Russell of Over Strensham. (fn. 99) This alienation does not seem, however, to have taken place, and in 1547 the manor was conveyed by James Gunter and Anne his wife to Sir Roger Cholmeley, kt., chief baron of the Exchequer. (fn. 100) On 14 October 1557 Sir Roger Cholmeley gave this manor to Sir Thomas Russell and his wife Frances, Sir Roger's daughter, retaining for himself a life interest. (fn. 101) The manor of Over Strensham seems ultimately to have become merged in the capital manor. (fn. 102)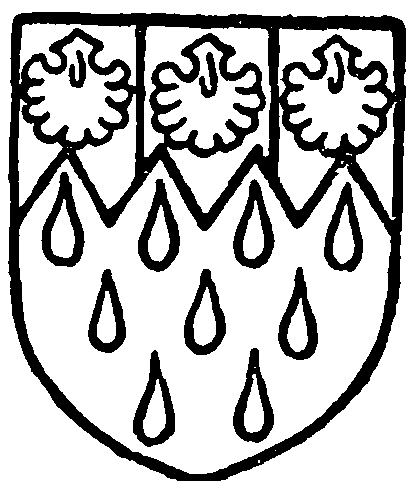 In 1671 Sir Francis Russell bought for £5 8s. 3d. a fee-farm rent of 6s. 2d., which must have been reserved by the Crown on the grant of 1545, as it was said to have been lately paid by James Gunter. (fn. 103)
Land in Strensham, parcel of the manor of Alderminster, was held by the abbey of Pershore, to which abbey grants were made by various donors in the time of Abbots Roger (1234–50), Eler (1251–64), and William (1290–1307), (fn. 104) and in 1392. (fn. 105) On 3 December 1538 John Abbot of Pershore granted to Sir John Russell all messuages, lands, &c., within the manor of Strensham parcel of the manor of Alderminster, (fn. 106) and these were on 7 March 1617 granted to Sir Arthur Throckmorton of Paulerspury, being then or late in the occupation of Samuel Butler, (fn. 107) the father of the author of Hudibras. (fn. 108) Lands in Strensham called Throckmorton's Lands, formerly in the tenure of Samuel Butler, were held of the king in chief in 1634 (fn. 109) by Sir Thomas Russell at his death.
A mill was held with the manor in 1400–1. (fn. 110) A dispute having arisen between Sir John Russell of Strensham, owner of 'ancient water corn mills called Strensham Mills and Eckington Mills,'and Thomas Hanford, owner of Nafford Mills, it was agreed that Hanford should convey the mills in Nafford to Sir John Russell, whose son Sir Thomas was engaged in a dispute with the Hanfords about this agreement in 1622. (fn. 111) Two mills were held with the manor in 1658 (fn. 112) and in 1812, (fn. 113) and there is still a corn-mill on the Avon at Strensham.
CHURCH
The church of ST. JOHN BAPTIST (fn. 114) consists of a chancel 29 ft. 6 in. by 14 ft. with north vestry, nave 57 ft. by 25 ft. 6 in. with south porch and west tower. The measurements are all internal.
The building was apparently largely rebuilt and perhaps lengthened towards the west in the 14th century. There is no detail of an earlier period. Several windows were inserted in the 15th century and the church has been restored in modern times, when the north vestry was added and the south chancel wall refaced.
The chancel has a three-light 14th-century east window with a pointed head. The north wall is blank, but the south wall has a square-headed 15thcentury window of two lights with a moulded piscina below it of the 14th century. Further west is a projecting bay built to receive a tomb and a pointed priest's door partly restored. The 14th-century chancel arch is of two chamfered orders, the inner springing from a moulded corbel. The roof, which is of wagon form and ceiled, has two tie-beams.
The nave has three windows in the north wall, the first of two lights and the second of one, both apparently of the 14th century. The north door and the third window on this side are modern restorations. The windows in the south wall, three in number, are all similar to those opposite and the south door is modern, plain and pointed. The roof is of wagon form with moulded ribs and three heavy moulded tie-beams. On the soffit of the first is fixed a painted angel holding a shield, party palewise, Russell and Lytton, and evidently repainted late in the 17th century. The other ties have raised shields in the centre with obliterated painted coats of arms.
The 14th-century west tower is of three stages with diagonal buttresses at the western angles, and has a lofty pointed tower arch, now blocked up. The 15thcentury west window is of three lights with a pointed and traceried head; below it is a door of the same date with a four-centred head. The second stage has a pointed single light in the west face and the bell-chamber is lighted by a 14th-century window in each face of two lights with a quatrefoil in the head. The embattled parapet has been repaired in brick on the east side. The south porch has a 14th-century outer arch dying into the plain jambs. The walls of the nave are of small rubble, rough-cast, and the tower is also of rubble, with a projecting stair turret at the south-east angle.
At the west end of the nave is a 15th-century oak screen, now forming a gallery front and resting on two free posts, the faces of which have niches with crocketed and finialled canopies and side pinnacles; the moulded beam above is supported on curved braces, each carved with rich foliage of differing designs. The gallery front above has a series of twenty-three panels, each with a traceried head, and a painted saint on a red ground. The figures have been considerably repainted and from north to south are as follows: (1) St. Anthony with a tau cross on his cloak, (2) St. Stephen, (3) St. Laurence, (4) a king, (5) a bishop, (6)—(18) the twelve apostles, including St. Paul, with our Lord in the centre, (19) an archbishop, (20) St. Edmund the king, (21) a bishop, (22) St. John Baptist, (23) an archbishop. The font is modern and the plainly panelled hexagonal pulpit is apparently of early 18th-century date; the desk beside it is of earlier woodwork re-used. The side walls of the nave have 16th-century linen-fold panelling with a row of hat pegs along the top. The pews of the same date are very massive with moulded rails and buttressed ends, with linen-fold panels. At the east end is a large square pew with Jacobean enrichment round the top and fluted consoles. The nave is largely paved with 15th-century slip tiles with much of the pattern defaced. A large number of foliage designs are still intact, and several heraldic tiles, including the arms of Berkeley, Edward the Confessor, Beauchamp, Gloucester Abbey, St. John and a set of four tiles, each bearing paly of eight pieces a cheveron with three crosslets thereon, and a mitre in chief, for John Carpenter, Bishop of Worcester (1444–76).
The church contains an unusual number of interesting monuments, mostly to members of the Russell family. The earliest are two brasses on the chancel floor, one of about 1390 to Robert son of Thomas Russell of Strensham, showing an armed figure in camail with his feet on a lion; the marginal inscription had shields at the angles, all now gone. The second brass is to Sir John Russell, who died in 1405, and his three wives, Elizabeth, Margaret and Agnes. It represents a knight in armour under a crocketed ogee canopy with side pinnacles; the marginal inscription has the evangelistic symbols at the angles, one being missing. A third brass to Robert Russell and Elizabeth (Baynham) his wife, 1502, is now placed in a modern slab against the north wall. It has an armed figure with one of the wife. Against the same wall at the east end is a panelled altar tomb, with a marble slab, to Sir John Russell, 1556, and Edith (Unton) his wife, 1562; the sides have diamond panels, formerly with brass shields, all now lost. At the head is an upright panel crested with Tudor flower and having small kneeling brass figures of Sir John and his wife, both in heraldic dress, with a son behind and three shields above. The first bears the arms of Russell quartered with de la Planche, Hodington, Golafre, Cassy, Cooksey, Thorgrim and Cromlyn, the second bears Unton quartered with Fettiplace, the third shield bears the first two impaled. On the wall at the back is an oval tablet to Sir William Russell, bart., who died in 1669, and above it a tablet to Sir C. T. Withers, 1804, who married Frances Ravenhill. Further west is a large monument in grey and white marble to Anne daughter of Sir Francis Russell and widow of Sir John Guise, bart., who died in 1734, with a recumbent figure in marble, and still further west is an elaborate monument in black and white marble to Sir Francis Russell, bart., 1705, with a semirecumbent effigy in full wig; his wife Anne kneels at his head and the cornice at the back supports a fully quartered and impaled coat of arms. Against the south chancel wall is a handsome Jacobean monument in alabaster to Sir Thomas Russell, 1632, and Elizabeth his wife, 1668, daughter of William Spencer of Yarnton (co. Oxon.). The recumbent effigies rest on an altar tomb under a rich canopy with a coffered arch and Corinthian columns, the drums of which are enriched with vine ornament. Beneath the altar tomb in a large recess is an oval-shaped urn with scroll feet and enrichments. The monument bears elaborate heraldry, the principal shield having Russell impaling Spencer. Behind the columns are numerous small coats, each bearing one of the Russell quarterings. Further west is a small tablet to Samuel Ward, rector, who died in 1705, with a coat of arms.
The tower contains six bells. Originally five cast by Abraham Rudhall in 1704–5; the fourth and fifth being broken were recast in 1911 by John Taylor, and a new treble added. The inventory of 1552 shows that three bells were originally bought by Sir John Russell at the Dissolution from Bordesley Abbey to replace three others sold 10 years before. (fn. 115)
The plate consists of a cup and paten of 1571, a paten of 1692, a flagon of 1665 and a copy of the 1571 cup and paten cover for general use made in 1908.
The registers before 1812 are as follows: (i) baptisms 1569 to 1694, burials 1573 to 1695, marriages 1573 to 1694; (ii) baptisms 1700 to 1732, burials 1703 to 1729, marriages 1704 to 1731; (iii) baptisms and burials 1732 to 1790, marriages 1732 to 1753; (iv) marriages 1754 to 1812; (v) baptisms and burials 1791 to 1812.
ADVOWSON
Strensham seems originally to have been a chapelry of the church of Holy Cross, Pershore, for in 1236 an ordinance as to tithes between the chapel of Strensham and church of Pershore was made, (fn. 116) and in 1535 a portion of the tithes was still paid to the church of Holy Cross. (fn. 117) The advowson was mentioned for the first time about the middle of the 13th century, when Richard de Berking, Abbot of Westminster (1222–46), is said to have purchased it. (fn. 118) The presentations were, however, made later in the same century by the lords of the manor, Sir Roger la Warr presenting in 1278 and 1279. (fn. 119) He excepted the advowson from the sale of the manor to Godfrey de Auno, (fn. 120) but it must have passed to James Russell shortly after his purchase of the manor, for he presented in 1300, and the advowson subsequently followed the same descent as the manor. (fn. 121)
In 1392 appeal was made by the abbey of Pershore against the rector of Strensham Chapel, who compelled the inhabitants to be buried in his chapel instead of in the parish church of Holy Cross in Pershore Abbey. (fn. 122) In 1395 an indult was granted to the inhabitants, who had previously obtained licence to have their dead buried at Strensham in time of flood or when Pershore was otherwise inaccessible, to have their dead buried here at any time whatever, (fn. 123) the churchyard at Strensham having been dedicated in 1393. (fn. 124)
In 1482–3 Elizabeth widow of Robert Russell founded in the parish church of Strensham an obit or anniversary, for the endowment of which she gave 15 acres called the Court Close in Peopleton. (fn. 125)
CHARITIES
The almshouses consist of six tenements for poor widows, founded and endowed by Sir Francis Russell, bart., by deed 30 October 1697, and three tenements, founded and endowed by will of Lady Anne Guise, daughter of the said Sir Francis Russell, by will dated in 1733.
The nine almshouses are endowed with the manor of Eckington (excluding the mill and the mill acre), producing in chief rents £9 4s. 6d. yearly, a fishery in the River Avon let at £3, a rent-charge of £7 out of the manor of Chipping Campden (co. Gloucester), a rent-charge of £21 out of the Strensham Court estate, and 2 a. 1 r. 24 p. situate in Eckington, awarded in 1813 on the inclosure in that parish, let at £5 a year. The net income is expended on coal, clothing and bread for the inmates, and each inmate receives a gift of 3s. at Christmas.
In 1709 Lady Anne Russell, by a codicil to her will, charged a farm in Strensham with an annuity of £10 for teaching twelve poor children and providing them with books and clothing. In 1726 Lady Anne Guise, daughter of the said Lady Anne Russell, by deed poll, granted to trustees a piece of ground with the schoolhouse erected thereon partly out of the income of the charity and partly out of money added by herself. The official trustees also hold a sum of £61 15s. 6d. Local Loans 3 per cent. stock, producing £1 17s. yearly, arising from accumulations of income.
The foundation is now regulated by a scheme of the Charity Commissioners, 14 February 1873.
In 1794 Sir Charles Trubshaw Withers, kt., bequeathed to the churchwardens a sum of £100, the interest to be applied in the distribution of coal among the poor. The personal estate being insufficient to pay the debts and legacies, Thomas Blayney, the testator's nephew and devisee of part of his real estate, made good the charitable legacy with interest thereon at 5 per cent.
In 1813 a sum of £130 with some accumulation of interest was invested in £200 reduced 3 percent. annuities, now represented by £200 consols with the official trustees, producing £5 a year, which is duly applied.
The church and poor land consists of 2 a. of land, allotted in 1817 on the inclosure in this parish in lieu of two pieces of land, one of which was said to have belonged to the church and the other to the poor. The land is let at £4 a year, which is applied towards the church expenses.