Pages 17-28
A History of the County of York East Riding: Volume 3, Ouse and Derwent Wapentake, and Part of Harthill Wapentake. Originally published by Victoria County History, London, 1976.
This free content was digitised by double rekeying. All rights reserved.
ESCRICK
The Village of Escrick lies 6 miles south of York on the moraine to which it gives its name. (fn. 1) The landscape in and about the village was largely created during the half century after 1781 when the church and many of the houses were moved to a new site, when new roads were laid out, and when an extensive park was made around the hall. The old village had been firmly planted astride the moraine, which in places exceeds 50 ft. above sea-level, and the element 'ric' in its name refers either to the ridge itself or to a stream known as Bridge dike which flows along its northern flank. (fn. 2) A smaller, almost imperceptible, ridge runs northwards from Escrick; it is followed by the York road and the hamlet of Deighton lies beside it. Both settlements were Anglian. The area of the ancient parish, which is roughly triangular in shape, is 6,348 a., of which Deighton township and civil parish accounts for 2,002 a. (fn. 3) The vill of 'Chetelstorp' in Escrick, presumably a Scandinavian settlement, was mentioned in 1086 and during the 12th century (fn. 4) but it was not recorded again and its site is unknown.
The boulder clay, sand, and gravel of the higher ground (fn. 5) were in part occupied by the relatively small open fields of both Escrick and Deighton. Away from the moraine most of the land lies at between 25 ft. and 50 ft., and a large area in the south of the parish lies lower still. The outwash sand and clay of the low ground were occupied by extensive assarts, as well as carrs and woods. The large common wood of Escrick lay in the extreme south, and Deighton common formed part of the waste land centred on Tilmire which extended into Fulford and Heslington to the north. An area of alluvium alongside Bridge dike was formerly used as carr and meadow land. Several dikes drained the lower ground, including those which formed much of the parish boundary. Flooding was apparently frequent in the Middle Ages, especially from Bridge dike which flowed across the middle of the parish and formed the internal township boundary. (fn. 6) To the west of Escrick village, the main channel of Bridge dike was moved to a more southerly course between 1809 and 1847. (fn. 7)
The road pattern in Escrick township remained a simple one until the changes of the late 18th and early 19th centuries. The road from York divided at the village, one branch leading south-westwards to Riccall, the other south-eastwards to Skipwith. In 1362 the latter was described as the Howden road and the former as only a trackway. (fn. 8) A cross road from Wheldrake to Stillingfleet followed the crest of the moraine. The village was in the form of a reversed L, at the junction of the York and Stillingfleet roads, and it contained 60-80 houses about 1600. (fn. 9) Hall, church, and Rectory all stood near its centre. Sir Henry Thompson is said to have made a carriage way from York to Escrick in 1672, (fn. 10) presumably an improvement to the existing York road. The bridge by which that road crossed Bridge dike was rebuilt by Beilby Thompson in 1776, (fn. 11) and in 1781 he secured an Act of Parliament to facilitate the 'many considerable improvements' which he proposed to make around the hall. (fn. 12)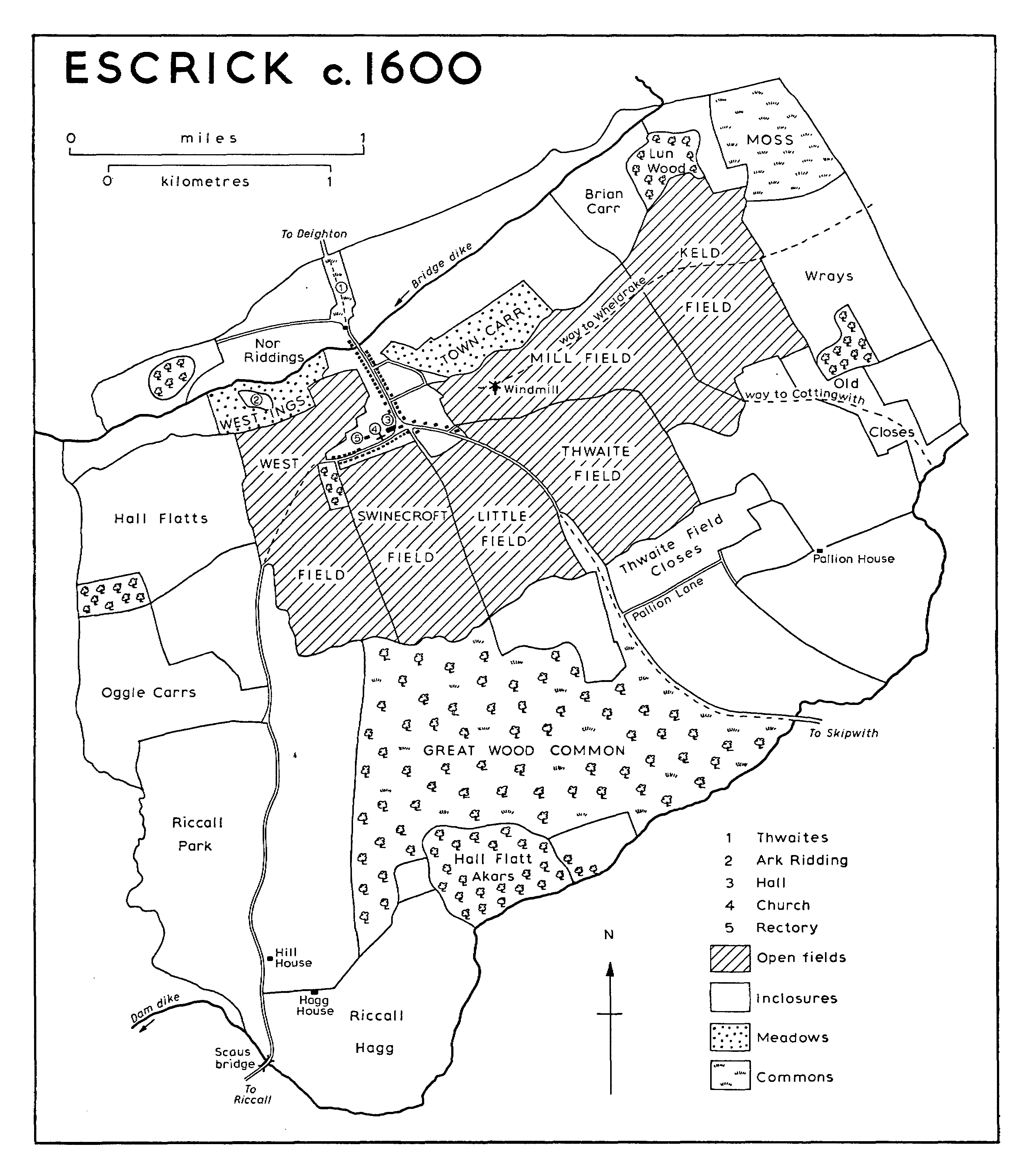 During the next few years Beilby Thompson removed and rebuilt the church and Rectory on sites north of the village and by 1809 26 houses had been demolished: most of those that remained were in the main street formed by the York road, but there were still 9 on the Stillingfleet road. (fn. 13) The angle of the L was obliterated and the main street made into a culde-sac. From a point close to Bridge dike new roads were laid out to bypass the village and link up with the roads to Skipwith and Riccall. Trees were planted to screen the hall from view and a park was made on the former open-field land, incorporating an avenue of trees which appears to have been planted in the 1760s. (fn. 14) The Skipwith and Riccall roads were removed still further from the hall in or soon after 1825, when P. B. Thompson, Baron Wenlock, was authorized to make new roads to the east and west of the village. A third new road was to follow Bridge dike linking the other two. (fn. 15) By 1847 the remaining 9 houses on the Stillingfleet road had been demolished and the park had been extended as far as the new roads. (fn. 16) The park was said to contain about 450 a. (fn. 17) and it was stocked with deer, some 130 of them in 1820. (fn. 18) Also by the 1840s, and perhaps much earlier, (fn. 19) the village had been much enlarged by the building of houses beyond Bridge dike, extending the village street northwards to the new church.
In the older part of the village, south of Bridge dike, there are several houses of late-17th- or early18th-century origin but they, like most of the early19th-century houses, were remodelled in the early 1900s. Four of them are dated 1911. One of the altered houses is the village inn. There were three alehouses in Escrick from the 1750s to the 1770s. Subsequently there was only one, (fn. 20) known as the Spotted Bull in 1823 but later as the Bull and then the Black Bull. (fn. 21) North of Bridge dike stands the shop of the Escrick and District Co-operative Society, founded in 1872 and amalgamated with the York society in 1971; (fn. 22) the shop was formerly near the park gates. (fn. 23) Also north of Bridge dike is the village institute, later the Escrick and Deighton Club, built in 1908. (fn. 24) One body which perhaps used the institute was the agricultural society, established in 1881 and still mentioned in the 1920s. (fn. 25) At the junction of the village street and the Riccall road is an elaborate fountain, put up in 1897 to commemorate the queen's diamond jubilee.
Isolated in its own grounds at the north end of the village is the Villa, a large mid-19th-century house, given a distinctive appearance by bay windows rising through both storeys into a pediment above. Close to the village on the Skipwith road is a police station built in 1857-8. (fn. 26) Twentiethcentury housing has greatly extended the village, besides filling some gaps in the main street. There are 16 council houses and several estates of privately built houses, some stone-faced and many of a 'superior' kind. Escrick had thus become to a large extent a dormitory village for York by 1972.
Apart from the main York road, the only roads in Deighton township are minor ones leading to Naburn and Wheldrake. Work to straighten the line of the main road, in Escrick as well as Deighton, was begun in the 1960s. (fn. 27) The village street of Deighton, where there were 30-40 houses in the 17th century, (fn. 28) is a cul-de-sac off the York road. Surviving 19thcentury houses include two small two-storeyed cottages and an inn. There were two alehouses at Deighton from the 1750s to the 1770s, later only one; (fn. 29) it was known as the Swan in 1823 and became the White Swan in the 20th century. (fn. 30) Recent building includes eight council and several private houses.
The scattered farm-houses in Escrick township include Whinchat Hall, which has a pediment surmounting the three central bays of the main front. Mount Pleasant Farm, now demolished, was also pedimented. (fn. 31) Approach Farm has an ornamental facade facing one of the entrance drives into the park. The farm buildings at both Approach and Park Farms include wheelhouses. Escrick railway station stands by the York-Selby railway line, opened in 1871 ; (fn. 32) the station was closed for passengers in 1953 and goods in 1961. (fn. 33) At Deighton the scattered farms include Gravel Pit House, with farm buildings dated 1880. Deighton Grange has a big early-19th-century barn and a wheelhouse with a pyramidal roof. The houses that already stood away from both villages in the 17th century have all since been rebuilt. (fn. 34)
At the northern end of Deighton township is a small group of 19th- and 20th-century houses known as Crockey Hill. The name derives from 'Cockermire', mentioned in 1619; a 'great stone' in the road, near the parish boundary, was then said to mark the site of the former Cockermire cross. (fn. 35)
There were 135 poll-tax payers at Escrick in 1377. (fn. 36) In 1672 76 households, 19 of them exempt, were listed in the hearth-tax assessment. Of those taxed, apart from Escrick Hall, 39 had only one hearth each, 9 had 2, 6 had 3 or 4, and 2 had seven. There were 40 households at Deighton, 9 of them exempt; excluding Deighton Hall 22 had one hearth each, 6 had 2, and 2 had three. (fn. 37) In 1743 there were 71 families at Escrick and 27 at Deighton, (fn. 38) and still 98 in the whole parish in 1764. (fn. 39)
The population of Escrick township rose from 406 in 1801 to 717 in 1831, declined to 589 in 1881, briefly recovered to 653 in 1891, and stood at 544 in 1901. It was 597 in 1911 and 1921, but thereafter fell to 443 in 1961, before the village began to be developed. In 1971 it stood at 950. Deighton did not experience such marked fluctuations. Its population was 172 in 1801, 200 in 1901, and 228 in 1971. (fn. 40)
MANORS AND OTHER ESTATES.
In 1086 there were two estates at Escrick, each of 4 carucates, one of which comprised 'Chetelstorp'. Both were soke of the manor of Clifton (Yorks. N.R.) and belonged to Count Alan of Brittany; before the Conquest they had belonged to Morcar. (fn. 41) About 1100 Count Stephen gave 'Chetelstorp' and 2 carucates in Escrick to St. Mary's abbey, York, (fn. 42) and the other 2 carucates also passed to the abbey. The first 6 carucates were granted by St. Mary's to Picot de Lascelles between 1145 and 1161, and the other 2 to Roger de Lascelles between 1197 and 1219. (fn. 43) The Lascelles family, which had previously been the abbey's tenant at Escrick, thenceforth held the estate as part of the honor of Richmond and the liberty of St. Mary's. (fn. 44)
After the death of Roger de Lascelles c. 1300 the manor of ESCRICK was held in dower by his widow Isabel as the inheritance of his four daughters, Joan de Colewenne or Curwenne, Avice le Constable, Maud Tilliol, and Tiffany, widow of Ralph FitzRanulph. Isabel died in 1323. Tiffany's son Ralph, sometimes known as Ralph de Lascelles, was then heir to her share. Joan had granted the reversion of her part to Simon Ward and he to Roger Dammory, a rebel, and so it was seized by the Crown in 1323. (fn. 45) After Isabel's death the manor was divided between the Crown, Avice, Maud, and Ralph. (fn. 46) It was probably the last three shares which were consolidated in the hands of Ralph de Lascelles. He apparently had them by 1344, (fn. 47) and in 1362 he was described as lord of three-quarters of Escrick. (fn. 48) The Lascelles family retained the estate until the death of Roger Lascelles, whose daughter and heir Margaret (d. 1499) married James Pickering. (fn. 49) Margaret's grandson Christopher Pickering was succeeded in the early 16th century by his daughter Anne, who married Sir Henry Knyvett. (fn. 50) The Knyvetts thenceforth held the manor (fn. 51) and in 1607 Sir Thomas Knyvett (d. 1622) was created Baron Knyvett of Escrick. He was succeeded by his brother Sir Henry Knyvett, whose daughter and coheir Catherine married as her second husband Thomas Howard, earl of Suffolk, in or before 1583. Their son Edward was created Baron Howard of Escrick in 1628. (fn. 52) It was he who sold Escrick in 1668 to Sir Henry Thompson. (fn. 53)
The Thompsons held the manor until the death of Richard Thompson in 1820. His sister Jane had married Sir Robert Lawley, Bt., in 1764 and it was their son P. B. Lawley who succeeded to Escrick. He was created Baron Wenlockin 1839. (fn. 54) Beilby Lawley, the 3rd baron, died in 1912 and the estate passed to his daughter Irene, who in 1920 married C. G. Forbes Adam. (fn. 55) In 1920 the estate included 3,850 a. in Escrick township and in 1972 4,189 a. (fn. 56) It was still held by the Forbes Adam family in 1972. The hall and 34 a. of parkland were let in 1949 to the Woodard Society, which subsequently used the building to house Queen Margaret's School for Girls, formerly at Scarborough. (fn. 57)
Several holdings were merged with the chief estate in the 18th and 19th centuries. Property belonging to the Swann family was acquired in 1763 and 1805. On the latter occasion it comprised Park House farm, which John Swann had bought in 1748. (fn. 58) In 1737 Beilby Thompson (d. 1750) bought North House farm, which had belonged to Conan Aske in 1726, (fn. 59) and in 1736 he bought an estate which had been in the Wright family until a few years before. (fn. 60) Another farm was bought from Sir Ralph Milbank in 1764, (fn. 61) and Rush farm was acquired from W. H. Key in 1892. (fn. 62)
A manor-house at Escrick was mentioned in 1323, (fn. 63) and in 1557 it was called Escrick Hall. (fn. 64) The house had 17 hearths in 1672. (fn. 65) It was rebuilt by Henry Thompson (d. 1700) c. 1680-90. The new house was apparently similar to Bell Hall, Naburn; it was two storeys high with basement and attics, and the main front was seven bays long with a central entrance. (fn. 66) It was later refronted and raised to three storeys, perhaps in 1758, the date of surviving rainwaterheads which also bear the initials of Beilby Thompson (d. 1799). In 1763 John Carr of York was employed to design additions to the building. (fn. 67) Carr added a range which abuts the north front and extends beyond it to both east and west, more than doubling the length of the elevation, and a square stable block with four ranges around a central court on the north-east. He also remodelled the interior of the old house, and the main staircase and some ceilings and fire-places remain from these alterations. (fn. 68) The mid 19th century was another period of substan tial building activity at Escrick. A north-west wing was added in 1846-8, and a north-eastern link to the stables was complete by 1850. (fn. 69) Plans to extend and remodel the south front in a Tudor style were not carried out, but a conservatory was added on the west and the east side was extended to provide a new entrance hall and an enlarged dining room. Many internal alterations were also carried out, among them the amalgamation of two rooms on the west front to form a library. To the north of the house several large subsidiary buildings, including a pump house, laundry, and dairies, were put up in the later 19th century. The conversion of the house for school use has resulted in some new building, notably a new laboratory block on the north-west, but much of the dormitory and classroom accommodation has been contrived within the old stables and secondary rooms, thus leaving the principal rooms intact. (fn. 70)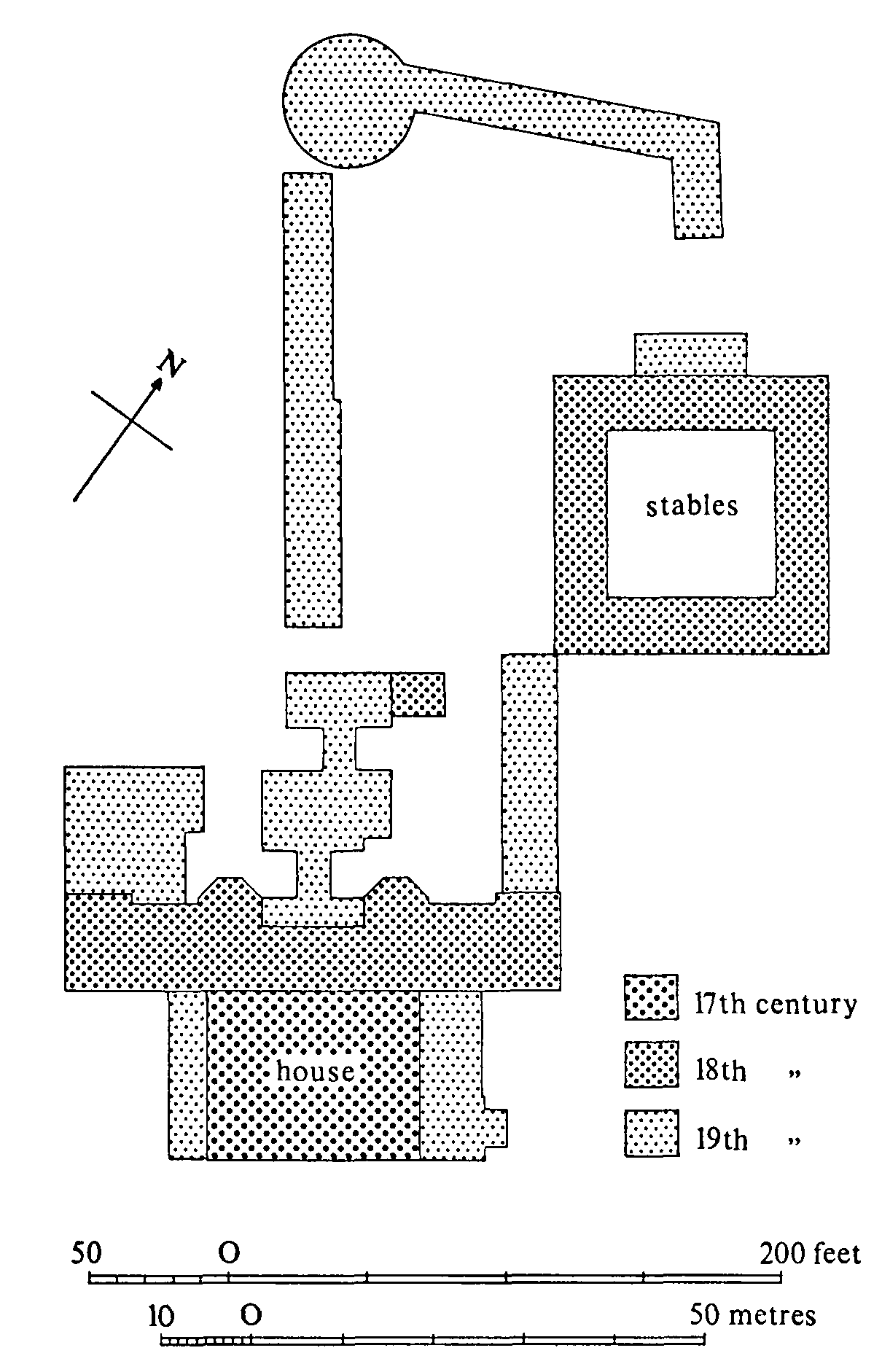 It was probably the Crown share of the manor in 1323 which was acquired by the Dammorys, though it had passed first to Avice le Constable. She in 1339 granted it to John Bardolf (fn. 71) and he conveyed it in 1340 to Nicholas Dammory, apparently for life. (fn. 72) Dammory was described in 1362 as lord of a quarter of Escrick. (fn. 73) The Bardolfs gave the name BARDOLGARTH to the manor-house and so to the manor. In 1372 William Bardolf conveyed it to William Sandford, (fn. 74) and in 1530 Edmund Sandford sold it to George Gayle. (fn. 75) Bardolgarth passed from Robert Gayle to Sir Henry Knyvett in 1584 (fn. 76) and subsequently descended with the capital manor.
Most of the small estates that existed in Escrick were eventually merged with the Thompsons' manor. They included a manor of ESCRICK which was held in the 14th century by William Marmyoun and was conveyed to William de Lyndlawe in 1341 and to John of Newton in 1347. It passed to the Dawnays, apparently in 1363, and about the same time they acquired 120 a. which William de Lascelles had granted to William of Grimsby in 1294. In 1402 John Dawnay thus had Escrick manor and a messuage called Grimsby's. (fn. 77) The Dawnays retained the property (fn. 78) until 1630, when John Dawnay's heir Mary married John Legard. (fn. 79) The Legards held it until Sir Thomas Legard sold it to Beilby Thompson in 1726. (fn. 80)
Deighton in 1086 consisted of a single 4-carucate estate, which was soke of Clifton and held by Count Alan. (fn. 81) Between 1158 and 1184 Eudes the marshal, son of the Breton, gave the lordship of Deighton to St. Mary's abbey, a gift confirmed by Alan son of Roald, constable of Richmond, who also gave whatever he himself had there. (fn. 82) Thus Deighton, like Escrick, was in the honor of Richmond and the liberty of St. Mary's. The estate was granted by the abbey between 1161 and 1184 to Duncan Darel, (fn. 83) who also received Geoffrey de Brettanby's land at Deighton and 2 bovates which Peter of Wheldrake had held of Thomas son of Erneis. (fn. 84) In 1202-3 Darel granted Deighton to Ralph de Mara, whose daughter and heir Mabel married Geoffrey de Nevill. (fn. 85) In 1273 it was given by Hugh de Nevill to the abbey, (fn. 86) which also received several smaller holdings in the township. (fn. 87) Thenceforth the manor of DEIGHTON was held in demesne by St. Mary's.
At the Dissolution the manor was worth about £26. (fn. 88) It was granted by the Crown in 1542 to John Aske (fn. 89) and was held by the Askes until 1596, when another John conveyed it to John Robinson. (fn. 90) The Robinson family retained Deighton until, after the death of Arthur Robinson, it was divided in 1713 between his daughters Grace Braithwaite and Elizabeth Denton. (fn. 91) Most of the Braithwaite share passed to the Thompsons in 1743 and 1758, (fn. 92) but some went to Thomas Eadon in 1741 and was acquired by Beilby Thompson in 1786. (fn. 93) It subsequently descended with Escrick capital manor. Various additions in Deighton were made to the estate, which comprised 1,262 a. in 1920 and 844 a. in 1972. (fn. 94)
The Denton half of the manor was divided in 1715 between Elizabeth's daughters Mary and Anne, who married John and Robert Bell respectively. (fn. 95) Anne succeeded to her sister's share, and her son J. T. Bell held half the manor until 1800, when it was bought by H. J. Baines. (fn. 96) The Baines family still had a small acreage in Deighton in 1971, but most of the estate was sold in 1953 and 1959 when about 470 a., including Deighton Hall farm, passed to Melville Fairburn and Anna Belsham. (fn. 97)
The manor-house was included in the Denton half of the manor at the partition of 1713. In 1619 it was described as 'fair and new built and moated round about', with a dovecot in its grounds, (fn. 98) and in 1672 it had 14 hearths. (fn. 99) Although the house now on the site incorporates two carved overmantels, some doors, a window, and some structural timbers of the early 17th century, it is a small square building and appears to have been erected in the earlier 18th century, perhaps soon after the partition of the estate, as a farm-house. The site is still moated.
A small estate in Escrick belonged to Thicket priory, which was granted 100 a. by Roger de Lascelles in 1291. (fn. 100) Its land was worth £1 16s. in 1535. (fn. 101) After the Dissolution the estate eventually passed to George Potts, who in 1666 granted it, described as a grange called Nun Pallions, to Henry Thompson. (fn. 102) Property in Escrick formerly belonging to Wilberfoss priory was sold by Francis Gayle to Christopher Allanson in 1606. (fn. 103)
ECONOMIC HISTORY.
In 1086 there was woodland 2 leagues long and 2 broad in the soke of Clifton manor that lay in and around Escrick. (fn. 104) Pasture for 140 pigs in Escrick wood was mentioned c. 1146-61, (fn. 105) and in 1227 tenants of the manor each had common there for 10 cattle, 10 pigs, and 20 sheep. (fn. 106) Encroachments on the common woodland included those of the abbot of St. Mary's, York. In 1227 he was granted 130 a. of the wood by Picot de Lascelles in return for surrendering his rights in the rest of it, saving to the abbot's man at Escrick the same commonage as other tenants. (fn. 107) By 1276 the abbot had inclosed a park in Escrick, (fn. 108) most probably from the woodland granted to him. The bounds of the wood given by Picot show that it was the area in the south-west of Escrick known in the 17th century as Riccall Park. (fn. 109) It was separated from the remaining woodland by a track leading from Escrick to Riccall, and in 1362 the abbot and the lords of the manor were in dispute over the repair of the track. (fn. 110) The common wood that remained covered 260 a. in 1290-1, when it was known as 'Utewood'. (fn. 111) There are numerous references to timber being taken at Escrick in the 14th and 15th centuries, (fn. 112) and a man was surrendering rights of common in the abbot's park in 145 6-7. (fn. 113)
As a result of reclamation from woodland and waste the manor had in 1290-1 a nucleus of common arable land amounting to 3 carucates of demesne and 93 bovates held by tenants. Some of it lay in various 'dales', situated in South, North, and Roger flats and elsewhere, and some in a cultura called Pavilion. (fn. 114) In addition there were 451½ a. of forland, said in 1323 to lie in 'divers fields and assarts'. This newer reclaimed land, which mostly seems to have been commonable, consisted of numerous plots, many of their names containing the significant elements 'ridding', 'thwaite', 'wood', 'hag', and 'hurst'. Other 14th-century assarts were held in severalty, among them Brynkar and the 26-acre Uggelker. (fn. 115) The demesne in 1323 included 10 a. of several pasture in Westker and 60 a. in the marsh called Estker, as well as 16½ a. of meadow land; (fn. 116) all these presumably lay near Bridge dike.
Escrick manor was worth about £103 in 1290-1 and 1323, and tenants' rents formed a large proportion. Five free tenants, holding 37 bovates, contributed about £1, 14 bondmen, holding 56 bovates, about £51, and 41 cottagers about £7. (fn. 117)
By 1548 the open-field land included about 46 bovates belonging to the Knyvett manor, only 8 of them held in demesne, but there is no indication of how the fields were arranged. East or Keld field was mentioned in 1542, however. (fn. 118) The medieval forland had mostly been converted to closes held in severalty by 1548, but there were still about 30 a. of 'forby land' in West sikes, North wood, the Tofts, and elsewhere. The closes included a dozen in demesne, among them Hall flats. Tenants held 37 closes, 28 of them containing a total of about 220 a.; most of them were of under 10 a., but Roger flat contained 20 a. and three-quarters of Riccall Hagg accounted for 100 a. Some tenants had small parcels in the common meadows, amounting to 26 a. in Carr ings and 18 a. in West ings. (fn. 119) The freehold lands in the 16th century similarly included both open-field and inclosed ground. The Dalbys, for example, in 1584 had 7 bovates in the fields and half a dozen closes, as well as the other quarter of Riccall Hagg. (fn. 120) Some of the closes seem still to have been held in common, however, for in 1592 the Knyvetts acquired 6 a. called Wetherlands, lying in a flat in the Old close. (fn. 121) Several freeholders also had woodland near the common wood. (fn. 122) The tenants-at-will on the Knyvett manor in 1548 were 50 in number, 42 of them with houses in the village. (fn. 123) They enjoyed rights of intercommoning at that time on Wheldrake Moss, just as the inhabitants of Wheldrake were entitled to use the adjoining Escrick Moss. (fn. 124)
The common fields together contained 837 a. about 1600: there were 167 a. in West field, 163 a. in Thwaite field, 156 a. in Mill field, 152 a. in Keld field, 116 a. in Swinecroft field, and 83 a. in Little field. Tenants held 483 a. of the open-field land, 21 a. were glebe, and the rest were demesne. Around the fields were the extensive inclosed grounds: some 1,040 a. were demesne, 644 a. were held by tenants, and 945 a. belonged to freeholders. All of the tenants' closes were described as meadow and pasture, but the freeholders had 192 a. of arable. There were still 86 a. of common meadow land, in West ings and the Town carr, and 561 a. of common waste, of which the Great Wood common accounted for 493 a. and Escrick Moss for 64 a. Demesne and freehold woodland covered between 150 a. and 200 a. Tenants held 20 houses and 39 cottages and freeholders 8 houses and 6 cottages; all were in the village except for Pallion House in the south-east and Hill and Hag Houses towards Riccall. Around Pallion House was the 131-acre Nun Pallions, the former Thicket priory estate. (fn. 125) By 1639 this large close had been subdivided into six. (fn. 126)
The open fields had not been reduced in size by 1781, when Beilby Thompson was authorized by Act of Parliament to remove the old church and Rectory in order to improve the surroundings of Escrick Hall. It was declared that inclosure would be beneficial, and Thompson was given possession of the glebe land in the open fields and in West ings. (fn. 127) The common wood was presumably also involved in Thompson's scheme of improvement. Inclosure was probably soon accomplished and extensive parkland was laid out; certainly Thompson had by 1786 provided the rector with some ancient closes in lieu of his open-field land, as stipulated in the Act. (fn. 128) Both the common and the demesne woodland had continued to provide much timber until 1781; the Thompsons had sold 400 oaks from the common wood and 979 from Hollincars in 1719, for example. (fn. 129)
At Deighton the early reclamation of waste and woodland is indicated by culture called 'Pighel' and 'Rughtwayt' c. 1260-70, and by a reference to 'Northruhthwaite', 'Rathuatt', and 'Westthuaitridinges'. An assart of 37½ a. was also mentioned in the later 13th century. (fn. 130) By 1276 the abbot of St. Mary's, York, had inclosed a park in Deighton, (fn. 131) lying south-west of the village towards Moreby. Timber from the remaining woodland was used in York in the 15th century. (fn. 132)
West and North fields were mentioned in 1422 and 1481 respectively, (fn. 133) and by 1539 the open-field land included 17 bovates belonging to the former St. Mary's abbey manor, all of it held by tenants. Also in the hands of tenants in 1539 were 18½ a. probably akin to the forland in Escrick. The demesnes comprised 141 a. of inclosed ground, including the 40-acre William Ridding and 80 a. in North closes. Tenants held some 30 closes, half of them with 'ridding' names, as well as another called West field which they all held jointly. At least one close, Marsh Ridding, was subject to commonage, for three tenants had a total of eight beast-gates there. The manor included woods called Deighton Spring, Deighton Park, and Rybton Shaw, (fn. 134) and there were said to be more oaks growing elsewhere. The tenants held 10 houses and 7 cottages, paid 1½d. each in lieu of 65 boon-works for stacking hay, and rendered many hens and eggs. (fn. 135)
There is no indication how the open-field land was arranged in 1539, but Old field and Mill field were mentioned in 1563 and strips or 'lands' there and in Padock Mire and Pescroft in 1585. (fn. 136) Part of West field was already inclosed by 1517 and was described as a close or pasture in 1538. (fn. 137) Beast-gates were enjoyed in it in 1557 and 1573. (fn. 138) Scattered trees outside the woodland were mentioned in 1539, and the value of trees growing in the closes is indicated by a lease of North closes in 1511 in which detailed conditions were laid down for the use of timber and underwood. (fn. 139) The demesne woods were separated from the manor after the Dissolution and let by the Crown in 1569 with instructions for their management and provision for the customary taking of wood by tenants. (fn. 140) Much timber was subsequently used from them. (fn. 141) The park with its surrounding ditch was mentioned in 1517, (fn. 142) and it, too, was later separated from the manor. At least one house was built away from the village during the 16th century for the 'Newhouse' in North closes was mentioned in 1558. (fn. 143)
The open fields covered about 212 a. in 1619, comprising 50 a. in Old field, 50 a. in West field, 54½ a. in Mill field, 36½ a. in Westergate field, and 20½ a. in Padomire field. Inclosure was apparently then contemplated, for the fields were shown in several parcels 'according as they are appointed to be divided'. (fn. 144) In the 1680s, however, all except West field were again mentioned (fn. 145) and the others were still called common fields in 1713. In the latter year the former West field, under its then alternative name Mill field, (fn. 146) was shown as lying in several closes, and Westergate and Padomire fields were each let to a single tenant. (fn. 147) If Old and Mill fields were indeed used in common in 1713 their inclosure was apparently achieved soon after and they were not mentioned again. (fn. 148)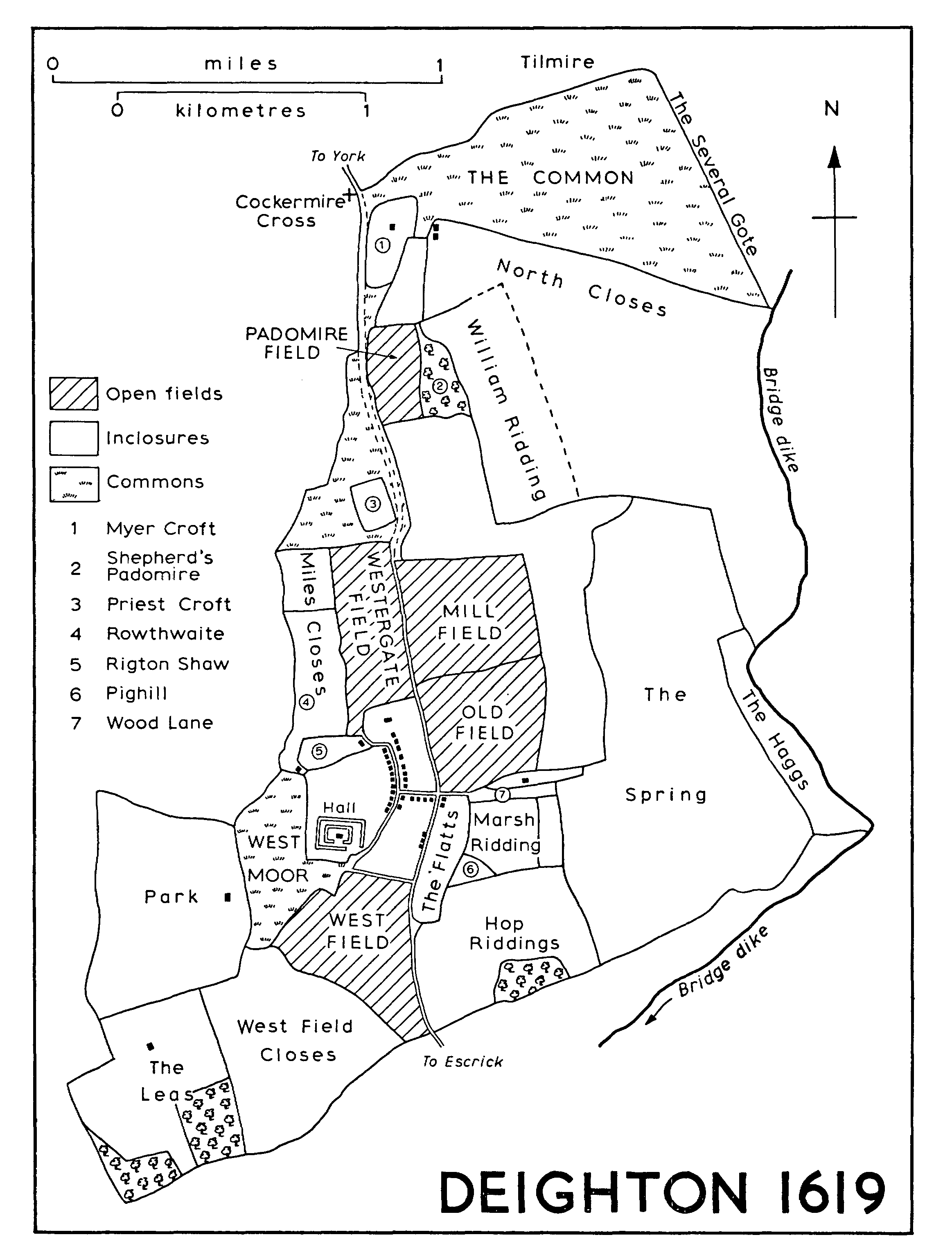 The inclosed grounds in 1619 included 26 small closes, totalling 161 a., held by tenants-at-will. Five tenants also had a total of 15 a. in the Flats, which may have been commonable, and several tenants had meadow in the Haggs, apparently held in severalty. The demesne land was entirely in closes, 350 a. all told. It included a dozen closes in the already inclosed part of West field, 97 a. altogether, four Miles closes, amounting to 36 a., ten closes making up Hopridings, 97 a. in all, and nine closes in the Leas, containing 98 a. The Leas had been described in 1606 as 'sometime part of Deighton West field'. (fn. 149) There were only four freeholders in 1619, among them Richard Aske, holding North closes, and Sir William Ackiam, holding William Ridding and other closes. Most of the inclosed ground was used as meadow or pasture, but about 100 a. was arable. Demesne woodland covered about 40 a. (fn. 150)
The remaining waste grounds, in which the tenants had unstinted commonage, amounted to 274 a. in 1619. They comprised 173 a. in the north adjoining Fulford, 42 a. towards Naburn, 43 a. in the West moor, and 16 a. in Green Pool, which was shown laid in with Westergate field 'as it is appointed to be divided'. The largest area of common included part of Tilmire, which was said to be 'for the most part of the year overflown with water', and a rabbit warren called Myer Croft, then 'replenished with coneys'. (fn. 151) The inhabitants of Gate Fulford claimed the right to intercommon on Deighton Tilmire. (fn. 152) By 1681 'Deighton moor' was described as a close, which a tenant had entered to claim common against the lord of the manor, (fn. 153) but Tilmire and the adjoining wastes remained until 1717, when the lords of the moieties of the manor and the one interested freeholder agreed upon an inclosure. (fn. 154) It may have been carried out promptly and was certainly accomplished by 1743. (fn. 155)
Nineteen cottages and twelve houses were held by tenants-at-will in 1619. Most of them were in the village but there were several isolated houses, including one in the Leas, two in North closes, and another in the rabbit warren. (fn. 156) The house in the Leas already existed in 1606. (fn. 157) There was also a house in Deighton park in 1619, no longer part of the manor, and in 1727 it was described as Park House. (fn. 158)
In the 19th and 20th centuries woodland remained a prominent feature in the landscape of the parish, especially in Escrick where there were 533 a. in 1905. (fn. 159) At Deighton in 1804 there were 2,741 trees on a single farm, (fn. 160) though actual woodland amounted to only about 60 a. in 1843 (fn. 161) and 1905. (fn. 162) Much of the land continued to be used as pasture. At Escrick there were 670 a. of meadow and pasture out of a total of 1,640 a. on ten farms in 1802, (fn. 163) and there were 1,926 a. of pasture compared with 1,622 a. of arable in the township in 1905. At Deighton in 1843 there were 704 a. of meadow and pasture and 1,175 a. of arable, and in 1905 430 a. of grass and 1,428 a. of arable. (fn. 164) In more recent years arable farming has become dominant and some land has been used for market-gardening, but a considerable acreage of pasture remained in Escrick township, especially near Bridge dike and on the low ground to the east and west of the park. (fn. 165)
The number of farmers in the 19th and 20th centuries was usually put at 12-15 in Escrick and 8-12 in Deighton, (fn. 166) but there were also many smallholders at Escrick. About a dozen of the Escrick farmers had more than 150 a. each in 1803, the 1850s, and the 1920s, and at Deighton 4 or 5 in the 1850s and about 10 in the 1920s. (fn. 167) Some of the smallholders had cottage allotments, the first in the East Riding and said to have been introduced by Lord Wenlock in 1834. (fn. 168)
Apart from estate work at Escrick Park there has been little non-agricultural employment in the parish. There was some brick-making at Deighton in the 17th century for Brick close was recorded in 1619 (fn. 169) and Brick Kiln close in 1679. (fn. 170) There was a brickworks in Escrick, on the Riccall road, by 1851 (fn. 171) and it was still in operation in 1972. (fn. 172)
A water-mill and a windmill at Escrick were mentioned as early as 1290-1. (fn. 173) The former was presumably on Bridge dike, and in 1348 flooding was said to have resulted from a failure to lower the mill and to enlarge its sluices. (fn. 174) The water-mill was not mentioned again, but the windmill remained and about 1600 and again in 1809 a post mill was shown standing on the moraine east of the village. (fn. 175) A miller was last mentioned in 1840. (fn. 176) At Deighton there was a windmill in 1447, (fn. 177) and presumably also in the later 16th century, when Mill field was first mentioned. It no doubt stood on the prominent mound known as the Plump, which was shown in Mill field in 1619 (fn. 178) and still remained in 1972. The use of Mill field as an alternative name for West field in the 17th century and later suggests a second mill site, and the name Mill Hill survives in that area. On one or other of the sites stood a windmill said in the 1680s to have been 'erected within memory', (fn. 179) and repairs to a windmill were recorded in 1690. (fn. 180)
In the 20th century corn was ground at a mill in Deighton worked by a portable steam engine and later by a paraffin engine; (fn. 181) the stones lay near by in 1972.
LOCAL GOVERNMENT.
The appointment of officers by the court of St. Mary's abbey's manor of Deighton is recorded in court rolls surviving for eighteen scattered years in the period 1422-1602. A constable, a rent-collector, 2 bylawmen, 2 inspectors of carcases, and 2 aletasters were elected in 1447, and a constable, 2 aletasters, 2 affeerors, and 2 bylawmen in 1580. Lists of pains drawn up by the court survive from the period 1584-1638. (fn. 182)
The vestry appointed two men who served as constables as well as overseers at least from 1673 to 1812. The overseers' accounts survive from 1752 to 1816. Apart from rates some income was derived from putting out the town stock, which contained about £3 in 1752 and £12 in 1780. Besides weekly cash relief some payments were made in kind and a few boys were placed as apprentices. The poorhouses were first explicitly mentioned in 1788. Constables' expenses were included in the accounts for several years at the end of the period covered. (fn. 183)
In 1837 Escrick joined York poor-law union. (fn. 184) Escrick and Deighton both became part of Escrick rural district in 1894, Derwent rural district in 1935, (fn. 185) and the Selby district of North Yorkshire in 1974.
CHURCH.
There was a church at Escrick in 1252. (fn. 186) The advowson of the rectory followed the descent of the manor, including the separation of a quarter of it from the rest c. 1340 until 1584. (fn. 187) Ralph Hall presented in 1564-5 by grant from Francis Gayle, lord of Bardolgarth manor, (fn. 188) and Edward Richardson and Richard Pagett presented in 1613 for unexplained reasons. (fn. 189) The patronage thereafter continued to descend with the manor, (fn. 190) although Henry Gale was said to be patron in 1794 and 1823. (fn. 191) After the death of Lord Wenlock in 1912 the patronage passed to his daughter Irene and she still held it in 1972. (fn. 192)
The church was valued at £30 in 1291 (fn. 193) and about £24 in 1535. (fn. 194) In 1650 it was worth £120. (fn. 195) In 1829-31 the average net income was £530; (fn. 196) in 1884 it was £280 and in 1914 £382. (fn. 197)
Most of the income derived from tithes. Those of Escrick township were extinguished by an Act of 1781, which provided that Beilby Thompson, as sole lay landowner, should provide the rector with a rent-charge equal to the value of 353 bu. of wheat and with 85 a. of ancient closes. (fn. 198) The rent-charge was £100 in 1781, raised to £171 in 1802 but reduced to £145 in 1823 and £125 in 1862. (fn. 199) In Deighton a composition of 13s. 4d. was paid for the tithes of the hall and 314 a. of demesne closes by 1619, (fn. 200) and a composition of 3d. an acre for tithes of the Springs was first mentioned in 1727. (fn. 201) The former composition was frequently disputed by the rector in the 17th century, (fn. 202) but it was still being paid for 30 a. of closes in 1843, when another 260 a. were said to be tithe-free. The remaining tithes were commuted for £278 12s. 8d. that year. (fn. 203)
The glebe consisted in 1535 of 2 bovates of land in Escrick, a close in Deighton called Priest croft, and two tenements, besides the parsonage house. (fn. 204) By the Act of 1781 22 a. of glebe and two cottages were surrendered to Beilby Thompson and compensation was included in the tithe allotment. The Act also provided that Thompson should build a new Rectory in return for the site of the old one, which had stood close to the manor-house. The old house had five ground-floor rooms and four bedrooms in 1777. (fn. 205) The Rectory was duly rebuilt beside a new church to the north of the village and contained twelve rooms. (fn. 206) It was replaced by a larger house on the same site in 1848, designed by F. C. Penrose, (fn. 207) and an entrance lodge was added in 1853. (fn. 208) In 1949 the house, then known as Queen Margaret's Lodge, was let to the Woodard Society along with Escrick Hall. (fn. 209) A new Rectory was built close by in Deighton in 1951. (fn. 210)
There was apparently a chapel at Deighton in the 13th or early 14th century, for in 1306 the rector of Escrick was ordered to hand over to the abbot of St. Mary's, York, the bells, statues, window glass, and timber which had been removed from the chapel. The abbot was given authority to build a house in the close where the chapel had stood, but he was not to put up a new chapel within six years. (fn. 211) The building may have stood beside the Escrick road south of the village, where a cottage and garth in 1619 were described as 'at the old chapel'. (fn. 212) By 1914 there was a mission room at Deighton Grove (fn. 213) and it was used until 1959. (fn. 214) In 1972 the rector held services in Deighton Methodist chapel.
An obit and lights in Escrick church were supported by three lands in the open fields. Described as Lamplands, they were granted by the Crown in 1620 to Sir James Ouchterloney and Richard Gurney. The latter sold them to John Ward in 1640, he to John Foster in 1666, and he to the Thompsons in 1727. (fn. 215)
In 1301 and 1331 the living was held in plurality. (fn. 216) In the 15th and 16th centuries the cure was effectively served by a parochial chaplain. (fn. 217) The rector was non-resident in 1578 (fn. 218) and resided on his living at Hooton Roberts (Yorks. W.R.) in 1764, employing a resident assistant curate at Escrick. The rector was also non-resident and had an assistant curate in 1868, but thereafter seems to have resided at Escrick. (fn. 219) Thomas Squire, rector 1613-63, was a Puritan. (fn. 220)
There were two services in the church each Sunday in 1743 and 1764 and Holy Communion was celebrated six times a year and received by 50- 60 people. (fn. 221) Communion was held fourteen times a year in the 1860s, with about 30 communicants. In 1914 services were held once a week at Deighton, as well as twice at the church. In 1936 communion was celebrated weekly in the church and monthly in the mission room. (fn. 222) Services were held twice a week in 1972 but on alternate Sundays the evening service took place at Deighton Methodist chapel.
Little is known of the medieval church of ST. HELEN. Money and lead for its tower were bequeathed by Guy Roucliff, by will proved in 1460, (fn. 223) and the church was ordered to be repaired in 1663. (fn. 224) Provision was made in 1759 for the pulpit, reading desk, and pews to be renewed and for a gallery at the west end to be built to replace one at the east end. (fn. 225) In 1781, however, the site of the church, on the west side of Escrick Hall, was granted to Beilby Thompson to further his plans for improving the surroundings of the manor-house, on condition that he built a new church elsewhere. (fn. 226) The new building, designed in the Classical style and constructed of brick with stone quoins and dressings, was built beside the York road at the north end of the village and consecrated in 1783. (fn. 227) Faculties were granted in 1786 to make an archway in the north wall to accommodate a pew for the Thompson family and in 1803 to install a monument to Beilby Thompson. (fn. 228)
The brick church was replaced by a 'more seemly and commodious building of stone', designed by F. C. Penrose in the Decorated style and consecrated in 1857. (fn. 229) The cost was met by the Lawley family. The church consists of apsidal chancel, tower on the north side of the chancel, nave with north aisle, south porch with vestry above, and baptistery and chapel at the west end built over the Lawley vault. A choir vestry was added in 1896. (fn. 230) The church was gutted by fire in 1923 but it was fully restored and reopened in 1925. (fn. 231) It is one of the largest and most ambitious Victorian Gothic churches in the East Riding.
The wooden furnishings destroyed in 1923 included a communion table said in 1861 to have come from St. William's chapel, Ouse Bridge, York. The white marble font by Giovanni Tognoli, (fn. 232) consisting of a shallow bowl resting on the heads of two angels, survives, together with the effigy from a monument erected in 1876 to Caroline, Lady Wenlock (d. 1868), designed by Count Gleichen. (fn. 233) There is also part of the recumbent figure of a knight, said to commemorate Thomas Lascelles (d. 1324), (fn. 234) together with fragments of brasses comprising an inscription to John Paler (d. 1613) and shields of Arthur Robinson (c. 1636) and of Robinson and Garrard. (fn. 235) Monuments include those of Beilby Thompson (d. 1799), by Fisher of York, and Jane Thompson (d. 1816), by the Danish sculptor Thorwaldsen. (fn. 236) There were three bells in the church of 1783 (fn. 237) but they were replaced in 1857 by five bells made by John Warner & Sons of London. (fn. 238) The restoration of the church completed in 1925 included the hanging of eight bells made the previous year. (fn. 239) The plate includes a silver service comprising cup, flagon, and salver given in 1794 by Beilby Thompson and his wife, together with an uninscribed paten. The service was made in London in 1792, probably by John Robins. Another silver service was given in 1863 by Lord Wenlock; it had originally been presented in 1682 to the Savoy chapel by Sir Edward Smythe. It comprises cup and paten made in London in 1681 and flagon made there in 1656. (fn. 240) The registers begin in 1617 and are complete except for the period 1688-1718. (fn. 241)
A new churchyard was consecrated with the church in 1783 (fn. 242) and extended in 1857. (fn. 243)
NONCONFORMITY.
In 1569 the rector and assistant curate of Escrick were found to be distributing seditious and papist literature. (fn. 244) There was a Roman Catholic and six protestant dissenters in the parish in 1676, (fn. 245) and a family of Roman Catholics was reported in 1743. (fn. 246) Houses were licensed for worship by protestant dissenters at Deighton in 1793 and Escrick in 1806, 1809 (two), 1820, 1822, and 1824. (fn. 247) A Methodist society was formed at Deighton in 1807, and after 1850 meetings were held at Crockey Hill Farm. (fn. 248) In the 1860s and 1870s there were said to be 20-30 Wesleyan Methodists, who attended the parish church. (fn. 249) A chapel was, however, built at Deighton in 1880, (fn. 250) and there were 36 members in 1884. (fn. 251) The yellow-brick building was still used for services in 1972.
EDUCATION.
A schoolmaster at Escrick was first mentioned in 1586, and others were recorded in 1715 and 1717. (fn. 252) In 1743 there was a school for ten pupils, who were taught to read and write and were instructed in Christian principles; the master's salary was paid by the rector. (fn. 253) There were 26 children at the school in 1764, when the master's stipend of £12 a year was paid by Beilby Thompson. (fn. 254) The north aisle of the church was used as a schoolroom in 1776. (fn. 255) By 1819 there were 60 pupils, twelve of whom were supported by the £12 received from the Thompsons. (fn. 256) New school buildings are said to have been erected by Lord Wenlock in 1825, (fn. 257) subsequently housing a National school which had been started in 1821 and an infants' school, begun in 1827; in 1835 about 240 children, including 90 infants, were on the roll. The schools were supported by school pence and by a subscription of £60 a year from Lord Wenlock, who also provided clothing for the children at the National school. (fn. 258) An annual parliamentary grant was received by 1849. (fn. 259)
In 1819 there was also said to be a school-house in Deighton, supported by a bequest of £5 a year. There was an infants' school there in 1835, begun in 1830 or 1831, with seven pupils paid for by Lord Wenlock. (fn. 260) A separate school was not mentioned again and Deighton children subsequently went to the Escrick schools.
The average attendance at the National school was 88 in 1871. (fn. 261) From 1908 until 1932 attendance was usually between 90 and 115, but it fell to 61 in 1938. (fn. 262) After the Second World War it increased along with housing development in the village and the number on the roll in April 1972 was 91. (fn. 263) The yellow-brick school stands in the main village street, not far from the hall. It is now used together with a new building near by, opened in 1973. (fn. 264)
An industrial school run by Lady Wenlock had 8 pupils in 1865, and it may have been the private school mentioned in 1871 with an attendance of sixteen. (fn. 265)
An evening school for farm lads was held in the winter in 1835, with about six boys attending for four months. (fn. 266) A similar school was held three times a week in winter in 1865, but by 1868 it was said that evening schools had been tried without success. (fn. 267)
CHARITIES FOR THE POOR.
John Cooke and his wife at unknown date gave a rent-charge of £1 6s. a year out of 10 a. in Skipwith, to be distributed in bread to six poor people of Escrick. John Neville, also at unknown date, left £26, the interest to be given in bread to poor widows or spinsters of Escrick. In 1824 £1 6s. was received from each of these charities and a joint distribution in bread was made. (fn. 268)
In 1743 a small parcel of land devised to the poor of Escrick was said to yield a rent of £5 16s. (fn. 269) The Poor's Land in 1824 consisted of 3 a. in Fishergate, York, then let for £21 a year. The income was distributed to the poor in amounts varying from 2s. 6d. to 10s. and the poor of Deighton received a quarter of it. (fn. 270) The York land was sold in separate lots in 1894, 1900-1, and 1910. (fn. 271)
Frances, dowager Lady Howard of Escrick, by will proved in 1716, bequeathed £50 to provide coal for the poor of Escrick and several neighbouring villages. The bequest was not effective until 1862 when, after a lengthy suit in Chancery, an Order of the Master of the Rolls declared that interest on £550 stock held should be divided into seven and 2/7 applied to Escrick. (fn. 272)
By a Scheme of 1902 all the above-mentioned charities were regulated as the Consolidated Poor's Charities. From the income £20 was to be used for the Escrick alms-houses, when built, £50 for help for the sick, and the rest for pensions and other payments. The income then comprised £3 rent from the Cooke and Neville charities, £4 interest on £157 stock from Lady Howard's, and £197 interest on £5,867 stock from the Poor's Land. (fn. 273)
Five alms-houses were built in 1904 by Lord Wenlock and members of his family. (fn. 274) By a Scheme of 1967 they and the Consolidated Poor's Charities were combined as the Escrick and Deighton Charities. Income then comprised £3 rent from land at Skipwith and interest on £3,815 stock. Apart from the upkeep of the alms-houses it was to be used for the relief of the poor, sick, and infirm. (fn. 275)
Escrick benefited from the charity of John Hodgson for parishes in York poor-law union. (fn. 276)