Pages 74-82
A History of the County of York East Riding: Volume 3, Ouse and Derwent Wapentake, and Part of Harthill Wapentake. Originally published by Victoria County History, London, 1976.
This free content was digitised by double rekeying. All rights reserved.
NABURN
The Riverside village of Naburn lies four miles south of York, at a point where the Ouse swings across its flood-plain against the firm ground to the east. (fn. 1) Most of the parish is only a little over 25 ft. above sea-level, but the extensive ings within the bends of the river are even lower. (fn. 2) The village houses are still for the most part confined to the main street alongside the river and there had by 1972 been no residential development of the kind that has taken place around other villages close to the city. The parish is roughly rectangular in shape and covers 2,636 a. Of this area 463 a. lay in the West Riding parish of Acaster Malbis, across the river, until the 1880s. (fn. 3)
Apart from the alluvium of the Ouse flood-plain and patches of glacial sand and gravel east of the village and in the north-west corner of the township, Naburn is entirely covered with outwash sand and clay. (fn. 4) The small open fields which lay around the village and a large common moor further east were not inclosed until 1768, but much of the township was occupied by early-inclosed assarts and woodland. Some woodland still exists in the south-east. Streams draining into the Ouse include Wood dike, which forms a short section of the southern parish boundary, and Howden dike, which joins the river at the north end of the village. It may have been the latter stream, rather than the river, which gave the village its Scandinavian name. (fn. 5) The Ouse forms the entire parish boundary on the west.
The road from York to Naburn and on towards Stillingfleet and Cawood follows the dry margin of the flood-plain. It crosses Wood and Howden dikes by small bridges, the latter known as Water-mill, Mill, or Great Mill bridge at least from 1642 until 1795, (fn. 6) and as Town End bridge in 1846-7. (fn. 7) It was rebuilt in brick and stone in 1741. (fn. 8) From the bridge Howden lane follows the dike eastwards towards Crockey Hill, in Deighton, and from a point south of the village Moor Lane leads to Deighton itself. The main village street is bypassed by the York-Stillingfleet road, which follows what was in effect the back lane of the village. There may have been a ferry across the Ouse at Naburn from early times and 'ferryman' occurs as a personal name there, for example in 1500. (fn. 9) In 1739 the ferry was situated just to the west of Naburn Hall, (fn. 10) but by the early 19th century a horse and foot road led from the village street past the hall and across the ings to a ferry close to Acaster Malbis village. The latter ferry is said to have been started by the Thompsons of Escrick after Beilby Thompson (d. 1750) married dame Sarah Dawes to provide a connexion with her estate at Acaster. When it became more widely used it proved a nuisance to the Palmes family at the hall, (fn. 11) and in 1824 the road was closed and the ferry moved to a point near the middle of the village. (fn. 12) The new ferry, for passengers and vehicles, was later worked by wheel and chain and was closed only in 1956. (fn. 13)
The Ouse itself was from early times an important highway for the trade of York, though perhaps little used by the inhabitants of Naburn. It was, however, within the parish that considerable improvements were made in the 18th and 19th centuries to overcome the difficulties created by shoals. A weir was made at Naburn, a mile downstream from the village, in 1741 and a 'dam' or weir and a lock were opened in 1757; the making of the lock cut created an island on which a water-mill was later built. (fn. 14) A banqueting house was built near the lock by the trustees of the river navigation in 1823. (fn. 15) A second, larger, lock was constructed beside the old one in 1888. (fn. 16) The original lock-keeper's house was rebuilt in 1823-4, and work done in 1888 included the building of a pair of lock-keepers' cottages. (fn. 17) North of the village the river is crossed by a large swing bridge carrying the York-Selby railway line, opened in 1871. (fn. 18) Naburn station, beside the York road, was closed for passengers in 1953 and goods in 1964. (fn. 19) There was formerly a gasworks at the station serving the signal lamps on the bridge. (fn. 20)
Most of the older houses of the village lie along the main street, with a few in the former back lane. An access way to the ferry and a short street connecting with the Stillingfleet road form a small crossroads with the main street, and near by a maypole was customarily erected from at least the early 18th until the later 19th centuries in connexion with the village feast on 12 May, 'old May Day'. (fn. 21) The most noteworthy of the 18th- and 19th-century houses are a one-and-a-half storeyed cottage which retains some timber framing inside, (fn. 22) and a contiguous pair of houses, one known as Marydale. The latter houses, perhaps of the early 18th century, are long and low, and each has a central as well as an end chimney. A few 20th-century houses have been built in the main street, and there are a dozen council houses near the church on the Stillingfleet road and about twenty more in Vicarage Lane, a cul-de-sac east of the main road. A village hall in Vicarage Lane stands on a site provided in 1947. (fn. 23) There were usually three alehouses in Naburn in the 1750s and 1760s, later reduced to one which by 1822 was called the Horse Shoe. (fn. 24) By 1872 it had acquired its present name, the Blacksmiths' Arms, and in 1889-1901 the publican was also a brewer. (fn. 25) The Yorkshire Ouse Sailing Club, begun in 1938, has a club house near the former ferry, (fn. 26) and at the north end of the village a marina was opened in 1970 on part of a 19-acre site acquired for the purpose in 1968. (fn. 27)
The outlying buildings include a fine 17th-century mansion at Bell Hall. (fn. 28) All the farm-houses date from the 18th and 19th centuries, though there was a house at Lingcroft by 1660 (fn. 29) and at Gill Rudding in 1636-7. (fn. 30) The present Gill Rudding House is an imposing mid-19th-century building. Acres House was built in 1774. (fn. 31) Naburn Lodge has a wheelhouse. Both Acres and Lodge farms belong to Naburn Hospital, the former York City Lunatic Asylum, for which they were acquired in 1899 and 1914 respectively, (fn. 32) but the hospital itself stands just within Fulford parish. A sewerage works for York covering about 20 a. was opened beside the river in Naburn in 1895 and has several times been extended. (fn. 33) Two large houses in the north-east of the parish near the York road are Lingcroft Lodge, a white-brick villa built c. 1860 for Edward Lloyd (fn. 34) and used since 1948 as a research centre by Armstrong's Patents Co. Ltd., (fn. 35) and Deighton Grove, rebuilt on the site of an earlier house in 1847 (fn. 36) and acquired for an annexe of York County Hospital in 1947. (fn. 37)
There were 74 poll-tax payers at Naburn in 1377. (fn. 38) Thirty-eight households were listed in the hearth-tax assessment of 1672. Of those that were chargeable, 11 had one hearth each, 10 had 2, 7 had 3-5, and Naburn and Bell Halls had 8-9. (fn. 39) In 1743 there were 26 families in the township (fn. 40) and in 1764 30. (fn. 41) The population in 1801 was 363, steadily increasing to 574 in 1901; the largest inter-censal increase, 84, was in 1871-81. (fn. 42) The total had fallen to 537 by 1951, 473 by 1961, and 371 by 1971. (fn. 43)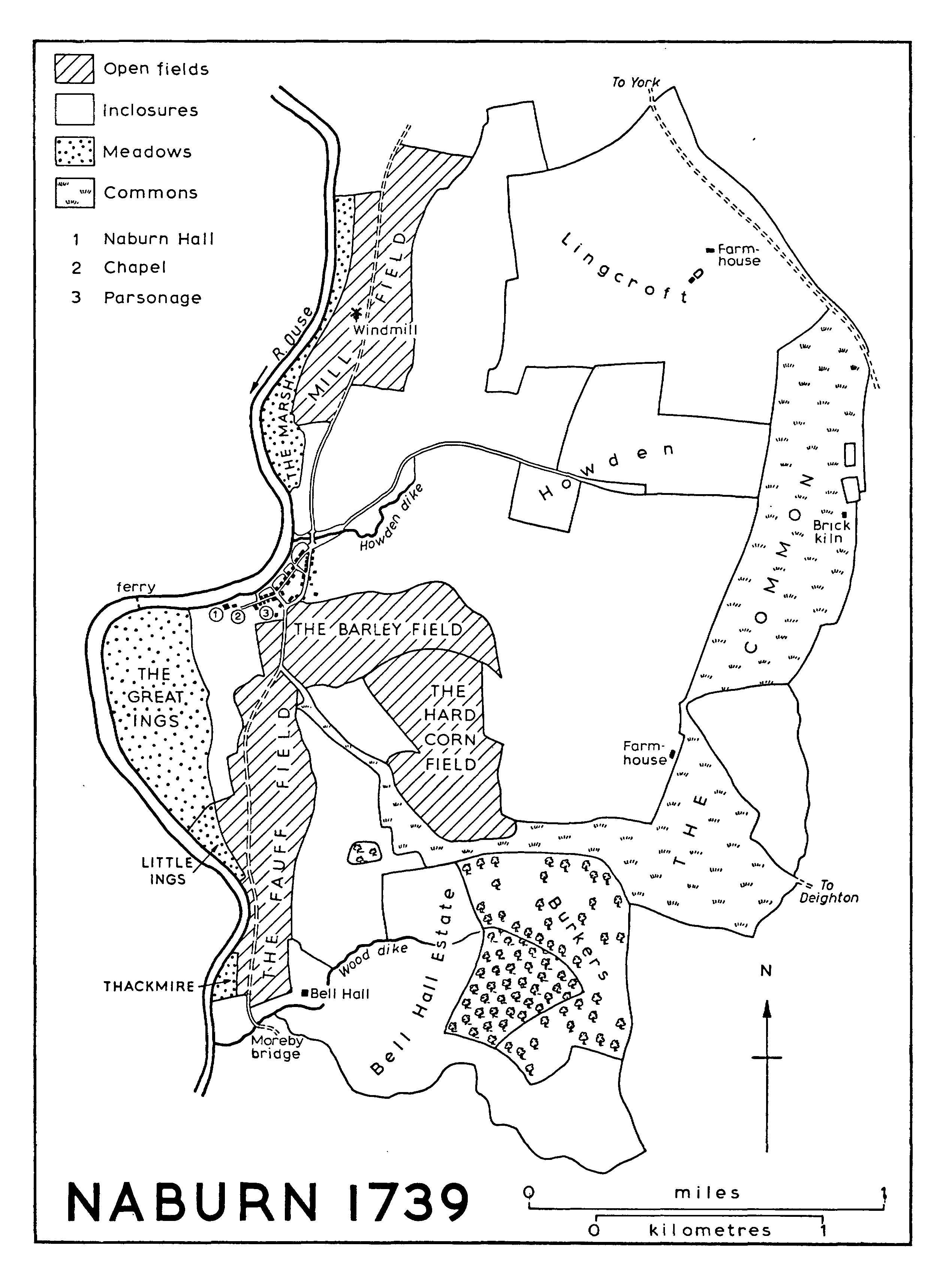 MANOR AND OTHER ESTATES.
There were two estates at Naburn in 1086, one of 4 carucates belonging to Robert de Todeni and the other of 2 carucates belonging to the king. The larger estate had been held in 1066 by Turgot; in 1086 Berenger de Todeni held it of his father. (fn. 44) Robert de Todeni's daughter Adelize married Roger Bigod and Naburn descended to their daughter Cecily de Belvoir and her husband William de Aubigny. (fn. 45) It was still held of the Aubignys in 1243 (fn. 46) but by 1284-5 the overlordship had passed to Robert de Ros by his marriage with Isabel, daughter and heir of William de Aubigny. (fn. 47) The Ros interest was mentioned as late as 1434. (fn. 48)
About 1200 the Watervill family became lords of the manor of NABURN under the Aubignys. Richard de Watervill stated in 1231 that his grandfather Roger de Watervill had descended from Gunnore, sister and one of the coheirs of Ralph de Aubigny (d. 1191). (fn. 49) Richard de Watervill assigned the manor to William Palmes, who married Richard's sister Maud in, it is said, 1226. (fn. 50) The Watervills apparently retained a mesne lordship, for the heirs of Nicholas Palmes held Naburn of Reynold de Watervill in 1284-5, when it consisted of 2 carucates. (fn. 51) In 1346 and 1428 the mesne lordship belonged to the Malbis family. (fn. 52)
From 1226 the demesne lordship descended in the Palmes family. (fn. 53) William de Palmes held ¾ knight's fee there and in North Dalton in 1243, (fn. 54) and Nicholas de Palmes received a grant of free warren in Naburn in 1272. (fn. 55) For a period after 1351, when it was seized by the Crown following William Palmes's felony, the manor was held by the Malbises (1351-61), the Redemans (1361-3), John Herring (1363-4), and Walter Whitehorse (1364). (fn. 56) Part of the estate was in 1774 vested in trustees to be sold to meet the debts of George Palmes, (fn. 57) and over 800 a. were accordingly disposed of in 1775-9, more than half going to Emanuel Elam. (fn. 58) The estate comprised c. 1,100 a. in 1972, when it belonged to Cmdr. G. B. Palmes (d. 1974). (fn. 59)
The manor-house of the Palmeses was mentioned in 1345. (fn. 60) It had eight hearths in 1672. (fn. 61) A drawing of c. 1720 shows it as a two-storeyed house, three bays long, with attic windows in tall pointed gables. (fn. 62) The house was rebuilt in 1735, (fn. 63) but it was much altered in 1818 (fn. 64) and restored and enlarged in 1870. (fn. 65) It consists of a three-storeyed square main block, with a two-storeyed later wing. The 18th-century coach-house has a clock turret and bellcot.
The smaller Domesday estate had belonged to Torchil in 1066. It later passed to Robert Malet, of whom it was held by Goisfrid de Beauchamp, but by 1086 Malet had surrendered it to the Crown. (fn. 66) It was subsequently attached to the honor of Eye (Suff.) (fn. 67) and by 1284-5 was held by Richard de Malbis as parcel of the earldom of Cornwall. (fn. 68) The demesne lords of this manor of NABURN in 1247 were the Maunsels (fn. 69) and they held a carucate from the Malbises in 1284-5 and from John of Hamerton in 1346. (fn. 70)
The Maunsel estate seems later to have passed to the Acklams of Moreby and to have been eventually split up. From it the Bell Hall estate was formed in the 16th century. In 1492 Richard Acklam acquired by exchange with Brian Palmes various closes in the south of the township, including 44 a. adjoining Naburn wood; Acklam already had other closes near by. (fn. 71) In 1543 John Acklam sold the 44 a. of closes to John North, (fn. 72) and in 1566 the property was settled on his granddaughter Jane upon her marriage with Richard Bell. (fn. 73) The Bells later acquired other Acklam land in the same area. (fn. 74) Richard Bell died in 1617 and was succeeded by his sisters Anne Haddlesey and Jane Greenbury, his nieces Susan Hutton and Faith Levett, and his nephew John Currance. (fn. 75) The Levetts had acquired the other shares by 1660, (fn. 76) and apparently in 1662 the estate was sold to Sir John Hewley. (fn. 77) About 80 a. of woodland were bought by Hewley from the Palmeses in 1663. (fn. 78)
Hewley died in 1697 and his widow in 1710, and the estate passed to Hewley Baines, grandson of Sir John's sister Margaret, who had married John Baines. (fn. 79) In 1719 the estate comprised nearly 180 a. (fn. 80) It descended in the Baines family (fn. 81) to W. M. Baines (d. 1912) and was later held in trust by H. M. Baines (d. 1945) and H. V. Baines (d. 1954), before passing in 1956 to Mr. J. H. Baines, who still had c. 200 a. in Naburn in 1971. (fn. 82)
A house built on the estate by Richard Bell (fn. 83) had nine hearths in 1672. (fn. 84) It was replaced in 1680 by Sir John Hewley, though the new house subsequently retained the name Bell Hall. The only major addition was a service wing built in the 19th century and later demolished. The brick-built house with stone dressings is of two storeys with basement and attics, and is five bays long and three deep. There was originally a roof-top balustrade and lantern tower. (fn. 85) There are entrances approached by steps on the south and west. The house contains many contemporary fittings, as well as a reset early17th-century fire-place and some panelling and a painted room of the 18th century. (fn. 86)
Several religious houses had small estates in Naburn. St. Andrew's priory, York, was granted a bovate there by Richard Maunsel in the 13th century. (fn. 87) It was let to Ralph Prince in 1593. (fn. 88) Property in Naburn belonging to the Corpus Christi guild, York, was in 1576 granted by the Crown to John and William Marsh, and in 1582 acquired by John Palmes. (fn. 89) The Knights Templars were given 221 a. and 94 a. by Richard Maunsel in 1240 and 1241 respectively. (fn. 90) In 1319 Thomas of Norfolk held a tenement in Naburn of the king because of the forfeiture of the Templars. (fn. 91) St. Leonard's hospital, York, had property in Naburn and Fulford worth £2 a year in 1535. (fn. 92) It included a few acres of meadow in Naburn ings, granted by the Crown to George Darcy in 1545 and acquired by Sir George Palmes in 1621. (fn. 93) St. Mary's abbey, York, already had property in Naburn in the 13th century, and it was granted 3 houses and 90 a. of land in Naburn and Deighton in 1334. (fn. 94) The property was granted to John Aske in 1542 along with Deighton manor. (fn. 95) Nun Monkton priory (Yorks. W.R.) was given an acre in Naburn in 1382. (fn. 96) Finally Warter priory had land there in 1292-3, (fn. 97) and in 1535 it had a reeve at Lingcroft and Wheldrake. (fn. 98) The property was granted by the Crown in 1541 to Thomas Manners, earl of Rutland, who sold it soon after to William Babthorpe. In 1597 Sir Ralph Babthorpe sold it to John and Sir George Palmes. (fn. 99) Lingcroft farm was among the lands sold under the Palmes Estates Act of 1774, but it was recovered by the Palmeses in 1918. (fn. 100) The present Lingcroft Farm was built in the early 18th century and existed in 1739. (fn. 101) Near by is a prominent moated site where an earlier house stood; pottery of c. 1600-1700 has been found there. (fn. 102)
St. George's church, York, to which Naburn chapel belonged, was appropriated to Nun Monkton priory and after the Dissolution the rectory was granted in 1538 to John Nevill, Lord Latimer. (fn. 103) In 1610 the rectory, including tithes in Naburn, was the subject of transactions by the coheirs of John, Lord Latimer, (fn. 104) and in 1621 one of them, Richard Fermor, conveyed the Naburn tithes to Guy Palmes and others. (fn. 105) These tithes were worth £10 in 1650. (fn. 106) They were commuted at inclosure in 1768, when compensation for them was included in George Palmes's allotment for his freehold estate; he was also allotted 22 a. for tithes from certain detached parts of Acaster Malbis. (fn. 107) The greater part of the rectorial tithes of the Acaster Malbis part of Naburn had been separated from those of St. George's parish. They were let by the Crown to Cuthbert Fairfax in 1567, (fn. 108) and granted in fee to Sir Thomas Fairfax in 1605. (fn. 109) In 1650 they were worth £15. (fn. 110) In 1750 Charles, Viscount Fairfax, sold them to Thomas, Viscount Fauconberg, and in 1769 they were acquired by George Palmes. (fn. 111) These tithes, arising from 320 a. mainly in Acaster parish, were commuted in 1848 for a rent-charge of £49 10s. payable to George Palmes. The owners of 1,499 a. were entitled to the tithes on their own lands, and those tithes were accordingly merged. (fn. 112)
ECONOMIC HISTORY.
In 1086 Robert de Todeni's estate at Naburn had land for four ploughs, and there were three plough-oxen there. He had 30 a. of meadow, and underwood a league in length and breadth. The value of the estate had fallen from 10s. in 1066 to 7s. The king's estate had land for one plough. (fn. 113) Despite much reclamation, woodland long remained a notable feature of the township, mostly in the south-east towards Escrick, and there have always been extensive riverside ings, especially in the great bend of the Ouse south of the village.
Richard Maunsel was active in extending the cultivated land in the township in the earlier 13th century, and at least some of his assarts were from the first held in severalty. When he granted arable land, described as bovates, culture, and selions, to St. Andrew's priory, York, he denied the priory any share in the assarts which he had made or might make. A tenant of two bovates held from Maunsel similarly surrendered any claim to the assarts, in return for a grant of land in ground called Langthwaite. (fn. 114) Other reclamation was carried out by the Norfolks and the Palmeses. Martin of Norfolk granted cultivated land in a place called Fulmose to Richard Maunsel, but he excepted his 'great assart' there. (fn. 115) When Naburn wood was divided between William de Palmes and Richard Maunsel in the mid 13th century, reference was made to adjoining assarts and 'riddings', as well as Intack, Busk field, and Lincroft. (fn. 116) Intack was mentioned as early as 1232, (fn. 117) and arable land in Over and Nether Riddings was recorded in 1321. (fn. 118) William de Palmes had 90 a. of arable in demesne in 1345, a third of it lying fallow each year. (fn. 119)
North and South woods, in the south-east of the township, were mentioned in the 13th century, (fn. 120) and near by were the 'great moor' of Naburn and other areas in which the Palmeses and the Maunsels had rights of common. (fn. 121) In 1304 Nicholas of Norfolk upheld his right of common for 32 oxen, 8 horses, 30 cows, 200 sheep, and other beasts in 160 a. of wood and pasture in Naburn. (fn. 122) The moor of Fulmose belonged to the Maunsels and in 1300 Edmund Maunsel licensed a tenant to dig turf there. (fn. 123) Meadows near the Ouse, too, were mentioned in the 13th century, and in 1232 William de Palmes and the archbishop of York enjoyed common in each other's meadow land from mowing until Lammas, as in the other meadows in the township. (fn. 124) Thackmire, in the meadows, was recorded in 1291 (fn. 125) and Ellers in 1361. (fn. 126) William de Palmes had 30 a. of demesne meadow in 1345. (fn. 127)
The survival of woodland and moor, as well as the existence of inclosed assarts, is clearly shown by an exchange arranged in 1486 between Brian Palmes and Richard Acklam. Palmes was to receive houses and unidentified arable and meadow land. In return he conveyed to Acklam 44 a. lying in seven closes adjoining Naburn wood; 18 a. adjoining a close of Acklam's and a moor called Birker Bushes; common for 12 cattle, 6 horses, 60 sheep, and 6 pigs in two moors adjoining certain riddings and closes and next to Birker and South wood; and meadow land in the ings. He was also to arrange for 10 a. in Gilridding to be conveyed by its owner to Acklam. (fn. 128) Gilridding had been mentioned as early as 1408. (fn. 129) Other grounds which were referred to in the 15th century include Owthen, Akkers, and the Marsh, and by 1476 Mill and South fields were in existence: (fn. 130) along with Busk field these were presumably the open fields of the township. (fn. 131)
The improvement of waste and woodland continued in the 16th and 17th centuries, as in the case of a 4-acre close taken from Naburn wood which Richard Bell was said in 1634 to have spent much on clearing and tilling. (fn. 132) The remaining woodland included the 50-acre Great wood, said to adjoin another 30 a. of inclosed wood in 1663. (fn. 133) Among the improved lands was a close called 'the Newfield', held by the Palmeses when first mentioned in 1632. (fn. 134) New field was later, however, one of the common fields of Naburn.
The meadows were known in the 16th century and later as Broad or Great ings and Little ings. (fn. 135) There is no evidence that Great ings had ever been subject to common rights by the inhabitants at large, and by the 18th century they apparently belonged entirely to the Palmeses, with the exception of a few acres of vicarial glebe. The numerous small parcels into which they were then divided (fn. 136) were evidently held by tenants, but the spring eatage or first bite and the 'fog' or aftermath belonged to the lords of the manor. In 1698 the Palmes rental included £43 for 42½ a. of 'letting meadow' and £17 for fog and eatage. (fn. 137) In 1768 the spring eatage and fog of the whole of Great ings, including the glebe, belonged to George Palmes. (fn. 138) In 1791 spring eatage and fog there were let for £36. (fn. 139)
The open fields were known in 1739 as Hard Corn, Barley, Mill, and 'Fauff' (i.e. fallow) fields. (fn. 140) The remaining common lands, amounting to 706 a., were inclosed in 1768 (fn. 141) under an Act of 1766. (fn. 142) They comprised 101 a. in South field, 95 a. in Mill field, 87 a. in New field, 72 a. in Busk field, 11 a. in Little ing and Thackmire, 28 a. in the Marsh, and 313 a. in the Moor. The Great ings were specifically excluded from the inclosure. The bulk of the land allotted, 578 a., went to George Palmes in lieu of his freehold estate and tithes. The 'vicar' of Naburn received 29 a., Hewley Baines 16 a., and there were nine small allotments totalling 67 a. Woodland survived in the 18th century on both the manor and the Bell Hall estate. The wood at Bell Hall contained nearly 20 a., and it was arranged in 1720 to sell 616 trees there, as well as 330 in the hedgerows and near the hall. (fn. 143)
There have usually been a dozen farmers in the parish in the 19th and 20th centuries, half of them with 150 a. or more. (fn. 144) In 1848 the titheable land included about 1,000 a. of arable, 617 a. of meadow and pasture, and 120 a. of woodland, (fn. 145) and in 1905 there were 1,631 a. of arable, 718 a. of permanent grass, and 84 a. of woodland in the parish. (fn. 146) Arable has since remained predominant, with meadow and pasture near the river and around the village; by the 1960s there was also a little market-gardening. (fn. 147) The ings were no longer in divided ownership in 1972, but several former mere stones were then still in existence. (fn. 148) Timber continued to be sold from the woodland in the 19th century, (fn. 149) but in 1955 26 a. of Naburn wood were sold to the Ministry of Agriculture, Fisheries and Food by the Palmeses and in 1958 17 a. from the Bell Hall estate (fn. 150) to be managed by the Forestry Commission.
The river Ouse has played some small part in the economic life of Naburn. In the late 18th century landowners in the parish were entitled to use the 'common shore' or landing place, (fn. 151) where the ferry was later situated, and in 1791 this right was upheld by a man who had become a coal dealer. (fn. 152) Fishing rights in the river belonged to the lords of the manor and at inclosure in 1768 they were reserved to George Palmes on riverside land allotted to Hewley Baines. (fn. 153) One or two men as tenants of the Palmeses worked as salmon fishermen in the late 18th, 19th, and earlier 20th centuries. (fn. 154) There have been few other non-agricultural occupations in Naburn, but bricks were made in 1739, when there was a kiln near the boundary with Deighton. (fn. 155)
A water-mill at Naburn was mentioned in the 13th century; (fn. 156) it probably stood on Howden dike near its confluence with the Ouse, for in 1642 Water-mill bridge was in that locality. (fn. 157) A windmill was recorded in 1345. (fn. 158) Lingcroft mill, no doubt a windmill, was mentioned in 1354 and 1408 ; (fn. 159) it presumably stood in the north-east corner of the township. The name Mill field, mentioned in 1476, more likely referred to a mill nearer the village. A windmill belonged to the manor in 1552 and later, (fn. 160) and in 1697 a mill stood near the Naburn to Water Fulford road. (fn. 161) It still existed in 1772. (fn. 162)
By 1846-7 the only mill in the parish was that standing on the island near Naburn lock. (fn. 163) It was built between 1813 and 1817, and it made use of the head of water created by the weir and the lock. (fn. 164) It was at first a corn mill, but in the 1860s it was used to grind flint and stone for West Riding potteries, before reverting to corn. It was burnt down in 1877 but rebuilt. When it was reconstructed after another fire in 1913 a turbine was installed in place of the water-wheel. The mill went out of use c. 1955 (fn. 165) and it was demolished in 1958. (fn. 166)
LOCAL GOVERNMENT.
In 1293 Richard Malbis claimed to have gallows, infangthief, and amends of the assize of ale in Naburn. (fn. 167) There are surviving rolls of manorial courts held by the Palmeses in 1424, 1426, 1476, 1642, 1652, 1659, 1696, 1698- 1700, and 1707-11. The business was largely concerned with agricultural offences but included infractions of the assize. In 1652 4 bylawmen, 2 surveyors of highways, 2 aletasters, a constable and deputy constable, and a pinder were appointed, and bylawmen, constable, and pinder were also sworn at the early-18th-century courts. (fn. 168)
Accounts of the 2 Naburn churchwardens, 2 overseers of the poor, and constable survive for 1735-72. There are also accounts of an additional churchwarden, who raised assessments in the Acaster Malbis part of the township to meet Naburn's share of the church expenses at Acaster. (fn. 169) It had been disputed in 1691 whether Naburn's share was a quarter or a third. (fn. 170) A poorhouse was first mentioned in 1736. Naburn joined York poor-law union in 1837. (fn. 171) It became part of Escrick rural district in 1894, Derwent rural district in 1935, (fn. 172) and the Selby district of North Yorkshire in 1974.
CHURCH.
Most of Naburn township lay in the parish of St. George, York, but part was in Acaster Malbis parish (Yorks. W.R.) until the late 19th century. (fn. 173) A chapel at Naburn was first mentioned in 1353 (fn. 174) and St. Nicholas's chapel was referred to in 1433. (fn. 175) In 1586 St. George's was united with St. Denys's, York, and the former church was allowed to become ruinous. (fn. 176) It is therefore not surprising that there were references to the 'vicarage' and the 'vicar' of Naburn in the 17th and 18th centuries. Naburn nevertheless remained a chapelry of St. Denys's with St. George's until 1842, when it was made a separate parish. (fn. 177) Naburn and Stillingfleet vicarages were united in 1951. (fn. 178)
From 1842 the advowson of the new living belonged to the Palmes family, who had been patrons of St. Denys's with St. George's. In 1911 the patronage passed to the archbishop of York, (fn. 179) and after 1951 he presented alternately to the united benefice. (fn. 180)
In 1535 the vicar of St. George's paid 13s. 4d. a year to a chantry-priest at Naburn, (fn. 181) presumably for the services he performed in the chapel. The 'vicarage' of Naburn was worth £13 6s. 8d. in 1650 (fn. 182) and £15 in 1716. (fn. 183) In 1884 the living was valued at £90 net and in 1914 at £171 net. (fn. 184)
The vicarial income in 1727 included £1 10s. for tithe hay, and it was carefully laid down in the 18th century which parcels of meadow in the ings and elsewhere paid tithe to the vicar, and which to the impropriator. (fn. 185) At inclosure in 1768 the vicar was allotted 29 a. for tithes and glebe. (fn. 186) In 1770 vicarial tithes were still paid from certain detached parts of Acaster Malbis parish and by 1809 they were paid by composition. (fn. 187) In 1848 they were commuted for £13 1s. 6d. (fn. 188)
The vicar of St. George's enjoyed £2 rent from 14 a. of meadow in Naburn in 1535. (fn. 189) There were about 21 a. of glebe in the open fields and ings in the 18th century. (fn. 190) All the land allotted at inclosure in 1768 was sold in 1928. (fn. 191) There was a parsonage house in the village, near the old chapel, in 1739. (fn. 192) It was described in 1770 as mostly of brick with some half-timbering ('stooth and pannel'), and it was thatched; it had three ground-floor rooms, a back kitchen, and two bedrooms. By 1809 it was of brick and tile. (fn. 193) In 1812 it was exchanged with George Palmes for another house in Naburn. (fn. 194) A large new brick and slate Vicarage was built in 1877. (fn. 195) Since 1951 the vicar has lived at Stillingfleet.
A chantry was founded in Naburn chapel in 1353 by John of Barton, who endowed it with property in York and a house and bovate in Naburn. (fn. 196) It was united with a chantry at Stillingfleet in 1402 and the priest was required to say mass once a week at Naburn. (fn. 197) St. Catherine's chantry at Naburn was referred to in 1535, and in 1546 it enjoyed 13s. 4d. a year rent from 6 a. of land and 1 r. of meadow there. (fn. 198) In 1566 lands in Naburn, said to have belonged to St. Helen's chantry there and to have been given to support two services a week in the chapel, were granted by the Crown to Francis Barker and Thomas Blackway. (fn. 199)
The vicar of St. George's and later the rector of St. Denys's with St. George's no doubt usually lived in York before 1842. In 1590 Gabriel Squire was said to serve the cures of Acaster Malbis and Naburn, (fn. 200) but this may have referred to only the detached parts of Acaster parish, which included a section of Naburn village. In 1643 and 1743 the incumbent was also rector of St. Margaret, Walmgate, in York, and in the latter year he was curate of Stockton (Yorks. N.R.) as well. (fn. 201) Even after Naburn was made a parish in 1842 the incumbent sometimes lived in York. He did so in the 1860s, when he still also held St. Denys's, and in 1871. (fn. 202)
Thomas Lowry, described as curate at Naburn in 1636, was inhibited from preaching the following year. (fn. 203) George Liddell, 'vicar' of Naburn in 1643, was a Royalist delinquent. (fn. 204)
A service was held at Naburn once a fortnight in 1743 and Holy Communion was celebrated five times a year with about 50 communicants. (fn. 205) A weekly service was held in 1865 and communion was celebrated four times a year in the 1860s, about 30 persons receiving it. By 1871 there were two services every Sunday and communion was received monthly by about 15 persons. Communion was twice-monthly in 1884 and 1914. (fn. 206) There were still two services each Sunday in 1972.
The chapel of ST. NICHOLAS, in the grounds of Naburn Hall, was taken down and rebuilt c. 1870. (fn. 207) Little is known of the earlier building. The 'steeple' was out of repair in 1615, and work ordered in 1721 included repairs to the porch. (fn. 208) Also in 1721 Hewley Baines was licensed to erect a pew there. (fn. 209) A faculty was granted for a gallery across the west end in 1742. (fn. 210) The chancel was retained for use by the Palmes family when the new parish church was built in 1854. (fn. 211)
The new church of ST. MATTHEW consists of chancel, nave, north aisle, north-west tower and spire, and south porch. It was designed in the Decorated style by G. T. Andrews of York. (fn. 212) The pulpit was replaced in 1910. (fn. 213) There were two bells in 1764 (fn. 214) but the new church had three: (i) 1849; (ii) 1709, Samuel Smith of York; (iii) 1854, C. & G. Mears of London. (fn. 215) They were replaced in 1879 by four bells given by Mrs. Rosabella Lloyd. (fn. 216) The plate, all silver-gilt, consists of a cup made in 1625 by Sem Casson of York, and two patens and a flagon made in London in 1864-5. (fn. 217) The registers begin in 1653 and are complete. (fn. 218)
Apart from the Palmes family, who used St. Nicholas's chapel, the inhabitants of Naburn were buried either in St. George's churchyard in York (fn. 219) or at Acaster Malbis. A churchyard was consecrated at Naburn in 1854 (fn. 220) and extended in 1905. (fn. 221)
G. W. Reader, by will proved in 1936, devised Glebe House, Naburn, to Elizabeth Walker (d. by 1951) for life. After her death part of the income was to be used for the upkeep of his family graves and the rest for the benefit of the church. The house was sold in 1952 and the proceeds, £1,091, invested in stock. (fn. 222) The house had formed part of the glebe land until 1928. (fn. 223)
NONCONFORMITY.
Members of the Palmes family were recorded as recusants or non-communicants from the 1570s onwards and the family remained Roman Catholics until the death of John Palmes in 1784. A group of servants and villagers followed their example, a dozen in 1582 for instance, 20 in 1633, and 15 in 1767. (fn. 224)
A house in Naburn was registered for worship by protestant dissenters in 1798, (fn. 225) the year in which Methodism is said to have been introduced into the township. (fn. 226) A Wesleyan Methodist chapel, in the back lane east of the village, was built in 1818 (fn. 227) but replaced in 1857 by a larger chapel near the village centre. (fn. 228) In 1865 the Wesleyans were all said to attend the parish church also, and in 1877 the Wesleyan chapel was described as not well attended. (fn. 229) There were 20 members c. 1830 and 41 in 1885. (fn. 230) The chapel ceased to be used in 1970, (fn. 231) but still stood in 1972; it has a stone-built façade in the Gothic style.
A farm-house called Naburn Hill or White Cock Hall, beside the York road in the north-east of the parish, was used for Wesleyan Methodist worship in 1851 and was registered for the purpose in 1853; it had ceased to be so used by 1896. (fn. 232)
EDUCATION.
A school was mentioned in 1743. (fn. 233) Edward Loftas, by will of 1784, left £100 for the education of ten children there. By 1809 the money had been invested in £138 stock and the income was about £6 a year; the free pupils were said in 1823 to be taught with other children at a school built by George Palmes. (fn. 234) There were 42 boys and girls at the school in 1835. (fn. 235) Thomas Dickinson, by will proved in 1843, left £100 to the school, (fn. 236) and by 1855 fifteen pupils were consequently taught free. (fn. 237) In the 1860s a boys' school was supported by the endowments, while the mistress of a girls' school was paid by 'a benevolent lady at the hall'. (fn. 238) The lady is said to have been Mrs. Lloyd, who was occupying Naburn Hall and provided a room for the girls. (fn. 239) The school was replaced by a National school, built near by in the back lane, in 1871-2 (fn. 240) and enlarged in 1889. (fn. 241) It received an annual government grant from 1873. (fn. 242) The average attendance was 60-70 from 1906 until the 1920s and still exceeded 50 in the 1930s. (fn. 243) The number on the roll in April 1972 was 24. (fn. 244) By a Scheme of 1900 it was provided that the income from Loftas's endowment should be used for prizes; (fn. 245) in 1974 the income of £8 was used to buy books for the school. Dickinson's charity has been lost. (fn. 246)
CHARITIES FOR THE POOR.
John Hebden at an unknown date gave £5 for the poor of Naburn and in 1823 the interest was distributed at Christmas. (fn. 247) No more is known of it.
Sir John Hewley at unknown date gave £10 to the poor and in 1770 the capital was held by Hewley Baines. (fn. 248) In 1823 H. J. Baines denied that the charity was chargeable on his estate (fn. 249) and no more is known of it.
Frances, dowager Lady Howard, by will proved in 1716, bequeathed money to provide coal for Escrick and other villages, including Naburn. (fn. 250) After 1862 Naburn received 1/7 of the income; in 1972-3 it amounted to £2, which was not distributed that year. (fn. 251)
Emily Baines, in memory of her husband Henry (d. 1868), gave a share in the Hull & Selby Railway for the benefit of nine widows or the aged poor, the interest to be distributed in money or coal on St. Thomas's Day. (fn. 252)
Ambrose Walker in 1892 gave £100, the interest to be given to the poor on 13 December. (fn. 253)
C. H. C. Harrison, by will proved in 1935, left £90 for the poor. (fn. 254)
The three last-mentioned charities were later administered together. In 1965-6 £12 was distributed equally among eight widows, and in 1972-3, when the income was £15 from £210 stock, £1 was given to each of thirteen persons. (fn. 255)
Naburn benefited from the charity of John Hodgson for parishes in York poor-law union, (fn. 256) and one grant was made to a resident of Naburn in 1972. (fn. 257)