Pages 141-148
A History of the County of York East Riding: Volume 7, Holderness Wapentake, Middle and North Divisions. Originally published by Victoria County History, London, 2002.
This free content was digitised by double rekeying. All rights reserved.
ELLERBY
THE hamlet of Ellerby lies 4 km. north-east of Swine village. Since the Middle Ages there have been subsidiary settlements at Dowthorpe and Oubrough, both c. 1 km. west of the hamlet, at Woodhall, the same distance south, and at Langthorpe, 2 km. to the north. Woodhall was the site of the chief manor and Oubrough and Langthorpe the locations of granges of Swine priory. (fn. 1) The opening near Langthorpe of Ellerby station in the 1860s (fn. 2) led to the building along the Marton road there of the group of houses now called New Ellerby. The name Ellerby, meaning 'Elfweard's farm', is an Anglo-Scandinavian hybrid; Dowthorpe, 'Dufa's hamlet', and probably also Langthorpe, or 'Lambi's village', are Scandinavian names, and Oubrough, 'the owlhaunted stronghold', is Anglian. (fn. 3)
Ellerby contained 2,248 a. (910 ha.) until 1952 when the civil parish was slightly enlarged at the expense of Burton Constable. (fn. 4) In 1984 part of New Ellerby lying in Burton Constable civil parish, comprising some 10 ha. (25 a.), was transferred to Ellerby, which in 1991 had 925 ha. (2,286 a.). (fn. 5) In 1377 there were 110 poll-tax payers at Ellerby, Dowthorpe, Langthorpe, and Thirtleby. (fn. 6) In 1672 Ellerby, evidently including Langthorpe and presumably also Dowthorpe, Oubrough, and Woodhall, had 26 houses assessed for hearth tax. (fn. 7) Numbers at Ellerby rose almost uninterruptedly from 151 in 1801 to 358 in 1901, before declining to 323 in 1931. About 40 people were gained from Burton Constable in 1952, and Ellerby's population was 405 in 1961. It fell to 349 in 1971 but had recovered by 1991, when those normally resident numbered 396 and 384 were present. (fn. 8)
ELLERBY hamlet mostly straggles down a street running along some of the highest land in the parish, but at its southern end a more coherent group of buildings stands in or near a short side lane, the survivor of a pair of western spurs off the street. There was formerly a green at the south end; it was built on in the 18th century (fn. 9) and may also have included later closes to the east of the street, one called Intack in 1820 and the Green in 1852 and the adjoining close used for allotment gardens by the mid 19th century. (fn. 10) Most of the c. 40 houses were built in the mid and late 20th century, and they include seven council houses. (fn. 11) The pantiled Manor Farm (fn. 12) dates from the early 18th century. In the later 18th century one or two houses were licensed at Ellerby, and the Blue Bell, named in the 1820s, (fn. 13) still existed in 1994.
At NEW ELLERBY, the Railway inn was trading by 1872 (fn. 14) and remained in 1994. The c. 25 houses there in 1889, most of them in Gladstone and Granville Terraces, were joined by eight council houses (fn. 15) and many others in the mid 20th century, and in 1995 there were nearly 100 houses at New Ellerby. Marton Grange Farm there, of one storey with dormers, probably dates from the 18th century. (fn. 16) A childrens' playing field was provided at New Ellerby in the 1970s. (fn. 17)
Away from the hamlets, a field west of the main Hull-Bridlington road was used for sports in the mid 20th century. (fn. 18) A barn at a garden centre nearby was used c. 1990 for a restaurant, before being re-converted into the Gardeners' Arms. (fn. 19)
MANORS AND OTHER ESTATES
A manor of ELLERBY, comprising 4 carucates, was said to have been held in 1066 by Fran, Elaf, Mann, Thorbiorn, and Ramkel, but later only Fran son of Thor was named as the tenant. It passed to William Malet and, after his deprivation c. 1070, to Drew de Bevrère, whose undertenant Tibbald occupied it in 1086. (fn. 20) It was later part of the Aumale fee, which passed with Burstwick manor to the Crown and its grantees. (fn. 21)
Herbert de St. Quintin (d. by 1223) almost certainly had an estate in Ellerby by 1201, (fn. 22) and in 1223 and 1224 his widow Agnes claimed dower in c. 10 carucates at Ellerby, Dowthorpe, and Thirtleby from Herbert's son William de St. Quintin. (fn. 23) The St. Quintins' holding in those places and Langthorpe was later put at 11 carucates. (fn. 24) In 1287 William's son (Sir) Herbert held 5 carucates and 5 bovates in Ellerby and Thirtleby in demesne, and his undertenants held c. 4½ carucates at Thirtleby and Dowthorpe. (fn. 25)
The demesne estate then and later formed WOODHALL manor, which was held of the Crown as successor to the counts of Aumale as 1/7 knight's fee. (fn. 26) Sir Herbert (d. 1302) was succeeded by his grandson (Sir) Herbert, named as lord of Ellerby in 1316. (fn. 27) The last Herbert's widow Laura held Woodhall manor in dower in 1350. (fn. 28) The St. Quintins' estate later descended with Mappleton to the FitzHughs (fn. 29) and their successors, the Fienneses. (fn. 30) Anne (d. 1595), widow of Gregory Fiennes, Lord Dacre, made George Goring her executor, (fn. 31) and he sold the estate, of just over 1,000 a., in lots. (fn. 32) Thomas Darrell bought Woodhall manor and c. 700 a. in 1598 and sold the manor with c. 380 a. to Marmaduke Langdale in 1599. (fn. 33) Langdale died in 1611 holding a large estate in the parish, composed of former monastic and other land; besides Woodhall, it included land at Coniston, Dowthorpe, and Langthorpe. (fn. 34) He was succeeded by his great-nephew William Langdale (d. 1645) and then by William's son Philip (d. 1648) (fn. 35) and grandson (Sir) William Langdale (fn. 36) (d. by 1685). Sir William's son Philip inherited Woodhall (fn. 37) and sold the manor with c. 320 a. there and at Ellerby to Joseph Fernley, a Hull merchant, in 1700. (fn. 38) Fernley (d. 1724) was succeeded in turn by his widow Sarah (d. 1745) and daughter Jane Lazenby (d. c. 1775). The manor then passed to Sarah Fernley's great-nephew Henry Maister (d. 1812). Maister bought more land in Ellerby in 1808 and left the Woodhall estate to his nephew H. W. Maister (d. 1846), whose nephew and others sold it, then comprising 455 a., to Sir Thomas Constable, Bt., in 1849. (fn. 39) Constable already had 270 a. in Ellerby. (fn. 40) In 1963 the Chichester-Constables' estate in Ellerby included c. 190 a. in Manor and Woodhouse farms; (fn. 41) both farms and other properties had been sold by 1995, Manor farm to Foxton Farmers Ltd., but Wood Hall, Wood Hall farm, and parkland there then remained with Mr. John Chichester-Constable's daughter, Rodrica Straker. (fn. 42)
The chief house at Woodhall, recorded from 1303, (fn. 43) stood on an extensive, moated site; much of the moat, now largely dry, remained in 1995. (fn. 44) In 1814-15 H. W. Maister built a new house 300 m. to the south. That house, which is of grey brick and in the Italianate villa style, has an asymmetrical plan with a round tower at one corner and a service wing, now partly demolished, which joins the main block at 45 degrees and formerly terminated in the stable court. An unnamed London architect was said to have built the house or to have superintended its design, (fn. 45) and it has been attributed to John Nash (fn. 46) and Robert Lugar, (fn. 47) as well as to Charles Mountain of Hull. (fn. 48) A 58-a. park, later the Lawn, had been made by 1820. (fn. 49) The old house, which was rebuilt in the late 18th century, has been used since at least the 19th as a farmhouse. (fn. 50)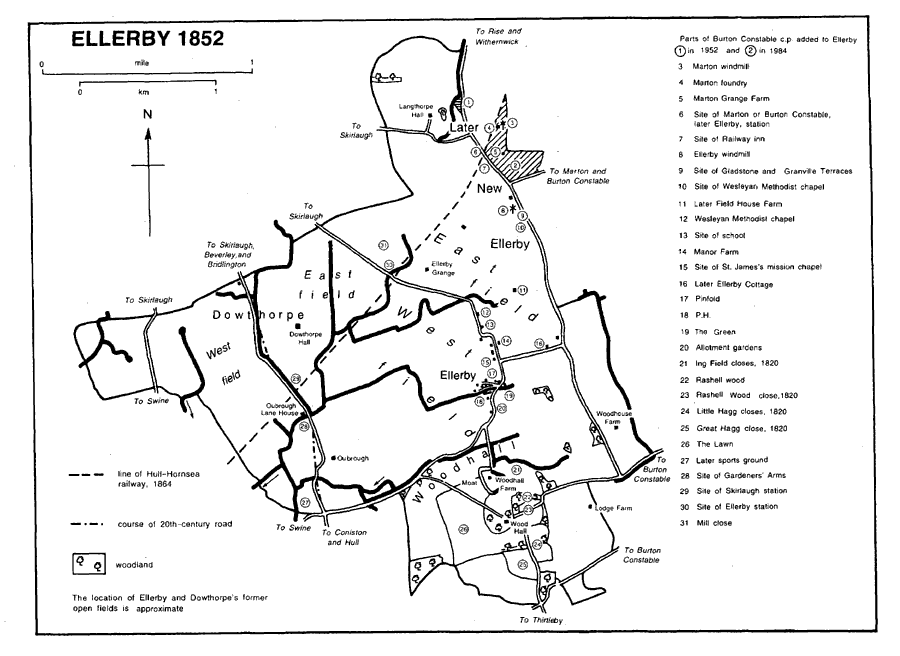 In 1066 Thorfridh held the 2-carucate OUBROUGH manor. It had passed to Drew de Bevrère by 1086, when it was occupied by his undertenant Frumold, (fn. 51) and it later formed part of the Aumale fee. Oubrough, with other land in Holderness, was evidently granted by a count of Aumale to his butler. (fn. 52) In 1252 the butler's fee was held by Amand the butler's daughter Beatrice de Friboys and John de Surdeval, presumably the heir of Amand's daughter Hawise de Surdeval. (fn. 53) As at Benningholme, the butler's fee at Oubrough was evidently bought from Geoffrey Vernon by Simon Constable, who was recorded as the Aumale tenant there in 1284-5. (fn. 54) John of Routh (d. by 1311) held an estate at Oubrough under Simon's son Robert. (fn. 55)
Swine priory was the demesne tenant of all 2 carucates at Oubrough by 1276, (fn. 56) and the 297-a. Oubrough grange was among the dissolved priory's lands granted in 1540 to Sir Richard Gresham and returned to the Crown by exchange in 1544. (fn. 57) Oubrough grange was sold by the Crown to Sir John Constable and his son Henry in 1557, (fn. 58) by Henry Constable to Thomas Bamburgh in 1582, (fn. 59) and by Bamburgh's son Humphrey (fn. 60) to John Legard in 1597. It then descended in the Legards of Ganton (fn. 61) until 1726, when Sir Thomas Legard, Bt., sold the estate, of c. 430 a. in three farms, to the Revd. John Moorhouse. (fn. 62) Moorhouse (d. 1740) left a son John (d. 1764), (fn. 63) whose heirs were his daughters Mary Bramley and Sarah Brown. In 1791 the so-called manor of Oubrough, the grange farms, and a house and land at Arnold and North and South Skirlaugh, were partitioned: Mrs. Bramley was awarded a moiety of the manor and two of the farms with 232 a. and Mrs. Brown the other moiety, a farm of 216 a., and the house and land at North and South Skirlaugh. Mrs. Brown's share has not been traced further. Mary Bramley (d. 1801) was succeeded in her share of Oubrough by her son Thomas Bramley (d. 1804), whose trustees sold it to C. E. Broadley in 1805. Broadley (d. 1809) already owned 377 a. at Dowthorpe, (fn. 64) and in 1836 his son C. B. Broadley sold both estates to John Beadle (d. 1869). They were bought by the Crown in 1870, and later descended with Swine manor. (fn. 65) In 1962 the Crown bought the 214-a. Oubrough House farm, evidently the farm awarded earlier to Mrs. Brown. (fn. 66) In 1995 the Crown's estate of Dowthorpe Hall comprised 325 ha. (803 a.). (fn. 67)
In 1066 Ulf held 3 carucates at DOWTHORPE as soke of his manor of Aldbrough; they had passed to Drew de Bevrère by 1086, (fn. 68) and were later part of the Aumale fee. Land at Dowthorpe was held of the counts of Aumale by the St. Quintins and of them by the Doles. In 1223 Roger Dole was the tenant of 1½ carucate there, and in 1348 his namesake was said to hold 2 carucates. (fn. 69) It may have been the same estate which Sir Robert Tyrwhit held there in 1575 and which his son William sold in 1588 to Marmaduke Langdale. (fn. 70) It later descended like Woodhall to William Langdale, who had 364 a. there in 1634, and his successor (Sir) William Langdale. (fn. 71) No more is heard of it until 1744, when Dorothy Colston devised a third share in the Dowthorpe estate to her sisters Elizabeth and Ann, who presumably held the other shares. Elizabeth (d. by 1758) evidently succeeded to the whole, which she devised to her neice Elizabeth, wife of Isaac Webster. (fn. 72) Webster (d. c. 1795) was succeeded by his son Isaac, who sold the 377-a. estate to C. E. Broadley in 1798. (fn. 73) Dowthorpe later descended with Broadley's estate at Oubrough. (fn. 74) Dowthorpe Hall, named in 1760, (fn. 75) was used as a farmhouse c. 1840. (fn. 76) The present house dates from the 18th century but the main front was remodelled in the later 19th.
Part of the Langdales' estate at Dowthorpe was used to endow the charity of Marmaduke Langdale (d. 1611), and the 33 a. remained with the trustees in 1995. (fn. 77) Swine priory was given land at Dowthorpe which was probably included in its grange of Oubrough. (fn. 78) The Constables also held a little land at Dowthorpe. (fn. 79)
LANGTHORPE manor, of 1 carucate, belonged in 1066 to Thor and, possibly in succession to him, to Egfrid. It passed to William Malet and, after his deprivation c. 1070, to Drew de Bevrère, the tenant in 1086. (fn. 80) It was later part of the Aumale fee. In the mid 13th century the St. Quintins were the tenants at Langthorpe. (fn. 81)
Swine priory had land at Langthorpe by the 1240s, and its grange there was recorded from 1294. (fn. 82) After the Dissolution, Langthorpe grange was granted to Sir Richard Gresham and then returned to the Crown, which sold it to Thomas Reeve and George Cotton in 1553; it then comprised two farms, each with 3 bovates. (fn. 83) All or much of Langthorpe passed to Marmaduke Langdale (d. 1611), (fn. 84) and then descended with Woodhall manor to Sir William Langdale (d. by 1685). (fn. 85) He was succeeded in Langthorpe, then called a manor, and lands at North and South Skirlaugh by his son Marmaduke and he (d. 1712 or 1713) (fn. 86) by his brother William. (fn. 87) From William Langdale (d. 1721), (fn. 88) the estate descended to his son William and then to that William's daughter Jane, who married Sir Walter Vavasour, Bt. He (d. 1802) was succeeded by his brother Sir Thomas Vavasour, Bt. (d. 1826). (fn. 89) In 1828 Sir Thomas's trustees sold Langthorpe manor with c. 335 a. there and at South Skirlaugh to Thomas Ward (fn. 90) (d. by 1830), who was succeeded by his son (the Revd.) Henry Ward. (fn. 91) In 1857 the estate was sold to W. V. Norman (fn. 92) (d. 1861), who was succeeded in turn by George Norman (d. by 1883) and T. A. Norman (d. 1890). (fn. 93) The estate then evidently descended to Marmaduke Rees-Webbe, whose trustees (fn. 94) sold Langthorpe Hall farm, with 333 a. in South Skirlaugh and Ellerby, to William England in 1919. (fn. 95) It was bought in 1920 by Abraham Leonard (d. 1947) and in 1948 by George Lockwood (d. 1957), whose administrator, Westminster Bank Ltd., later held it. (fn. 96) In 1988 the 323-a. farm was bought by Foxton Farmers Ltd., which later transferred it to B. P. Foxton, the owner in 1995. (fn. 97)
The Langdales' seat in the parish was the 'mansion house' at Langthorpe, which had 11 hearths in 1672. (fn. 98) William Langdale lived in Hedon by 1764, and Langthorpe Hall was used as a farmhouse by the mid 19th century; (fn. 99) it was rebuilt c. 1830 on a large scale, mostly in grey brick. (fn. 100) A Tuscan portico was added in 1990-1. (fn. 101)
Sir William Gee bought an estate in Ellerby in 1604. (fn. 102) It descended to Roger Gee, (fn. 103) who sold it to William Bethell in 1766. (fn. 104) Comprising a farm of 218 a., it later descended with Rise. (fn. 105) W. F. Bethell devised the farm to his son A. J. Bethell, who sold it to Christopher Pickering in 1891. (fn. 106) In 1918 it was bought by James Welford (d. 1919), and in 1920 Welford's brother Ralph sold it to John Smith. (fn. 107) As Ellerby Grange farm, it passed to the mortgagee, Allison Rodmell (d. 1932), and was held by his trustees until 1955, when they sold it to G. E. Coates. He conveyed the farm in 1966 to G. B. Coates, who still occupied it in 1994. (fn. 108)
The rectorial tithes of Woodhall and part of Ellerby were bought by Ann Thompson in 1681 (fn. 109) and sold that year to Richard Frank (d. by 1693), who left them to his nephew Francis Loveday. In 1707 Loveday sold them to Mark Kirkby, from whom they descended to James Torre, (fn. 110) who sold most of them c. 1800. Henry Maister bought the tithes from c. 360 a. at Woodhall and Ellerby in 1799, (fn. 111) and his successor H. W. Maister merged tithes from 437 a. there in 1843. (fn. 112)
Other tithes in Ellerby township were included in the part of Swine rectory bought by Arthur Thornton in 1681. (fn. 113) Those of Oubrough were sold by William Thornton in 1765 to John Moorhouse's widow Ann. (fn. 114) She (d. 1790) left them to her grandchildren Mary and Ann Brown. Ann (d. 1819) married John Williams, (fn. 115) and he, Mary Brown, and James Brown were awarded rent charges amounting to £111 for the tithes at commutation in 1841. (fn. 116) The tithes of Langthorpe were bought from William Thornton in 1764-5 by William Langdale and were later merged. (fn. 117)
Tithes from a further 381 a., at Dowthorpe, were merged by John Beadle in 1843, (fn. 118) and by 1849 only 63 a. of Ellerby township remained titheable; the three impropriators were then awarded rent charges totalling £9 2s. for their tithes. (fn. 119)
ECONOMIC HISTORY
COMMON LANDS AND INCLOSURE. Ellerby. Woodhall and Ellerby evidently shared commonable lands, which were inclosed, at least in part, at the division and sale of Woodhall manor in the 1590s. (fn. 120) The tillage then lay in East and West fields, and a 'fallow field . . . east of Oubrough' was perhaps a third field, rather than an alternative description of West field. East field extended as far north as Langthorpe and east and south to Marton and Burton Constable. Ridge and furrow survived in grassland to the west of Woodhall Farm in 1994. (fn. 121) The common meadows were dispersed throughout the fields. (fn. 122) Some of the meadow land probably lay immediately east of Woodhall manor house, where Ing field closes were recorded later, (fn. 123) and the new closes staked out in East field in the 1590s included land probably used as meadow called Wandales. Cow pasture, presumably the common pasture, was also mentioned then and was perhaps among the land inclosed. Some common pasture nevertheless remained at 'Green maile', possibly the 'common field' shared by cottagers c. 1840. (fn. 124)
Oubrough. Swine priory may have inclosed all or much of Oubrough before the 16th century, when its grange there included 100 a. of pasture in West field. (fn. 125)
Dowthorpe. Dowthorpe's open fields lay east and west of the hamlet until Sir Robert Tyrwhit inclosed them shortly before 1575, thereby depriving farmers at South Skirlaugh of intercommonage in the fields in winter. (fn. 126) By 1634 Dowthorpe lay in a dozen closes, of which East field contained 87 a., Great West field 59 a., Middle field 54 a., and White Hill close 53 a. William Langdale then had 364 a.; the remaining 22 a. of Dowthorpe, comprising 'lands' in most of the closes, belonged to the other two proprietors. (fn. 127) By an exchange of 1656, Langdale's successor, (Sir) William Langdale, obtained 20 a. of 'lands', all then laid down to grass, from John Constable, Lord Dunbar. (fn. 128) The closes were re-ordered and divided c. 1850. (fn. 129)
Langthorpe. Langthorpe had one ploughland in 1086, (fn. 130) but its early agricultural arrangements are unknown. Ridge and furrow remaining around Langthorpe Hall in the 1940s marked the former tillage of the hamlet. (fn. 131)
WOODLAND. Woodland was presumably established by assarting. The woodland there may have extended into Thirtleby, where Herbert de St Quintin's wood was mentioned in 1202. (fn. 132) In the 1290s Sir Herbert de St. Quintin evidently added 7 a. in Sproatley, obtained by exchange, to his woodland. (fn. 133) The wood was recorded as part of the demesne of Woodhall manor in 1303, when some of it was being coppiced, (fn. 134) and a forester was employed there in 1364. (fn. 135) There was still a large wood called Ellerby wood and c. 20 a. of coppiced woodland in 1598. (fn. 136) Most of the old woodland had been felled by the early 19th century, when c. 35 a. of formerly-wooded land lay in adjoining closes called Rashell Wood, Great Hagg, and Near and Far Little Haggs. Remnants of old woods and new plantations then covered c. 40 a. (fn. 137) Woodland returned under Ellerby civil parish totalled 3 ha. (7.4 a.) in 1987. (fn. 138)
TENURES AND HOLDINGS TO THE 16TH CENTUREY. Ellerby. In 1086 there were two villeins and three bordars at Ellerby, where only one plough was then being worked on the four ploughlands. The tenants' holdings presumably included shares in the 20 a. of meadow then recorded there. (fn. 139) In 1303 the bond tenants of Woodhall manor owed ploughing, carting, and reaping works, and three cottars rendered poultry rents. (fn. 140)
Oubrough. The two ploughlands at Oubrough in 1086 were being worked by two ploughs, one on the demesne and the other by five villeins and three bordars. The tenants presumably also held parts of the 10 a. of meadow then recorded there. (fn. 141) Much of the land of the hamlet was later occupied by Swine priory. In the early 1250s the house was disputing William de St. Quintin's claim to enjoy common rights on its estate at Oubrough as an appurtenance of his land in Ellerby. (fn. 142) Oubrough grange was still farmed directly by the priory in 1536, when it comprised 24 a. of arable land in Little field, 100 a. of pasture in West field, East leys, probably also grassland, of 140 a., and several grassland closes. (fn. 143) About that date, however, a dairyman there leased 20 cows, and presumably pasture, from the priory in return for supplying butter and cheese, and in the 1550s he or another rented a herd of c. 40 cows there. (fn. 144)
LATER AGRICULTURE. In 1834 there were 253 a. of arable land and 157 a. of grassland on the Woodhall estate, and c. 1840 Oubrough had 400 a. of arable and 50 a. of grassland. (fn. 145) In 1987 of 673 ha. (1,663 a.) returned under Ellerby civil parish, 611 ha. (1,510 a.) were arable land, 50 ha. (124 a.) grassland, and 5.6 ha. (14 a.) orchards; livestock kept then included over 800 pigs. (fn. 146)
In the 19th and earlier 20th century Ellerby usually had about 12 farms; in 1851 four were of 200-360 a. each and the largest had 618 a., and three farms of 150 a. or more were recorded in the 1920s and 1930s. By 1937 there were also several smallholdings, at least one of which remained in 1994. One or two cowkeepers or dairymen have worked at Ellerby, (fn. 147) and in 1994 a market garden was operated in the hamlet, and a garden centre beside the main road. Six holdings were returned for the civil parish in 1987, of which two were of 100-499 ha. (247-1,233 a.), one of 50-99 ha. (124-245 a.), one of 10-49 ha. (25-121 a.), and two of under 10 ha. (fn. 148)
MILLS. A windmill was recorded on the St. Quintins' estate at Ellerby from 1223, (fn. 149) and there may have been two mills there in the 16th century. (fn. 150) A windmill stood in Ellerby West field in 1596, and it was probably its site, adjoining Dowthorpe, which was commemorated by Mill close, named in 1782. (fn. 151) By the 19th century Ellerby windmill stood in the north of the township, close to Marton. (fn. 152) It was assisted by steam by 1889 but ceased to grind c. 1930; (fn. 153) by 1993 the former mill had been converted into a house.
NON-AGRICULTURAL EMPLOMENT seems to have been scarce. A motor engineering concern was run in the earlier 20th century. (fn. 154)
LOCAL GOVERNMENT
Brief minutes of proceedings in Woodhall manor court survive for 1712, 1786, 1804, and 1823. The court, which had leet jurisdiction, seems by the 18th century to have been concerned mostly with property transactions and minor drainage defects; its officers included two affeerors, a constable each for Ellerby, Thirtleby, and South Skirlaugh, and a pinder at Ellerby. (fn. 155) The courts were held at the 'manor house', possibly meaning Woodhall farmhouse, c. 1840. (fn. 156)
Poorhouses were maintained at Ellerby. (fn. 157) Ten people there were relieved permanently and 4 occasionally in 1802-3, and 24-6 were on permanent and 5-8 on occasional relief between 1812 and 1815. (fn. 158) Ellerby joined Skirlaugh poor-law union in 1837, (fn. 159) and the township, later civil parish, remained in Skirlaugh rural district until 1935, then became part of the new Holderness rural district, and at reorganization in 1974 was taken into the Holderness district of Humberside. (fn. 160) In 1996 Ellerby parish became part of a new East Riding unitary area. (fn. 161)
CHURCH
The vicar of Swine provided Sunday and weekday services in the schoolroom at Ellerby from the late 1870s, (fn. 162) and in 1889 a mission room was built there to designs by Smith & Brodrick of Hull, and licensed for all services. (fn. 163) In 1900 there was a service each Sunday at Ellerby and communion was celebrated there. (fn. 164) The brick building is dedicated to ST. JAMES and comprises undivided sanctuary and nave with south vestry and south porch. A west bellcot was removed c. 1940, (fn. 165) and its bell remained unhung in 1995, when the church, recently renovated under a Government Training Scheme, (fn. 166) was still used.
ROMAN CATHOLICISM
Prominent among the Roman Catholics of Swine parish were the Langdales of Langthorpe, who were frequently presented for religious lapses in the later 16th and 17th century and whose household and tenantry probably accounted for most of the 28 Roman Catholics recorded under Ellerby and Langthorpe in the 1660s. In 1735 Ellerby was said to have 14 Roman Catholics. (fn. 167) The congregation was presumably served at Langthorpe and later at Marton. (fn. 168)
PROTESTANT NONCONFORMITY
At Ellerby a protestant congregation which registered houses in 1808 and 1817 was probably Wesleyan, (fn. 169) and in 1838 the Wesleyan Methodists built a chapel there. (fn. 170) It was closed in the late 1940s and demolished. (fn. 171) In 1888 a Temperance lecture hall and schoolroom at New Ellerby was bought by the Wesleyan Methodists, who may already have been using it as a chapel. Sometimes called Marton chapel, (fn. 172) it was replaced by a chapel built nearby in 1909. (fn. 173) The new chapel, later the Methodist church, was still used in 1994.
EDUCATION
A mixed school at Ellerby was begun in 1828 and had 10 pupils in 1833, all taught at their parents' expense, and two schoolmistresses there were recorded in 1851. (fn. 174) There was probably no school there in 1871, when children from Ellerby attended Swine school. (fn. 175) In 1876 W. F. Bethell gave a site for a new school with master's house, (fn. 176) and a National school for boys and girls was opened in 1877. It was supported by subscriptions, school pence, rent received for Church use of the schoolroom, (fn. 177) and from 1879-80 by an annual, government grant. (fn. 178) Later accommodating infants, (fn. 179) the school had an average attendance of 24 in 1878, (fn. 180) c. 30 in the 1900s, but usually 20 or fewer between 1913 and 1938. (fn. 181) In 1944 the school was transferred to the county council, which closed it in 1947 because of the inadequate building; most of the children were transferred to Skirlaugh school, the rest to Marton. (fn. 182) The former school was a house in 1994.