Pages 330-340
A History of the County of York East Riding: Volume 7, Holderness Wapentake, Middle and North Divisions. Originally published by Victoria County History, London, 2002.
This free content was digitised by double rekeying. All rights reserved.
RISE
The small village of Rise lies c. 11 km. east of Beverley and NNE. of Hull and 7 km. southwest of the coast at Hornsea. (fn. 1) Close by, on the edge of Rise park, stand Rise Hall and Rise Park, former and present seats of the Bethell family. (fn. 2) The parish is relatively well-wooded for Holderness and the former significance of its woodlands is evident from the Scandinavian name, meaning 'amongst the brushwood'. (fn. 3)
In 1852 the ancient parish contained 2,040 a. (826 ha.), of which 6 a. (2.4 ha.) lay in Arnold township and the rest formed Rise township, later civil parish. (fn. 4) Possibly in error, the area of Rise civil parish was recorded as 2,041 a. (826 ha.) from 1891. (fn. 5) It was reduced by 9 a. (3.6 ha.) transferred to Skirlaugh civil parish in 1952 and was thereafter given as 2,033 a. (823 ha.). (fn. 6) In 1984 some 10 ha. (25 a.) were added from Riston, (fn. 7) and in 1991 Rise was said to comprise 830 ha. (2,051 a.). (fn. 8)
There were 87 poll-tax payers at Rise in 1377, (fn. 9) and 25 houses were assessed for hearth tax and 5 discharged in 1672. (fn. 10) The parish had 33 families in 1743 and 25 in 1764. (fn. 11) From 155 in 1801 the population of Rise increased to 203 in 1811 and 221 in 1821, fell to 164 in 1831, then recovered gradually to 206 in 1871, before declining again, notably in the 1890s, to 132 in 1901. (fn. 12) Between 1911 and 1931 it stood at c. 160 but then declined to 132 in 1961 and 95 in 1971; 92 of the 100 usually resident were counted in 1991. (fn. 13)
Much of the parish lies on boulder clay but deposits of sand and gravel help to produce a broad band of higher ground, 15–25 m. above sea level, which runs from north to south through the centre of the parish, providing the village with its site. (fn. 14) Lower ground is found in the east and west of Rise and to the south, where the land falls to 8 m. in the valley of Lambwath stream. Formerly Lambwath stream ran along much of the southern parish boundary but as a result of its diversion before 1762 the stream and the boundary now coincide hardly at all. (fn. 15) The south of the parish is drained by Lambwath stream and the north by a stream flowing northwards into Sigglesthorne and thence into the Hull valley; both were recorded as insufficient drains in 1367. (fn. 16) Lambwath stream in Rise was repaired and cleansed as part of William Chapman's drainage scheme for Withernwick carried out c. 1810. (fn. 17)
From Rise minor roads lead north to Sigglesthorne and Hornsea, south-east to Withernwick, south to Skirlaugh, and west to Long Riston. The Sigglesthorne and Long Riston roads, and a field road called Folly, or Oak Tree, Lane, run along parts of the parish boundary, which was formerly also marked by Huddle cross. (fn. 18) In 1762 the Sigglesthorne road diverged from the boundary, joined a way from Little Hatfield, in Sigglesthorne, and continued southwards to Rise village and the Withernwick road. Soon afterwards, possibly in connexion with inclosure in Long Riston, a new road was made continuing the Sigglesthorne road along the boundary and the road from Little Hatfield, later called Mill Lane, was straightened; in 1824 part of the old Sigglesthorne–Rise road was stopped up. (fn. 19) Field roads mark another former road, to Catwick. (fn. 20)
RISE VILLAGE. In 1762 the buildings of Rise village lay along two streets, one leading east from the church past the manor house to join the second, longer street, which was aligned northsouth. A stretch of the latter street, which continued to Sigglesthorne and Withernwick, faced the park and most of its houses stood on the east side. In 1774 William Bethell had the east-west street diverted away from his house to a more northerly course which added the church and its yard and half a dozen houses to the buildings south of the street. (fn. 21) Except for the church, parsonage, and manor house, the southern buildings were later removed and their sites used to extend the park and woods. Other houses close to the enlarged grounds were also demolished. The village was rebuilt some 200 m. north of the new road and beside the new Sigglesthorne road, c. 500 m. north-west of the old settlement, where half a dozen cottages on smallholdings and a school comprised New Rise by the 1850s. (fn. 22) Much of the rebuilding, including the creation of New Rise, was done by Richard Bethell in the early and mid 19th century. (fn. 23) The c. 25 houses and estate yard buildings at Rise and New Rise are of brick and date from the 19th and 20th centuries. Among the oldest is the Smithy, which was built in the early 19th century. At New Rise a terrace of cottages with a taller, pedimented centre is dated 1847. By the mid 20th century accommodation had been reduced by the remodelling of cottages, (fn. 24) but six council houses were then built in the village. (fn. 25) The noteworthy buildings are Rise Hall and its outbuildings and Rise Park, formerly the rectory house. (fn. 26)
An alehouse was licensed at Rise in the mid 18th century. (fn. 27) The school was used occasionally for meetings in the earlier 20th century, and after its closure in 1948 became the village hall; (fn. 28) in 1995 it was being used by a playgroup. A room provided as a First World War memorial was perhaps the mid 20th-century meeting room formerly standing opposite East Lodge. (fn. 29)
OUTLYING HOUSES. Except for Park Farm, all of the six farmhouses away from the village existed by the mid 18th century. (fn. 30) Rebuildings of the 19th century include Rise Grange and Mill House Farm, of c. 1845. (fn. 31) Park Farm, with bargeboarding to its many gables, was added in 1880. (fn. 32) Two lodges were put up at or soon after the rebuilding of Rise Hall: Round House is a T-shaped building with canted corners and Tudor hoodmoulds, and South Lodge, formerly Wood Cottage, a stuccoed cottage with rustic verandahs, ogee-headed doorway, Tudor hoodmoulds, and some of its original leaded lights. Other houses built by the estate include Oak Cottages, on the Withernwick boundary, which had been put up by 1840. (fn. 33)
It may have been William Bethell, owner of the winner of the 1780 St. Leger, who laid out a circular course for training horses on 60 a. at Farnton hill, just across the parish boundary in Long Riston; the track was still used in 1995. (fn. 34) He also kept a pack of hounds and hunted from Rise, and in the earlier 20th century the East Holderness foxhounds were kennelled there. (fn. 35)
MANOR AND OTHER ESTATES
RISE manor, variously said to comprise 5½ or 7½ carucates, was held by Knut (fn. 36) in 1066, then passed to William Malet and, after his deprivation c. 1070, to Drew de Bevrère by 1086. The estate, which was later part of the Aumale fee, was held in 1086 by Drew's undertenant Franco de Fauconberg. (fn. 37) Rise was evidently later the chief manor of the Fauconberg fee in Holderness, in 1624 including holdings at Arnold, Bilton, Marton, Rowton, and North Skirlaugh, all in Swine parish, Catfoss, Great Hatfield, and Seaton, in Sigglesthorne, Bewholme, in Nunkeeling, South Frodingham, in Owthorne, Ulrome, in Skipsea, and Southcoates, in Drypool, and in the parishes of Catwick, Hornsea, and Sutton. The appurtenances of Rise manor outside the parish were regarded as a separate manor, of RISE OUT TOWNS, in the 18th century. (fn. 38) Walter de Fauconberg was lord of Rise c. 1200. (fn. 39) The manor descended almost certainly to Sir Peter de Fauconberg (fl. earlier 13th century) (fn. 40) and by 1264 belonged to his son Walter de Fauconberg, later Lord Fauconberg (d. 1304). (fn. 41) It was recorded as ½ or 1/8 knight's fee in the 14th century (fn. 42) and in 1304 included a demesne of 2½ carucates, 90 a., and a park; 2 carucates and 3 bovates more were held by Fauconberg's bond tenants. (fn. 43) In 1316 the lord was Fauconberg's son, Walter, Lord Fauconberg (d. 1318), whose widow Alice, later wife of Sir Ralph Bulmer, succeeded to Rise (fn. 44) but apparently released it to her stepson, John de Fauconberg, Lord Fauconberg (d. 1349). (fn. 45) John's son Walter, Lord Fauconberg, died in 1362, and his widow Isabel later held the manor as her jointure. The reversion was sold in 1372 by Walter's son Sir Thomas Fauconberg to Sir John Neville (d. 1388), whose son Ralph Neville, earl of Westmorland, duly succeeded to the manor on Isabel's death in 1401. Neville (d. 1425) was succeeded in turn by his widow Joan (d. 1440) (fn. 46) and their son Richard Neville, earl of Salisbury. Rise was forfeited to the Crown in 1459 and 1460 by the attainder of Neville (d. 1460) (fn. 47) but then descended to his son Richard Neville (d. 1471), earl of Warwick and Salisbury, 'the kingmaker'. At the partitioning of Warwick's estates in 1475, Rise and other Yorkshire manors were assigned to Warwick's son-in-law, Richard Plantagenet, duke of Gloucester, (fn. 48) later Richard III. The Crown retained Rise, later accounted part of Sheriff Hutton (Yorks. N.R.) lordship and the duchy of York, (fn. 49) until 1628, when the manor and c. 120 a. of woodland at Rise were alienated to the Ditchfield grantees as security for the city of London's loan to the Crown. (fn. 50) In 1639 William Raven and Michael Evans bought the estate from the grantees, evidently for William Burgess and Francis Braddock. (fn. 51) The freehold was sold in 1646 to Thomas Bacon and Christopher Beckwith, for Hugh, later Sir Hugh, Bethell, who simultaneously bought an existing long lease of the estate. (fn. 52)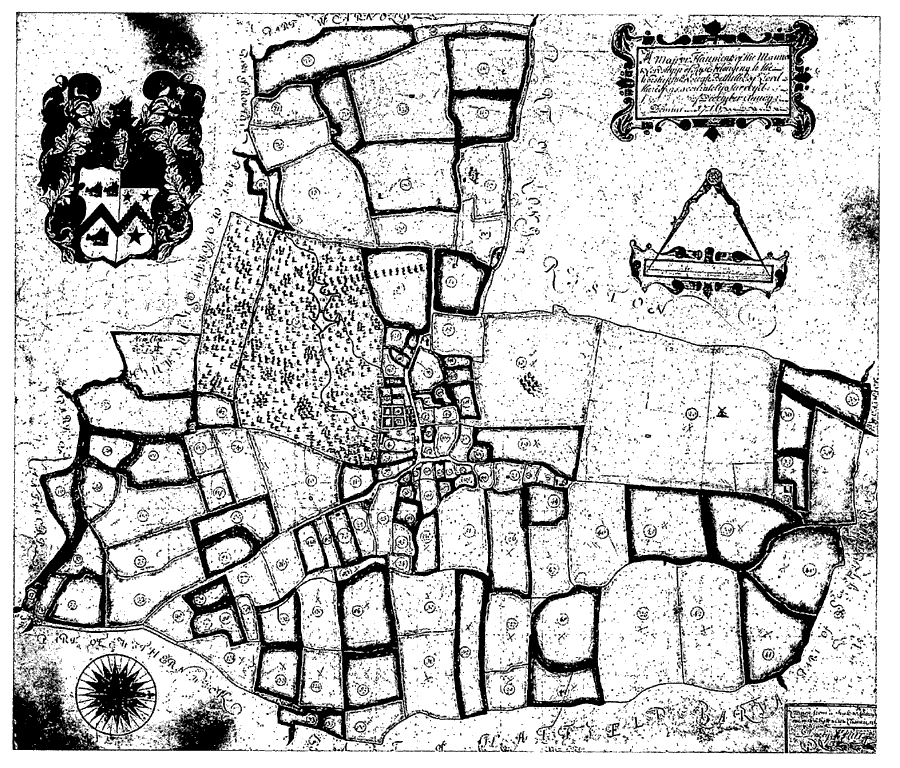 The Bethells or ap Ithells had moved into the East Riding from Herefordshire in the later 16th century (fn. 53) and from that period held Rise by assignment or sub-lease from the Crown's lessees. Queen Elizabeth's servant Blanche Parry, lessee of the manor and woods from c. 1570, bequeathed her terms to Hugh Bethell and Francis Vaughan, the Crown's chief steward in the East Riding, before 1591, when Vaughan released his interest to Bethell, afterwards Sir Hugh. Later Crown leases of the manor, to John Overton and George Haxby in 1605, and for their lives to George Kirke and his wife in 1627, were also enjoyed by the Bethells. (fn. 54) Sir Hugh Bethell (d. 1611 or 1612) was succeeded in his leasehold by his brother Roger (d. 1626). (fn. 55) The estate was later divided between Roger's heirs, one of whom, his grandson Hugh, later Sir Hugh, Bethell, the purchaser of the manor, reunited the leasehold by purchase c. 1650. (fn. 56)
In the mid 17th century, before and after the purchase of the manor in 1646, the Bethells bought three small farms, (fn. 57) and practically all of the township belonged to Sir Hugh Bethell at inclosure in 1660. (fn. 58) He (d. 1679) was succeeded in Rise manor by his nephew Hugh Bethell and Hugh (d. 1717) (fn. 59) by his son Hugh (d. 1752) and grandsons Hugh (d. 1772) and William (d. 1799) in turn. (fn. 60) In 1762 Hugh Bethell, later M.P. for Beverley, had c. 1,840 a. of Rise township. (fn. 61) William Bethell left the estate to his widow Charlotte (d. 1814), with remainder to a kinsman Richard Bethell, M.P. for the East Riding in the 1830s. Bethell (d. 1864) was succeeded by his nephew W.F. Bethell (d. 1879) and he by his son William. (fn. 62) Including 1,955 a. at Rise in 1915, the estate descended in turn from William Bethell (d. 1926) to his son W. A. V. Bethell (d. 1941) and grandson R. A. Bethell, who in 1973 vested Rise in his son H. A. Bethell. (fn. 63) The Bethells still owned practically the whole of Rise civil parish in 1995. (fn. 64)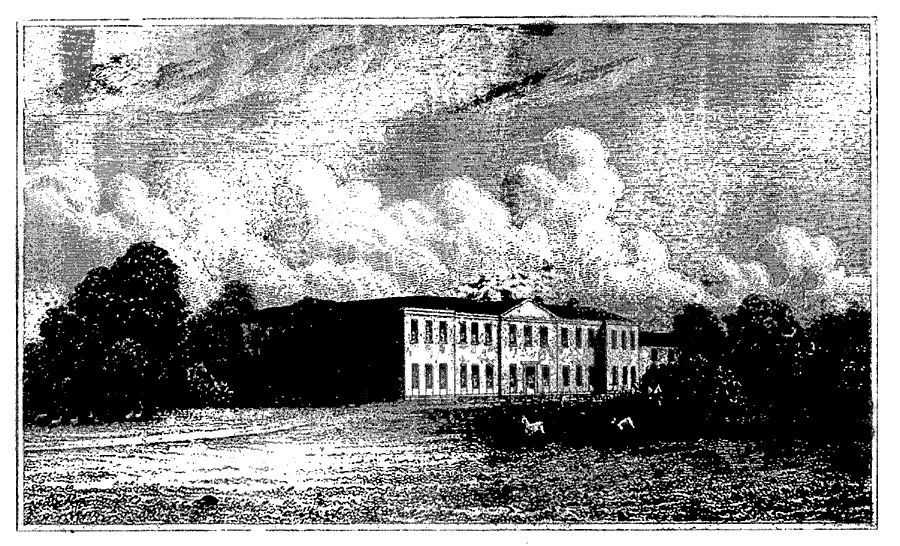 The manor house was recorded in the earlier 14th century, (fn. 65) but by the early 16th the medieval house of the Fauconbergs had gone and several other buildings apparently then stood on its site. The extensive earthworks which survive in Blackhall close, west of the village, have since 1624 been identified with the Fauconbergs' house. The chief house in 1624 was probably that with 8 a. adjoining it, occupied by Roger Bethell's son Hugh, (fn. 66) and in 1672 it was the 13-hearth house of Sir Hugh Bethell. (fn. 67) In 1716 the house was on the site of the later Rise Hall and had an E-plan north front, approached by a central path, and formal gardens to the south and west. (fn. 68) The house was also shown about that date with three gables to the front and what seems to have been a walled forecourt. (fn. 69) By 1762 most of the house had been rebuilt as a long U plan, open to the east, (fn. 70) and in 1773 William Bethell gave the house a new front, apparently almost 180 ft. long, and then or soon after refurbished the interior. Fabric of the earlier house was incorporated at the east end, where 16th- or 17th-century walling is evident inside on the first floor, abutting the mainly 18th-century, red-brick service court, and possibly along the north side, where the main range and inner court together have much the same length as the late 18th-century house. Between 1815 and 1820 Richard Bethell extensively remodelled the house; (fn. 71) his architects were almost certainly Watson & Pritchett of York. (fn. 72) The present house, which has been known successively as Rise Hall, Rise Park, (fn. 73) and now Rise Hall once again, is in Greek-revival style and is faced with fine ashlar. The plan is irregular, no doubt to accommodate the pre-existing fabric. The north range is of seven bays between deep, end projections of one wide bay; the south range has a nine-bayed centre, with the middle three bays broken forward under a pediment, and wide, shallowly-projecting ends, one being the south end of the west range, which contains the entrance. Here a pedimented, Ionic portico leads into a top-lit, off-axis spine of staircase hall, galleried inner hall, and service stair. The principal, south-facing rooms open off that spine: the library fills the south end of the west range, followed by three, linked rooms in the centre, and a smoking room in the eastern projection. The neoclassical decoration is restrained but some rooms were remodelled in the late 19th or early 20th century, the dining room in the Adam style. Along the north range, smaller rooms linked by their own corridor were probably used as upper servants' and business rooms: the lay-out may reflect a previous arrangement, as rooms in the north-east wing fit awkwardly behind the early 19th-century stone skin. The 18th-century brick, service end was remodelled to integrate it with the new house and extended east to form an additional court. North-east of the house a late 18th-century stable yard is enclosed by three two-storeyed, red-brick ranges and a fourth, detached range, which may have been partly domestic; behind the yard there is a barn, originally open-sided. Stone-faced lodges with Ionic columns flanking the main entrance gates to Rise Hall and its park are contemporary with the rebuilding of the house, and are probably by Watson & Pritchett. (fn. 74) The brick East Lodge, on the Withernwick road, was built to replace a smaller house there in the later 19th century. (fn. 75) The Bethells gave up the house in or by 1946, when they bought the former rectory house, later called Rise Park. (fn. 76) Their former seat, thereafter Rise Hall, was let from 1946 to the Canonesses Regular of St. Augustine, who ran a Roman Catholic boarding and day school for girls there, in succession to the order's schools at Hull and Boynton, until 1989 and in 1995 were using the house as an occasional educational centre. A gymnasium and a dining room were added c. 1980. (fn. 77) The former dining room became the chapel. (fn. 78) The house stood empty in 1998.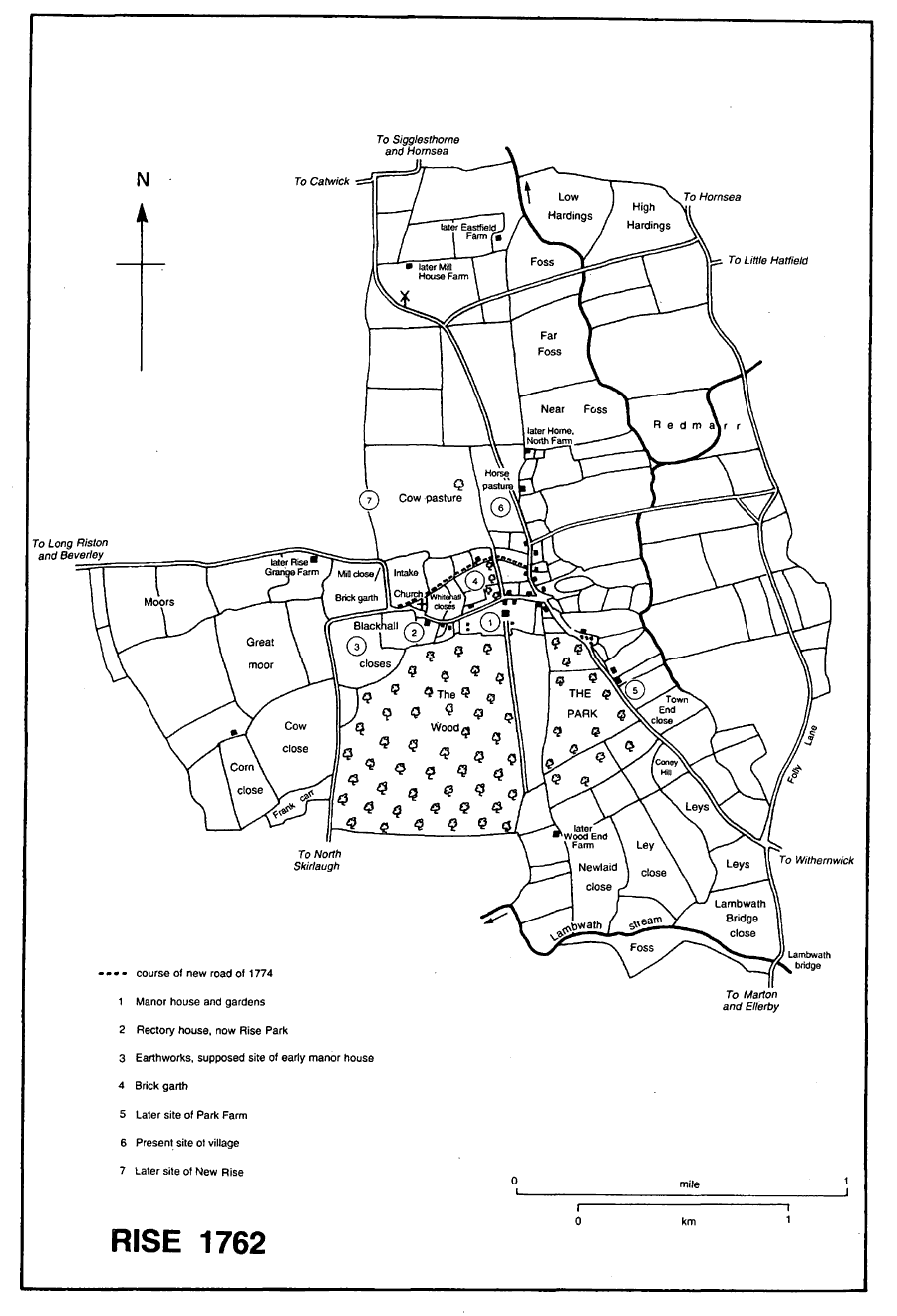 Sir Peter de Fauconberg had a park at Rise in the earlier 13th century and his son Walter was granted free warren there in 1292. (fn. 79) The park was mentioned again in the early 14th century and c. 1380, when it was allegedly broken into. (fn. 80) The medieval park may later have been reduced or even extinguished by the making of closes. It was not mentioned in the 1624 survey, in 1716 deer were kept in the demesne woods rather than a park, and in 1762 the area between those woods and the Withernwick road included 65 a. in four Park closes and 10 a. nearby in Coney hill close. (fn. 81) It was probably soon afterwards, in the 1770s, that a new, larger park was made from Park and other closes, adjoining woodland, and garths then added to the grounds by the diversion of one of the village streets. In 1716 the woods had included a lake, and another was added and both Old and New Ponds given small islands as part of the landscaping. (fn. 82) The 'improvements' may have been to plans for Rise made by 'Capability' Brown in 1775 but now unknown. (fn. 83) About 1840 some 300 deer were kept in the park, where New pond was drained, or silted up, between 1852 and 1889. (fn. 84) In 1915 the park was of 138 a., and there were also 32 a. in Old park close, c. 130 a. of woodland, and c. 4 a. of water. (fn. 85) The herd of fallow deer was killed at the start of the Second World War and the park was ploughed; (fn. 86) it has since been returned to grass. An ice-house near the lakes remained in 1995. (fn. 87)
In 1086 the archbishop of York had ½ carucate at Rise, which may already have been assigned to his church of St. John at Beverley. (fn. 88) The land was perhaps used to endow Rise church, which was later in the jurisdiction of the provost of Beverley; the glebe land in 1650 included four bovates. (fn. 89) An archiepiscopal 'manor of Rise', recorded in 1399, was perhaps on the provost's estate, but nothing else is known of it. (fn. 90)
Other estates included that which Herbert de St. Quintin held in 1284–5 of the Crown as successor to the counts of Aumale; it was then held of St. Quintin in alms or free tenure. (fn. 91)
A small estate at Rise descended like Tansterne manor, in Aldbrough, in the Rouths and their successors, falling in 1614 to the share of Sir Richard Michelbourne, whose sons Abraham and Francis sold it in 1646 to Hugh Bethell the younger, later Sir Hugh (d. 1679). (fn. 92)
In 1553 the Crown granted Giggleswick (Yorks. W. R.) grammar school five bovates and other land formerly belonging to a chantry at Rise. (fn. 93) At inclosure in 1660 the school had c. 90 a. at Rise. (fn. 94) The farm was sold to Richard Bethell in 1863. (fn. 95)
Between 1235 and 1249 Peter Ash gave arable land in Rise to Meaux abbey (fn. 96) but no more is known of it.
ECONOMIC HISTORY
COMMON LANDS AND INCLOSURE. East field was named from the 13th century and West field from the 14th. (fn. 97) The tillage apparently included an area called Maxwelldale, where the tenants' grazing rights after harvest were disputed in 1577. (fn. 98) The common meadows may have included 'grounds or closes' called Fosse, Frank carr, and Small Hills, from which hay was taken in 1613. Two meadows called Fosses contained at least 18 a. in 1624, when Frank carr was again mentioned as a 10-a. meadow close and 8 a. more of meadow land called Redmarr lay 'open to East field'. (fn. 99) Most of the commonable grazing in 1624 was evidently in a stinted pasture called Great leys, but there were also a few gates in each of Hedon leys, West leys, and Hardings. Except for Hardings, the location of those pastures is unknown. Great leys may, however, have lain immediately north of the village, at the end of an outgang from the street, where closes called Cow Pasture, Horse Pasture, and Intake, the last perhaps taken from the pasture, together contained just over 100 a. in 1762. (fn. 100) By the early 17th century much of Rise was already in closes, particularly in the west and south where the demesne land was concentrated. In 1624, besides c. 135 a. of woodland, some 440 a. of demesne land was recorded, much of it inclosed; closes then named included Blackhall closes, Mill close, Corn croft, perhaps the later Corn close, Cow close, Frank Carr close, and several moor closes. (fn. 101) The remaining commonable lands were inclosed in 1660 by an Exchequer decree confirming an agreement made in 1655 between Hugh, later Sir Hugh, Bethell, lord of the manor, and the only other proprietors, Giggleswick school and the rector. The school was then allotted 79 a. and the rector c. 50 a.; the rest of the township was evidently Bethell's share. (fn. 102)
The demesne and other holdings. Six ploughlands were recorded at Rise in 1086, when there were two ploughs on the demesne and a third worked by seven villeins and six bordars; the manor then included 30 a. of meadow land. (fn. 103) In 1304 the manor was valued at just over £35 a year, the park and other demesne lands contributing about half of that sum and the rest coming from the rents of free and bond tenants. (fn. 104) The manor also included fisheries in streams in Rise but they were disused by the 17th century. (fn. 105) Another fishery in Rise belonged in 1345 to the Crown, presumably as lord of Holderness, and may have been in Lambwath stream. (fn. 106)
Apart from the nearly 600 a. of demesne, (fn. 107) the manor was occupied by three freeholders and c. 35 other tenants in 1624; one man held nearly 80 a., twelve between 20–40 a., seven 8–19 a., and almost 20 under 5 a. each. (fn. 108) In 1762 Hugh Bethell had 510 a. in hand at Rise; the rest of the estate there was held by 28 tenants, one of whom had 324 a., three 150–220 a., four 50–90 a., eleven 5–49 a., and nine under 5a. each. (fn. 109) In the 19th and 20th centuries there were, besides the Bethell's home farm, half a dozen others; smaller holdings presumably included those on which worked the one or two cowkeepers then recorded. (fn. 110) The area in hand was much the same in 1852, when the tenanted farms comprised two of c. 70 a., one of 186 a., and four of over 200 a. Cottages and garths accounted for most of the other 22 holdings, but there were also half a dozen smallholdings of 3–29 a. (fn. 111) In 1967 there were two small farms and five with more than 200 a. each, the 384-a. Park farm which was combined with a farm in Withernwick having a total area of 551 a. Nearly 800 a. in Rise were then exploited directly by the Bethells, including 334 a. in Wood End farm, 88 a. in Mill House farm, a dairy unit, c. 140 a. of parkland, and c. 135 a. of woodland. (fn. 112)
WOODLANDS. Rise had included c. 40 a. of pasturable woodland in 1086, woodland grazing were again recorded in 1349, (fn. 113) and in the later 16th century there were two woods, Rise wood, of 100 a., and, along its southern edge, (fn. 114) the 20-a. Launde. The woods were then let on 21-year terms, the Crown reserving timber and larger trees, prohibiting more than two fellings a term, and requiring the lessee to enclose and protect the regrowth from animals. In 1572 most of Rise wood had an underwood of thorn and hazel which were usually cropped at 20-year intervals, but the remaining 26 a. had been neglected and provided insufficient wood to maintain its fence, while the Launde was said to be 'thin set' with underwood. (fn. 115) Some of the woodland was again decayed in 1624, when all was said to be being damaged by the lessee, Roger Bethell; the Crown had by then sold the larger trees in Rise wood, leaving c. 900 younger trees and thick underwood. (fn. 116) In 1762, before the expansion of the park, the woods covered just over 200 a. (fn. 117) The area of woodland was put at 184 a. in 1838 and 135 a. in 1905. (fn. 118) In the 20th century Rise wood, comprising the former Launde, contained just over 100 a. and there were also c. 30 a. of plantations in Rise. (fn. 119) The estate works probably included a saw mill by 1762, when a wood yard was recorded, and the mill was still operated in 1905. (fn. 120)
Land use from the 18TH CENTURY. In 1720 many of the closes in Rise were occupied as grassland. (fn. 121) Only 357 a. of the parish was returned as under crops, mostly corn, in 1801. (fn. 122) In 1838 there were 898 a. of arable and 931 a. of grassland, (fn. 123) and in 1905, when the figures evidently also included land from another parish, there were said to be 1,123 a. of arable and 833 a. of grassland. (fn. 124) In the 1930s much of Rise, notably in and around the park, was used as grassland and woodland, arable land predominating in the east and west of the parish. (fn. 125) In 1987 Rise civil parish seems to have been covered by the agricultural returns made for neighbouring Riston which are treated under that parish. (fn. 126)
Non-agricultural employment. Bricks were evidently made in or close to the village before 1762, and prominent earthworks remain there. A century later there was a brick field in the south-eastern corner of the parish. (fn. 127) The Bethells' estate also provided non-agricultural employment: in 1851, for instance, residents at Rise included two gamekeepers, four gardeners, and a staff of over 20 at the Hall. (fn. 128) By the 1880s the estate works also included a private gasworks. (fn. 129)
MILLS. A mill at Rise was recorded in 1086, (fn. 130) a water mill and a windmill in the earlier 14th century, (fn. 131) and a windmill in 1624. (fn. 132) A post mill in the north of the parish was grinding by the early 18th century; 'in middling repair but rather old' in 1852, it was given up c. 1860 and demolished. (fn. 133) Before 1762 another mill presumably stood in Mill close at the west end of the village. (fn. 134)
LOCAL GOVERNMENT
In the early 17th century the jurisdiction of Rise manor court, which included view of frankpledge, was allegedly infringed by officers of the wapentake court. (fn. 135) No more is known of the court at Rise and its records do not seem to have survived. Apart from an account book of the overseers of the poor for 1833–7, there is also little record of parochial administration. A cottage and 2 a. were used for the poor of the parish, perhaps before the 1830s when the overseers were receiving a rent. (fn. 136) Permanent poor relief was given to seven people and the same number were helped occasionally at Rise in 1802–3; in 1812–15 the numbers were respectively 10–11 and 6–7. (fn. 137) Rise joined Skirlaugh poor-law union in 1837 (fn. 138) and remained in Skirlaugh rural district until 1935. It was then included in the new Holderness rural district and at reorganization in 1974 was taken into the Holderness district of Humberside. (fn. 139) In 1996 Rise parish became part of a new East Riding unitary area. (fn. 140)
CHURCH
Rise church existed by 1221, when Peter de Fauconberg's claim to be patron was disputed by the provost of Beverley, (fn. 141) in whose peculiar jurisdiction the church lay. (fn. 142) Fauconberg nevertheless presented, as Sir Peter de Fauconberg, in 1250 or 1251, (fn. 143) and the advowson later descended in the Fauconbergs and their successors as lords of Rise, passing in the 15th century to the Crown. (fn. 144) The living was shared by the rector and his vicar in the 13th century but, at the institution of the rector in 1250 or 1251, it was ordained that when the incumbent vicar died his portion should be consolidated, (fn. 145) and since the later 13th century the living has consequently been a rectory. (fn. 146) In 1974 Rise rectory was united with the benefice of Sigglesthorne with Nunkeeling and Bewholme; the patronage of the united benefice belonged to the Crown and was thereafter exercised alternately on its behalf by the Prime Minister and the Lord Chancellor. (fn. 147)
Rise rectory was worth £5 in 1291 and £10 0s. 4d. net in 1535. (fn. 148) The improved annual value in 1650 was £78 net. (fn. 149) The annual net income averaged £550 in 1829–31 (fn. 150) and was £498 in 1851 and £449 in 1883. (fn. 151)
Tithes and offerings were valued at nearly £11 a year gross in 1535 (fn. 152) and £70 net in 1650. (fn. 153) Tithes had allegedly been compounded for by the early 17th century, (fn. 154) and at inclosure in 1660 it was agreed that £30 a year be paid for those of the commonable lands. (fn. 155) The tithes from old inclosures were later mostly paid by a modus of 2s. in the pound of the rentable value, but some lesser tithes continued to be taken in kind. The rector was also entitled to tithes from 42 a. in Arnold township until its inclosure in 1778, when 6 a. were awarded instead. (fn. 156) The tithes of Rise were commuted for £549 7s. 4¾ d. a year in 1838. (fn. 157)
The rectory house and glebe land were valued at £1 6s. 8d. a year gross in 1535 (fn. 158) and £8 a year net in 1650, when the glebe included four bovates. (fn. 159) Before and after inclosure in 1660 there were c. 55 a. of glebe land, to which 6 a. were added for the tithes at Arnold in 1778. (fn. 160) Some land was sold with the rectory house in 1946, but c. 55 a. in Rise and Arnold remained in 1978. (fn. 161)
The rectory house had four hearths in 1672, (fn. 162) and in 1716 it comprised an east-west range with a small, north-east wing, which probably included the kitchen. (fn. 163) It was enlarged by Dr. Jaques Sterne, rector 1722–59, who added the north-west wing which includes a panelled dining room of the mid 18th century, (fn. 164) and again by Nicholas Torre, later Holme, rector 1782– 1833. Torre is credited with rebuilding the house in 1809 but the present structure includes 18th-century brickwork and some of the details of the new work are similar to Rise Hall, built 1815–20. (fn. 165) His contribution was evidently rather the refacing of the old south front, the redecoration of the principal rooms behind it, and probably also the addition on the east side of the house of a new service wing. (fn. 166) The remodelled south fornt has a central entrance with a pedimented, stone doorcase, giving onto an apsidalended hall. The eastern service wing was rebuilt to designs by F. S. Brodrick of Hull in the 1870s (fn. 167) and reconstructed c. 1950, and the area between the northern wings was remodelled in 1993. (fn. 168) The gardens are mostly to the south and included on the axis of the central doorway a short, 18th-century canal, now represented by a dry depression in the grass. (fn. 169) In 1946 the rectory house and nearly 6 a. were sold to the trustees of the Rise estate and R. A. Bethell, and, as Rise Park, it has since been the Bethells' seat in Rise, instead of the 19th-century chief house, Rise Hall. (fn. 170)
In 1525–6, besides the rector, there were two chaplains in Rise church, one of them probably serving the chantry there. (fn. 171) The church may have been neglected by Thomas Langdale, rector 1558–87, who was also rector of Patrington and lived there and elsewhere, serving Rise by a curate. (fn. 172) Robert Johnson, D.D., rector from 1628, may also have held Bainton, and in 1650 Rise was being served by John Bronson, who was instituted as rector in 1662. (fn. 173) Jaques Sterne, LL. D. (d. 1759), rector for 36 years, was a nonresident pluralist, whose preferments also included Riston and Hornsea. His duty at Riston and Rise was done by the vicar of Atwick, who may have lived at Long Riston, and the two churches were again served together, by the then-resident rector of Rise, in 1764. In the mid 18th century there was only one Sunday service. Holy Communion was quarterly, with usually c. 20–35 receiving. (fn. 174) Nicholas Torre, later Holme, who served as rector for 51 years and vicar of Aldbrough for nearly 40 until his death in 1833, employed an assistant curate. (fn. 175) In the later 19th century there were two Sunday services and monthly communions, usually with fewer than 20 communicants. (fn. 176) W. J. Whately, sometime canon of York, succeeded his brother, Charles Whately, rector since 1840, in 1850 and held the living until 1894. (fn. 177) From 1945 until the 1970s Rise was served with Withernwick, where the rector lived; since the union of 1974 the incumbent has lived in Sigglesthorne Rectory. (fn. 178)
By 1366 a chantry dedicated to St. Thomas the Martyr had been founded at Rise, almost certainly by the Fauconbergs who presented the chaplain. (fn. 179) At the suppression there was a chantry in the church dedicated to St. Mary, perhaps the earlier Fauconberg foundation. In 1535 it was endowed with a house, five bovates, closes, and rent, worth in all £4 a year, which estate was granted by the Crown to Giggleswick (Yorks. W. R.) grammar school in 1553, together with tithes belonging to an Aldbrough chantry. (fn. 180) Rise church also included lights endowed with land in Rise and Riston. (fn. 181)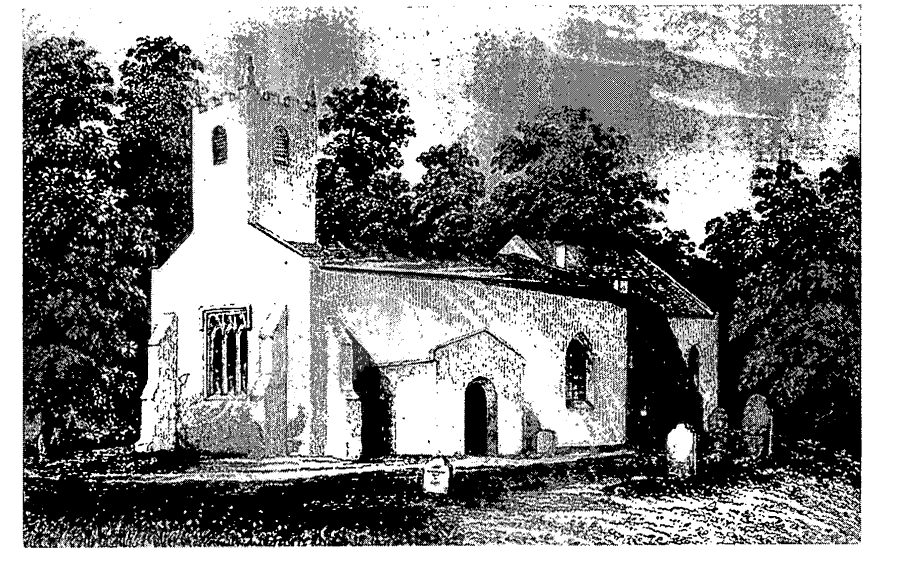 A chapel at Rise was mentioned c. 1200, before the first known record of the church, and again in 1420. (fn. 182) It was presumably the same which was granted to a chaplain for life in 1491 as the free chapel called 'le Dawinte'. It may have been demolished soon afterwards, for Chapel garth beside the Withernwick road was by 1535 merely a close belonging to St. Mary's chantry. (fn. 183)
The church of ALL SAINTS, formerly ST. MARY'S, (fn. 184) was rebuilt in the mid 19th century. The medieval church comprised a chancel and a nave with south porch and western bell turret. A blocked, round-headed doorway in the north side of the nave suggests that it was of 12thcentury origin although most of the features were said to be 14th-century. In the north wall there was evidence of a former arcade for an aisle. By the 19th century it was a 'small, dilapidated, ancient structure' with modern, wooden frames in all but the west window. It evidently then also included a side chapel or vestry. (fn. 185) The old church was demolished and a new one built in 1844–5 by Richard Bethell to designs by R. D. Chantrell. (fn. 186) The new church is built of fine ashlar in a plain 13th-century style and comprises chancel with north vestry, nave with south porch, and west tower with a broach spire. Some 13th-century stonework was reused in the chancel arch. In or soon after 1928 the chancel was repaved and refitted and the pulpit and reading desk renewed. (fn. 187) Both the church and its yard, which was extended in 1845, (fn. 188) contain many memorials to the Bethell family; they include brass plates and four 17th-and 18th-century mural tablets from the earlier church. (fn. 189)
There were two bells from 1552 until 1845 when three were cast for the new church. (fn. 190) A new peal of five bells was given by William Bethell in 1904. (fn. 191) A silver cup and cover, bought in 1633, were replaced after 1830 by a new service. (fn. 192) The registers begin in 1559 but are deficient, notably in the 17th century. (fn. 193)
The parish clerk received £2–3 a year as wages from parishioners in the 19th century. (fn. 194)
NONCONFORMITY
A requiem mass was celebrated at Rise in the 1560s, (fn. 195) but later there was little nonconformity or its expression was discouraged by the Bethells. In 1868 there was said to be an 'inclination to Dissent' in the parish but there were no chapels at Rise and any nonconformists there must have belonged to neighbouring congregations. (fn. 196)
EDUCATION
In 1743 there was a school at Rise attended by c. 25 children. It was then said to be supported by the parishioners, (fn. 197) but later the mixed school was run largely at the expense of the Bethells, who probably also supplied the building. (fn. 198) By 1824 the school was being held in a building beside the Sigglesthorne road at New Rise. (fn. 199) Average attendance was 20 about 1865, when pupils were taken from under six years old to thirteen, (fn. 200) and 21 boys and girls were present at inspection in 1871. (fn. 201) The school was then run on National lines. (fn. 202) A new Church school, built by William Bethell in the main part of the village, was opened in 1910; (fn. 203) the former school was later demolished. Between 1906 and 1938 average attendance continued to be about 20, (fn. 204) but by 1947 there were only seven on the roll, and early in 1948 the remaining pupils were transferred to Skirlaugh school, Rise school being closed officially later that year. (fn. 205) The former schoolhouse was later used as a village hall. (fn. 206)
CHARITIES FOR THE POOR
Sir Hugh Bethell by will of 1679 left £2 a year from Rise manor for the poor of the parish. (fn. 207) Legacies of £50 from Hugh Bethell (d. 1717) and £20 from Elizabeth Bethell, possibly his daughter, were used in 1737 with parish funds to buy a house and land at Withernwick; some of the land had been charged with £2 a year for the poor of Withernwick (fn. 208) and that sum was paid from the Rise charity until its redemption in 1980. (fn. 209) The Poor's Estate was let for £4 a year in 1764 and £12 in 1823, when the £10 belonging to Rise were distributed at Christmas with Bethell's rent charge. (fn. 210) The estate in Withernwick comprised c. 8 a. in 1910. (fn. 211) Rise's share of the Poor's Estate was £8–9 in the early 20th century; grants of 6s. to £1 each were then made from that charity and Sir Hugh Bethell's to c. 20 parishioners. (fn. 212) Nearly 2 a. were sold in 1963 and 1970 (fn. 213) and the proceeds invested. In 1985 the rent of the remaining land, interest on balances, and income from stock produced just over £187, from which five grants of £20 were made. (fn. 214)