Pages 349-359
A History of the County of York East Riding: Volume 7, Holderness Wapentake, Middle and North Divisions. Originally published by Victoria County History, London, 2002.
This free content was digitised by double rekeying. All rights reserved.
ROUTH
THE parish of Routh is situated in the valley of the river Hull, c. 3 km. ENE. from Beverley; 7 km. south is the city of Hull and 11 km. ENE. the coast at Hornsea. (fn. 1) The name Routh, sometimes also Ruda or Rue in the Middle Ages, is Scandinavian and seems to describe the location as a clearing or a tract of rough ground; (fn. 2) the formerly wooded nature of the parish is clear from the considerable remains of trees dug out of the carrs in the 19th century, as well as from the evidence of woods in the Middle Ages. (fn. 3) The boundaries with Meaux were defined by a jury of Holderness in the 13th century. (fn. 4) In 1851-2 the parish contained 2,385 a. (965 ha.). Meaux abbey, in neighbouring Wawne parish, had been given c. 50 a. of wood and marshland in the 12th century (fn. 5) and, as Routh wood, the land later formed a detached part of Meaux township and Wawne parish. (fn. 6) In the 1880s Routh civil parish, which was coterminous with the ecclesiastical parish, was enlarged by 53 a., possibly by the transfer of Routh wood from Meaux civil parish. (fn. 7) The area was thereafter 2,438 a. (987 ha.) until it was reduced slightly to 985 ha. (2,434 a.) after 1981. (fn. 8)
There were 134 poll-tax payers at Routh in 1377, (fn. 9) and 37 houses there were assessed for the hearth tax and 8 discharged in 1672. (fn. 10) The parish had c. 20 families in the mid 18th century. (fn. 11) Standing at 115 in 1801 and 119 in 1831, the population of Routh rose sharply to 178 in 1841 but later fluctuated downwards to 159 in 1901. (fn. 12) Numbers increased in the 1910s to reach 183 in 1921 but then fell to 140 in 1931 and 97 in 1981. In 1991 there were 113 residents, 108 of whom were then counted. (fn. 13)
Most of the land lies below 8 m. above sea level, falling to c. 2 m. in the former carrs in the south and west of Routh. Alluvium covers land alongside the boundary drains in the north, east, and south, but otherwise the parish is mostly on boulder clay. Deposits of sand and gravel occurring north of the village have been exploited commercially. The higher ground in the middle of the parish was occupied by the village and open fields and the peripheral carrlands by meadows and pastures. Routh was inclosed c. 1675. (fn. 14)
The parish is almost entirely bounded by drains. The natural drainage may mostly have been southwards through streams feeding Old fleet, which eventually flowed into the river Humber. (fn. 15) Later much of the water seems to have been diverted westwards to the river Hull but the insufficiency of the Hull as an outfall eventually resulted in the construction of modern drains again leading southwards to the Humber. Meaux abbey, sited in the neighbouring parish of Wawne, altered the existing drainage in the late 12th or 13th century: the eastern and northern boundary drain, later known as Wyth dike or Monk dike, was evidently then made or improved by the abbey, and by 1286 the abbey had made a new drain leading westwards from the Routh-Meaux road along the southern boundary. The southern drain, in 1685 comprising Meaux sewer dike and further west Mempit dike, is now represented in part by the Routh and Meaux drain and the northern drain is called Cross drain. (fn. 16) Other drainage works carried out by the abbey in the 13th century included the enlargement of the ditch around Routh wood. In 1389 the south-eastern boundary was re-made as a ditch to prevent cattle from Routh marsh from straying into North grange, in Meaux township. (fn. 17) The southern boundary drain was insufficient in 1367, (fn. 18) and later in the 14th century and in the 15th Meaux abbey was alleged to have neglected the boundary drains and thereby to have caused flooding in neighbouring parishes. (fn. 19) Flooding at Routh and elsewhere in the level led in 1690 to the diversion of water into the Humber, (fn. 20) and in 1693 Sir James Bradshaw built a drainage windmill near Monk dike in the south-eastern corner of the parish. (fn. 21) The drainage of the east side of the Hull valley was much improved under the Holderness Drainage Acts of 1764 and later. (fn. 22) The area of Routh contributory to the work of the Holderness Drainage Board was 1,316 a. in 1775 and 1,329 a. in 1838. (fn. 23) The duties of the Holderness Drainage Board passed in 1941 to the River Hull Catchment Board, in 1950 to the Hull and East Yorkshire River Board, which widened the Routh and Meaux drain in 1960, and later to the Yorkshire Water Authority. (fn. 24)
Roads from Routh village lead southwest to Tickton, Hull Bridge, and Beverley and northeast towards Leven and Long Riston. The only other road runs south from the village to Meaux, Wawne, and Sutton on Hull. It was probably for the maintenance of the BeverleyLeven road that Sir William of Routh (? f. c. 1230) provided by giving a toft and pasture rights to support a road mender, who was to be chosen by himself or his heirs jointly with Meaux abbey, (fn. 25) and its repair was certainly the object of an indulgence in the late 13th century. (fn. 26) The road crosses Monk dike by Monk bridge, mentioned as Routh bridge from the 13th century. (fn. 27) By the mid 13th century Meaux abbey had made a causeway to Routh wood, later presumably part of the southern road, and between 1249 and 1269 it built another stretch, connecting Routh church and the Beverley-Leven road. (fn. 28) The Beverley-Leven road and the side road to Wawne were both in disrepair in 1367, and in 1433 Meaux abbey was held responsible for the insufficiency of Routh bridge. (fn. 29) The road to Leven may have been realigned at inclosure c. 1675, when it was called White Cross Lane, after a roadside cross just over the boundary in Leven. The Wawne road was then known as Suddenby, later Southenby, Lane, but since the later 19th century it has been Meaux Lane. (fn. 30) The road between Beverley and White Cross was turnpiked in 1761, and the trust was continued until 1867. (fn. 31) A toll house formerly stood at the junction of the turnpike and the Wawne roads, (fn. 32) and two milestones still stand. The former turnpike road was upgraded and improved in the 20th century as part of the Beverley to Bridlington road. (fn. 33)
ROUTH village mostly stands along the northwestern side of a street which formed part of the Beverley-Leven road until much of it was bypassed by straightenings of the main road c. 1970. (fn. 34) A short distance away from the main group of buildings, the church and a few houses, including two farms, are loosely strung along the southern side lane leading to Wawne, and more outlying farmhouses stand back from the main road. On the north side of the Wawne lane a close called Garths in 1782 and near-by earthworks known as Butt hills suggest that there were formerly more buildings there. A small site, probably once moated but now enclosed by wide, dry ditches, also survives south of the church but its previous use is unknown. Most of the farmhouses were evidently rebuilt in the former open fields between their inclosure in the later 17th century and 1782. Low Barn, later Carr House, was added in the earlier 19th century. (fn. 35) Routh was again largely rebuilt in brick in the later 19th century by the Denisons, Lords Londesborough. (fn. 36) Park Farm and Rycote House both bear Londesborough ciphers, and the Denisons were evidently responsible for all of the other farms and several cottages, besides adding the school. (fn. 37) Cleveland House, formerly the rectory house, was also rebuilt and later remodelled in the 19th century. (fn. 38) Early in the 20th century the Sammans built four pairs of cottages, and more recent buildings include six prefabricated houses put up by the rural district council in or soon after 1950. (fn. 39)
The Nag's Head at Routh has traded at least since the later 18th century and was so named by the 1820s. (fn. 40) A reading room provided in the parsonage by 1900 was evidently moved to the former school building, which was also used for village meetings. (fn. 41) A larger village hall, adjoining the reading room, was built by the parishioners in 1935; its site was given by Sir Henry Samman, Bt., and the two buildings were later called Samman Hall. During the Second World War the hall served as a billet for men from Catfoss airfield, in Sigglesthorne. Later it was little used and was sold in 1968 for conversion to a house; it has since become a nonconformist church. (fn. 42) In the mid 20th century the county council ran a library at Routh, at first in the village hall and later in a private house. (fn. 43)
OUTLYING BUILDINGS in the parish have included a medieval hospital; it was recorded in the 13th and 14th centuries and its location, near the eastern boundary on the road to Leven, was later commemorated in the name Spittle ings. (fn. 44) The 'old raceground' shown in 1855 near Low Farm was presumably for horse-racing, (fn. 45) and hare-coursing was a feature of the village's social life until the early 1930s. (fn. 46) It is not known why Castle park, in the south-west of the parish, (fn. 47) is so called. A decoy airfield called Routh aerodrome was operated c. 1940 to protect Leconfield. (fn. 48)
MANORS AND OTHER ESTATES
In 1086 the archbishop of York's church of St. John at Beverley had 1 carucate and 7 bovates at Routh. The church may have held another carucate there and was then side to have had 2 carucates taken away by Drew de Bevrère. (fn. 49) William de la Mare, one of the two lords of Routh in 1316, (fn. 50) presumably held the Beverley minster estate. A kinsman of archbishops Melton and Thoresby, he was provost of Beverley 1338-60 (fn. 51) and from the 1320s treasurer and a prebendary of York. (fn. 52) After the suppression of the collegiate church in 1548, Routh manor was held of the Crown and succeeding lords of Beverley Chapter manor. (fn. 53)
A family named from their land in the parish held all or part of the provost's estate there as a manor of ROUTH. Sir Simon of Routh, the first recorded member of the family, presumably held the manor, and land adjoining it was bought from Meaux abbey by Simon's grandson Sir William or by William's son Sir Amand (fl. later 13th and early 14th century). (fn. 54) The manor was settled on Sir Amand's son, (Sir) John of Routh in 1306. (fn. 55) Later the estate mostly descended like Tansterne, in Aldbrough, in the Rouths (fn. 56) and their successors, the Cutts (fn. 57) and the Michelbournes. (fn. 58) About 1370 Sir Amand of Routh held 1 carucate and 6 bovates of the provost. (fn. 59) Another Sir John Routh's son John (fl. earlier 15th cent.) had the estate before his brother and heir Brian, (fn. 60) at whose death in 1483 the untenanted estate comprised, besides the manor, only a house and five crofts. (fn. 61) Thomas Michelbourne (d. 1582) was probably succeeded in his share of Routh manor by his son Lawrence, who by will of 1600 left his lands to his brother Thomas. (fn. 62) In 1614, on the partition of the Michelbournes' estates, Routh manor fell to the share of Sir Richard Michelbourne (d. 1638). (fn. 63) His sons sold the manor in 1647 to Thomas Chatt (d. by 1661). Chatt's son John (fn. 64) exchanged Routh manor with 2 bovates for Fitling manor, in Humbleton, with Henry Hildyard in 1662. (fn. 65) The estate descended with Hildyard's other land in Routh. (fn. 66)
The manor house of Sir Amand of Routh included an oratory in 1301. (fn. 67)
In 1066 Morkar's manor of Mappleton included 4 carucates of sokeland at Routh; in 1086 Drew de Bevrère may have held all 4 carucates or 3 of them, St. John's church, Beverley, having the remaining carucate. Drew's holding, moreover, seems to have included 2 carucates which he was said to have taken from St. John's church. (fn. 68) As elsewhere in Holderness, Drew's holding passed to the counts of Aumale and descended with their honor of Holderness to the Constables. (fn. 69) In 1574 and again c. 1615 the Constables were disputing the service owed to them from the manor. (fn. 70)
It was almost certainly part of the Aumale fee at Routh which the Scrutevilles held. Richard de Scruteville was settled at Routh soon after the Conquest, and c. 1150 Alan de Scruteville exchanged some of his land there with William le Gros, count of Aumale, for an estate at Ringbrough, in Aldbrough. (fn. 71) Alan was probably succeeded in the rest by his son Sir William de Scruteville, and William's son Alan was lord of Routh c. 1215. Alan was followed by his son William (fl. c. 1230), (fn. 72) but later in the mid 13th century the Scruteville holding in Routh, of 4 carucates and 1 bovate, passed to John de Ros, husband of Sir William de Scruteville's daughter Emma. (fn. 73) He was perhaps succeeded by his son Richard de Ros, who certainly presented to Routh church in 1273. (fn. 74) The estate, then described as a manor of ROUTH, was held by the overlord, the countess of Aumale, in the 1270s and 1280s by reason of the minority of Richard's son (Sir) John de Ros. (fn. 75) Described as of Gedney (Lincs.) or of Ringbrough, he was one of the two lords of Routh in 1316 (fn. 76) and dying by 1319 was succeeded by his son (Sir) Richard (d. 1351); in the 14th century the manor was held as 1/12 knight's fee and included a chief house and c. 2 carucates and another 2 carucates held of the Roses by free tenants owing military services and rents. Routh evidently descended to Richard's son William (d. by 1378) (fn. 77) and then to one or more John Roses. (fn. 78) From John Ros, esquire (d. 1451 or 1452), the manor probably passed to Thomas Ros (d. by 1463) and was certainly held by Thomas's son John (d. by 1515). John's son Edward (fn. 79) had died by 1558, leaving as heirs Christopher Kendall, Catherine Cholmeley, and his nephew George Brigham. Brigham apparently succeeded to the whole estate and in 1565 sold the reversion of the manor after his death and that of his wife (both fl. 1570) to (Sir) Christopher Hildyard and his heirs. (fn. 80) Hildyard bought land at Routh in 1568. (fn. 81) Routh manor, in 1635 said to include 24 houses and just over 1,000 a., descended with Winestead in the Hildyards to Henry Hildyard (d. by 1674). (fn. 82)
Hildyard's estate, comprising the advowson and two manors of Routh, one called Chatt's farm or Michelbourne's manor, (fn. 83) was evidently held by Lady Anne Hildyard, his widow, in 1679 and passed to Sir James Bradshaw in 1681 or 1682. (fn. 84) The Bradshaws of Risby, in Rowley, later held it as one manor. (fn. 85) Sir James Bradshaw (d. by 1710) was succeeded by his son Ellerker, whose estate at Routh was then of at least 703 a. (fn. 86) Ellerker Bradshaw (d. 1742) devised his estates in tail male to Eaton Mainwaring, who added the name Ellerker and died in 1771. (fn. 87) His son Roger (d. 1775) left as coheirs four sisters, Elizabeth, Charlotte, Arabella, and Harriet Mainwaring Ellerker, who later held the Yorkshire estate in undivided shares. (fn. 88) In 1787 it included, besides Routh manor and the advowson of Routh church, almost 2,340 a. there, virtually the whole parish. (fn. 89) In 1792 the shares of Arabella (d. 1782), formerly wife of Thomas Onslow, later earl of Onslow, and Charlotte, wife of George Ellerker (formerly Townshend), earl of Leicester, were settled respectively on Elizabeth and Harriet. (fn. 90) Under a resettlement of 1816 Elizabeth's moiety passed at her death in 1831 to Harriet (d. 1842), who was succeeded in the whole estate as life tenant by her nephew Edward Mainwaring Onslow, from 1843 Edward Mainwaring Mainwaring Ellerker Onslow. In 1851 Routh was sold to Albert D. Denison, Baron Londesborough, and the Denison trustees, who then also bought a neighbouring farm at Meaux, in Wawne. (fn. 91) He was succeeded in 1860 by his son W. H. F. Denison (d. 1900), Baron Londesborough, later earl of Londesborough, and grandson W. F. H. Denison, earl of Londesborough. The last named sold the whole estate, then of 2,691 a., in 1907 to Henry Samman, a Hull shipowner. (fn. 92) Samman bought 50 a. more in 1908. (fn. 93) Later Sir Henry Samman, Bt., he died in 1928 and the estate was divided and sold by his son Sir Henry Samman, Bt., in 1938. (fn. 94) The manor was bought by protestant bodies for the advowson associated with it and was not conveyed until 1940. (fn. 95) Manor House farm, of 377 a., and the 293-a. Low farm were bought by Marjorie Mackrill. (fn. 96) The Goodless family bought Low farm from Mrs. Mackrill in 1962, and c. 1985 her heir sold Manor House farm to the Sinklers, the present owners. (fn. 97)
In 1672 Henry Hildyard had a house with 10 hearths at Routh, (fn. 98) and it was perhaps the same which was recorded as Hall Garth in 1685 and the manor house from 1710. (fn. 99) By 1782 there was a house on the site of Manor House Farm (fn. 100) which was rebuilt in the 19th century.
William le Gros, count of Aumale, had given Meaux abbey a wood and adjoining marshland at Routh, later said to comprise 50 a., by 1151. (fn. 101) Philip the chaplain of Routh with his brother Robert and sister Agnes, children of a rector of Routh, added ½ carucate there in the early 13th century, and the abbey then bought 3 bovates more from Herbert de St. Quintin. Later gifts included another bovate, granted between 1235 and 1249. (fn. 102) The abbey was granted free warren at Routh in 1293, (fn. 103) and its estate there was called ROUTH manor c. 1340. (fn. 104) In 1600 the Crown sold the dissolved abbey's manor of Routh to Henry Best and Robert Holland; it then comprised a manor house and 14 other houses, 1 carucate and 3 bovates, and closes and crofts, all held by a freeholder and other tenants. (fn. 105) The manor with much of the land was evidently resold soon afterwards and belonged by 1616 to Sir Christopher Hildyard (d. 1634); comprising seven houses, 1 carucate, and other land, all occupied in 1635 by Hildyard's tenants, the estate descended to Sir Christopher's youngest son Christopher, who may have sold it after 1646. (fn. 106) The manor was evidently later part of the estate of the Mainwaring Ellerkers. (fn. 107)
Before 1157 Walter of Routh gave Bridlington priory 2 bovates at Routh, parts of which were exchanged with William de Scruteville for other land there c. 1190. (fn. 108)
Land at Routh was also held by the St. Quintins, as tenants of the Scrutevilles and their heirs, (fn. 109) and by Lady Agnes of Kelk, who was succeeded, as at Aldbrough, by William of Sunderlandwick. (fn. 110) Land in or adjoining Routh was held by Amand de Surdeval in the 13th century and by his namesake in the 1370s. (fn. 111)
Routh hospital was endowed with 1½ bovate in the parish in the 13th century. (fn. 112)
ECONOMIC HISTORY
COMMON LANDS AND INCLOSURE. There seem to have been three or four open fields in the 17th century, North, East, and West fields, and one variously called Hill field, (Old) Mill Hill field, or Old Mill field, which may merely have been a part of East field. (fn. 113) As elsewhere in the East Riding, the fields contained both broad and narrow lands. (fn. 114) The tillage was surrounded by extensive carrs which provided common meadowland and pastures. North and east of the village meadow land was mentioned in areas called the Furze, Wrea, later Ray, hill, Segham marr, and Spittle ings, as well as in the eastern carrs; other meadows lay close to the southern boundary at Cockthorn and Colson, in or adjoining Red, possibly Reed, carr, (fn. 115) and nearby was Stargate meadow. Much of the meadowland bordered the open fields, which contained other, probably smaller, pieces of meadow. Part of the eastern carrs, described as Routh marsh, was evidently being used as a common pasture in 1389, (fn. 116) and in the 17th century there were two there, East and Deep carr pastures. The village's third pasture, sometimes called Cow pasture, occupied low-lying ground west of the village.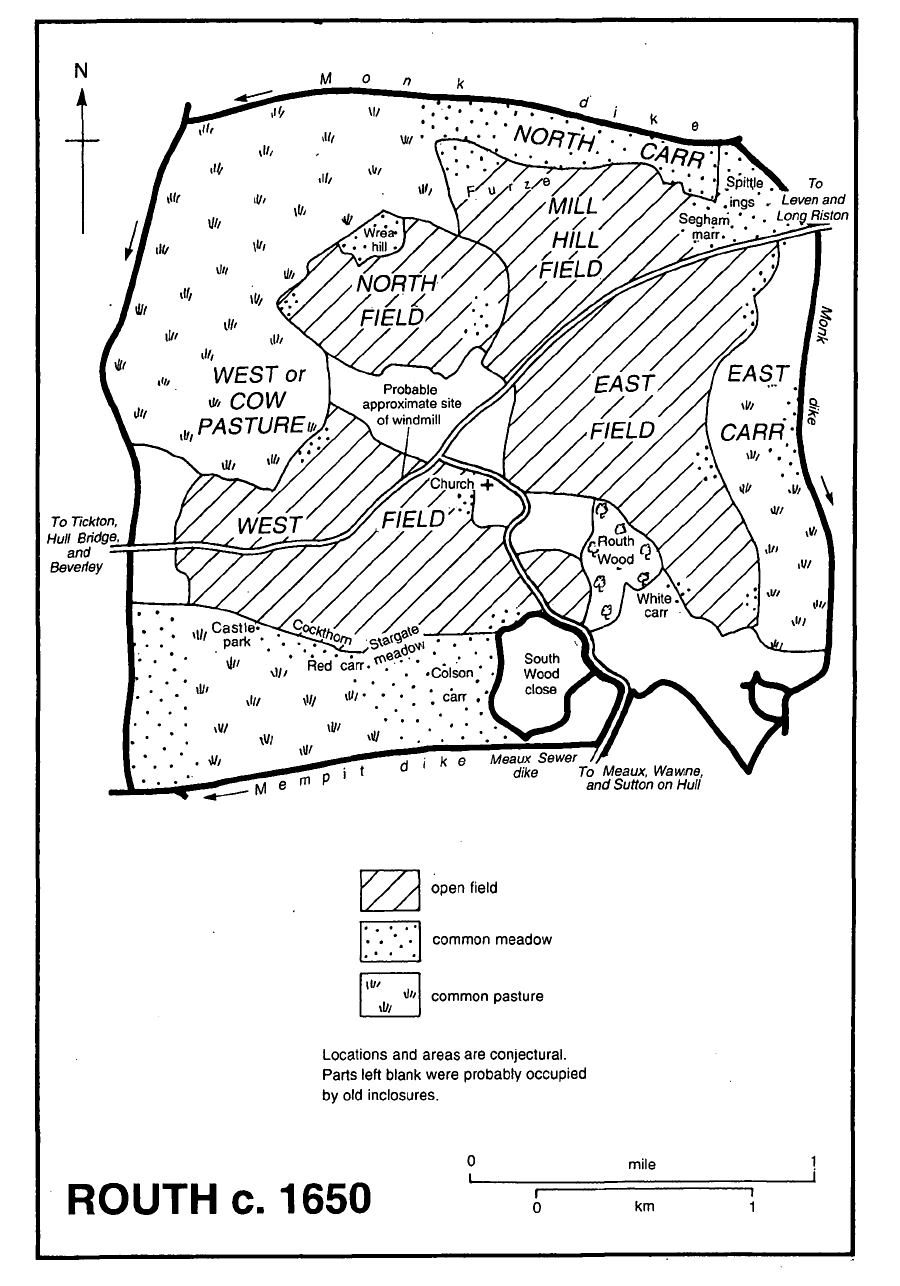 Routh was inclosed c. 1675 (fn. 117) but the agreement and other records seem not to have sur vived. The earlier layout in the open fields was followed in the making of the new closes, which long after retained the characteristic narrow, curved shape of inclosed selions. (fn. 118) Some of the allotments evidently remained undivided after inclosure: in 1699 a North field close apparently contained 96 a., and 85 a. lay in West pasture close in 1782, when the 44-a. Whin hill and some other carrland were still unimproved rough grazing. (fn. 119)
MEDIEVAL HOLDINGS AND TENURES. In 1086 there were 7 villeins with 2 ploughs on St. John's estate at Routh, which included 12 a. of meadow. Two carucates formerly belonging to the church were then said to be waste. (fn. 120) William de Scruteville had an intake at Routh c. 1190, (fn. 121) and the carrs were reduced by the making of closes, primarily perhaps by Meaux abbey which established a grange at Routh in the 13th century. The abbey exchanged a close of woodland and other land for part of Routh carr between 1235 and 1249, (fn. 122) and had closes there called Carr dales c. 1300. Those closes and others belonging to Scruteville's successor, Sir John de Ros, were used as meadows but after mowing all were intercommoned by both proprietors. (fn. 123) Meaux abbey's grange, or manor, at Routh was said to comprise 9½ bovates, or 150 a. of arable land and more than 35 a. of meadow. By 1396 most of it had been leased to one man, who held 1 carucate and other land for nearly £4 10s. a year; fourteen other holdings producing less than 10s. each brought the abbey's total rental at Routh to just over £7 a year. Two of the tenants also owed works at North grange, in Meaux, and later rents included renders of poultry. (fn. 124) The manor of the Roses included no or little demesne in the late 13th century, when all or part of the holding was let during a minority for £23 a year. Tenants on that manor then owed chevage. (fn. 125)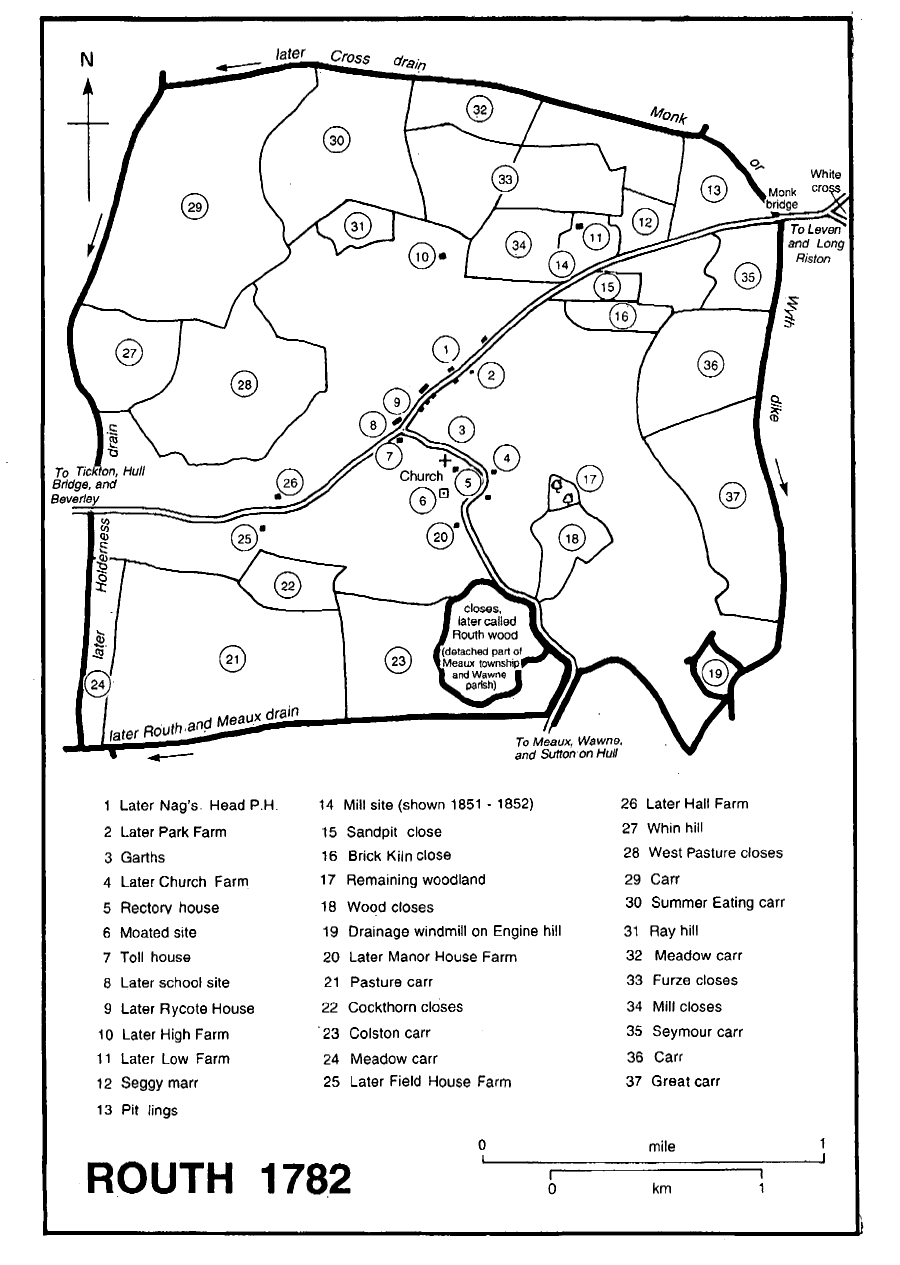 TURBARIES, FISHINF AND FOWLING.Besides rough pasture, the carrs provided turves, fish, (fn. 126) and wildfowl. In the mid 13th century William de Scruteville was using Monk dike to carry turves dug from his land alongside the drain in Routh marsh, and a turbary of 2 a. mentioned in 1277-8 was probably on the same estate. (fn. 127) Meaux abbey also had turbaries in the marsh, and turbary rights in Routh were mentioned again in 1662. (fn. 128) A fishery in the carr recorded in 1277-8 probably belonged to the Roses. (fn. 129) Meaux abbey's fisheries were allegedly trespassed upon in the 1370s, (fn. 130) and the Crown as successor to the abbey let fisheries in Routh carrs in the 16th and 17th centuries. (fn. 131) In 1570, when ownership of the fishing and fowling of Deep carr was disputed, it was said to belong to George Brigham's manor, and the fishing of another piece of carr called Castle park to the Michelbournes' manor. (fn. 132) The rector had a net in Deep carr in 1685. (fn. 133)
WOODLAND.It is not certain when the woodland remaining in Routh in the Middle Ages was cleared. The largest wood was perhaps that of c. 50 a. given to Meaux abbey in the 12th century, (fn. 134) but William de Scruteville apparently also had inclosed woodland in Routh in the 13th century, and it was probably to the value of his successor's estate that sales of wood and woodland grazing contributed in 1277-8. (fn. 135) The abbey's wood, called Routh, or South, wood, had probably been felled by 1685, when it was described simply as a close; it had been divided into three closes by 1782. In 1685 there was another wood, on the opposite side of the road to Meaux, but by 1782 only 5 a. of that woodland remained. (fn. 136) Woodland covered less than 40 a. of Routh later. (fn. 137)
LATER AGRICULTURE.The parish has been predominantly arable in the 19th and 20th centuries: there were 1,967 a. of arable land and 350 a. of grassland in 1843, 1,844 a. and 449 a. respectively in 1905, and c. 1,815 a. and 560 a. in 1938. In the 1930s the grassland lay around the village and outlying farms. (fn. 138) In 1987, when the area returned for Routh, 1,475.9 ha. (3,647 a.), evidently included land outside the parish, there were 1,326.2 ha. (3,277 a.) of arable land and only 76.5 ha. (189 a.) of grassland. The only livestock kept in any numbers were pigs, of which there were 1,970. (fn. 139)
In 1787 there were 7 farms at Routh, the largest of 474 a. and the others with 200-399 a. each, and a few small holdings of 15 a. or less. (fn. 140) That pattern of landholding remained virtually un changed during the 19th and early 20th centuries. (fn. 141) One or two cowkeepers also earned a living in Routh from the late 19th century, a smallholder was mentioned as well in 1937, and there was later a nursery. (fn. 142) In 1987 the area including Routh was in seven farms, the largest of which had over 500 ha. (1,236 a.), two 100-499 ha. (247-1, 233 a.), two 50-99 ha. (124-245 a.), and two less than 5 ha. (12 a.). (fn. 143)
INDUSTRY AND TRADE. Sand and gravel was dug from small pits in the north-east of the parish before the 20th century, and bricks had evidently been made there before 1782. (fn. 144) Larger-scale extraction started in 1988 on 194 a. of Low farm, the house of which was demolished; in 1996 an adjacent area was being worked and it was then hoped to continue operations until the year 2000. Most of the quarried area had been landscaped around a lake, or returned to agriculture, by 1996. (fn. 145)
The estate joiner established his own business in 1873 and the concern was still carried on in 1997, (fn. 146) and a pottery business was conducted from the former rectory house in the 1960s and 1970s. (fn. 147) A garage and motor engineering workshop, opened in the 1920s, (fn. 148) had by 1996 been enlarged with a café and village stores.
MILLS.A mill at Routh in 1277-8 was probably the windmill recorded on the manor of the Ros family and their successors between the 14th and 17th centuries. (fn. 149) Another mill standing on Sir Amand of Routh's manor in the mid 14th century was mentioned again, as a windmill, in the 17th century. (fn. 150) The mills presumably stood north-east and south-west of the village, but neither existed in 1782. (fn. 151)
LOCAL GOVERNMENT
In 1277-8 court profits added just over £1 to the value of an estate at Routh, probably the Roses', and the court of their manor was mentioned in 1351. (fn. 152) Meaux abbey, which also held a court on its manor at Routh, was claiming the profits of the ale assize there in 1293, (fn. 153) and in the 1330s tenants of the provost at Routh were found, presumably in his court at Beverley, to have breached the assize of bread. (fn. 154) It was probably because of the Crown's lordship in both places that a constable for Routh was sworn in Leven manor court in 1650. (fn. 155)
Surviving parish records include churchwardens' accounts from 1737 to 1851. (fn. 156) Overseers' accounts for 1679-83 reveal that 4-5 people were then relieved by the parish, (fn. 157) which maintained poorhouses at Routh in the 18th (fn. 158) and early 19th century. (fn. 159) Two people at Routh were on permanent out-relief in 1802-3 and 12 between 1812 and 1815; occasional help was given to 4 in the earlier period and to 5-10 in the later one. (fn. 160) Routh later also supported paupers in the parochial workhouse at Beverley, (fn. 161) and in 1836 it joined Beverley poor-law union. (fn. 162) Routh remained in Beverley rural district until 1974, when it became part of the Beverley district, or borough, of Humberside. (fn. 163) In 1996 Routh parish became part of a new East Riding unitary area. (fn. 164) The parish council had lapsed before 1967, when a new one was set up for Routh and Tickton together. (fn. 165)
CHURCH
There was evidently a church at Routh by the late 12th century. (fn. 166) The living has remained a rectory but the last institution was in 1959 and since 1963 the church has been entrusted to a curate in charge. (fn. 167)
Richard de Ros presented to Routh in 1273 and the advowson later descended with their manor in the Ros family, the Crown presenting during minorities in 1354 and 1378 and grantees of the Roses in 1477 and 1559. (fn. 168) The right to present continued to descend with the manor in the Hildyards, (fn. 169) Bradshaws, Mainwaring Ellerkers, Onslows, and Denisons. (fn. 170) In 1907 both were sold by W. F. H. Denison, earl of Londesborough, to Henry Samman, later Sir Henry Samman, Bt., (fn. 171) who presented a relative, A. H. Samman, rector 1907-32. (fn. 172) In 1938 Samman's son, Sir Henry Samman, Bt., sold the advowson and the manor to Adolph Arwidsson, acting for two Evangelical bodies, the Church Association Trust, later the Church Society Trust, and the Incorporated Trinitarian Bible Society Trust, whose share of the patronage passed c. 1990 to the Reformation Church Trust. (fn. 173) In 1958 the Crown presented to Routh by lapse. (fn. 174)
Routh rectory was valued at £6 13s. 4d. in 1291 (fn. 175) and £8 1s. 5d. net in 1535. (fn. 176) The improved annual value in 1650 was almost £67 net. (fn. 177) The value, probably gross, c. 1700 was £100 and in 1787 it was put at over £120 a year. (fn. 178) The annual net income averaged £470 between 1829 and 1831 (fn. 179) and was said to be the same in 1883. (fn. 180)
Tithes and other dues contributed over £8 and the glebe lands £1 9s. to the gross annual income in 1535. (fn. 181) Apart from a few acres around the parsonage house, the glebe land comprised 2 bovates with appurtenant meadow grounds (fn. 182) until inclosure c. 1675, when the rector accepted an annual rent charge for his commonable land and most of the tithes; the sum was £66 12s. in 1716, £60 in 1743, and £63 in 1770. The tithes of the old inclosures and small tithes remained payable in kind, and 'old' compositions amounting to nearly 11s. for the tithes from land called Castle park and those of fish and rushes, or dumbles, remained in force. (fn. 183) In 1815 tithe rents were said to bring in nearly £384. (fn. 184) The rent charge and compositions were replaced in 1843, when all the tithes were commuted for a new rent charge of £540. (fn. 185)
A house with four hearths was occupied in 1672 by a Mr. Hildyard, possibly Christopher Hildyard, rector. (fn. 186) In 1716 the gardens of the rectory house were being laid out, and in 1764 it was said to have 12 rooms. (fn. 187) The building was very dilapidated by the early 19th century, when the incumbent lived in Beverley. Appleton Bennison of Hull rebuilt it in 1818-19 as a twostoreyed house in red and white brick with four principal rooms. (fn. 188) A cottage was added between 1827 and 1849. (fn. 189) The house was evidently let c. 1840, (fn. 190) and in 1865 it was extended and remodelled and its offices rebuilt by Ewan Christian of London, a three-storeyed bay in cream brick being then added to the south front. (fn. 191) The house, later called Cleveland House, cottage, and c. 2½ a were sold in 1956, and a field of 1½ a. remained in 1978. (fn. 192)
A hermitage was founded in Routh by Meaux abbey and endowed with a little land there. Part of the endowment, an acre or two of meadow land called Church ings, was occupied by the churchwardens in the late 16th and mid 17th century. (fn. 193)
Thomas, the first known rector, evidently held the church late in the 12th century before resigning it and marrying the mother of his children. (fn. 194) In 1303 the church was apparently being served by a curate for the aged incumbent. (fn. 195) In 1309 the Ros family presented Hervey of Winchcomb, acolyte, who was licensed to be absent for three years for study in 1310 and in 1313 was further excused as a servant of Master Nicholas de Ros, a royal clerk and York prebendary. (fn. 196) His successor in 1324 was John de Ros, also in minor orders and a licensed absentee; he was indicated in 1338 with Sir Richard de Ros and others for the death of Sir Amand of Routh's son (fn. 197) and had resigned the living by 1347. The church was exchanged four times between 1354 and 1378, when incumbents were again licensed to be absent. Another connexion of the patronal family, which had an estate at Gedney (Lincs.), was Master Thomas Gedney, rector 1475-7, and Robert Brandesby, nominated by John Ros (d. by 1515) to pray for him in the church for five years, (fn. 198) was presented as rector in 1523. Thomas Griffith, rector 1581-1612, was among the incumbents who in 1594 disobeyed an order, probably from the Council in the North, to attend the classes in Beverley of the puritan Thomas Whincop, curate of the minster. (fn. 199) Christopher Hildyard, a member of the patronal family, was rector from 1661 to 1712. (fn. 200)
In the mid 18th century there was at least one service each Sunday, a second being provided in summer when there was likelihood of a congregation. There were then three celebrations of Holy Communion a year, at which 10-20 usually received in 1743. (fn. 201) Routh was later served by curates (fn. 202) for non-resident incumbents like Charles Hall, rector for nearly 40 years from 1827, who lived at Terrington (Yorks. N.R.) where he was also rector. (fn. 203) In 1865 the curate was holding two Sunday services and celebrating communion seven times a year. A resident rector was instituted later that year, and communion was monthly by 1868 and weekly in the earlier 20th century; a dozen people usually received in the later 19th century but only 5 in 1931. (fn. 204) In the mid 20th century Routh was served with Wawne, (fn. 205) and since 1963 it has been the responsibility of the incumbent of Beverley minster. (fn. 206) There was each Sunday at Routh either a service or the monthly celebration of communion until 1996, when the provision was reduced to one service and one communion a month. (fn. 207)
Lands at Routh were given for lights in the church and by Edward Ros to support a priest to pray for him. (fn. 208)
The church was dedicated to ALL SAINTS, or ALL HALLOWS, by 1451. (fn. 209) The building comprises a long chancel, nave with south porch, and small, west tower. A window of the 13th century survives in the nave, and both the chancel and nave were evidently refenestrated in the 14th century. The church was of ashlar until, probably in or soon after the 15th century, brick was used for the rebuilding of the chancel, the addition of the south porch, and the extensive rebuilding of the tower; the brickwork is covered mostly by later pebble-dashing. The fabric was neglected c. 1300 and again in the later 17th and early 18th century, the chancel being in disrepair in 1663 and the tower c. 1680. (fn. 210) About 1830 the nave was reroofed and its south wall rebuilt. (fn. 211) The church was further restored in the 1860s, the nave being reseated and repaved in 1864 and the chancel reroofed and the east window reglazed in 1869. (fn. 212) Another, more radical, restoration was carried out in 1905 by Brodrick, Lowther, & Walker of Hull, the main work being the rebuilding of the tower. The low, embattled tower was rebuilt in ashlar in a pinnacled, 15th-century style, incorporating earlier stonework and the 15th-century west window. The chancel was also refitted, and it was presumably then that its floor was raised to be higher rather than lower than that of the nave. (fn. 213)
Fittings include a late medieval, octagonal font, and an 18th-century pulpit. There was formerly glass bearing the arms of the Ros and Routh families, (fn. 214) fragments of which remain. In the chancel earlier 15th-century brasses commemorate Sir John Routh and his wife Agnes, (fn. 215) a mutilated, cross-legged, stone effigy an unknown knight, and a wall tablet by T. Hayes of Beverley Matilda Smith (d. 1844).
There were two bells in 1552 (fn. 216) but later only one, cast in 1732. (fn. 217) A clock was added to the tower as a war memorial in 1919. (fn. 218) The plate formerly included a silver cup and cover which were replaced by a plated set between 1825 and 1849. (fn. 219) The registers of baptisms begin in 1639, of marriages in 1632, and burials in 1631; there is no marriage register for 1754-1815 and the mid 17th-century registrations of marriages and burials lack entries for a few years. (fn. 220)
An extension to the churchyard, which was enclosed by a ditch in 1840, (fn. 221) was consecrated in 1987. (fn. 222)
In 1777 the parish clerk was said to receive £1 1s. a year from the parishioners, 6d. from each house, and a peck of wheat from each farmer; by 1825 his wages were £4 and 6d. from each parishioner. (fn. 223)
The proceeds of the sale of Samman Hall in 1968 (fn. 224) were spent partly on the provision of a bus shelter and the improvement of the church's heating. The balance of almost £140 was invested. Later grants were made towards reroofing the church and extending its yard. A Scheme was obtained from the Charity Commission in 1983 establishing the Samman Community Trust for Routh, and in 1997 the income was being allowed to accumulate. (fn. 225)
NONCONFORMITY
One person was recorded as a papist and three others as noncommunicants at Routh in 1663, (fn. 226) and a protestant dissenter was returned in 1676. (fn. 227) There is later little evidence of nonconformity but in 1868 a few dissenters were said to meet in a cottage on Sundays. (fn. 228) Samman Hall, comprising buildings formerly used as a school and a village hall, (fn. 229) was bought in 1995, remodelled, and opened as a church in 1996 by a Christadelphian congregation which formerly worshipped in Hull and Skidby. In 1996 three services a week were held for members from as far afield as Bridlington and North Cave. (fn. 230)
EDUCATION
There was no school at Routh in the mid 18th century, although some children there were then taught occasionally at their parents' expense, probably by the rector, (fn. 231) and in 1818 children from the parish went to school in Beverley or a neighbouring village. (fn. 232) A National school was built by W. H. F. Denison, Baron Londesborough, in 1864 (fn. 233) and supported by him and the rector. (fn. 234) At inspection in 1871 it was attended by 10 boys and girls. (fn. 235) The school was attended only by infants in 1900 and was closed soon afterwards: in 1905 children from Routh went to school at Tickton, in Beverley, and Leven, and the school building at Routh was disused in 1907. (fn. 236) The building was later used as a reading room and in 1996 as part of a nonconformist church. (fn. 237)
CHARITY FOR THE POOR
None known.