Pages 405-415
A History of the County of York East Riding: Volume 7, Holderness Wapentake, Middle and North Divisions. Originally published by Victoria County History, London, 2002.
This free content was digitised by double rekeying. All rights reserved.
WITHERNWICK
THE village of Withernwick lies 14 km. northeast of Hull and 4 km. from the coast. (fn. 1) The southern parish boundary is formed by Lambwath stream, an ancient boundary which formearly also separated the middle and northern divisions of Holderness wapentake. (fn. 2) The name Withernwick may be an Anglo-Scandinavian hybrid, meaning 'dairy farm near a thorn tree'. (fn. 3) In 1852 Withernwick township contained 2,822 a. (1,142 ha.), comprising all 2,691 a. (1,089 ha.) of the ecclesiastical parish of Withernwick and detached parts of Mappleton parish amounting to 131 a. (53 ha.). (fn. 4) The township, later civil parish, was enlarged in 1885 by the transfer of Scarshaws, of 39 a. (15.8 ha.), from Aldbrough parish, and the civil parish still has 1,157 ha. (2,859 a.). (fn. 5)
There were 145 poll-tax payers at Withernwick in 1377, (fn. 6) and 56 houses were assessed for hearth tax in 1672. (fn. 7) The parish had 48 families in 1743 and 61 in 1764. (fn. 8) The population of Withernwick rose from 292 in 1801 to 356 in 1811 and 513 in 1851. Numbers declined from the 1870s, to 449 in 1881 and 365 in 1891, recovered in the first decade of the 20th century, but then fell again to 345 in 1951 and 312 in 1961. The village later grew, notably in the 1970s, when the population increased from 325 to stand at 435 in 1981. In 1991 the usual population was 440 of whom 436 were actually counted. (fn. 9)
The parish is largely on boulder clay, and practically all of the land lies below 15 m. above sea level, falling from about 14 m. in the centre of the parish, close to the village, to under 7 m. in the south, alongside Lambwath stream. Land over 15 m. is found only at the eastern boundary, in the north-west corner of the parish, and as several small hills formed by the sand and gravel deposits which provided both the village and its northern outlier with their sites. The low-lying alluvial land in the south was mostly occupied by old inclosures, almost certainly as grassland, and the higher ground on either side of the village by the open fields. (fn. 10) The commonable lands were inclosed in the early 19th century, the long drawn-out process being confirmed by award in 1814. (fn. 11)
Withernwick is drained by Lambwath stream, which was recorded as defective in 1367, (fn. 12) and by tributaries flowing southwards across the parish. Withernwick beck was the main tributary until largely replaced in the early 19th century; a scheme to improve the drainage of the low grounds adjoining Lambwath stream in Withernwick and neighbouring parishes was then designed by William Chapman and carried out in 1812 as part of the inclosure process. Two new, embanked drains were made, one, known later as Catchwater drain, to carry water from the north and centre of the parish southwestwards to a new outfall into Lambwath stream close to the western boundary, and the other flowing westwards close to Lambwath stream. (fn. 13) Lambwath stream was later transferred to Keyingham Level Drainage Board, which still existed in 1998. Despite the improvements, the land alongside Lambwath stream remained liable to flooding. (fn. 14)
From the village minor roads lead north to Great Hatfield, in Sigglesthorne, west to Rise and Beverley, and east to join the main Holderness coast road near Aldbrough village and also at Great Cowden, in Mappleton. The roads were improved at inclosure, that to Rise and Beverley being described in 1809 as a new road. (fn. 15) A lane runs along the western parish boundary from Rise to Marton, in Swine, over Lambwath bridge, which was mentioned in 1367; (fn. 16) the southern part is called Lambwath Lane and the northern stretch, now only a bridleway, Folly, formerly Oak Tree, Lane. (fn. 17) Another minor road, confirmed in 1814 as the Hull-Hornsea road, (fn. 18) crosses the west end of the parish, and there was formerly a side road from it leading to Folly Lane. (fn. 19) The Hull-Hornsea railway, opened in 1864, ran through the parish with a station 2 km. west of the village beside the Rise road at Whitedale. (fn. 20) The station was closed for passen gers in 1964 and entirely on the closure of the line in 1965. (fn. 21) The track has been lifted and its course designated as a footpath; the station buildings were used as private houses in 1992.
WITHERNWICK village. The pattern of garths suggests that Withernwick village had a linear plan running north-south down the middle of the parish. Its buildings formed three groups, the church and most of the houses occupying a small hill overlooking the Lambwath valley, with other buildings standing c. 500 m. away on another eminence at North End and a few more, closer to the village centre, at South End. Earthworks at North End suggest that it may once have been larger. It was possibly also less separate from the rest of the village; c. 1800 two buildings stood between it and the main part of the village on land later called Old Garths. (fn. 22) Conversely, South End, named in 1630, (fn. 23) and the rest of the village have virtually been joined by recent building. The village is mostly built along a winding street, incorporating Main Street and parts of the Beverley and Aldbrough roads; in a western back lane, comprising East and West Lambwath Roads but formerly also known at least in part as South Lane; and beside Church Lane, which connects the street and back lane. There was a second cross lane south of Church Lane c. 1800, when the northern part of the street was called Leaper's Lane and a side lane continuing it eastwards Townside Road, later Chapel Lane and now High Street. High Street and a path continuing it northwards to North End, known since the early 19th century as Butcher Lane, may formerly have been parts of the main village street. (fn. 24)
Except for the church, the village is built of brick. The oldest surviving houses include 18thand 19th-century cottages in Church Lane and the later 18th-century Withernwick Hall, formerly North End House, an L-shaped farmhouse of two storeys with a pedimented entrance. (fn. 25) Elm Tree House, formerly Cottage, in West Lambwath Road, was evidently built soon after 1855 by John Taylor. (fn. 26) It has a threebayed façade of white brick under a slated and hipped roof; a pedimented doorcase is set in a shallowly projecting central bay which rises through both storeys to an eaves pediment. Other 19th-century houses include farmhouses and terraced cottages. In the 1960s and 1970s the district council built an estate of c. 50 houses north of the church, (fn. 27) and then and later there was much piecemeal building in the village. Private houses were being added in East Lambwath Road in 1992 and in West Lambwath Road in 1998. The council provided a sewage treatment works near Lambwath stream for the new housing c. 1970. (fn. 28)
Two or three houses were licensed at Withernwick in the mid 18th century but later and in the early 19th century only one, called the Gate. (fn. 29) It stood in High Street and was recorded, together with a beerhouse, until 1889, when it was called the Gate Hangs Well inn. The successor house, the Falcon, Main Street, was trading by 1892 and still existed in 1992. (fn. 30) A lodge of the Ancient Order of Foresters was founded in 1839 and had 160 members by 1895, when it left the order and became the Withernwick Foresters' Society. It rejoined the order in 1912 and was mentioned until 1948. (fn. 31) The Foresters built a hall in Main Street in 1890 and in 1910 also owned half a dozen houses in the village. The hall was used for the monthly lodge meetings and rented out for other gatherings. (fn. 32) It was sold in 1948 and converted to a house; the façade was copied for a craft shop, built beside it in 1987. (fn. 33) Withernwick in 1892 boasted, besides the friendly society, a church institute, a cricket club, and a Conservative association. (fn. 34) The cricket club played on a ground near Withernwick Hall until at least 1937, a football club on land south of Westlands Farm during the 1920s, and a tennis club near Prospect House Farm in the 1920s, and 1930s. (fn. 35) Village sport later declined, but c. 1985 the parish council bought land on the Aldbrough road mostly for recreation. (fn. 36) A wooden building was put up in Main Street on land rented from the Poor's Land charity for the Women's Institute in 1939 and was later used as the village hall. (fn. 37) A branch library was held in the Methodist schoolroom in the 1970s. (fn. 38) Allotment gardens were provided about 1900 on land awarded as a sand pit at inclosure in 1814 and on part of the Bethell estate beside the Beverley road; they were still used in the 1940s. (fn. 39)
OUTLYING BUILDINGS. Houses away from the village include Whitehill, formerly Wheat Hill, Farm, built by 1772. (fn. 40) Westlands Farm was apparently built c. 1805 during the process of inclosure, and Withernwick Grange had been put up by 1828, probably to replace the house nearby shown in 1812. Other new farmhouses in the late 1820s were Ruddens, Whitedale, Homer House, and Little West Hill Farms. (fn. 41) Glebe Farm was added in 1899. (fn. 42)
MANORS AND OTHER ESTATES
In 1066 Morkar had 6 carucates at Withernwick as soke of his manor of Mappleton, and Thor had a manor of Withernwick containing 1 carucate. By 1086 both estates had passed to Drew de Bevrère, whose tenant Wazelin held all or part of Thor's manor, (fn. 43) and they were later part of the Aumale fee. The lordship of the Aumale fee passed to the Crown and later to its grantees, (fn. 44) and in 1362 the tenant in demesne held WITHERNWICK of Edward III's daughter Isabel as ⅓knight's fee. (fn. 45)
William le Gros, count of Aumale (d. 1179), was said to have given 8 carucates in Withernwick to Peter de Fauconberg, whose son Walter had inherited by 1202 and whose grandson (Sir) Peter de Fauconberg defended his title in 1231. (fn. 46) The Fauconbergs, Lords Fauconberg from the late 13th century, (fn. 47) retained the estate, usually called a manor but sometimes reckoned part of the neighbouring manor of Rise. (fn. 48) Much of the land had apparently been alienated by c. 1300, when Walter, Lord Fauconberg, (d. 1304) held in Withernwick c. 2 carucates in demesne and had bond tenants with 1½ carucate. (fn. 49) In 1316, in the lifetime of his son Walter, Lord Fauconberg, (d. 1318), the lords of Withernwick were said to be Anastasia, widow of that Walter's son Sir Walter (d. 1314), and John de Fauconberg, presumably Sir Walter's brother and later Lord Fauconberg (d. 1349). (fn. 50) From the death of John's son Walter, Lord Fauconberg, in 1362 his widow Isabel held the manor until her death in 1401; it then comprised 2½ carucates in Withernwick, and 3 carucates more there and in Great Hatfield, all apparently in the hands of tenants. In 1372 Walter's son Sir Thomas Fauconberg sold the reversion to Sir John Neville (d. 1388), whose son Ralph Neville, earl of Westmorland, (d. 1425) duly succeeded in 1401. (fn. 51) He evidently gave the manor to his son William Neville, who married Sir Thomas Fauconberg's daughter Joan and was later held to be Lord Fauconberg. Neville died, as earl of Kent, in 1463, and his relict held the manor until she died in 1490. Withernwick then fell to the share of the Nevilles' grandson Sir James Strangways, (fn. 52) whose descendant James Strangways sold it to (Sir) Richard Gresham in 1530. (fn. 53) In 1546 Gresham granted the manor in exchange to the Crown. (fn. 54) Withernwick manor then comprised some 17 carucates held by freeholders and tenants at will. (fn. 55) At least part of Withernwick was still held by the Crown in 1598. (fn. 56)
Part of the manor, including the manor house and 7 bovates, was let in 1576 to William Knowles, (fn. 57) and it was perhaps that holding which was later regarded as the manor. Marmaduke Langdale (d. 1611) held a 7-bovate manor, together with c. 1 carucate more in Withernwick, bought by him in the 1590s. (fn. 58) His estate descended like Woodhall, in Swine, to Sir William Langdale (d. by 1685), (fn. 59) who was succeeded in Withernwick by his son Marmaduke. (fn. 60) Marmaduke sold the manor in 1703 to Hugh Bethell (d. 1717). (fn. 61) It then descended, once again with Rise manor, in the Bethells. (fn. 62) The estate was of nearly 600 a. c. 1790, and was evidently enlarged later. (fn. 63) Charlotte Bethell, widow of William (d. 1799), sold part of the estate in 1809. (fn. 64) The Withernwick estate comprised 669 a. in 1831, and 699 a. in 1852. (fn. 65) W. F. Bethell bought the 241-a. Withernwick Grange farm and c. 20 a. more from the Alders in 1865, and a further 118 a. in 1872. (fn. 66) In 1915 William Bethell had 985 a. in Withernwick. (fn. 67) The 189-a. Manor farm was sold to William Bulson in 1930; (fn. 68) Straits farm, of 160 a., was sold in 1942, and in 1943 the 187-a. Whitedale farm and c. 250 a. in Withernwick Grange farm were also, disposed of. The 132 a. then remaining unsold, mostly in Ruddens farm, was vested in R. A. Bethell in 1943, (fn. 69) and the slightly enlarged farm was transferred in 1973 to his son, H. A. Bethell, who still owned it in 1995. (fn. 70) William Bulson (d. 1962) was succeeded in Manor farm by his widow Vera and sons Geoffrey and J. C. Bulson. The farm was sold in lots c. 1990. (fn. 71)
A chief house, recorded from 1304, was called Hall Garth in 1576. (fn. 72) It may have stood at South End on the site of the later Manor House or Farm, which was built or rebuilt c. 1840. (fn. 73)
A cadet branch of the Fauconbergs held 1 carucate and 2 bovates in Withernwick, which by 1325 Walter de Fauconberg, possibly Lord Fauconberg (d. 1318), had granted to Thomas de Fauconberg. (fn. 74) Thomas (d. 1349) was succeeded by his son Walter, (fn. 75) and he, who died in or soon after 1360, possibly by his son John. (fn. 76) It was presumably the same estate, then described as a manor of WITHERNWICK and including 22 houses and 260 a., which Roger Fauconberg (d. 1455) held of the duke of Buckingham, and which in 1460 was ordered to be partitioned between Roger's nephew Walter Nuthill and sister Isabel Suthill. (fn. 77) The estate has not been traced further.
The archbishop of York had 1 carucate in 1086. (fn. 78) Part at least belonged later to the provost of the archiepiscopal church of St. John at Beverley (Beverley Minster), and c. 1370 Sir Amand of Routh was recorded as holding 2 bovates at Withernwick of the provost. (fn. 79)
A small estate was held of the Ros family in the mid 14th century, and that lordship later descended as part of their manor of Roos to the Cecils and the Kirkbys, who had it in the 18th century. (fn. 80)
The RECTORY was annexed to the prebend of Holme in York Minster in 1230, and from 1259 the prebendary had the glebe land, the rents of the church's tenants, and the corn tithes and a few hay tithes. About 1295 the landed estate comprised a house and 2½ bovates, and 6s. 6d. was received from two tenants. (fn. 81) The rectory was briefly lost during the Commonwealth. In 1650, when Susanna Moore held it as prebendal lessee, the glebe land and tithes in Withernwick were valued at £56 net. (fn. 82) In the later 17th century the glebe land comprised 2 broad bovates and c. 50 a. of inclosed ground. (fn. 83) By 1693 compositions were paid for the corn tithes of South End field; (fn. 84) the rate was 8s. 10½d. a year for each broad bovate and 6s. 8d. for a narrow one in 1802, when tithes of old inclosures were similarly paid by composition. At inclosure in 1814, the rector was awarded 110 a. and rent charges of £3 5s. 0½d. for his tithes, and 36 a. for the glebe. (fn. 85)
In 1864 the Ecclesiastical Commissioners, as expectant owners of the prebendal estate under the Cathedrals Act of 1840, sold the reversion of the 201-a. farm to the lessees Thomas Woodward, Thomas Harrison, and William Green in undivided thirds. Green's share was to revert to Thomas Harrison Green, (fn. 86) and in 1865 the Greens bought the other thirds from Harrison and Woodward. By 1883 Sarah Green (d. 1890) and Mary Harrison Green owned the farm. (fn. 87) In 1891 T. C. B. Dixon (d. 1906) bought the farm, named later as Prospect House farm, and in 1909 his executor Robert Dixon sold it to William Northgraves. (fn. 88) J. W. Croft, who bought the farm in 1947, gave it in 1967 to Mr. D. W. Croft and his other children. (fn. 89) Mr. Croft bought the other shares in 1947, and in 1993 he and his wife, Mrs. M. A. Croft, owned the farm. (fn. 90)
The rectory house was mentioned c. 1295, as the prebendary's manor house, (fn. 91) and again from 1649. (fn. 92) The large Prospect House Farm dates from c. 1800 but has been much remodelled.
George Alder acquired an estate during the protracted inclosure process. He bought a farm of c. 175 a. from Ann Edwards in 1803, 23 a. more in 1806, and nearly 200 a. from Charlotte Bethell in 1809, (fn. 93) besides exchanging land with several proprietors. When the award was eventually made in 1814, he received 573 a., far more than the other allottees. (fn. 94) Alder sold 174 a. to William Lee in 1826, (fn. 95) and died c. 1845. His son John and another George Alder offered the estate, again of c. 600 a., for sale in 1864, and the next year they sold the 241-a. Withernwick Grange farm and just over 100 a. more, mostly to W. F. Bethell. (fn. 96) In 1870 George Alder sold Whitehill farm, of 247 a., to Sir William Wright. (fn. 97)
Hugh son of Walter of Withernwick gave Meaux abbey 2s. rent from ½ bovate in Withernwick between 1221 and 1235, but it was evidently later lost. (fn. 98) Peter de Fauconberg had given Thornton abbey (Lincs.) 1 carucate in the parish by 1190. (fn. 99) After the Dissolution the land was granted to the short-lived Thornton college in 1542. (fn. 100) It was later granted to George Salter and John Williams, and sold by them to Roger and Peter Watson. (fn. 101) By the 15th century the Hospitallers had an estate in Withernwick which passed to the Crown at their suppression. (fn. 102) St. Thomas's hospital, Southwark, was awarded 32 a. at inclosure in 1814 in exchange for land at Bewick, in Aldbrough. (fn. 103) It bought 13 a. more in 1865, and the 43-a. Little Westhill farm in 1949; (fn. 104) the 88 a. in Withernwick was sold to the Leonards as part of the Bewick estate in 1972. (fn. 105)
Lambwath manor lay partly in Withernwick but it is treated under Marton, in Swine.
ECONOMIC HISTORY
COMMON LANDS AND INCLOSURE. North and South Ends at Withernwick had their own open fields, but by the 17th century they were evidently managed together. (fn. 106) North End field and South End field were recorded from 1541. (fn. 107) Each End had in fact two fields, to the east and west. In 1545 the manor thus included 1 carucate 'in both fields', and other land in East and West fields. (fn. 108) The tillage was further divided between an infield and an outfield: South End field included an infield bovate in 1657, and in 1682 both Ends may have had an eastern infield. (fn. 109) The outfield had been reduced by the making of closes by the mid 17th century, a 27-a. close being recorded in 1641 and another outfield close, of c. 50 a., adjoining the poorly drained Lambwath grounds in 1663. (fn. 110) Land in ridge and furrow in the south-eastern corner of the parish may have been part of the outfield. By the mid 16th century arrangements within the fields had probably been changed by the division and consolidation of strips: there were then several small plots, or odd lands, besides broad and little bovates. (fn. 111) A broad bovate was later said to comprise c. 16 a., and a narrow one c. 12 a. (fn. 112) The description of a bovate as broad or narrow is believed to refer to the width of the lands which composed it, broad lands in the East Riding being usually twice as wide as narrow lands. (fn. 113)
Twenty-six acres of meadow land was recorded at Withernwick in 1086, (fn. 114) and in the 14th century there was meadow adjoining and belonging to the tillage. (fn. 115) Leys were recorded later in the fields, (fn. 116) and in 1715 it was agreed that strips amounting to a 7 ft. breadth in each narrow bovate, and proportionately more for a broad bovate, should be lain down as meadow.
The common pastures were evidently stinted at 2 beast gates for a bovate in 1304. (fn. 117) By the later 17th century there were two common pastures at North End, Criftins, and New, later North End Field, pasture. (fn. 118) It is not clear whether they were intercommoned by the farmers of South End. In the late 17th and early 18th century the stint for a bovate was about 2 gates in the winter pasture, 2–3¼ gates in the fallow, and 4–6 gates in the harvested field and pastures in autumn. Grazing was evidently scarce: twenty houses no longer having gates were listed in the 1670s, and injunctions against letting pasturage rights to outsiders were frequent. There may nevertheless have been substantial numbers of sheep in the 18th century, when a village shepherd was waged and bylaws were made to restrict the grazing of the pastures by sheep. (fn. 119) The cropping of gorse in the pastures was also regulated by bylaw, labourers and others without rights to it being forbidden to cut it in 1713.
Early inclosures were made at unknown date in the south-east corner of the parish and at its western end, where the name Ruddens means 'cleared land'. (fn. 120) the rest of Withernwick was inclosed under an Act of 1801–2, the lengthy process being confirmed by award in 1814. (fn. 121) Allotments from the commonable lands totalled 1,506 a., and c. 140 a. of old inclosures in Withernwick and 36 a. more in Bewick, in Aldbrough, were involved in exchanges. (fn. 122) There were then more than 476 a. in North End field, over 359 a. in South End field, more than 84 a. in North End Field pasture, over 65 a. in Criftins and Hills, and 12 a. at Mill hill. George Alder was awarded 573 a., Charlotte Bethell 278 a., the rector 146 a., and John Leaper 116 a. There were also five allotments of 50–99 a., seven of 10–49 a., and twelve of under 5 a. The lesser allotments included those of the archdeacon of the East Riding as rector of Mappleton and the incumbent of that church for their tithes in Withernwick township.
FARMS BEFORE 1700. In 1086 four villeins worked a plough on the archbishop's estate, (fn. 123) and two bordars were recorded on the manor formerly belonging to Thor. The latter holding had land for one ploughteam, but it then seems to have been only half cultivated, and the value of the manor had been halved since 1066. (fn. 124) In the mid 16th century free tenants of Withernwick manor held nearly 4 carucates, and tenants at will 12 carucates and 7 bovates; there were then 38 holdings, one of which was of 3 carucates, another of 2 carucates and 2 bovates, eight of 6–9 bovates each, seven of 4 bovates each, and four of 2 bovates or less. The 17 remaining holdings, comprising houses and plots of land, were evidently small. (fn. 125) In 1682 of 49 holdings in Withernwick, 24 each included less than three pasture gates in the fields, 12 had from three to nine gates each, and 13 had ten or more each. (fn. 126)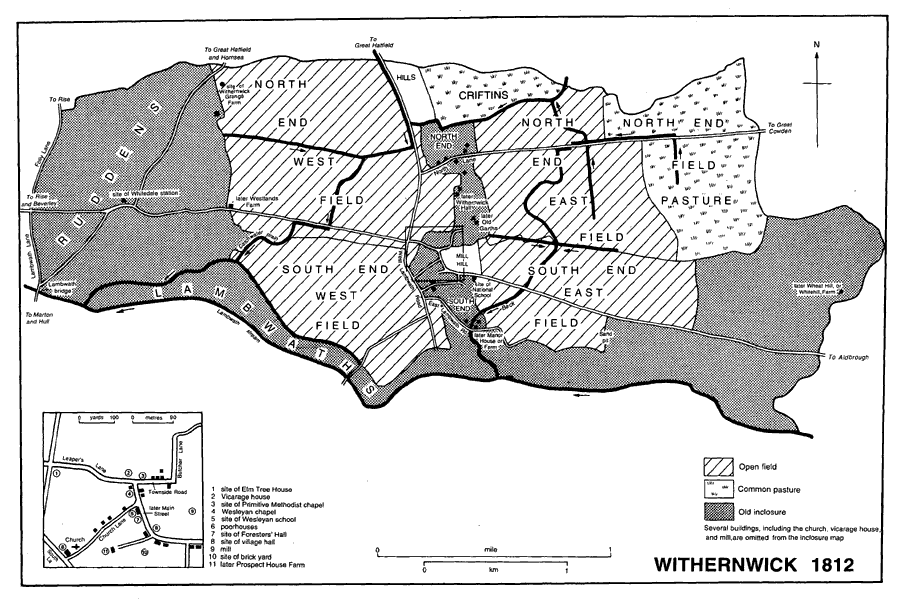 LATER AGRICULTURE. Experiments with the new husbandry were made before final inclosure. In 1785 it was agreed that each narrow bovate in the East fields should be sown with 1 stone of clover seed, and in 1792 the West fields were sown with clover at the rate of 4 lb. for each pasture gate held there, or 5 lb. if the gate were stocked with sheep. (fn. 127) Only 814 a. was returned as under crops in Withernwick in 1801. (fn. 128) In 1905 there were 1,652 a. of arable land and 843 a. of grassland, (fn. 129) and arable land was still predominant in the 1930s, when the grassland lay mostly around the village and alongside Lambwath stream. (fn. 130) Some of the grazing was used by half a dozen cowkeepers from the mid 19th century, and later a little of the arable area by one or two market-gardeners. (fn. 131) In 1987 of 1,146 ha. (2,832 a.) returned for Withernwick civil parish, 963 ha. (2,380 a.) were arable and 156 ha. (386 a.) grassland, 1/5 of its rough grazing. Woodland then occupied 5 ha. (12 a.). (fn. 132)
There were c. fifteen farms in Withernwick in the 19th and earlier 20th century, of which seven in 1851 and over half in the 1920s and 1930s were of 150 a. or more. In the latter period they also included one or two poultry farms and smallholdings. (fn. 133) In 1987 of 21 holdings returned for the civil parish, one was of 200–299 ha. (494–739 a.), two of 100–199 ha. (247–492 a.), six of 50–99 ha. (124–245 a.), ten of 2–29 ha. (5–72 a.), and two of under 2 ha. There were then over 9,000 pigs, c. 300 head of cattle, and 100 sheep in Withernwick. (fn. 134)
At the end of the 19th century an annual horse show and a hiring fair in November were held in Withernwick. (fn. 135)
TRADE AND INDUSTRY In the mid and late 19th century 'very good bricks' and tiles were made from the red clay near Lambwath stream, and later at a yard off Main Street, (fn. 136) where lowered ground and ponds remained in 1992. A garage was operated in the village c. 1925, and another, beside the railway station at Whitedale, has been run since the 1930s. (fn. 137) In 1992 fitted furniture was made in a workshop on the Aldbrough road.
MILLS William le Gros, count of Aumale, (d. 1179) had a mill in Withernwick, probably driven by the beck or Lambwath stream. (fn. 138) A windmill was recorded on the manor from 1304. (fn. 139) The Crown sold the mill to Edward Ferrers and Francis Phillips in 1610, (fn. 140) but it was evidently resold soon afterwards, and later belonged, with the manor, to the Langdales and the Bethells. (fn. 141) The mill was perhaps rebuilt before or after the sale, a 'new windmill' existing by 1612. (fn. 142) The old mill may have stood west of the village, where the site of a former mill was mentioned in 1763; the mill then in use, presumably the earlier 'new' mill, stood on the eastern edge of the village. (fn. 143) A post mill, it ceased to grind in the 1890s, (fn. 144) and was soon afterwards demolished. (fn. 145) The mill house, south of the Aldbrough road, (fn. 146) remained in 1993.
LOCAL GOVERNMENT
Great courts for the view of frankpledge were held twice a year and small courts every three weeks on Roger Fauconberg's manor in the 15th century. (fn. 147) Courts were held on the Bethells' manor in the earlier 19th century. (fn. 148) Surviving parish records include churchwardens' accounts and assessments from 1748 to 1853 (fn. 149) and a bylaw book of 1673–1809. The bylaws seem to have been made primarily for North End but were often extended to the whole township by agreement; in 1789 one man was said to have signed 'the top town agreements and not the bottom'. The pains were mostly concerned with agricultural regulation, including drainage and fencing, but in 1711 it was agreed that parish officers not rendering an account were to pay a fine to the poor. (fn. 150) Regular poor relief was given to 14 people in 1802–3, and in each year between 1812 and 1815 some 30 inhabitants were relieved regularly and up to 12 occasionally. (fn. 151) Poorhouses adjoined the churchyard until their removal, probably in 1857 soon after the rebuilding of the church. (fn. 152) Withernwick joined Skirlaugh poor-law union in 1837 (fn. 153) and remained in Skirlaugh rural district until 1935, when it became part of the new Holderness rural district. It was taken into the Holderness district of Humberside at reorganization in 1974. (fn. 154) In 1996 Withernwick parish became part of a new East Riding unitary area. (fn. 155)
About 1985 the parish council bought a piece of land on the Aldbrough road and later used it as a playing field; in 1993 it was proposed to consecrate part as a cemetery. (fn. 156)
CHURCH
There was a church at Withernwick by 1115, when it was given with others in Holderness to Aumale priory, later abbey, (Seine Maritime). (fn. 157) In 1228 the abbey ceded the church to the archbishop of York, who annexed it to the prebend of Holme in York Minster in 1230. (fn. 158) A vicarage ordained in 1259 was in the gift of the prebendary, who had peculiar jurisdiction. (fn. 159) Under the Cathedrals Act of 1840 the archbishop became patron again in 1868. (fn. 160) The parish was enlarged by the transfer to it of the detached parts of Mappleton parish in 1962, (fn. 161) and in 1979 the benefice was united with those of Aldbrough with Colden Parva and Mappleton with Goxhill. The archbishop has one turn in three in the patronage of the united benefice. (fn. 162)
In 1535 the vicarage was valued at £6 7s. net, after the deduction of a small pension to the rector. (fn. 163) The improved annual value was £30 net in 1650, when the vicar was charged with the repair of the chancel. (fn. 164) By 1674 an augmentation of £5 a year had been granted from the rectory. (fn. 165) An annuity of £39 from the Common Fund was received from 1868 and another, of £43, from 1871, (fn. 166) and in 1883 the living was valued at c. £280 net. (fn. 167)
Practically all of the income came from tithes and offerings. The hay tithes were paid by an annual composition, set or confirmed by award of 1589, those from the open fields at the rate of 8d. each for most of the bovates and the tithes of Lambwath meadows at 6d. an acre. (fn. 168) In 1716 the hay tithes of the Lambwaths contributed £20, the hay tithes from the fields £2, and wool, lamb, and other small tithes c. £4 to an income of £35. (fn. 169) At inclosure in 1814, the vicar received 93 a. and rent charges totalling £4 19s. 6d. for tithes. (fn. 170) Those remaining, on c. 210 a. mostly belonging to the Constables, were commuted in 1843 for rent charges totalling £42 17s. (fn. 171) The allotment for tithes and the farmhouse built on it, probably in 1899, were sold as Glebe farm in 1920. (fn. 172)
In 1259 a house, or a site for one, was assigned to the vicar, who was to pay a rent for it to the rector. (fn. 173) A vicarage house and adjoining close were recorded north of the street from 1535, when 2s. paid to the rector as a pension may in fact have been the rent. (fn. 174) The house was rebuilt between 1749 and 1764, and in the earlier 19th century it was divided into three cottages and let. The building was demolished shortly before 1860, when a new house was built to designs by Mallinson and Healey of Bradford on the site, which had been enlarged by purchase. (fn. 175) The vicarage house was sold in 1978, (fn. 176) and the incumbent of the united benefice later lived at Mappleton or Aldbrough. (fn. 177)
In the 15th century the poor living was often resigned and exchanged by incumbents, two of whom were defamed c. 1480. Withernwick was held with Stillington (Yorks. N.R.) in 1567 and by a puritan, Henry Thurscross, in the 1590s. (fn. 178) For many years in the 18th century the vicar lived at Great Hatfield, in neighbouring Sigglesthorne parish, whence he served, besides Withernwick, the churches of Goxhill and Mappleton. A service was held weekly at Withernwick in the mid century and communion was celebrated five times a year, with 50–100 recipients. (fn. 179) The vicar was probably often nonresident in the early and mid 19th century, when a curate was employed to do the duty; in the 1880s the vicar, then resident, had an assistant curate. (fn. 180) By the 1860s there were two Sunday services; then and later in the century c. 20 people usually received at the 10 or so celebrations of communion held each year. Communion was weekly by the mid 20th century but in 1931 the average number of communicants was only nine. (fn. 181)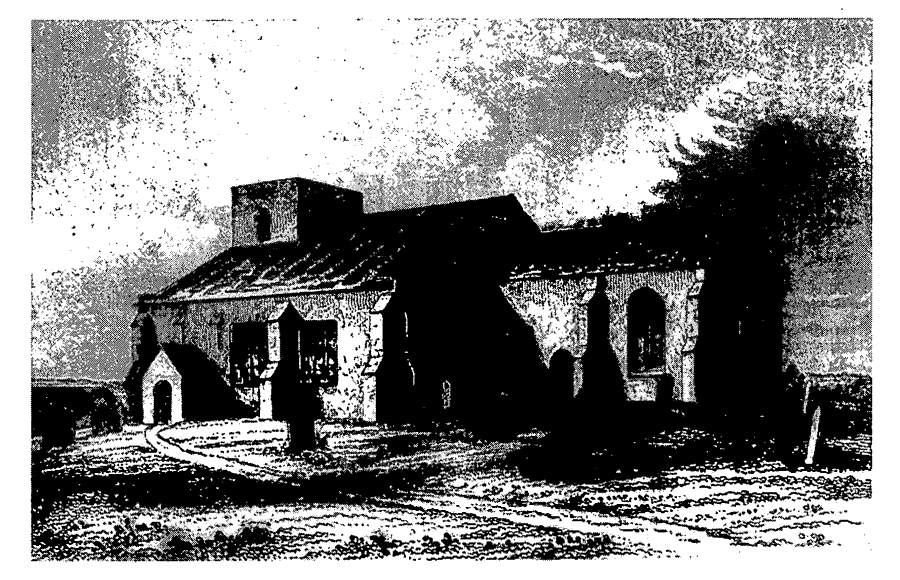 The 'God's love bede' to which Agnes Constable left a cloth in 1521 may have been a poorhouse. (fn. 182) About 1 a. in Withernwick was given to support a light, presumably in Withernwick church. (fn. 183)
The church of ST. ALBAN, a dedication recorded in the earlier 16th century, (fn. 184) is built of boulders and rubble dressed with ashlar and banded with red brick; it comprises chancel and nave with north vestry, south aisle, and south porch. It was largely rebuilt c. 1854. (fn. 185) Reset 12th-century chevron voussoirs in the nave may have come from the north doorway of the earlier church. (fn. 186) The eastern bays of the arcade are 14th-century. On the north side of the nave there was formerly a medieval chapel, perhaps the St. Mary's aisle (angulo) mentioned in 1521, (fn. 187) which was later replaced in turn by a schoolroom and the present vestry. The east window was 15th-century. (fn. 188) In 1722 a brick tower was built into the west end of the nave in place of a belfry (pyramis). (fn. 189) The nave was given a west gallery and in 1806 a new roof, but by then the appearance of the building was marred by brick patching and in 1840 the windows were 'more fitted for shops than a church'. (fn. 190) The rebuilding of the 1850s was generally in a 14thcentury style to designs by Mallinson and Healey. The plan was retained except that the tower was demolished, the space being returned to the nave, and a bellcot was placed over the chancel arch instead. (fn. 191) In or shortly after 1954 a chapel was formed from the east end of the aisle. (fn. 192) By 1972 over £1,100 had been bequeathed for the upkeep of the church and churchyard, (fn. 193) much of which was spent in renewing the west window c. 1985. (fn. 194)
There are wall tablets to Matthew Topham (d. 1773), vicar, and his sons. There were two bells in 1552, (fn. 195) but a broken bell was sold in the 1720s (fn. 196) and the remaining bell was replaced by two others at the rebuilding. (fn. 197) Also renewed then was the plate, which includes a service made in 1854 and given by the vicar. (fn. 198)
The registers of births and baptisms begin in 1652, and of marriages and burials in 1655; marriages are apparently lacking for some years but the registers are otherwise complete. There are transcripts from 1601. (fn. 199)
The base of a cross survives in the churchyard, (fn. 200) which had been closed for burials by 1993. (fn. 201)
The parish clerk received three sheaves of wheat a year from each broad and two from each narrow bovate in the parish until inclosure in 1814, when £6 5s. 10d. was substituted. He was also entitled to 1s. 2d. from each house and 4d. from each cottage annually. The payments were again recorded in 1861. (fn. 202)
NONCONFORMITY
There were generally few recusants and non-communicants in Withernwick in the 17th and 18th centuries, (fn. 203) but 17 papists were recorded there in 1706 and c. 1720 William Langdale, of neighbouring Langthorpe, in Swine, and three other papists registered estates in Withernwick. (fn. 204)
In 1676 there were said to be two protestant dissenters in Withernwick. (fn. 205) In 1783 Thomas Thompson, a leading Hull Methodist, and others registered a house there, (fn. 206) and in 1811 the Wesleyans built a chapel in Main Street, which was enlarged in 1843 and 1850 and rebuilt in 1914. (fn. 207) The Wesleyans also built a Sunday school in Main Street in 1845. (fn. 208) The Primitive Methodists put up a chapel in High Street in 1843 and enlarged the building with another schoolroom c. 1880. (fn. 209) About 1920, when half a dozen families were Wesleyan, only a dozen people attended the Primitive chapel, (fn. 210) which was then closed; the building was sold in 1923, used as a builder's store in 1993, (fn. 211) and had been demolished by 1998, when a house called Chapel Bricks stood on the site. Services were still held in the Methodist church, formerly the Wesleyan chapel, in 1993, but the Sunday schoolroom was then mostly used as a village meeting place. (fn. 212)
EDUCATION
Matthias North (d. 1713) (fn. 213) charged land in Withernwick with £2 a year for schooling or apprenticing children of Withernwick. The land was bought for the poor of Rise in 1737, (fn. 214) and the rent charge was later received from the Rise charity. (fn. 215) There was evidently a schoolmaster at Withernwick c. 1770, (fn. 216) and the village school was held in the church in the early 19th century. (fn. 217) In 1818 it was attended by 30 boys and girls (fn. 218) and in 1833 by 24; the school was supported by subscriptions, school pence, and £1 a year from the charity, (fn. 219) for which four poor children were taught free in 1823. (fn. 220) The other £1 a year from North's charity was then spent occasionally in apprenticing a child. (fn. 221) By the mid century 17 children were being taught free, all or most of them at the expense of Richard Bethell (d. 1864), who left £15 a year for the school. (fn. 222) A building for the school, which by 1844 was a National school, was put up in 1846 and enlarged with an infants' room in 1858, and in 1865 a master's house was added by W. F. Bethell. (fn. 223) Average attendance was 70 in winter and 40 in summer c. 1865. About that date the master ran a night school for some 15 farm boys but gave it up as a financial burden, and a night school attempted later by the vicar was also unsuccessful. (fn. 224) An annual government grant was received from 1869, and the school was occasionally also assisted by a rate. (fn. 225) On inspection day in 1871 the school was attended by 48 children, including some from Ellerby, in Swine. (fn. 226) In 1892 a school board was formed and the school transferred to its management. (fn. 227) After the county council assumed control, it set about remedying the 'very unsatisfactory' building; alterations were carried out in 1906, and in 1910 the school was enlarged to include a new infants' room. (fn. 228) Average attendance at the council school in the early 20th century was c. 80, but numbers later fell to about 50 in the mid 1920s and 34 in 1937–8. (fn. 229) Senior pupils were transferred to Hornsea County Secondary School in 1958. (fn. 230) The primary school had 30 pupils on the roll in 1990. (fn. 231) The master's house was sold in the 1980s. (fn. 232)
A second school in Withernwick in 1833 was attended by 22 fee-paying boys and girls. (fn. 233)
CHARITIES FOR THE POOR
A landed endowment, of unknown origin, belonged to the poor by 1752, when it was let for £2 13s. a year. (fn. 234) It comprised a garth of c. 1 a. and a piece of open-field land, for which ¼ a. was awarded at inclosure in 1814. In 1823 the rents of the Poor's Land, amounting to just over £6, were added to rent charges of £2 from farms in the parish, comprising the Withernwick Doles charity, and the combined income was spent on clothing for widows of the parish and in cash doles given at Easter. (fn. 235) The Doles charity, which was later lost, (fn. 236) may have been created under the will of William Day (d. 1616), who charged an estate in Withernwick with £2 a year for the poor of the parish. (fn. 237) By 1901 the income from the Poor's Land and the £2 rent charge originally given for education (fn. 238) together produced just over £10, which was given as doles of 3s. 6d. to 7s. 6d. to 45 people; in 1921, when the joint income was just over £8, doles of 13s. 6d. each were given to 12 widows and widowers. (fn. 239) In 1980 the £2 rent charge was redeemed for £27, which was invested in the name of the Withernwick Poor's Estate charity, and that charity and the Poor's Land, with an income of £15 in 1979, (fn. 240) continued to be administered together. In 1985 the combined income of nearly £19 was given to the village Darby and Joan club. (fn. 241) In 1993 it was proposed to amalgamate the eleemosynary charity and the village hall trust, to provide a village meeting place and recreational facilities and to give help to the old. (fn. 242)