Pages 5-27
A History of the County of York East Riding: Volume 7, Holderness Wapentake, Middle and North Divisions. Originally published by Victoria County History, London, 2002.
This free content was digitised by double rekeying. All rights reserved.
MIDDLE DIVISION
ALDBROUGH
THE village of Aldbrough lies 18 km. north-east of Hull and 2 km. from the sea, which forms the eastern parish boundary. (fn. 1) About 1 km. north is Little Cowden, which lost its church to the sea by the 17th century and was later associated for ecclesiastical and civil purposes with Aldbrough; (fn. 2) by the 19th century, however, Little Cowden formed a township with its larger neighbour Great Cowden, mostly in Mappleton parish, and its history is dealt with under Mappleton. The extensive ancient parish of Aldbrough included the hamlets of Bewick, Carlton, Etherdwick, Fosham, East Newton, West Newton, Ringbrough, and Tansterne. There may have been another settlement east of the village at Thorpe Garth, where land north of the farmhouse was called Old Garths in the 19th century. (fn. 3) Apart from East and West Newton, the lesser settlements may always have been small, and Carlton was reduced by inclosure, which by 1517 had resulted in the eviction of six inhabitants and the decay of a house. (fn. 4)
The names Aldbrough, Bewick, Etherdwick, Fosham, and Newton are Anglian, and Carlton and Tansterne Anglo-Scandinavian hybrids. Aldbrough means 'old stronghold', Bewick 'dairy farm near the bees', Carlton perhaps 'peasants' farms', and Etherdwick 'Ethelred's dairy farm'. Fosham, sometimes Fosham garth, meaning 'homestead on the ditch' probably alludes to Lambwath stream which forms much of the northern parish boundary and divides the North and Middle divisions of the wapentake. The precise meaning of Tansterne is uncertain but the name refers to a pool there. The name Ringbrough, also occasionally used with the suffix 'garth', may be an Anglian and Scandinavian hybrid and means 'circular stronghold'. From the 12th century the prefix 'East' was used to distinguish one of the Newtons, which was then and later also known as Newton next to Aldbrough, Aldbrough Newton, and Ringbrough Newton. The other Newton was named Newton Constable from the 13th century after its owners and West Newton from the 16th century. 'Totele' recorded in 1086 is believed to be the later Thorpe Garth; the name Thorpe, signifying hamlet, occurs from the 12th century, sometimes with the suffixes 'next to Aldbrough' or 'in Aldbrough', and may be Scandinavian. (fn. 5)
In 1852 the ancient parish of Aldbrough contained 6,398 a. (2,589 ha.), of which 2,544 a. (1,029 ha.) were in Aldbrough and Etherdwick township, 1,440 a. (583 ha.) in Bewick and East Newton township, 1,232 a. (498 ha.) in Fosham and Carlton township, 392 a. (159 ha.) in Tansterne township, and 792 a. (320 ha.) in West Newton hamlet. West Newton hamlet and the larger settlement of Burton Constable, in Swine, together formed the township of West Newton. (fn. 6) By 1871 the townships of Aldbrough and Etherdwick, Fosham and Carlton, and Tansterne were combined as Aldbrough township, and Bewick and East Newton was called East Newton township. In 1885 a detached area of East Newton township called Scarshaws was transferred to Withernwick. (fn. 7) The parish was also reduced by coastal erosion, up to 4 yd. a year being lost in the late 18th and 19th centuries. (fn. 8) The civil parishes, formerly townships, had been reordered by 1891, when Aldbrough had 4,904 a. (1,985 ha.) and East Newton 607 a. (246 ha.). In 1935 Aldbrough, then of 4,886 a. (1,977 ha.), and an unchanged East Newton were united to form a new Aldbrough civil parish, with a total area of 5,494 a. (2,223 ha.), and West Newton with Burton Constable civil parish, formerly West Newton township, was added to Marton to form Burton Constable civil parish. (fn. 9) By 1991 Aldbrough civil parish had been reduced to 2,178 ha. (5,382 a.). (fn. 10)
In 1377 there were 117 poll-tax payers at Aldbrough, 37 at East Newton and Ringbrough, 9 at Bewick, and 4 at Tansterne; Carlton, Fosham, and Thorpe presumably contributed to the Aldbrough figure. In 1672 Aldbrough village and East Newton had 57 houses assessed for hearth tax and 30 discharged, and 9 more were assessed at Carlton and Fosham. At West Newton and Burton Constable, in Swine, together there were 105 poll-tax payers in 1377 and 16 houses in 1672. Etherdwick was similarly taxed with Flinton, in Humbleton, 85 poll-tax payers being recorded in 1377 and 28 houses in 1672. (fn. 11) The parish was said to have 100 families in 1764. (fn. 12) The population of the parish, excluding East and West Newton, rose from 555 in 1801 to 802 in 1821 and 845 in 1841, before falling sharply in the later 19th century. Numbers recovered slowly from 680 in 1901 to 741 in 1931. East Newton had 24 inhabitants in 1801; numbers thereafter fluctuated, reaching 41 in 1841 and standing at 25 in 1931. After the union of Aldbrough and East Newton civil parishes the combined population increased slowly to 835 in 1961 but was 930 in 1971, 1,069 in 1981, and 1,339 in 1991, of whom 1,353 were usually resident. At West Newton and Burton Constable the population rose from 172 in 1801 to 239 in 1851 but had fallen to 141 by 1931. (fn. 13)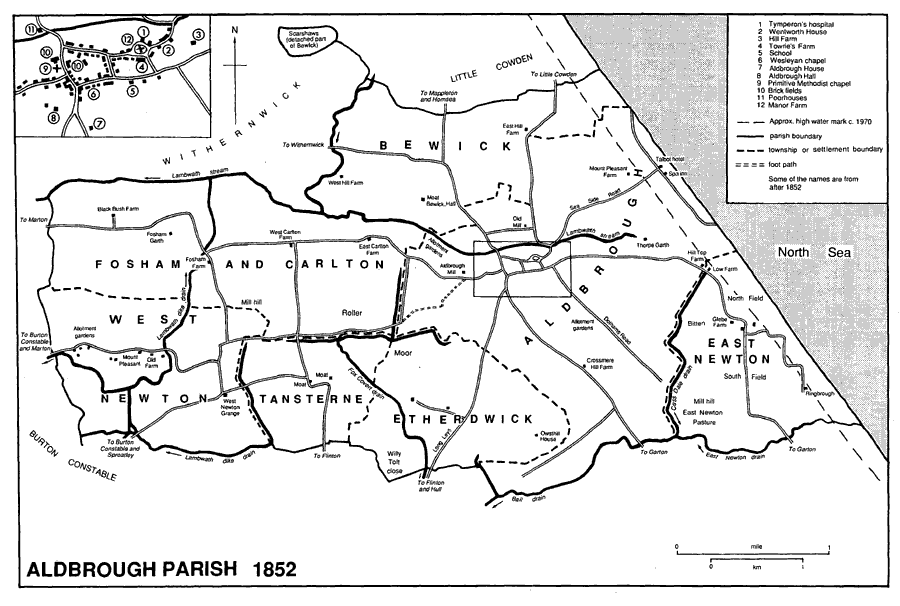 The parish is largely on boulder clay and most of the ground lies between 7 m. and 15 m. above sea level. (fn. 14) Deposits of sand and gravel produce higher ground, notably in the north and on the coast, where the land exceeds 20 m. and ends in an unbroken line of steep cliffs. The village and most of the hamlets were sited on the higher ground, and sand and gravel has been extracted. (fn. 15) Lower alluvial land borders the main drains on the north-west and southern boundaries. The commonable lands at Aldbrough were inclosed in 1766 and those at East Newton in 1772; the other settlements were inclosed earlier, Etherdwick, and possibly Carlton, by agreement in the 17th century.
Aldbrough is drained chiefly by Lambwath stream and other drains flowing west from the coast towards the river Humber. The streams defining the southern boundary include that recorded as insufficient in 1367 (fn. 16) and later represented by East Newton and Bail drains. 'Prestmare', 'Marsknooke', and several other field-names recorded at Aldbrough in 1616 suggest the former poor drainage of parts of the parish. (fn. 17) Land in the parish depended on Keyingham fleet for an outlet to the river: 16 a. at Aldbrough and 7 a. at Tansterne drained into the fleet in 1618, (fn. 18) and under the Keyingham Level Drainage Acts of 1772 and later (fn. 19) Lambwath stream, the southern boundary drains, and several cross drains were improved. After 1845 low ground assessed to the drainage included 80 a. at Aldbrough, 49 a. at East Newton, 25 a. at Etherdwick, 10 a. at Carlton, and 5 a. at Tansterne. (fn. 20) The drainage at Tansterne was aided by a wind pump by 1942. (fn. 21)
From Aldbrough village roads leading north-west to Mappleton and south-east to Garton have been upgraded and improved as parts of the Holderness coast road. In 1937 the road was straightened north of the village and Bail bridge carrying it over the southern boundary drain was widened. (fn. 22) Another road running south-west to Flinton has been incorporated in a principal road to Hull. Bridges carrying the Hull road were in disrepair in the mid 14th century, when the inhabitants of Etherdwick were among those held responsible. (fn. 23) Lesser roads from the village lead north-east to the shore, east to East Newton and Ringbrough, and west to Carlton, Fosham, Tansterne, and West Newton. That to East Newton was realigned, probably at the inclosure of East Newton in 1772, and a road to Tansterne awarded in 1766 was later discontinued. (fn. 24)
ALDBROUGH village stands on a ridge of high ground which falls sharply to the north into the valley of Lambwath stream, and its church is further elevated by the circular mound on which it stands. Aldbrough has a linear plan comprising two parallel streets connected by cross lanes. The main street was formerly the northern one, comprising Church Street and North Street. Church Street, leading west from the church and broadening to form a triangular area in which a small green survives, was the market place. Much of the ground between Church Street and the southern street was unbuilt in the mid 18th century and may once have formed part of a larger green. (fn. 25) The northern street has, however, been regarded as the back street since the late 19th century. (fn. 26) The southern street comprises the broad High Street and an eastern continuation, Headlands Road, called Chapel and Back Streets respectively in 1851. The busiest street is the westernmost cross lane, which forms part of the parish's principal road; it was called Johnson's Lane in the 18th century and later Hornsea Road. Already in the 18th century the village extended west beyond the main road along Carlton Lane, then West Lane, and there was some infilling and extension of the village by the mid 19th century. (fn. 27) Many more houses were added in the village and on its western and southern sides in the mid and late 20th century. The new housing included c. 130 council houses, mostly in the Headlands Drive and Wentworth Grove estates, built in the 1950s and 1960s respectively. (fn. 28) Houses were later built on ground excavated for brickmaking on either side of Hornsea Road, those on the west side standing well below the main road and Carlton Lane. The district council built a sewage works on Headland Road c. 1951, and several pumping stations and a sewage works on Carlton Lane were added c. 1970. (fn. 29) The tradition that there was a castle at Aldbrough is based on a misreading of a charter of 1115, the castle referred to there being almost certainly that of Skipsea. Castle hill was named in the mid 19th century, and Castle Park, a housing estate recently built in 1991, continues the tradition. (fn. 30)
The village buildings date mostly from the 19th and 20th centuries and include a few farmhouses. Almost all are of brick, presumably the result of brickmaking in the village; (fn. 31) boulder construction is found mostly in cottage footings s and boundary walls. Of the few noteworthy buildings, Tymperon's hospital is treated below. (fn. 32) The L-shaped George and Dragon may have been built c. 1700 and was remodelled in the 19th century, when its pedimented, Tuscan doorcase was moved. Wentworth House was probably the house of Matthew Wentworth, who married the widow of Thomas Michelbourne (d. 1632), (fn. 33) and later belonged to James Bean (d. 1767), a returned planter of Jamaica. Bean rebuilt (fn. 34) or remodelled the house, which retains a mid 18th-century staircase. The house, with a stuccoed façade, was altered and enlarged again in the 19th century and c. 1970, when it was taken over by an Evangelical charity as a conference and retreat centre. (fn. 35) It was an hotel in 1998. Aldbrough Hall was built on the southern edge of the village after 1764 by Christopher Scott (d. by 1794); it was demolished c. 1970 but its wooded grounds survived in 1991. (fn. 36) A conservation area in the village was formed in 1974. (fn. 37)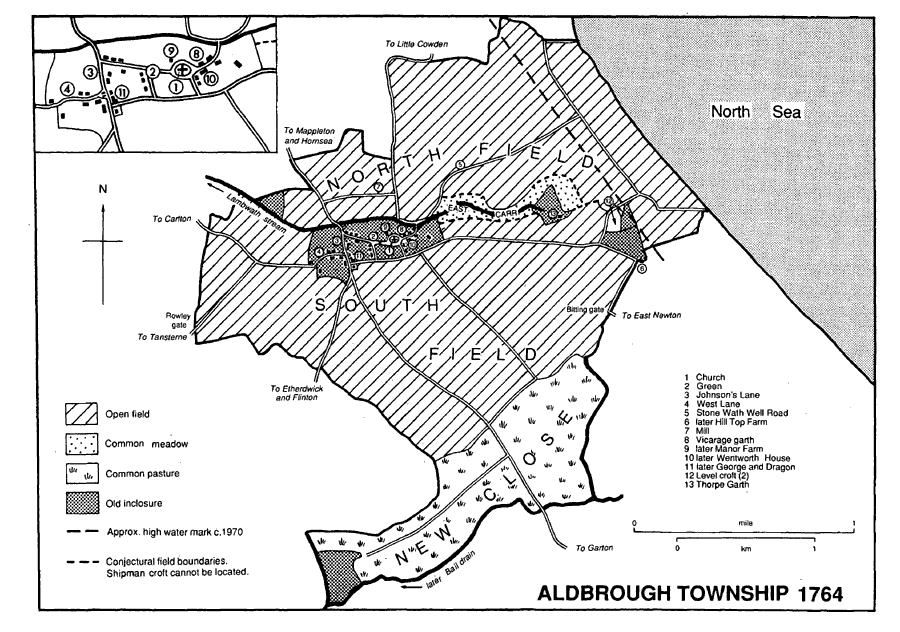 Up to five houses at Aldbrough were licensed in the later 18th century. (fn. 38) The George, later the George and Dragon, was named from 1806 and from it a coach service to Hull ran in 1820; (fn. 39) it still traded in 1991. The second house in the village, the Elm Tree, was recorded as a beerhouse in 1910. (fn. 40) Other houses have included the Bricklayer's Arms, in Cross Street, which was named from the 1820s until 1872; c. 1900 it was taken over by the elderly Hull marine artist W. D. Penny and was later called the Artist's Rest. Also in Cross Street was the Holderness hotel, which was mentioned from the 1870s until the 1930s. (fn. 41) An Oddfellows' lodge was founded in 1839 and suspended in 1845, and by 1860 it had been closed or had left the order. A branch of the Druids, founded in 1891 and recorded until 1937, met at the Holderness hotel and by the 1930s at the Artist's Rest. (fn. 42) A church hut was erected on the vicarage garth east of the church in 1921 and removed in 1937 to build a parish hall, called Stamford Hall after Edward Stamford, a major contributor. (fn. 43) The Y.M.C.A. had a hut in Nottingham Road, south of Church Street, until it was demolished c. 1930. Another hut, beside Hornsea Road, was later used by a youth club; it was demolished c. 1995 but in 2000 it was proposed to build a new hall for the club, which had continued to meet in Stamford Hall and the new village hall. (fn. 44) The parish council provided the 6-a. War Memorial Recreation Ground south of the village in 1948; a village and sports hall was opened there in 1993. (fn. 45) Village women used a library at the school in 1921 and a county branch library was later held in Cross Street. (fn. 46)
By the mid 19th century allotment gardens were provided at Aldbrough on land belonging to the poor, to Towrie's charity, (fn. 47) and to the vicar, the last, off the Carlton road, containing 6 a. in 1901. There were also gardens at West Newton. (fn. 48) Aldbrough Floral and Horticultural Society was founded in 1880. (fn. 49)
Aldbrough has attracted visitors since the 19th century. There was a beerhouse near the sea in 1832 (fn. 50) and sea bathing was established by 1836. Robert Raikes (d. 1837) began the building of a large hotel, which was probably that trading by 1844 as the Talbot hotel, later described as a temperance establishment. The Spa inn was also mentioned from 1846, and by 1851 there were three lodging houses near the sea and another in the village. A regular omnibus service from Hull was run during the season in the 1840s, and those catering for visitors c. 1850 included an omnibus operator, three 'hackney men', and a bathing-machine proprietor. Aldbrough failed as a spa, largely perhaps because of the poor access to its beach and the lack of a railway. (fn. 51) The Talbot, also known as Sea View, was closed c. 1915. A few years later, however, many bungalows were built along the cliff, mostly for week-enders from Hull, (fn. 52) who were entertained in an amusement hall, several tea rooms, and in the former Spa inn, then called the Royal hotel. A new Royal hotel was built further inland c. 1930 and still traded in 1991 as the Double Dutch; both of the 19th-century hotels have been demolished. (fn. 53) Sea Side Road, which leads south-west to the village, was also loosely built-up with bungalows by the 1950s, when the cliff-side houses, including those built on a site established by the district council for holiday houses and caravans in the 1930s, had to be moved away from the cliff. (fn. 54) The caravan site accommodated 350 static and 50 touring caravans in 2000, when one or two of the farms also had small sites.
Beacons have been sited on the high ground close to the sea. Three were recorded at Aldbrough in 1588 and later one. It was taken down in the early 1780s and rebuilt by the early 19th century, when it was reported as partly washed away by the sea. The restored beacon was finally removed from Bunkers hill, close to the northern parish boundary, c. 1830 and its site has been lost. (fn. 55) There were coastguards at Aldbrough in 1851 and a coastguard station with two houses was built on the cliff by 1879; it operated until c. 1945. The houses were demolished in 1977. (fn. 56) Volunteers manned a rocket life-saving station at Aldbrough in the early 20th century. (fn. 57) Military installations built c. 1940 and standing close to the cliff edge in 1991 included a partially destroyed brick tower at Ringbrough.
WEST NEWTON was recorded as Newton in 1086. The hamlet formerly stood along the south side of a single street, (fn. 58) and earthworks in vacant garths there indicate that it used to be more closely built; in the later 19th century a pair of estate houses and in the mid 20th century eight council houses were added on the north side, (fn. 59) but there were still fewer than 20 houses in 1991. The older buildings, which include several farmhouses, date from the 18th century. Mount Pleasant farm retained its 19th-century farm buildings in 1993. There was a licensed house in the later 18th century and the Gate tavern was named in the 1820s. (fn. 60)
EAST NEWTON. Newton, later East Newton, hamlet was also recorded from 1086. It may have comprised an east-west street with a parallel back lane, (fn. 61) and by the 18th century there was a green. (fn. 62) Only three houses remained in 1852 and in 1991, when two had been rebuilt.
OUTLYING BUILDINGS in the parish include the scattered farms of the other townships. At Aldbrough Thorpe Garth Farm and Hill Top Farm existed at inclosure in 1766; farmsteads were built later on former common land at Crossmere hill, where an 18th-century dovecot survives, and, by 1852, at Mount Pleasant. Hill Top Farm was rebuilt c. 1990. Close to Hill Top Farm and just in East Newton township stands the single-storeyed Low Farm, a 19th-century, lobby-entrance house probably built on former common land. (fn. 63)
MANORS AND OTHER ESTATES.
In 1066 Ulf held ALDBROUGH. He had 9 carucates described as in Aldbrough, and berewicks of the manor, which extended into several parishes, included 1½ carucates at East Newton and 2 bovates at 'Totele', probably Thorpe Garth. Sokeland included 6 carucates at Bewick, 5 carucates and 6 bovates at 'Totele', 3 carucates at Fosham, 1½ carucates at East Newton, and 1 carucate at Ringbrough. All the land passed to Drew de Bevrère by 1086 and later formed part of the Aumale fee. (fn. 64) Drew also succeeded to sokeland in Aldbrough belonging to Morkar's manors of Kilnsea and Easington. That of Kilnsea comprised 2 carucates at Etherdwick, 1 carucate at Tansterne, and 1 carucate at Ringbrough, and 2 carucates more at Ringbrough were soke of Easington. (fn. 65)
Much of the Aumale fee passed to the Ros family of Roos and Helmsley (Yorks. N.R.), later Barons Ros of Helmsley, whose estate included all 6 carucates at Thorpe and 3 carucates at Fosham by the mid 13th century. Robert de Ros was named as undertenant in 1284-5, (fn. 66) and William de Ros, Lord Ros, as a lord of Aldbrough and its members in 1316. (fn. 67) The estate, later reckoned to include land in Etherdwick, East Newton, and Ringbrough, descended in the Ros family and its successors as part of Roos manor; (fn. 68) most of the land was evidently held by freeholders of that manor but 37 a. of copyhold were awarded at inclosure in 1766. (fn. 69)
An early undertenant of the Ros family was John of Beverley, or of Aldbrough, lord of Aldbrough and Thorpe, who was succeeded in turn by his son Reynold and daughter Agnes of Kelk. In 1284 Agnes's heir William of Sunderlandwick gave THORPE manor to his son John. (fn. 70) It was probably the same estate which was later held by a cadet branch of the Ros family resident at Gedney (Lincs.) and from the late 17th century was usually called THORPEGARTH WITH ALDBROUGH. Robert son of Robert de Ros of Helmsley was granted free warren at Thorpe and Gedney in 1297, (fn. 71) and at his death by 1311 held 1 carucate and rents of £5 in Aldbrough and Thorpe by knight service of William de Ros, Lord Ros. Robert's son James was a minor and it was presumably as his guardian that John de Ros of Gedney was named as the other lord of Aldbrough in 1316. (fn. 72) James had entered by 1332 and in 1343 Sir James Ros, probably the same, was named as Lord Ros's undertenant. The estate then comprised 3 carucates, evidently including the tenants' land, and was held of Sir James by Robert de Ros, (fn. 73) perhaps Sir Robert de Ros who died in 1381 and was succeeded in turn by his brothers Nicholas (d. 1397) and Sir James Ros. (fn. 74) As Thorpe manor, it descended to Sir Robert Ros (d. 1441), who left daughters, Margery wife of John Wittalbury and Eleanor. (fn. 75) Eleanor married John Paulet (d. 1492), (fn. 76) and the same estate, then called the manors of Aldbrough and Thorpegarth, passed successively to John's son Sir John (d. 1525) and grandson Sir William Paulet, who was created Baron St. John in 1539 and in 1546 exchanged the estate with the Crown. (fn. 77) There were then a dozen houses and almost 2 carucates, all held by tenants. (fn. 78) The manor house and land were let to John Thorpe in the 1550s, to Robert Thorpe in 1587, and to Robert and his sons John and Thomas in the early 17th century. (fn. 79) The Crown sold Thorpe manor in 1611 to John Eldred and William Whitmore. (fn. 80) It was held by Alexander Thorpe in 1613, and later belonged to the Towrie, or Towry, family. In 1615 William Towrie devised it to his son Francis and he to his brother George in 1624. (fn. 81) Samuel Bower evidently had the manor by 1698, (fn. 82) and his daughters, Priscilla, wife of John Dowbiggin, and Frances, wife of Richard Smith, had succeeded him by 1720. Priscilla Dowbiggin sold her moiety to Hugh Andrew in 1746, and in 1751 he bought the other from Richard Smith and his son William. (fn. 83) At inclosure in 1766 Andrew (fl. 1772) received 225 a. (fn. 84) He was succeeded by his widow Mary, who married John Mackley, and she (fl. 1797) by her niece Elizabeth Collier. (fn. 85) Robert Harrison bought Thorpe Garth in 1803. He (d. 1821) was succeeded by his daughter Ann (d. 1836) and then by his grandson Robert Harrison, (fn. 86) who had 185 a. at Aldbrough in 1845. Harrison's assignees in bankruptcy sold the manor and the 145-a. Thorpe Garth farm in 1859 to Hannah and Sarah Starkey, who then charged it with a rent to augment a church living in Huddersfield. (fn. 87) By 1892 the estate belonged to Lewis Starkey (d. 1910), who was succeeded by his son (Sir) J. R. Starkey (d. 1940) and he by Sir William Starkey, Bt. The farm, then of 137 a., was sold to H. G. Fisher in 1952 and to G. E. Caley in 1963. (fn. 88) Caley, who already had c. 200 a. formerly belonging to his father Henry and including Mount Pleasant farm, Aldbrough, (fn. 89) gave a half share of his estate to his wife Kathleen in 1966, and they bought the 59-a. Top farm at East Newton in 1968. (fn. 90) Thorpe Garth farm belonged to Mr. A. P. Leake in 1992. (fn. 91)
The chief house, which was recorded in 1311, was decayed in 1382 but was evidently rebuilt or repaired. (fn. 92) It was again rebuilt c. 1850.
Sir Richard Hastings held land at Aldbrough in 1428, (fn. 93) and George Hastings, Lord Hastings, settled a manor of ALDBROUGH, held under Roos manor as ¼ knight's fee, in 1527 on John Docwray and his wife Margaret. Docwray (d. 1531) was succeeded by his widow. (fn. 94) The estate, which extended into Cowden, may have passed to Sir Thomas Stanhope, who held 2 carucates and 2½ bovates of the Ros fee at Aldbrough in 1558. As Aldbrough manor the estate was conveyed in 1586-7 by John and Jerome Markham to Ralph Bowes and sold in 1602 by Sir Jerome Bowes and Jerome Markham to (Sir) William Gee. (fn. 95) Comprising two farms at Aldbrough and extending into East Newton and Great Cowden, in Mappleton, the estate descended from Sir William (d. 1611) in the Gees of Bishop Burton to William Gee, (fn. 96) who divided and sold it c. 1705. Richard More (fl. 1710) bought land from Gee and from several other proprietors, and devised an estate at Aldbrough including six houses and 1 carucate and 5 bovates to Nicholas More. In 1720 More sold the estate to Hugh Sleigh, from whom Thomas Scott bought it in 1728. (fn. 97) Scott's son Christopher bought more land in 1741 and later, (fn. 98) and at the inclosure of Aldbrough in 1766 and East Newton in 1772 he received 463 a. (fn. 99) After his death by 1794 much of the estate was sold, mostly in 1809, (fn. 100) when John Dodsworth bought four houses and 177 a. at Aldbrough. Shortly before Dodsworth had bought a large estate at Carlton, and c. 50 a. at Aldbrough from Robert Harrison. (fn. 101) In 1813 c. 90 a. at Aldbrough were sold to John Hall; (fn. 102) the rest of the land there descended with the Carlton farm.
Kirkstall abbey (Yorks. W.R.) had a manor of ALDBROUGH, possibly in origin part of the abbey's rectorial estate. The Crown sold the manor to John Eldred and William Whitmore in 1611; it was then wholly held by tenants and included a dozen houses and c. 1 carucate. (fn. 103) The grant was repeated in 1614 with a minor change, evidently in connection with a dispute, settled in 1616, between Eldred and Whitmore and the lay rector over the ownership of land formerly belonging to Kirkstall. (fn. 104) The estate in 1611 included next to the church a house (fn. 105) which was presumably the later Manor Farm and later belonged to the Tymperon family. In 1654 Henry Tymperon also bought part of the rectorial estate. William Tymperon, by will proved in 1729, devised the manor for a charity benefiting the parish, and his trustees were awarded 196 a. at inclosure in 1766. (fn. 106) In 1952 the trustees sold 200 a., comprising practically all of the estate. Manor farm, of 157 a., was bought by F. D. Slingsby. (fn. 107) M. F. Bradshaw (d. 1965) and K. F. Bradshaw bought the farm with 95 a. in 1959, and K. F. Bradshaw, who added the 90-a. Dairy farm in 1971, still owned both farms in 1992. (fn. 108)
The Esthall or Hall family held an estate at Aldbrough by knight service of the Ros family of Helmsley. William of Esthall was named as a mesne lord there in 1311, and in 1343 Thomas of Esthall held 1 carucate. (fn. 109) It was perhaps the same estate, then extending into Etherdwick and East Newton, which Philip Hall sold to Sir John Routh in 1400 and which presumably later descended with Tansterne. (fn. 110)
William Hautayn of Fosham was recorded in 1304, and in 1343 John Hautayn held all 3 carucates of Fosham by knight service of William de Ros, Lord Ros of Helmsley. (fn. 111) In 1367 FOSHAM manor was settled on Thomas Disney and his wife Maud, apparently in her right, and John Disney had succeeded by 1397. (fn. 112) The heir of the same or another John Disney was evidently Maud, wife of John Elrington, on whom the manor was settled in 1467. (fn. 113) Simon Elrington (d. by 1501) was succeeded by his son Thomas, (fn. 114) and the same or another Thomas Elrington (d. 1566) by his son Edward, (fn. 115) who sold Fosham to William Barnes or Barne in 1577-8. (fn. 116) In 1617 and 1620 Barnes's heir William Barnes sold the estate to Robert Wright and his son George. (fn. 117) George Wright was the owner in the 1670s. (fn. 118) In 1727 George Wright, probably another, conveyed the manor to his son George, who sold it to James Bean in 1751. (fn. 119) Bean (d. 1767) left it to his great-nephews John and Joseph Fox, Joseph releasing his share to John in 1786. (fn. 120) John Fox (d. after 1833) was succeeded by his sons John (d. by 1848) and Joseph as joint tenants. (fn. 121) There were c. 260 a. in 1849, when the estate was divided between Joseph and John's trustees. John Fox's part, comprising the manor and the 122-a. Fosham Garth farm, descended to Thomas Fox. (fn. 122) In 1888 his estate was foreclosed upon and sold to D. P. Garbutt, who sold it to J. W. P. Garbutt in 1911. (fn. 123) In 1919 W. G. R. Chichester-Constable bought the farm and it later descended with the estate at West Newton. (fn. 124) Joseph Fox's share, comprising Black Bush farm, had passed by 1874 to Thomas Dent (d. 1900), possibly his nephew, whose trustees sold it in 1901 to Henry North (d. 1967). North's daughters Dorothy Maltas and Rose Kirk sold the 174-a. farm to Norman Caley and his wife Mary in 1968, and it later descended with their estate in West Newton. (fn. 125)
John Disney was licensed to have divine service in his house at Fosham in 1397. (fn. 126) The manor house, which occupied a moated site, had three hearths in 1672, and was rebuilt by George Wright the younger by 1727. (fn. 127) In the later 19th century Fosham Garth Farm was rebuilt near Black Bush Farm and the old house was demolished. (fn. 128)
Another estate at Fosham descended from John More (d. by 1709) to his widow Ruth and son Nicholas (d. 1720), and belonged in 1745 to Nicholas's sisters; it was soon afterwards foreclosed upon by Elizabeth Bowes and Frances Faceby. (fn. 129) Elizabeth bought the moiety of Frances (d. by 1763) in 1771, when the estate comprised 258 a. (fn. 130) It passed to Dorothy Bowes and after her death was sold in 1824 to Anthony Wilkinson, (fn. 131) who was succeeded by his son John. (fn. 132) In 1847 Anne Raikes (d. 1848) and her son Robert Raikes bought it, (fn. 133) and in 1862 the Raikes trustees sold nearly 280 a. at Fosham to Sir Thomas Constable, Bt. The farm later descended with West Newton. (fn. 134)
Low Fosham Farm dates from the late 18th century and is a stuccoed building with a pantile roof, to which single-storeyed side screen walls were added in the later 20th century. (fn. 135)
In 1149 or 1150 William le Gros, count of Aumale, granted an estate at Bewick to John of Meaux in exchange. (fn. 136) By 1182 John of Meaux had been succeeded by his son Robert, whose widow Maud was granted a carucate and rents at Bewick for dower by their son (Sir) John in 1196. (fn. 137) John added 1 carucate at Bewick and 1 carucate at Thorpe by exchange with Michael Darcy and Meaux abbey respectively. (fn. 138) His son Godfrey had 3 carucates at Bewick in the mid 13th century; by the 1280s the Aumale undertenant was Godfrey's son (Sir) John (d. by 1308), who was granted free warren there and elsewhere in Aldbrough in 1299, (fn. 139) and whose estate in 1303 was called BEWICK manor. (fn. 140) At the death by 1311 of John's son Godfrey most of Bewick manor and 1 carucate and 2 bovates at Aldbrough, described as a member of Bewick, were held of the honor of Aumale by knight service; the rest of the manor, with 2 bovates at Bewick, was said to be held by like service of the provost of Beverley. (fn. 141) Godfrey's son Sir John died c. 1377 and his heirs sold the manor in 1379 to Sir Ralph Hastings. (fn. 142) John de la River also conveyed to Sir Ralph a share of the manor, including 2 carucates and 1 bovate and comprising 1/7 knight's fee. (fn. 143) The manor was later held in turn by Sir Richard Hastings (d. 1436) and his brother (Sir) Leonard (d. 1455), before descending in the Hastings family, later Lords Hastings, to George Hastings, Lord Hastings (fl. 1527). (fn. 144) It was sold to the Savoy hospital, London, and after the hospital's suppression was granted in 1553 to the city of London in support of other hospitals there (fn. 145) and was assigned to St. Thomas's hospital, Southwark. In the 16th and 17th centuries the manor was often held by the Moore family as lessees. (fn. 146) The hospital was awarded 47 a. in Aldbrough township at inclosure in 1766, (fn. 147) and the estate comprised just over 800 a., mostly in three farms at Bewick, in 1845 and 844 a. in 1910. (fn. 148) The hospital governors sold 93 a. to the Air Ministry in 1951 and 694 a. in the parish to Mr. R. H. Leonard and his wife Susan in 1972. (fn. 149) In 1992 the Leonard family still owned the estate. (fn. 150)
The site of the manor and its houses were worth little in the 15th century. (fn. 151) The manor house may have been rebuilt in 1636. (fn. 152) It had 12 hearths in 1672, when John Moore lived in it. (fn. 153) The present house, called Bewick Hall, is an 18th-century building which was remodelled in the later 19th century and incorporates materials from an earlier house. Its L-shaped plan comprises a four-bayed main block with rear wing. The medieval house was believed to have stood on a moated site west of Bewick Hall which has not survived; another, possibly secondary, site immediately north of Bewick Hall was still moated in 1991. (fn. 154)
The sokeland of Kilnsea manor at Etherdwick and Tansterne was evidently given to a butler of the count of Aumale. Beatrice, daughter of Amand the butler (d. by 1218) and widow of Geoffrey de Friboys, held all 3 carucates there in 1240. (fn. 155) Later at least part of the butler's fee was held by Geoffrey Berchaud (d. by 1276) as the count of Aumale's tenant, and Simon Constable was named as the tenant at Etherdwick and Tansterne in 1284-5. (fn. 156) At the death of John Constable in 1349 the estate comprised 2½ carucates at Tansterne and 2 carucates at Etherdwick. It descended in the Constables with Burton Constable manor. (fn. 157)
TANSTERNE was held of the Constables by the Rouths and their successors. The manor and land at Etherdwick was settled on (Sir) John of Routh in 1306, when he was granted free warren at Tansterne. (fn. 158) John (d. by 1311) left a son Amand. (fn. 159) By 1376-7 another Amand of Routh had the manor and an estate enlarged with 1½ carucate at Carlton and 2 bovates at Etherdwick belonging to his wife Christine, probably as heir to the Hothams. (fn. 160) Another grant of free warren was made for Carlton, Etherdwick, and Tansterne to Amand and Christine's son Sir John Routh in 1386; (fn. 161) he bought land at Aldbrough, Etherdwick, and East Newton in 1400 and was recorded again in 1428. (fn. 162) His widow Dame Agnes was succeeded at Tansterne and Etherdwick by Sir John's son John in 1435. (fn. 163) The estate later passed to John's brother Brian (d. 1483) and then to his daughter Elizabeth and her husband Sir John Cutt (d. 1521); c. 1500 it comprised a manor of Aldbrough, with many houses and c. 1½ carucate, half of Carlton manor, with 2 bovates there, Tansterne manor and a house called Tansterne Garth, and nearly 1 carucate and other land, houses, and rents at Etherdwick, East and West Newton, and Ringbrough. The moiety of Carlton was at West Carlton. (fn. 164) The Cutts' son John (d. 1528) was succeeded by his son John. (fn. 165) Sir John Cutt, probably the same, sold the estate to John Michelbourne and his son Richard in 1549, (fn. 166) and it was later held in undivided moieties. John Michelbourne gave his moiety in 1552 to his son Thomas (d. 1582), who devised it to his sons John and Thomas. John died c. 1585 and Thomas later enjoyed the whole moiety. (fn. 167) The other moiety descended from Richard Michelbourne (d. 1583) to his son Richard (d. 1607) and the latter's son Sir Richard. (fn. 168) At the partition of the family's estate in 1614 Sir Richard ceded the manors of Aldbrough, Carlton, and Tansterne, and land at Etherdwick, to Thomas. Sir Richard's share, at Ringbrough and East Newton, (fn. 169) was sold in 1614 and 1621. (fn. 170)
Thomas Michelbourne (d. 1632) was succeeded by his son Thomas (fn. 171) and he (d. by 1655) by his sister Mary and her husband (Sir) Hugh Bethell (d. 1679). (fn. 172) Bethell's estate, which included the rectory, descended to his nephew Hugh Bethell (d. 1717), and from him to his son Hugh (d. 1752), whose son Hugh (d. 1772) was awarded 237 a., besides 91 a. for tithes, at the inclosure of Aldbrough in 1766. (fn. 173) That Hugh's brother William sold the estate at Aldbrough, of c. 360 a., in many lots, William Meadley buying 67 a. in 1785 and 235 a. in 1799. (fn. 174) William Bethell (d. 1799) was succeeded in the rest of the estate by a distant kinsman Richard Bethell, who had all 387 a. of Tansterne and 258 a. at Carlton in 1845. (fn. 175) Richard (d. 1864) was succeeded by his nephew W. F. Bethell (d. 1879), and he by his son G. R. Bethell. (fn. 176) Bethell died in 1919 and his executors and beneficiary Bethell Bouwens later sold the estate, R. S. Wright buying the 316-a. West Carlton farm in 1920 and Alfred Smith 246 a. in Tansterne Grange farm in 1930. (fn. 177) West Carlton farm descended from Wright (d. 1939) to his widow Emily (d. 1950), then to C. R. Wright (d. 1976), who was succeeded by his widow Gwen. In 1978 David Maltas bought the farm which was later farmed by Maltas Farms Ltd. and in 1992 was of 333 a. (fn. 178) Tansterne Grange farm was sold to C. L. Knapton in 1943, Henry Mitchell in 1944, H. R. Sellers in 1949, B. A. and M. A. North in 1953, E. N. Wright in 1961, and in 1974 to Caley Partners (Farmers) Ltd., the owners in 1992. (fn. 179)
Tansterne manor house probably occupied the extensive moated site there; a smaller moated site survived further east in 1991. (fn. 180) In the earlier 17th century the Michelbournes lived at West Carlton, presumably in a successor to the 14thcentury house. (fn. 181) The house had 10 chimneys in 1686, when Mary Bethell's second husband Christopher Hildyard let it. (fn. 182) It fell down in the mid 18th century, and was rebuilt further west in the earlier 19th century. (fn. 183)
Amabel widow of Sir William of Etherdwick was dowered there in the 13th century. (fn. 184) Part of the estate may have passed to the Rouths by the marriage of William of Routh and Maud, relative of Thomas of Etherdwick, (fn. 185) and it was perhaps the rest which Sir Alexander Grimston held of the Constables before 1447. (fn. 186) Robert Gray and his wife sold a manor of ETHERDWICK to William Wintringham in 1575. (fn. 187) In 1598 Wintringham's son John sold the manor house of Etherdwick with three other houses, 13 closes, and 1 carucate and 2½ bovates there to William Green, vicar of Burton Agnes. Green (d. 1600) was succeeded by his brother Thomas, (fn. 188) and Thomas by his son Francis, whose son Mark was allotted 348 a. at inclosure in 1651 (fn. 189) and sold much of the land then and in 1652. (fn. 190) Thomas Green and others sold the manor in 1686-7 to William Wilberforce, (fn. 191) whose grandsons Christopher and William Wilberforce were dealing with it in 1753. Christopher (d. c. 1755) left his interest to William's son Robert, who had the whole estate by 1759. (fn. 192) Robert (d. 1768) was succeeded by his son William Wilberforce, the philanthropist (d. 1833), whose son William sold the estate, of 165 a., to Robert Raikes in 1836. (fn. 193) Raikes also assembled an estate at Aldbrough. The purchaser of most of the Bethell estate there, William Meadley (d. by 1827), devised his estate to his nephew William Speck, who sold 172 a. to Raikes in 1830 and 1833. Raikes bought c. 70 a. more at Aldbrough in 1831 (fn. 194) and died in 1837. He was succeeded in Etherdwick, and in 262 a. at Aldbrough, by his widow Anne (d. 1848) and then by their daughter Ann Lutwidge (fl. 1871). (fn. 195) Ann's son Charles Lutwidge (d. 1907) left the estate to E. F. LowthorpeLutwidge. In 1918 William Tasker bought Mount Pleasant farm at Aldbrough, of 107 a., and G. H. Gibson a 171-a. farm at Etherdwick; in 1920 W. E. Campkin bought the 125-a. Hill farm, Aldbrough. (fn. 196) The farm at Etherdwick, later named as Stud farm, was sold to W. H. Clark in 1923 (fn. 197) and in 1942 by the mortgagee to Henry Caley. After his death in 1946 Caley's estate, which comprised 500 a. in the parish, including Mount Pleasant farm, and land in Humbleton, (fn. 198) was sold in several lots. (fn. 199) Caley's son R. H. Caley bought 160 a., including most of Stud farm, in 1949. He died in 1974 and in 1991 his daughters Mrs. Jean Megginson and Mrs. Wendy Thomas owned the farm, then of c. 193 a. (fn. 200) The chief house had eight hearths in 1672. (fn. 201)
All 3 carucates at East Newton were evidently given with Etherdwick and Tansterne to the count of Aumale's butler, (fn. 202) and at least part of the land later passed to the Constables. (fn. 203) In the late 13th century, however, most of East Newton was held by Thomas of Newton (d. by 1287), whose heir was his neice Beatrice wife of Robert Darcy; his estate then included ½ carucate of demesne and 1½ carucate occupied by tenants, and was held by knight service of the king as part of the Aumale fee. (fn. 204) It has not been traced later.
A manor of CARLTON, comprising 2 carucates, was held in 1066 by Sven and by Drew de Bevrère in 1086, when Drew's undertenant there was Ralph. (fn. 205) By the mid 13th century the Whittick family held the Aumale fee at Carlton, then put at 2 carucates and 7 bovates, by knight service. William Whittick, undertenant in the 1280s, was succeeded by 1303 by Walter Whittick and he or another Walter (d. by 1332) by William Whittick. Parts of the estate were probably subinfeudated by the 14th century when the Whittick holding comprised only 1½ carucate and when other parts of Carlton were held by William of Withernwick and John of Routh. (fn. 206)
It was perhaps the Whittick estate which belonged to Sir John Melton by 1454, when the rental was apparently nearly £7 a year. (fn. 207) Later sometimes called a manor, it descended from another Sir John Melton (d. 1544) to his daughter Lady (Dorothy) Darcy (d. 1557) and then in the Darcy family to John Darcy, Lord Darcy. (fn. 208) Lord Darcy sold it in 1606 to Philip and Leonard Gill, (fn. 209) and in 1627 Leonard had 258 a. at Carlton. (fn. 210) It was probably the same estate, then a farm of nearly 300 a., mostly at Carlton, which the devisees of Samuel Wright sold to John Dodsworth in 1808. (fn. 211) Dodsworth, who also bought land at Aldbrough, was dead by 1820, and in 1822 his son John and trustee Daniel Sykes conveyed the estate to Daniel's brother Henry, apparently for Daniel who had it at his death in 1832. (fn. 212) Daniel was succeeded by his nephew H. S. Thornton, who had 281 a. at Carlton and 85 a. at Aldbrough in 1845. (fn. 213) Thornton died by 1891 and later his grandchildren H. G. Thornton and Evelyn Thornton, who married C. H. Notley, held the estate in undivided moieties. (fn. 214) Norman Cardwell bought East Carlton farm with 370 a. in the parish in 1919 and gave it to his wife Evelyn in 1966. (fn. 215) F. A. Porter & Sons bought the farm in 1978 and still owned it in 1992. (fn. 216)
A house was recorded on the Whittick estate in the 14th century. (fn. 217) The present East Carlton Farm was rebuilt in the late 18th or early 19th century; (fn. 218) the walled garden, among trees some distance away, presumably belonged to an earlier house.
Another estate at Carlton, comprising 1½ carucate and including a chief house, was held of the Whitticks, Withernwicks, and Rouths by Sir John of Carlton (d. 1304), who was succeeded by his granddaughter Avice and her husband Richard of Hotham. (fn. 219) It probably descended from the Hothams to Christine wife of Amand of Routh, and was presumably the half of Carlton manor later included in the estate of the Rouths and their successors. (fn. 220)
At RINGBROUGH, Baldwin held 2 carucates from Drew in 1086. (fn. 221) That estate and other land passed to the Scrutevilles, or Ringbroughs. About 1150 Alan de Scruteville obtained 60 a. in Aldbrough by exchange with William le Gros, count of Aumale, (fn. 222) and Sir William de Scruteville was given land at East Newton by Meaux abbey in the earlier 13th century. (fn. 223) By the mid 13th century the Scrutevilles had all 4 carucates at Ringbrough. (fn. 224) The estate evidently passed to Sir William's daughter Emma and her husband John de Ros. The undertenant of the Aumale fee at Ringbrough in 1284-5 was another John de Ros. (fn. 225) He (d. by 1319) was succeeded by his son (Sir) Richard, who at his death in 1351 held Ringbrough manor in chief as 1/ 12 knight's fee and nearly a carucate at Aldbrough by knight service of the Lords Ros of Helmsley. Sir Richard was succeeded by his grandson Richard de Ros. (fn. 226) The manor, which extended into Garton, may have belonged to Richard's son John by the 1370s, (fn. 227) and it was possibly as his heir that Grace wife of Sir Philip Tilney and her husband were dealing with it in 1389. The lady of Ringbrough was mentioned in the early 15th century, (fn. 228) and in 1422 the manor was conveyed to Philip Tilney. (fn. 229) Elizabeth Tilney's son John Bourchier, Lord Berners, sold the reversion of the estate to Sir John Skevington in 1523. Skevington obtained possession in 1524 and died in 1525, leaving a son William (d. 1551). The estate may have descended to William's son William but soon afterwards belonged to John Skevington. In the 16th century it included, besides the demesne at Ringbrough and land in Garton, a dozen houses and almost 1½ carucate at Aldbrough and East Newton. (fn. 230) The same or another John and William Skevington were dealing with the estate in 1601, (fn. 231) and in 1656 Ursula Skevington, widow, and Sir John Skevington, Bt., sold it to William Bower. (fn. 232) William Bower, probably another, and John Bower conveyed Ringbrough to Edward Bower in 1696, (fn. 233) and John, perhaps the same, sold the manor with land at East Newton in 1719 to Richard Woolfe (d. by 1746). Woolfe's son, the Revd. Nicholas Woolfe, sold Ringbrough in 1748 to Thomas Grimston, who already had an estate there. (fn. 234) Ringbrough, which was reduced by coastal erosion, later descended in the Grimstons. (fn. 235) Charles Grimston had 183 a. in East Newton and Ringbrough township in 1845. (fn. 236) In 1856 the estate comprised, besides the manor, 169 a. in Ringbrough farm, c. 1915 about 150 a., and in 1967 only 127 a. With the estate at Grimston, in Garton, Ringbrough passed to Boston Deep Sea Fisheries Ltd., which sold it to M. J. and Bessie Meadley in 1967. (fn. 237) The farm belonged to their son Mr. M. S. Meadley in 1991. (fn. 238)
The manor house was recorded in 1351-2 and again, as Ringbrough Hall, in the 16th century; (fn. 239) the farmhouse was rebuilt in the 18th century. (fn. 240)
In 1086 the archbishop of York had a berewick of 3 carucates in Newton and land at 'Santriburtone', later Burton Constable, in Swine. Land in both was later held of the archbishop by the counts of Aumale, and of them by the Constable family. (fn. 241) All 3 carucates were confirmed to Robert Constable, who succeeded his uncle and namesake c. 1200. (fn. 242) (Sir) Simon Constable was granted free warren at Newton in 1285, (fn. 243) and at his death in 1294 the estate at NEWTON CONSTABLE included 1 carucate and 5 bovates held of the Crown as successor to the counts of Aumale and 1 bovate of a mesne lord; another carucate at Newton or Burton Constable was held by Constable's undertenants. (fn. 244) It was regarded as a member of Burton Constable manor in 1336 but later as a separate manor, held as 1/20 knight's fee. (fn. 245) The estate, which had been enlarged by purchase by the mid 15th century and after the acquisition of Lambwath manor in 1549 extended into Carlton and Fosham, (fn. 246) continued to descend in the Constables. (fn. 247) In the late 18th and mid 19th century it contained all of West Newton and c. 100 a. at Carlton and Fosham. (fn. 248) Sir Thomas Constable, Bt., bought nearly 280 a. at Fosham from the Raikes trustees in 1862, and W. G. R. Chichester-Constable c. 120 a. there from J. W. P. Garbutt in 1919, (fn. 249) and in 1963 the Chichester-Constables had 773 a. at West Newton and 505 a. at Carlton and Fosham. (fn. 250) In 1965 J. R. J. Chichester-Constable sold Fosham farm, Fosham Garth farm, Mount Pleasant farm, and Old farm, containing in all 760 a., to Norman Caley Ltd., and the 232-a. Grange farm to Edward, John, and Terence Porter, (fn. 251) who farmed as F. A. Porter & Sons. Norman Caley Ltd. still owned the farms at Fosham and West Newton in 1992, besides another purchase, Black Bush farm, Fosham, and F. A. Porter & Sons retained Grange farm. (fn. 252) A farm of c. 100 a. at West Newton remained part of the Burton Constable estate in 2000. (fn. 253)
The house with six hearths recorded at West Newton in 1672 was perhaps the manor house. (fn. 254) It may have stood near Mount Pleasant Farm but had gone by the mid 19th century. (fn. 255) The site of another house on the estate, Old Farm, may formerly have been moated but no trace of a moat remains visible. (fn. 256)
After the appropriation of the church in 1228 the RECTORY belonged to Aumale abbey. It was worth £24 a year in 1291. (fn. 257) It was administered as a member of Burstall priory, in Skeffling, with which it was seized by the Crown during the French wars and sold to Kirkstall abbey in 1396. (fn. 258) After the Dissolution the Crown let the rectory in 1550 to Richard Thorpe, and in 1575 to his sons Robert, John, and Stephen Thorpe. (fn. 259) In 1607 the Crown sold the rectory to Martin White, (fn. 260) and he to another Richard Thorpe. Thorpe (d. 1613) was succeeded by his son John. After dispute with the owners of another part of Kirkstall's former estate at Aldbrough, the glebe land of the rectory was decreed in 1616 to comprise 1 bovate. The rectory also then included a parsonage house and corn and hay tithes. (fn. 261) John Thorpe (d. 1640) was succeeded by his cousin Richard Thorpe, who in 1650 held the rectorial estate in Aldbrough, Bewick, Carlton, Etherdwick, Fosham, and Tansterne, all of which was worth £44 10s. net. (fn. 262) Thorpe sold part or all of the land in 1654 to Henry Tymperon, along with corn and hay tithes at Aldbrough and Etherdwick which his heir later bought back. (fn. 263)
After Thorpe's death c. 1660 the rectory passed to his sister-in-law, Mary, wife of Sir Hugh Bethell. Sir Hugh (d. 1679) devised it to Anne Johnson, who married Matthias Crouch, for her life, and then to his nephew Hugh Bethell, who succeeded c. 1700 and died in 1717. (fn. 264) It later descended with the other estate of the Bethells. (fn. 265) At the inclosure of Aldbrough township in 1766 Hugh Bethell had all the corn tithes, a few hay tithes, some mortuaries, and a composition of £2 a year paid since the 17th century for the tithes of the common pasture. For all those dues he was then awarded 91 a. and £32 10s. a year. (fn. 266) The land at Aldbrough was sold c. 1790 with the rest of William Bethell's estate there. (fn. 267) The tithes of 36 a. at Bewick were commuted at the inclosure of Withernwick in 1814, (fn. 268) and by 1845 corn and hay tithes from 258 a. at Carlton and all 387 a. at Tansterne were merged in the landed estate of Richard Bethell, who was then awarded a rent charge of £273 10s. for his remaining tithes at Bewick, Carlton, Etherdwick, and Fosham. (fn. 269)
Richard Thorpe sold the corn and hay tithes of West Newton and the tithes of the land alongside Lambwath stream to Sir Henry Constable in 1610, (fn. 270) and in 1650 their net value was £10. (fn. 271) They descended in the Constables with West Newton manor, (fn. 272) and by 1845 they had been merged. (fn. 273)
The tithes of East Newton and half of those of Ringbrough were worth £14 net in 1650, when they were said, probably erroneously, to belong to John Constable, viscount Dunbar. The impropriator Richard Thorpe (d. 1613) had married William Towrie's daughter, and by 1663 the corn and hay tithes of East Newton and half of the same at Ringbrough belonged to Robert Towrie, who gave them to the vicarage. (fn. 274) The other half of the tithes at Ringbrough were probably held with the manor there; John Grimston's estate was expressly excluded from the commutation of tithes in 1772, and by 1845 the moiety had been merged in the landed estate. (fn. 275)
Corn and hay tithes at Carlton and Fosham also belonged to the Constables, and some had been extinguished by 1779. Of those remaining in 1845, the tithes from 108 a. at Carlton and Fosham were merged in the landed estate of Sir Thomas Constable, Bt., who was then awarded a rent charge of £2 9s. 6d. for the rest, from c. 530 a. at Fosham. Other proprietors at Fosham had by then also merged tithes on c. 40 a. in their estates. (fn. 276)
A chantry endowed with the corn tithes of Etherdwick was probably that of St. German in Aldbrough church. (fn. 277) After its suppression the tithes were apparently confused with the former estate of another chantry, in Rise church, and with that they were granted to Giggleswick (Yorks. W.R.) grammar school in 1553. (fn. 278) In 1650 they were worth £4 a year, and in 1845 the school was awarded £80 a year for them. (fn. 279)
The remaining rent charges awarded in 1845 were for hay tithes; Henry Broadley received £6 a year for 128 a. at Etherdwick, H. S. Thornton £1 from Carlton, and Henry Stephenson 1s. from Etherdwick. (fn. 280)
William the butler had given land at East Newton to Thornton abbey (Lincs.) by 1190, and other donors added 2 bovates at Aldbrough by 1312 and an estate at Etherdwick by 1350. (fn. 281) After the Dissolution the estate, which included 3½ bovates at East Newton, was granted to the short-lived Thornton college. (fn. 282) The Crown sold houses and land at Aldbrough, East Newton, and Etherdwick as part of Thornton's manor of Garton in 1611 to John Eldred and William Whitmore. (fn. 283)
In 1634 William Greame bought 2 bovates at Etherdwick formerly belonging to Thornton college, (fn. 284) and his son Robert sold them in 1645 to his brother John. (fn. 285) At inclosure in 1651 John Greame was allotted 64 a. (fn. 286) He was succeeded in 1665 by his son Robert (d. 1708), (fn. 287) who had bought 77 a. from Hugh Bethell and his wife Mary in 1657 (fn. 288) and settled Etherdwick on his son John in 1699. (fn. 289) John Greame (d. 1746) devised the estate to his son John (fn. 290) (d. 1798), who bought 64 a. more at Etherdwick in 1792 (fn. 291) and left the estate to his nephew John Greame (d. 1841). (fn. 292) John's son Yarburgh Greame, later Yarburgh (d. 1856), (fn. 293) was succeeded by his sister Alicia (d. 1867) and her husband George Lloyd (d. 1863), (fn. 294) who left a son the Revd. Yarburgh Lloyd, later Lloyd Greame (d. 1890). (fn. 295) In 1915 Lloyd Greame's son Y. G. Lloyd Greame sold Etherdwick farm, of 245 a., to Frederick Nettleton, from whom R. E. Williams bought it in 1920. (fn. 296) In 1926 the mortgagee sold the farm to W. J. Richardson (d. 1929), whose children sold it to J. W. Frankland in 1929. Later called Etherdwick Grange farm, the land remained in Mr. Frankland's family in 2000. (fn. 297)
About 1170 William le Gros, count of Aumale, gave 1 carucate at Thorpe to (Sir) William de Cauz, (fn. 298) who sold it to Meaux abbey between 1182 and 1197. The abbey granted it in exchange to Sir John of Meaux between 1197 and 1210. (fn. 299) Hugh Darcy gave his land at Bewick to Meaux abbey between 1221 and 1235 but the estate has not been traced later. (fn. 300)
William de Forz, count of Aumale, gave 2 bovates at East Newton and Sir William de Scruteville land at Thorpe to Nunkeeling priory in the late 12th or earlier 13th century. Other gifts were received from William of Routh and Stephen Hatfield, (fn. 301) and the priory also had 6 bovates at Aldbrough as a chantry endowment. (fn. 302) Part of the priory's former estate at East Newton, which included 5 bovates, was sold by the Crown in 1611 to John Eldred and William Whitmore. (fn. 303)
Donors including Ralph and Robert of Etherdwick gave St. Sepulchre's hospital, Hedon, c. ½ carucate, other land, and rent at Etherdwick and Aldbrough. (fn. 304) After the suppression the estate passed to the Constables of St. Sepulchre's Garth. (fn. 305)
Either St. Giles's hospital, Beverley, or Warter priory had an estate at Aldbrough, which was granted to Thomas Manners, earl of Rutland, in 1536. (fn. 306) Land at East Newton formerly belonging to a chantry in Beverley minster was sold to Francis Phillips and Richard Moore in 1608. (fn. 307)
About 250 a. at Aldbrough and Etherdwick belonged to Hull Royal Infirmary until 1924, when they were sold; from 1925 Headlands farm and most of the land were included in the larger estate of Henry Caley. (fn. 308)
ECONOMIC HISTORY.
Comman Lands And Inclosure. Aldbrough. Aldbrough village had 10 ploughlands in 1086, (fn. 309) and in the 17th and 18th centuries the open fields there were still reckoned to contain 80½ bovates belonging to the village, besides 8 bovates of Bewick hamlet. North and South fields were named in 1616. (fn. 310) Leys of odd lands recorded in Sea field, or fields, presumably part of North field, in the early 18th century may reflect the disruption of the tillage by coastal erosion. (fn. 311) Common meadow land probably lay mostly in the carrs bordering Lambwath stream: in 1616 meadow in South field included some in East carr, and later in the century hay was grown in West carr in South field. (fn. 312) On the eve of inclosure grazing in the open fields was mostly stinted at the rate of 3 gates in South field and 1½ gates in North field for each bovate held; each householder also had 2 gates in the harvested field and unlimited pasturage there during the winter. The fallow field was opened for summer grazing by cattle on 1 May. The village's common pasture was New close, which may formerly have been arable and was described as including 'lands and leys' as late as the 18th century; the pasture was overstocked c. 1680, and the stint was accordingly reduced from 2½ to 2 beast gates or 1 horse gate a bovate, enjoyed from 1 May to Michaelmas. (fn. 313)
The open fields and common pasture at Aldbrough were inclosed by an award of 1766 under an Act of 1764. Allotments totalled 1,793 a., of which more than 781 a. were from South field, more than 544 a. from North field, and 302 a. from New close. Hugh Bethell was allotted 328 a., including 91 a. for tithes, Christopher Scott 321 a., Hugh Andrew 225 a., and the Tymperon trustees 196 a. There were also two allotments of 100-129 a., two of 50-99 a., ten of 5-49 a., and eleven of under 5 a. (fn. 314)
Bewick. Bewick was evidently inclosed early, but stinted pasture was mentioned there in the early 17th century. (fn. 315)
Carlton. At Carlton there were 2 ploughlands and 20 a. of meadow in 1086, when one plough was worked there. (fn. 316) In 1517 Sir John Cutt was reported to have converted tillage to pasture with the loss of a plough. (fn. 317) Most of the remaining commonable lands there seem to have been inclosed by agreement in 1627, when nearly 500 a. were divided between two proprietors; Thomas Michelbourne then received 200 a. in West field and 36 a. in a pasture close called Rowley, later Roller, and Leonard Gill 200 a. in East field and 58 a. in Rowley pasture. (fn. 318) A stinted summer pasture in Innams close nevertheless remained in 1631. (fn. 319)
Etherdwick. A common field of Etherdwick was mentioned in the 13th century. (fn. 320) By an agreement of 1648 between the five freeholders the commonable lands of Etherdwick were inclosed in 1651, the lack of grazing for stock to manure the more extensive tillage being given as a reason for inclosure. Mark Green was allotted 348 a., Thomas Michelbourne 77 a., and John Greame 64 a.; the other two allotments are unknown. Of the recorded allotments 128 a. came from Oxdale, 90 a. from Mill field, 86 a. from Bracken Hill field, 70 a. from Mayrod Hill and Leys, 43 a. from the moor, 37 a. from Wildertofts, and 35 a. from the infield. (fn. 321)
Fosham. At Fosham part of the tillage lay west of Black Bush Farm where ridge-and-furrow survived in 1991.
West Newton. At West Newton in 1086 there were 2 ploughlands and 20 a. of meadow. (fn. 322) The open fields there almost certainly lay north and south of the hamlet, and ridge-and-furrow was evident north of the street in 1991.
Ringbrough and East Newton. Ringbrough and East Newton may each have had their own common lands in the Middle Ages, but they seem later to have been managed together. In the 1330s North and South fields were mentioned at Ringbrough, but other land of the hamlet then and later lay in the fields of East, or Ringbrough, Newton. East Newton pasture included gates for Ringbrough in 1719. (fn. 323)
The open fields at East Newton were named in 1726, when their pasturage was evidently stinted at the rate of 32 sheep gates in North field and 28 in South field for each bovate held; in the common pasture the rate was then 8 gates a bovate. By the 1760s the stints had been reduced to 8 sheep gates in South field, 3 in North field, and 4 gates in the pasture. (fn. 324) The common meadows lay in an area called Bitting or Bitten. (fn. 325) The commonable lands of East Newton were inclosed by an award of 1772 under an Act of 1770. There were 507 a. to be dealt with, and 10 a. of old inclosures were involved in exchanges. Allotments totalled 496 a., of which 85 a. were from North field, more than 64 a. from the pasture, and more than 24 a. from Bitten. Ridge-and-furrow survived near the northern boundary and south of the hamlet in 1991. Alice Etherington received 145 a., Christopher Scott 142 a., and the vicar 80 a. for glebe land and tithes. There were three other allotments of 20-79 a. (fn. 326)
Tansterne. The tillage of Tansterne was also reduced by early inclosure, Alexander Pudsey having converted 40 a. to pasture by 1517. (fn. 327) An open field probably lay south of the settlement's garths where ground was occupied as South Field close in 1728. (fn. 328)
TENURES AND FARMS TO C.1800. Aldbrough. Thorpe manor was divided between 14 tenants in the mid 16th century; eight men held nearly 2 carucates, mostly in holdings of 1-2 bovates each, and there were four cottagers with no open-field land and two freeholdings of unknown size. Tenants on the manor of Aldbrough formerly belonging to Kirkstall abbey owed poultry rents in the 17th century. (fn. 329)
Bewick. In 1379 Bewick manor included eleven holdings of 1-3 bovates and seven of only a few acres each. (fn. 330)
West Newton. Ploughing and most carting works owed by the Constables' tenants at West Newton had been commuted for fowls, eggs, and money rents by the 1540s. (fn. 331) About that date the tenants occupied 14 houses, 2 carucates and 3 bovates, and other land; most of the dozen holdings were of 2 bovates each. (fn. 332)
WARRENS AND FISHERIES. In the early 14th century Bewick manor included fish ponds and one or two warrens, (fn. 333) evidently on land south of the manor house later called Cony Garth hill. (fn. 334) Other fisheries at Aldbrough, Bewick, Carlton, and Fosham belonged to the Crown as lord of Holderness in the mid 14th century; they were presumably sited in Lambwath stream or mere. (fn. 335)
LATER AGRICULTURE. Aldbrough parish had 2,356 a. under crops in 1801. (fn. 336) In 1845 there were 4,264 a. of arable land and 1,938 a. of grassland in the parish, and 7 a. of woodland at West Newton. (fn. 337) At Aldbrough, East Newton, and Fosham there were 3,380 a. under crops and 1,714 a. of permanent grassland in 1905, (fn. 338) and the parish was still divided fairly equally between arable and grassland in the 1930s, when the grassland lay mostly south and west of the village and in the north-west of the parish alongside Lambwath stream. (fn. 339) In 1987 of 1,307 ha. (3,230 a.) returned under Aldbrough civil parish, 1,137 ha. (2,810 a.) were arable land and 147 ha. (363 a.) grassland; there were then more than 14,000 pigs, nearly 700 sheep, and some poultry and cattle. (fn. 340)
The land of Aldbrough village was usually worked by a dozen farmers in the 19th and earlier 20th century, of whom up to three had 150 a. or more in 1851 and the 1920s and 1930s. (fn. 341) East and West Newton had nine farms in 1851, fairly evenly divided between larger and smaller units, but by the mid 20th century smaller farms predominated in both. (fn. 342) Over the same period Bewick, Carlton, Etherdwick, Fosham, and Tansterne each had up to three farms, all or most of them of 150 a. or more. Half a dozen cowkeepers worked in the parish in the late 19th century, and later there were one or two dairy farmers. Market gardening has also been pursued at Aldbrough, and there and at West Newton a few smallholdings had been provided by the 1930s. In 1987 of 18 holdings returned under Aldbrough, two were of over 200 ha. (494 a.), two of 100-199 ha. (247-492 a.), two of 50-99 ha. (124-245 a.), three of 10-49 ha. (25-121 a.), and nine of under 10 ha. (fn. 343)
MARKET. A market on Tuesdays and a fair on the eve and feast of St. Bartholomew (24 August) were granted to James de Ros for his manor of Aldbrough in 1332. (fn. 344) The market place was in Church Street. (fn. 345) The tolls were later owed to the lords of Holderness. (fn. 346) By the late 18th century the market had been discontinued and the fair was mainly for cattle; William Constable was entitled to 1d. for each beast sold and 1d. for each stall in 1779, when the tolls were let for 13s. 4d. a year. (fn. 347) The fair was held on 4 September in 1792. (fn. 348) It ceased to be held c. 1880, but a hiring fair was briefly revived later. (fn. 349)
INDUSTRY,TRADE,AND PROFESSIONAL ACTIVITY. Aldbrough had the usual occupations of a small commercial centre in the 19th and earlier 20th century, and one or two craftsmen and shopkeepers were also recorded at West Newton in the earlier period. (fn. 350) There were one or two brewers and maltsters at Aldbrough in the mid 19th century, and from 1878 Ralph Jackson, later Messrs. Ralph Jackson & Sons, was brewing and malting at a works on Hornsea Road, which was called Brewer's Street by 1851; the works had closed by 1923. (fn. 351) Bricks were made at Aldbrough by the beginning of the 19th century, and one or two brick-and tile-makers were recorded in the 1840s; there was later only one concern, with a works at the west end of the village, (fn. 352) which was closed c. 1915.
In the late 13th century income from wrecks and fish sales was paid to the lords of Holderness by a reeve at Ringbrough. (fn. 353) Aldbrough was included in a list of ports in 1565, (fn. 354) and there was still a little coastal trade in the earlier 19th century, (fn. 355) when lime-burning was carried on near the coast. (fn. 356) Cobbles, sand, and gravel have been taken from the shore at Aldbrough: dealers in stone and gravel were recorded there in 1851, (fn. 357) and Sir Thomas Constable, Bt., lord of Holderness, successfully defended his rights over the shore in 1864, and in 1870 licensed three Aldbrough men to take cobbles at the rate of 6d. a ton. (fn. 358) In the 1920s and early 1930s a few boats fished from Aldbrough, more than 13,000 crabs and nearly 400 lobsters being caught in 1930. (fn. 359)
Omnibus proprietors were recorded at Aldbrough in 1892, (fn. 360) and East Yorkshire Motor Services Ltd. had a garage there c. 1935. There have also been haulage contracting and agricultural and motor engineering concerns in the parish, (fn. 361) and a firm of motor engineers still operated in the village in 1991.
MILLS. A windmill stood by the 14th century on land of Bewick manor in Aldbrough North field. (fn. 362) The same or a rebuilt mill was called Old mill from 1685; (fn. 363) it ceased to be used c. 1905 and was later demolished. (fn. 364) A windmill at Carlton or Aldbrough formed part of the Michelbournes' estate in the mid 16th century, and was possibly mentioned again in 1671. (fn. 365) Another mill was built beside the Carlton road after 1764, and later called Aldbrough mill. (fn. 366) It was assisted by steam by 1889, ceased to be used c. 1930, and has been demolished. A third mill at Aldbrough may have existed c. 1840. (fn. 367)
Other windmills were recorded at Ringbrough in 1351, at Fosham in 1577-8, and at Etherdwick from 1600 until its removal by 1753. The last stood near the boundary with Aldbrough village. The site of the Ringbrough mill was later commemorated by Mill hill west of the farm, (fn. 368) and that at Fosham by Mill field closes. (fn. 369) There was perhaps also a water mill at West Newton, where land called Mill dam was mentioned in the 14th century. (fn. 370)
LOCAL GOVERNMENT.
In the Middle Ages breaches of the assize of ale at Aldbrough were presented in Roos manor court and officers appointed there included ale- and bread-tasters for the village. (fn. 371) By the 14th century Ringbrough manor court was held infrequently. (fn. 372) That of the Aldbrough manor formerly belonging to Kirkstall abbey was mentioned in 1611, (fn. 373) and court papers, including presentments, pains, and call rolls, survive for Tymperon's manor, evidently the same, for 1732-59. (fn. 374) The court, which had view of frankpledge, met annually and was almost entirely concerned with agricultural regulation at Aldbrough and East Newton. Besides 2 affeerors and a pinder, 2 constables and 2 bylawmen were appointed for Aldbrough, and a constable and sometimes also 2 bylawmen for East Newton and Ringbrough. Bewick manor court was mentioned in the 16th and 17th centuries, but there is no record of its business. (fn. 375) The grant in 1611 of Thorpe Garth manor included a court, and a meeting was said to have been held c. 1800. (fn. 376) The agriculture and drainage of West Newton were regulated in Burton Constable court in the 15th century, when officers elected there included a messor for West Newton. Later officers of the court, which had view of frankpledge, were 1-2 bylawmen for West Newton, appointed in the mid 16th century, the constable, and an aletaster. (fn. 377)
Surviving parish records include overseers' accounts for 1681-9 and 1732-65 and a volume for 1650-1823 containing appointments of parish officers, summary accounts, and church and poor rates. (fn. 378) The overseers' accounts are largely concerned with the administration of Towrie's charity. The poor were employed in spinning and weaving linen in the mid 18th century, when those relieved included residents at East and West Newton, which later relieved their own poor. At East Newton three persons received permanent and one occasional poor relief in 1802-3, and at West Newton four people were relieved permanently in 1802-3 and c. 15 occasionally in 1812-15. In the rest of the parish permanent relief was given to 47 people in 1802-3 and to c. 20 between 1812 and 1815; in the same periods 5 and c. 20 persons were relieved occasionally. (fn. 379) Poorhouses were maintained by the overseers in the village, and possibly also at East and West Newton. (fn. 380) Two cottages at the north end of the village were later maintained by the parish council and c. 1900 were occupied rent-free; they were demolished in 1937. (fn. 381) Aldbrough, East Newton, and West Newton with Burton Constable joined Skirlaugh poor-law union in 1837 (fn. 382) and remained in Skirlaugh rural district until 1935. Aldbrough and East Newton, as part of the new civil parish of Aldbrough, and West Newton with Burton Constable, as part of the enlarged parish of Burton Constable, were then taken into Holderness rural district. Aldbrough and Burton Constable civil parishes became part of the Holderness district of Humberside in 1974. (fn. 383) In 1996 Aldbrough and Burton Constable parishes became part of a new East Riding unitary area. (fn. 384)
A cemetery for Aldbrough and East Newton on the Carlton road was provided by the rural district council in 1922, parts being consecrated in 1923 and 1961. (fn. 385)
The E.R. constabulary, established in 1857, had a constable based at Aldbrough. (fn. 386)
CHURCH.
According to an 11th-century inscription in Aldbrough church, it was built by Ulf, perhaps the tenant of Aldbrough in 1066. (fn. 387) The church was not, however, recorded again until 1115 when, with other churches in Holderness, it was given to Aumale priory, later abbey (Seine Maritime). (fn. 388) Aumale abbey appropriated the church in 1228 and a vicarage had evidently been ordained by 1252. (fn. 389) In 1396 Aumale abbey sold the church to Kirkstall abbey (Yorks. W.R.), which then appropriated it. (fn. 390) Chapels belonging to the church were recorded at Carlton, Ringbrough, Tansterne, and Thorpe in 1309. (fn. 391) There may also have been a chapel at Bewick where, in return for 20 a. given to Aldbrough church, Robert of Meaux (d. by 1196) was licensed to build a chapel and hear mass. (fn. 392) After the loss to the sea of Little Cowden (Colden) church that living was annexed to Aldbrough and the parishes were later often regarded as one. (fn. 393) In 1962 detached parts of the parish of Aldbrough with Colden Parva in Great Cowden were annexed to Mappleton and the detached part of Mappleton parish was transferred to Aldbrough with Colden Parva. (fn. 394) Aldbrough with Colden Parva was united with the benefices of Mappleton with Goxhill and Withernwick in 1979. (fn. 395)
The patronage of the vicarage belonged to Aumale abbey and from 1396 until the Dissolution to Kirkstall abbey. During war with France Aumale's estate was seized by the Crown, which presented repeatedly between 1344 and 1369, and turns granted by Kirkstall were exercised by Edward Gower in 1465 and Alice Midgley in 1547. After the Dissolution the Crown retained the patronage. (fn. 396) The archbishop of York was granted the advowson in 1558, (fn. 397) but the grant was apparently ineffective except for collations by the archbishop in 1613 and 1614. (fn. 398) From 1979 the Crown had one turn in three in the patronage of the united benefice. (fn. 399)
The vicarage was worth £6 13s. 4d. a year in 1291 and £13 15s. in 1535. (fn. 400) The improved annual value in 1650 was £30. (fn. 401) The net income averaged £185 a year in 1829-31, (fn. 402) and was £390 in 1884. (fn. 403)
Tithes in Carlton worth 10s. a year were given c. 1100 by Arnulf de Montgomery to Sées abbey (Orne), but were evidently resumed on Arnulf's deprivation in 1102. (fn. 404) In 1535 nearly all of the vicar's income came from offerings and hay, wool, lamb, and small tithes. (fn. 405) In 1706 the tithes and offerings were worth £28. (fn. 406)
In Aldbrough village the hay tithes of 80 bovates when fallow and of the balks were compounded for an annual payment of 7d. a bovate by the mid 17th century. Hay tithes from 8 bovates at Aldbrough belonging to Bewick hamlet were relinquished by the vicar to Hugh Bethell, the impropriator at Bewick, c. 1700, and the Bethells as impropriators also successfully claimed some rape tithes and mortuaries in Aldbrough village. (fn. 407) At inclosure in 1766 the vicar was awarded 24 a. for the hay tithes of the open fields and some closes; later the commutation was claimed to extend to the tithe of potatoes grown on former open-field land but the vicar successfully disputed that. The land allotted was retained in 1978. (fn. 408) The hay tithes of the rest of the old inclosures at Aldbrough, together with the small tithes of the village and most of the hamlets, were commuted for a rent charge of £184 in 1845. (fn. 409)
Robert Towrie by will of 1663 devised all the corn and hay tithes of East Newton and half of the same tithes from Ringbrough to augment the vicarage. (fn. 410) At the inclosure of East Newton in 1772 the vicar was awarded 75 a. for the great tithes. (fn. 411) His half of the great tithes at Ringbrough with the small tithes of East Newton, and presumably also those of Ringbrough, were commuted for a rent charge of £32 in 1845. (fn. 412)
At West Newton the vicar was owed 3s. 4d. and venison annually from Venison close, presumably for tithes, from the late 17th century. The small tithes there were commuted for a rent charge of £20 in 1845. (fn. 413)
The Towrie augmentation also included ¼ bovate at East Newton; the gift also mentioned a house there but only a garth was recorded from 1685. (fn. 414) At inclosure in 1772 the vicar was awarded 5 a. there for glebe, besides the 75 a. for tithes, (fn. 415) and a farmhouse was built there c. 1800. (fn. 416) Glebe farm was sold in 1968. (fn. 417)
A vicarage house recorded in 1535 was later lost; its garth east of the churchyard was recorded from 1685, and a building, evidently not the house, stood there in 1764. (fn. 418) In the 19th and early 20th century the vicar or his assistant occupied various houses in the village, among them Aldbrough House, Wentworth House, and Tymperon's House. (fn. 419) In 1935 a vicarage house was built in Sea Side Road on land bought from the Tymperon trustees. (fn. 420) That house was sold c. 1979 and the incumbent of the united benefice lived at Mappleton until a new benefice house was built in Carlton Drive c. 1983. (fn. 421)
In the 13th century Agnes of Kelk founded a chantry in a chapel added to Aldbrough church by her father. As an endowment she gave 6 bovates in Aldbrough to Nunkeeling priory, which was to provide services. The chantry was later transferred to the priory. (fn. 422)
By 1300 there was evidently also a chantry in Holy Trinity chapel in Aldbrough church endowed with tithes in Etherdwick, Tansterne, and other places in Holderness. The chantry was probably connected with the abbey of St. Mary and St. German at Selby (Yorks. W.R.): it was named as St. German's chantry in 1341, the tithes were called St. German's, and, whereas Aumale abbey, patron of the vicarage, had the presentation of the chantry priest, the abbot of Selby apparently nominated the presentee until he granted that right to Sir John of Carlton (d. 1304) or one of his predecessors. The Crown exercised the presentation during war with France in the mid 14th century and later it belonged to Carlton's successors in the nomination, the Fauconbergs. The 'advowson', presumably comprising the right both to nominate and to present, was sold by the Fauconbergs to the Nevilles in 1408, and later descended with Rise manor. (fn. 423) It was perhaps the same chantry which was called Etherdwick chantry in 1535, when the endowment comprised the corn tithes of Etherdwick worth just over £2 a year. Another chantry at Aldbrough was then said to be worth £1 6s. 8d. (fn. 424) The Etherdwick tithes seem later to have been confused with the property of a chantry in Rise church. (fn. 425) In 1521 there were guilds dedicated to St. Peter and St. Mary, and a guild house at Aldbrough was mentioned in 1566. (fn. 426)
Godfrey de Lucy, bishop of Winchester 1189- 1204, was rector c. 1190. (fn. 427) The church was frequently exchanged, and was disputed on at least one occasion, c. 1350. (fn. 428) William Mooke, vicar from 1528, was a York prebendary, and Aldbrough was later often held by non-residents with other benefices; (fn. 429) curates were employed to do the duty. (fn. 430) About 1645 Lord Fairfax replaced the delinquent vicar John Hutton with John Fenwick, but both men were contesting the Easter offerings and tithes in the early 1650s; competing celebrations of communion were held in the church and a house during the dispute which led to a division of tithes. Parishioners later refused payment, and both Hutton and Fenwick were accused of using the prohibited Book of Common Prayer and Fenwick of inviting preachers disaffected to the government, including Hutton, and of tippling. (fn. 431) The incumbent lived at Humbleton in 1743 and at Hull in 1764, in which year service was weekly and communion was celebrated four times, usually with c. 55 recipients. (fn. 432) By 1865 two Sunday services were held, an evening school for boys was tried unsuccessfully later in the decade, and in 1884 there was also a children's service. (fn. 433) Celebrations of communion were monthly in the later 19th century, generally with c. 20 recipients. In the earlier 20th century sevices were held in a church hut, (fn. 434) and youth clubs, including the Y.M.C.A., were provided. (fn. 435) Communion was then weekly but very few received. The church hut was removed from Aldbrough to West Newton and opened in 1939 as a chapel-of-ease dedicated to St. Mary. It was used for services, including communion, at first weekly and later fortnightly; up to 10 people usually took communion there in the 1960s but it was closed soon afterwards. (fn. 436)
The church of ST. BARTHOLOMEW, so called in 1310, (fn. 437) is built of boulders and ashlar; it comprises chancel with north chapel, aisled and clerestoried nave, south porch, and massive, three-stage, west tower. A stone sundial reset in the south aisle wall has an Anglo-Scandinavian inscription recording that Ulf built the church for himself and for the soul of Guneware, (fn. 438) and the long and narrow nave probably preserves the plan of Ulf's earlier 11th-century church. The chancel has remains of two 11th-century windows in the north wall, a pre-Conquest, sculpted, monolithic window head in the south wall, and possibly reset, 12th-century chevron above the south door. (fn. 439) The lower stages of the tower are of c. 1200. Nave, chancel, and tower are all of similar width. The aisles were added in the 12th century and their walls were rebuilt in the 14th, when the south aisle was extended eastward for a short distance alongside the chancel. The chancel was also remodelled in the 14th century and the north chapel added then, perhaps for Sir John Meaux of Bewick (d. c. 1377). (fn. 440) The chapel was later used for the village school. (fn. 441) The top stage of the tower was remodelled in the 15th century and the clerestory added in the 16th. (fn. 442)
The chancel was in disrepair in 1568. (fn. 443) The church was repaired and the chancel screen taken down in 1720. (fn. 444) In 1870-1 the church was substantially rebuilt to designs by William Perkin of Leeds. The work included the renewal of the chancel arch, the restoration of the nave arcades, aisles, and clerestory, and the reroofing of the whole church. During rebuilding, services were held in the school. (fn. 445) The tower was restored in 1907 and again c. 1920, when the bells were repaired. (fn. 446) Later restoration, mostly effected in 1949-50, included the fitting out of the chancel chapel as a Lady chapel. (fn. 447)
In 1353 Sir John Meaux of Bewick alleged that the sea threatened his ancestors' remains in the church and was licensed to re-inter them in Haltemprice priory, near Cottingham, in which he founded a chantry in 1377, shortly before his own death. (fn. 448) He nevertheless requested burial in Aldbrough church, in St. Mary's aisle, evidently the chancel chapel where two 14th-century tomb chests bearing stone effigies of a man and woman are believed to commemorate him and his wife. (fn. 449) The size of the man's effigy led to the tomb being called Giant Morrell's and its location Morrell's or Morrill's aisle. (fn. 450) Above the knight hangs a replica of the medieval helmet associated with his tomb; (fn. 451) since 1978 the original helmet has been at the Tower of London. (fn. 452)
The fittings include choir stalls of the 1930s by J. Wippell & Co. Ltd. (fn. 453) Bells from Ravenser Odd chapel, in Easington, were bought after its destruction in the 14th century for Aldbrough church, (fn. 454) and there were three bells in 1552 and later. (fn. 455) The plate includes a cup with cover made in 1662 and a paten of 1701. (fn. 456) The registers of burials begin in 1570 and those of baptisms and marriages in 1571; they are largely complete. (fn. 457)
The churchyard was closed in 1923 and replaced by a cemetery on the Carlton road. (fn. 458) A lich-gate was added in 1952 as a war memorial. (fn. 459)
The parish clerk was entitled to four sheaves from each bovate at Great Cowden belonging to Aldbrough parish until inclosure in 1772, when a rent charge of nearly £2 a year was substituted. (fn. 460)
NONCONFORMITY.
Roman Catholicism was fostered by the Constables, who were seated just outside the parish at Burton Constable, in Swine. The family's tenants at West Newton were served by the chaplain at Burton Constable, and in the later 17th century by a priest partly supported by the Constables and resident at Marton, in Swine. Recusants and non-communicants recorded under Aldbrough sometimes included the Burton Constable household: John Constable, viscount Dunbar, and his wife were, for instance, included among 29 persons named between 1664 and 1666. Numbers rose to c. 50 in the later 18th century, (fn. 461) and in 1764 the parish had 12 Roman Catholic families. (fn. 462)
Protestant dissenters in 1676 were said to number 50. (fn. 463) Most may have been Friends. The monthly meeting was occasionally held at Aldbrough in the later 17th century, and John Raines of Aldbrough was a prominent Friend in 1678, as were later the Fosters of Bewick. (fn. 464) In 1764 six Quaker families lived in the parish. (fn. 465) A meeting house at the west end of the village was registered in 1778, (fn. 466) but no more is known of the congregation. Thomas Thompson, a leading Hull Methodist, and others registered a house in Aldbrough in 1781, (fn. 467) and the Wesleyans built a chapel in 1803. (fn. 468) It was perhaps remodelled in 1828, and was later often said to have been built then. (fn. 469) The chapel, in High Street, was rebuilt on an enlarged site in 1888, (fn. 470) and an adjoining schoolroom, put up in 1835, was reconstructed in 1907. The chapel was closed in 1939. (fn. 471) An unidentified protestant congregation registered a house in Aldbrough in 1791, and another in 1802. (fn. 472) The Primitive Methodists built a chapel in Hornsea Road in 1850, added a schoolroom in 1899, (fn. 473) and enlarged the chapel in 1907. (fn. 474) The chapel was closed in 1961, on the opening of a new Methodist church in High Street. (fn. 475) After their closure the former Wesleyan chapel was used by a dairyman, and the Primitive Methodist buildings as a shop.
At West Newton a chapel registered by the Wesleyans in 1907 was closed in 1933. The building, north of the street, was later demolished. (fn. 476)
EDUCATION.
Towrie's charity employed a teacher from the 1680s, and in 1741 books and fuel for the school were also provided. (fn. 477) In 1818 there was a school for boys and another for girls at Aldbrough, each attended by c. 60 children; c. 17 pupils in each were paid for from the charity, at a cost of c. £20 a year in 1823. (fn. 478) In 1833 the charity was supporting 26 of the 45 boys at an Aldbrough school, (fn. 479) probably that for boys held in the church until its removal by 1840, (fn. 480) and in 1855 c. 35 boys were taught at the charity's expense. The trustees built a new school for boys and girls on their land in Headlands Road in 1862, (fn. 481) and 20 boys and 20 girls were taught free there, along with feepaying pupils, in 1868. (fn. 482) There were 70 pupils on inspection day in 1871, (fn. 483) and 90 in 1877, (fn. 484) when the Church school received £52 a year from the charity. (fn. 485) An annual government grant was received from 1882-3, and in 1896 a class room was added to meet the requirements of the Education Department. (fn. 486) A Scheme of 1906 separated the educational part of the charity from the rest as the Towrie Educational Foundation, which was endowed with the school buildings and a quarter of the net income, to be spent on prizes, scholarships, or evening classes for children of the parish. (fn. 487) Attendance at the school, which took infants, was usually c. 100 from 1906 until the mid 1930s when it fell to c. 80. (fn. 488) The Towrie trustees transferred the school to the county council, and sold the council land to rebuild and extend it, in 1928, (fn. 489) and they provided a school playing field in 1940. (fn. 490) During rebuilding in 1929 pupils were taught in the Y.M.C.A. hut and the Wesleyan Sunday school. (fn. 491) Additional space was provided by the use of the youth club hut from 1953, and by the transfer of senior pupils to South Holderness County Secondary School in 1954. (fn. 492) A new wing, providing nursery and infant accommodation, a hall, and offices, were built on land bought from the Towrie trustees and opened in 1979. In 1991 there were 166 juniors and infants and 40 part-time nursery pupils on the roll. (fn. 493) In 1983 a Scheme reunited the two parts of Towrie's charity, and made one of its objects the promotion of young people's education, (fn. 494) and c. 1990 the school received about £200 a year which was spent on books and school visits. (fn. 495)
In 1833 there were three other schools at Aldbrough in which 25 boys and 50 girls were taught at their parents' expense. (fn. 496) An infants' school recorded in 1851 had 30 pupils in 1865, and 29 children attended two dames' schools in the 1870s. At West Newton there was a schoolmistress in 1851, and a mixed school with 14 pupils in 1871; (fn. 497) it was perhaps the same school which received a grant from Towrie's charity in 1892. (fn. 498)
CHARITIES FOR THE POOR.
John Thorpe (d. 1640) devised land in Aldbrough to his uncle George Towrie charged with £2 10s. a year for the poor of the parish, but no more is known of it. (fn. 499) Robert Towrie by will dated 1663 left a farm at Aldbrough for the poor of the parish; the income was to be spent in raising children, apprenticing boys, and relieving the old. (fn. 500) The charity took effect in 1681, and in the 1840s its management was disputed in Chancery. (fn. 501) The income, c. £20 a year in the late 17th and 18th century, was mostly used to provide clothing, fuel, cash doles for those not on poor relief, and schooling for children. (fn. 502) About three boys a year were apprenticed in the early 19th century. The trustees received 115 a. at inclosure in 1766, (fn. 503) and the farmhouse was rebuilt opposite the church, apparently on a new site, in 1789, (fn. 504) and later refronted. Another house at Aldbrough, said in 1729 to be partly used as an almshouse, may have been supported by the charity, (fn. 505) and in 1803 two cottages, nos. 32 and 34 Church Street, were built by the trustees, and later occupied rent-free. (fn. 506) In 1823 the farm, of c. 130 a., was let for £200 a year. The estate was reduced to c. 115 a. in 1901 and 98 a. in 1955, and the annual gross income fell from nearly £150 c. 1900 to £104 in 1955. (fn. 507) In 1906 a Scheme assigned three quarters of the net income to provide cash payments, goods, and services for elderly parishioners and young persons; the educational branch of the charity might apprentice boys. (fn. 508) Before and after the charity's reorganization, eleemosynary expenditure was usually in the form of cash doles; in the early 20th century up to £100 a year was given to some 40 persons, and sixty gifts of 6s. each were made at Christmas in 1954. (fn. 509) In 1983 a Scheme reunited the educational and eleemosynary branches of Towrie's charity, and made one of its objects the relief of needy residents of Aldbrough and Burton Constable civil parishes. (fn. 510) In 1985-6 the gross income of the charity from land, including some at East Newton, and stock was nearly £6,000 a year; Christmas boxes of £10 each were then given to 154 persons, and c. £90 was spent on transport for the old. (fn. 511)
William Tymperon, by will proved in 1729, devised his estate at Aldbrough for an almshouse in Beverley. Two inhabitants of Aldbrough were to be housed in the hospital, which when established took only women. (fn. 512) Under a Scheme of 1824 a three-roomed almshouse was built soon afterwards at Aldbrough for three almswomen, who were each to receive 6s. a week, clothes, and coal. The new house was evidently for almspeople from Aldbrough, and the Beverley hospital was reserved for residents of that town (fn. 513) until 1911, when it was laid down that one or two of the inmates at Beverley might again come from Aldbrough. (fn. 514) Tymperon's hospital at Aldbrough, close to the church, is a single-storeyed building which echoes the earlier Beverley house in the round-headed, blank arcading of its façade. (fn. 515) In the early 20th century repairs and the support of the widowed occupants usually cost c. £60 a year. (fn. 516) Most of the land at Aldbrough was sold in 1952 (fn. 517) and the hospital at Beverley in 1953, and a new Scheme was obtained in 1957. (fn. 518) The endowment then comprised, besides the almshouse, c. 1 a. at Aldbrough and just over £14,000 stock. The charity was divided into an almshouse charity and a payment of £100 a year for Aldbrough Sunday school and education in Beverley. The almshouse branch allowed contributions from the almspeople, who were to come from Aldbrough or Beverley. The Scheme also established a building improvement fund, and c. 1962 the hospital at Aldbrough was renovated and remodelled as two dwellings. (fn. 519) Tymperon's hos pital was still maintained in 1991 but stood empty in 1998.
At inclosure in 1766 the overseers of the poor received nearly 14 a., (fn. 520) and by 1852 the field, on Dothams Road, was divided into allotment gardens, which were transferred to the parish council in 1894. (fn. 521) There were c. 25 tenants on Poor's Field in the early 20th century and still 7 in 1935-6, but later the land was used agriculturally. Tenants' rents produced c. £16 a year, which was mostly spent on flour and coal, 87 people benefiting in 1900-1 and 30-40 a year in the mid century. (fn. 522) About 1980 the income of £40 was applied with that of Towrie's charity as Christmas doles. (fn. 523) Land belonging to Towrie's charity was also let as allotment gardens by 1852 when some of the holdings adjoined Poor's Field. (fn. 524) In 1901 the charity had 16 gardens of 1 a. each and 11 of ½ a. or ¼ a. (fn. 525)
James Bean (d. 1767) left 2s. a week for bread but the rent was lost c. 1800. (fn. 526) Land in Fitling, in Humbleton, belonged to the poor of West Newton from the 18th century. (fn. 527)