Pages 150-155
A History of the County of York North Riding: Volume 1. Originally published by Victoria County History, London, 1914.
This free content was digitised by double rekeying. All rights reserved.
BARTON
The area of this parish is 3,085 acres, 1,644 acres being arable land, 1,094 permanent grass and 67 woods and plantations (fn. 1); besides Barton it contains the townships of Bretaneby and Newton Morrell. The subsoil is Yoredale Rocks and Magnesian Limestone, the soil strong loamy gravel; there are limestone quarries in the south-west. The chief crops raised are wheat, oats, seeds and turnips. The height above the ordnance datum varies from 200 ft. to 300 ft. Watling Street forms the western boundary and two lanes that leave it meet before reaching Barton, the united road passing through the village as Silver Street intersects Well Lane and proceeds to Newton Morrell. North of Barton village is the new church of St. Mary and St. Cuthbert; south, at the point where Well Lane meets Mary Gate, is the ruined church of St. Mary, with the vicarage close by. Around the village are open spaces, on one of which is the broken shaft of a cross standing on several steps. A beck runs through the village and is crossed by a footbridge and further on by New Bridge at Silver Street.
At this village, it is said, the monks who carried the body of St. Cuthbert made a temporary halt, commemorated by the chapel that subsequently arose. (fn. 2) According to the legend, the second chapel in this village was erected for the less pious reason that two sisters hated each other so intensely that they could not worship under the same roof. (fn. 3)
The lane from Barton through Newton Morrell leaves the parish by Willow (Willey, xvii cent.) Bridge over the Clow Beck and proceeds to Darlington. This bridge is possibly that mentioned in the 13th century as 'the bridge of Barton in the territory of Stapleton' (fn. 4); in 1647–8 £30 (fn. 5) and in 1659 £40 (fn. 6) was estreated for its repair. In the west of the parish Clow Beck crosses Watling Street under Wath Bridge and becomes Aldbrough Beck. By its side stands Bretaneby manor-house with its fishpond, plantations and game coverts. There was a watermill at Bretaneby in the 16th century, (fn. 7) and mills at Barton and Newton Morrell in the 12th century. (fn. 8)
The following place-names in Barton occur in the 13th century: le Bedeknol, Cressekeldheved (Grass Kiln Head Spring), Scorthehevedland, Thistleburg, Algrimehou, Staynbrigge, Heselrune, Redemire, Wallesflat, Mawyngedale, Wulfekelde, Fulwath, Herbertpittes, Tepflathevedes, Englandhevedes, Castlehou subtus Kneton, Brankenesker, Gamelssicke, Hangbreg (Hang Bank Bridge), Hangebreth (fn. 9); and in Newton Morrell, Ovenham, Hackelstayn and Hangandebank. (fn. 10) Some 17th-century names in Barton are Threaplands, Four Riggs, Bibeck or Baybeck, Winterflat, Windhill, Hewke Close and Stoneywell Hill. (fn. 11)
There is a small Wesleyan chapel at Barton and a National school for boys and girls. The Merrybent and Darlington railway, which conveys goods and stones only, runs from Merrybent—a cluster of cottages by Watling Street—and skirts Barton, where it has a station.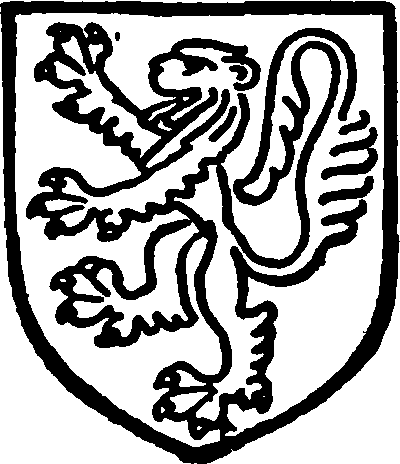 Manor
In 1086 the soke of Barton and the berewick of Newton were parcel of Count Alan's manor of Gilling (fn. 12) (q.v.), and though Bretaneby was not mentioned in the Domesday Survey all three places were later accounted members of the honour of Richmond. (fn. 13) Henry III, who is said to have granted the issues of the honour in 1227 to his brother Richard Earl of Cornwall, (fn. 14) may at least have granted him some of its lands, though two years later he restored them to the Count of Britanny; Lawrence 'son of Richard de Cornwall, kt.,' in 1271 confirmed a grant to St. Agatha's Abbey of land 'in Barton of my fee.' (fn. 15) The half knight's fee that Barton constituted must, however, have shortly passed to Peter de Brus, lord of Skelton (q.v.) in Cleveland, for in 1281, on the division of fees between his sisters and co-heirs, it was assigned with Skelton to Walter de Fauconberg husband of Peter's second sister Agnes, (fn. 16) and this lordship afterwards continued to be held by their descendants. (fn. 17)
Under these mesne lords Barton was divided into two fees, each of 3 carucates and each held by mesne lords. The first mesne lordship was held in 1286–7 by Roald de Richmond, (fn. 18) and descended from him to the Scropes of Bolton. (fn. 19) The undertenancy was held in the early 12th century by Enisand Murdac (fn. 20) or Musard. (fn. 21) His successor (fn. 22) Alexander Musard had two children, a son Robert, (fn. 23) who must have died in his father's lifetime, and a daughter and eventual heiress, Garsia or Garsiana, (fn. 24) wife of Wigan son of Cades, lord of Hartforth, (fn. 25) at the time when Alexander and Wigan granted half the farm of Alexander's mill at Barton to St. Agatha's Abbey. (fn. 26) In 1175–6 Garsia or Garsiana gave 10 marks for the custom (custuma) of the land of her son Wigan, (fn. 27) known variously as 'de Barton' or 'de Hartforth.' (fn. 28) By 1230 Wigan had been succeeded by his son (fn. 29) Alan, (fn. 30) who in 1235 quitclaimed the whole of Barton to William de Lancaster. (fn. 31)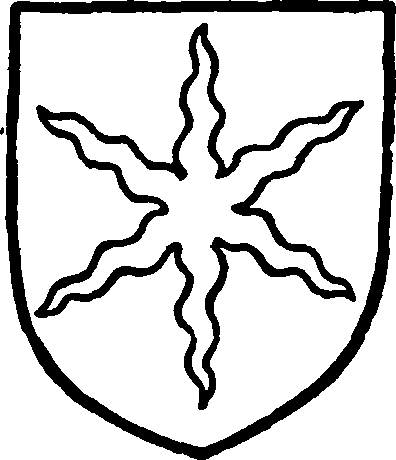 It must have been at this time that the manor of Barton was divided into the two parts, sometimes called separate manors, of which it was afterwards composed. The first of these, afterwards known as 'WARD'S formerly INGLEBY'S MANOR,' may be traced back to a grant by William de Lancaster of one messuage, 160 acres of land, and half the mill of Barton to Richard le Botiller his seneschal. (fn. 32) Richard enfeoffed John le Franceys, whose grandson and heir Richard de Vernun granted these tenements to Grimbald le Franceys, (fn. 33) the tenant in 1286–7. (fn. 34) Robert son of John Franceys had succeeded by 1319, (fn. 35) and granted his lands here to the Mowbrays before 1330, when Thomas son of William de Mowbray was enfeoffed. (fn. 36) John son and successor of Thomas with Isabel his wife and her heirs in 1354 settled this manor on his uncle John son of William Mowbray (fn. 37) of Kirklington, whose son (fn. 38) William died seised in 1391, leaving a daughter Eleanor, (fn. 39) afterwards wife of Thomas Ingleby, (fn. 40) and a widow Margaret. Margaret held the manor in dower until her death in 1419, when it descended to William son of Thomas and Eleanor Ingleby. (fn. 41) The Inglebys of Ripley held this manor of Barton until 1579, (fn. 42) when William Ingleby conveyed it to John Ward. (fn. 43) Winifred daughter and heiress of John Ward married John Dodsworth, (fn. 44) who in 1649 conveyed the manor to his second cousin Robert Dodsworth. (fn. 45) Robert left two daughters to inherit his lands, Mary wife of John Killinghall of Middleton St. George, and Elizabeth wife of John's elder brother William Killinghall. (fn. 46) The issue of William and Elizabeth died out in the first generation, and Robert son of John and Mary Killinghall (fn. 47) was in possession of the Dodsworth interest in Barton in 1746—7. (fn. 48) He died in 1758, and was succeeded by his son John, who died without male issue in 1762, having previously devised Middleton St. George—and apparently Barton also—to his kinsman William Pemberton. (fn. 49) William's daughter Elizabeth married James Allan of Darlington, who held, besides this manor of 'Ward's formerly Ingleby's,' (fn. 50) that of 'Wandesford's alias Wilkinson's,' (fn. 51) and Barton Grange. These lands have remained in the possession of the family from this time, Sir Henry S. M. Havelock-Allan, bart., of Blackwell Grange, being the present lord of the manor.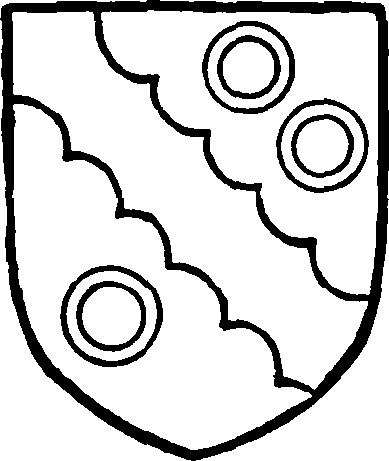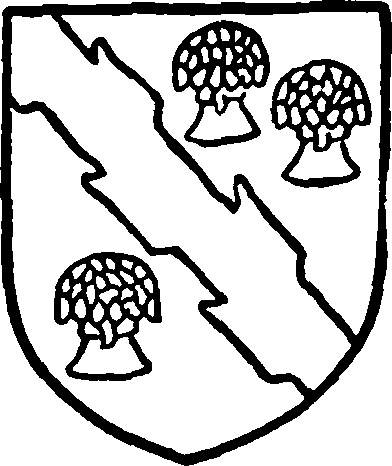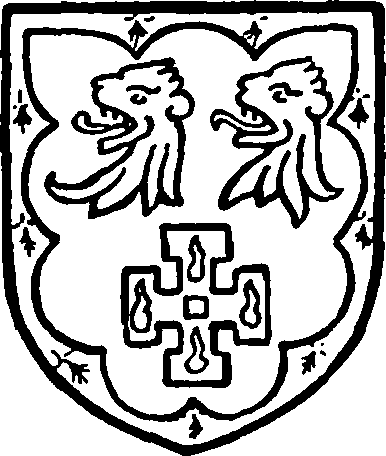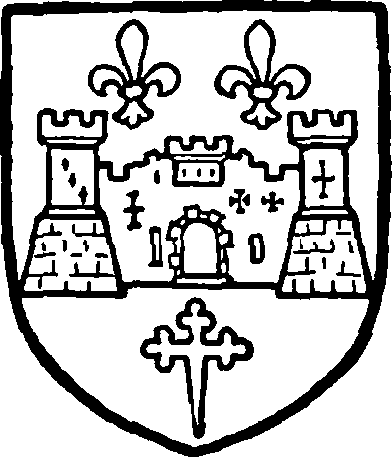 A second manor in Barton probably also arose from a grant made by William de Lancaster, for in 1286—7 Richard de Huddleston was said to hold the 3 carucates of this fee jointly with 'John Grymball.' (fn. 52) Thomas son (fn. 53) and heir of John de Huddleston was returned as joint lord in 1316, (fn. 54) but was still a minor in 1330. (fn. 55) John died before 1338, when Parnel his widow held one-third of tenements in Barforth and Cleasby in dower, (fn. 56) and this manor then passed to the lord of those places. In 1338 a settlement of tenements in Barforth and Cleasby was made on John son of Thomas de Layton and Christina his wife, (fn. 57) who in 1354 conveyed the manor of Barton to Robert de Layton. (fn. 58) From him it descended to the Laytons of Sexhow. (fn. 59) In 1568 Robert Layton conveyed it to James Rokeby. (fn. 60) Although the family of Rokeby still held land here in 1596, (fn. 61) no further history of the manor is known until 1656, when William Burnett was lord. (fn. 62) He parted with it in 1687 (fn. 63) to Butler Buggins, who held it until 1689. (fn. 64) John Buggins was lord from 1691 to 1695, (fn. 65) while Thomas Gyll was in possession from 1697 to 1724. (fn. 66) In 1746–7 Thomas Gyll was joint lord of the manor. (fn. 67) Thomas died in 1780, and was succeeded by his nephew Leonard Hartley (fn. 68) of Middleton Tyas (q.v.), with which it has descended to Mr. Ralph Eyre.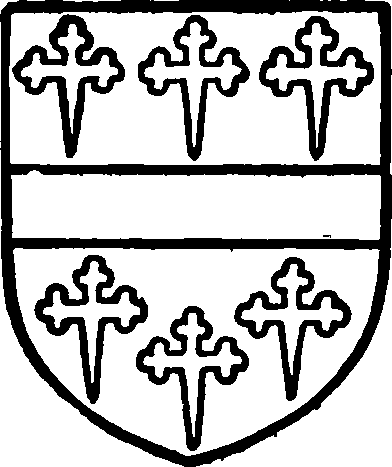 The second mesne lordship, over 3 carucates, was held by Ralph son of Ranulph, lord of Middleham, in 1268, (fn. 69) and was among the fees divided between his co-heirs in 1270. (fn. 70) By the following year Ralph's interest (fn. 71) appears to have been held by his brother (fn. 72) Ranulph, whose son Ralph was mesne lord in 1286—7. (fn. 73) Ralph's descendants must at some time have granted the services due from this land to the two chapels of Barton, to the churchwardens of which in the 16th century St. Agatha's Abbey paid 5s. annually for the vill. (fn. 74) The abbey obtained the fee from Ranulph son of Ranulph in 1268, (fn. 75) and in 1270 was said to hold here 3 carucates in demesne; at the Dissolution the abbey lands yielded a rental of £7 4s. 11½d., and one Richard Foster was bailiff there. (fn. 76) The reversion of the manor, then leased to Lord Scrope, was granted in February 1557–8 (fn. 77) to Francis Wandesford and John his second son in fee simple, and was afterwards known as WANDESFORD'S alias WILKINSON'S MANOR. In 1559 Francis Wandesford died seised, and was succeeded by Christopher his son. (fn. 78) John Craister and others, apparently trustees for the Wandesfords, conveyed a moiety of this manor in 1601 to Christopher Wilkinson, (fn. 79) who in 1633 died seised of half the manor and 'half the capital messuage called Barton Grange.' (fn. 80) He was succeeded by his son John. (fn. 81) In 1648 Francis Wilkinson conveyed the manor to Robert Dodsworth. (fn. 82)
The mesne lordship, under the earl, of 3 carucates in BRETANEBY or BRETTANBY (Brattenby, xvii cent.; Breconby, xviii cent.) was held by the lords of Constable Burton in 1260 (fn. 83) and 1286–7, (fn. 84) and afterwards by their successors the Scropes, who after about 1328 (fn. 85) held the manor directly of the earl. After the sale of 1420 it was held of the Scropes of Bolton 'as of their fee of Brignall.' (fn. 86) Under Roald a mesne lordship was held in 1260 by Thomas de Helbeck (fn. 87); in 1286–7 he was lord of the whole fee, while under him a further mesne lordship was held by William de Boyvill. (fn. 88)
The tenancy in fee at this date was held by Thomas or Robert de Applegarth; Thomas son of Robert de Applegarth was lord in 1316. (fn. 89) In 1328 his son and heir Robert appears to have conveyed the manor to Henry le Scrope of Bolton, (fn. 90) and the Scropes held the manor until 1420, (fn. 91) when Richard le Scrope conveyed it to John Walton (Wauton) (fn. 92) together with the manor of Cliffe (fn. 93) (q.v.).
John Walton left two daughters and co-heirs: Margaret, who married George Witham, and Janetta or Ivetta, wife of his brother Thomas Witham (fn. 94); Bretaneby fell to the share of Thomas and Janetta Witham, and was held by their descendants (fn. 95) until the attainder of Cuthbert Witham for his share in the Rising of the North in 1569. (fn. 96) In 1573 Elizabeth granted the manor in fee to Edmund Gresham and Percival Gunson. (fn. 97)
NEWTON MORRELL (Neutone, xi cent.; Neuton Morell, xii cent.).—Before the Conquest Tor had one 'manor' at 'Newton' which by 1086 had passed with the rest of his fee to Enisan, the tenant of Count Alan. (fn. 98) This Newton was said to contain 6 carucates at geld, but in the 13th century Newton Morrell was assessed at 4 carucates, 12 carucates forming the knight's fee. (fn. 99)
In 1211—12 Godwin de Narford held a mesne lordship here of over half a knight's fee, (fn. 100) but no further mention of him in connexion with Newton Morrell has been found. The records are somewhat obscure, but it would appear that in 1286–7 this fee of 4 carucates was divided under two mesne lords. The first mesne lordship was over 3 carucates, and must have been part of the two knights' fees granted before 1137 to Hermer in the neighbouring Manfield (q.v.); it was afterwards held by his descendants the families of Morvill, Marmion and Fitz Hugh. (fn. 101) This lordship is not mentioned in 1286–7, when Newton was said to be held under the earl by Brian Fitz Alan, who was succeeded by the Stapletons. (fn. 102)
A tenancy in fee was held in the middle of the 13th century by Adam de Maunby, who was followed by his son Thomas before 1286–7, when he appears to have held about 1½ carucates in demesne. This manor followed the descent of that of Newby Wiske in Kirkby Wiske parish (q.v.) until 1591, when Thomas Saltmarsh and Robert his son and heir conveyed it to John Mallory, who conveyed it to Christopher Allanson in 1593. In 1610 Christopher Allanson sold it to Gerard Reade, (fn. 103) on whose bankruptcy in 1619 the manor was sold to John Gall of Hadleigh, Suffolk, John Cole of Bilson and Libias Dimblebee of Dedham. (fn. 104) Soon afterwards it came into the possession of the family of Greenwell. In 1649 Anne Greenwell, widow, William Greenwell and Mary his wife conveyed the manor to William Burnett (fn. 105); his son William sold 'the manors of Newton Morrell and Barton' to Butler Buggins (Biggin) in 1687. (fn. 106)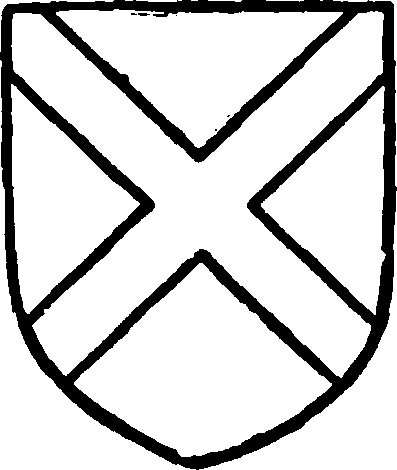 Newton Morrell was in the possession of the Yorkes of Bewerley (fn. 107) in 1759 and 1814 (fn. 108) and was bought from them in 1824 by the family of Wilson. It was sold in 1907 by Mr. Murrough John Wilson of Cliffe Hall partly to Hugh Rowlandson (since succeeded by his brother Mr. Thomas S. Rowlandson) and partly to Mr. Corner of Murkey Hill, Middleton Tyas. The boundary of the two properties is the Darlington and Richmond road. (fn. 109)
The remaining 2½ carucates of the Maunby fee had been granted by its lords before 1286—7 to various tenants in demesne. (fn. 110) Of the three fees thus formed the most important was that held by the family of Morell, who did ward for Newton at Richmond Castle. (fn. 111) A William Morell was established in this wapentake in 1165—6, (fn. 112) and granted to the hospital of St. Giles near Brompton Bridge one bovate of his demesne land of Newton and half an acre near his mill. (fn. 113) His son Ralph granted to St. Agatha's Abbey his capital messuage and half the mill of Newton (fn. 114); these probably represented all his land here, for the family is not again mentioned in connexion with the place, (fn. 115) while the abbey was said to hold 1 carucate here in 1286–7. (fn. 116) The abbey in 1428 was holding 2 carucates, (fn. 117) from which at the Dissolution they received an annual rent of 40s. (fn. 118) The Crown subsequently leased tenements here to Thomas Lord Scrope, Philadelphia his wife and Emanuel his son. (fn. 119) In 1637 part of these lands were in dispute between Anne Greenwell and John Clement, (fn. 120) and they may probably be identified with some of the lands sold by Anne to William Burnett, (fn. 121) in whose estate they must have merged.
A minor fee under the mesne lordship of the family of Maunby was in 1286—7 held by William de Houghton, tenant of 1 carucate, while Thomas de Halnaby (Hanlathby) held half a carucate of the same lordship. (fn. 122) The family of Halnaby held land here in 1316 (fn. 123) and 1334. (fn. 124) Alexander Maunsel in 1285 obtained licence to grant 3 oxgangs here to St. Agatha's Abbey. (fn. 125) Henry Maunsel of Newton Morrell is mentioned in 1395, (fn. 126) and in 1577 Peter Maunsel was succeeded by his son Francis in the tenure of a capital messuage here held of Thomas Saltmarsh. (fn. 127)
Jervaulx Abbey in 1349 and 1428 was stated to hold 3 carucates of land in Newton Morrell of the fees previously held by Thomas de Burgh in Hackforth and Appleton. (fn. 128)
Churches
The church of ST. CUTHBERT is a rectangular building 70 ft. by 30 ft., with a south-west tower, the ground story of which serves as a porch. There is no division between nave and chancel, and the southwest corner of the nave is screened off as a vestry. The church was built in 1840 to replace an older one, which had a chancel, nave with south porch and west tower. Architecturally it is of no interest, its windows being plain lancets and its roof of low pitch with queen post trusses and covered with slates; there is a good deal of modern stained glass. The roof is wood with a slated exterior. A plain circular font, on a round stem, mediaeval but of uncertain date, has recently been recovered near the ruined church of St. Mary and set up here at the west end of the nave, the modern font formerly in the church being at present in the churchyard near the entrance doorway. The tower is of the same uninteresting character as the church, with pairs of lancets in the upper stage. On the south wall of the nave is the monument of Thomas Dodsworth, 1680, a brass plate in a stone frame with a broken pediment above it. On it are also inscriptions to Robert Dodsworth, 1657, and Margaret Chaytor, widow of Robert, 1703. In the porch is a raised tomb with corner brackets and hanging drapery carved on the upper part of the sides, a detail not uncommon in the district, with the arms of Gyll (fn. 129) and inscriptions to Thomas Gyll, 1691, his mother Mrs. Eliza Lister, 1688, and his wife Mrs. Eliza Gyll, 1700. In the west wall of the porch is a small trefoil light filled with modern glass bearing the arms of Gyll.
There are three bells: the treble inscribed 'W P, I H, I M, churchwardens 1661'; the second of the same date, with W L, T O, T S, and the arms and initials of Thomas Dodsworth; the tenor of 1717 has 'God save His Church, E C, E G.' On the floor of the tower is another bell inscribed 'Dalton fecit York 1788.'
The plate is modern, part dating from 1841 and 1844, and the remainder bequeathed by Robert Henry Allen in 1889.
The registers begin in 1582.
The church of ST. MARY before 1840 had a chancel, nave and south porch, but in that year all except the chancel was pulled down and a small west porch added to it with the intention of using it as a mortuary chapel; it is now ruinous and overgrown with ivy. Above the lintel of its doorway is inscribed 'W E May 11 1678,' the lintel itself being 5 ft. 6 in. long by 10 in. wide, worked with a small lozenge pattern. Against the south wall is a stone 5 ft. 6 in. high by 19 in. wide, in the upper part of which are two small holes and a number of roughly-cut radiating lines, perhaps intended for a sundial. There is here also a carved fragment, possibly a coffin slab, with remains of an ornamental cross.
Built into the south wall is a small stone with a rough outline of a half-figure with elbows turned outwards. The only old window remaining is a small square-headed light in this wall. In the churchyard is a raised tomb inscribed 'Chr: Ward Esquire Buried ye 27th day of May 1595.'
The registers for this church are preserved, and begin in 1619.
Advowson
In the 13th century there were two chapels in Barton; that of St. Mary was dependent on the mother church of Gilling and as such was confirmed to the abbey of St. Mary, York, in 1396; the chapel of St. Cuthbert was attached to the church of Stanwick St. John, which until 1228 was in the possession of St. Agatha's Abbey. The vicars of Gilling and Stanwick retained their respective rights of presentation until 1840, the invariable practice being for each to present the same person. In 1840, when the vicarages of Gilling and Stanwick chanced to be held together, the two chapelries of Barton were consolidated and from this date the vicars of Gilling and Stanwick have exercised the patronage alternately. (fn. 130)
Of the two chapels St. Mary's was the first to fall into decay, its condition being such by the time of Bishop Pearson (1673—86) (fn. 131) that it ceased to be used for divine service. (fn. 132) St. Cuthbert's was in decay in the early 19th century and a church undethe double invocation was built in 1840.
The tithes of the chapelry of Barton and those of Bretaneby were retained by the abbey of St. Agatha under the arrangement of 1228, (fn. 133) and were held by it until the Dissolution, (fn. 134) when they passed to the Crown. In 1612–13 'the free chapel of St. Cuthbert' was granted to Francis Morrice and Francis Phillips, (fn. 135) who conveyed it to members of the family of Greenwood (fn. 136); this family still held this chapelry and the rectory of Manfield in the 18th century. (fn. 137)
The free chapel of Newton is mentioned in 1570—1, (fn. 138) but no further mention has been found. In the same year Francis Barker and Thomas Browne received a grant of 'the gild house called the Town house in the parish of Barton, together with the chapel garth and land called Kirkland in Newton.' (fn. 139)
Charities
Barton (including the chapelries of SS. Mary and Cuthbert) educational charities.
Mark Smithson, by his will dated 17 July 1683, left £100 to be laid out in land and the income applied in teaching ten poor children and apprenticing one of them every year. The legacy was not laid out in the purchase of land, but interest at 5 per cent. was formerly paid by the Hartley family and subsequently by that of Eyre of Middleton Tyas. The sum of £2 10s., a moiety of the income, is used for educational purposes, but the remaining moiety of £2 10s. for apprenticing appears to be unapplied.
In 1702 a Captain Harrison left £20 with which a house and garden were purchased for the occupation of a schoolmaster. The property was sold in 1896 and the proceeds invested in £229 7s. 2d. consols with the official trustees; the annual dividends, amounting to £7 14s. 8d., are applied for educational purposes under a scheme of the county court of Durham, 1859.
The National school was founded by deed of 17 February 1860 and endowed in 1860 by Mrs Ann Charge with a sum £642 11s. 5d. consols, which was in 1862 augmented by the sum of £110 3s. 10d. consols given by Miss Ann Bell. By an order of the Board of Education of 31 January 1907 the sum of £280 8s. 4d. consols was sold out for the purpose of effecting certain necessary improvements to the school building, which is in course of being replaced by the investment with the official trustees of the dividends accruing on the balance of the stock.
The Rev. William Raine Atkinson by will proved in 1887 left £100 to be invested and one moiety of the income to be applied annually at Christmas or Easter in Bibles, Prayer-books and other books of a religious tendency as rewards to children attending the Church Sunday schools; the other moiety in the purchase of books for the use of the Sunday and day school library. The legacy is represented by £98 13s. 3d. consols with the official trustees.
The before-mentioned Mark Smithson by his will gave £2 a year for the use of the poor, which became charged upon a close called the Paddocks formerly belonging to the Hartley family.
At a date unknown Ann Dodsworth left £20 for the poor, now represented by £26 3s. 8d. consols with the official trustees.
In 1654 John Robinson gave 20s. for the poor to be paid yearly out of his close, known as Kirk Closes, and 20s. for the repair of the chapel of Barton St. Cuthbert.
The income of these charities for the poor, amounting to £3 13s., is distributed by the parish council in sums of about 5s. to each recipient.
The above-named Rev. William Raine Atkinson also bequeathed £300 income to be applied at Christmas among the poor of Barton in money, coals food, blankets or clothing by the vicar and churchwardens. The legacy was invested in £294 9s. 6d consols with the official trustees. The dividends, amounting to £7 7s., were in 1904 divided among poor persons, who received about 9s. each.
Caldwell school, see Stanwick St. John, Wapentake of Gilling West.