Pages 158-160
A History of the County of York North Riding: Volume 1. Originally published by Victoria County History, London, 1914.
This free content was digitised by double rekeying. All rights reserved.
CLEASBY
Clesbi (xi cent.); Cleseby (xii–xvi cent.); Cleysby, Cleesby (xvi, xvii cent.).
This parish, which contains the township of Cleasby only, is situated by the Tees, its northern boundary. Its area is 1,204 acres, 564 acres being arable land, 493 permanent grass and 10 woods and plantations (fn. 1); the chief crops raised are wheat, oats and barley. The subsoil is magnesian limestone with recent alluvium by the Tees, the soil is loam, clay and gravel, and there are limeworks and quarries south of Cleasby village. The land gradually rises from 120 ft. to 150 ft. above ordnance datum by the Tees to 200 ft. south of Cleasby. 'Cleasby,' wrote Whitaker, is 'remarkable for nothing but a noble and flourishing elm on the village green.' (fn. 2)
The village lies about half a mile south of the Tees and is built round an oblong green with a road running east to Stapleton. To the south of the village is a line of steep bank about 60 ft. high, suggesting perhaps an early river-bank, for even within recorded times the winding course of the Tees has proved very variable. The church is at the west end of the green and close to it is the manor-house. The manor-house shows the E-shaped construction on the south side with some stone-mullioned windows. On the west wall are several corbel stones with a portion of a stone course above, but there is nothing to suggest their purpose or origin. Part of the house would seem to date from the 16th century. Two lanes run south-east and south respectively from Cleasby to the Darlington road, and another lane from Cleasby runs west by the river to Manfield. A British school built by Thomas Pease is now the property of the Dean and Chapter of Ripon. John Robinson, Bishop of London, was born of obscure parents at Cleasby in 1650. He was Ambassador to Sweden for twenty-five years, Lord Privy Seal subsequently, and in 1712–13 first Plenipotentiary to the Congress of Utrecht. (fn. 3)
Manor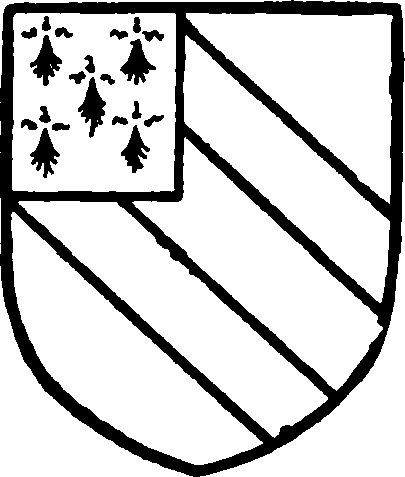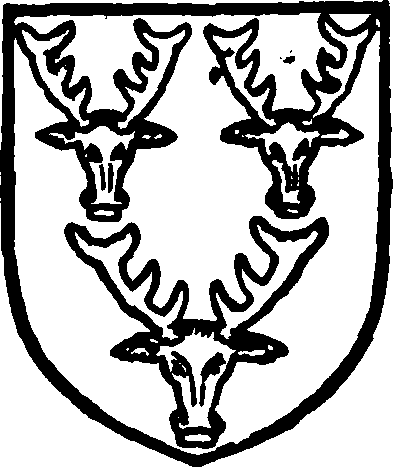 CLEASBY was among the lands of Count Alan in 1086 (fn. 4) and afterwards became a member of the honour of Richmond. (fn. 5) Tor had one 'manor' there before the Conquest, and this passed with his fee to Enisan, who held 1 carucate there in demesne in 1086. (fn. 6) The mesne lordship descended from Enisan to the lords of Constable Burton (fn. 7) (q.v.), passing with that manor to the Scropes. (fn. 8) Enisan, who lived on well into the 12th century, held lands here in demesne (fn. 9) and he was succeeded in these by Harsculph (Hasculf, Hasquid), the ancestor of the Cleasbys. There is a charter of Earl Conan, who died in 1171, (fn. 10) among the muniments at Marske, (fn. 11) which, as it stands, makes various grants 'to Harsculph Cleasby my kinsman and constable of my castle of Richmond.' The charter, however, is full of grammatical and other errors. Rid of accretions it may perhaps represent a grant or confirmation of Cleasby to Harsculph, (fn. 12) who is possibly identical with the Harsculph 'son of Ridiou' who held lands in Yorkshire of Count Stephen of Britanny in 1130–1, (fn. 13) and with the 'Harsculph Rufus' with whom the Cleasby pedigree properly begins. Harsculph Rufus married a daughter of Aldred de Richmond, and so was related to the Rollos family (fn. 14); his sister Oriolda married Ranulf (de Glanville) the sheriff and had children, William and Cecily. (fn. 15) His son Robert Rufus or 'de Cleasby' is mentioned in 1194, (fn. 16) and had sons Robert (fn. 17) (heir to his grandfather in 1223–4), (fn. 18) Harsculph, who succeeded, and John. (fn. 19) A Harsculph de Cleasby of this time was seneschal of the Earl of Richmond. (fn. 20) By 1280 Harsculph was succeeded by his son Robert, (fn. 21) who in 1300 settled the manor of Cleasby on himself and his wife Amabel for life with remainder to Robert de Hastangs and Emma his wife, their daughter, (fn. 22) and their heirs. (fn. 23) In 1314 Amabel de Cleasby, Robert de Hastangs and Emma and their heirs obtained a grant of free warren in their demesne lands here and in other places, (fn. 24) and in 1316 Amabel was returned as sole owner. (fn. 25) Robert de Hastangs paid the subsidy in Cleasby in 1327–8. (fn. 26) He died without issue and Emma married as her second husband Henry Fitz Hugh of Ravensworth, (fn. 27) bringing the manor of Cleasby to the Fitz Hugh family. A certain James de Cleasby who pretended to be son of Robert de Cleasby claimed the manor against Henry Fitz Hugh. Whether or not he was an impostor, (fn. 28) he joined with John de Layton and Christina of Barforth, his wife, in quitclaiming the manor in 1348 to Christina's father, (fn. 29) Henry Fitz Hugh, (fn. 30) and from this time the lords of Ravensworth held the manor of Cleasby (fn. 31) until the attainder of William Marquess of Northampton in 1553 (or possibly his death in 1571), when it escheated to the Crown. (fn. 32) In 1583 the Dacres, co-heirs of the Fitz Hughs, quitclaimed it to the Crown, (fn. 33) and in 1602 it was granted by the queen to Peter Bradwell and Robert Parker, their heirs and assigns, (fn. 34) evidently as trustees for 'building Bess of Hardwick,' in whose hands it was in the autumn of the same year. (fn. 35) From the Countess of Shrewsbury it descended to the Earls of Devon and Dukes of Devonshire, (fn. 36) who still held it in 1818. (fn. 37) It was in the hands of John Church Backhouse in 1857, and by 1879 was in the possession of the present lord of the manor, Sir Theodore Fry, bart.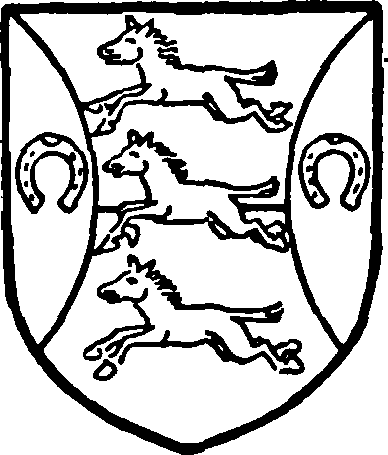 While Robert de Cleasby held 6½ carucates here in demesne in 1286–7, the remaining 1½ carucates were held by his tenants. Harsculf son of William was holding 1 carucate of Robert de Cleasby in 1286–7, and may be the Harsculf mentioned in 1292. (fn. 38) In 1330 a Harsculf de Cleasby held land in Marske (fn. 39) (q.v.), and in 1432 Robert Cleasby and Elizabeth his wife made a settlement of land in Cleasby with contingent remainder to Harsculph Cleasby. (fn. 40) In 1537 Thomas Cleasby died seised of a capital messuage here, (fn. 41) and was succeeded by Leonard his son, who in 1550 (fn. 42) was followed by his son John, then a minor; John had livery in 1562. (fn. 43)
A Harsculph Cleasby took part in the Rising of the North in 1569; his name was put on Cecil's black list, but his execution was stayed, (fn. 44) for 'he may do very much,' wrote Lord Hunsdon, the queen's cousin, to Cecil, 'with one of my Lord Conyers' daughters and heiresses whom I am about to get for my son Harry, which will the better be brought to pass by him, being in great credit with all the sisters. He is besides no notorious offender . . . and has not one foot of land.' (fn. 45)
The last mention of the Cleasbys of Cleasby seems to be in 1624, when Leonard Cleasby died seised of a capital messuage here, leaving a son and heir John. (fn. 46) In 1615 a James Cleasby, gentleman, no doubt a connexion of Leonard, kept an ale-house at Cleasby and was threatened with the loss of his licence on account of his wife's recusancy and his own disorderly carriage (fn. 47); four years later the overseers of Cleasby had warrants to pay poor relief for James's infant daughter Mary. (fn. 48)
There was another capital messuage mentioned in the 16th century attached to the manor (fn. 49) and granted with it in 1602 to Peter Bradwell and Robert Parker.
Church
The church (dedication unknown) consists of a chancel 17 ft. by 13 ft., nave 36 ft. by 18 ft., and a west porch. The whole is recorded to have been built in 1828, but the walling is not all of the same character and probably not of the same date. The north wall is of rough rubble and looks as though it might be an older wall retained.
The details call for little description.
In the middle of the north wall of the nave is a blocked window which seems to be older than the rest. There are two west doorways, and on the west gable is a bellcote with arched openings for two bells, but only containing one bell.
The font, though a good deal re-tooled, appears to date from the 13th century. The bowl is square with rolls at the angles and edges, and on each face a design of four broken circles forming a cross in a sunk circle. The stem and base are modern.
The old box pews are still retained. A notice is affixed on the nave wall that the perpetual curacy was augmented in 1716 by Queen Anne's Bounty and by John Robinson, Lord Bishop of London, who was born in this place.
The plate consists of a cup, paten and flagon of 1713, presented by John Robinson, Bishop of London.
The registers begin in 1712.
Advowson
The chapel of St. Mary (fn. 50) of Cleasby was in existence in the late 12th or early 13th century, when Robert son of Harsculph Rufus quitclaimed any right in it to Easby Abbey. (fn. 51) It seems to have been a dependency of the mother-church of Stanwick. In 1228 Archbishop Grey deprived Easby Abbey of the advowson and gave it to the newly formed prebend of Stanwick in the collegiate church of Ripon. (fn. 52) The church was despoiled of the prebend at the Dissolution, (fn. 53) but had recovered the advowson of this chapel by the end of the 18th century. (fn. 54) The Dean and Chapter of Ripon are the present patrons. The living is a perpetual curacy, designated a vicarage since 1868. (fn. 55)
By the archbishop's award of 1228 Easby Abbey retained the tithes of Barton, Bretaneby, Layton, Cleasby and Barforth, (fn. 56) and it held them at the Dissolution. (fn. 57) The tithe appears to have been granted by the Crown in 1566 to Thomas Blackway and Francis Barker in fee, but was perhaps surrendered, for in 1613 'the free chapel of Cleasby lately belonging to Easby Abbey' was granted by the Crown to Francis Morrice and Francis Phillips, (fn. 58) by whom it was conveyed in the same month with Manfield Rectory (q.v.) to Thomas Greenwood. (fn. 59) Thomas Greenwood held it in 1634, (fn. 60) but it was not mentioned among the family possessions in 1717. (fn. 61) In 1792 John Foakes and John Wharton conveyed it with part of Manfield Rectory to John Munforth and John Silence. (fn. 62)
There appears to have been a chapel attached to the capital messuage in the possession of Leonard Cleasby; on his death in 1624 it was spoken of as waste, and the chapel-yard was mentioned as being held of the Crown as of the castle of Richmond. (fn. 63)
Charities
Letitia Cornwallis, by will, 1731, left £100 for the use of poor housekeepers. In 1784 a scheme was established by the Court of Chancery. The trust fund is now represented by £358 15s. 5d. consols with the official trustees, the dividends of which, amounting to £8 19s. 4d., were in 1904 distributed among six recipients.
The Charity School was founded by Bishop Robinson in 1723. (fn. 64)
William Lightfoot, by will proved 1892, left £146 North-Eastern Railway 3 per cent. stock (with the official trustees), income to be applied for the benefit of the poor. In 1904–5 coal was distributed among five recipients.