Pages 172-176
A History of the County of York North Riding: Volume 1. Originally published by Victoria County History, London, 1914.
This free content was digitised by double rekeying. All rights reserved.
DANBY WISKE
Danby-upon-Wiske (xiii–xvii cent.).
This parish lies on a gentle slope rising westward from the low banks of the River Wiske, which are liable to flood, and reaching its highest point on Yafforth Moor 200 ft. above the ordnance datum. The village of Danby Wiske is in the north of the parish. The church and manor-house both lie south of the village, and near them is the rectory, round which can be traced the remains of a moat. The village is grouped at the cross roads that go east crossing the river by Wiske Bridge to the railway station on the North-Eastern railway.
The hamlet of Yafforth lies to the south of the parish and on the west side of the River Wiske. The few houses are scattered irregularly along the road, the church being on the east side close to the river. Near the church is Yafforth Hall, a rectangular brick building which once extended farther to the south, as is shown by the lines of large boulder foundations. It was originally plastered, but most of the plaster has now fallen away, exposing some interesting round-headed windows of brick with cut-brick mullions and double tiers of light. The finest window is on the west side with six large lights in two tiers. Below the eaves on this wall is the date 1614, somewhat renovated but probably original.
A short distance north-east of the hall in a meadow near the river is a mound apparently artificial and known as Howe Hill. This was probably the site of the 'Castle of Yafforth' referred to in 1197–8 as having formerly stood in the pasture of the isle of Yafforth. (fn. 1) It probably consisted merely of a moated mound with defences of timber only. It may have been one of the numerous adulterine or unlicensed castles which were thrown up during the anarchy in Stephen's reign and subsequently destroyed by order of Henry II. Its builder was probably a member of the Brettevill or De la Mare family. On the wall of a house lying to the west of the road leading to the church is a shield of arms, showing a sleeve quartered with a cheveron between three boars.
Danby Hall, originally built in the 17th century, was considerably restored in 1887.
The subsoil of the parish is Red Sandstone, the soil is clay and gravel with a little recent Alluvium by the Wiske. The total area is 4,698 acres, 2,021 of which are arable land, 2,561 permanent grass and 90 woods and plantations (fn. 1a); the chief crops raised are wheat, oats and barley. There is a Wesleyan chapel at Danby Wiske and a Free Methodist at Yafforth, and there are public elementary schools at both places.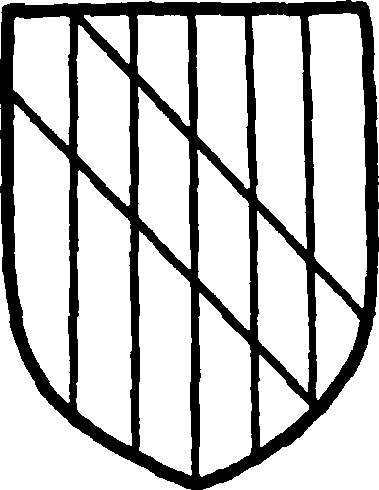 Manors
DANBY WISKE (Danebi, xi cent.; Great Denebi, Daneby with Mount Sorel, xiii cent.; Great Danby, xvii cent.) was among the lands of Count Alan in 1086, (fn. 2) and continued to be a member of the honour of Richmond. (fn. 3) Thomas de Maunby, (fn. 4) who lived in the latter part of the 13th century, is said to have been mesne lord, (fn. 5) but this mesne lordship disappeared when, by 1282, the under-tenancy merged in the overlordship. Cofsi held 10 carucates in Danby before the Conquest; by 1086 Landric, the man of the Count, held them in demesne. (fn. 6) No further records of the history of the tenancy in fee have been found until in 1239 Geoffrey de Nevill, lord of Hutton Longvilliers (q.v.), obtained a grant of free warren in his demesne lands here. (fn. 7) Hugh son of Geoffrey married Margaret daughter of Thomas de Furnivall of Sheffield, (fn. 8) and the manor was settled on Hugh and Margaret and their heirs. (fn. 9) Before 1282 (fn. 10) Sir Geoffrey de Nevill, kt., had granted the manor to John Earl of Richmond, (fn. 11) and from this time it followed the descent of the honour of Richmond. (fn. 12) In 1285 the earl held in demesne the capital messuage, with a water-mill and windmill, an oven and a fish-pond, (fn. 13) while in 1305 his free warren is mentioned. (fn. 14) The Scropes of Masham tried to establish an hereditary claim to this lordship. John Earl of Richmond granted the manor for life to Geoffrey le Scrope, on whose death it was entered by his son Henry. The manor was taken into the king's hands, but Henry obtained restitution. (fn. 15) The king, however, in 1342, learning the condition attached to the grant, ordered the manor to be again taken into his own hands, (fn. 16) and restored it to the Earl of Richmond. In 1602 Queen Elizabeth leased the manor to Robert Dawe and Edward Thurland for ninety-nine years (fn. 17); but in 1616 James I granted it with all its appurtenances (among which must have passed the advowson of the church) to George Calvert, his heirs and assigns. (fn. 18) George Calvert of Danby Wiske, son and heir of Leonard Calvert of Kiplin in Catterick parish, was one of the principal Secretaries of State of James I, and was created in February 1624–5 Lord Baltimore of Baltimore. (fn. 19) He died seised of the manor and advowson in 1632, leaving a son Cecil his heir. (fn. 20) Cecil had a son Charles, who succeeded him, and a daughter Mary, married to Sir William Blakiston, bart., whose affairs were so deeply involved that Cecil Lord Baltimore made a settlement of the manor on Sir William and his heirs to secure part of his daughter's maintenance until the debts were paid. This condition was never fulfilled, and Sir William bequeathed the manor to his nephew, but it was evidently restored to Charles Lord Baltimore after a petition presented in Parliament in 1692–3. (fn. 21) Although Charles left a son Benedict Leonard, fourth baron, (fn. 22) Edward Maria Somerset of Pantley Court, who married first Clare and then Anne, daughters of Charles Lord Baltimore, (fn. 23) joined with Anne in 1700–1 in conveying the manor of Danby Wiske and the advowsons of the churches of Danby Wiske and Yafforth to Thomas Conny and Robert Catterall. (fn. 24) In 1718 John Paston and Anne his wife and Thomas Conny conveyed them to Sir Hugh Smithson, bart., (fn. 25) of Stanwick, whose grandson Hugh Earl of Northumberland in 1765 conveyed the manor to Jonathan Wharton. (fn. 26) Thomas Cust was living here in 1792, (fn. 27) and in 1857 the manor belonged to the Ven. Archdeacon Cust and others and is now held by their trustees.
In the 16th and 17th centuries the families of Conyers and Croft shared an estate here sometimes called a manor or half-manor. (fn. 28)
The abbey of St. Mary, York, obtained from Count Stephen of Britanny the wood of LITTLE DANBY, and lands were here granted to the same abbey by Richard de Brettevill, Herman and Brian Brito, and William de la Mare, (fn. 29) the last grant being confirmed by Henry II. (fn. 30) Robert de la Mare must have been lord in 1198. (fn. 31) In 1286–7 Hugh de la Mare held 4 oxgangs of land in Yafforth, (fn. 32) and tenements in Yafforth were settled on Hugh and Julia his wife in 1309. (fn. 33) Hugh seems to have been succeeded by William de la Mare, who apparently held his land jointly with Alice his wife. William died leaving a son William, an idiot from birth. On his death the lands were held by Alice and her brother-in-law, Thomas de la Mare, who forfeited them for his share in the rising of the Earl of Lancaster in 1322, being one of those who with Joscelin Dayvill garrisoned the peel at Northallerton (q.v.) against the king. (fn. 33a) In 1360 Geoffrey de Hamby and Thomas of Little Danby gave the king £20 for lands and tenements forfeited by William de la Mare of Yafforth and Thomas de la Mare in Yafforth and Kingston-upon-Hull. (fn. 34) These lands and tenements seem to have included the manor of Little Danby, for in 1381 Robert de Eryholme and Agnes his wife sought one-third of the manor (now for the first time mentioned) as dower of Agnes from her former husband Thomas de Danby, whose son William maintained that Edward III gave the manor in fee jointly to his father and Geoffrey de Hamby of Kingston-upon-Hull. (fn. 35) From this time the manor was held by the Danbys of Yafforth. (fn. 36) Robert Danby died seised in 1463, and on the death of his widow in 1494 it was held by his granddaughters, heirs of his son Ralph. (fn. 37) No further history of these lands has been found in the public records, but they may be identical with the 'manor of Little Danby,' of which Thomas Herbert, alderman of York, died seised in 1614 after having received a grant of tenements here in 1597. By will he left the reversion on the death of his son Christopher to Christopher's son Thomas, afterwards Sir Thomas Herbert of Tintern. (fn. 38) Mr. Thomas J. Masterman lived at Little Danby in 1873, and land here is now in the hands of the trustees of Mr. Christopher Masterman.
REDEHAM (Redham, xiii cent.; Redholme, xvi cent.) was held by the branch of Nevills who held Great Danby and Atlow Cowton. (fn. 39) In 1272 Geoffrey de Nevill conveyed the 'manor of Redeham' to Bernard de Nevill with reversion to himself, and seems ultimately to have quitclaimed the reversion. (fn. 40) In 1286–7 Bernard held 1 carucate here of John de Stonegrave under the Earl of Richmond. (fn. 41) Bernard died without children, and was succeeded by John de Nevill, (fn. 42) probably his brother. John and his wife Parnel held the manor in dower in the time of Edward II. (fn. 43) It was seized by the Earl of Richmond under the pretext that Parnel and her second husband William de Bradwell had not performed the services due, but was recovered by William and Parnel, who pleaded a settlement on John de Nevill and Parnel and their issue. (fn. 44) Eventually the right in the manor passed to Geoffrey son of Hugh, a brother of Bernard de Nevill, and in 1337 Philip son of Geoffrey de Nevill recovered the manor from Henry de Kirkby. (fn. 45) No further mention of the Nevills has been found in connexion with Redeham until 1558, when Sir Thomas Nevill, kt., and Margaret his wife, with William his son, conveyed the manor with Atlow Cowton to Richard Bowes. (fn. 45a) He must have disposed of it shortly afterwards, for before 1565 the 'manor or grange' here was held by Richard Metrick, who died in that year (fn. 46) and was succeeded by Thomas his son. Thomas died in 1586, and was succeeded by his infant daughter Joan, (fn. 47) who died in the following year. (fn. 48) James Metrick, her great-uncle, then obtained these lands, (fn. 49) and held them until his death in 1592. (fn. 50) Richard Metrick his son died in 1619, leaving a son Francis, then under age, (fn. 51) on whose death in 1635 the estate passed to his son Richard. (fn. 52) No further mention of this manor has been found.
Robert Haulay obtained a grant of free warren in his demesne lands here between 1359 and 1362, (fn. 53) but is not again mentioned in connexion with Redeham.
YAFFORTH (Eiford, Jaforde, Jaforbe, xi cent.; Yafford or Yafforth, xii–xviii cent.; Yafferton, xviii cent.) appears in Domesday Book described as a berewick in the royal 'manor' of Northallerton, (fn. 54) and again under the land of Count Alan. (fn. 55) It was a member of the honour of Richmond. (fn. 56) In 1197–8 Robert de la Mare (probably lord of the neighbouring manor of Little Danby) (fn. 57) granted to William de Brettevill (Bretevile), apparently lord of Yafforth, the advowson of one-eighth of the church of Yafforth, of the mill of Yafforth, and of the pasture of the isle of the same where the castle of Yafforth used to be; William in return granted 4 acres of land to Robert to hold of him and his heirs. (fn. 58) In 1268 William de Brettevill granted tenements in Yafforth to his son Richard, who with his men were to do customary and foreign services and suit at William's mill there. (fn. 59) A William de Brettevill owed half a mark in 1282 for ward at the castle of Richmond for one knight's fee at Yafforth. (fn. 60) In 1286–7 Baldwin de Brettevill held Yafforth (fn. 61) of the earl, Richard de Brettevill holding 1 carucate of him. (fn. 62)
John de Helbeck and Agnes his wife conveyed small tenements in Yafforth to Richard de Little Danby and Agnes his wife in 1303–4, (fn. 63) and in 1316 William de Brettevill and Richard de Danby were returned as joint lords. (fn. 64) Alice widow of William de Brettevill and Thomas his son were living in 1322. (fn. 65) The next lord of Yafforth would appear to have been a minor, for in 1358–60 Edward III granted to John de Brettevill custody of all lands and tenements in Yafforth to hold at will. (fn. 66) Perhaps this John succeeded to the fee, for one of his name was lord at about this time, and had a daughter and heiress Katharine, married to William Danby. William and Katharine had a son Robert, called 'of Yafforth,' (fn. 67) who died in 1463. His widow Katharine lived till 1494, holding the profits of the manor of Little Danby in dower, but his younger son Ralph, who obtained Yafforth under a settlement, died at Bosworth Field, (fn. 68) leaving daughters and co-heirs Margery, Alice and Agnes, married to Ralph Rokeby of Mortham, John Acklam, and James Strangways of Ormsby respectively. (fn. 69)
Alice the second daughter had three daughters by John Acklam: Margaret wife of Thomas Hawkesworth, Ellen wife of Marmaduke Thwaites of Little Smeaton, and Anne wife of Thomas Metham of Barnhill. (fn. 70) Of these the Hawksworths had an estate in Little Danby and Yafforth until the Civil War, when it was sequestered because Walter Hawksworth the elder, 'of Heworth,' entered York while garrisoned for the king. (fn. 71)
Margery Rokeby made her will in 1540, (fn. 72) and died in the following year seised of the capital messuage and part of the manor of Yafforth. (fn. 73) Her son Thomas died seised in 1567, and was succeeded by Christopher his son, (fn. 74) whose son John was said to hold it in 1594, (fn. 75) although he had in 1590 conveyed the manor to Thomas Lascelles and others, (fn. 76) apparently trustees for the family of Wadeson of Yafforth. From John Wadeson, who was aged twenty-three in 1612, and whose sister Elizabeth was then wife of William Lascelles, (fn. 77) William Middleton of Stockeld bought the capital messuage. He died at Yafforth in 1621, (fn. 78) and his infant daughter and heiress Anne (fn. 79) died ten years later, this property passing under settlements to Sir Peter Middleton of Stockeld after the death of Anne widow of William. (fn. 80) This lady married secondly Sir Edward Osborne, by whom she had a son Thomas, created Marquess of Carmarthen and Duke of Leeds. (fn. 81) In 1667 Peter Middleton, grandson of Sir Peter, (fn. 82) made a settlement of this halfmanor. (fn. 83) He was imprisoned in 1680 for refusing the oath of allegiance. (fn. 84) At some time the Yafforth estates were granted to the Meynells of Kilvington, Roger Meynell having married Mary daughter of Sir John Middleton, (fn. 85) Peter's uncle. (fn. 86) In 1744–5 the premises 'formerly the estate of Peter Middleton' were sold for £4,200 to George Hassell and Edward Carter. (fn. 87) The further history of this part of the manor has not been traced, but it appears to have belonged to Mr. C. Masterman, whose trustees now hold the whole of Yafforth.
James Strangways, who married Agnes, the third Danby heiress, had by her a son Sir Richard, who was succeeded by James his son. (fn. 88) James in 1589 conveyed the manor of Yafforth to James Pennyman, (fn. 89) who in 1595 conveyed it to Sir William Belasyse, kt. (fn. 90) The grandson of Sir William, Thomas Lord Fauconberg, conveyed it in 1627 to Conyers D'Arcy and Grace his wife, (fn. 91) who in 1642 and 1644 conveyed it to Sir William Dalton of Hauxwell (q.v.), kt., and John (fn. 92) his son. Mary great-granddaughter and coheir of John Dalton married in 1703 Edward Graham Viscount Preston. (fn. 93) She and her sister Elizabeth and uncle Charles Dalton in 1716 conveyed the manor or farm of Yafforth to John Brockhurst and Thomas Newsom. (fn. 94) Miss Masterman was lady of the manor in 1879; the trustees of the late Mr. Christopher Masterman are the present owners.
Churches
The parish church of DANBY WISKE (invocation unknown) consists of a chancel 27 ft. 5 in. by 19 ft. 8 in., nave 41 ft. 8 in. by 18 ft. 6 in., north aisle 9 ft. 4 in. wide, west tower 10 ft. 4 in. by 9 ft. 1 in., and south porch. The south door and the lower part of the south wall date from about the year 1100. The alterations made early in the 14th century, when the chancel was rebuilt and a north aisle added to the nave, gave the church very much the same plan that it has to day. The tower, however, was not added till 200 years later.
The chancel, the roof of which is plastered up to the collar beams, contains an east window of three trefoiled intersecting lights, and in the north wall is a two-light debased window. On the south side is an early 14th-century piscina with a chamfered label, and to the east of it is an aumbry with a lintel formed out of a 13th-century tombstone engraved with part of a sword and book. On the same side are two 14th-century windows of two trefoiled lights with a chamfered external label, and a doorway between them having a chamfered trefoiled head externally and a square lintel internally. The chancel arch is only 1 ft. 5 in. thick in two chamfered orders springing from a simple capital; it was originally two-centred, but has thrust out the jambs and sunk to an arch of three centres.
The north arcade is early 14th-century work and rests on circular columns and responds. Originally the arches were all alike, and almost semicircular, but that to the west has given way at some period and been rebuilt more pointed. Over the two to the east are two two-light, cinquefoiled, square-headed, 15th-century clearstory windows. To the south of the nave is an early 13th-century lancet window, and to the west and above it are three 16th-century twolight windows. The south doorway is rude Norman work of about the year 1100, with a moulded semicircular arch inclosing a tympanum on which are carved three human figures, the larger central one holding a book; the arch rests on abaci and cushion capitals of which the shafts have disappeared.
The walls of the north aisle have been rebuilt. The west window and the two north windows are all modern.
The tower seems to be late 15th-century work and is separated from the nave by a pointed arch of twocontinuous chamfered orders. The roof is vaulted, and the west window is three-centred with three cinquefoiled lights, and externally a moulded hood. The tower is in two stages with an embattled parapet, plinth, and diagonal buttresses ending in pinnacles. The upper story is lighted by two-light cinquefoil square-headed windows.
The stair turret at the south-east angle is entered from the tower by a doorway, which has a beautiful 14th-century tombstone as a lintel. This is carved with the figure of a lady, having a small shield barry of eight on each shoulder, perhaps the arms of Fitz Alan of Bedale.
The exterior walling of the church varies considerably. The south wall of the nave has Norman random rubble on each side of the modern porch; the upper part was rebuilt when the 16th-century windows were inserted. The lower part of the chancel is 14th-century random rubble and the upper part modern, while the north aisle has coursed rubble in the north wall and random rubble with brick lacing courses at each end. The clearstory walling, which has settled somewhat at the west end, is coursed rubble in large blocks. The tower is similar.
The bells are three in number: the first, which is badly cracked, bears no date or inscription; the second is inscribed 'God save his church 1663'; on the third is the legend 'Sono omnibus placere 1716, J. Kay. Thom. Ward.'
The plate consists of a communion cup with a tapering bowl bearing the York date mark of 1634, a modern plated foot paten and plated flagon.
The registers date from 1621.
The church of ALL SAINTS OF YAFFORTH was almost entirely rebuilt in 1870 in 13th-century style. It is of stone and consists of a chancel 22 ft. by 14 ft., nave 40 ft. by 18 ft., a west tower 7 ft. square, a vestry, organ chamber and south porch. The only parts which may belong to the old church are a single-light window in the south wall of the chancel; the door at the west end of the nave with a two-centred head; the south door 4 ft. wide with a circular head and roll mouldings on jambs and arch, and a small lancet light in the west wall of the tower. Near the porch outside the church is an octagonal font on a long octagonal stem inscribed 'et: st: ml 1663.'
The plate, consisting of silver chalice, paten and flagon, is all modern, presented in 1868 by Eliza, Margaret, Jane and Catherine Masterman in memory of their sister Alice.
The registers begin in 1675.
Advowson
The advowson of Danby Wiske Church passed with the manor (q.v.) from the 13th century and until the 19th century. It descended from the late Archdeacon Cust to Mr. J. R. Evans and from him to his daughter Mrs. Connell, wife of the present rector, the Rev. R. Connell, now patron. (fn. 95) The living is a rectory which includes Yafforth. The church of All Saints of Yafforth is a chapel of ease to Danby Wiske, the living being a perpetual curacy. One-eighth of the advowson was in 1197–8 in the hands of the lords of Little Danby and Yafforth (q.v.), and the advowson was mentioned with that of Danby Wiske in conveyances in 1700–1 and in 1718. (fn. 96)
Charities
In 1635 Reginald Swale left £20 and in 1684 the Rev. George Barker, rector of the parish, gave £20 for the benefit of the poor. The sum of 19s. 8d., being the dividends on £39 13s. 7d. consols held by the official trustees, was in 1906 distributed amongst the poor in respect of these charities.
An unknown donor's gift of 5s. a year out of a farm called Rawker Farm was formerly paid.
The Church National School was founded by deed 1885. The school was endowed by members of the Masterman family with £991 9s. 2d. consols and with £105 13s. 9d. consols for repairs. The sums of stock are held by the official trustees.