Pages 232-236
A History of the County of York North Riding: Volume 1. Originally published by Victoria County History, London, 1914.
This free content was digitised by double rekeying. All rights reserved.
FINGALL
Finegale (xi cent.); Fingale, Fynkale (xii-xiii cent.).
Fingall, which includes the townships of Fingall, Constable Burton, Akebar and Hutton Hang, is a parish of about 4,600 acres, situated at the entrance to Wensleydale. The country is chiefly pastoral, about half the acreage being grassland. The soil is loamy and the subsoil limestone and millstone grit. There are many springs in the parish, which is extremely well wooded. The Northallerton and Hawes branch of the North Eastern railway has a station near Constable Burton, and there is another station at Fingall Lane.
Of the four townships Constable Burton is by far the largest, having an area of about 2,500 acres. Constable Burton Hall, the seat of Mr. Marmaduke D'Arcy Wyvill, is surrounded by a park of 150 acres and is set between two well-wooded ravines. It is a fine house built by Sir Marmaduke Wyvill, bart., before 1760 from plans of J. Carr of York. (fn. 1) The first mention of a manor-house and park here occurs in 1338, when Geoffrey le Scrope had licence to impark his woods of Constable Burton, Coverham and Caldbergh and also to build a crenellated fortalice at his manor of Constable Burton. (fn. 2) In 1392 the demesne included a park and a wood called Croskogh. (fn. 3)
Leeming Beck, which rises in Bellerby and empties itself into the Swale in Scruton parish, flows through the park and near the hall, which is separated by a corner of the park from the village of Constable Burton. In the village is a triangular green, where the market was formerly held. The beck is here crossed by a bridge, and on the north side of the green is a steep bank which drops abruptly to the edge of the stream. In the village are a Wesleyan chapel, built in 1905, and a school dating from 1839. There was a fulling-mill in Constable Burton in 1340. (fn. 4) The water-mill to the south-east of the village is still in use. On the high road between Burton and Fingall is Studdah, said to have been once a village. (fn. 5)
Some distance south-east of Constable Burton and near Akebar, which now consists of three farms, stands the old church of St. Andrew among the fields near Leeming Beck. Fingall may possibly be identified with that Fingall in Northumbria where a synod assembled on 2 September 788, though Finchale in Durham is a more probable identification. (fn. 6) The village consists of a few cottages on either side of one wide main street and contains a red brick and stone Wesleyan chapel built in 1909. The rectory faces north and is a square building having a porch with a room over in the centre of the front. The windows all date from the 18th century or later, and the walls are rough-cast, but the structure may be of 17th-century date. South of the village is the glebe.
Manors
In the time of Edward the Confessor Gamel had in FINGALL a 'manor' and 6 carucates. By 1086 it was held by Count Alan, (fn. 7) becoming a member of the honour of Richmond. Count Alan I probably held part of Fingall in demesne (fn. 8); his successors made grants here to Jervaulx Abbey, (fn. 9) and in 1286–7 2 carucates were held by that abbey immediately of the Earl of Richmond. (fn. 10)
Count Alan I probably enfeoffed his chamberlain Odo (fn. 11) of 3 other carucates. Odo granted to the abbey of St. Mary, York, 1 carucate, (fn. 12) of which Abbot Clement (1161–84) enfeoffed Thomas Lascelles (fn. 13); this is possibly the carucate with which the church was endowed in 1286–7. (fn. 14) The other 2 carucates were held in 1286–7 by Jervaulx Abbey of John le Breton (fn. 15) of Eppleby (q.v.), the head manor of the chamberlain's fee, a mesne lordship which seems to be no further mentioned in Fingall. (fn. 16) These 2 carucates were probably the lands held by the family of Boie (Bois, de Bosco), who may be identified with the Boies, hereditary foresters of Pickering Forest. (fn. 17) Alan Boie in 1194 claimed lands held of the honour of Richmond in Leadenham, co. Lincoln, as the nephew and right heir of Alan (fn. 18) son of Geoffrey. (fn. 19) The land at Fingall was probably subinfeudated, for in the same year (fn. 20) Reiner son of Adam [? de Bosco] (fn. 21) claimed 2 carucates against Alan, who finally granted them to him together with the custody of Elias son of Adam until the majority of Elias. (fn. 22) During the French wars of John's reign Alan Boie renounced his fealty and his lands escheated. (fn. 23) He offered a fine in 1200 for recovering his bailiwick in Pickering Lythe, and his family are afterwards found in possession there, but are no more heard of in Richmondshire.
Jervaulx Abbey was in possession of 1 more carucate, held of Brian Fitz Alan, in 1286–7. (fn. 24) There seems to be no other mention of the Fitz Alans (fn. 25) here.
Thus in 1286–7 Jervaulx Abbey, returned as sole lord of the vill in 1316, (fn. 26) held 5 carucates in demesne, and continued to do so until its dissolution. (fn. 27) The abbey received a grant of free warren in Akebar, Hutton Hang and Fingall in 1290. (fn. 28) These lands have since descended with the site of the abbey, (fn. 29) and the manor now belongs to Mr. Hector Christie.
AKEBAR (Aykebergh, xiii–xiv cent.; Aykbarthe, Akeberth, Ayksbarghe, xvi cent.; Akeberth, Akebargh, xvii cent.) is first mentioned in 1290, when the Abbot and convent of Jervaulx received a grant of free warren in their 'manor' here (fn. 30); it was described in 1342 as a large grange. (fn. 31) With Fingall it followed the descent of Jervaulx Abbey, (fn. 32) and is now the property of Mr. Hector Christie.
At CONSTABLE BURTON (Bortone, Bertone, xi cent.; Burton Constable, xiii cent.) a manor and 12 carucates passed at the Conquest from Tor to Count Alan. (fn. 33) It was one of thirteen knights' fees which formed what was still called in the 15th century the 'fee of Roald' (fn. 34); for this no ward was done at Richmond Castle, but 13½d. was paid for all service. (fn. 35)
Under Count Alan it was held by Enisan (fn. 36) (Enisand, Enisam, Enisaunt) Musard, (fn. 37) sometimes called Murdac. (fn. 38) He held about twenty-one manors in Count Alan's fee in 1086, having received all but five of the manors which had belonged to Tor and also Raven's lands in Thorpe; he had also other lands in Cambridgeshire. (fn. 39) He must have been living in 1100, as he made a grant to the priory of St. Martin, Richmond, founded at about that date. (fn. 40)
The history of the fee immediately after its tenure by Enisan is obscure, but it seems probable that 'the whole fee of Enisan Musard and the fee of Hervey son of Morin and the carucate of Sadberg' were granted by Count Stephen (1093–1137) to Roald his constable. (fn. 41) Roald was the son of Hasculph, (fn. 42) apparently the Hasculf de St. James who held 5⅓ hides at Tansor at the time of the Northamptonshire Survey. (fn. 43) It seems possible that he may have married a daughter and heir or co-heiress of Enisan, as his wife Garsia or Garsiana joined in the grants made by Roald to his foundation of Easby Abbey, (fn. 44) and the grant by the count may have been virtually a confirmation, as the charter he obtained from Henry I must certainly have been. (fn. 45) There was evidently also some unexplained connexion with the family of Cleasby of Cleasby (fn. 46) (q.v.).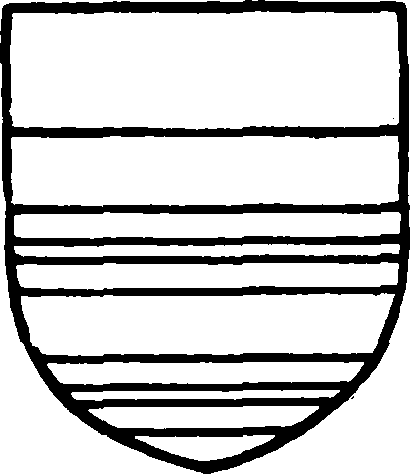 Roald founded Easby Abbey in 1152 for the souls of Counts Stephen and Alan his kinsmen. (fn. 47) His daughter Theophania married Elias, probably seneschal of Richmond Castle (fn. 48); another daughter married Picot de Lascelles, (fn. 49) and a third, Ismena, married Thomas de Burgh. (fn. 50) Roald may have died in the lifetime of Earl Conan (ob. 1171), who granted to Alan son of Roald his constableship and the whole fee as Roald had held it. (fn. 51) This grant may possibly have been obtained to strengthen the title of Alan, for the dispute with the family of Rollos had probably arisen before 1184, (fn. 52) when Richard de Rollos seems to have shared the fee equally with Alan. (fn. 53) In 1201 Alan gave King John 300 marks and three palfreys for the restoration of the office of constable in fee. (fn. 54) The Rollos had a knight's fee in Normandy, (fn. 55) and retired there when the Normans left England, possibly quitclaiming (fn. 56) their English lands to the second Roald son of Alan, (fn. 57) who succeeded his father in 1201. (fn. 58) The suit of 1207–8 by which Robert Cotele claimed the thirteen Richmondshire fees and eight manors seems to have been fictitious. (fn. 59) Robert claimed as grandson of Richard de Rollos, who, according to this version, was disseised by King Stephen of half this inheritance for serving the empress, the remaining half having lately escheated to the Crown. The second Roald, however, claiming the whole inheritance by descent from the first Roald, stated that Henry II had disseised his grandfather of half and given the same to Richard de Rollos, and showed the court King John's charter of 1205 confirming to him the lands of the Rollos, 'that the court should know that he was not seised merely at pleasure.' (fn. 60)
Roald received a royal mandate in May 1207 to give the custody of the castle to Hugh de Nevill, (fn. 61) but later Roald paid a fine and recovered possession (fn. 62); the king sent him hostages for safe-keeping in the same year. (fn. 63) Roald still held his office in April 1215, (fn. 64) but, taking the side of the barons against the king, had been deprived by June, when his son Alan was held prisoner as hostage in this castle, which was then in the custody of Hugh de Nevill. (fn. 65) In July, however, the king ordered Roald to be put in possession, (fn. 66) and decreed in January that he was to be 'no further molested by occasion of the war between the king and the barons,' that his lands and chattels should be restored, and that all his men and knights found in Richmond Castle and detained as prisoners should be liberated. (fn. 67)
Roald seems to have had two sons, Alan his heir and Roald, who married Maud de la Mare of Yafforth. (fn. 68) Alan had been succeeded by a son Roald 'the younger' by 1247. (fn. 69) Various settlements were made by this Sir Roald on his uncle Roald and Maud his wife, and they in 1261 quitclaimed all the family estates to Sir Roald (fn. 70) in return for an annuity and certain robes. Sir Roald had a son Roald, who married Hawise daughter of Sir Thomas de Moulton, (fn. 71) and had succeeded his father by 1281, when he was raising money on the security of certain wardships and marriages from Easby Abbey. (fn. 72) He was lord in 1286–7, (fn. 73) but must have made a settlement on his son (fn. 74) Thomas de Richmond, who received seisin of part of the manor of Constable Burton in February 1288–9. (fn. 75)
Thomas was assessed for the subsidy here in 1301–2, (fn. 76) was constable of Richmond Castle (fn. 77) and lord in 1316. (fn. 78) His son Roald in 1321 released to Geoffrey le Scrope, 'king's yeoman,' younger son of Henry le Scrope of Bolton, all right in this manor and its appurtenances, (fn. 79) his brother Thomas making a similar grant in 1329. (fn. 80) Part of the fee passed to the Scropes of Bolton, part, and the greater part, to the Scropes of Masham, suggesting the possibility that the reversion of the constable's fee was acquired by Henry le Scrope of Bolton, who was in possession of Croft (q.v.) in 1299; possibly he may have assigned the greater part to his younger son Geoffrey, founder of the line of Scrope of Masham, and grantee of Constable Burton. Towards the close of the 14th century Richard le Scrope of Bolton and Henry le Scrope of Masham were returned as joint tenants of the thirteen knights' fees of the Fitz Roalds, the house of Bolton retaining a mesne lordship of all. (fn. 81)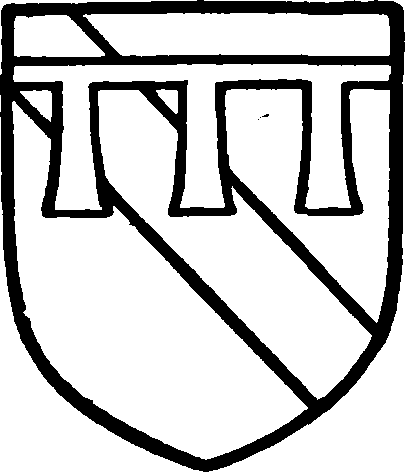 This manor descended with that of Masham (q.v.), the Scropes fortifying the manor-house and using it, no doubt as a hunting lodge, (fn. 82) until (fn. 83) the death in 1517 of Geoffrey last Lord Scrope of Masham, when Burton fell to the share of his youngest sister and coheir Elizabeth wife of Sir Ralph Fitz Randall of Spennithorne. (fn. 84) At her death her inheritance was divided among her five daughters, Elizabeth wife of Nicholas Strelley, Alice wife of Charles Dransfield, Mary wife of Ralph Batty, Dorothy wife of Lancelot Esshe and Agnes wife of Marmaduke Wyvill. (fn. 85) All the sisters and their descendants kept an interest in the manor for some years, (fn. 86) but eventually their rights were united in the person of Christopher son of Marmaduke Wyvill, who was in possession of the greater part of the manor on his death in 1578. (fn. 87) To his son Marmaduke Wyvill the last share in the manor was quitclaimed in 1607 by Christopher grandson of Laurence Esshe. (fn. 88) Marmaduke Wyvill entertained Queen Elizabeth at Constable Burton. He was knighted in 1608, created a baronet by James I in 1611 and died in 1617–18. He was succeeded by his grandson Marmaduke son of Christopher Wyvill (d. 1594). (fn. 89) Marmaduke was Sheriff of Yorkshire in 1633–4, (fn. 90) and suffered much in the royal cause, his composition to the sequestrators of estates being fixed at £1,343. (fn. 91) He died about 1648. His son Sir Christopher Wyvill was M.P. for Richmond in 1659 and 1660. He died in February 1680–1 and was succeeded by his son William, who died about 1684. His son Sir Marmaduke was M.P. for Richmond 1695–8, and held various public offices. He died in 1722. His son Marmaduke was M.P. for Richmond 1727– 36 and Postmaster-General of Ireland 1736–54. He died without issue in 1754 and was succeeded by his nephew Sir Marmaduke Asty Wyvill, who died unmarried in 1774, when his estates passed to his half-sister Elizabeth wife of the Rev. Christopher Wyvill, (fn. 92) an enthusiastic advocate of Parliamentary reform and a member of Fox's party. (fn. 93) He died in 1822 and was succeeded by his eldest son Marmaduke, who was twice M.P. for York and died in 1872. His son and successor Marmaduke, M.P. for Richmond 1847–65 and 1866–8, died in 1896, leaving a son Marmaduke D'Arcy Wyvill, (fn. 94) the present lord of the manor.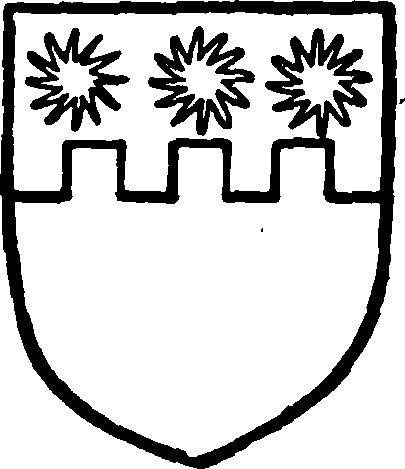 In 1278–81 Roald of Richmond claimed free warren in Constable Burton by grant of Henry III to Roald son of Alan and his heirs. (fn. 95) In 1321 Edward II granted to Geoffrey Scrope and his heirs a weekly market on Friday at their manor of Constable Burton and a yearly fair there on the vigil and feast of St. Mary Magdalene (21 and 22 July), with another grant of free warren. (fn. 96)
Before 1086 Ghille had a 'manor' and 5 carucates in HUTTON HANG (Hotun, xi cent.; Hoton Hange, xiii–xiv cent.). By 1086 it had passed to Count Alan, whose successors held as overlords.
Landric, the 'man' of Count Alan, possibly his seneschal, (fn. 97) was under-tenant in 1086, (fn. 98) and was followed, as at East Cowton (q.v.), by Conan son of Elias, (fn. 99) whose lands here were probably subenfeoffed by him, and belonged to Jervaulx Abbey at the end of the 14th century. (fn. 100)
As mesne lord Conan son of Elias was succeeded by various persons. In 1286–7 6 carucates were divided among three fees. Mary de Nevill, lady of Middleham (q.v.), held half a carucate, her tenant being Walter son of Alan, but no connected history of this holding is possible, while the carucate held by Walter de Egglescliffe probably followed the descent of his lands in Ellerton (q.v.). The third and most important fee consisted of 3½ carucates, and was held by the abbey of Jervaulx, Walter de Egglescliffe being tenant of 6 oxgangs. (fn. 101) The abbot was returned as lord of Hutton Hang in 1316, (fn. 102) and in 1342 (fn. 103) it was described as a grange of the abbey. By the reign of Henry VII the abbot had acquired some land of the Nevills, and was owner of 6 carucates in Hutton Hang. (fn. 104) It followed the descent of East Witton (q.v.), being granted in 1544 to Matthew Earl of Lennox. Its present owner is Mr. Hector Christie.
A manor at STUDDAH (Stodhage, xiii cent.; Stodehach, Stodhowe, xiv cent.) was held of the Scropes as of the manor of Constable Burton. (fn. 105)
In 1210 Richard son of Ralph granted to Alan Gurfant 1 oxgang of land in Studdah for life, retaining a second oxgang with the capital messuage. (fn. 106) Robert de Studdah, son of Robert and Denise de Studdah, held the manor with Elizabeth his wife, and died in 1383. (fn. 107) Elizabeth survived him, and held the manor till 1401, when she was succeeded by their son Robert, who came of age in 1404. (fn. 108) In 1482–3 Elizabeth Wilberfosse died seised of the manor of Studdah, which passed to her son William Wilberfosse. (fn. 109) No further mention of the manor has been found, but in 1605 Henry Durham was said to have died in possession of lands and tenements, which passed to Robert his son. (fn. 110)
Church
The church of ST. ANDREW consists of a chancel 28 ft. by 14 ft. 4 in., with a small north vestry, nave 34 ft. 2 in. by 15 ft. 10 in., north aisle 7 ft. 2 in. and a west porch. These dimensions are all internal.
A church probably stood here in the 12th century, with a nave of the same size and a smaller chancel, but no details of that date remain unless we except a blocked doorway in the south wall of the nave, which from its outline seems to be of about 1140. A north aisle was added late in the next century (c. 1290 to 1300), of which the arcade still stands. The aisle has been rebuilt since, apparently in the 18th century. The chancel underwent a rebuilding about 1360. Since then no other substantial alterations have taken place beyond the addition of the modern vestry and the blocking of doorways and opening out of others, as described below. The church was restored in 1904.
The east window is 14th-century work of three trefoiled ogee-headed lights under a pointed head filled with cusped net tracery; it has a single chamfered order with a small double-chamfered label outside. The north wall is unpierced, except for a modern doorway into the vestry. In the south wall are two windows, each of two ogee-headed trefoiled lights under a square head with a label and head stops; both are apparently of late 14th-century date. There are indications in the walling outside that the second window occupies the site of an earlier and larger window. Between them is a modern priest's doorway; over this doorway are the stones of a former flat-arched doorway and the jambs of an earlier window, while to the west is another blocked squareheaded doorway apparently contemporary with the windows. The chancel arch has been much mutilated and altered; the inner order of the arch is missing, the responds have been cut away, while the south capital is mutilated and the north capital has either been recut or replaced by one with 18th-century mouldings.
There are three windows in the south wall of the nave; the first is of two trefoiled lights under a square head, the second is similar except that the middle foils are wider; both windows are late 14thcentury insertions. West of the second window are a straight joint and the quoins of the blocked doorway mentioned above. The third window is modern; it is of two trefoiled lights under a square head, and occupies the site of another large blocked doorway of uncertain date. The marks of its porch are also visible on the wall. Further west is the blocking of a small modern window. The north arcade consists of three bays; the columns are round, the responds half-round, with bases moulded with a double roll and plain capitals octagonal above the bell; the round arches are of two chamfered orders.
The north aisle is lighted by two modern windows. Near the west end is a blocked doorway with a lintel arched below. In the west wall is a late squareheaded single light. There is also a blocked modern square-headed window in the east wall of the aisle. This wall abuts upon the nave wall with a straight joint, but there is no straight joint at the west end. An 18th-century doorway in the west wall, with a contemporary porch, forms the chief entrance to the church, over which is a small rectangular window. The roofs are gabled with plastered and ribbed pointed barrel vaulting to the chancel and a lean-to roof to the aisle. The furniture is modern. A gallery stands at the west end of the nave. There are some remains of ancient painted cheveron decoration on the eastern arch of the arcade and on the north jamb of the chancel arch.
A gravestone of 14th-century date stands against the north wall of the chancel inside; on it is a raised cross with a floreated head and foliated stem ending in a trefoil; flanking the stem are a pair of shears and a book. Several very early stones also remain; one is part of the head of a cross, on which is carved the Crucifixion, with expanded arms and knot-work in the spandrels, and there are two other pieces of similar design with knot-work.
The two bells are hung in a small cote over the chancel arch, with two round-headed piercings and a coped top. The first bell is undated, the second is inscribed 'God save his church 1620.'
The plate consists of a pewter flagon and plate and a silver cup bearing the York marks, with an illegible date-letter. The maker's mark is I. T., for John Thompson of York (Lord Mayor 1685, died 1692).
The registers begin in 1593.
Advowson
The advowson of the church of Fingall was in the king's hands in 1236, as part of the lands late of the Duke of Britanny, lord of the honour of Richmond. (fn. 111) In 1281–2 it was held by Sir John le Breton, (fn. 112) and descended with his fee in Eppleby (fn. 113) (q.v.). In 1332 Richard Alman of Newsham with Julia his wife gave it to Sir Geoffrey Scrope, (fn. 114) and in 1351 John de Gonerby quitclaimed to Sir Henry Scrope his advowson of Fingall Church, (fn. 115) which henceforth descended with the manor of Constable Burton (q.v.).
Roald II granted the 'chaplainship (capellania) of my house, that is one third of the tithes of Burton, Aldbrough and Caldwell, and whatever belongs to the chapels of these places' to Easby Abbey on condition that they provided a chaplain, and he and the abbey came to a final agreement on this point in 1229. (fn. 116)
Charities
A principal sum of £5, formerly in the hands of the overseers as poor's money, the interest of which was regularly distributed at Christmas, has been lost sight of. A weekly sum of 4s. was also formerly paid to the use of four poor widows of the township of Constable Burton by the Wyvill family, which was considered by them as a voluntary payment only.
Thomas Knight, by will proved 1858, bequeathed £100, the interest to be distributed among the poor. The legacy is represented by £96 12s. 10d. consols with the official trustees, the annual dividends of which, amounting to £2 8s. 4d., are usually distributed in equal shares among twelve poor persons.