Pages 245-251
A History of the County of York North Riding: Volume 1. Originally published by Victoria County History, London, 1914.
This free content was digitised by double rekeying. All rights reserved.
HAUXWELL
Hauxswell, Hauxhesuuelle (xi cent.); Haukeswell (xiii–xvii cent.); Hawkswell (xiv–xx cent.); Hawxwell (xvii–xviii cent.); Haukswell (xix cent.).
The parish was in 1831 composed of the township of East and West Hauxwell, separated into two townships in 1868, (fn. 1) and of the townships of Barden and Garriston and hamlet of Barden Dykes. (fn. 2) Its area is 4,590 acres of land, 4 acres being covered by water. (fn. 3) Of this area 303 acres are arable, 2,994 acres permanent grass and 140 acres woods and plantations, (fn. 4) while Barden is chiefly moorland. A dispute arose in the 13th century as to 220 acres of moor in Barden which, it was alleged, Roald son of Alan the constable of Richmond Castle had granted to Easby Abbey. In 1311, however, the lord of Barden, 'at last tired of the vanity of worldly things,' renounced his claim and visited the tombs of his father, mother and grandfather with the abbot, who pronounced absolution upon them for detention of the lands of the Church. (fn. 5) The following boundaries were agreed upon: 'As the high road from Bellerby descends to Routhegate and from Routhegate by the Green Lane which goes to Hipswell and descends to Withegille, (fn. 6) as the crosses of the canons are placed, and so to Risedale Beck, and thence, returning, to the bounds between the two Hauxwells and Barden, that is, by Swarthfell, and so to the said high road of Bellerby near the Mosikeld otherwise called Pa'terlingkeld or Losekeld. A furrow set with great stones was to be made between Barden and the Hauxwells. (fn. 7) No further mention of the possessions of this abbey here has been found, but they are perhaps commemorated by Friar Ings in Barden. A field in East Hauxwell was still in 1614 called Coram Garth, (fn. 8) from Coverham Abbey, which held half a carucate of land here by grant of Helewise daughter and heir of Thomas de Perrowe and widow of William Grendon. (fn. 9)
The subsoil is Millstone Grit, the soil light, the crops wheat, oats and barley; pasture predominates. Stone is worked at Lavrock Quarry.
Barden occupies the west of the parish, its one street standing on the middle of the slope of moorland rising rapidly from 500 ft. above ordnance datum in the south to 1,000 ft. in the north, Barden Fell attaining a height of 1,025 ft. In its capital messuage the Egglescliffes lived in the 13th, 14th and 15th centuries, (fn. 10) and two at least of the three families between whom the lordship was then divided continued to live at Barden until the close of the 16th century. (fn. 11)
The Old Hall stands at the west of the village street. At present the house is T-shaped on plan, with the cross at the southern end, but the northern end of the building has been demolished. The building is two stories high and dates from the first quarter of the 15th century or perhaps earlier. The hall occupies the northern half of the building, and, though now cut up into rooms, retains outwardly its original form. Two blocked doors with four-centred heads remain at the north end and formerly opened into the screens, and the east wall is pierced by the modern door and an ancient window of three ogeeheaded lights. Further south on the same side is a blocked two-light window of later date with a square moulded label. The southern block contained the great chamber, which is lighted by a four-light mullioned window with a square label of 16th-century date. Against the east wall is a large chimney stack. The house is built of rubble masonry with ashlar quoins.
The manor-house lies in the centre of the village facing the Wesleyan chapel, built in 1877; Halfpenny House is a farm there. A water-mill is mentioned in 1271. (fn. 12)
To the east is Hauxwell Hall, the residence of Col. Wade-Dalton. It is a large plain stone-faced building standing in a park. The front to the south has a central block of three stories with side wings of two stories. There is a Jacobean semicircular arched gateway flanked by pilasters supporting an entablature on which is a shield bearing a lion rampant halved with three interlaced cheverons under a chief.
St. Oswald's Church lies south-east of the park and 200 yards west of the main road.
Further north-east is the village of East Hauxwell, with the manor-house and rectory facing each other at the south end of the village street.
Leonard Brough's water-mill at East Hauxwell is mentioned in 1560, (fn. 13) Lancelot Brough's capital messuage in 1620, (fn. 14) and the Langtons, (fn. 15) whose watermill of West Hauxwell is mentioned in 1560, (fn. 16) had a 'manor-place' at East Hauxwell. (fn. 17)
Garriston, composed of some three detached farmhouses of no great antiquity, lies south of Garriston Beck. Its lords had a capital messuage here in 1392. (fn. 18)
Manors
The 6 geld carucates in EAST HAUXWELL, where Gunre and Gamel had each a 'manor' before the Conquest, were in 1086 among the demesne lands of Count Alan. (fn. 19) Four carucates afterwards belonged to the fee of Middleham, (fn. 20) and the manor was still held of Middleham Castle in 1636. (fn. 21) Hervey son of Hugh de Watlass (fn. 22) was tenant of 1½ carucates and 10 oxgangs in 1286–7. (fn. 23) His daughter and heir Alice married Simon de Stuteville, (fn. 24) who had succeeded by 1297–8. (fn. 25) He was assessed for the subsidy here in 1301–2, (fn. 26) and returned as lord in 1316. (fn. 27) He enfeoffed Margaret Fitling of his whole homage (fn. 28); she was returned as joint tenant of one knight's fee in East Hauxwell and Watlass, (fn. 29) and was evidently holding the East Hauxwell part until 1389 under this name, (fn. 30) though apparently wife of Roger de Eston. In 1346 Geoffrey son of Nicholas de Eston conveyed to Roger de Eston and Margaret his wife and her heirs tenements and two-thirds of a knight's fee in East and West Hauxwell. (fn. 31) Roger de Eston's lands here were acquired by the mesne lord Ralph Earl of Westmorland (1397–1425) (fn. 32) before 1409–10. (fn. 33) Ralph died seised of the manor in 1425 (fn. 34); Joan his widow held it in dower until her death in 1440, (fn. 35) and the issues were accounted for among the Middleham lands in 1484–6. (fn. 36) The manor then came into the hands of a branch of the Brough family. Richard Brough stated in 1612 that Richard Earl of Warwick, lord of Middleham, granted the manor in 1464–5 to his ancestor John Brough of East Hauxwell, son and heir of John Brough (of Brompton-on-Swale, younger brother of — Brough of Brough Hall, Catterick). (fn. 37) The statement is probably trustworthy, though this grant seems antedated. (fn. 38) The earliest mention found of Broughs in Hauxwell is in 1516, when Peter Brough of Newton Morrell, Henry Brough of Spennithorne and Anthony and Thomas Brough of East Hauxwell were pardoned for a murder committed at West Hauxwell. (fn. 39) The John said to be the grantee had, according to tradition, a son and heir Peter, father of the Leonard (fn. 40) who made a settlement of this manor in 1560. (fn. 41) He or his son and heir Thomas must have alienated one fourth part to the Jopsons of West Hauxwell. (fn. 42) Thomas was assessed for the subsidy here in 1588–9, (fn. 43) and with Leonard his son and heir (fn. 44) and Jane his wife sold the manor in 1604 to his kinsman Richard Brough. (fn. 45) Richard died in 1614, leaving a son and heir Lancelot, (fn. 46) who died a minor in 1620, leaving sisters and heirs Ellen, Elizabeth and Anne. (fn. 47) Ellen with her husband William Wycliffe in 1637 conveyed one-third of the manor to her brother-in-law Lionel Robinson. (fn. 48) Elizabeth wife of Lionel Robinson and Anne wife of Christopher Phillipson had livery of their shares in 1636, (fn. 49) and in 1637 Christopher and Anne with others conveyed tenements and one-third of the manor to Lionel Robinson, (fn. 50) who thus became sole owner. He also possessed Cowton Grange, which his grandfather had purchased. (fn. 51) He left daughters and heirs Clara and Jane, of whom Clara married Francis Topham of Agglethorpe, (fn. 52) and made a settlement of half the manor in 1669. (fn. 53) This half descended with the manor of Agglethorpe (fn. 54) (q.v.) to Dinah wife of Sir Thomas Frankland. In 1747 (fn. 55) Francis Topham and his wife conveyed it to Sir Charles Dalton, (fn. 56) from whom it has descended to Col. WadeDalton. (fn. 57)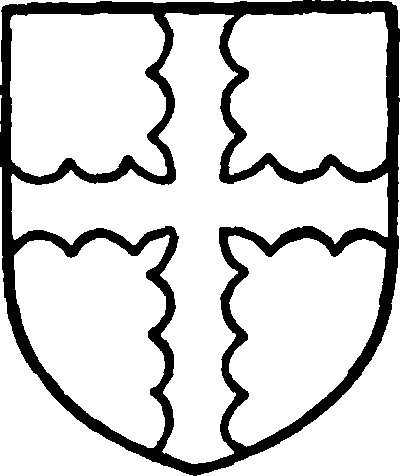 Jane's part passed either by marriage or sale to Craven Peyton, who settled it in 1689. (fn. 58) Craven was son of Sir Robert Peyton of East Barnet, who was knighted in 1670; the father of Sir Robert was Henry Peyton, who in 1641 obtained permission to bear the arms of the Peytons of Isleham. (fn. 59) Settlements were made by Henry Peyton, William Broughton and Katharine his wife in 1775, (fn. 60) and by Henry Peyton in 1783. (fn. 61) This property was bought by Mary Gale in 1796 (fn. 62) and so coalesced with the first moiety.
The estate of Robert Conyers of Danby Wiske (fn. 63) here was called a manor in 1525. (fn. 64)
The Nevills held a manorial court here in the 15th century. (fn. 65)
Two carucates of land in East Hauxwell belonged to the butler's fee and descended with Barden. (fn. 66)
There were said to be 6 carucates of land at geld in WEST HAUXWELL in 1086, (fn. 67) and the statement is repeated in an estimate of the number of carucates in Hang Wapentake in 1183–4, (fn. 68) land in Watlass being probably included in this assessment.
Gunre held a 'manor' before the Conquest in this place, which was in 1086 held by Ribald, and was held in socage of Richmond Castle in the 16th century. (fn. 69)
'Certain tenements' in West Hauxwell and Watlass were in the fee of Middleham, and followed the descent of Well (q.v.). They were assessed at one knight's fee. (fn. 70) The 'manor' is first mentioned when Robert Langton of Burton-in-Lonsdale made a settlement of it in 1529, on the marriage of his son Thomas; he sold it in 1552, after the death of Thomas and his wife, to Christopher Marton of Gargrave in Craven, and died at Hauxwell in 1556. (fn. 71) The manor, however, was seized by his grandson Francis, son and heir of Thomas, claimant under the settlement. Francis was disseised by Christopher Askwith, and died before he could recover the manor, leaving a young brother and heir Marmaduke, (fn. 72) who made a conveyance in 1570–1, (fn. 73) and in 1583–4, with Francis Tunstall, made it over to Thomas and Richard Willance and the heirs of Richard. (fn. 74) Richard Willance also obtained a conveyance from the heirs of Robert Langton's grantees. Christopher Marton in 1556 granted two-thirds of the manor to Henry Askwith and one-third to Michael Spence, perhaps a member of the Barden family of Spence, in fee simple. (fn. 75) Henry Askwith died seised in 1562, leaving a son and heir Christopher, (fn. 76) who was succeeded in 1569 by his son Richard, (fn. 77) party with Roland Spence to a conveyance of the manor in 1585–6 to Richard Willance. (fn. 78) Richard with Elizabeth his wife granted the manor and a moiety of the advowson to Robert Jopson in 1593, with warranty against Marmaduke Langton, Richard Askwith, Ralph Spence, their heirs and the heirs of Francis Tunstall, Roland Spence and Leonard Brough. (fn. 79) Richard, son and heir of Robert Jopson of Skelsmergh, Westmorland, died seised of this property and a quarter of the manor of East Hauxwell in 1598, leaving a brother and heir Matthew, (fn. 80) whose brother Thomas Jopson, of Cudworth, (fn. 81) quitclaimed the manor and advowson to him in 1630. (fn. 82) A Matthew Jopson, (fn. 83) Thomas Jopson and Rose his wife in 1631 conveyed the 'manors' of West and East Hauxwell and half the advowson to Sir William Dalton, kt., (fn. 84) third son of Thomas Dalton, Mayor of Hull in 1569. (fn. 85) Sir William, who was one of the Council of the North, died in 1649, leaving a son John Dalton, of Hauxwell, lieutenantcolonel in the king's army, and mortally wounded while escorting the queen from Bridlington to Oxford in 1646. (fn. 86) His son William, knighted at the Restoration, was buried at Hauxwell in 1675, and succeeded by his son Marmaduke, knighted in the year following, who was drowned in 1680. His three daughters were Grace, who died in childhood, Elizabeth, who obtained Hauxwell as her share of the inheritance, and Mary, who married Edward Graham Viscount Preston. (fn. 87) Elizabeth bequeathed her moiety to her uncle Sir Charles Dalton, who died unmarried before 1747, and was succeeded first by his nephew Charles, son of his brother Darcy, and afterwards by Francis younger brother of Charles. Francis died in 1792, leaving an only child Mary, who with her husband Henry Gale of Scruton (fn. 88) (q.v.) made a settlement of the manors of West Hauxwell and Barden and the advowson in 1793. (fn. 89) Mary, who died in 1845, had four daughters, Harriet, Mary, Katharine and Anne. Harriet obtained Scruton (q.v.), which still belongs to her male descendants. Mary died childless in 1794, and Katharine and Anne divided this property until 1877, when Anne, sole survivor, died unmarried. It was then settled on Harriet's daughter Mary and her husband Colonel Hamlet Coote Wade, with the request that they should take the name of WadeDalton. (fn. 90) From them the manor has descended to their son the present owner, Lieut.-Col. Hamlet Wade-Dalton.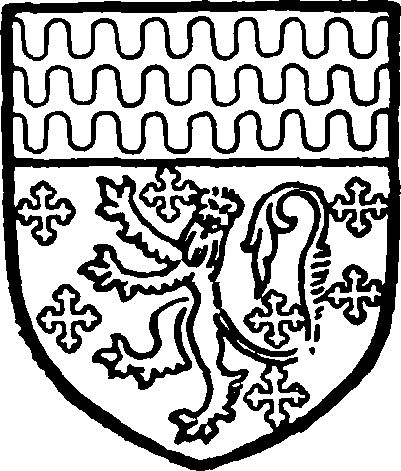 At BARDEN (Bernedan, xi cent.; Berden, xiii– xvi cent.) a 'manor' and 5 carucates were held by Gamel before the Conquest; Count Alan held it in demesne in 1086. (fn. 91) It was afterwards held of Richmond Castle. (fn. 92)
Barden and its members composed the Richmondshire knight's fee of the hereditary butler of the lord of Richmond; the three hereditary officials of the honour, however, the butler, chamberlain and seneschal, had all been enfeoffed before they received their serjeanties, and consequently held by military service. (fn. 93) The Yorkshire fee of the butler, who also held a knight's fee in Cambridgeshire, consisted of 3 carucates in Barden, 2 in East Hauxwell, (fn. 94) 2 in Little Crakehall in Bedale parish, (fn. 95) and 5 probably in West Hauxwell, East Brompton and Danby-onUre. (fn. 96)
Alan the butler was witness to a charter of Count Alan of Britanny granted in about 1145 to the men of Richmond (fn. 97) (q.v.). The butler paid 1 mark fine in this wapentake in 1183–4, (fn. 98) and Alan the butler was in possession of two knights' fees in the honour in 1211–12. (fn. 99) These fees, as is shown by a comparison of descents, passed to co-heirs. In 1265–6 John de Egglescliffe and Alice his wife, and in 1272–3 Henry son of Ralph and Joan his wife, made conveyances of tenements in Little Linton, Cambridgeshire (fn. 100); and in Yorkshire in 1268 John de Egglescliffe and Alice granted 1½ carucates of land in Barden in fee to Robert de Egglescliffe, (fn. 101) who in 1271 received from Henry son of Ralph and Joan a messuage, 2½ carucates of land, quarter of a water-mill and other tenements in Barden, Hauxwell, East Brompton and Little Crakehall. (fn. 102)
By 1283 the two fees of the butler had passed to Walter son of Robert de Egglescliffe, who held the Barden manor in demesne, and was called also 'de Barden.' (fn. 103) Walter was assessed at 9s. 10d. for the subsidy in 1301–2. (fn. 104) His son Robert de Barden, benefactor of Easby Abbey, was lord in 1311 (fn. 105) and living in 1327. (fn. 106) He must have been succeeded by a brother Walter, for Walter de Egglescliffe was stated in 1348 to hold two parts of the fee here some time of Walter his father. (fn. 107) John de Barden, perhaps the traditional founder of Ellerton Priory, had succeeded by 1428. (fn. 108) He left three daughters and co-heirs, one of whom, Katharine, married Matthew Ellerton and had an only daughter Agnes, wife of George Thoresby, called of Barden, son of Robert Thoresby of Thoresby. (fn. 109) The Thoresbys of Thoresby (q.v.) henceforth held one-third of this manor and lived here (fn. 110) until in 1596 Henry Thoresby and Jane his wife conveyed to Robert Jopson a manor of 'East Hauxwell' (fn. 111) which must have been the manor of Barden. This afterwards descended with the manor of West Hauxwell.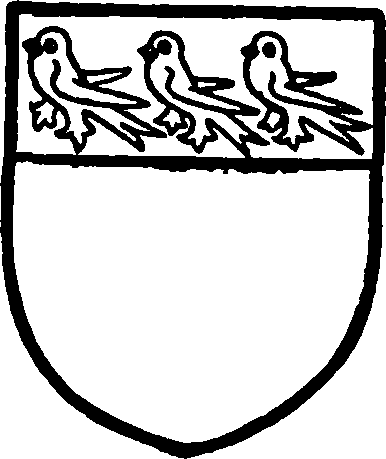 Another co-heir of John de Barden married an Aislaby. Richard Aislaby died seised of one-third of 3 carucates of land here in March 1496–7, leaving a son and heir Thomas. (fn. 112) A rent was paid to Thomas Aislaby in 1536 as co-heir of the founder of Ellerton Priory, (fn. 113) and in 1565 William Aislaby and Ralph his son made a settlement of their Barden lands, (fn. 114) perhaps as a conveyance to Ralph Gower, who married Anne, sister-in-law of William, and died seised of a fourth part of the manor in 1567, leaving a son and heir John. (fn. 115) John Gower, owner of the Grey Friars, Richmond, was attainted for taking part in the rebellion of 1569, and his lands were granted to the queen's servant John Stanhope. (fn. 116) The Earl of Sussex petitioned Cecil that Gower might recover his lands on payment of a fine, representing that the queen would gain as much by a fine as by forfeiture, that the earl wished to do a favour to Serjeant Wray, John's uncle, and his servant wanted to marry Gower's mother (Anne Wray). John's lands, he added, were scarcely worth £50 a year and his mother possessed half as her jointure. (fn. 117) The Serjeant Wray mentioned was afterwards the famous Chief Justice Wray, third son of Thomas Wray of the family of Coverdale; and perhaps as a still further favour to him John Gower's lands were now given to Serjeant Wray's brother Thomas. (fn. 118) Thomas died seised of the site of St. Nicholas and this manor in 1587, (fn. 119) and Sir William Wray, kt., his son, (fn. 120) held tenements here at his death in 1628. (fn. 121)
Of the third moiety of the Barden fee Thomas Spence died seised in January 1500–1, leaving a son and heir Henry. (fn. 122) Ralph Spence was said to be co-heir of the founder of Ellerton Priory in 1536 (fn. 123); in 1586 Richard Askwith and Roland Spence granted the manor to Richard Willance, (fn. 124) and in 1599 Ralph Spence made a conveyance. (fn. 125) This part presumably merged with West Hauxwell.
The 3 carucates in GARRISTON (Gerdestone, xi cent.; Gerthestone, xiii-xv cent.; Gaaryston, xiv cent.; Gartheston, xiv-xv cent.; Garston, Gareston, Garreston, xv-xvii cent.; Garyston, xvi cent.), where Turchil had a 'manor' before the Conquest, had passed by 1086 to Count Alan and his under-tenant Goisfrid. (fn. 126)
It was said to belong to various fees in 1286–7, (fn. 127) but a mesne lordship of the Mountfords of Hackforth, (q.v.), successors of Goisfrid, (fn. 128) is mentioned in the 14th and 15th centuries. (fn. 129)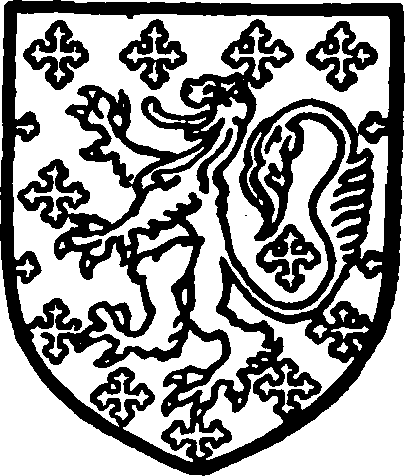 The lands of Garriston were accounted for with those of Hunton (q.v.) and Arrathorne in 1286–7, (fn. 130) and the manor descended with those places to the Scropes of Masham (fn. 131) (q.v.), Geoffrey le Scrope receiving a grant of free warren here in 1328 (fn. 132) and Sir Stephen le Scrope in 1393. (fn. 133) After the division of the Scrope lands in the 16th century Garriston followed the descent of Constable Burton (fn. 134) in Fingall parish (q.v.); it is now the property of Mr. Marmaduke D'Arcy Wyvill.
Church
The church of ST. OSWALD consists of a chancel 35 ft. 2 in. long by 13 ft. 6 in. wide, north vestry, nave 35 ft. 4 in. by 16 ft. 3 in., south porch, and west tower 10 ft. 11 in. by 11 ft. 9 in. These measurements are all internal.
The length of the chancel has been about doubled in the 13th century, the west tower added about the same time, and the porch and vestry are modern, but the rest of the church retains the plan and several of the architectural features which belong to its setting-out at the end of the 11th century. A good deal of large herring-bone masonry remains in the nave and chancel walls, and the chancel arch and south doorway and a small blocked window in the south wall of the nave are coeval with it. The doorway is unusually far to the west for a nave of this date, but seems to be in position, and there is nothing to show that the church has been shortened. A still earlier period of the history of the site is represented by the shaft of a cross in the churchyard, perhaps of 10th-century date. On the principal face it has a pattern of Stafford knots with a panel near the head of the shaft as if for an inscription.
The chancel has a modern east window of two uncusped lights, a narrow single light in the north wall, and in the south wall three single-light windows, the westernmost, which is set in the early walling, having a trefoiled head of clumsy detail under a square lintel. The jambs may be of the 14th century, but the head is probably of a post-Gothic date. The other two south windows are lancets, widely splayed, and apparently of the date of the wall in which they are set, c. 1230. The north window may be contemporary with them, being narrower only by reason of its aspect. In the vestry is a lancet which looks like old work re-used. The piscina in the south wall of the chancel appears to be original; it has a trefoiled head to the recess and a shelf at its springing line. The sill has a beaded edge of three small rounds and a semicircular basin. At the southwest of the chancel is a small modern priest's doorway. The chancel arch has been a good deal repaired in modern times, but is a fine piece of early work of two moulded orders with cushion capitals and jamb shafts. The capitals have cabled neckings and the bases are moulded with two rolls on the outer order and a hollow between two rolls on the inner.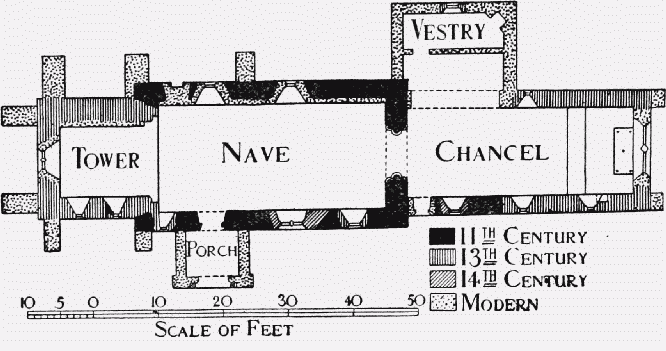 The two north windows of the nave are both modern wide lancets. To the west of these, but only visible on the outer face, is a small blocked doorway; its jambs have a half-round edge roll with plain capitals of a chamfer above a round neck mould and abaci probably not original, on which rests a stone lintel which seems to be part of an early cross shaft with an interlacing pattern. The easternmost window in the south wall of the nave is a wide 13th-century lancet, and the second, c. 1320, is of two trefoiled lights with jambs of two wavemoulded orders and a quatrefoil in the head. Close to it on the east is the head, cut in one stone, and the east jamb of a small round-headed light, probably coeval with the wall, and now entirely blocked up. The south doorway has jambs of two square orders with detached shafts in the angles having plain cushion capitals and roll-moulded bases. The semicircular arch is of three orders, with billet and zigzag ornament of a simple and early kind. It is filled with a tympanum carved with a shallow diaper pattern. To the west of the doorway is a small lancet. The porch is designed in a modern Romanesque manner, and has an outer doorway to match the inner one. In the wall above the porch is a blocked square-headed opening of modern date, which doubtless lighted a former west gallery.
The tower is of three stages with an embattled parapet; the ground stage has a modern west window of two trefoiled lights with a cinquefoil over, and two narrow 13th-century lancets in the south wall. The second stage has two long and narrow lancets one above the other on the south side, both apparently original, and the bell chamber is lighted by original two-light windows on the east and west, and on the north and south by later two-light openings with modern trefoiled heads. The north walls of the nave and tower are supported by heavy modern buttresses, and both seem to have been thickened by some 6 in. on the inside in modern times; the north wall of the nave being 3 ft. 7 in. thick as against the 3 ft. i in of the south wall.
The roofs are low pitched, the nave walls being embattled, while those of the chancel end with a level course. The marks of the former steep-gabled roof of the nave can be seen on the east wall of the tower, and from the masonry it is clear that the nave and chancel walls were heightened when the low-pitched roofs were put on.
The font has an octagonal bowl, modern or recut; it stands on an 18th-century baluster stem, which is placed on an octagonal base, apparently that of a 13th-century column. In the chancel is a seat made up of two old bench ends with poppy heads; on its front edge are small diagonal shafts surmounted by a pelican and a winged beast.
In the chancel is a small brass recording that Henry Thoresby of 'Lincons Inn,' one of the Masters of Chancery in ordinary, and Ann his wife, daughter of John Scrope, a younger brother of Lord Scrope of Bolton, 'whose sd parents lie buried over against this monument . . . cawsed there tombe to be repayred and butified and this inscription to be set in the wall over against the same,' &c.; the date is 1611. There is no such tomb now in the church. There are several late 17thcentury monuments: to William Dalton, 1671, Mark, son of John Milbanks, 1698, and to Marmaduke Dalton and Dame Barbara his wife, 1680 and 1708. In the porch are the effigies of a knight and his lady, c. 1300. He wears mail and carries a large shield and is cross-legged. In the churchyard are five coped cross stones; one bears a sword by the side of the cross and a shield, and two others have books.
There are three bells: the treble blank, the second inscribed 'God save his church,' and the date 1661 with the initials RW SW P, and the tenor, which has a broken lip, is dated 1704 with the same inscription and the initials WA HWTT IW.
The plate consists of a cup of 1704 inscribed 'The gift of Mrs. Dalton 1714,' and a salver paten of 1732, and a flagon of 1778, both inscribed 1860.
The registers begin in 1593.
Advowson
The church and I carucate of land here were given to St. Mary's Abbey, York, by Ulf Fornesson, the gift being confirmed by Count Stephen of Britanny (fn. 135) (1093–1137). (fn. 136) The abbey retained the church until the Dissolution and received 20s. as pension from the rectory. (fn. 137)
The advowson was granted in fee simple by the queen in January 1563–4 to Robert Freke and John Walker, (fn. 138) who seem to have speedily disposed of it. A moiety was conveyed with the manor of West Hauxwell in 1593, (fn. 139) and from 1620 the entire advowson has descended with that manor. (fn. 140)
Charities
The Charity Fund consisted of £170, the amount of Sunday benefactions mentioned in a table in the church, the interest being applicable for education and relief of the poor. By an order dated 26 July 1904, made under the Board of Education Act, 1899, six-fifteenths of the net income was determined to be the portion applicable for educational purposes. No accounts have been rendered to the Charity Commissioners showing in what manner the principal sum is at present secured.