Pages 344-348
A History of the County of York North Riding: Volume 1. Originally published by Victoria County History, London, 1914.
This free content was digitised by double rekeying. All rights reserved.
THORNTON WATLASS
Torretun, Torreton, Wadles (xi cent.); Thorneton et Watlous (xiii cent.); Thorneton Watlows, Watlows (xiv cent.).
This agricultural parish lies north of Masham in a picturesque position on the eastern slopes of the Ure valley. The height varies from 300 ft. near the river to 500 ft. The total area is rather over 3,711 acres, of which 1,154 are arable land, 2,101 permanent grass and 253 woods and plantations (fn. 1); cereals and root crops are grown. The soil is yellow gravel, the subsoil chiefly magnesian limestone with some millstone grit and alluvium near the Ure.
The ecclesiastical parish contains the townships of Thornton Watlass, Clifton upon Ure, Rookwith and Thirn, all now separate civil parishes.
Thornton Watlass originally consisted of two distinct vills; as the church, which is frequently mentioned in connexion with Watlass, is south of the village and of Thornton Watlass Hall, it is probable that Watlass lay south of Thornton. The village is built round a large triangular green dotted with elms and sycamores. The houses are mostly built of stone with slated and tiled roofs and in front have hedged garden plots. Thornton Watlass Hall, the seat of Sir Matthew B. Smith-Dodsworth, bart., stands in a park of about 100 acres. The entrance to the hall is at the north end of the village. The building consists of a main block with wings on each side running north and south; these wings project slightly on the front or southern side of the house and form long projections at the back. The house is rubble built, with rusticated quoins, having been apparently refaced and altered in the 18th century, particularly on the south side, where a rain-water pipe bears the date 1727. In the middle of the west side of the house, set in the wall, are two stones engraved with two crests—a boar's head above a crown and a hand holding the butt of a lance. The principal room is on the south side of the main building and has moulded oak beams. The spaces between the beams are each divided into two square panels by small wood mouldings. These, with the cornice and chimney-piece, are probably alterations of the 18th century. An oak stair of moderate size, the newels of which are carved with fruit and flowers, leads in two flights to the first floor. Generally the house contains much good panelling and carved woodwork of various periods, from the late 16th century to the 18th century, some of the work belonging to the building and some having been brought from elsewhere. In a bedroom are about twenty pieces of mediaeval tapestry, now worked into a bed canopy, containing, among other subjects, the Crucifixion, figures of our Lord, the Blessed Virgin, and St. Peter, together with various saints, the figures being in most cases surrounded with canopy work.
To the west on Gospel Hill is a tumulus. Watlass Moor, to the south, extends into Well parish.
There is no village at Clifton upon Ure. Clifton Castle, the residence of Lady Cowell, stands in a well-wooded park which slopes down to the river. It is an ashlar-built house in the classical style of the early 19th century. The site is that of the older castle, the foundations of which form part of the cellars of the present building. A drawing made in 1805 shows a portion of the ruins with a buttress of two stages, a large pointed archway and other details; it was described by Leland as a 'house caullid Clifton, like a pile or castelet.' (fn. 2) On the south side of the house, outside the area of the present cellars, but on a level with them, is a stone-built well, which formed the original water supply of the castle.
Rookwith, lying to the north-east, consists of a few farms. The village of Thirn consists of a small group of houses with a Wesleyan chapel built on a road from Thornton Watlass to Thornton Steward. Thirn Moor lies to the east. The Hermitage, standing in park land, is occupied by Miss Clarke.
Among ancient place-names are Doddesworth Closes, Sandy Brigworth and Monser Hill.
Manors
Before the Conquest two 'manors' and 6 carucates in THORNTON were held by Ulward and Stan, 'who had no hall'; in 1086 both were in the hands of Count Alan, (fn. 3) with whose successors the overlordship remained. (fn. 4) A mesne lordship followed the descent of Middleham (fn. 5) (q.v.).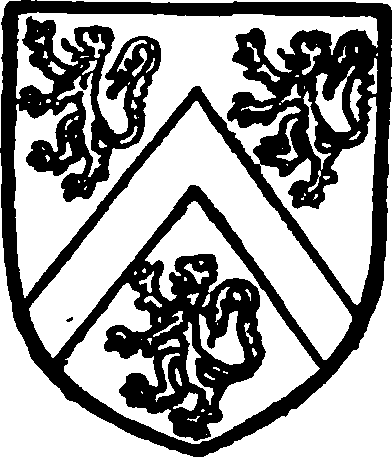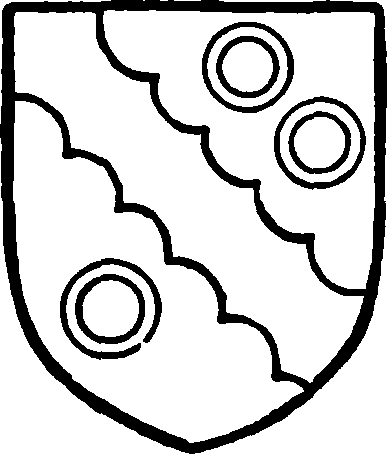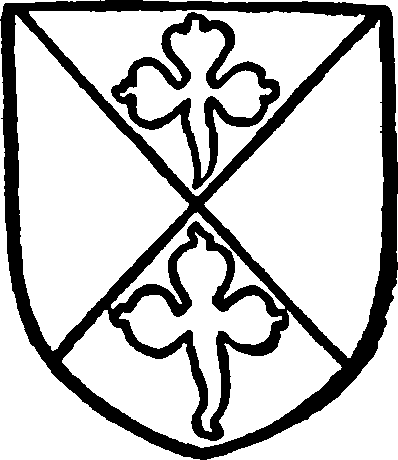 In 1286–7 Peter de Thoresby, said to be descended from Gospatric, held 5 carucates 2 oxgangs in Thornton (fn. 6) and was succeeded by a son Hugh, (fn. 7) lord in 1316 (fn. 8) and 1327–8 (fn. 9); John de Thoresby was tenant in 1367. (fn. 10) At the end of the 14th century Hugh de Thoresby was succeeded by three daughters and co-heirs. The second of these, Agnes, married Thomas Dodsworth. (fn. 11) William Dodsworth grandson of Thomas died seised of six messuages and 6 carucates in 1469 and was succeeded by a son John. (fn. 12) His son Thomas died in January 1514–15, his successor being his son Richard, (fn. 13) who died in 1540, leaving a son John, then aged nine. (fn. 14) This John Dodsworth held it at his death in 1609 and was the father of another John, (fn. 15) whose son John was in possession in 1674. (fn. 16) John Dodsworth (presumably the great-grandson of this John) and Henry Dodsworth dealt with the manor by fine in 1718–19. (fn. 17) In 1821 Thornton Watlass passed at the death of Frederick Dodsworth, D.D., Canon of Windsor, to his nephew Sir Edward Smith, who assumed the name of Dodsworth. (fn. 18) Sir Matthew Blayney Smith-Dodsworth is the present lord of the manor.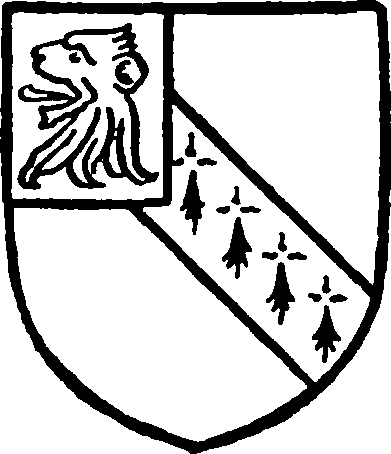 WATLASS, where Sigreda had previously had a 'manor' and 3 carucates, also belonged to Count Alan in 1086. (fn. 19) Ribald was tenant under Count Alan and the mesne lordship followed the descent of Well (q.v.). Hervey de Watlass was tenant here in 1286–7. (fn. 20) He granted it to his daughter Alice and her husband Simon de Stutvill for an annual rent of £60; he disseised them when £40 were in arrear, but restored it after a suit in 1290. (fn. 21) Simon, lord in 1316, (fn. 22) is mentioned in 1327–8, (fn. 23) but in or before 1340 the manor came into the hands of Thomas son of Jollan de Nevill, (fn. 24) who with his wife Cecily then granted it to Sir Geoffrey le Scrope, kt., in exchange for the manor of Yarnwick. (fn. 25) Watlass followed the descent of Masham (fn. 26) (q.v.) until it was sold by Sir Abstrupus Danby to Sir William Blackett, bart., in 1688, (fn. 27) and by the latter to John Milbank in the spring of 1699–1700. (fn. 28)
In 1901 Sir Powlett Milbank, bart., sold the 'manor of Thornton Watlass' with the advowson of the church and about 50 acres of land at Thornton Watlass, including the village green, to Sir Matthew Blayney Smith-Dodsworth., bart., now lord of the manor of Thornton Watlass. (fn. 29)
A 'manor' and 3 carucates, late of Cnut, in CLIFTON UPON URE (Clifton, xi cent.; Clyfton, xiii cent.) were in the hands of Count Alan, whose successors retained the overlordship. Donewald was tenant in 1086, (fn. 30) but may have been superseded by Ribald, for the lords of Middleham (q.v.) held a mesne lordship here. Gilbert de Clifton was tenant of the whole 3 carucates in 1286–7, (fn. 31) and obtained a grant of free warren in his demesne lands here and at Thirn in 1291. (fn. 32) A few years later the manor of Clifton was settled upon Hervey de Clifton and his heirs. (fn. 33) It is not certain whether Reynold de Clifton was his successor here as at Thirn, (fn. 34) but the manor seems to have been sold at about this date. The conveyance of the manor in 1320 by John de Hunton, (fn. 35) jun., and his wife Maud (possibly a Clifton heiress) to Geoffrey le Scrope (fn. 36) may have been in the nature of a quitclaim, for Geoffrey had obtained licence to crenellate his dwelling-place of Clifton upon Ure (fn. 37) and a grant of free warren here in 1317. (fn. 38) The manor followed the descent of Masham (q.v.). On the division of the property of Thomas sixth Lord Scrope it passed to Margaret wife of Sir Christopher Danby of Thorpe Perrow. (fn. 39) Their son inherited it, and from him the manor passed to his daughter Magdalene, who married her cousin Sir Marmaduke Wyvill. (fn. 40) The manor descended with Constable Burton (q.v.) until at least 1649. (fn. 41) In 1677 it was held by Sir Marmaduke Dalton, kt., whose mother Elizabeth Wyvill was a great-grandchild of Marmaduke and Magdalene Wyvill. (fn. 42) His daughter and ultimate sole heiress, Mary, married Edward Graham Viscount Preston, (fn. 43) after whose death she sold the manor in 1735 to John Hutton. (fn. 44) His grandson (fn. 45) Timothy Hutton was succeeded at his death in 1863 by his cousin James Pulleine of Crakehall, whose daughter Georgina Elizabeth, widow of Major-General the Rt. Hon. Sir John Clayton Cowell, K.C.B., (fn. 46) is the present owner.
A water-mill here is mentioned in 1340–1 (fn. 47); free fishery in the Ure was appurtenant to the manor in 1649. (fn. 48)
The two-fifths of the manor of Clifton held by Sir James Strangways at his death in 1540 followed the descent of his lands at Hunton (q.v.). In 1544 Robert Roos sold his share of the manor to Thomas Pope and Robert Curson. (fn. 49)
In 1086 Count Alan was in possession of the 'manor' and 6 carucates in ROOKWITH (Rocvid, xi cent.; Rockwich, Rokewyk, xiii cent.; Rokewythe, xvi cent.) formerly held by Stenulf. (fn. 50) Rookwith became parcel of the honour of Richmond. (fn. 51) Early in the 13th century Theobald de Valoignes held a mesne lordship of half a knight's fee, under him being the lords of Middleham. (fn. 52) In or before 1229 this land was granted by Hamo de Valoignes to the Abbot and convent of Jervaulx, (fn. 53) who obtained a grant of free warren here in 1290. (fn. 54)
At the Dissolution the grange of Rookwith was let for £49 0s. 4d. (fn. 55) In 1544 it was granted with the site of the abbey to Matthew Earl of Lennox and Margaret his wife. (fn. 56) After their death the grange passed to their grandson, afterwards James I, and Queen Elizabeth during his minority leased part of it in 1601 to Christopher Smith for twentyone years. (fn. 57) A few months after the accession of James I the whole grange was granted to Edward Bruce Lord Kinloss, (fn. 58) who was seised of it at his death in 1611. (fn. 59) It followed the descent of East Witton (fn. 60) (q.v.) until 1886, and was sold by the Marquess of Ailesbury with Jervaulx Abbey to the first Lord Masham, whose son sold it to Mr. Hector Christie. (fn. 61)
The overlordship of THIRN (Thirne, xi cent.; Thyrne, xiii cent.; Thorne, present day), which in 1086 was among the lands of Count Alan, (fn. 62) continued in the honour of Richmond. (fn. 63) At the time of the Domesday Survey Thirn was assessed at 3 carucates, and the value had increased from 5s. to 20s. Bernulf, who had previously owned a 'manor' there, was tenant. (fn. 64) A mesne lordship here was held by the lords of Middleham (fn. 65) (q.v.).
In 1286–7 Gilbert de Clifton held the 3 carucates here, Richard de Staynlay being tenant of 1 carucate. (fn. 66) The Clifton manor was acquired before 1328 by Geoffrey le Scrope, who was granted free warren there in that year. (fn. 67) It followed the descent of Masham (q.v.), and appears to have remained with the Fitz Hughs, devolving in 1512–13 upon Thomas Fiennes Lord Dacre and Sir Thomas Parr, kt., (fn. 68) cousins of George Lord Fitz Hugh. Sir William Parr, Marquess of Northampton, son of Sir Thomas, was attainted under Queen Mary, and, although he was restored in blood, (fn. 69) his moiety of Thirn was among those lands appropriated by the Crown. Thomas Fiennes Lord Dacre was at his death in 1534 succeeded by his grandson Thomas, who in 1541 was found guilty of murder (though apparently without foundation) and executed. His son Gregory was restored in blood and honours in 1558, (fn. 70) and in 1571 was holding the 'manor' of Thirn, (fn. 71) which he settled on himself and his issue. This manor may have included that part which had formerly belonged to Sir Thomas Parr, for Lord Dacre's right to make the settlement was allowed by Queen Elizabeth in July 1581. (fn. 72) In August of the same year she granted the reversion of the manor, in the event of Gregory's death without issue, to William Cecil Lord Burghley and Robert Earl of Leicester, their heirs and assigns. (fn. 73) Gregory Fiennes Lord Dacre died without children in 1594, his sister Margaret wife of Sampson Lennard being his heir. (fn. 74) She and her husband sold a moiety of the manor of Thirn to Francis Parker in 1599. (fn. 75) After this time Thirn is described as a 'grange,' which evidently descended with West Tanfield (q.v.). Thirn was purchased, probably in 1796, by the family of Milbank, (fn. 76) with whom it continued until 1901, when the manor passed with that of Thornton Watlass (q.v.) to Sir Matthew Blayney Smith-Dodsworth, bart.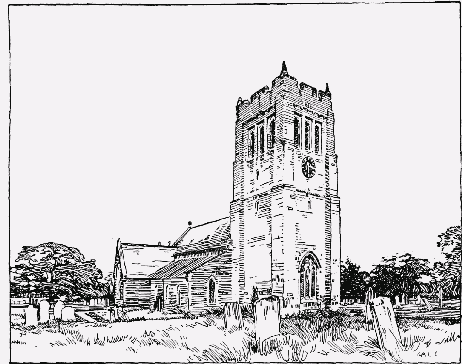 In 1280 Richard son of Adam de Thirn granted 2 carucates of land here to the Abbot of Jervaulx; at the Dissolution 1s. was paid as rent of assize and of free tenants here. (fn. 77)
Church
The church of ST. MARY THE VIRGIN consists of chancel measuring internally 35 ft. by 18 ft. with north vestry, nave 51 ft. 9 in. by 21 ft., north aisle 9 ft. 5 in. wide, north transept 15 ft. by 9 ft. 6 in., south transept 15 ft. by 9 ft., west tower and south porch.
With the exception of the west tower, which is of the 14th century, the whole building is modern. The piscina in the south wall of the chancel has an old drain.
The tower is a fine dignified building with clasping buttresses at the angles setting back in three stages. The lowest stage is entirely plain save for a modern three-light west window and small pointed opening near the top of the stage; the second story, which is very short, has like openings, and the belfry windows are three tall trefoiled lights in each face, under square heads, and over them the embattled parapet is corbelled out, the corbel course being ornamented with shields, heads and masks. The stair turret is at the south-east angle. Internally the lower story of the tower is vaulted and separated from the nave by an arch of the same section as the ribs; it originally had capitals, but these are now cut away. In the first floor of the tower are a fireplace and garderobe, and on the second floor is another room evidently meant for habitation. At the top of the tower are squinches designed to carry an octagonal spire.
There are two portions of Saxon cross-heads built into the south porch. There is also a fragment of a cross-shaft with loop-work upon the edge, much worn, built into the churchyard wall.
The bells are three in number: the first inscribed 'Gloria in altissimis deo, 1694'; the second 'Soli Deo Gloria Pax Hominibus, 1712. I. C. Churchwarden,' and the third dated 1825.
The plate consists of a modern cup, paten, flat paten and flagon, all silver gilt, and a modern silver set of cup, paten and flagon.
The registers begin in 1574.
Advowson
Mention of the church of 'Wattelaus' occurs in 1263. (fn. 78) Henry le Scrope of Masham died in 1392 (fn. 79) seised of the advowson and of the manor, which it has followed in descent, the rectory being now in the gift of Sir Matthew Blayney Smith-Dodsworth, bart.
Charity
An annual sum of £4, supposed to have arisen under the will of Dame Julia Dodsworth, 1756, for educational purposes, is duly received and applied in aid of the school funds.
Township of Thirn. — The Wesleyan chapel, founded by deed, 1835, is regulated by a scheme of the Charity Commissioners, 1893.