Pages 399-402
A History of the County of York North Riding: Volume 1. Originally published by Victoria County History, London, 1914.
This free content was digitised by double rekeying. All rights reserved.
BIRKBY
Bretteby (xi cent.).
The parish of Birkby consists of 1,203 acres, of which 556 are pasture and 491 arable land. (fn. 1) The township of Little Smeaton joins it on the north and Hutton Bonville on the south, the three forming one parish. The River Wiske separates Birkby from Cowton on the west, and Deighton lies to the east. Birkby Lane branches off from the road from Northallerton to Darlington, and passes close to Birkby Grange and Hill Top Farm and so on to the village which stands on the river bank.
The village consists of the church, rectory and a few cottages, all lying together within an angle of the road, where it turns sharply down-hill to the Wiske. It differs in character from the neighbouring villages, which are usually built along a broad street. On the south of the churchyard, in which there is a fine yew tree, is the field called Hall Garth, and at the river is a ford, which has been superseded by the present bridge. In the field on the east side of the road above the church are many ridges that are said to represent the site of an earlier village, (fn. 2) which, with the exception of one or two farms along the road, has entirely disappeared.
The low-lying ground on the borders of Birkby and Little Smeaton is often flooded. The soil is clay and the subsoil Keuper marls.
The scattered population is mainly engaged in agriculture, the chief crops being wheat, barley and oats. Turnips and beans are also cultivated.
The township of Little Smeaton, 3 miles from Cowton station, consisting of 1,001 acres, lies north of Birkby, and is divided from Great Smeaton by the Wiske, which takes a great curve from south to east, and is crossed by the Darlington road at Smeaton Bridge. Westthorpe, the residence of Mr. M. H. Horsfall, J.P., is in the north of the township, and stands in a park, in which is a well-known clump of trees forming a landmark in the neighbourhood. The meadows near are often flooded. More than half the township is pasture land, which covers 556 acres, there being also 30½ acres of plantations. (fn. 3)
Hutton Bonville lies south of Birkby, the River Wiske forming the western boundary. The North Eastern railway runs close to the Hall, which stands in a park of 90 acres leading down to the river; it is almost surrounded by coverts, which generally provide sport in the hunting season. Close to the Hall is the little church of St. Lawrence. A footpath from the main Darlington road leads to Hutton Bonville Farm, not far from some disused tile-works. The population is chiefly engaged in agriculture.
Manors
In 1086 BIRKBY was a berewick of the royal manor of Northallerton (fn. 4) (q.v.), which the overlordship followed in descent. (fn. 5) In the 11th century it was assessed at 6 carucates. (fn. 6)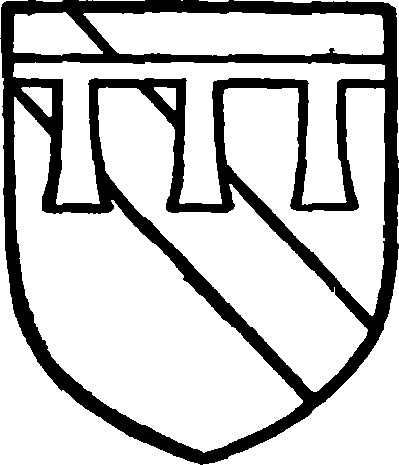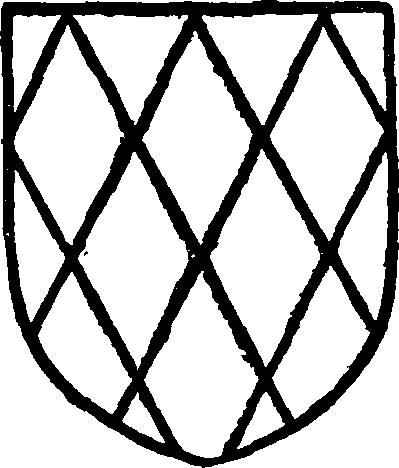 A mesne lordship over one knight's fee here was held by Henry de Farlington early in the 13th century, (fn. 7) and afterwards by his daughter Joan de Wivelsthorp. (fn. 8) She, as a widow, granted 4 oxgangs and the service from half a carucate to Stephen de Wautham, who granted both to the priory of Healaugh Park. (fn. 9) Joan was followed by Henry de Farlington and he by John de Farlington, the tenant of 6 carucates in 1285, 4½ of which he held in demesne, the remainder, divided into half-carucates, being held by sub-tenants, the Prior of Healaugh Park, the heirs of Robert de Crepping, and Simon de Clervaux, who again subenfeoffed Nicholas de Todehowe. (fn. 10) In 1316 the fee was held by John de Lisle. (fn. 11) Soon after this it appears to have passed to the Scrope family, as Geoffrey le Scrope of Masham (q.v.) died seised of the manor in 1340. (fn. 12) Birkby was settled on Elizabeth wife of Sir John Scrope, who died in 1405, leaving two daughters, Elizabeth and Joan, (fn. 13) on whom the manor was evidently settled. Joan married Thomas Clarell, who was holding the manor of Birkby in her right (fn. 14) in 1427. Elizabeth, the only daughter of Thomas, married Sir Richard Fitz William. (fn. 15) Sir Thomas Fitz William, son of Sir Richard, died in 1513, (fn. 16) having made a settlement on his wife Agnes. His son and heir William was only three years old at the death of his father, (fn. 17) and died two years later, his heirs being his two sisters, Alice and Margaret. (fn. 18) They married respectively James and Godfrey Foljambe. In 1544 (fn. 19) Margaret and Godfrey Foljambe sold a moiety of messuages, lands and a fishery here to Marmaduke Thwaites of Little Smeaton, whose daughter Dorothy married Thomas Grimston, (fn. 20) and bought the other moiety of the manor from Godfrey Foljambe, the son of Alice, (fn. 21) in 1562. (fn. 22) Dorothy Grimston, who survived her husband, died in 1590, (fn. 23) leaving at least three sons; Marmaduke, her eldest son and heir, succeeded, but died without issue in 1604, after having settled the manors of Birkby and Little Smeaton on Elizabeth his wife. (fn. 24) Thomas, his brother and heir, dealt with them in 1605, and made a settlement in 1613 (fn. 25) on his wife Jane daughter of Tristram Carliell of Sowerby, and died seised of the manor in 1618. (fn. 26) He left no children, and his nephew Marmaduke, son of John, inherited his estates. Marmaduke Grimston died in 1623 seised of the reversion of the manors of Birkby and Little Smeaton after the death of Elizabeth, then wife of Sir Henry Browne. (fn. 27) This Marmaduke had made a settlement in 1618 on his wife Anne Dalton. He left one son William, three years old at the death of his father. (fn. 28) William held the manor in 1656 (fn. 29) and died in 1664, (fn. 30) leaving a son William, who held Birkby in 1687 and 1690 (fn. 31) and died in 1711. (fn. 32) His son Thomas married Dorothy daughter of Sir Thomas Legard, and died in 1737, leaving a son Thomas, who married Jane the daughter of John Close. (fn. 33) When Thomas Grimston died in 1751 he was succeeded by a son John, who married Jane Legard and died in 1780. His son Thomas was holding Birkby in 1783 (fn. 34) and died in 1821. (fn. 35)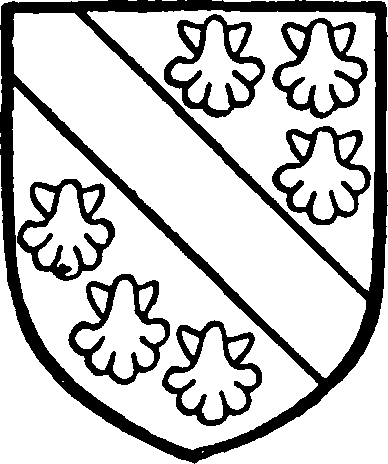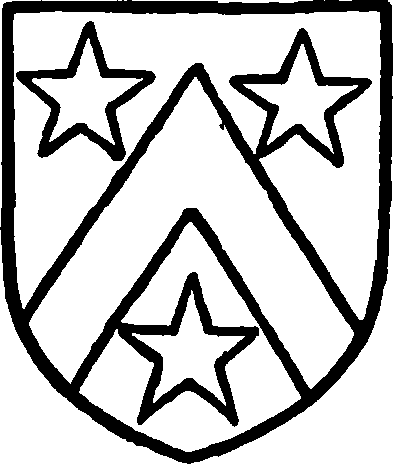 In 1872 Mr. Henry Peirse was lord of the manor, which by 1879 had passed into the hands of Mr. John R. W. Hildyard of Hutton Bonville Hall; it is now held by Mr. J. Arundell Hildyard.
The land held by the priory of Healaugh Park (fn. 36) was valued at the Dissolution (fn. 37) at 24s. The monks of Kirkstall Abbey had a rent-charge of 1s. from a tenement and 3 oxgangs of land in Birkby. (fn. 38)
The descent of the overlordship of LITTLE SMEATON followed that of the main manor of Birkby (q.v.), being in 1086 a berewick of Northallerton. (fn. 39)
Thorkil son of Thorald held 5 carucates here at the end of the 11th century (fn. 40); the fee was afterwards in the hands of a family bearing the local name. Robert de Smeaton acted as a juror in 1259–60, and in 1271 a Robert de Smeaton was enfeoffed by William de Cestrunte and Elizabeth his wife, in right of Elizabeth, in a messuage and 2½ oxgangs here. (fn. 41) William de Smeaton was tenant of 1½ carucates and John son of Thomas de Smeaton tenant of half a carucate in 1285. (fn. 42) William de Smeaton, while, as it was afterwards alleged, of unsound mind, exchanged two parts of the manor with John Morgan for land in Deighton. (fn. 43) John died before 1301, leaving co-heirs, but another John Morgan held 26 oxgangs here and forfeited them for his part in the rising of 1322; in 1360 this land was granted to William de la Pole and Katherine his wife. (fn. 44) The heir of John Morgan seems to have been Walter de Lisle, whose right was disputed by Robert son of William de Smeaton in 1330. (fn. 45) The court decided in favour of Walter de Lisle, (fn. 46) who was still living in 1333, (fn. 47) and was again summoned to answer a plea of trespass by John son of William de Smeaton.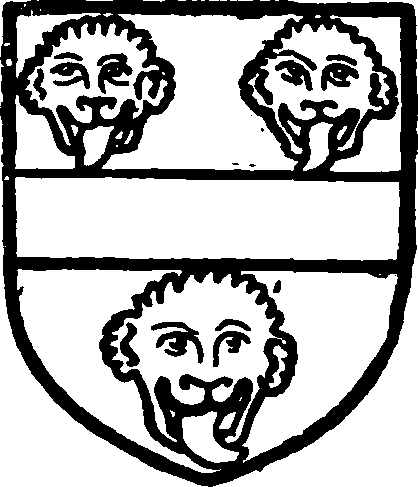 William de la Pole was probably in possession of the Morgan lands before 1360, for in 1334 he received a grant of protection in Little Smeaton, (fn. 48) and in 1339 Thomas de Kellaw and Emma his wife, in right of Emma, quitclaimed to him 26 oxgangs. (fn. 49) William died in 1366 (fn. 50) seised of lands and a close called 'le Park' here; these on the death of Katherine in 1381 (fn. 51) passed to their son Michael Earl of Suffolk. He was attainted in 1386, when his lands were forfeited to the Crown. After his death in 1389 (fn. 52) his son Michael petitioned for a restoration of his father's lands. (fn. 53) In the 15th century this fee was part of the inheritance of Alice daughter of Thomas de la Hay, who married Thomas Thwaites. (fn. 54) She was a widow in 1484, (fn. 55) when a messuage and 100 acres were settled on her with remainders to her sons John, Henry and Thomas (fn. 56) among others. The manor was demised to Henry for life and in 1490 Isabel Thwaites obtained a decree against her younger brother Henry in the Court of York for the payment of £40 out of Little Smeaton promised by her mother. (fn. 57) John Thwaites, son and heir of Alice, had a son Thomas who had three children, Thomas, John, and Isabel the wife of Sir William Fairfax. (fn. 58) In 1525 (fn. 59) Marmaduke Thwaites was in possession of Little Smeaton; he was still living in 1539. (fn. 60) His daughter Dorothy married Thomas Grimston, (fn. 61) and Little Smeaton from this time followed the descent of Birkby (fn. 62) (q.v.) until 1684, (fn. 63) when William Grimston divided the manor of Little Smeaton among his four daughters, Margaret, who married Robert Mascall, Dorothy wife of Robert Medley, Elizabeth wife of Philip Langdale, and Mary, who married Thomas Moseley. (fn. 64) In 1708 (fn. 65) Thomas and Mary Moseley sold their part of the manor to Henry Howgill, and in the following year Margaret Mascall, a widow, and Robert her son sold their quarter to Nathaniel Giles, (fn. 66) who in 1715 (fn. 67) sold it to Henry Howgill of Great Smeaton. (fn. 68) In 1879 it was in the hands of Mr. M. H. Horsfall, the present lord of the manor.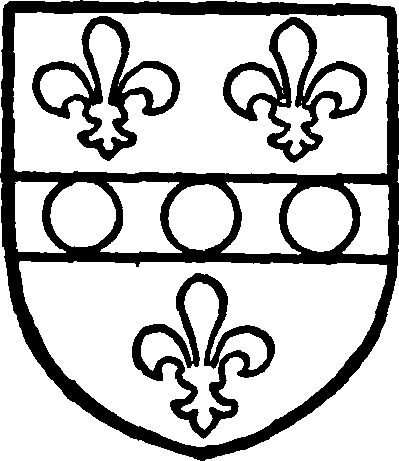 HUTTON BONVILLE (Hoton Benevill, Hotonsuper-Wiske, xiv cent.) is not mentioned in Domesday Book. The overlordship was, with Birkby, in the hands of the Bishop of Durham. (fn. 69) In the reign of Henry III Robert de Bonville was holding it with West Harlsey for one knight's fee, (fn. 70) and was followed by Margaret Bonville, perhaps a daughter. (fn. 71) After this the fee appears to have been divided. (fn. 72) It was held by tenants as half a knight's fee in 1285. (fn. 73) A quarter of a knight's fee went to the Bessingby family. In 1310 William de Bessingby and Clarice his wife quitclaimed land here to their son William (fn. 74); John de Bessingby and John Yewholme held it for a quarter of a knight's fee in 1427. (fn. 75)
The other quarter of a fee was held by John de Speton in 1316. (fn. 76) In 1397 Thomas Culpepper and Joyce his wife quitclaimed their right to the manor in favour of John Conyers of Hornby and others. (fn. 77) John was followed by a son Christopher, who held a quarter of a knight's fee in 1427 (fn. 78) and was still living in 1459, (fn. 79) and had a son John. He was made a Knight of the Garter by Richard III in return for his support. (fn. 80) He was several times Sheriff of Yorkshire, and took a prominent part in state affairs. (fn. 81) He married Margery, one of the daughters and co-heirs of Philip Lord Darcy and Meynell, and died in 1490. (fn. 82)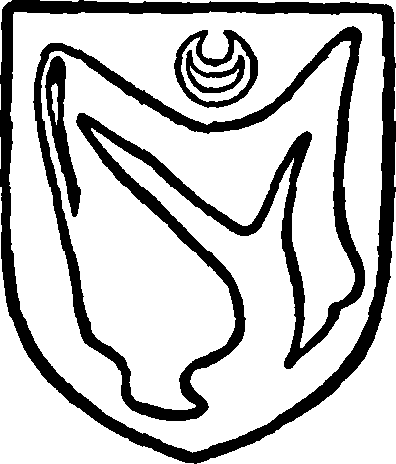 His son John was killed during the lifetime of his father, and Hutton Bonville evidently went to a younger brother Robert, who is mentioned in the will of Christopher Conyers dated 1483. (fn. 83) He married Margaret daughter and co-heiress of Rowland Darcy of Hinton, (fn. 84) Leicestershire, and was the founder of a family long settled at Hutton Bonville. In 1523–4 (fn. 85) John Conyers paid subsidy at Hutton Bonville, as Roger Conyers did in 1525–6 and again in 1539. (fn. 86) In 1542 (fn. 87) Robert Conyers held lands there, and was mentioned in the will of his 'cousin' Lady Anne Conyers in 1547. (fn. 88) He died in 1560 (fn. 89) and was succeeded by his son and heir John, who died in 1578, (fn. 90) having in 1565 made settlements of five messuages in Hutton Bonville on his son and heir Christopher and Isabel his wife. (fn. 91) Christopher died in 1613, (fn. 92) leaving a son Robert, aged sixteen. He was in possession of the manor in 1622–3 and also in 1626, (fn. 93) and being brought under the Recusancy Act he conveyed the manor in 1636 (fn. 94) to Richard Neile, Archbishop of York, and his son Sir Paul Neile. In 1637–8 a Crown lease of forty-one years of the manor as the property of a recusant was granted to Edward Lively. (fn. 95) On the death of the archbishop in 1640 (fn. 96) Hutton Bonville descended to his son Sir Paul Neile, who in 1646 paid £802 as composition for his estate. (fn. 97) After the Restoration he was an usher of the Privy Chamber and one of the original members of the Royal Society. (fn. 98) He was holding Hutton Bonville in 1667, (fn. 99) and died before 1685. (fn. 100) His eldest son William died during the lifetime of his father, and Richard, the second son, after being entangled in various discreditable escapades, was disinherited by Sir Paul. (fn. 101)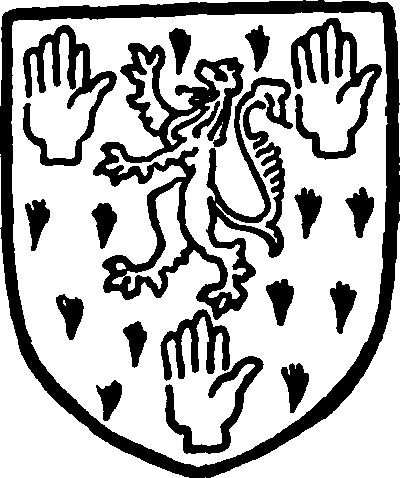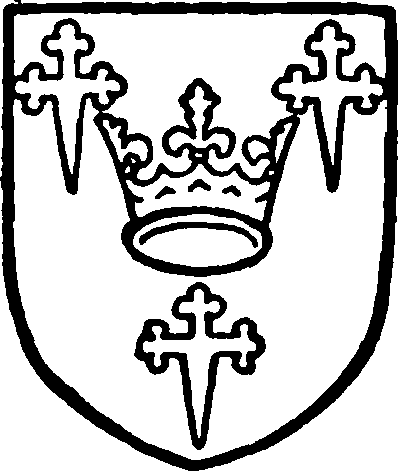 In 1699 (fn. 102) the manor was in the hands of Richard Peirse, the second son of John Peirse of Bedale and London. The eldest line of Richard's descendants obtained the Bedale estates, but Hutton Bonville with Thimbleby became the property of his second son Thomas and his posterity, who remained seated here till about 1780, when they moved to Easby Hall, though the chapel at Hutton Bonville continued to be their burial place. (fn. 103) From Thomas Peirse the manor passed to his eldest son William, (fn. 104) who was holding it in 1737 (fn. 105) and died in 1753. (fn. 106) It thus became the property of his brother Richard Peirse, who died in 1759, (fn. 107) leaving it to his eldest son Richard William Peirse. (fn. 108) He was holding the manor in 1774 and in 1780, (fn. 109) but sold it about 1785 to Anthony Hammond of Richmond, (fn. 110) who in 1820 (fn. 111) resold the estate to Henry Peirse of Bedale. Henry Peirse was M.P. for Northallerton and died in 1824. (fn. 112) He settled Hutton Bonville Manor on his youngest daughter Harriet, who married Sir John Poo Beresford, bart., Vice-Admiral of the White and a Lord Commissioner of the Admiralty. (fn. 113)
In 1872 Mr. Henry Peirse was lord of the manor, Hutton Bonville Hall being the seat of Mr. John R. W. Hildyard. Before 1879 Mr. Hildyard became lord of the manor, which with Birkby has remained in his family to the present day, Mr. J. Arundell Hildyard being the present owner.
Churches
The church of ST. PETER is a rectangular building, measuring internally 51 ft. 6 in. by 20 ft. 8 in., with an apse 5 ft. deep at the east end. It was built in 1776 on the site of a church which was probably of the 12th century. The original windows have been replaced by modern Gothic windows.
Two very interesting stones have survived the general destruction or loss of the old work. One, which measures 14 in. by 8 in., is evidently a piece of a cross shaft of 11th-century date and is carved with an interlacing pattern; it is now set in the west wall. The other, which was found under the floor, is a carved capital of about 1160; it fitted a 13-in. column, and its presence implies that there was an arcade in the former church. Its top is hollowed out and pierced with a drain, showing that it was afterwards used as a font.
The present font is a modern one; the 18thcentury baluster font formerly in use now stands in the churchyard.
Two modern bells are hung in the bell-turret above the west gable.
The plate consists of a London-made communion cup of 1570, for which a cover paten has been provided by the present rector, and a paten or salver bearing the London date letter for 1715 and the maker's mark S P for William Spackman.
The registers begin in 1721.
The church of ST. LAWRENCE, Hutton Bonville, consists of a chancel measuring internally 15 ft. 6 in. by 17 ft. 3 in., nave of equal width and 37 ft. 5 in. long and north aisle 10 ft. 6 in. wide.
Although the building is doubtless mediaeval, it was so much modernized during the restoration of 1896, in memory of Mr. J. R. W. Hildyard, that nothing is left beyond some old walling to give a clue as to its age. The aisle and arcade are modern additions.
A single bell hangs in a modern turret above the west gable. There is a disused bell at the hall dated 1667.
The plate includes a cup and paten with the London date letter for 1711 and maker's mark S L (for Gabriel Sleath). The paten has the same plate marks, and also those for 1874 when it was altered. There is also a modern flagon.
The registers begin in 1727.
Advowson
The church of St. Peter is first mentioned in 1291 (fn. 114); it was then in the hands of the Bishop of Durham, who held (fn. 115) the advowson till 1848, (fn. 116) when it was transferred to the newly-appointed see of Ripon. In 1865 Mr. W. R. Holmes bought the advowson under Lord Westbury's Act, it being then a Chancellor's living. It is now held by his son the Rev. Henry C. Holmes. (fn. 117)
The church of St. Lawrence at Hutton Bonville was at one time a chapelry in Birkby, (fn. 118) and later a perpetual curacy. It is now by courtesy called a vicarage (fn. 119) and is held with Birkby. The patronage has always gone with the estate.
Charity
This parish is entitled to participate in the funds of the charity of Dame Mary Calverley.