Pages 446-449
A History of the County of York North Riding: Volume 1. Originally published by Victoria County History, London, 1914.
This free content was digitised by double rekeying. All rights reserved.
SESSAY
Segege, Sezai (xi cent.); Cezay, Cessaye (xiii cent.); Seasey, Seysey (xv, xvi cent.).
Sessay is a parish on the borders of the wapentakes of Allerton and Birdforth. With its township of Hutton Sessay it covers about 3,800 acres of the low ground on the east bank of the Swale. Here the soil is loam on alluvium, passing to Keuper Marls in the higher parts, and wheat, barley, oats and beans are grown. More than 2,000 acres are under cultivation. (fn. 1) The population is chiefly engaged in agriculture, though sand has been worked in the east part of Sessay township, and there are old clay-pits in the west of the parish.
The ground is well watered by the tributaries of the Swale. Sessay Beck, or Birdforth Beck as it is called higher up its course, flows through the centre of the parish, passing between the church and the site of Sessay Hall, and finally leaving the parish at New Mills, while the Isle Beck forms the northern boundary. Both streams fall into the Swale a few miles farther west. An old road called Scarfe Shay Lane, which forms the western boundary, crosses the Isle Beck at Islebeck Bridge, and runs south under the name of Blind Piece Lane. This is probably the old highway of the 15th century which crossed the river at this point. In 1420–1 Marmaduke Darell of Sessay was called upon to repair 'Iselbek brigge,' which was so ruined that none could pass without danger to their lives. (fn. 2)
The road from Dalton, the neighbouring village on the west, to Sessay crosses Blind Piece Lane near Sessay station on the North Eastern railway, which runs through the parish in a south-easterly direction. It then continues eastward to the hamlet of Little Hutton.
The roads in the central part of the parish form a rough triangle, with its apex towards the south. The ground inclosed by this triangle rises slightly, reaching a height of 125 ft. At the north-western corner is Little Hutton, which has a Primitive Methodist chapel, built in 1856. Brick-making on a small scale is carried on here in the fields lying north of the road.
The modern village of Sessay stretches along the west side of the triangle; it is small and scattered. On the east side of the village street is the small 18th-century manor-house. The old village was at the apex, where is the site of the old hall of the Darells, now occupied by Church Farm. Near by is the church of St. Cuthbert. The present building dates from 1847–8, when it was erected by Viscount Downe, but there has been a church at Sessay since the 12th century. In 1570–1 Sir John Dawnay, then patron of the church, had licence to provide a new building with a burying ground and rectory in a convenient place. (fn. 3) The old church had fallen into decay and was at so great a distance from the houses of the inhabitants that they had much difficulty in reaching it, especially in winter. (fn. 4) It is not clear where the site of this older church was, or whether Sir John Dawnay did in fact carry out his intentions. The rectory lies to the north-west of the church. It is a Georgian house standing in a small park. The group formed by the church, the rectory and Church Farm is known as Little Sessay.
Hutton Sessay, the remaining village, stands at the north-east angle of the triangle and is reached from Little Sessay by Church Lane. It has a village street running east and west, in which there is a Wesleyan chapel dating from 1863. The street continued becomes the road to Carlton Husthwaite.
According to tradition the lords of Sessay had formerly a park south-west of Sessay village. (fn. 5) The deer in it were removed to Cowick in the 18th century, (fn. 6) and all traces have now disappeared. Lying south-east of the village there is a large tract of woodland known as Sessay Wood.
Manors
SESSAY was already a possession of the church of St. Cuthbert of Durham in 1086, (fn. 7) when the bishop held 5 carucates of land here as one 'manor.'
The family of Percy had a mesne lordship here from early times. William de Percy held four knights' fees in Yorkshire of the Bishop of Durham in 1166, (fn. 8) and it is probable that Sessay was included in these. The manor with Hutton Sessay was held of the Percys as of their manor of Topcliffe (q.v.) by service of one knight's fee. (fn. 9)
The Darells of Sessay were settled here at the end of the 12th century and possibly earlier. Marmaduke Darell is the first member of the family who certainly held this manor, (fn. 10) which was claimed against him in 1182 by William son of Odo and Alan Bruncoste. (fn. 11) The claim was unsuccessful, and Sessay was the seat of the Darell family for nearly four centuries. Marmaduke was the first of a long succession of alternate Marmadukes and Williams. His son William (fn. 12) succeeded him, and in 1203 had a release of 8 carucates in Sessay and Hutton from Roger Conyers. (fn. 13) William was still living in 1226, when he was involved in a dispute concerning common of pasture in Birdforth. (fn. 14) His son Marmaduke (fn. 15) received a grant of free warren here in 1246, (fn. 16) but before 1260 had been succeeded by William, (fn. 17) who was party to a fine regarding land here in 1269. (fn. 18) He was still living in 1278–9. (fn. 19) Marmaduke his son (fn. 20) was lord of the manor in 1284–5, (fn. 21) when he held 4 carucates here of John de Percy. His son William (fn. 22) was next in possession for the first forty years of the 14th century. He had a grant of the manor from his father in 1301, (fn. 23) and was returned as its lord in the next year. (fn. 24) His wife was Joan daughter of William de Holtby, (fn. 25) by whom he had a son and heir Marmaduke. (fn. 26) Marmaduke held the office of justice of weights and measures in the North Riding in 1344, (fn. 27) but appears to have died soon afterwards. His son William (fn. 28) was the William Darell who witnessed a charter of John de Mowbray in 1345, (fn. 29) and was in possession of the manor in 1348. (fn. 30) Next came another Marmaduke who had succeeded to his father's (fn. 31) lands in 1368. (fn. 32) Marmaduke's son William, (fn. 33) with Emma his wife, (fn. 34) was in possession in 1387. (fn. 35) Marmaduke Darell, son of William, (fn. 36) was grantee, as 'lord of Sessay,' in several charters at the beginning of the 15th century, (fn. 37) and was called upon to repair Islebeck Bridge in 1420. (fn. 38) His son Edmund, who had a grant of land from his father in 1422, (fn. 39) is the first to break the regular succession in the family names. He was lord of Sessay in 1428, (fn. 40) and was still living in 1436. (fn. 41) His son George succeeded him, (fn. 42) and had a release from the Crown of all actions against him in 1462. (fn. 43) He died in 1466, (fn. 44) when his heir was his son Marmaduke. (fn. 45) There were two other sons, John and Thomas, (fn. 46) who in turn succeeded (fn. 47) after Marmaduke died without issue. Neither had children, so the manor came into the possession of their sister Joan (fn. 48) wife of Sir Guy Dawnay (fn. 49) of Cowick.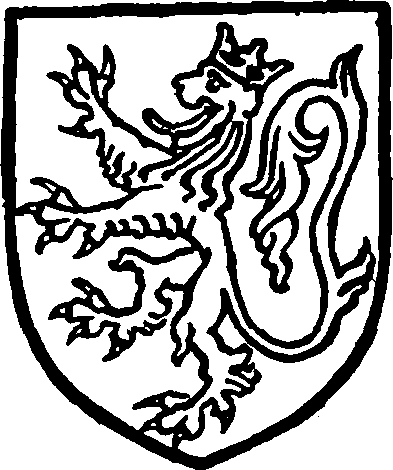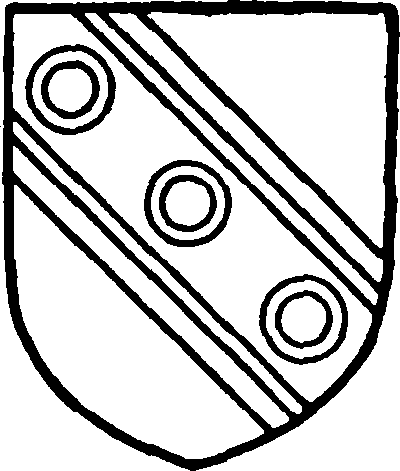 Joan died in possession of Sessay in 1525, and was succeeded by her son John Dawnay. (fn. 50) It was he who made complaint against Roger Lascelles of Breckenbrough that he had gone riotously to Sessay with armed men and there cut John Dawnay's hay in a meadow called 'Sukerryng.' (fn. 51) He died in 1553, leaving a son and heir Thomas, (fn. 52) who in his will dated 1556 left the mansion-house of Sessay to his wife Edith; John Dawnay, his son and heir, succeeded him. (fn. 53) John died in 1598, when his son Thomas was his heir. (fn. 54) Thomas had at this date a son John, (fn. 55) who succeeded him and died in 1630. (fn. 56) John's son and heir Thomas died without issue in 1639, when his heir was his brother Christopher. (fn. 57) Shortly afterwards Christopher Dawnay was created a baronet, (fn. 58) but with his son and heir Thomas, who died a minor, (fn. 59) this baronetcy became extinct. Thomas was succeeded by his uncle John Dawnay, (fn. 60) created Viscount Downe in 1680. (fn. 61) He died in 1695, (fn. 62) and was succeeded by his son Henry, who held the manor till his death in 1741. (fn. 63) The next viscount was Henry Pleydell, grandson of Henry, who lived until 1760. (fn. 64) He was succeeded by his brother John. (fn. 65) At the death of John in 1780 (fn. 66) John Christopher Burton Viscount Downe, his son and heir, (fn. 67) became lord of the manor. (fn. 68) He died in 1832, (fn. 69) and his lands were inherited by his brother and heir William. (fn. 70) William Henry son of William (fn. 71) succeeded his father in 1846, (fn. 72) and was in possession of the manor till 1857. (fn. 73) He was succeeded by his son the present viscount, (fn. 74) who was created Lord Dawnay in 1897, (fn. 75) and is the present lord of the manor of Sessay.
During the 14th century, or at the beginning of the 15th, a younger branch of the house of Darell must have had a grant of some land in Sessay, for in 1405 George Darell forfeited lands here and in Hutton for rebellion; they were granted to John Hauxwell, (fn. 76) but were probably restored to George Darell, who appears as a tenant here in 1428. (fn. 77) He made his will in 1432, and mentions 'William Barry his son,' (fn. 78) who was apparently illegitimate, for a family called variously Darell and Barry (fn. 79) were subsequently in possession of what appears to be his estate. (fn. 80) Richard Darell alias Barry had licence to marry Alice Egmanton in 1488–9, (fn. 81) and in 1524 a Richard Barry was in possession of what was called the 'manor of Sessay.' (fn. 82) He was succeeded by his son and heir Christopher, (fn. 83) whose sanity was the subject of an inquiry in 1531 (fn. 84); he remained in possession of his estate, which is not again mentioned.
The grant of free warren made to Marmaduke Darell in 1246 (fn. 85) was confirmed to William Darell in 1304. (fn. 86)
The hospital of St. Leonard of York held land in Sessay (fn. 87) which was granted by a Marmaduke Darell and confirmed by his son William.
HUTTON SESSAY (Eton, xiii cent.; Heton, xiv cent.; Hutton Manigeese, xvii cent.) is not mentioned by name in the Domesday Survey, but 3 carucates here were doubtless with Sessay in the hands of the Bishop of Durham at that date. These 3 carucates formed with 5 carucates in Sessay the knight's fee which was held of the Percy family by the Darells. (fn. 88) In 1284–5 Marmaduke Darell had various sub-tenants here, (fn. 89) among whom were several persons bearing the name of the vill. A 'Thomas de Heton' was still holding land here in 1428, (fn. 90) and George Darell (fn. 91) was also among the tenants. His lands were inherited by the Barry family. (fn. 92)
There was a second fee in Hutton which appears to have been appurtenant to the manor of Birdforth. (fn. 93) It was held with that manor of the honour of Eye (fn. 94) by the Malebiche family, (fn. 95) and under them by the Maunsells. (fn. 96) This land followed the descent of Birdforth till the 15th century at least. (fn. 97) It is not afterwards mentioned, but presumably came with that manor (q.v.) into the hands of the Viscounts Downe. (fn. 98) The present holder of the title is now the principal landowner.
The Prioress of Arden was holding land in Hutton in the 15th century. (fn. 99)
Church
The church of ST. CUTHBERT is modern, having been rebuilt on an old site in 1847–8 and restored in 1883. It consists of a chancel measuring internally 18 ft. 6 in. by 17 ft. 2 in., nave 45 ft. by 21 ft. 8 in. with a south aisle 10 ft. 7 in. wide, west tower 8 ft. square and a south porch.
In the centre of the chancel floor is a brass inscription to Master Thomas Magnus, Archdeacon of the East Riding, parson of the church, who died in 1550. Above is the figure of a priest in surplice, stole and a cope which has the word 'iesvs' on the morse. A scroll contains the prayer 'Jesu fili dei miserere mei.' A shield below the inscription contains the arms of Magnus: Bendy a fesse with a leopard passant between two cinquefoils thereon. In the chief are the words 'As God wyll' in black letter. In the corners of the stone are small brasses containing alternately the Paschal Lamb and a spray of columbine. The tiles on the floor of the chancel contain a D with a viscount's coronet and a shield of Dawnay impaling Bagot, apparently for William Henry seventh Viscount Downe (1846–57), who married Mary Isabel daughter of Richard Bagot, Bishop of Bath and Wells.
On the threshold of the porch is a slab containing the matrices of an inscription and a small figure.
In the churchyard are the stem and base of an old cross, with a restored top.
There are three bells, the tenor of which contains the inscription 'Laudationem loquetur os meum' in Lombardic characters. The second is inscribed 'Renovatur 1720 Thomas Dawney Armiger,' with a (reversed) shield of Dawnay, and in a foliated band below is the maker's name, E. Seller, Ebor. The treble bears the inscription ihc : edmund : darel : et : 1 : ux(or) : ei(us) : g : d : scs : cuthbertus.
The communion plate is modern, given by Viscount Downe in 1847, and consists of chalice, paten and flagon, all of silver-gilt.
The registers begin in 1612.
Advowson
The church of St. Cuthbert (fn. 100) at Sessay was granted by Marmaduke Darell in the 12th century to the Abbot and convent of St. Mary's, York. (fn. 101) The grant was confirmed by his successors, (fn. 102) and the abbots continued to present to the rectory till the Dissolution.
In 1540 Thomas Heneage obtained a grant of the advowson of Sessay, (fn. 103) which he appears to have sold during the next thirty years to Sir Nicholas Fairfax. It was purchased from the latter in 1568 by Sir John Dawnay, (fn. 104) then lord of the manor, and his successors have remained patrons down to the present day. (fn. 105)
Charities
Charity of Wade and others.— The property held for the use of poor persons of this parish consists of freehold land in the adjoining parish of Thormanby containing 7 a. 3 r., purchased with £80, being the benefactions of George Fisher (will, 1627), Guy Johnson (1637), Isabel Fisher (1649), Roger Marshall (1657), Thomas Walkefield (1663), Robert Clark (1675) and Margaret Wade (1680). The land is let at £17 a year.
In 1729 William Dowthwaite by will left £20 for the poor, and in 1749 John Wakefield also left £20, which legacies, with moneys arising from the sale of timber on the land above mentioned, were laid out in the purchase of Government stock, now £89 consols.
In 1852 Thomas Robinson, a blacksmith of this parish, gave to the rector and churchwardens his share in the Great North of England railway, the income to be distributed among the resident poor of his native parish. This gift is now represented by £191 consols, forming part of a sum of £280 consols, which includes the aforesaid sum of £89 consols, and is stated to be standing in the names of Lord Downe and the rector and churchwardens.
The several charities are administered together. In 1904 £3 was given to each of five poor widows, £2 to each of three old people, and the balance among sick persons.