Pages 83-84
A History of the County of York North Riding: Volume 2. Originally published by Victoria County History, London, 1923.
This free content was digitised by double rekeying. All rights reserved.
THE WAPENTAKE OF BULMER
containing the following parishes:— Alne; Bossall; Brafferton; Brandsby with Stearsby; Bulmer with Henderskelfe; Crambe; Crayke; Dalby with Skewsby; Easingwold; Foston with Thornton-Le-Clay; Haxby; Gate Helmsley; Upper Helmsley; Holtby; Huntington; Huttons Ambo; Marton with Moxby; Myton-Upon-Swale; Newton-Upon-Ouse; Osbaldwick; Overton; Sheriff Hutton; Stillington; Stockton-On-The Forest; Strensall; Sutton-On-The-Forest; Terrington; Thormanby; Warthill; Whenby; Wigginton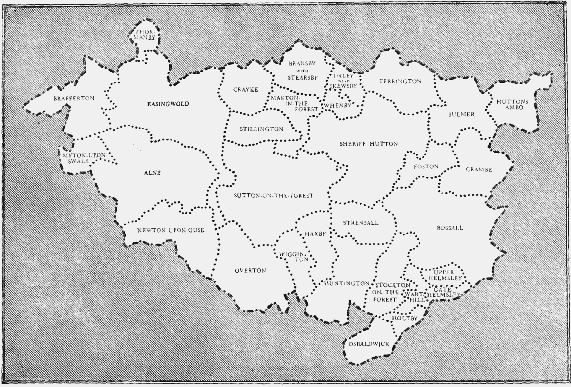 The name of this wapentake in 1086 was Bolesford, (fn. 1) though the vill of Bulmer appears in the Domesday Survey as 'Bolemere.' It acquired its present name before 1166, when William de Cornbrough owed a mark for a false claim in 'Bulemersur.' (fn. 2)
The variations between the Domesday 'Bolesford' and the modern Bulmer Wapentake are not very numerous. A considerable area entered in the Survey under the city of York (fn. 3) is, however, now part of this wapentake. It includes Heworth (in St. Cuthbert and St. Giles's parish), Osbaldwick, Stockton-on-the-Forest, Clifton and Rawcliffe in St. Olave's parish, Overton and Wigginton. Overton and Stockton-on-the-Forest were returned elsewhere in the Survey as part of the West Riding. (fn. 4) In 1316 Overton with Myton and Foston, and the townships of Claxton and Harton in Bossall parish, were entered under the liberty of St. Mary, (fn. 5) while Haxby, Alne (with Tollerton township), Strensall, Osbaldwick and Stillington were placed under the liberty of St. Peter. (fn. 6)
The summary of the wapentake made in the Domesday Survey included Gate Helmsley, which is elsewhere entered in the soke of Catton, and in 1316 was placed in the wapentake of Ouse and Derwent (fn. 7); it is now part of Bulmer Wapentake. Hildenley, now in Ryedale Wapentake, is entered in the summary under 'Bolesford,' and Cold Kirby, which belongs to Birdforth Wapentake, is also mentioned there.
The parish of Easingwold and the township of Huby in Sutton-onthe-Forest were granted to the Earl of Lancaster before 1276. (fn. 8) There was consequently a tendency to regard them as part of his honour of Pickering, and they were entered under the honour in 1316. (fn. 9) A 17th-century survey of the duchy of Lancaster has this remark on Easingwold: 'Many of the recordes of this manor are in the custodie of one William Goodrick, whoe spent much monie of his owne and other mennes in a suit to prove Esingwalde and Hubie to be noe member of the Honor of Pickering. . . . This manor lyeth within the Hundred or Wapentack of Bulmer, within the confines of the Forest of Galtres.' (fn. 10)
The fee of this wapentake has always belonged to the Crown. In the inquiry of 1276 (fn. 11) it was found that the Prior of Holy Trinity, York, the Prior of Kirkham, the Prior of Malton, the Abbot of St. Mary's, York, the Prior of Marton, the Abbot of Byland, the Master of St. Leonard's and Henry son of Odo held various lands from which the king received no suits, services or wapentake fines. The city of York, the Dean and Chapter of St. Peter's, the Abbot of St. Mary's and the Abbot of Byland claimed return of writs, amends of the assize of bread and ale, &c. The commissioners reported that these liberties were a hindrance to justice, because thieves and robbers took refuge there, and the king's ministers dared not enter to take them. (fn. 12)