Pages 1-39
The History and Antiquities of the County Palatine of Durham: Volume 2, Chester Ward. Originally published by Nichols and Son, London, 1820.
This free content was digitised by double rekeying. All rights reserved.
PARISH OF MONK-WEARMOUTH.
The Parish of Monk-Wearmouth is bounded by Whitburn on the North, by Boldon on the North-West, by Washington on the West, by the river Wear dividing it from Bishop-Wearmouth and from Sunderland, on the South, and by the Sea on the East.
The Parish includes the Constableries of, 1. Monk-Wearmouth; 2. Monk-Wearmouth-Shore; 3. Southwick; 4. Hilton; 5. Fulwell.
Monk-Wearmouth,
In its modern state, is a bustling busy spot, containing a population of six thousand souls, all actively engaged in the various occupation connected with the trade of the Port. The Town consists chiefly of two long streets, running from East to West, along the heights above the Wear, and of the crowded and irregular buildings of the Shore, a separate Township, which originating in a few fishermen's huts placed close on the river strand, now contains the most numerous portion of the population, and resounds with the busy hum of maritime trade and industry, the noise of the dock-yard, and the clattering anvil of the anchor-smith (fn. 1).
Half a mile to the East of the Shore projects the North Pier, terminated by a handsome Light-house.
"In the winter of 1785 the entrance of Sunderland Harbour was warped up by a large sand-bed, which extended quite across the Haven mouth, leaving scarcely depth of water for the entrance of a light vessel. It was suggested, in consequence, by the Mr. Shout, the resident Engineer, father of the late Mr. Matthew Shout, that a temporary wooden Pier should be erected, in order to contract the channel, and enable the ebb tide to scour it self a deeper bed. The plan was immediately adopted, and in a few months there was a deep and spacious channel. This beneficial result induced the Commissioners to commence the building of a permanent Pier of stone; but, owing to the nature of the ground, loose shifting sand and gravel, the work proved extremely tedious and expensive. A length, however, of near seven hundred feet of solid pier, built upon piles, was completed by Mr. Shout the elder, and ninety feet more were added by his successor, Mr. Pickernel. Mr. Matthew Shout was still proceeding with the extension of the work, when the Commissioners consulted Mr. William Jessop, Civil Engineer, who gave his full approbation of what had been done under Mr. Shout's direction, and advised the principle to be acted upon much further, both as to the North and South Piers, recommending the former to be still extended 400 feet, and the latter 800. The Commissioner, aware, from the effect already produced, of the advantage likely to result from such extension, are proceedings, as fast as circumstances will permit, to carry into effects Mr. Jessop's plan to its fullest extent. Mr. Jessop also recommended the formation of a Scouring-bason, by inclosing an area of about 12 acres on the North side of the river, between the North Pier and the Town, the object of which was to assist the ebb in deepening the channel. This has not yet been adopted.
Near the end of the North Pier stands a Coast Light-house, built by the late Mr. Pickernel, in 1803. It is of free stone, and is 68 feet in height, from the Pier to the under side of the cap. It is an elegant octagonal column, lighted by nine Argand lamps placed in reflectors: the diameter of each reflector is 18 inches. Two neat stone cottages have lately been erected on the Pier, for the residence of two men whose sole employment is to attend to the lights, and to be in readiness to give assistance to ships entering the Harbour in foul weather. A Tide-light is placed on the South Pier (fn. 2)."
The history of the Port has been already given under Sunderland. It remains to trace the foundation and decay of the Monastery and Cell of Wearmouth, which includes the origin of the present manorial property.
St. Hilda (whose sister Heresuid was mother to Adulf, King of the East Angles,) became a veiled nun in the time of Bishop Aidan, and obtained a hide of land (locum unius familiæ) for a monastic establishment on the Northern bank of the Wear (fn. 3). Hilda rested here only one year (fn. 4), and then became a member of the monastery of Hartlepool, which had been lately founded by Heiu, or Hegu, the first female who received the veil in the Norhumbrain province. The future history of Hilda is well known: on Heric's retiring to Calcester (Tadcaster), she become superior of the Convent of Hartlepool, which she afterwards deserted for Whitby, where her fame reached its highest elevation.
The above brief notice is all the information that can be gathered from Bede relatives to the church of St. Hild, on the North of the Wear; and in his Lives of the Abbots of Girwy he never once alludes to this little establishment as in any way connected with the foundation of Benedict. But Leland, quoting the "Life of the veiled Virgin Bega," which he saw in Whitby Abbey (fn. 5), says in effect, "Bega, a native of Ireland, received the veil from the hands of Aidan, the first Bishop of Lindisfarne, and became successively the founder of four several religious establishment; 1. the Cell of St. Bees in Cumberland (which preserves her name, and which became subordinate to the Monks of St. Mary's at York);2. a small Monastery on the North side of the Wear (fn. 6); 3. Hartlepool, where her fame has been eclipsed by the superior luster of her disciple Hilda; 4. Hele, or Calcester (fn. 7). Greaveson adds in the margin, "There is a humble church betwixt the mouths of the Tyne and Wear dedicated to St. Hilde, and it standeth nearer to the Tyne than to the Were. Its exact situation is on a headland called Sowter point (fn. 8); here possibly stood the little convent of St. Bee." The description, thought accurate as to neither, may be better referred to Shields than to Wearmouth (fn. 9) " but it is impossible to identify, from this account, the monastery of St. Bee, or of St. Hilde, with the subsequent and certain foundation of Benedict.
(fn. 10) Biscopius, a noble Saxon officer in the court of Oswy, King of Northumberland, relinquished the world at the age of twenty-five years. In 665 he had already thrice visited Rome, and had resided two years in the convent of Lirina, where he received the clerical tonsure and the name of Benedict. In 669 he returned from his third pilgrimage, in the train of Theodore, Archbishop elect of Canterbury, and was himself appointed Abbot of St. Peter's, which he governed during two years, and then, resigning his charge to the Abbot Adrian, travelled to Rome a fourth time, and made large acquisitions, both by gift and purchase, of books and reliques; and on his return through Vienna was fortunate enough to find all his treasures, which he had forwarded thither, safe in the custody of his friend. Returning to England with this valuable lading in 672, he first purposed to establish himself in the dominions of Kenwalch, King of the West Saxons, but being prevented by the premature death of that pious Sovereign, Benedict turned his wandering footsteps towards his native Northumberland, and relating to Ecgfrid, who then held the sceptre, the whole eventful series of his pilgrimage, from his youth upwards, and displaying before him his abundant collection of books and reliques, easily obtained from the Monarch a grant of seventy hides of land, with which he founded the Monastery of St. Peter's Wearmouth, on the North side of the mouth of Wear, in 674, the second indiction and the fourth year of Ecgfrid. One year was spent in preparatory arrangements; in the second Benedict sent to France for masons able to build him a church of stone, after the Italian model (fn. 11); and so fervent was the zeal of the founder, that within one year from laying the foundation, he had the gratification of celebrating mass within the walls. And now, seeing the masonry nearly completed, Benedict sent again into France for glaziers, who completed the windows of his church, his cloisters, and his cells (fn. 12), and instructed, moreover, the Saxons in their mystery (fn. 13), which, adds Bede, with a simplicity which strongly marks the novelty of the art, is both admirably calculated to supply our churches with light, and also not unworthy, "haud ignobiliter aptum," to be employed in furnishing many of the consecrated vessels of the alter. Bede expressly states, that the craft of the glazier was as yet unknown in Britain (fn. 14). Wilfrid, Archbishop of York, had, however, glazed the windows of his cathedral in 67.., but he imported the glass, and for aught that appears to the contrary, the honour of introducing the mystery of vitrification rests on the sufficient authority of Bede, with a Saxon Abbot of the Northumbrain province.

"Stateliest of Convents now his own Moschera rose (fn. 15)."
Yet Benedict sighed for ornaments of which even the gay realm of France was destitute; and after settling the monastic rule of his foundation, and committing the charge of its government to his Vice-Abbot, Easterwin, he undertook a fifth and final journey to Rome, and returned with riches far exceeding the most abundant harvest of his former ventures. The importation consisted, 1. of an innumerable store of books ; 2. an abundant grace of holyreliques (fn. 16); 3. he imported Brother John, arch-chanter or leader of the choir of St. Peter's at Rome, who instructed the Monks of Wearmouth in the whole order of psalmody, and the complete ceremonial of the Church of Rome; not only instructing them viva voce, but pricking them out a course for a whole year (fn. 17), which, saith Bede, is yet reverently preserved in the convent; 4. an epistle of privilege and immunity for the house of Were-mouth, granted by Pope Agatho, at the request of Egfrid; 5. lastly, paintings of holy subjects, of which those of the Virgin Mother of heaven, and of the twelve Apostles, decorated the main roof of his temple (fn. 18), the painting extending from wall to wall. The South wall was covered with subjects taken from the Evangelists, and the terrific visions of John's Apocalypse covered the North wall. Thus, adds Bede, the humble disciple, whose ignorance of letters excluded learning at one inlet, might feel his faith confirmed, and his religious impression strengthened, by surveying, whithersoever he turned, either the gracious countenance of his Saviour, the awful mystery of the incarnation, or the terrific scene of the last judgement.
Soon after the completion of the monastery of Wearmouth, King Ecgfrid gave to the Abbot Benedict yet another grant of forty hides of land with which he founded the monastery of St. Paul of Jarrow, and when he appointed Easterwin Abbot, or rather, Vice-Abbot, of his original house, he prefixed Ceolfrid over his new Paul's.
Easterwin, the second Abbot of Wearmouth, or, rather, Lieutenant for the Abbot Benedict, entered the convent at the age of four-and-twenty. His earlier year had been spent in the court of Ecgfrid (fn. 19), but on assuming the monastic habit he cheerfully submitted to the most menial offices, winnowed and threshed the corn, milked the goats and cows, and worked in the garden, in the bakehouse, or in the kitchen; and even after his promotion to the Abbacy he would frequently join the monks who were tilling their land for corn, and would either guide the plough, drive a nail to the head with his mallet, or shake the winnowing fan (fn. 20). The praise which Bede bestows on the voluntary and hearty humiliations of Easterwin, hints that there were noble proselytes who did not always imitate in their monastic recess the virtues of the frank and good-tempered Abbot: "Erat enim et viribus fortis juvenis, et lingua suavis; sed et animo hilaris, et beneficio largus, et honestus aspectu." In another passage Bede mentions, "limpidissimam vultus ejus (Easterwini) lucem;" and Bede lived near enough to the time of which he writers to be well acquainted with the jovial or saturnine visage of every Abbot of Wearmouth. This gracious Abbot, Easterwin, was carried off by the plague in his thirty-first year, and Benedict returning from his fifth Italian pilgrimage, found his shepherd dead, and his flock thinned, by the ravages of pestilence. The surviving brethren had elected Sigfrid, a man of sufficient learning, of excellent moral, and of admirable temperance, but labouring under an disorder of the lunges.
The last three years of Benedict himself were passed under the severe pressure of illness; his lower limbs were paralysed, he lived only above, and his tongue scarcely served to perform his usual exercises of psalmody. His last exhortations recommended to his brethren unity amongst themselves, obedience to Rome, and the election of an Abbot, distinguished rather by piety and learning than by birth or rank; "Believe me," he added, "I had rather see this spot on which our convent stands reduced to a desert wilderness, than that my brother, who, as ye know, walks in the way of the flesh, should succeed me in my office." These apprehensions evidently pointed to a practice not totally infrequent, of converting the headship of religious houses into a successive and almost lay inheritance (fn. 21).
To avoid such mischance, when Benedict was dying, Sigfrid was brought in his truckle bed, and laid by the side of the paralytic Abbot, the heads of both resting on one pillow. Sigfrid, who survived the colloquy but two months was easily persuaded to resign an office which he could no longer execute, and by the advice of Benedict, who quoted the example of Israel and Judah, invincible in union and ruined in division, Ceolfrid, Abbot of St. Paul's of Jarrow, was appointed to the government of both houses, or rather, says Bede, of that one monastery situated in two places. The holy Benedict in the first year of Ceolfrid, A.D. 689, who remained sole Abbot of Wearmouth and of Jarrow during one and twenty years. Within that period he added largely to the plate and sacred vestments of the church, and nearly doubled the contents of the library. Amongst his literary acquisitions are particularly mentioned two pandects of the new translation, added to one of the old version, formerly brought from Rome. Of these valued volumes Ceolfrid, when he made a pilgrimage to Rome in his latter time, took one copy with him for a gift, and left one other to each of his convents. Nor did Ceolfrid only buy but sell to advantage, for he procured from King Aldfrid eight hides of land on the river Fresca, in exchange for a book of Cosmography, of admirable execution (fn. 22), which Benedict brought from Rome; a bargain begun in Benedict's time, but not brought to a conclusion at his death. Afterwards, Ceolfrid exchanged his land on the Fresca (fn. 23), paying the just difference for twenty hides at a spot nearer and more convenient to the convent, which the inhabitants call ad villam Sambuce (fn. 23). Ceolfrid also obtained fresh letter of immunity from Rome, similar to those of Pope Agatho, which were exhibited before the Synod of servant of Christ, gave land of ten hides in Daldun to the monastery.
After a long series of year, spent in the strict observance of the monastic rule, Ceolfrid determined on devoting the remaining portion of his life and strength to the exercises of religion in the sacred city of Rome, which he had already visited in his youth, during one of the five pilgrimages of Benedict. Recommending. to the monastics the choice of a younger Abbot, according to the holy rule of Benedict, Ceolfrid resisted all the tears and intreaties of his brethren, and prepared for his journey with such ardent zeal that on the third morning from that on which he first publicly declared his resolution, all things were ready for his departure After the first mass therefore had been sung, and after all present had received the holy communion, he girded himself for his pilgrimage. The brethren were all assembled in the church of St. Peter; and Ceolfrid, after kindling the incense and bowing before the altar, turned towards the West, and, standing on the alter steps, and holding the flaming censer in his hand, pronounced his latest blessing on all. Loud sobs and cries mingle with the responses of the Litany, and the Monks throng into the oratory of St. Laurence, which is opposite to the dormitory, to hear the last precepts of their Abbot. And now the whole convent attend him to the river strand, and kneel to receive the kiss of peace. Ceolfrid ascends the bark, and pronounces his last farewell from the deck; the Deacons elevate the cross, and wave their burning tapers; the skiff glides across the Wear, and Ceolfrid springs on his horse and disappears (fn. 24).
After three days of prayer and humiliation, the brethren, who on this occasion, not withstanding the late ravages of pestilence, mustered six hundred Monks in St. Peter's alone, proceeded, with the consent of a few of the elders of the house of Jarrow, to raise Huætbert, a Monk of St. Peter's, to the government of both monasteries.
Immediately on his election the new Abbot, with a few Monks selected from both convents, hastened to overtake Ceolfrid. They found him still awaiting the arrival of his vessel on the coast, and, announcing the election, received his confirmation, and sent by him a commendatory epistle to Pope Gregory.
Ceolfrid pursued his way, but age and infirmity oppressed him on the road, and he expired on the 7th of the kalends of October, in the monastery of the Trine Martyrs (fn. 25), near Langres.
Huætbert, the fifth Abbot of Wearmouth, and the last whose name has been recorded, probably survived the Venerable Bede, who addressed him in an Epistle prefixed to his work De Temporibus (fn. 26). With Bede ends the stream of genuine Sexon history; and the annals of the convent, and even the succession of the Abbots, rest totally unnoticed by Simeon (fn. 27), the only remaining guide from the time of Ceolfrid till the destruction of St. Peter's church and monastery, in the general desolation of the Northern provinces by the Danish pirates in the reign of Ethelred.
From Benedict to Huætbert, the succession stands thus:
Abbots of St. Peter's of Wearmouth.
St. Paul's
674.
Benedict Biscopius, founded Jarrow 683.
683.
Easterwin,
vivo adhuc
Ceolfrid.
685.
Sigfred,
Benedicto.
689.
Ceolfrid, Abbot of St. Peter's and St. Paul's
716.
Huætbert (was perhaps living in 735, tempore mortis Bedœ).
The expedition of Inguar and Hubba took place in 867 (fn. 28), yet, if Malmesbury be correct, the monastery of St. Peter's must have risen from its ashes to perish again in the ruinous inroad of King Malcolm two centuries later. That Malcolm, in the same expedition in which he bore off Edgar Atheling and his sisters from the harbour of the Wear, did destroy a church or monastery on one bank of the same river, seems indisputably established by the testimony of concurring historians. But this fact is related with such discrepancy both of date and place, as to leave very reasonable doubts whether the scite of the church which perished in the fury of Malcolm can be identified with that of the monastery which fell in the earlier desolation of the Danes; and Simeon, whose silence as to the almost contemporary destruction of Malcolm is strong negative evidence, expressly says, that from the æra of the Danish conquest to the revival of the monastery by Aldwin, the scite of the convent of Wearmouth lay waste and desolate two hundred and eight years (fn. 29).
Not to forestall the History of the Monks of Durham, Aldwin a Mercian Monk (fn. 30), and Prior of Winchcombe, was smitten with an ardent desire to visit the ruined kingdom of Northumberland, the early seat of monastic piety and learning. Deserting, therefore, the comforts of his warm Southern convent, and taking with him from the Monastery of Evesham two voluntary associates, Elfwy and Reinfred, (the latter a humble lay-brother, in whom zeal and Christian simplicity made up for the total ignorance of letters) the three Monks set off on foot, with one sumpter-ass loaded with a satchel of books, and their sacerdotal plate and vestments (fn. 31), and first they sought the Northern bank of the Tyne, and sat down at Munkchester (fn. 32), within the jurisdiction of the Earls of Northumberland. Walcher, then Bishop of Durham, who was naturally desirous to draw three such distinguished personages to his own side of the river, earnestly represented to them the danger as well as the scandal of remaining within the power of the secular arm, though so shamefully near a province which enjoyed the privilege of Church government. The wanderers were easily persuaded to embrace their own advantage, and Walcher most devoutly thanked Heaven, that he could boast of being the proprietor of three men of such admirable Monkish propensities (fn. 33). He next gave them for a residence, the sacred spot of Jarrow, which is evidently represented as having been long waste and uninhabited, for of the Church the walls only were standing, on which the new possessors contrived to place a rude roof of logs and straw-thatch, and raised for themselves a few poor huts under the shelter of the walls (fn. 34). Here their austerity, their abstinence, their patience under the extremities of the seasons (fn. 35), and their known abandonment of all the luxurious comforts of their Southern Convent, soon attracted to these eremites a vast afflux of persons of all ranks (fn. 36), who deserted the faded enjoyments of the world, and thronged to participate of the severe pleasures and elevated feelings of the Monastic rule. And now the Bishop, Walcher aforenamed, seeing with what zeal the Monks girded themselves to the labour of restoring their Church and Monastery, gave them in frank possession Girwy, which it seems they before held but as tenants at will, Preston, Munkton, Hedworth, Hebborne, Wistow, and Harton, so that the stray and scattered sheep, collected from many a distant fold, sang merrily, "How good and pleasant a thing it is for brothers to dwell in unity." The parent hive, thus fed and indulged, was soon populous enough to throw off colonies; and whilst Reinfred migrated to Whitby (fn. 37), Aldwin, taking with him Turgot, not yet invested with the clerical habit, but in heart and soul a very Monk (fn. 38), moved Northwards, and sat down amongst the ruins of Melrose (fn. 39) King Malcolm appears with some reason to have been offended with the new settlers, who, according to their own apologetic historian, pleaded the authority of the Gospel for refusing allegiance to the Monarch, whose territory they had occupied uninvited (fn. 40). Meanwhile Walcher, who was unwilling to lose his Monks, first entreated, and afterwards ordered the wanderers, on pain of excommunication, to return to their proper province. Simeon says, that the Monks had determined to die, rather than relinquish Melrose; that they were certain of present death from the heathenish rage of Malcolm; but that fearing the penalties of excommunication more than the anger of the Paynim Prince, they relinquished the palm of martyrdom, which already hovered within their reach, and settled where they were ordered, in Benedict's old fire-scathed Monastery of Wearmouth. Then, says Simeon, began they to clear the Church of St. Peter's, of which only crumbling walls, smirched with flame and smoke, were left standing, to root up the thorns and briars which matted the choir, and to restore the roof "as it stands at this day," residing, whilst the structure was rising, in huts of boughs wattled together. Bishop Walcher gave to the reviving Monastery, as separated it should seem from Jarrow, the vill of North-Wearmouth; and his successor William de Carilef added the adjoining vill of Southwick. The independence of the Monastery of Wearmouth lasted but for a span; for in 1083, the same Bishop William removed the Monks both of Wearmouth and Jarrow, to Durham, and reduced both houses into Cells dependent on the Monastery of St. Cuthbert
From this date, Wearmouth sunk into a subordinate Cell, inhabited by a few Monks, governed by a superior who bore the title of Master of Wearmouth. Betwixt the period of this reduction and the dissolution, the history of the Cell consists chiefly of some litigations with the powerful Barons of Hilton, relative to the rights of sepulture in the private chapel of Hilton, and to some contested claims of tithes and offerings. The Conquestus Magistri de Wermuthe is printed in the sequel (see Hilton), and a roll of the expences of this little Cœnobium for one year will be found in the Appendix.
In 1285 Prior Richard Claxton retired to the Cell of Wearmouth, and in 1322 Prior Galfrid de Burdon had, on his resignation, the same Cell, with the tithes of Fulwell assigned for his support.
At the dissolution, the whole revenues of the Cell of Wearmouth amounted, on the highest estimate, but to 26l. 9s. 9d. per annum, and according to Dugdale, 25l. 8s. 4d. In 1545, Henry VIII (fn. 41) granted the Cell of Wearmouth, to Thomas Whytehed (a near relative of Hugh Whytehed, who surrendered the Priory of Durham in 1540, and became the first dean of the new Cathedral in 1541). In 1598, William Whytehed, son and heir of the original grantee, conveyed the manor of North-Wearmouth to John Widdrington Esq (fn. 42) whose grandson John Widdrington died seized of the manor in 1641, leaving an only daughter and heir Anne, afterwards wife of Ralph Pudsey in her right of Plessey. (See Pedigree of Widdrington.)
By what means the estate of North-Wearmouth passed, after 1641, from the Widdringtons to Col. George Fenwick of Brinkburne, a well-known parliament officer and sequestrator (fn. 43), I am totally ignorant; but by a sort of retributive justice, the daughter of Colonel Fenwick carried her family estates in marriage to Sir Thomas Williamson, of Nottinghamshire, the heir of a ruined loyalist, and having no issue of her own, entailed her property on her husband's family (fn. 44). Sir William Williamson, Baronet, succeeded to the estate in 1703, under the disposition of Dorothy Lady Williamson, and was grandfather to the late proprietor Sir Hedworth Williamson, Baronet.
The estate of Sir Hedworth Williamson includes the whole township of the Shore.
Pedigree of Lee.
Arms: 1 and 4 Argent, a fesse Sable, in chief two annulets, in base a martlet Sable; 2 and 3 Argent, a fesse, and in chief three martlets Sable.

* Will dated 14 Dec. 6 Car. (1630) leaves 300l. each to his five daughters, Mary, Sarah, Ellen, Jane, and Rebeckah; 300l. to his youngest child Thomas; to the poore of Sunderland 10l. ; Francis James, of Hetton, Esq. and Mr. Thomas Shadforth, of Tunstall, guardians of his son Edward Lee; mentions his shipping, &c, leases in Bermeston, Helmeland, colliery at Urpeth, and annual rent of 40s. from Mr. Talbot Lisle. Proved Feb. 1630.
† Will of Peter Delaval, of Tynemouth, Gent. 8 Aug. 1611 : to his eldest daughter Mary 100l. "if so be that she marry and take to husband one Edward Lee, of Monk-Wearmouth, who at this instant is a sutor to her;" son John; other children; wife Mary. Sir Ralph Delavall, Knt. Robert Dellavall, Esq. and Thomas Allen, of London, Supervisors.
‡ Dugdale's Visitation of Westmoreland.
‖ In 1670–1672, &c. Mr. Lee sold several parcels of land in Sunderland, since called Lee's Close and Chapel Close, to the family of Robinson, of Herrington.
Pedigree of Whytehed of Monk-wearmouth.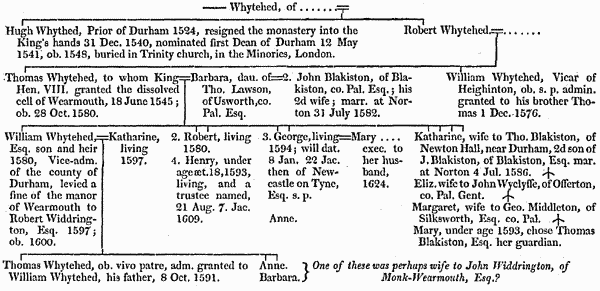 Tobie Whitehed, of Fulwell, Gent. bapt. 1 June 1597. Margaret Whitehed, widow, buried 31 Jan. 1634.
* There is a Pedigree of Whytehed in the Visitation of Worcestershire, terminating in an heiress, married to Roborow, which may possibly be connected with the Prior's family.
Pedigree of Widdrington, of Monk-wearmouth.
Arms: Quarterly, Argent and Gules, over all a bend Sable, with due difference.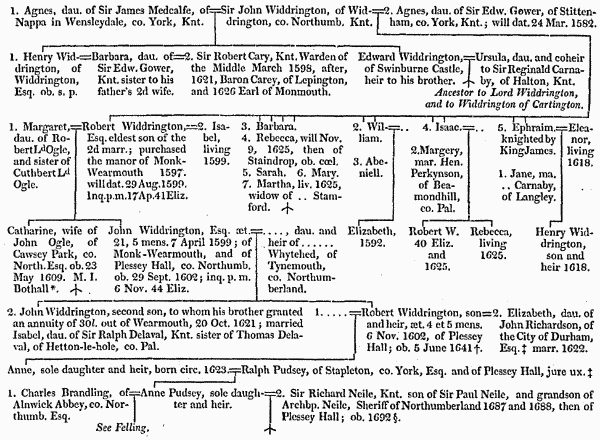 * See Hutchinson's Northumberland, II. 318.
† Inq. p. m. 11 Sept. 1641; died seized of the manor of Munk-Wearmouth, 60 acres of arable, 100 meadow, 200 pasture, 300 moor, eight cottages, and lands called Ladye lands
‡ Indent. 9 May 1641, between Robert Widdrington, of Plessey, Esq. and Ralph Pudsey, of Stapleton, co. York, Esq. and John Richardson, of the City of Durham, Esq. He settled the manor of Plessey, lands in Newhouses, Brighouses, Shotton, and Shotton Edge, on himself and Elizabeth his wife for life, remainder to his only daughter Anne and her heirs for ever. Recited in Inq. p. m.
§ See vol. I. p. lxxxix.
Pedigree of Williamson, of East Markham, Notts.; and of Monk-Wearmouth and Whitburne, co. Pal.
Arms: Or, a chevron Gules, between three trefoils slipped, Sable, (On an escutcheon of pretence the arms of Ulster.)
Crest: Out of a mural crown Gules, a dragon's head Or.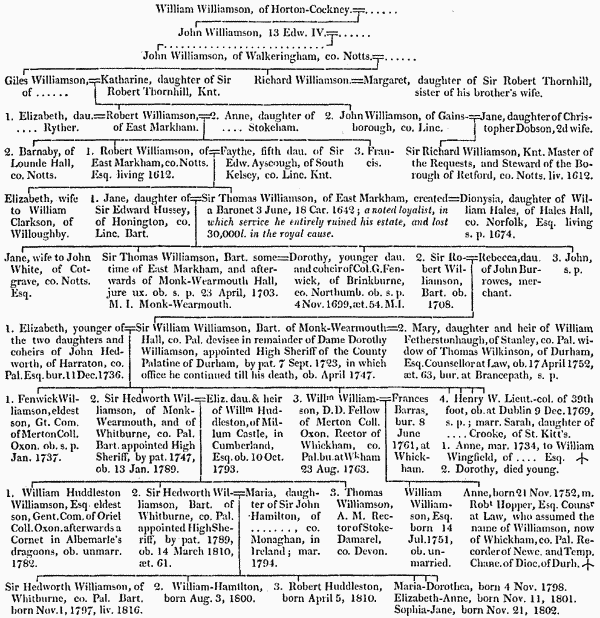 See Thoroton's Nottinghamshire for some account of the family of Williamson, East Markham, p. 386.
The scite of the Cell of Wearmouth is well ascertained on or near the spot afterwards occupied by Monk-Wearmouth Hall. Some ranges of old buildings are still standing, a little to the West, which it would be difficult to appropriate to the Monastery, or to the residence of the Whyteheds and Widdringtons which succeeded it (fn. 45). A plot or to the residence of the Church is called Monks Garth; and it should seem from several circumstances, that the burial ground of the Monastery has once extended considerably in that direction. (fn. 46)
The Hall was a large noble old mansion, built about the age of James I. It formed there sides of a square with the church. The kitchens, which fronted to the East, and closely adjoined the church, were lofty and spacious, with large square windows, divided by stone mullions and transoms: these had very probably formed part of the Monastic offices. A large dining room was panneled with dark oak, on which were painted landscapes and hunting-pieces; the staircase also was of dark oak. Several of the out-offices were probably reared out of the remains of the Monastic buildings. This noble old mansion perished by fire, in the night of the 12th of April 1790.
The Church
The ancient Church of Wearmouth, now a mutilated and irregular building, still exhibits partial traces of high antiquity, particularly in the structure of its tower. When Hutchinson wrote, the fabric consisted of the nave, a North aisle [the tower and chancel]; and this North aisle was separated from the nave by two round pillars, supporting pointed arches. The aisle is now thrown to the nave; but one heavy round semi-pillar with an octagonal capital remains, attached to the wall at the West end of the nave. The tower rises from four heavy round arches, and has round-headed Saxon lights. The interior of the Church is entirely modernized: a gallery runs round three sides of the nave, supported on slight wooden pillars; the lights, as well in the chancel as nave, are modern, a mixture of square sashes and pointed arches; the old pointed arch of the East window closed up in the wall is still distinguishable, springing from corbeils of human heads. The chief entrance is through a small North Porch, under a pointed arch. A modern vestry is attached to the North wall of the chancel.
Monuments
The face of an altar-tomb, decorated with alternate quaterfoils and double niches, projects from the South wall within the vestry (fn. 47); the knightly effigy (fn. 48) which Hutchinson saw, in an adjoining Porch, and which probably belonged to the tomb, is removed or destroyed. There can be little doubt in assigning the monument to the family of Hilton, who probably had a burial porch on the North of the chancel.
In 1808 (fn. 49), some workmen employed in lowering the footpath near the North West Porch, discovered the effigy of a Benedictine Monk in his full habit, the hands clasped on the breast. The figure, which is far from inelegant, rests on a large flat stone, and had probably been removed from the church; it has been attributed to an ancient Abbot of St. Peter's but may be much more safely assigned to one of the Masters of Wearmouth, after the Cell became subordinate to the Benedictine Monastery of Durham. The figure now lies in the chancel.
On a mural monument of white marble, near the vestry-door:

Sub hoc marmore
mortalitatis exuvias deposuit
D. Thomas Williamson,
de aula Monk Wermouthensi in
Com. Palatino Dunelmensi
Baronettus,
Thomæ Williamson de Markham Orientali
in agro Nottingham, Mil. et Barti.
Filius natu max.
necnon universæ ejusdem familiæ
caput.
Obiit April xxviii
An. Dom. MDCCIII.
Non mihi ponantur titulis operosa superbis
Saxa, supervacuos nec captet pulvis honores,
Seu contra fortunæ ictus constantia mentis,
Seu probitas morum fuerit, seu cultus honesti,
In Regem fides nullis concussa periclis.
At vos o potius defuncti in nomen euntes
Qualis eram seris imitando ostendite sec'lis,
Manibus hoc patrui supremum mittite munus;
Hæc monumenta mihi, quæ solum grata, locate,
Et forsan mansura diu, si pristina facta
Majorum poscant, non inferiora nepotes.
On a white marble slab,
Arms: Williamson impaling Fenwick.
"In the vault underneath lieth the body of that excellent person Dame Dorothy Williamson, the late infinitely beloved wife of Sir Thomas Williamson, formerly of East Markham, in the county of Nottingham, but now of North Weremouth-hall, Baronet, one of the daughters and coheiresses of George Fenwick, of Brenkborne, in the county of Northumberland, esq.; who, to the great grief of not only her said husband, but likewise to all relations, friends, and the neighbours, departed this life on the 4th November, 1699, which was the day of her birth, and the 54th year of her age. Memoria pii æterna."
On a mural monument of white marble, in the South wall of the chancel, within the altar-rails.

M.S.
Hedworth Williamson
Equitis Aurati,
Viri Vultu erecto et decoro
Moribus urbanis
Indole benevola
Generosa.

Et
Elizabeth Uxoris ejus
Gulielmi Hudleston Castelli de Millum
in Comitatu Cumbriæ Armigeri
Filiæ et Hæredis,
quæ
splendidis natalibus ornata
Domum veterem et illustrem
eximio Formæ nitore
et præcipua Alloquii suavitate
invicem exornavit.

Post hos
Filium horum natu maximum
Gulielmum Hudleston Williamson armigerum
memorare parest,
qui Parentes utrosque
Oris Animique gratiis
mire assimilavit,
at diutino Pulmonis ægri
Angore vexatus
Decennii prope spatium,
Virtute, et annis florentibus
(inter plurimas suorum lachrymas)
ad Sepulchrum antecesserat.

hoc
Pietatis et amoris ergô
Filius, et Frater
Superstes
Ponendum curavit.
Fisher Sculpt. York.
On a black marble slab, within the altar-rails, towards the North wall.
Here lyeth interr'd the body of William Hudleston Williamson, Esq. eldest son of Sir Hedworth Williamson, Bart. and Dame Elizabeth, his wife. He departed this life, April 27, 1782, aged 32 years.
On a small marble tablet, on the North chancel wall.
Here under lyeth the body of Mary Lee, daughter of Peter Delavale, late of Tynemouth, Gent. Shee died in child-bed, 25 May 1617.

Happy is yt soule yt here
On earth did live a harmlesse lyfe;
& happie Mayd yt made
Soe chast an honnest Wife.
Below, the portrait of a fair woman, evidently pregnant, her head resting on a cushion, wings springing from her shoulders.
In the vestry, against the East wall.
Infra conduntur cineres Annæ, Jo. Roxby de Weremouth, Gen. et uxoris Annæ, filiolæ. Breves eheu parentum deliciæ quorum amplexibus fato improviso et lachrymabili erepta fuit Mense Aug. A. D. 1746, æt. 7. Anna uxor Joh. Roxby ob. A. D. 1773, æt. 67. Joseph Roxby ob.
Anno Dom. 1788, æt. 71.
Arms: Arg. a chevron inter three rooks Sable (fn. 50).
Succession of Curates
Monk-Wearmouth, a discharged living in the Deanery of Chester, and a Peculiar to the Dean and Chapter of Durham. Sir Hedworth Williamson, Bart. Patron (fn. 51). Episc. Proc. 4s. The Church retains the antient dedication to St. Peter.
The Revenue of the Perpetual Curacy is derived from the Surplice fees, forty five acres of land at Hedworth, in the parish of Jarrow, and the interest of £2000 (fn. 60) augmentation money, which has not yet been laid out in the purchase of land. There is also a small pension from the Exchequer, between £4 and 5 per annum. There is no house belonging to the Incumbent (fn. 61).
In 1790, the Parish Registers of Monk-Wearmouth were destroyed by the fire which broke out in the Hall, then the residence of the minister (excepting the Registers of Marriages, from 16 Oct. 1785, of Christenings from 2 Sept. 1779, and of Burials from 3 Jan. 1768.) The vestry, under the sanction of the Archdeacon, sat for several successive days published by advertisement, to receive and enter on record such authenticated copies of Registers, as might be in existence; and the whole thus collected were sworn to before the Magistrates at Sunderland, 18 February 1791.
There is a Charity School for Boys in Monk-Wearmouth, which is conducted party on the plan of Dr. Bell. Lady Williamson subscribes £25 annually to it, and a Sermon is preached for its benefit every year. The number of scholars amounts to nearly 100.
Charitable Donations
By will dated 1699, Dame Dorothy Williamson left for ever £1 per annum to be distributed to poor widows in the several townships of Monk-Wearmouth Shore, Hilton, Fulwell, and Southwick. Of all the wild and extravagant charities of £20 per annum to the Curacy of Monk-Wearmouth, was not perpetual.
Fulwell,
A small village one mile to the North of Monk-Wearmouth, held, I believe entirely by lease under the Church of Durham.
In 1614, a wreck cast on shore on Fulwell sands, within the grounds of the Dean and Chapter of Durham, was seized by John Rand, the Bishop's water-bailiff, to the use of the Bishop and the Dean and Chapter in equal moieties.
Some discoveries have, from time to time, occurred at Fulwell, which might lead a more desperate antiquary to fix the station ad Vedram on the lofty hills which command the coast. A letter in the Gent. Mag. October 1763, gives an account of a gigantic human skeleton found on Fulwell hills, together with two Roman coins, intended probably to satisfy Charon. Coins of the lower Empire have been also found at Whitburn.
"A few weeks ago a gentleman from Durham shewed me some large teeth and two Roman coins The teeth, he said, he took out of the jaw of a gigantic skeleton of a man, and the coins were found in the grave near it. The account he gives is in the substance as follows: Upon Fulwell hills, near Monk-Weremouth, within a measured mile of the sea, there are quarries of lime, which he rents of the proprietor. In the year 1759 he removed a ridge of lime-stone and rubbish upon one of these quarries, which was about twenty-five yards in length from East to West; its perpendicular height about a yard and a half, its breadth at the top was near six yards, and the sides were sloping like the ruins of a rampart. In the middle of this bank was found the skeleton of a human body, which measured nine feet six inches in length; the shin bone measuring two feet three inches from the knee to the ankle; the head lay to the West, and was defended from the superincumbent earth by four large flat stones, which the relater, a man of great probity, who was present when the skeleton was measured, and who himself took the teeth out of the jaw, saw removed. The coins were found on the South side of the skeleton, near the right hand. (Signed) "P. Collinson."
A discovery of a more singular nature was made several years ago. In working the lime-stone quarries, a kind of square pit was opened, within which were deposited, a quantity of stags' horns cut into lengths of three or four inches, and resting amongst a deep-coloured substance most resembling decayed animal matter (fn. 62).
The great tithes of the township of Fulwell (parcel of the impropriate Rectory of Monk-Wearmouth) were purchased, on the general sale of the Hilton property, by Sir H. Williamson, who soon after conveyed to John Stafford, whose grandson John Stafford, Esq. alienated them to Richard Scruton, of Durham, Esq. the present proprietor (fn. 63).
A leasehold farm in Fulwell is attached to the Professorship of Poetry in the University of Oxford, the gift of the Rev. Henry Birkhead, LL.D. of All Souls College, Oxford, the Founder of that Lecture, and a great part of whose estate consisted in a lease from the Church of Durham (fn. 64).
Southwick,
A mile to the West of Monk-Wearmouth, a pleasant scattered village, stretching along the heights above the Wear.
The following brief abstracts of Charters in the Treasury explain the early descent of the property, and its translations from the local name of Suthwyk to the family of Hedworth.

I. Universis &c. Will'us Prior Dunelm. Noverities me concessisse Margarete que fuit uxor Johannis de Suthwyk maritagium Agnetis et Alicie filiarum et coheredum dicti Johannis. 15 Jan. 1312.
II. Omnibus &c. Agnes filia Johannis de Suthwyk. Noveritis me in mea virginitate dedisse &c. Johanni fil. Petri de Hedeworth, manenti in Suthwyk, omnia terras et tenementa mea in suthwyk(et omnes redditus &c. in Pittingdon, Neubygging, et Gadeshevede). Preterea concessi quod omnia quæ Margareta uxor predicti Johannis fil. Petri mater mea tenet nomine dotis de hereditate mea, post decessum predicte Margarete dicto Johanni fil. Petri et heredibus suis de corpore Margarete &c. revertantur; rem. michi Agneti et heredibus de corpore, rem. rectis heredibus Johannis. T. D'no Alex. de Hilton milite, Johanne de Birteley, Thoma de Birteley, Gilberto de Useworth, Johanne Breton. Dat. apud Suthwyk, 22 April 1330.
III. Hec indentura facta inter Walterum fil. Johannis de Yeland et Aliciam uxorem ejus ex una parte, et Johannem fil. Petri de Hedworth,—apud Seham 8 Mart. 1330. [To the same purpose as the charter of Agnes, with a covenant to levy a fine of all the lands in possession and reversion, before St. Michael 1333.]
The whole inheritance became thus vested in Hedworth.
In 1351, John de Hedworth of Suthewyk held of the Prior of Durham, five score and eighteen acres by 20s. rent, eighteen acres 9s, and two oxgangs in the Megotes Dene near Suthwyk, held of Richard del Carme by the service of a pound of cuminu. (fn. 65) The same tenures are returned on the death of the second John de Hetheworth de Southwyk, in 1399 (fn. 66). The Hedworths soon after deserted Southwick for Harverton, on their marriage with the heir of Dare (fn. 67); but they retained their possessions, which are regularly returned in the inquisitions till the reign of Charles I.
By Ind. 20 April 1630, Ralph Hedworth of Chester-le-Street, Gent. Richard Hedworth, and Elizabeth, granted a messuage, five cottages, a garden, orchard, ten acres of arable, fifty of meadow, and 130 of pasture, and two several fisheries in the Wear, to George Grey of Great Lumley, Gent (fn. 68) who soon after added to his freehold estate, a large leasehold tenement under the Dean and Chapter in Southwick, purchased of Philip Ebbats, Gent. (6 Nov. 1638.)
I cannot do better than immediately introduce the reader to Mr. Grey, as he stands lively depicted in the proeme to the diary of his descendant George Grey, Esq. of Southwick, Counsellor at Law, after deducing his male ancestral line, in due form, from the Greys of Codnover, and afterwards from those of Barton (fn. 69), begins "sermoni propioraet quæ magis ad nos."
George, the third son of Thomas Grey of Barton, was my great-grandfather; he marry'd Susannah Hampscott (Amcotes), and removed to Great Lumley in the county of Durham, about the 13th year of James the First.(1616)
He was an active man, concerned in colliery's. 1639. He and Anthony Smith of Durham, carry'd to King and Councell a petic'on, from the tenants of Dean and Chapter, complaining that the Dean and Chapter had encreased the fines of their tenants upon renewing their leases, contrary to a decree made in the court of York in the time of Queen Elizabeth. Dr. Balcanquall, then Dean, complained of this petition; and the Council ordered George Grey and Anthony Smith, to pay all the money which had been collected by the tenants for their expenses, (which was 80li unto one of the clerks of the council, and committed them March 10, 1639, to the Gatehouse, until they produced the names of all the tenants who subscribed the petic'on, and they continued prisoners till April 13, 1640, upon meeting of the Parliament, and then discharged upon giving in the list, and had the 80li repaid (fn. 70). He (George Grey) and Smith petitioned ye House of Commons complaining of these proceedings of the Council.
He (George Grey) and Smith were required by the Gen. Lesley and Commissioners for the Scottish army, to warn all the tenants of Bishop, Dean and Chapter, &c. not to pay their rents to their landlords, but for use of the army.
Aprill 1630. George Grey bought the freehold estate at Southic for 650l. of Ralph and Richard Hedworth of Chester-in-Street; it was conveyed by feoffment, fine, and recovering.
1638. He bought his Dean and Chapter farm at Southwic, of Philip Ebutts.
He was ingaged with Manby, Chapman of Whitburn, and others, in an invenc'on for boyling liquors and making salt, for which an Act of Parliament was obtained Nov. 1650, cap. 39; but it miscarryd, and he lost a great deal of money by it; he was imprisoned in the Fleet 1655, at the suit of Brisco, Administrator of Bluday, upon a bond for 900l. borrowed to carry on this invenc'on.
He dyed, I believe, anno 1661.
1617. George Grey my grandfather was born.
He was a Captain of Foot for the parliament in the Northern association.
1647, July 20. He married Frances the daughter of Thomas Robinson of Rookby Park, Esq.; she was sister to Mr. Matthew Robinson, Vicar of Burniston.
Jan. 24. His company of soldjers, and the rest of the association, was disbanded by Gen. Lambert.
1648, Aug. 9. Colonel Henry Lilburne, Governor of Tinemouth Castle for the parliament, revolted to the King, but the Castle was next day recovered by Sir Arthur Haslerig. My grandfather having lodged seven hundred broad pieces of gold in that Castle for safety, they were all lost in the plunder.
1651. Garden wall at Southwic next the town built, William and John Harrison masons.
1651. My grandfather purchased the inheritance of his Dean and Chapter farm at Southwick. But upon the Restoration it was restored to the Dean and Chapter, and my grandfather paid a fine of 230 l. for renewing his lease.
He with the arrears due for his pay in the army, and more money; purchased the manor and lands at Thwing near Scarbro', rent above 40li per annum (fn. 71). But ye manor belonging to the Crown was restored to it at the Restoration.
1661. His wife my grandmother died July 19, at 5 in the evening, aged 34.
1673. He married to a second wife, Philadelphia, widow of Mr. Kirkbridge, merchant in Newcastle; she died April 1681.
1702, Sept. 13. My grandfather Grey dyed at Southwic, aged 85. Mr. Bowes, (Bowey?) minister of Monk-Wearmouth, preached a funeral sermon on Gen. 25, 8.
George Grey, my father, was born at Southwic Feb. 28, 1651. He was educated at Brignal School, under Mr. Johnson,. an excellent Schoolmaster. 1666. He was admitted of Trinity College, Cambridge, under Dr. Gale; he was then but fourteen years old. Sept. 10, 1675. Marryd to Elizabeth, eldest daughter of Zachary Cawdry, Rector of Barthomley in Cheshire.
1676, Sept. 24. He was ordained Deacon. 1677, Sept. 23. Ordained Priest, and presented to the living of Lawton in Cheshire. 1682, Sept. Uncle Matthew Robinson surrendered Burniston living, and my father was presented to it, instituted 26 Sept.
Feb. 25. He bought my Uncle's Library and Manuscripts.
1688, Nov. 1. He was made principal of a Light Horse by the Deputy Lieutenants.
1690, Aug. 3. My mother dyed of small pox, aged 37.
1691. (He my father) marryd to his second wife, Sarah, the daughter of Thomas Harrison of Allerthorp Esq. 1692. Sarah his second wife dyd in child-bed, aged 30 and seven months.
1693, June. He marryd to his third wife Hannah, the eldest daughter of Thomas Bendlowes of Howgrave Esq.
1694, Nov. 19. He went to Ripley, and settled all accounts with uncle Matthew Robinson, who dyd 8 days after of a lethargy, and was buryd Nov. 30, at Burniston (fn. 72).
1698. This summer Segnior Verrio, the famous Italian Painter, drew my dear father's picture and his third wife's picture, and that picture of the Muses and Parnassus, all which I have.
1709. My dear father was deprived of his memory, occasioned, as we supposed, by a fit of apoplexy; a vomit relieved him.
1710, Jan. 22. The last time my dear father was at church, but could not stay all the service.
1711, June 12. My father dyed about ten at night, and was buryd in the Quere of Burneston church ye 14th (fn. 73).
1680, Oct. 20. I was born at Lawton in Cheshire, and baptized Oct. 31. My grandfather Cowdry one of my Godfathers. About this time the great comet was seen.
1683. I had a bleeding at my nose, which continued so long that my life was in danger.
1684–5, March 18. Came from Cheshire to Burniston with my father; I was carryd on a pillow on horseback before one Tho. Frank.
1687, May. I was admitted to the Latin School at Burniston, under Mr. Samuel Hulm.
1689. I had a bile on my neck. 1690. I had small pox.
1691, July. Mr. Hulm going to Cambridge to take his degree of Master of Arts, I went and staid at Ripley all yt time, and from thence went to see a house at Harogate struck with lightning.
1693, May 31. Being Whitsuntide, I went to Southwick with my Schoolmaster, being my first journey to that place.
In August I went to Ripley to visit uncle Robinson; and the rivers being out at my return, I was in danger of drowning at Hutton Mill, but a Cheshire gentleman I accidentally met with took care of me. I was then learning Terence and Greek Testament.
October. My Schoolmaster got preferment in Essex, and left Burniston School, which was a great misfortune to me.
January 13. Mr. Lindsey made master, but he was not equal to Mr. Hulm in his way of teaching.
1696, October. My father went with me to Edenbrough; I was admitted of the College under Mr. Robert Scott; we went from Southwick and crossed the Tyne at Shields ferry, and did not go through Newcastle.
1697, June. I returned home from Scotland. I was this summer at Scarboro' Spaw.
October. I went to Howgrave and studyd the Law under Thomas Bendlowes, Esq. and continued there till April 1699.
This winter I received the Sacrament the first time.
May 1, 1699, I went to London in stage-coach, and May 19 I first went into Chambers in Gray's Inn; it was a ground (chamber) in Chappel Court.
1700, July. I went into Yorkshire on horseback, along with John Fenwick and Mr. Lowther, son of Sir William Lowther; we travelled through Northampton, Lester, Darby, and Wakefield.
October. I returned to London on horseback; a servant went with me to Newark, and from thence with Mr. Davison of Beemish, and Mr. Henry Rawlin of Newcastle.
1701, April. I left chambers in Gray's Inn, and lodgd with Mr. Jacob Tonson the Bookseller.
July. I went into Yorkshire on horseback, along with Mr. Hayfird Wainwright, and learned mensurac[i]on.
October. I gott my book of mapps.
1702, Sept. 13. My Grandfather dyed, and I staid at Southwick a fortnight, looking over his writeings and papers.
Oct. 19. Set forward for London in the stage, in company of Lady Milbanke, Mr. John Ord Attorney of Newcastle, Parson Bradley. The Scotch Commissioners for the Union went at the same time.
December. I attended both Houses of Parliament to prove my Father's hand and consent to an Act of Parliament for making a provision for Mr. Arden's younger children.
1702. Mr. Wastel brought his eldest son to London, and placed him with me at Jacob Tonson's.
1703, July. I went into Yorkshire in the stage-coach, along with Sir Chomly Dering, my dear father being then ill in a scorbutic dropsy, but recovered—Deo Gratias.
Oct. 28. Returned to London in the stage-coach, with Sir William Bowes, Thomas Harrison, of Copgrave, Esq. and others; we staid all Sunday at Stamford (fn. 74).
1703, Dec. 24. I got my watch which I now have, in exchange for a gold one.
Feb. I was very ill the tooth ache, and took Dr. Gilstrop's advice, had two teeth drawn (fn. 75).
1704. I went to Cambridge to meet my brother Zachary, and admit him of Jesus College. Mr. Leonard Wastel went along with me on horseback.
June. I bought my foot rule, with compasses and pencil, it cost 7s. 6d.
June 29. Bought my 8vo Bible, it cost 7s. 6d.
June 10. Went into Yorkshire in stage-coach, with Mr. Leonard Wastell, my cozen Thomas Robinson's widow, and others. I eat on the road some raisins. Which in my pocket happened to mix with a dentifrice made of beaten china, which threw me into so violent vomiting and purging that I had like to have dyd on the road, and performed my journey with great difficulty (fn. 76).
This summer Verelst the Painter made the copy of Matthew Robinson's picture, which I have.
Dec. I was at Southwick, and we divided Simonside. This winter I copyd uncle Matthew Robinson's Life, and prepared his MS annotations on the Bible for binding.
1705, March 27. My father's will is dated.
April. Went to London in stage-coach; I lodgd a little while in Fullwood Rents, till my lodging at Mr. Tonson's were empty.
I got uncle Matthew Robinson's Annotac'ons on Old Testament bound in 3 volumes in velen, and the Gospels, Acts, and Romans in another volume.
1705, June 7. I took Doctor Ratcliff's advice, who prescribed chalybeats, and I continued taking them till April following.
Sept. 18. I received letter from my dear father about ss, which was the last he ever writ to me.
Dec. 30. I went to Burntwood, in Essex, to visit Mr. Hulm.
1706, April 29. I was called to the Barr; the day before being Sunday, Dr. Moss preached on Prov. i. 10; and Dr. Linsted on Job xix. 25.
July 22. I went to Yorkshire in stage-coach, with Mr. Luke Thompson.
Sept. I went into Cheshire, to visit my friends and relac[i]ons. I was at Namptwich, Barthomly, Lawton.
Jan. 9. I set forward for London in stage-coach, with Mr. Stockdale of Bilton, Mr. Reveley, &c. we staid all Sunday at Stamford. I lodged in Gravel Street, near Hatton Garden, with Stapleton, a Watchmaker.
1707. My brother Matthew came to London, and I put him apprentice to Mr. Kingsby, a Druggist, in Newgate Street.
July 28. Went into Yorkshire in stage-coach, with Mr. Oley Douglas, Mr. Ralph Sanderson, Attorney. Got to York when Mrs. Light, daughter to my cousin Robinson, was marry'd to Mr. Kirk.
1708, May 29. Got to London in stage-coach, with Mr. Ayslaby, Parliamt man for Rippon, & c. Sec Hatfield-house.
July 28. Set forward for Yorkshire on horseback, my man having brought up my horses. I lodgd all night at Hodsden, at Mrs. Strode's, staid a few days at Wakefield, with Mr. Smith.
Nov. 21. Set forward in stage-coach for London, in company of my brother Warcop, Mr. Stockdal, Lawyer Harland. I staid at Mr. Revely's chambers, in Coney Court, till I returned into Yorkshire.
Dec. 22. I read in uncle Robinson's MSS. annot . John xiv. 1.
Dec. 25. The great frost began.
1708, Feb. 14. Set forwards in stage-coach for Yorkshire ; I then had a severe cold, which fix'd my jaws that I could not chaw my meat; but through the frost was very severe, I recovered on the road, and got well home by the blessing of God.
1709, May. I staid a few days at Kirby with Mr. Smelt.
1710, Aug. 19. At York assizes, and from thence went to Durham assizes, and then to New castle, and lodge at Mr. Robert Sutton's in Gateshead, and Mrs. Sutton then recommended my dear Alice to me for a wife, through I had never heard of such a person.
January. Henry Iaman planted my orchard at Southwick.
Feb. 20. I was made a Freemason at Beedall.
1711, Dec. 5. I removed from Vicarage-house to my brother Warcop's at Gatonby (fn. 77).
Dec. 10. Settled all matters with the new Vicar about dilapidans.
1711. I went to Robert Ellison's, Esq. at Hebburn, January 18, and staid mostly there till 14 Feb. Mr. Ellison proposed my dear Alice to me for a wife, carryd me to Ravensworth Castle to see her, went to Greencroft, and proposed the match to Mr. Clavering and wife, her father and mother.
March 17. I went to York assizes.
1712, April 8. Mr. Ellison and I visited at Greencroft the first time, and from thence I went to the Chancery sitting at Durham.
1712, May 28. Came from Yorkshire to Hebburn (fn. 78), and soon after made my first visit to my mistress; returned to Gatonby June 5.
June 13. I came from Gatonby to settle at Newcastle; brother Zachary was with me.
July 19. At York assizes.
Sept. 16. At Durham Chancery sitting, and suffered a common recovery of my estate at Southic.
Sept. 29. Bought the wedding ring. Oct. 11. Got a licence. Oct. 13. I marryd my dear Alice.
Dec. 13. My plate, linen, &c. came from Gatonby to Newcastle.
Jan. 10. My pictures came safe from Gatonby.
March 16. At York assizes.
1713, April 30. My dear wife came to my house at Newcastle.
Aug. 4. Son Georage born 30 minits past eleaven at night; baptized 25, brother Liddell and brother Clavering godfathers, aunt Rogers godmother.
Oct. 30, 1714. Daughter Jane born a quarter past six at night, bapt. 28.
Jan. 26. Sworn by a Dedimus for Commission of peace for County of Durham.
With these three important events the Diary terminates. The rest of Mr. Grey's Pocket-book contains an account of his articleing for a burial-place in St. Nicholas church (Sept. 9, 1751); an epitaph on his wife (fn. 79); an abstract of the title-deeds of Southwick; an account of fines on renewal ;the book of rates for Chester Ward; and, lastly, "some maxims for improveing my estate, 29 in number (fn. 80)." Amongst other matters, he proposes, No. 15. To water the land next the river with salt water, suppose by a wheel or windmill. I could raise it when high water, and carry it over all that ground by troughs, or by a water engin used for extinguishing fires.
No. 16. Drain all my clay land with gutters about a yard or three quarters of a yard deep, and make some bigger, and let all have a communication one with another, and keep them open; 't will certainly improve the ground. Probatum est per Sir Hugh Smithson: let there be a gutter every 40 or 50 yards; you may carry your gutters into your ponds.
No. 17. Lay all the ground as flatt as possible, without ridges, the flatter the better (fn. 81) .
George Grey, Esq. whose Diary has just been presented to the reader, settled a part of his estate at Southwick on the marriage of his only son George Grey with Elizabeth, Ogle, of Kirkley. George Grey, son of George and Elizabeth, Countess Grey (fn. 82). The other portion of the estate descended to the two daughters and coheirs of Major George Grey (last named), who sold their interest, about 1810, to John Stafford, Esq.
In 1808 Elizabeth Countess Grey conveyed her part of Southwick to Thomas Brunton, Esq. for 7000l (fn. 83)
Dr. Zachary Grey, the Editor of Hudibras, was a younger son of George Grey, Rector of Burniston. He was educated in Trinity Hall, Cambridge; was afterwards Fellow of St. John's, by which society he was presented to the Rectory of Houghton-Conquest, near Ampthill, Bedfordshire, in 1722.
The following epitaph is on a neat marble tablet, in the chancel of the church of Houghton-Conquest:

Sacred to the Memory
of Zachary Grey, LL.D. late Rector of this Parish, who with zeal undissembled served his God, with love and affection endeared himself to his family, with sincerity unaffected promoted the interests of his friends, and with real charity and extensive humanity behaved towards all mankind.

He died Nov. 25, MDCCLXVI. aged 78.
On a marble tablet near the former :
Near this place is interred Susanna Grey, relict of the late Rev. Zachary Grey; she died Feb. 13, 1771, aged 82; whose social virtues rendered her dear to all (fn. 84).
Some pleasing and affectionate letters from George Grey, Esq. of Southwick, to his brother Zachary, add very little to the personal history of the latter; they are chiefly directed to Cambridge, where Dr. Grey probably partly resided after he was Rector of Houghton-Conquest. I trespass sparingly on the liberal permission given me by Mr. Nichols, trusting that these MSS. will appear in a future volume of "Literary Illustrations." The following letter, however, comes so directly home to our Northumbrian capital, that I am tempted to lay violent hands upon it:
Dear Brother, The last post brought me the favour of your kind letter, and concern for the great danger we have been in; but God be thanked for our deliverance, by the infatuation of our enemies. If upon their victory they had immediately marchd for England, they might easily have surprized this place, got to York, and I cannot tell how much further, without any effectual opposition, and returned in safety to Scotland on the approach of the King's forces; but they have lost that opportunity, and we only fear a French invasion.
We are repairing our walls, planting cannon, of which we have received from Tynemouth 18 large ones, and 16 from Sunderland, and can make them up above 100. Our militia, being near 1000, are daily on duty, and we have 800 soldiers. The 700 Switz are marching hither from Berwick, and St. George's dragoons are now at Darlington; and we have on our coast eight men of war and two frigats, and General Husk, a very experienced and loyal officer, to command in town.
The rebells are in or near Edinburgh, have blocked up the Castle, whereupon the Commander sent to the Magistrates to demand provision, or else he would fire on the city; but, on receiving a deputac'on from them, he agreed to respect it for six days, till they heard from the King. This morning we hear the rebells rais'd a battery against the Castle on Wensday last, and began to fire from thence, whereupon the Castle made a return, and killed and wounded about 900 men, which has greatly frighted them. The Pretender, for his own safety, has remov'd to the camp.
We took a spy, who is servant and confidant to the Duke of Perth; he had an original letter from the Pretender to invite his friends in Yorkshire, Lancashire, &c. to joyn him, and it is whisper'd that he has discover'd the names of such gentlemen as he was directed to apply to. The night after his apprehension he cut his throat, but is like to recover. We hear from Lancashire that the Gentlemen are unanimous for King George, and have subscribed 40,000l. to raise forces in defence of the kingdom, which is an agreeable surprize to us, we fearing their attachment to the Pretender. My sister Hindm. is at Southic, and under great fears, as are most of our ladyes, but hope the prospect of our safety will remove them. Though we seem to be very secure and safe, yet our preservac'on must come from Heaven, and it is from him alone that we hope for deliverance. We beg your prayers for us, and to make us thankful for this great mercy. My service to my sister, and Dr. Mews.
I am, dear Brother, your affectionate brother and humble servant, G. Grey.
Pedigree of Grey, of Southwick, co. Pal.
Arms: Barry of six Argent and Azure, with due difference as a Cadet of a younger house.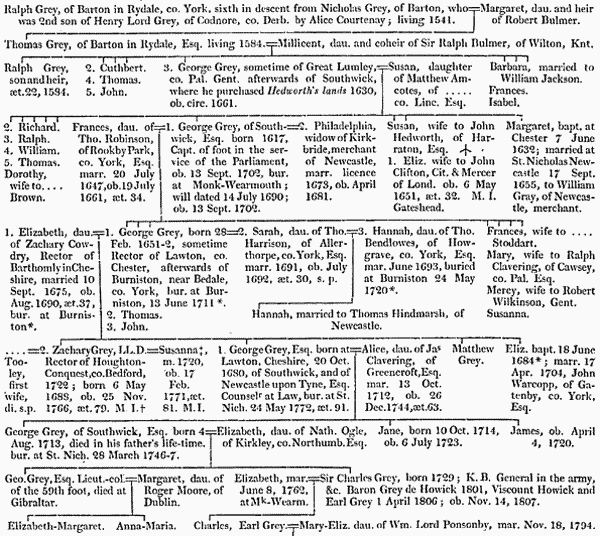 * Extracts of Parish Register of Burniston, obligingly communicated by the Rev. Heneage Elsley.
† Zachary grey, LL.D. born at Burniston, in the North Riding of Yorkshire, May 6, A. D. 1688; educated at Trinity Hall, Campbridge; rector of this parish Aprinl 4, 1725; died on Tuesday Nov. 25, between eight and nine in the morning, and was bursied in the South-East corner of the chancel, Nov. 30, 1766, æt. 79: "Cujus si pietatem erga Deum sinceram, eujus si benevolentiam erga hominem amplissimam respexeris, quempiam vix parem, meliorem neminem invenies." Par. Reg. Houghton-Conquest.
Mr. Grey, after some observations on his baronial descent from Grey of Codnovre, "of whom you have a particular account in Dugdale's Baronage, vol. I. p. 710," adds in the P. S. "I would gladly get my whole pedegree from Heralds' office, and add those that are wanting, if I knew what the charges and method would be, there being four or five generations wanting." He also exhorts his brother Zachary to compile some memoir of their maternal grandfather, Dr. Zachary Cowdray. MS Letters, communicated by Mr. Nichols.
‡ By this lady, who was a near relation of Dean Moss, Dr. Grey had one son, who died in 1726; and two daughters, one married to the Rev. William Cole, of Ely, the other to the Rev. Lepipre, rector of Aspley Guise, Bedfordshire.
Nichols's literary Anecdotes, vol. II. p. 549.
Hilton,
Three miles to the West of Wearmouth Bridge, on the old road to Newcastle. There is no village.
The Castle stands low and sequestered (according to the exact import of the original name [Helton]), in the vale of Wear. The centre only of the present structure is ancient. The East front exhibits an oblong square tower rising above a portico of modern Gothic work. The West front has in the centre the great entrance, or gatehouse, perhaps nearly in the state in which it was reared in the reign of Richard II. The gateway is defended by square projecting turrets, with hanging parapets, exactly resembling the coëval architecture of Lumley. Two round towers of later date connect the centre with uniform wings of completely modern architecture (fn. 85). The grounds to the North and East have been laid out in slopes and terraces, at the highest point of which, to the North, stands an elegant small Chapel.
The following account of the arrangement of Arms on Hilton Castle, is as correct as the mouldered state of several of the shields would permit.
On the West front or Gatehouse:
On a banner and flag-staff: England and France quarterly. Underneath the banner: thirteen shields disposed in three rows, though somewhat irregularly, and perhaps not in their original position.
On the right flanking tower of the Gatehouse:

On the left flanking Tower: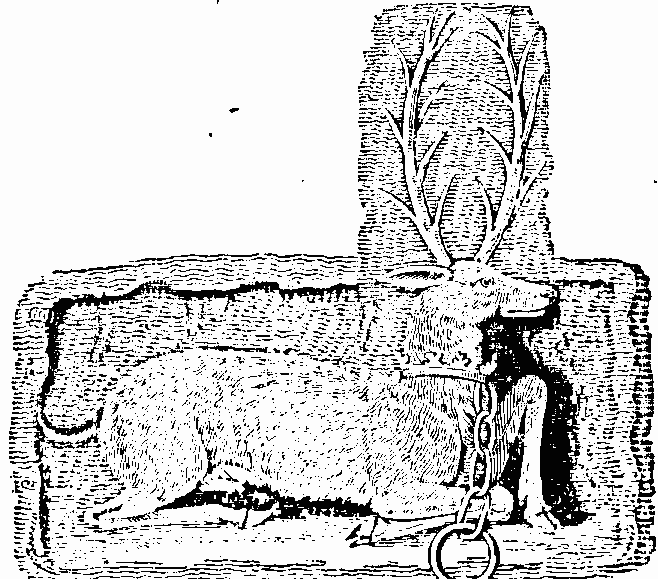 On the East front:
Within a plain shield the arms of Hilton only. Crest, on a close helmet, Moses's head in profile, a rich diapered mantle, the horns not in the least radiated, but exactly resembling two poking-sticks (fn. 86). Above all, in bold relief, a stag couchant, collared and chained.
On the Chapel:
Above the South window, Hilton quartering Vipont and Stapleton. Supporters, two stags of very rude and antique design. Over the North window, the same arms without supporters, but with the usual crest. On the West front, five shields, Hilton quartering Vipont and Stapleton; supporters two Lions, no crest; twice repeated. Hilton and Vipont quarterly; the Crest without supporters; twice repeated: and Hilton quartering Vipont and Stapleton, with the Stags for supporters.
The plate of Hilton Castle, representing the West view, is contributed by the Earl of Strathmore (fn. 87).
Romanus the Knight of Hilton, made a convention with the Prior and Chapter of St. Cuthbert, relative to his Chapel of Hilton in 1157 (fn. 88). The same Romanus held three knights' fees in 1166, and he was probably by no means the first settler, as his lands were held of antient feoffment (fn. 89). Alexander, his successor, appears in a deed of compact with the Prior and Convent of Durham, relative to the Chapel of Hilton, in 1172 (fn. 89). The subsequent descent of the family, which includes that of the estate, is explained in the Pedigree, and the annexed evidences.
In 1332 and 1335, Alexander de Hilton had summons to parliament, which was never repeated in any of his descendants (fn. 90). After a series of twenty descents, stretching through five centuries, the family was nearly ruined, by the improvident posthumous generosity of Henry Hilton Esq. (fn. 91), who appears to have been so much under the influence both of vanity and melancholy, as might, in these days of equity, have occasioned serious doubts as to the sanity of his disposing mind. This gentleman had several years before, on some disgust, deserted the seat of his ancestors, and lived in obscure retirement, first at the house of a remote kinsman at Billinghurst in Sussex, and afterwards at Mitchel-grove, where he died. By will dated 26 February, 1640–1, (fn. 92) he devised the whole of his paternal estate for ninety-nine years, to the Lord Mayor and four senior Aldermen of the City of London, on trust to pay during the same term, 24l. yearly to each of thirty-eight several Parishes or townships in Durham, Surrey, Sussex, Middlesex, and Newcastle on Tyne; 28l. per annum to the Mayor of Durham, and 50l. per annum to the Vicar of Monk-Wearmouth : he then leaves an annuity of 100l. to his next brother Robert Hilton, and to his heirs; and 50l. per annum to his brother John Hilton, which last sum is to cease, if he succeed to the larger annuity as heir of Robert: all the residue and increase of his rents he gives to the City of London, charging them to bind out yearly five children of his own kindred to some honest trade; and further he desires them to raise 4000l. out of the rents, to remain in the City Chamber during ninety-nine years, and the interest to be applied in binding out orphan children born on the manors of Ford, Biddick, and Barmston. After the expiration of that term, he devises the whole of his estates, with the encreased rents and also the same 4000l. to his heir at law, provided (fn. 93) he be not such an one as shall claim to be the issue of the testator's own body. He then gives several legacies to his servants, and to the family of Shelley of Michell-grove; declares that he has 3000l. on good bonds in London; appoints the Lady Jane Shelley to be his Executrix (fn. 94), and desires burial in St. Paul's Cathedral, "under a fair tumbe like in fashion to the tumbe of Dr. Dunne," for which purpose he leaves 1000l. to his Executrix, who never complied with the injunction.
Henry Hilton left a window (not named in his will,) who re-married Sir Thomas Smith, said to have been an active and intriguing man, of considerable influence during the Usurpation. Robert Hilton, the next brother to Henry, survived him only a few months, and he also left a widow, whose second husband Sir Thomas Hallyman, obtained in compensation of her dower a life-estate in the manor of Ford. The Will itself produced, as was most likely, litigations and chancery in suits in abundance; and under all these circumstances, the estate, or rather the shadow of the estate, vested in John Hilton, the seventh and sole surviving brother of Henry. The civil wars burst out in the same year 1641, and John Hilton periled the reliques of his inheritance in the royal cause (fn. 95). Himself and his son bore the commissions of Colonel and of Captain in the Marquis of Newcastle's army. The estate of Hilton, placed exactly between the royal army and the Scots under Lesley, was plundered and wasted by both parties; and, on the final ruin of the royal cause, the Hiltons, included in the list of malignants, were totally disabled from struggling at law or equity, either with the rebel City of London, or with the two Knights who had espoused the worse, then the better cause. The wonder is, that from such a state of things the family ever emerged at all; but the younger John Hilton (who succeeded to the claims of his father in 1658) seems to have possessed a share of prudence and quiet perseverance very unusual in a ruined Cavalier. The very litigations of Sir Thomas Smith with the City Chamber, though they tore the estate in pieces, whilst the heir starved, had eventually a favourable effect. The Citizens of London, who derived very little direct advantage from the will of their singular benefactor, were wearied out with the contest; and after the Restoration an amicable decree was pronounced, by which the possession of the estates was restored to the heir, on condition that he should discharge all the particulars of the trust created by the will of Henry Hilton, should make regular payment of the several parochial charities, and satisfy the claims of the two dowagers Under these sore incumbrances Mr. Hilton took the management of his own property (fn. 96); but the rents, wasted as the estate had been for twenty years, were totally inadequate to the charges; and it was found necessary to reduce the whole of the payments one third, in proportion to the actual state of the rent-roll, leaving still a very sufficient burthen to exercise the prudence and patience of the family, both which useful qualities they seem to have possessed in a very exemplary degree (fn. 97).
From this period the ancient Barons of Hilton, no longer distinguished by extended possessions or extraordinary influence, retreated, without degradation of blood or of honour, into the quiet ranks of private gentry. Three successive chiefs of Hilton were not more respected for their ancient and undoubted descent, than for the prudent and unostentatious simplicity with which they supported the fallen fortunes of their house, without meanness, and without vain regret or misplaced pride (fn. 98). Their names do not even occur in the list of Parliamentary Representation (fn. 99), and they received rather than claimed from the general courtesy of the country acknowledged rank of the first untitled gentry of the North (fn. 100), of noblesse without the peerage. The last Baron, a man of mild and generous disposition, though of reserved habits, is still remembered with a mingles sentiment of personal respect and of that popular feeling, which even ill conduct can scarcely extinguish, towards the last representative of a long and honourable line, unstained by gross vice, and unsullied by dishonour (fn. 101).
John Hilton, Esq. (great-grandson of John in 1658,) died 25th Sept. 1746. By will dated 6 Nov. 1739, he devised all his estates to his nephew, Sir Richard Musgrave, of Hayton Castle, Bart. on condition of assuming the name of Hilton only. Within a few years afterwards the whole of the estates were sold under an act of Parliament (fn. 102).
The Castle and Manor of Hilton were contracted for by — Wogan, Esq. for 30,000l. but the sale was never perfected, and they were soon after sold to Mrs. Bowes, widow of George Bowes, Esq. of Streatlam and Gibside, whose grandson, John Earl of Strathmore, is the present proprietor.
The family estate of Hilton included, at its highest point of elevation, the manors of Hilton, Barmston, Grindon, Ford, Clowcroft, North Biddick, Great Usworth, and Follonsby, in the county of Durham; Carnaby and Wharram-Percy in the county of York; Elryngton and Woodhall in Northumberland; and Aldstone Moor in Northumberland (fn. 103) and Cumberland; with the advowsons of Kyrkhaulgh (fn. 104) and Monk-Wearmouth.
Hilton, Ford, Great Usworth, and Follonsby, the impropriate Rectory of Monk-Wearmouth, and a leasehold estate there, were sold at the final dispersion of the property, after the death of the last Baron. Grindon, North Biddick, and Barmston, had been alienated sometime earlier, and the extensive domain of Alston Moor, fell and moss and mine, which came by the line of Vipont and Stapylton, was sold by Hendry Hilton, the melancholy Baron, in 1618.
I am unable to trace the fate of the Yorkshire and Northumbrian property, as well as that of an estate in Wiltshire, mentioned in the will of Henry Hilton, 1640.
The Bank-head, or Bank-farm, part of Hilton estate, was purchased by the family of Pemberton at the general sale, and is now, by subsequent conveyance, the property of Robert Ready, Esq. who has built a neat mansion-house, called Hilton Place.
Hilton Castle was a few years ago (after standing long untenanted) the residence of the friendly and hospitable Simon Temple, Esq. The Castle is now occupied by Thomas Wade, Esq.
[Extracts taken from a printed Particular of the Hilton Estates, offered to sale in 1750, will be found in the Appendix.]
Every castle, tower, or manor-house, has its visionary inhabitants. "The cauld lad of Hilton" belongs to a very common and numerous class, the Brownie (fn. 105), or domestic spirit; and seems to have possessed no very distinctive attributes. He was seldom seen, but was heart nightly by the servants who slept in the great hall. If the kitchen had been left in perfect order, they heard him amusing himself by breaking plates and dishes, hurling the pewter in all directions, and throwing every thing into confusion. If, on the contrary, the apartment had been left in disarray (a practice which the servants found it most prudent to adopt), the indefatigable goblin arranged every thing with the greatest precision (fn. 106). This poor esprit folet, whose pranks were at all times perfectly harmless, was at length banished from his haunts by the usual expedient of presenting him with a suit of cloaths (fn. 107). A green cloak and hood were laid before the kitchen fire, and the domestics sat up watching at a prudent distance. At twelve o'clock the sprite glided gently in, stood by the glowing embers, and surveyed the garments provided for him very attentively, tried them on and seemed delighted with his appearance, frisking about for some time, and cutting several summersets and gambados, till, on hearing the first cook he twitched his mantle tight about him (fn. 108), and disappeared with the usual valediction:

Here's a cloke, and here's a hood,
The cauld lad o' Hilton will do no more good.
The genuine Brownie, however, is supposed to be, ab origine, an unembodied spirit; but the boy of Hilton has, with an admixture of English superstition, been identified with the apparition of an unfortunate domestic, whom one of the old chiefs of Hilton slew at some very distant period, in a moment of wrath or intemperance. The Baron had, it seems, on an important occasion, ordered his horse, which was not brought out so soon as he expected; he went to the stable, found the boy loitering, and seizing a hayfork, struck him, thought not intentionally, a mortal blow. The story adds, that he covered his victim with straw till night, and then threw him in to the pond, where the skeleton of a boy was (in confirmation of the tale) discovered in the last Baron's time I am by no means clear that the story may not have its foundation in the fast recorded in the following inquest (fn. 109) :
Coram Johanne King, Coron. Wardæ de Chestre, apud Hilton, 3 Jul. 7 Jac. 1609.
Inquisitio super visum corporis Rogeri Skelton, ibi jacentis mortui. Jurati presentant quod Robertus Hilton, de Hilton, Gen. die et anno supradictis inter horas 8 et 9 ante meridiem falcans gramen cum quadam falce Anglice a Syth ad valenc. xxd. quam ipse in manibus suis tenuit, eundem Rogerum stantem à tergo casu infortunii cum acie ejusd. falcis, Anglice the Syth point, percussit supra dextrum femur ejusd. Rogeri unam plagam mortalem longam unius pollicis et lat. duor. pollic. ex qua plaga idem Rogerus eadem hora mortuus ibidem obiit: et quod casu et non aliter, &c.
Nevertheless, I strongly suspect that the unhousel'd spirit of Roger Skelton, "whom in the hay-field the good Hilton ghosted," took the liberty of playing a few of those pranks which are said by writers of grave authority to be the peculiar privilege of those spirits only who are shouldered untimely by violence from their mortal tenements:

Ling'ring in anguish o'er his mangled clay,
The melancholy shadow turn'd away,
And follow'd through the twilight grey,—his guide. (fn. 110) (fn. 111)
A free pardon for the above man-slaughter appears on the rolls of Bishop James, dated 6 Sept. 1609 (fn. 112).
Carta Alexandri de Helton de tribus marcis de Molendino de Heltun assignatis Cantariæ in Ecclesia de Weremuth.
Omnib[us] videntib[us] vel audientib[us] has lit'as Alexand. de Helton salt'm. Noverit Univ'sitas v'ra me pro salute anime mee & antecessorũ & heredũ meorũ concessisse, dedisse, & p'senti carta confirmasse Deo & S'cto Cuthb'to & eccl'e S'cti Petri de Weremuthe ad sustentatione' unius cappellani qui ad altare S'cti Laurentii in p'dicta Eccl'ia celebrabit pro defunctis divina inp'petuum tres marcas argenti tam tempe' meo q'm omniũ heredum meorũ de molendino meo de Helton annuatim inp'petuum p'cipiendas ad duos t'minos scilicet viginti soliđ and festũ S'cti Cuthb'ti in quadragesima & viginti soliđ ad festum S'cti Cuthb'ti in Septembri. Ego aute' & heredes mei d'cas tres marcas de dicto molendino annuatim p'cipiendas d'ce Eccl'e de Weremuthe cont' omnes homines warrantizabim' in p'petuu'. Et ut hec mea concessio donatio & confirmatio p'petuam optineant firmitate'. p'senti scripto sigillũ meũ apposui. Testib's Dño Rob' fil. Meldred, Dño Joħe Haunsard, Dño Gaufr. fil. Gaufr. Dño Jordano Hayrun, Dño Hugone de Capell, Dño Symone de Cheneduit, Dño Symone de Clifford, et multis aliis.
Large Seal, white wax. Within a shield a demy lion passant, Sigillvm Alexsandor De Heltv.
3a 4æ Special. D. & C. Treas.
Dimissio Decimæ, Piscariæ in Hilton.
Haec Indentura facta vicesmo secdo die April. A. D. 1448, testatur quod Thomas Bradbery, monachus; Magr sive Custos de Weremouth Monachorum, ex consensu et voluntate Prioris et Conventu Dunelm. concessit et ad firman dimisit Willielmo Bedall, Rectori Ecclesiæ Parochialis de Wessyngton, deciman cujusdam piscariæ in aqua de Weer subtus Brughknoll in le Estwode de Hilton, infra Parochiam de Weremouth Moanachor. viz. à quodam loco vocato Lambeden, et sic descendendo usque vadum de Pavylyon, habend, &c. à F. S. Andreæ Apost. ultime preteriti usq. ad terminum trium annor. reddendo—sex sol. et octo denarios. In cujus, &c. Dat. die et anno supradictis.
2a 4æ Spec. D. & C. Treas.
Pedigree of Hilton, of Hilton.
Arms: Argent, two bars Azure. Chest: Moses's head, horned, or radiated. Supporters, two lions rampant Azure. Motto, Tant que je puis.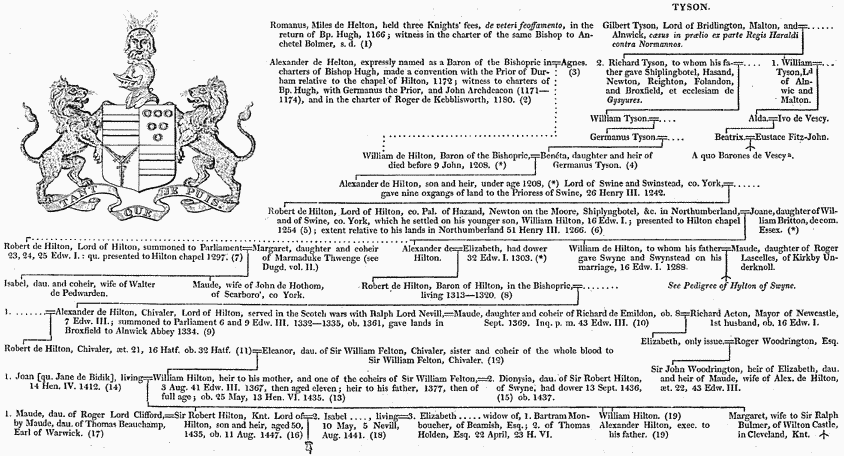 a Dugdale's Baronage, 1. 90.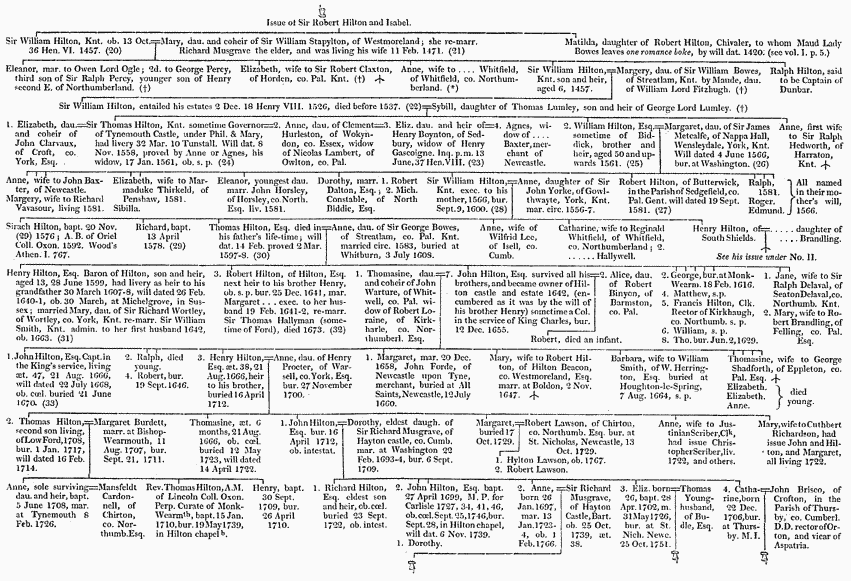 b He overheated himself in walking from Sunderland to Hilton, and died of a violent fever in a few days, to the great grief of the Baron, who considered him as his heir male and lawful successor.

Pedigree of Hilton, of Swyne.
Arms: Argent, three chaplets Gules; the coat of their maternal ancestor Lascelles.

c Dodsworth's MSS. Bodl. Oxon.
d Eschaets, in Turre Londin.
* Isabella Salvayn, 25 Jul. 1429, legat corpus sepeliri in Eccles. Convent. Monialium de Swyne. Johannæ uxori avunculi mei et commatri meæ unam albam zonam. Dominæ Aliciæ aviæ meæ x marcas si aurum quod est in manibus executoris patris mei adquiri possit. Elizæ de Melton cognatæ meæ monile aureum. Fratri meo Rogero qui est in custodia Elizæ de Melton, unum anniculum aureum. Matri meæ unam parvam cistam de eburneo. Dom. Johanna Hilton, Domina de Swyne, et Robertus Mountenay, Executores. Dom. Robertus Hilton, avunculus, Supervisor. Dodsworth MSS.
No. II.—Pedigree of Hilton, of South Shields, in the bishoprick, and of Sussex, London, and Leicestershire.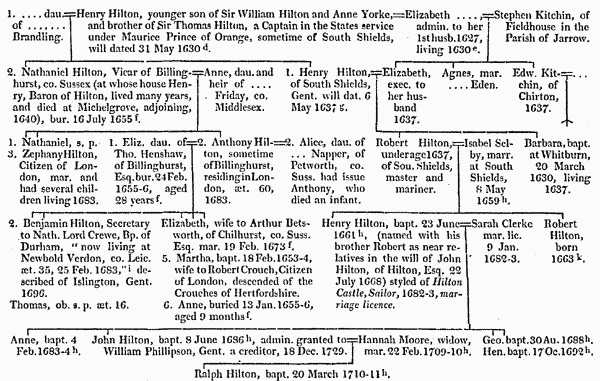 d "Anno 1630, May 31. In the name, &c. Because I am at this instant, God assistyng mee, intendyd to goe for London, and that no mortall man is certayne of his saffe returne, &c.: First, I bequeath my souell to Almighty God, onely good and omnipotent; my vyld bodye and carcarse unto the earth, from whence it came; all my goods whatsoever to my welbeloved wyfe Elizabeth; to my sone Henry Hylton, and his wyfe Elizabeth; to Anne Edon, one cow of the best." Seal of Arms, Hilton, a crescent difference.
Mr. Hilton, who had served under the gallant Prince Maurice, is mentioned in Bishop Neile's letters as "an experienced soldier that has borne office in the field," and seems to have worthily occupied the situation of Muster-master of the trained bands of the county. His inventory, accordingly, contains the martial articles of "a target, muscat, bandeloor, and headpece, 1l.; he had 33l.. in apparell, one winepeece, and four silver spoones; the rest of his wealth, corn (100l. in the staggarth) and nowte-bestiall his wyve's stock, which the soldier acquired when he won the heart of old Stephen's widow, Dame Kitchin, of Fieldhouse.
e Elizabeth, now wife of Henry Hilton, Esq. late wife and administratrix of Stephen Kitchin, owes Lord Eure, for rent of petty tithes, Fieldhouse, &c. 22l., Henry Hilton hath maintained three children of Stephen Kitchin for 12 years, at 6l. 13s. 4d. per annum, and hath preferred Elizabeth, one of the daughters, in marriage, with 100l.
f Extracts of the Parish Register of Billinghurst, obligingly communicated by the Rev. Henry Wray Brown:
1615, 13 Oct. Mr. Anthony Hilton the elder buried (not accounted for in the Pedigree). 1653–4, 18 Feb. Martha, daughter of Anthony Hilton, Gent. baptized. 1655, 16 July. Mr. Nathaniel Hilton, our faithefull and painefull Pastor, aged 65, buried. 13 Jan. id. an. Anne, daughter of Anthony Hilton, Gent. aged 9 months. 24 Feb. id. an. Elizabeth, wife of Anthony Hilton, Gent. aged 28 years, being the eldest daughter of Thomas Henshaw, Gent. 1665, 17 Oct. Mrs. Sarah, wife of Thomas Henshaw, Esq. 1673, 19 Feb. Mr. Arthur Bettesworth, of Whithurst, and Mrs. Elizabeth Hilton, of Horsham Parish, married. 1676, 22 Nov. Mr. Thomas Henshaw, sen. 1688, 25 Oct. Thomas Henshaw, Esq.
g Will of Henry Hilton, of South Sheeles, Gent. May 6, 1637. To be buried in the chapel of St. Hilde, neere his father: "I give the rent of the house at the churche style for seven yeares to so many poore widowes in the Sheiles, &c.; to Mr. John Hiltone, of Hiltone, a 5s. peece of gould; to Alyce Carr 10s. in gould; to Elizabeth, daughter of Mr. John Hiltone, of Hiltone, 5s. gould; to Mr. Edward Kitchin the elder, to my brother Edward Kitchin, to my sister Agnes Idin, (Anne Eden?) to Mr. Patricke Watt, the Lecturer at St. Hildes, xxs.; my daughter Barbara 200l.; my wife Elizabeth and son Robert Executors." Tuition of Robert and Barbara granted to Elizabeth, their mother, 15 June 1637. The inventory includes his purse and apparell, with a jewell, 35l.
h Par. Reg. South Shields. (B. A. I. B. T.)
i Visitation of Leicestershire, 1683.
k Robert, son to Robert Hilton, bapt.; Baron Hilton, James Patteson, and Mrs. Hilton, sponsors, 3 Sept. 1663.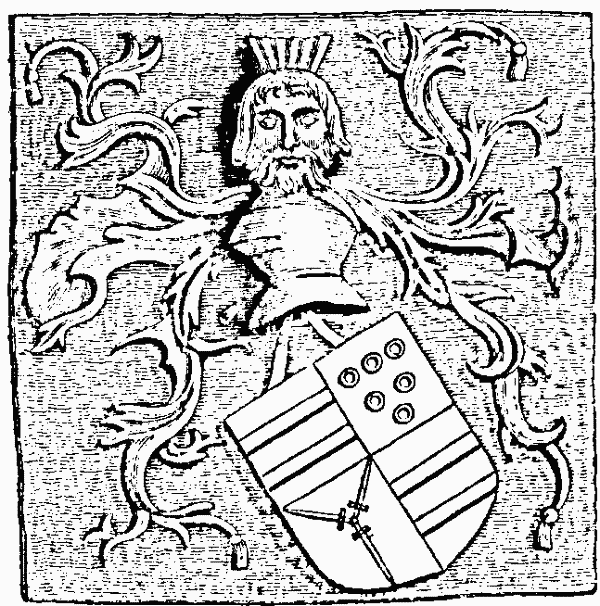 Evidences Of The Pedigree Of Hilton.
(1) "Romanus de Helton tenet 3 feoda militum de veteri feoffamento." Feodarium Hug. Pudsey, Episc. Dunelm. a° 12 Hen. II. 1166. Lib. Niger, edit. 1774. I. 308. See vol. I. p. cxxvi.
Romanus, testis in carta Hugonis Pudsey facta Anchetello Bulmer. Item in carta ejusd. Hugonis facta Hugoni Burel. [3a 1æ Pont.] Romanus, Miles de Helton, testis in carta Hugonis antedicti.
(2) Alexander de Helton concedit Ecclesiæ S. Petri de Wermuthe, ad sustentationem unius Capellani ad altare S. Laurencii, tres marcas argenti de molendino de Helton; sans dat. Seal, a demi Lion passant. A. D. 1172, facta fuit conventio inter Priorem et Conventum Dunelm. et ven. virum Alexandrum de Hilton, de Capella de Hilton. (Special. Dean and Chapter Treas.) Alex. de Helton testis in carta Hugonis Episcopi facta Burgensibus Dunelm. et in aliis cartis passim (3a 1æ Pont.) Item in carta Galfridi fil. Ricardi (3a 7æ Spec.) cum Germano Priore (1163–1186), et cum Johanne Archidiacono (1171–1174 circ.), et in carta Rogeri de Kibblisworth 1180.
(3) Alexander de Helton, et Agnes uxor, inter benefactores S. Cuthberti in Libro Vitæ, fo. 66. Mus. Brit. Cotton MSS.
(*) The dates and references marked with an asterisk are taken from a Pedigree of Hilton complied by J. C. Brooke, Esq. Somerset, but not entered on record in the College of Arms.
(4) Liber Niger. Willielmus Tisun tenet duo feoda militum de feodo Willielmi de Vescy, p. 318. Germanus Tisun testis in carta Eustachii Vesci Monachis de Farne, et Robert de Hilton testis in carta Joh. de Vesci: 1a 1æ Special. D. & C. Treas. — The Pedigree of Tyson, as printed, stands, on record in the College of Arms.
(5) See Charters relative to Hilton Chapel in the Appendix.
(6) Inter Escaet. in Turr. Londin. 51 et 52 Hen. III.
Extenta terrar. et tenement. quæ fuerunt quondam Roberti de Hilton, in com. Northumb. facta apud Sypplingbotill die Sabb. prox. ante F. S. Laur. a° Hen. III. 51mo per Gilbertum de Vychell, Joħem Harang, Henr. del Ewrd. Will. de Butlesdon, Rog. de Lyms, Will. fr'em ejusd. Ric'um de Aketon, Rog. de Stancheby, Ric'um Payn, Eustac. fil. Robĩ de Bilton, et Ric'um fil. Batild.—dicunt quod sunt apud Remington in dominico XX/VIII acr. terræ arab. et vi acr. prati, &c. sum' avi libr. et ijd., &c. Item apud Sypplingbotill in dominic. XX/XIIII acr. &c. (And after many other rentals of mills, rents, services, &c.) Sum'a totabilis lxvili viiis. ijd.
(7) Presentac'o Galfridi de Lewesham ad capellam de Hilton, per Dom. Robertum de Hilton 1297. [3a 4æ Spec.]
(8) Presentatio Thomæ de Hilton, per Dom. Robertum 9 Dec. 1321. Ibid. Robertus de Hilton testis in carta Thomæ de Herrington circ. 1282, et alibi passim. "Dom. Robertus de Hilton habet tres cycnos juvenes de Vivario de Middleham delib'at. per Ballivum 1313." Reg. Kellawe, f. 13.
(9) Inq. p. m. Alex. de Hilton, Chivaler, die L. prox. ante F. S. Marc. Evang. 16 Hatfield; ob. seis. de maneriis de Hilton, Barmeston, et Neuton, per 1 feod. mil. et dimid. et comm. sectam de 15a in 15m. Item de maneriis de Forth, Grindon et Clowcroft, per 1 feod. mil. et sect. de quinden. in quinden. val. cli. Robert Hilton, Chivaler, est fil. et hær. plenæ ætatis. See Dugdale's Baronage, sub titul. Hilton.
Inq. Capt. apud Alnwycke coram Will'o de Clapham, Escaet. &c. die L. prox. Ante F. S. Joh. Bapt. a° Edw. Tercii octavo per sacr. Henrici Ilderton, &c. quod non est ad dampnum, &c. si Dom. Rex concedat Alexandro de Hilton, quod ipse messuag. centum acras terræ er sex acras prati in Broxfield dare possit Abbati & Conventui de Alnwyke, — er Dom. Henr. Percy est medius inter Dom. Regem et predict. Alexandrum, et dictus Alex. tenet ultra donationem et assignationem predictam villas de Shipplingbotyll, Haysand, Gysens, Remington, er Newton super More de Henrico Percy in capite per service. ij feod. mil.
Alexander de Hilton and Maude his wife, present to the Chapel of Jesmond in right of Maude, 1351. See Bourn's Newcastle, p. 81.
(10) See vol. I. p. 243, and Appendix, p. 306. Pedigree of Emildon.
(11) Inq. p. m. Robert Hilton, Chivaler, die Sabb. prox. p. F. S. Math. Apost. 32 Hatfield. Manerium de Hilton, per duo feoda militum excepta decima parte 1 feodi et per com. sect. Com. Dunelm. val. cxxli. (This tenure is probably intended to include Barmeston, Neuton, &c. enumerated in the Inquest 16 Hatf. as members of the Barony of Hilton.) Willielmus Hilton, fil. et her. plenæ ætatis.
(12) See proofs under the Pedigree of Felton, Medomsley, hereafter.
(13) "Pateat quod ego Will'us de Hilton miles fateor me teneri Dño Roberto Priori Dunelm. in sex libris argenti. 1389." Seal, Plate IX. No. II. Box of Acquittances, &c. Dean and Chapter Treas.
Inq. 28 Jul. 13 Hen. VI. Will. Hilton, Miles, &c. tenet maner. de Wharram-Percy; Robert. fil. et her. ætat. 50. In Turr. Lond.
(14) Joan [de Bedik]. This Lady is generally attributed to Sir Robert Hilton in the next descent; but, as Sir Robert is already provided with three wives on record, and as Sir William Hilton was certainly seized of North Bedik, at the date of Hatfield's Survey, or about 1380, I am strongly inclined to believe, if the alliance ever took place at all, Joan the first wife of Sir William, to be the true Jane de Bedik; no evidence of the match appears in charters or inquisitions.
(15) Assignatio dotis Dionysiæ quæ fuit uxor Will. Hilton, mil. 13 Sept. 30 Langley. Inq. p. m. ejusd. Dionysiæ 21 Aug. 31 Langley.
(16) Inq. p. m. Robert. Hilton, mil. 9 Sept. 11 Nevill. Maner. de Hilton: Sunt in eod. una Aula, 4 Cameræ, una Capella, una Coquina, una domus de lapidibus constructa vocat. le Yatehous, quæ omnia nil valent ultra custas reparationis; 20 terræ husband. quælibet contin. 20 acras, quælibet acra val. 6d.; un. claus. vocat. le Orchard val. 6s. 8d.; 20 toft. quodlibet val. 6d.; 26 acræ prati, quælibet val. 2s.; un. toft. et 10 acr. terræ vocat. Sandsonland, quælibet acra val. 2s. 4d. et toftum val. 12s.; un. claus. vocat. . . . . . contin. 100 acras, quælibet acra val. 6d.; un. mess. et 20 acræ terræ arabilis vocat. Chaumberland, mess. val. 12d. et quælibet acra 11d.; 168 acræ more, quælibet acra val. 2d. Advocatio Ecclesiæ de Hilton pertinet manerio de Hilton. Maner. ten. per 1 feod. militis excepta decima parte, et sect. curie Com. Dunelm. de 15a in 15am.
Manerium de Newton: Situs totaliter vastatur; 200 acr. Terræ arab. quælibet val. 4d.; quatuor tofta, quodlibet val. 20d.; undecim acr. subbosci, quælibet val. 7d.; 30 acr. pastur. quælibet val. 4d.; 90 acr. moræ ten. de Episcopo per feod. 1 mil. et sect. de 15a in 15am.—Maner. de Bermston: situs manerii nil valet, &c. Maner. de Forth. Maner. de Grindon. Will. Bowes miles ten. de Roberto Hilton mil. Maner. de Clowcroft.—desunt cætera.
Inq. capt. apud Killome com. Ebor. in fest. SS. Sim. et Jud. 28 Hen. VI. Edmund Dux Somerset. per nomen Edm. March. Dorset. Rowland Tempest, et Will'us Herd, per cart. apud Carneby 22 Apr. 23 Hen. VI. concesser. Roberto Hilton mil. per nomen Roberti Hilton, militis, Baronis de Hilton, et Eliz. nuper uxori Thomæ Holden, arm. tot. maner. de Carneby, habend. &c. et hered. et assign. Roberti: et prefata Eliz. adhuc superstes. Robertus Hilton ob. in F. Purif. B. M. V. 11 Aug. ult. Will. Hilton, est fil. et haæ. ætat. 30 & amplius. Inq. in Turri Londin.
(17) Pardon. dilecto et consanguineo nostro Roberto Hylton, militi, et Matildæ uxori ejus, quod per nomen Roberti filii et heredis Will. Hylton, mil. et Matildœ filiœ Matildœ Dominœ Clifford, adquisivissent de Will'o Hylton, mil. &c. 10 May, 5 Nevill.
Bishop Nevill used the same courteous yet royal stile to all his principal gentry; and indeed his wide connections by blood or affinity bore him out as to matter of fact, for there was scarce a lusty well-watered plant in the whole North, which had not intermingled itself with some, at least, of the extreme and bending twigs of the stately tree of Nevill.
(18) 10 May, 5 Nevill. Pardon to Sir Robert Hilton knight, and Isabel his wife, for having formerly acquired of Sir William Hilton, knight, father of Robert, lands in Bermeston; two parts of great Usworth, and the manor of Bedyk, except Bedyk-wood. Rot. Nevill a° 5.
(19) See the lamentable Conquestus of the Master of Wearmouth, p. 38. One would really imagine, that the Lord Robert had been inoculated with some of the hot blood of his wife's family, from the irreverent manner in which he belaboured the poor priest of Wearmouth. Indeed the three brothers Robert, William, and Alexander, all exhibit in the document just quoted, more lively proof of their existence, than can be brought forward for many a cadet who fills the blank margins of a long Pedigree on good heraldic authority.
(20) Inq. p. m. William Hilton, arm. 15 Dec. 1 Booth, 1457. Non tenet aliqua ten. nec terras, quia per cart. 20 Jan. 1455, 34 Hen. VI. dedit magistro Johanni Norton, decretor. doctori, Magr Johanni Lounde et Thom. Asceley, clericis, et Will'o Raket, gen. maneria de Hilton, Usworth, North Bedyk, Bermeston, le Forth, Grindon, Clowcroft, et Neuton. Ob. 13 Oct. ult. Willielmus est fil. et hær. æt. sex annor. et amplius. Hilton ten. per homag. fidelit. et servic. 1 feod. mil. exc. decima parte. Usworth, &c. [see Usworth.] North Bedyk, per homag. fidel. et sext. part. unius feodi mil. et 53s. 4d. Bermston per homag. fidel. med. unius feod. et sect. Forth per homag. servic. 1 feod. et sect. Grindon per fidel. med. 1 feod. et sect. Clowcroft per servic. mil. et Neuton per homag. fidel. et sect. de quinden. Inq. pro com. Ebor. 13 Jul. 28 Hen. VI. Will'us Hilton, miles, ob. seis. de man. de Wharram-Percy, &c. Inq. in Turr. Lond.
(21) From the date of this match (which brought into the family a considerable accession of property, as well as a very honourable descent in blood,) the Hiltons constantly bore in their shield, whatever other quarterings they inserted or omitted, the arms of Vipont, Or, six annulets Gules, 3, 2, and 1. From this prototype the Musgraves and Lowthers varied their bearing, altering only the tinctures.

Indent. made at Houghton 6 Feb. 14 Booth, 1471, between Wyllyam, Baron of Hilton, and Richard Musgrave the elder, and Marye his wyff, mother of the said Baron: the sayd Richard and Marye shall kepe styll all the ffeoffaments she hath at this daye, and the said Baron shall paye, &c. to the said Marye, for her lyff, for all her part of his endowing, 23l. 6s. 8d. at Whitsontyde and Martynmasse. Rot. Booth, a° 14.
† Visitation of ye Northe by Norroy, 1530.
(22) By charter 2 Dec. 18 Henry VIII. 1526, Sir William Hilton, Knt. conveyed his manors of Hilton, Ford, Usworth, Folanceby, Grindon, Bermeton, and Biddicke, co. Durham; Carnaby and Wharram-Percy, co. Ebor.; Aldstone, Kyrkhaughe, Elryngton, and Woodhall, in Northumberland; to Sir William Bulmer and Sir Ralph Hedworth, Knights, Robert Bowes, of Cowton, George Bowes of Dalden, Robert Bowes of Aske, John Hedworth, and John Lambton, Esquires, on trust for himself for life, with remainder in tail male respectively to Sir Thomas Hilton, Knt. his son and heir; William Hilton, his second son; Cuthbert, son of Thomas Hilton, late of Hedworth, Gent.; Roger, son of George Hilton, late of Wylome, co. York, Gent.; William Hilton, brother of Roger; John Hilton, Citizen and Merchant-Taylor of London; Adam Hilton, of Parke, in Lancashire, Esq.; Thomas Hilton, Citizen and Skinner (Pelliparius) of London; with remainder over, failing these, and all the unlooked for issue of their loins, to his own right heirs for ever. (Rot. Tunstall, letter M.) The entail, however, never took place beyond the descendants of William, younger son of the settler; and the pedigree affords no certain link to connect any of the persons named in the subsequent remainder. Cuthbert Hilton, who would probably stand as a descendant of William or Alexander (19), was, I think, ancestor of a line of Hiltons who gradually sunk into the estate of yeomen and tenants to their Baronial cousins on the estates of Usworth and Biddick, and who, a century after, claimed a sort of kindly right, a half-asserted tie of consanguinity, by "beseching their worshippfull freend and landlord Sir Willyam Hilton, or Henry Hilton, Esq. to be supervisor of their wills, and to be good maister to their children." Of the other cadets, the Merchant-Taylors and the Skinners, I know nothing, only that one William Hilton was not only a Citizen and Merchant-Taylor, but actual bona fide Body-Taylor to Henry VIII. as may appear by will dated 5 Oct. 9 Henry VIII.
The Hiltons, or rather Hultons, of Hulton in Lancashire, a family of most ancient and honourable note, were certainly not connected with the Baronial family by male descent (fn. 113); and it is not easy to trace even any female connection. It was by no means unusual, when a testator had run through all his own kith and kin, to place in the remainder some friendly house of equal blood and rank; and the coincidence of name would probably have its weight in a dilemma of this sort. In the reign of George I. Richard Baron Hilton made use of this old connection as a topic in some very civil and engaging letters to 'Squire Hulton, of Hulton, whom he wished much to see as a visitor at Hilton Castle, professedly with the laudable design of procuring a good husband for one of his five sisters, and thereby drawing into a true lover's knot the slackened thread of connection betwixt the houses of Durham and Lancaster.
(23) Inq. 13 June, 37 Henry VIII. 1545. Elizabeth late wife of Thomas Hylton Knight, died seized of the manor of Ravensworth, &c.; ob. 23 May, 1545. Henry Gascoigne son and heir, aged 28. (See Ravensworth.)
(24) Livery to Sir Thomas Hilton Knight, son and heir of Sir William, 22 May, 10 Tunstall.
In the Name of God. Ame'. I Sr Thomas Hilton in the Countie of Duresme Knight, hold of bodye and in p'fitt mynd, do ordeyn cõstitute and maike this my last Will and Testament, in mañ and forme folowing; ffyrste I bequithe unto Allmightye the father my Soule, and to his sonne Jesus Christe, who haithe redemed me and all mankind by his most glorious deathe and passion, hoping therby to be resussitate wth the elect in the daye of his judgment when he shall come to judge the quicke and the dead, and my bodye to be buried in the myddeste of my Chaple of Hilton, whereas my grandfather lyethe buried. Item, I gyve and bequithe to Agnes my wyffe, the one halffe of all my goods, moveable and unmoveable, and the lease of Tynemouthe during my yeares. Also, I gyve and bequithe unto my sonne Oswen Baxter, 3l. 6s. 8d. by yeare during his lyff naturall, to be levied upon my lands in Austenmore. Also, I gyve to Oswold Mydfurthe 40s. by yeare, and the saime to be levied upon my lands in Austenmore, duringe his lyff naturall. Also, I gyve to Will'm Bainbrigg 40s. by yere, to be levied upon my lands in Austenmore, during his lyffe naturall. Also, I gyve and bequithe to Cuthbert Hilton, Roger Hilton, and Will'm Hilton, according to ther Pattens. Also, I gyve to M'garett Hilton 20l. to be levied upon my goods and cattalls, and my wyffe to have thordring of hir unto she be maried. Also, I gyve to my foure singing boyes, that is to saye, Thom's Hudson and Robert Hudson, Robert Hudson's sonnes, and to James Hudson and Thom's Hudson, Will'm Hudson's sonnes, 40s. by yeare during ye lyves naturall, to be levied of my lands in Austenmore. Also, I gyve to Emond Prior 26s. 8d. to be levied upon my lands in Austenmore. Also I gyve to all the resydewe of my S'vnts havinge no patents, ther hole yeares waige. Also I will that my wiffe haive all my houshold stuffe, bothe Hangings, Bedds, and all other houshold stuffe, as potts, panns, dysshes, dublers, sawcers, and speits, during hir lyffe naturall, and after hir deathe to remaine to theires of my lands. And further, I will that all the plait that cam by hir shalbe hirs during hir lyffe naturall, and then to come to hir sonne John Baxter; and for my owne plait and my chyne, she to haive thoccupac'on of it during hir lyffe, and yn to remane to theires as airelomes from one to another, upon this condic'on that yei shall put sufficient suerties that it shall discend from one heire to another, according to thintaile yt I maid at London, in a thousand pounds of lawfull money of England, and to be regestred and recorded from tyme to tyme in the Chancerie of Duresme. Also I will that the rents of Follansbie & Mykle Usworthe shall go to the payment of my debts yerelie. unto suche tyme as my said debts be fullie satisfied and paid, by the sight of my frends Sir Robert Brandlinge Knight, and my sonne Joħn Baxter Esquier, and they to stand seased of my said rents of Follonsbie and Mikkle Usworthe unto suche tyme as all my said debts be fullie satisfied and paid, and then the said rents to go to the heire, if he wilbe bound in the Chancerie of Duresme that the hole lands shall discend from one to another, as is conteyned in my taile aforesaid. Also I gyve to everie one of my teñnts in Hilton and Mykle Usworth 6s. 8d. And to twentie maids in Hilton and Usworthe, wch shalbe next maried after my dep'tinge from this transytorie lyffe, 6s. 8d. apeice. And to the two briggs of Hilton 20s., and to ye mending of the hye waye at Barnstone 10s. Also I gyve to Bartlomew Hilton my suant, 10l. by yeare, to be levied on my lands in Austenmore, during his lyff naturall. Also I gyve and bequithe to Adam Hilton, 26s. 8d. by yeare, during his lyffe naturall, and the saime to be levied upon my lands in Austenmore. Also I will that Henrie Wycliffe shall haive 3l. 6s. 8d. out of my lands in Austenmore, during his lyffe naturall. Also I will that Will'm Jordaine shall haive and enioye 33s. 3d., that the haithe nowe thoccupac'on of in Grindon. Also I gyve to Thom's Sympson, and to Wlm Cuthbert, according to ther Pattents. Also I gyve to Richerd Brakenberie, 3l. 6s. 8d. during his lyffe naturall, to be levied upon my lands in Austenmore. And the resydewe of my goods I gyve to Agnes my wyffe, whom I maike my full Executrix, to dispose the saime as she thinks most expedyent, and to be counselled by ye right Hoñable my verey good Lord my Lord Wharton, Sr Robert Brandling Knight, and my sonne Joħn Baxter, whom I maike sup'visours of this my last will and testament, to whom I gyve for yr paines: to ye Lord Wharton 20l. and to Sir Robert Brandling, and my sonne John Baxter, ether of them 10l. In wytnesse whereof, I haive subscribed this my last will and testament, the 8th day of November in the yeare of or Lord God 1558. Item, further I gyve to Anne Leifeld 40s. to hir mariaige, and to Jane, if she marie wth Batlemew Hilton 40s. Also I gyve to Mr. Buller 6l. 8s. 4d., and to Mr. Thom's Lawson 6l. Testes p'ducti iurati &. exaĩati sup' factione & veritate ħmõi testati, Oswoldus Baxter, Oswoldus Mydfurthe, & Edmũdus Prior.
Inq. p. m. Thomæ Hilton, Mil. 25 Sept. 3 Eliz. 1561. Tenet manerium de Hilton per 1 feod. mil. except. decima parte, &c. Maner, de North Bedicke, Mickle Osworth, Volonsbie, Forth, et Grendon. Per cart. concessit Roberto Brandling, Mil. 200 acras vocat. Hilton Parkes, ad usus sui & Agnetis uxoris, et diutius &c. Postea 21 Feb. 4 Ph. & M. per indent. inter se et Will'um Hilton de Biddicke fratrem suum ex una parte, et Johannem Yorke de London, Mil. ex altera, in consid. maritagii celebrandi inter Will. Hilton, jun. (fil. Will'i) et Annam Yorke unam filiarum predicti Johannis, concessit, &c. Maneria de Hilton, Bedik, et Mekil Osworthe, &c. ad us. sui et Agnetis provit.; rem. Willo. Hilton, jun., et hered. masc. de corpore; rem. Willo. Hilton sen. patre Willi. et hered. masc.; rem. cuidam Rogero Hilton; rem. Willo. fratri Rogeri; rem. Johanni Hilton de London; rem. Adamo Hilton arm.; rem. Johanni Hilton de Lyncolnes Inne; rem. Willo. Hilton de London, Skynner; rem. Thomæ Hilton de Burton, in com. Westmorel.; rem. Henrico Hilton de Wynston; rem. rect. hered. Thomæ Hilton Militis. Ob. . .die Maii, 1 Eliz. Will'us Hilton, Arm. est frater et hæres, ætat. 50 et amplius.
In this long entail, the Yeomen of Usworth, the Esquires of Lancashire, the Skinner and the Merchant-Taylor, all re-appear with the addition of a Lawyer and of two Westmoreland Gentlemen, of whose family something may be seen in Burn and Nicholson I. 516, 610. under Burton and Ormside, and whose connection with the paternal ancestors of the settler seems as problematical as that of the Lancashire Lords of Parke.
(25) Inventory of William Hilton, late of Byddyk, esquier, disseased. One lease of Longacres, vil., xiiis. viiid. Dom. Will. Hilton miles, constituit Georgium Hilton admin. bonor. Patris sui.
This Mr. William Hilton of Biddic appears to have been very far from an honest man, if we may credit the strange story told by Dr. Bulleyn (Kippis's Biog.) a learned Physician in the reigns of Edward VI. Mary, and Elizabeth. The said Dr. Bulleyn was born in the Isle of Ely, of a Suffolk family, educated at Cambridge, and after divers travels in Germany, England, and Scotland, removed to the North, where he acquired a property in the Salt Panns at Shiles by Tynmouth. In the City of Durham he practised with great repute, "and was in great favour with Sir Thomas Hilton Knight, Baron of Hilton, who was Captain of Tynmouth Castle, under King Philip and Queen Mary." In that family he performed some notable cures, particularly on the Baron's Lady, whom he recovered from a tympany, with a bread made of anniseed and herbs. He also proved the virtues of Dittany of Crete (fn. 114), which grew plentifully on the rocks of Tynemouth, in curing the same disease. In 1557, he dedicated his "Government of Health" to Sir Thomas Hilton. In the following year, Dr. Bulleyn came patiently to London, in order to re-compile, amidst references and authorities, a second treatise (on "Healthful Medicines,") which was lost at sea. Meanwhile his patron Sir Thomas Hilton died (during Dr. Bulleyn's absence) of a malignant fever; and not long after, the Doctor, to his great surprise and affliction, found himself most falsely and wrongfully charged by Mr. William Hilton of Biddick, with having murdered his brother, his own worthy Patron, the Baron aforesaid. The Doctor was actually arraigned before the Duke of Norfolk, "and the most diligent injustice was used to bring him to a shameful death, that his adversary might, with the covetous Ahab, through false witness, obtain by the counsel of Jezabel a vineyard with the price of blood." But all the shame and scandal, "we are happy to add," fell on the prosecutor's own head, the Doctor being very honourably acquitted; "yet did not that wicked enemy give over his bloody persecutions, but basely hired some ruffians to assassinate him." The plot does indeed seem to have spread deep and wide, for even "some persons of genteel extraction" were drawn in as accomplices, and by name, R. Bellisis of Jarrow in the Bishoprick, (another ungrateful patient, whose life Dr. Bulleyn had by his own account lately saved.) This scheme also miscarried, but the indefatigable adversary arrested Dr. Bulleyn for debt, and kept him long time in prison, which was however not totally to his disadvantage, as he compiled therein "a great part of his medicinal treatises, which are to this day extant. Moreover, these indignities grieved him the less, coming from him (William) who was a stranger to him, seeing he (William) had persecuted the Lady Hilton, his own brother's wife, whose shame, loss, and blood, he had also sought, though she had redeemed much of his lands by great sums of money, &c.; and when he should have repaid the Lady her money, then he (William) gratified her as he did me." And here the Doctor, as elsewhere, declaims con amore against the crying sin of ingratitude, which malgré high titles, long pedigrees, and numerous quarterings, he assumes to be a most sable escutcheon even in the fairest field; and so, leaving his defeated and despised enemy with the character of being profitable to few, and noisome to himself, a lover of few, a flatterer of many, a vessell of ignorance, a swamp of ingratitude, unnatural even to his own, wasting that in law (in persecuting Dr. Bulleyn) which should be reserved for his children's relief, he concludes, most medically, with recommending this cataplasm to his (William's) mortified conscience (fn. 115),—"Why 'tis a strange story, Tristram!"
(26) Will of Margaret Hilton of North Biddic, Widow. To be buried at Washington. Her three daughters Elizabeth, Dorathie, and Helen; her son Wyllyam and his wyf Anne. Her executors to be Robert, Roger, Rauff, Sibill, and Margaret Hilton. Supervisors, her son Wyllyam, her brother Sir Christopher Midcalfe, Mr. Robert Bowes, Mr. Thomas Layton, her brother Oswold Metcalf, and her sonnes in law Michael Constable and Marmaduke Thirkeld, and her nephew Anthony Thomlinson. Dat. 4 June, 1566.
(27) 19 Sept. 1581. Robert Hilton of Butterwick, Gent. desires burial in the churche of Sedgefield. To my brother Sir William Hilton one angell; to his brother Ralphe Hilton 20li, and two sutes of apparell the best I have, viz. two dubletts, two pare of britches, and two pare of stockings, and my best gowne; to everye of my four systers Elizabeth Thirkell, Dorothie Counstable, Ellinor Horseley, and Margaret Vavisor, one ryall; to my cosen Margaret Blaxton, my best pare of Virginalls, which I bequeth to Anne Blaxton her daughter; to my cousin Else Eland, to Anne Eland her daughter, to Susan Baynbrige; to everye servant, &c. xiid.; to the poore viil, whereof iiil to Sedgefielde, xls. to Washington where I was borne, and xls. in Munck-Wearmouth Parishe; to Robert Rutter my man one dublett, and a pare of britches; the residue to my brother Raphe Hilton.
(28) 30 Oct. 25 Eliz. Will. Hilton, de Hilton, miles, &c. Sciatis me dedisse Jane Bowes de Stretlam, vid. Will'i Bowes de Barnard Castle, Ar. et Marmaduco Thirkeld de Esterthorpe, com. Ebor. Gen. castrum et maner. de Hilton, Follonsby alias Volanceby, Usworth, Fourd, Barmeston, et Bedik, et cap. mess. in Nov. Castro vocat. le White Freeres, &c. Settlement on the marriage of Thomas Hilton, son and heir of Sir William, with Anne Bowes, sister of Talbot Bowes, 1583.
Inventory of Sir William Hilton, of Hilton, Knt. 7 Oct. 1600, at Hilton. The Greene Chambre: old hangings vis. viiid.; one litle cupbord xxd.; an old case of a pare of virginalls iis. vid. The Reade Chambre: 4 peces of hangings xls.; a little liverie cupbord of firre iiis. ivd. In the Parlour: one olde large table, with a grene clothe; xviii buffit-stooles; an olde chare; three litle formes of firdale; 4 tables with armes; a litle liverie cupborde; a pare of virginalls. In the Ladie Chamber: one side cupbord of ashe. In the Nurcery: one longe settle-bed, one fether-bedd. In the lowe Chequer—the highe Chequer—in the Towre: 4 corslets with their furniture; item, certaine hay—Item, a portall in the Greté Chambre, &c. The furniture of the house at Newcastle, where perhaps Sir William chiefly resided, is not much superior; his funeral expences are only estimated at thirty shillings; mortuarie xs.; blackes bestowed upon the wydow, frendes, and servants, 13l. 6s. 8d.; suma de claro 36l. 7s. 2d.—Administration granted to Lady Anne Hilton, widow, in magna camera infra Castrum de Hilton, 2 Oct. 1600.
(29) Siraik, sone of ye Rt Wor. Sr Wm Hilton, Knight, 20 Nov. 1576. Mr. Wm Reade, Captaine in Barwicke, Mr. Tho. Sutton, Mr of ye Quene's Maties Ordynaunce, Mr. Rob. Bowes his wyf (Sponsors).—Richard, sone of Sr Wm Hilton, Knight, 13 April 1578. [Ric. Barnes, Lo. Bp. of Durham, my Lord Warden, and my Lady Ogle, wife to the Right Honble my Lord Ogle, of Bothell.] Baptisms, St. Nicholas' Register, Newcastle upon Tyne.
During the rebellion of the Earls in 1569, Sir William Hilton was one of the very few Northern Gentry who (probably from his intimate connection with the family of Bowes) adhered heartily to the Queen, into whose service he brought a hundred horse. Sadler, II. 176.
(30) 14 Feb. 1597, Thomas Hilton, of Hilton, Esq. "weake in bodye by longe sicknes." Wife Anne, children George, Robert, Francis, Matthew, and John, sole executors. "My lease of Farneton Hall, which I lately took of the Queene;" to my sons Francis, Matthew, and John, "the whole Rectorie or Personage of Bishop-Wearmouth," with remainder to my eldest son, Henry Hilton; my two daughters Jane and Mary Hilton; "to ye poor Praste of my owen Parishe I doe give 5 markes." My father, Sir William Hilton, my brothers Talbott, George, and Raphe Bowes, Supervisors; proved 2 March, 1597–8.
(31) 30 March, 6 Jac. 1607–8, Livery to Henry Hilton, Esq. grandson and heir of Sir William Hilton, viz. son and heir of Thomas Hilton, Esq. deceased. Rot. W. James.
17 Sept. 1636. Pardon to Sir Gerard Kempe, Knt. for acquiring of Henry Hilton, Esq. the manors of Hilton, Ford, Folanceby, Usworth, Magna Biddick, and Barmston. Rot. Morton.
27 Nov. 16 Car. 1641, Inq. p. m. Henry Hilton, armigeri, dicti Baronis de Hilton: ob. 30 Mart. ult.; Robert Hilton frater et hæres æt. 40 annor.; Maria vidua Henrici superstes.
See the extraordinary will of Henry Hilton, Esq. too long for insertion here, in the Appendix.
(32) Inq. post mort. Robert Hilton, Esq.: died seized of Hilton, &c. Margaret his widow entitled to dower. John Hilton, brother and heir, aged 40. 19 Feb. 1641.
(33) 22 July, 1668, Will of John Hilton, of Hilton, Esq.: to my brother Henry Hilton, and the heirs of his body, all my estate reall and personall; to John Hilton, son of Henry Hilton; to my sister Mary, wife of Robert Hilton, Esq.; to Henry Hilton and Robert Hilton, sons of Robert Hilton, of South Sheiles, master and mariner, 50l. each at 21, they being nearly related to me; to my faithful servant Mr. John Pemberton 100l.; and if he die, &c. 50l. to Jane his wife, and 50l. to Mary his daughter, my godchild; to my friend Mr. Ralph Hedley, of Durham, 50l.; to my servant Hilton Moody 50l. and 5l. a year for life. My brother Henry Executor, humbly desireing him to be guided by the advice of his friends Robert Brandling, of Leathley, Esq. Robert Carr, of North Biddick, Esq. Mr. Ralph Hedley, and Mr. John Pemberton, of Hilton, "for I very well know, they, being my true friends, will not be wanting to assist and advise with him."
The subsequent more modern evidences of the family are embodied in the Pedigree.
To the main stem of Hilton are added, 1. the Pedigree of Hilton of Swyne: I have not been able, however, to refer to all the authorities quoted in the higher descents. 2. Hilton of Billinghurst, Shields, &c. descended from a cadet in the reign of Elizabeth. This Pedigree receives a continuation (which, from its genuine appearance, and its admirable though unpremeditated connection with the higher part, I should scarcely have doubted to place in the text) in a very gentlemanly letter from William Hilton, Esq. of the Island of Jamaica, who states his ancestry thus:

The above William Hilton modestly saith, in a letter to Sir Isaac Heard, Garter, that "he knows little indeed of the nature of his brother's (John Hilton's) claim, but that their father Ralph was (by tradition) son of John, son of Henry, son of Robert, son of Henry Hylton, Esq. called Baron of Hylton." [See the Pedigree, which evidently explains this mistake of Henry, the Captain, for his cousin-german Henry, the melancholy Baron.] Ralph Hilton died in Jamaica soon after 1748; his grandson of the same name was living in 1788, when Mr. William Hilton was in England (fn. 116).
Several other families still exist, who claim alliance, more or less remote, with the ancient stock in the Bishopric. In Guillim's Heraldry (edit. 1724, p. 64) such a descent is attributed to the Hiltons of Rea Hall in Staffordshire. I think I have seen the same claim made for the Hiltons of Shropshire, ancestors of the late John Scott Hilton, of Lapel House, near Hales Owen, an elegant and accomplished scholar, and the neighbour and friend of Shenstone. (See Gent. Mag. vol. lxiii. p. 767–8, and vol. lxxix. p. 198.)
[Who was Walter Hilton, a Carthusian Friar, author of the "Scale (or rather Ladder)of Perfection," printed in 1494? see Wood Ath. II. 459.]
The Hiltons of Feversham, in Kent, a respectable family, seated there since the reign of James I. claim the like honour, on the strength of family tradition.
I add the following unconnected evidences, not one half of which, probably, apply to descendants of the Barons of Hilton.
From the Prerogative Court of Canterbury (fn. 117) :
John Hilton, Citizen and Grocer, 14 Feb. 1454, desires burial in St. Martin's church, Ludgate, near the body of Alianor, his mother. To the Parish Church of Worfield, co. Salop, unam Crucem de Cupro et deaurat. precij 26s. 8d. To the Parish of Clavely, co. Salop, 40........; to Ryngleford, co. Salop, 20s. To the repairs of Grocers Hall, 26s. 8d. To a certain College in the University of Oxford, lands and tenements in co. Salop, to be founded and established for ever, for Exhibitions for poor Scholars from Shropshire. Proved 14 Aug. 1454.
William Hilton, Citizen and Merchant-Taylor of London, 5 Oct. 9 Henry VIII. at this time Taylor to our Lord the King, to be buried in St. Mary's Wolnoth. To the Craft and Mystery of Merchant-Taylors 200l.; to my wife's daughter 100l. at age or marriage; to my wife Joane; to my bastard son Thomas Hulton, 40l.; to my cozen John Mawsley 10l. of the 40l. which my brother John Hilton, of Northampton, oweth me; Sir William Hilton, Clerk, Overseer. 22 Ayloffe.
Alexander Hilton, Citizen and Merchant-Taylor, 31 July, 1527, to be buried at St. Mary's Hill, Bishopsgate-street; my goods to Anne my wife, and my children; to brother Thomas Hilton 6l. 13s. 4d.; mentions debts remaining in Spain that were sometime Richard Fitz-William's.
Arms Of Hilton.—However ancient and simple a coat the Hilton bearing may appear, the Argent field and bars of Azure, yet it certainly was not the first armorial distinction adopted by the family. Alexander de Hilton, in 1172, seals his grant out of Hilton-mill to St. Peter's of Wearmouth, with a huge demi-lion passant, so manufactured as to exhibit the leonine lash of the tail without the hind quarters of the noble brute. The common bearing, whenever first used, appears on a seal in 1328; and in 1414 William de Hilton exhibits a splendid seal with his shield of arms suspended on a tree; two conies, betwixt the shield and legend, look rather like ornaments than supporters (fn. 118). (Plate IX. fig. II.) The arms sculptured on Hilton Chapel are supported by Stags; the later Barons uniformly used two Lions (Azure). I can hardly even guess at the origin of the strange crest; Moses's head glorified or horned. Cornuta erat ejus facies (fn. 119). Another crest (or Cognizance?) a stag in a golden chain appears on Hilton Castle, East front; and to this stag there belongs a tradition, that it was granted to the family, I forget why, by the Conqueror in whose service a certain fabulous Lancelot Hilton is said to have died at Feversham.
This may not be an improper place to say a word or two on the title of Baron, so constantly bestowed on the ancient house of Hilton, and which has been adopted without scruple in the text. In any country where the term Nobility is not exclusively confined to the Peerage, the Hiltons would have ranked as Noblesse in the strictest sense of the word; yet I believe the title of Baron had no reference to any Peerage supposed to be created by one or more summons to Parliament in the reign of Edward I. or III, but was given by the general courtesy of the country, either from respect to the long and immemorial existence of the family in a gentle state, long before the creation of Barons either by writ or summons, or else with reference to the rank which the Hiltons undoubtedly held of Barons of the Bishopric (fn. 120), sitting with a sort of Provincial Peerage in the great Council of their Ecclesiastical Palatine, and possessing some degree of controlling or consulting power, which can now be very ill understood or defined, though there is ample evidence of the actual existence of such a Chamber of Peers, in many Episcopal Charters and other remaining documents (fn. 121).
(fn. 122) One proof perhaps of the high antiquity of the Hiltons is the number of popular traditions which, in various ways, account for their origin. There is no improbability (though it is not matter proven) in supposing that the local establishment of the family extended above the Norman æra; yet it might be difficult to say which coat Adam Hilton, the liege of King Athelstan, caused to be sculptured above the portal of St. Hilde, or to be engraved on the massy silver crucifix which he presented to the Abbess of the Peninsula. Romanus, the Knight of Hilton, (whose very name is unknown to these early Romancers,) might be Saxon, Dane, or Norman, or, according to a wild legend alluded to in Sharpe's Hartlepool, (p. 167,) he might with equal ease spring from a Northern Rover, who wooed and won "a fair young Saxon Dame with all her lands and towers," under the disguise of one of Odin's Ravens. The account of the matter given below is certainly not offered as any portion of the Hiltons' Evidence. It should, however, be recollected, to say nothing of Leda and such by-gone times, that the Ascanian Princes of Saxony sprung from the loins of a Bear (fn. 123), and, which is more to the purpose, that the Staffords of Buckingham chose to descend from a white Swan.
Hilton Chapel.
It remains to mention the Chapel of Hilton. The records in the Treasury of Durham relative to this little domestic foundation, include the earliest authentic evidence of the Hilton family. In 1157, Prior Absalom and the Convent of Durham granted that Romanus the Knight of Heltun should have his own officiating Chaplain in his Chapel of Helton. The same Chaplain might receive all the offerings of his Patron's own house, (excepting, as usual, on the great festivals, when the Baronial family were expected to attend the mother Church,) excepting also that Romanus should pay for every ox (fn. 124) one thrave of corn to St. Peter of Wearmouth, and that all the tithes and offerings of a certain half carucate called Trublard's land, and from the whole lands of Hilton and Risum, (not I presume immediately in the Lord's own hand) should also belong to the mother Church.
A convention betwixt Prior Germanus and Alexander de Hilton in 1172 confirms the above conditions, and specifies that Trublard's land consisted of four oxgangs, now in the tenure of Albert, Osbern, Outi, and Yvelot. This second Charter is attested by Meldred son of Dolfin, William de Vesci, and William son of Uhtred, the founder of the Lumley line (fn. 125). The revenues of the Chapel were thus confined to personal offerings of the Baron and his family. The Patron would, however, be naturally inclined to extend this foundation at the expense of the mother Church, which he would probably attend only when compelled, at Easter, Christmas, and the Feast of St. Peter, the Patron of Wearmouth; and this diversity of interests led to perpetual jealousies and bickerings betwixt the Barons of Hilton and the Masters of the Cell of Wearmouth. Some of the grievances which the Monks sustained at the hand of these very lay and haughty Barons, are represented with so much naiveté in the Conquestus, or petition of wrong, of the Monks of Wearmouth, that it is impossible to attempt any abridgment of the document.
(fn. 126) Yees injure' and grevñce heere sewand putte' ye proctoure of ye priours of Durham for hym and his monkes Will'm lyh'm, kepper now late of ye Celle of Monkwermouth, and John Both monke his felowe, yer duelland, to Will' Hilton son and hayre to S. Robert Barone of Hilton.
ye firste wheer' on Scottesman, namytt John Potts, at diverse tymes has opyned and brokyn upp ye doresse of ye said Celle of Monkwermouth, and takyn oute his corn and his haye eftre his awen will, and somtym sett his horse in a place callid ye ald kirke to ye hay mowe, filing ye sam place and destroying hay agayns ye will and connsennt of ye kepper of ye said place, and yeruppon monyshid to seceese of ye said wranges, said to ye forsaid kepper yat he wald in despytt of his heved sett his horse in ye said place, like as he had don afortym, and eftre despittuose wordes said to ye said kepper, wythin the Sanctuary layd handes in violennce apon ye Clerke accollect, and yr for be com'on lawe cursid, com ye Seterday a nexte before palmesonday to ye said kirke of Monkwermouth for to shryve hym, and for ye said kepper said to ye paresh preste yat he hadd no power for till assoile ye said John Pottes, he and his felowes at ye wheerdoor wt lang pikyd staffes and lang daggers made asawte to ye said kepper and his felowe, and raufe fra yam a silvered mahylyn, and bare oute of ye place noght wythoutyn sacrilege.
Also son eftre yatt ye samday Willm of Hilton son and hayr to ye Barone of Hilton, in his comyng to ye kirke for to be shryven, mysinformed of ye said dede, and yroppon holy movid, wt hye and stoore countenñce entreed ye wheer of ye said kirke of Wermouth, wtoutyn ony prayer or rev'ence yeer made or shewid to ye blessid sacrament, and said to ye forsaid kepper and his felowe on yis vyise, what maystre' make yhe here? and yr oppon swar a grett ooth, yat yeer was no[gh]t so pryve a chambre ne holl wythin yat place yen he suld pull oute John Both monke, and bynde his feete undr a horse baly, and so sennd hym to Durham. And also chalansshid ye said kepper and askyd him in stoore manere who was yi Syre, and yerwyth putt of ye said kepper hoode in till his neke agayns his liste and his will, and so laid handes apon hym agayns lawe, for ye whilke dede and manysshyng, ye said kepper and his felowe durste nott abyde wythin ye said place for dreede of myschevyng, bode wythdrew yam, and yfor gode s'vyce ondoon, in grett desplesaunce of Gode, in grett injury till all haly kirke, and especiell to ye said poũr and his monkes. D. & C. Treas. 3a 4tæ Special.
Moreover—
Anence William Hylton and others diver' of his s'vants ye Saturday next before Palme Sonday last past came to Monkwermouth, and yer maid assaute to William Lyham, Maister of Wermouth, and layd on him his hands, in the qwere of ye said kyrk, in violence, and poulid off his hode, to grete shame and reprove, and of ye said Priour, with mony other words of manace, for the whilk the said Maister durst not abide in hys place, for fere of bodily harme.
It'm Alexr Hylton, executor to his fader with wrang halds ye corse pr'ent of Wyllyam som tyme Baron of Hylton, both hys hors and hys gown, whilk was of grete value, as I am informed, thof all he has bene oft tymes requyred to make delivery of them; and also ye said Alexr come wth ye said Wyllyam, in supportac'n of hym ye said Saturday, to the said assaut, manassing ye said Maistr for to do hym bodily. harme; and allso ye said Baron Wyllyam and Alexr mayntenyd and supportyd diver' other of yr servantes for to brake up the dores of ye said Priour at Wermouth, and take out his corne and hay, after yer awn intent; allso ye said Baron withholds ye corse present of his wyf.
Theis [with about twenty other counts for detention of tithes, non-attendance at the mother church, and improper presentation of a priest on vacancies of the Chapel of Hilton] are ye grievances of ye whilk ye Priour of Durhm complenys of Robert Baron of Hilton, Willyam Hylton, and Alexander Hilton, Esquiers. (fn. 127)
One extract more from the mass of litigious evidence in the Treasury (Locell. 25) all which now—Pulveris haud exigui jactu compressa quiescunt.
A tres honoré Sr et Rev'ent Pier in dieu le Prior de Duresme soit doné.
Wirschipfull Sr & rev'ent fadir in god, I recom'ende me unto yow. And for als mekill as Thomas my prest was at you at Durh'm, touchyng an arest at was made of ye teynd hay & corn at hilton, & hilke was like to hafe bene lost, yat was made be a man of myne callid Will' Hall, for c'taigne dett aght to hym be yor brothir ye maistre of Warmouth And at the rev'ence of yow, be ye message at said Tho's my prest broght to me fro you I gart lowse (fn. 128) ye arest at was made & put my man from yat avantage yat he suld hafe had in my Cort be yat arest, & put hym to gret hynderance and yit yr es none end made with hym, of whilke me marvayles, wharefore I pray you at ye will send to ye said Maistre of Warmouth, to make on eynd with my said man in hast and delay him no lang'r, and if he will noght, I p'y yow hald me excusid what hapyn efterward, and what like yow to do in this matr I p'y you send me word writen be ye bringr of this, and Wirschipfull Sr & rev'ent fadir in god ye holy Trinite hafe you in thir kepyng. Writen in hast at Hilton, on monday next before Saynt Lenard day.
Be Robt.
Baron of Hilton.
The Barons of Hilton sometimes, however, adopted more legitimate means of increasing their Chaplain's salary, without trenching on the vested rights of the master of Wearmouth.
In 1322, Robert, Baron of Hilton, granted to his Chaplain William de Hilton, the Passage of Bovisferry (fn. 129), a toft and croft in Grendon, with one acre of land and a messuage and twenty-four acres, which Hutting Frer held in Hilton, in exchange for one chalder of wheat, which William used to receive out of the grange of Ford, and in exchange of an annual rent of sixteen shillings, which William received out of twelve acres in Grendon, and of four shillings paid for the multure of the same twelve acres. The same Chaplain William shall provide a proper boat for the ferry, and shall pray for the good estate of his Patron duly and daily, &c. (fn. 130)
The Chapel of Hilton was dedicated to St. Katharine, but before 1322 there was a chantry founded within it, dedicated to the Virgin. Robert Hilton, last named, granted to his Clerk Robert de Billingham, his chantry of St. Mary, and a certain messuage together with the free multure of all the free tenants and cottagers of Hilton, Bermeston, and Utesuken, due to the manor mills of Hilton and Bermeston. He also gave to his said Chaplain, a rentcharge of two shillings issuing out of two cottages in Helton, for the support of one light to burn perpetually (ardentis lampadis) before the Altar of St. Mary; and he gave to the same Robert for his own better maintenance, a messuage and four acres in Grendon, four acres and a half in Cloucroft, four other acres which William Yhole held, and all the honey and wax of the wild bees inhabiting the trees in Bermeston Park (fn. 130).
The Baron then declares, that if on the death of Robert de Billingham, his heirs neglect to nominate a successor, the Patronage shall devolve on the Prior of Durham.
The following presentations to the Chapel of Hilton, occur on the Prior's Registers.
Chantry (fn. 132) of St. Mary within the Chapel of Hilton.
The Chapel of Hilton was resigned into the hands of the Prior of Durham before the dissolution, annual value 6l. 13s. 8d. The Chapel, as a domestic place of worship, was restored, if not before, by John Hilton, Esq. the last Baron; for Bourne (p. 81) mentions the place as famed for its Irish oak, and its complete garnison of plate, books, and vestments. Hilton Chapel again became a place of worship during the residence of Simon Temple, Esq.
In 1306, the sacerdotal ornaments of the Chapel consisted of a chalice, two vials, an alb, a chasuble with stole, maniple, and amice, a corporax cloth, a missal, a psaltery, and portefer; three linen cloths for the Altar, and one clothes press.